Today's review, Qatar A350-1000 QSuites, is by reader P. He lives in Qatar and flew to the USA with a UK passport recently on Qatar Airways. You are not allowed to enter the US unless you are a US citizen if you have spent any time within the last 14 days within the UK, Europe and a few other countries. One way round it for people desperate to enter it sot spend 14 days somewhere not banned such as Mexico or the Caribbean.
Check-in at Doha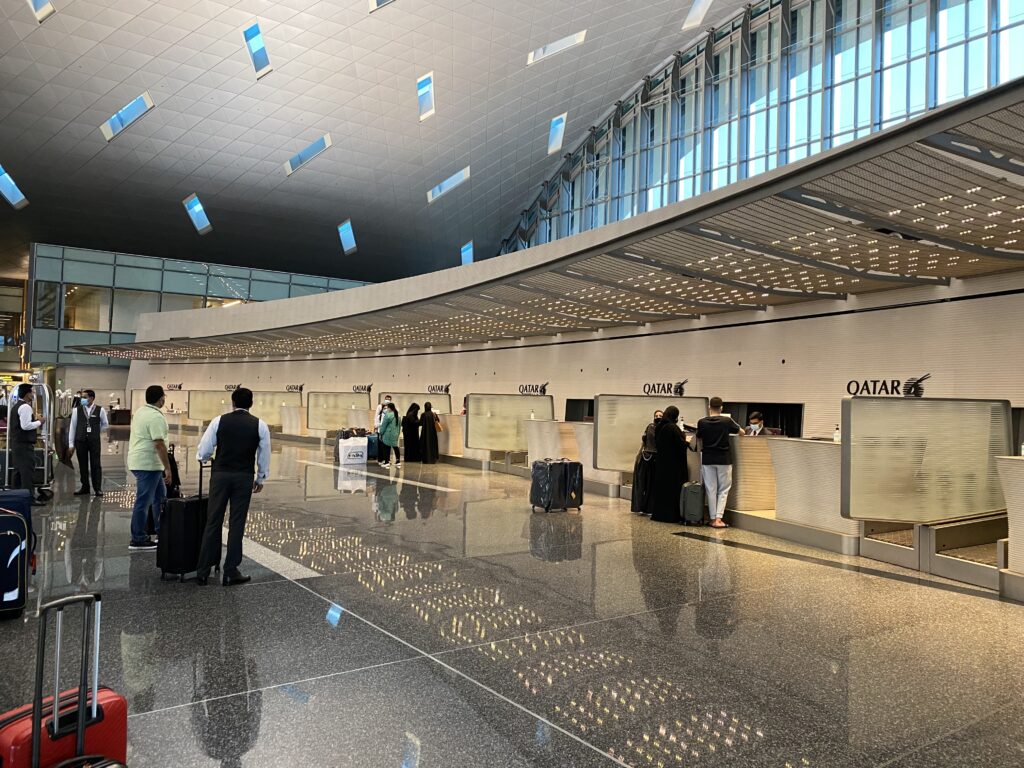 We arrived at Hamad International Airport at around 4:50am. Normally business class passengers are met by baggage porters to assist you through the check in procedure, but on this occasion there didn't appear to be any. This didn't bode well…
We entered via Door 1 and had our government health app and temperature checked. We approached the Al-Mourjan Business Class check in area to what appeared to be fairly chaotic. We have travelled twice through the airport this year and both times it was very calm, very well organised and somewhat serene.
We were asked to sit and wait to be checked in, whilst people who arrived after us went straight to the desks as they became available. It was a little bit disappointing.
Fortunately by the time 5am arrived, a new shift of check in staff started and things became much more organised very quickly. Thankfully it was only a 10 minute delay.
The lounge
After proceeding through immigration and security, both of which were very efficient and friendly, we passed the iconic Lamp Bear and made our way to the lounge.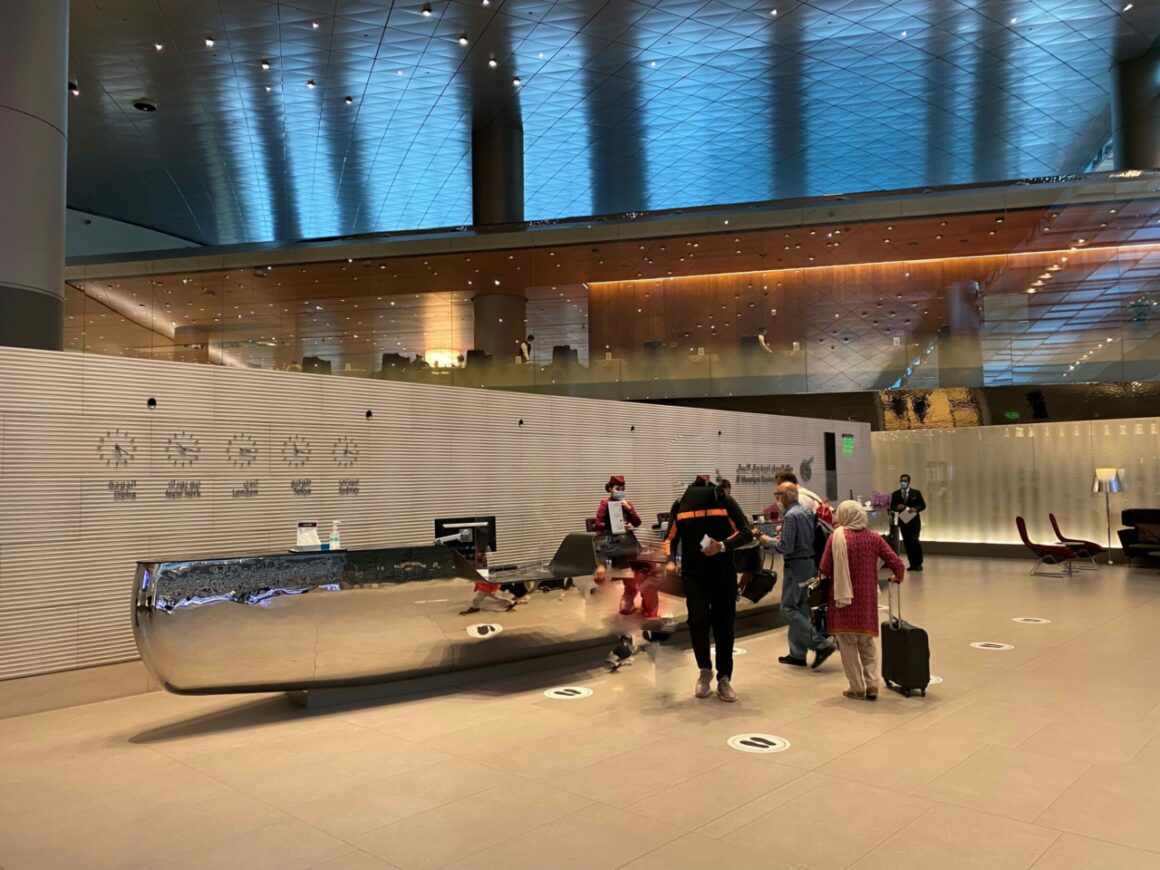 Greeted at the bottom of the escalator we had our boarding passes scanned and we're invited to enter. On this particular ticket we were travelling on QMiles. Qatar airways have recently restructured their business class ticketing, and the cheapest cash tickets as well as cash tickets upgraded with QMiles do not include seat selection or lounge access. Full QMiles tickets and the upper 2 ticket classes for cash tickets still do.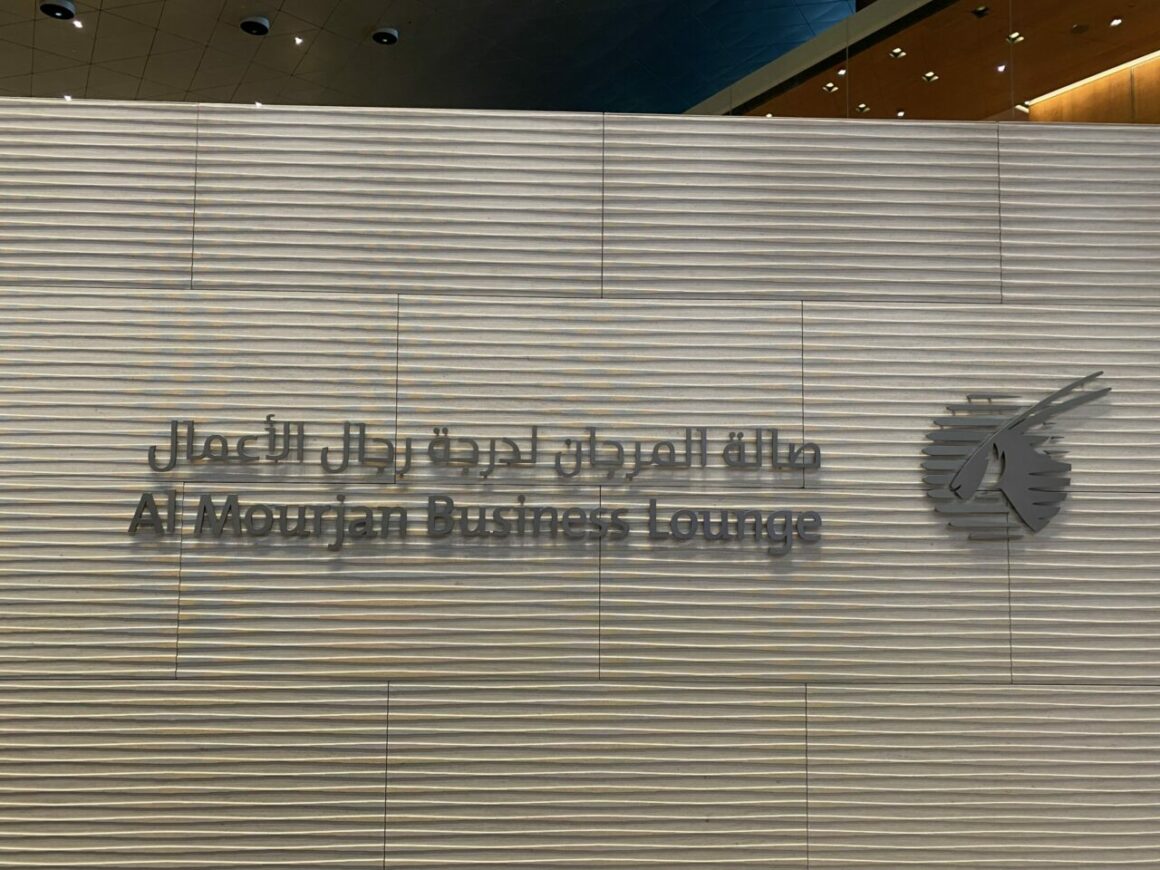 The lounge was fairly quiet when we entered. Jess, my wife, went to get a table for us in the upstairs dining area for breakfast, whilst I visited the business centre to print out some paperwork for returning to Qatar.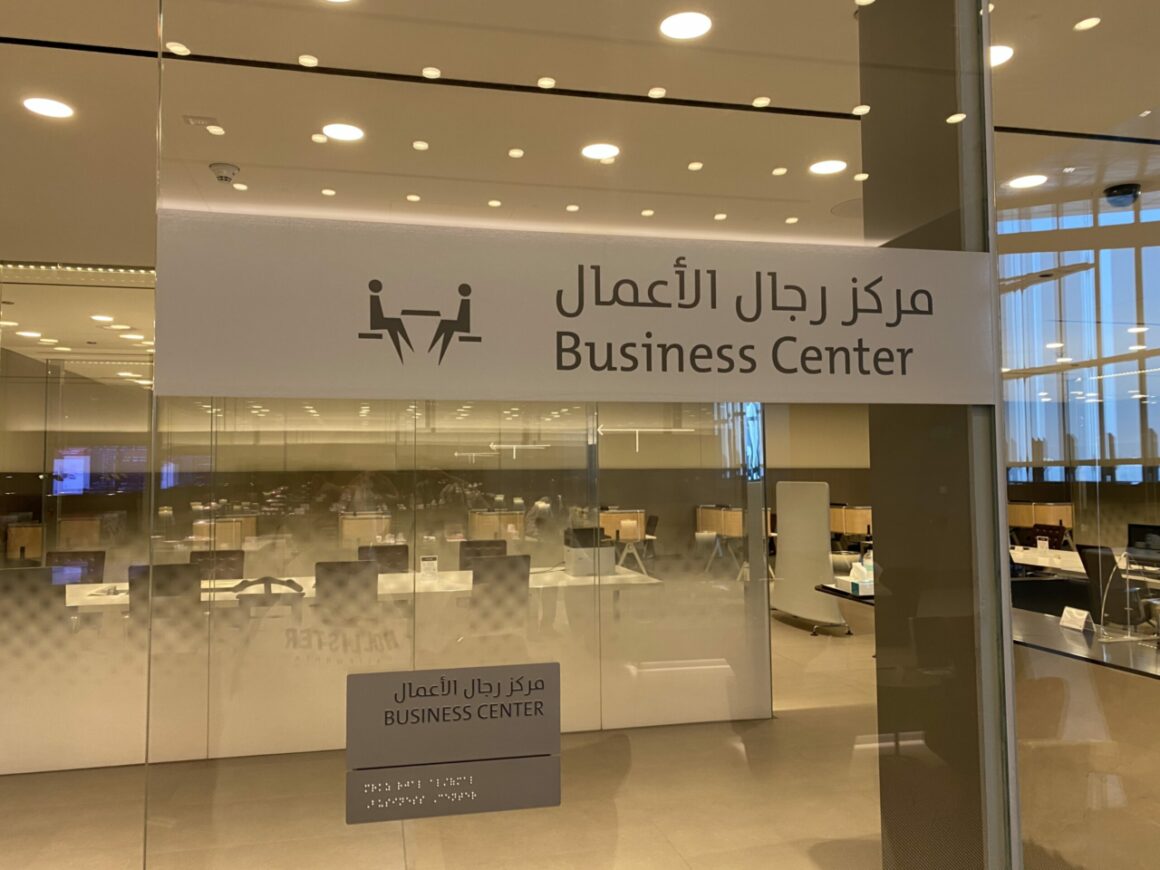 Breakfast was good, and for a change wasn't entirely liquid!
I ordered scrambled egg which was frankly bland, so I made use of the buffet.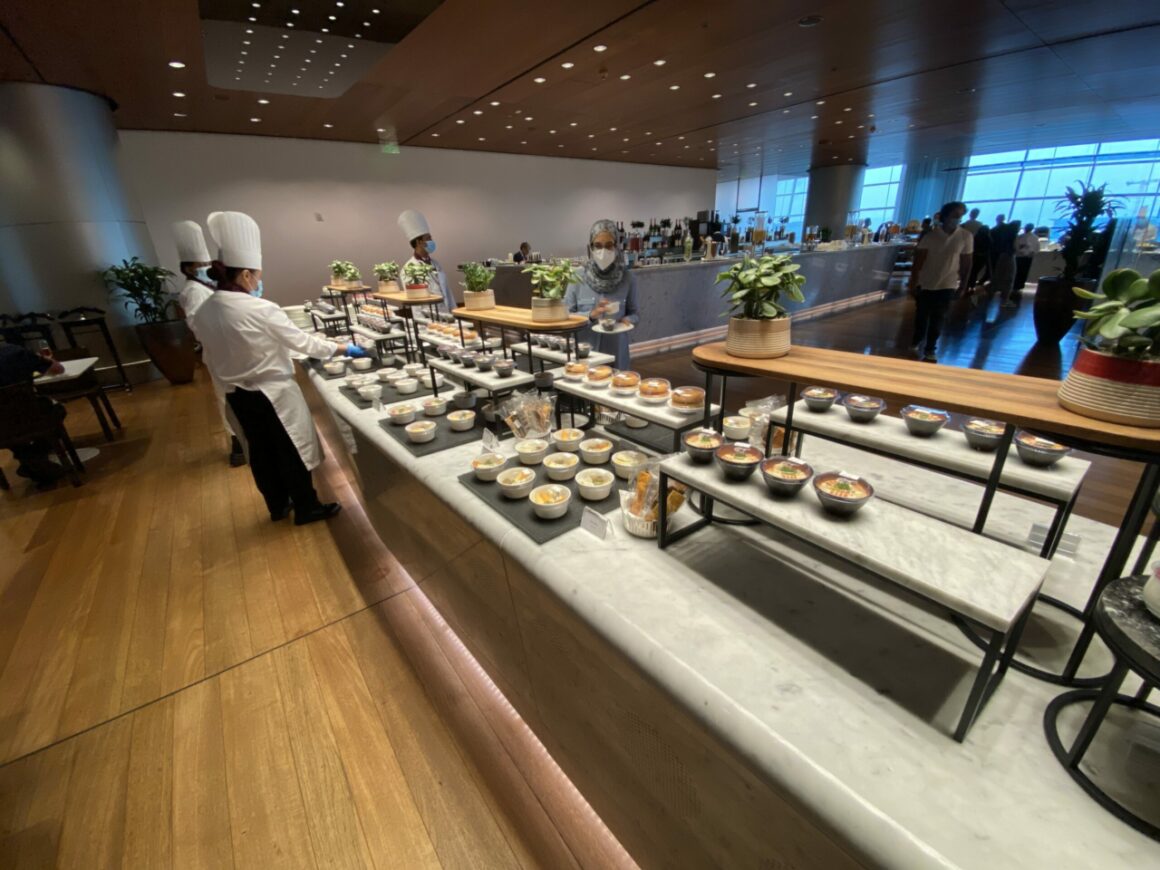 Beef and chicken sausage, an omelette and some garlic potatoes went down well as a perfect accompaniment to a couple of glasses of Laurent Perrier Rosé.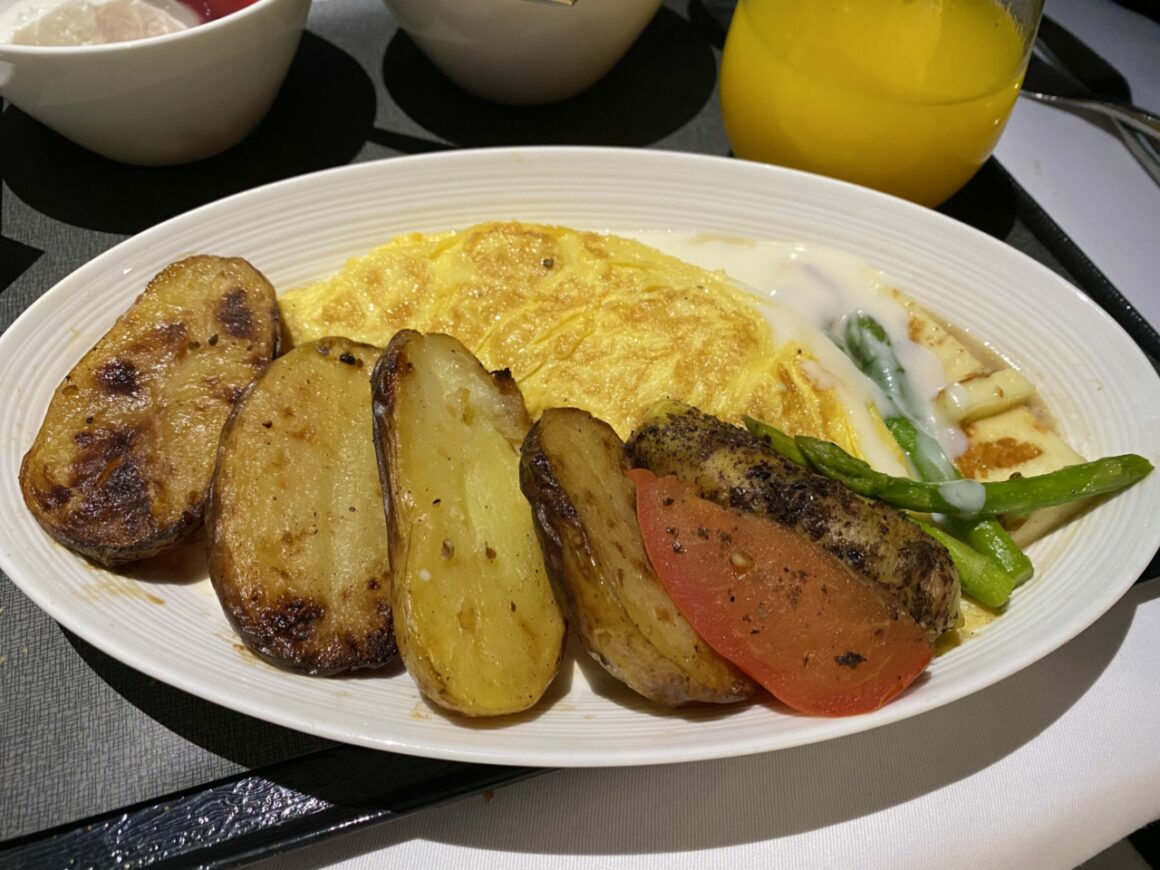 The flight
After the lounge we headed to the gate, but not without a short period of defending my credit card from attacks by Jess in duty free.
Today our flight departed from gate C3. All US, UK and Australia flights from HIA depart from contact stands due to the requirement to perform additional security checks at the gate. If you are flying to one of these destinations, make sure to give yourself a bit of extra time to clear that security before boarding.
Formalities completed, we boarded our A350-1000 via door 1L and were shown to our Qatar A350-1000 QSuites seats 1E and 1F. Today we would be on A7-ANN which was delivered to QR at the end of 2019.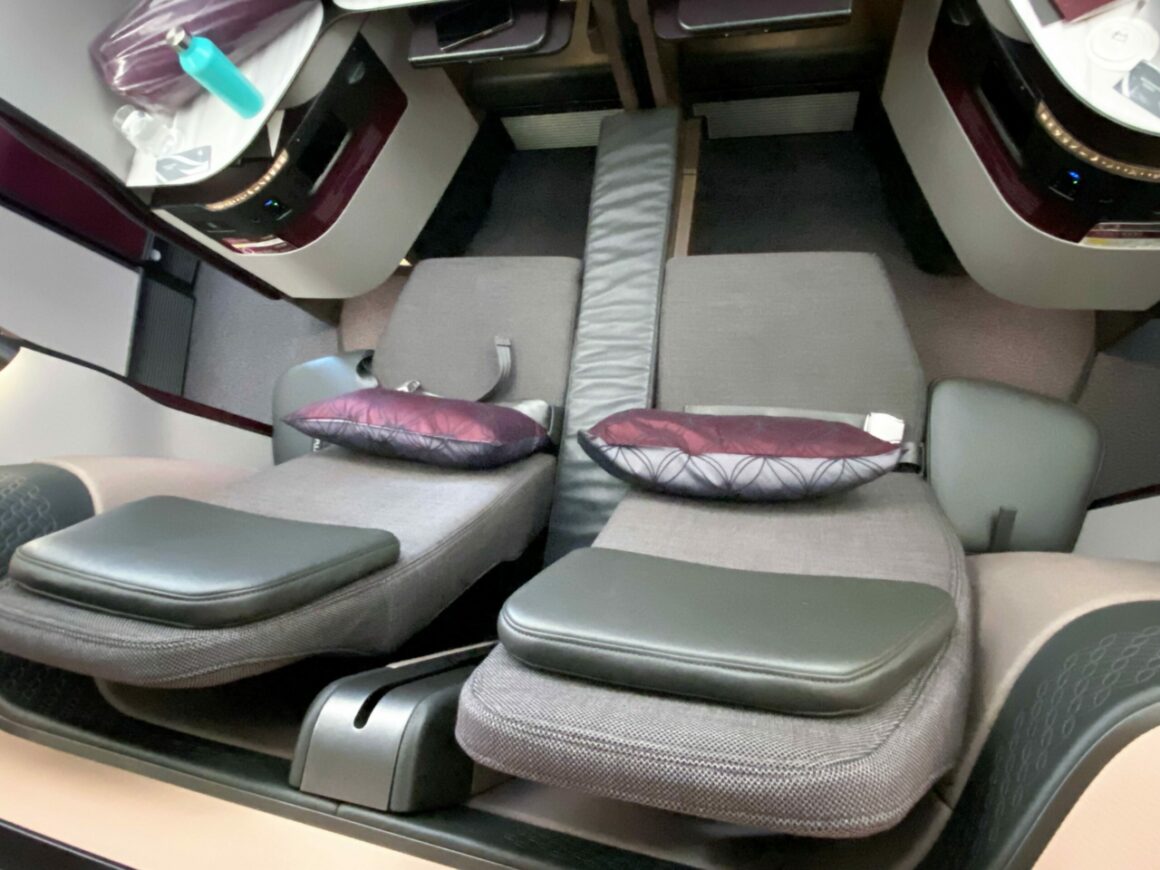 The middle QSuites that transform into a double bed are rear-facing and very comfortable, even on a flight scheduled for 15hrs30.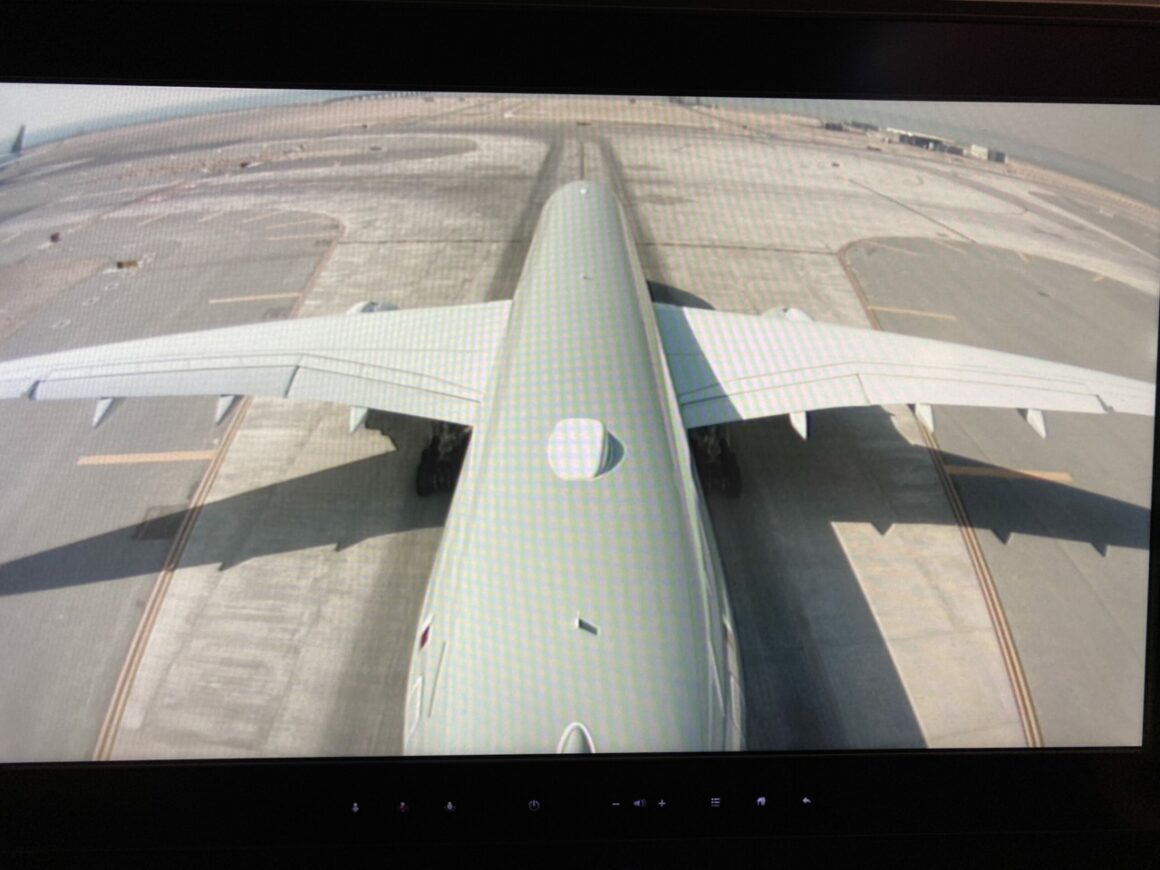 Our crew for this flight were absolutely fantastic and really did a great job of looking after us. We do find that QR cabin crew are usually prepared to go the extra mile to make your journey special and memorable, and we were not disappointed on this trip.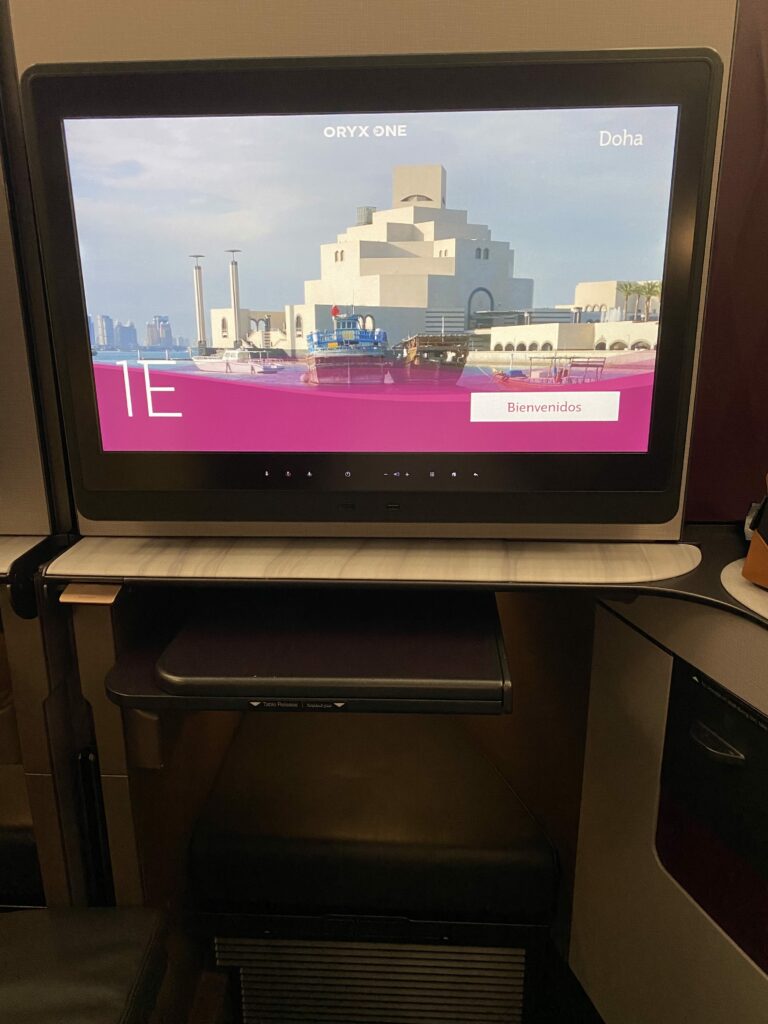 As I had been on a night shift the day before we flew, I elected to sleep straight away. I woke somewhere over Russia just north of Moscow and decided to eat breakfast.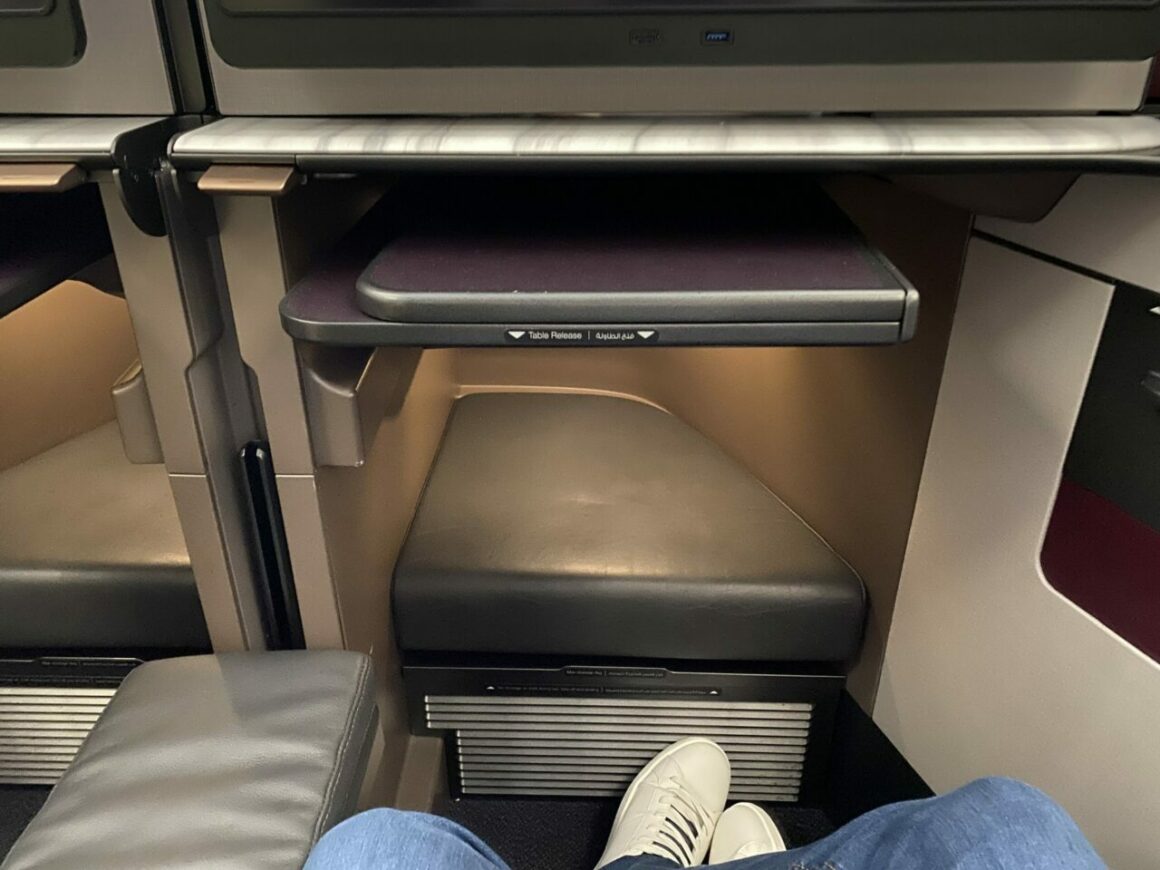 For starter I had the cold cuts and the Greek yoghurt, and a deconstructed omelette for main. Here are the full menus for the flight:
The food was presented well and very tasty. Since the start of the pandemic the crew now serve your meals all on one tray to minimise crew/passenger contact where possible. Despite this, they really didn't feel like they were trying to keep their distance and were always happy to help.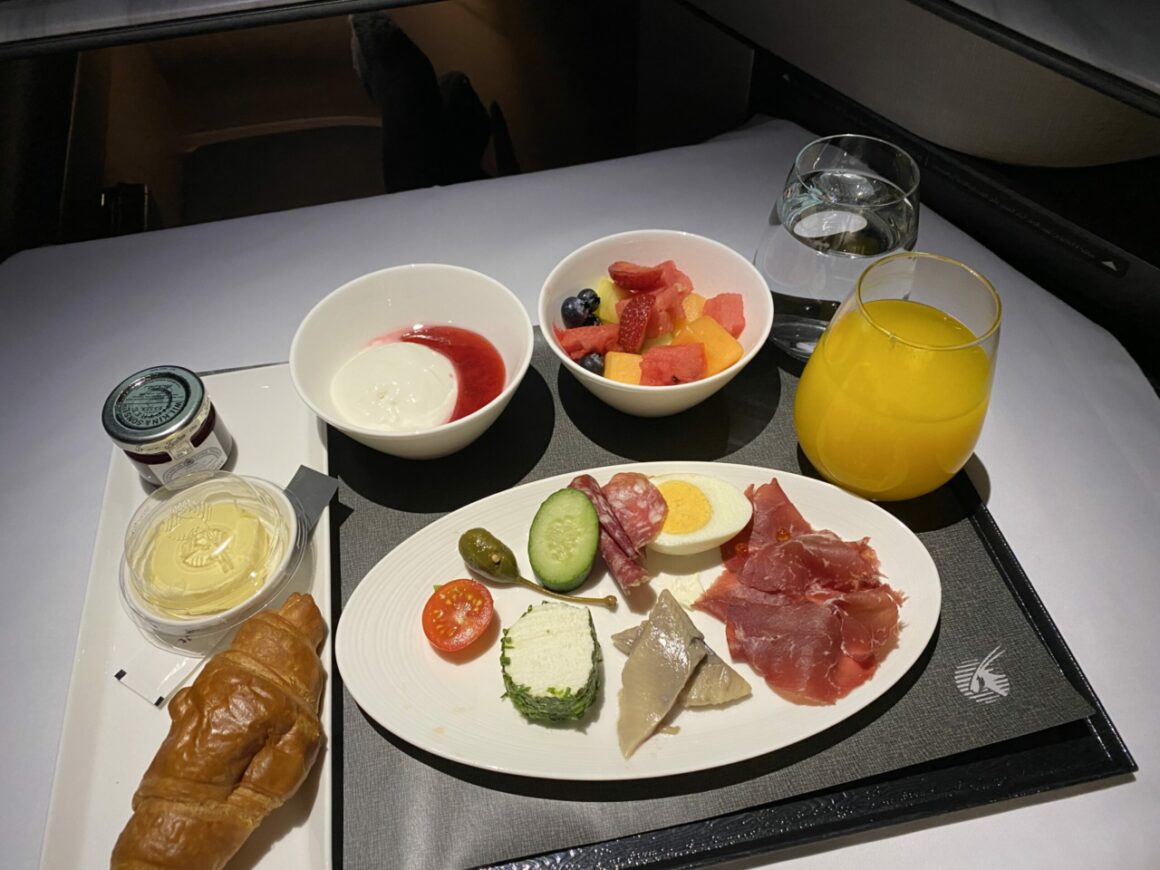 After breakfast it was time for more sleep. In total, I managed about 7 and a half hours on this flight, which ended up having an enroute time of about 14hrs25.
Later in the flight I ordered the afternoon tea which was delicious. I'll leave the arguments for the jam and cream debacle in the comments, but I did what I did and I'm not sorry!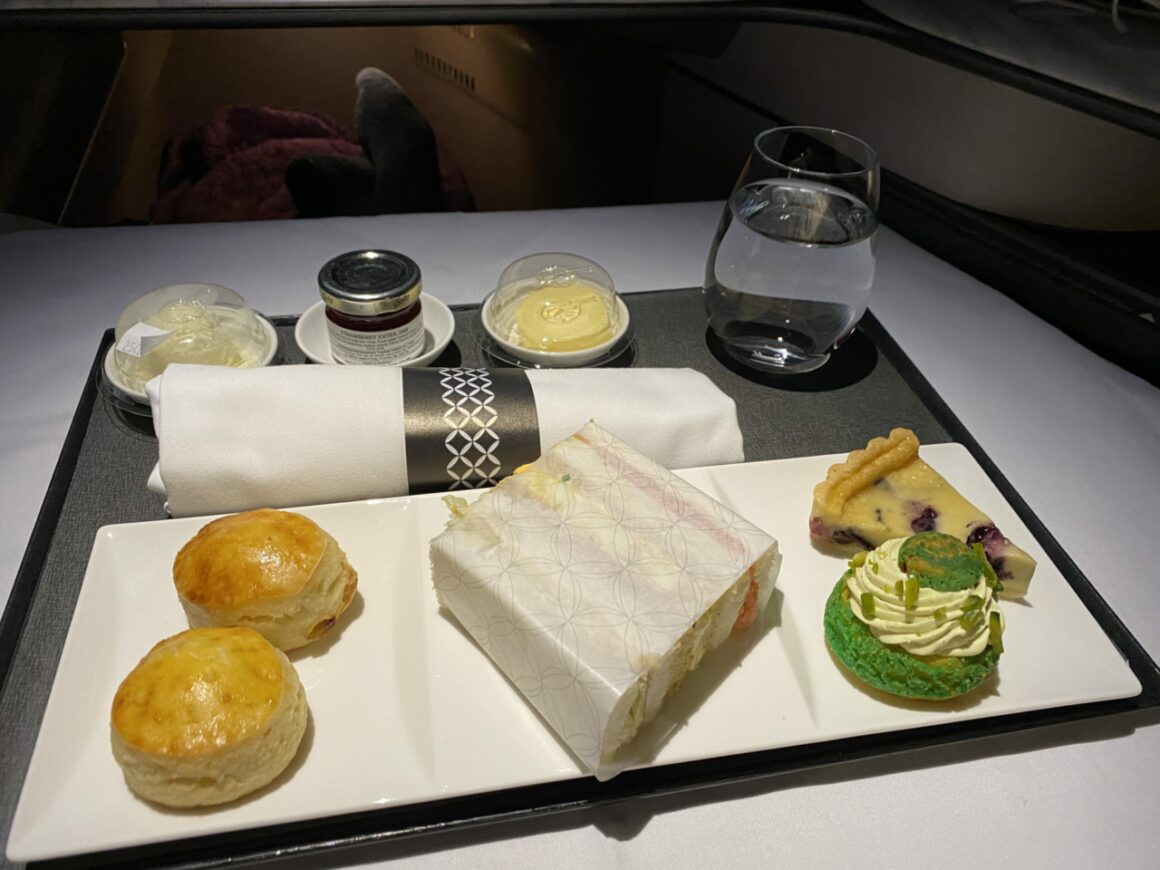 About 2 hours before arrival dinner was served. I had pre ordered the sea bass, which I decided to have without any starter as by this point I was quite full. Unsurprisingly, it was absolutely delicious!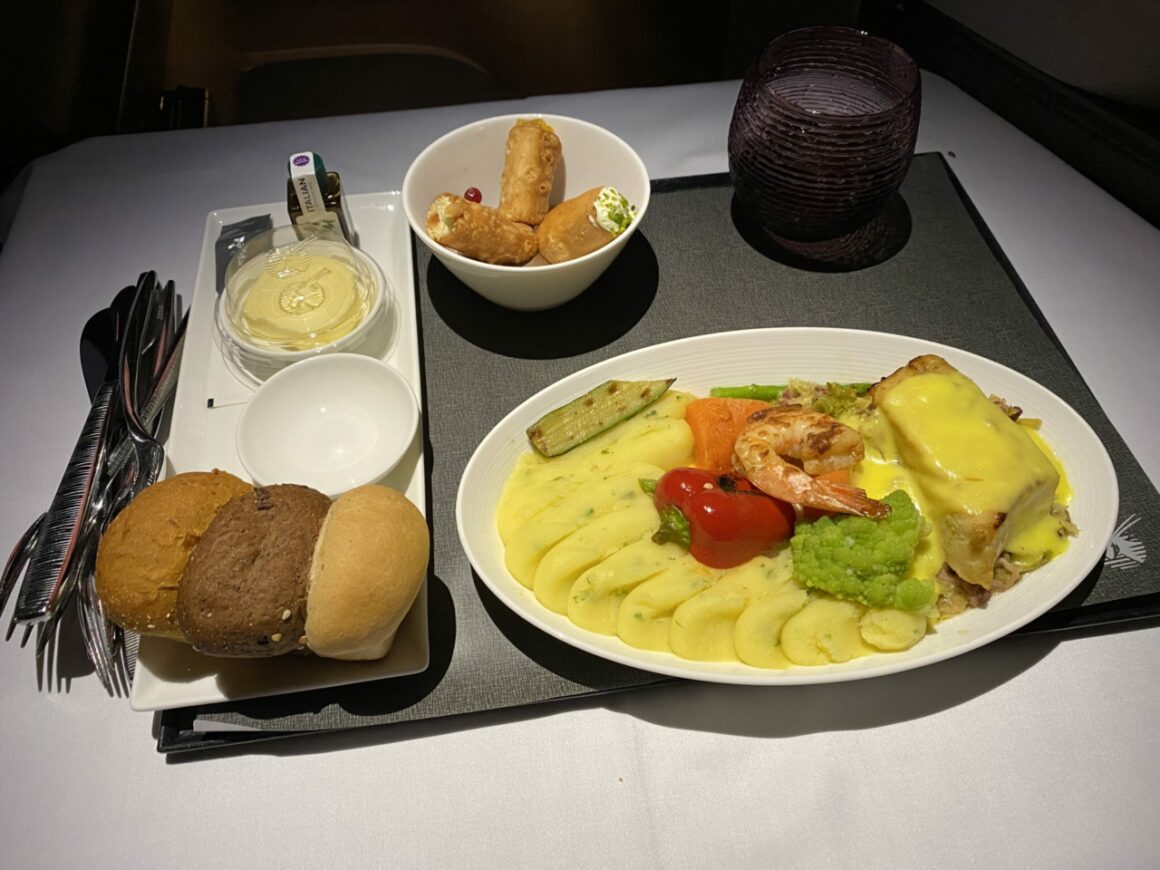 Arrival in the US
I wrote this piece basically to cover the experience of entering the USA as a British passport holder. Since last year, travellers coming from the UK, the Schengen area, China, Brazil and a few other countries have been unable to enter the USA.
This is however only applicable to those who have been physically present in the areas under the travel ban. As a British passport holder who lives in Qatar, I had spent more than 14 days outside the banned areas and so was eligible to travel under the normal ESTA visa waiver program. (There's no reason why any Brit can't go somewhere like Mexico or the Caribbean for 14 days and then enter the US).
Paperwork checks at check-in were thorough. Qatar airways needs an authorisation form, then you will need a negative covid test performed within the 3 days prior to your departure to the USA, or proof of a previous recovery within 3 months.
The check-in staff also took from us an attestation that we had been tested within the last 3 days (not entirely sure why that was required as well as the actual test) and checked our ESTA paperwork.
On arrival at the gate in SFO, the crew warned us that CBP officers may be waiting on the jetbridge to check paperwork before releasing us into the terminal, but this didn't happen.
We reached immigration very quickly and the line was almost non-existent. Presenting ourselves to the CBP officer I handed over our passports and boarding passes as well as our customs declaration. I had with me our folder of paperwork and waited for what I thought would be an inevitable grilling about travel history, covid tests, vaccination status and so on, but it never came.
We were asked all of the regular questions: where are you travelling from? What is the purpose of your stay? When are you leaving? Etc.
Pictures and fingerprints were taken, passports stamped and we were through! Our bags were on the carousel when we reached it. There was a final customs check where we were asked about carrying fruits and cash, and then we were out!
From arriving at immigration to being landside at SFO, could not possibly have taken more than 10 minutes! I was in absolute shock. US immigration isn't often known for being friendly, but this was a fantastic experience. I do think being well prepared and organised in terms of paperwork helped, and we are grateful we had a pleasant experience.
The purpose of our trip is to spend enough time here out of a red country to qualify for amber arrival rules in the UK. This piece was designed to show you that if you have the time available to do something like this, the USA is VERY much open for business and looking forward to welcoming tourists.
It is worth noting though that individual states have differing quarantine requirements, however almost universally vaccinated travellers are exempt. It seems to be based on an honour system though as we were never asked our vaccination status.
Like our Qatar A350-1000 QSuites review? You can read more flight reviews here.
Other Qatar Reviews that you might like is A Guide To Qatar Airways Business Class Seats – Which Are The Best? and Qatar Airways Qsuites B777-200lr Business Class Review Doha To Oslo.