After my musical chairs outbound flight that changed from a B787-9 with the new premium suite to several other seats before settling on the oldest B777 seats (2-2-2), I was hoping for a better experience on the way home. You can read my outbound flight review here and find out more about the fare I flew on.
Check-in and connection
I was travelling from Dubai and connected through Doha. Unlike the previous connection, I arrived at a gate close to the central area near the Teddy Bear sculpture, so did not have to walk miles. My departing gate at A8 was only a few minutes walk away too, which was handy for spending more time in the lounge.
Lounge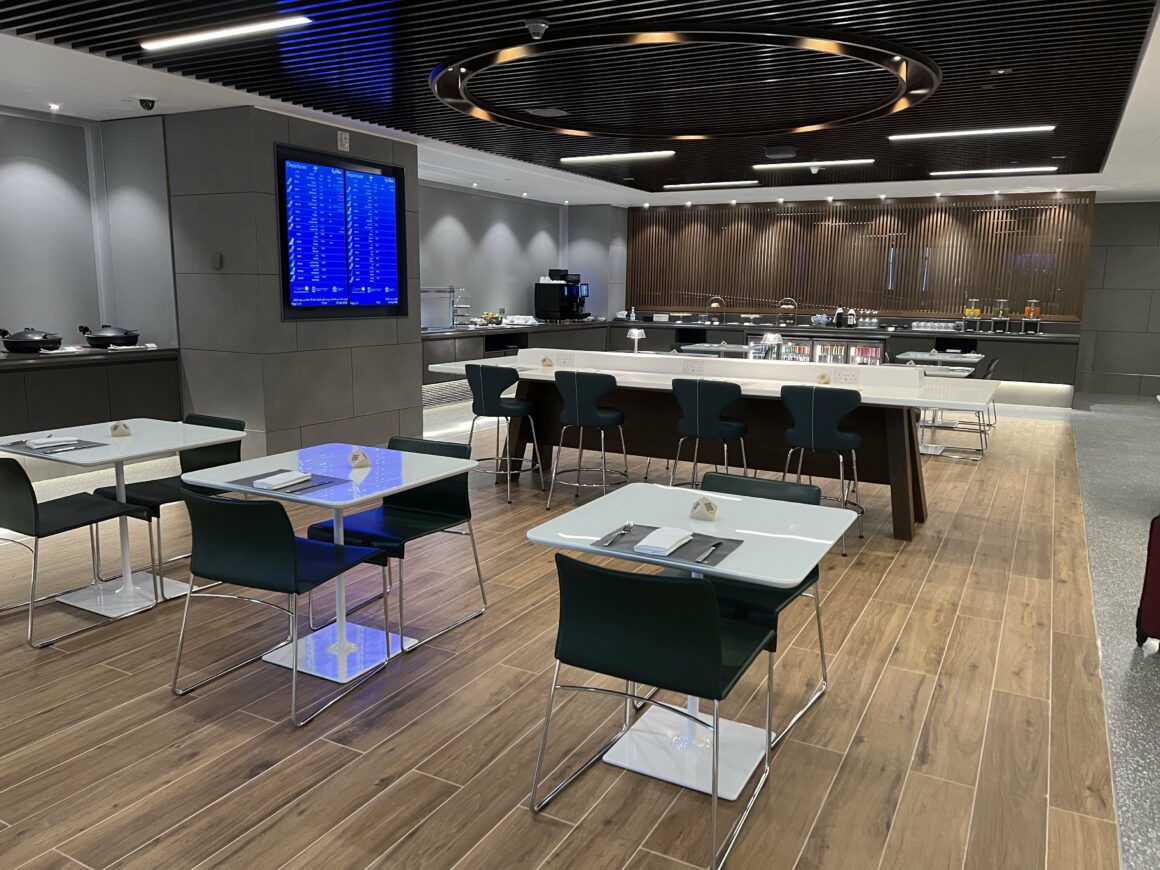 I was on a lite business class ticket, so did not have access to the main Al Mourjan lounge. You can read a review of the lounge here. Instead, I was allowed to visit the new Platinum or Gold lounges due to my status with BA. Platinum is for BA gold card holders, and Gold is for silver cardholders. Although I have read a few complaints about the lounges, personally, I liked them, and I definitely would not pay extra to use Al Mourjan unless I had a long layover.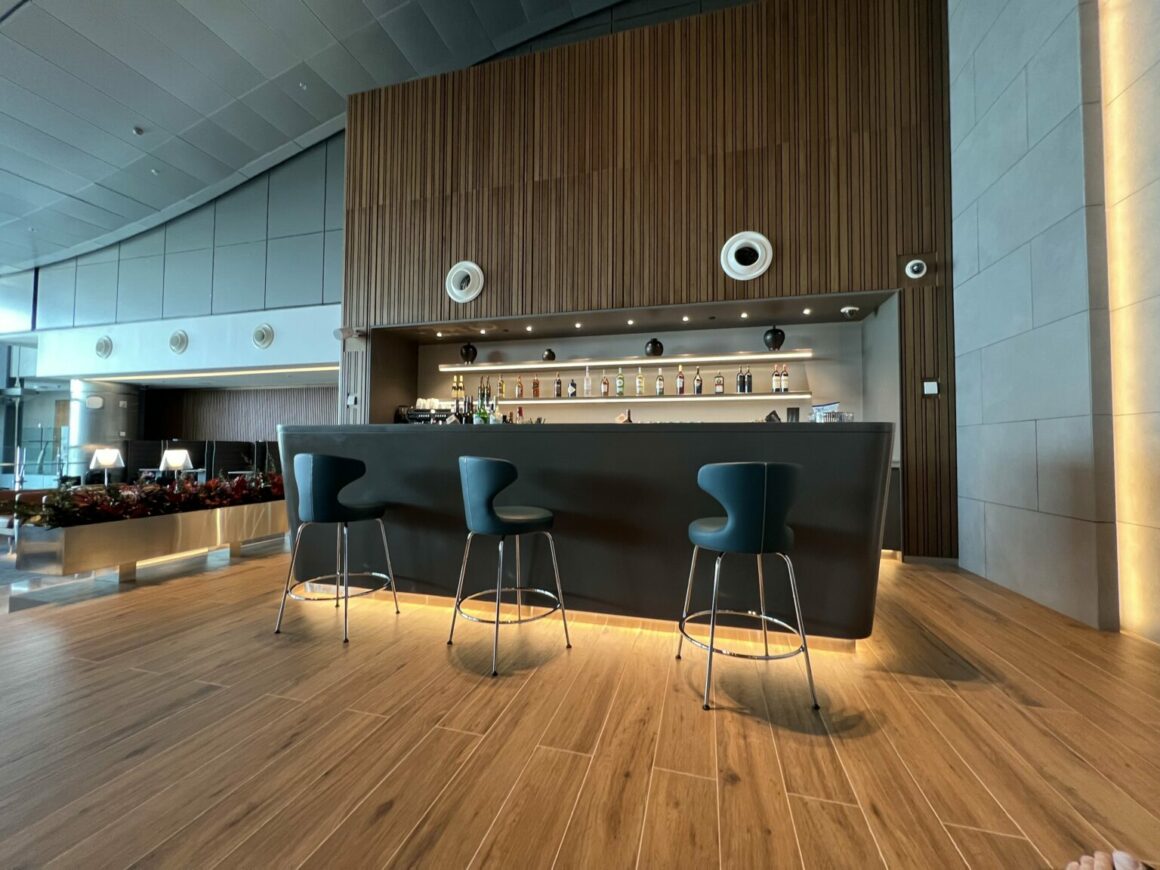 The lounges were quite busy when I got there at peak time in the early morning, but they soon emptied out. The crowding should improve as Qatar is opening larger new Platinum and Gold lounges in the new North part of the terminal.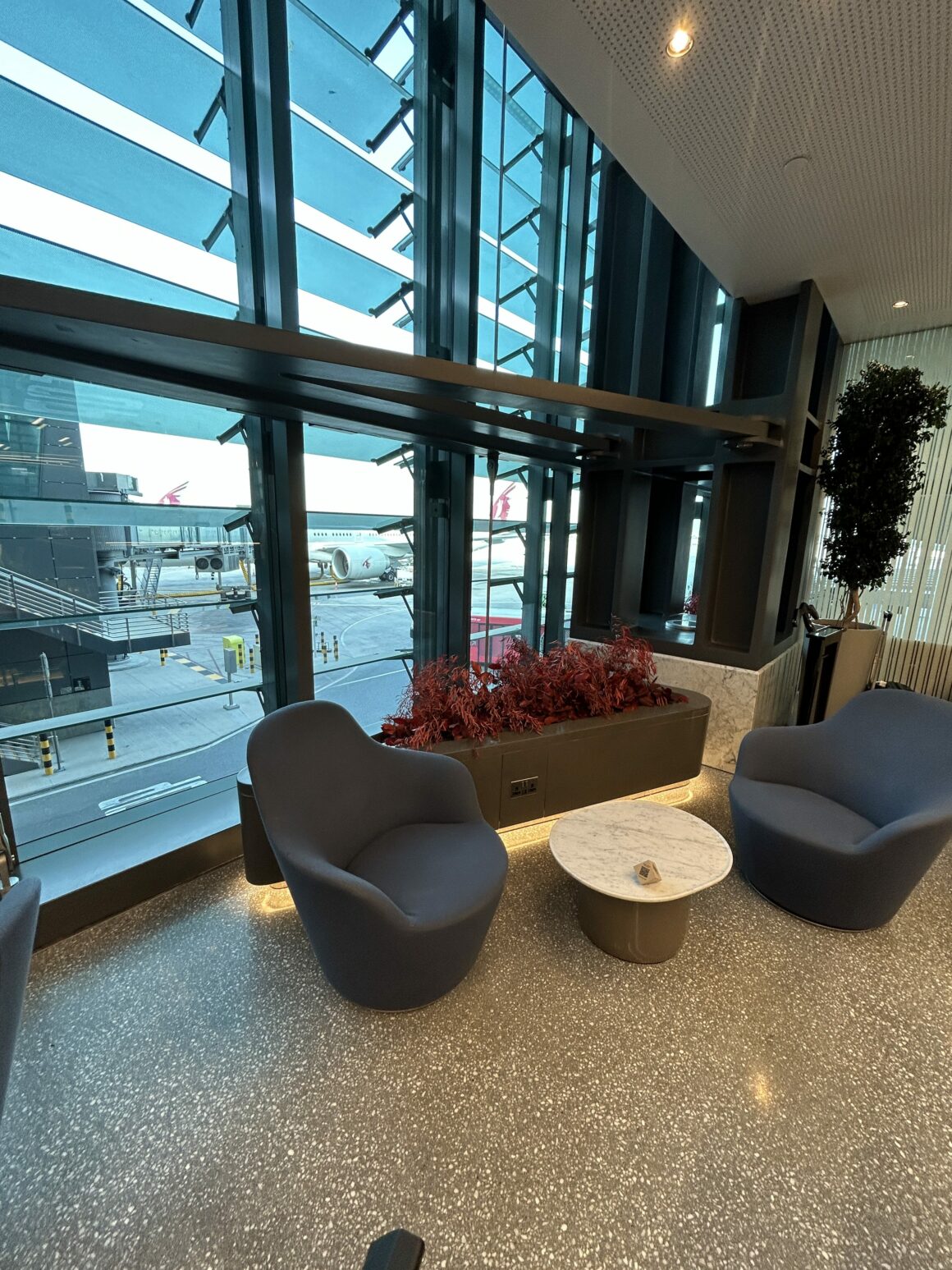 You can read my full review of the Platinum and Gold lounges here. As a quick summary, there was a good selection of wines and champagne available along with both a buffet and food to order. There was a separate dining area and then a bar and lounge section. I thought the food selection was not very different in the Platinum lounge than you would get in Al Mourjan, and even in the Gold lounge, the food was almost the same.
Boarding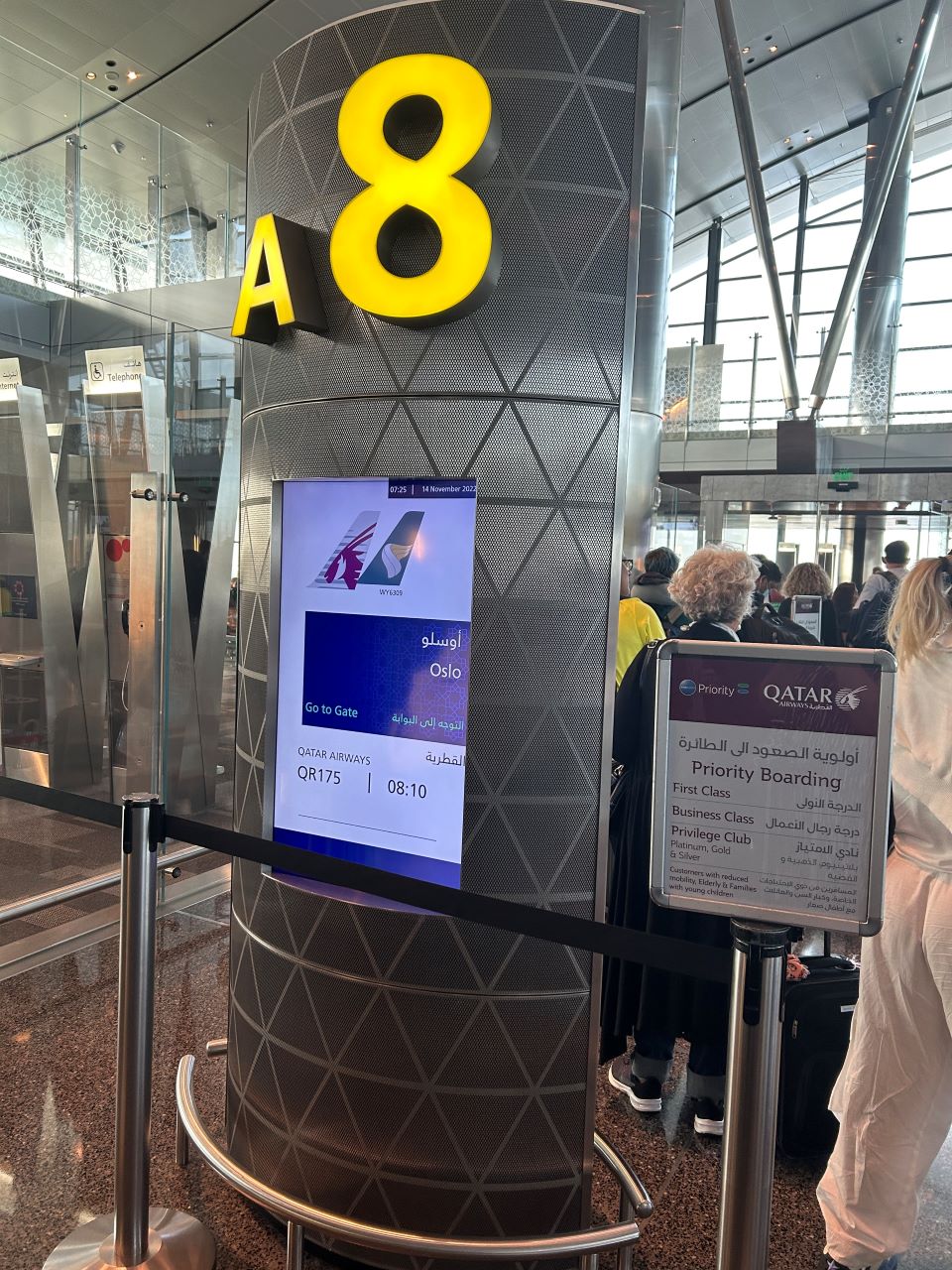 I set off fairly early for the gate as I find Qatar often board early. What greeted me was a bit of a shambles to be honest. The gate area was tiny and there was a big queue of people to get into the waiting area. Although there was a premium queue, it was hard actually to get to it, and it took quite a long time before I made my way into the actual gate area.
Eventually, they called business class passengers to board, and there was a separate door and jet bridge to board.
Once onboard, the crew soon came over to introduce themselves and offer a welcome drink. Despite being 8am, I'm sure it was 12pm somewhere so I decided to go for the rather lovely Laurent Perrier 2006 Alexander Rosé vintage champagne.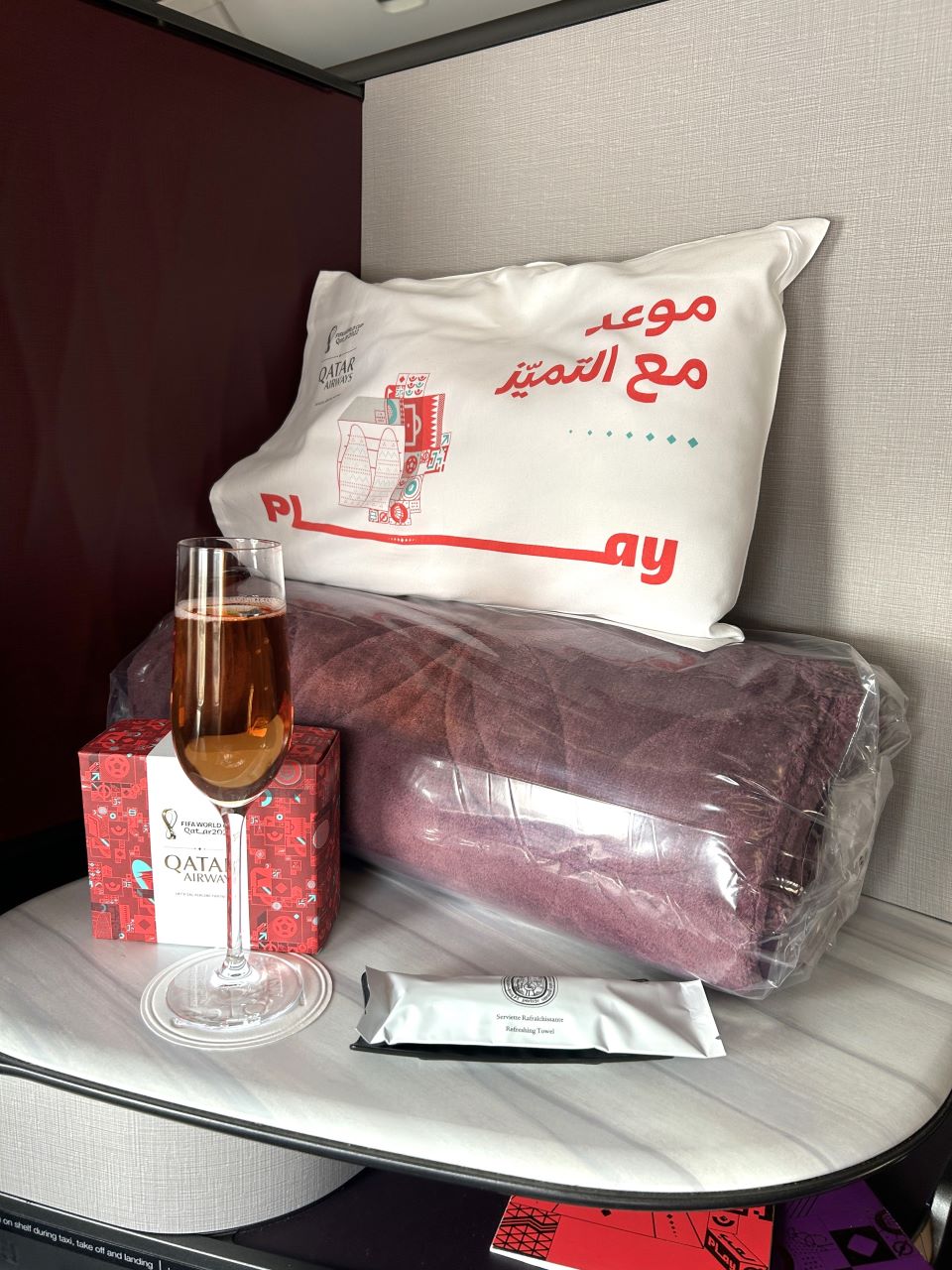 At the seat was an amenity kit in a box, the menus and a day pillow, all branded with the World Cup.
Inside the amenity kit was a selection of Diptyque products: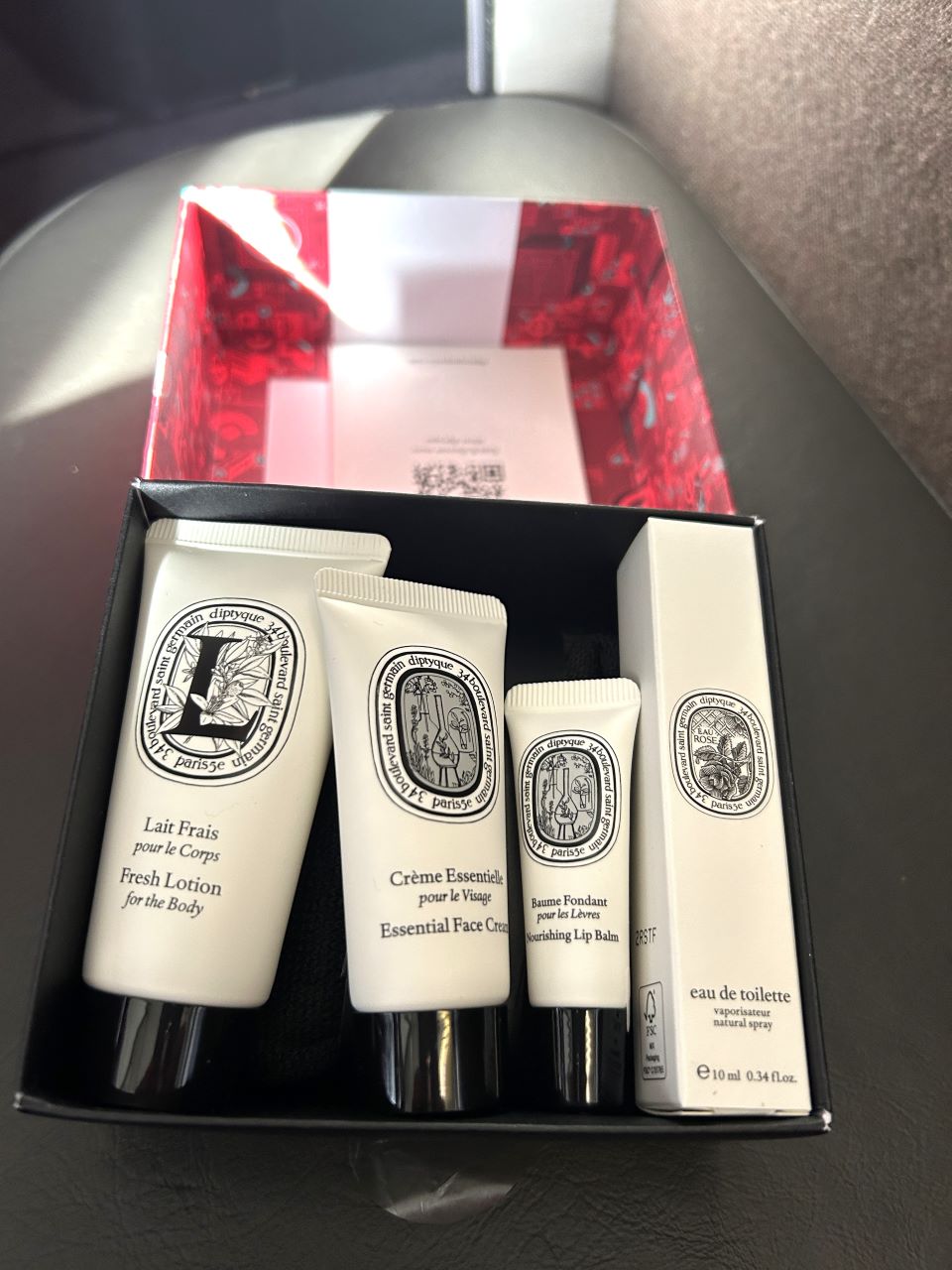 Being a day flight, there were no amenities like socks or earplugs. I did ask for pyjamas which they were happy to provide, but they do not give them out on day flights unless you ask usually.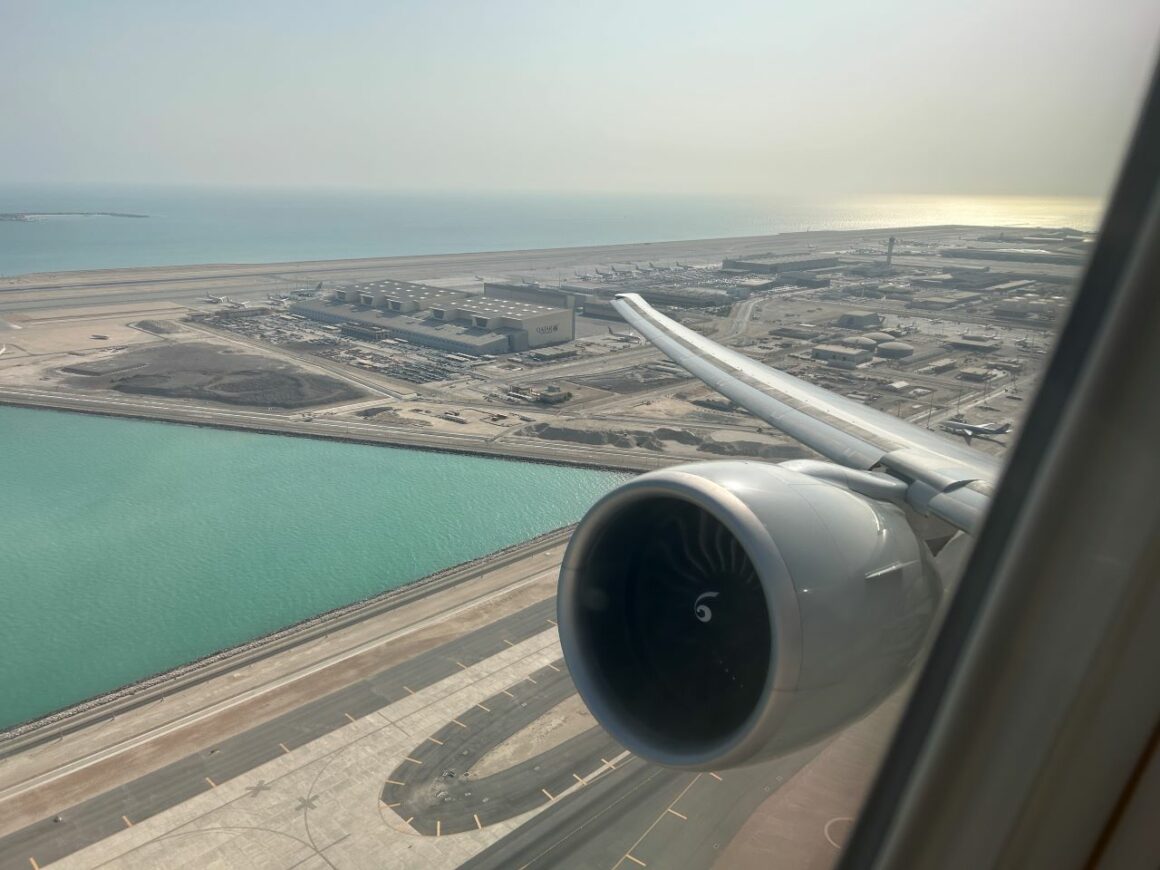 I was also given one of the scented towels, which I absolutely adore the scent of. They are really refreshing and moist enough to actually clean your hands effectively. I think Qatar should start selling them onboard, as I'd love a few to keep with me when travelling for a quick freshen-up.
The QSuite
I have been in the Qsuite a number of times, and it is still the best overall business-class service for me when you combine the hard product with the food and service.
Here is the seat map: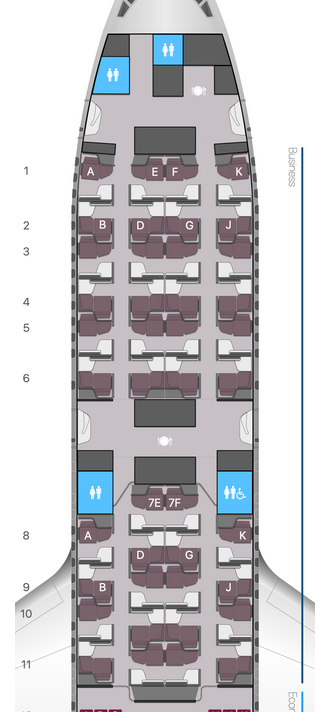 I like that there are two mini cabins which feel more personal. I chose seat 3K which is a rear-facing seat. I never notice any difference being rear-facing, and I am quite prone to motion sickness.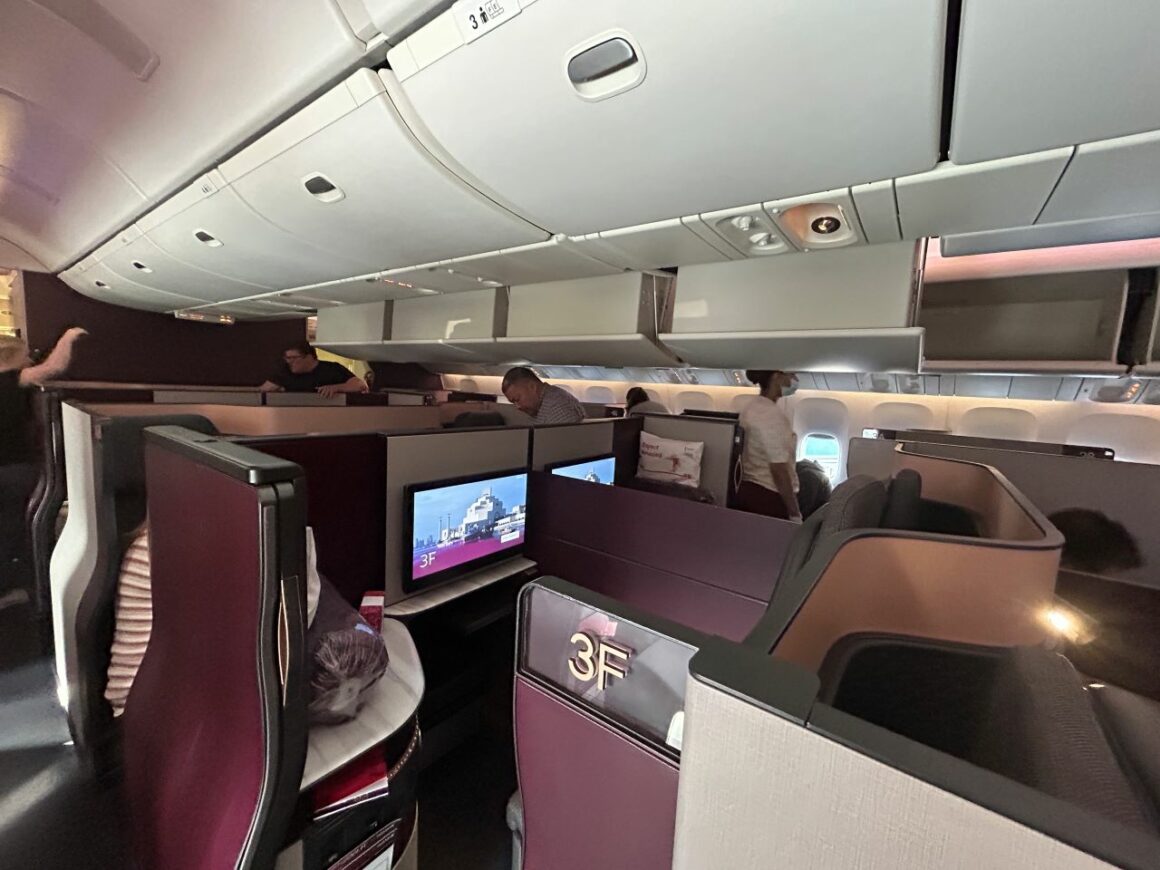 I chose 3K as it was one of the seats with the seat closer to the window and then the ottoman closer to the aisle as I like to see out of the window and also find it quieter being away from the aisle.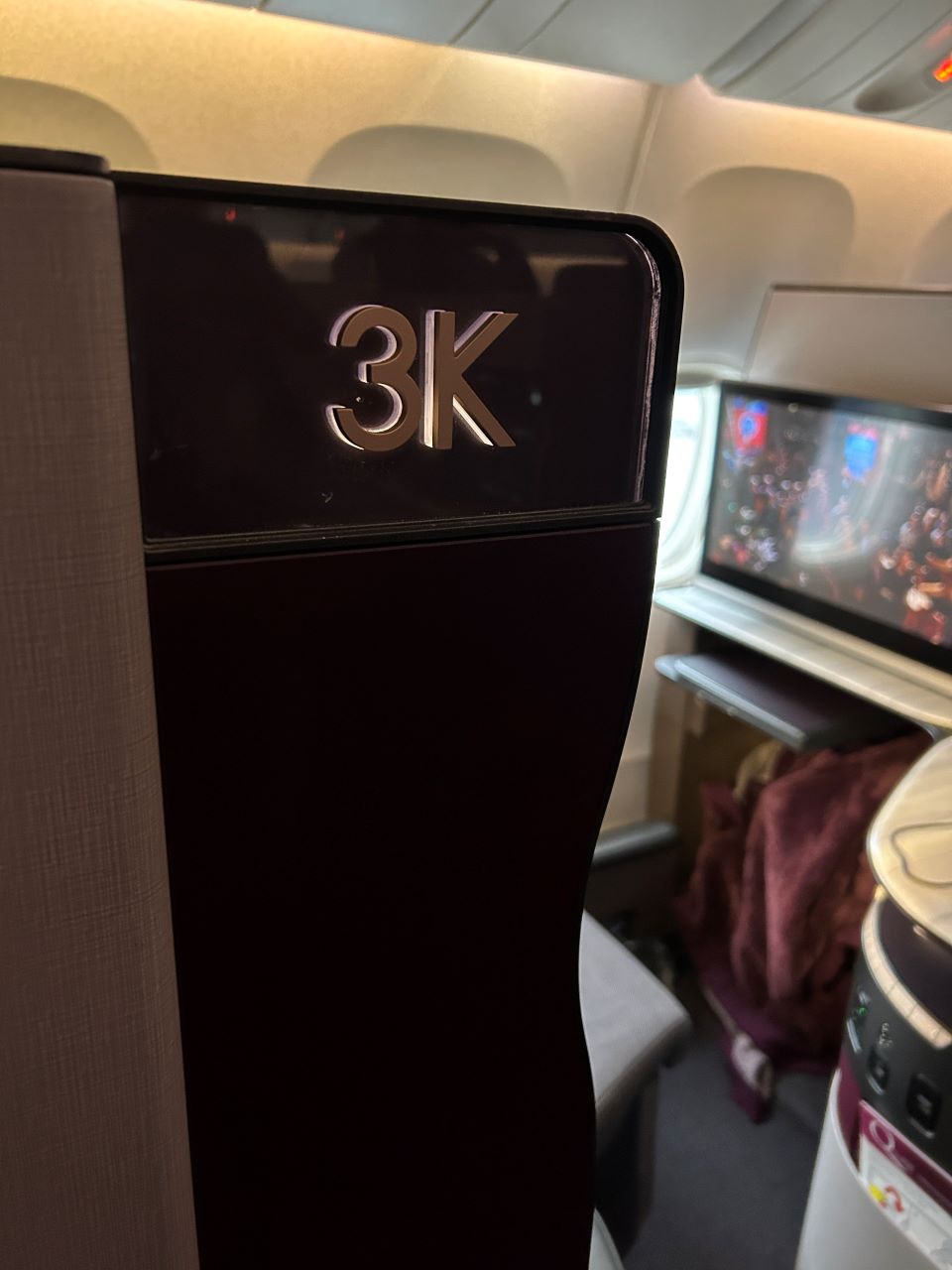 There is plenty of storage in the Qsuite, which is mainly in the ottoman, that has a lid that lifts off.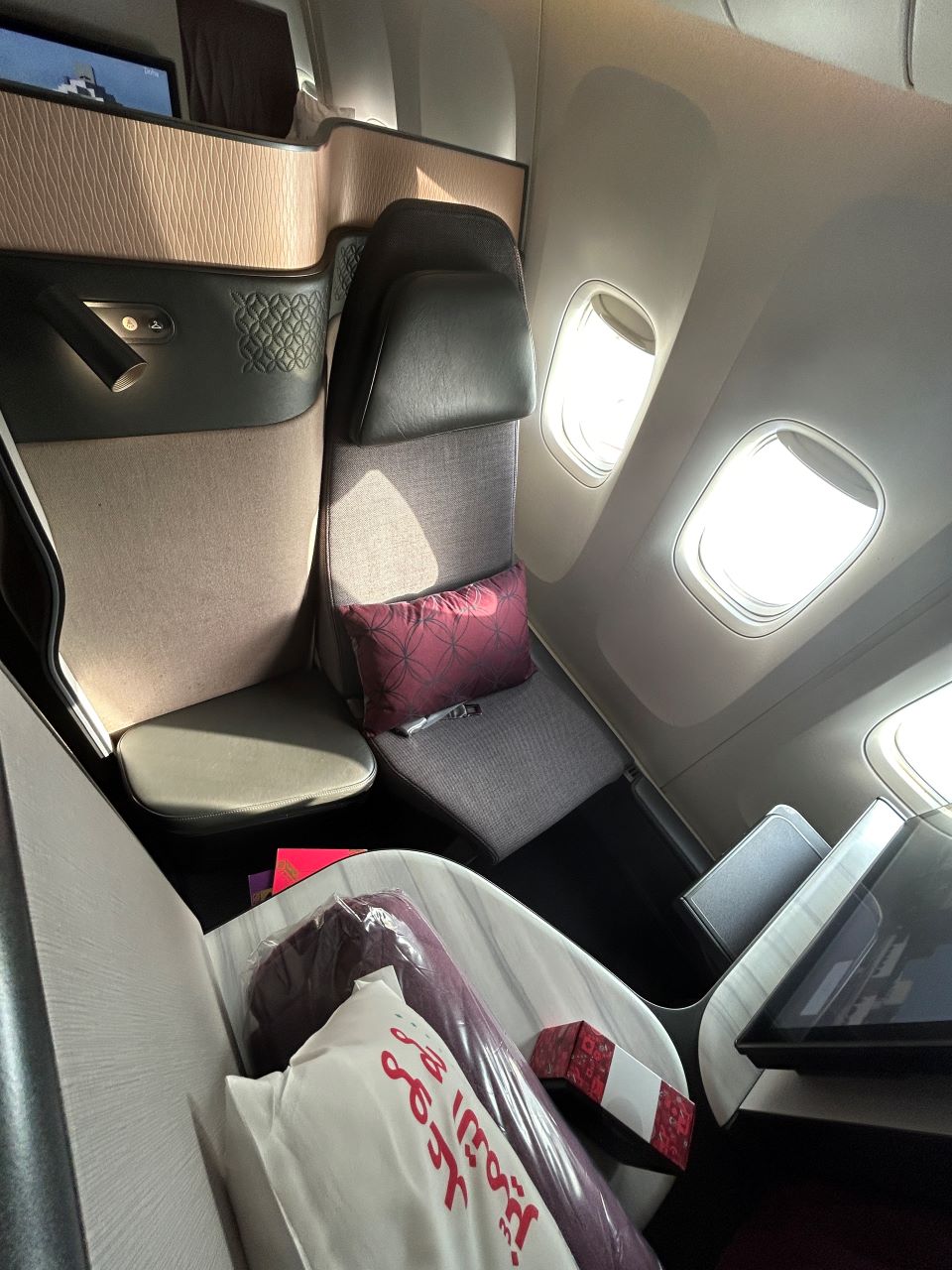 In the ottoman, a bottle of water had also been placed.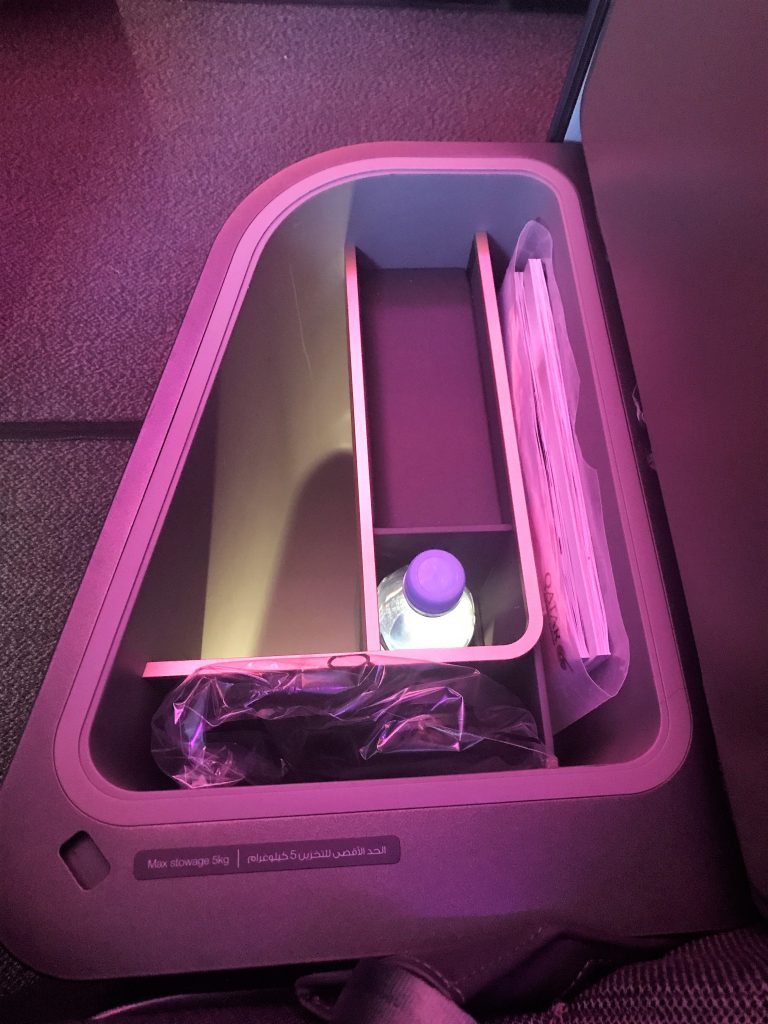 After take-off, you have the whole side table area to store things as well as underneath it which is perfect for a laptop or tablet.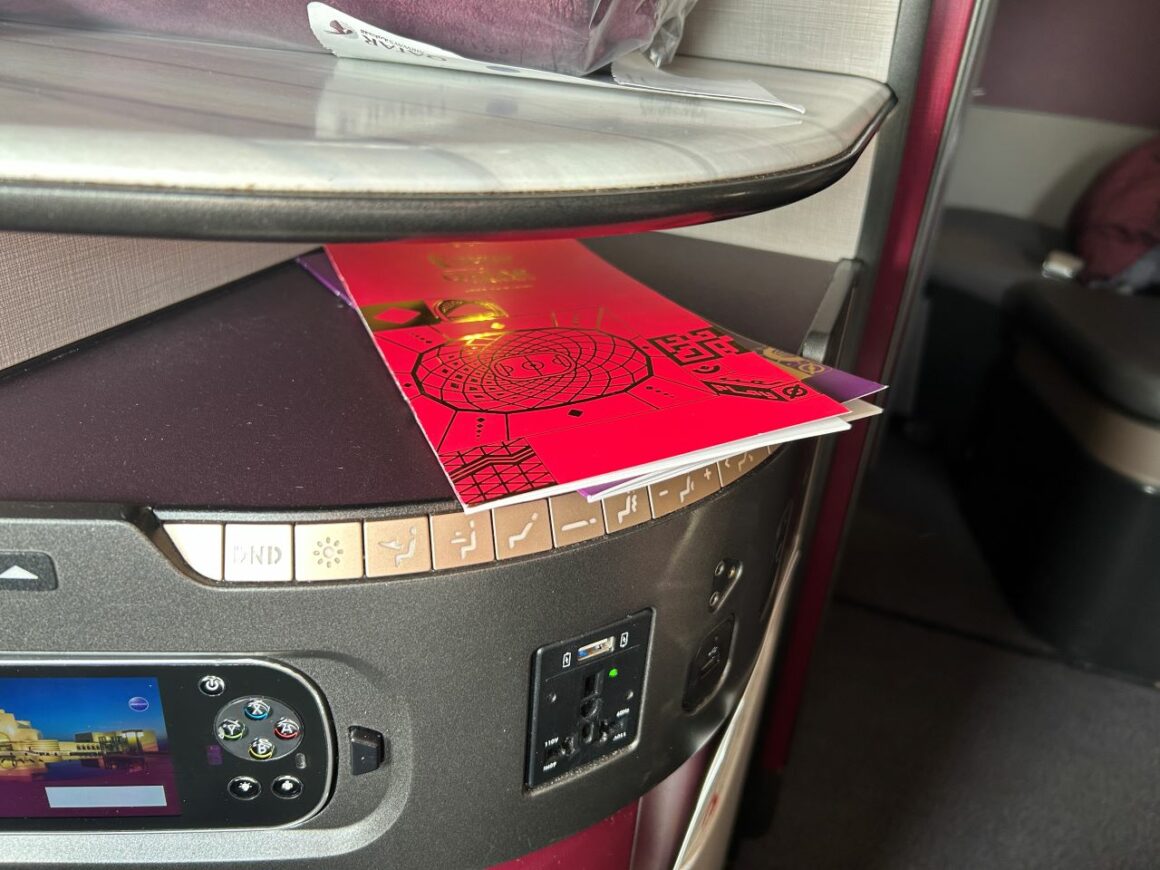 When sleeping your feet go in a footwell under the next seat, but there is also some storage available here.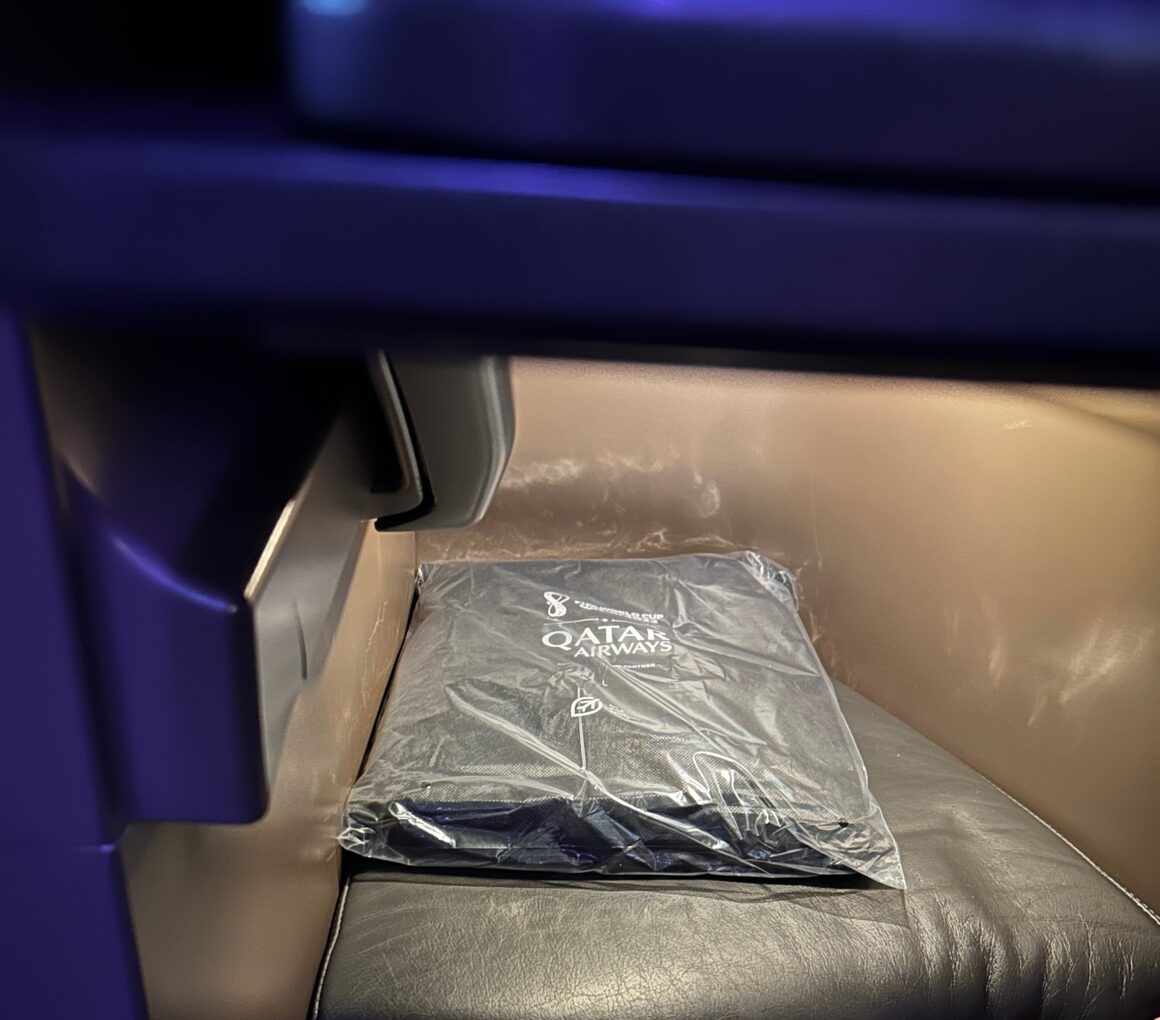 There was a blanket provided, which is silkier on one side and more fluffy on the other. There was a cushion on the seat as well. You can always ask the crew to make up your bed if you want a nap, even on a day flight, and they will provide a mattress topper as the seats are a little firm for me to sleep.
I find the QSuites very comfortable for lounging and sleeping, although as I said they are quite hard when lying down, particularly if it is a newer aircraft.
The seat position can be controlled in multiple ways which I like as the footrest is a little too far for me to reach without shifting the seat forward a bit. As well as sleeping, lounging and eating presets you can adjust things like lumber support and move the chair forwards and backwards.
I also like that you can use the Do Not Disturb sign for when you are sleeping with the door closed. I do not find it claustrophobic with the door closed at all, but I think it feels more spacious when you have the ottoman between you and the aisle.
Food and drink

To start, I was offered a drink and some warm nuts. I decided to continue with the Laurent Perrier Alexander vintage Rosé. This is far superior to pretty much any other airline business class champagne and would be more at home in first class.
Here is the menu:
I thought this was a very substantial offering for a 7 hour flight with a full a la carte, platters for snacks, some light options and some nibbles all available. I could also choose to eat when I wanted, so I waited a little while after taking off before I ate.
Here is the wine and drinks list:
I started with the amuse bouche which was rare cold beef with asparagus.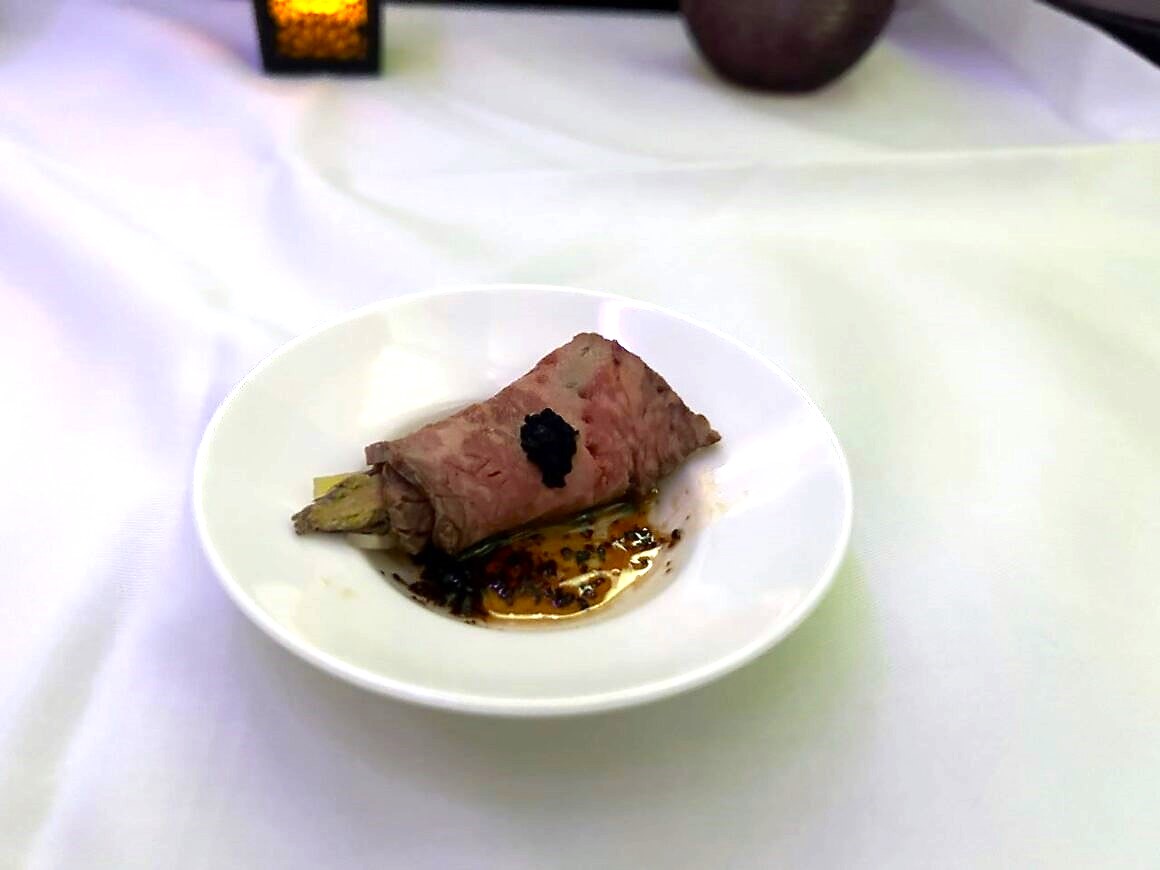 Next, I had to have the mezze for one last time even though I'd just spent five days eating it in Dubai!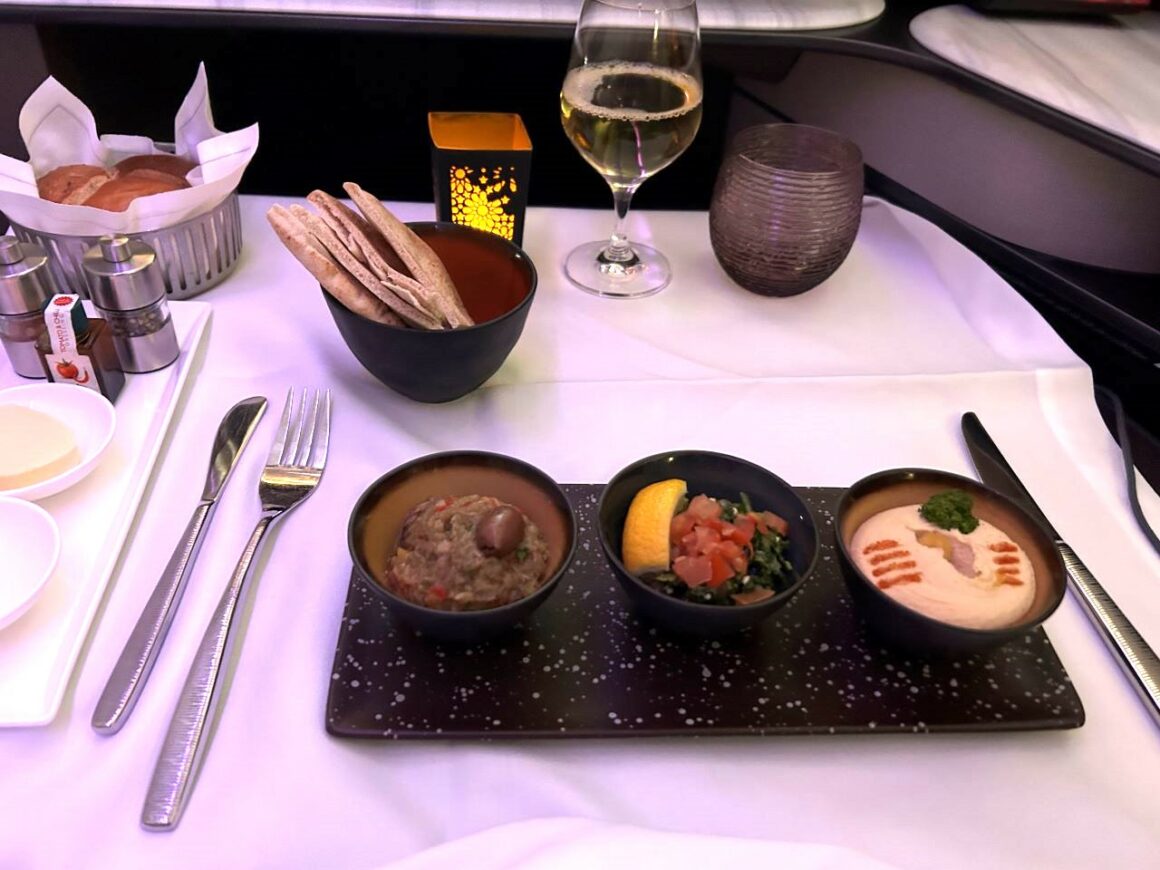 As well as the starter, I was also given a basket of bread and a choice of flavoured olive oils for dipping – one of my favourite parts of the Qatar service. If you like a bit of zing, I recommend the spicy lemon or the chilli-tomato. The portion size is definitely generous, and all the elements were authentic and tasty. I had the white Burgundy Chardonnay to accompany it which was very good, being slightly buttery but with a hint of freshness.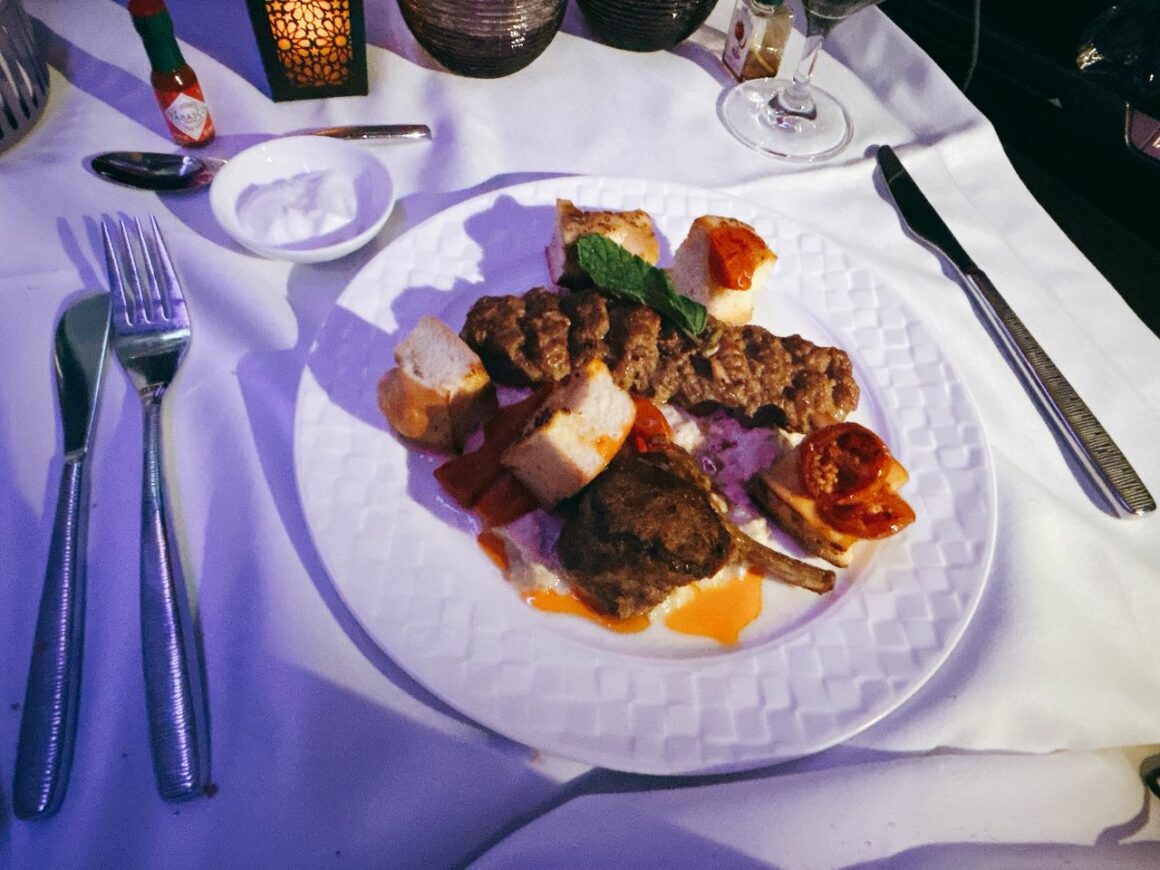 I had gone for the lamb kofte and lamb chop. Again it was a generous portion, and the lamb was still tender and not dry or chewy. I also enjoyed the harissa flavour. The only fail of the meal was the tomato focaccia. It seemed very out of place and was pretty dry too. A bit of a pointless addition in my opinion. Otherwise, it was very enjoyable. I enjoyed my glass of Chateau Batailley Pauillac which was an excellent Bordeaux and better than the equivalent one in BA first for my palette.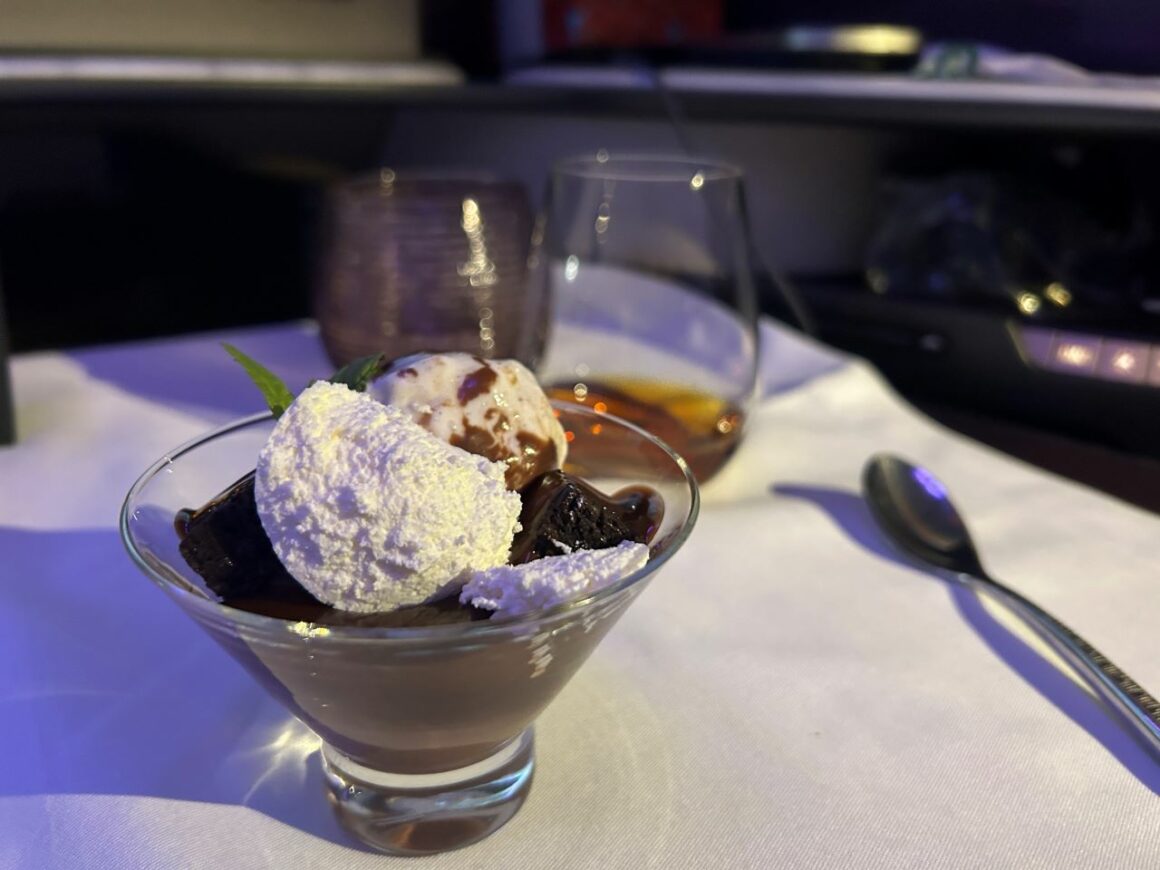 I ordered the gourmet ice cream selection (although the world cup football dessert looked very impressive), thinking it would be a relatively light dessert. I was not expecting a chocolate ice cream sundae, not quite the small portion I was expecting! I accompanied that with a cognac – there's definitely no #brandygate on Qatar, that's for sure!
Some people complain that the crew are robotic but I have never really found that. I did a series of 4 flights on Qatar, and generally, the crews were friendly and professional with some being more chatty than others. On all the flights, the cabin manager came to introduce themselves to business class passengers, which I think is a nice touch.
Wifi and Entertainment
The B777s have the Super wifi service, which is great. Fast and cheap, there is little to complain about, and I wish other airlines were similarly equipped. I also got an hour of wi-fi free for simply being a Privilege member, so it is always worth joining before you fly to get the free hour.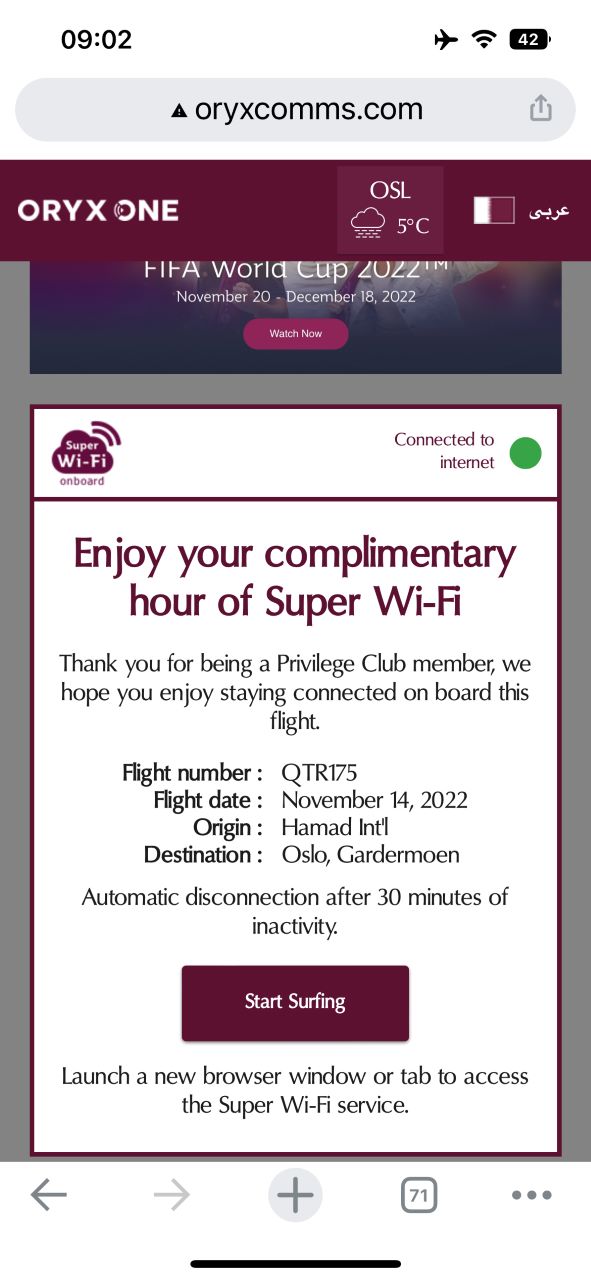 It is easy to log in as you just supply your email or phone number registered to your account to connect. Even the full-flight Wi-Fi is only $10 which I think is a very reasonable price, with many others charging more than double that for 150mb.
Noise-cancelling headphones were supplied which did a good job, but I do find them a little tight to wear for a long period. However, the pads on the ear prices themselves are relatively soft compared with some others.
The entertainment screen on board had a good definition, and there was a decent selection of recent films and TV programs as well as some classics. I'd started watching a fairly trashy sitcom on the previous flight called American Housewife so I continued with that – perfect when you have been up since 2am!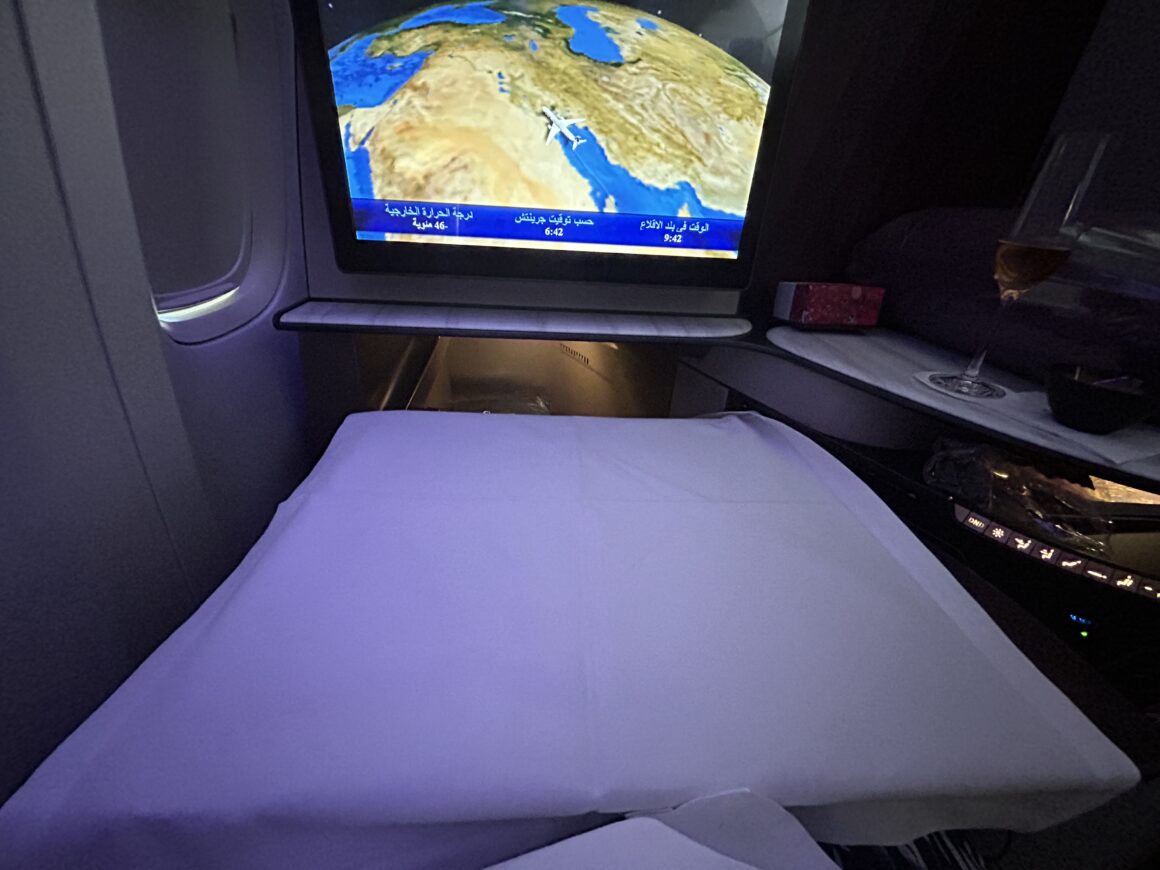 The handset has a colour screen and can be used to display something separate to the main screen. It was fairly easy to use with only minimal lagging.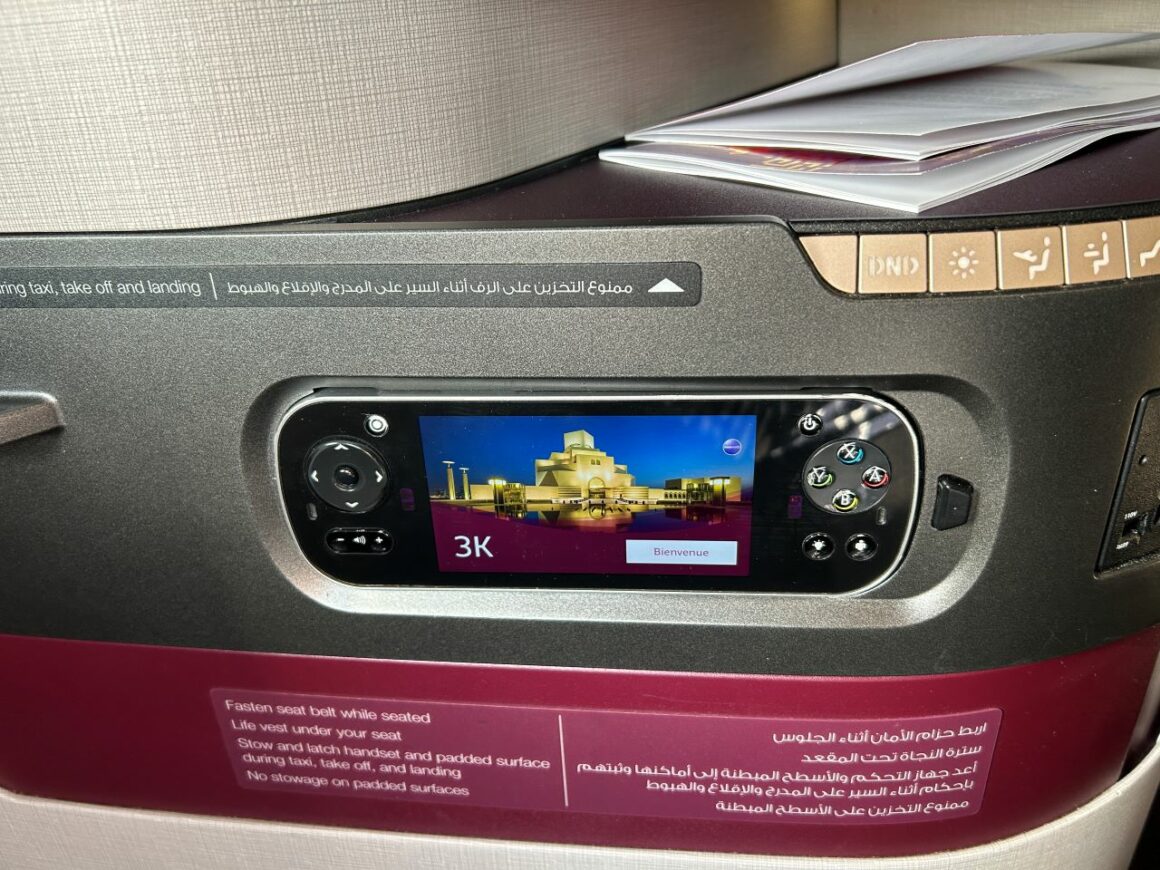 The NFC feature for the Qsuite allows you to transfer your Oryx One playlist from your phone to your seat with just a tap. There is also an HDMI socket to connect your laptop if you want to watch your own content.
I had no issues charging several devices at once, thanks to the multi country socket and USB port.
Conclusion
Other than the boarding process, I have very little to complain about for this flight. The wines were exceptional for business class, definitely more what I would expect in First class. The food was all tasty, although the bread addition to the main course was a little odd.
I still love the QSuites which was the original business class suite and is still one of the best. Overall I'd still say that Qatar hasn't lost their touch and are still in the lead for the best business class service when you get the QSuites.
You can check prices and book Qatar Airways flights here.