Boarding
I began by spending a couple of hours in the Qatar Al Mourjan Lounge at their 'not so quiet at all' Quiet Zone. I arrived at the gate just before Business Class were called to board. Fortunately, we boarded via a jet bridge (I surely can't be the only person who is fed up with being bussed around this massive airfield when arriving or departing at Hamad International?). Upon boarding, we were greeted by an amiable crew member who escorted us to our seats.
I found the Qatar welcome to be generally quite frenetic. The crew are all busy going through the performance of introductions. Asking and getting you your welcome drink of choice with hot or cold (or both) towel. Presenting the food and beverage menus, and finally the presentation of the 'wrong sized' pyjamas! They do this for every passenger, and it's quite inefficient. At least the Brics Amenity kits are already in place. Also at my seat was a decent sized plump pillow, a vast and soft blanket, noise-cancelling headphones and a bottle of Evian. I always prefer to use my own set of Bose QC35's onboard.
The crew member looking after me was delightful. She delivered my requests of Drappier Brut Rosé de Saignėe Champagne, Cold Towel and small PJs. While the aircraft was taxiing, she started to take my post departure drink and half of the dinner service order. We were at the runway holding point before she scurried away to her seat!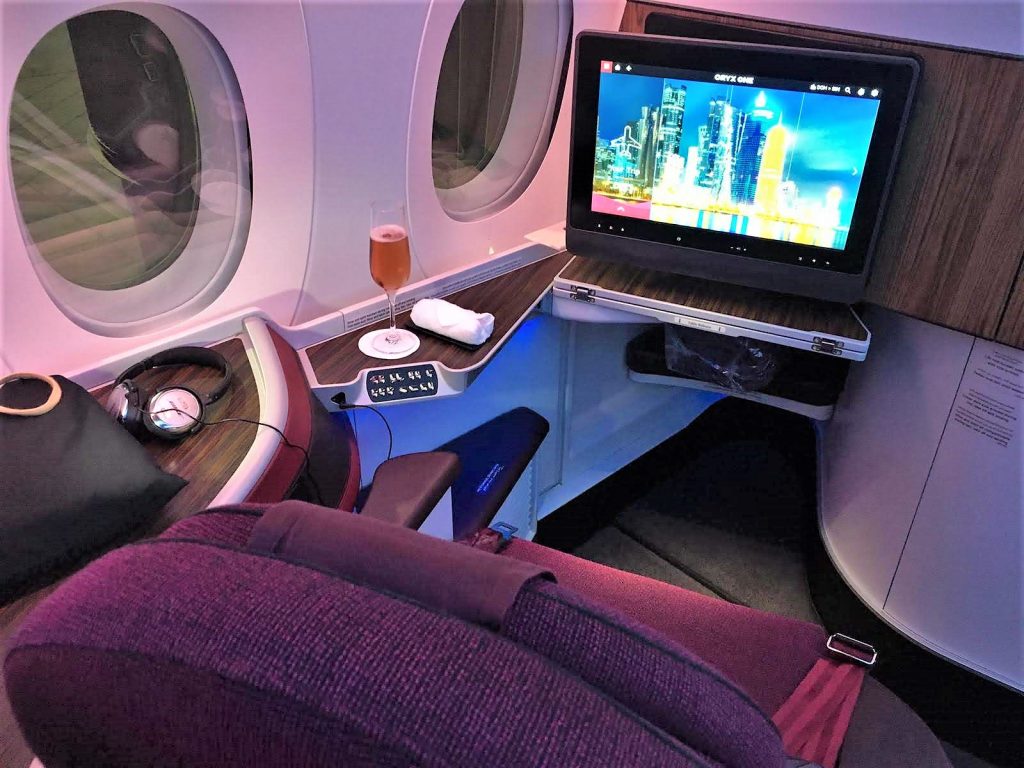 Once in the air, the Cabin Manager introduced herself to me, recognising my One World Emerald Status. It was a very genuine welcome, and I noted that she didn't recite the same hospitality to everyone. I felt valued as a customer.
Cabin and seat
I have flown the A350 a few times now on this route, and my preference is for the first row in the second business class section. It is immediately to the right of the second door (which is usually used for boarding). This means that you can also be one of the first to get off and the window seats have more storage space too.
There is a great feeling of spaciousness as there is a bar area immediately ahead of you. Also, I never felt that service was delayed (I assume that there are dedicated members of staff for this mini-cabin). Finally for the fourth time now there were less than four passengers in this area, so it was extremely quiet. The main business cabin seems crowded in comparison.
I have not had the pleasure of enjoying the Qatar Q Suite yet but have flown on all the other long haul business seats. The A350 is my favourite of the rest. There was a fair amount of storage space, and I felt that I had a lot of room around me.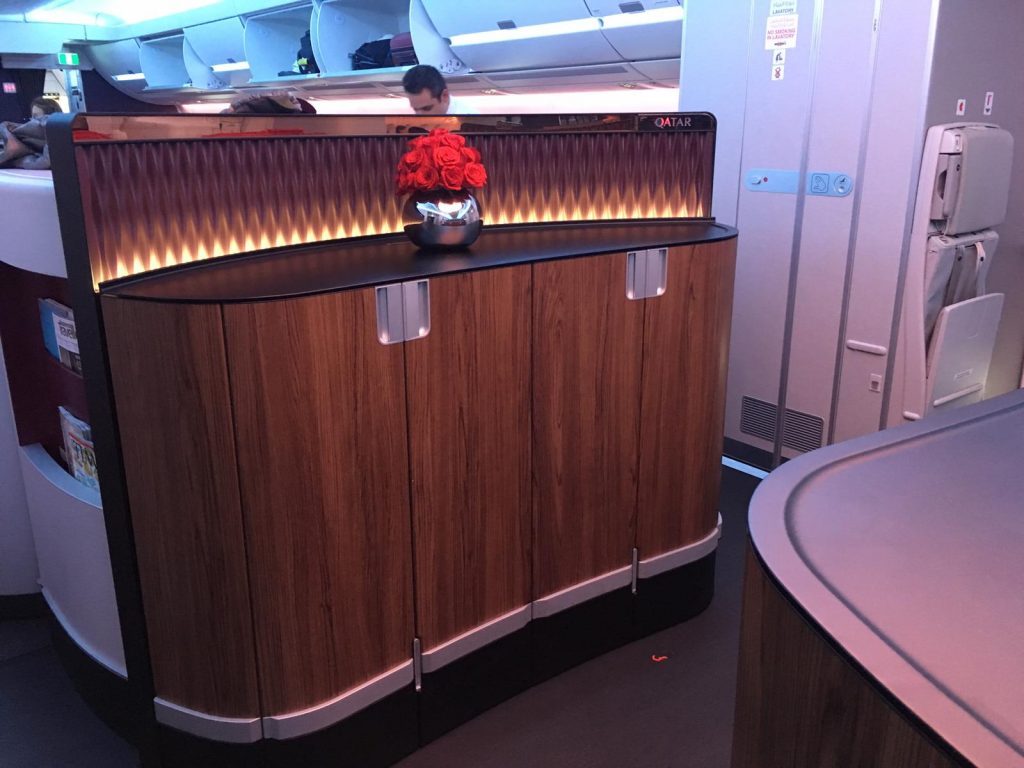 The inflight entertainment was the standard Qatar options. Loads to choose from but not the most recent releases. The screen was large with good definition.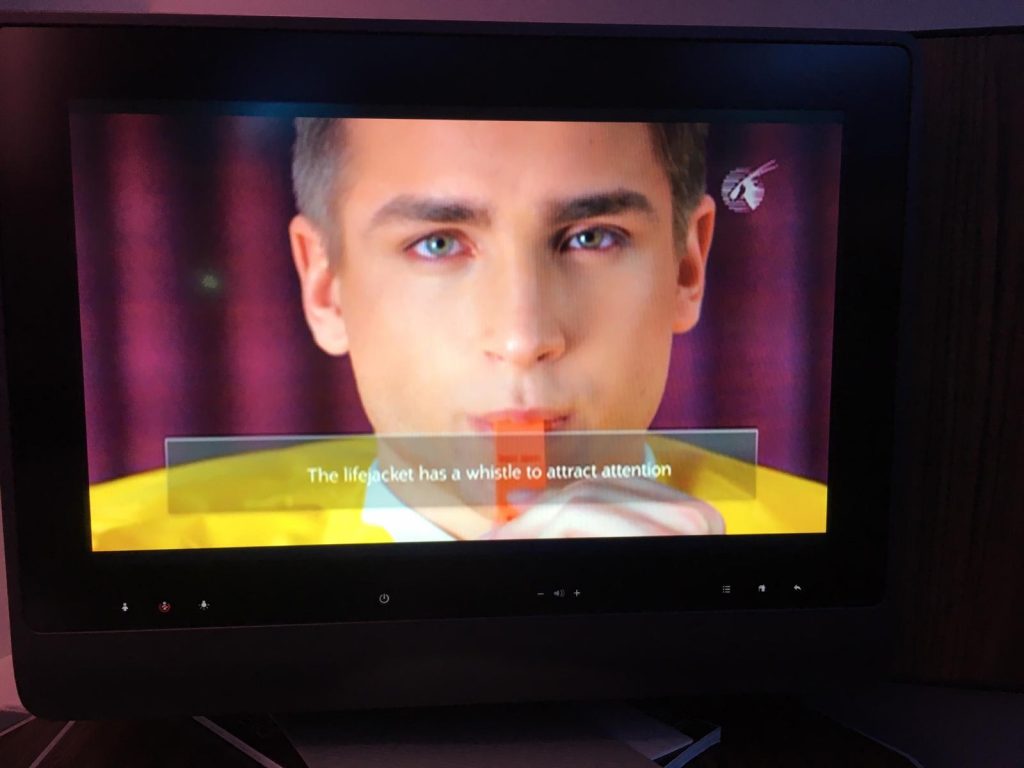 Food and drink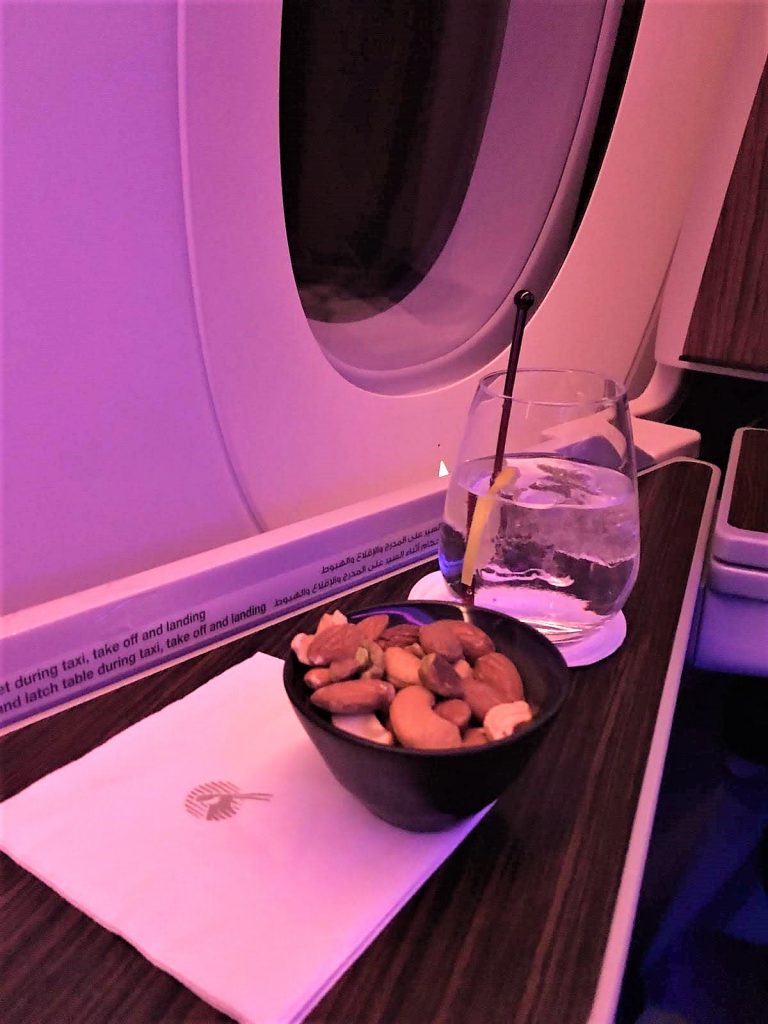 I chose a G&T for my first drink and boy was it strong. Way too strong in fact (and having a gin bar at home I can drink a stiff Gin). I couldn't finish it, so I asked for a top-up of tonic. The offending glass was removed, and a fresh palatable replacement was delivered with a smile. The drink was accompanied by a small dish of warm nuts. I then followed this with a Mimosa. Here is the wine list:
My meal order was then completed, and after about 30 minutes, the table was then set.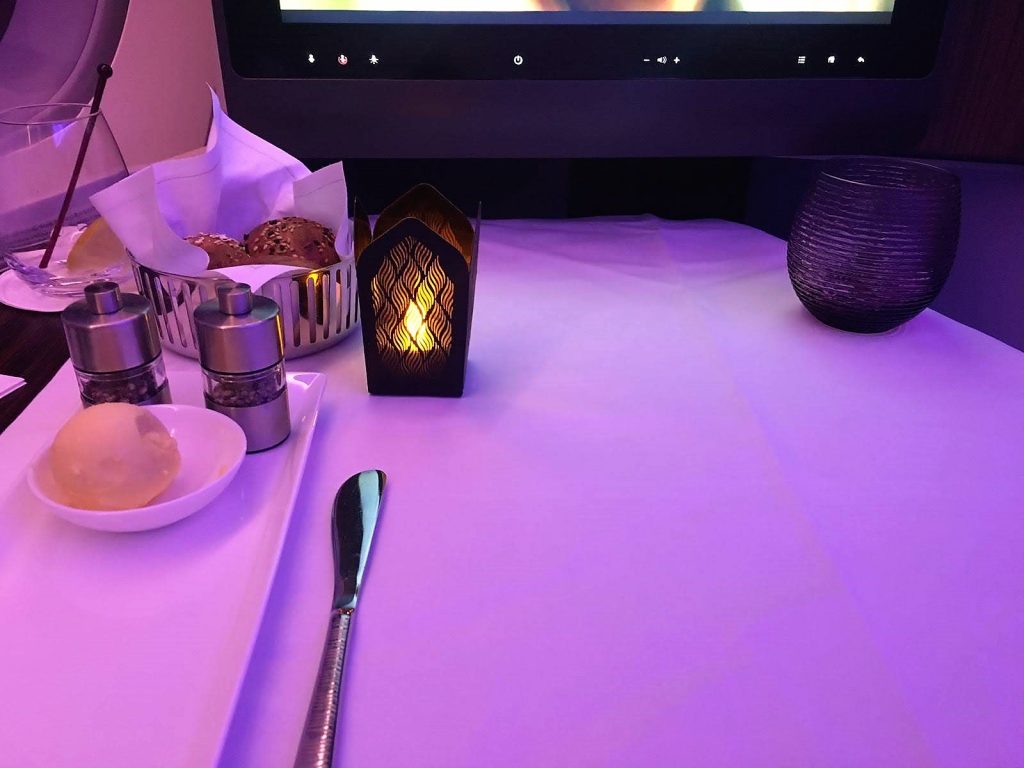 A bread basket, an imitation candle (which had a delightful effect) and an amuse bouche were delivered. I wasn't told what it was, but I'd describe it as a bony fish patė. There were more bones than anything else. It got served with some kind of sponge with a cucumber tzatziki sauce. Who knew what it was? I accompanied this with a glass of the Rosé fizz.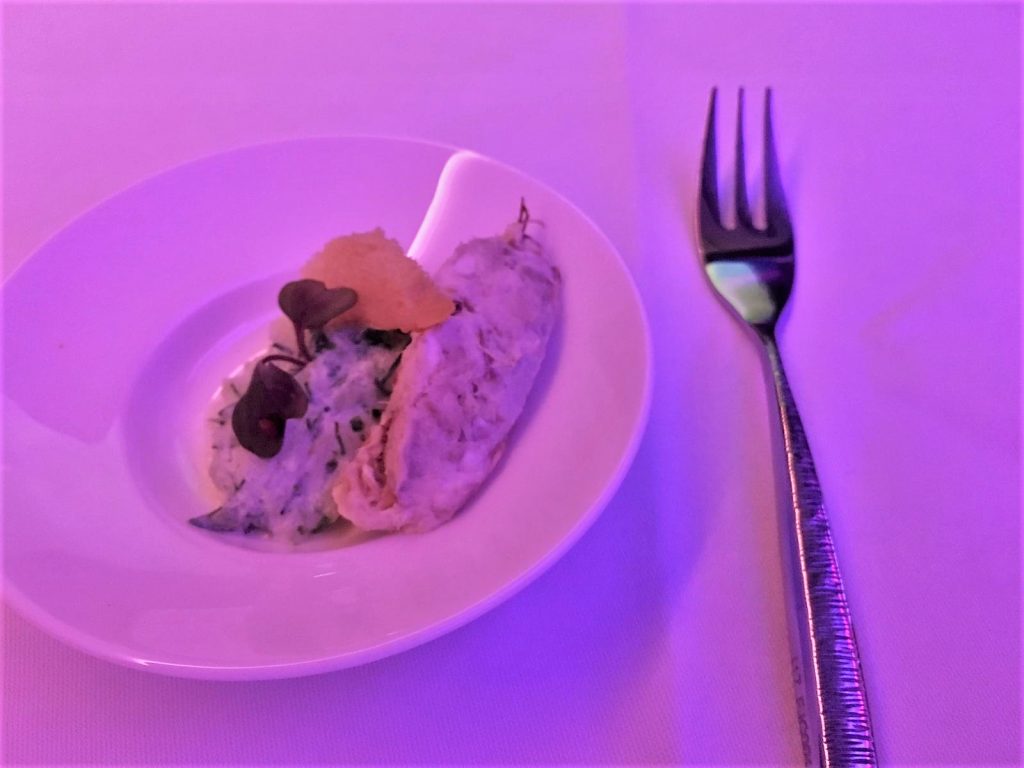 Here is the menu:
For my starter, I chose breaded prawns which were like bullets. Bland and very cold. I wasn't offered wine, so I asked for a glass of the Argentinian Torrontės 2016 Cafayate Valley. It was lovely and fresh with notes of citrus, lychee and peach.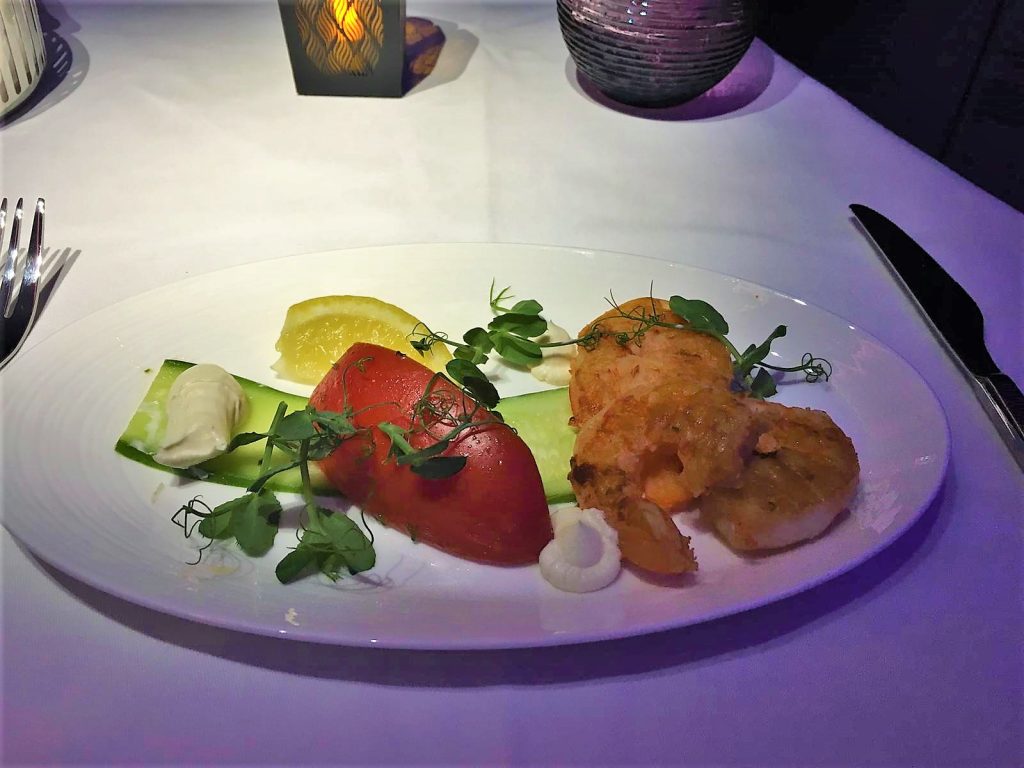 My main was much more of a success, and I had a beef rending which was delicious. It appeared quite small but on reflection was a perfect size. It was accompanied with roasted peppers and mushrooms. I stuck with the white wine as I was enjoying it so much. I intended to try the Saint Émillion 2007 but ran out of steam.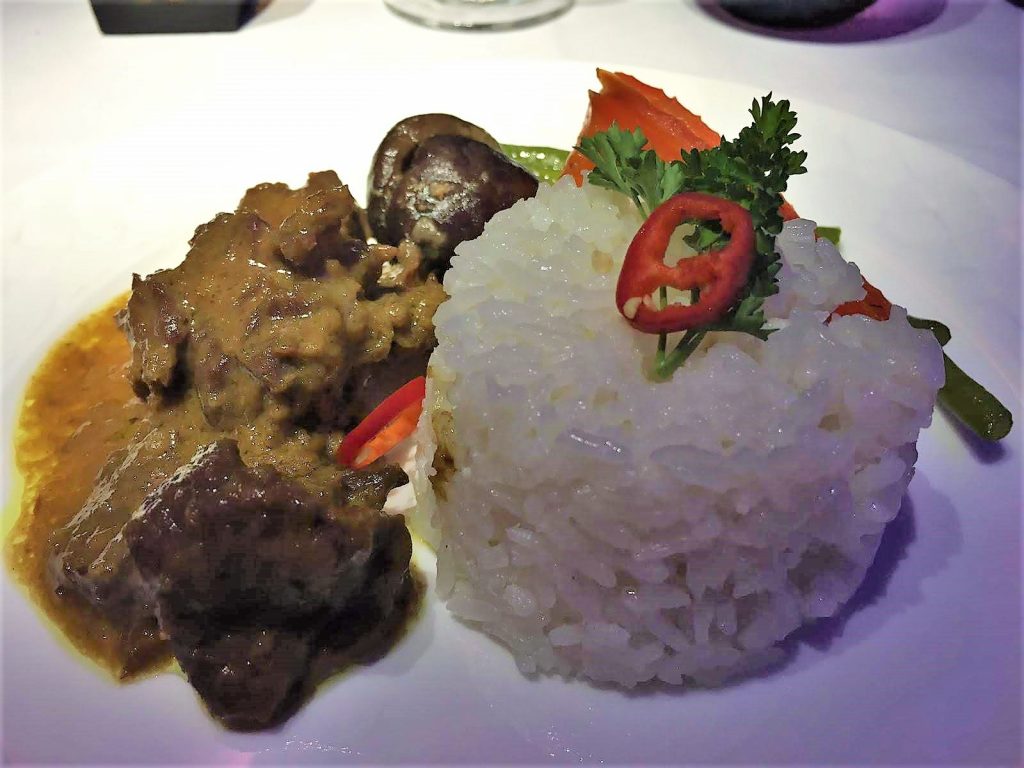 I then opted for the cheese plate which was nicely presented, with dried fruit and a decent selection of quality crackers and dark rye bread. I particularly enjoyed the pesto thins. The quince paste was revoltingly stale. I accompanied this with a glass of the Three Bridges Botrytis Semillon 2015 from Australia. I felt this went superbly with the cheese course. I enjoyed a second glass!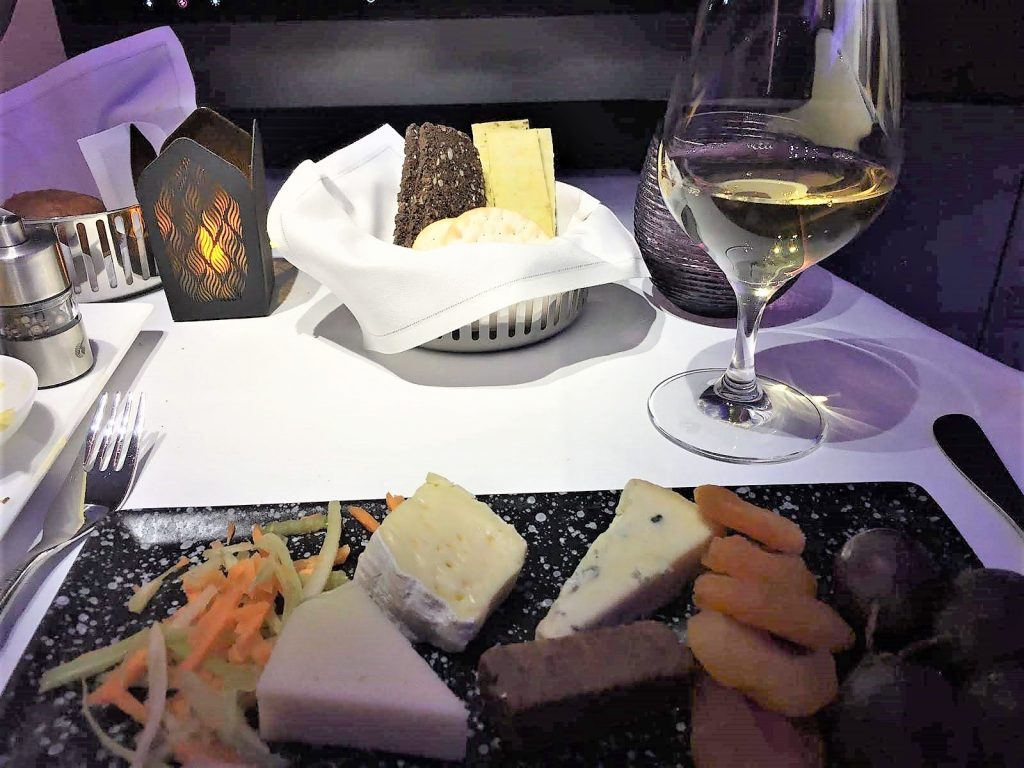 Although the dinner service was not rushed, the crew member who served me bounded along the aisle! She arrived at high speed every time, and it was a miracle she never collided with anything. I've never seen a crew member move so fast!
Sleeping
At this point I was replete, so I decided to pause my movie and went to sleep. The sleeping surface was comfortable, but I find the overwhelming size of the new Qatar fleecy blankets to be smothering. I folded it in half, but then it was even more weighty. In the end, I discarded it and slept under my jacket. I managed about 4 hours.
Breakfast
Within about 2 minutes of me stirring the crew member was at my side asking me if I wanted anything. I opted for a Peppermint Tea (then followed by a Mimosa which was very refreshing!).
About 90 minutes before landing in Singapore the breakfast service commenced. When asked earlier I didn't order breakfast, but when it started to being served elsewhere, I then felt peckish! I ordered an omelette, which was acceptable yet dull in flavour and had a final glass of Pommery Brut Royal.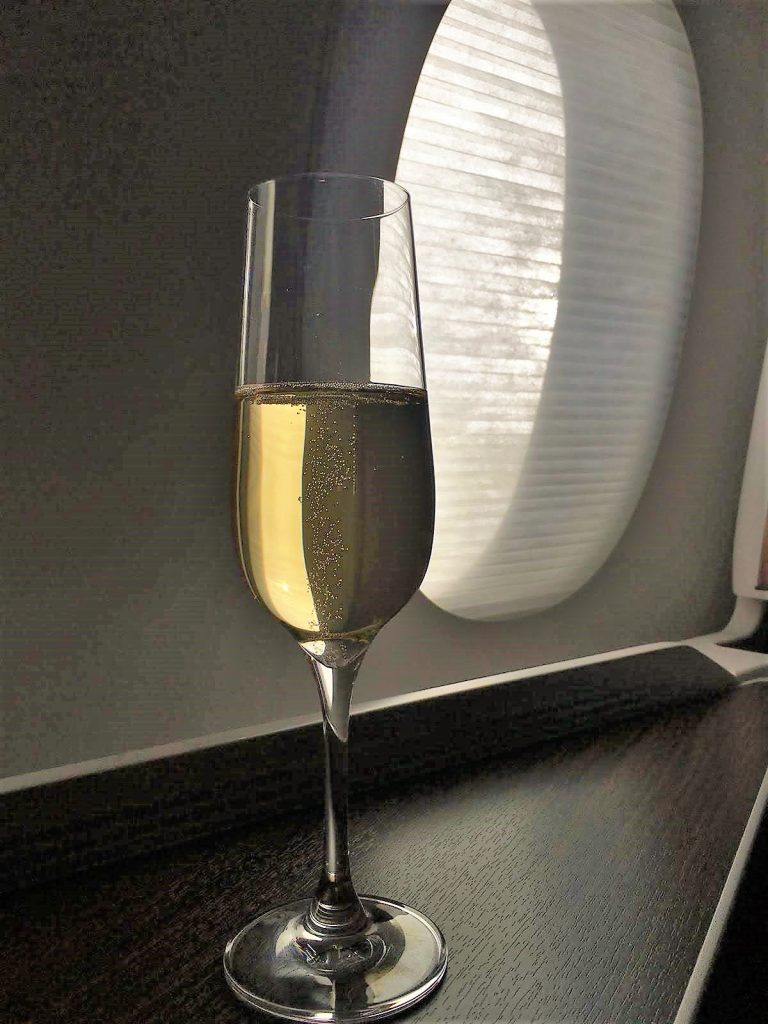 Conclusion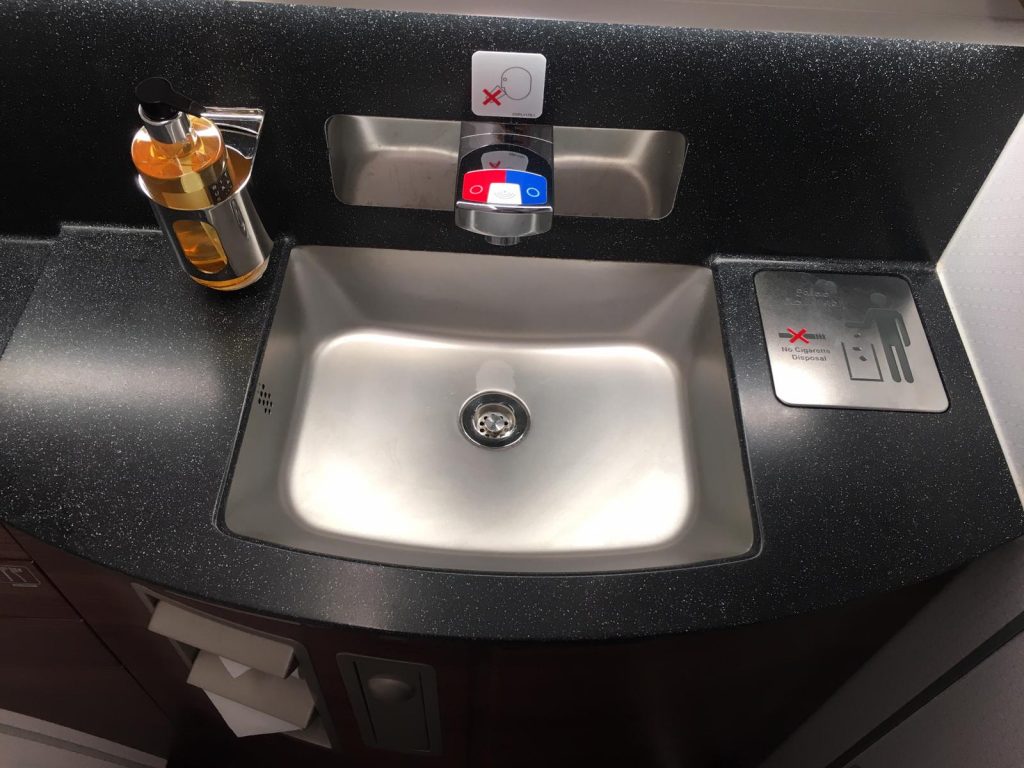 All in all, this was an enjoyable flight on a quiet and comfortable aircraft. The toilets were also kept spotless throughout the flight, and the crew member looking after me was a delight. I'd highly recommend flying with Qatar business class.