Mauritius had been on my list of place to go for quite a long time and this year I finally got round to going. Mauritius always appealed to me due to the beautiful scenery, local culture and tropical beaches. We flew out to Mauritius on British Airways in Club World from Gatwick which I will review separately.
So did Mauritius and the hotel live up to my expectations?
Arrival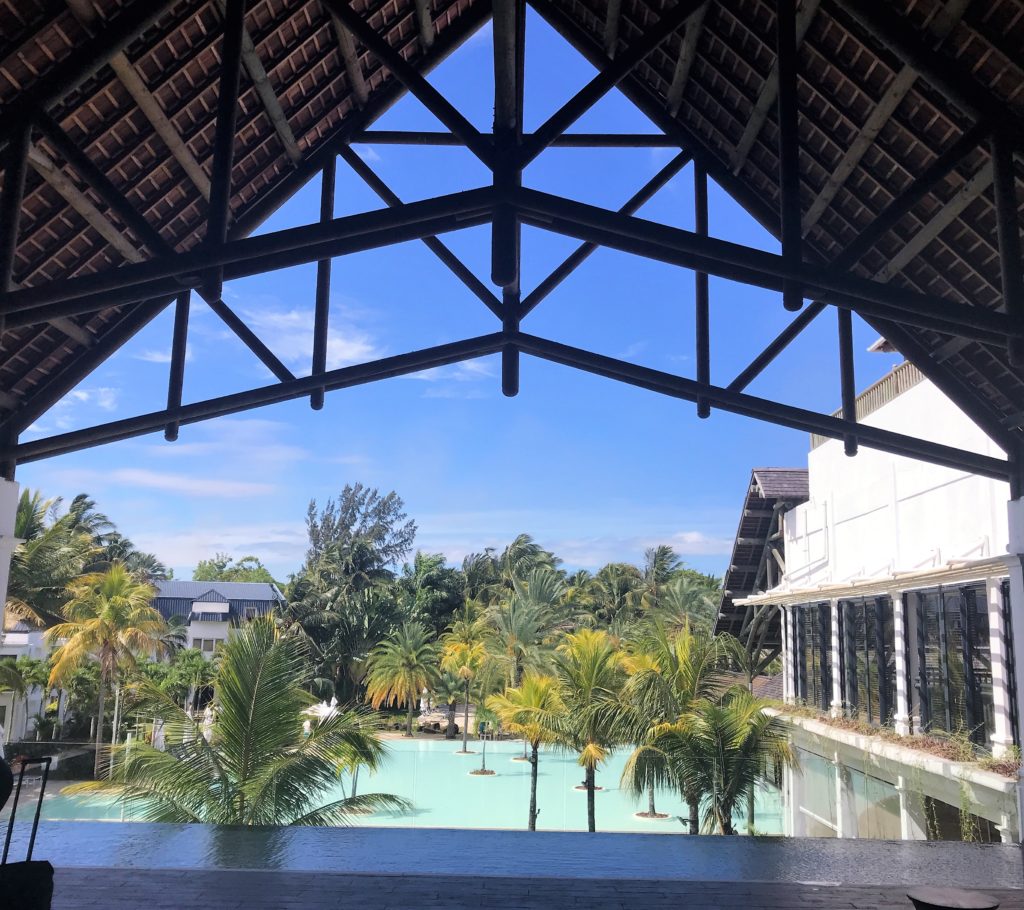 This was not a very successful start to the trip. We had tried to arrange transfers with the hotel but being a group of 4 they couldn't provide a car that big. We, therefore, booked one of the top-rated licensed companies on TripAdvisor to do our transfers.
Our driver informed us that the hotel were funny about letting in outside taxi companies. Apparently, on Mauritius, each hotel has its own licensed taxis and some of the hotels' drivers were very against anyone else taking their business. Unfortunately, when we arrived the security guards did not let us in and we were surrounded by a group of angry taxi drivers berating our driver. This was an unpleasant start to our trip. This was in no way the hotel's fault as the taxis are not employed by the hotel but they could have been more proactive at letting us through.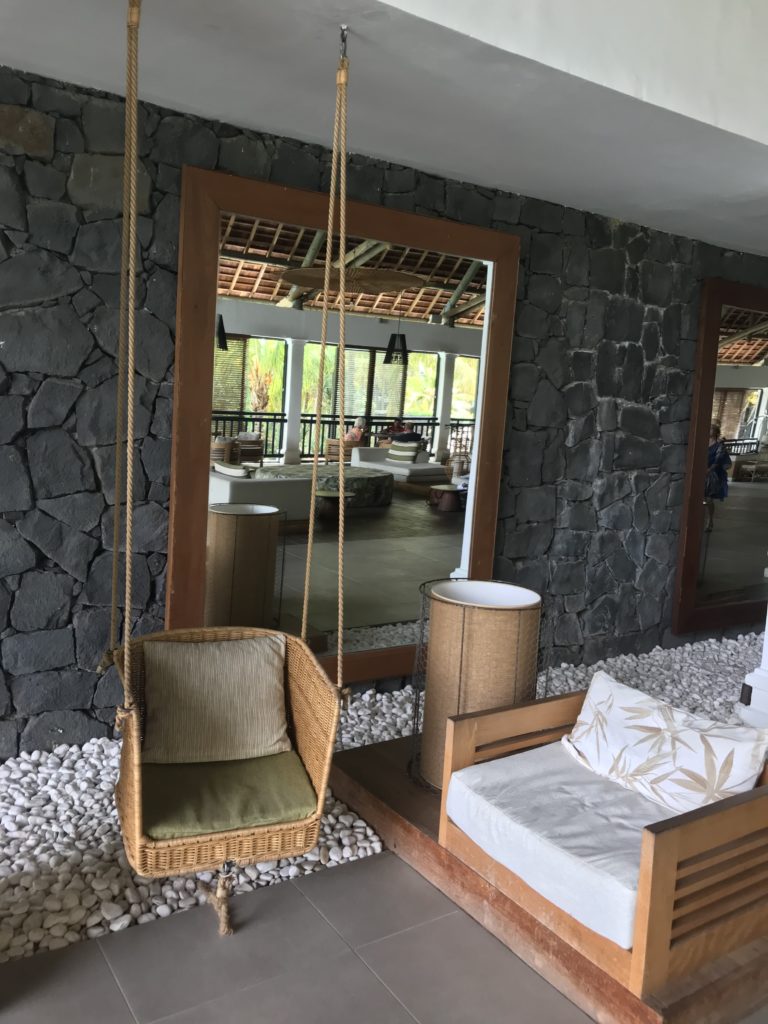 Once inside the gates, we breathed a sigh of relief and when we pulled up at the lobby we were greeted with a beautiful vista. The tropical style open-air reception ends with a small infinity pool which overlooked the swimming pools and grounds and gives a wow factor to your arrival.
Post from RICOH THETA. – Spherical Image – RICOH THETA
We were offered a welcome drink and a cold towel. As we had flown overnight we had arrived before 9 am and understandably our rooms were not ready. We were offered full use of the facilities including food and drinks plus access to a changing room with showers.
We had to wait until about 40 minutes past check-in time to get our rooms as the hotel was full, so you may wish to consider booking from the night before if you want to get into your room early.
Rooms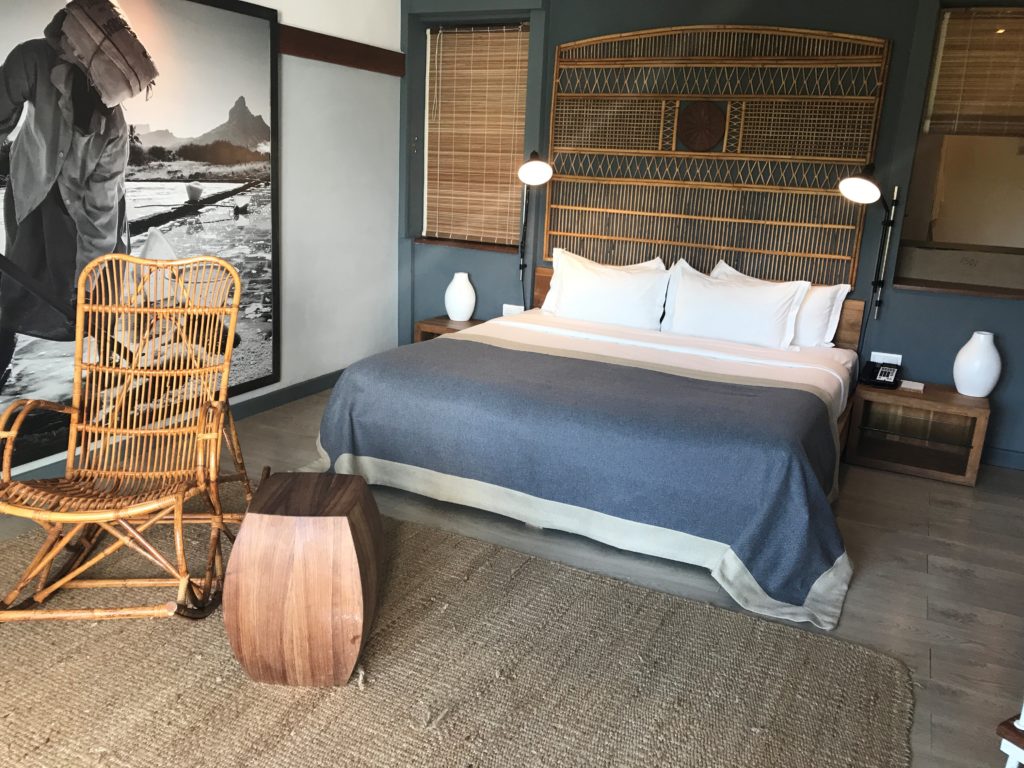 The rooms were almost exactly as pictured on the hotel website. We had 2 different rooms types but it is an all-suites hotel. They also offer adult only rooms which are beachfront and have exclusive access to certain restaurants too.
I had a Couples Suite room. It was a very large room with an open closet area, steps leading down to the main sleeping area and a mezzanine with 2 further beds. The balcony overlooked the gardens and had chairs and a table but I never really used them.
Post from RICOH THETA. – Spherical Image – RICOH THETA
The air conditioning was very effective which was a relief from the heat outside. On the first day, I was delivered a bottle of chilled water but this was a one-off. There was a fridge in the room and you could either request free items for the mini bar or go to the minibar shop and pick them up yourself. You were allowed soft drinks and beer for free on the all-inclusive package.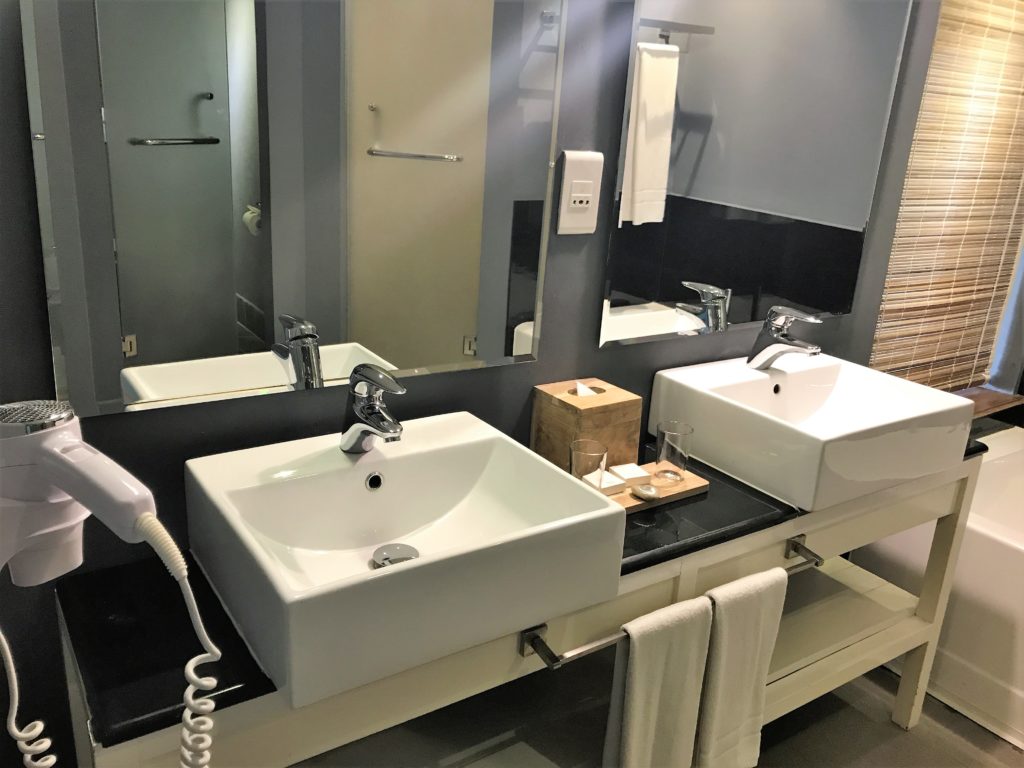 The bathroom was large too with a huge walk-in shower and separate toilet. The bath could have been a little deeper for soaking in but it was nice to have a separate bath. The toiletries provided were very large as the hotel is keen on being environmentally friendly.
Post from RICOH THETA. – Spherical Image – RICOH THETA
Two members of our group had Family Suites which were similar but a slightly different layout – all on one level.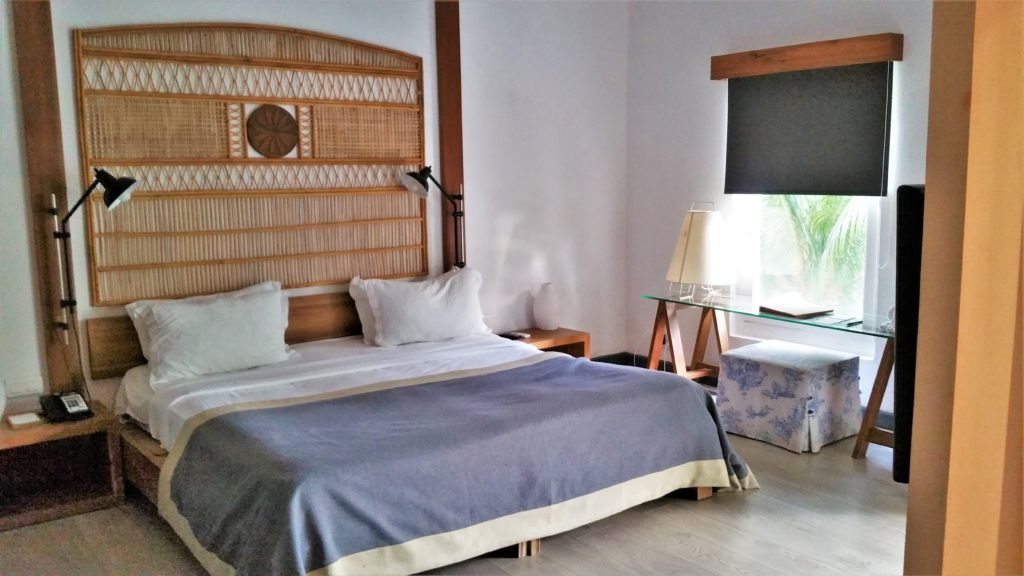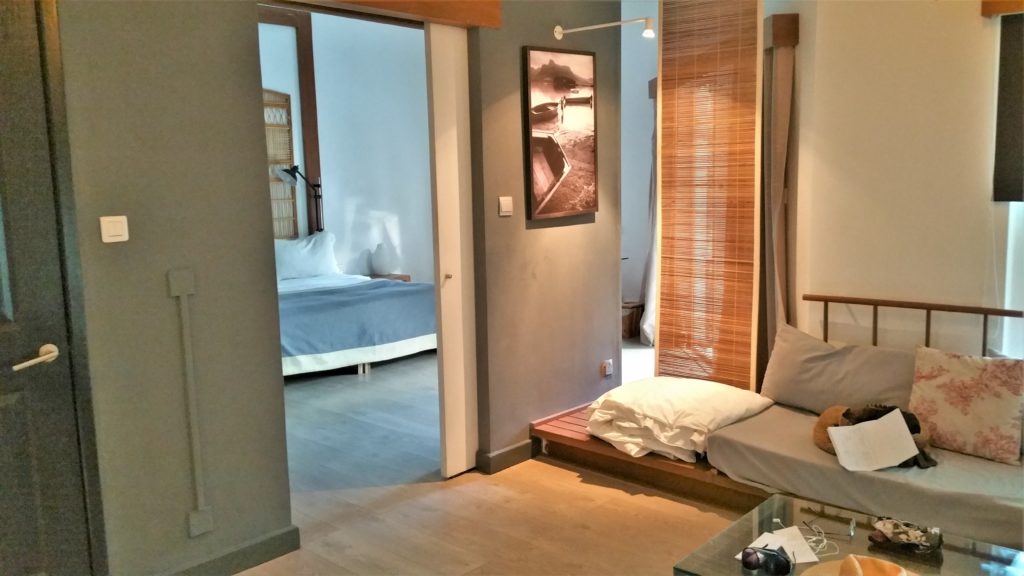 Hotel
Post from RICOH THETA. – Spherical Image – RICOH THETA
The hotel is fairly new and it shows. It has a modern but luxurious look with touches of Mauritian style. All the common areas were clean, well maintained and beautifully designed. Everywhere in the hotel was open air apart from the bedrooms.
We visited outside school holidays but there were a few families there, mainly with very young children. The rest of the guests were mainly couples with a few groups of friends as well. There was a fairly even split between UK and French guests at the hotel. Staff all spoke English fairly well although a few struggled if you went off script.
There were three pools, one of which was very shallow for children. There was never an issue getting 4 chairs together at the pool although it was a bit trickier on the beach.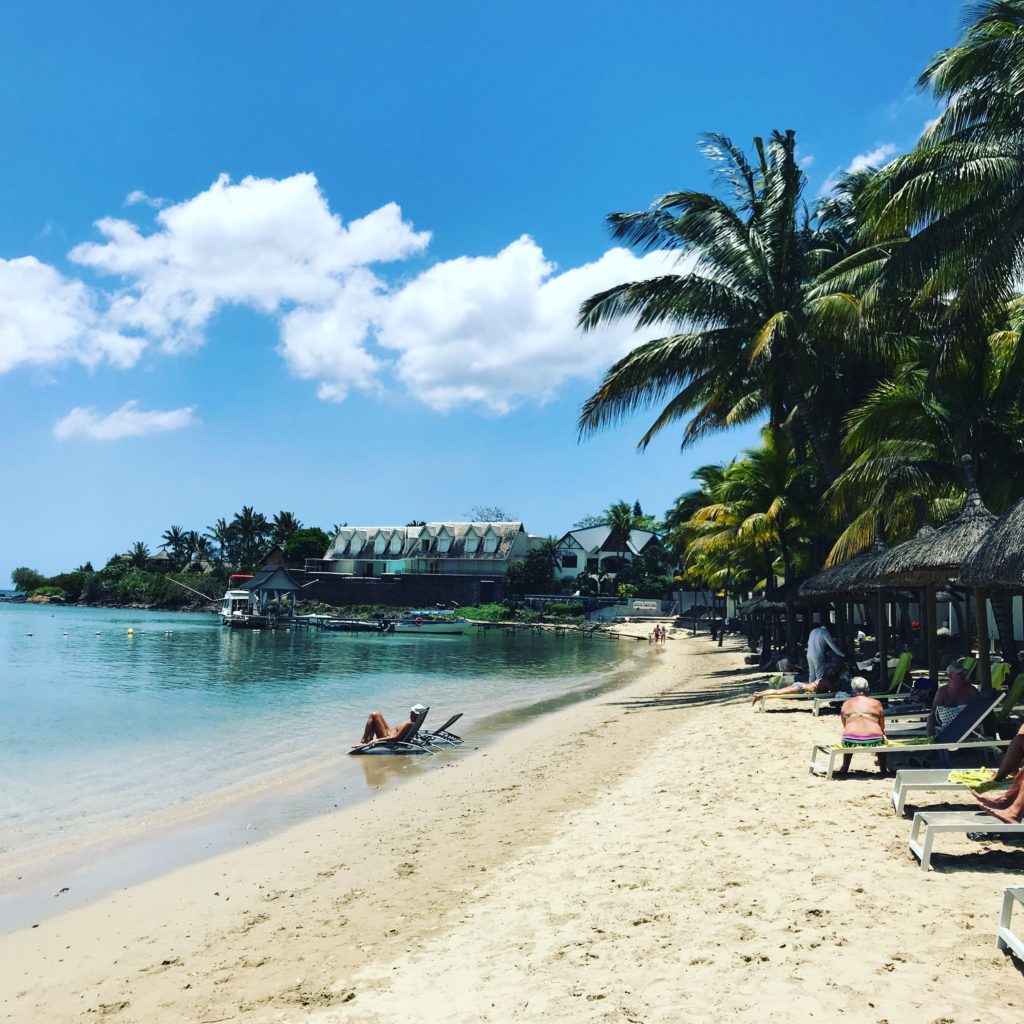 The beach was sandy but it was fairly coarse sand due to the nearby coral reef. You can visit the reef on the free glass bottom boat tour. Once in the water, the sand was much finer and the water was only slightly cooler than the pools.
Food and drink
There was a good choice of bars and restaurants in the hotel. Seven of the ten restaurants were included in our 'dine around' all-inclusive package. We booked restaurants for the whole week ahead when we arrived which I much preferred to some resorts where you could only make a reservation a day in advance and had to keep going back. We got into all of our choices bar one, the Mauritian restaurant. The first night we went to the buffet as we were all feeling very tired after our overnight flight. The selection in the buffet was reasonable with things such as steak, Indian, Mauritian and Chinese food as well as the usual salads etc. Some of the food could have been a bit warmer though. There were several live action stations with our favourite being the banana fritter lady with the rum caramel sauce!
Breakfast was fairly standard with the usual cooked and cold items plus some local and Indian specialities. There were 2 eggs stations that would do pretty much any type of egg and you rarely had to queue for long. The fruit was prepared fresh in front of you and they did change the selections of fruit whilst we there. The rest of the breakfast was pretty much the same every day apart from the local specialities, so it did get a little repetitive toward the end of the 7 days.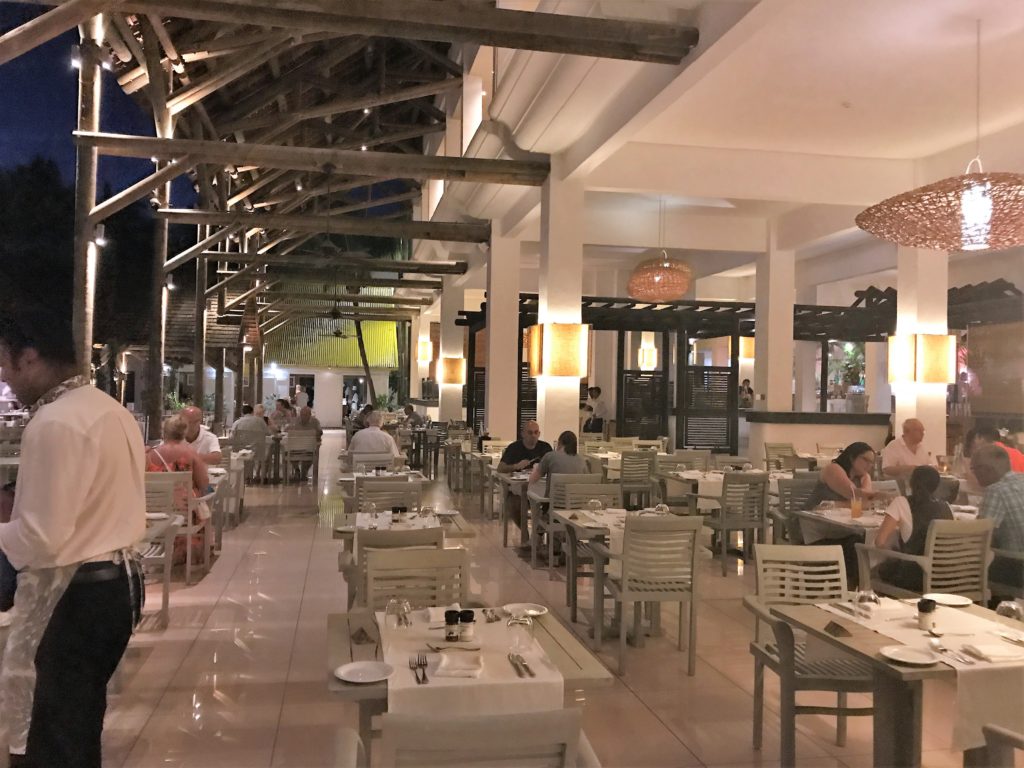 The main issue with the breakfast and lunch was the service. Staff at the hotel were nothing if not friendly but unfortunately, you couldn't really call them efficient. Apparently, there is a large turnover of staff in Mauritian hotels due to the cruise ship companies taking staff as soon as they get some hotel experience. Like the Caribbean, patience is a virtue when dining in Mauritius. Things happen at a slower pace than at home but it was pretty haphazard at times. Nearly every time something from our order was forgotten.
Lunch
At lunch, all the choices were by the beach apart from the poolside bar. You could either have the beach BBQ, local speciality street food stalls or order from the poolside bar or O restaurant. Food to order included things such as burgers, sandwiches, salads and pizzas.
Dinner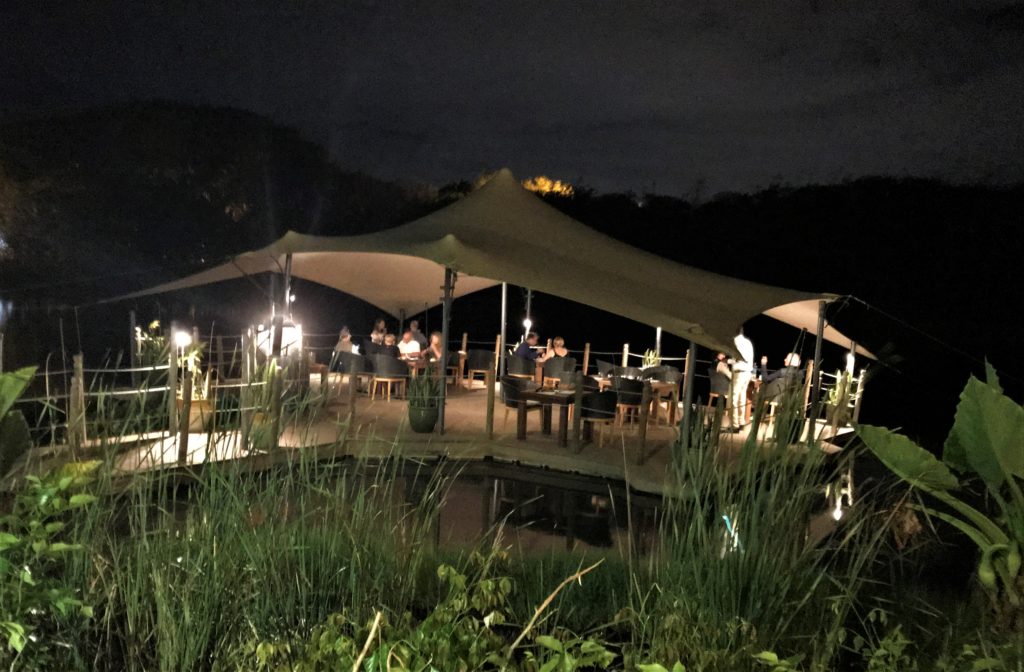 We tried 4 of the à la carte restaurants and the beach BBQ restaurant which is a buffet. Service in evening was generally excellent apart from the first time at the Riviera seafood restaurant where our food was very slow to arrive.
The setting of Riviera restaurant was very special in a tent over the river. You had to pay extra for this restaurant which wasn't overly cheap but you did get a huge portion for your money. The seafood platter cost around £40 each.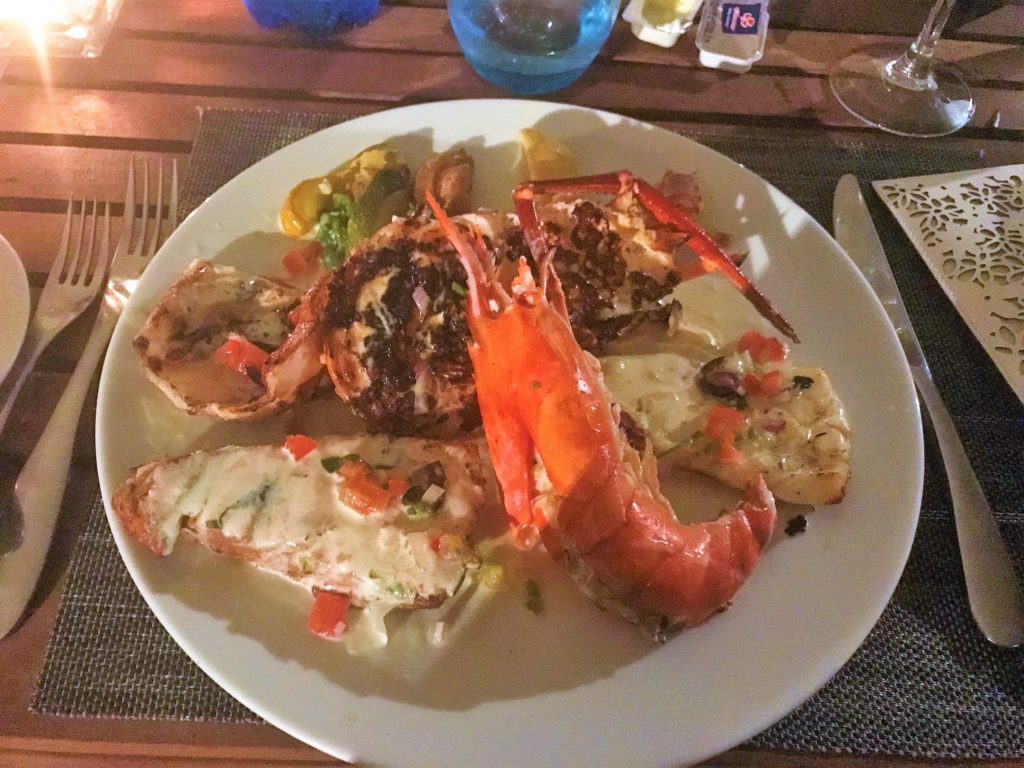 We tried the seafood platter the first time at Riviera which had lobster, mussels, the biggest prawns I have ever seen and dorada fish. The fish and mussels were slightly overdone for some of the group but the lobster and prawns were delicious. We certainly didn't need more than one course!
Madame Ming was a pan Asian restaurant and the food was pretty authentic with Thai, Malaysian and Chinese dishes to choose from but they were certainly on the spicy side!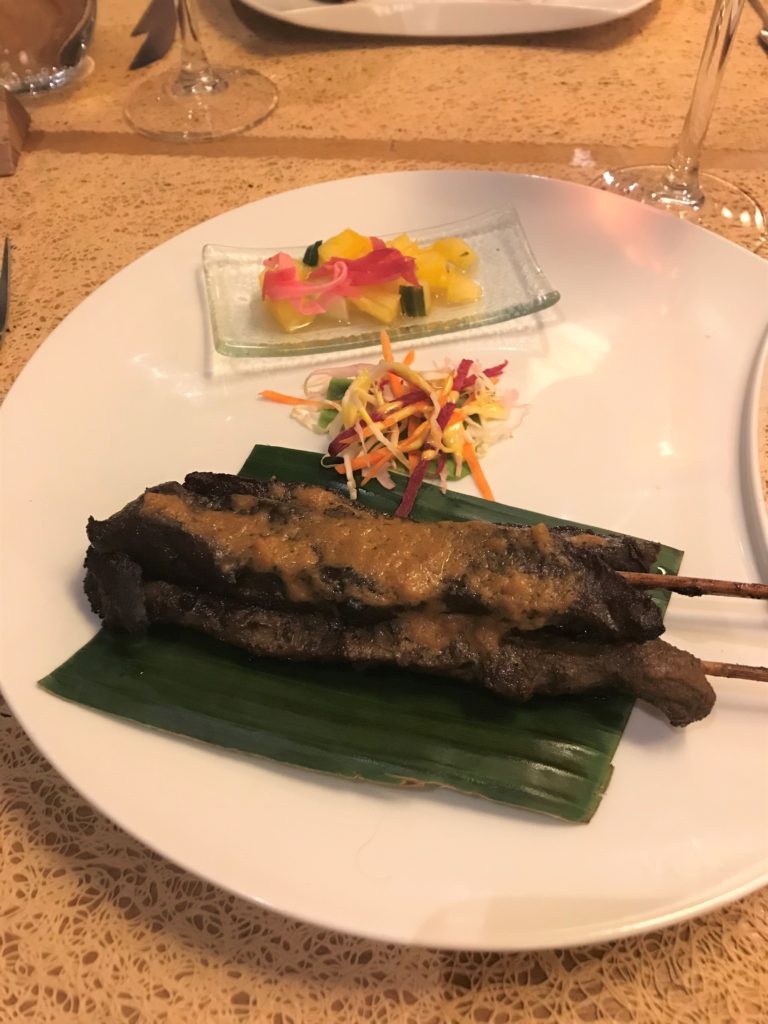 O at the beach is also a great romantic restaurant. We had expected something quite casual given its location on the beach but actually, this was more of a fine dining experience. Everything was presented beautifully and we had excellent service here. The food was international with some Mauritian dishes as well.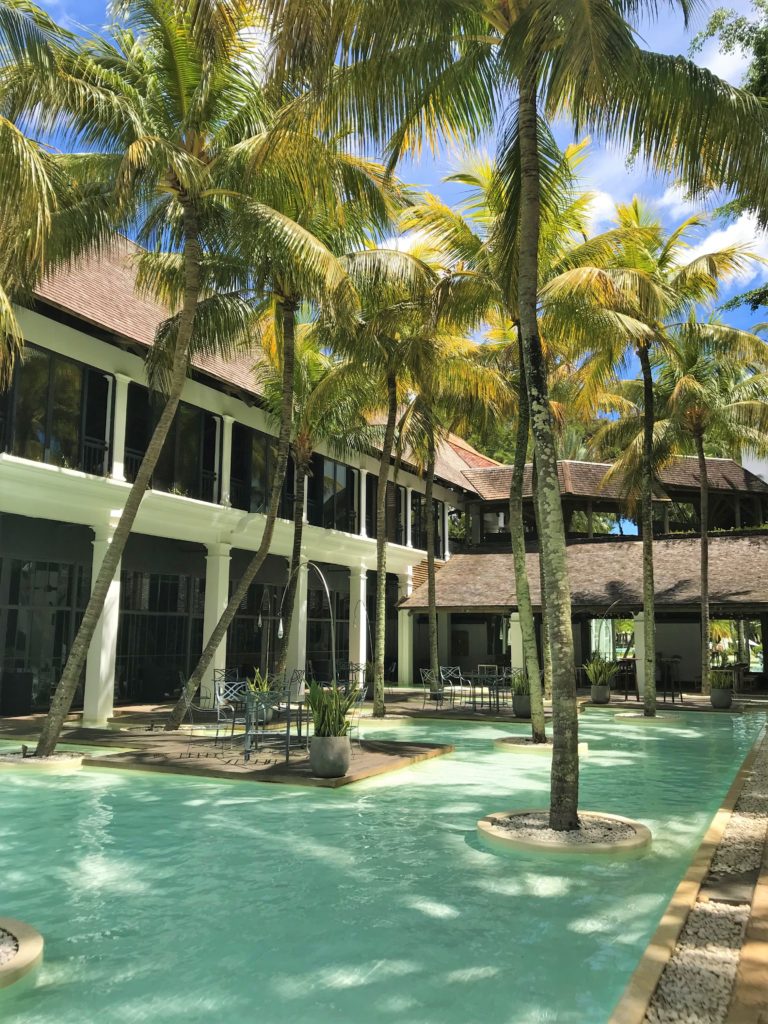 The Bistrot restaurant was slightly disappointing as the only thing available to all-inclusive guest was burgers. We enjoyed our burgers but felt there could have been a wider choice of dishes.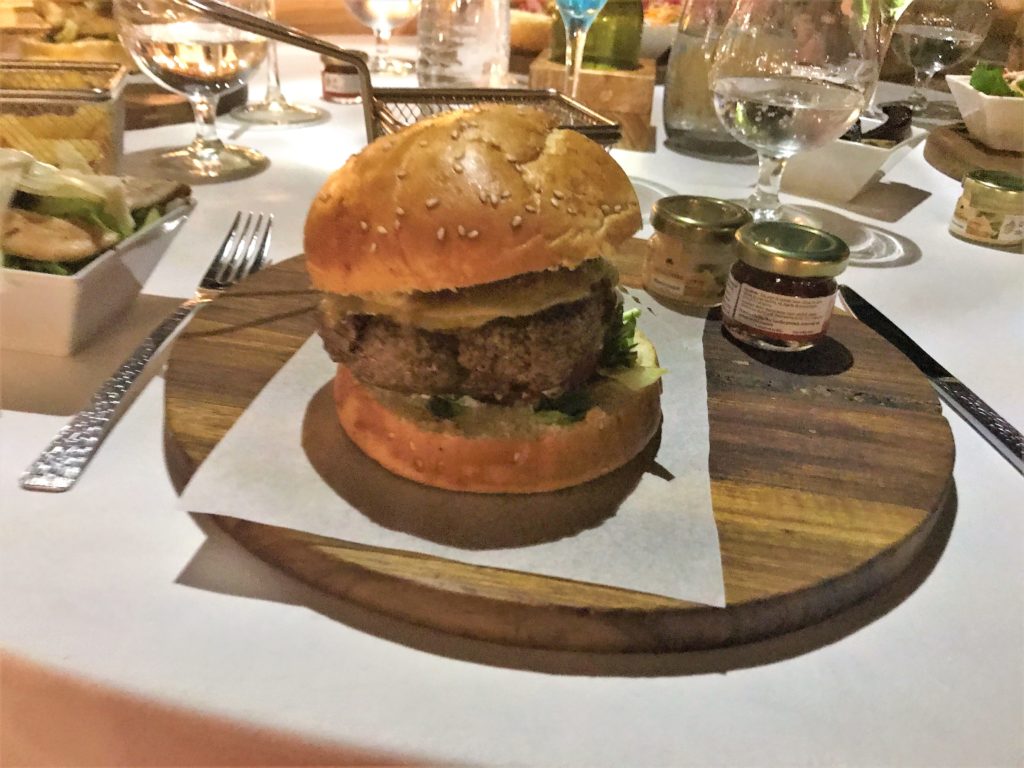 Bars and drinks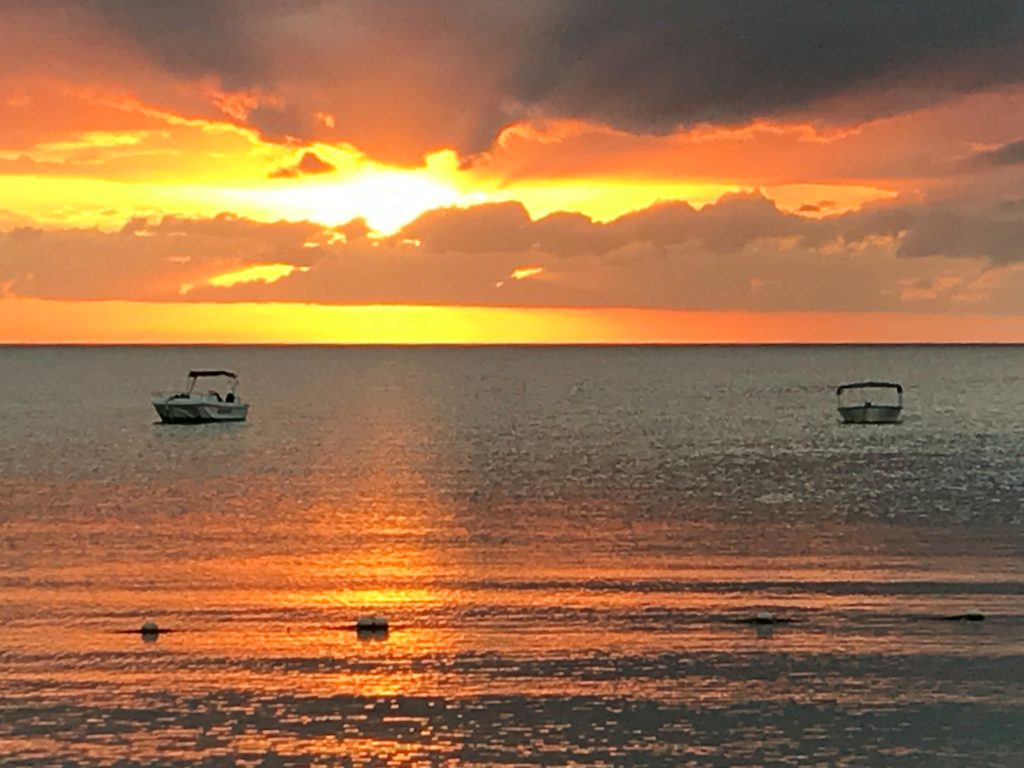 There were 4 bars for us to try. The beach bar was perfect for watching the sun go down over the beach with a cocktail and I loved the wooden swings you could sit on at the bar.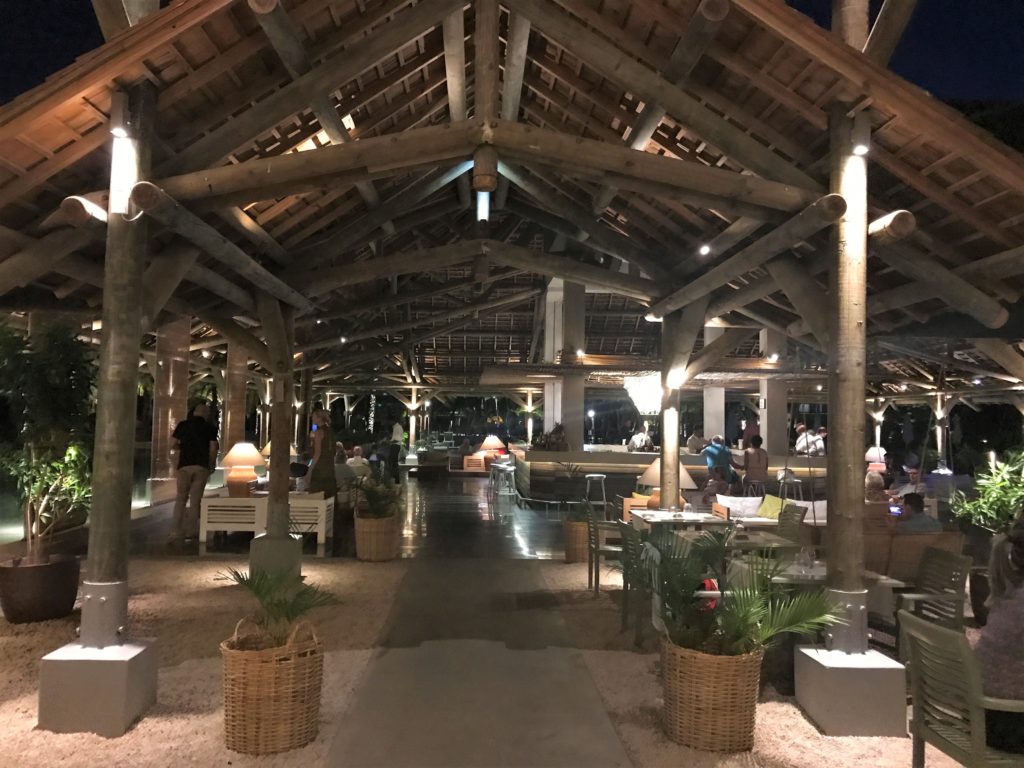 Our main go-to place was the poolside bar where they had live music every evening. The pool party was fun and involved dancing in the very shallow water next to the bar, which is a great way to cool off on a balmy night. If you wanted a martini, the Bistrot had a slightly wider selection and made the best cocktails of the bars.
The cocktail selection was slightly limited but the bar staff started making us ad-hoc cocktails by the end of the week. The wine had a selection of several types of white, red, rose and sparking and most of them were very drinkable. Most of the included spirits were local (no Tequila was included for example) but there was a big choice with some interesting local rum and liqueurs. All the ones we had were acceptable quality.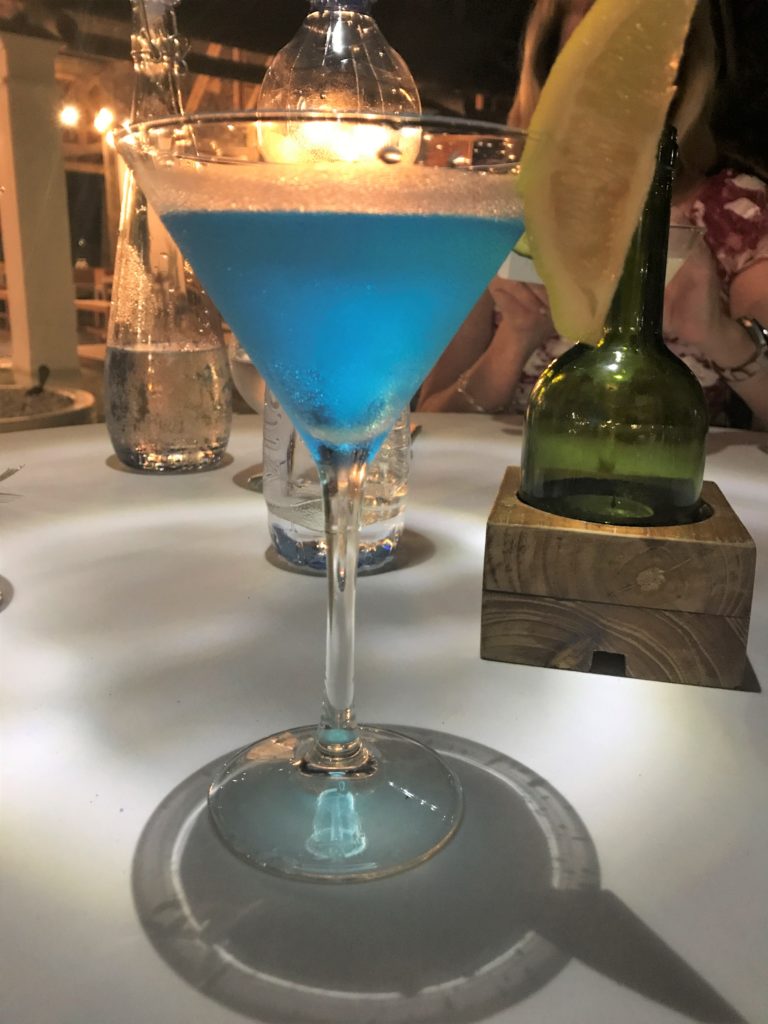 The main bars closed at 11pm but you could go to the nightclub after this. The only drinks available in the nightclub on all inclusive were beer and wine.
Spa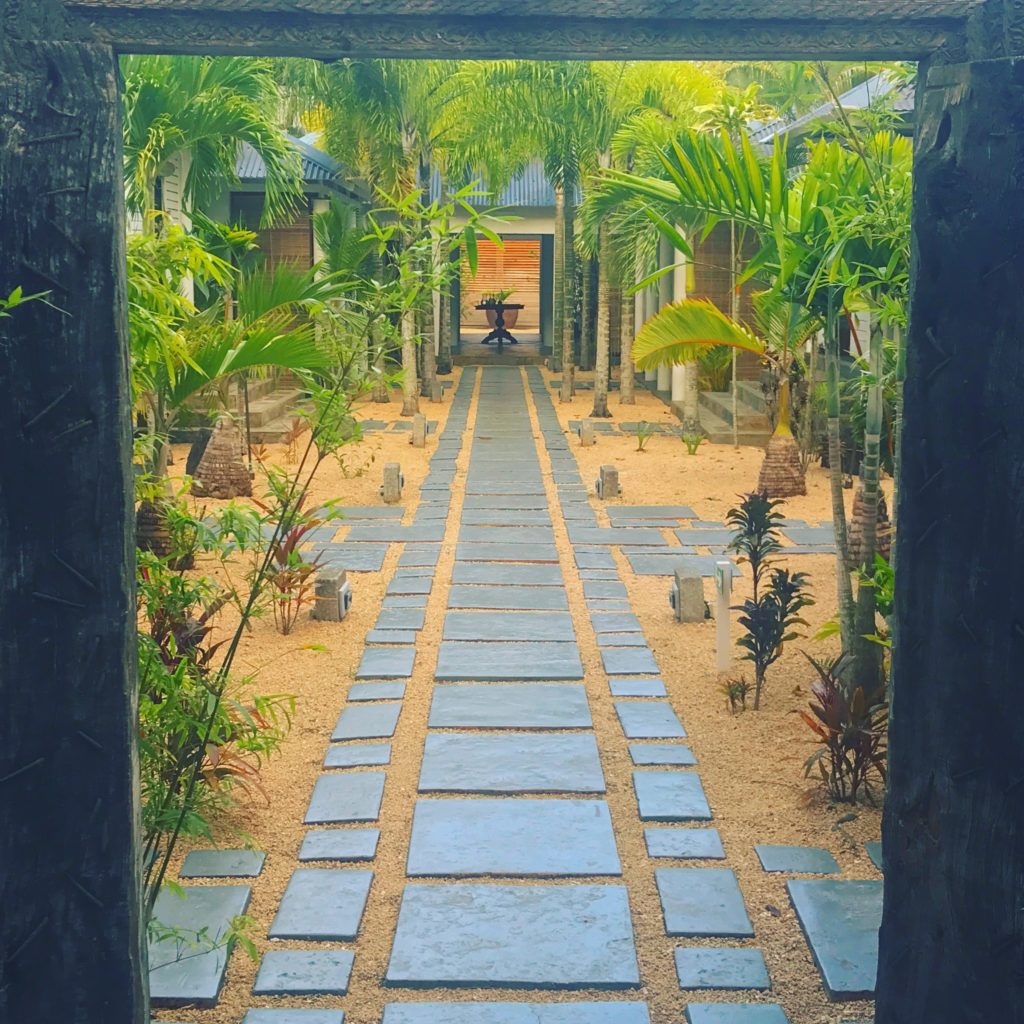 The spa at the hotel was well worth a visit. You can reserve treatment before arrival or wait until you get there. Most days there was a special offer on a specific treatment as well as the 20% off one treatment you get as an all-inclusive guest. The spa had a Japanese zen feel to it and was visually impressive.
I had three treatments in total and they were extremely good. Prices were around the usual mark for a 4* hotel but a good price once you took off the discount. Included in the treatment was the use of the steam and sauna which were modern and very large but empty on both occasions I visited.
I would recommend the 90-minute Sun Attitude treatment which starts with a scalp massage and foot washing in coconut milk and then moves into a body and face massage – 90 minutes of bliss! After your treatment, you could sit in the al fresco relaxation area with a cold drink.
Conclusion and pricing
I liked the fact that the Ravenala was very modern and the rooms were equipped to a good standard. The food was also a very good standard in the à la carte restaurants. We enjoyed being able to have a wide range of choices for dining à la carte instead of having to go to a buffet.
The speed and accuracy of the service was the only area that let the hotel down but I do find that this is common in many countries that have a more relaxed way of life. However, I did have a chat with the hotel manager at the Manager's cocktail party and after that the service dramatically improved for most of the rest of our stay. As long as you go with the attitude that you are on holiday and there is no rush for anything then you will enjoy this hotel.
We were able to find the Ravenala for around £1000 per room (for one person) in a suite for 7 nights. This was with Travelbag. You can find more information on the Ravenala Attitude hotel website.
Things to do in Mauritius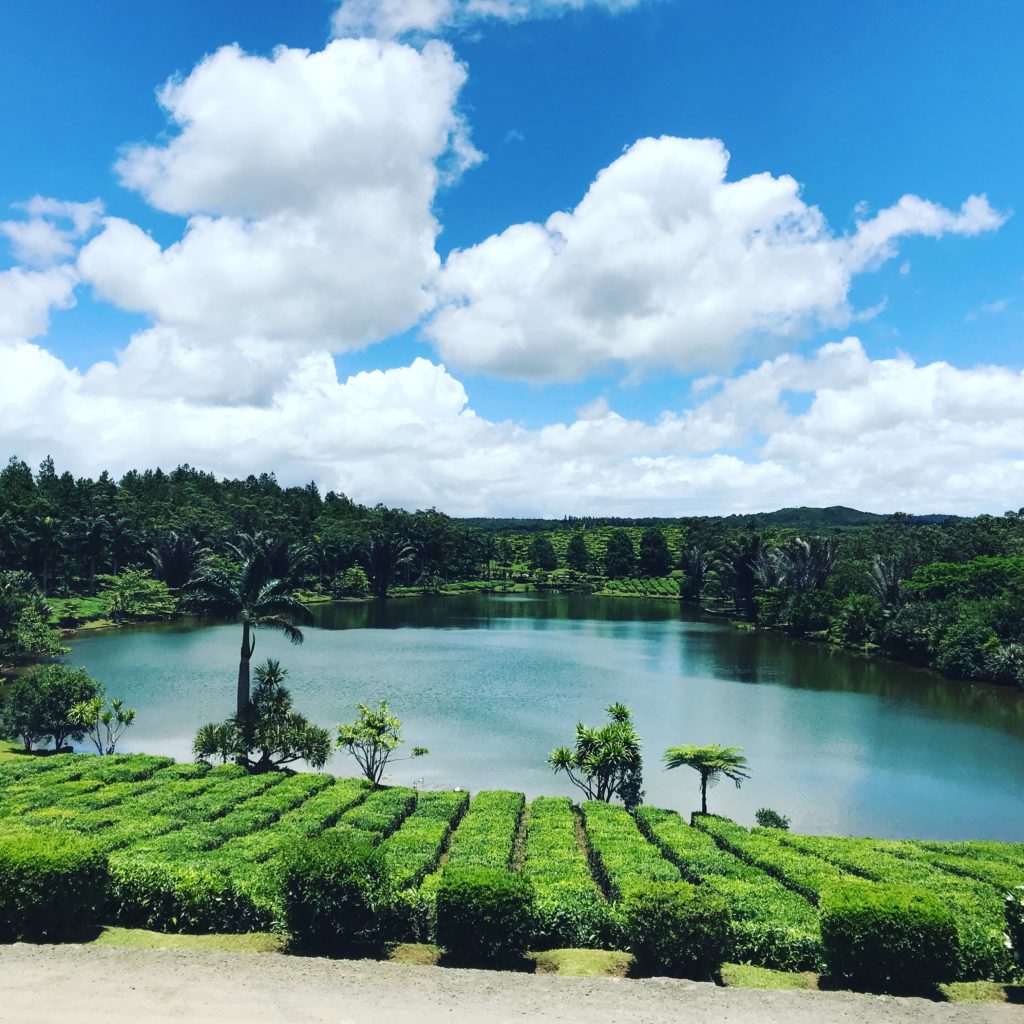 One of the reasons I had always fancied going to Mauritius rather than the Maldives is that there is quite a lot to see and do if you are so inclined. As we were only there for a week we decided to try and do as much as possible in one day. Had I been there longer I would have gone to Grand Baie too which was only about 15 minutes from the hotel.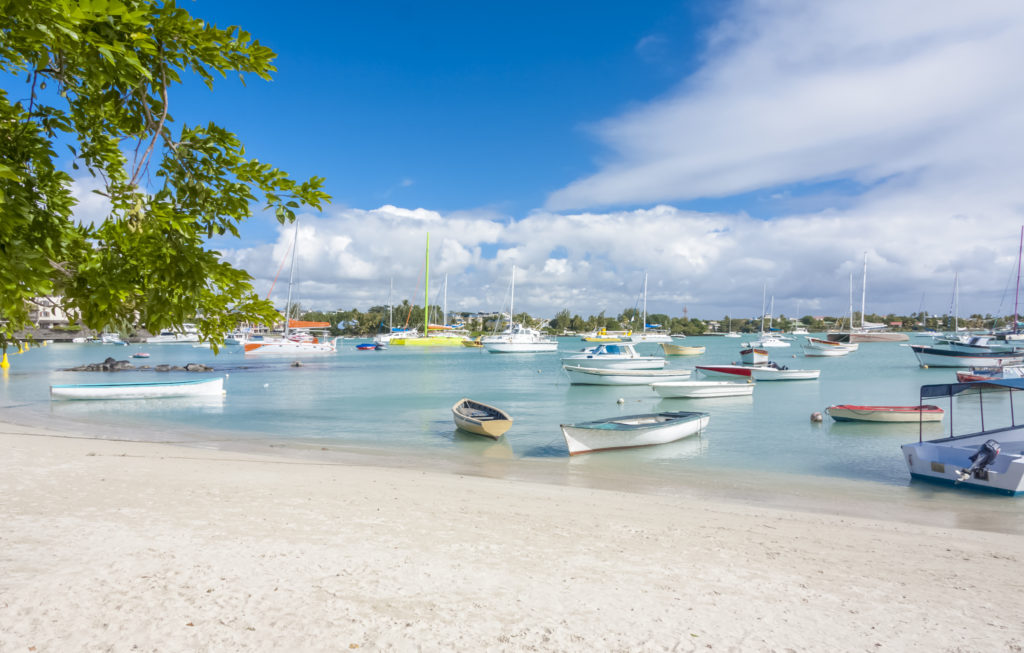 Our day tour included a trip to a tea plantation, Bois Cheri, for some tea tasting, the Grand Bassin sacred lake and Hindu temple with its giant Shiva Statue. We then went to the Black Gorge National park and saw several waterfalls and lookout points. At Chamarel we were wowed by the Seven Coloured Sands. Finally, we finished with the Trois au Birches volcano crater which was a slight disappointment. We could also have gone to some cashmere and clothing outlets if we had more time as clothes and cashmere can be much cheaper in Mauritius but you need to be aware of fakes.