AirPortr
I reviewed AirPortr in this article earlier this year. I was due to try AirPortr's baggage check-in service last week but unfortunately was unable to when I was selected for extra security screening and couldn't get a mobile boarding pass. You can only use the AirPortr check-in service when you have a boarding pass and passport ready to show when the bag is collected.
In addition to being able to use the check-in service when flying on British Airways, you can now use it on American Airlines too. AirPortr's mobile luggage check-in and delivery services are now available on all American Airlines flights to the US from London Heathrow.
How does AirPortr work?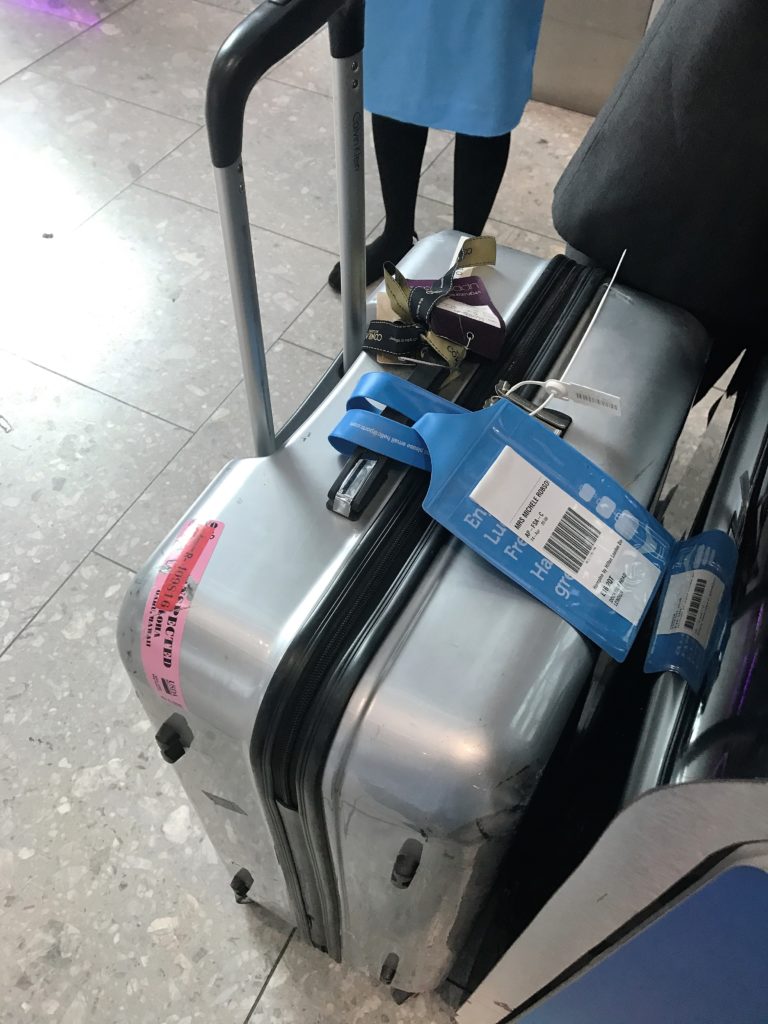 My bag sealed & tagged ready to be taken by AirPortr
AirPortr will either collect your luggage from central London and deliver it to the airport or if you are flying BA or AA they can check-in your bag when they pick it up (except for UK Domestic flights). This means you don't need to see your bag again until you arrive at the baggage carousel at your destination. If you have excess luggage payments you can even make them through the AirPortr driver's app on collection. To do this you need to have your boarding pass already and then you nominate a 1-hour slot up to 7 hours prior to departure for it to be collected.
AirPortr can also deliver your bag to central London addresses, including hotels, from Heathrow or Gatwick. I used this when I was doing an ex Dublin where I positioned from Heathrow but flew back to London City to pick up BA1 the next day. AirPortr took my luggage from Heathrow and left it at my hotel near London City where it was waiting for me after my Dublin to London City flight. AirPortr now only covers Heathrow Terminals 3 & 5 as well as Gatwick, but not London City.
You can find more information on AirPortr here.
WestHouse boutique hotel NewYork offer from £110
You may have read my review of the WestHouse Hotel in New York last weekend. I was really impressed with this boutique hotel and would definitely return.
As well as a great location a few blocks south of Central Park, quiet rooms and great service, they have free Champagne and food in the evening. Secret Escapes have coincidentally just started a promotion for the hotel. The offer runs for stays until April 2018 if you book before Boxing Day. Prices start at £110 but do vary by date and there is a minimum 3 nights stay required for certain dates. In addition to the price shown there is also a Secret Escapes £15 booking fee and a $45 per night residency fee that you pay the hotel. It is worth comparing with booking through SLH where you may get a free upgrade through their loyalty scheme.
Secret Escapes is a members-only website with hand-picked hotels, holidays and exclusive offers. They guarantee to offer the best rates online during a sale. Every week they run up to 140 short 'flash sales' lasting around ten days each. It is free to join and if you use this link to sign up you will receive £15 credit off your first booking.
New Hilton Bonus

I always advise anyone who is into collecting Avios to consider opening a Hilton Honors account. This is the Hilton loyalty program which gives you free Wi-Fi, discounts and points and miles too. As well as the usual Hilton points and  Avios, they also do frequent bonus Avios promotions. There is also always an ongoing points bonus too. The current one ends on the 31 December and the new one has just been announced.
Hilton seems to vary between a fixed amount of points or a % bonus such as double or triple points like the current one. The new promotion is very simple with 2000 bonus points for each stay and 10,000 bonus points if you make 5 stays between 1 January 2018, to 30 April 2018.
This promotion will work well for you if you stay at the mid to low cost Hiltons and usually have short stays as you will most likely get slightly more than you would on double points. For example, my last stay at the Hilton Heathrow T5 (about £100 spend) got me 1601 base points so a 2000 bonus is better in that case. Add in another 2000 if I achieve the 5 stays then it is a great deal. However, if you do longer stays or more expensive hotels then this deal means you will probably lose out versus a % bonus. At least Hilton varies the promotions so it is fair to everyone. I'm quite happy as I have 5 short stays already booked in that period, mainly at mid-range Hiltons.
You will need to sign up for the Hilton promotion here. It should apply to any existing bookings too, even those for redemptions providing you charge something to the room to earn base points. Don't forget you can combine this with the extra Avios from booking via the Avios eStore which is currently offering 8 Avios per £1 on bookings made before the end of the year.
Emirates to fly from London Stansted with new B777 First and Business Class
In a slightly surprising move, Emirates has announced the start of a Dubai to London Stansted service on 8 June, 2018 in addition to the existing Heathrow and Gatwick services for London. The route will operate daily with their new  B777-300ER featuring the "game changing" fully enclosed private suites in First Class, as well as refreshed Business and Economy Class cabins. I talked about the new Emirates First and business products in these articles.
Outbound, flight EK33 will depart Dubai at 09.30, and will arrive in London Stansted at 14.10. On its return, flight EK34 will depart London Stansted at 21.10 and arrive in Dubai at 07.05 the following day.
Emirates do currently have a sale on too. Prices such as Bangkok from £1969 are generally more expensive than you will find with Finnair or Qatar from the UK but if you want to fly Emirates they are worth a look. Remember if you book Emirates on a Qantas codeshare you can earn Avios and BA tier points too.
The Emirates sale page is here.