Reader A contacted me to ask "Hi. I read the advice on your blog. I managed to get business class rtn to Sydney ex Copenhagen with Etihad for £2070. Routing Copenhagen-Dusseldorf-Abu Dhabi-Sydney on B787, A380 and B777. It's my first business class trip. No previous miles with Etihad. Any tips how to maximise my enjoyment of this trip?"
Remember if you have a question that you would like answered about luxury travel for less, please contact me via [email protected], the contact us button above or any of my social media channels.
The fare
Reader A got a great deal here. If other readers are interested in this fare, it does appear to have gone up slightly but is still a very reasonable £2200. By contrast if you flew Etihad from the UK, it would cost you a whopping £3700, although you would get there quicker. From the UK you can get China Southern from around £2350 but it still includes 2 stops, including one in China. Personally, I do not rate any of the Chinese airlines very highly, except Hainan.
Your flight plan
I normally have a plan of when I will sleep and eat on long journeys like yours. I take into account the length of flights for an undisturbed sleep and how best to adjust to the new time zone. I also plan when to eat. For example if you were going to sleep on a shorter flight or late night departure you may decide to eat in the lounge first.
The Etihad Experience and how to maximise it
Chauffeur

If you booked before 3 July 2017 you are still entitled to the Etihad chauffeur service ,unless you booked a business saver ticket. Etihad Chauffeur service can be requested online up to 24 hours prior to your flight. Alternatively, you can also book this service through the Global Contact Centres and local offices or through your local travel agent. Even if it is not included you can pay extra to get a chauffeur using this link. If you are entitled you would not be able to get the chauffeur in Copenhagen as you start on an Air Berlin operated flight, but you should be able to get one in Sydney.
A380 experience
Make sure you reserve your seats in advance. On the A380 you will have the business class studio, one of the best business class seats available at the moment. In terms of seat selection, they take up the back half of the upper deck. There is one large cabin, followed by 2 smaller ones. As they all have direct aisle access you have plenty of choice. The back 2 cabins have bassinet positions in the last rows which is the risk you would take of a crying baby. The larger front cabin may be better, in which case I would go for a seat a 3-4 rows from the front. This way you are not near the toilets or the on-board bar or the galley which may be noisy, but you should get served reasonably early.
The first mini cabin would also be a good choice subject to the bassinets being used. Here I would choose the second row, again away from the toilets and galley. One option is to book the front cabin, then close to the time you could trying swapping the seats at around 48 hours before by phone to check if the bassinets are being used. In all options I would go for a window seat, as this gives you additional storage space.
On board the A380 has the only Etihad on board bar called the Lobby. This is a hotel inspired lounge for First and Business passengers on the Upper deck. You can have a drink or a snack there. I would definitely visit the bar, even if it just for a change of scene on a long flight.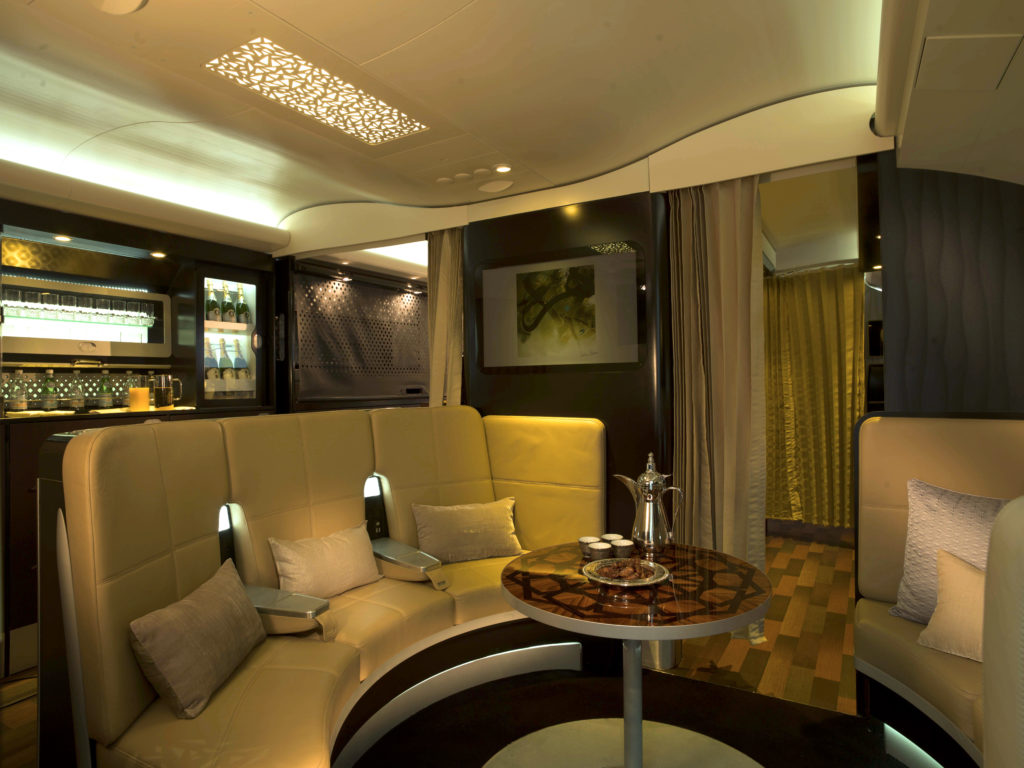 B787
On the B787 there is only a small business class cabin, but again you have the Business Studio seats. I would aim for the middle of the cabin in a window seat in row 8 ideally. This way you won't get disturbed by the toilets or the galley if trying to sleep. Don't forget to try the in-seat massage function which is available on both the A380 and B787.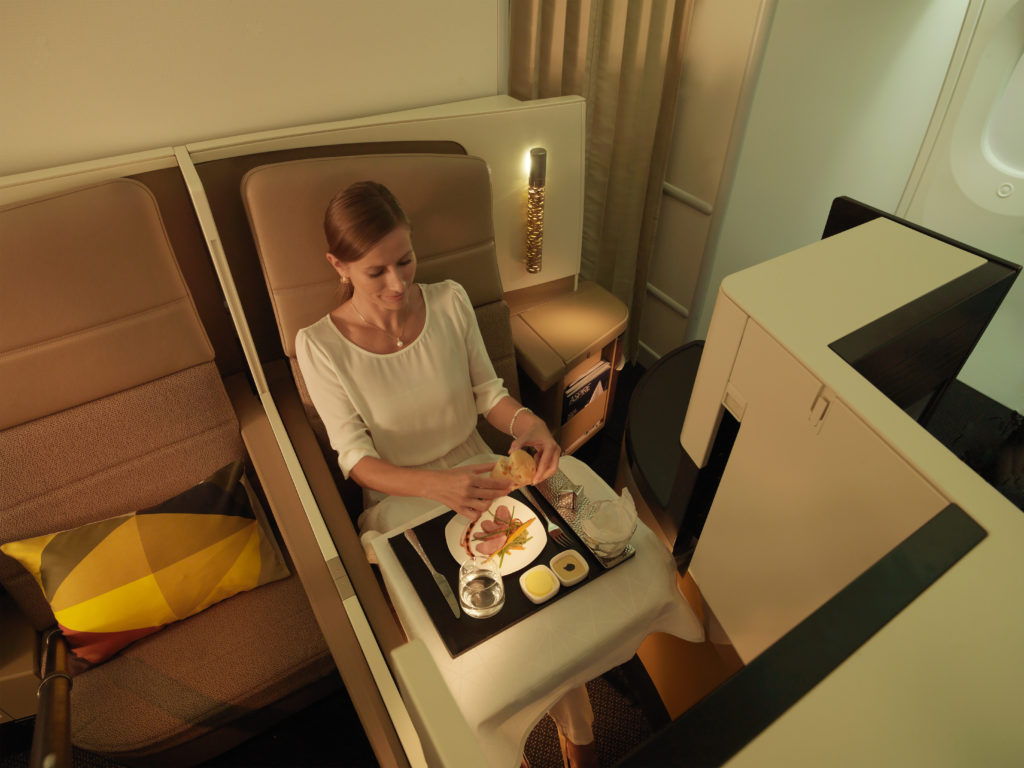 B777
Although this doesn't have the latest Business Studio, they still have a good flat-bed seats with aisle access. On this flight I would recommend any of the A&K windows seats in the centre of the cabins.
On board services
Etihad offer a turndown service where they will make up your bed for you. You may have to ask for this, particularly if you are sleeping at an unusual time, so don't be shy. You should also get slippers, pyjamas and an amenity kit containing moisturiser, lip balm, socks, eye mask, a care pack containing cotton pads and earbuds, in addition to a dental pack and earplugs. You will be given a big bottle of water, as well as water by the glass, so you shouldn't need to take any with you.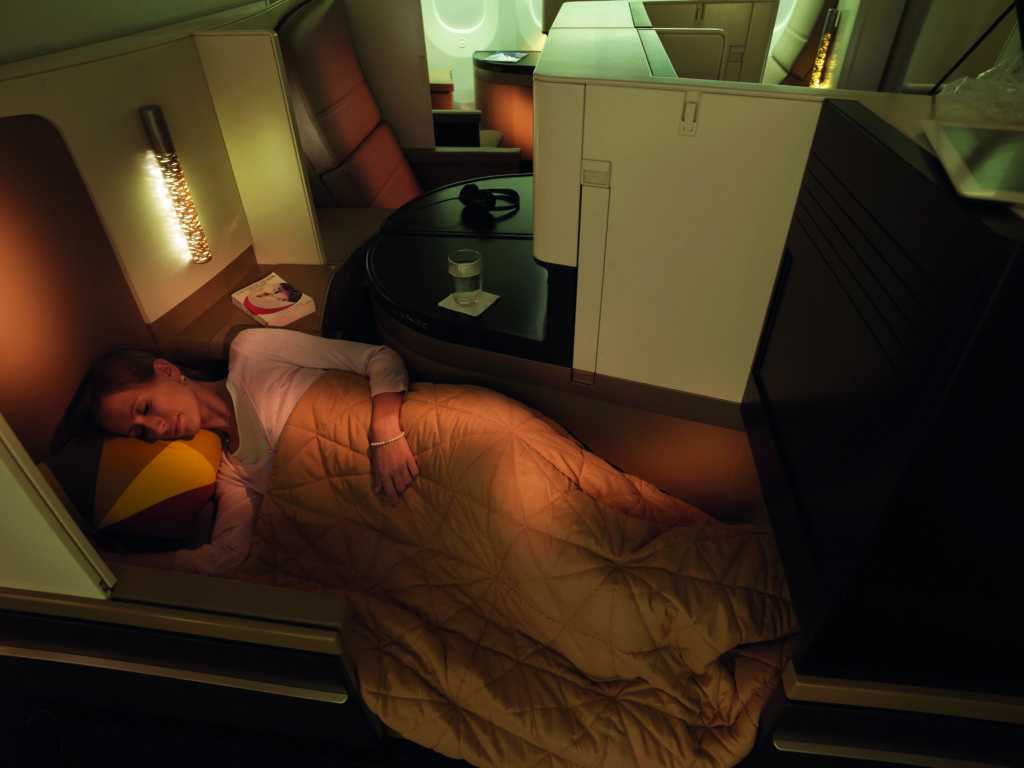 There is also Wi-Fi available on certain aircraft, which you may want to use even for just the novelty value. There is a charge for it starting at $4.95. You can also use your phone to make and receive calls (not a good idea of Etihad's if you ask me!) and text messages just as you do on ground on some flights too. If you have a smartphone with a data-roaming plan, you can access the Internet, your e-mails and chat apps.
Etihad have an excellent entertainment system which includes 7 Live TV channels and live sport on Sport 24 Channel. You can find out what is on your flight here. There is a link to the latest sports events that will shown live on this page.
Food and drink

Etihad have on-board Food & Beverage Managers. They will usually come over for a chat and find out what your dining plans are. They can recommend wines or drinks to match the menu and also will explain the menu if you are not sure about something. If you are undecided about a wine, you can just have a taste before they pour a full glass. If you are a coffee drinker, they do great coffees on board such as lattes with little biscuits to accompany them so you may want to order one.
You can of course eat at any time with Etihad. It is worth thinking about your plan for eating on the before you get on board. There is also a snack service which you may prefer if you plan to eat in the lounge and maximise your sleep time.
Lounges and Six Senses Spa

In Copenhagen you will have access to the CPH Apartment on the 1st level, between pier A and B. This is nothing special, so not worth getting there early for. It does have a small selection of alcoholic drinks and snacks so it is still worth popping in to kill some time.
When you get to the Abu Dhabi lounge if you fancy a spa treatment, head straight there. In business class have to pay now unfortunately and you can't reserve in advance. However the treatments are short and not that expensive so you may fancy it anyway. Once you have secured a time you can head into the lounge to wait. If you want to look at what's available, here is the spa page.
The buffet in the Abu Dhabi lounge is well worth saving room for as it is absolutely enormous with great quality food. There is a separate dining area to sit in and enjoy your food. If you need to work there is a business centre and you may want to try out the semi-private Den seats in the entertainment zone where you can watch TV.
There is also a dedicated Etihad First & Business Class Lounge in Sydney, so you may want to get there a bit early to maximise your time there. It opens 3 hours before departure.
All the Etihad run lounges have showers, so you may want to factor one in on your journey. If you do it is worth going straight away when you arrive in the lounge, in case there is a wait.
Where to credit the miles
There are lots of choices of where to credit your miles from this trip. First of all you could do a straight credit to Etihad. They allow you to use money to top up once you get to 75% of the needed miles so you may be able to use the miles from this trip for a shorter Etihad trip plus you could always get the Etihad credit card or an Amex Gold or Platinum. If you get someone to refer you then you will get 35000 membership rewards with the Platinum or 25000 with the Gold card. You could use this to top up at a transfer rate of 1:1.
If you are more likely to fly Oneworld, Star Alliance or Skyteam then there are options within each. None include Avios but you would still be able to use them on BA if you credited to Malaysian, Air Berlin or AA. For Star Alliance you could join Air New Zealand or ANA. Finally for Skyteam you could join Korean.