As part of my Heathrow and Gatwick hotels series, I have had a reader request to include some Premier Inns. I will also be visiting the Dublin Airport Premier Inn shortly, so look out for my review in the next couple of weeks.
Premier Inn T5 Heathrow
Although Turning Left for Less generally focuses on luxury hotels, when it comes to airports we play by different rules. In most cases you will spend a very limited amount of time in your room and generally be asleep for most of it. If you are like me, there are 3 main things you want from an airport hotel, close and easy access to the airport, a comfortable and quiet room and finally a decent shower. So does the Premier Inn offer these minimum requirements?
Location, Transport and Parking
The T5 Premier Inn is situated on the Bath Road at the Terminal 5 end, approximately a 3.5 mile drive from Terminal 5. If you wanted to combine your hotel booking with parking, Premier Inn offer the Just Park Sleep Park Fly package including complimentary parking. It also does not mean leaving your car at the hotel. You must drive to terminal 5, then use Purple Parking meet and greet. Alternatively you could use the company Just Park. They sell parking spaces very cheaply at various locations such as hotels and are often much cheaper. You can pay to park your car at the Premier Inn cheaply through Just Park and it will stay in the hotel car park. You can find their website here.  If you just want to park overnight the parking costs £12 per 24 hours through the hotel.
To get to T5 by public transport you can use the National Express Hoppa. Buses run every 30 mins. It costs from £4.50 single and you need numbers H52 and H58 (Stand 23 from Terminal 5) to and from T5. Alternatively the local bus 423 runs every 15 minutes to and from Terminal 5 (Stand 6 at T5). It is free if you are carrying only hand luggage.
Check in
Check in has a choice of automated machines (which I didn't try) or traditional desk check in. All the staff that I encountered were very helpful and friendly at both check in and in the restaurant and bar. There is also chilled water in reception which is a nice touch.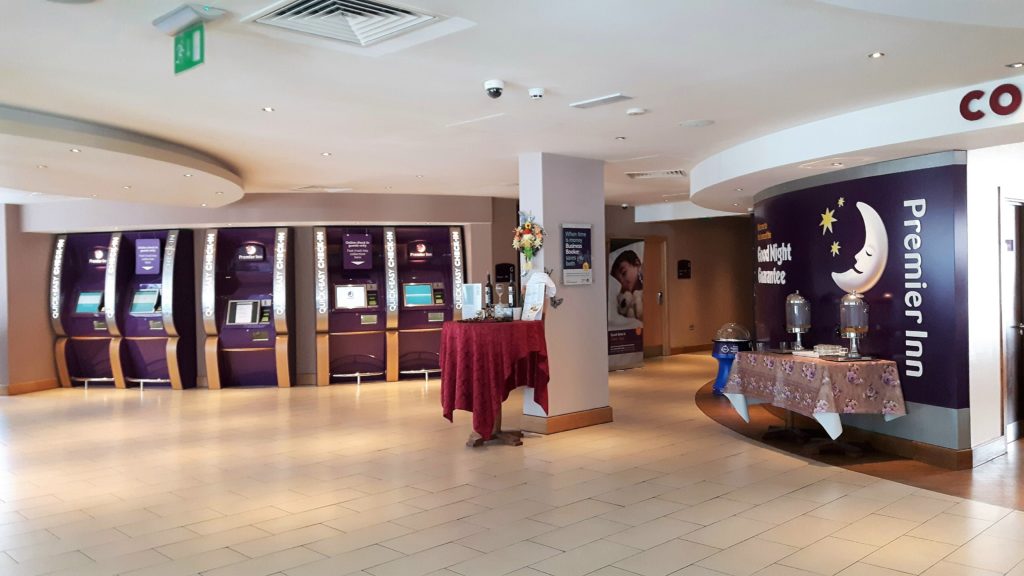 Rooms

The Premier Inn offers a choice of rooms including family rooms that sleep 2 adults and 2 children. Looking ahead to January, I was able to find a room for £31 on the non refundable booking option. The room had a standard kingsize bed, as well as a sofa that could be used as a sofabed. The beds are one of Premier Inns most important feature. They offer Hypnos beds which are a premium brand of bed used in many 5*hotels. The Hypnos mattress has a pillow-top supported by over a thousand pocket springs. The room also had 2 types of pillow to choose from, with 2 each of soft and firm on every bed.
Premier Inn are so confident that you will sleep wel,l they offer their Good Night Guarantee. If you don't get a good night's sleep, they will give you your money back. The bed is indeed very comfortable and the pillows were fine too. The hotel was generally quiet and there was no noise from adjacent rooms. There were also blackout curtains, which is another must for me, especially during the light summer mornings. I liked that there were sockets by the bed to plug in my mobile, something that seems to be beyond many hotels even now.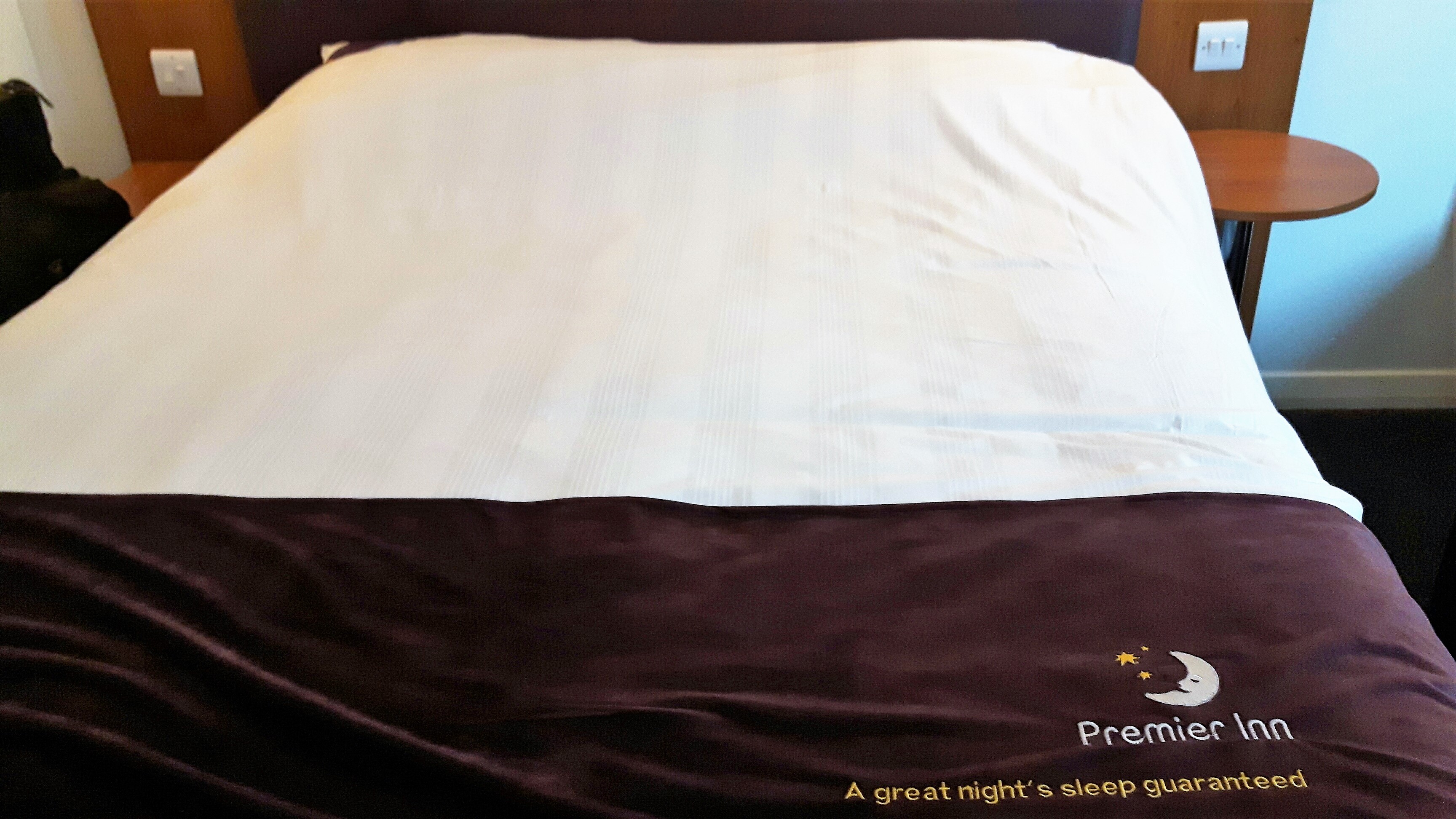 In the room there was tea and coffee making facilities, a hairdryer, a small TV with 80 Freeview channels, and a very small area for hanging clothes. One problem that often occurs in the rooms, is a lack of mobile signal in the interior facing courtyard rooms.
Finally, there two other very useful amenities. Firstly, they have air conditioning which so many UK hotels still don't have. With the recent high temperatures this is non-negotiable for me during the summer. Secondly, they have free Wi-Fi up to 1GB unlike some other chain hotels. If you want unlimited internet they also offer a premium Wi-Fi for a fee.
If you want to work there is a small desk area with a couple of sockets for charging electronics or working.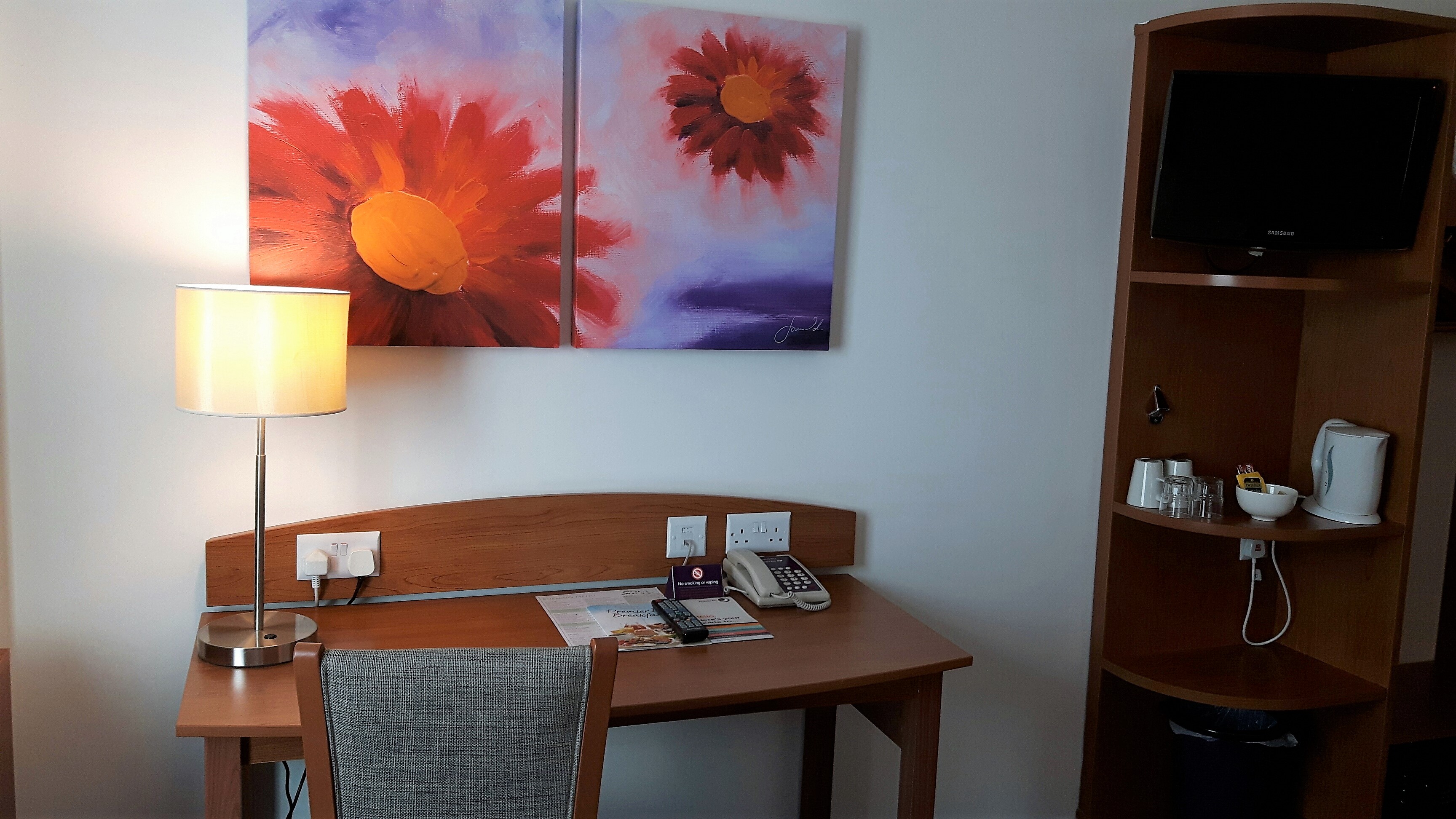 Bathroom
The bathroom was pretty basic but the shower was powerful enough. It did have a shower curtain, which I am not keen on. There are some very basic unbranded toiletries supplied in large containers attached to the wall. By the sink is some hand wash and the shower has a basic hair and body shampoo.
Food and drink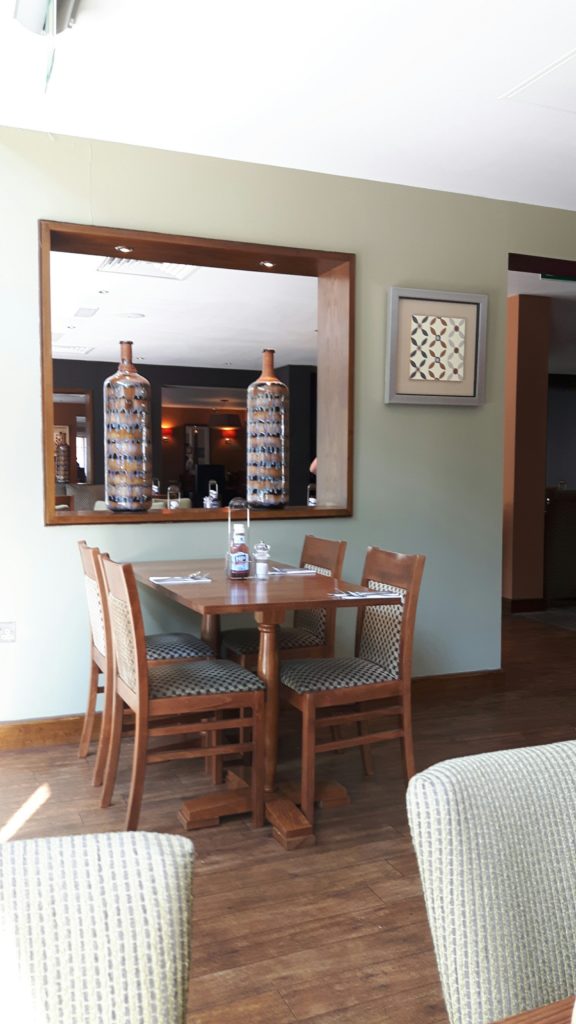 The hotel has a good selection of options for a Premier Inn. In addition to a bar and restaurant, there is also a handy Costa Coffee.
Thyme restaurant
The restaurant serves breakfast 5:30AM – 10:30AM and dinner from 5:00PM – 10:00PM. The breakfast is nearly all self-service buffet apart from porridge and eggs, which are made to order. At £10.50 for the full breakfast (which you can pre-book), it is good value for a decent quality of food. If you will have children under 16 with you, up to two under-16s eat breakfast free when one adult orders a full Breakfast. You can also pre-book a food package for £26.49 which includes breakfast,  plus 2-course dinner and a selected drink.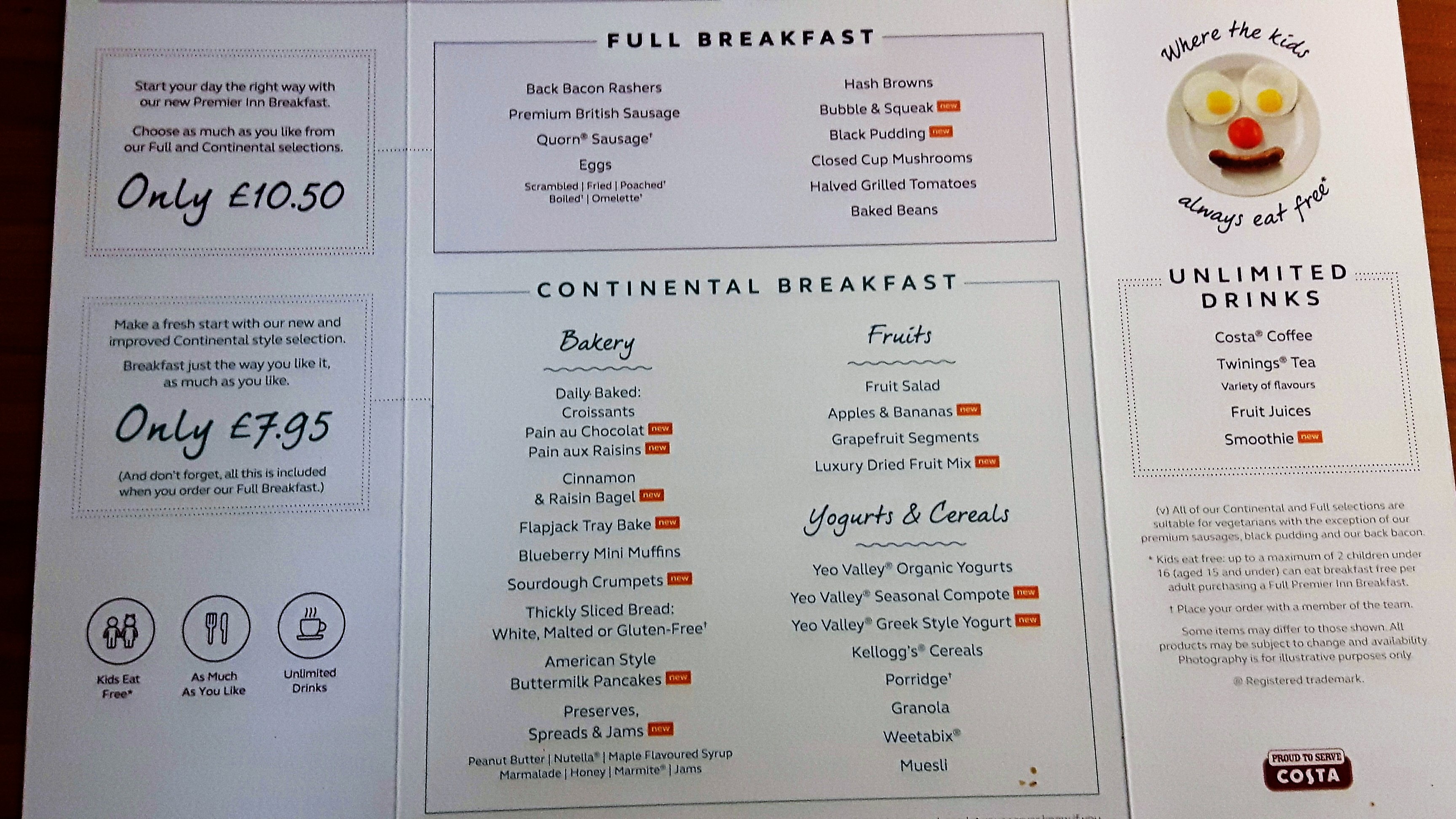 Prices are generally very reasonable and there is a good selection of pub style food with some healthy options too.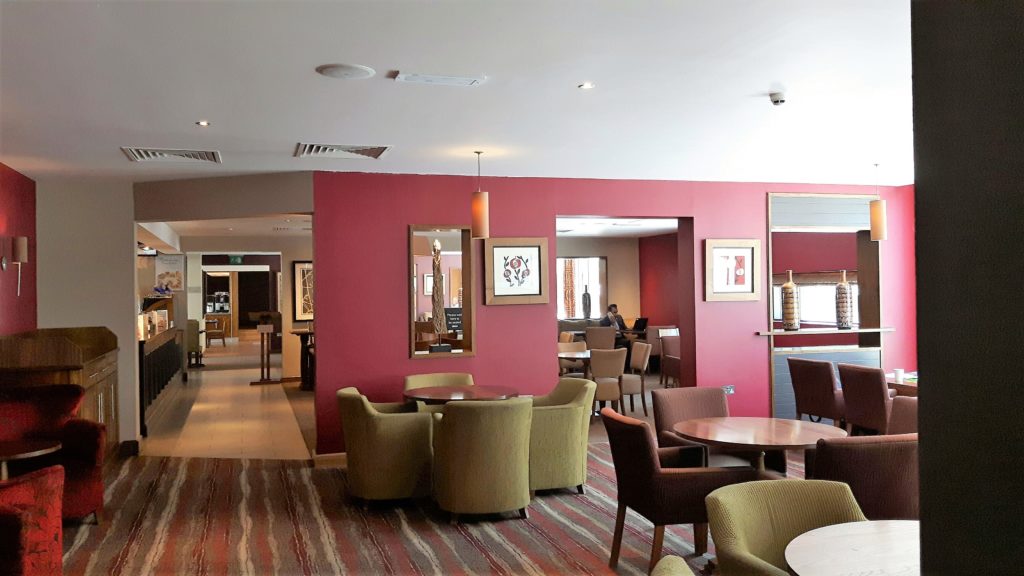 Conclusion and Pricing
The hotel can be got at ridiculously cheap prices at quiet times. For example, in January you can pick up a room for £31 on the Saver rate. Although the hotel rooms are not going to give the 5* Corinthia a run for its money in terms of aesthetics, it has everything you need in an airport hotel. The beds are comfortable, the room is dark and quiet plus there are good on site food and drink options. I would certainly consider staying here again for T5 for a quick overnight stop.
You can find the hotel website here.