Today's article, Aer Lingus A330 Maiden Flight review, is by reader Ed. Ed also wrote a great article about Air Belgium business class here.
If you want to send in a reader review, please contact [email protected]
Introduction
During the pandemic, Aer Lingus decided to close their base at Shannon and reallocate the aircraft previously based there. They approached multiple airports around the UK about basing their aircraft there (likely with quite heavy subsidies), and in the end, Manchester was settled upon and subsequently Aer Lingus UK was born.
Aer Lingus UK originally planned to launch operations to Orlando and New York in late July, but ultimately due to the US borders remaining shut these flights were delayed (and then delayed again). The carrier also planned to serve Barbados, which was not affected by border closures, and so this ended up being the maiden flight for the carrier in mid-October. Aer Lingus UK has a fleet comprising both A330-300s and A321LRs. Both aircraft types have previously been operated for the Irish flag carrier under Irish registrations, but have been transferred to UK ones under the new airline. The A330s are both just over a decade old but the A321LRs are less than a year old.
Barbados and Orlando are to be operated by the larger A330s and New York by the A321LR. Originally Boston was going to launch next year on the A321 but in the latest schedule release, this plan appears to have been dropped as Aer Lingus plans to return to some Shannon services after all.
This review is of the maiden flight of Aer Lingus UK from Manchester to Barbados.
Booking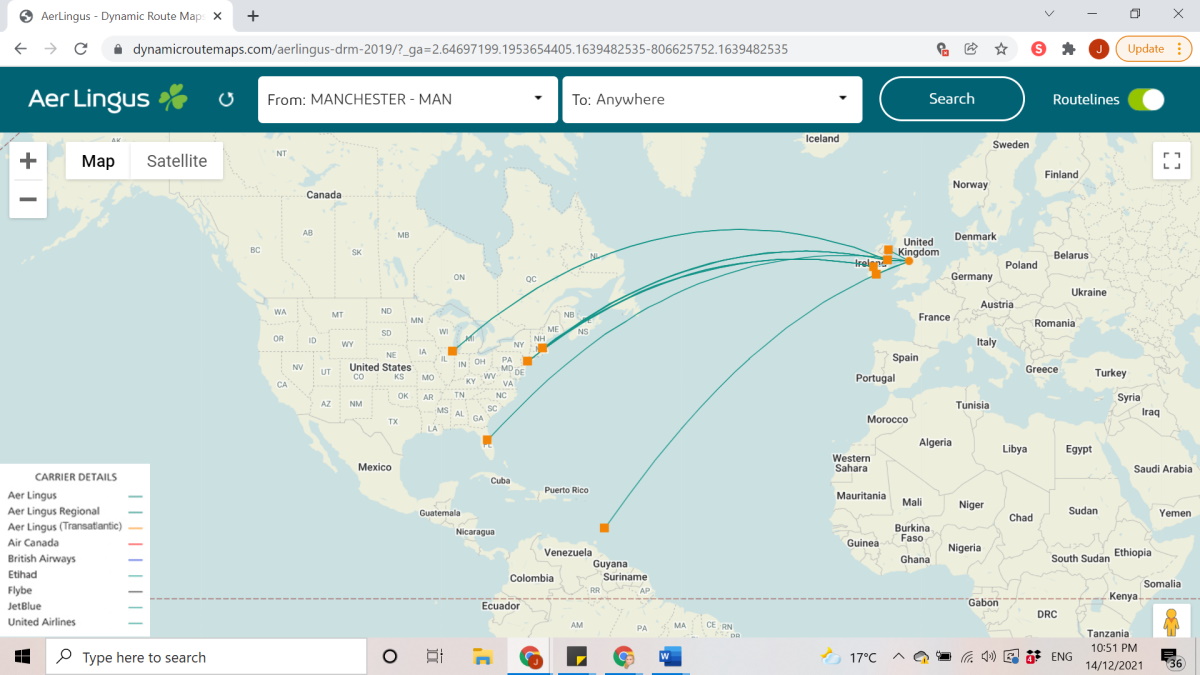 Aer Lingus UK does not have a stand-alone website, as it operates flights on behalf of Aer Lingus in the same way that BA CityFlyer appears on the BA website. The only indication you are flying the UK subsidiary is a small "Operated By" notification.
Aer Lingus, like British Airways, is owned by IAG and partakes in Avios so flights can be booked using either Avios or cash. It is also possible to book this flight on BA.com, but this is not advisable due to the same ticket being double the price, versus booking directly. You can add your BA Executive Club number to the booking, but you will only get Avios and not tier points. Aer Lingus has their own frequent flyer scheme called AerClub, which I joined to get Aer Lingus status points as well as Avios. The Avios can be transferred between individual airline programmes and so need not remain orphaned points for long.
For Barbados, the airline is operating flights twice per week: on Wednesdays and Saturdays. On other days you can still travel but you will be routed through Dublin instead. The flights leave late morning, and roughly nine hours later land the same afternoon in Barbados.
There are only two classes aboard the Aer Lingus UK A330s; Business and Economy. Both have the option of flexible fares, but currently all fares are eligible for refunds as vouchers if you cannot travel anyway. The Business cabin alternates between being 1-2-2 and 1-2-1, with some throne seats on the right-hand side of the aircraft meaning your feet end up tucked in between the two seats in front (under their table). The Economy cabin is 2-4-2 for most of the cabin, but as the fuselage narrows at the back there are five rows that only have three seats in the middle.
The website used to book is the standard Aer Lingus or BA one, and so it is easy enough to navigate for frequent flyers. One thing to note though – once you have picked a seat, you cannot change it without sending them an email, which seems like a minor flaw in their website and booking process
Ground/Airport Experience & Check-In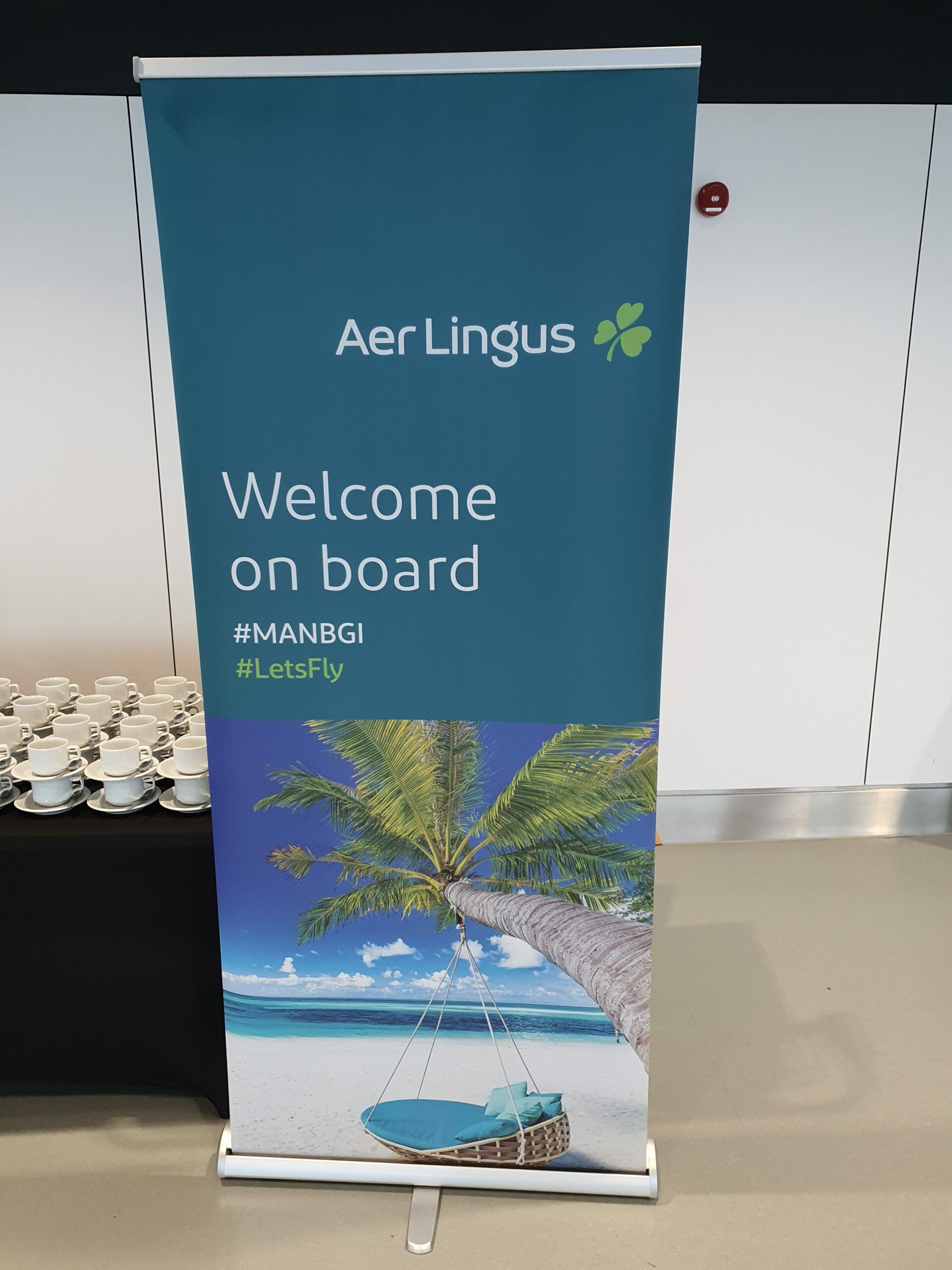 Whilst Aer Lingus does have an app, you cannot check in online at the moment due to the COVID/Vaccination documentation requirements. The airline sends out an email in advance, advising you that there are likely to be long queues at the airport, and to arrive very early for your flight. They also advise you to utilise the Verifly app to check wait times ahead of time.
When I arrived, there was no queue at all for the Business class desk, and so I proceeded there to get them to change my loyalty number from my BA one to my brand-new Aer Lingus one. I displayed my vaccination certificate and negative covid test results and was issued a boarding pass. At no point did I need to show my Verifly pass, but this may save time if there are actually queues.
Sadly, I had missed the performance by the Barbadian steel band 'Band One', though Aer Lingus have previously broadcast some of their performances on their social media channels.
I then proceeded through security, where they decided that my liquids plastic bag (not the liquids, just the bag) did not pass muster – despite being handed to me at Heathrow the day before. I find security can often be a lucky dip, in terms of what you will encounter and what passes the test.
Whilst the gate was not due to be displayed on the departures board until after I had passed through security, I played hunt the plane and noticed my A330 was parked on one of the piers so proceeded that way. On the way I passed a now retired TUI 767 and stopped to take pictures, but still was the first passenger to arrive at the gate. I found ground staff finishing setting up the gate with balloons, signs advertising the new route and tables filled with cupcakes and tea, coffee and water. The cupcakes were branded either with Aer Lingus or Manchester Airport Group icing.
Boarding began only about 25 minutes before departure and as we each boarded, we were handed a pair of Aer Lingus socks each. The cabin crew member who handed me mine and I had a mutual friend, which reminded me just how small the world of aviation really is.
Aer Lingus A330 Maiden Flight Cabin & seating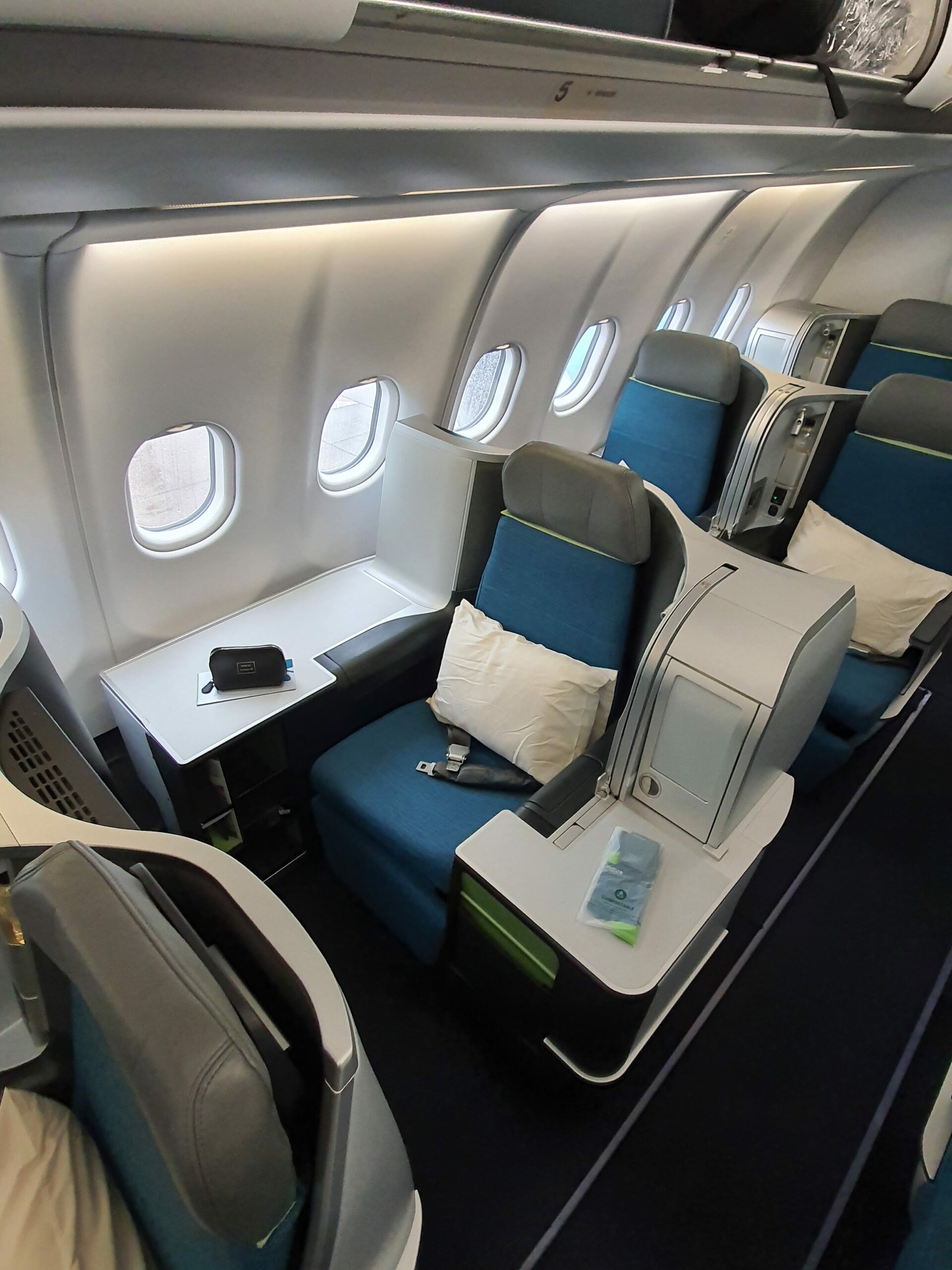 Whilst the plane itself was over ten years old, it had obviously been spruced up a little during its transfer to the UK subsidiary. The aircraft had been painted in the new livery; during the changeover, the right-hand engine was mostly white panels, but by the time of the first flight had been fully repainted in the turquoise green colour of the new livery. As a dedicated (and proud) aviation geek, this was well appreciated by me for the photo opportunities it afforded.
On the left-hand side of the cabin, the seats alternated between being closer to the window or the aisle. In the central section of the cabin, the pairs of seats alternated which side the side table was on, but the seats were always the same distance away from each other. On the right-hand side, there were pairs every other row, and three rows that had a single seat. Two of these are the aforementioned throne seats, which have side tables on both sides, and one of these is the seat I assigned to myself. Just a note: the rearmost seat only has a side table nearest the window.
I had expected the cabin to be relatively empty given the 'Expert Flyer' map, which upon checking showed most seats free, but Aer Lingus had piled on staff, journalists, and tourism industry representatives into the empty seats, which actually led to the cabin being full and rather rowdy for most of the flight.
Boarding the Aer Lingus A330 Maiden Flight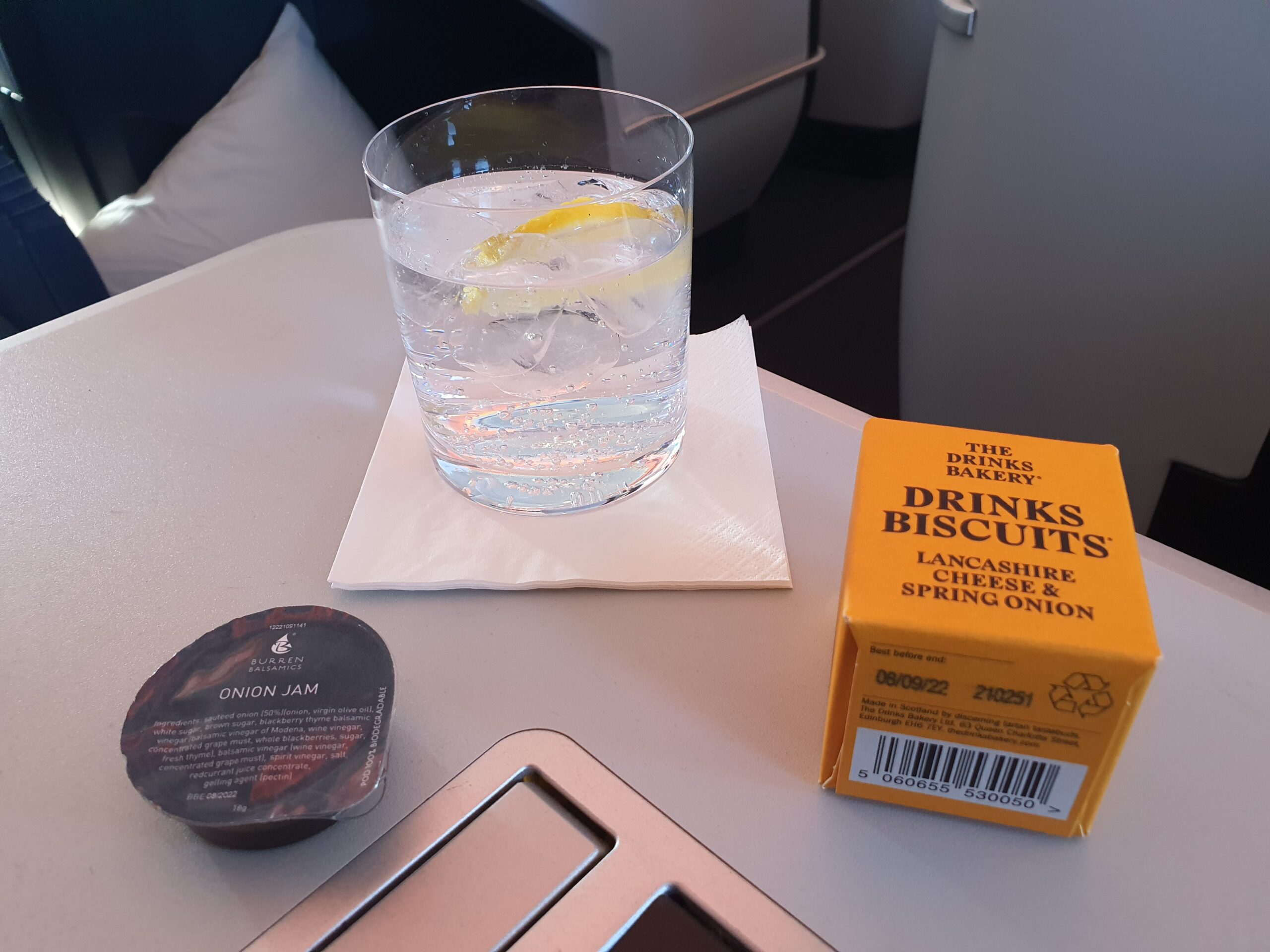 The cabin crew had laid out the menu and an amenity kit at each seat before boarding began, and also passed through the cabin offering a pre-departure drink which included a choice of orange juice or champagne, in glasses branded with the Aer Lingus shamrock. Also at the seat was a bottle of water tucked away in a holder.
Due to the delayed start to boarding, the plane ended up pushing back about 15 minutes behind schedule. The plane then took 15 minutes more to arrive at the runway and power up to leave the rather damp Manchester Airport behind.
Once airborne, the crew came around to take drink orders which also came with savoury biscuits and an onion jam. I had looked at their drinks menu prior and asked for a club soda, which I was informed they didn't actually have onboard, so I opted for a sparkling water instead.
Aer Lingus A330 Maiden Flight Food and drink
Lunch was served about two hours into the flight. The starter options were either prawns in Marie Rose sauce with sun dried tomatoes, or goat's cheese with beetroot. I decided to go for the prawns, which were delicious, though not as visually appealing as they tasted.
For the next course, the options were medallions of Irish beef, fishcakes with chilli noodles or roast parmesan chicken breast. I ended up with the chicken, as they had run out of beef medallions by the time they reached me. This seemed to be a recurring theme, as for pudding they had run out of cheese boards and only had the white chocolate and raspberry cheesecake left (luckily, I had, in fact wanted the cheesecake). Yes, it's a first world problem, but given how much the tickets had cost I did feel a bit disappointed as given there were only a few paying passengers in the cabin, it was a little unfortunate not to be able to have your first choice. I also think that if the staff must decline someone's choice in main course, it's good service recovery to check with them which pudding they prefer and ensuring they receive their first choice for that course.
The food I had was very tasty, and the chicken was well cooked, but it was disappointing that in two of the three courses they had already run out of options. Given they took orders for the entire left-hand side of the aircraft first, it may be better to sit on that side of the aircraft (though you would be giving up a throne seat).
After the meal, the cabin crew passed through with a tray of snacks that included chocolate bars. I picked a Kit Kat Crunchy (which is one of my favourites) and it was actually the first time I have had one of them on a plane. Sadly, I did not win the £5,000 prize that Nestle was running at the time, but still thoroughly enjoyed the chocolatey goodness.
Second Meal
The second meal service was afternoon tea. This was comprised of two finger sandwiches: roast beef in one, and egg and rocket in the other. These were accompanied by three little cakes: a raspberry Bakewell, a chocolate opera cake and a lemon and poppy cake. Overall, they were very tasty and moreish.
Around the same time, the in-flight entertainment was paused for a message to be displayed on the screen advising that cigarettes and alcohol were available for purchase on board. This is the first time I have seen a push notification for this type of service.
Aer Lingus A330 Maiden Flight Seat
The throne seat is a very private seat with plenty of storage, as you have no neighbours and double the side tables. The one potential issue is when you recline these seats fully it can feel a little restrictive, given the tables on both sides. The foot well is also a little on the tight side as it has to squeeze in between the two seats in front. My solution to these potential issues is to leave the seat in a sort of z-bed position, which I found very comfortable for both eating and watching films.
Aer Lingus A330 Maiden Flight Inflight Entertainment/WiFi
The A330 is equipped with WiFi, which ran smoothly and at high speeds for the entire flight. Aer Lingus sells packages in mb allotments, rather than time or full flight allowances. The largest package is 270mb (which is the option I purchased). The crew then passed through the cabin with codes for Business class passengers, giving them a free 400mb, which I wished I had known before purchasing some!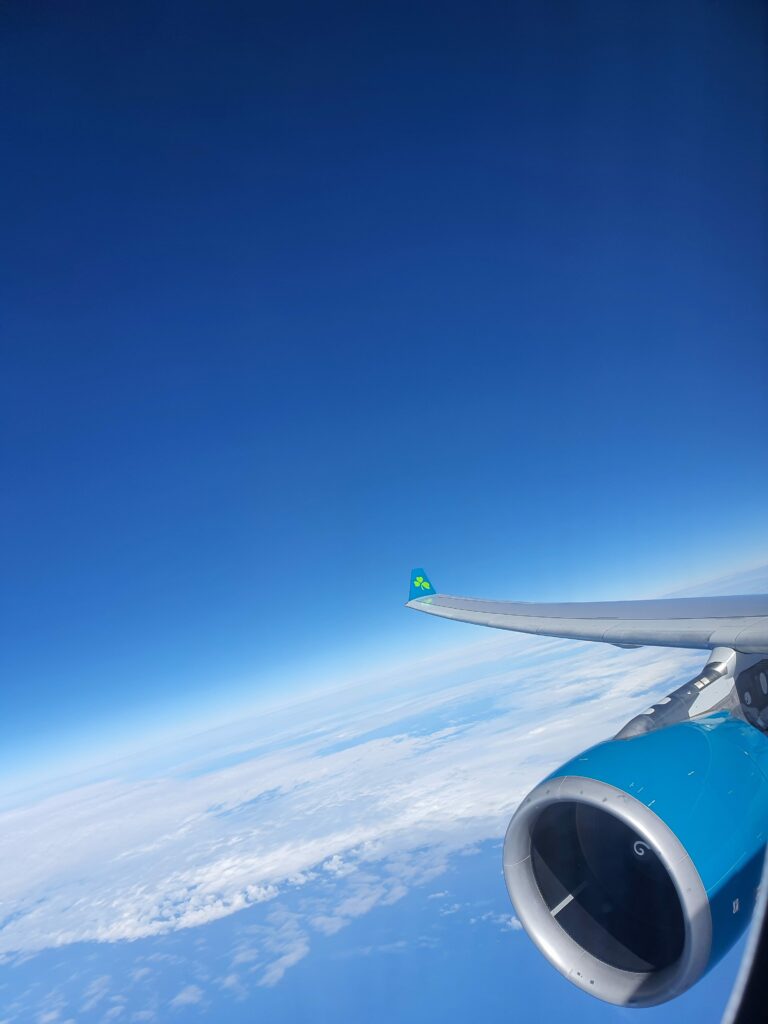 Aer Lingus does need to update its announcements, as they still state that you should check the inflight magazine 'Cara' for WiFi instructions. Unfortunately, Cara was discontinued during the pandemic. Fun fact: Model Cara Delevingne was supposedly named after the magazine, after her father noticed it on his frequent Aer Lingus flights. Cara means "friend" in Gaelic. I did manage to use up both my purchased and complimentary allotment of megabytes by doing some serious Instagramming of the journey, posting multiple pictures and having a minor panic about the Barbados covid app and whether it was required. I downloaded it just in case but did not use it in the end.
The selection of movies and TV series was good, with full box sets of multiple shows available. The selection is wide enough that there should be something for everyone, with plenty of new releases and classics available. I initially watched Locked Down, a comedy set during the pandemic (which seemed apt). I enjoyed it for a while, before settling in to watch West Wing from the beginning for the first time. I'm now hooked, and so I am just waiting for my next Aer Lingus flight so I can continue where I left off!
Arrival/Entry Experience in Barbados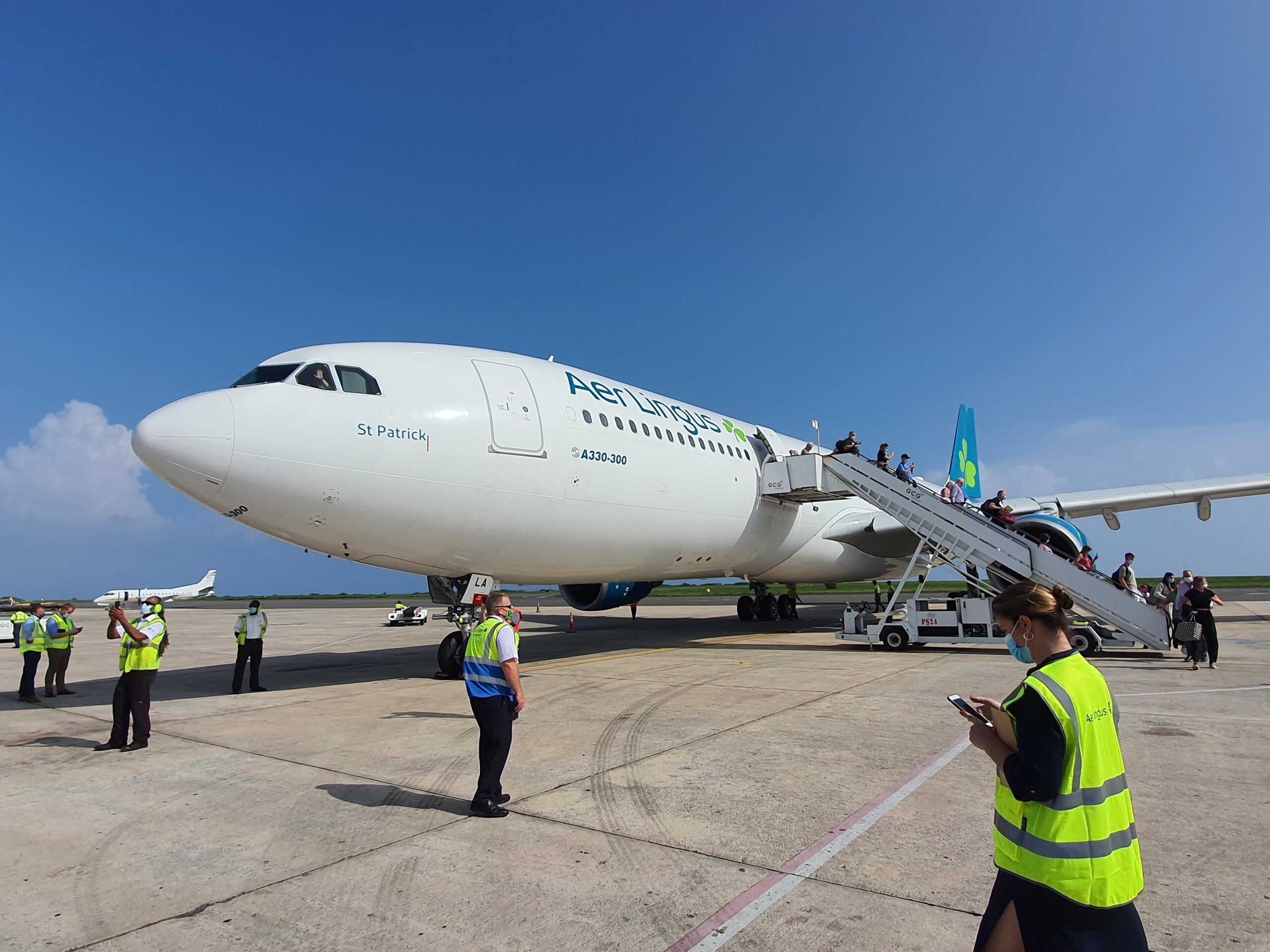 About two hours after afternoon tea was served, our flight arrived in Barbados with a landing that can only be described as firm. On the way to our stand, the aircraft was met by two fire tenders to perform a water cannon salute. It was amazing to see a fireman standing on the back of the vehicle, filming us arriving, whilst most passengers were filming him back in return.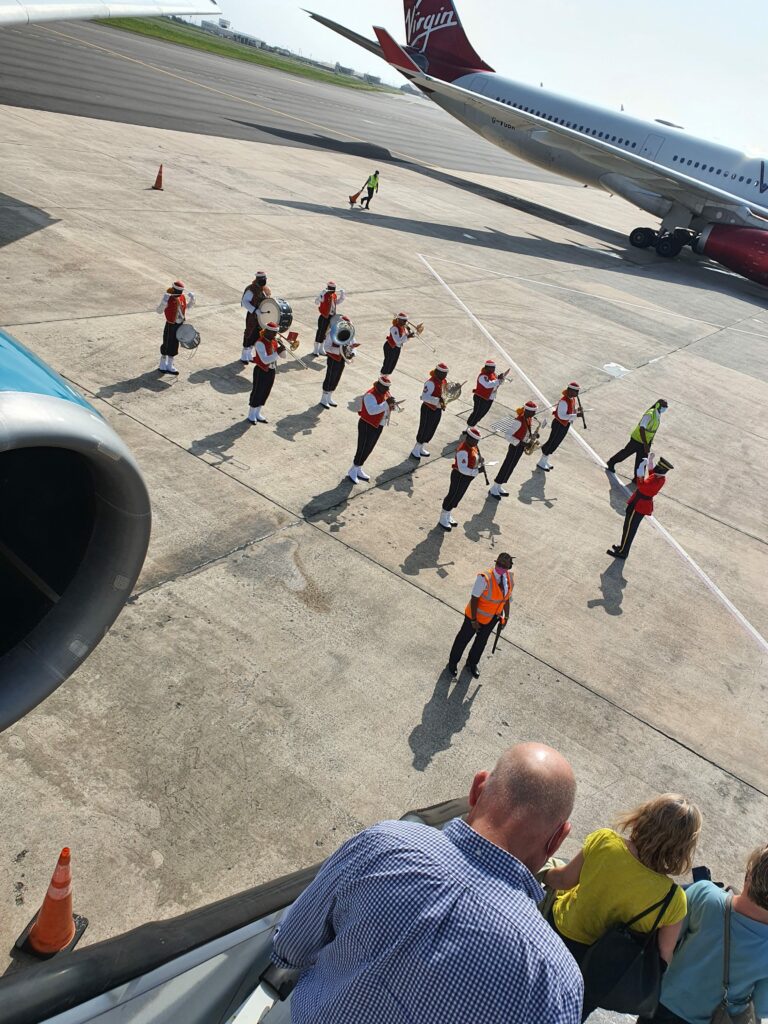 Once we came to a stop, the plane was met by the Barbados Defence Force's marching band, who marched out and continued to play music whilst the passengers deplaned. I was shepherded out amongst the Aer Lingus guests, as they were remaining on board for photos after the flight (yet all still standing conveniently in the aisles). Crossing the tarmac to the terminal, passengers were met by stilt walkers and 'meet and greeters', who guided them through the terminal.
Interestingly, the fact that the flight was being operated by new airline Aer Lingus UK was not mentioned a single time throughout the entire flight.
I had elected to have a private PCR test at the hotel, after hearing stories of the free airport ones taking days to come back. Given you can't use the beach until you have a negative result, I decided to stay on the safe side and expedite the process.
Walking through the terminal, I had to show my vaccine certificate and negative pre-departure test to three sets of people: one set who worked for the airport, the next who worked for the health department and the third were the standard immigration staff. I had filled in the pre-departure travel form before the flight and received the QR code, but still had to answer almost the exact same questions to the official from the health department. I had also had to fill in a form onboard stating I had not been to any high or medium risk countries, which was somewhat tricky given there wasn't a list anywhere I could find that clearly stated which countries these were. I was informed the UK wasn't on either list and so I would be fine, then given a blue wristband and allowed to proceed to my hotel.
The test was done on arrival at the hotel and was one of the most thorough I have experienced so far. Annoyingly, on the Monday after I arrived, they gave up requiring visitors be tested on arrival, given how large the laboratory backlog had become (taking up to 48hrs and sometimes more to be returned). Luckily, mine was returned about six hours after it had been taken.
Aer Lingus A330 Maiden Flight Conclusion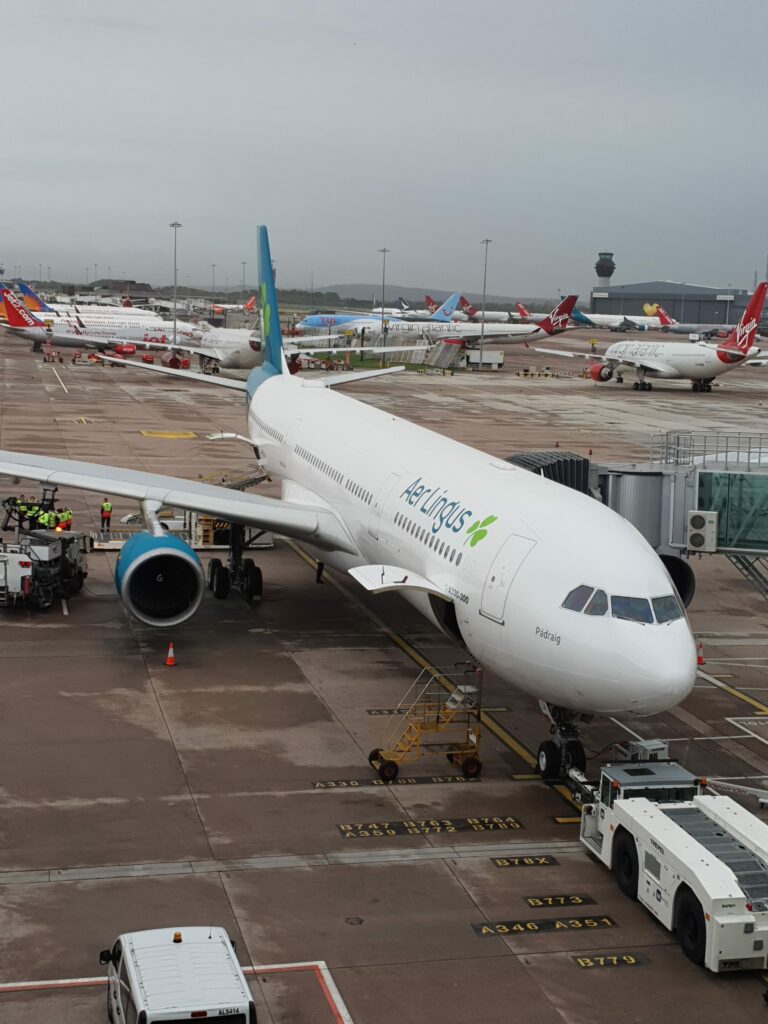 Overall, it was a good flight, but I wouldn't call it amazing. The main let-down was the inadequate catering provisions, as well as the lack of mask compliance amongst some of the passengers. Aer Lingus is a hybrid carrier, and so can arguably compete better in the historically leisure-oriented Manchester market against Virgin Atlantic on the same route. That being said, for similar money (or Avios), I would definitely take BA over Aer Lingus to get to and from Barbados.
For direct routings though, the more competition the better, so Mancunians will definitely benefit from this new entry to the market. Given the scrapping of the planned Boston service and return to Shannon, it remains unclear exactly how long Aer Lingus will stick with this particular market.
Like our Aer Lingus A330 Maiden Flight review? You can read more flight reviews here.