Today's review, Air Belgium A330-900neo Business class, is by reader Ed. I really enjoyed reading about Air Belgium as before Covid they looked like an interesting low cost option for business class.
Introduction
Air Belgium is a relatively new airline that has yet to find its flow in the industry. Originally planned as a low-cost long-haul carrier, the airline was to fly Brussels Charleroi to Hong Kong in 2018 but was denied overflight permissions of Russia which delayed the start of that service. The length of the runway at Charleroi meant departure with reduced payload anyway.
The airline pivoted successfully to operating wet lease contracts for airlines such as Suriname Airways and BA before starting operations to the Caribbean under their own brand. Until recently their fleet has solely comprised of former Finnair A340s but recently the carrier introduced brand new A330-900neos to the fleet. The carrier does also operate some A330 freighters on behalf of a French shipping company.
These A330-900neos were originally designated for Air Berlin and then after their bankruptcy were acquired by Rwandair and even painted in their livery prior to covid. Rwandair then decided not to take these two frames up and they sat as whitetails until Air Belgium logos were spotted on the engines.
Shortly after the carrier announced a brand-new route to Mauritius departing from Brussels Zaventem (BRU) rather than Charleroi. I decided to book myself on the inaugural flight of this A330-900neo for the airline which would also mark my first flight on the type. Here is my review of that flight:
Booking Air Belgium A330-900neo Business class
Air Belgium is not a member of any of the alliances and doesn't have a loyalty programme so the only option is to book with cash. There are three different classes of cabin on the A330neo, Business, Premium and Economy. Both Premium and Economy have two types of ticket Flex and Full Flex that offer changes and refunds to different extents. Business only has Full Flex.
The Economy cabin is a standard A330 layout of 2-4-2, narrowing to 2-3-2 at the back, with nine degrees of recline and 31 inches of pitch. Premium is a small cabin between the second doors and the start of the wing, consisting of three rows of 2-3-2 seating with double the recline and extra legroom. Business is 1-2-1 with eight rows of lie flat seats, at least one of those seats is reserved for crew rest though at the rear of the cabin.
For Mauritius, the airline offers two departures a week from Brussels, on Tuesdays and Friday. The flights leave in the evening landing in Mauritius the next morning after roughly 12 hours in flight. Return flights depart after about three hours on the ground.
The website is intuitive to use but when I booked the seat map wouldn't load properly for the A330neo which meant I couldn't pick a seat initially. I tried emailing the company to assign a seat but did not hear back. The airline does not allow seat maps to be viewed on expertflyer either which made it trickier to monitor the flight. Eventually, I was able to book a seat on the left-hand side of the aircraft by a window having repeatedly checked my booking on the website.
Ground Experience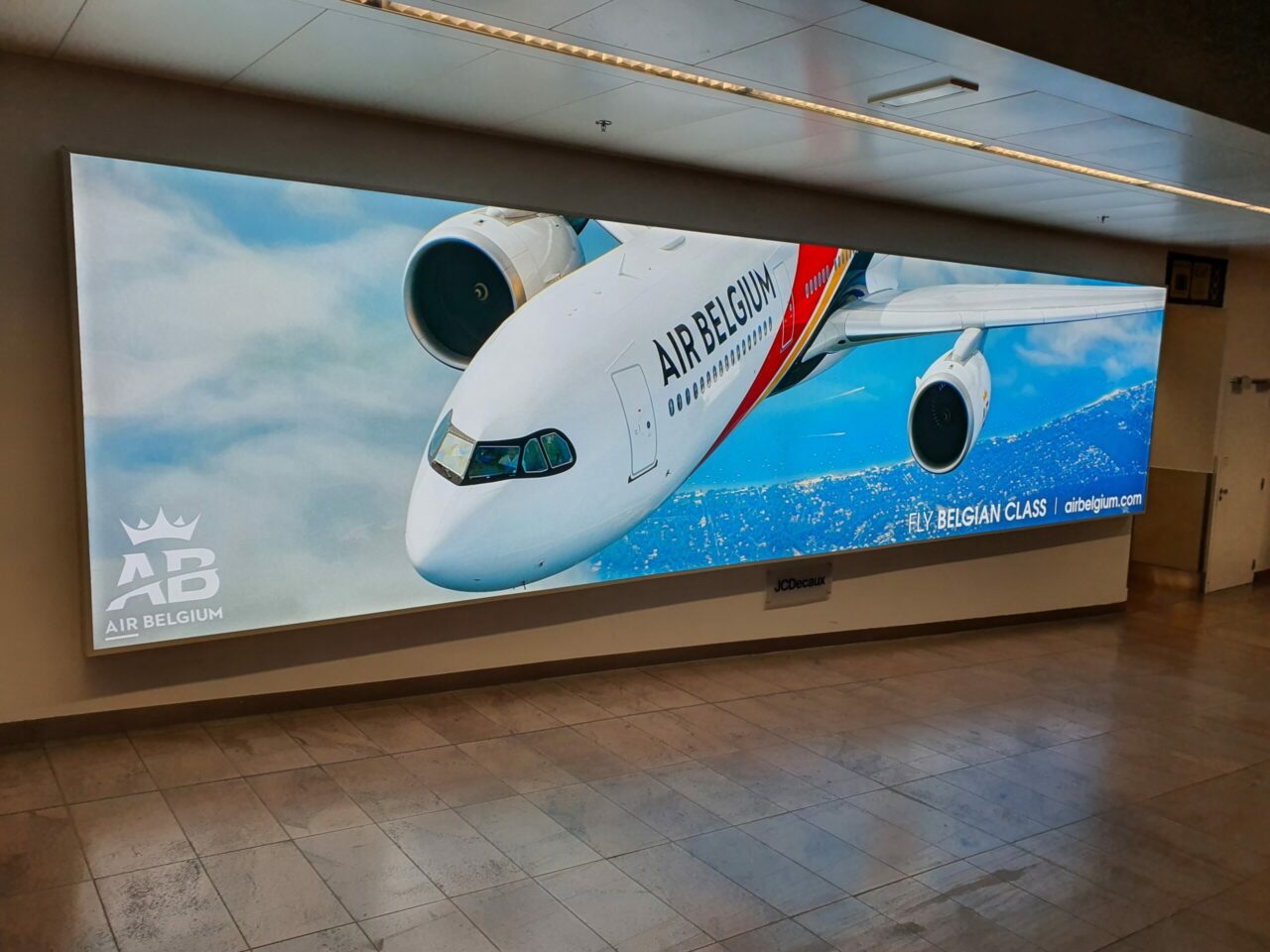 Air Belgium does not yet have an app and so check-in is done at the airport. Display stands at the check-in area celebrated the new destination, Mauritius, and partnership with Brussels Airport.
Prior to getting a boarding pass, various documents needed to be checked in order to confirm eligibility to travel including a negative PCR test taken in the three days before travel. This was done at the check-in desk where all hand baggage was weighed to confirm it fitted within the allowance. Business class had its own line with very few people in it but the economy queue was almost filled with passengers waiting for checks. During the pandemic its well worth getting to the airport early to allow for the large queues.
Armed with my boarding pass, I headed for security. No Air Belgium passengers appear to have access to fast track security so budget time for that queue too. Business passengers have access to a lounge at Brussels airport but given the special nature of the flight, I headed straight to the gate to try and photograph our plane.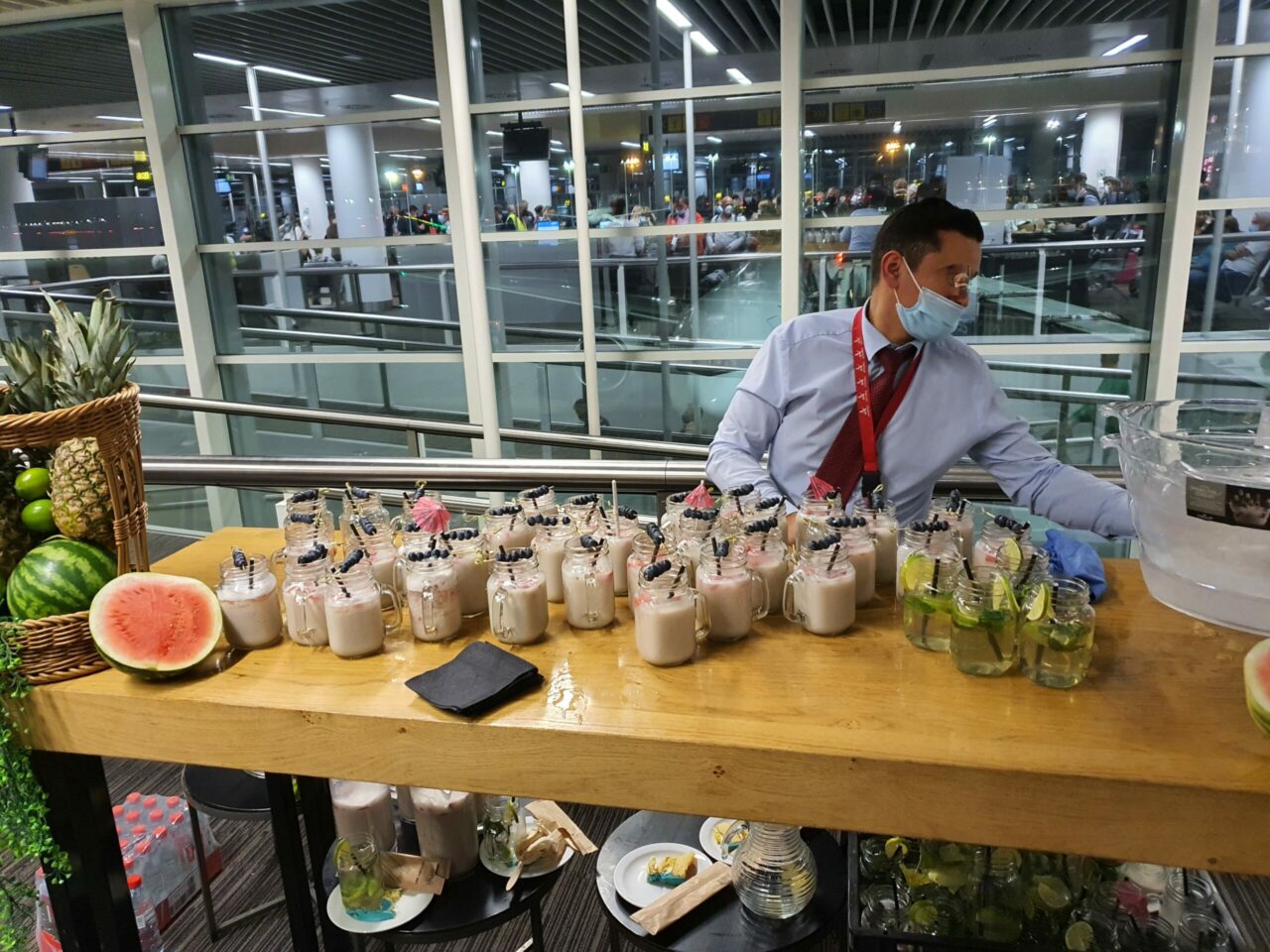 The airline had set up the gate with cocktails and milkshakes available plus cake. I grabbed a milkshake accompanied by blueberries and some cake which were delicious before heading back to grab some photos. Airline reps, cognisant of people's reluctance to crowd because of the pandemic, passed through the area handing out slices of cake and drinks.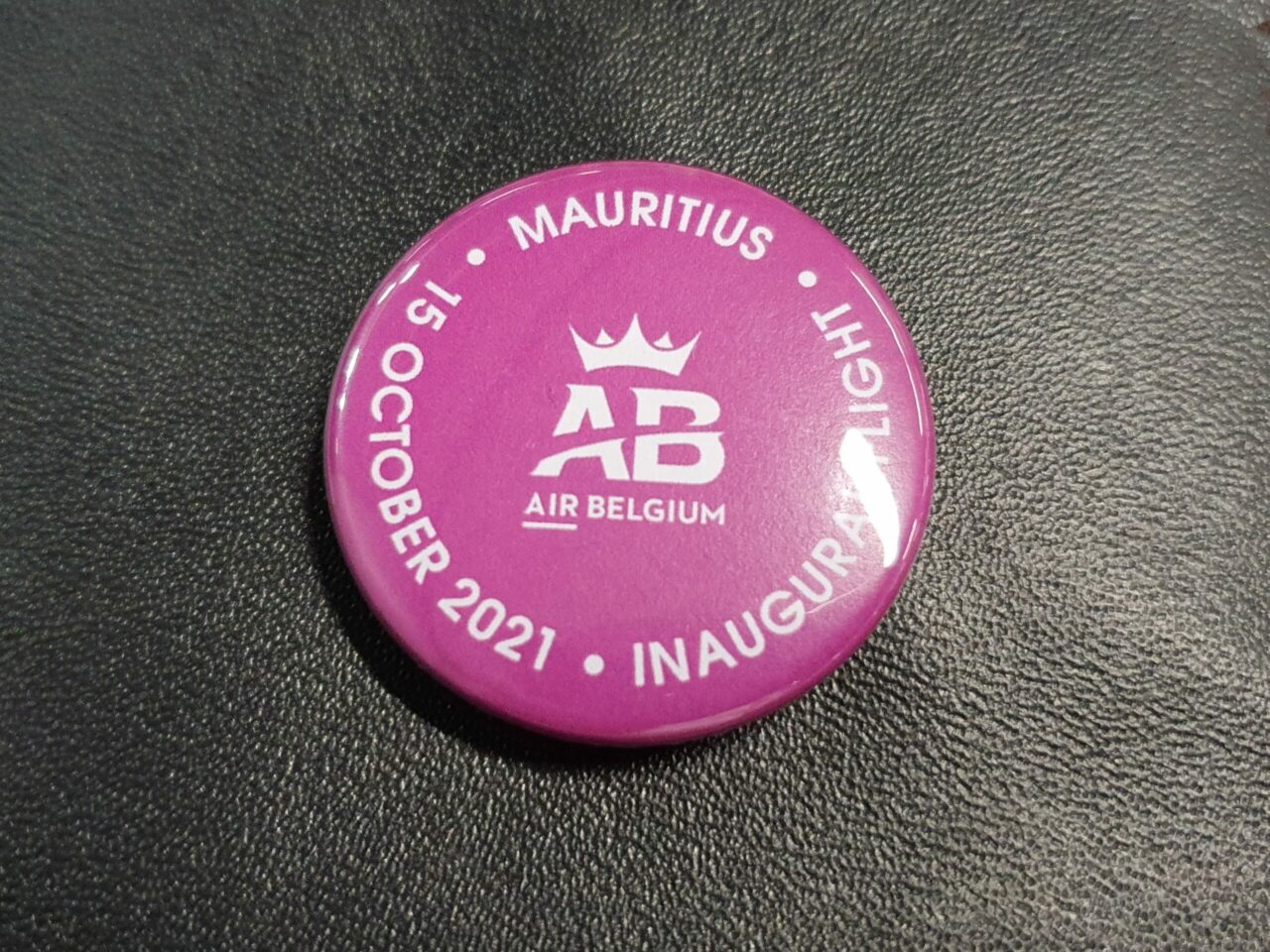 They also handed out magnetic badges celebrating the inaugural Mauritius service. Boarding commenced about 40 minutes before departure, along an actual red carpet with the Air Belgium logo on it. The gate agents actually tore the boarding pass after scanning it which is the first time in a long time I have seen that happen. My souvenir boarding pass was now a souvenir ticket stub.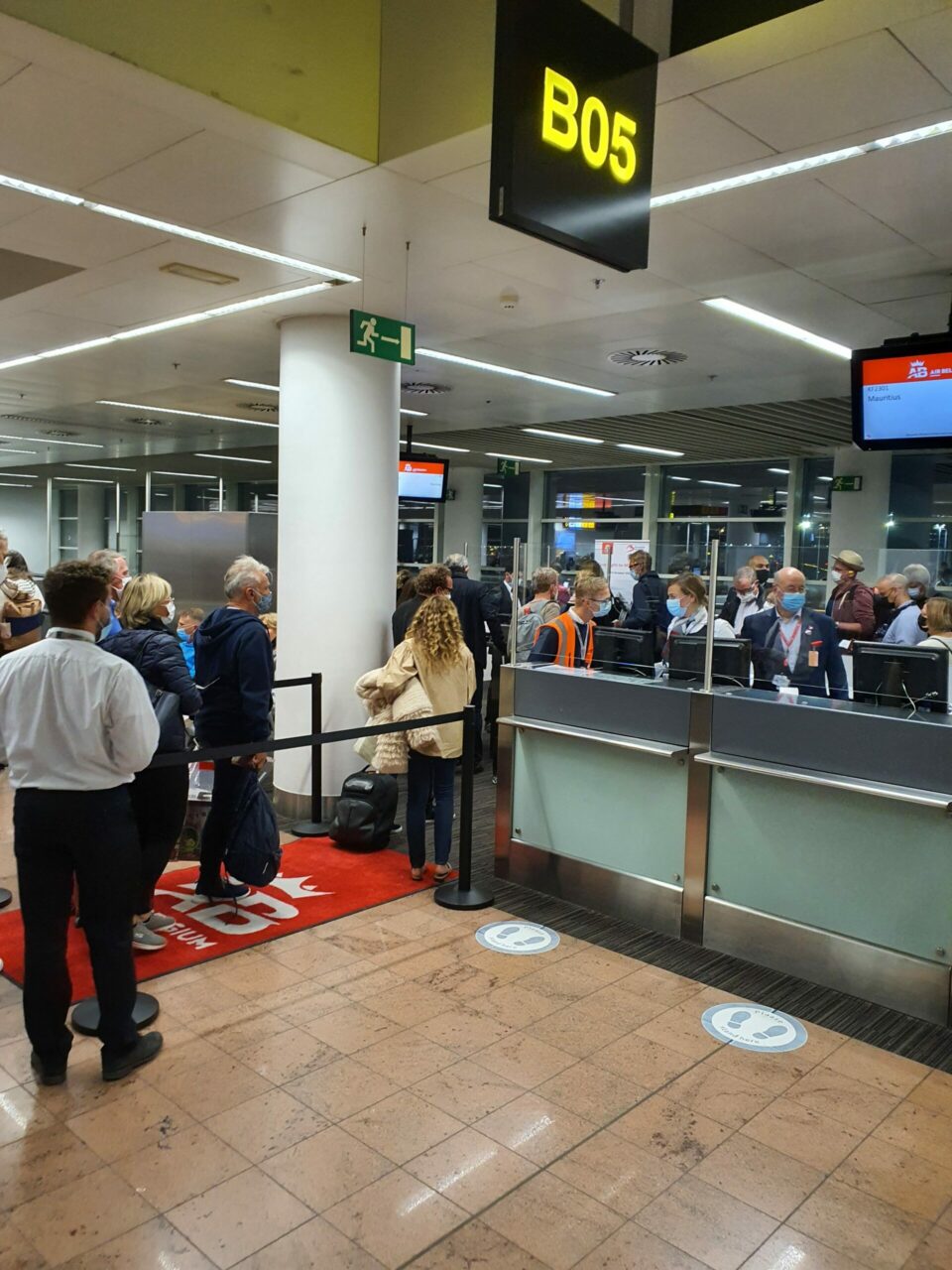 Air Belgium A330-900neo Business class Cabin
The brand-new cabin was still shiny and had that new plane smell. It was only delivered the previous week and had not undertaken any flights after that, sitting remote until towed to our stand for departure. The seats by the window alternated between being closer to the window and the aisle. I had one closer to the aisle.
The A330 has a very curved fuselage which means taller passengers struggle for head room when right next to the window. The middle pairs alternated between being close together or on the aisles, the close together ones would be perfect for couples but maybe a bit much for strangers like the rear-facing Club World seats on BA. Mood lighting switched from bright white to purple as our departure time approached.
Air Belgium A330-900neo Business class Departure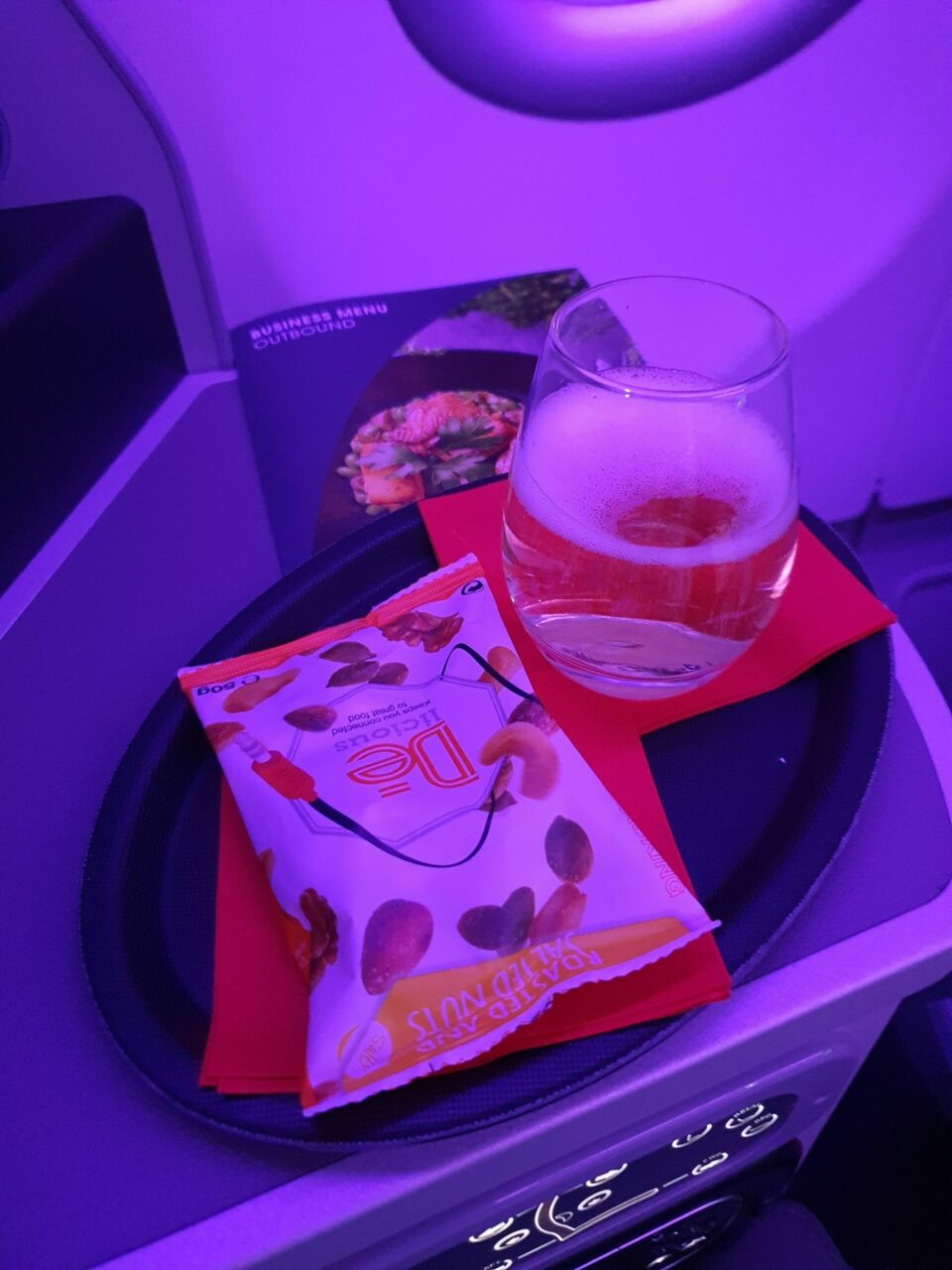 Pre-departure drinks were served by the cabin crew who brought champagne and water glasses through the cabin on trays. A small sanitary kit with hand sanitizer, disposable mask, and a few other bits and pieces. The safety video played and the aircraft pushed back only a couple of minutes behind our scheduled departure time.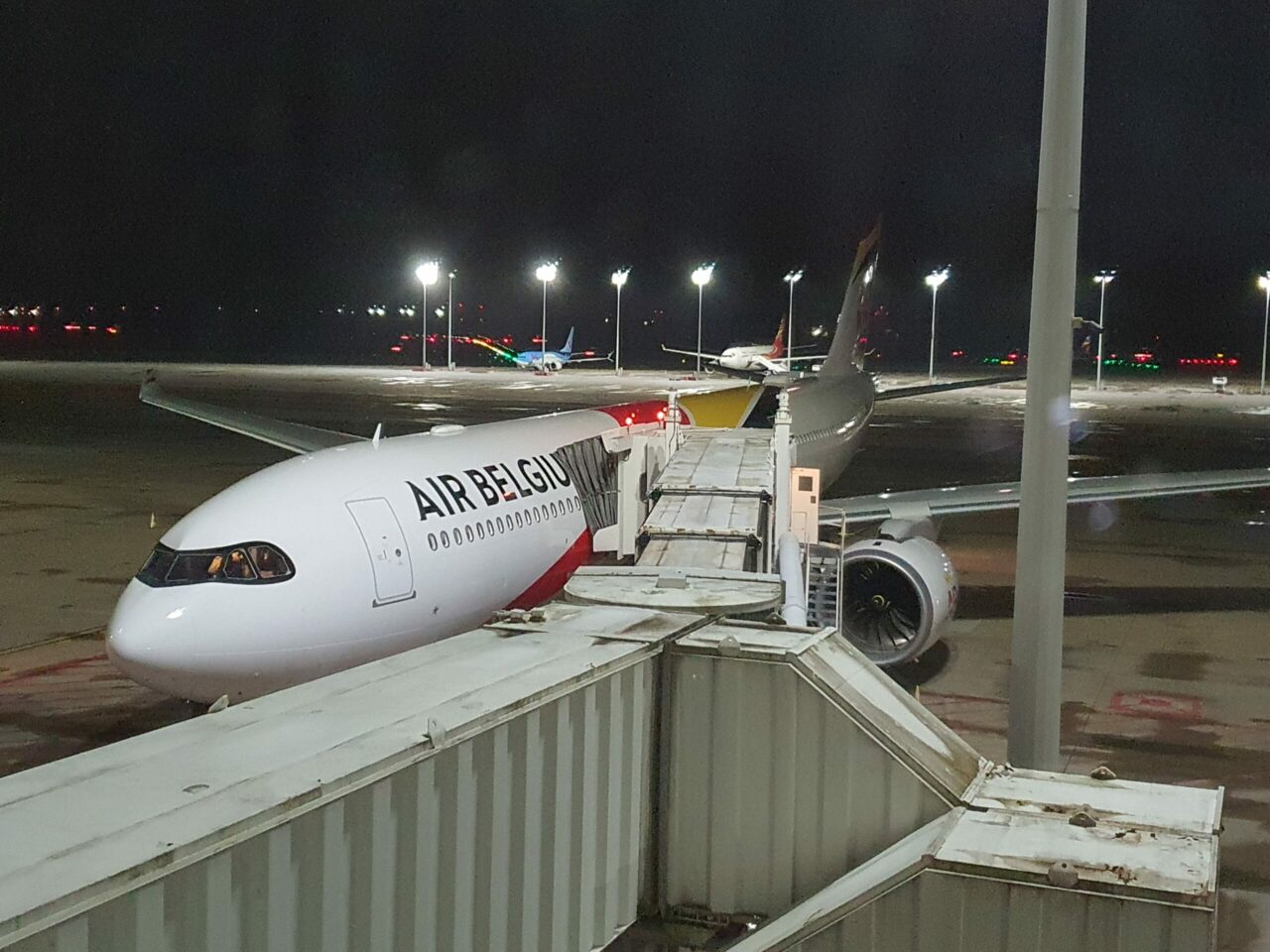 Fifteen minutes later we were powering up on the runway before turning left over the city on our way to Mauritius.
Crew then passed through the cabin handing out menus, amenity kits (which include some cool Air Belgium socks) and further champagne. They also handed out arrivals forms for Mauritius which were identical to the forms online.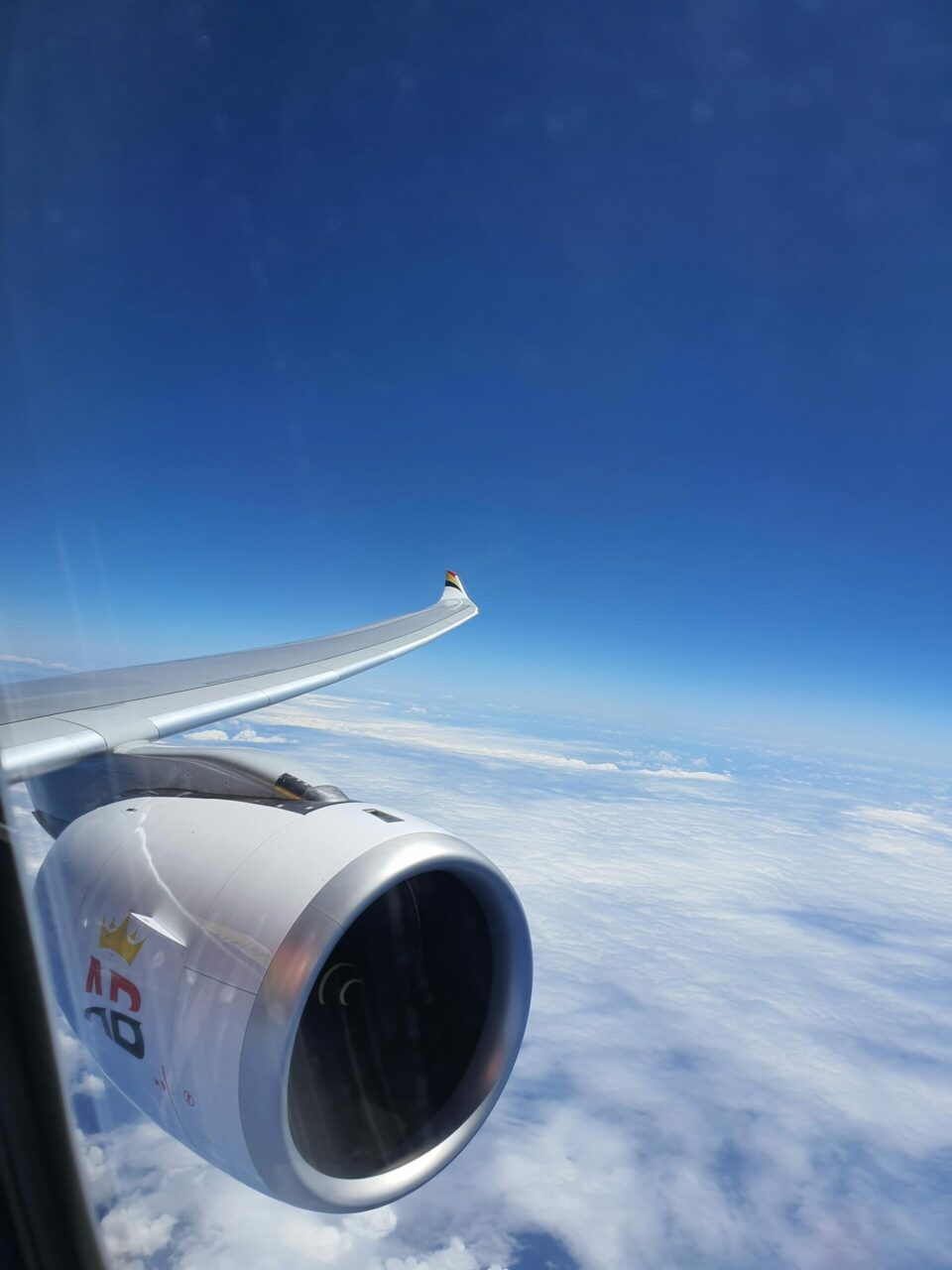 Air Belgium A330-900neo Business class Dinner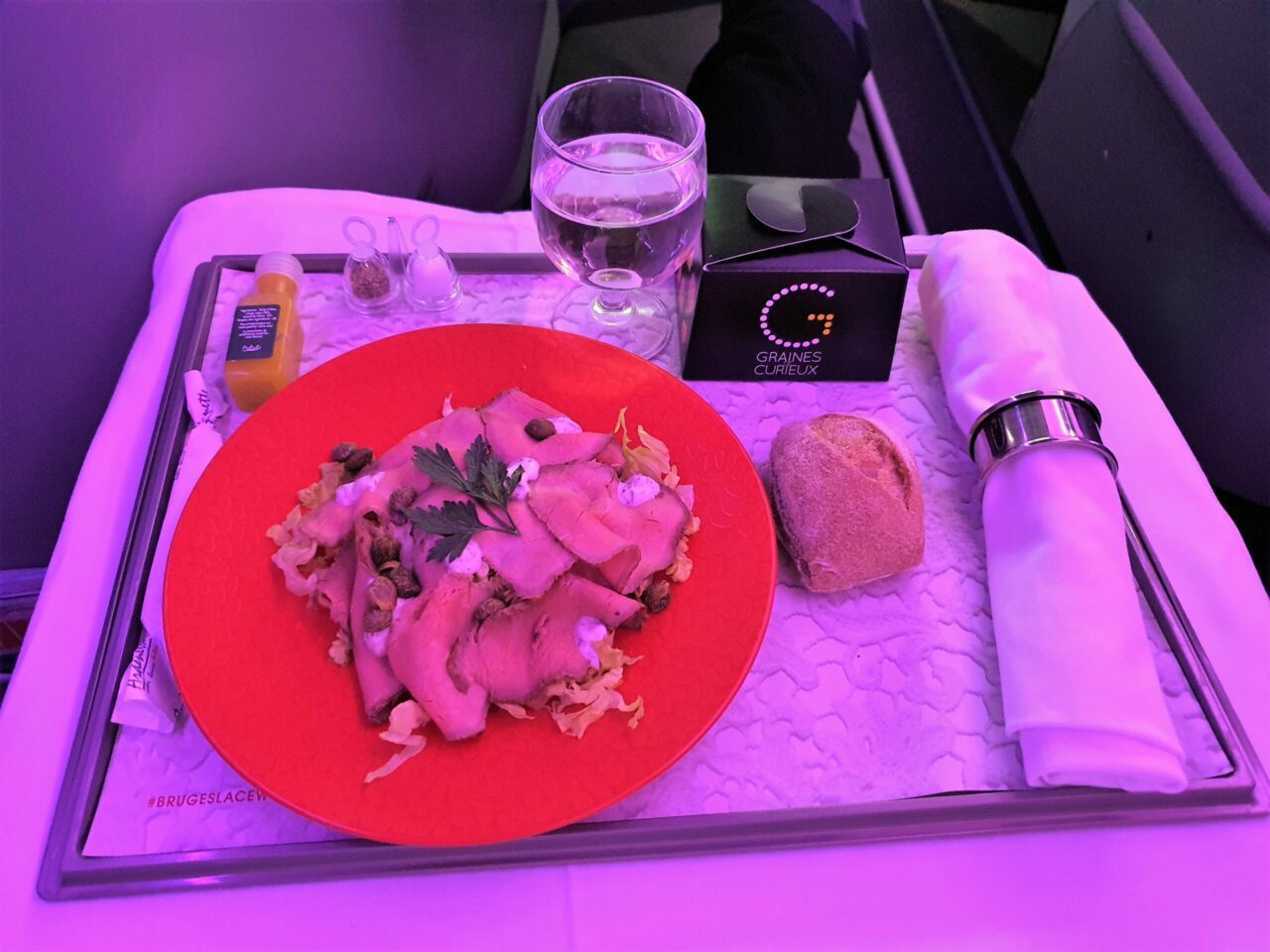 The food options were quite impressive with two starters, cold roast beef slices or smoked trout fillets for the starter, I chose the beef.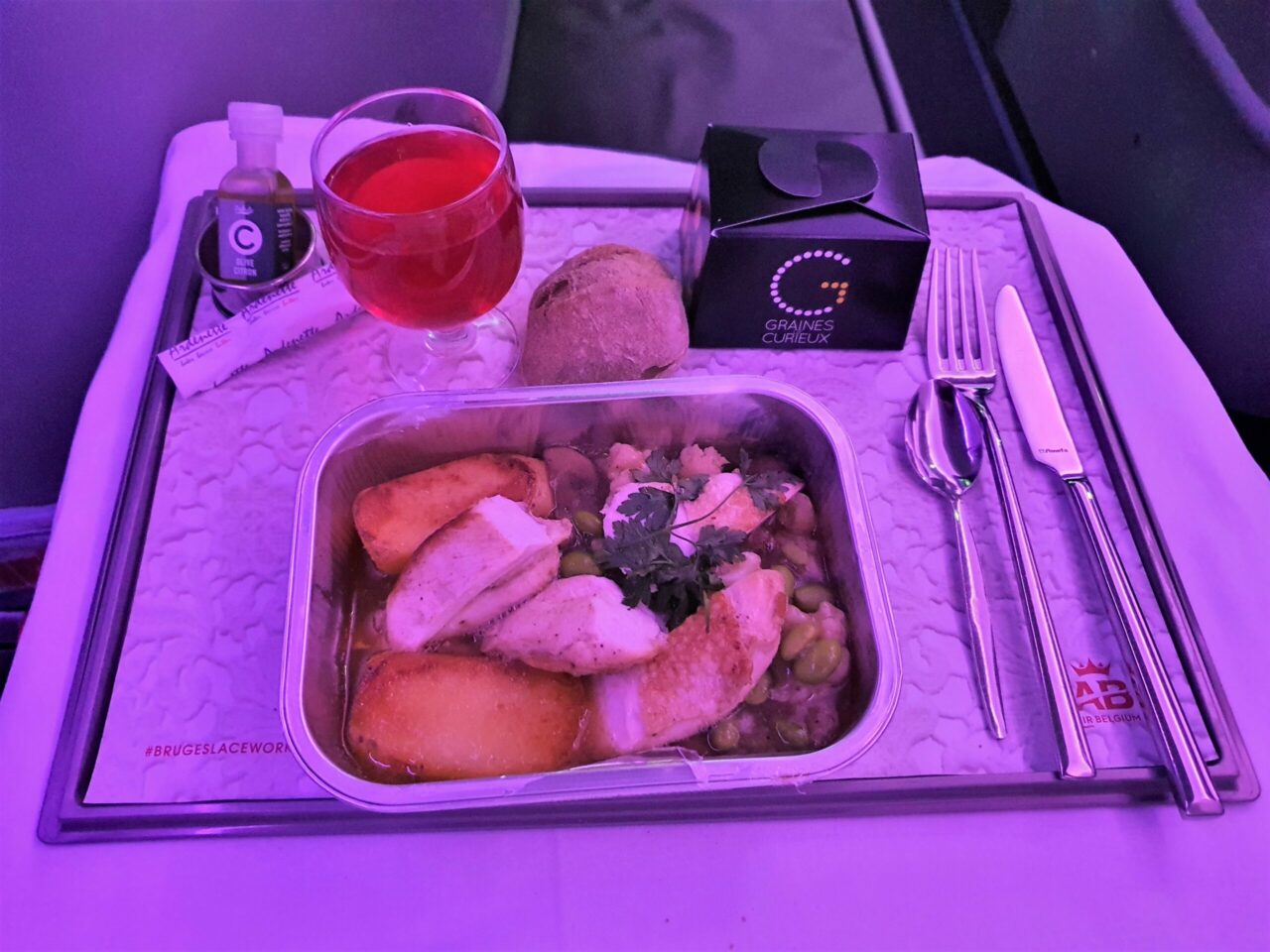 When I asked, all the main courses were traditional Belgian meals, roast chicken with Brussels mushrooms "Mechelen koekoek", beef meatballs "Sambre and Meuse" or grilled trout caught nearby. I chose the chicken. I asked to try the Osan which is a type of infused water created by a well-known chef. There were two types and the cabin crew, incredibly proud of their local offerings, insisted that I try both types.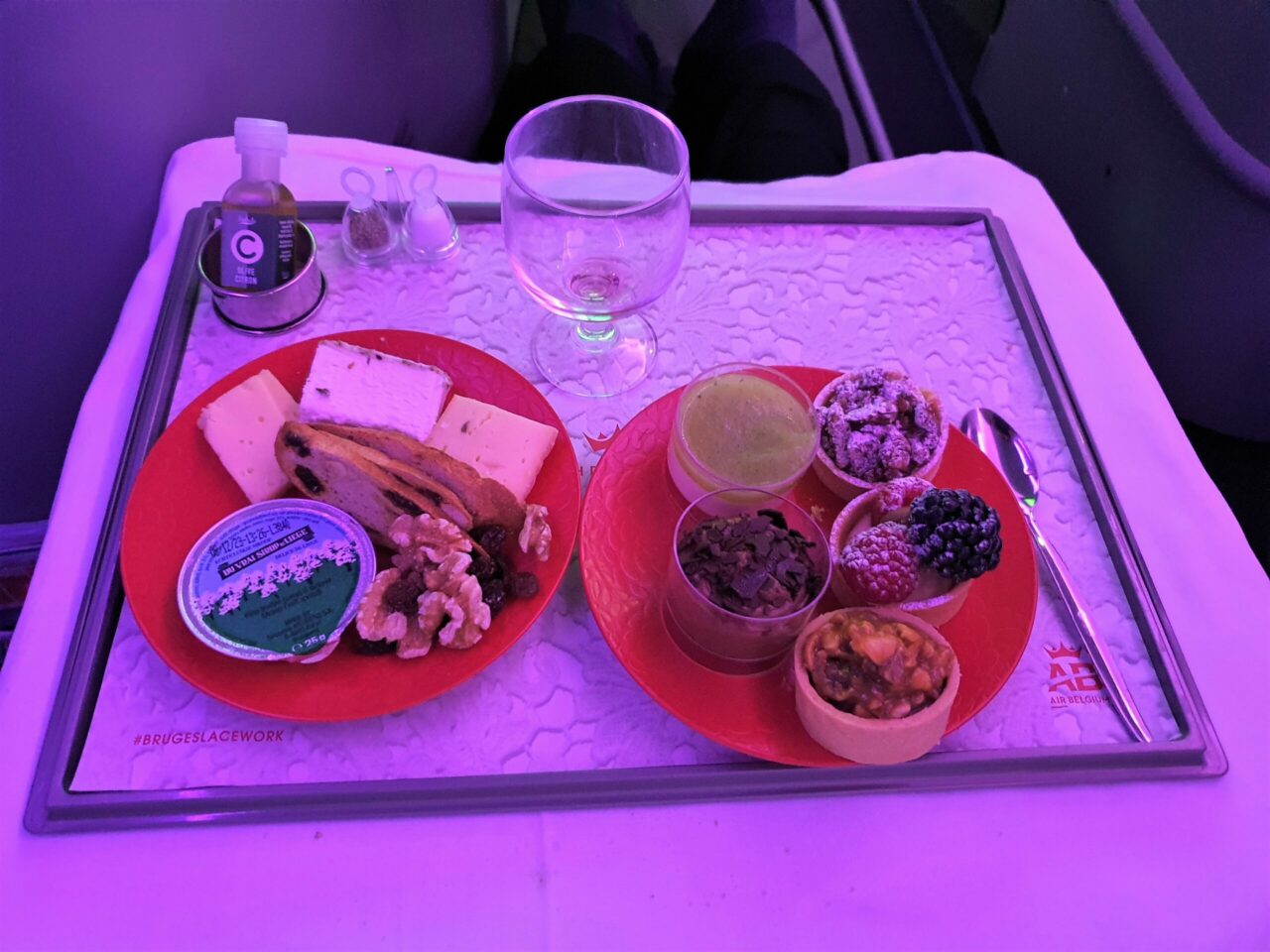 The meal arrived on a tray with the plated starter which was absolutely delicious. When the main course arrived though, I was slightly surprised to see it in the metal tray that it had been heated in rather than plated. Still, it was incredibly tasty and the presentation was soon forgiven. For dessert, the crew came through with a trolley and all the options available for viewing. When they reached me, they asked if I wanted to try everything and who was I to refuse, five little puddings and three cheeses and one cup of tea later, I was suitably full and ready for sleep.
Air Belgium A330-900neo Business class Seat/Bed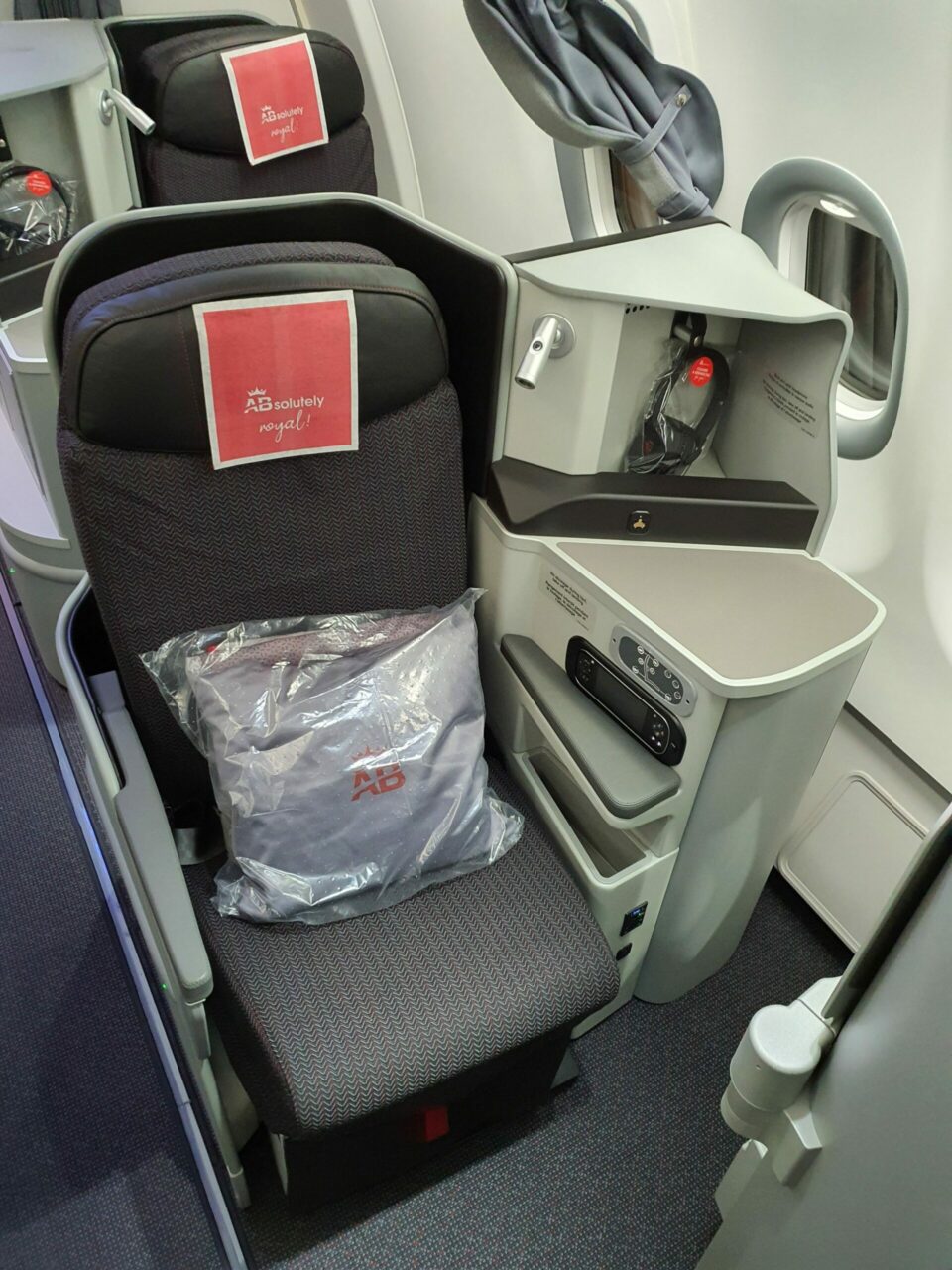 The seats were comfy and easy to recline into bed mode. Overall, the seat had a length of two metres and a width of about 21 inches. Contrary to the online warning, they did in fact provide a pillow as well as a blanket. The table folds down and rotates from the back of the seat in front which does mean it would be tricky to get in and out of your seat whilst food was there. I managed a very decent amount of sleep overall. The one issue with an aisle side seat is that you really do feel like you are in the aisle when reclined. There are no barriers between you and people passing so I constantly pressed up against the back of the seat to make sure I was not blocking the aisle.
Inflight Entertainment/Wifi of Air Belgium A330-900neo Business class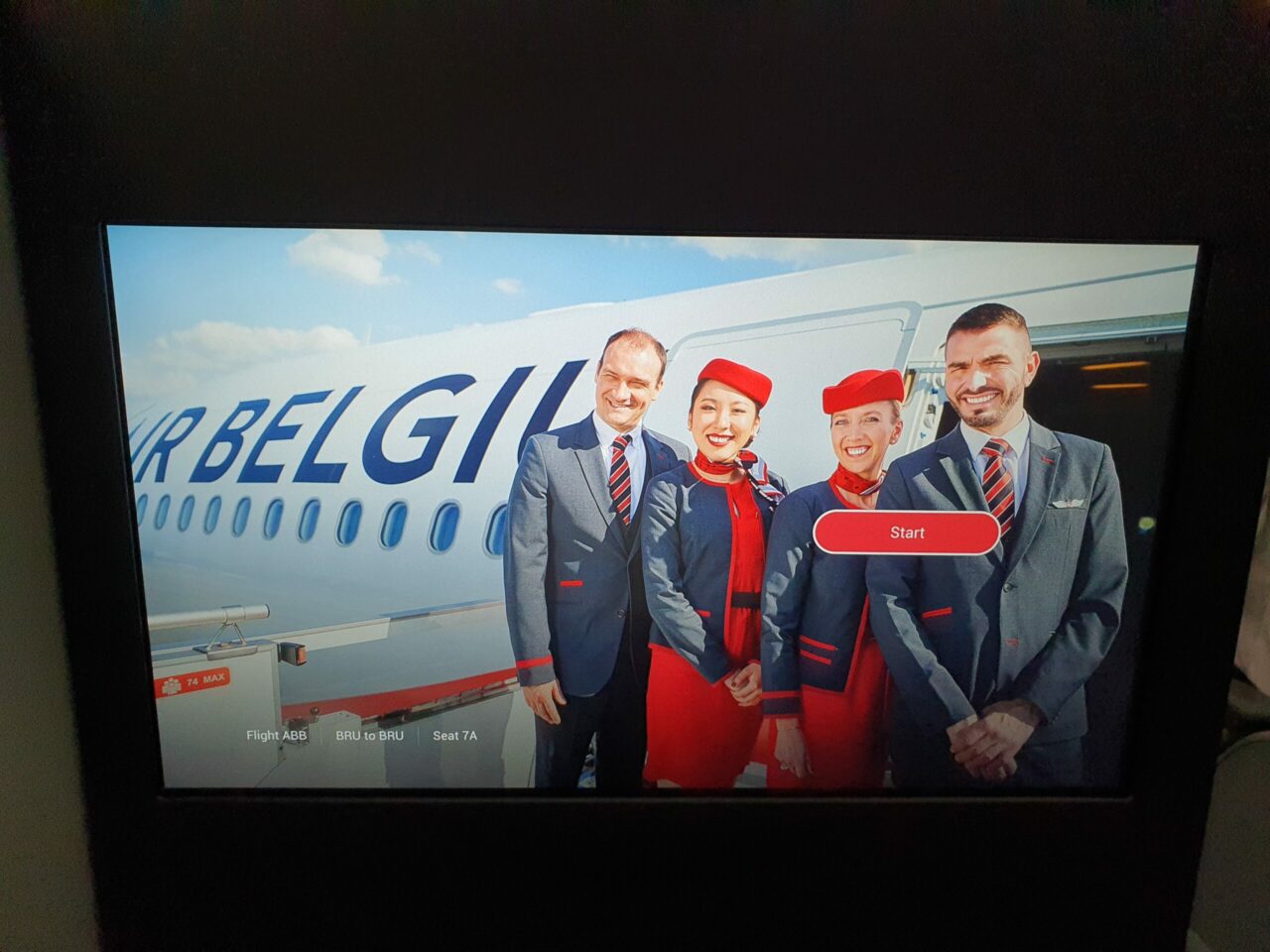 The airline has a decent collection of movies and tv episodes to watch although given the small size of the airline and limited network, there was not as many choices as you find on large flag carriers, with about 35 each of movies and episodes. I was pleased to see some older favourites such as Two Weeks Notice and Hairspray which kept me entertained. There weren't any current new releases but enough to keep passengers entertained.
The wifi was strong and easy to use for the first half of the journey but at some point during the night it dropped off and on-board engineers had to try and fix it. I suspect it may have been a dead zone over the east coast of Africa and the Indian Ocean but it did pop back on briefly as we neared Mauritius.
Second Meal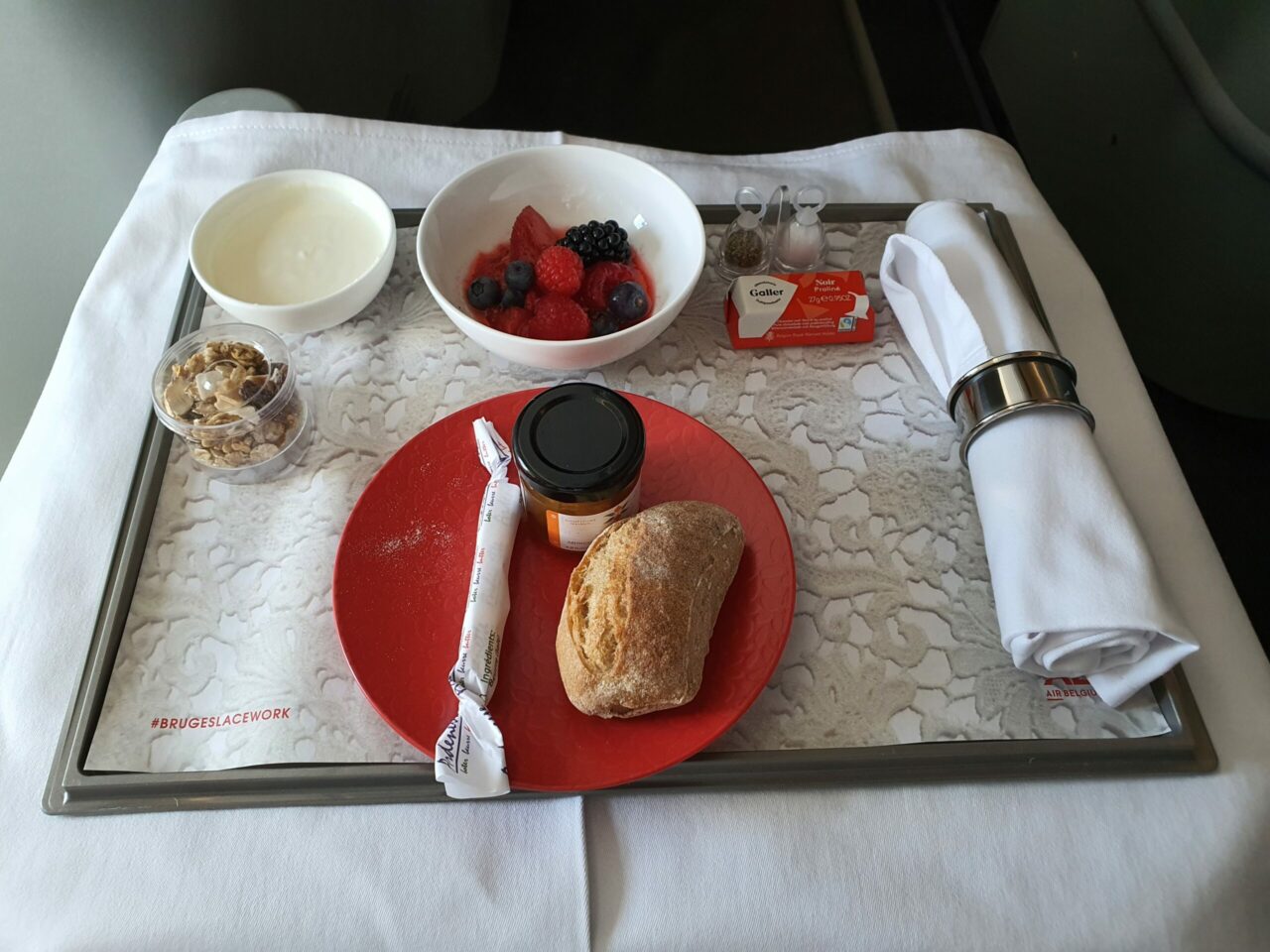 The second meal was breakfast. This started with a tray service with yoghurt, red fruits, and a plate with bread, butter, and jam. The crew passed through with croissants and pain au chocolats to add to the tray on request. The crew then brought a trolley along with options of French toast or an omelette. I chose the omelette which was my one poor culinary choice on the flight as it was not particularly memorable and a bit rubbery. I think the French toast would have been a better choice. The tray also came with a little praline on which was very nice, even for breakfast.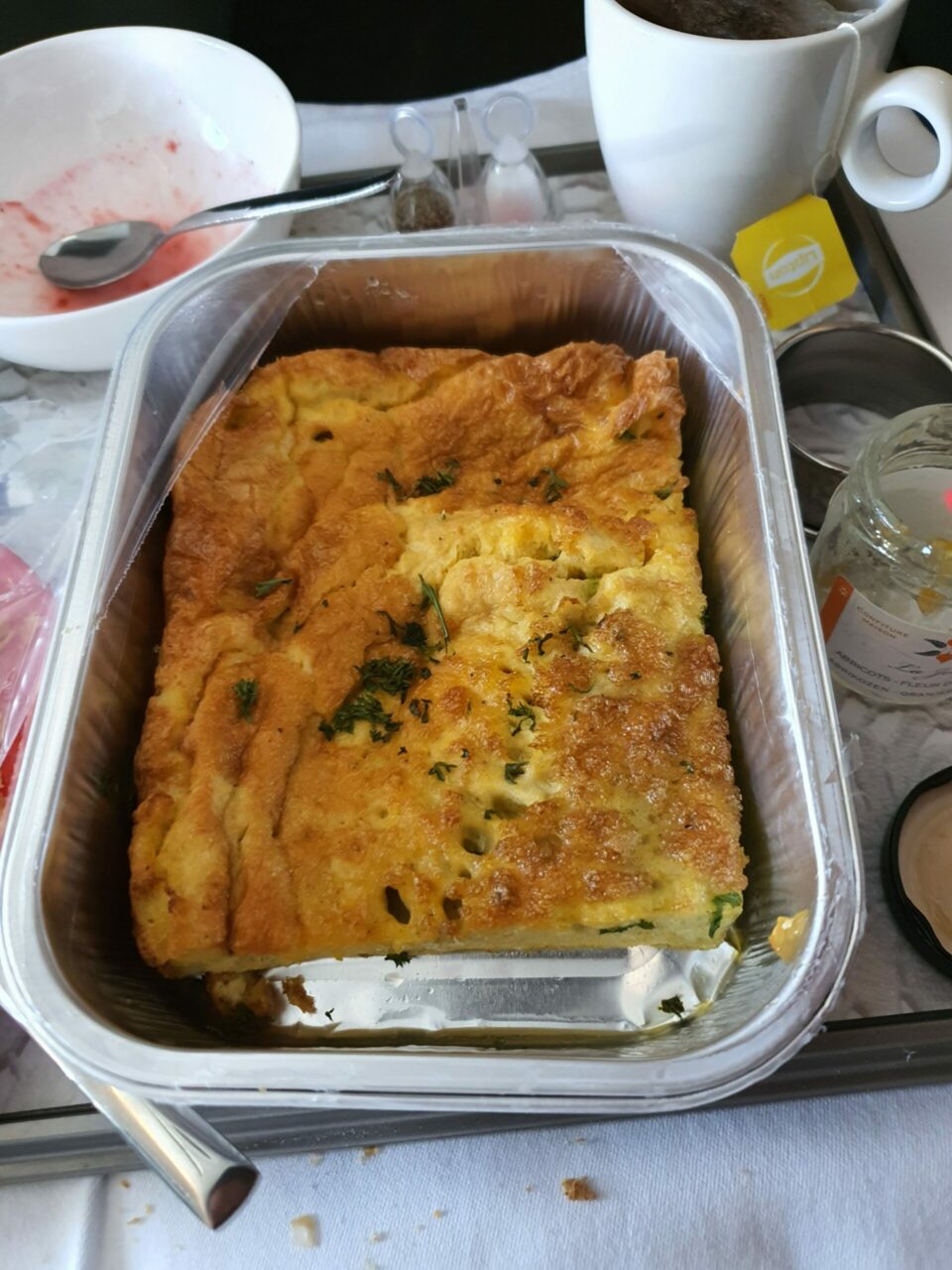 Arrival/Entry Experience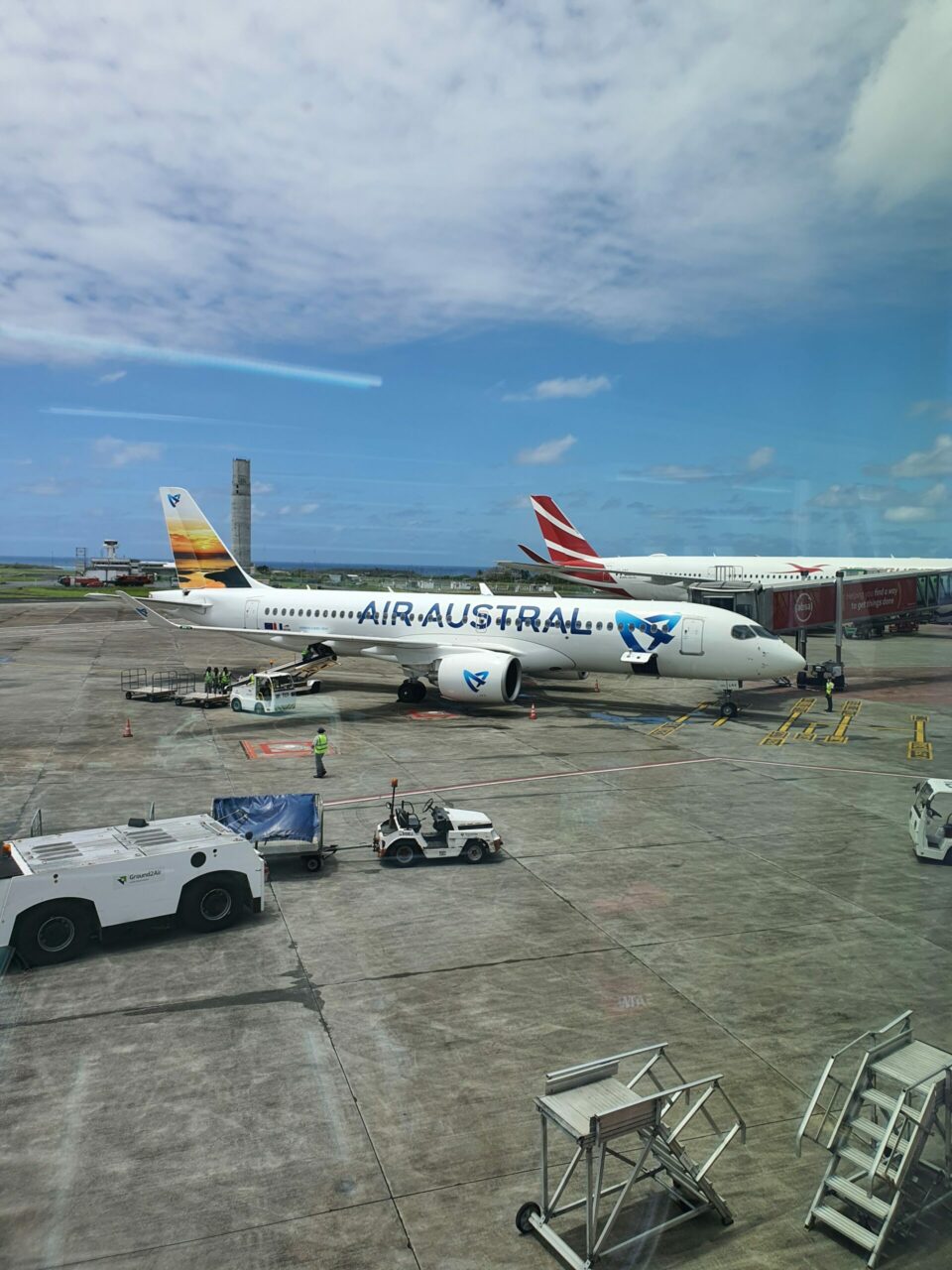 After breakfast, the plane began its descent and performed a smooth landing about 11 hours after departing Belgium. During the taxy in the crew thanked us for joining them on this inaugural flight and informed us that there would be a water cannon salute performed by the airport fire brigade as we pulled onto stand. Interestingly, the fact that this was a brand-new aircraft, and in fact aircraft type, was only mentioned once by the Captain during the whole flight.
The focus very much being on the new route to Mauritius. As we exited the plane, we were handed a little welcome bag from airport that had a Mauritius branded mask and more hand sanitizer. Next to us, one of Air Austral's brand new A220s had pulled onto stand as well. Immigration was very simple with a dedicated lane for Business class passengers and I was landside within about 15 minutes of disembarking beating the taxi driver that I had booked to the arrivals hall.
Bottom Line
Overall, I would highly recommend Air Belgium if you are travelling on one of their routes. They are a relatively new and small airline so there will be some bumps along the way that you don't experience with larger legacy carriers, but the service was incredibly friendly. The food was very good and the seat was also nice. Just remember to order the French toast!
Like our Air Belgium A330-900neo Business class review? You can read more flight reviews here.