Today's reader review for our competition is about British Airways City Flyer from Emma. If you enjoyed it, let us know in the comments below. We do not encourage criticism of reader reviews. They are not professional writers and everyone has a different style that won't suit everyone's taste.
We last flew in 2019 so this was our first flight for quite some time! Our planned trips to New York and Berlin were both cancelled and we used the vouchers as part payment for this trip. Whilst we were keen to get abroad in 2022, we anticipated a huge number of others wanting to do the same so opted for a family holiday to Edinburgh flying from Southampton with BA.
Southampton Airport experience
We had not flown from Southampton in over 10 years, having used Heathrow, Gatwick or Bournemouth pre COVID. It was very quiet with approximately 4 flights an hour. There was a Costa coffee, restaurant and WHSmith prior to check in but they were all closed, not that we needed to use them.
Check-In
We arrived with ample time to spare and had checked in the day before so just had bags to drop off. We were welcomed by a Southampton Airport greeter almost immediately as we entered the terminal building. We queued for no more than 1 minute for the bag drop. We had the opportunity to check in 2 bags each.
The baggage system was not working, so our bags were placed on the belt for weighing, but we were then asked to carry them to a holding area close to the check-in desks. This was no problem whatsoever for us.
Security
We were greeted at security clearance and walked straight through as there were no queues. My husband was expecting to be caught at Security (there is always something on him that catches him out). However, unfortunately, our daughter got caught due to buckles on her boots! The shoes were subsequently removed, and we breezed through with no further issues!
Spitfire Lounge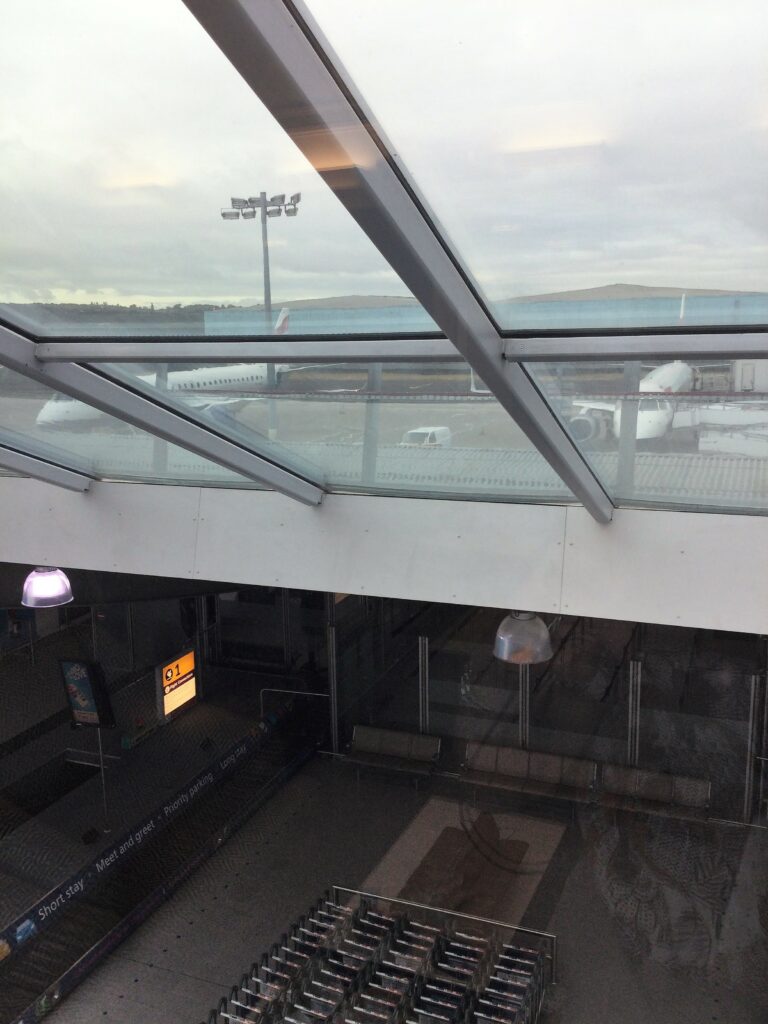 The lounge is on the first floor and really easy to locate. The lounge was suprisingly large for the size of the airport, with a comfortable seating area and places to work with access to WI-FI.
On arrival, we were told to help ourselves to drinks, given a menu and told that someone would take our orders once seated, including alcoholic drinks orders if we wished. There was a good selection of fresh tea and coffee, wine and lager.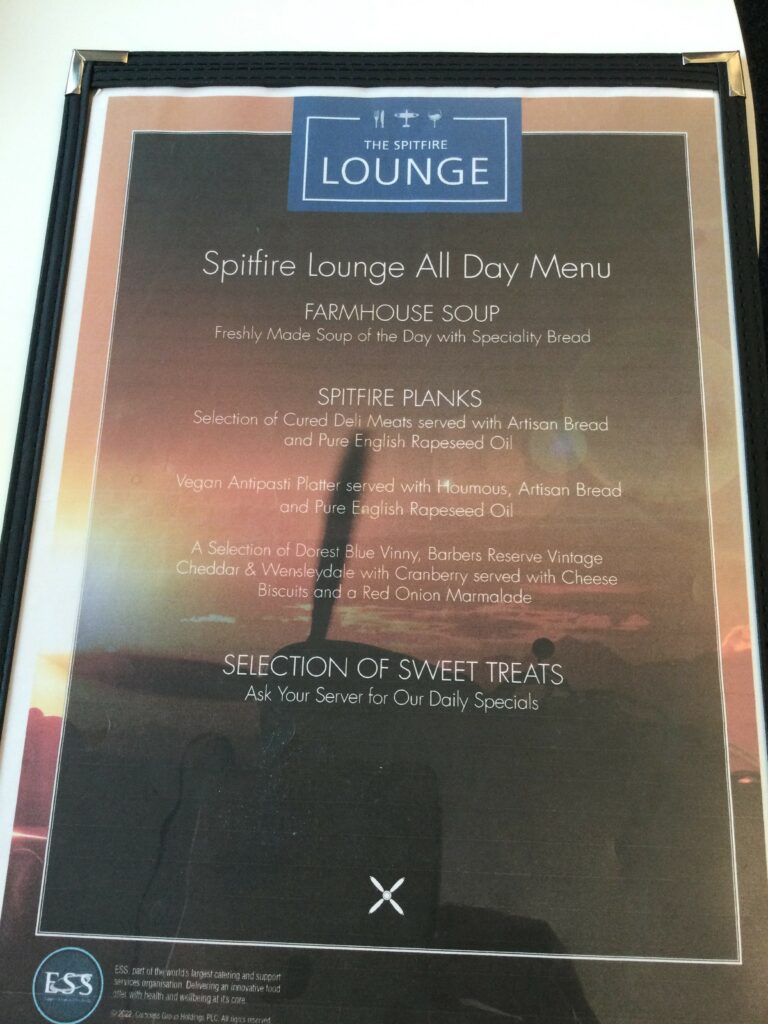 My husband ordered a grilled dry cure bacon bap and it arrived promptly. It got 8 out of 10 from my husband, as it was not buttered! There was no view of the runway, but a great view of the baggage carousel in the arrivals area, if that takes your fancy!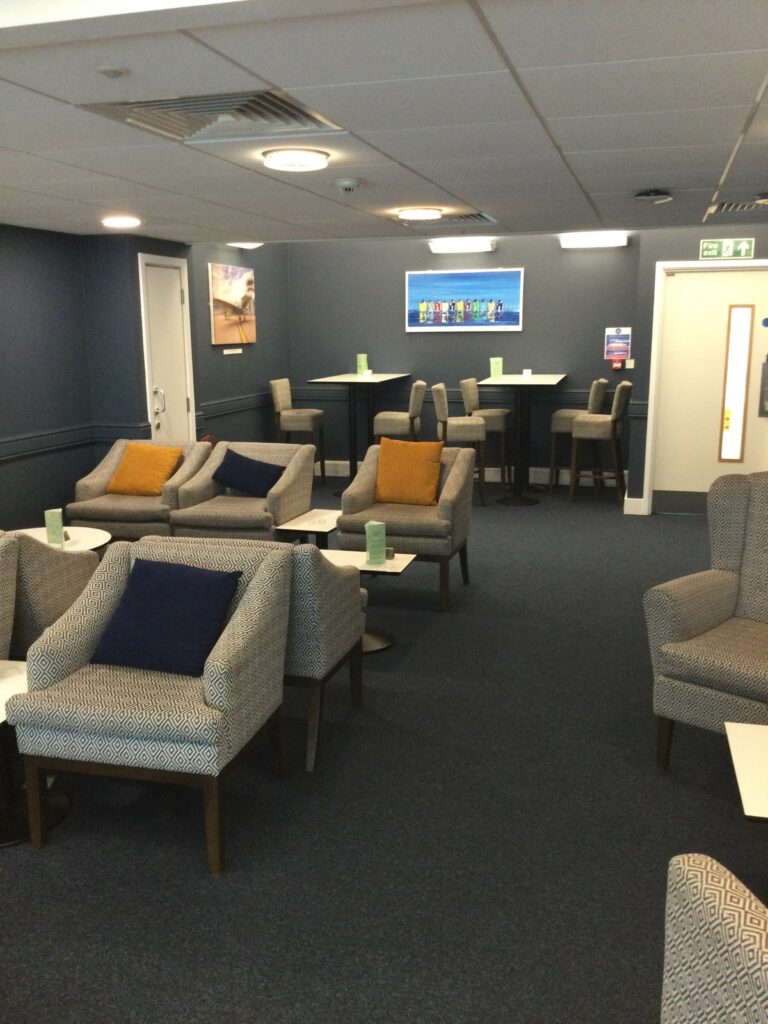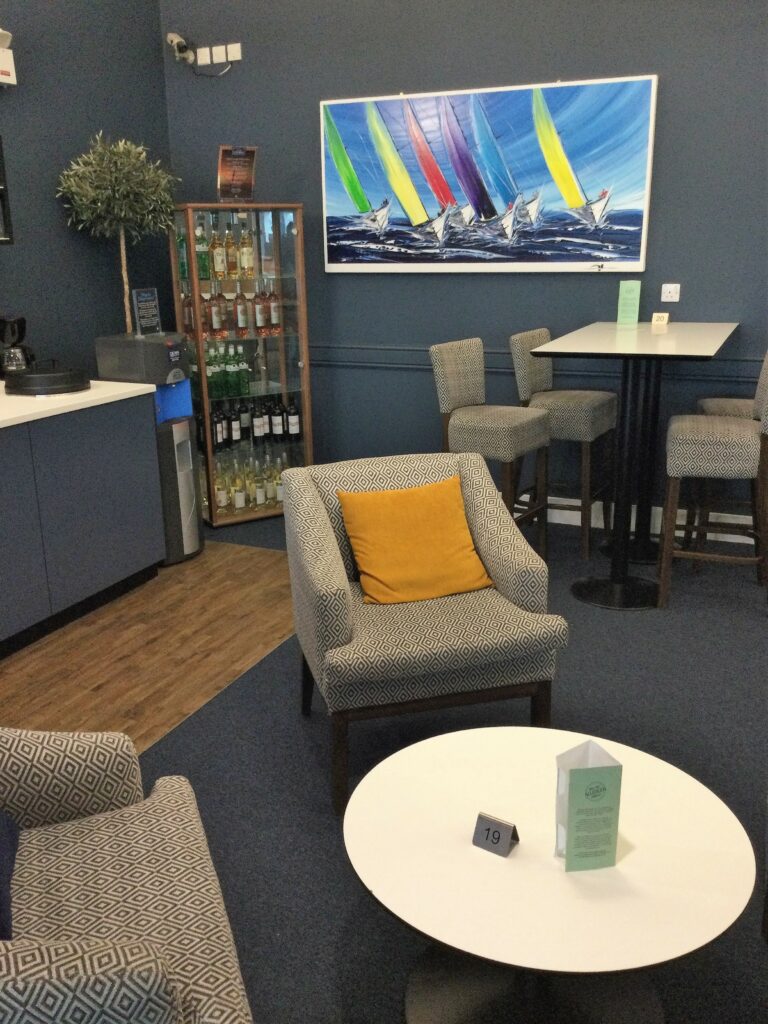 Boarding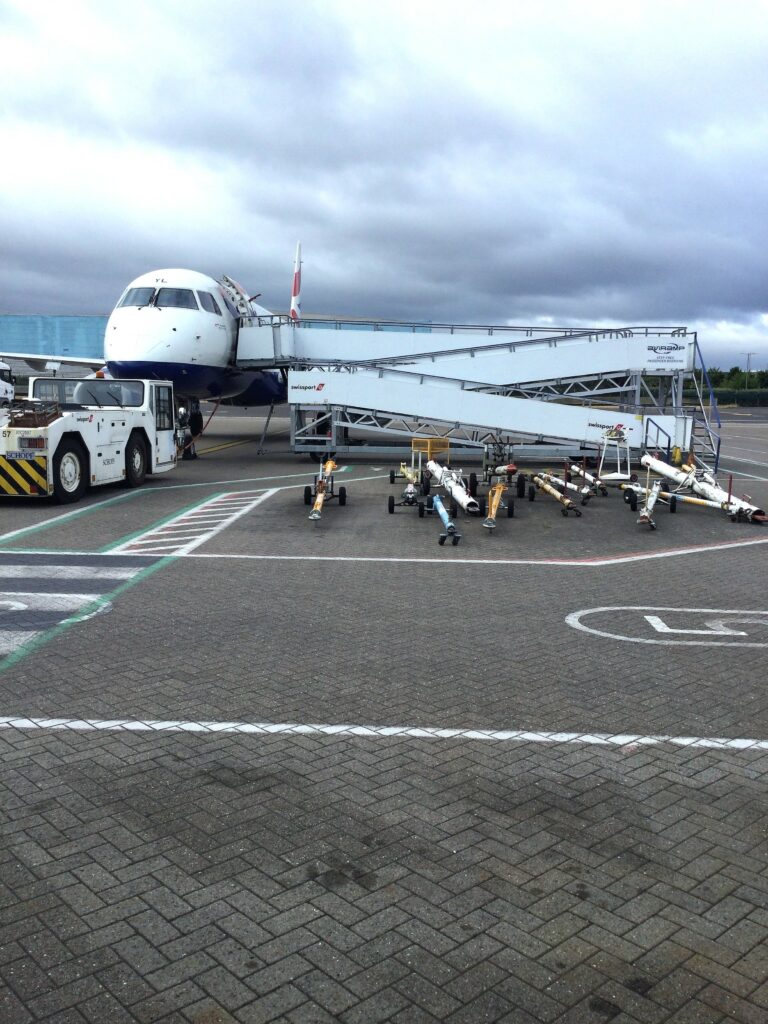 Boarding commenced at 8.30 am, 30 minutes prior to departure with all passengers being called at the same time. Seat configuration is 2 by 2 on the Embraer Jet, with Club Europe occupying 6 seats. Seat pitch was 30″ with space for any valuables.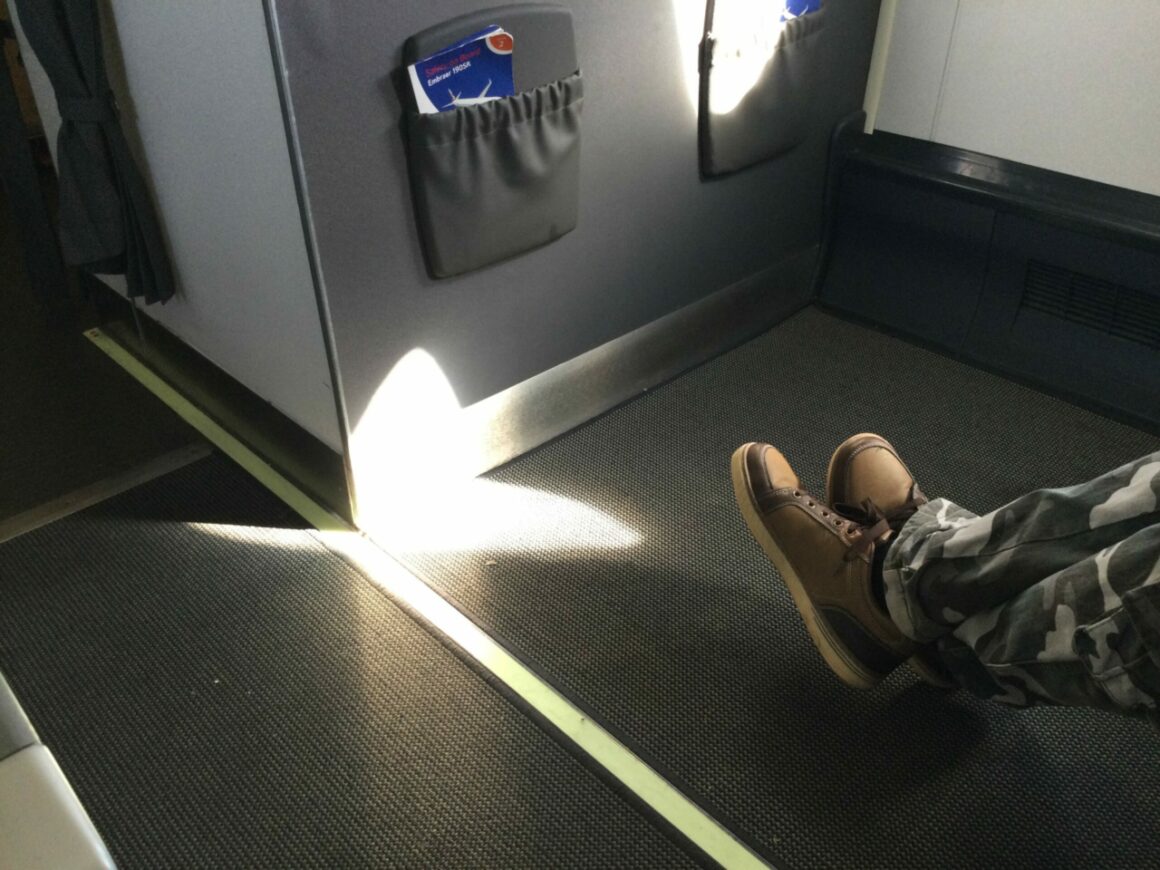 We were in 2A – 2C, with my husband ending up with a huge amount of legroom. I'm bagging these seats on the way home! There was still plenty of room for me and my daughter. The flight departed on time at 9.00 am, and we were soon above the clouds on our way to Edinburgh.
On board food and dining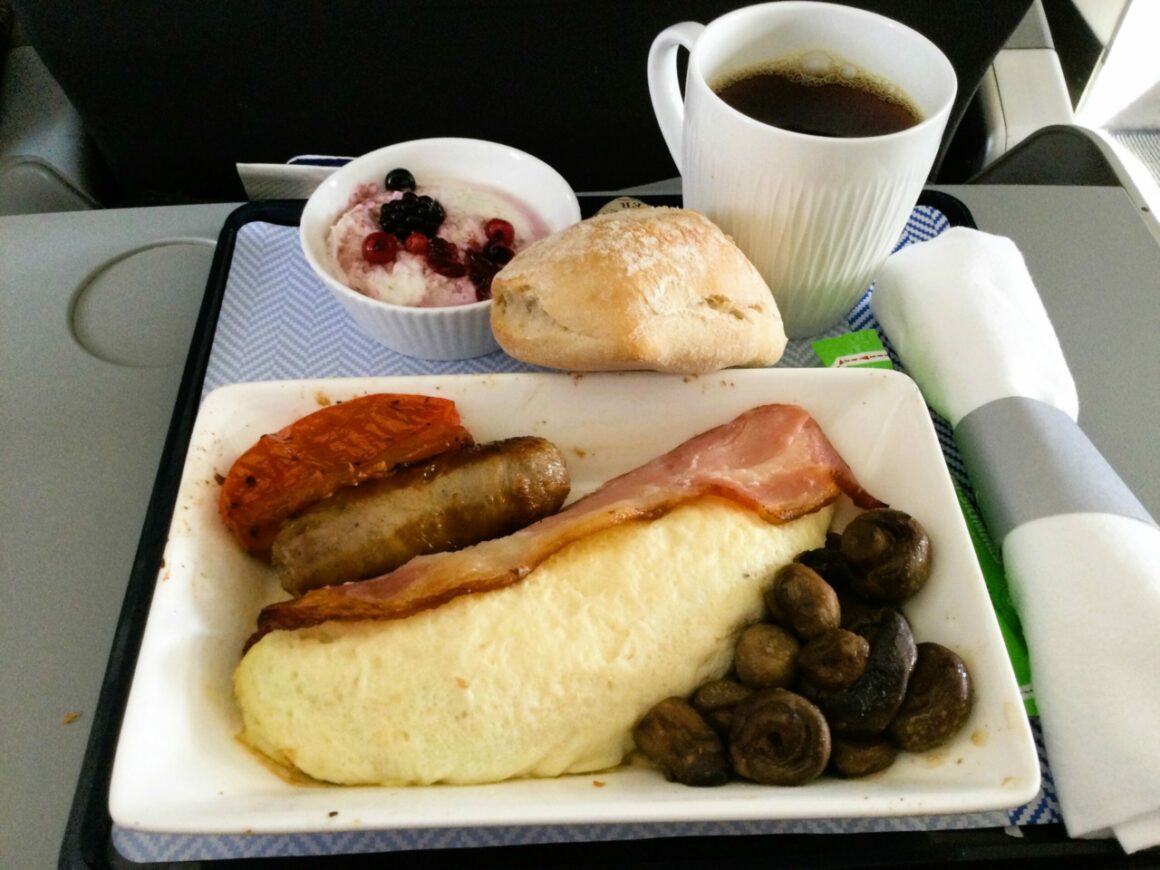 Once we were airborne the cabin crew pulled back the curtains, much to the amusement of my husband who wanted to attempt the Eric Morecambe curtain trick! We were quickly served a hot breakfast of sausage, omelette, bacon, mushrooms and tomato, as well as a compote with fruit and hot or cold beverages. The breakfast was actually quite tasty, and I really enjoyed mine and my daughter's compote. Beverage top-ups were provided following the meal service.
Arrival
At 9.50, the crew prepared for landing. The weather was cloudier as we came into Edinburgh, and we managed to catch glimpses of the Forth Bridge. The flight was due at 10.25 with landing at 10.05 am, so well ahead of schedule. We quickly made our way to the baggage reclaim area, with our cases arriving within 10 minutes.
Conclusion
I would certainly use a BA City Flyer service again, flying from Southampton. Due to the airport size and a limited number of flights, the entire process was very efficient and enjoyable. The flight was comfortable, and the service very good. BA fly to 16 destinations from Southamton including Ibiza, Berlin and Florence and if you are living along the south coast of England it's very convenient and easy to fly from.
Like Our British Airways City Flyer review? You can read more flight reviews here.