Today's reader review is by David. Note that the Club menus have improved since this was written with a choice of starter and dessert. However, the main courses remain similar. Tomorrow we will have two reviews of the new service.
I'll be reviewing Club World at the end of the month with the new menu on a sleeper service from JFK.
As it had before the pandemic, BA currently has two flights a night to Johannesburg, an A380 and an A350. The latter is scheduled to leave at 9.25pm and arrive into Johannesburg at 9.15am. This aircraft deployment contrasts with the ageing B777 the airline uses for the Cape Town route, where obviously there is less competition and where BA can get away with, arguably, a less attractive 'hard product' and inferior on-board air circulation.
Choosing seats and cabin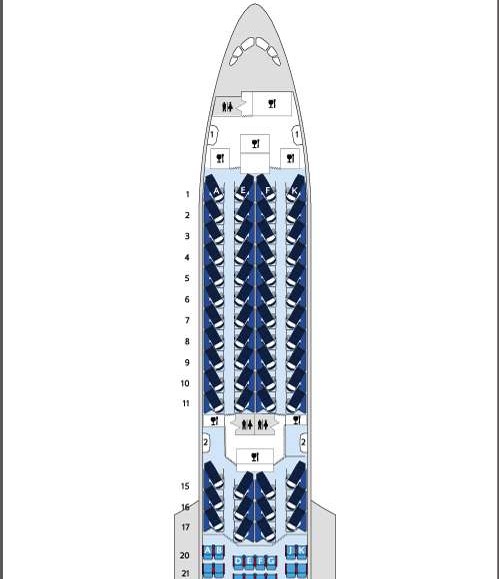 The A350-1000 has BA's 'new' Club suite, with sliding door, which I had been keen to try for some time. I had a window seat towards the back of the front Club cabin, which has eleven rows in a 1-2-1 configuration. There are a further three rows in the rear cabin, so this has a more intimate feel to it, although once your door is closed you have a comforting, if constricted, sense of privacy.
Seats 11A and K will subject you to some noise when passengers use the lavatories, but equally seats 1A and 1K will mean you hear quite a lot of what goes on the galley, both during the service and afterwards, when you may be trying to sleep.
Boarding the British Airways Club Suite
We boarded from B gates, by group. This was not a happy experience on the night that I travelled. Groups 1 and 2 were called first, but the gangway to the aircraft quickly became blocked, so that if you boarded as intended and instructed you'd have been standing in a tunnel for ten to fifteen minutes. Passengers who arrived late-ish, from the B Gates lounge, had the same experience; eventually the gate staff told some of us to sit at the top of the stairs/escalator leading to the gangway until all other passengers had boarded.
The problem seemed to be that, with only one door being used for boarding, getting 300 or so passengers on board and satisfactorily seated takes some time, and this had not been factored in by the gate staff.
British Airways Club Suite Seat
I'd describe the new BA suite as a Q-Suite on the cheap, to be honest. Mine was all bright and shiny, of course, but I think it comes with certain shortcomings. While there is adequate storage, much of it is in 'bins' which double as surfaces for putting drinks, glasses, books etc on, so that if you need to retrieve anything, or plug/unplug devices, you have first to rearrange various other possessions to do so.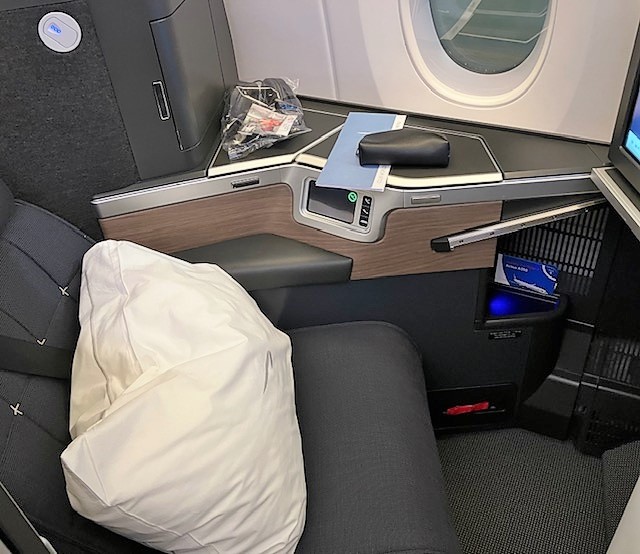 My seat also came with a empty blanket bag from a previous flight, 'stored' inaccessibly in the footwell; I know it must be difficult for the cleaners in between flights, but that lapse would not, I think, occur on QR or on EK, airlines with which, presumably, BA is still trying to compete directly.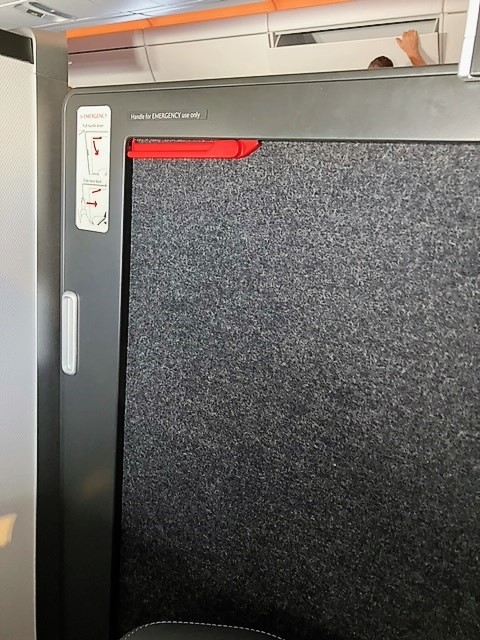 Having said which, a friend who flew in on the same morning with QR from Sofia and Doha, said that he thought standards on Qatar had slipped from those he'd experienced pre-pandemic; cabin crew less genuinely enthusiastic than previously, a tired-looking B-777, lavatories uncleaned cleaned between passenger visits, and a 'clunky' IFE system which he remembered as being easier to use previously. An airline perhaps in danger of 'resting on its laurels', in other words.
There appeared to be an excessive number of what can best be described as 'nannying' instructions in my BA suite which, combined with what seemed like endless PA announcements, delivered in this case at close to warp-speed in too shrill a voice for comfort, made for a slightly grating welcome. However the cabin crew who served me were all delightful, solicitous with tegsrd to my comfort, and friendly; it was clear that many of them were at the start of their careers with the airline.
The inside of the sliding door looks cheap and is only secured at the bottom along a runner, so that it shakes a lot even with very minor turbulence, and doesn't close fully. The furniture equivalent of 'tinny'. Unless your cabin crew member has ambitions to be a contortionist, it also has to be opened and closed every time a tray or drink is brought to you.
I boarded almost last, and by then the crew had lost interest in the pre-departure drinks service, since I was offered nothing. The height of the suite doors makes it sometimes difficult to attract attention. It also makes it difficult, if you are seated in some rows, to give proper attention to the safety briefing if, as on my flight, the briefing is 'manual', as opposed to appearing on your screen.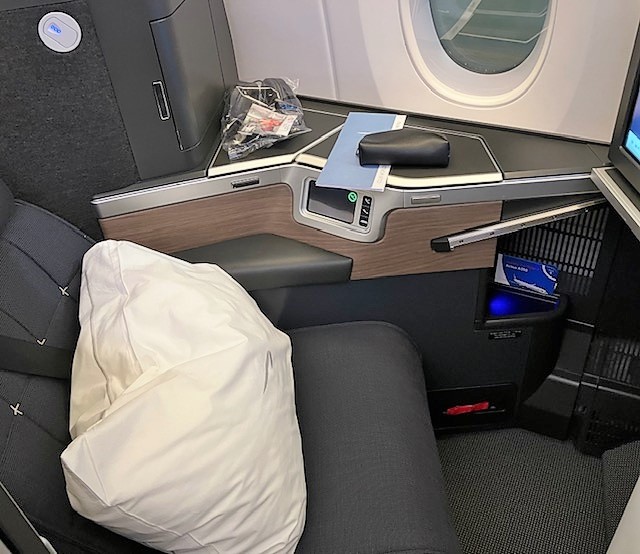 The screen is really good, but its size means that, for example when you are lying down and want to stretch, the bottom of the screen prevents you from raising your legs to any degree. To move at all significantly you need to return the bed into a 'seat' position, which slightly defeats the purpose of the exercise, and there is nowhere to put your blanket while you are doing this. If you are of average or larger size, this is problematic. I'm 5'10", and would describe the impression which I had overall as mildly claustrophobic. While the screen seems to come down too low, the table seems to be set too high, so that you also struggle to eat in much comfort.
Another friend describes using BA's Club suite bed as "like lying in a coffin". It is hard to disagree with that observation.
If you're a self-confessed flying nerd like me, you'll also resent the fact that, as with many airlines, BA angles its seats so that your head and face are farthest from the window, making it more of an effort to gaze out. Even on an overnight flight, this lessens the enjoyment for me and from what many other readers have said, for many of you. My seat belt (which should anyway be tight for take-off and landing) didn't allow for a full lean to the window.
British Airways Club Suite Food
Dinner was served nearly two hours after take-off, which for a 9.25pm departure, is just silly. Most passengers seemed to have turned in, or over, for the night already. I chose the lamb shank, which was succulent, slightly over-cooked, but good and at least recognisable as lamb. I could have done with more broccoli (or 'broccolini', as BA describes the vegetable). In my view the wasabi cream element of the starter is too overpowering and needs toning down. The tiramisu didn't seem to have much mascarpone in it, but after two hours or so perhaps the taste buds were already dulled. The 'cheese board' proper, being two tiny wedges of pretty bog-standard stuff, compares unfavourably in this respect with, for example, QR's or EK's offering in their business class cabins.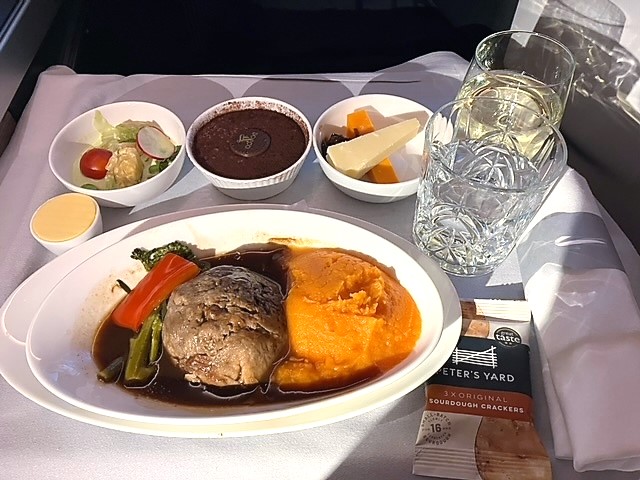 I was surprised to see no English wines on the menu, and here I think BA misses a trick. The menu on my flight is exclusive to the JNB and CPT routes, and, especially since quite a few English vineyards are now owned and/or run by South African winemaking interests, it would have been appropriate, I think, to have featured them. But then there were no South African wines either, which is also perverse, in my view.
I enjoyed breakfast, but the Californian omelette was just an omelette on a bed of flavoursome tomatoes, topped with avocado and cream cheese. It could just as well have been called a 'Chelsea omelette'. The wonderful BA smoothie seems to be a thing of the past, sadly, as does a simple bowl of fresh fruit, although I spotted one, consisting only of four rather sad-looking strawberries, lurking in the Club Kitchen during the night.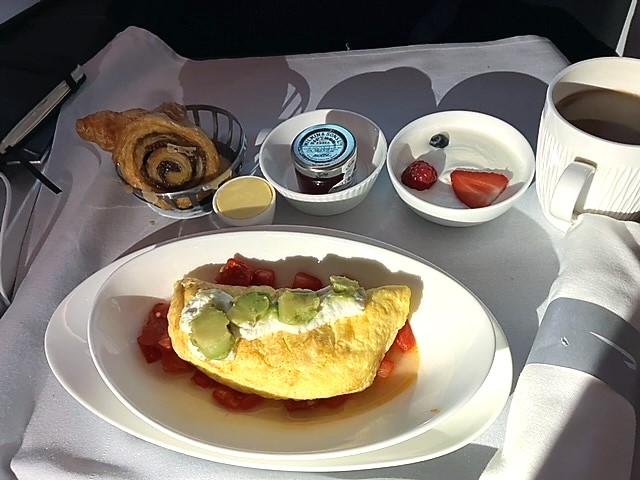 The entertainment is less good, in my opinion, than previously, with fewer categories and a smaller number of films. I ended up watching a cute Korean love story about an unwanted pregnancy, in the absence of anything more immediately appealing.
I didn't use the WIFI; it's arguable that on an aircraft with no First, where you're in the 'best' class available, you should get free WIFI. Relevant info and prices below.
We arrived a few minutes early, despite a late go-around due to ATC instructions/a change in wind strength at 1000 feet, as the Captain explained later. The jetty to Door 1 arrived almost immediately, that to Door 2 took around eight minutes. JNB now has a Fast Track Immigration queue, immediately to the left on entering the Immigration Hall, and this was welcome. The flight is well-timed to avoid the earlier EK A380 arrival, and other, slightly later arrivals from Europe and the Middle East. Baggage was delivered within 20 minutes.
All in all it was a satisfactory but not especially memorable experience, and I felt considerably less tired and listless all day, which I put down to the A350's superior air quality.
Like our British Airways Club Suite review? You can read more flight reviews here.