BA Club World vs Etihad Business Class
This reader review is by Keith. If you want to submit a reader review please email it to admin (at) turningleftforless.com
This is a review of BA Club World vs Etihad Business Class and which is significantly better.
A little about my background.
I am a BA Gold For Life passenger with just over 50,000 tier points and despite stopping work 10 years ago always try and turn left on board an aircraft, naturally for less!
My wife and I went on a 2-week cruise out of Singapore that had business flights included. BA was the carrier on the outbound flight direct to Singapore, with Etihad on the return via Abu Dhabi.
Here are my observations.
London/Singapore BA 11 Boeing 777
We checked in at the First Counter at T5; it was quick and efficient. There was no queue at security and from the curbside to the lounge was less than 10 minutes.
A great start to the holiday. We sat at the far end of the First lounge where you can pour your own drinks and get a good view of the airfield and saw a couple of aborted landings due to a plane that seemed slow in getting off the main runway.
The flight was departing from B Gates, so we took the train and, as there was still a little time to kill, had a further drink in the lounge, which was very quiet.
We boarded the plane, it was efficient and were soon offered a drink.
Our luggage contained Apple AirPods so we knew that 2 of the 3 cases were on the plane, however, the third case seemed not to have moved very far from check-in!
It was still the old Ying Yang configuration in Club World, I had selected seats in the smaller cabin behind First Class and this would definitely be a seat of choice looking at the size of the second Club cabin that was very condensed.
Menus were distributed and orders are taken. At this point, the captain said there would be a delay in the departure due to waiting for the luggage from transit passengers.
At this point checked our AirPods, one was still half a mile away…….but getting closer.
We eventually took off just under 90 minutes late, knowing all three cases were onboard.
The IFE in Club wasn't working. I could see it was fine in First Class.
It took 5 reboots to get going and then failed again about 3 hours into the flight. The cabin manager was apologetic, she contacted customer relations on our behalf, and we both got 20,000 Avios.
Appropriate compensation?
On a 14-hour flight, perhaps a little mean?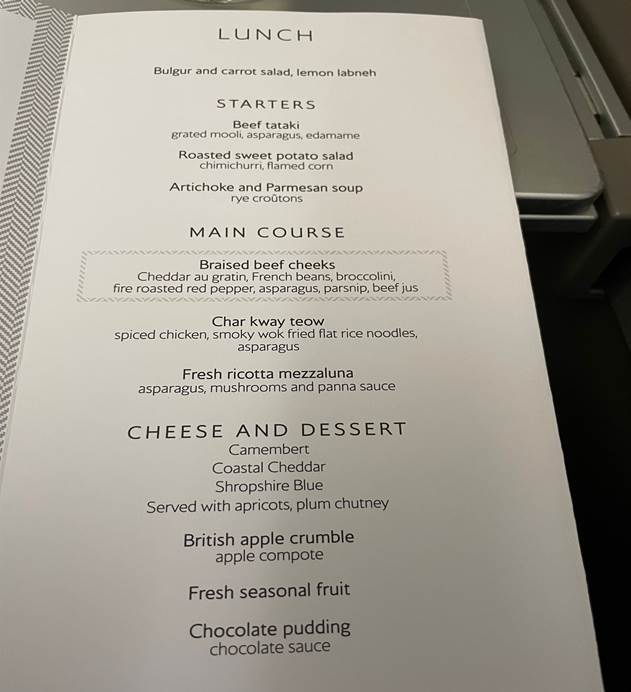 The first meal was quickly served, and given we were going to Asia, I had the Beef Tataki for starter and Char kway teow that was huge.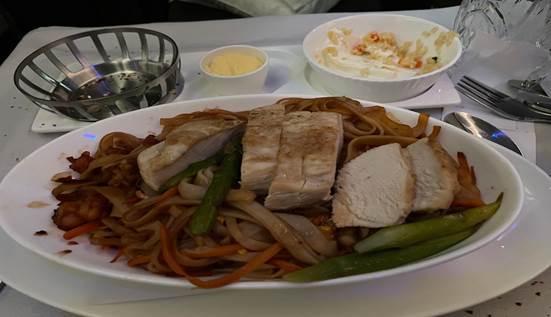 Given the entertainment wasn't working, I read myself to sleep and probably slept for five hours.
Approx 2 hours before landing there was a second food service, the last time I flew this route it was a breakfast menu that always seemed a little strange since the local time was early afternoon.
The selection this time was much more appropriate, I chose Ploughman's Selection which was fine.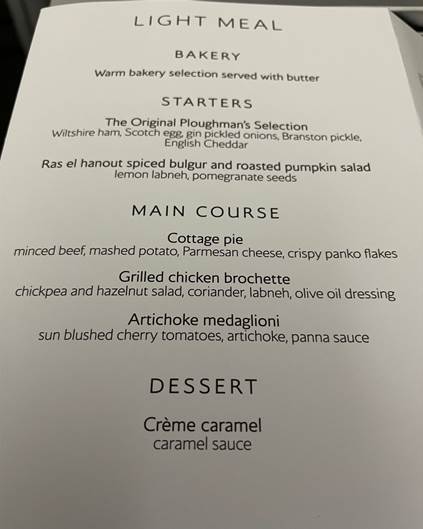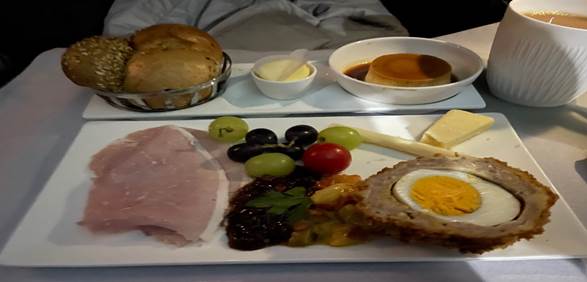 We landed in Singapore at 4 pm, and 30 minutes later all 3 bags arrived on the baggage belt. Changi feels so clean compared to Heathrow.
So, in conclusion, the crew, food and drink were perfectly acceptable, but the Ying Yang configuration we all know is past its 'sell by' date.
The IFE system on such a long flight being down was particularly disappointing, and this seems to be a very regular occurrence in the older Club World as it has now happened to us three times in five BA flights
How would the experience compare to Etihad, though?
Singapore/Abu Dhabi ETD 473 Dreamliner 787
Check-in was swift and efficient at Changi Terminal 3, and we headed to the Morhaba lounge which is a shared lounge with a number of other carriers
It was not a particularly pleasant lounge, although there were some great views of plane movements.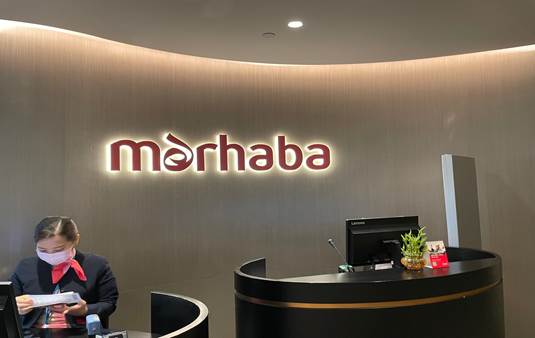 It became exceptionally crowded, and there was insufficient space for the number of business passengers.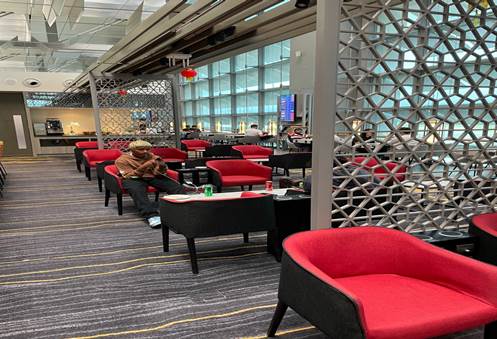 The seats with low backs weren't particularly comfortable, and generally, it felt like a lounge that had seen better days. There was a limited selection of cold and hot food not particularly well presented and a very limited selection of alcohol.
Terminal 3 in Singapore is vast, and it was a good 15-minute walk from the lounge to the gate.
Boarding was quick and efficient, and like many places in Asia, hand baggage security scanning happens at the gate. The security staff were incredibly efficient and demonstrated just how to process passengers in an efficient manner. They could teach a lot of other airports how to handle security.
The business cabin was very small, and there were only 9 passengers in business. Every passenger was greeted by the cabin manager although passengers were not referred to by their names.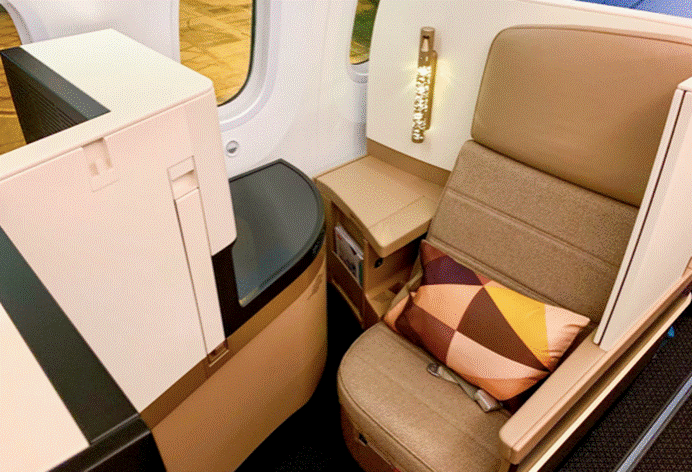 Champagne or juices were offered along with a menu and the reminder that this was dining on demand and when did I want to eat? There was a hot towel service that I'd completely forgotten had disappeared from BA. The seat was rather hard, but I was surprised there was a switch to make it softer, although it did seem to have a life of its own.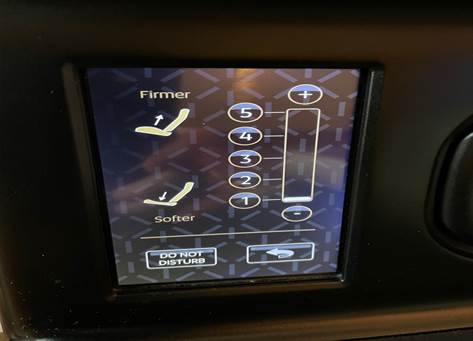 Drinks were delivered soon after take-off and included a huge bowl of nuts. The champagne was Devaux Grande Reserve which retails for around £30 in the UK.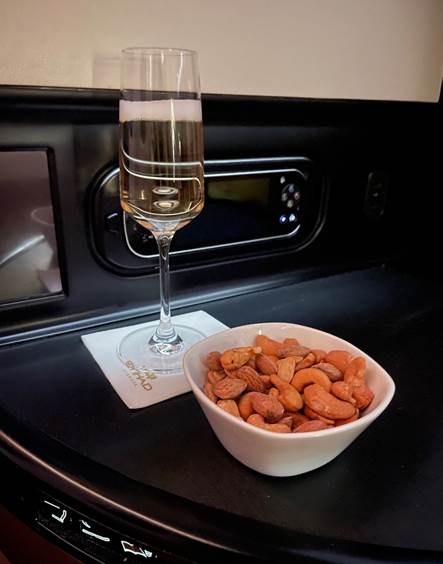 I had selected the Meze Starter and Prawn Biryani from the menu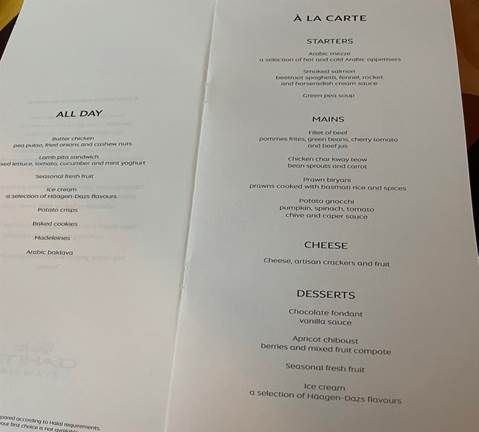 Both dishes were well presented and really flavourful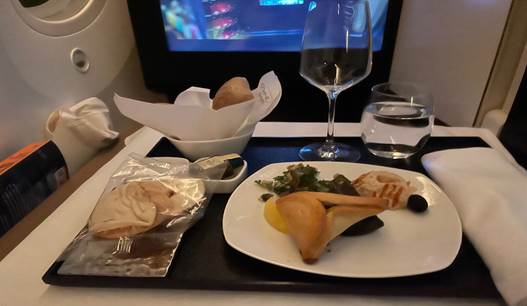 The dishes went well with the Wither Hills NZ Sauvignon Blanc.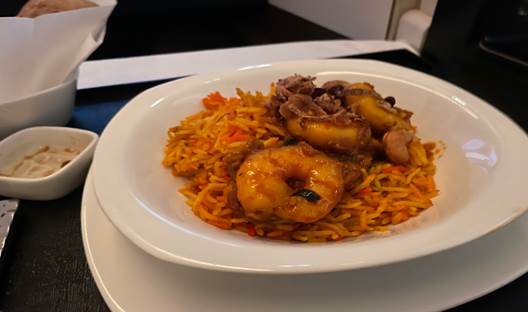 The entertainment was in a completely different class (called E Box) to that if it had been working on BA. The choice of movies, box sets, music etc. was vast. Plus, they have a number of live TV channels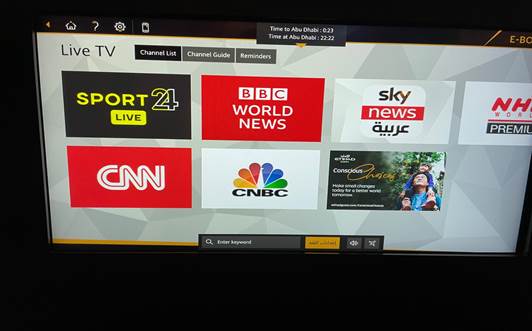 I found the seat was very comfortable for sleeping although I just wanted a couple of hours of sleep as I intended to sleep for the next leg from Abu Dhabi to London. Watching Arsenal play Man Utd live kept me awake!
The bathroom was kept spotless with it being cleaned it seemed after every passenger.
The flight landed on time, and we had 4 hours to wait for the next flight to London. I had expected great things from Abu Dhabi Airport but was underwhelmed. It was incredibly crowded with poor signage; Changi or Doha, this was not.
I had high hopes for the business class lounge, but again it was a bit underwhelming.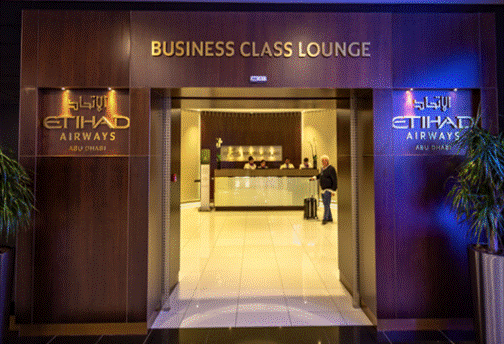 There was a large bar area, but it was staffed by so few people that as the lounge got busy it became difficult to get served in a reasonable time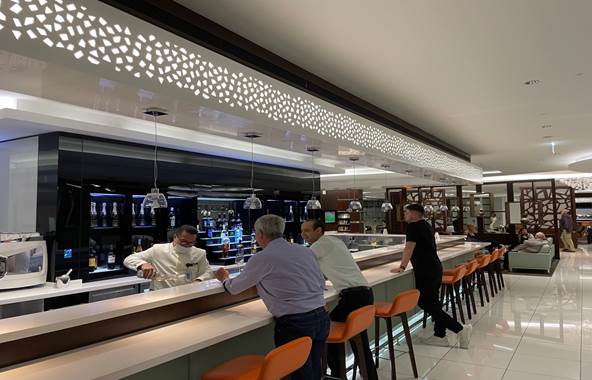 It's a large lounge, but there seemed to be a lack of seats as the lounge filled up. There were 3-4 food stations carrying a limited offering of hot and cold food.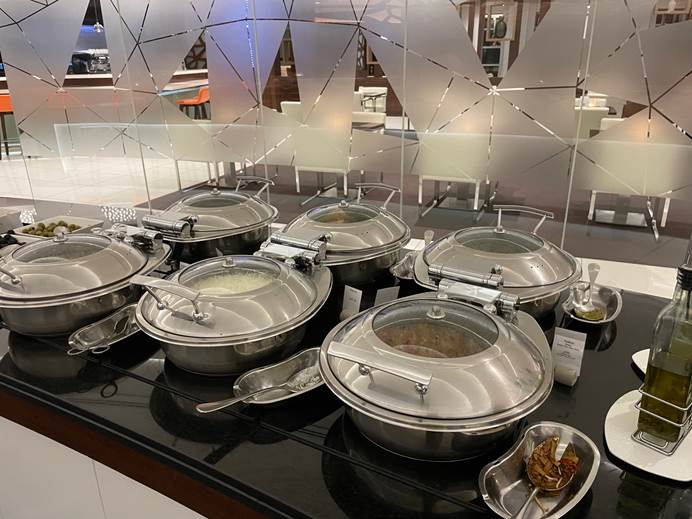 Again it was a feeling of being underwhelmed, it was 'OK', but nothing like, say, the Qatar business lounge in Doha. When it was time to board, the concourse was very crowded with people going in all different directions. The airport seemed to be 'tired' when I had expected it to be new and vibrant.
Abu Dhabi/LHR ETD 11 A 350
Boarding was chaotic and more of a scrum. The A 350 was a newer aircraft, and there was some great mood lighting.
The business cabin is very large, and like the Dreamliner, there was no First Class.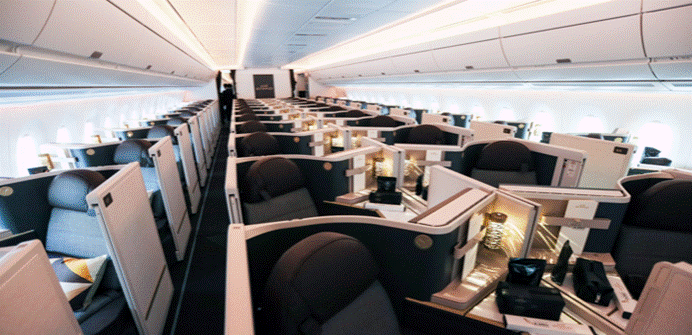 The seat is the same as BA Club Suites with a privacy door. I just wanted to sleep on this flight and was concerned as there were some small infants and there were no earplugs. The washbag contained the usual suspects, but there were no earplugs.
Speaking to the crew, these were prompt.
Whilst I never ate, this was the menu that seemed appropriate for an overnight flight.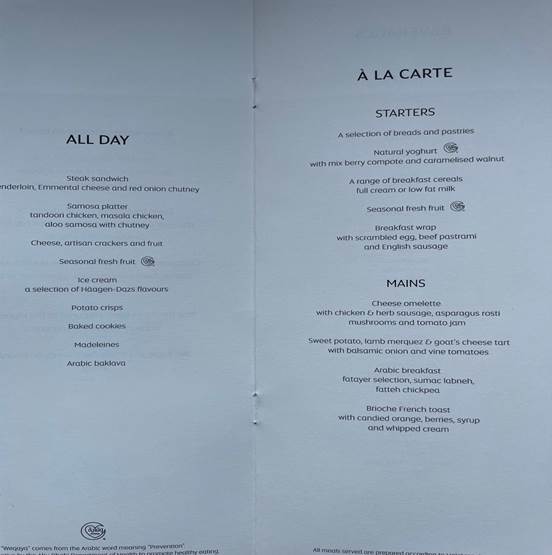 I'm just over 6 feet and didn't find the seat as comfortable as on the Dreamliner.
Having said that, I did get in about 5 hours of sleep. Due to tailwinds and despite stacking due to freezing fog, we landed on time, and as is fairly usual, there was no one to operate the gate! We stayed on the plane for a further 15 minutes however there was no explanation given by the captain.
Heathrow was quiet it was around 6-15 am, and the bags came off pretty quickly; plus, we knew they had flown with us thanks to the AirPods!
BA Club World vs Etihad Business Class?
There is no comparison, really. Everything about Etihad is significantly better than BA, with the exception of the lounge.
The older product didn't help the cause of BA, but even so, all parts of the flights with Etihad were superior.
We are flying to Australia next month to Qatar thanks to the acceptance of Avios. This will probably be a better comparison.
Like our BA Club World vs Etihad Business Class Review? You can here more TLFL flight reviews here.