I often stay at airport hotels if I have an early flight the next day or have a late arrival. With the price of hotels still sky high, spending the night at the airport can work out better value rather than spending money on a resort hotel when you arrive too late to use any of the facilities that day. On this occasion, I had ended up with an overnight stay at Marriott hotel Los Angeles airport on the way back from Hawaii before I flew back to London thanks to a schedule change. As I was not flying until the early evening the next day I decided to look for an airport hotel with a decent pool. I did debate going somewhere like Santa Monica for the night but decided I couldn't be bothered with the journey.
Location and getting there
The Marriott hotel is located 2km from the airport and there is a regular shuttle bus that picks up from all the terminals. When you arrive you simply head to the shuttle pick up area (with the red curb) and they arrive every 20-25 minutes. You need to be careful as there are lots of vans constantly arriving for hotels (some are other Marriotts) so you need to keep a close eye out for it. It takes around 5-10 minutes on the shuttle depending on which terminal you get it from and how many other pick-ups are done on the way.
Check-in at Marriott hotel Los Angeles airport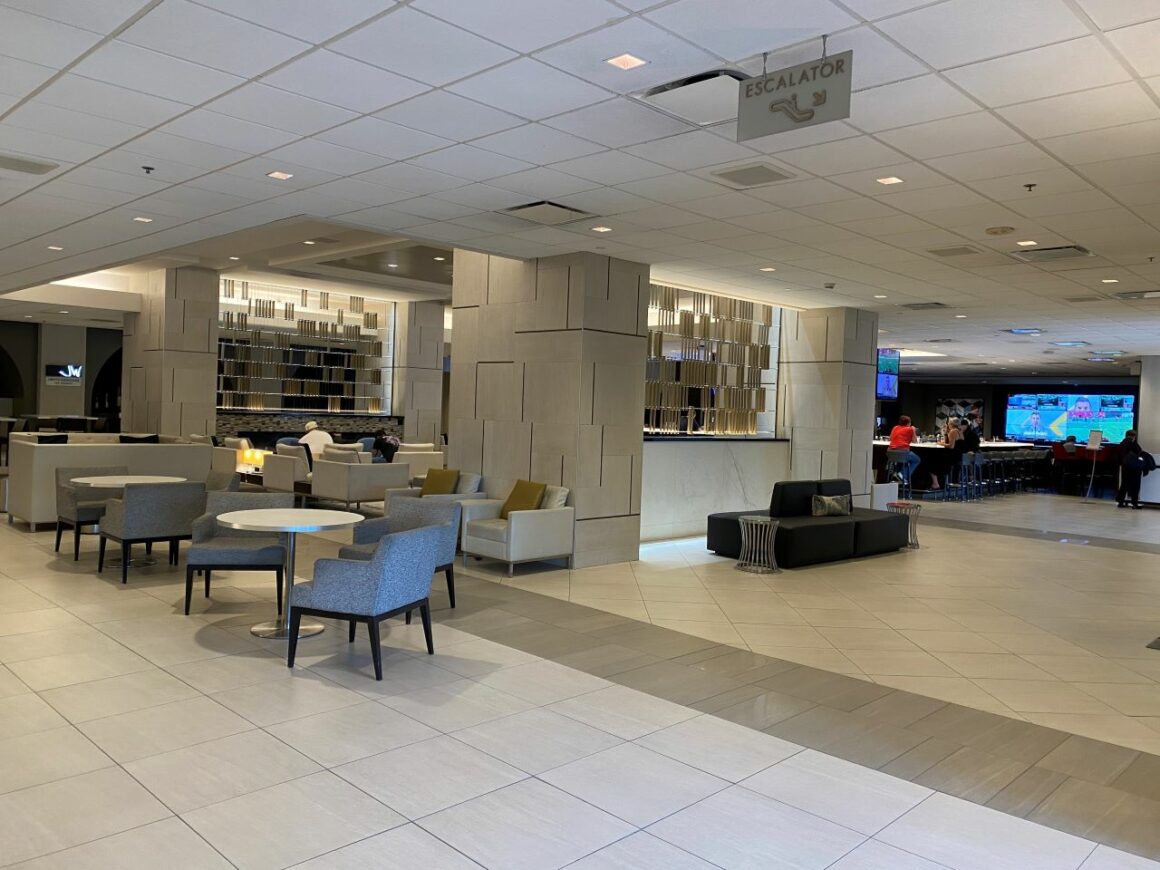 The hotel is huge, and there was a long wait to check in as there were only two desks open and no one manning the Bonvoy desk. One of the check-in agents seemed far more interested in chatting with one of the rather attractive cabin crew checking in for at least 10 minutes than actually doing his job!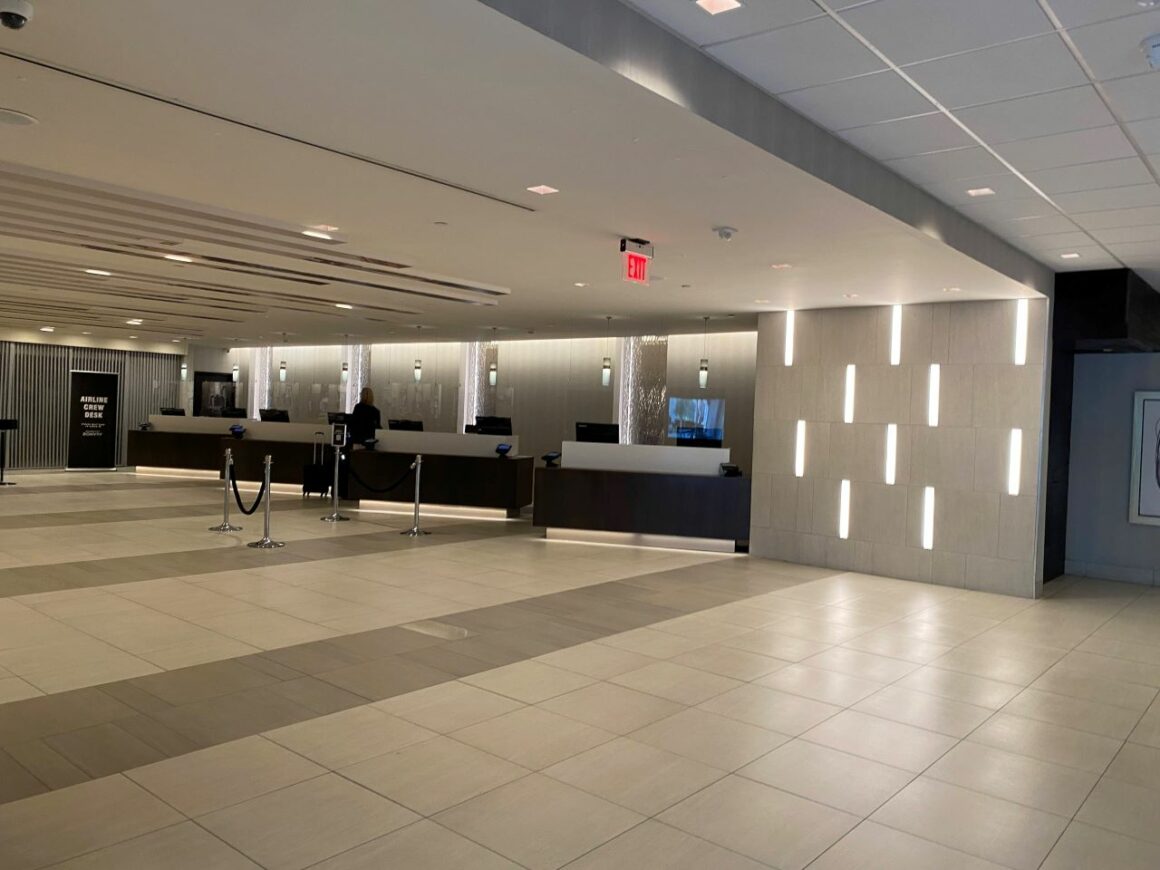 It was pretty late Hawaii time at this point, and I really just wanted to get to my room. Once another agent finally appeared things speeded up. She wasn't the most friendly receptionist I've ever met, but she was efficient. I did not get an upgrade but I did get lounge access as I am a Platinum member.
Marriott hotel Los Angeles airport Room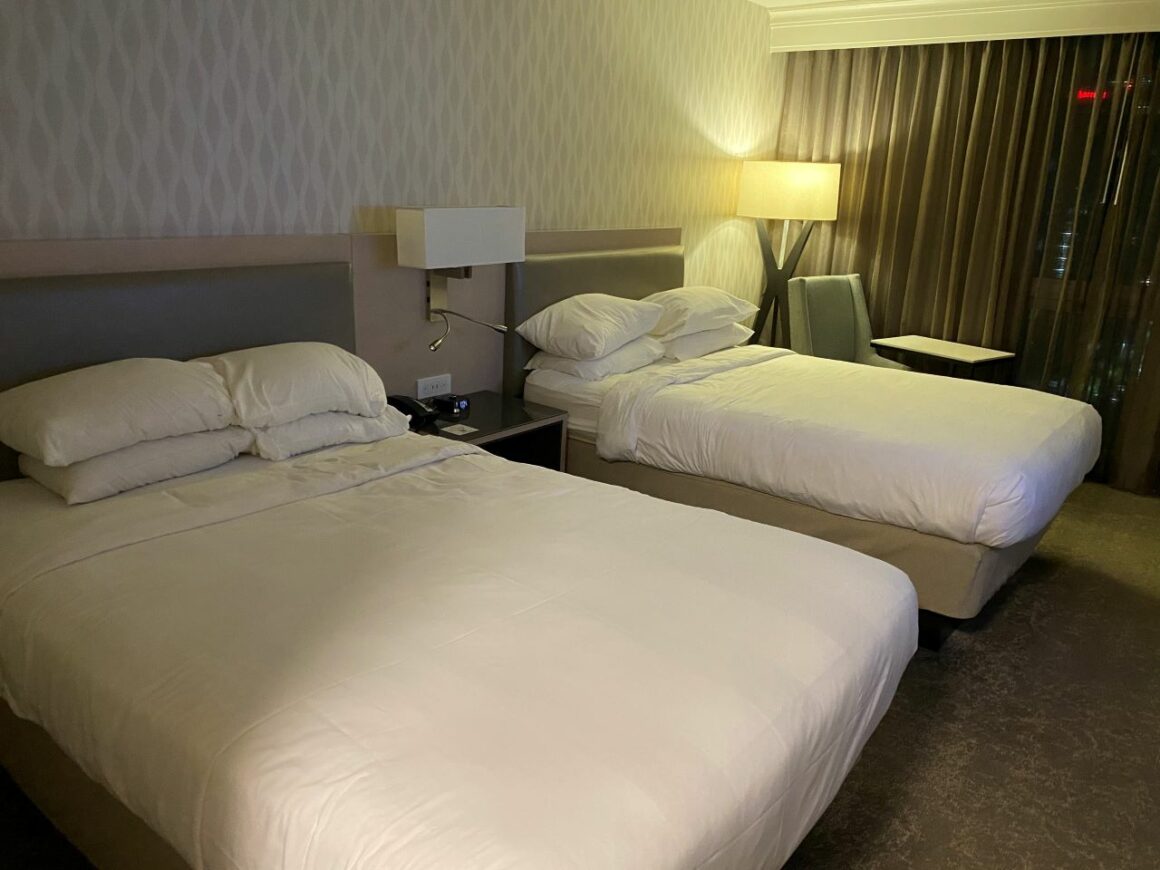 I had picked the hotel as not only was there a nice pool, but the hotel rooms looked very modern and a decent size. I often book a room with twin beds when travelling in the US if I am only there one night and don't want to unpack, it gives me an area to sort out my belongings on the spare bed. The rooms also tend to be a bit bigger.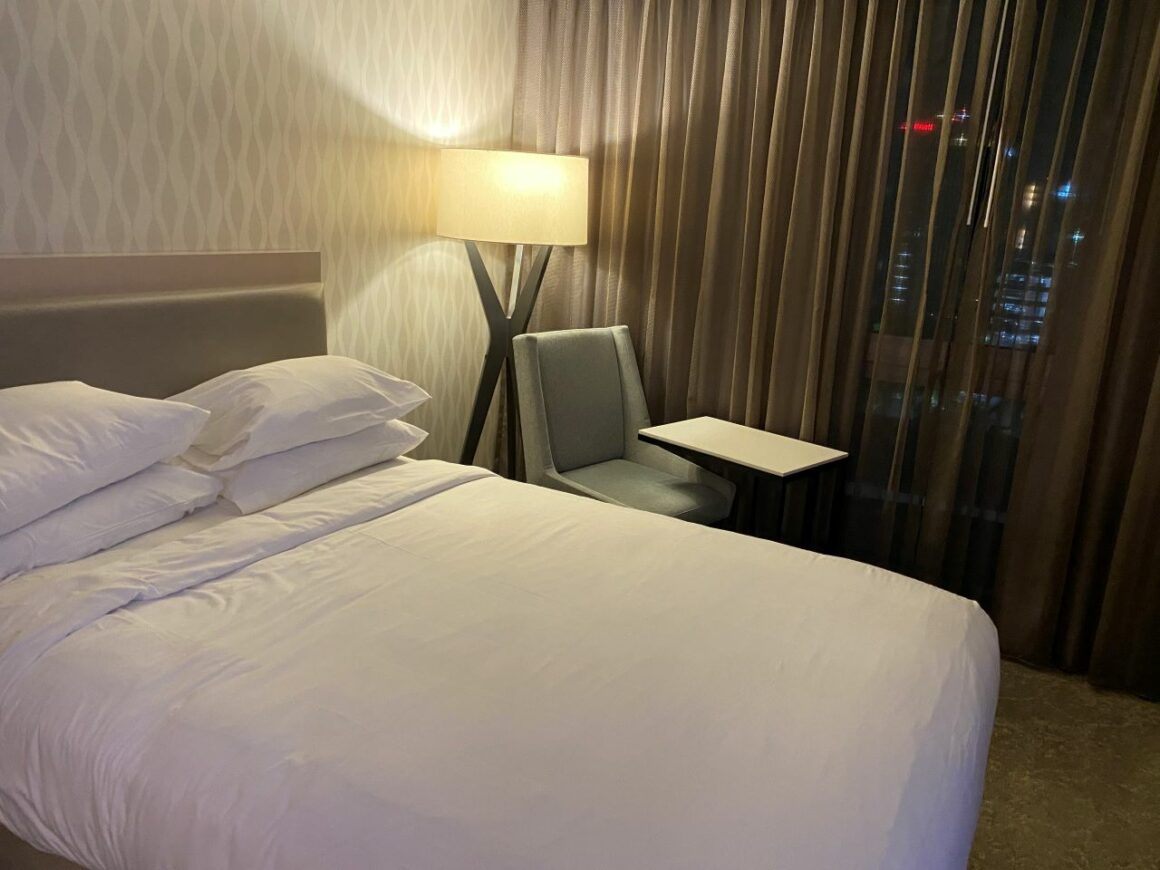 The room was indeed modern and had the standard Marriott beds which I find very comfortable.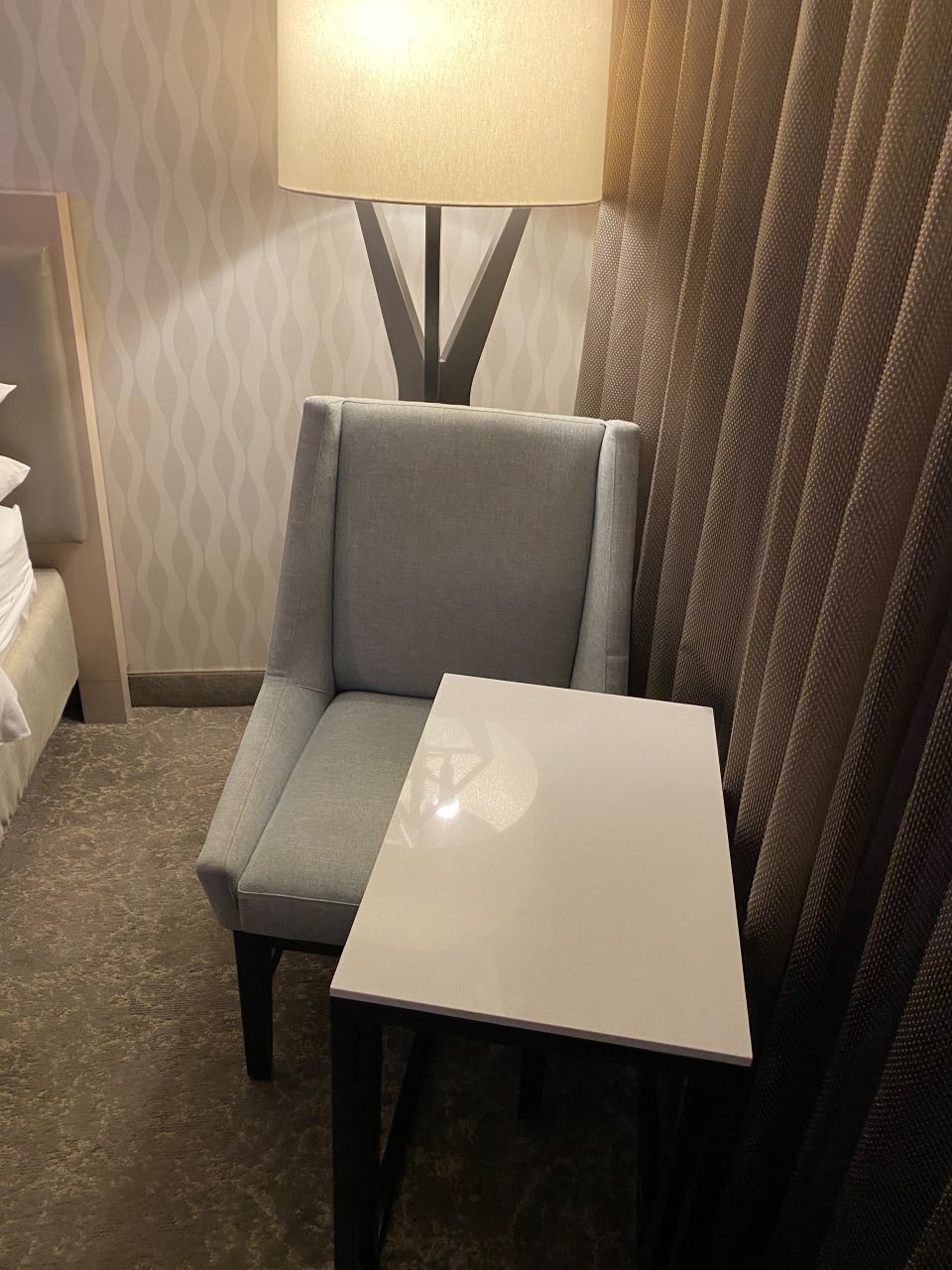 I liked that there was a comfortable chair with a table if you wanted to have something to eat in the room and watch some TV.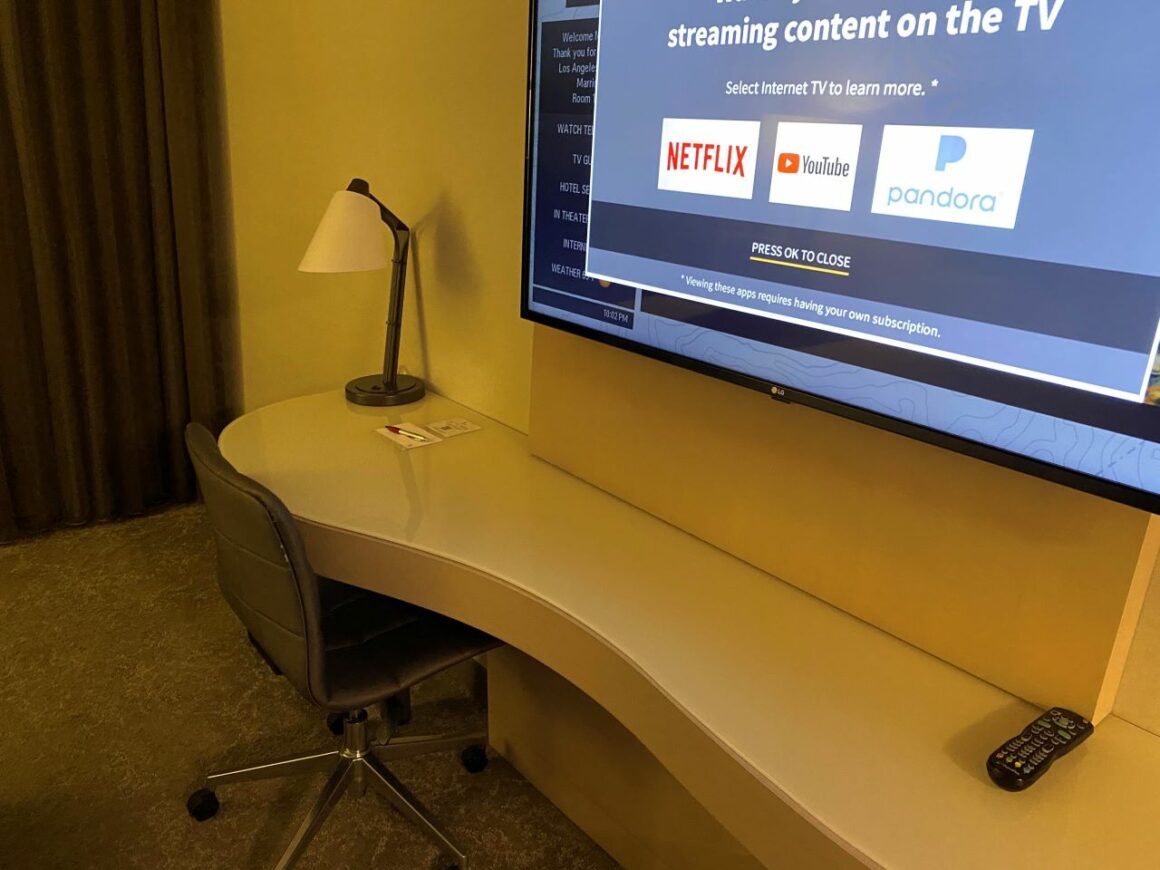 The desk was large and with a comfortable chair which was ideal for me to do some work the next day. The TV had the option to watch things like Netflix, which I always appreciate (although in the US, I can nearly always find something rubbish to watch on the main TV channels).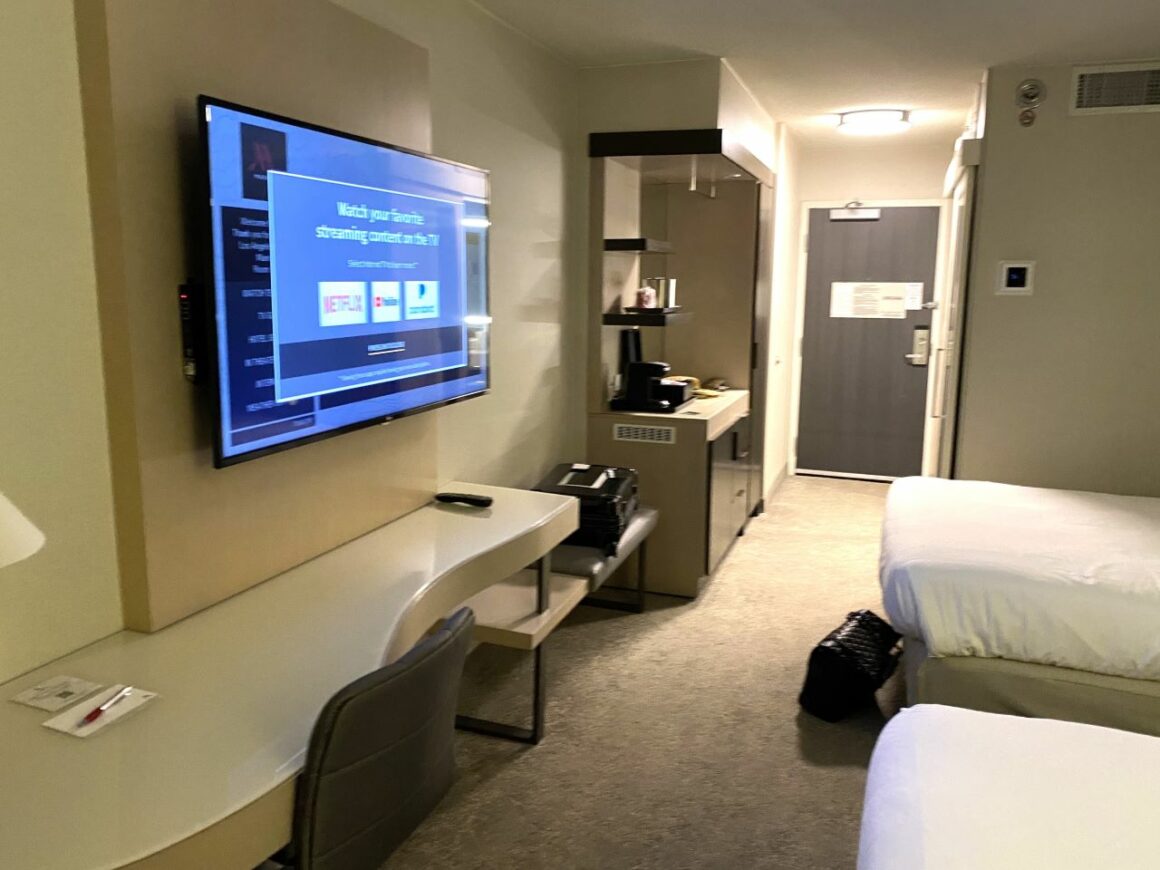 There was a Keurig-style pod coffee machine but as usual in the US no kettle. Again, as I'd expect there was only powdered creamer instead of milk. Ugh!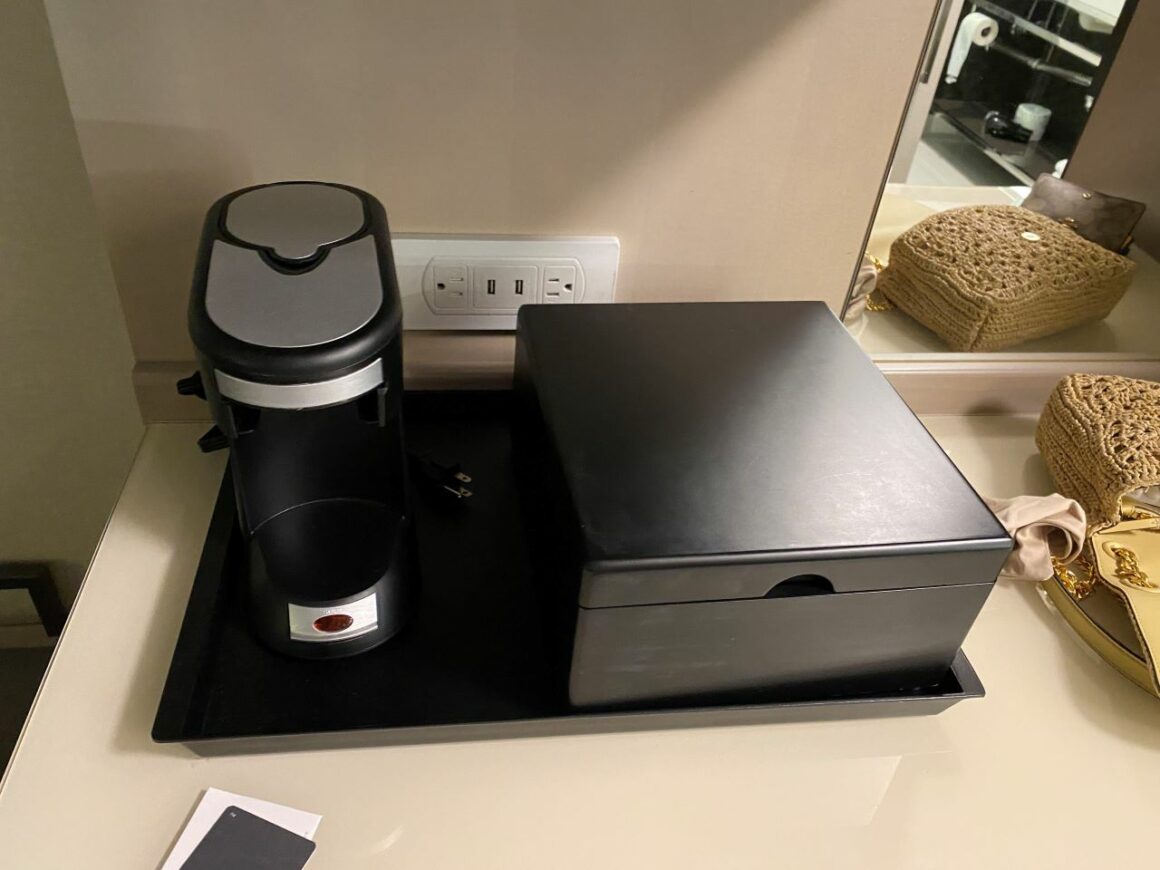 Sockets were not an issue with multiple sockets and USB points around the room. Underneath there was an empty fridge.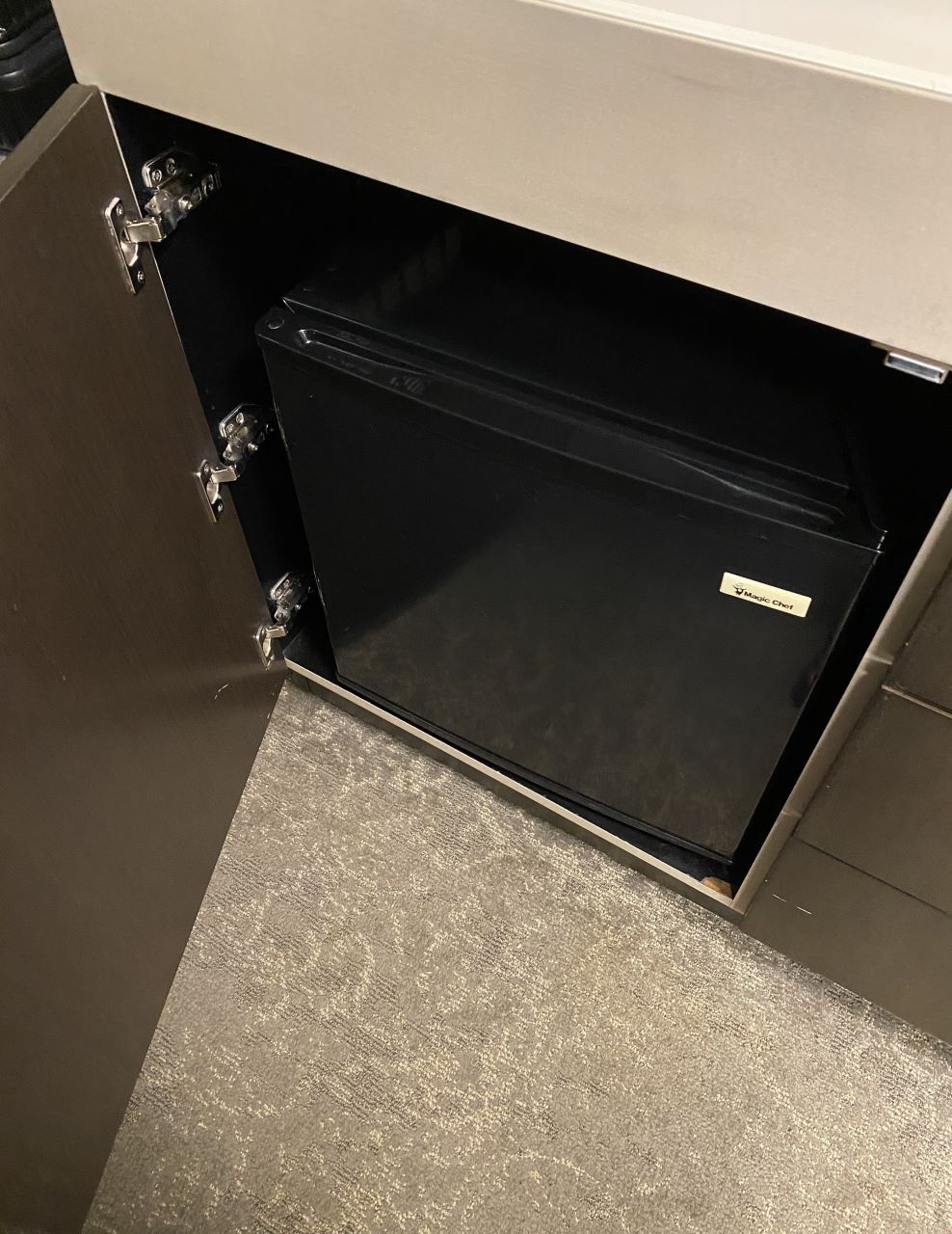 Some rooms with a pool view have a nice balcony, but the basic room does not have any outdoor space. I did have a view of the pool though.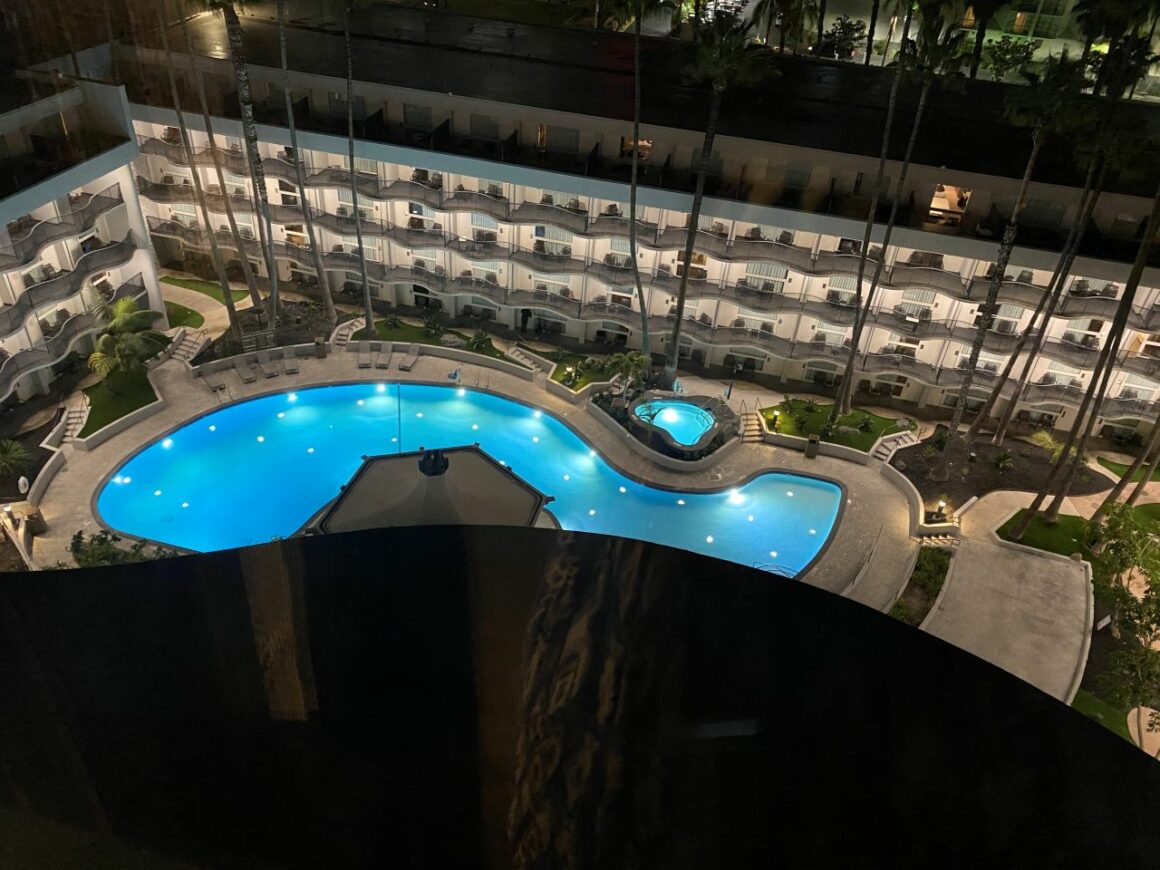 Unfortunately, there was an electrical issue with the room that only became apparent after I had already got ready for bed. I had tried to use a switch or light by the coffee machine, which not only hadn't worked but resulted in all the lights in the room going off except the bathroom, and then they would not turn back on. So I was left in the dark. I did call reception and ask for someone to come to fix it, but they never appeared which I thought was poor. I did receive 5000 points as compensation when I complained again the next day, but I would have rather had lights on!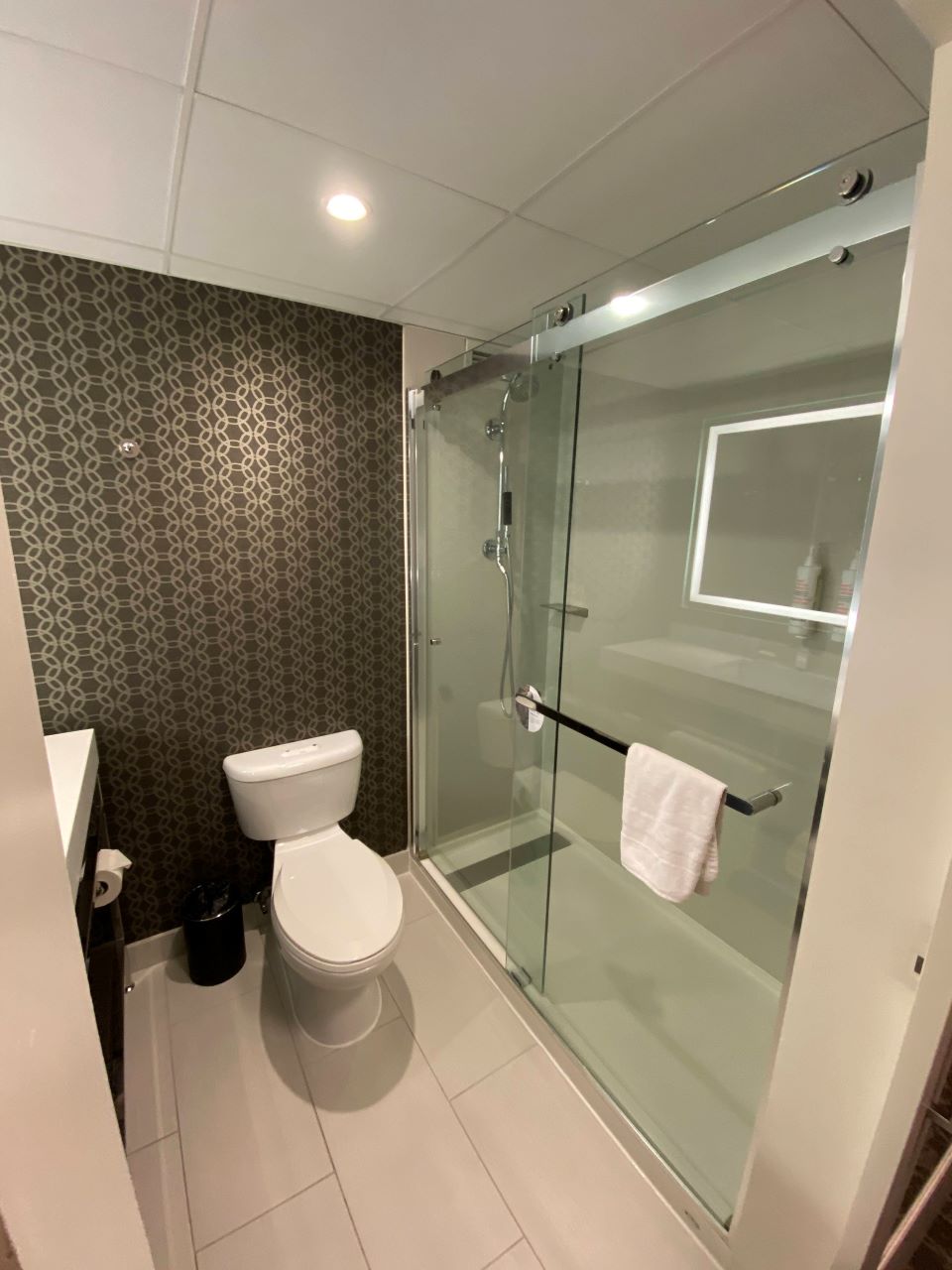 I liked the modern bright bathroom which had great lighting – it is so much better when they have a light around the mirror rather than the downlights that make you look like you haven't slept for a month with bags under your eyes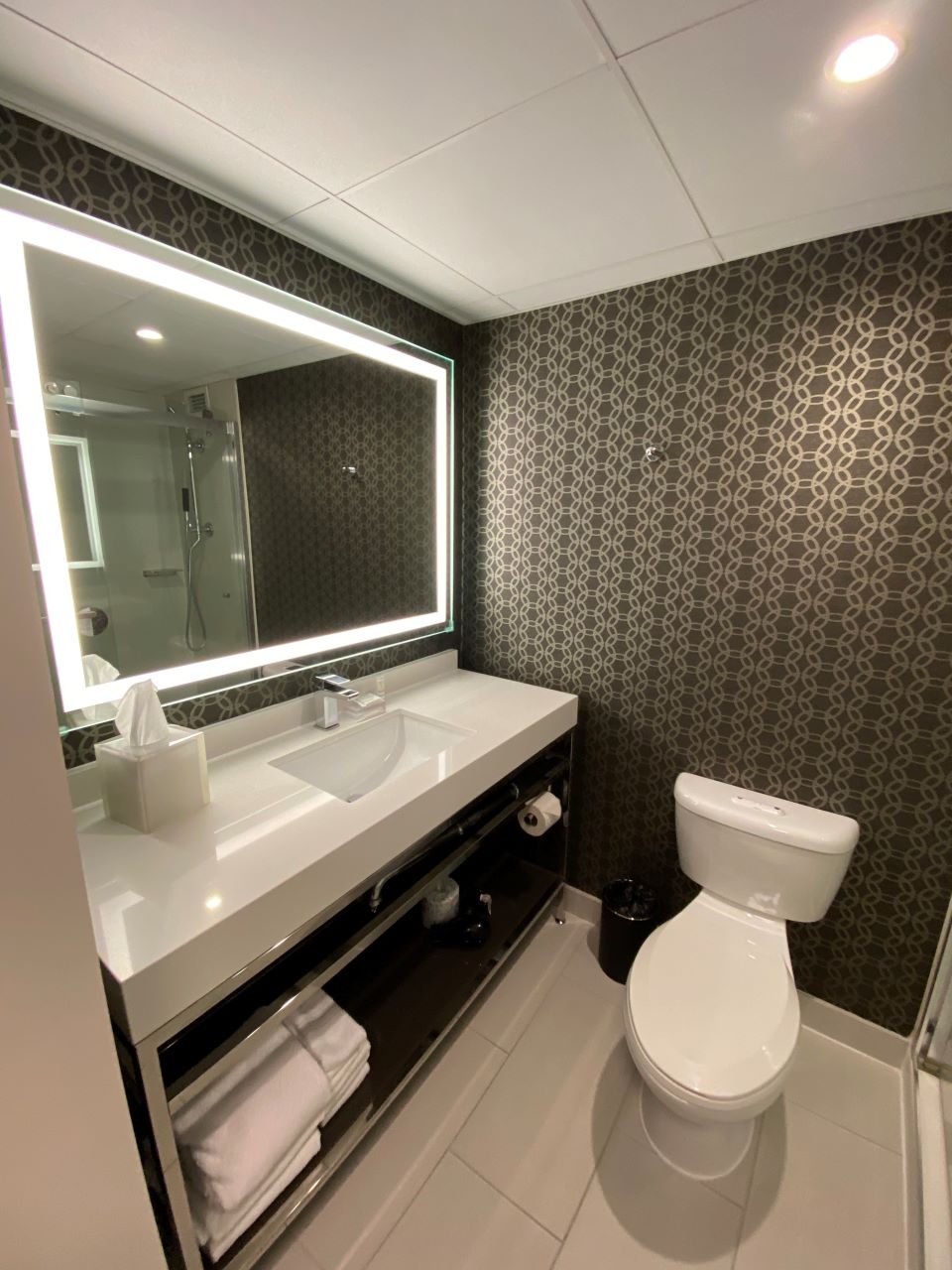 The toiletries were large size fixed in position from the In Transit range by This Works. I actually use a few of their products at home so I am always pleased to see them in a Marriott.
The M Club lounge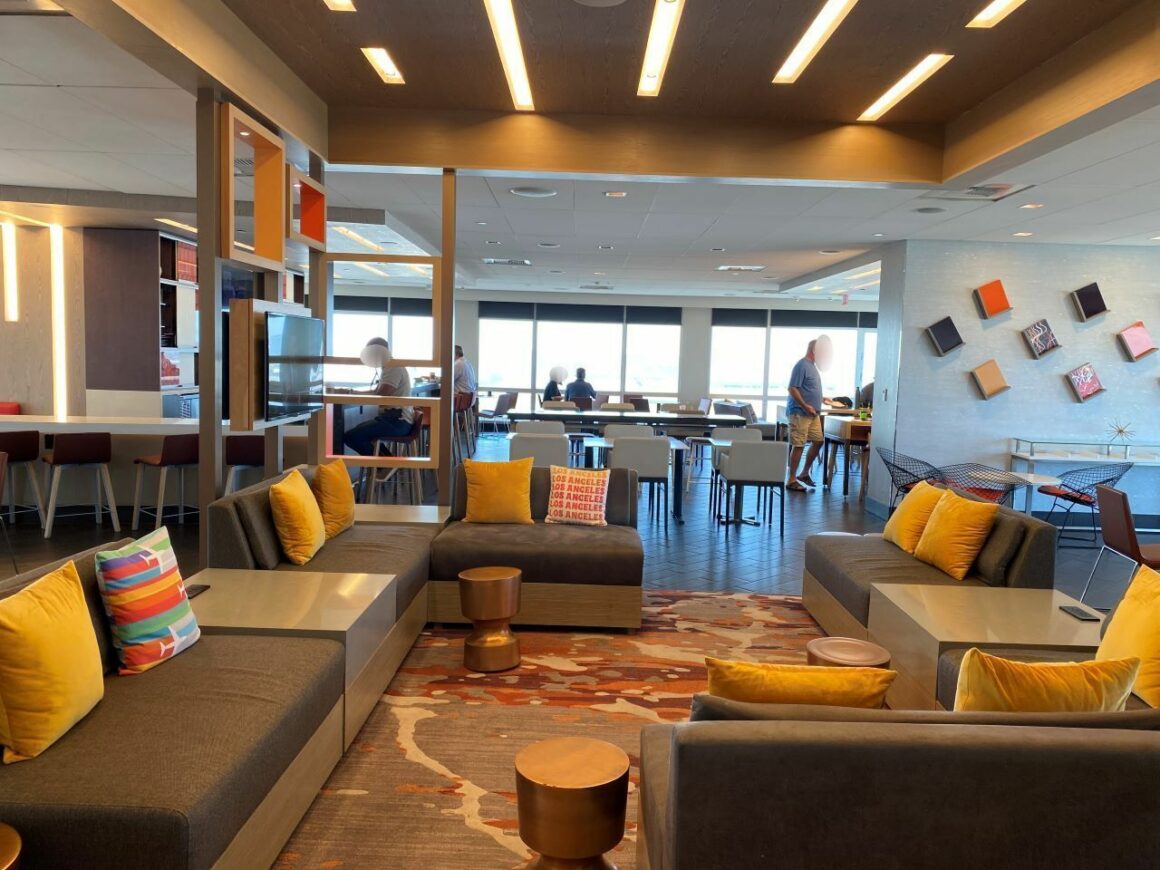 I really liked the lounge which had great views of the airport for aviation geeks like me. The staff were very friendly and helpful when I visited for breakfast in the morning. They also do evening snacks and have a bar.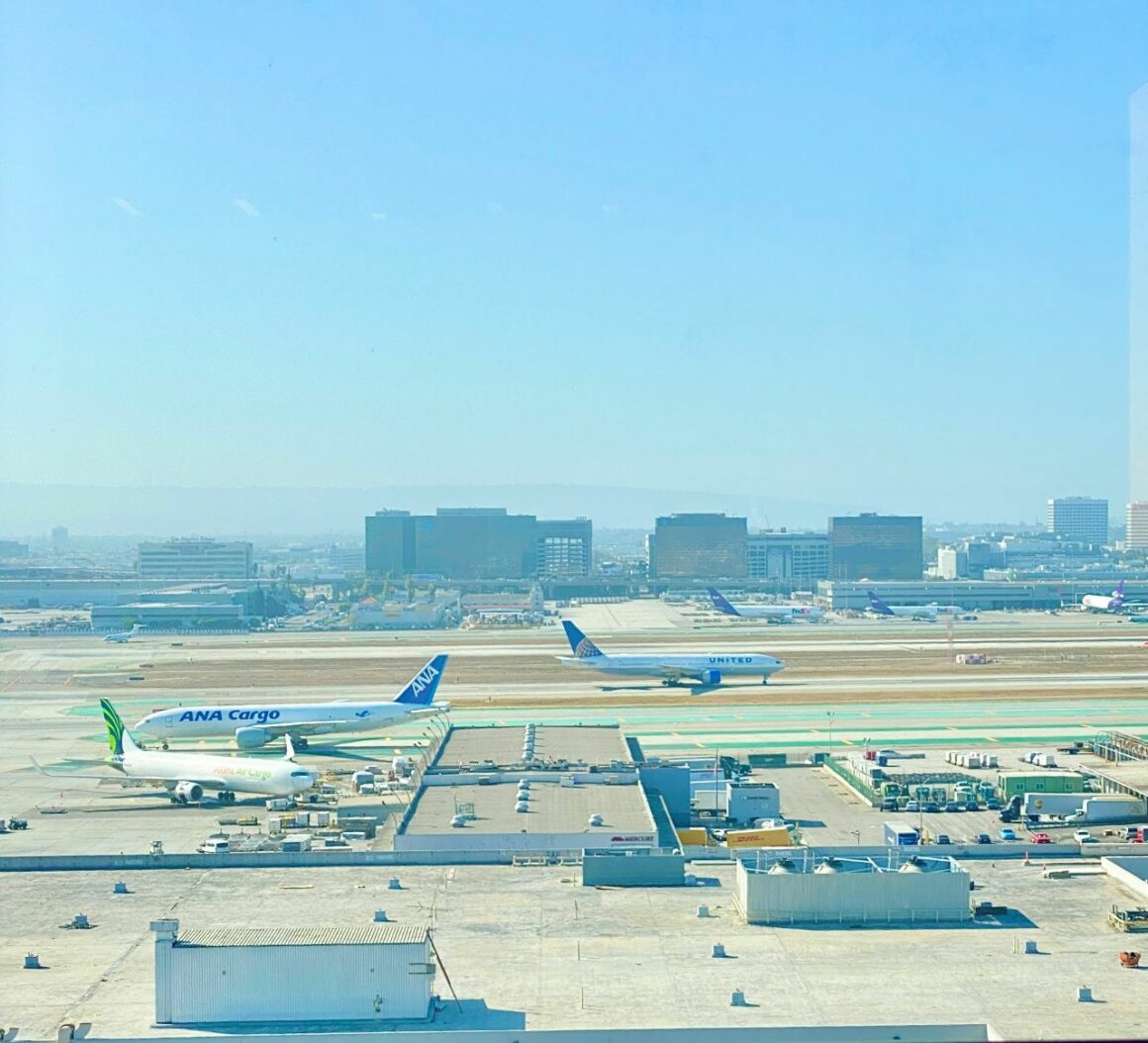 There were comfy seating areas as well as tables and chairs for dining. The food for breakfast was adequate if not exactly gourmet! There were hot items such as scrambled eggs, breakfast potatoes, ham and sausages. Then the cold food consisted off bread, bagels, hard-boiled eggs and yoghurt. I liked that they had a few extras, such as grated cheese and salsa that you could jazz up your selection with.
Soft drinks and snacks were available during the day.
Food and drink at Marriott hotel Los Angeles airport
I only sampled room service which came relatively quickly but in Covid-style cardboard packaging. Not only is this highly wasteful, I also think it is inappropriate given the delivery charge and pricing in general of the food. The least they could do is give you a proper plate!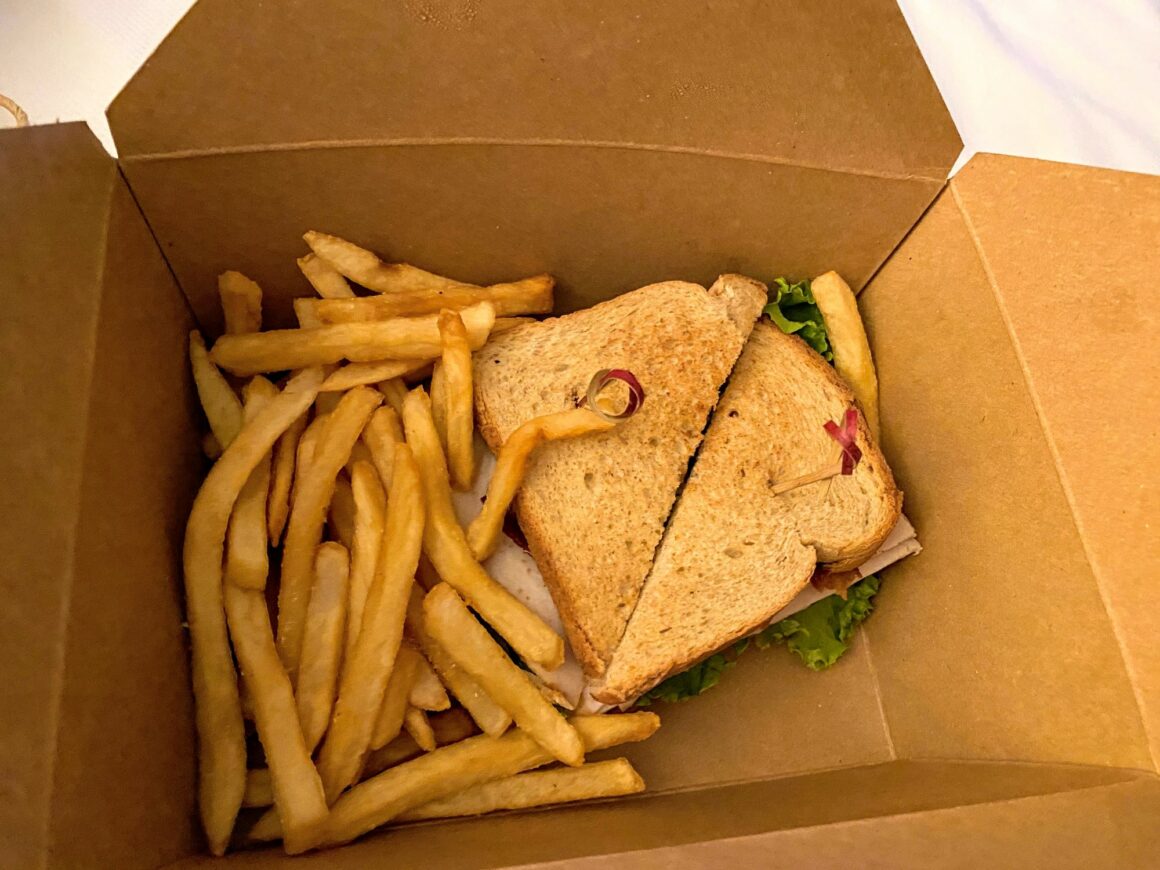 There are plenty of options to eat and drink in the hotel, but I did not have time to try them:
JW Steakhouse
Social Market & Eatery – all day dining
Hangar 18 Bar and Kitchen (this was lively when I arrived)
Starbucks
Pool bar
Convenience store for snacks
Marriott hotel Los Angeles airport Pool and gym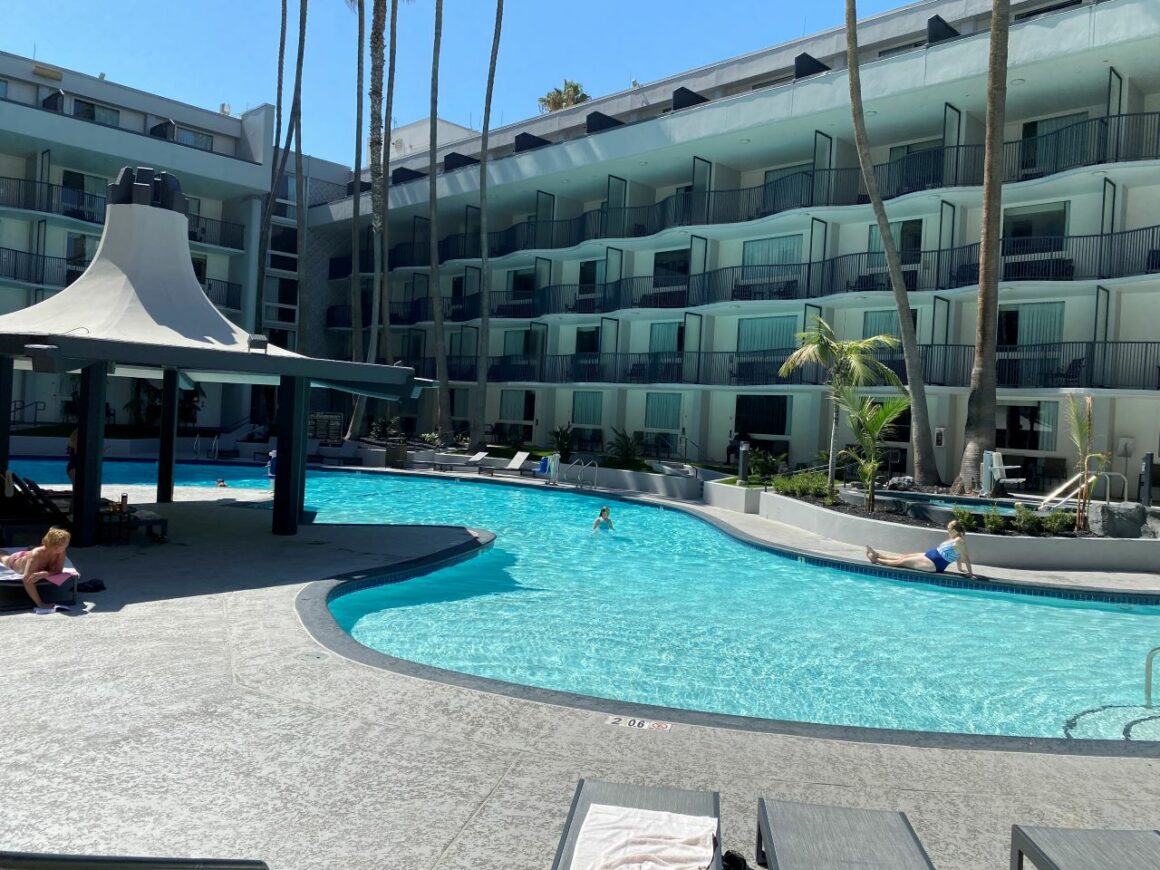 The main reason I had chosen the hotel was that the pool area looked good to get a last few rays of sun before I headed back to the UK. It looked as nice in person as the photos, and I also found a hot tub too. The pool itself was a decent temperature, and there were plenty of loungers, so you didn't need to fight to get one. Towels were available to help yourself to, and there was a pool bar to order drinks or lunch. All in all, it was a very enjoyable experience.
If you prefer your exercise a bit more strenuous than a few laps, then the large gym is open 24/7. There is plenty of modern equipment such as brand new Peloton Bikes, Woodway Treadmill, WaterRower and TRX.
Conclusion
There were a couple of niggles, but overall I would choose this as my go-to LAX airport hotel if I wanted something close by with some outdoor space and decent on-site facilities for grabbing a bite to eat. I enjoyed sitting in the lounge watching the bustling airport with my breakfast too. I paid $238 which may sound like a lot but was much cheaper than the equivalent hotels away from the airport.
You can check prices and availability here.
Like our Marriott hotel Los Angeles airport review? you can read more hotel reviews here.