Our Reader Review for today is from Robert Farrugia, who is the Author of How to Get Luxury Travel for Less .
I recently took advantage of the British Airways Holidays double tier points offer to book a good value trip from Manchester to Prague via Heathrow with five nights hotel stay. Flights were in Club Europe and the package was good value at GBP450 earning 320 tier points (even better after a substantial refund for a hotel reallocation, but that's not the focus of this report).
Flying four sectors at different times of the day allowed me to see what BA's apparently improved Club Europe meal offering was like. There was some inconsistency regarding menus and service, but the meals themselves were overall pretty good.
Manchester to Heathrow, BA1399, 14:45 departure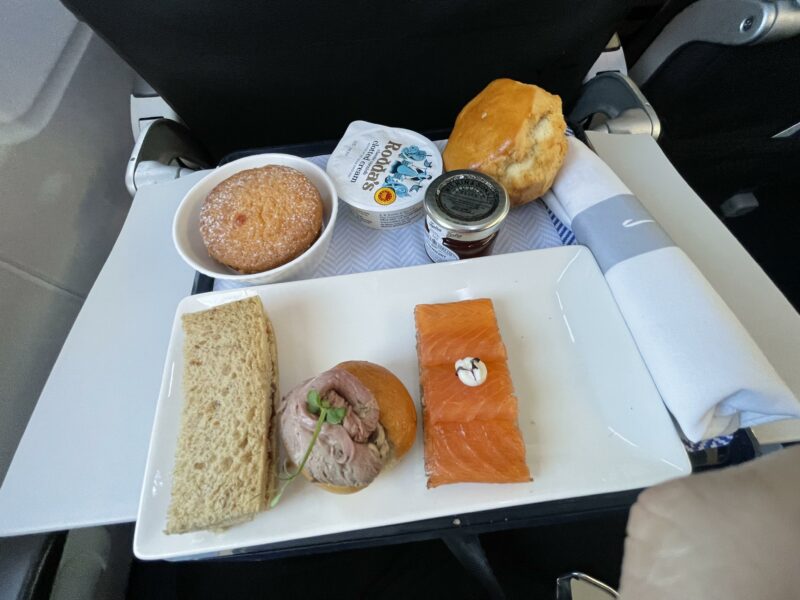 This meal is billed by BA as afternoon tea. It's a very minimalist approach to that traditional English staple, but the brevity of this flight necessitates a small meal and quick service. The individual components were of good quality, especially the open sandwiches of smoked salmon, roast beef, and cheddar cheese. The sweet elements were a tiny Victoria sponge and a warm scone with cream and jam.
Heathrow to Prague, BA858, 19:55 departure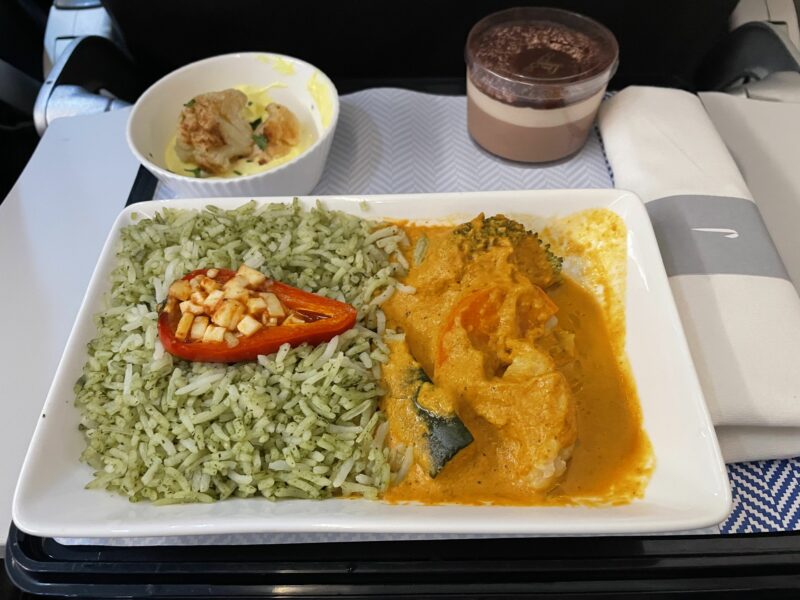 I chose the vegetable korma option for this flight. The spiciness was mild, as you'd expect from a korma, but still tasteful. The accompaniments were cauliflower in an unidentified sauce – there was no menu card offered on this sector – and the now standard Do&Co chocolate dessert.
Prague to Heathrow, BA853, 07:00 departure
Rather than the ubiquitous full English breakfast, I opted for the omelette frittata accompanied by sun-dried tomatoes. I found it suitably filling for the 90-minute flight, although the omelette could have done with something to add some extra taste.
Two very crumbly small croissants were served along with a pot of jam, but no butter. A Kellogg's Nutri-Grain bar completed the tray. BA are still serving hot beverages in paper cups. I've heard differing stories as to why ceramic mugs are not in use, but the paper cups do jar a little with the business class experience.
The service on this flight was also noticeable for starting from the rear of the cabin. I'm not aware of anyone not getting their preferred choice, but it is a departure from BA's service standard which prioritises the forward rows where higher status cardholders are more likely to be seated. I thought it was a one-off but the following flight showed it wasn't.
Heathrow to Manchester, BA1393, 13:05 departure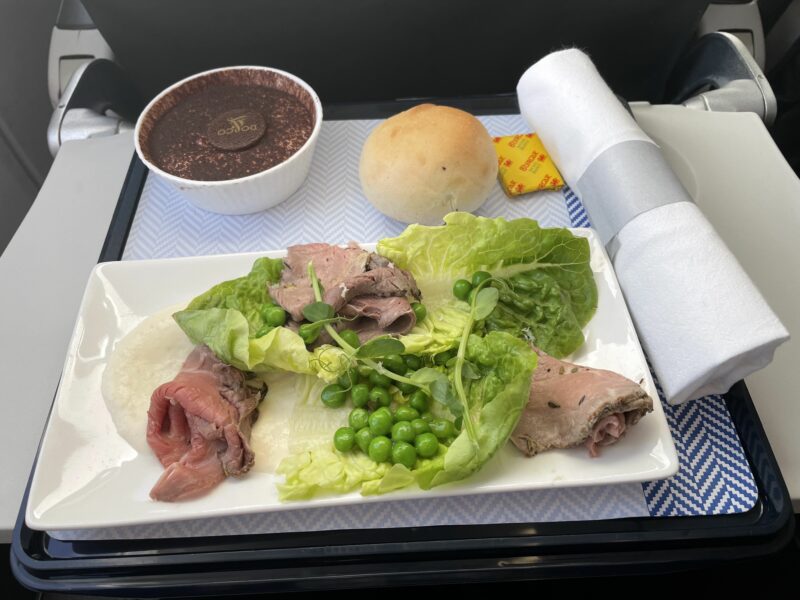 Another snack-size meal for one of the shortest flights on BA's network. Billed as a salad, it consisted of three small pieces of roast beef on a pea-and-lettuce base with a generous serving of horseradish sauce. A roll and chocolate dessert were the additions.
Overall, the quality of the meals was good and the quantities I think are about right for the respective durations of the flights. There is some inconsistency around the service itself with menu cards offered on some sectors and not on others, plus the back-to-front serving on two of the flights, but the crews were good on all flights and I do think this is an improvement from BA.
Now, let's just see how long before my BA Holidays bonus tier points arrive. Last time it was six months!