Today's reader review, Hyatt hotels – Santorini Magma & Zoetry Mallorca, is by regular reader reviewers Simon and Mitz. Several of their reviews triggered some controversy so let's see what this one brings!
A few years ago, when I first discovered the benefits of earning points via a well-known credit card, I got drawn into the world of "Turning Left for Less" and other far inferior websites! Starting out, it seemed that points and other benefits could only be gained by flying BA and climbing the tier ladder. Now, I'm definitely not as obsessed as many of you who read this site, but by reading these pages and others on the daily commute, you do get some good insider knowledge on the world of luxury travel for far less. The best benefits I have had are from getting the early news of new hotel openings. My best bargains are below. The Santorini Magma & Zoetry Mallorca holidays were taken last year, but as they were both new hotels on soft openings, the experience was definitely 'champagne travel on a prosecco budget". Reading these pages and others does have its benefits…even if some people do get a little angry at times! (We didn't fly from LUCY this time…..!)
ZOETRY MALLORCA- travelled June 2022.
Having had a baaaaaad (it really was bad!) experience with Zoetry in Cancun, we were very reluctant to try the new Zoetry in Mallorca. But being avid fans of Hyatt, we noticed that they had bought the brand. Knowing the high standards that Hyatt has we had high hopes for the future of Zoetry's first foray into Europe.
Neither of us had been to Zoetry Mallorca before. We didn't want to explore, rather just fly and flop at a decent resort. It certainly did not disappoint.
The hotel is a 15-minute drive from the airport, and definitely nowhere near the sea! The hotel is located in an original 18th century Manor House, known locally as a "possessió". It was a great arrival, driving up to what would have been the fortified entrance. Now, the caveat/ understanding is with soft openings that, not everything will be perfect- which is totally understandable. When we were dropped off at the grand entrance, there was nobody to greet us. The reception is within the next walls- remember your GCSE history here- the first wall is the first line-of-defence- the 'curtain' wall!
When we did walk through the first courtyard where the reception is situated, it was beautiful. There are rooms in this part of the historical building. The reception was staffed by eager, young staff. With the hotel being open for just a week, they were a little bit fresh- but certainly eager. One of my gripes – and I have been a hotel manager- is that senior managers hide or avoid customers in this day and age. This wasn't the case here. Rather, the senior staff shadowed the more inexperienced team members and jumped in when required. Registration did take a while, but we were eventually shown to a lovely basic room on the ground floor, with a beautiful little terrace in the sun.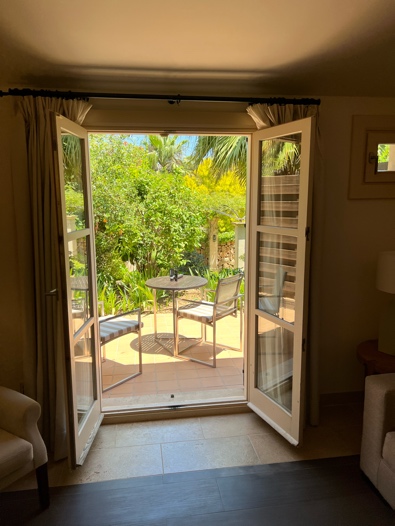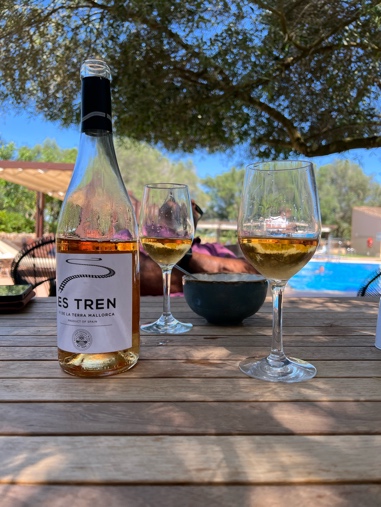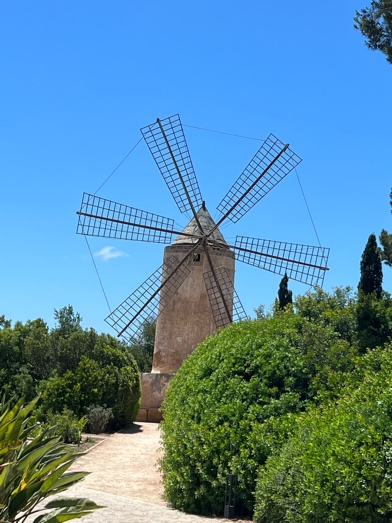 It was the most basic room, clean and in a sunny position, close to all the facilities.
But here's the rub: Zoetry brand is all-inclusive. As this was the first week of soft opening, we were paying only £175 per night for this room- everything, and yes, I mean everything else was included!
Oh yes- it was very good!
Taking advantage of our early BA arrival into Palma, we were soon underneath a beautiful spreading oak tree by the poolside bar. We quickly started on the cocktails, then rosė (Whispering Angel!!). Oysters and local tapas followed… it went on! The attentive and eager staff really did strive to offer us the best experience.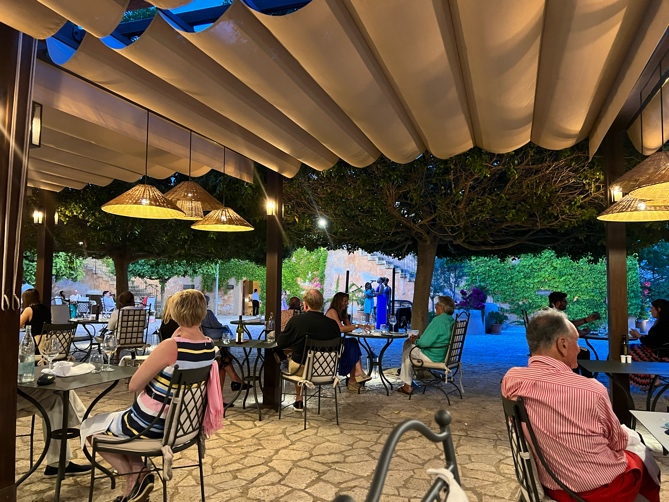 The poolside bar and restaurant called "Es Clot" Was a lovely place to sit and have drinks and lunch.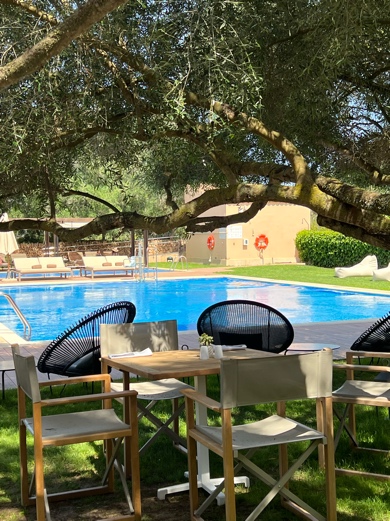 The pool was warm, and there was plenty of loungers and shade. It did start to get busy- and on this occasion, the managers did vanish, and the staff became stressed with the number of orders and customers.
Pools by a bar are not my sort of thing, with everyone gawping at me in my speedos- there was a larger pool a little walk further on. This was the adults-only pool. It is enclosed by a brick wall. I suspect it may have been a cattle corale in a year gone by. There was little shade here, and everyone was crammed underneath a sun canopy. There was no service here- you had to go back to the bar area.
Now the hotel has been open for a season, I do hope that these issues have been resolved (I presume so!!) I hope that they have put far more loungers and sunshades up at what is a stunning pool.
Breakfast was served in the "Es Mercat" Restaurant with plenty of seating outside. It was heartening to see that the focus was on local food- prickly pears, local breads, artisanal honey. It was a great spread.
Dinner is also served in the same restaurant. Many guests chose to sit outside and listen to the nightly entertainment- again local. The food was top-notch, again focusing on local specialities such as "sopas mallorquinas" – a local pork soup. Again, it was really good.
Our flight departed in the early evening, and having stayed at AIs before, benefits usually cease at midday. On our visit, they didn't.. the booze kept flowing literally until we stepped into the taxi.
I will add my caveats at the end, but Zoetry Mallorca is a beautiful historic property. The grounds and facilities are ample enough not to leave the hotel. Being in the centre of the island, there are many hiking and cycling trails (the hotel had plans to hire bikes). The eagerness to showcase the island's food and wine was really appreciated. It was a good choice!
MAGMA- SANTORINI- visited September 2022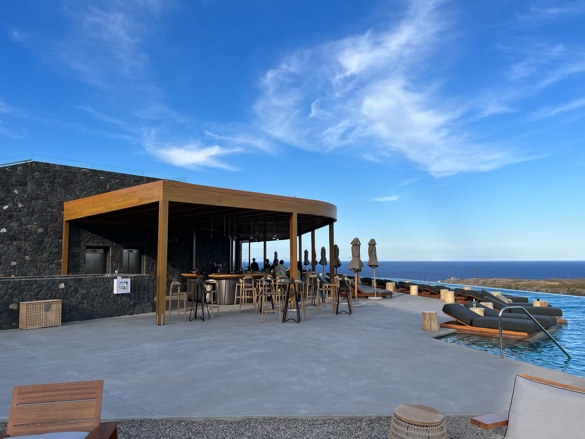 Another new Hyatt hotel- this time in Unbound Collection Brand. The hotel is situated on the west coast of the caldera amongst the vineyards, away from the tourist hoards and instagrammables of the caldera.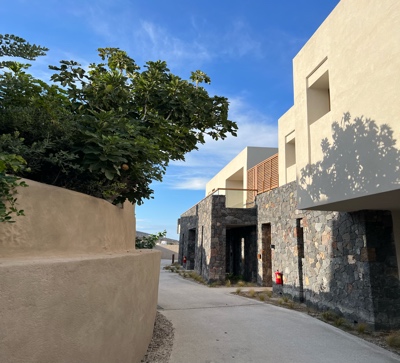 Hyatt has again gone above and beyond with the architecture of this property. The hotel from Santorini Magma is made from local rocks- the black magma from volcanoes. Surrounding the hotel are the ground-hugging astryiko vines. The place is visually stunning.
On arrival, you enter reception at a lower level. This is where the architect had a great idea on paper ..but in reality….. The curved swimming pool is above reception- it's a sort of infinity pool. Now, when I bomb in my speedos, the water cascades over the side like a Santorinian Niagara! The hotel must have found that early guests were drenched in getting out of their taxis, so they had to improvise with a garden gazebo! I presume they will build a 'porte couchere' to stop wetting guests eventually!
We were greeted well, again by a trendy team of enthusiastic, young, knowledgeable staff. According to our Hyatt status, we were upgraded to a Hyatt suite on the upper terraces of the hotel, affording us fantastic views of the vineyard slopes and the distant island of Anafi. Our room had a private plunge pool. Unfortunately, since the hotel had recently opened, the Mediterranean sun still had to do its work- it was freezing, and we did not use it. The room was large- the outdoor seating area was a plus.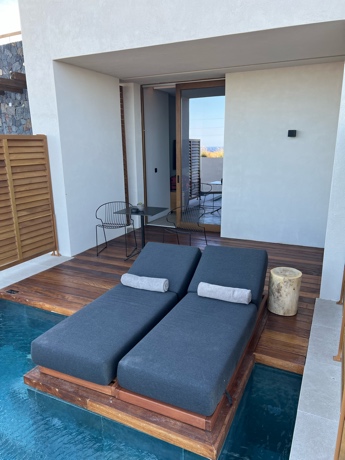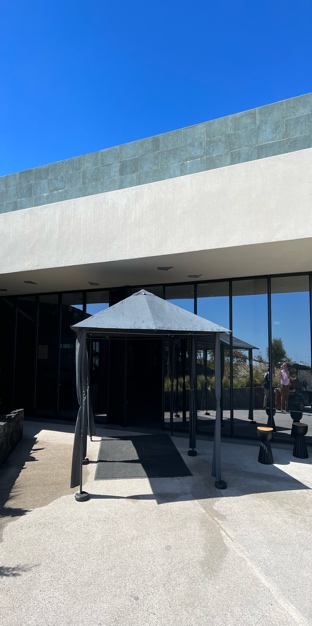 The main pool area was stunning. There was a fire pit area for the early evening drinks. The pool was large but, again, far too cold to swim in. The bar by the pool had an amazing cocktail barman- brought over to the island from a trendy Athens bar. The area definitely had an "Ibiza' vibe to it- cool tunes, soft drapes and furnishings. As it was the hotel's first week of opening, there were not many guests, but I doubt the area would get overly crowded when full due to the size and seating options.
Breakfast was taken in the restaurant next to the pool. The buffet was not huge- concentrating on an a la carteè offer. What we got, though, was of a high standard, and the view again was to die for!
As the hotel is situated away from Fira town, it is far more peaceful. The hotel has a contract with a local taxi firm, ensuring that taxis are available at all times. The islands are notorious for not having public transport or enough taxis to go around. We found this to be a great benefit.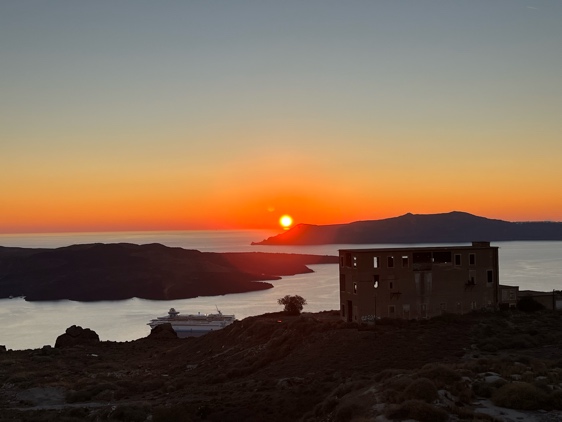 When we did go to Oia to watch the obligatory sunset, the fare was £40n return- which for the island is very reasonable. The journey from the hotel up to Fira town is up the very steep sides of the caldera- doable .. but in the heat of summer, not advised. Instead, we went into town and walked back- a 45-minute downhill stroll.
We did not eat in the hotel restaurant- instead, we took the public footpath through the vineyards by the side of the hotel into the village of Vourvoulos. The restaurant to eat at there is called "Rozaia's". A traditional Greek taverna accompanied by dogs and cats with amazing Greek food.
As this was the first week of opening (again a 'soft opening'), we paid £130 per night- another fantastic find!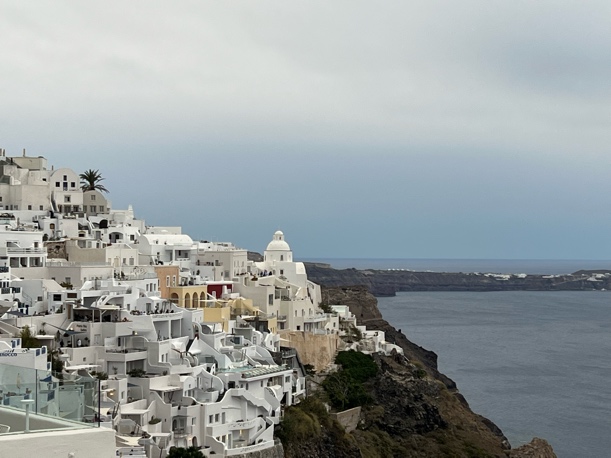 So my caveats, apologies and excuses….. I wrote this nearly a year after visiting. Both Santorini Magma & Zoetry Mallorca hotels now charge far more than what we paid, and in some respects, the service level will have improved considerably. But I wrote these words with the intention of showing that using 'Turning left for less' does lead you to discover new hotel openings such as Santorini Magma & Zoetry Mallorca hotels at huge savings. We certainly enjoyed and still do talk about our stays there… I just wonder what they are like now- over to you!
PS- I do not wear speedos or 'bomb'!
It's worth noting that you can book the Zoetry as a British Airways holiday. The sale is still on.
Like our Santorini Magma & Zoetry Mallorca review? You can read more hotel reviews here.