A review of Jet Blue Mint Suite. This is the return journey of my trip, which saw me fly the larger Mint Studio on the way out, which costs about £237 more. Without the upgraded seat, the return cost was around £1250 in business class, including luggage.
Check-in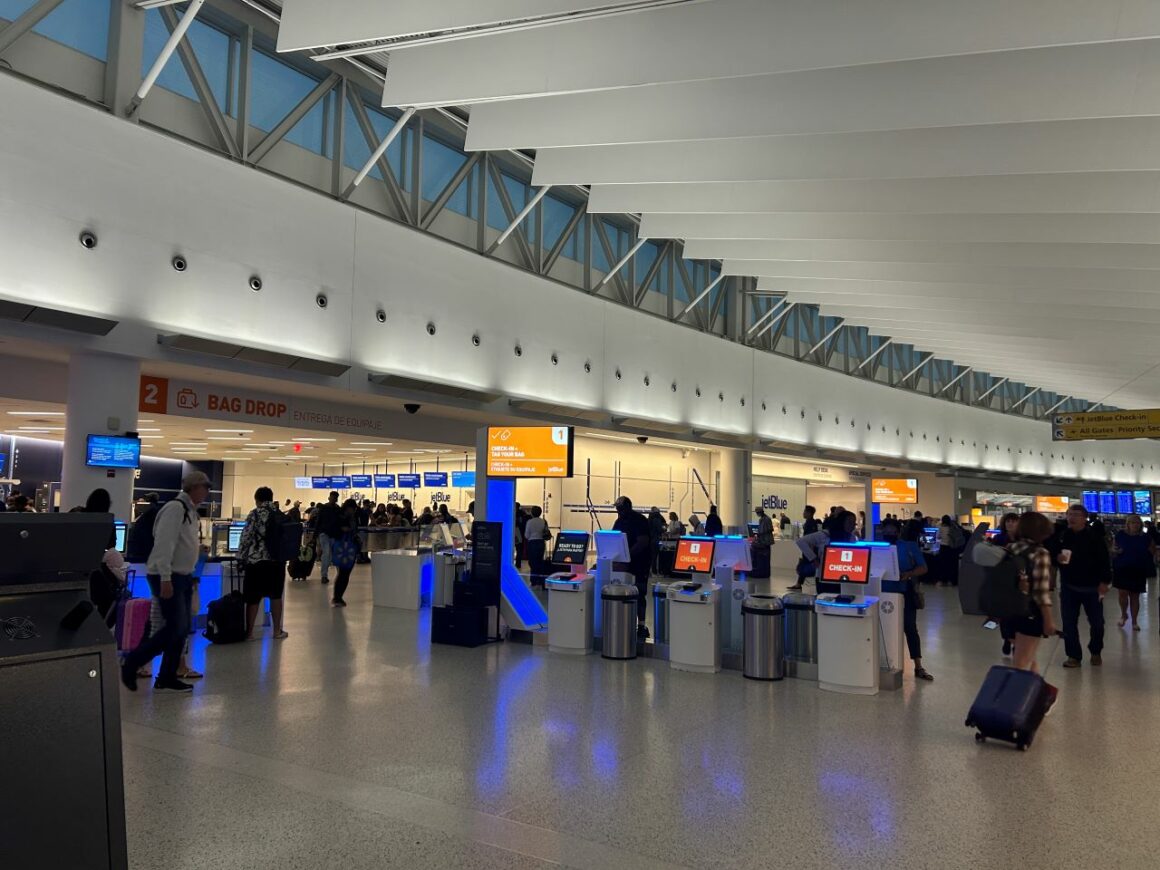 Jet Blue fly from Terminal 5 at JFK, which is undergoing a few building works, so make sure you check about pick-up and drop-off areas in advance. I was dropped off right outside by my usual car service in NYC, Dial 7.
I had decided to take the day flight, which leaves at 8.15am as I find it allows you to recover much quicker. You arrive at around 8.45pm so by the time you get home, you go to sleep at a normal UK time since you got up almost on UK time to make the flight!
I found the app useful as it would update on things like whether your luggage had been loaded onto the aircraft. It also gave gate information and the time the gate closed.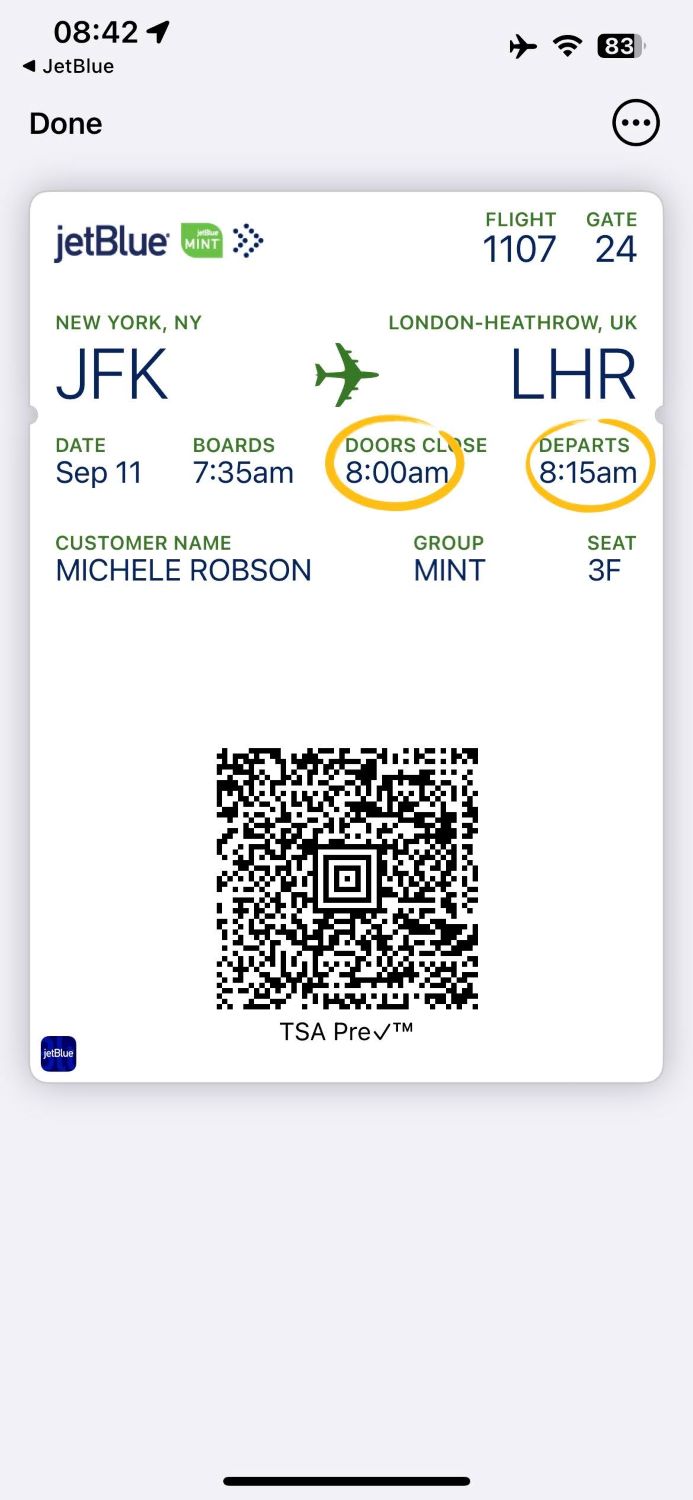 There are two separate Mint check-in areas, although they are not always both open. These are small rooms along the front wall of the terminal. They add an air of exclusivity, which is needed as JetBlue is fundamentally a low-cost airline outside business class. It feels more like walking into a shop than a check-in, and you don't need to lift your bag onto a scale either.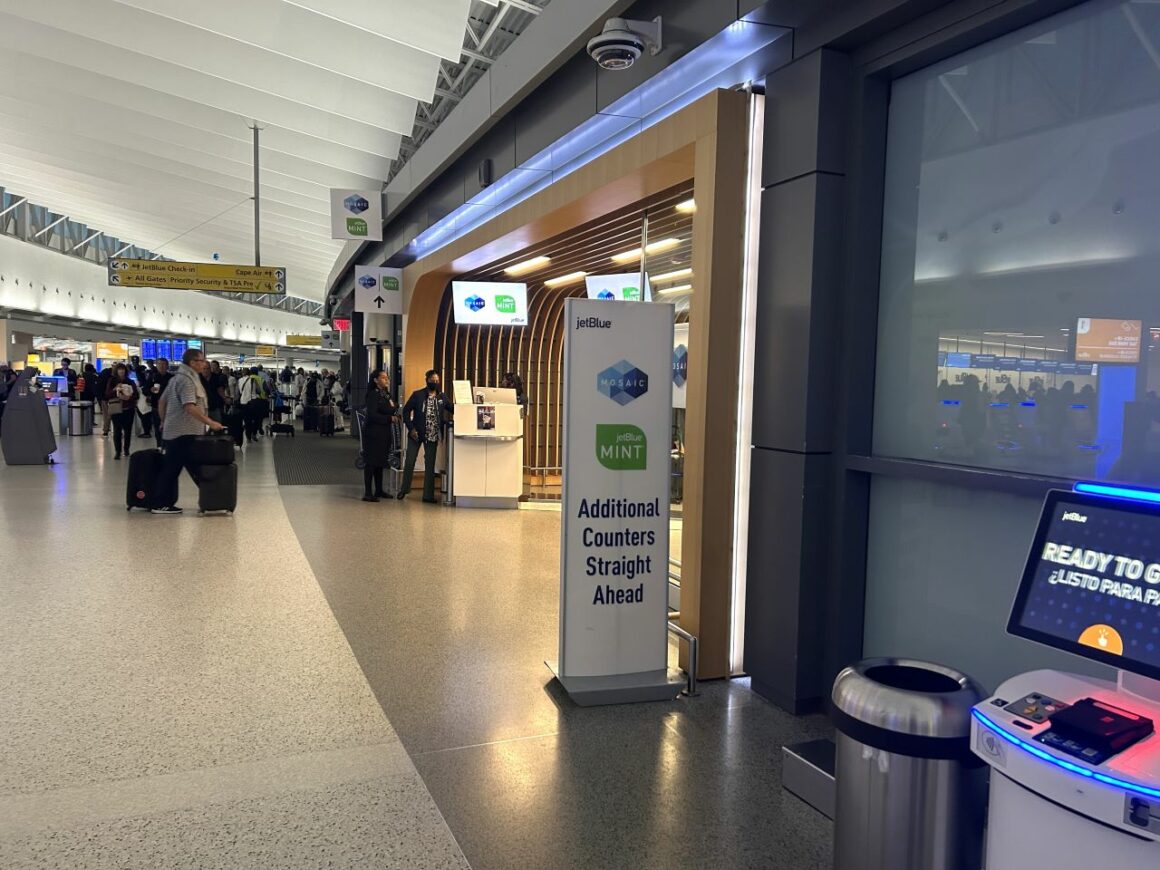 The check-in staff were friendly and pointed out where my security line was. You get Priority security with Jet Blue, but I have TSA Pre-check (which means you leave everything in your bag and your shoes and coat on). Even at peak morning time the queues were pretty small.
The terminal
The downside is that although it is a modern terminal, Jet Blue not only does not give lounge access, it doesn't have any paid lounges in its terminal either. The terminal is modern, but felt very busy when I was there. My advice is to keep walking past the long queues in the central food locations and walk towards the gates where you will find some full service bars and restaurants which are much more pleasant.
Boarding Jet Blue Mint Suite A321LR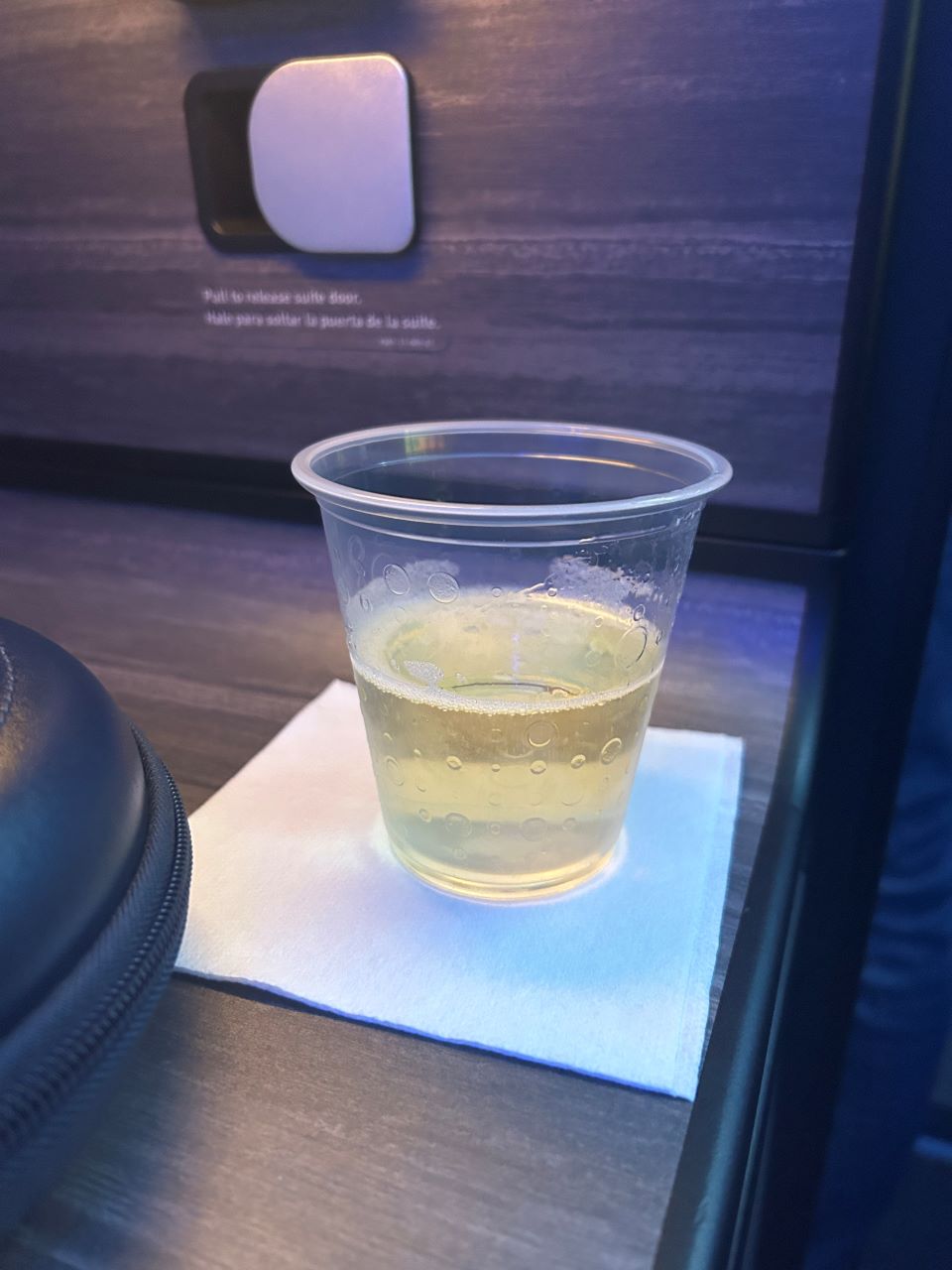 Boarding happened pretty much bang on time and started with those in Mint and status holders. There was someone checking passports before you entered the queue, so it was all very efficient.
Once on board, I headed to my seat, where there was a bottle of water and an amenity kit along with the bag of bedding. The amenity kit is very basic.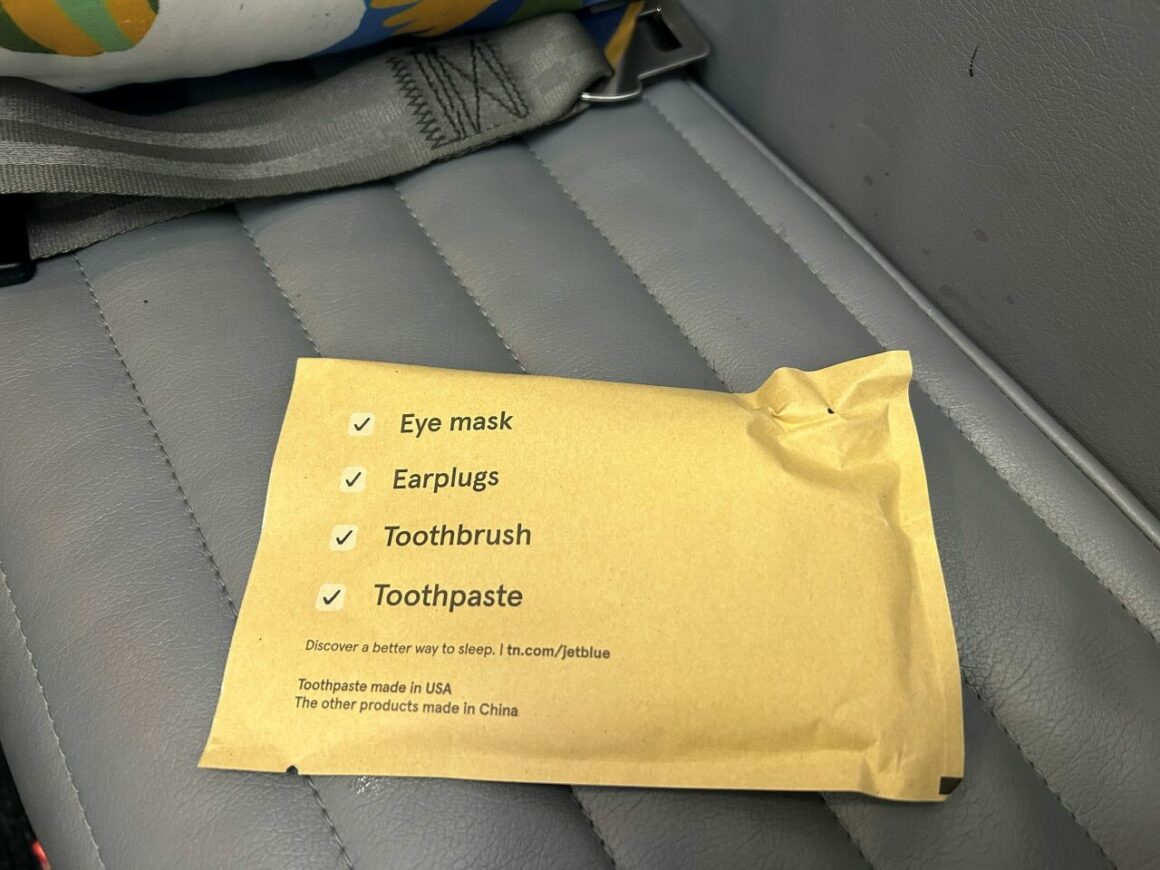 There was also a pair of slippers in a small side storage bin at floor level where you can store your own shoes too. I loved the slippers, which are the best airline slippers I have had. They didn't feel cheap and disposable like most airline first and business slippers. They were super soft and very comfortable.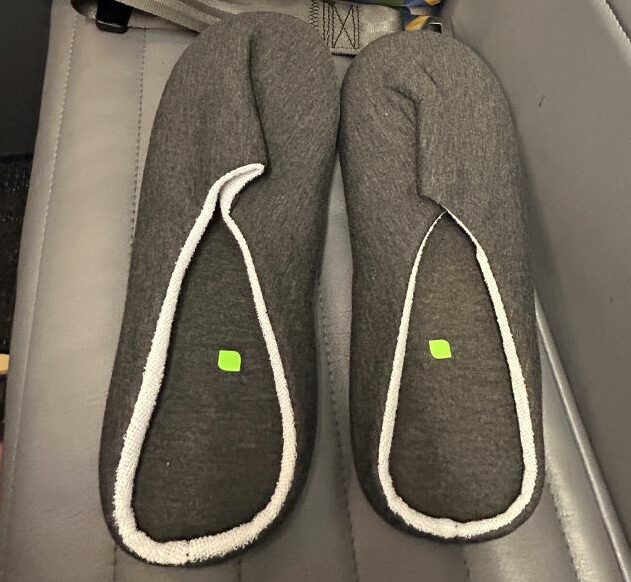 I was offered a welcome drink of mimosa (Bucks fizz), sparkling wine or water. Again, it was in a plastic cup.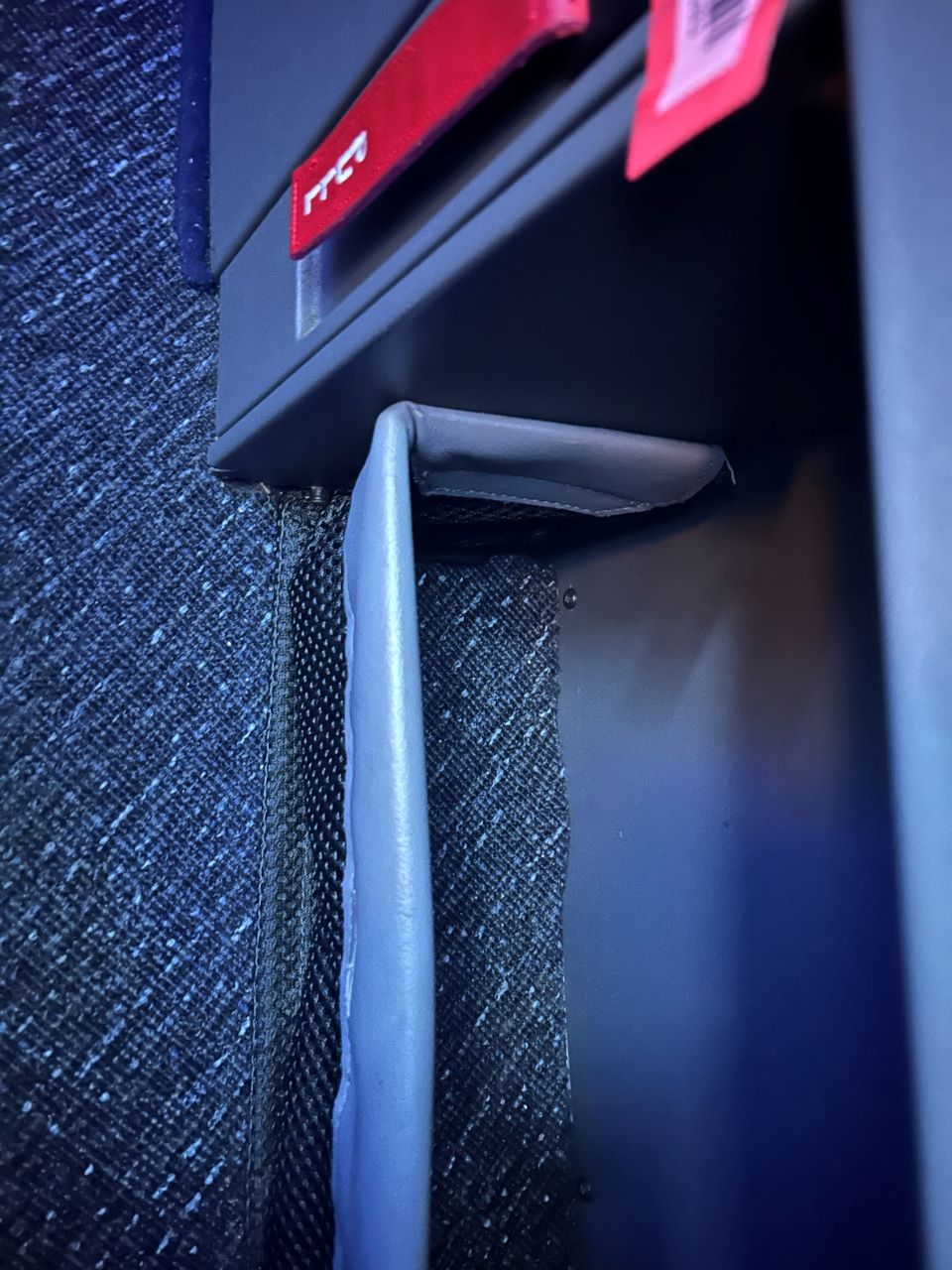 The cabin crew member came by to introduce himself and check whether I had flown in the suite before. If you haven't, they will show you how to use everything. I was reminded that I needed to order my meal via the entertainment system (but not drinks).
Jet Blue Mint Suite A321LR Seat and Cabin
I chose seat 3F this time, although, in future, I would probably go for 3A as being right-handed, I would rather the console be on my right. I always chose a row near the front but a few rows away from any toilets or the galley.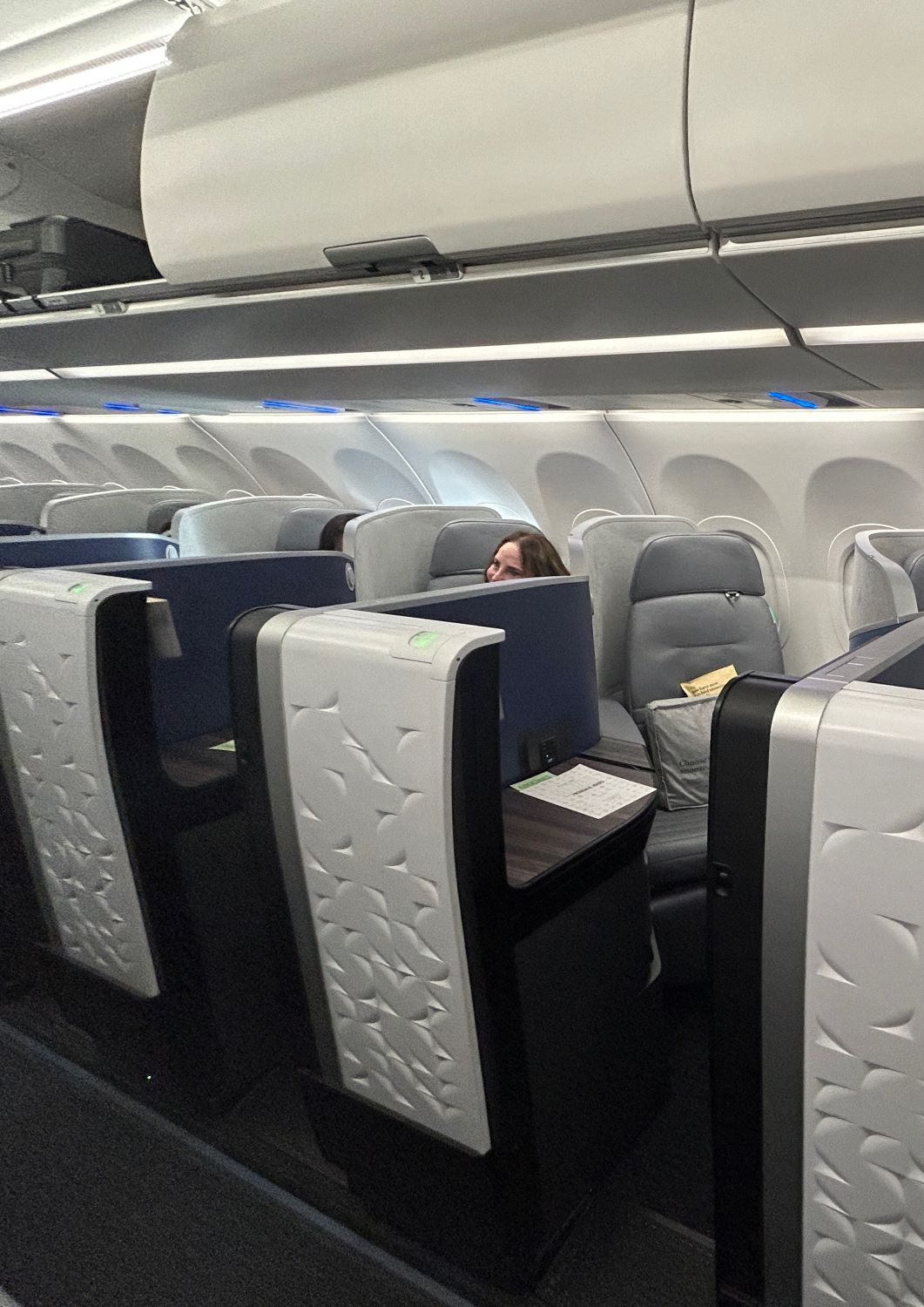 Being near the front means that you get served earlier, and in this case, it's easier to nip into the toilet when you see it is free.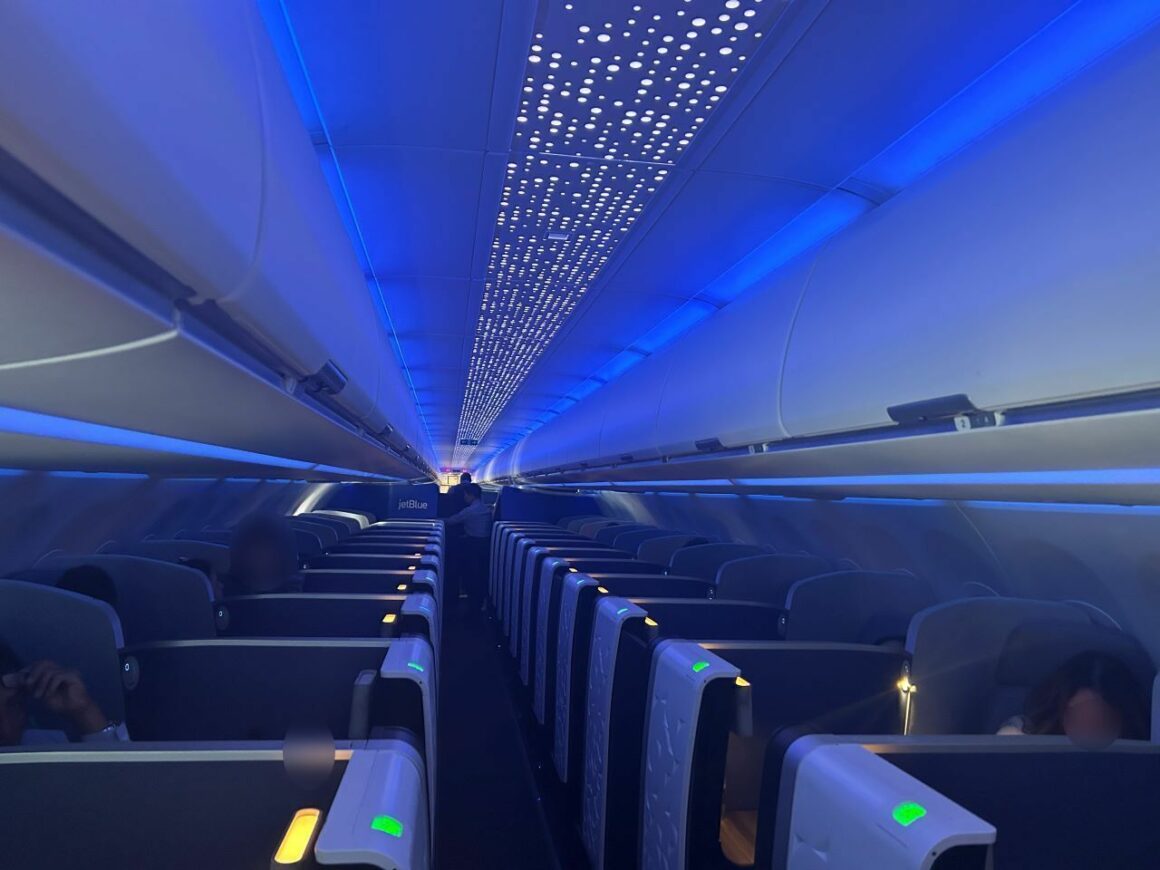 The seat itself is almost the same as the Mint Studio but without the side sofa and fold-out flaps.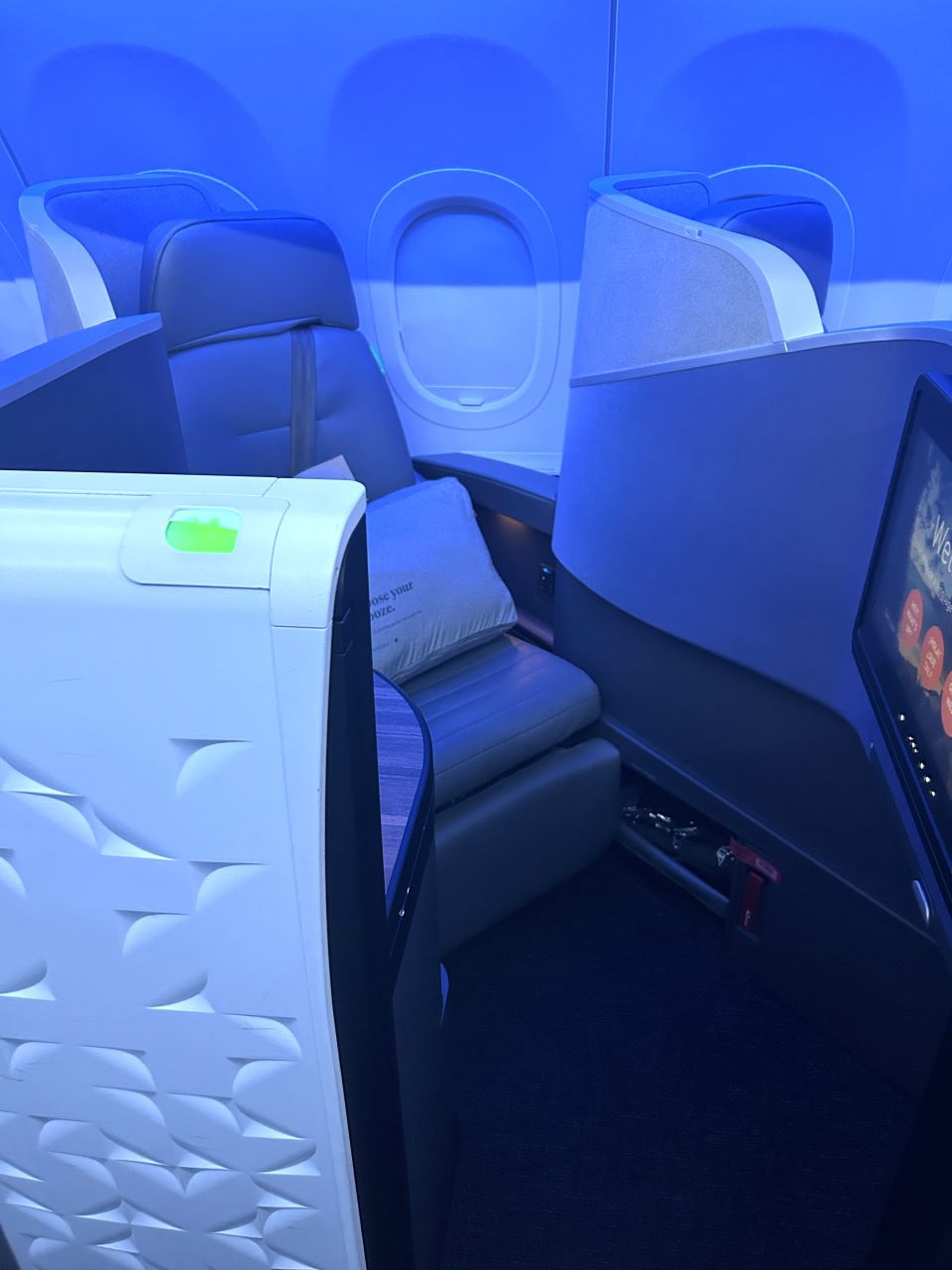 There are also far fewer storage places. There is still a small compartment for a water bottle but no storage next to it, and there's no cupboard.
Like the Studio there is also a very handy drawer under the TV large enough for a small to medium laptop and glasses/phone.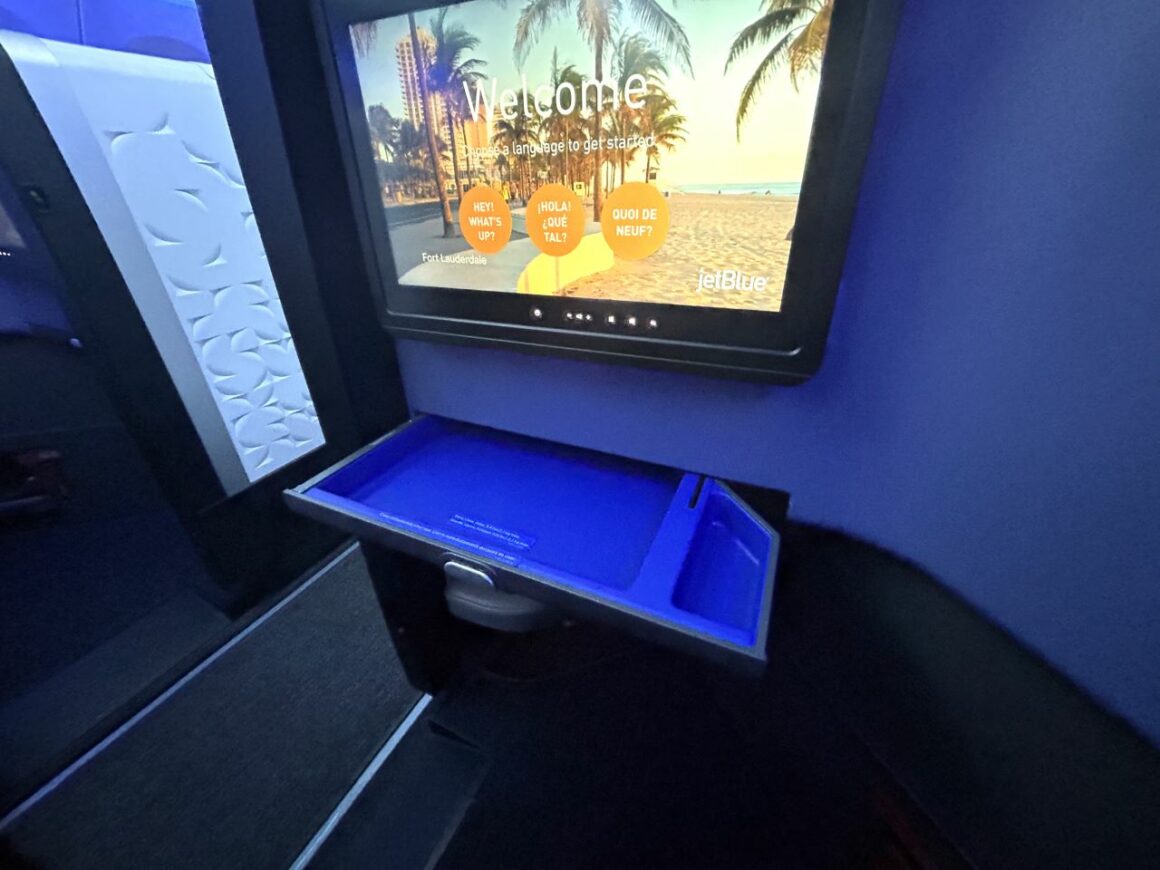 There is a hook for your headphones and storage space under the footstool, but prior to take off, that's it. Once you have taken off, there is plenty of room to put stuff on the side console.
The table is large and sturdy, so easy to work on. The only thing I don't like is that it only swivels back towards its storage area. So if you have moved your seat forward, you either have to move the seat back or have the table at an angle to you, which is annoying if you are shorter and want to reach the footrest while you are working.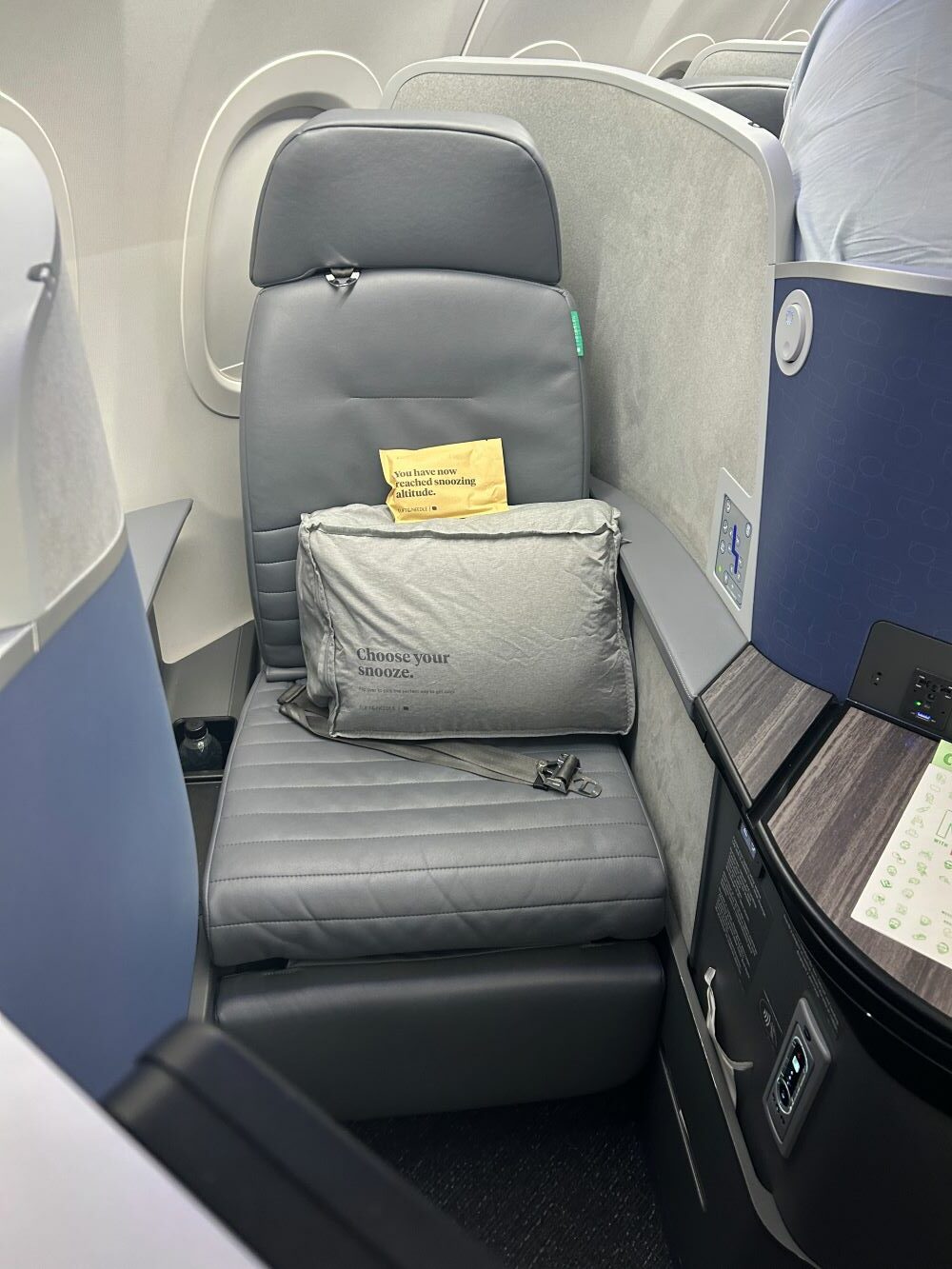 The seat is extremely comfortable for sitting and sleeping, with each part being able to be adjusted separately, including moving backwards and forwards. This means you should be able to use the footstool even if you are shorter. There is a footrest, and the memory foam type seat is excellent for sleeping on without needing a mattress topper. There is definitely less room than the studio, but I much prefer the design of this seat compared to many others. That's because it feels very open and not contained when you are lying down. The part where your feet go is open and wide.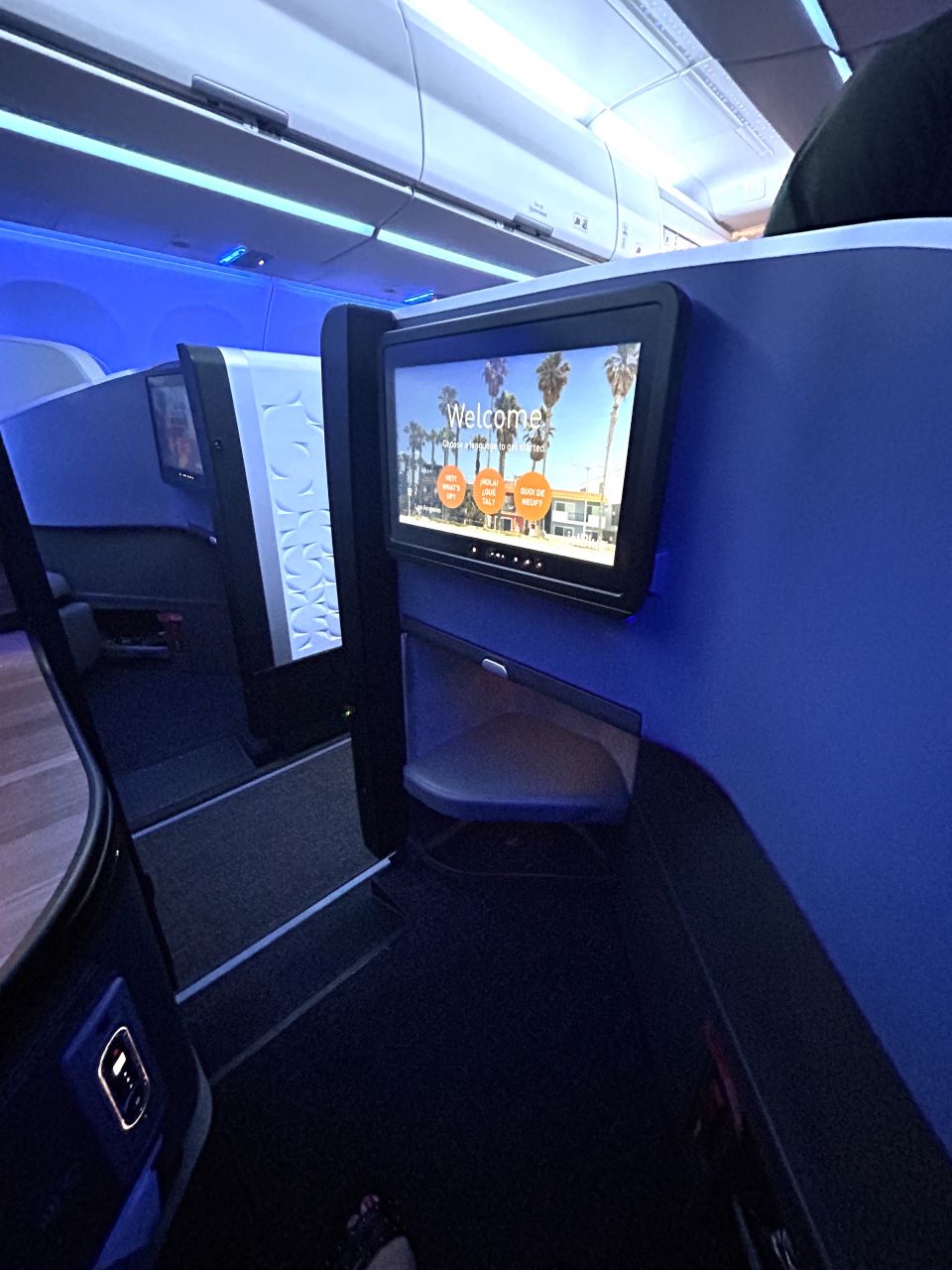 If you are a side sleeper, I would recommend the F seats if you sleep on your right and the A if you sleep on your left. That way, you won't be up against the wall of the suite. I felt like I had a lot of room at shoulder height and in the knee area, which I often find an issue in some other designs.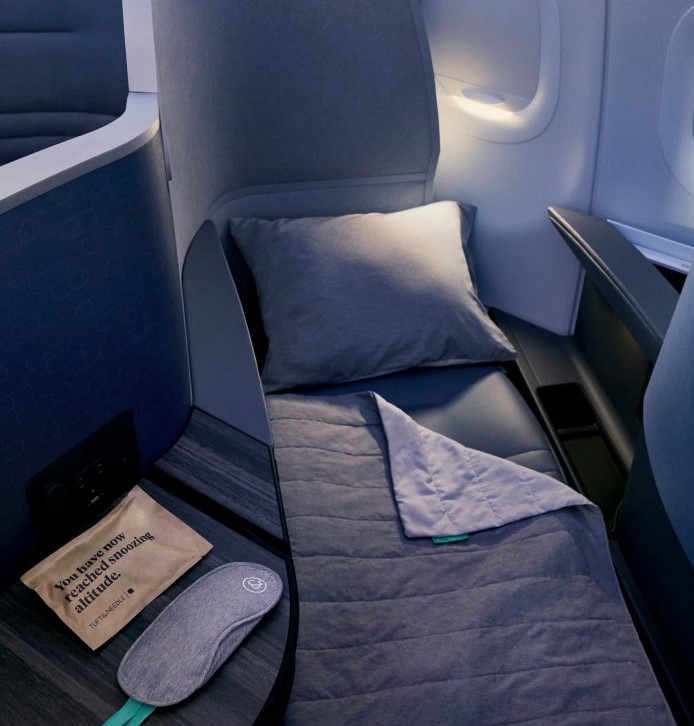 The bedding feels premium with a memory foam pillow, which gives support while being soft and also a lightweight quilt.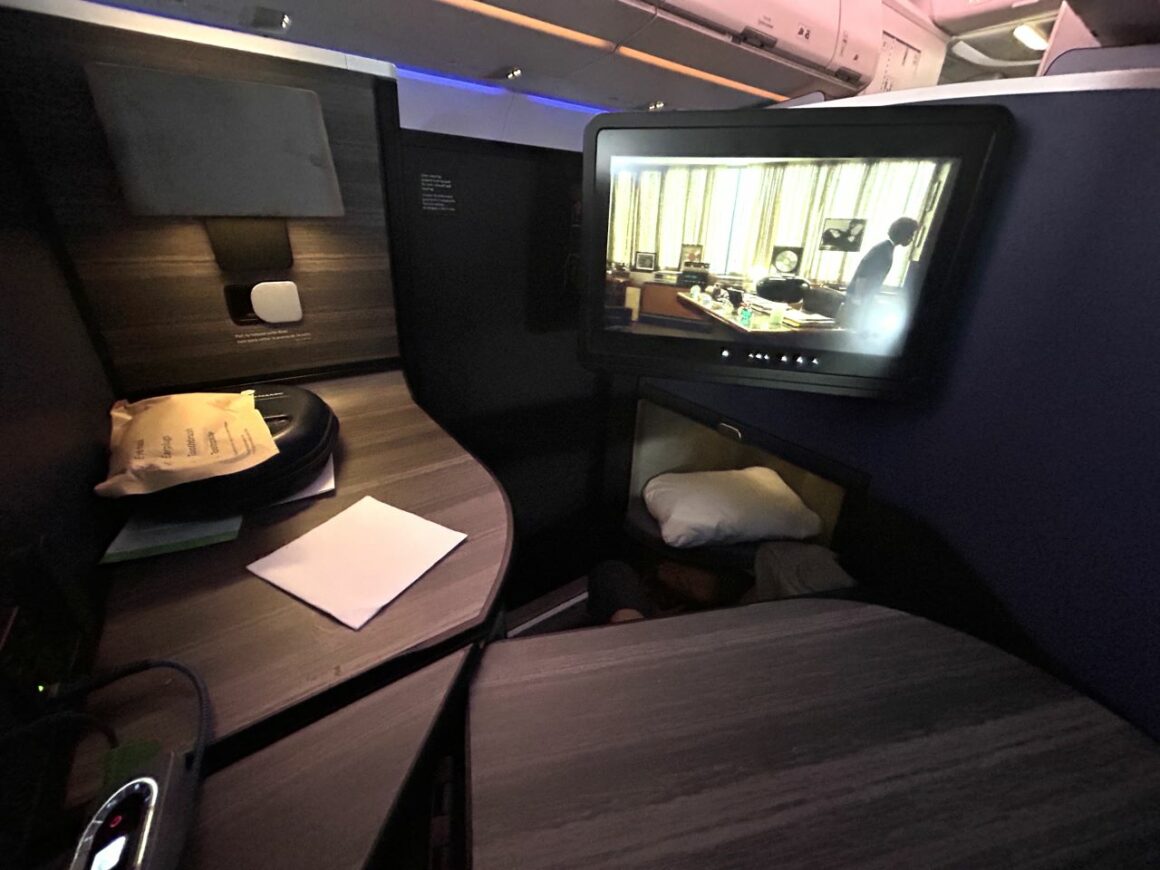 I had been concerned when looking at pictures that the suite may feel a little small or claustrophobic. However, it was a bit like a tardis, and when you were inside, it felt very spacious even with the door closed. When the door closed, it automatically turns on the Do Not Disturb light, which is a great feature. You can turn it off manually.
Jet Blue Mint Suite A321LR Food and drink
The crew were really good on the way out, but I think the flight attendant serving me was even better on this flight. He was professional, attentive and also fun!
I used the entertainment system to place my food order, which I liked as it showed you pictures of each dish. The crew then came round to take the drink orders for each meal and check if you wanted to be woken for either meal in case you were asleep which is a nice touch.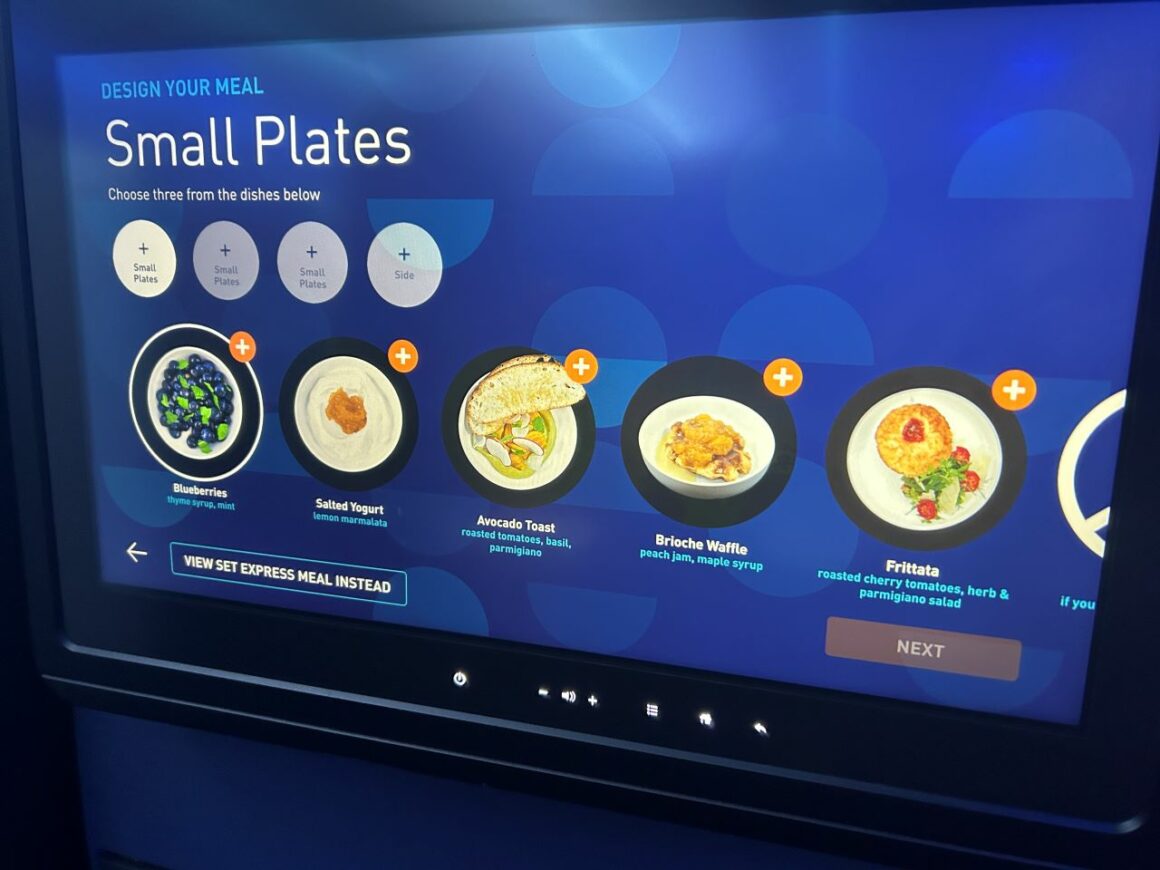 Here is the selection for breakfast, which I thought was lovely and very different from most airline's breakfast menu.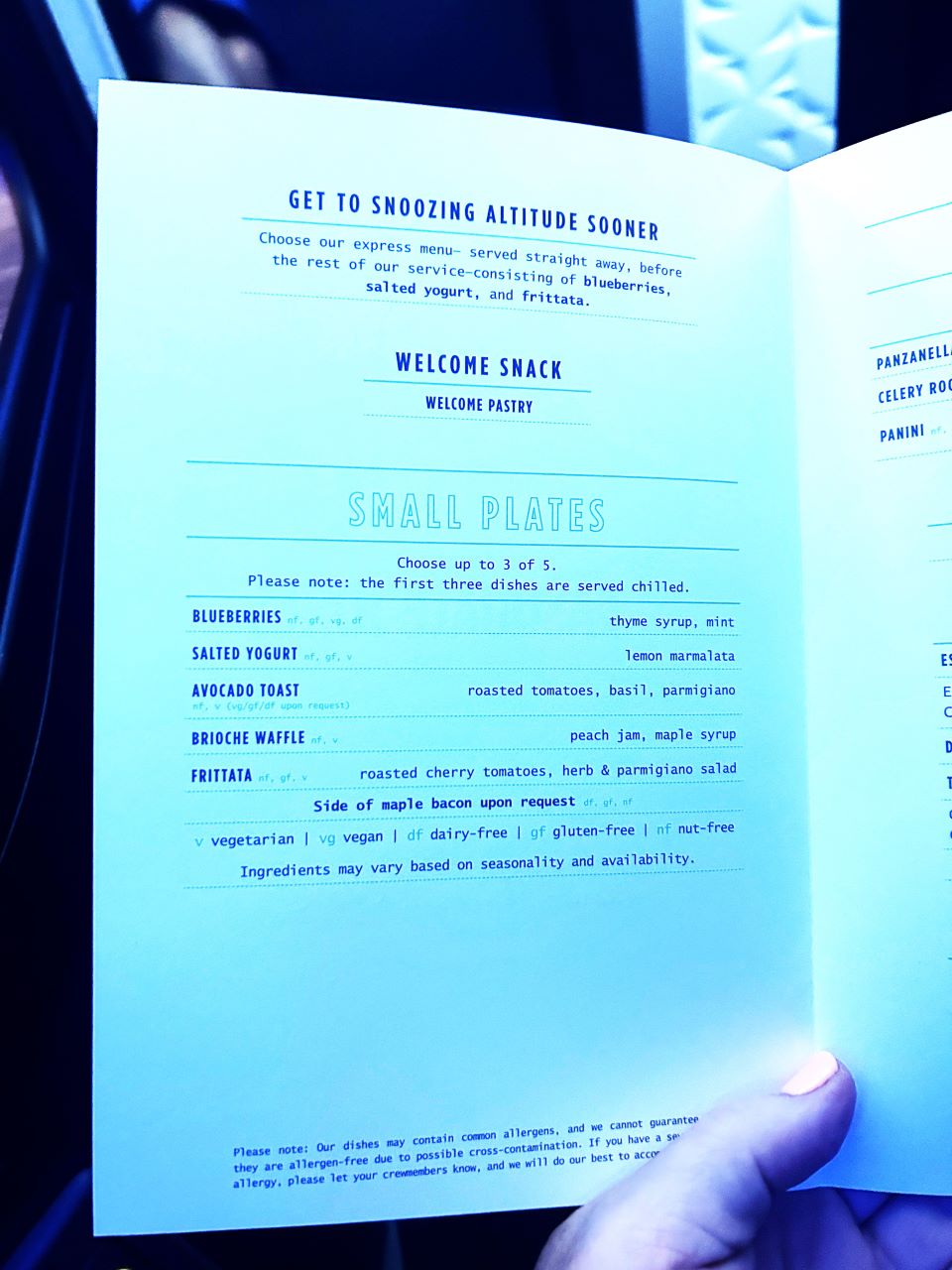 The service started with a warm croissant, which was nice, but it wasn't served with anything so it was a bit dry.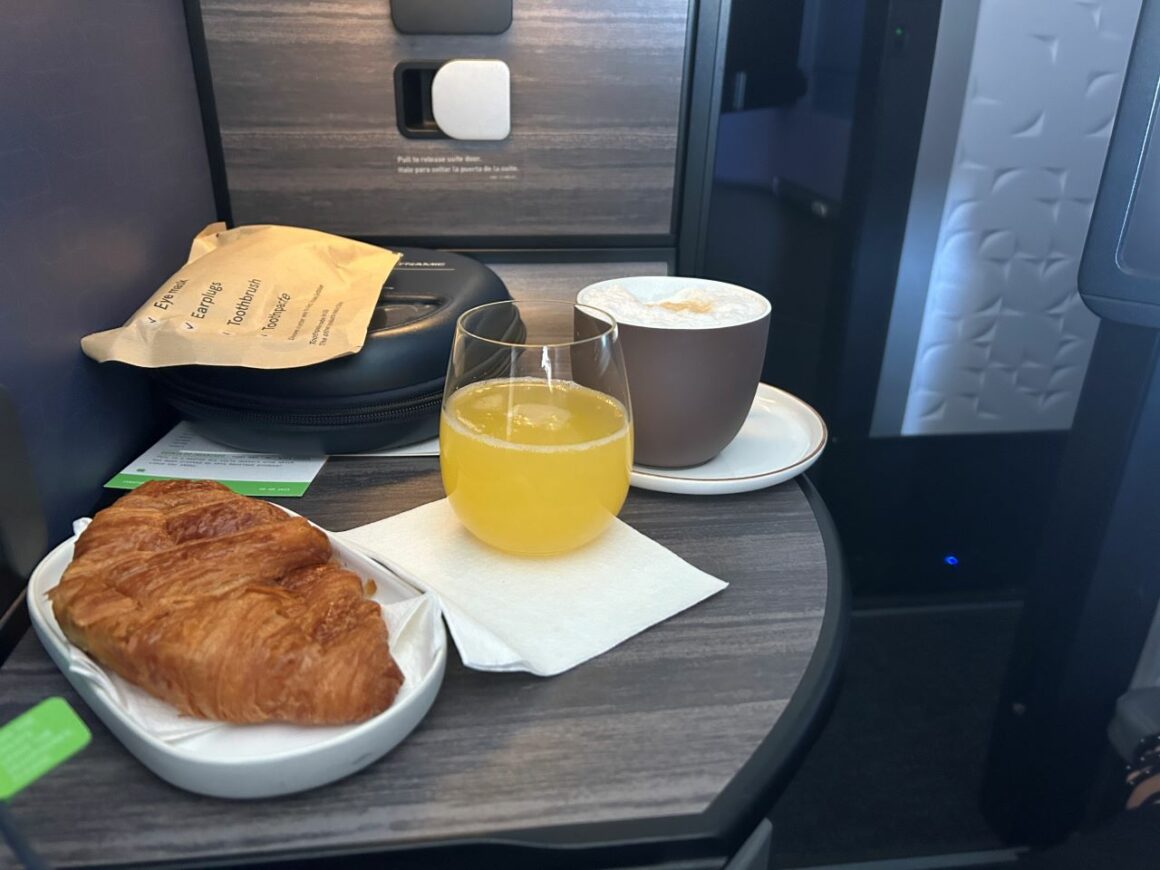 I went for the avocado toast, which was more like avocado with crostini, but it was delicious nonetheless. I also had the blueberries which were fresh and in a generous portion. The brioche waffle could have been a little lighter, but it was tasty, and the peach jam didn't taste artificial, which some can. It would have been nice to have something like yoghurt or creme fraiche with it to take away a little of the sweetness. I also ordered the maple bacon on the side, which was not crispy like American bacon but had a lovely hint of sweetness to it.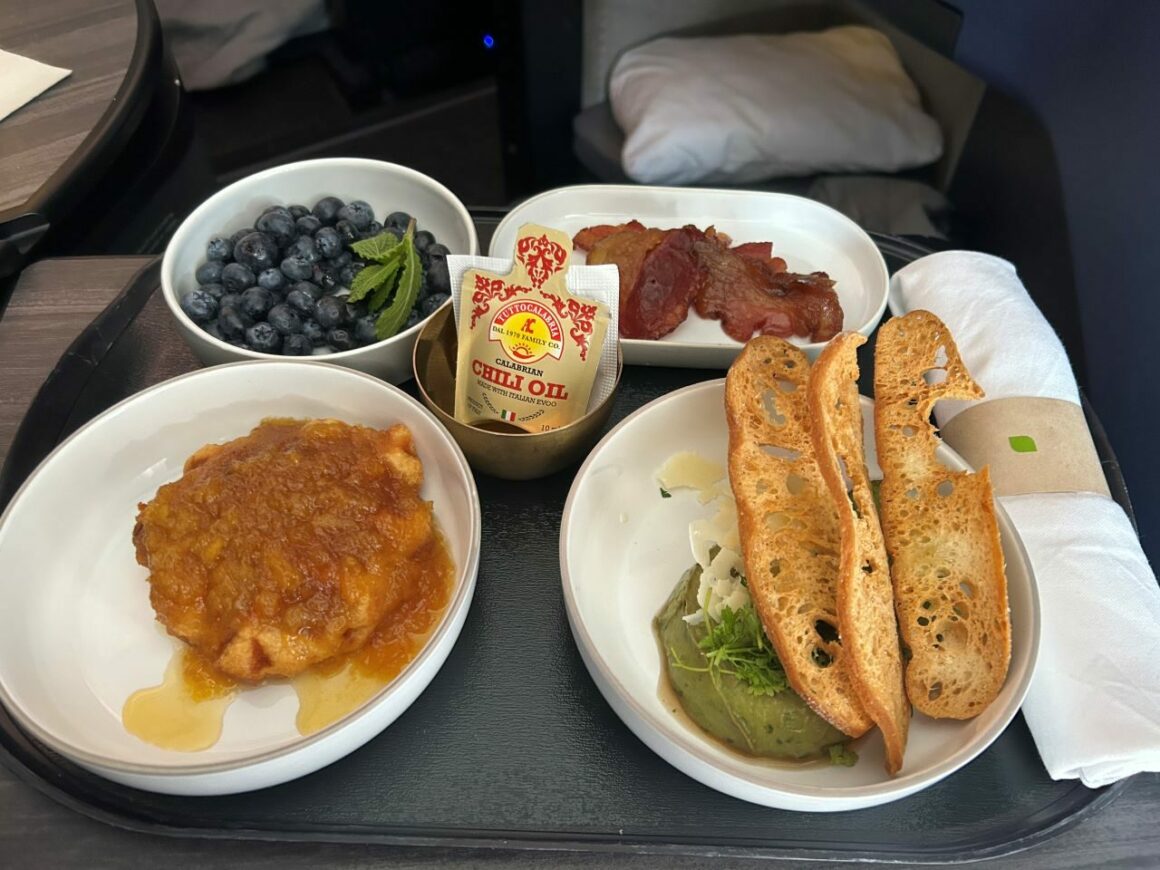 I had a cappuccino with my breakfast, along with a mimosa. You can customise the cappuccino with different milks including oat milk, or by adding an extra shot. It was pretty good and comes in a nice large mug. The drinks flowed throughout the flight, and it was one of the best flights in terms of top-ups and service in business class. They also came through with a snack basket part was through, or you could wander up to the galley.
Here are the drinks list and wine list: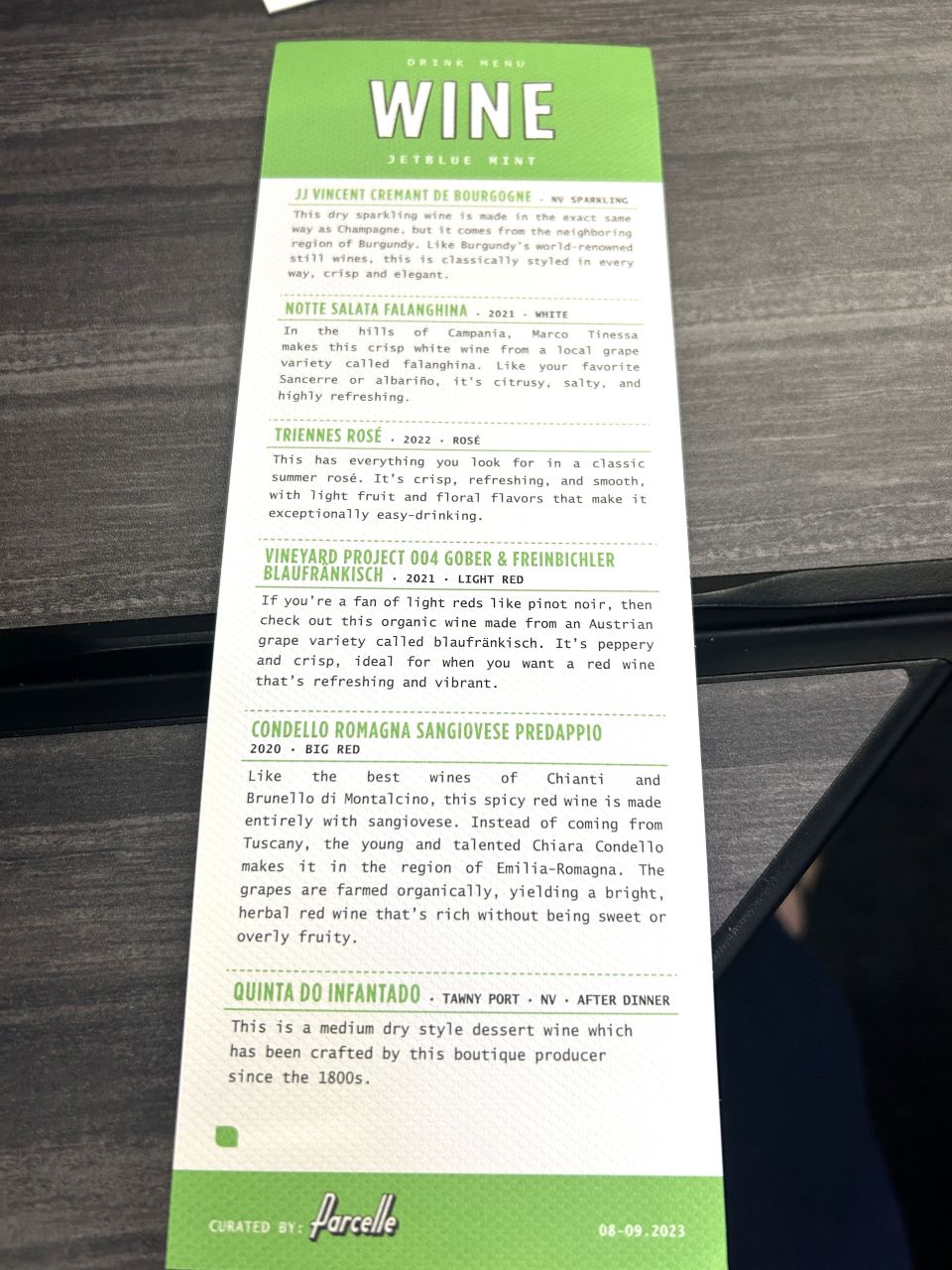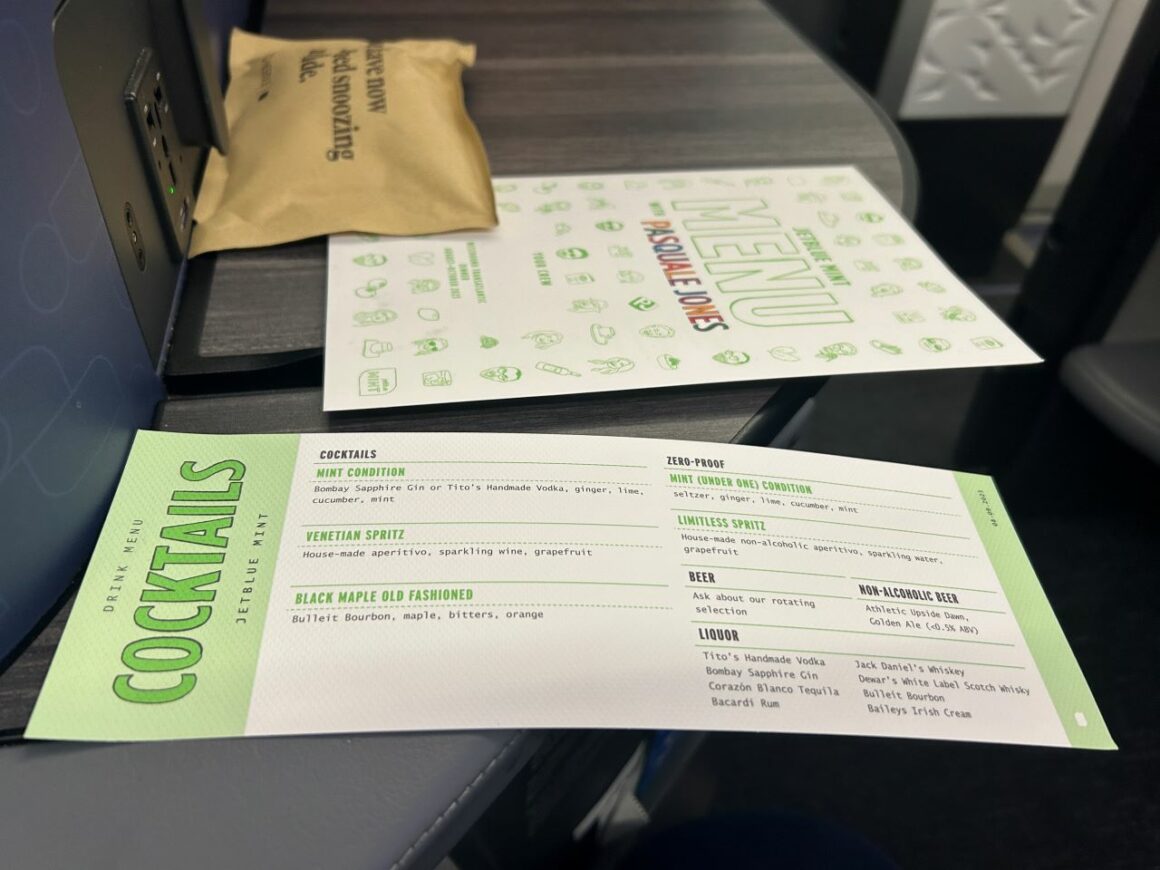 For the second meal service, which was served around an hour and a half from landing, there was a choice of two dishes out of three. They also handed out a hot towel before the meal.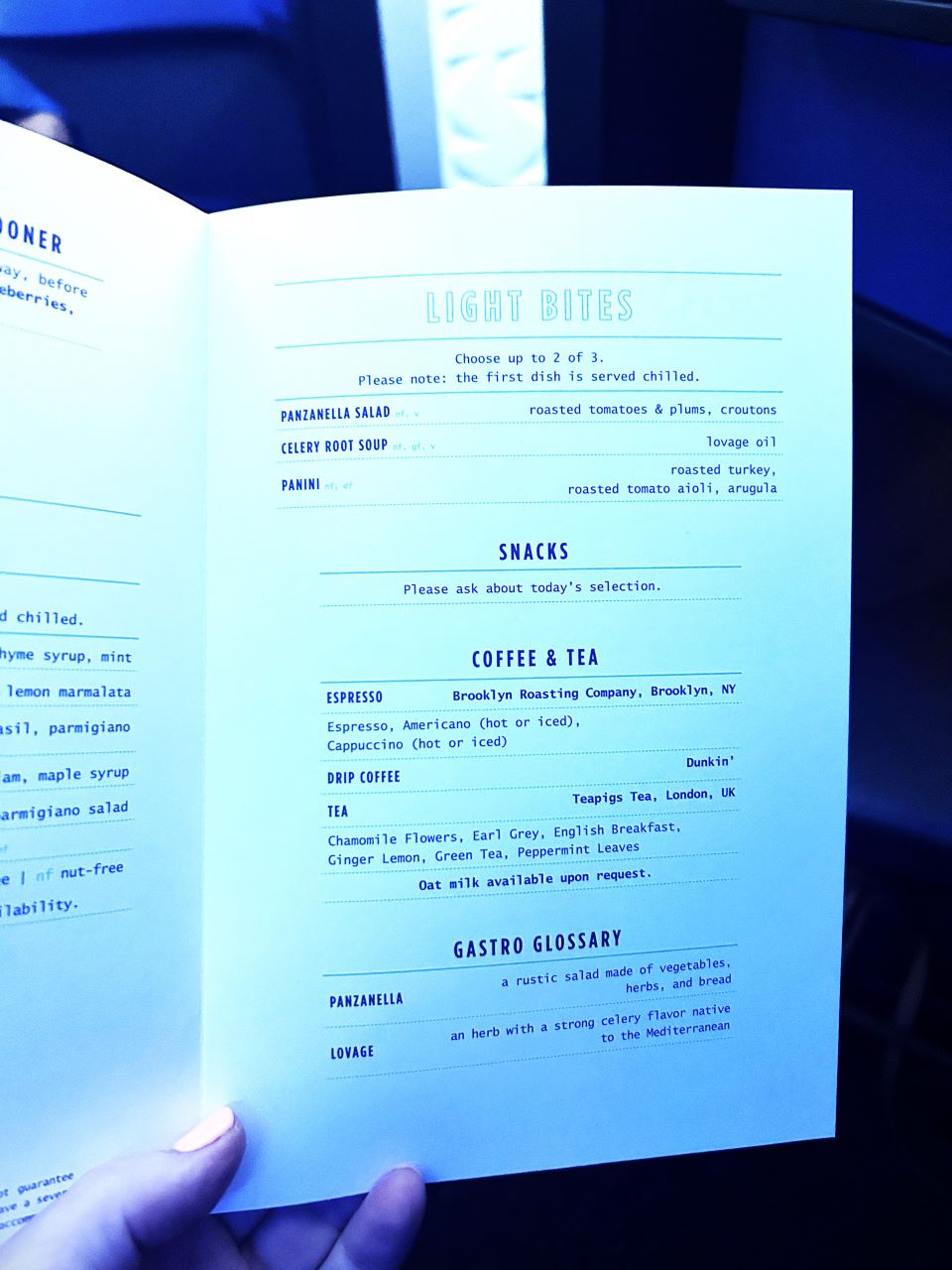 I went for the salad and the panini. I did wonder how successful a panini would be on a plane, but this was indistinguishable from one on the ground, and it was very tasty. It wasn't a true panzanella salad, as the croutons were very hard (they should absorb some of the dressing and soften slightly but it was still tasty.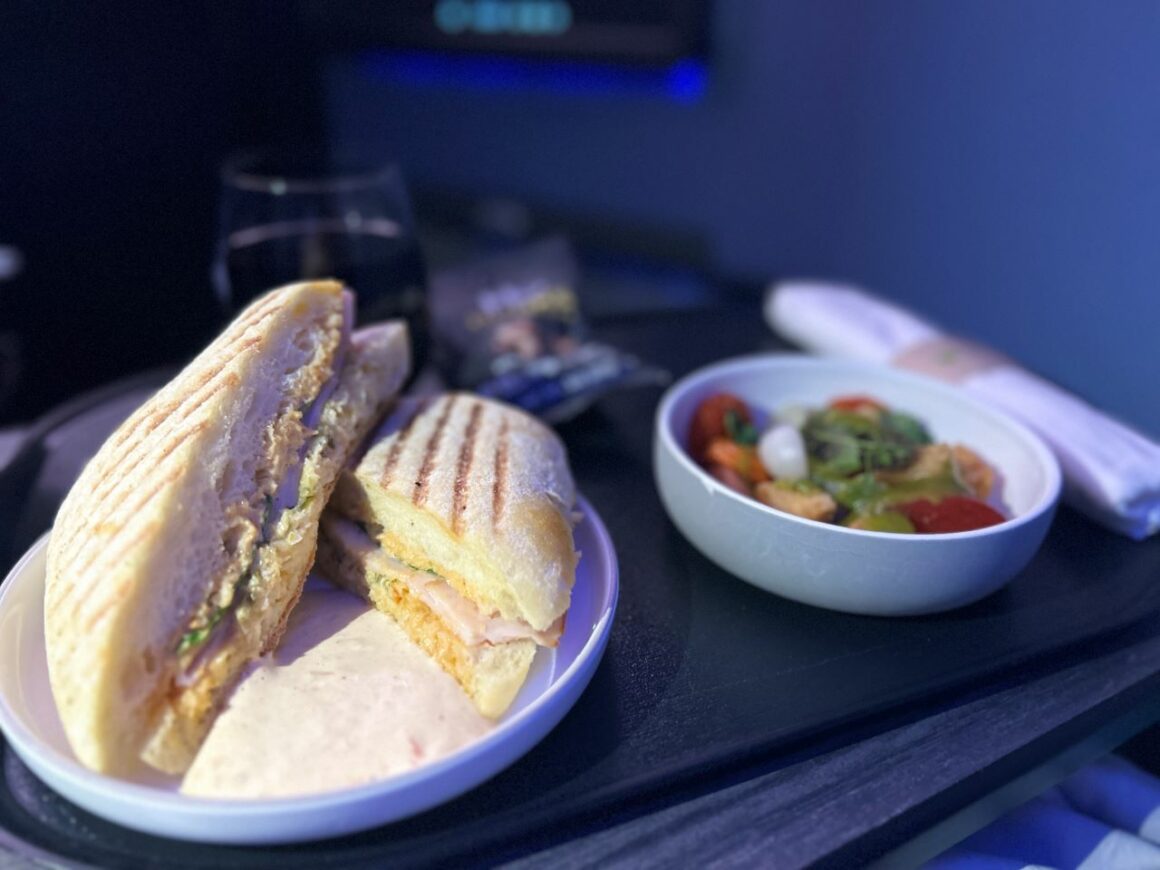 The flight attendant gave me a huge glass of the Sangiovese (he said he had a "heavy hand!) and offered two more top-ups before landing.
Jet Blue Mint Suite Entertainment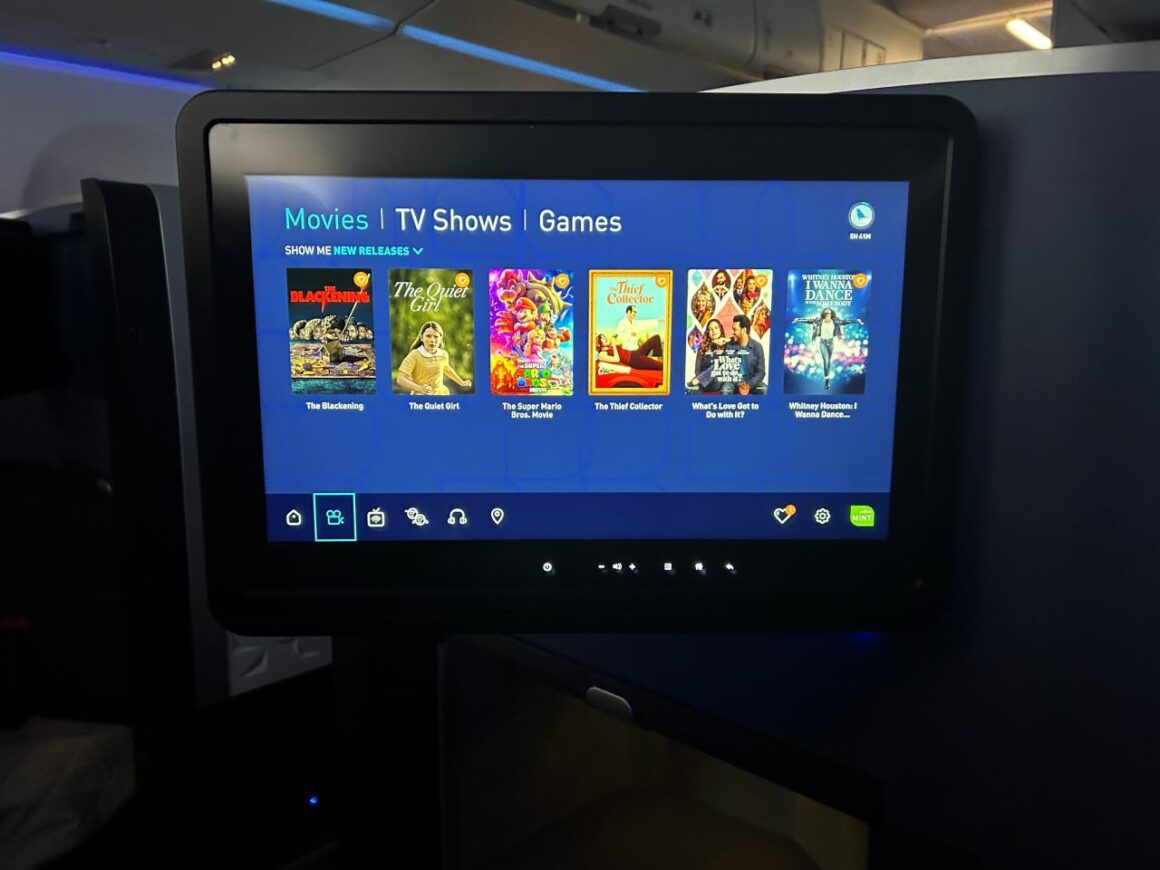 Fortunately, the entertainment was fully working this time, and I watched a film. There was a lot of choice, although it felt like there could have been more recent films. They did have the Little Mermaid, though.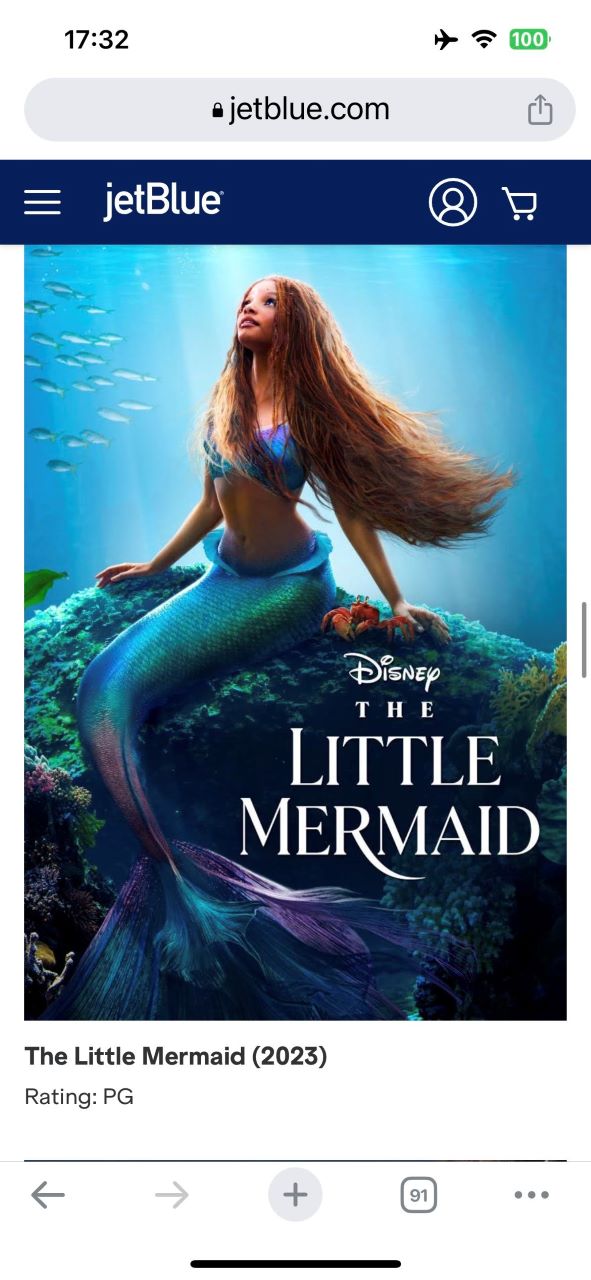 I went for the Whitney Houston biopic "I Wanna Dance with Somebody" which was excellent, although very sad. There were also plenty of TV programs, but unsurprisingly most of them were US shows I had not heard of. The screen was large and had great definition. I also finished a Rom-Com from a previous flight "Something from Tiffanys" which was a little schmaltzy but enjoyable. You can angle the screen towards you, but it is still watchable when stowed, so you can carry on watching until landing.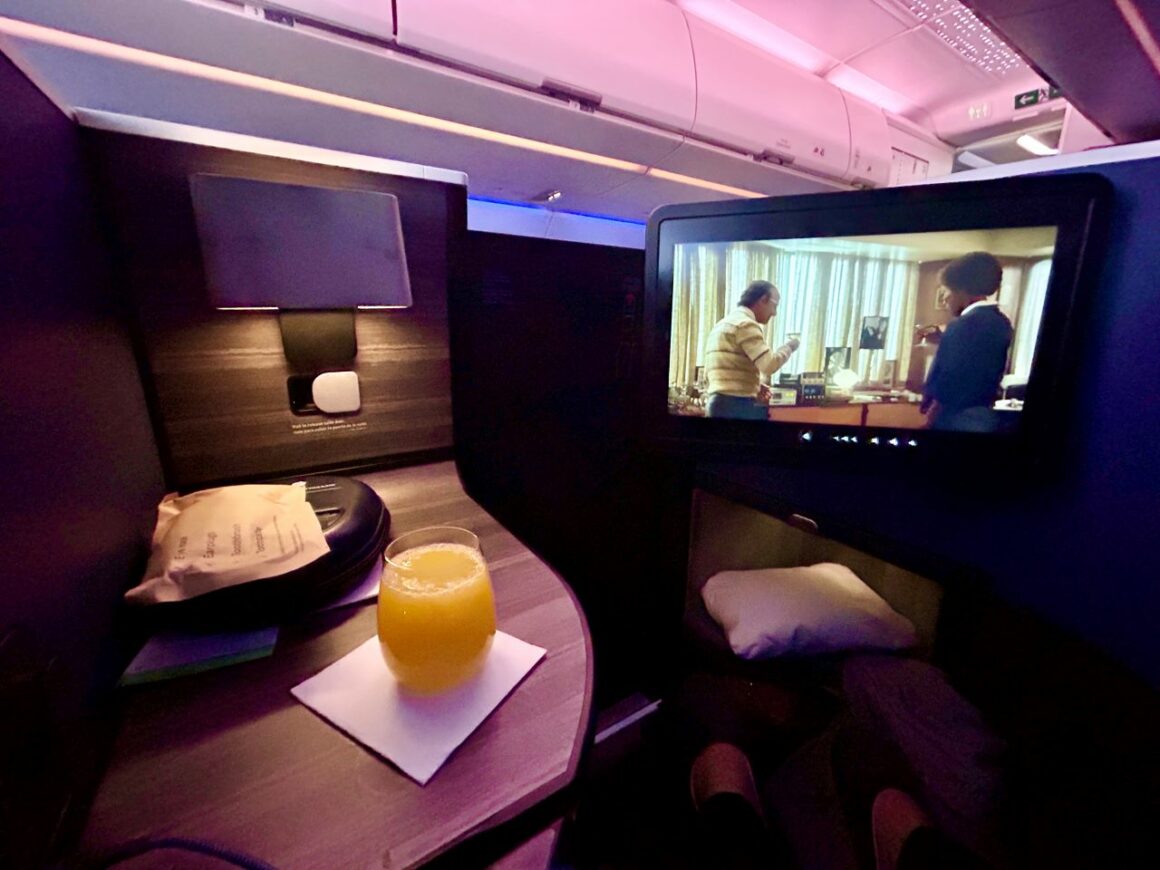 You can use your phone as a remote, which was simple to set up, but I found it easier to use the actual remote rather than my phone as it was quicker to respond and control.
There were two power sockets as well as USB A and C sockets and wireless charging for your phone, which was on a shelf by the window.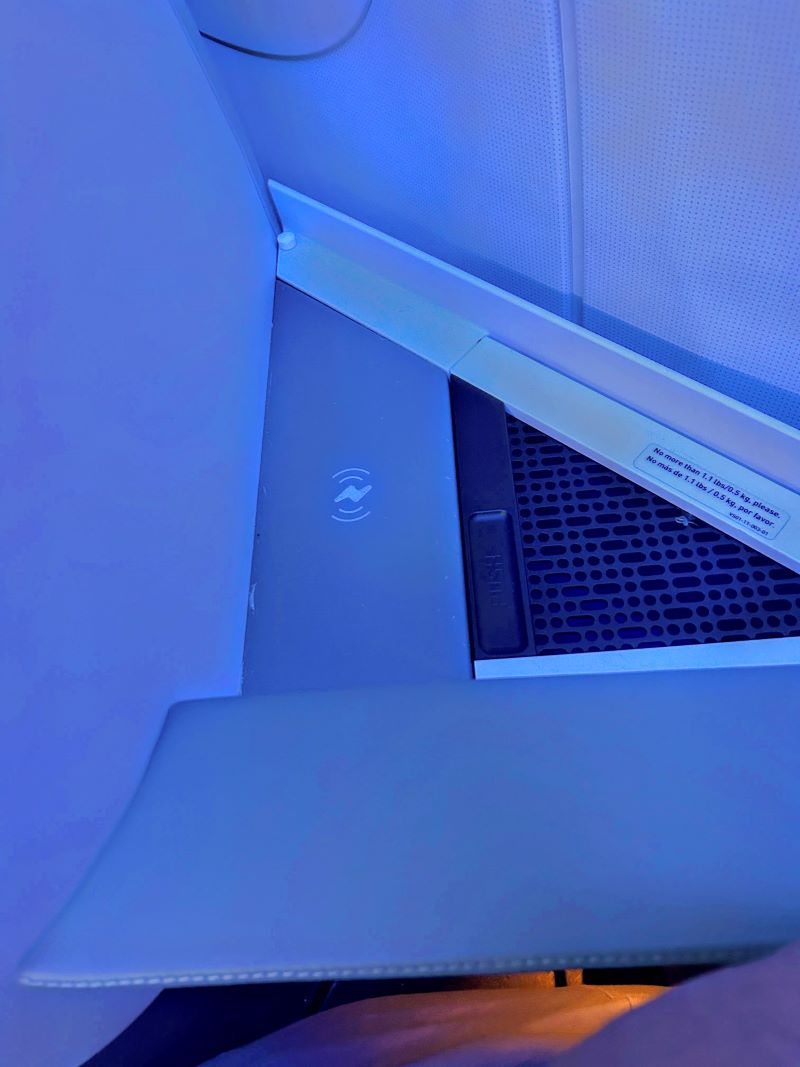 It was well designed so your phone would not slide around or off the shelf.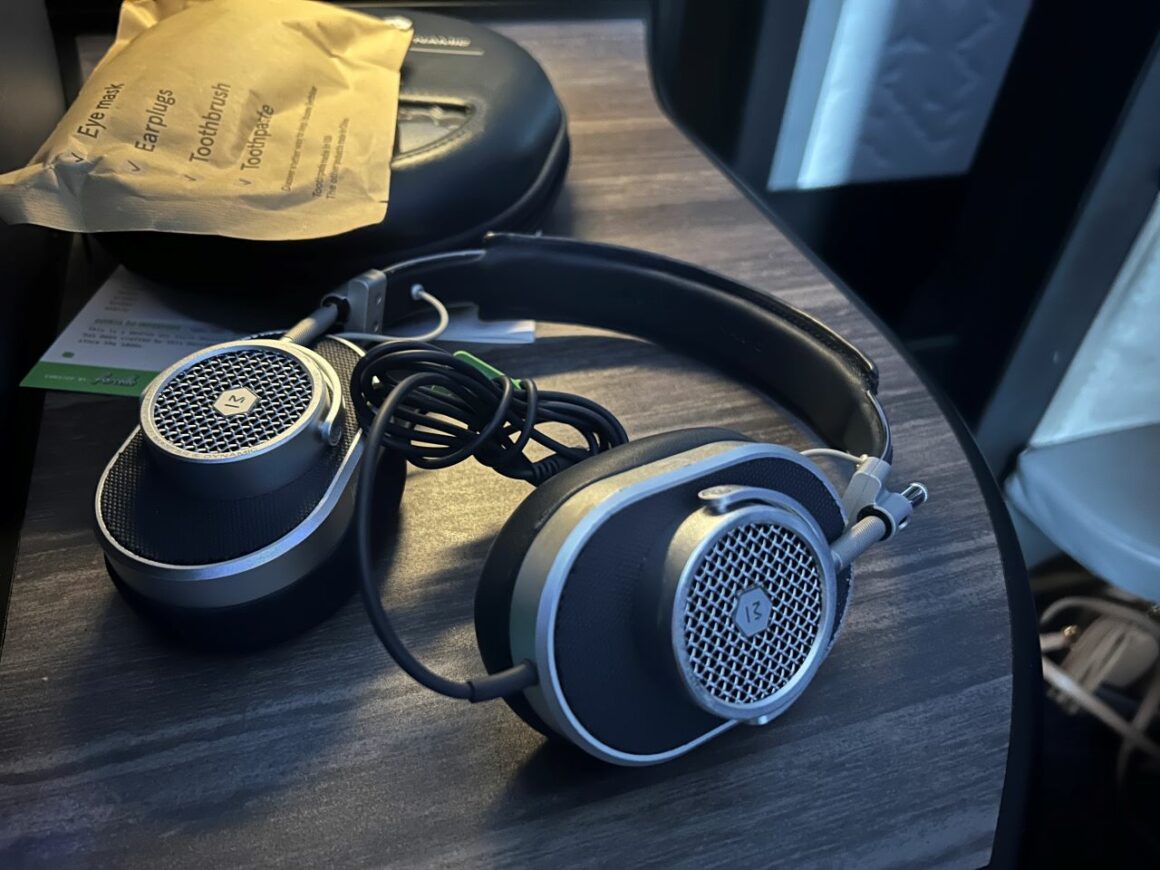 The headphones supplied were large and comfortable with reasonable sound quality, but nowhere near as good as my Bose headphones.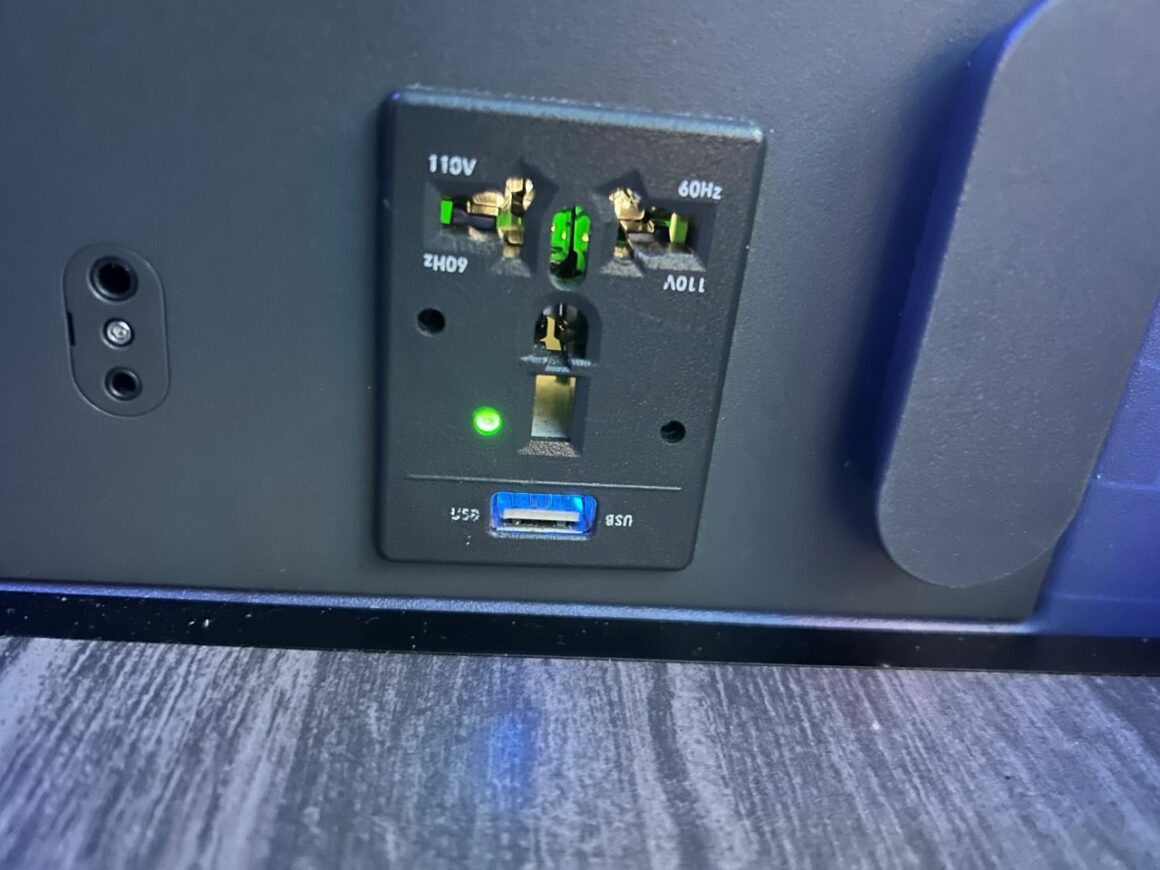 The wi-fi is free for the entire flight, and the speed was OK but not what I would describe as fast. It would certainly be enough for browsing or social media. I did find it was a little flaky at times, but that is the same with every airline, as there are always areas where the coverage isn't great.
Conclusion
I thought that the Jet Blue Mint Suite was very impressive, from the seat to the service. It was so nice to have modern food and cocktails, along with a fun crew. The seat is probably my favourite seat for sleeping in due to the softness of the seat and the amount of room so you don't feel cramped. It is perfect for a side sleeper. I also thought the bed linen and pillow were excellent quality. The terminal was a bit frantic at JFK, but it was fine when leaving from Heathrow was there was a paid lounge.