Today's reader review is from regular contributor Jason flying with LATAM business class Rio de Jainero – São Paulo – London. This is his return leg of the trip. You can read about his surprisingly good outbound flight with AeroMexico here.
LATAM often has some great prices for business class, but now they have left oneworld, is it worth the money?
This was our first time using LATAM and is BA's main competitor on the Sao Paulo to LHR route with a daily night flight departing from Sao Paulo just before midnight and touching down in the UK at 15:00. LATAM uses a 777-300 on this route which until recently had a very uncompetitive business class hard product of an old fashioned 2x3x2 forward facing set up.
Most of their 777-300's have been refitted in the past couple of years with a much more modern 1x2x1 configuration. On flights within Brazil (and the rest of South America on destinations served by narrow-bodied aircraft) LATAM does not offer business class but instead markets 'premium economy'.
Check-in at Rio
Check-in at Rio Galeao Airport check in was swift, my bag was tagged to LHR and boarding passes issued for both sectors. There was no priority access through security but being a solely domestic terminal and without the international restrictions applying to liquids, laptops etc it was very quick and stress-free.
Despite the large number of flights LATAM operates from Rio de Janeiro they have no lounge at the airport which I found surprising. GOL, its main competitor does have a lounge (which is also accessible via Priority Pass) however it was closed.
Boarding started exactly on time and was conducted via groups. There was some confusion as the 17:30 LATAM flight to Sao Paulo was boarding from the adjacent gate as my 17:55 service to the same city.
Rio de Janeiro – São Paulo
LATAM A321. Seats 1A & 1C. 1hr flight time.
We were warmly welcomed by an extremely friendly crew and took our seats in 1A and 1C. There were only three rows of Premium Economy and its set-up is the same as we find in Business Class on intra-Europe flights with the middle seat blocked empty and a curtain dividing the cabins. Each seat had a power outlet and wifi was available with free messaging. The very hospitable Purser gave us all a bottle of water on the ground, the doors was closed ten minutes prior to scheduled departure and we pushed back a few minutes ahead of time.
Airborne time was only fifty minutes and Andre the Purser came around taking drink orders (I had a coke zero) and we were offered a selection of packaged snacks from a basket of which Andre insisted we take one of each option. There are no bells and whistles with the inflight product, glasses were plastic, snacks limited. But then again, LATAM isn't marketing this cabin as business class. Before we knew it we were pulling on to stand at Sao Paulo GRU.
Transit/LATAM Lounge
LATAM domestic flights arrive at terminal two with international flights departing terminal three. Thankfully, the two terminals are linked by a well-signposted internal walkway but it is a good distance and took around fifteen minutes. Back through security and passport control and then we were in the main departures area of GRU T3.
We made our way to the LATAM lounge and there was a queue at least twenty deep waiting for entry. Apart from business class and top-tier frequent flyers, LATAM also allows access to Dragon Pass members and certain local bank customers. We did have to wait for around ten minutes to enter the lounge and I have to say I wasn't looking forward to spending almost four hours in there as it seemed to be packed.
Alas, once we were inside there was plenty of space away from the main area as the lounge is huge. Looking at the departure screens it was obvious why the lounge was so busy – it seemed nearly all of LATAM's long-haul flights depart between 8pm and midnight. I was impressed with the food on offer, with a large selection of both hot and cold items. Everything from sandwiches to salads to roast beef. Slightly annoying was the need to announce every flights boarding status. The highlight of my visit was the accidental discover of the nap room. This was not signposted at all (which was great as it was empty) and I accidentally stumbled over it while looking for the loo. There were several couchettes complete with pillow and blanket, a little side table with charging ports and a curtain. I kicked back and popped my earbuds in and watched some Netflix I had downloaded.
São Paolo – Heathrow B777-300
10hr 50min. Seat 8L.
I headed to the gate about fifty minutes prior to departure and boarding had just started and was very orderly via Group numbers. I was really impressed with the cabin when I entered the aircraft, the seats are very roomy and the cabin finishings and colours very elegant. LATAM chose the Vantage XL seat for its cabin upgrade, this is the same seat that you will find on the likes of QANTAS and SAS.
Solo seats alternate between 'true' window seats where the console is by the aisle, and window seats that have the console closer to the window. I had selected a 'true' window seat and was very impressed with my home for the next eleven hours.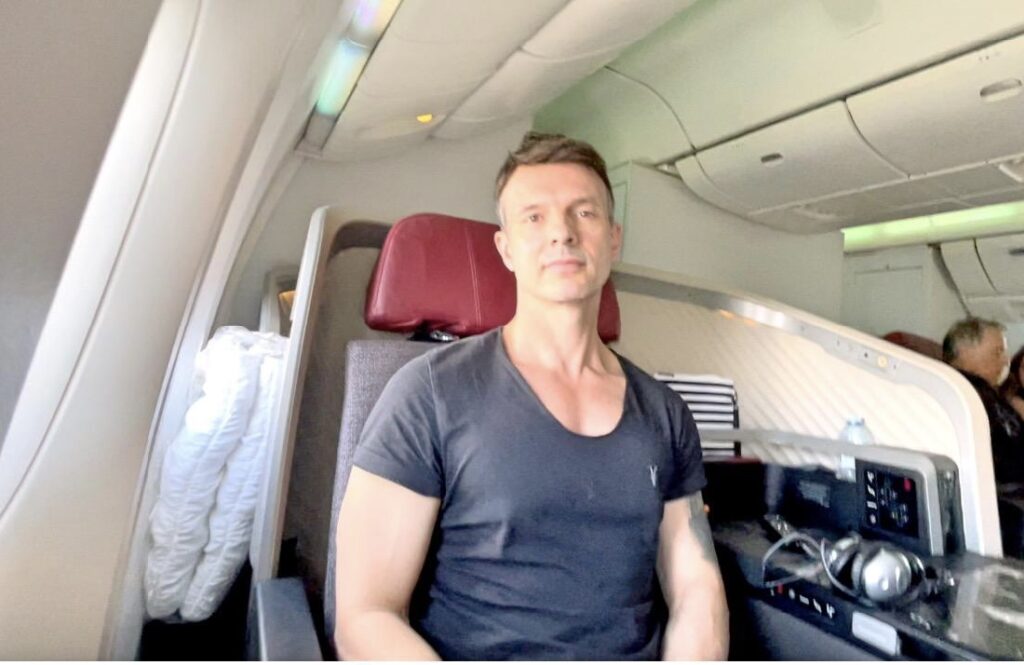 A menu, washbag and bottle of water were already at my seat as well as the bedding which was pretty good and included a mattress in addition to the usual blanket and pillow. Unfortunately, reaching my seat is where my great impressions of the flight ended.
Oddly, despite boarding commencing nearly an hour before take-off there were no pre-departure beverages at all. The crew were OK. Certainly in no way rude, but just 'there'. I had more interaction with the crew on the fifty-minute LATAM hop from Rio to Sao Paulo than I did on the eleven-hour flight to London. Orders for both dinner and breakfast were taken before departure and the door was closed ten minutes before the scheduled time of departure.
The flight
After take-off things got off to a pretty quick start which is great for a night flight. Meals were delivered via a cart in the cabin. There were three choices of main, beef, chicken or pasta (how original). The crew laid a table cloth and plonked a meal tray consisting of your choice of main (beef for me), a small cheese plate, a few pieces of fruit that were meant to be dessert and your choice of drink. And everything just seemed very cheap.
The main course was decent but there was no starter of any form, no choice of bread, and the dessert consisted of one small chunk of pineapple, a piece of melon and one solitary grape. There was no offer of a wine top-up or tea or coffee. The trays were collected swiftly which was a plus.
There were no snacks whatsoever available in between dinner and breakfast and the open space at doors two where most airlines set up some kind of bar area remained just an open space.
No wi-fi was available on the aircraft I travelled on. I had a look around the IFE system which had a large crisp screen and decent content.
With a landing time of 15:00 (11:00 Brazil time) it was odd that the pre-landing meal was breakfast. The breakfast mirrored the evening meal service. There was a choice of two hot dishes or a cold plate. I went for the cold plate and the single tray offering contained the main course which was a few slices of meats and cheeses, a few bits of fruit as a side as well as two bread rolls.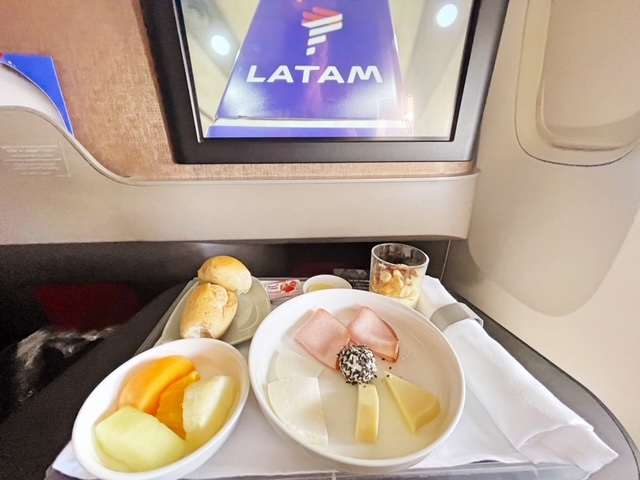 There was no offer of pastry or croissant. Cheap juice, tea or coffee was offered (no espresso based drinks) and like dinner there was no offer of a refill.
After a brief loop around the LHR holding pattern we were on stand at terminal three on time.
Final thoughts
On the positive side, the seats and overall cabin aesthetic are great and the lounge was pleasant for a few hours. Flights were punctual and the inflight crew on the short hop from Rio to Sao Paulo were so friendly. However, the overall experience was very underwhelming and felt far from premium.
Inflight service on the long haul flight was purely perfunctory with minimal effort from the crew to offer a memorable experience to their customers.
Catering was the lowlight of the whole experience on every front – choice, quality, quantity and presentation. It didn't feel 'business class' at all. Unless there was a significant cost saving in choosing LATAM I would likely fly a competitor when I return to Latin America next.
Like this LATAM business class review? You can read more flight reviews here.