What's Amsterdam like now?
A review of KLM's non Schengen Crown business lounge. I was recently at the World Aviation Festival in Amsterdam which to be honest is the only reason I would choose to fly there at the moment. Having managed to get the passenger chaos under control towards the end of the summer, sadly it has descended into a mess again. It's entirely of their own making as Schiphol were paying security staff a bonus during the summer. As soon as they decided to stop the payment a large number of staff resigned leaving them short-staffed again.
It's worth noting that if you are connecting at Schiphol, it's usually not as bad, so I wouldn't let that put you off.
I arrived on British Airways much later than planned due to a cancelled flight and then the replacement flight being delayed. This meant we touched down after 10pm. As usual, there was a very long taxi to the terminal and then a wait to actually get off the plane too.
When we finally got off and had to trek the long walk to immigration, of course, all the walkways were already turned off, which is poor for a major airport. 10pm is not exactly the middle of the night!
Once we arrived at the escalator for immigration we were greeted by a very grumpy and rude staff member who put the barrier across meaning we were not able to go downstairs. When the BA crew came along and removed the barrier on one side to allow the crew to proceed (they have a separate lane in immigration) the staff member was extremely rude to the captain. This did not help to ease the rising tension in the line when a staff member is deliberately antagonistic. Should you be faced with this, there is apparently another security line a 10-minute walk past this, but since no one was sure this was still open I decided to stay put.
We then had a passenger push his way to the front of the queue, who the staff member ignored. When other people politely asked what he was doing he said that he would not be queueing as he was business class! When the reply from several irate business class passengers came that we were all business class and he should return to his original place, he said he was going to call the police! Unbelievable! Travel really seems to bring out the worst in some people.
We were held there for around 15-20 minutes and then eventually let downstairs to the immigration hall. Here the queue was completely full for the non-EU and pretty full in the EU passports too. Not a single e-gate was working! I was quite astonished that on the eve of the aviation industry's major yearly event with airport and airline CEOs flying in that they could have got themselves into such a mess.
After around another 30 minutes, I eventually got through and left well over an hour after landing even with no checked luggage. Schiphol had originally promised it would all be under control again by 1 October but given this was the 4 October, it's obvious they didn't manage it.
Coming back was much better, probably helped by the fact that I was there around 3pm which is a quiet time of day usually. I was travelling with KLM in business class and had access to Fast Track security. There was no queue for check-in or fast-track security, fortunately.
Have you flown through Amsterdam recently? Let us know about your experience in the section below.
KLM's non Schengen Crown business lounge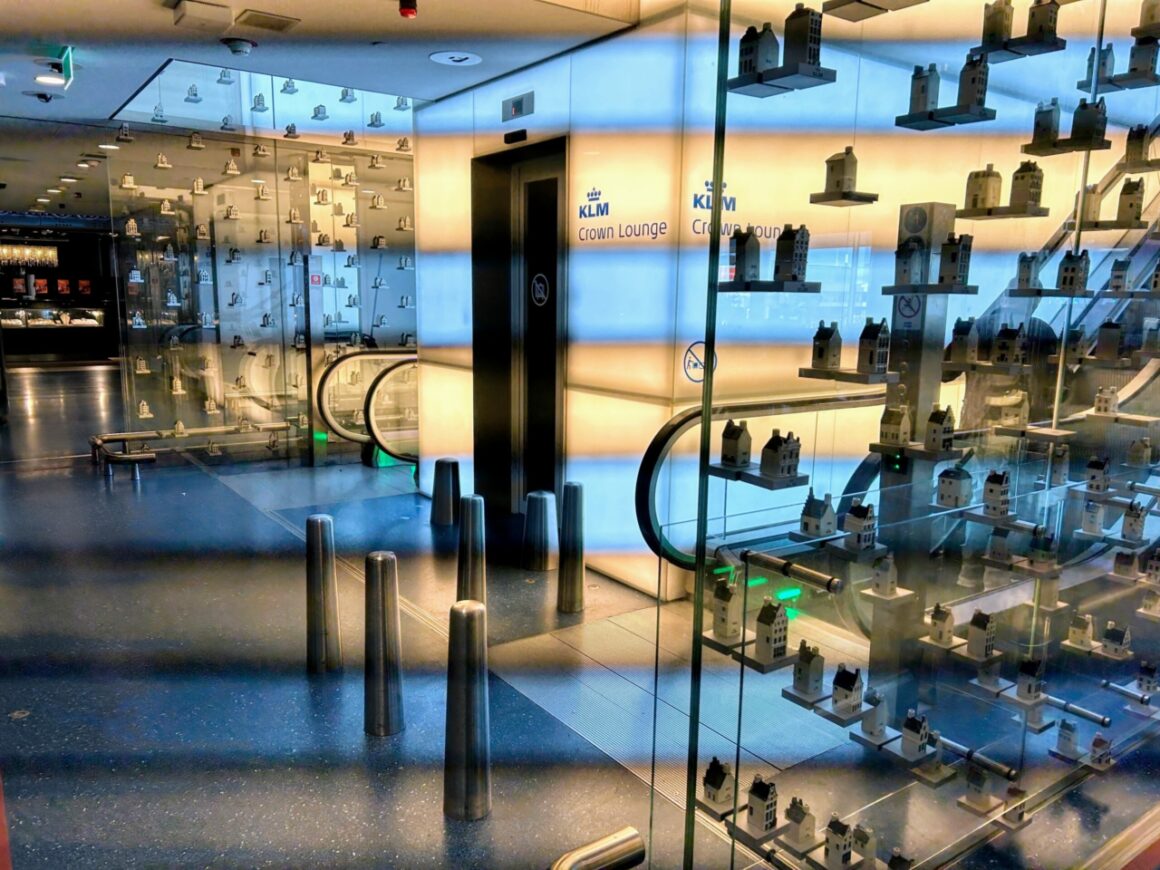 The lounge is relatively new, having fully opened in 2019 not long before Covid. All the lounges at Schiphol have a number, and the Crown lounge is 52. Schiphol is somewhat lacking in non-Schengen lounges since the British Airways one has closed. The Aspire Priority Pass one is used by most airlines and often has a long queue.
The KLM's non Schengen Crown business lounge is located between piers E and F and opens between 4.45am and 10pm or when the last KLM flight departs.
There is access for:
Business Class passengers;
Flying Blue Platinum and Gold members plus one guest (additional guests on payment);
SkyTeam Elite Plus members plus one guest.
You can also buy lounge access if flying KLM or one of their partners
I loved the entrance which is made of walls of the Dutch houses that you get given on board KLM's long haul business class as a gift.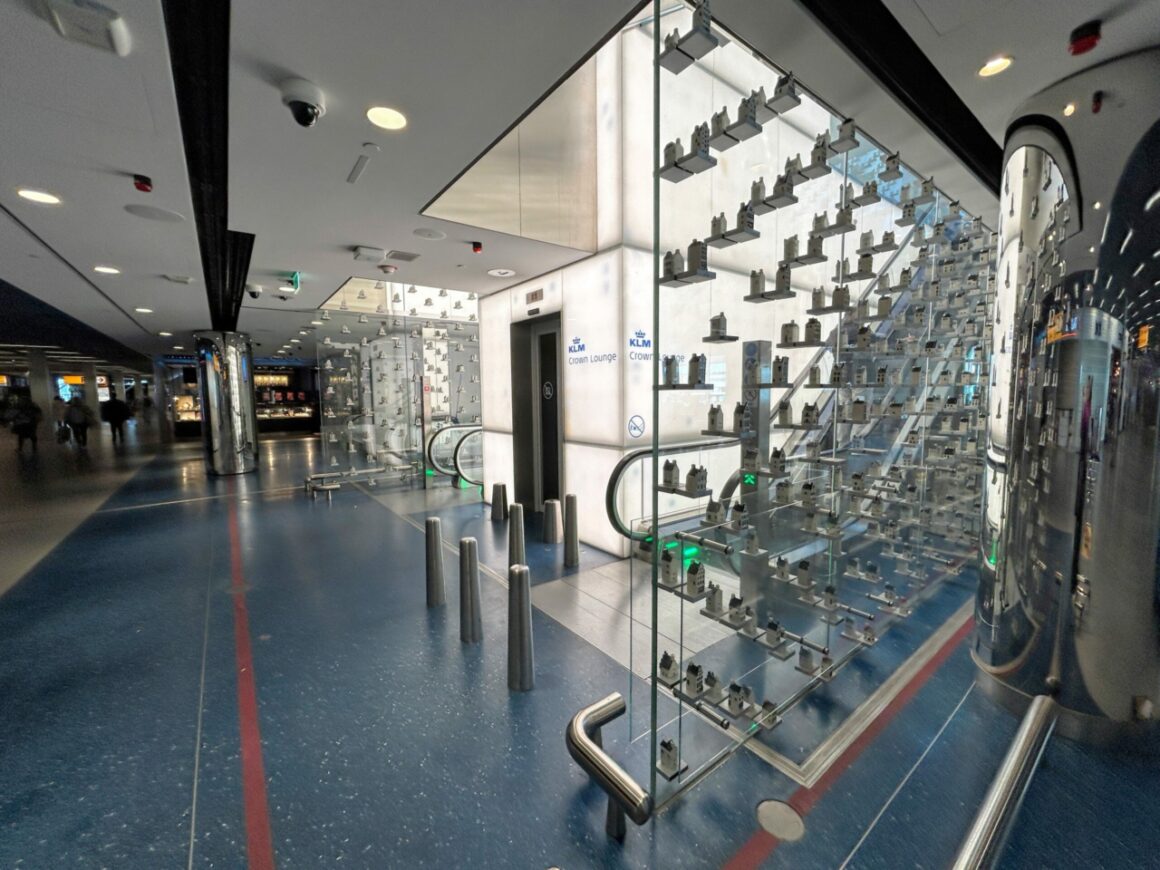 I found the staff very welcoming and helpful in the lounge, greeting me warmly as I arrived. The KLM's non Schengen Crown Lounge feels huge and is spread over two floors. The lounge is divided into a number of different zones with "Sky" being on the top floor with the Blue bar and restaurant.
I first headed up to the Blue bar on the top floor. This is rather a strange concept as it is meant to be a cut above the lounge, but you have to pay for the food and all premium drinks. This struck me as an odd concept, particularly in terms of paying for food. However, Blue's menu is compiled by Joris Bijdendijk of RIJKS®, the Rijksmuseum's Michelin-starred restaurant which maybe is worth paying for if you want a special meal with great views. It did look a lovely space.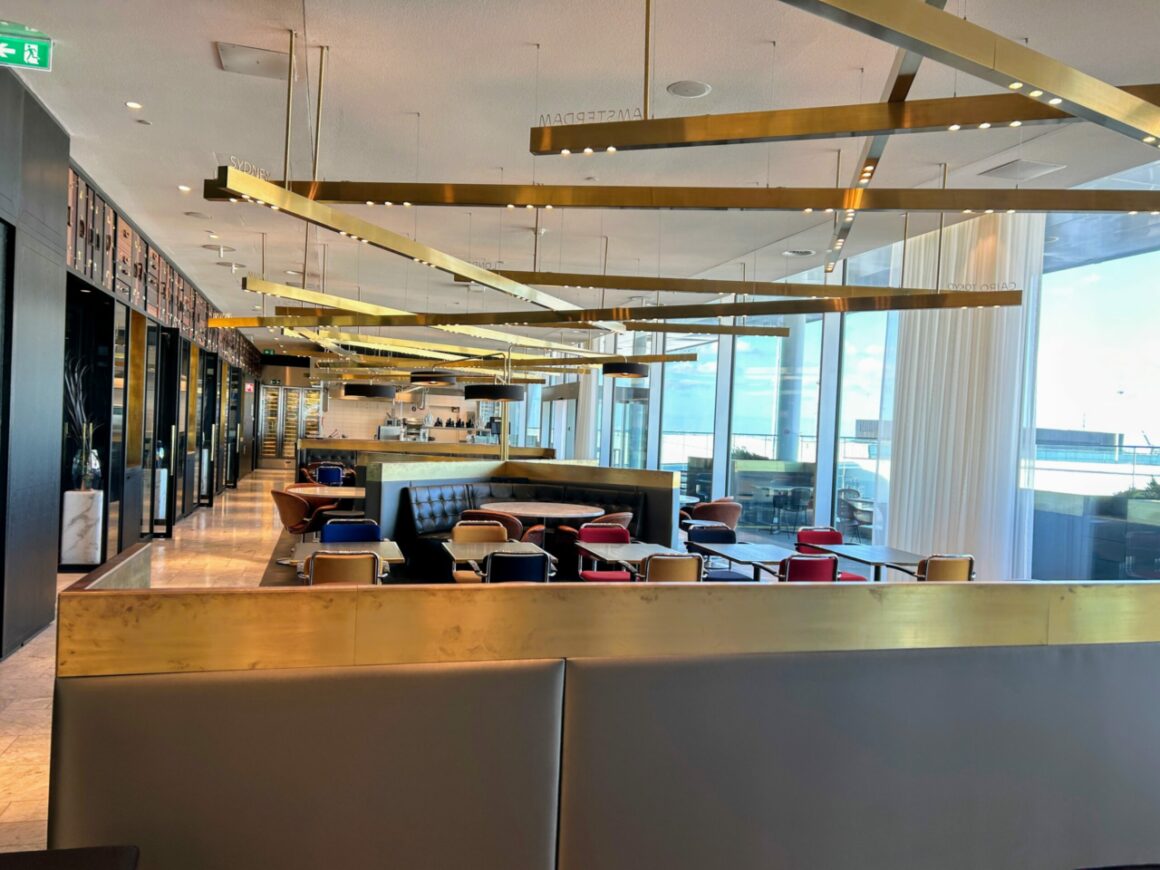 The restaurant itself was shut, but the bar was open. Until recently, this upstairs section had been closed and it was still very quiet.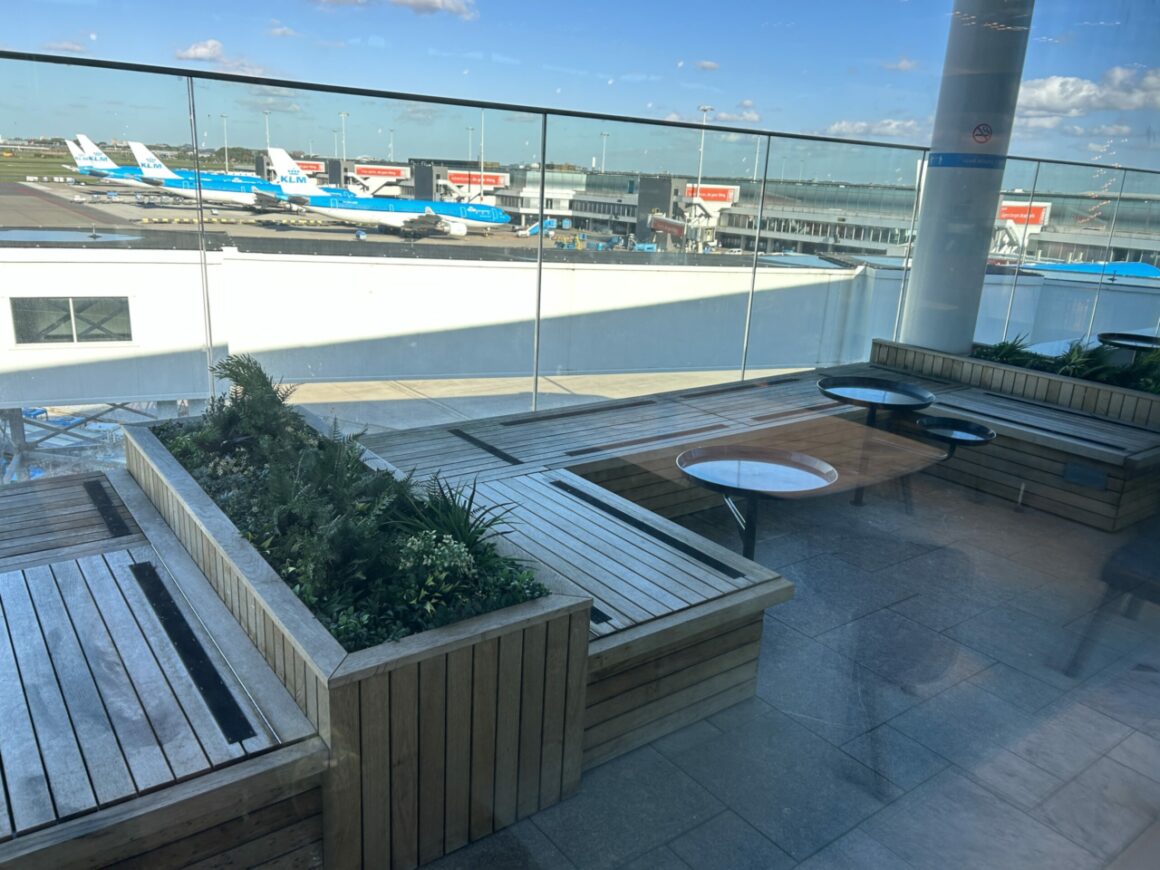 The best thing about it is the terrace, perfect for the summer to watch the airport with a drink. The bar itself was impressive to look at, with plenty of different seating areas for privacy or comfort.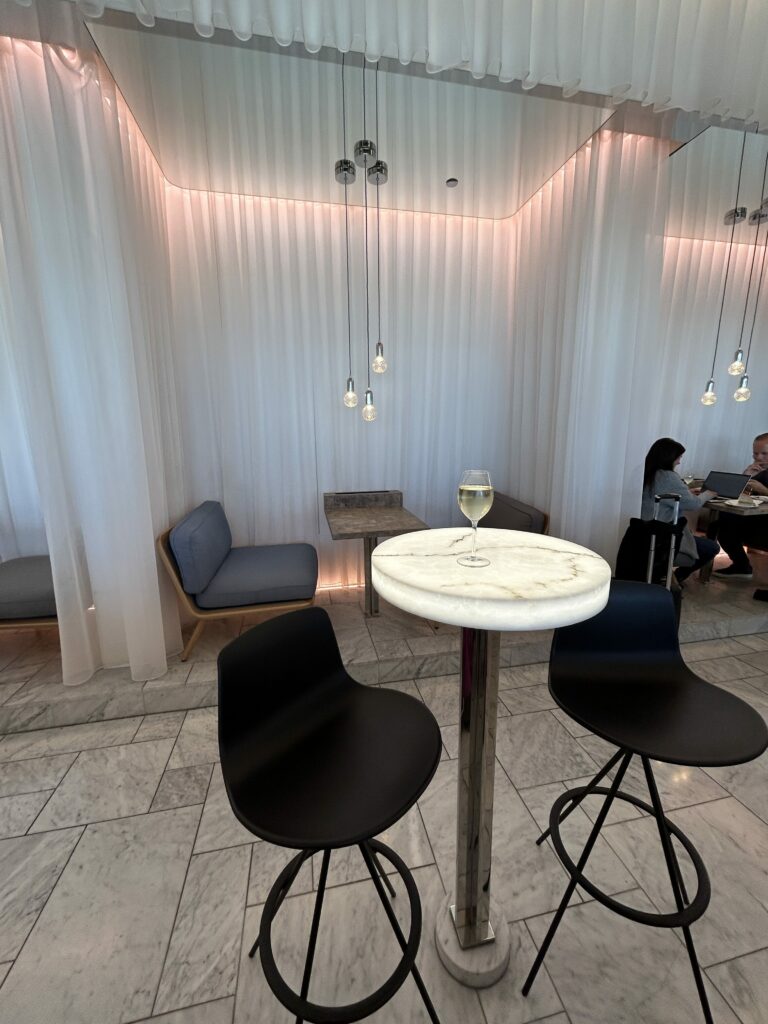 The downstairs part of the KLM's non Schengen Crown Lounge does not have great views since a bridge blocks most of it, so Sky is the place to come for some airport action.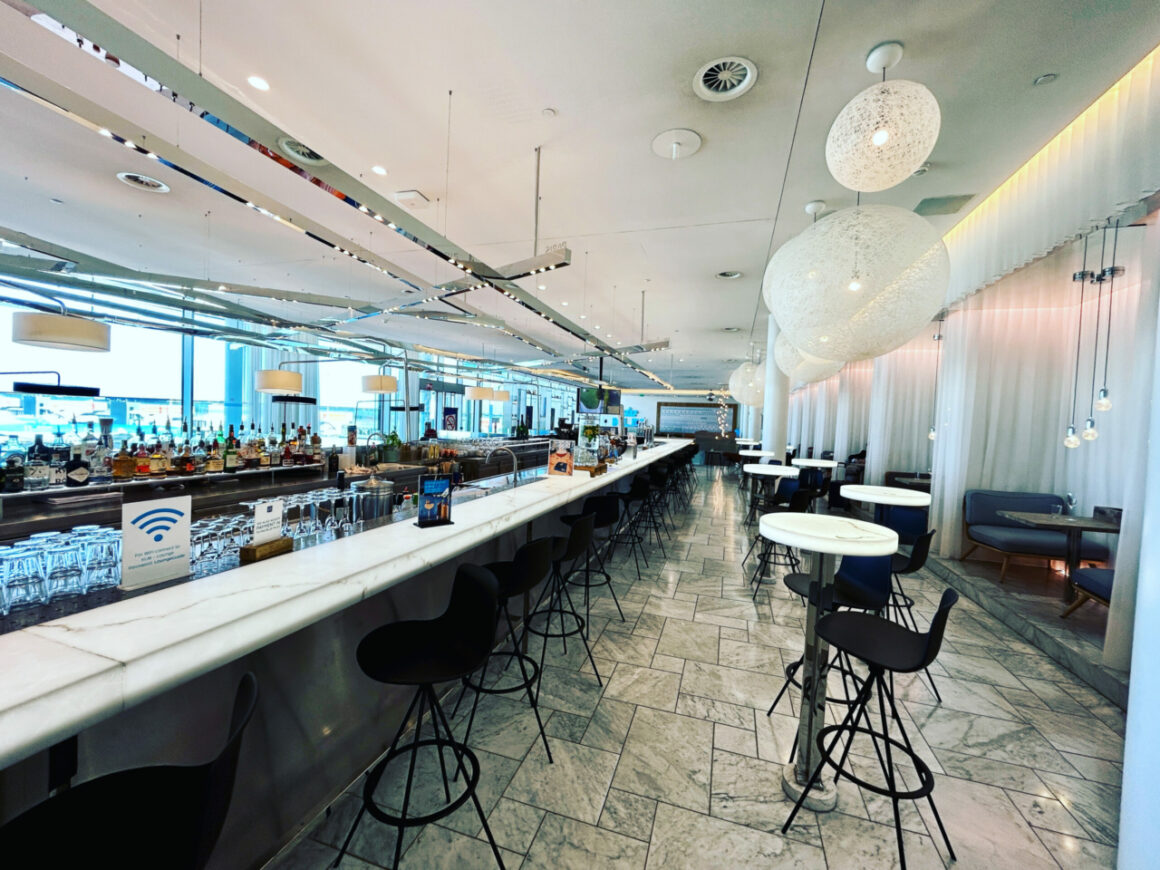 Here is the menu of drinks showing what is included and what you have to pay for: (notice you can pay cash or Flying Blue miles)
Back downstairs, there is the "Polder" area which is more work orientated as well as space for more relaxed seating. There is a buffet area down this end, but it was closed when I was there and I couldn't see anywhere to get a proper drink except at the other end of the lounge.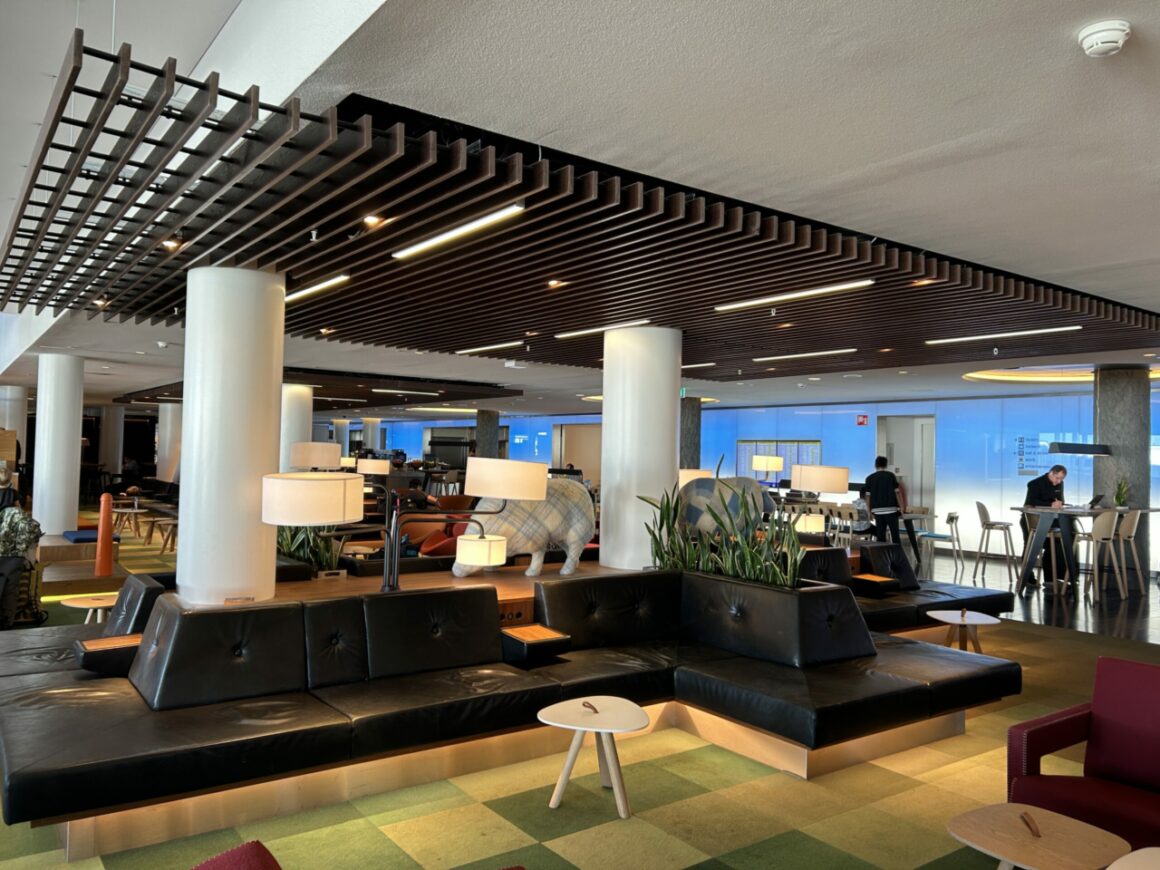 The 110-metre LED light wall is meant to simulate the Dutch sky. The lighting adapts to the time of day and includes a sunset. The area had the feeling of the countryside or a forest with the green floor and the tree trunks.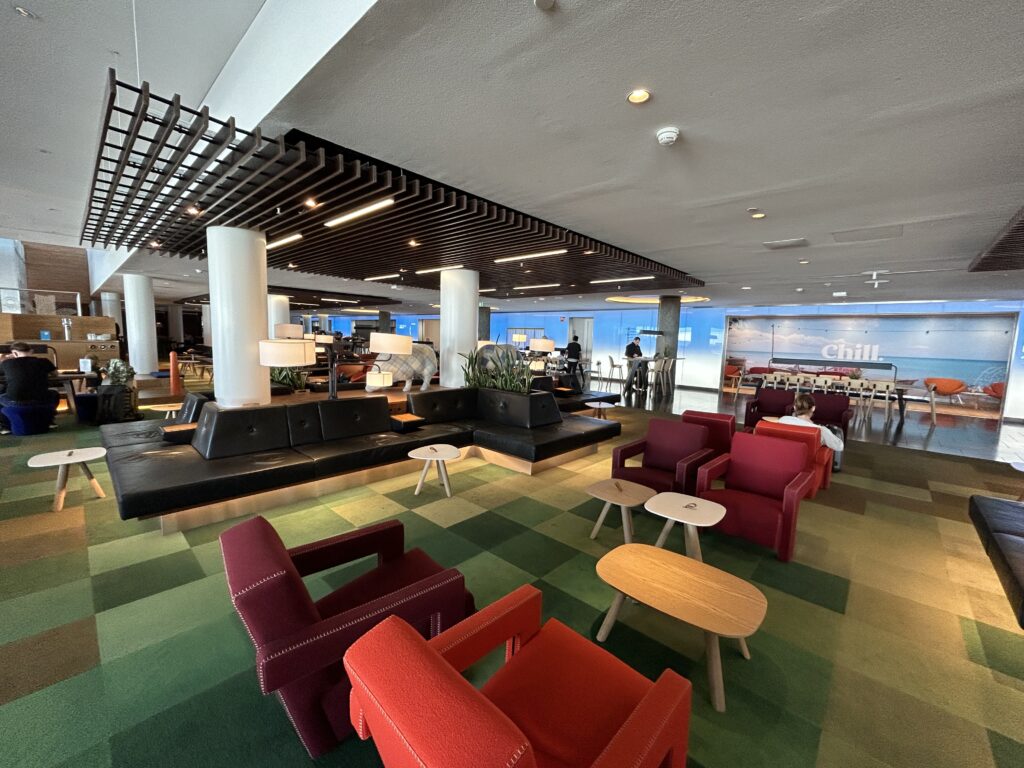 The main bench seating has regular power points dotted along, and there are also work zones with benches and high stools that have plenty of charging options including USB or normal sockets.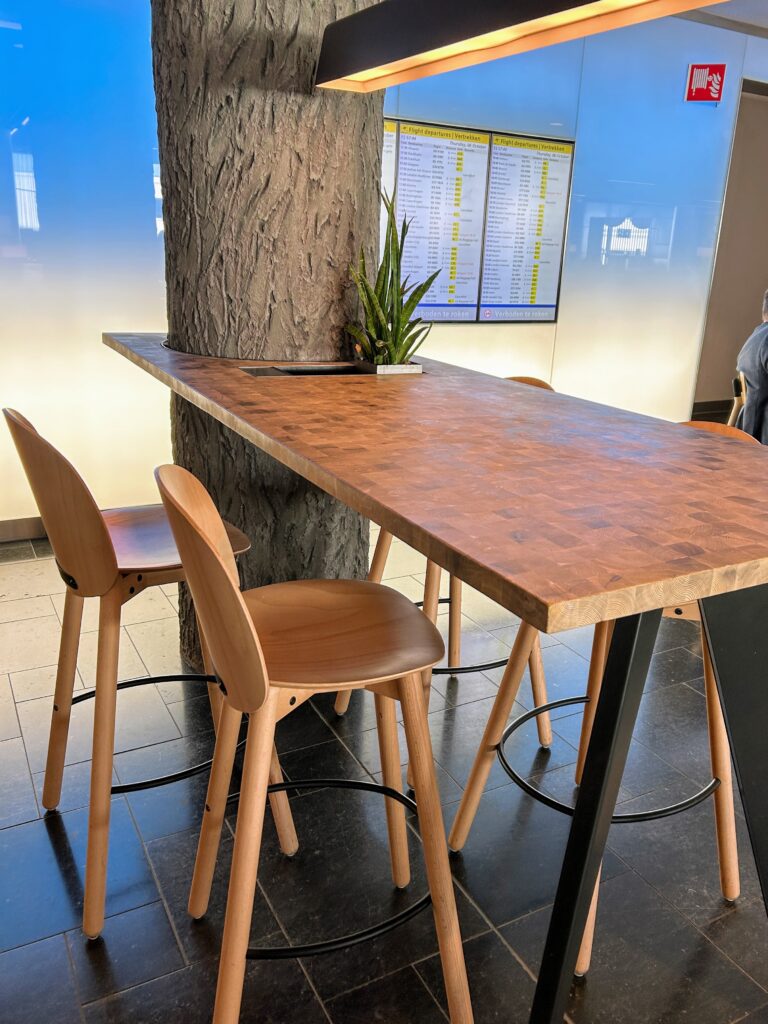 I particularly liked the individual work booths, but they were all full when I was there.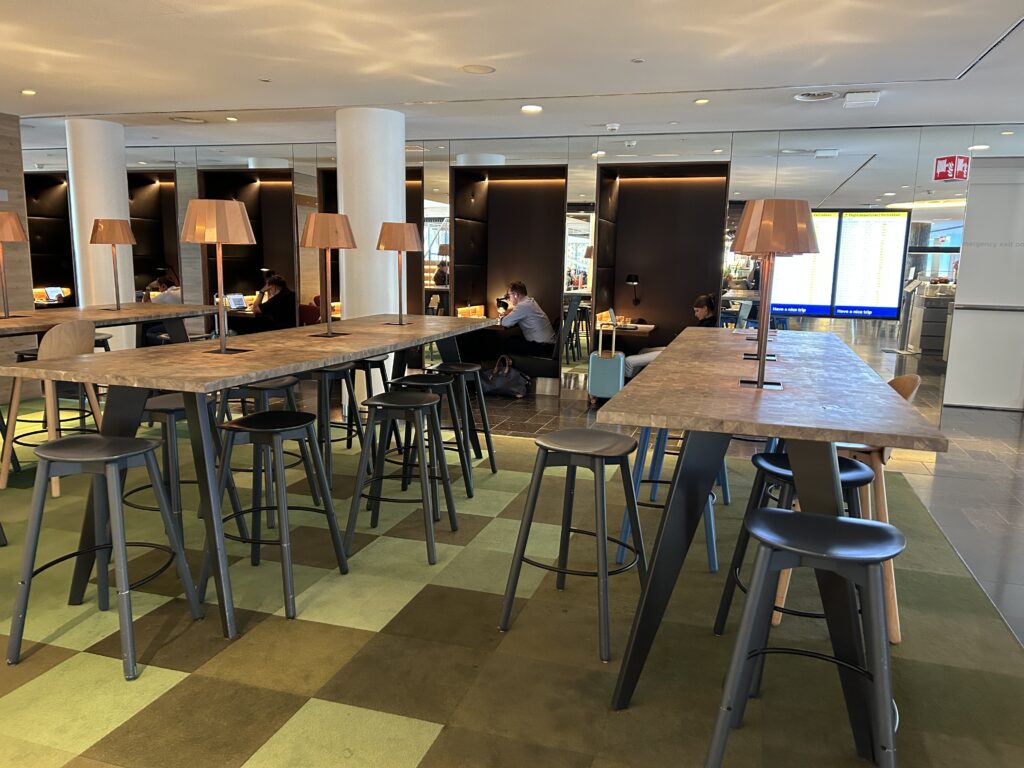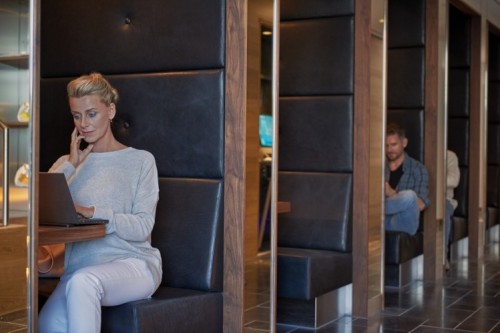 There are also some pod chairs facing the floor-to-ceiling windows, which would be a quiet place to work.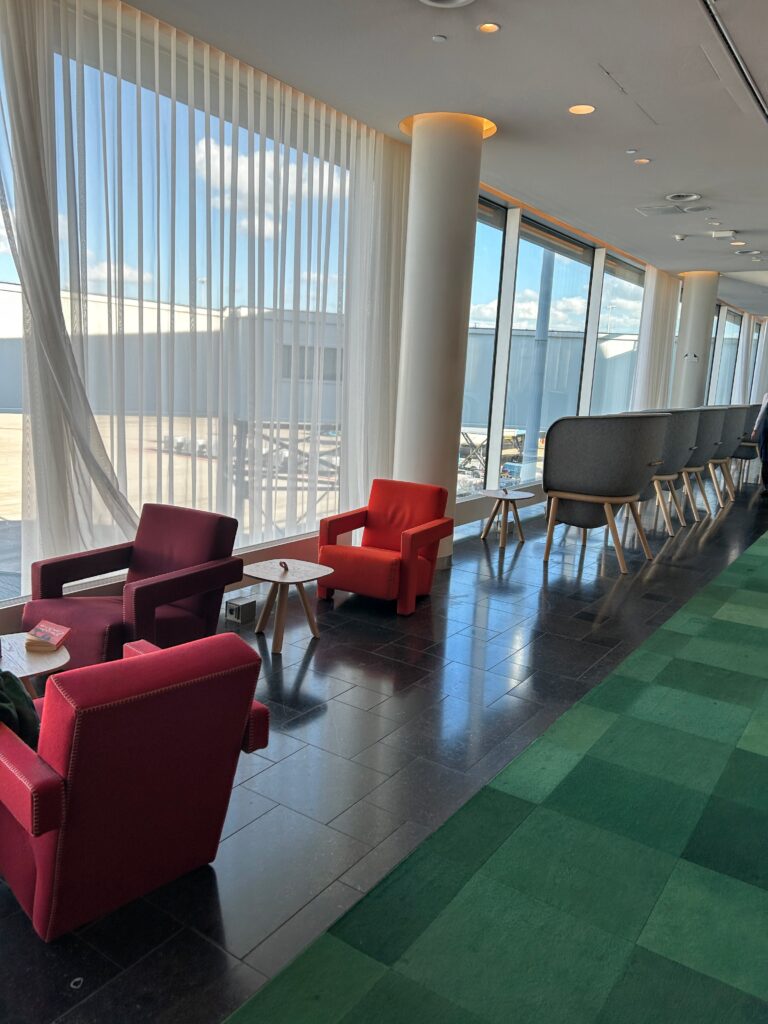 I went for the comfy seats by the window, which again were pretty private and had half a view!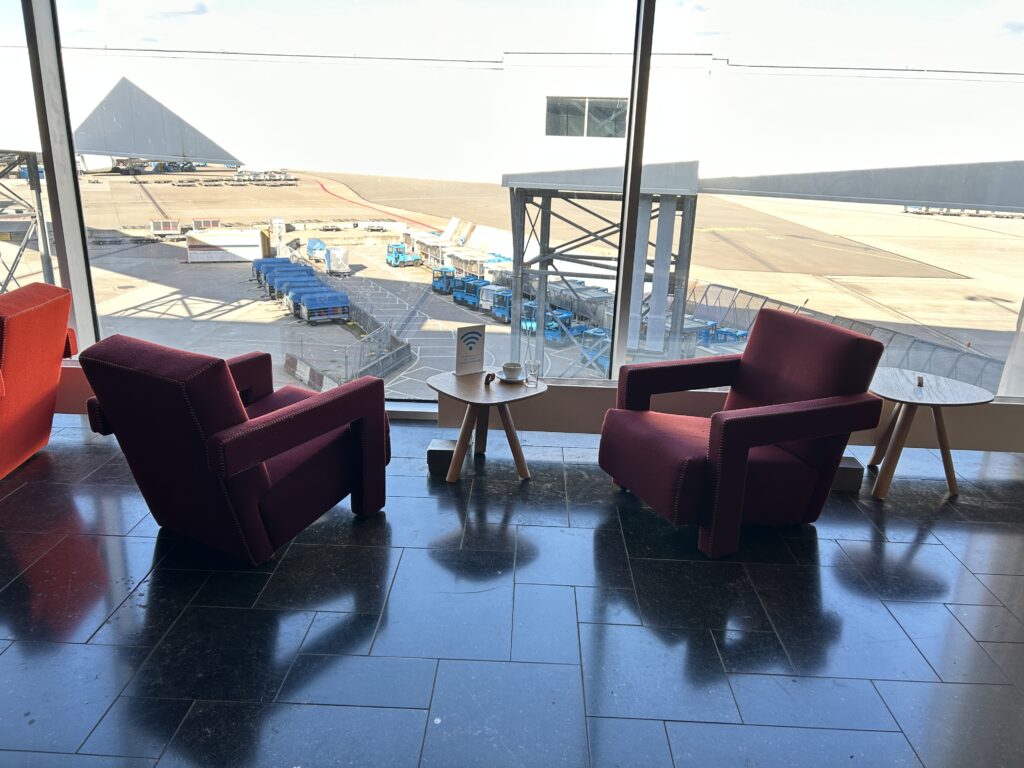 If you needed a computer for some reason there were two macs, but one was broken. Next to them was a printer.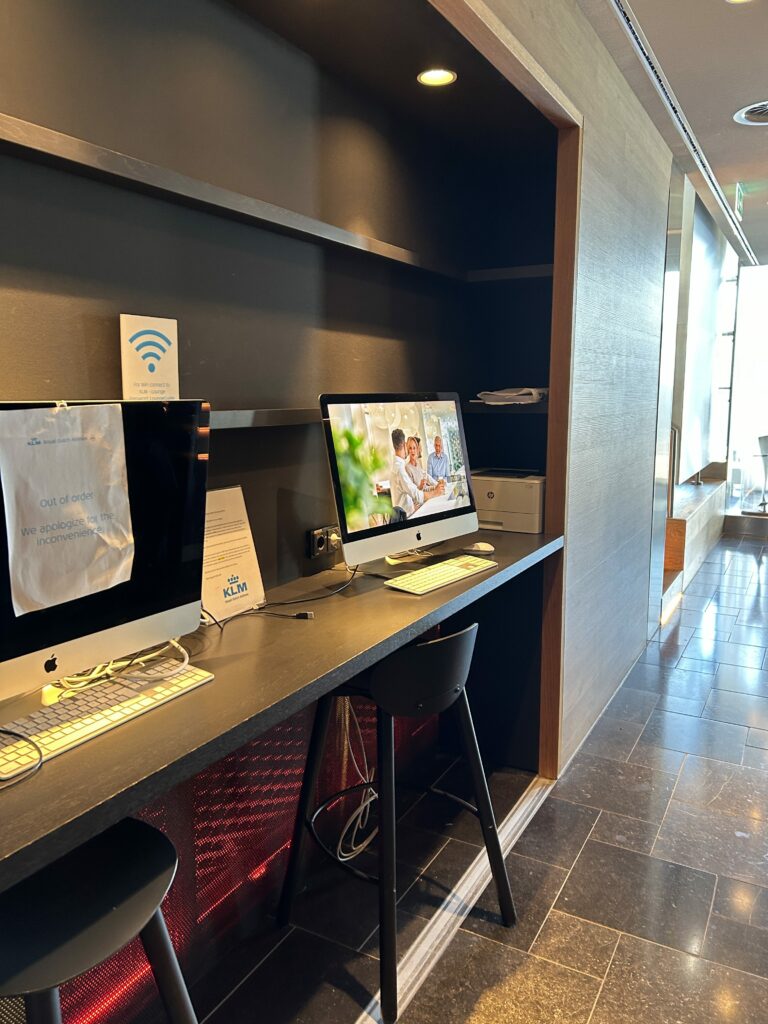 There were coffee and water stations dotted around the lounge with sparkling and still water on tap as well as various sodas.
While I loved the quirky design of the "Mountain" I found it slightly perplexing as to why you would include something with lots of steps in an airport lounge.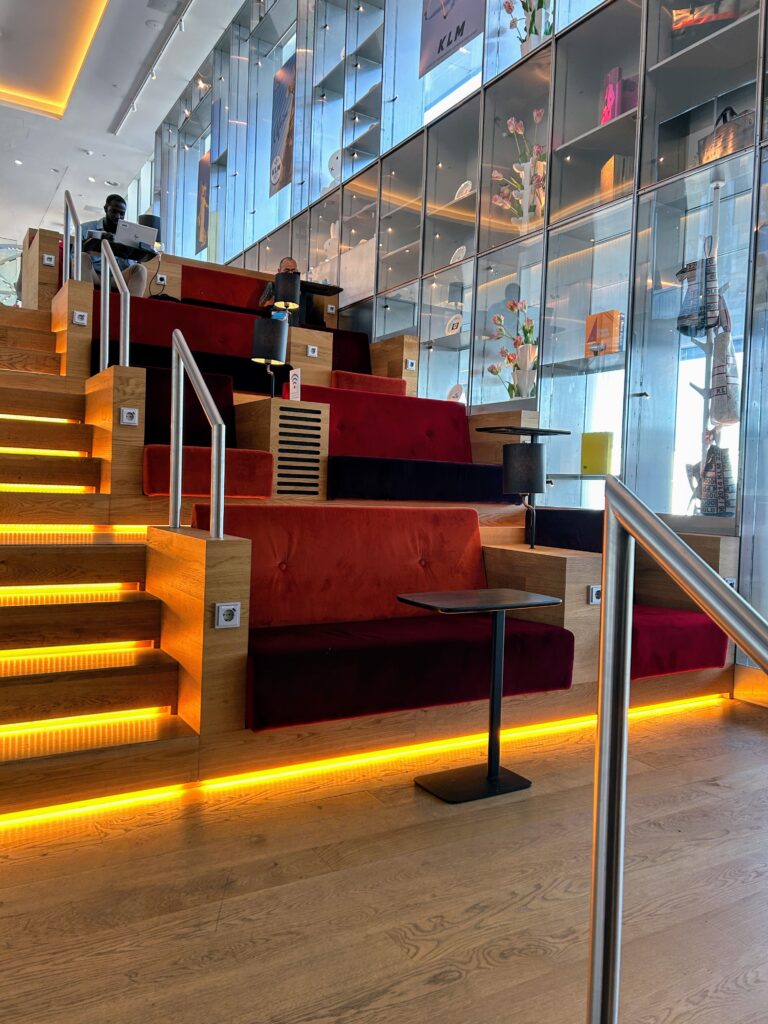 The other side of the lounge is referred to as "City" and this is where the buffet and main bar are.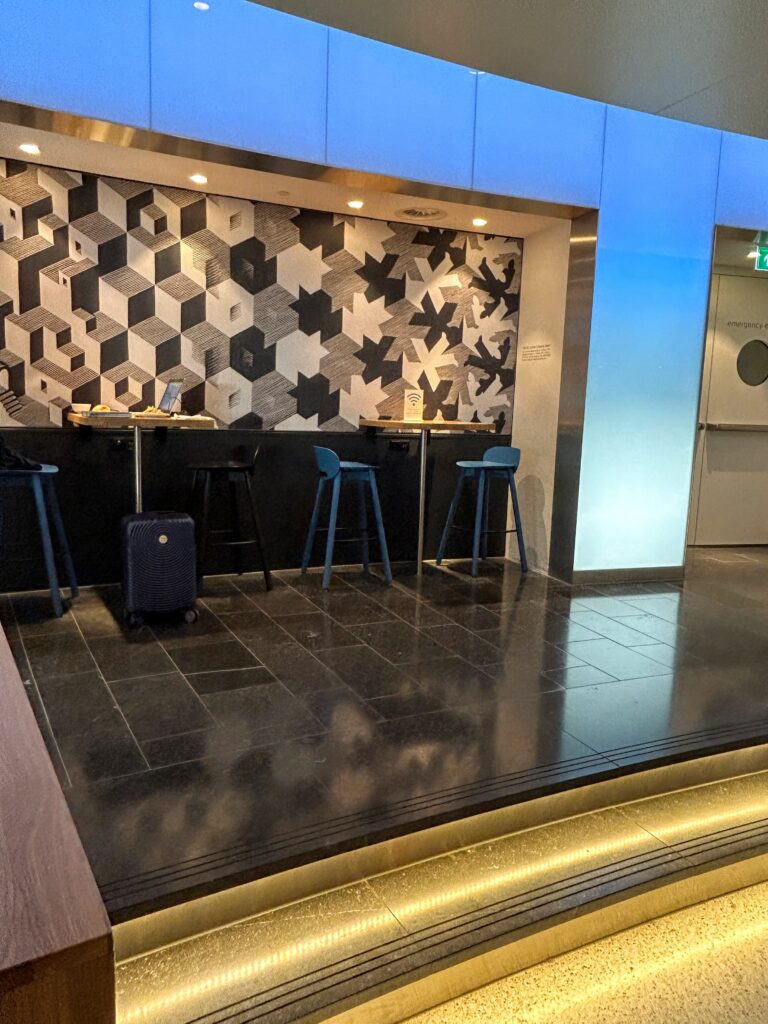 I found it slightly dark in the eating area, but there were plenty of choices of areas to sit.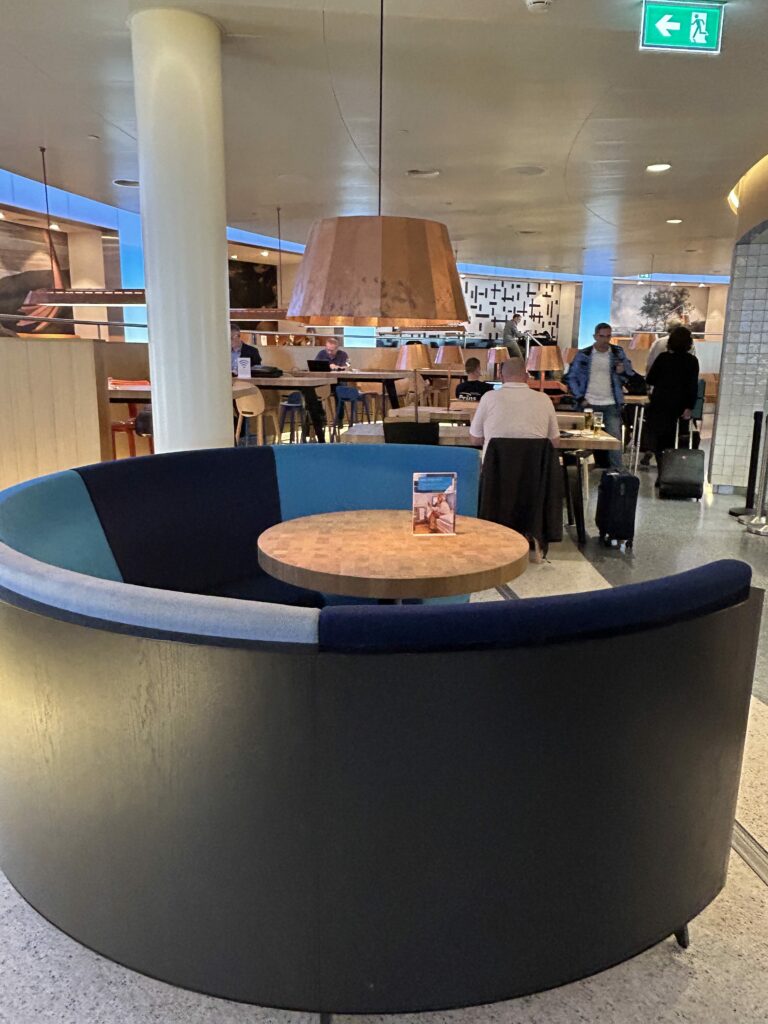 The buffet was a little basic, but there was a least a choice of hot and cold food. I'd say it was comparable to most European airline lounges, if a little dull.
There was a salad bar: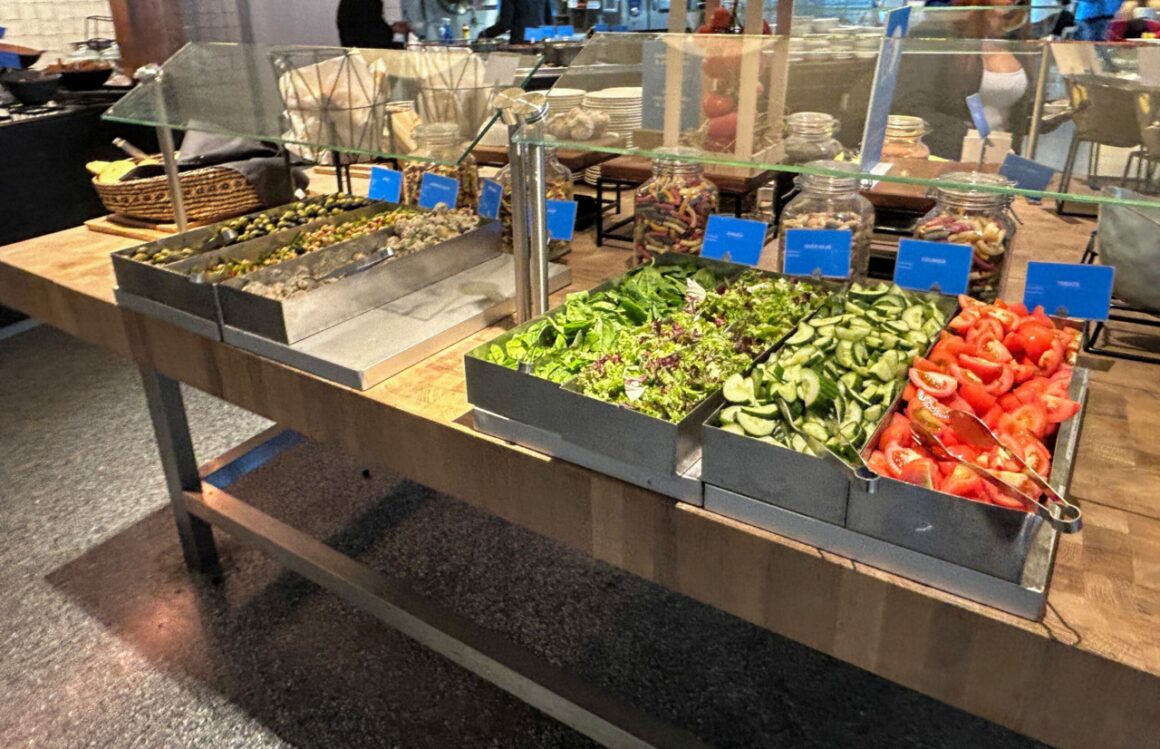 With some meat and cheese
Some ready-made sandwiches and soup:
Then a selection of hot dishes including a chilli, ratatouille, pasta and rice:
I sampled a little of the ratatouille and the salad, which were both fresh tasting.
The best bit was probably the pastry station: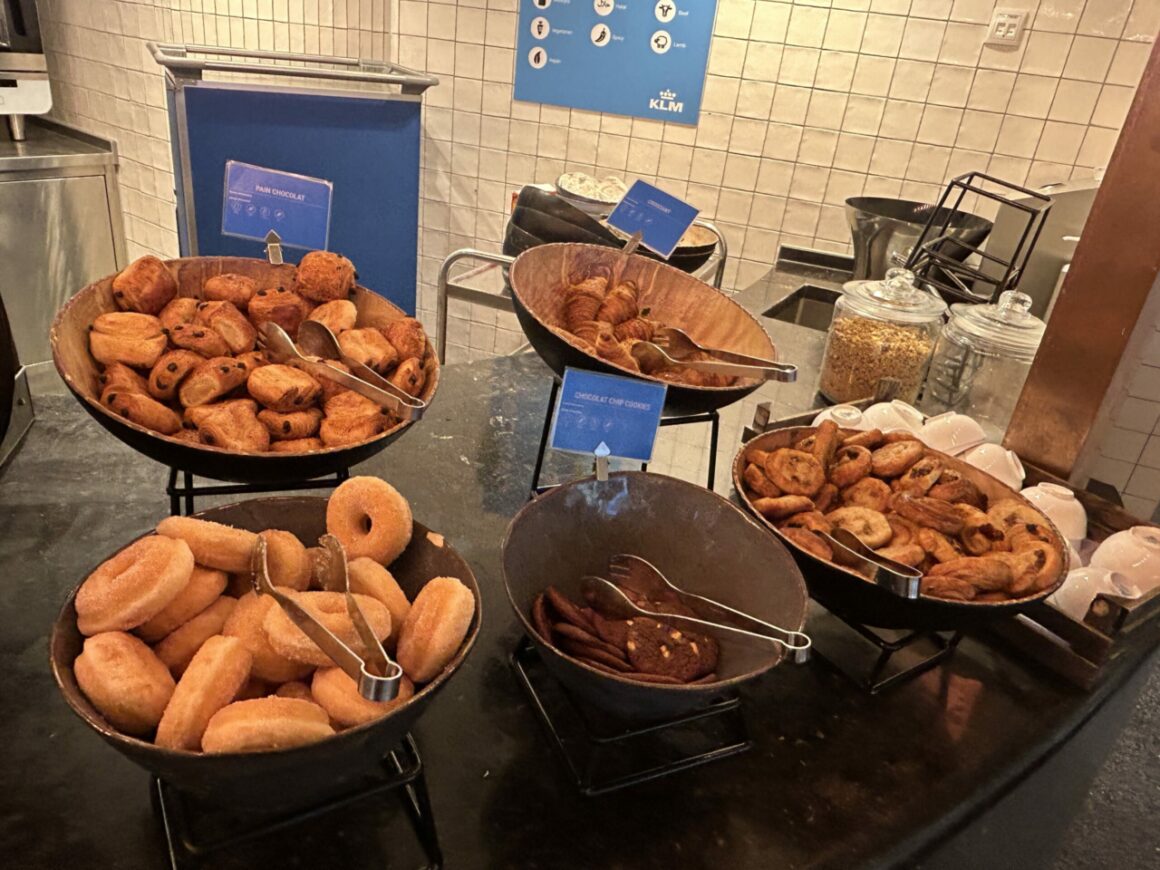 The drinks were separately at the bar which was very impressive with its copper Heineken wall.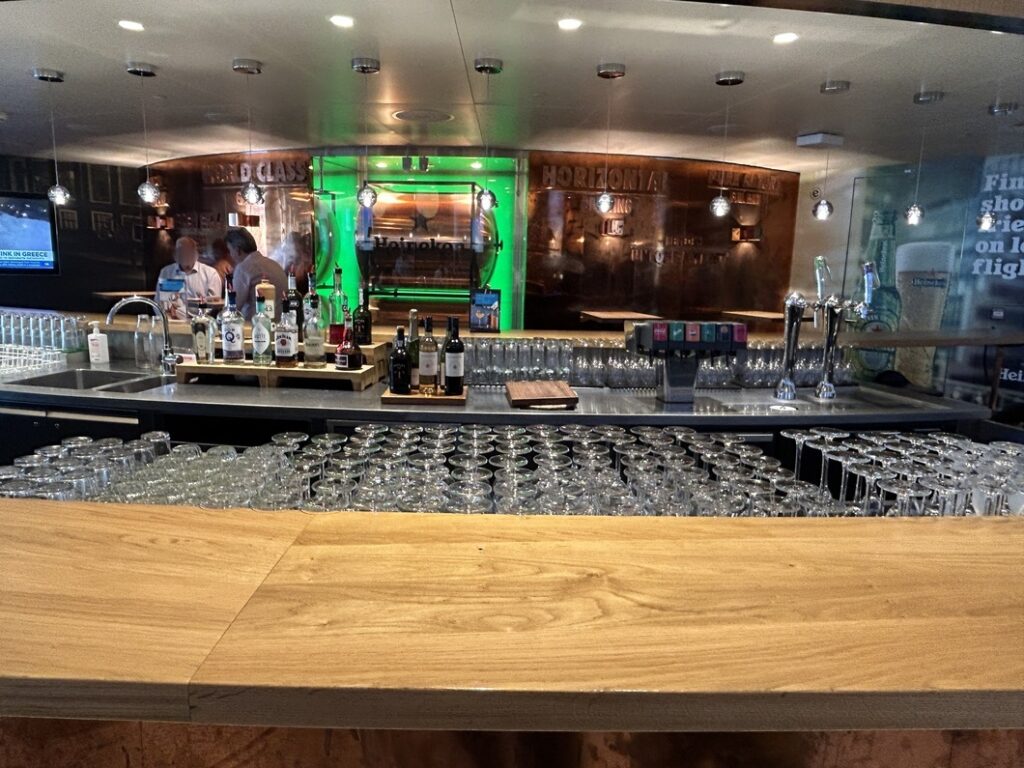 There was no champagne, but the Cava was perfectly drinkable. Again the bar staff were friendly and chatty despite having to deal with the somewhat inebriated person next to me.
There was a reasonable range of free spirits and wines available, plus of course, beer.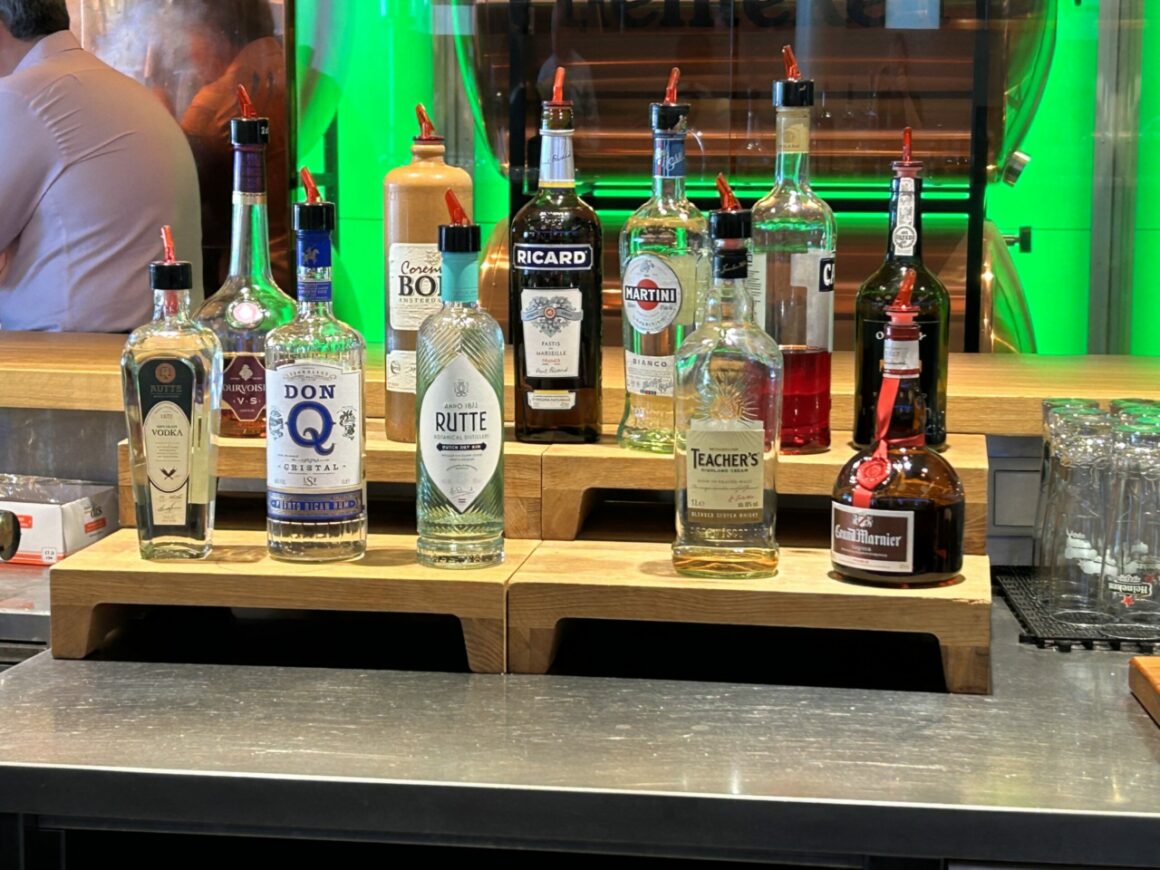 There were also some very average wines available, but the one I had was drinkable.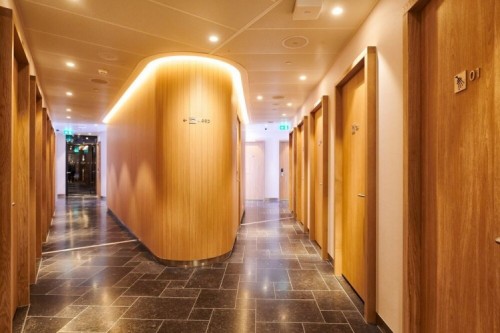 The Sea area downstairs has twenty free showers, which you can reserve in advance at the lounge's self-service kiosks. There are also luxury sleeping cabins for a fee – using Flying Blue miles, or three hours for €49,50.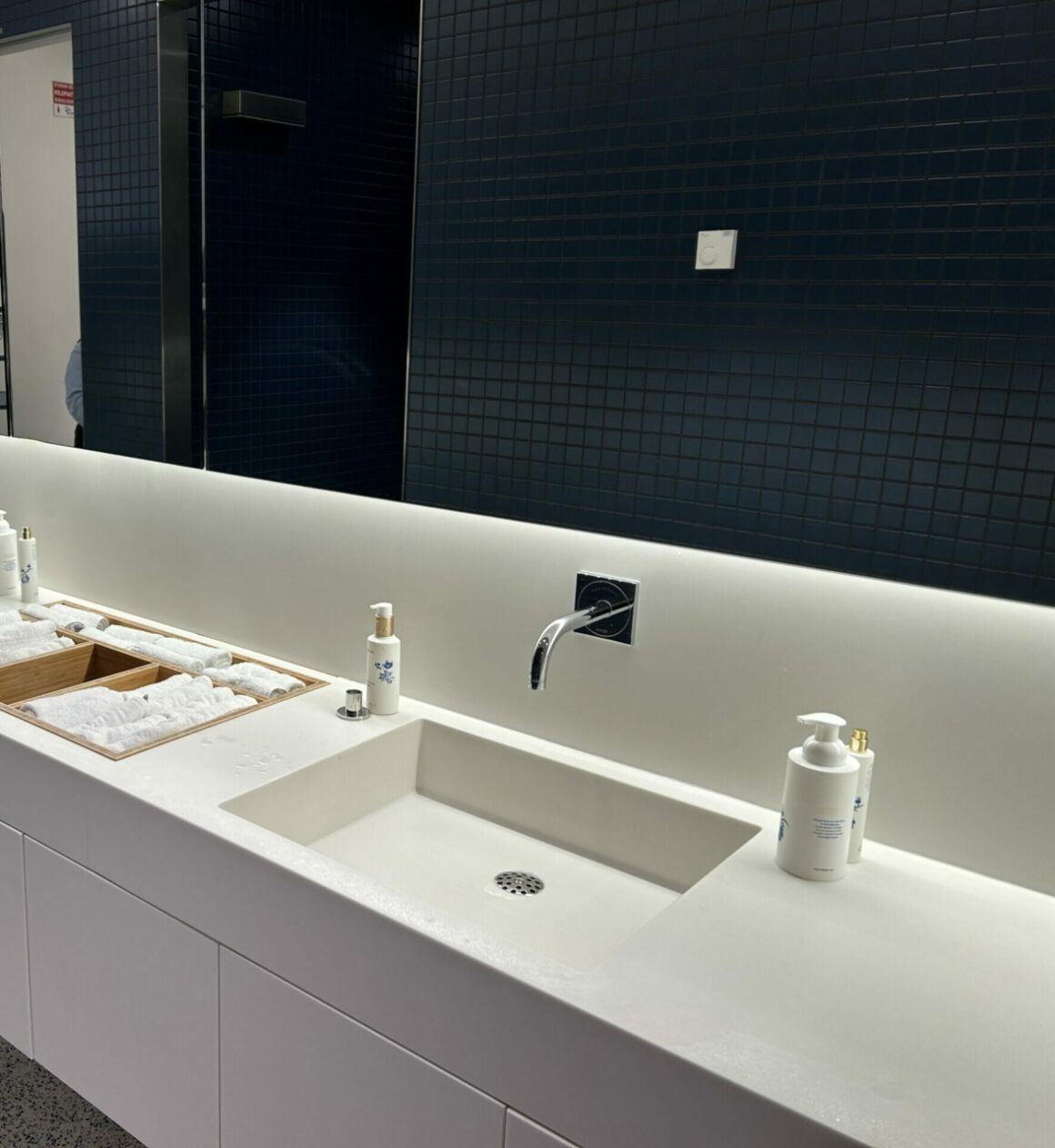 The washrooms were large and modern with soft individual hand towels to dry your hands. KLM's non Schengen Crown lounge uses the gorgeous looking 'The Amsterdam Collection' by Rituals which smell wonderful too. The fragrance is Dutch tulips and Japanese yuzu and is exclusive to KLM.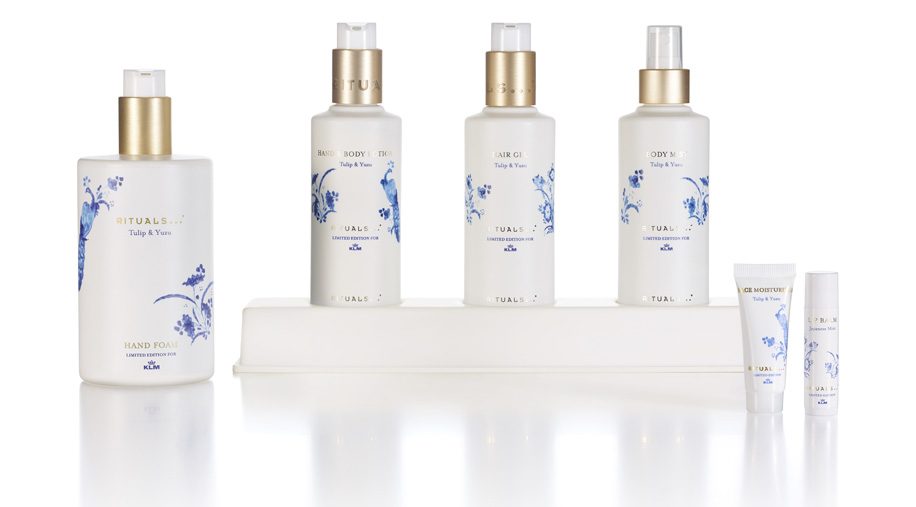 Conclusion for KLM's non Schengen Crown business lounge
In terms of design, this is a very impressive lounge with lots of design touches like the copper lamps and forest feel. A lot of thought has gone into creating different zones for different needs. However, I would have liked more areas to get alcoholic drinks rather than having to go across the lounge to one of the bars. It was very quiet when I was there, probably partly due to the time of day, but it makes a refreshing change to be in a lounge that is not overcrowded.
The food and drink are not anything special but perfectly acceptable for me. I loved the Sky area with its views and terrace. It felt more like a swanky hotel bar than an airport lounge. The concept of having to pay for premium drinks is an interesting one. Given that there was a decent choice of free drinks, I don't have too much of an issue with KLM's policy. If it became more like American where there is a choice of about only three spirits I would have more of a problem with it.
Watch out for my review of my KLM business class flight later this week.
Like our KLM's non Schengen Crown business lounge at Amsterdam review? you can read more airflight lounges here.