Today's Reader Review is about Virgin Atlantic Upper Class from London to Miami and what to expect by long time TLFL reader Palty. If you would like to contribute a guest review please email [email protected]
Booking
I decided to fly with Virgin Atlantic to Miami as I was yet to try out their Upper Class product.
Being a member of Virgin Atlantic's Flying Club and consistently collecting Virgin points via their Virgin Atlantic Reward+ credit card, I accumulated enough points for me and my partner to travel, which I combined with one of the upgrade vouchers sitting in my account after hitting the annual target spend of £10,000.
I started looking for availability but unfortunately, I could not find any seats available, let alone suitable ones for the dates I was looking to travel. Whenever this happens, I log onto Seat Spy and set up some alerts in case any seats become available. This took a couple of weeks but one morning I woke up to a notification that two seats in Upper Class have just become available, so I called up Virgin straightaway and booked two Premium Economy cash tickets and upgraded to Business Class with the aforementioned voucher.
The initial price to buy the Business Class tickets were 115,000 points, however, I only paid half of that (65,000 points) as I used the voucher. I also paid the taxes with my Virgin credit card to gain some extra points as it all adds up.
The Virgin agent who helped me out over the phone with the booking was extremely helpful and knowledgable, therefore making it a very easy and pleasant booking.
Pro tip: If you're looking to book some tickets with Virgin but require help from an agent, it is best to call them first thing in the morning in order to get connected immediately as their waiting times can be quite long during the day.
Seat Spy: Having a premium account with Seat Spy certainly paid off as finding availability on premium dates can be tough, especially when looking for more than one person.
Arrival & Check-in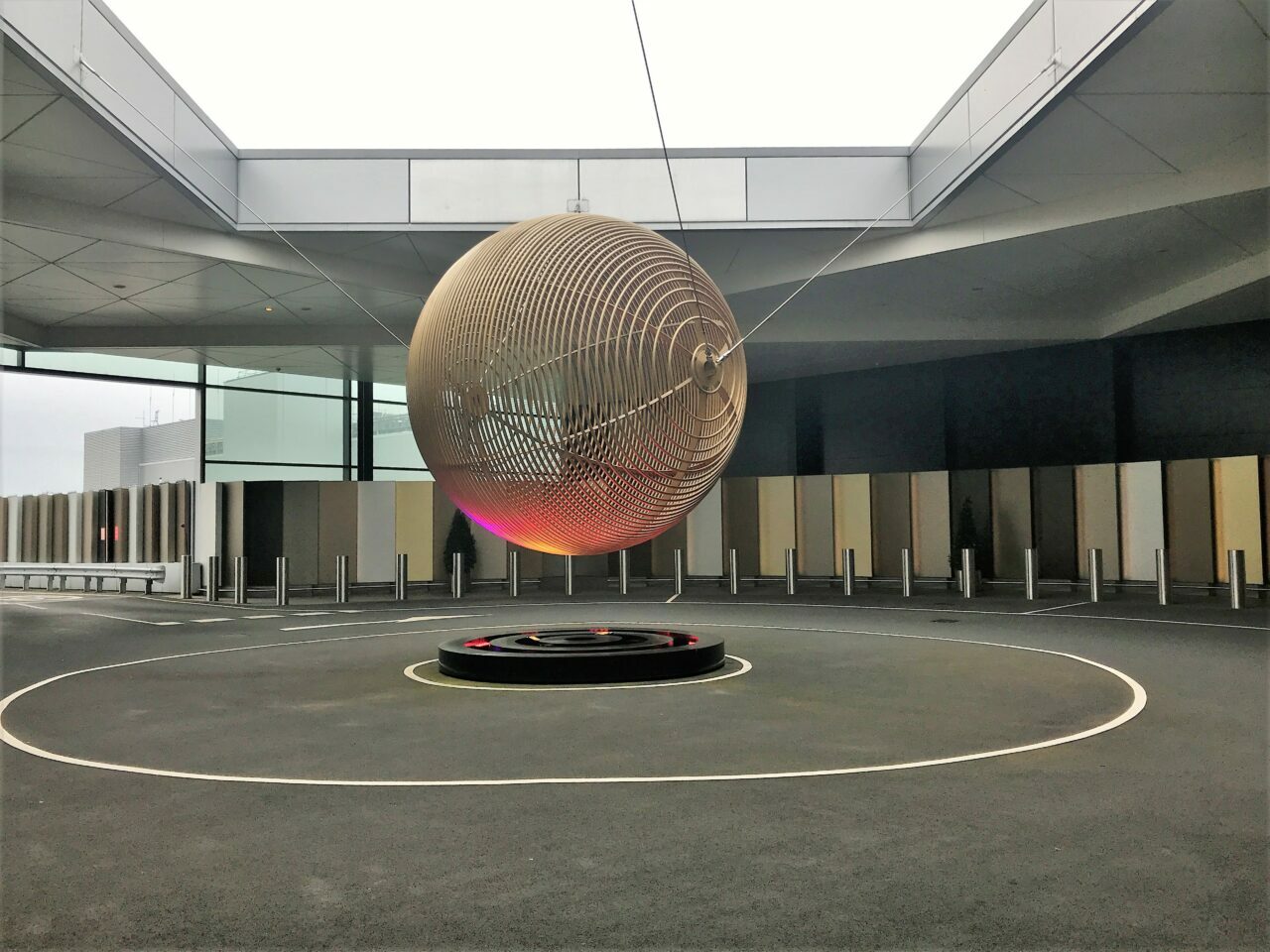 For those of you that may not know- if you fly Virgin Upper Class or Delta One, you can arrive at a completely separate wing entrance when travelling by car! Follow the sign to the "Upper Class wing" and you will arrive at a barrier where you provide your details. When it is approved, the barrier lifts up and allows you to drive up a private road where you are greeted with check-in agents already waiting for you outside. They will take your bags, get you seated in the seating area while they go through your documents and then proceed to a very swift check-in.
However, if you arrive at the main terminal, there is a doorway that you can go through there as well to get to the private wing, but you will need your boarding pass in order to get through.
The Club House Lounge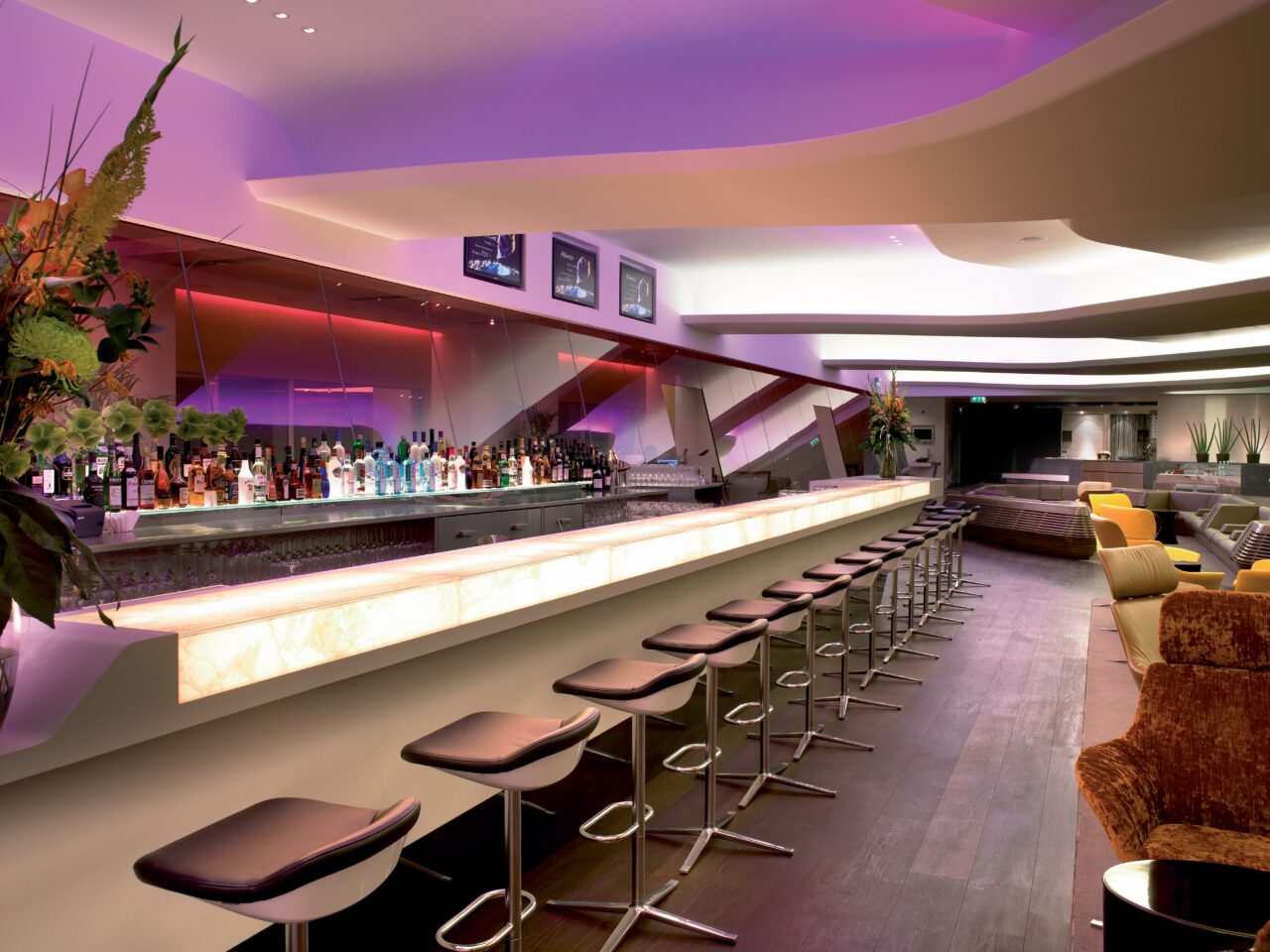 The name of the lounge pretty much indicates the theme and vibe of the place. It is not only a lounge where you relax and wait before embarking on a flight, but it is literally a place to chill and enjoy. As soon as we walked up the beautiful staircase and into the lounge, we received a warm and friendly greeting.
The first thing I wanted to see was the terrace, but the Virgin hostess told us "if you are going to see the terrace then you'd need a glass of champagne each!" Which was lovely to hear! It is the small touches that really make an experience more memorable.
From a pool table, gym equipment to showers, they really do have it all and it's just generally a fun environment to be in. They even have a small area where you can take some pictures with nice backdrops!
Having had a look around the lounge it was time for breakfast, and what a breakfast it was. Great selection of hot and cold food along with cocktails. Having had already 3 cocktails each, we were definitely getting into the holiday spirit…
Virgin Atlantic Upper Class Flight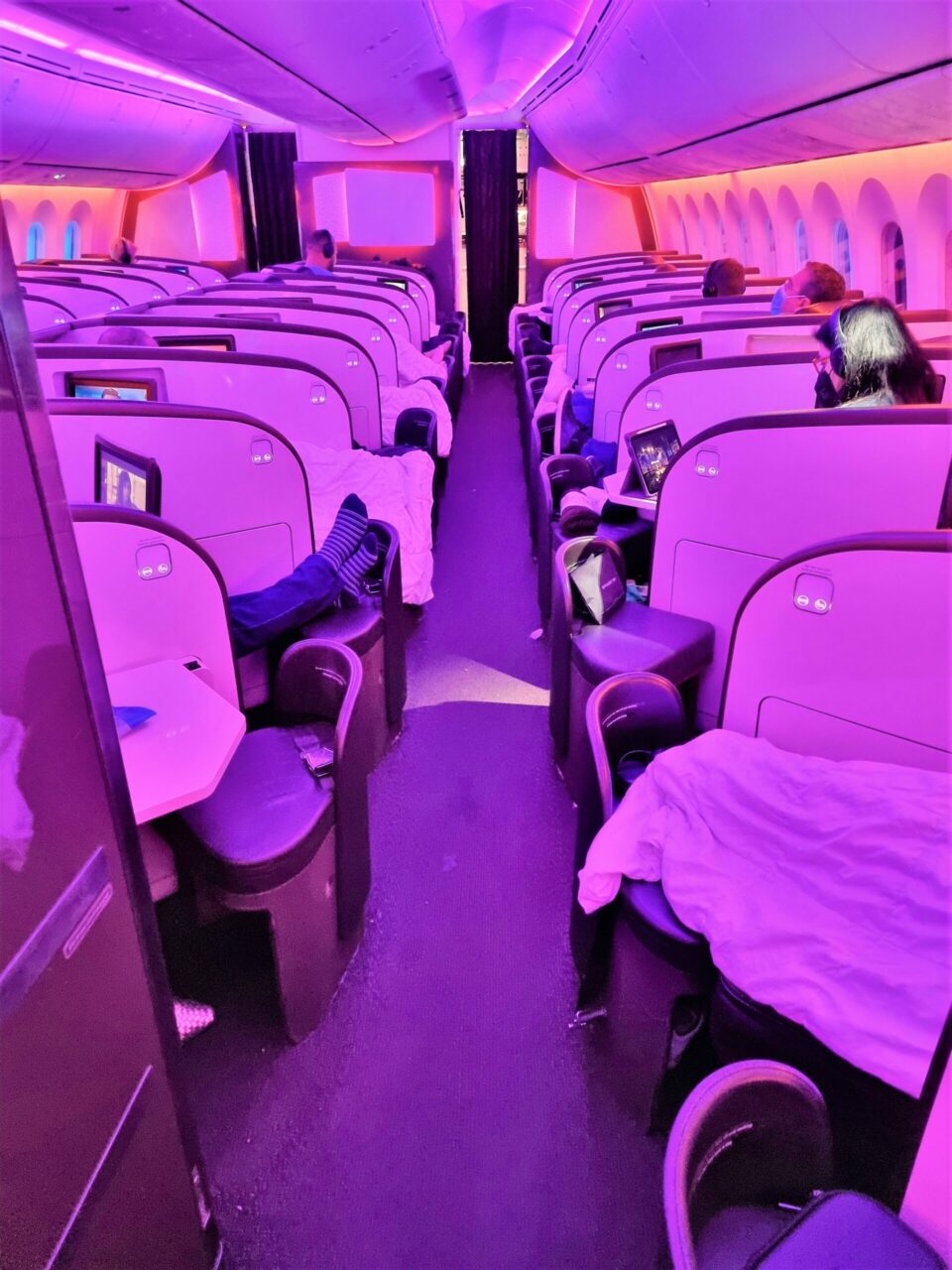 Although my experience with Virgin was going brilliantly, I do have to say that one thing I was not a fan of was the seat configuration on the plane. The 1-1-1 configuration facing outwards away from the window was uncomfortable and awkward as you are head on facing the rest of the passengers, which removed any much-appreciated privacy. Getting a good view out of the window was a mission as I had to stretch my neck out to get a glimpse, which was very annoying.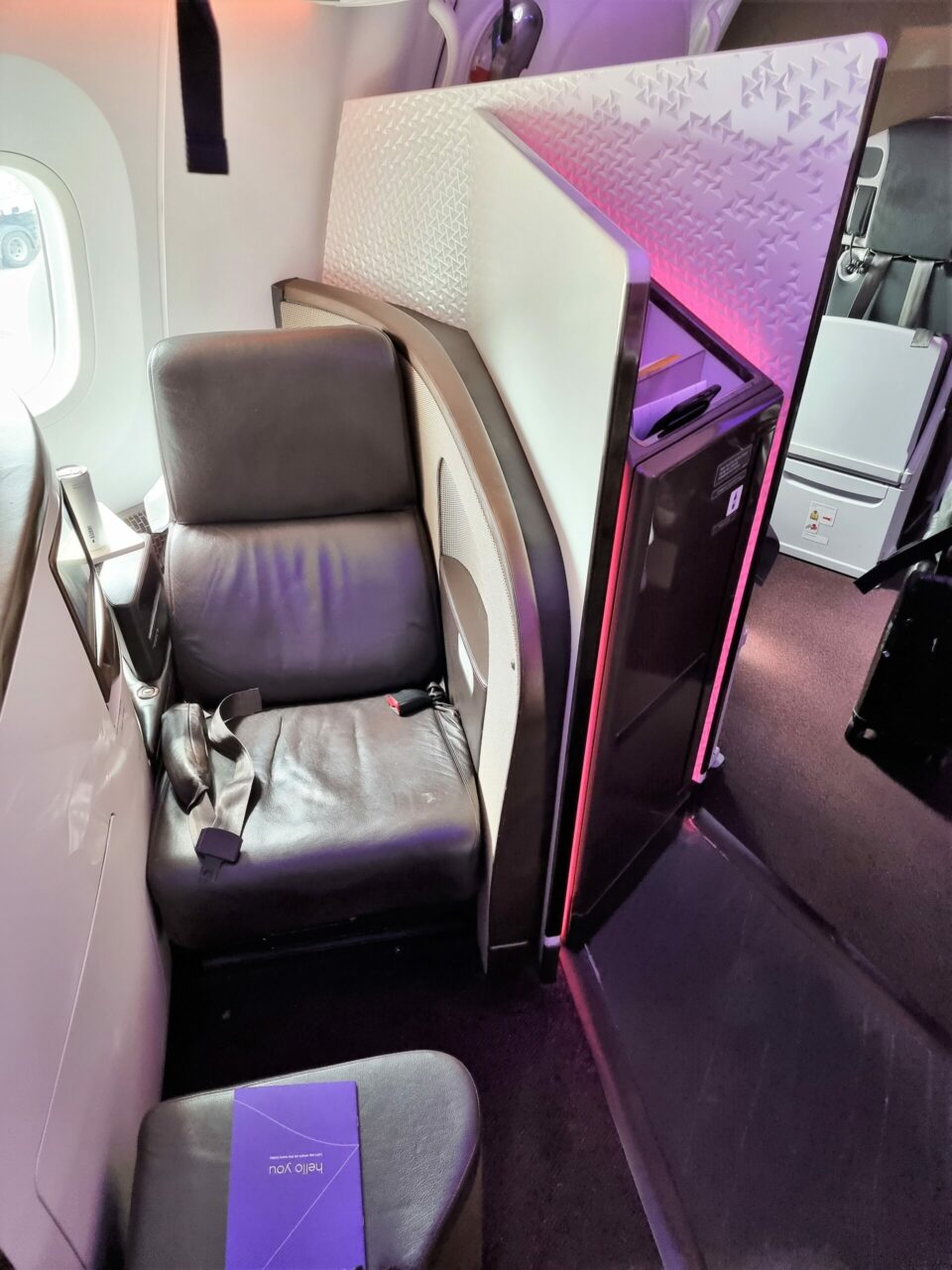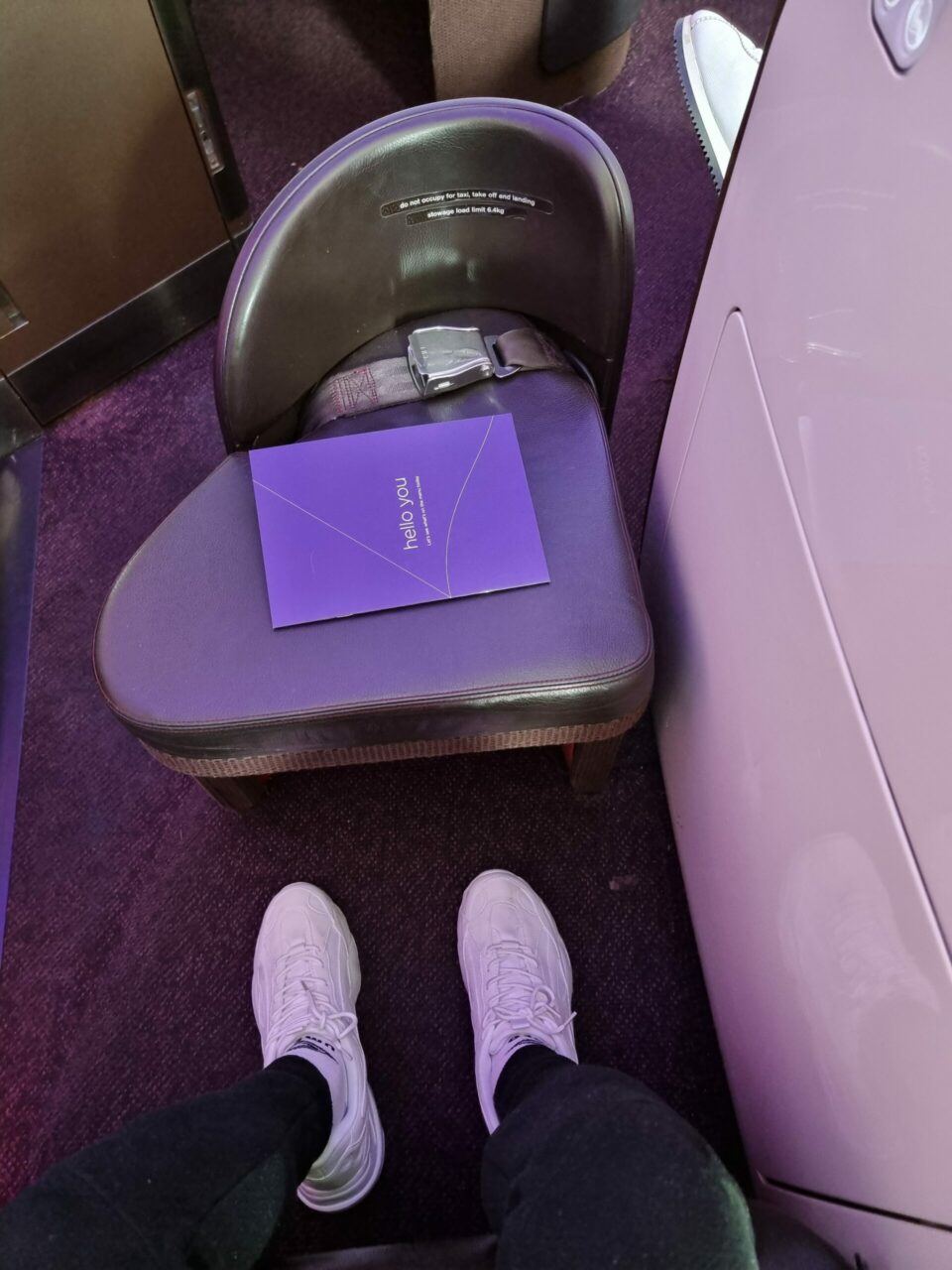 On the other hand, the service onboard definitely blew my mind. The cabin crew were just so naturally friendly, happy and hospitable- nobody was trying to impress or put on a fake smile!
Before the meal was served there were drinks and pretzels.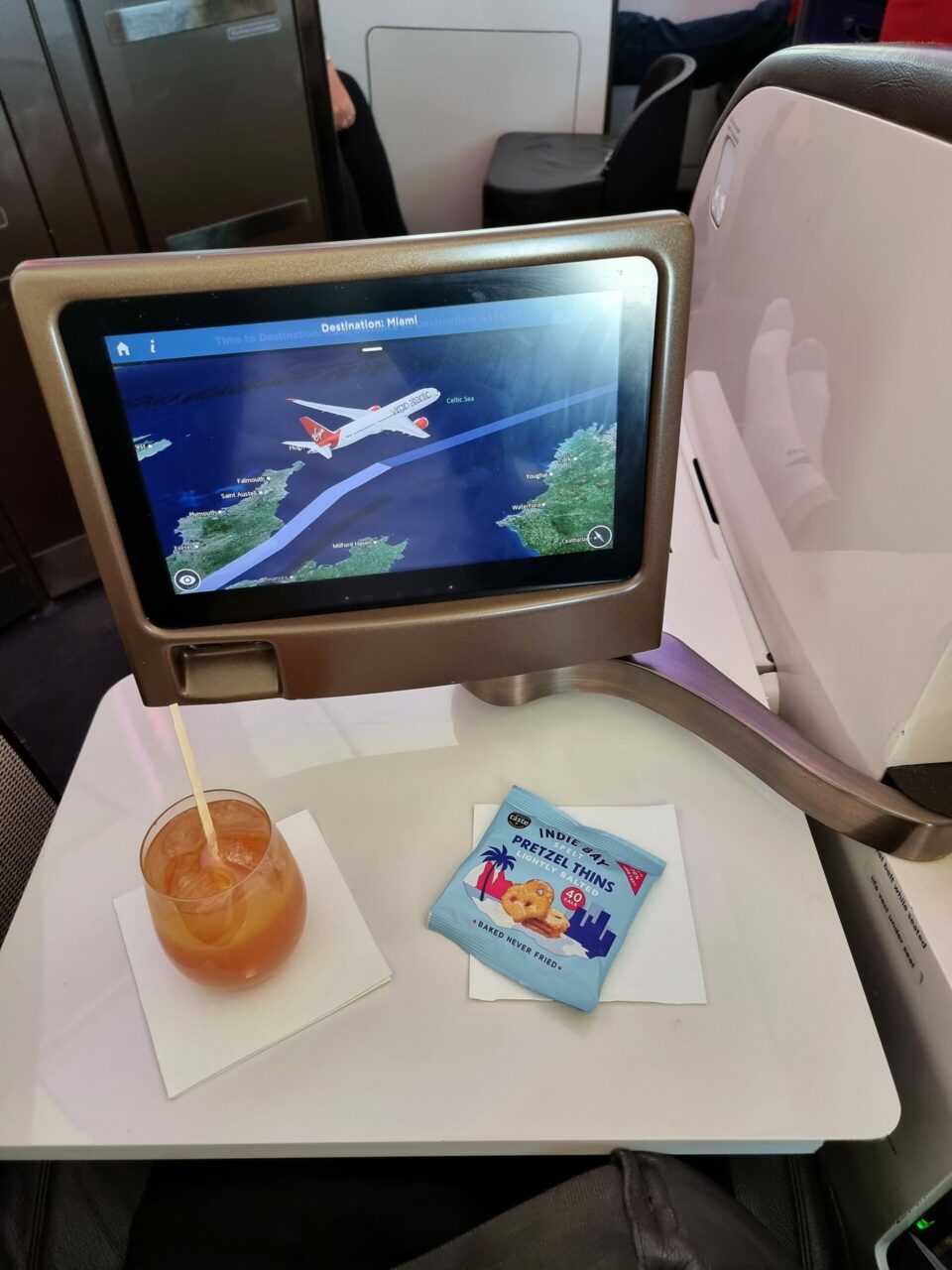 Here is the food menu: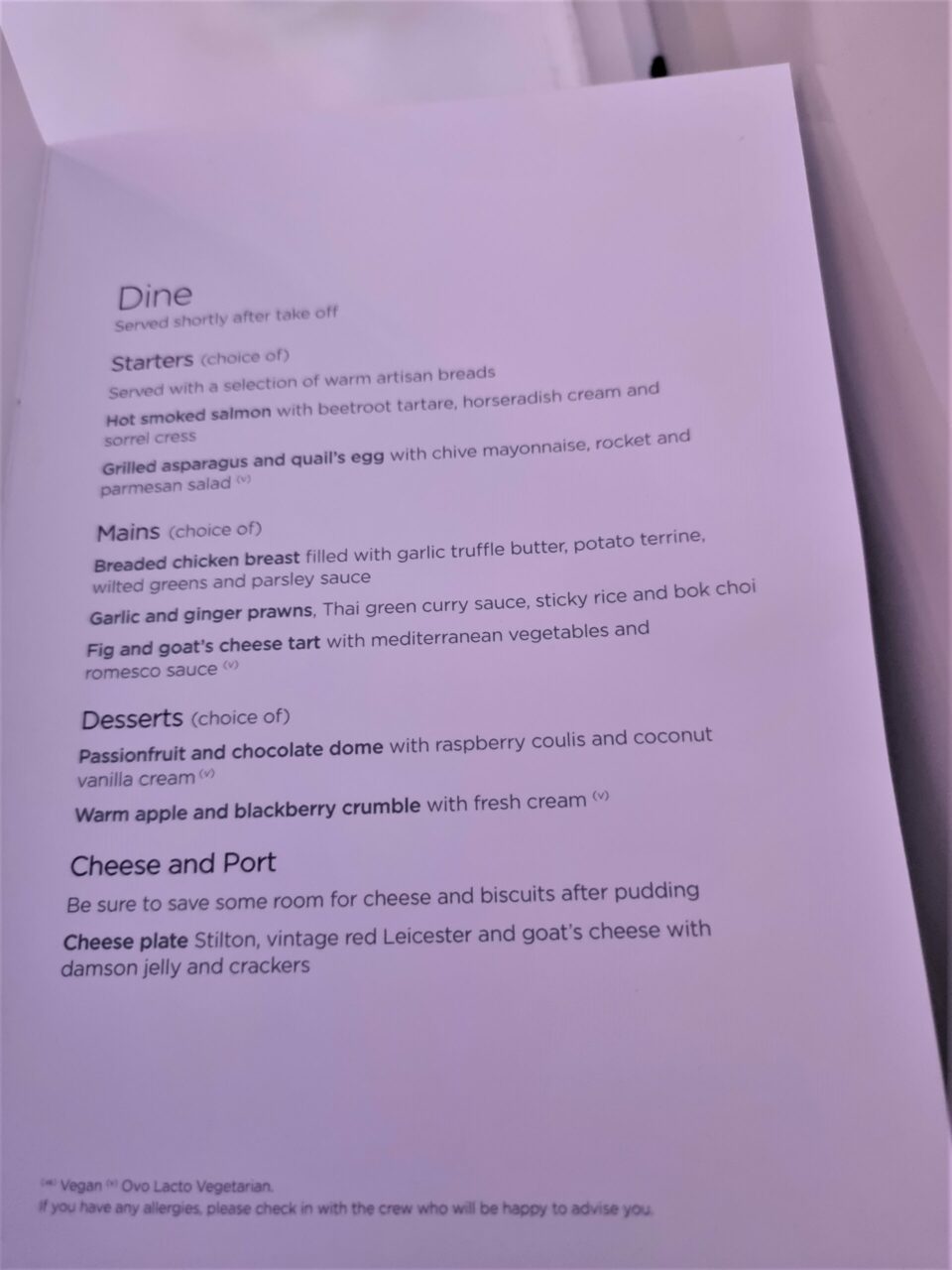 I went for the asparagus,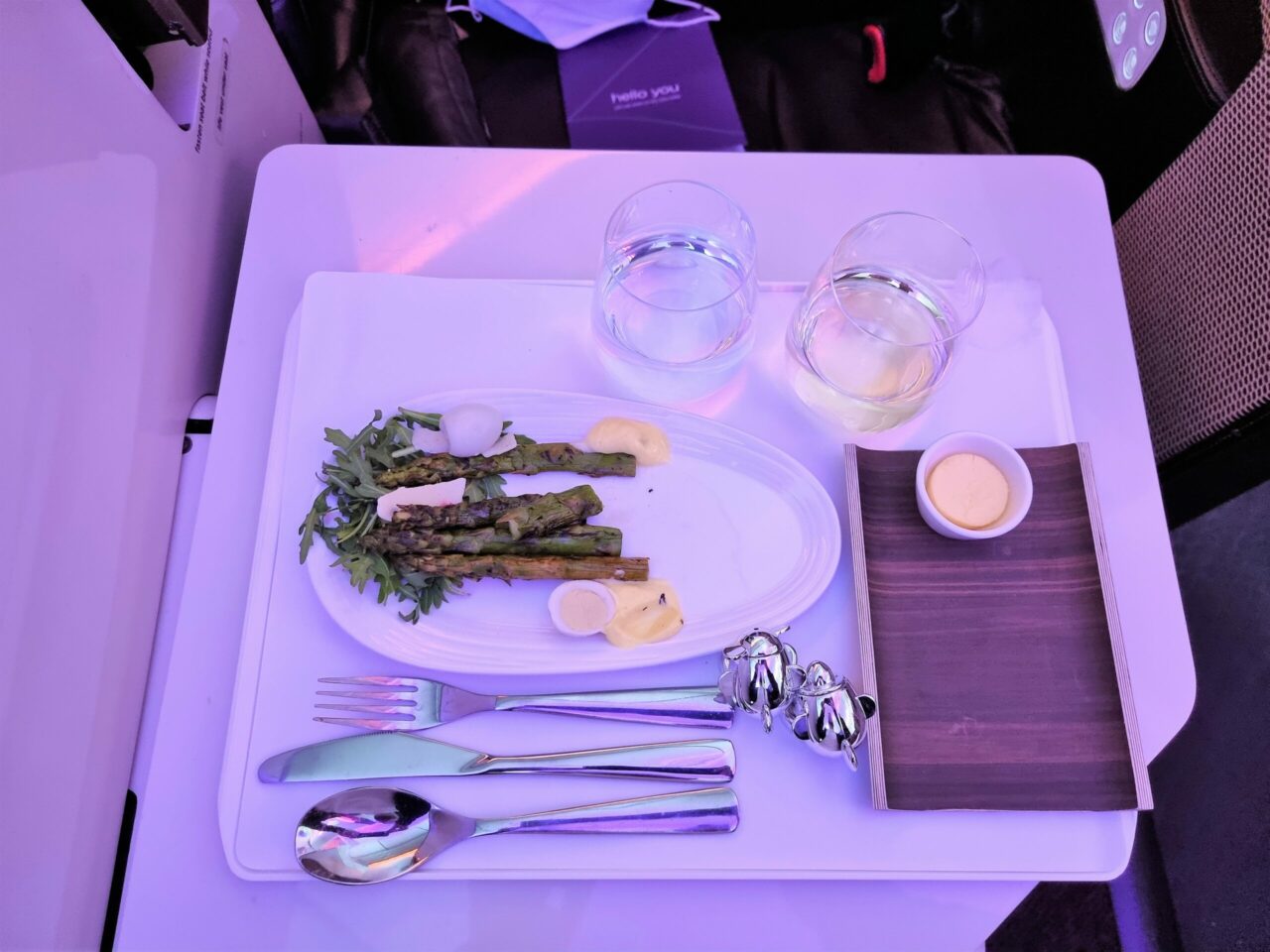 The chicken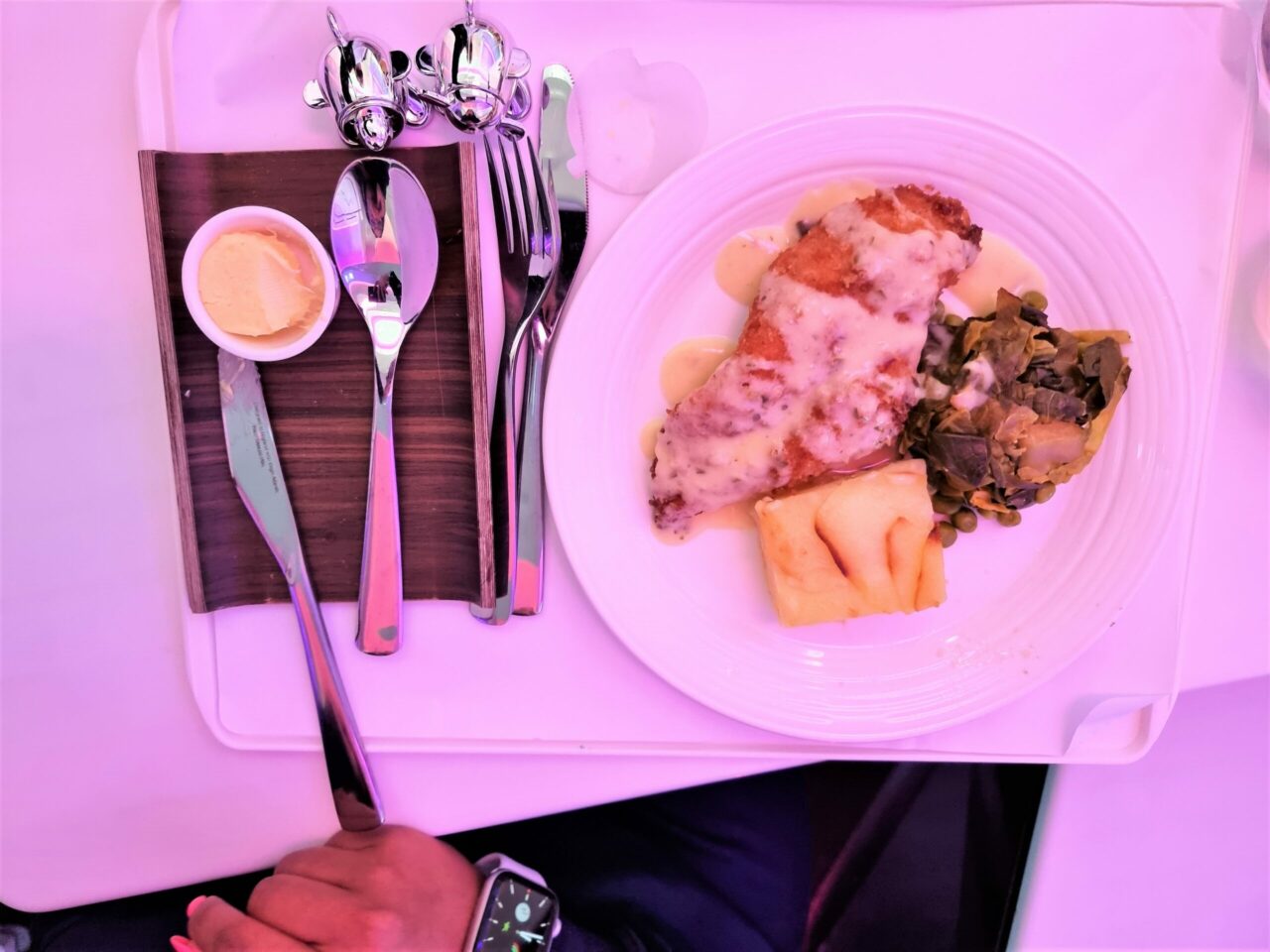 and the passionfruit dome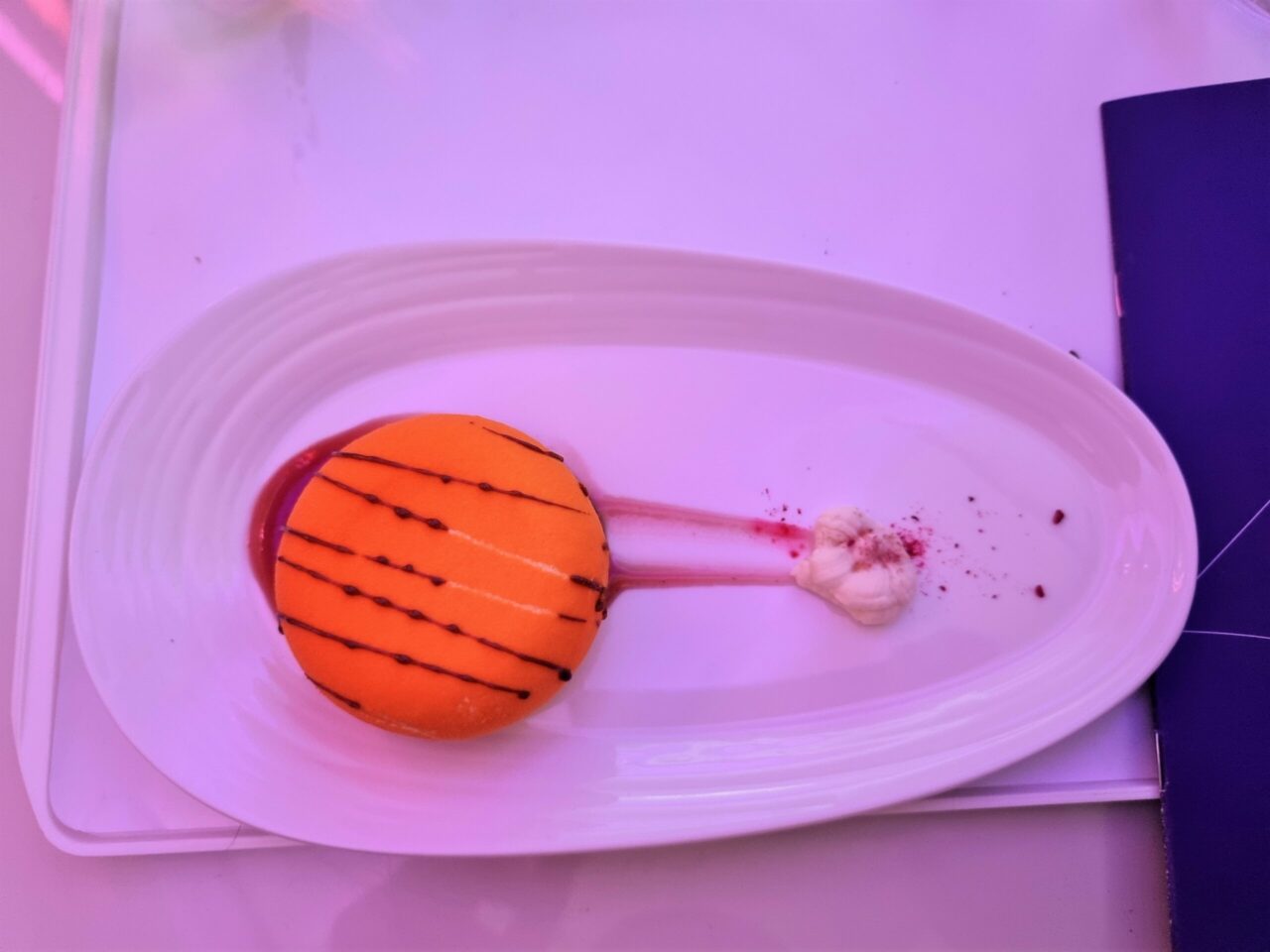 I enjoyed the food as it was very tasty and well presented.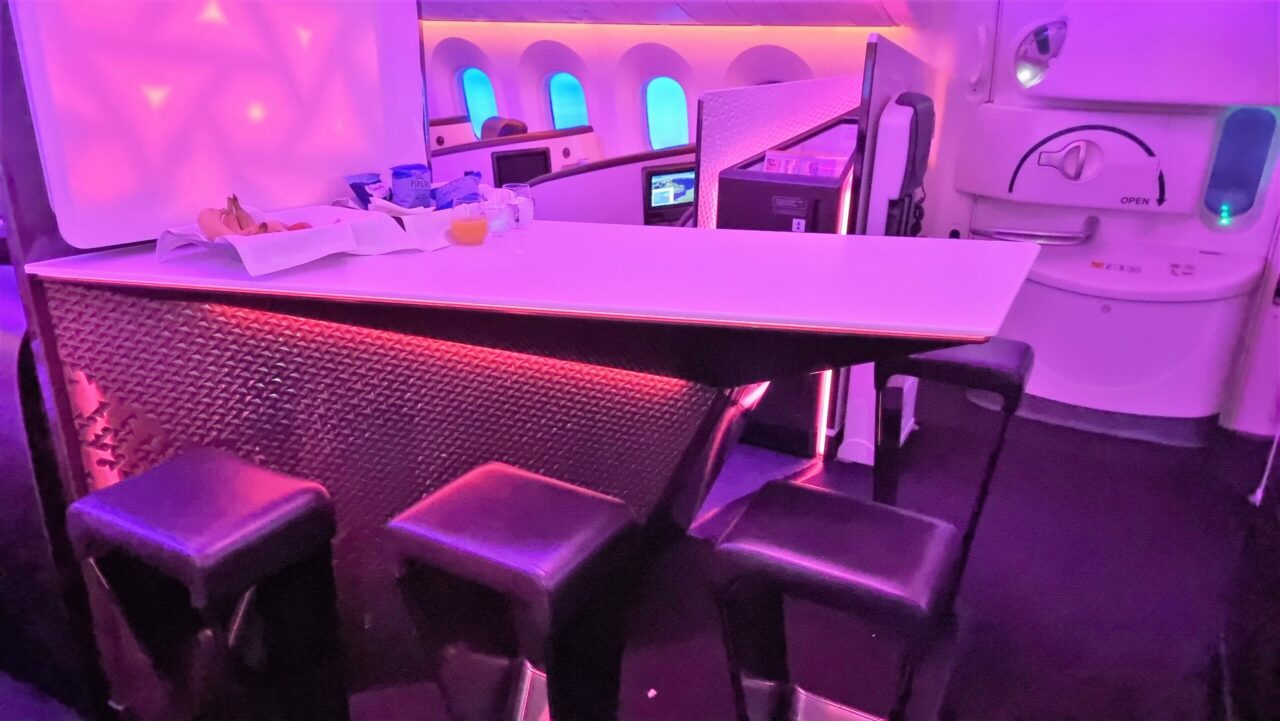 There was of course the Virgin bar which had snacks and soft drinks on it.
Here is the entertainment screen and handset with a smaller display.
Noise-cancelling headphones were placed at your seats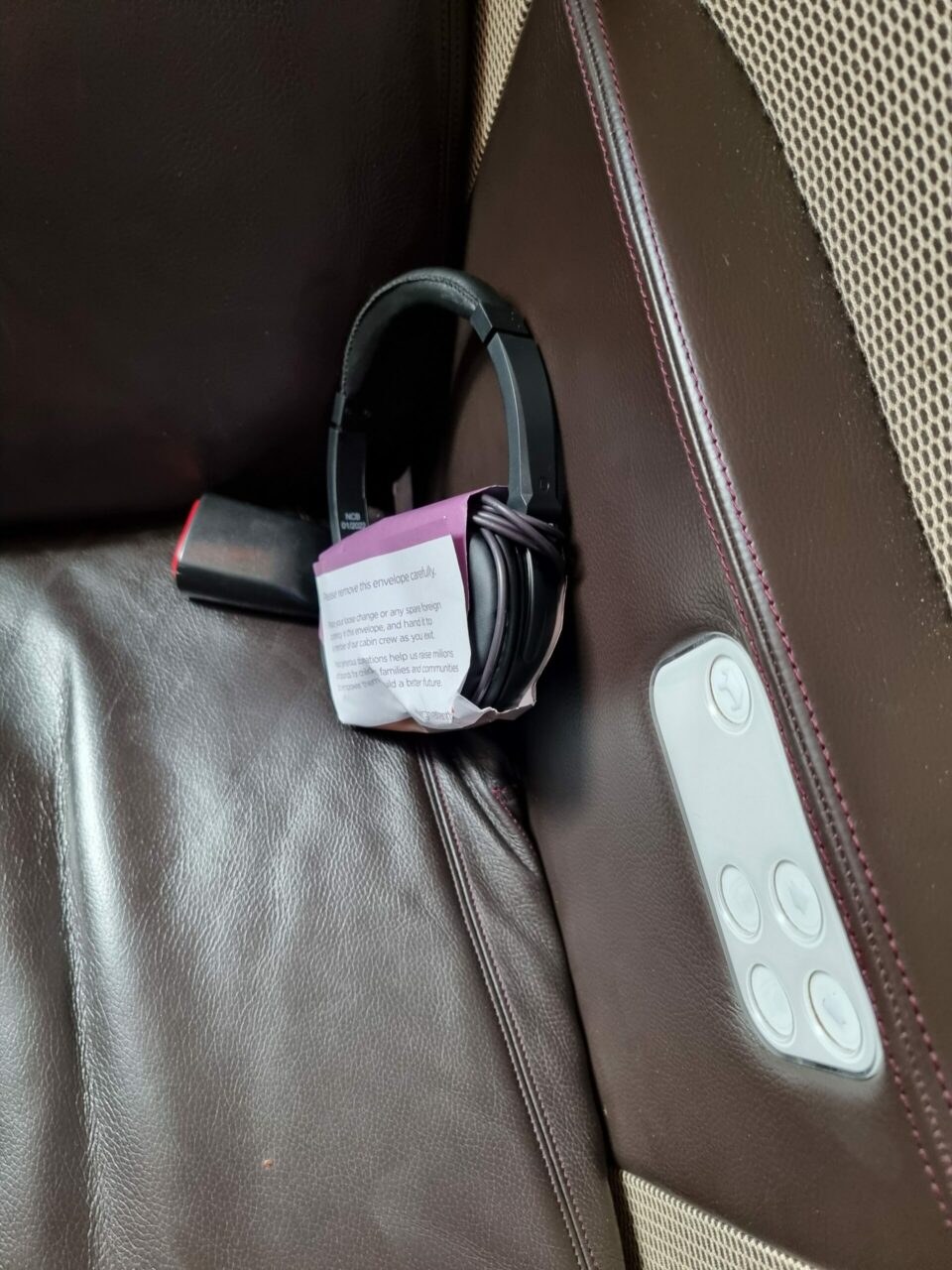 Virgin Atlantic Upper Class Conclusion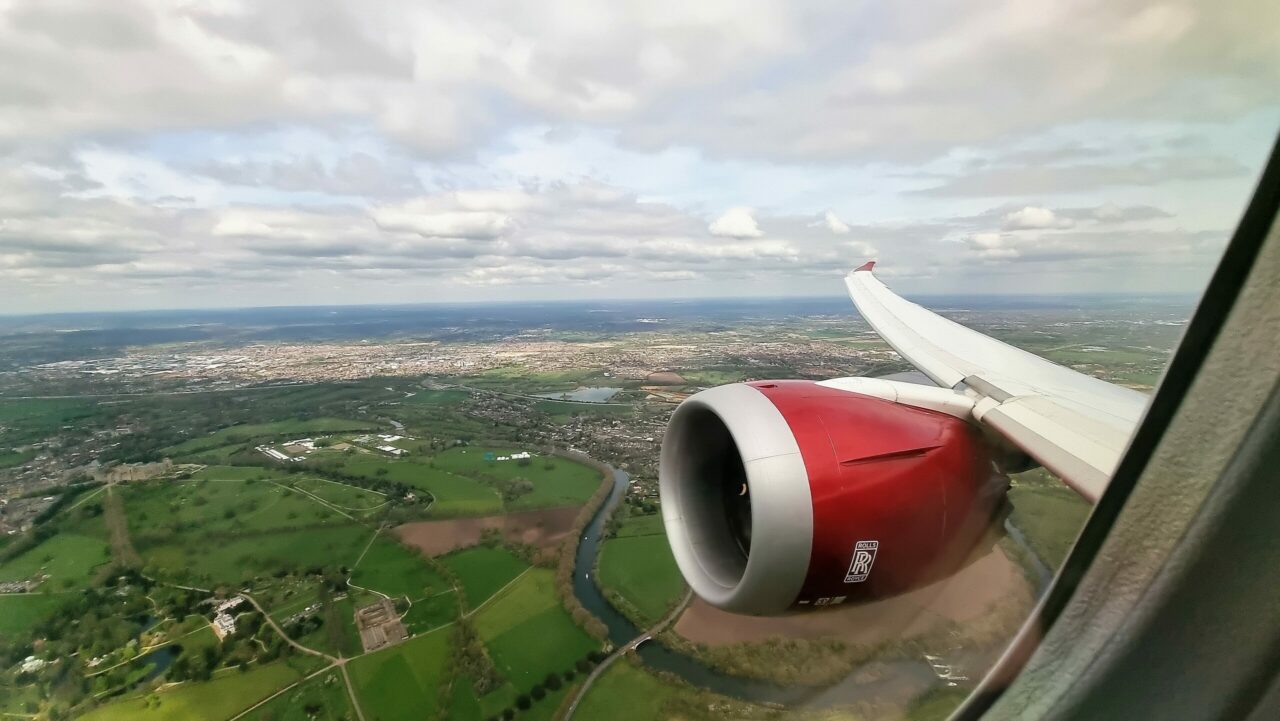 Virgin definitely knows the definition of customer service and I'm glad I chose to fly with them. Looking forward to flying with them again in the near future.
Have you flown with Virgin before? How was your experience? Let us know in the comment section below!