This review is by regular contributor Jason. You can follow Jason on Instagram here @planejayds
You can read the first part of his trip on Sri Lankan here.
Jakarta – Colombo
Check-in Jakarta
I had spent the night prior to my flight in a hotel near the airport and arrived at terminal three of Jakarta Soekarno-Hatta three hours before the departure of my flight to Colombo. I had never been to Jakarta Airport before, and I guess was not expecting much having not heard much about it. Overall, I was surprised on two fronts. Firstly, just how huge it is (although I guess it serves as the gateway to a nation of 180 million people) and secondly, how modern and passenger-friendly it was.
As is often the case in countries where they take their airport security extra seriously, there was an initial x-ray check of luggage before you could even enter the terminal.
Once inside the vast space, it was very well signposted and I quickly located the Sri Lankan check-in counters of which there were four for economy and one for business class. There was only one other person ahead of me in the business class queue and I was quickly checked in and issued my boarding passes all the way through to Abu Dhabi.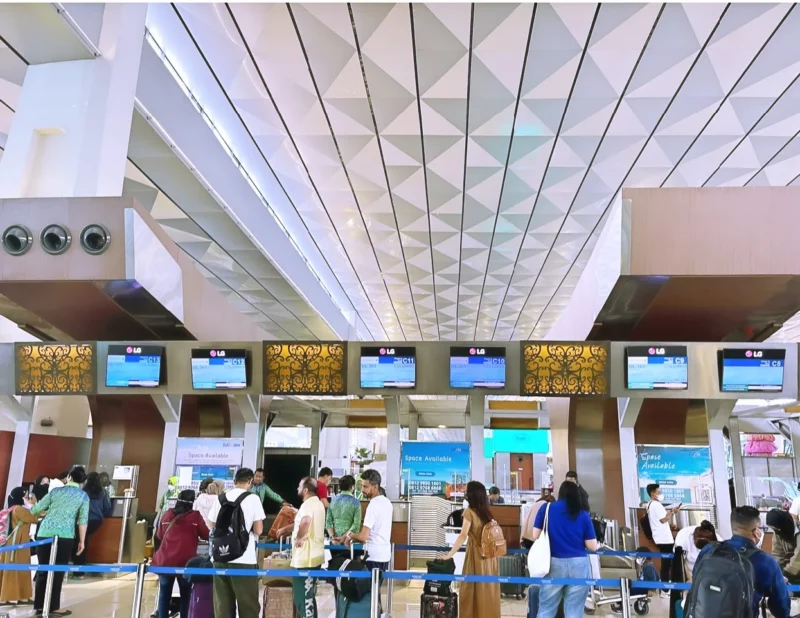 The security at the airport was centralised instead of at each gate, which is common in Asia. The only priority security was 'SkyPriority' for SkyTeam elites (Garuda the national carrier is a member) however the regular security was extremely efficient, and I was through within a couple of minutes. Passport control was also very swift, and I was from kerbside to airside within 18 minutes in total.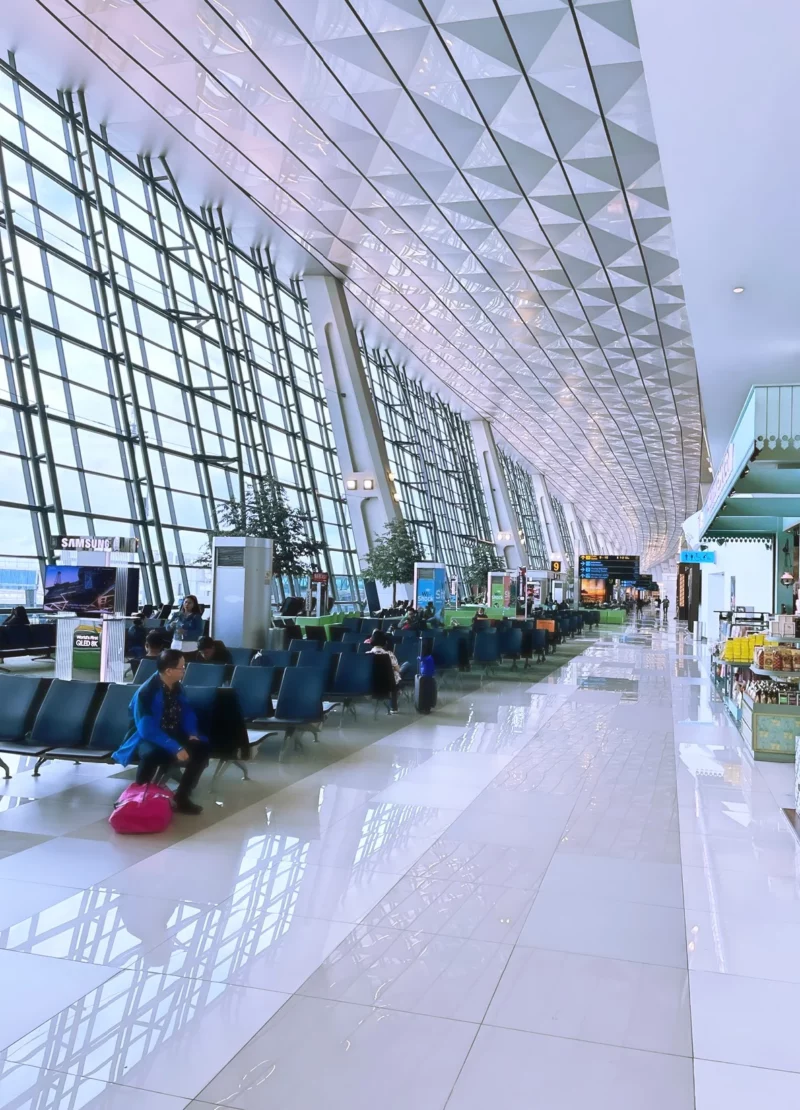 Airside was calm and although the airport was busy it didn't feel cramped or crowded. Wi-Fi was free, easy to connect to and fast. There was a huge amount of light and sweeping views everywhere on the tarmac and runway as well as plenty of shops and cafes although in this respect it is no Changi or Chep Lap Kok.
Lounge – Jakarta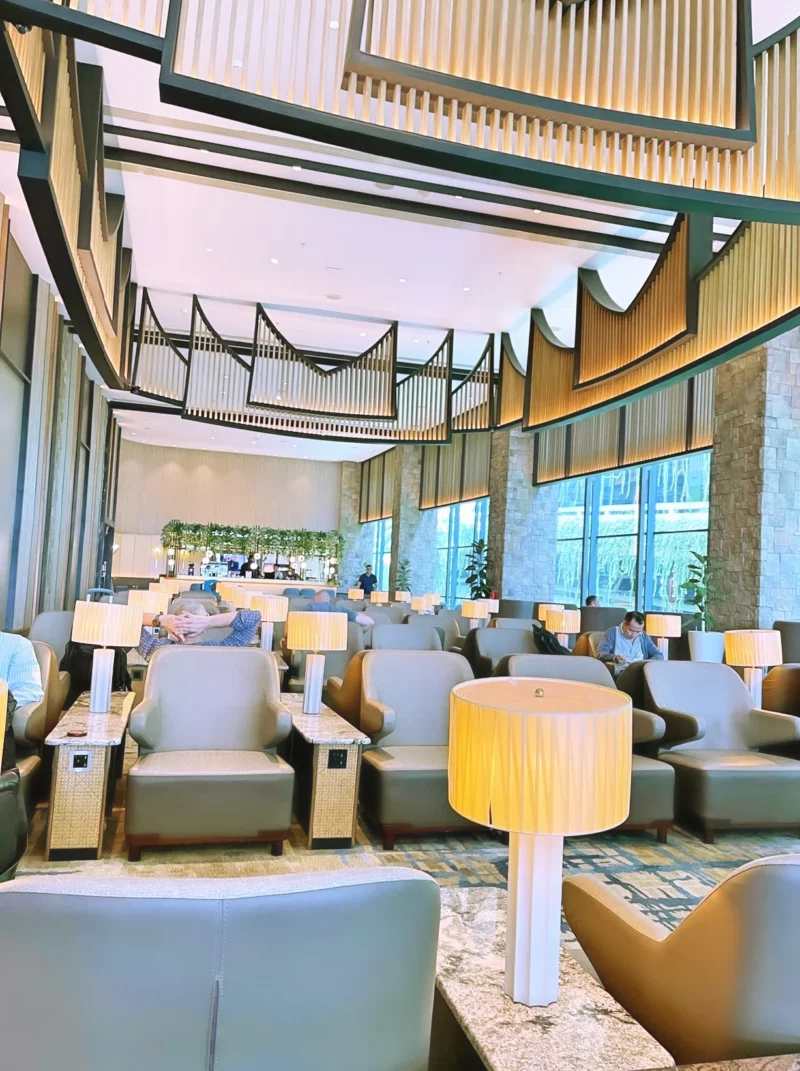 Sri Lankan along with most airlines departing Jakarta contract the Plaza Premium Lounge which is rarely something to get excited about. I made my way to the lounge, keeping my expectations in check, but like the airport itself my expectations were exceeded. Not only was the lounge massive (and as a result not crowded) but it also had beautiful furnishings and decorations.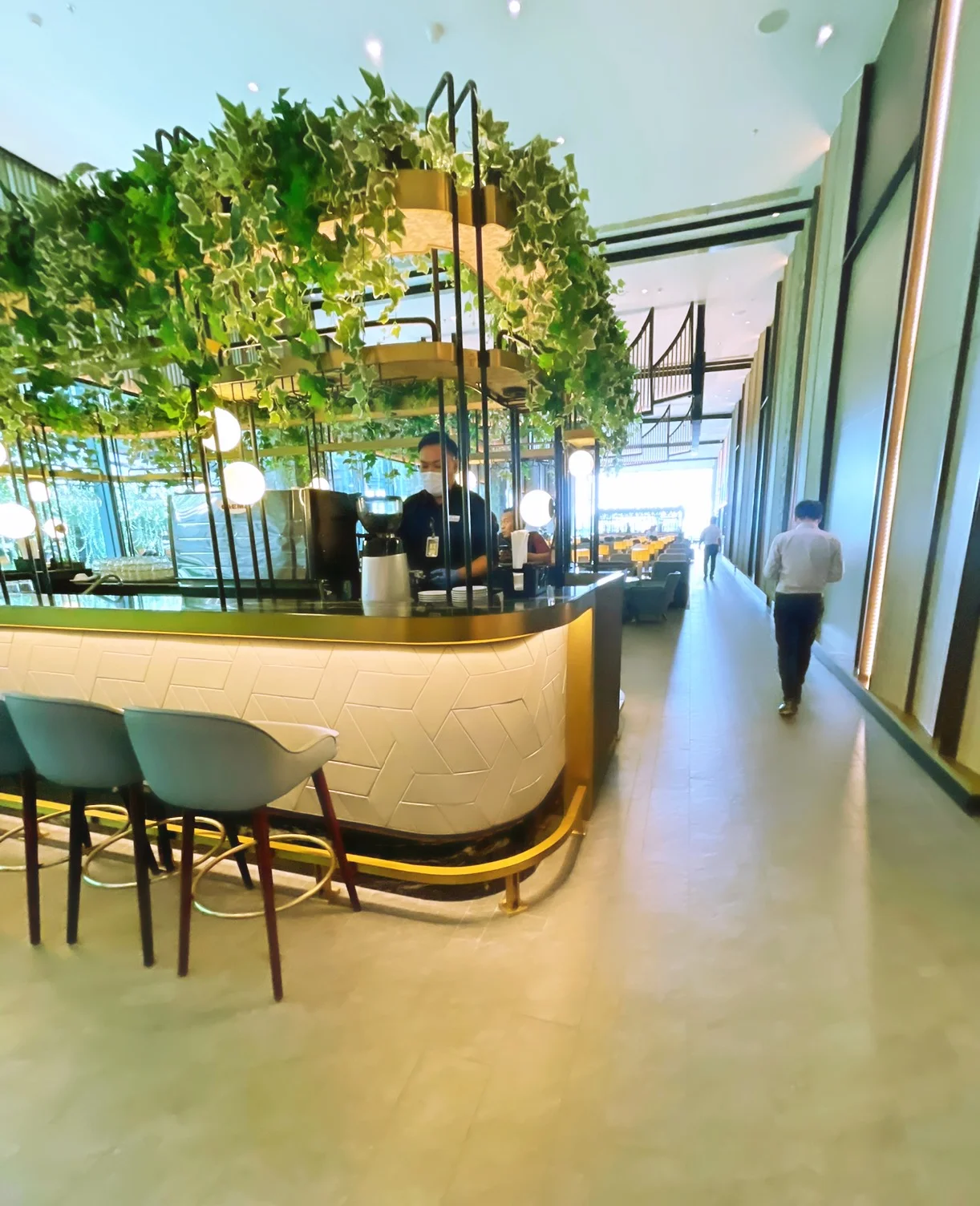 Along with a fully tended bar and barista-made coffee food options were also a step up from the usual contract lounge. There was the familiar buffet with the usual salads, sandwiches, and snacks as well as a made-to-order counter which had three hot options. It was a very pleasant and calming place to spend time before my flight and could really be an example for some airlines that operate their own in-house lounges.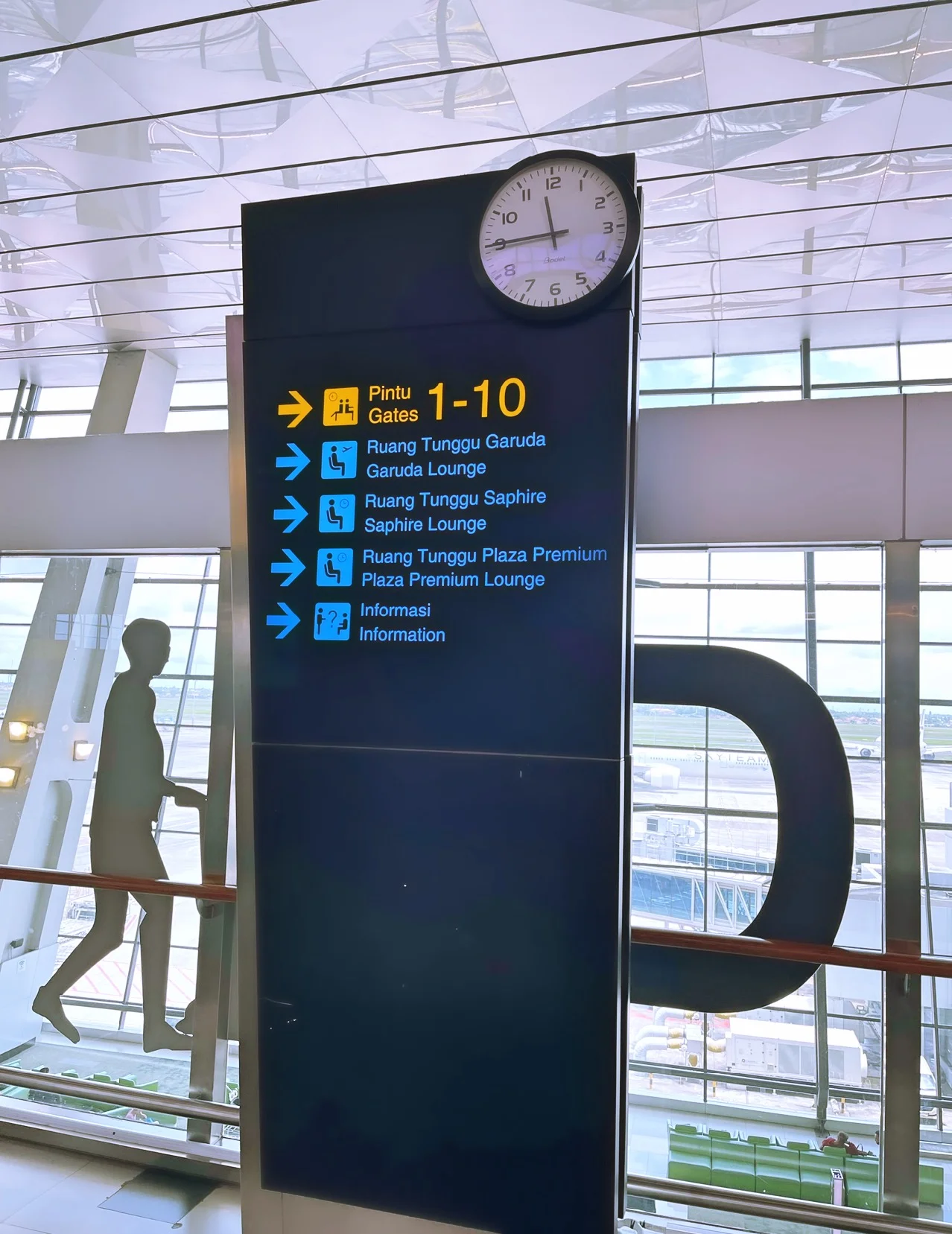 I made sure I allowed plenty of time to reach my gate as when I had cleared passport control on arriving at the airport, I timed the walk from gate one to gate seven where the lounge was – it took ten minutes, and I am not much of a dawdler. From the lounge to my departure gate was another good ten minutes' walk and boarding started literally the second I arrived.
Boarding – Jakarta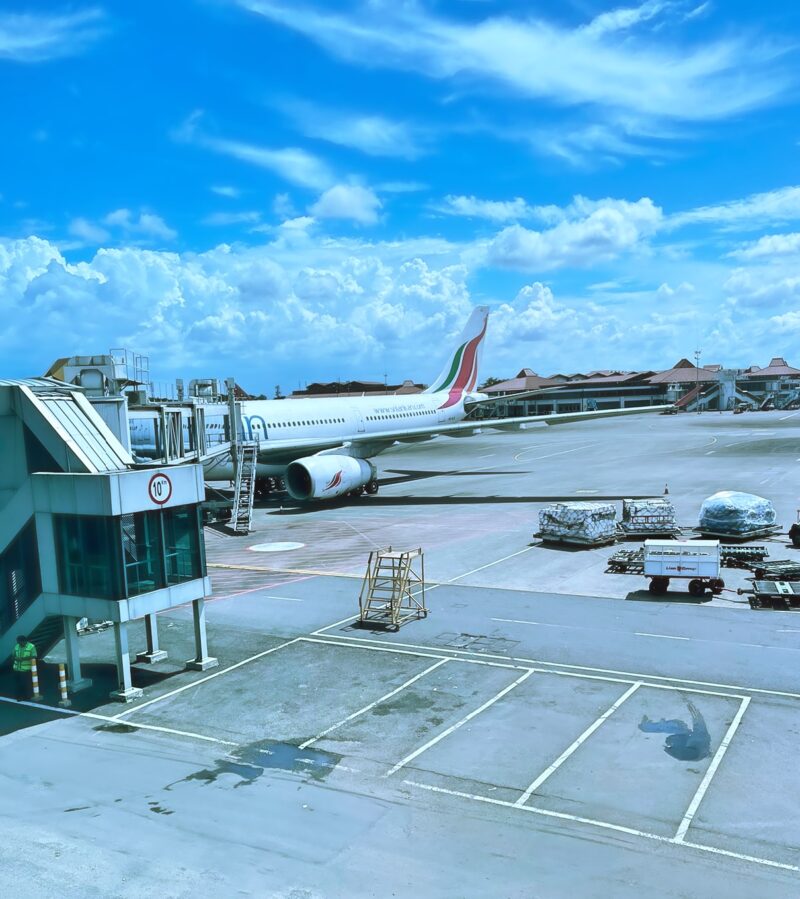 Boarding started on time with Business Class called first and, on this flight, it was strictly enforced. As always with Sri Lankan there was a warm welcome at the door from the crew and I turned left into business class.
As on the flight out from Colombo, this aircraft was one of their A330's that they predominantly use on Asian routes in a 2 x 2 x 2 configuration. I had assumed they would all have the same seats but the seats on this aircraft were slightly different. The seats were a deep red in colour and there were some animal prints adorning the bulkheads.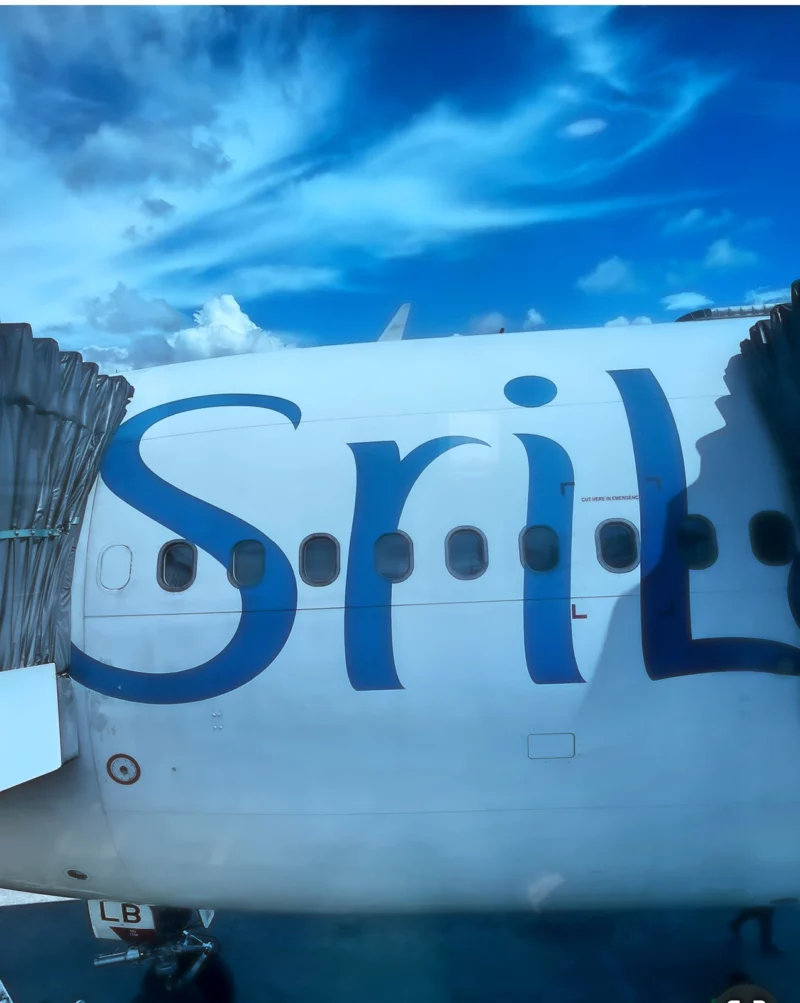 Although the seat is old fashioned for Business Class these days the sense of space is unbeatable with only eighteen seats taking up the whole space between doors one and two of the aircraft.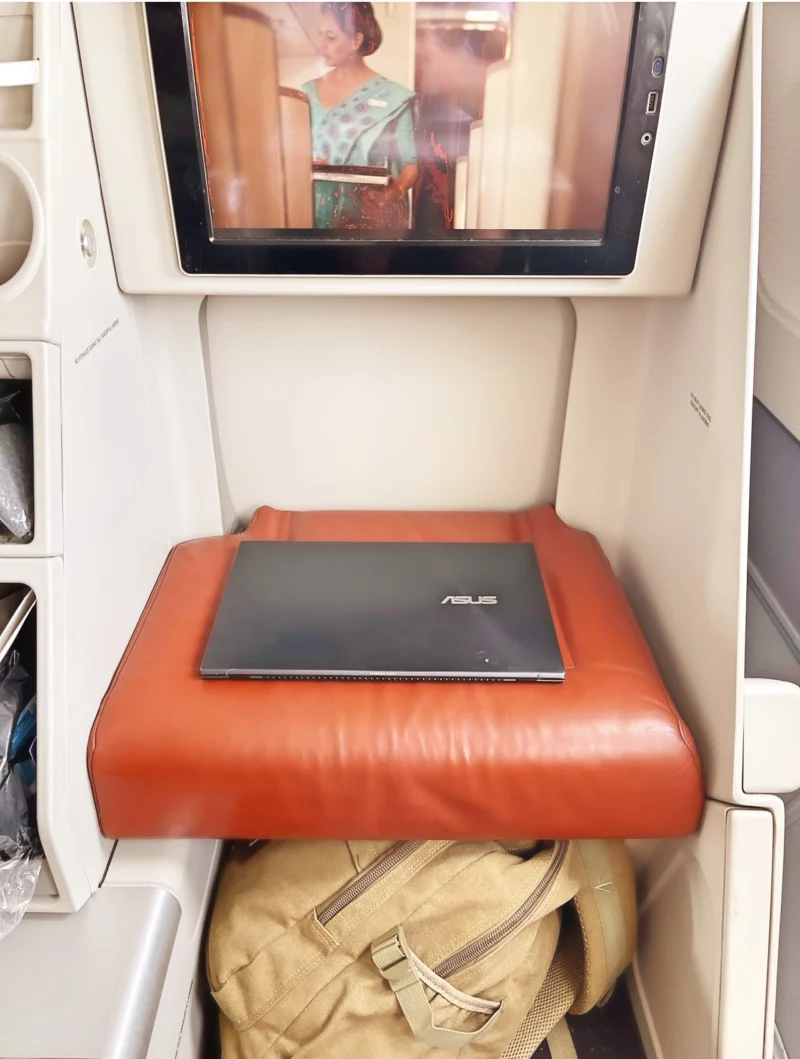 I love how you instantly know you are on a Sri Lankan aircraft just by looking at the decorations and uniforms. Waiting at my seat was a blanket and pillow and one of the friendly crew soon approached, welcomed me, and offered a choice of water or orange juice as well as some socks and eye shades. Headphones and menus followed, and lunch main course options were taken.
Only eight seats were occupied on this flight, so I fortunately had an empty seat next to me. The inflight manager came to give me a very informal Oneworld Emerald welcome, which was a thumbs up and an 'all ok' which suited me fine. I'd rather have an informal genuine welcome any day to some insincere yarn that you hear repeated as the Inflight manager repeats verbatim as they go on to the next passenger.
We pushed back at 14:30 and were airborne fifteen minutes later at 14:45.
The seat – 3K A330-200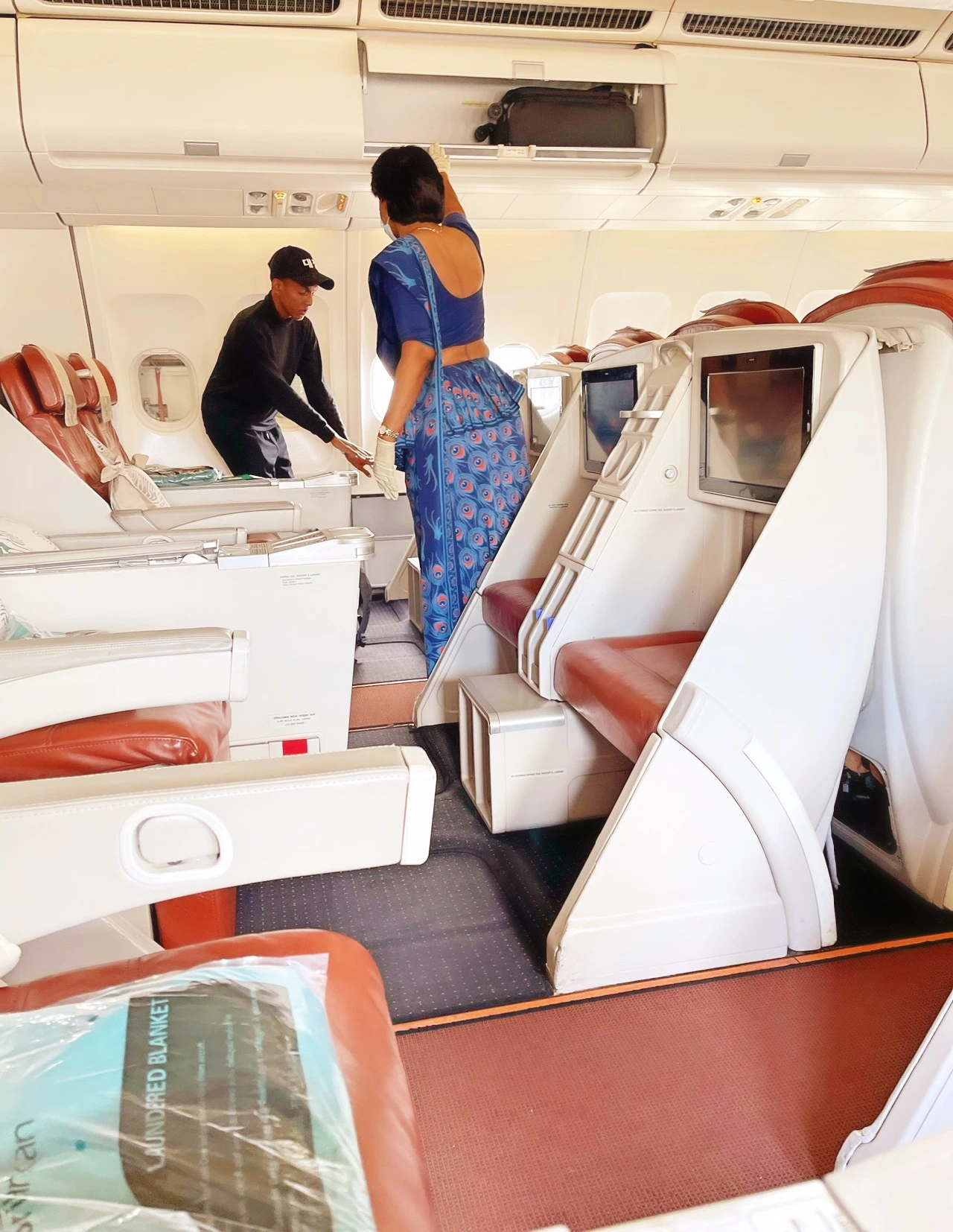 The seats were similar to what you will find on the first-generation Qatar Airways non-Qsuite 777. It is an old-school forward-facing seat which reclines fully flat and utilises the ottoman space for your legs.
It is a great seat if travelling with a companion but offers little privacy if you are flying solo and the cabin is full. There is a privacy screen you can pull up from the centre armrest if you have a seatmate you don't want to chat with.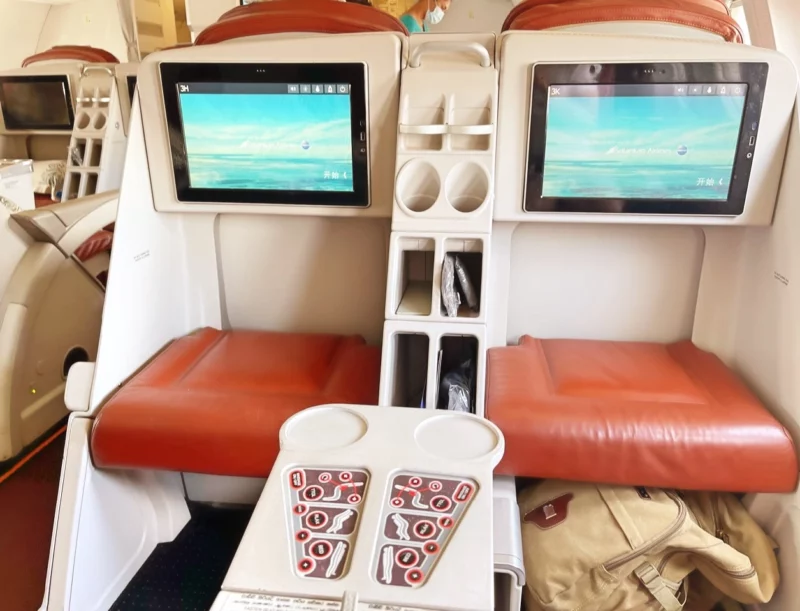 It has little stowage space in terms of cubby holes although there is a large area underneath the ottoman that accommodated my backpack easily. And of course, if you are in the window seat and have a seat mate you will have to climb over your neighbour to get in and out.
The seat is controlled by push buttons on top of the centre armrest where you can customise a position or there are a few pre-set options such as flat or dining. Despite the age of the product and the drawbacks, it remains one of my favourite seats to travel in the long haul and I'd be happier in a seat like this than a business class 'suite' with a sliding door with one caveat – the seat next to me is unoccupied.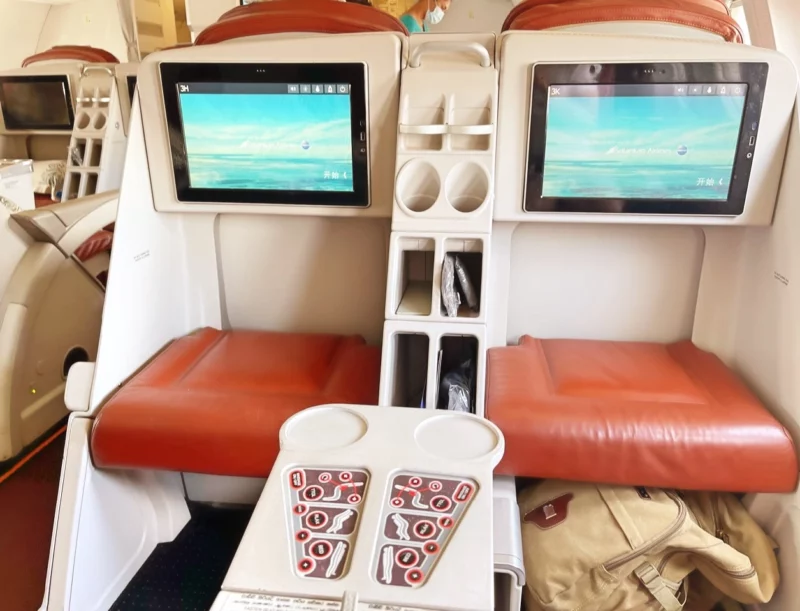 Why? Airlines and seat designers have cracked the code in maximising the floor real estate in business class cabins and I find a lot of the newer, more 'private' seats/suites feel quite claustrophobic. They often have tiny cubbyholes for your feet when you are fully reclined, and I find I often must sleep at uncomfortable angles. This old-school set-up had a sense of openness and space and the ottoman was huge which allowed me to toss and turn in comfort which I usually do when I sleep. The seat had everything I needed – space, a flatbed, universal plug and USB power and a moving map.
Inflight service
One thing I have found with Sri Lankan is that the service flow is pretty consistent on their medium-haul flights regardless of the route and I mean that in the best possible way.
Drinks were served before our late lunch/early dinner and came with a side plate of cashews.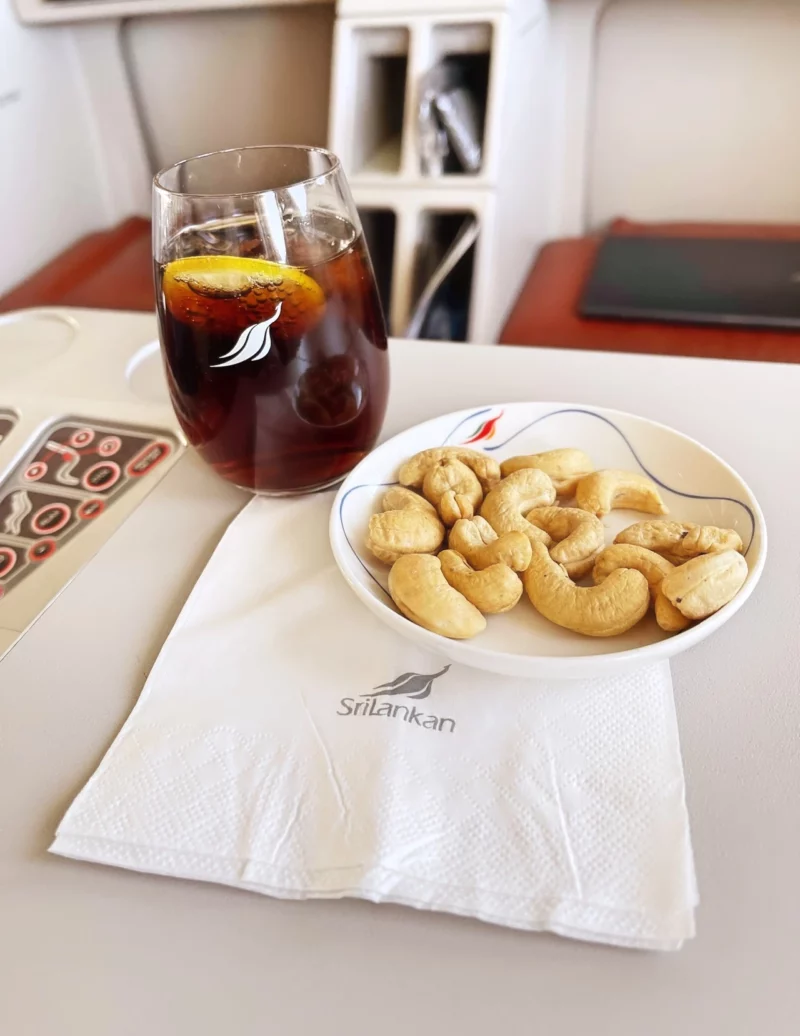 The main meal service then got underway, and as with the other three sectors, this consisted of a starter, a choice of four main courses and a dessert.
I find the Sri Lankan crew to be very proactive and intuitive, for example, I was working on my laptop when the service trolley reached me, and the flight attendant asked if I would prefer my meal served later.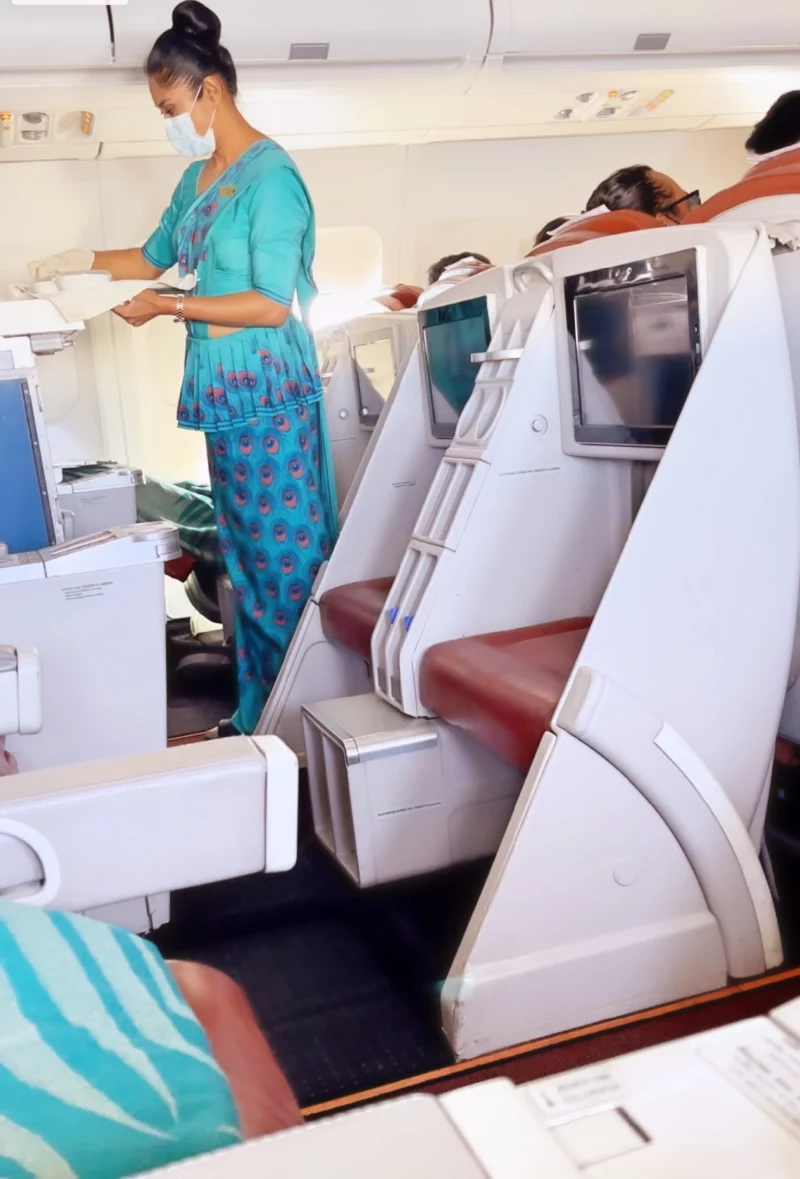 I didn't want to be a PITA so said no, I'll put my laptop away however she kindly took out the tray table of the neighbouring empty seat and set my meal up there. It isn't just that this flight attendant thought to do this, but it was more the fact that the option was presented in such a helpful manner.
She wanted to assist me, to make me as comfortable as possible and I really felt that. Wine and water were served with the meal as well as a selection of breads. I chose the roti as I find it delicious in Sri Lankan and compliments their curry perfectly, but the crew member also popped a piece of garlic bread on my tray insisting it was very good.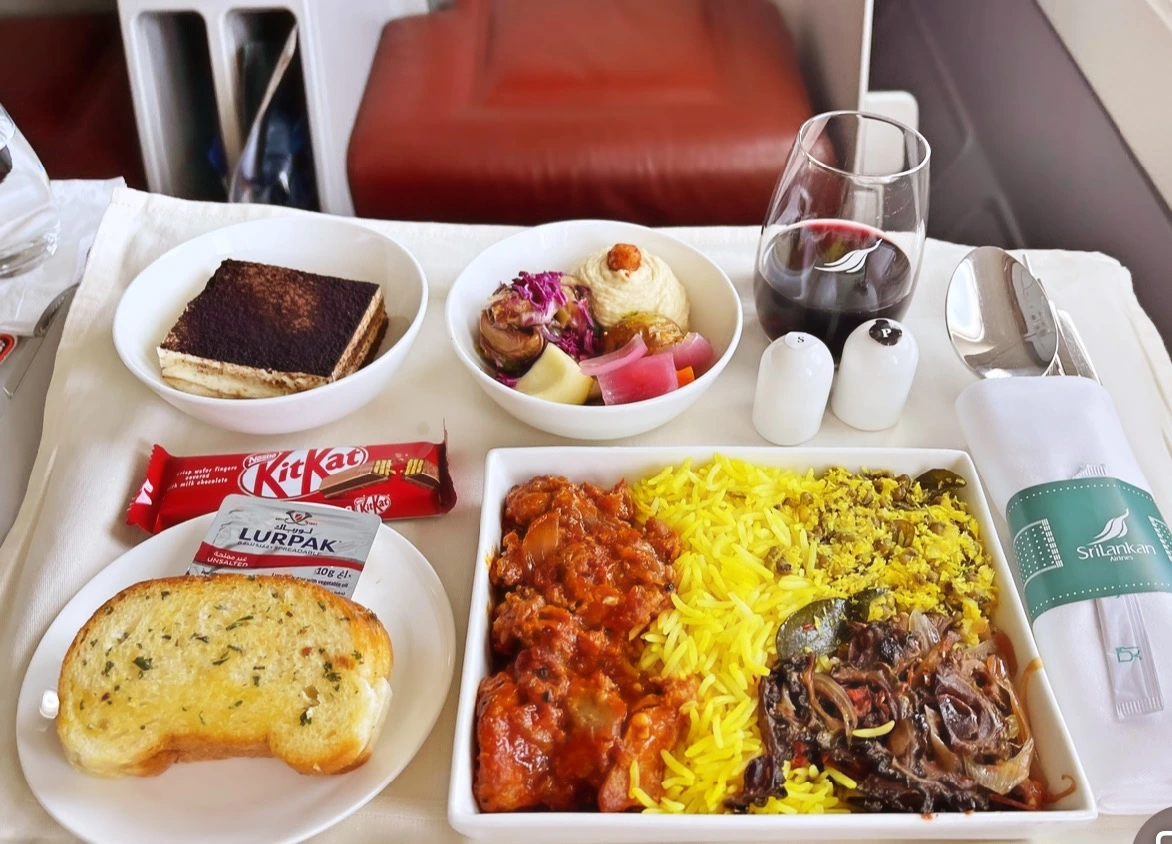 The meal on every flight was delicious. Curries tend to be one of the best options on any aircraft as not only do they reheat well in aircraft ovens but their strong flavours also come through when our tastebuds are desensitised due to the dry air. Wine and water top-ups were offered and then the tray was collected in.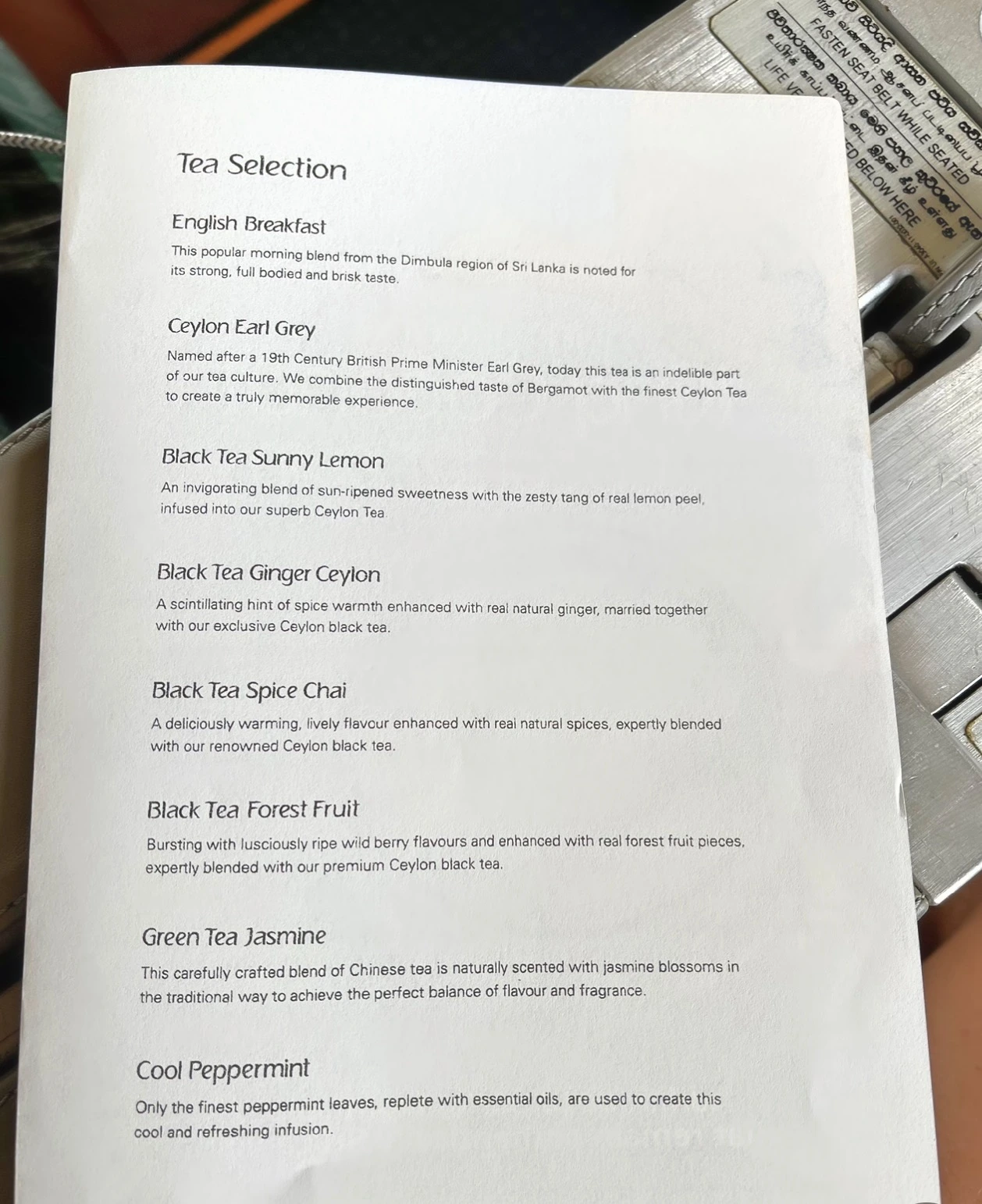 The tea and coffee trolley then passed by, and I thought despite being more a coffee kind of guy it would be rude to pass up tea from a country that prides itself on its homegrown leaves so I ordered a cup of spicy chai. The crew member prepared the tea for me, was about to pass it to me and then took it back. 'No no, this tea needs more time to brew to be perfect, allow me another minute'. And she stood there and gently stirred the tea until she was satisfied it was the perfect brew.
Who am I to argue with a Sri Lankan about tea? It was another one of those moments that really touched me and gave me the feeling that the Sri Lankan crew are passionate about looking after their customers. This wasn't a 'service standard' from a step-by-step guide, this was a customer service professional using her skills to enhance a passenger's onboard experience.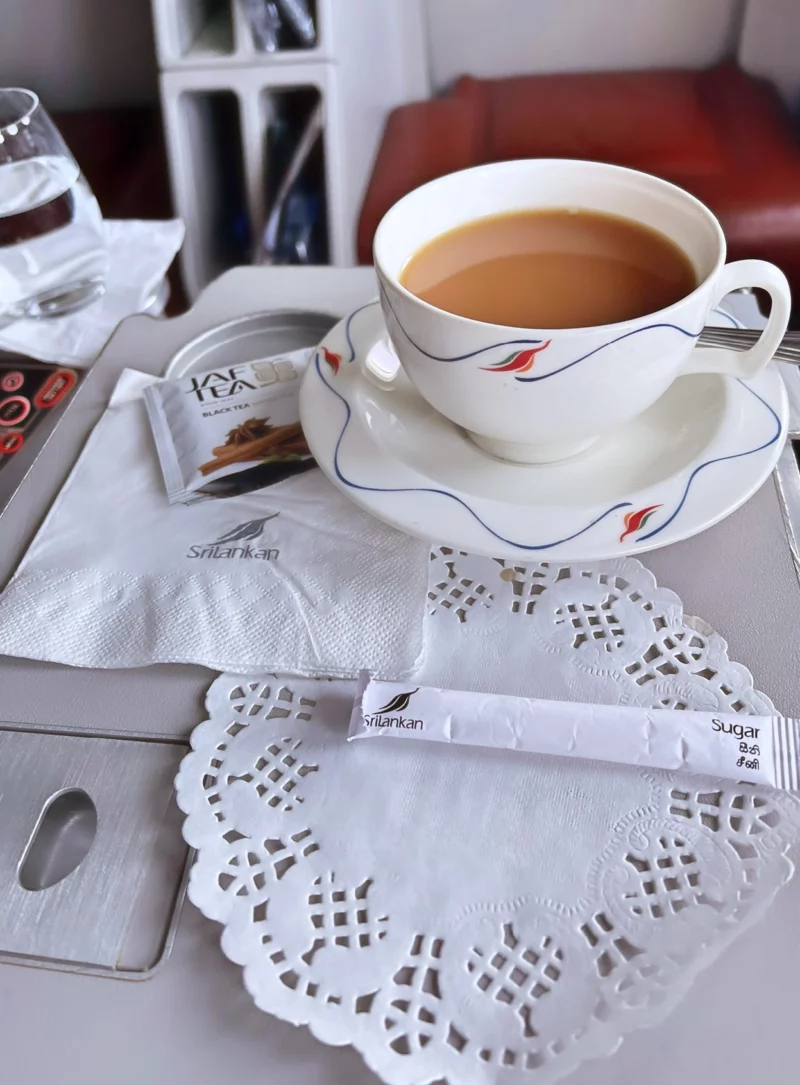 I reclined my seat to a lounging position and watched a documentary on MH370 which one of the crew members noticed and remarked 'I am glad you don't have anyone sat next to you' before giving a cheeky wink and smile. While watching the moving map on the IFE screen Sri Lankan ads would cycle through including one soliciting applications for prospective pilots (more on that later).
The crew came through with a selection of juices thirty minutes before landing, the cabin was prepared, and we landed on time. We arrived at a remote stand and were bussed to the main terminal. All of this was done without any fuss, no waiting for steps or busses. Everything was there ready to go.
Colombo transit
Transit at Colombo mirrored my outbound journey and is an absolute dream. The single terminal is quite small, so it is a short walk to the Flight Connection checkpoint where you show your boarding pass and up and escalator you go and voila you are back in departures.
My transit was less than two hours, and I again made my way to the Serendib Lounge. You can find details of the lounge in my outbound review. I like the lounge, it is not luxurious, and it is not full of mod cons, but it is charming and has nice views. Importantly as it only provides access to ticketed Business Class passengers it is also nice and quiet. Like the airport itself, it is a bit like stepping back in time.
Boarding information for onward flights wasn't announced via the public address system, they were announced by a staff member gracefully walking through the small lounge announcing boarding verbally. I was quite full from my meal on the flight from Jakarta and nothing at the buffet was screaming 'eat me' so I just had a coffee and some fruit. I knew another meal would be coming shortly on the Abu Dhabi flight and as I had pretty much done nothing but sit and eat the whole day it wouldn't hurt to abstain.
Colombo – Abu Dhabi A321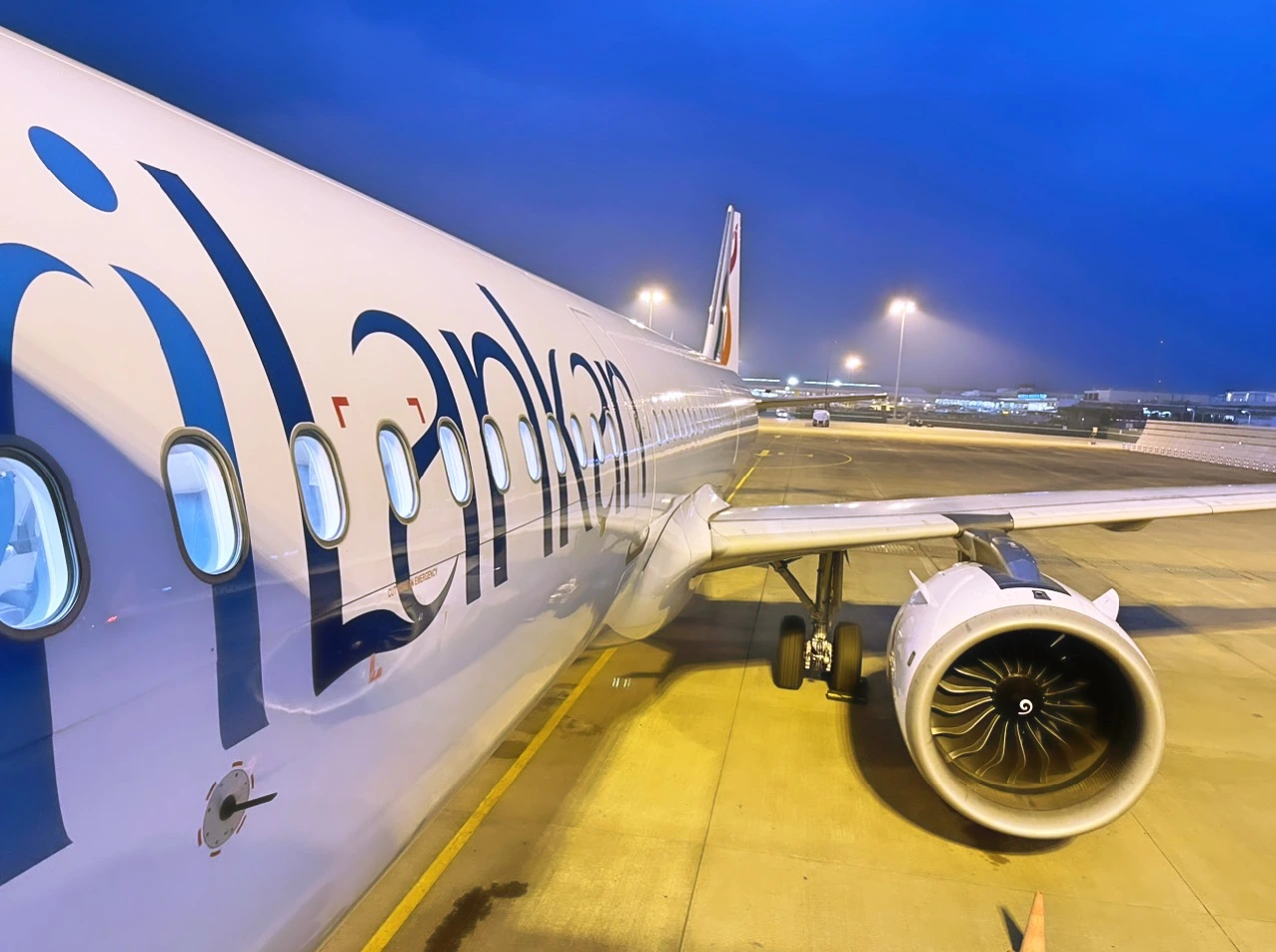 I made my way to the gate for my Abu Dhabi flight and when I arrived discovered it was again a bus gate. As with many airports in Asia, security takes place at each gate. On presenting my passport and boarding pass at the gate, I was asked to sit to the side and wait for the business class bus, which was a nice touch. The business class bus soon arrived and took me and the other seven business class passengers to our waiting A321.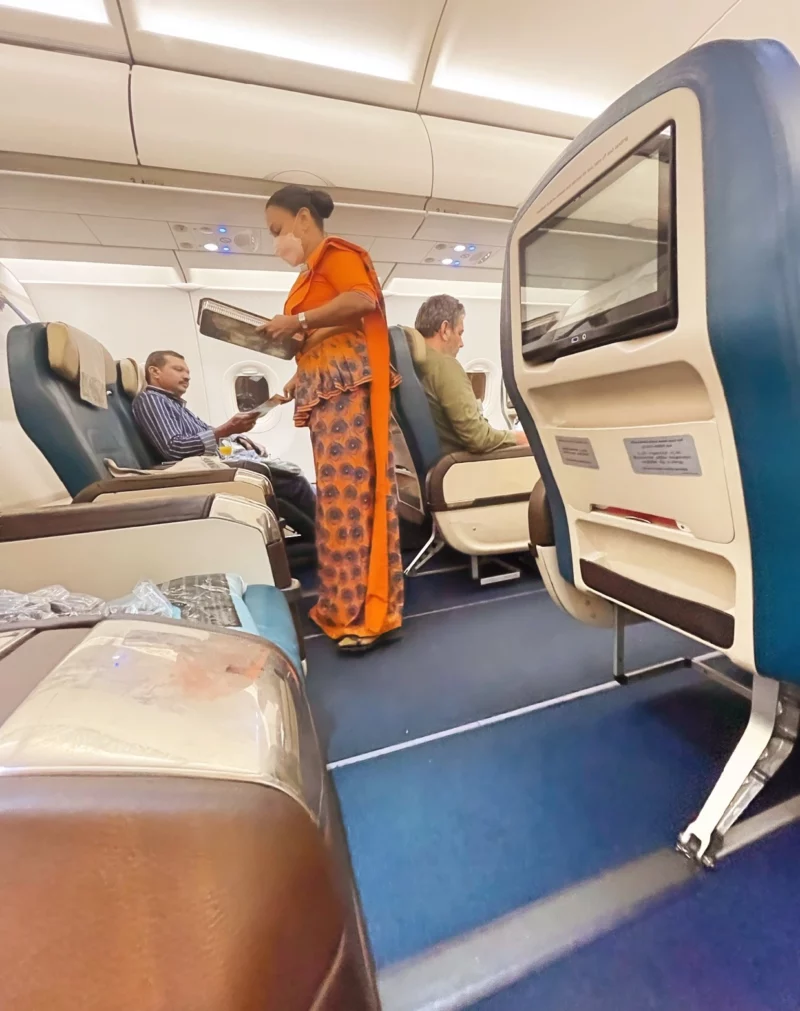 As always, a friendly crew member was at the door who offered a genuine welcome and I took my seat in 3K. Mirroring other sectors, a pre-departure drink was offered (water, OJ or champagne) and a bottle of water, headphones and the menu were offered.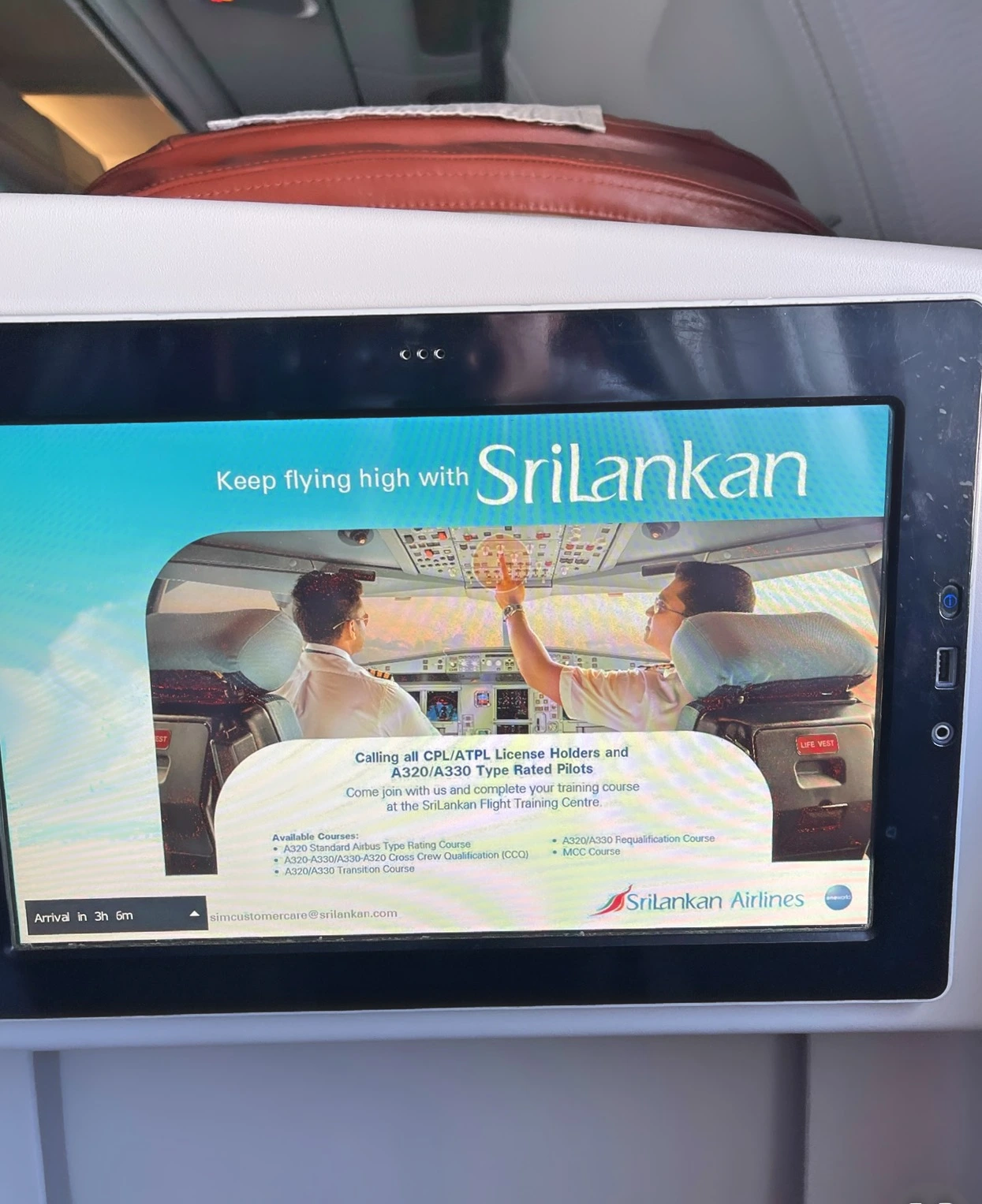 The captain made a welcome announcement and advised that we would delay our departure for 15-20 minutes to wait for some late arriving connecting passengers and we pushed back at 19:25 and were airborne ten minutes later.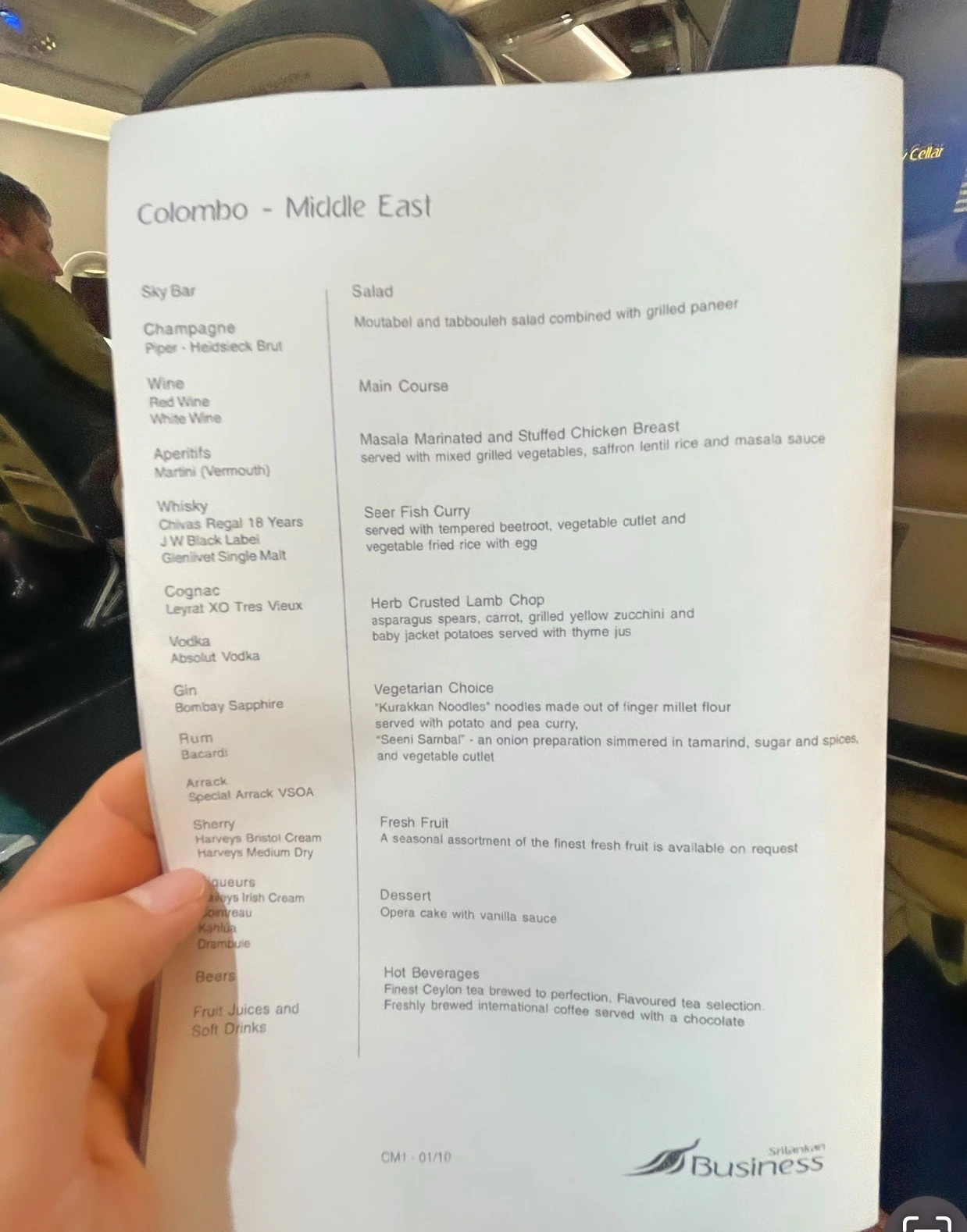 Meal orders were taken once airborne and as an Oneworld emerald I had mine taken first as was the case in all four sectors. The service mirrored the other flights during this trip – drinks with cashews followed by a one-tray service with a choice of four main courses which was consistently delicious.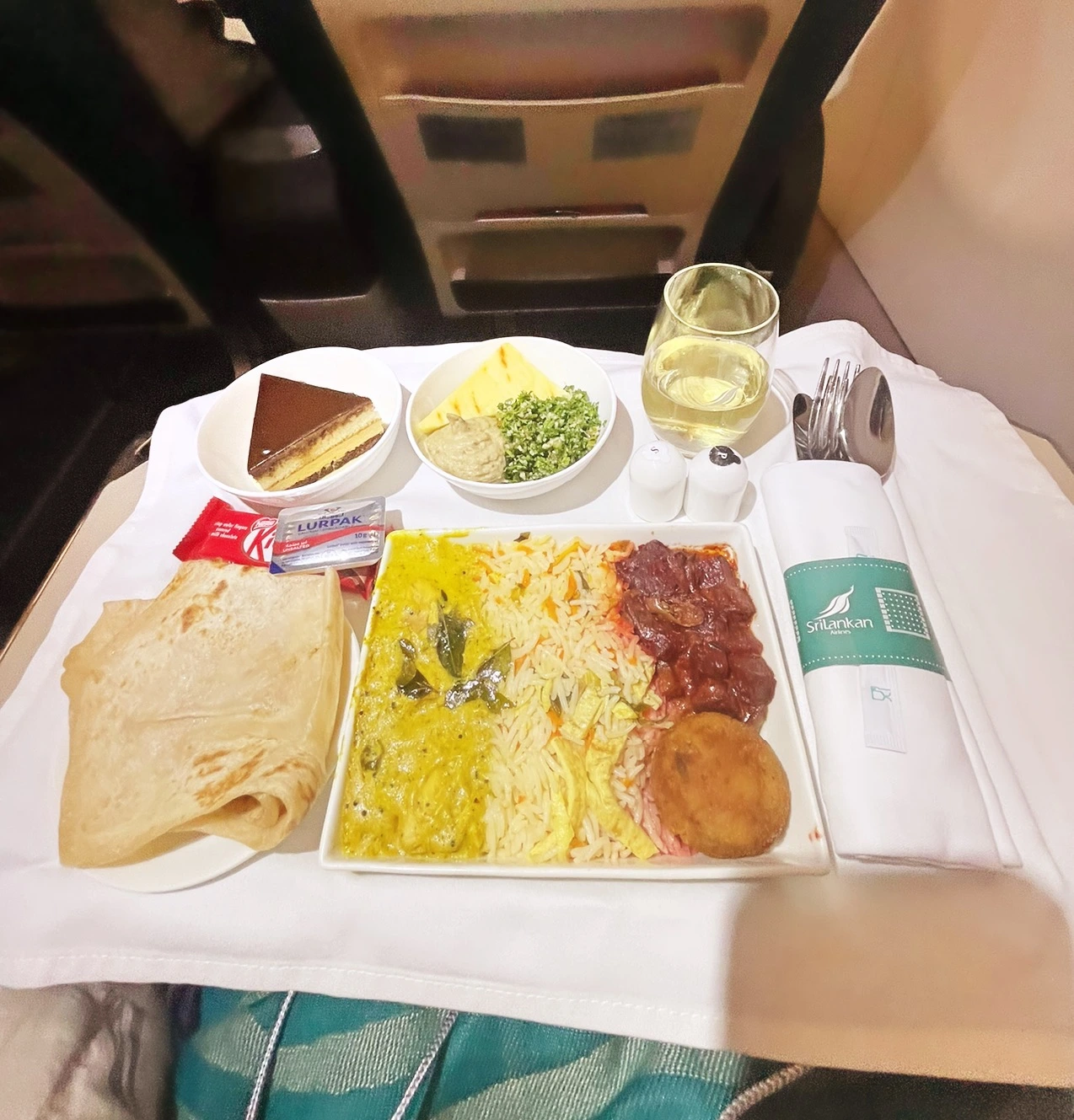 Juice was again offered half an hour before landing. We touched down in Abu Dhabi at 22:50.
Summing up
I love flying with Sri Lankans. I would call them an 'airline with heart'. I found them extremely consistent in their onboard service, their punctuality and operational reliability were good, the staff was excellent and the food was delicious. Although I didn't visit Sri Lanka, I felt that I was immersed in a little Sri Lankan bubble for the time I was onboard with them.
Would I do this tier point run again?
Potentially. For £800, it represents good value to boost your way to Silver with BA Executive Club. The A330 flights are very comfortable, and there are no crazy long transits in Colombo. After returning, I started reading online that Sri Lankan was suffering some pretty severe operational difficulties on two fronts – a lack of pilots and a lack of aircraft – and that several people who had booked this tier point run had cancelled sectors, which snowballed into further difficulties with booked positioning/onward flights etc.
Although this now seems somewhat resolved I have noticed that many of the Abu Dhabi – Jakarta sectors and vice versa are now being operated by A320/321 narrow bodies which would be quite a challenge. Of course, there are also the positioning costs to Abu Dhabi although if you wanted to bring the cost right down on this you could fly Wizz Air. As the saying goes, no pain, no gain.
For more info: