Check-in
This is a review of British Airways Euroflyer. Malta is a good airport to fly out of generally. It's pretty small and everything is in one terminal.
I arrived 1 hour 45 minutes before departure and the check in was literally deserted – not a single passenger to be seen.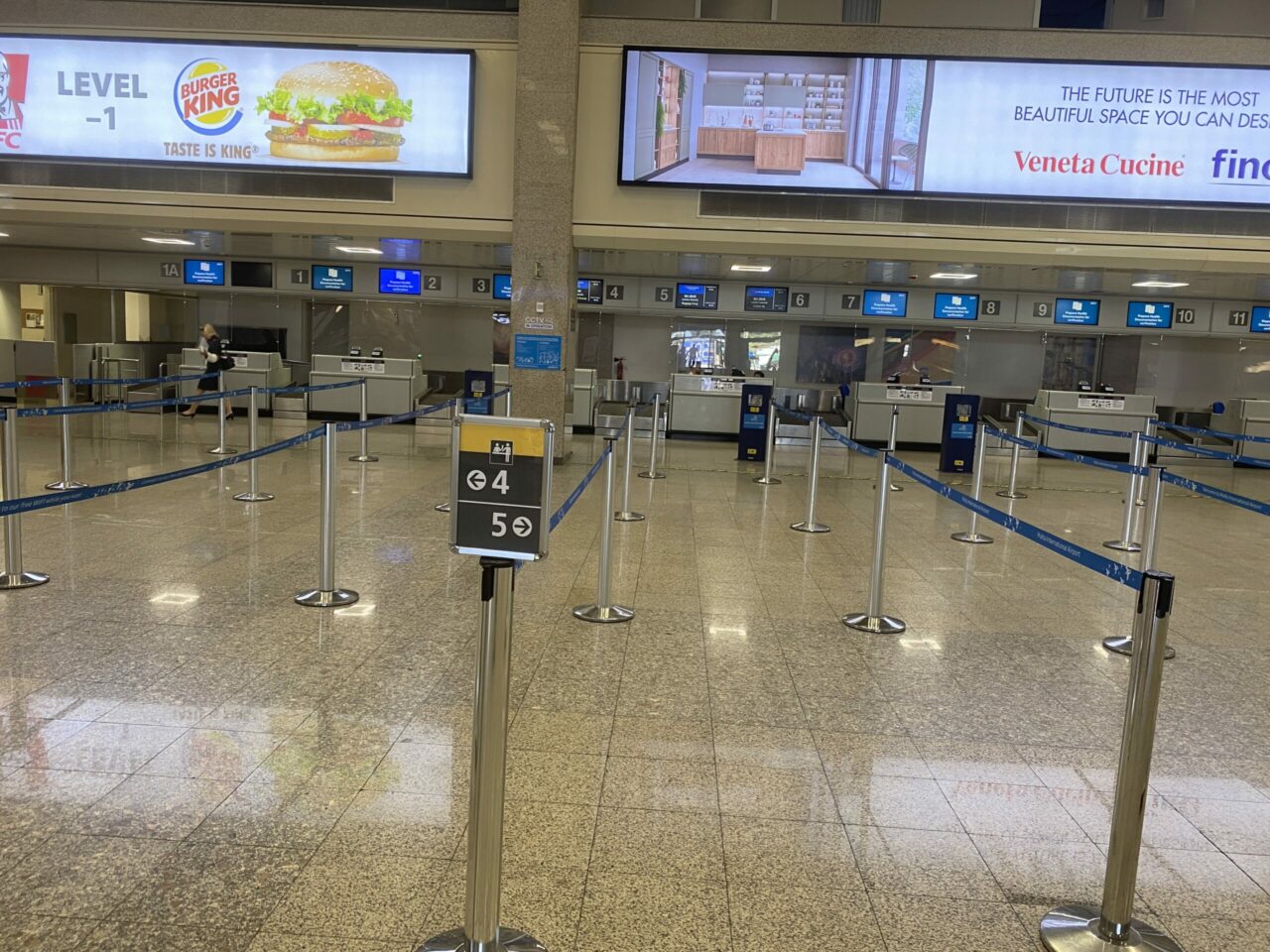 I was very unimpressed with the check-in agent who completely ignored me for pretty much the whole process and carried on chatting to his colleague while not even looking at me. He did at least hand me the lounge pass and wish me a good flight but I am pretty sure he didn't mean it!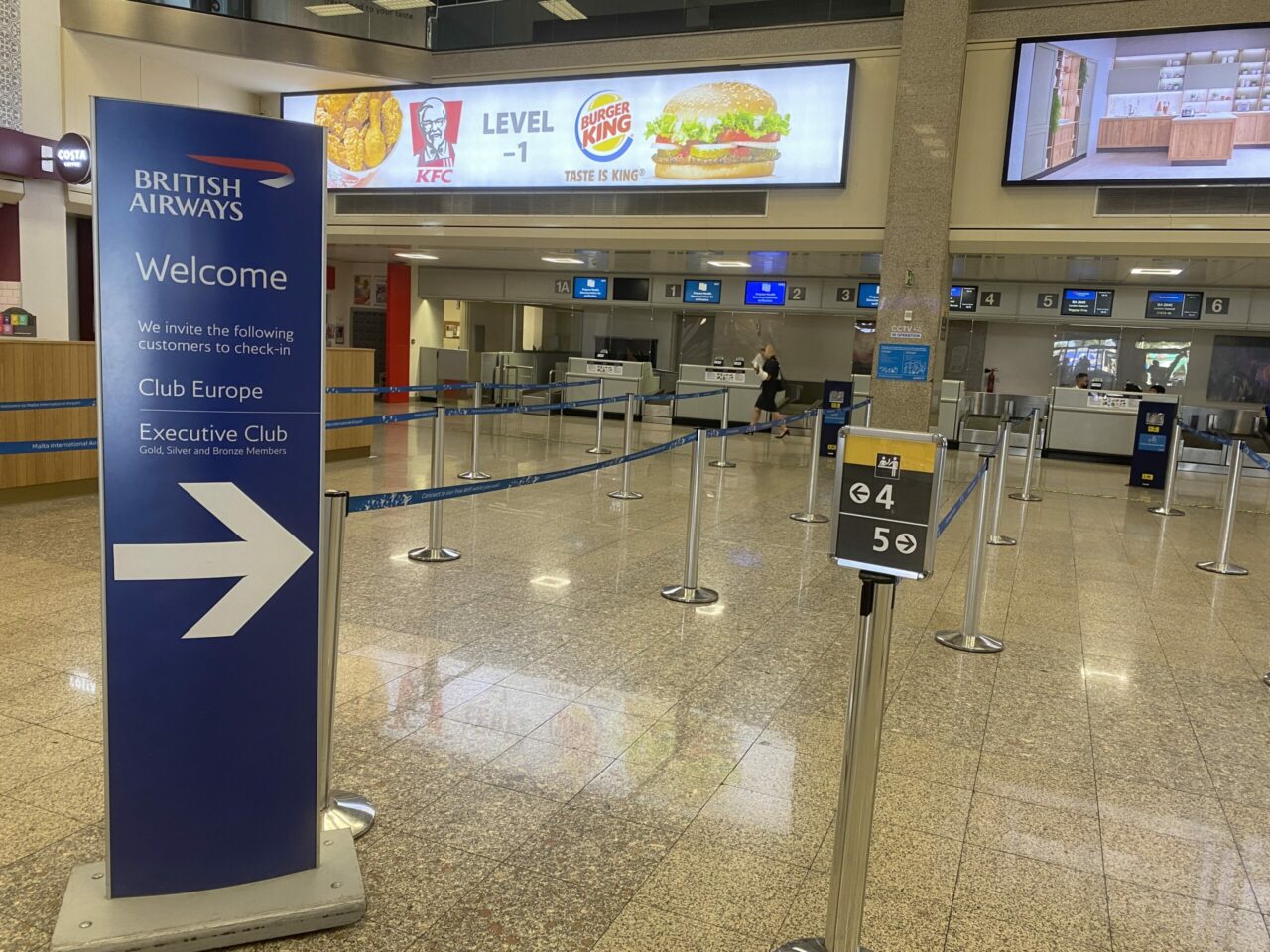 There was priority security which again was pretty much empty so I was through to departures in record time. The Lavalette lounge is easy to miss as it's set back immediately next to the exit of Duty-Free on the right. There are no signposts, just the entrance. You then take a lift up to the lounge.
The Lounge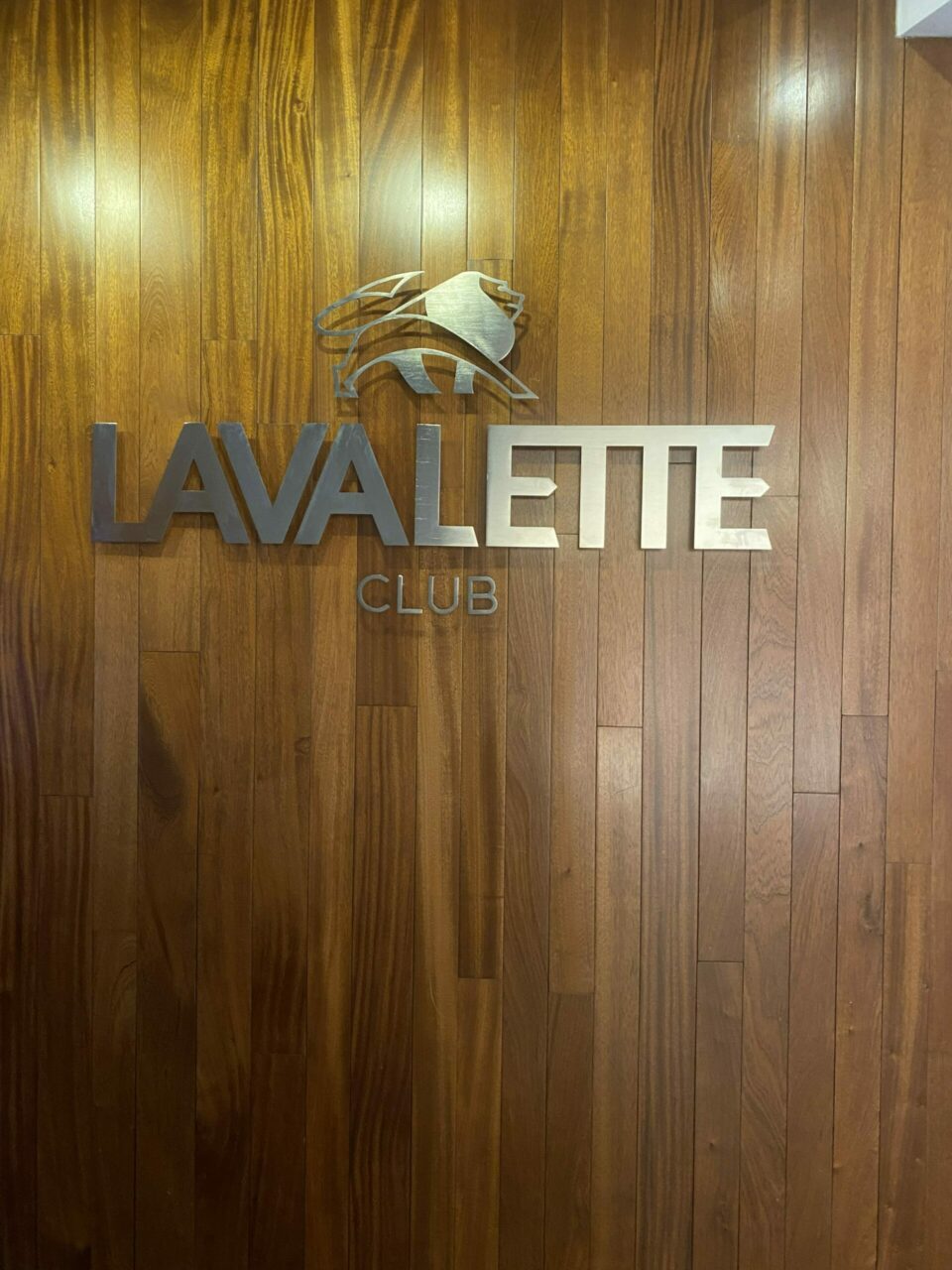 I really enjoy the lounge at Malta airport. It's modern with large windows overlooking the whole airport and runway. Inside there is a business area with computers but I didn't spot a printer. There were comfy sofas by the window as well as slightly firmer banquettes which had a plug and USB between each pair of seats which was handy.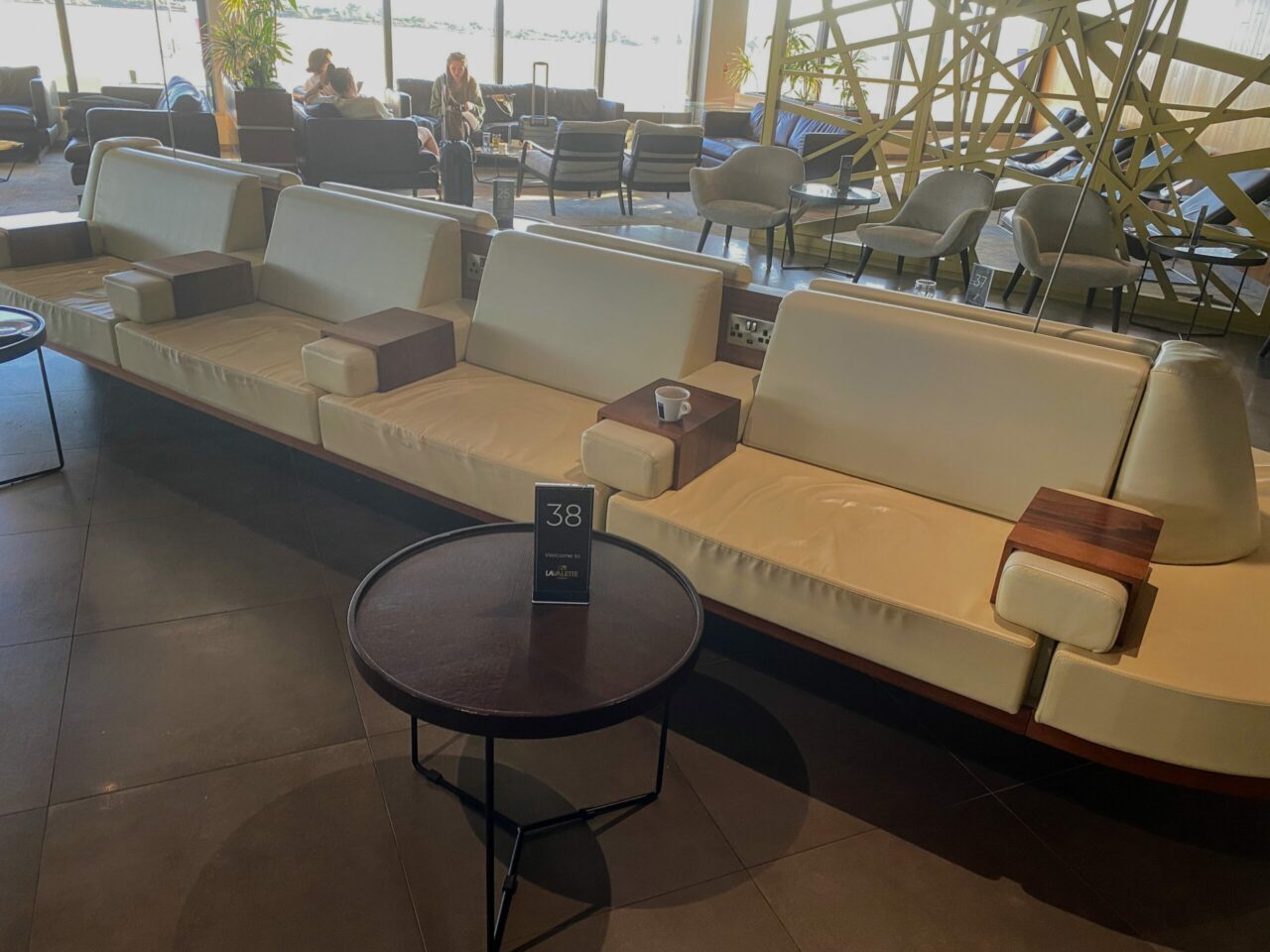 The best part of the lounge is the outdoor terrace with its shady areas and views of the runway. It definitely helps it feel like your holiday is being extended.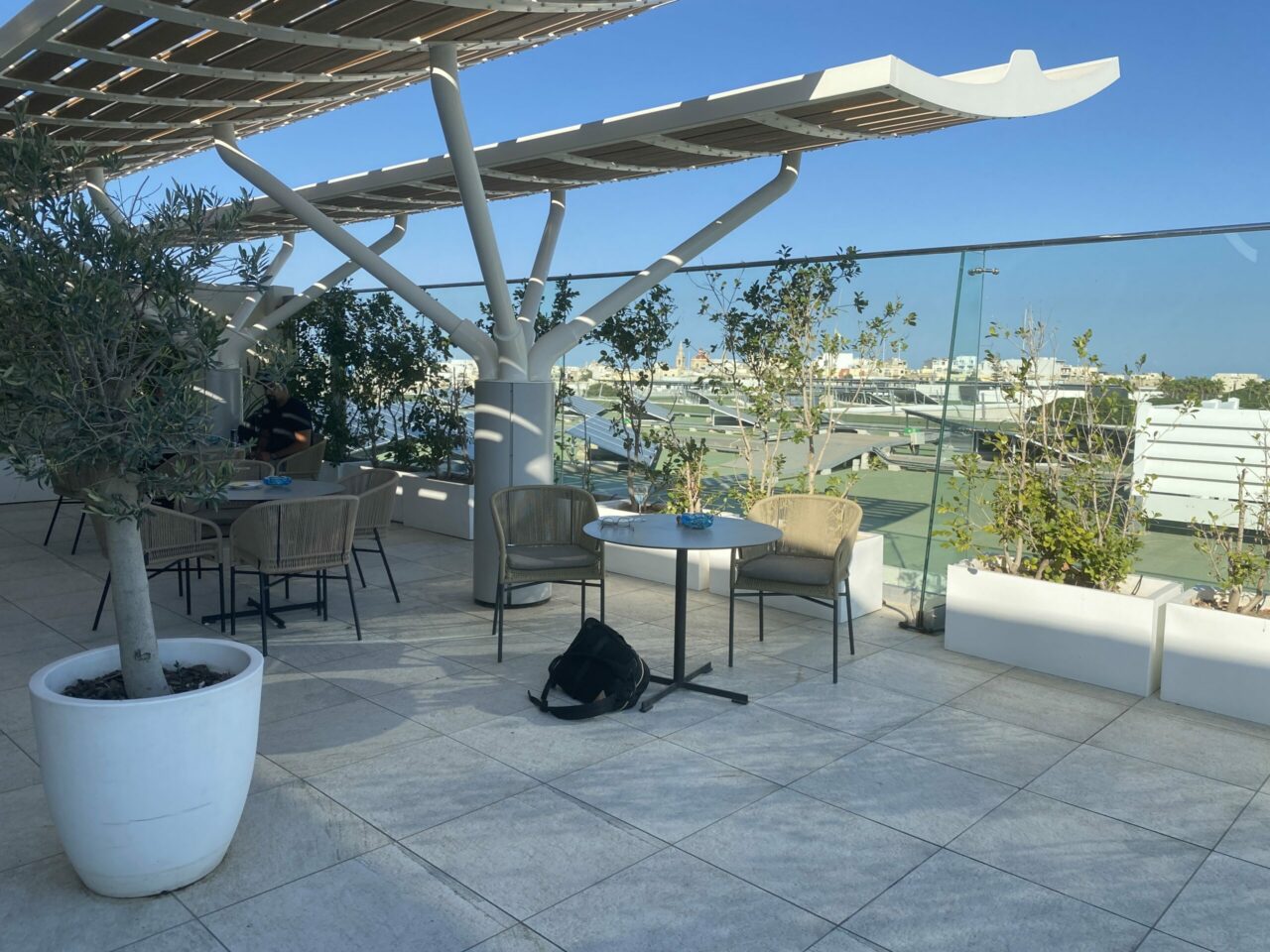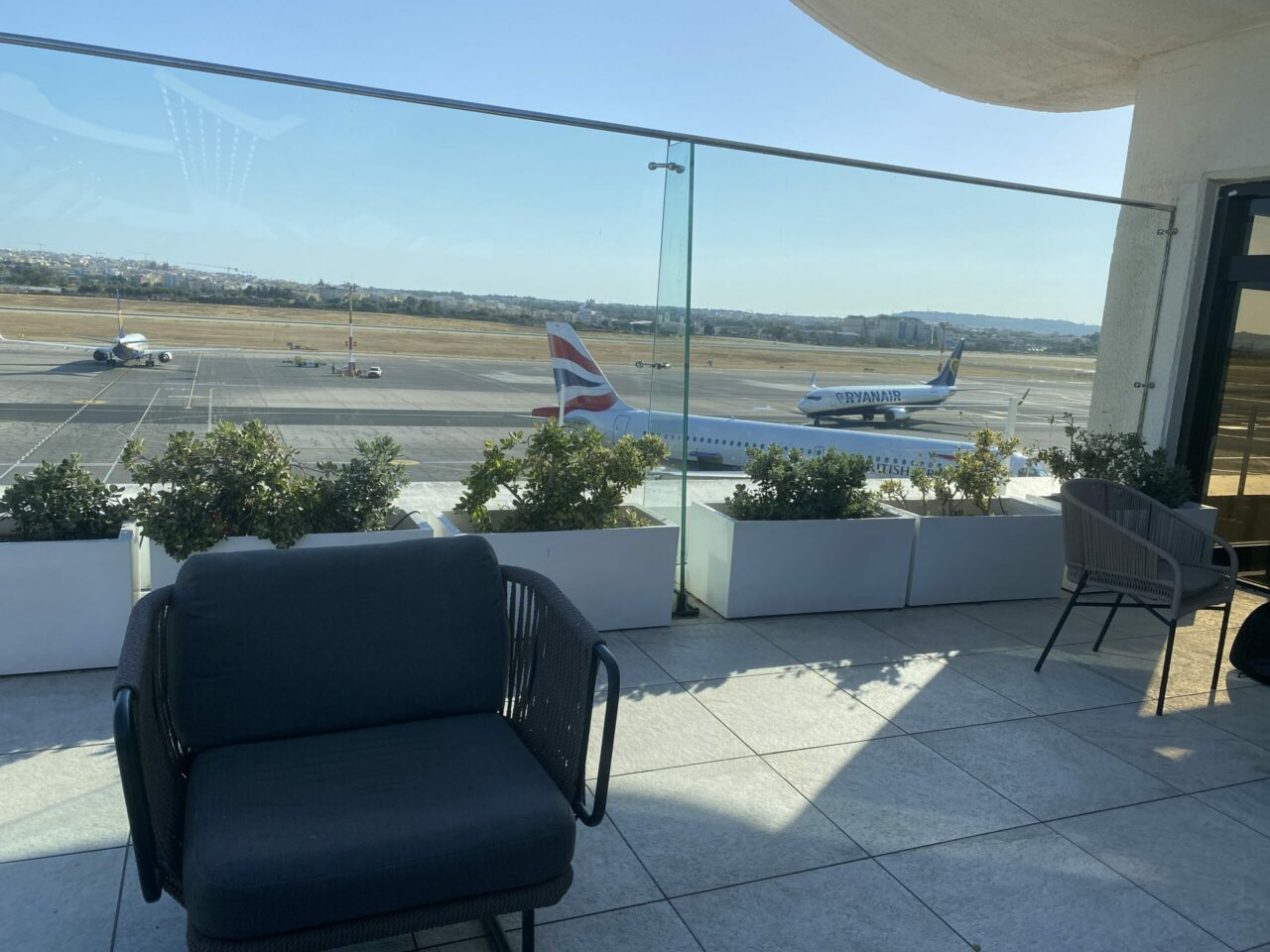 There was a decent selection of food but it was more snack food than proper meals. However, you could certainly put together enough to stave off any hunger. The arancini were particularly tasty. Everything was self-service.
For drinks, there was a decent selection of spirits including some limoncello in the fridge. The sparkling wine was a very drinkable Prosecco and there was a red and white wine as well as local beers. My only complaint was that the drinks in the fridge were a bit warm.

Boarding the British Airways Euroflyer
The boarding was very rushed after a slow start where families were left standing at the gate for ages. I would guess that maybe they had a slot and then lost it? The families stood there for around 8 minutes with young children getting crotchety and then they suddenly called groups 1-3 to start boarding too with people trying to speed past the families. It was a bit of a mess. Then when we got on we were told there was at least an hour's delay! Very irritating to be rushed on and then told to sit here for an hour.
At Malta you usually walk the few steps to the plane which is quite pleasant in the evening sun. The cabin crew were very welcoming and cracking jokes and chatted to people as they boarded. The pilot made an unusual announcement that he was flying with his son as cabin crew for the first time which was lovely to hear!
British Airways Euroflyer flight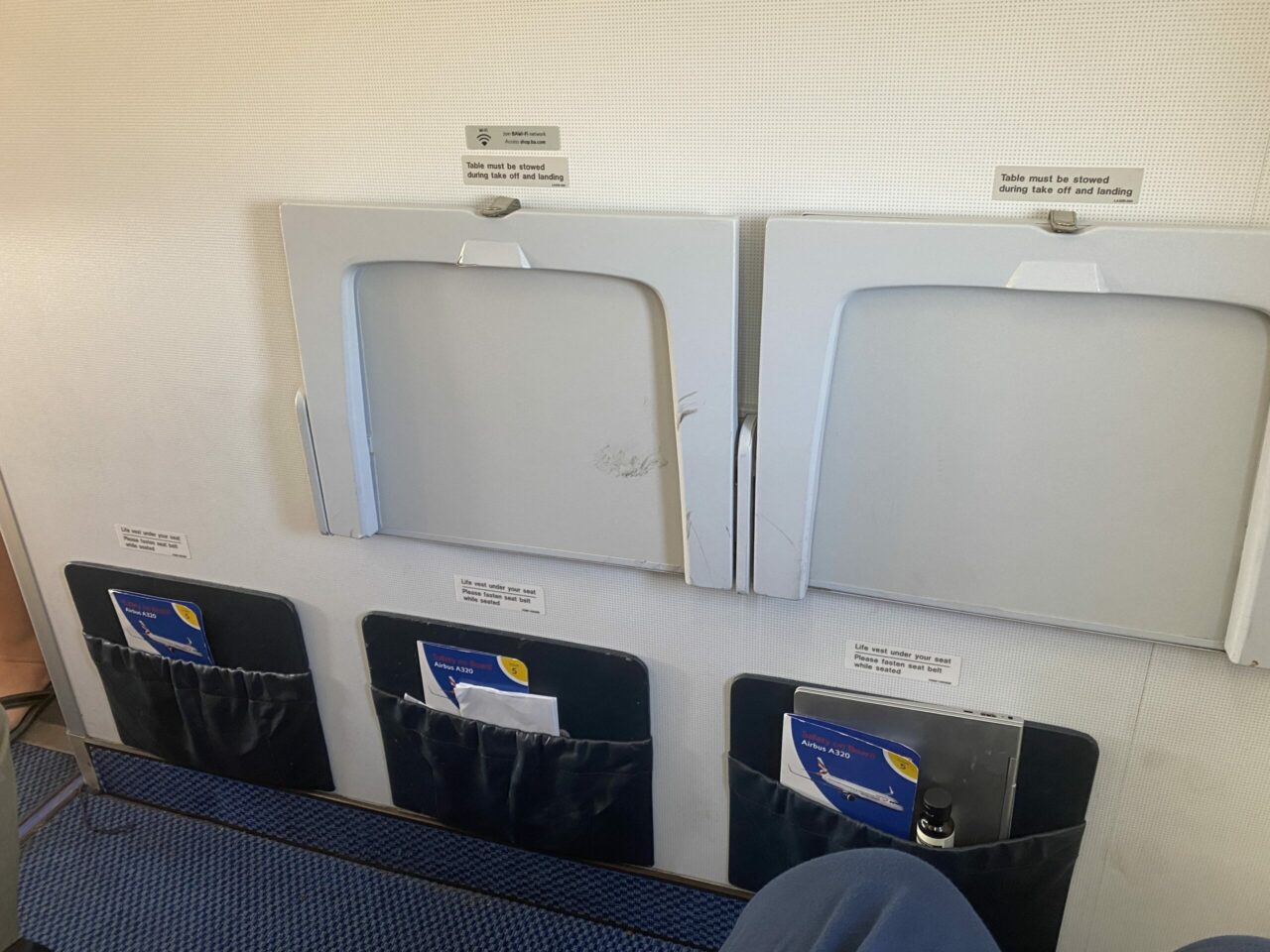 I was seated in 1F and had plenty of legroom. This is an old Gatwick A320 aircraft which has the tables in front of the window seats which I actually really like. You can move them backwards and forwards making it easier to get out when you have a tray in front of you. There was also the usual middle table between the seats as well as a pull-out table on the wall again.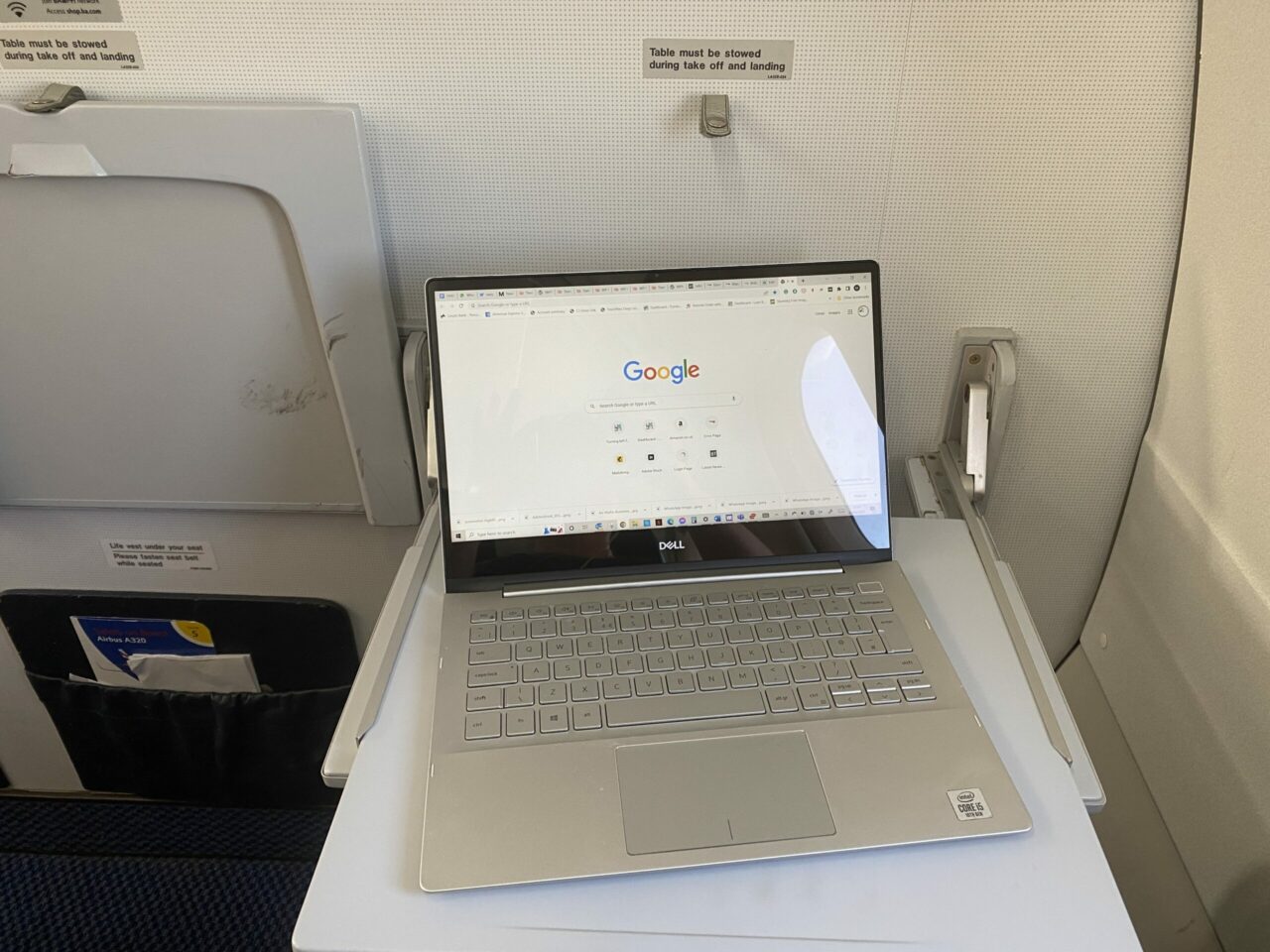 One thing I really wish BA would do is put power sockets into their short haul aircraft. There are so many delays now, often on the aircraft, that trying to keep your phone battery charged is a constant battle. They can manage to have them on most trains now, so I don't think its unreasonable for a 3 hour flight to expect it.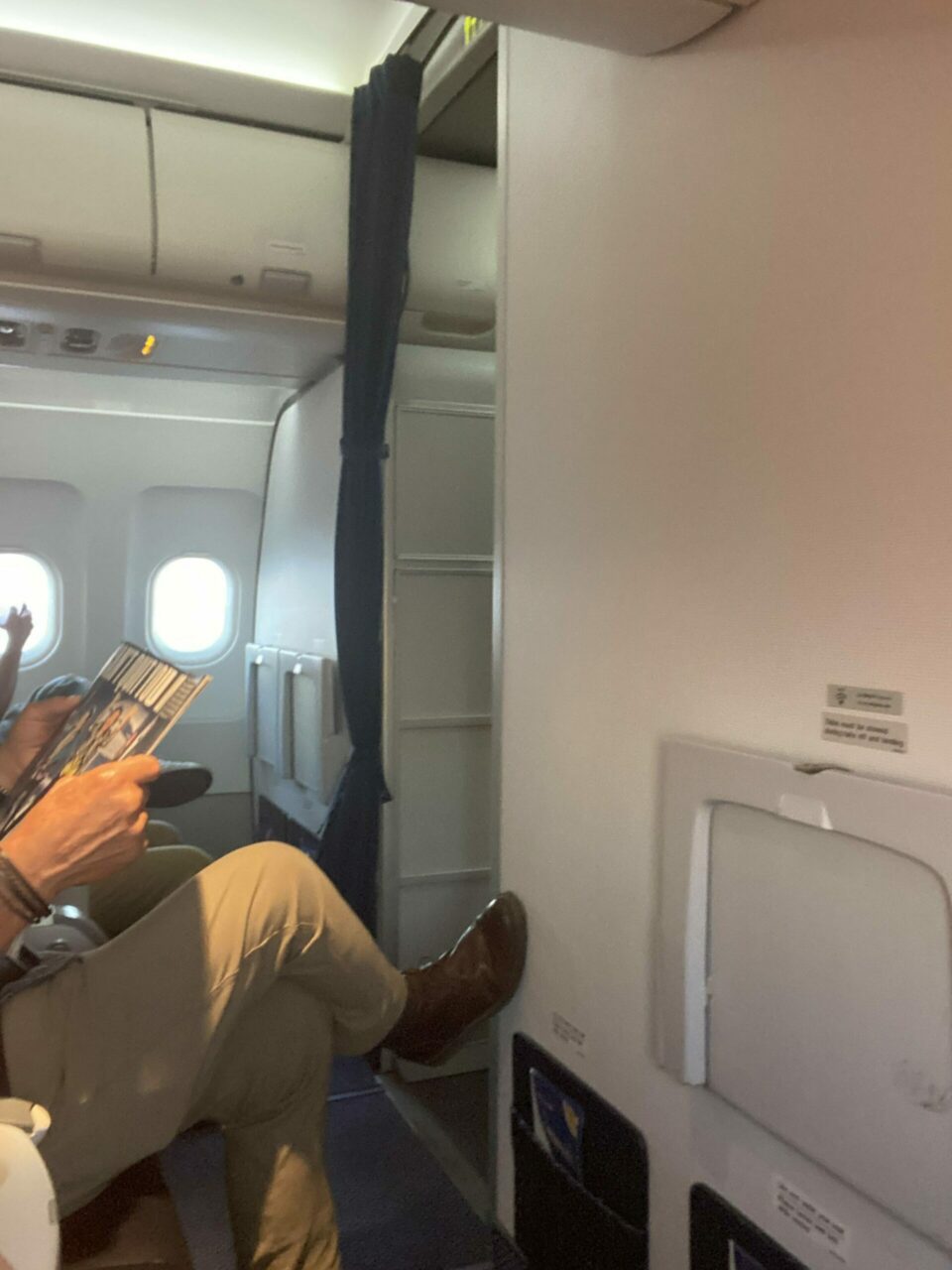 There was Wi-Fi onboard at the usual BA charges.
Before dinner we were offered a drink. Here is the list: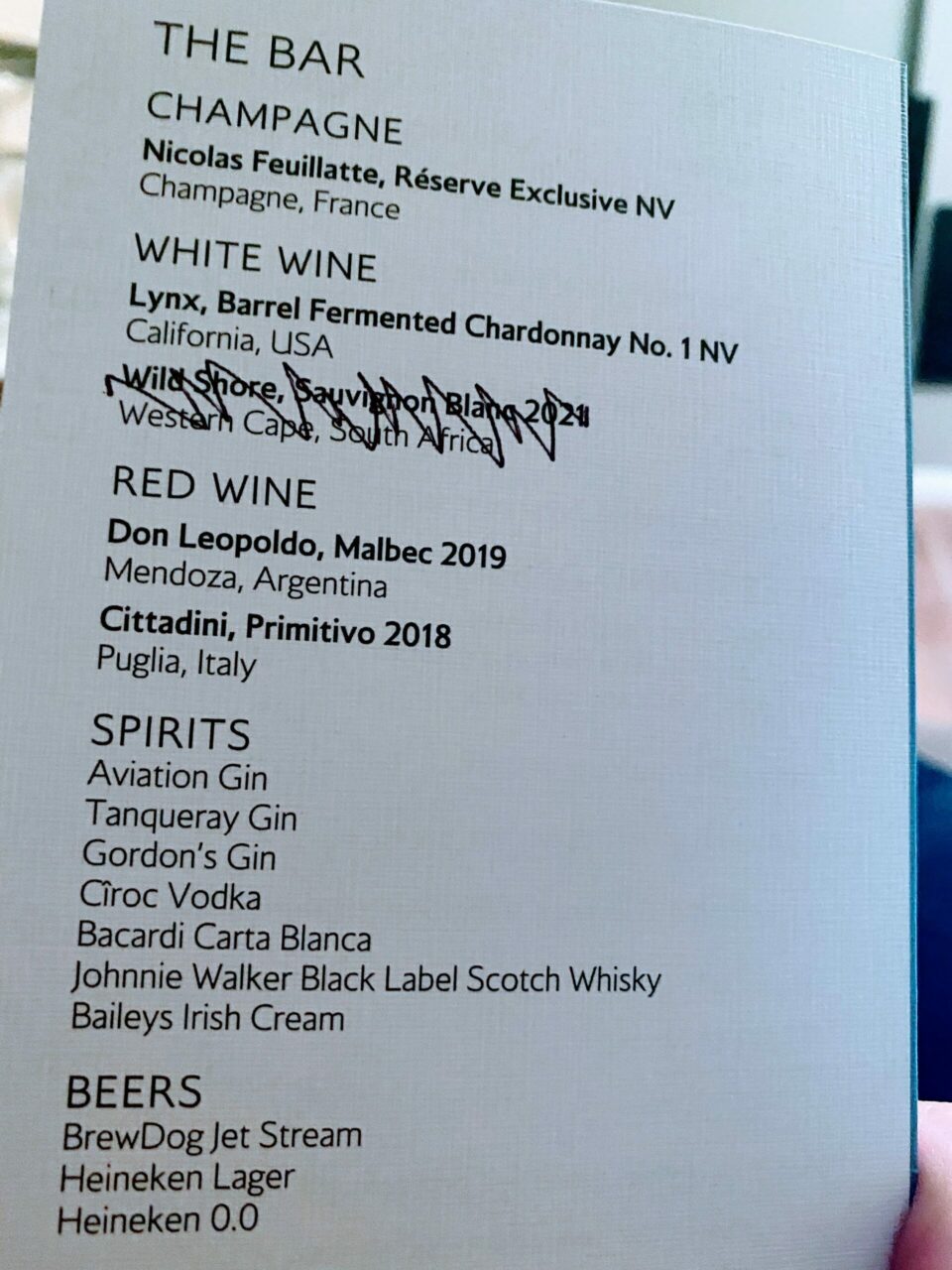 I went for a Bloody Mary which was made with Ciroc vodka.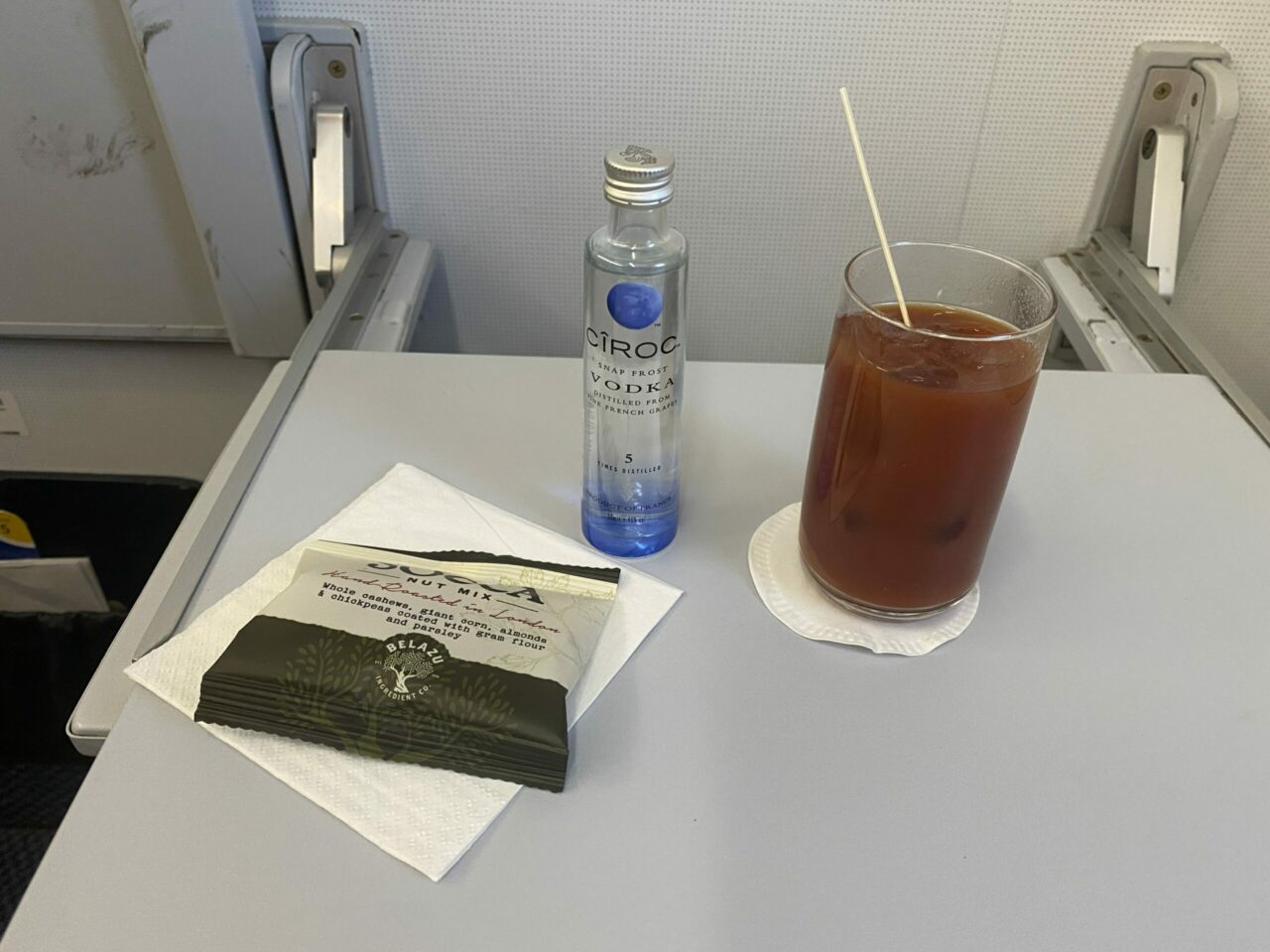 The crew were fantastic again, much like the way out. Multiple top-ups were offered throughout the flight. They continued with the chat and banter as well which was great to see.
British Airways Euroflyer Special meals
I had pre-ordered the Vegan meal (and a meat pie…) as I have had some requests for a look at special meals. If you are vegetarian and want to guarantee that you get a veggie meal, then you can pre-order the vegan/vegetarian meal or an Asian vegetarian meal. I will also take a look at the Gluten free meal on my next flight.
There are many options including low calorie or low fat as well. You go into 'Manage my booking' and need to order 24 hours in advance. (Kosher meals on flights at least 48 hours before your flight departs with the exception of London Heathrow which can be requested up to 24 hrs before departure). I would not leave it to the last minute before the cut-off as this sometimes means it doesn't get loaded.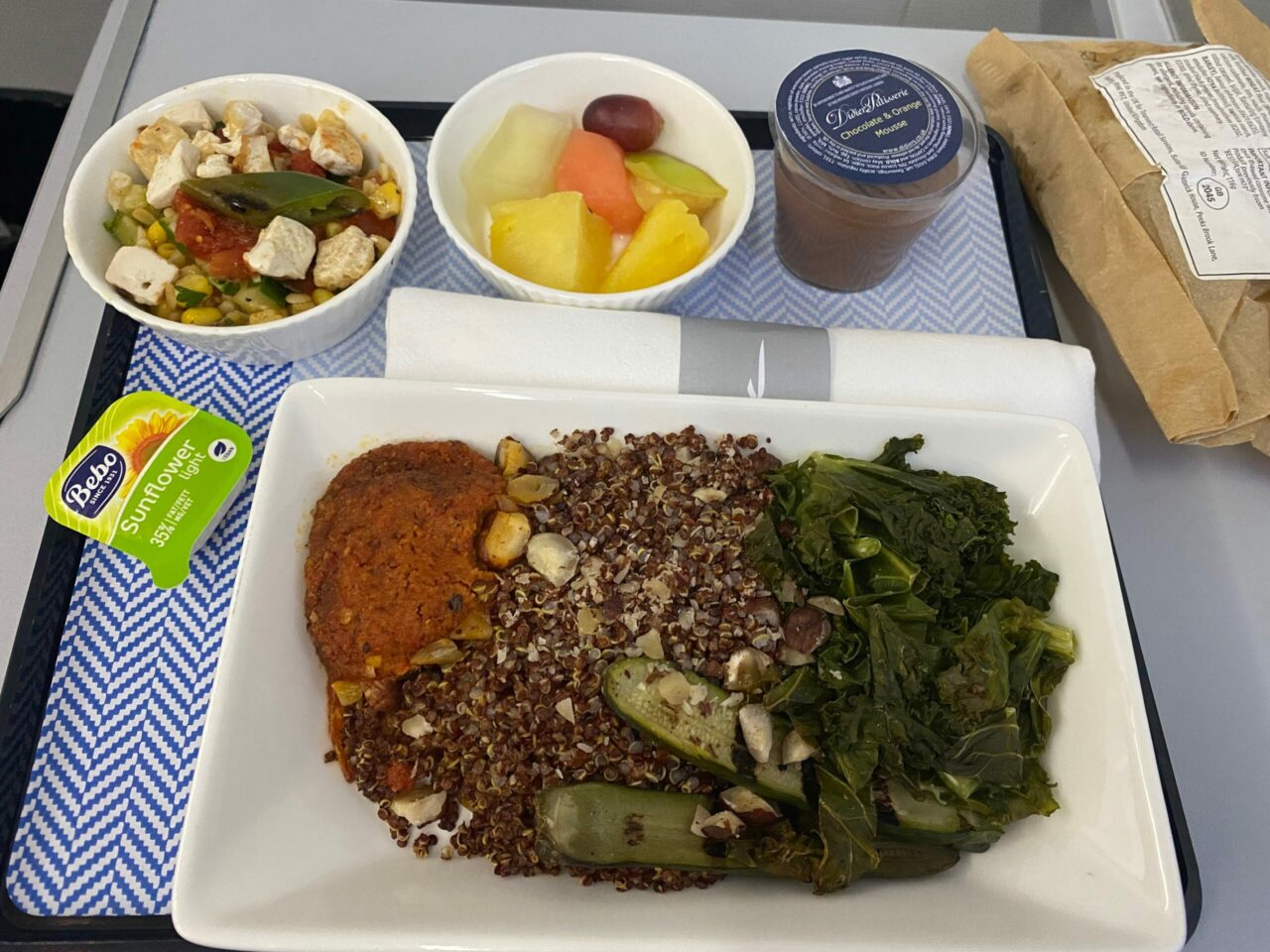 My vegan meal arrived and on first glance it looked a bit dull. The starter was actually super spicy and was basically a sweetcorn salad. I'm not totally sure what the white bits were but I'd hazard a guess at tofu. Overall I liked it but if you don't like spicy food it could be an issue.
The main course I'm not sure exactly what it was. There was definitely something similar to quinoa but perhaps a reader more versed in grains can confirm it. Whatever the sauce was it was actually delicious – I'd hazard a guess at something with tomato or roasted pepper with some garlic. There were also nuts scattered throughout to give some crunch. Hidden underneath was some roasted squash too. Unfortunately, the kale was very overcooked and not pleasant. It was also unbalanced with way too much grain versus the sauce.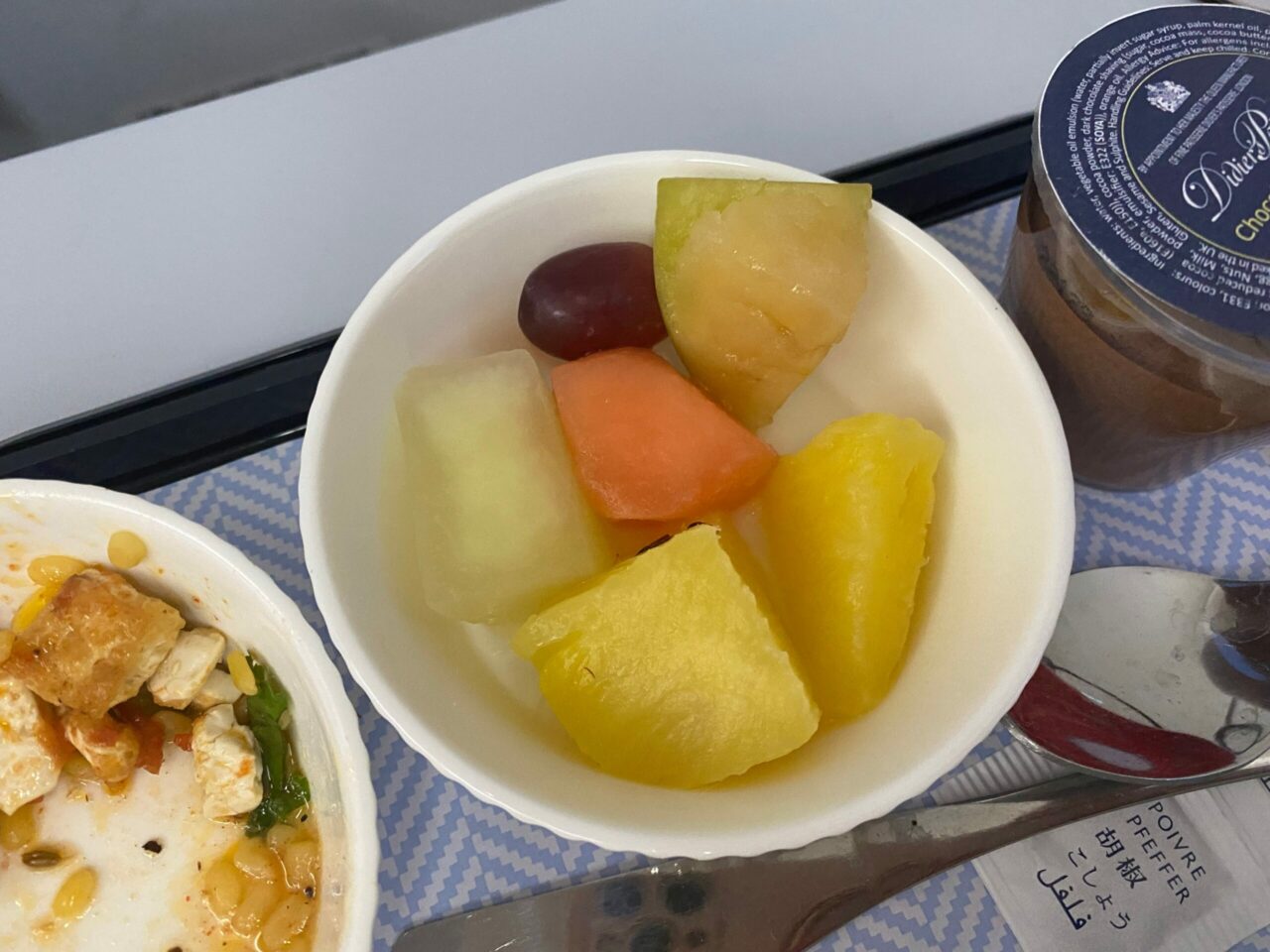 The fruit was definitely a bit past its best but the chocolate and orange mousse I actually preferred to the normal BA ones. It was much lighter and less rich. Overall it was filling and pretty tasty!
If you wanted to see what the normal menu was like here it is: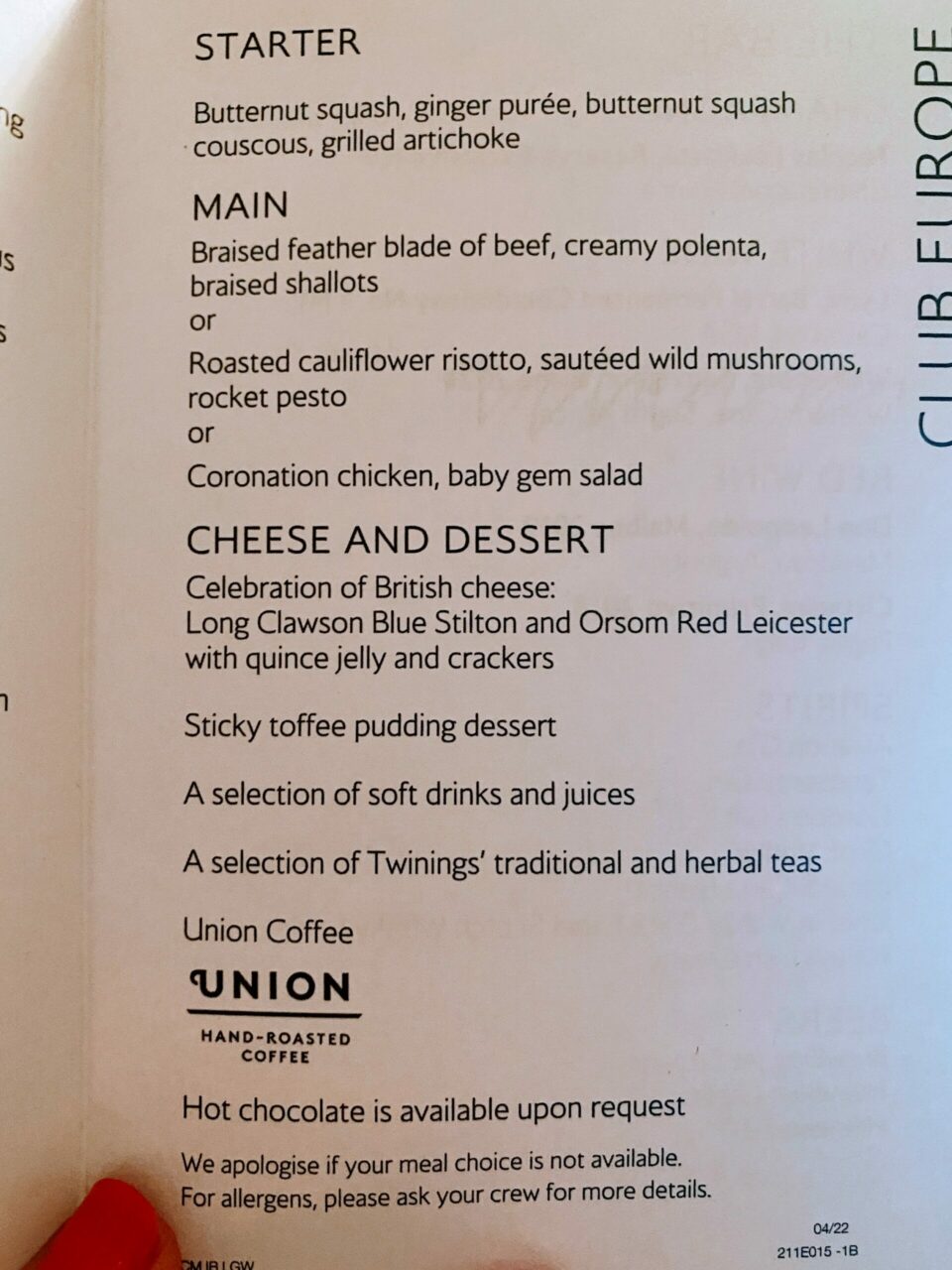 The person next to me was not overly enamoured with the beef.
I tried the Primitivo Red wine for the first time and actually enjoyed it more than my usual choice of Malbec.
Tom Kerridge pie and Speedbird café
If you are in economy or for some reason want something different in Club, you can pre-order food to be delivered to your seat. If your flight departs from London, food and drink must be purchased no later than 12 hours before departure. For domestic UK flights into London, food and drink must be purchased no later than 24 hours before departure. For all other short haul flights into London, food and drink should be purchased at least 30 hours before your flight. I was yet to try the Tom Kerridge Steak and ale pie. So I thought that I would try the order process.
To order you visit the Speedbird cafe website. It seemed to want me to set up yet another account on top of my Executive Club and BA Wi-Fi accounts which was irritating. I'd guess it's because the website is run by BA's catering Tourvest.
Here is a selection of what you can pre-order: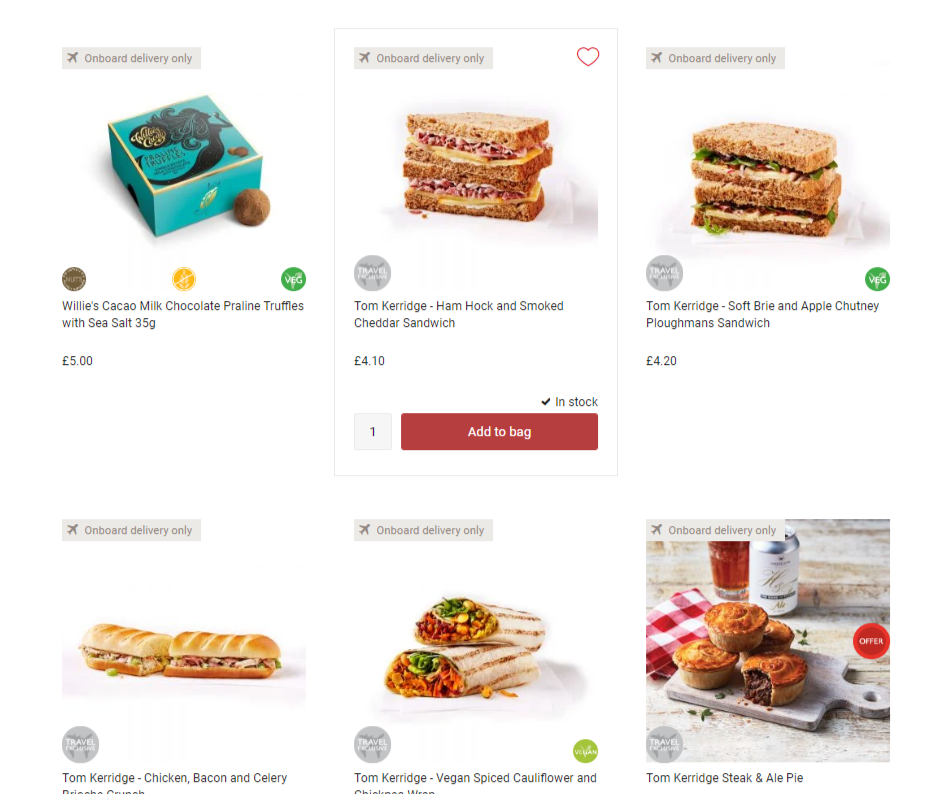 Many of these are not available to purchase on the flight so you are better off pre-ordering. It cost £4.50 which isn't too bad. While we were waiting on the ground for an hour, one of the crew approached me to check my order and ask when I wanted it brought to me.
The pie arrived in a paper bag in a tinfoil container. It was piping hot and overall pretty tasty. It's quite small so you would need something else if that is all you plan to eat. The filling was tasty with tender beef and some herbs but I felt it could have had a bit more sauce as it was on the drier side. Overall I liked it and it makes a change from a sandwich.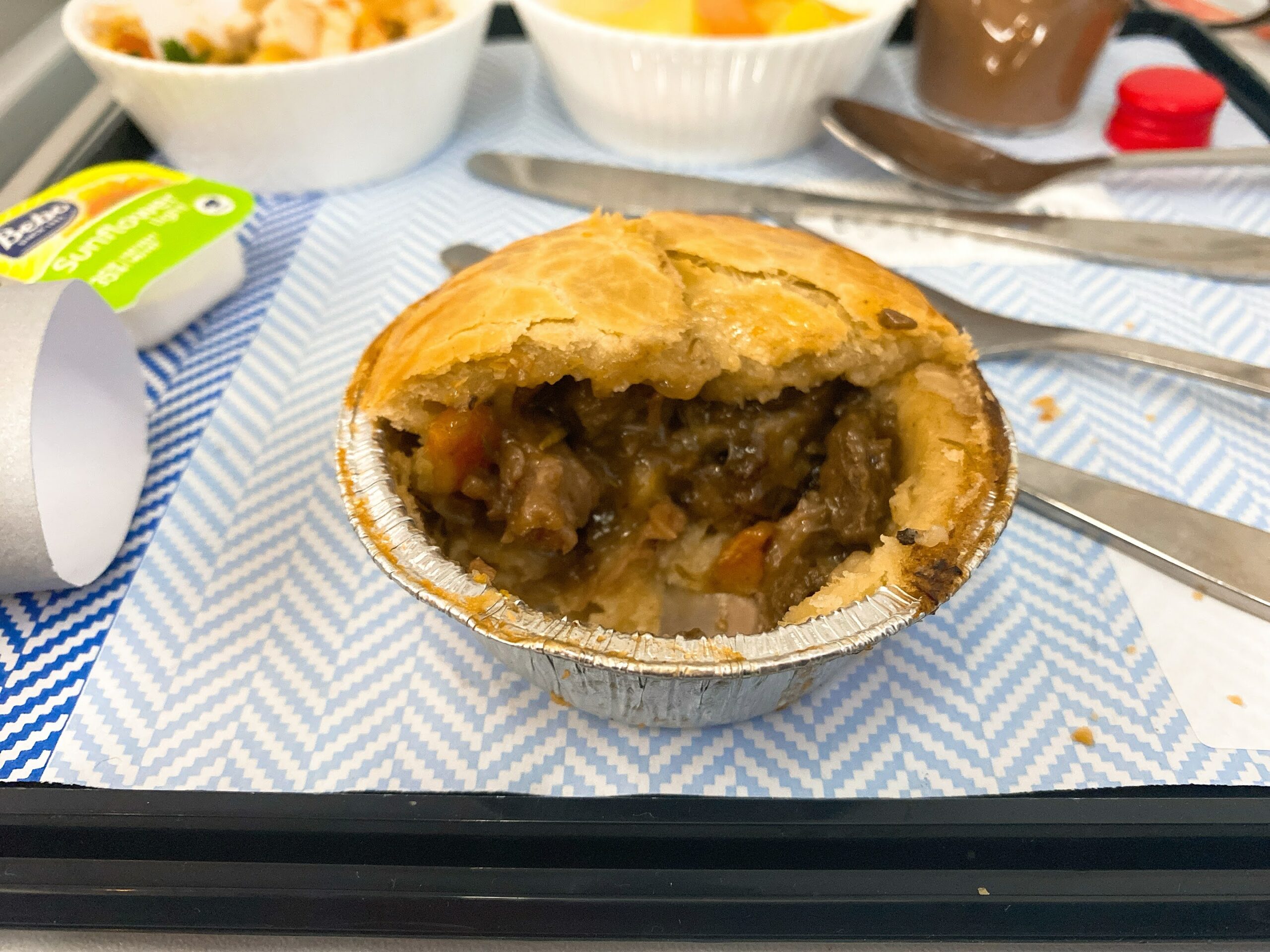 Conclusion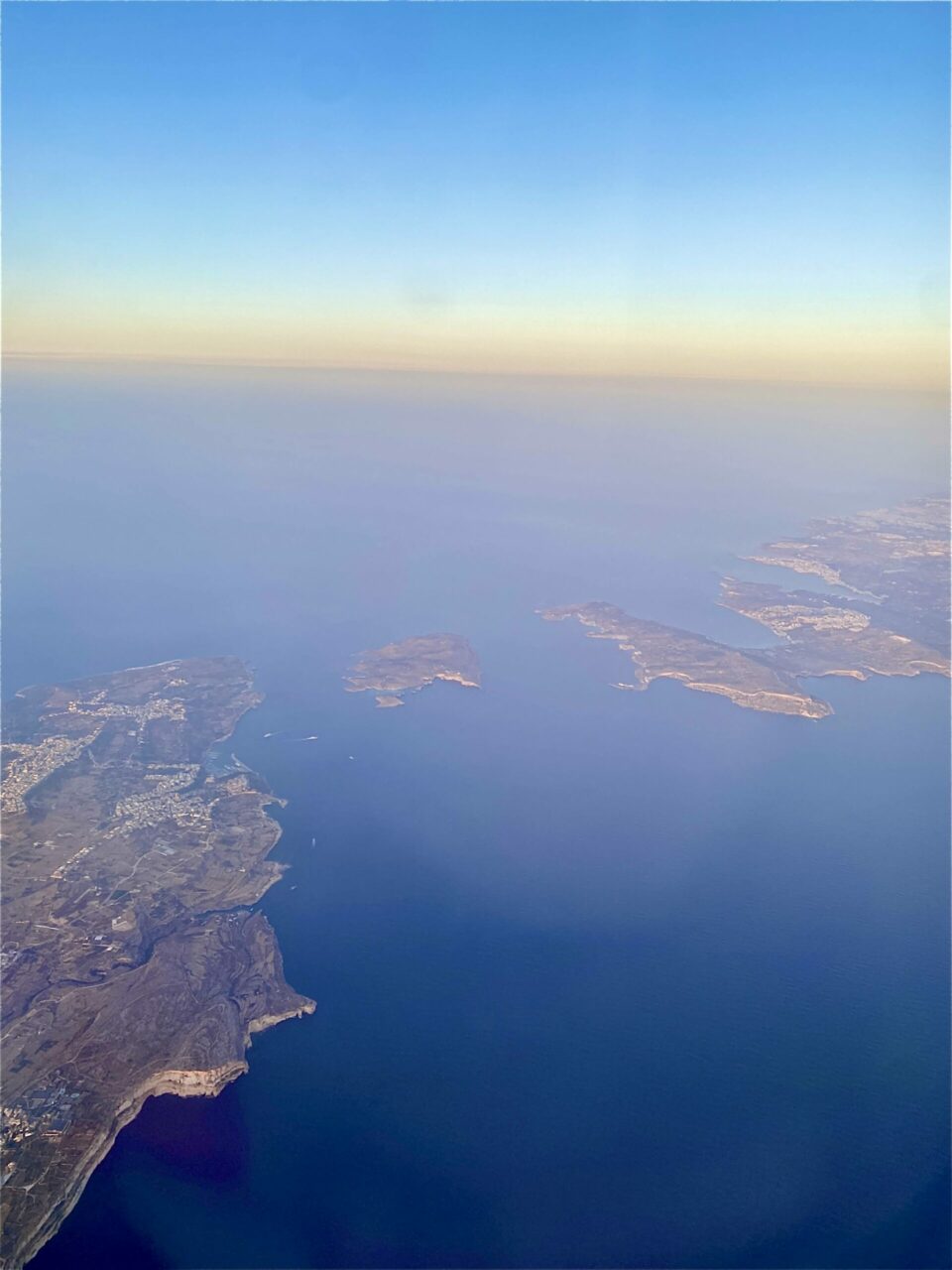 So far I am loving the new Euroflyer crews who have all been so friendly and helpful. Service has been better than most of my Heathrow flights and the food has been comparable. Apart from the fact you have to brave Gatwick which I am not a great fan of. Although I may have changed my mind on this trip. On the way back admittedly it was late at night but we arrived onto a stand immediately, the air bridge was attached and the doors open within a couple of minutes. There was no queue for immigration and only a short wait for my bag. Heathrow recently has been the complete opposite, so maybe Gatwick isn't so bad after all!
Like our British Airways Euroflyer review? You can read more flight reviews here.