Today's reader review is about Anantara Qasr Al Sarab Desert Resort Abu Dhabi from Scott.
If you would like to submit a reader review please email [email protected]. Look out for a competition coming soon for reader reviews judged on which one is the most popular with readers based on views. All submissions from 1 June until the closing date will be considered. You will need a minimum of at least 3 relevant photos of your own to be considered.
A break in the scorching heat of the Arabian Desert had not been particularly high up our bucket list. However, when the Queen's Jubilee presented a nice opportunity to fly away for a quick holiday and with flight prices as high as they have been for years, our options were limited.
We were able to grab some Business Class flights (£1750 each) through Lufthansa to Abu Dhabi from Manchester Airport (our local airport). The Lufthansa business class flights on an A320 Neo via Frankfurt were very pleasant before flying to Abu Dhabi with Etihad on the 787 Dreamliner and their impressive Business Studio.
We were headed to the Desert and after a very relaxing 5 night stay at the Ritz Carlton Abu Dhabi Grand Canal (on a superb Half Board Dine Around deal which included the highly impressive Executive Lounge) we were looking forward to trying something a little different; the Anantara Qasr Al Sarab Desert Resort.
Qasr Al Sarab
We had become aware of this resort following multiple visits to the UAE but the hour-long BBC documentary showcasing the Hotel from February, "Amazing Hotels – Life Beyond The Lobby" really increased the intrigue.
We had booked two nights via their website in an "Anantara Pool Villa". We paid £550 per night (so this was a treat!) inclusive of taxes on a bed and breakfast basis.
The Qasr Al Sarab is located approximately 2 hours 30 minutes outside of Abu Dhabi and close to the Saudi Arabia border. It's located within the "Empty Quarter", a vast area of sand dunes the size of France where the dunes rise as high as the Eiffel Tower.
We found a driver in Abu Dhabi who would take us to the hotel and back for £200. This was an excellent choice, was half the price quoted by the Hotel and the driver had a lovely new Chevrolet which provided comfort for the lonely drive into the heart of the desert.
We arrived at the main gate of the Hotel and showed security our "green" Al Hosn app which proved we were triple vaccinated. We were looking forward to getting out of the car but quickly realised the main gate was an incredible 8 miles along their private road.
When we finally arrived, we were blown away. The Hotel was built in 2009 and is designed to look like a giant sandcastle. The interior is opulent and Arabian and the views of the desert defy description.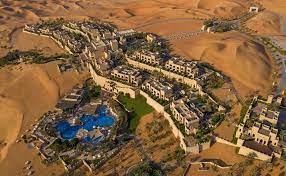 There are no words, videos or images which will truly give justice to the sheer size and scale of the desert that the hotel overlooks. We have been lucky with some incredible hotel views in the past but never did I think the best would be of nothing but sand!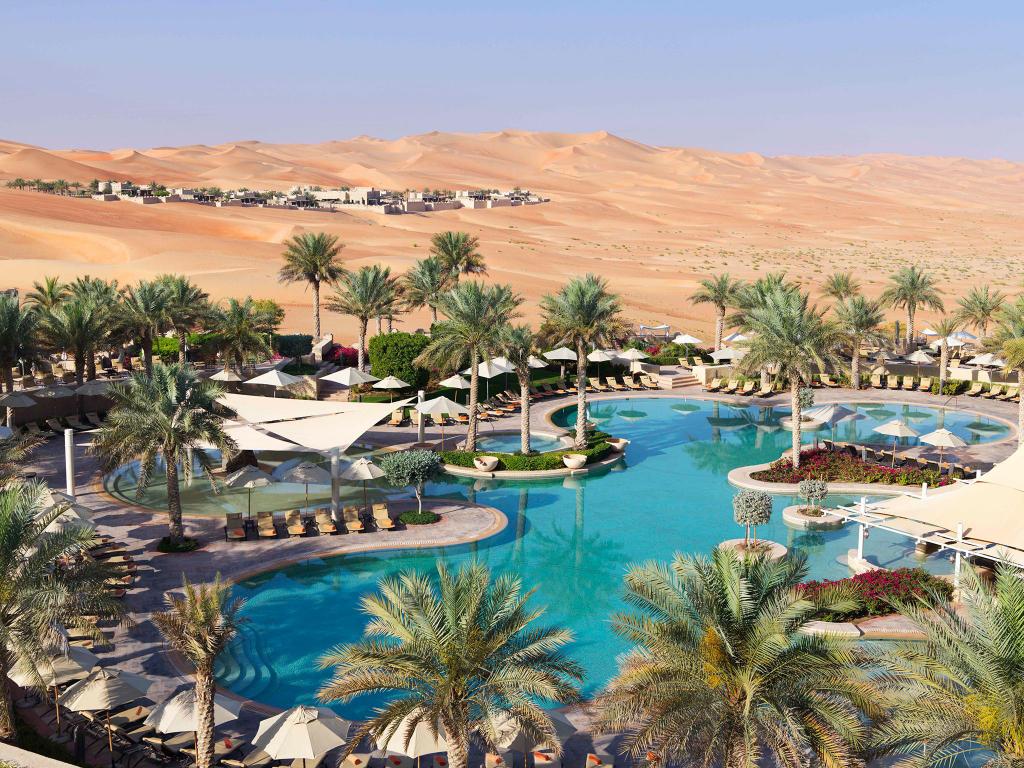 We checked in and were offered some refreshing fresh towels, date and yoghurt drinks and a plate of dates. We were then taken via Golf Cart to Villa 39 – and wow.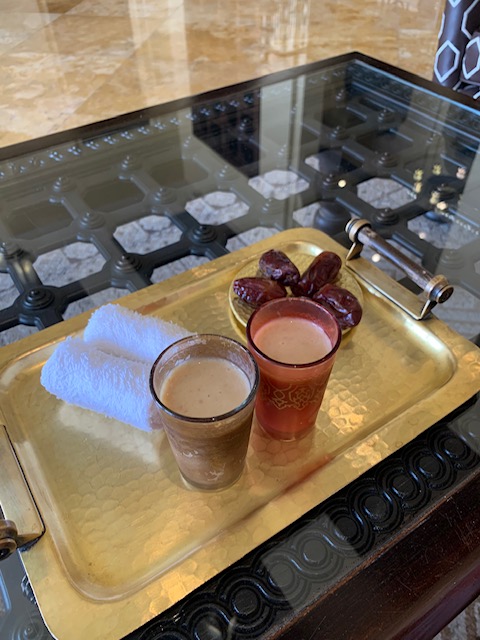 The Villa was located a five minute buggy ride away from the main lobby in a separate "wing" of approximately 50 Villas.
The room was a huge 130 SQm and comprised of an entrance lobby and utility, a small circular dining room, the main living room, bedroom and an enormous bathroom with one of the largest baths I had ever seen.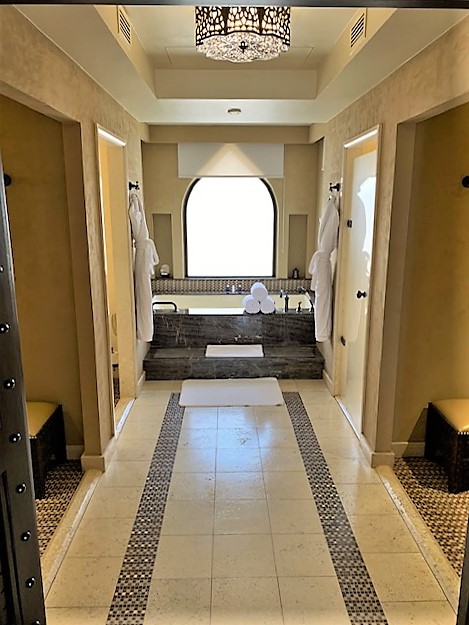 Outside was a daybed, loungers, a remarkably green lawn (which given the 40+ degrees and lack of rain for two years is remarkable) and a wonderful infinity pool. The view, of nothing but the "Empty Quarter", was jaw-dropping.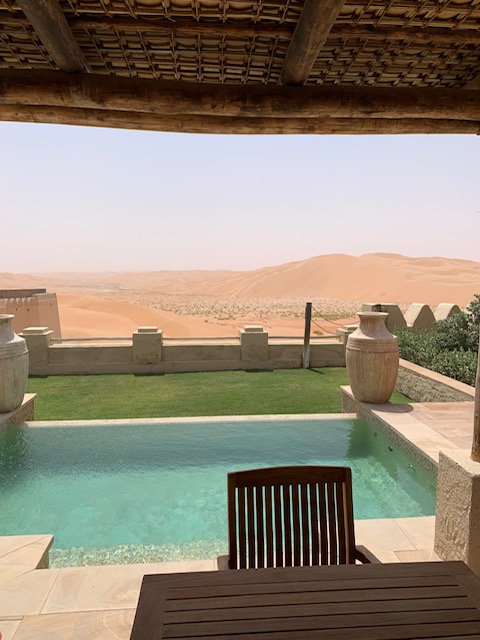 The pool was "cooled" to 30 degrees which was very welcome in the soaring heat and we were provided with a Butler who used WhatsApp to communicate. The Butler couldn't do enough for us (which is obviously the idea!) but he was non-intrusive, very friendly and we used him to arrange our buggy trips around the hotel and to/from our restaurants.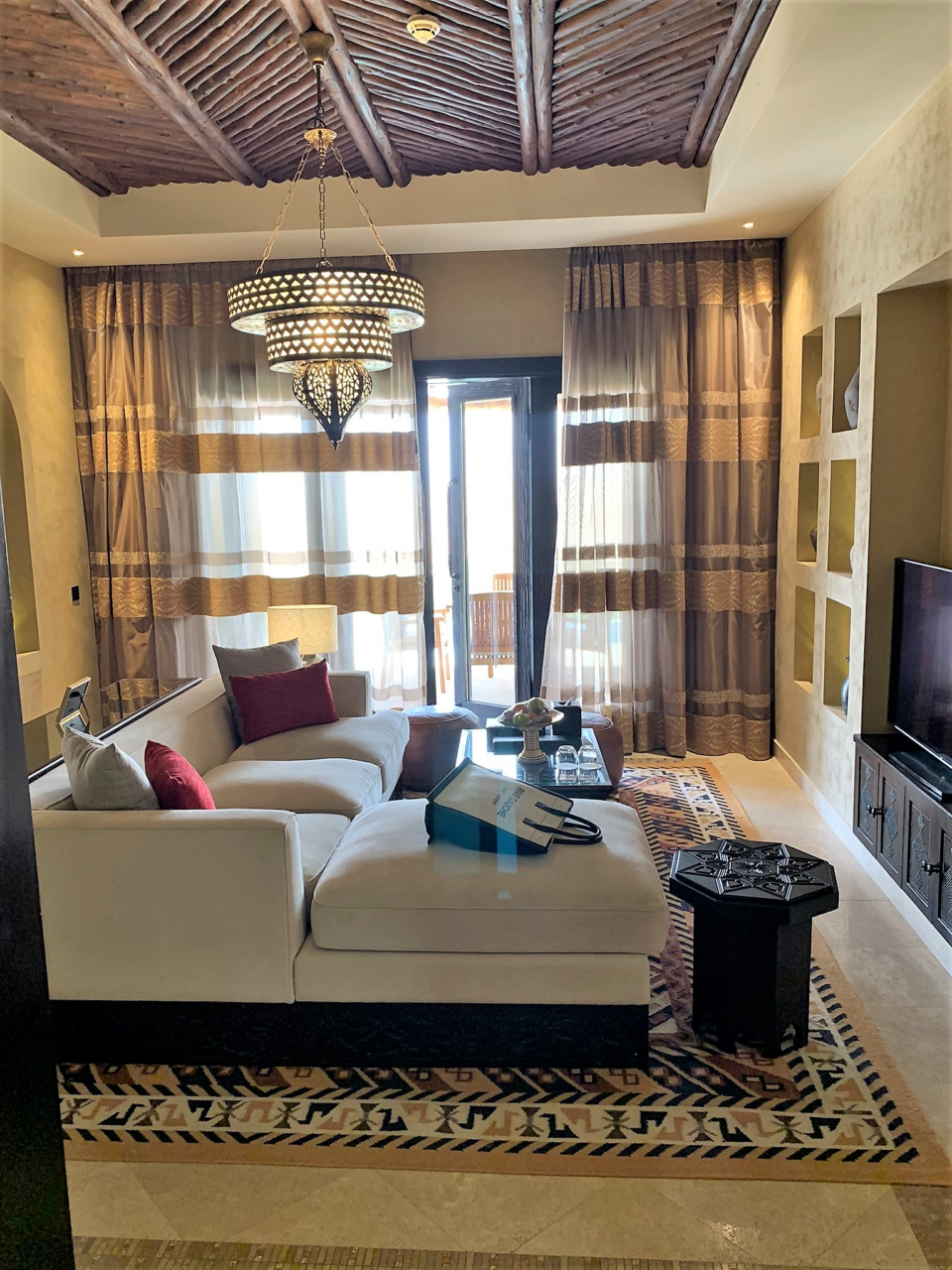 Each room within the main hotel complex is a suite and look stunning. They can be with a balcony or with a garden and are just a short walk away from one of the largest free formed pools I have seen.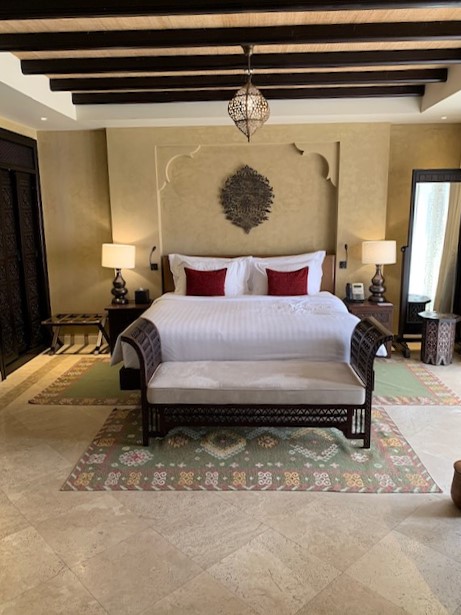 Service around the pool, from our brief visits, looked second to none. We also visited the Gym which is by far the best Hotel Gym I have ever used with every imaginable machine, a studio, a huge free weight area and iPads with "Zwift" linked to top quality smart trainers for the road cyclists amongst us!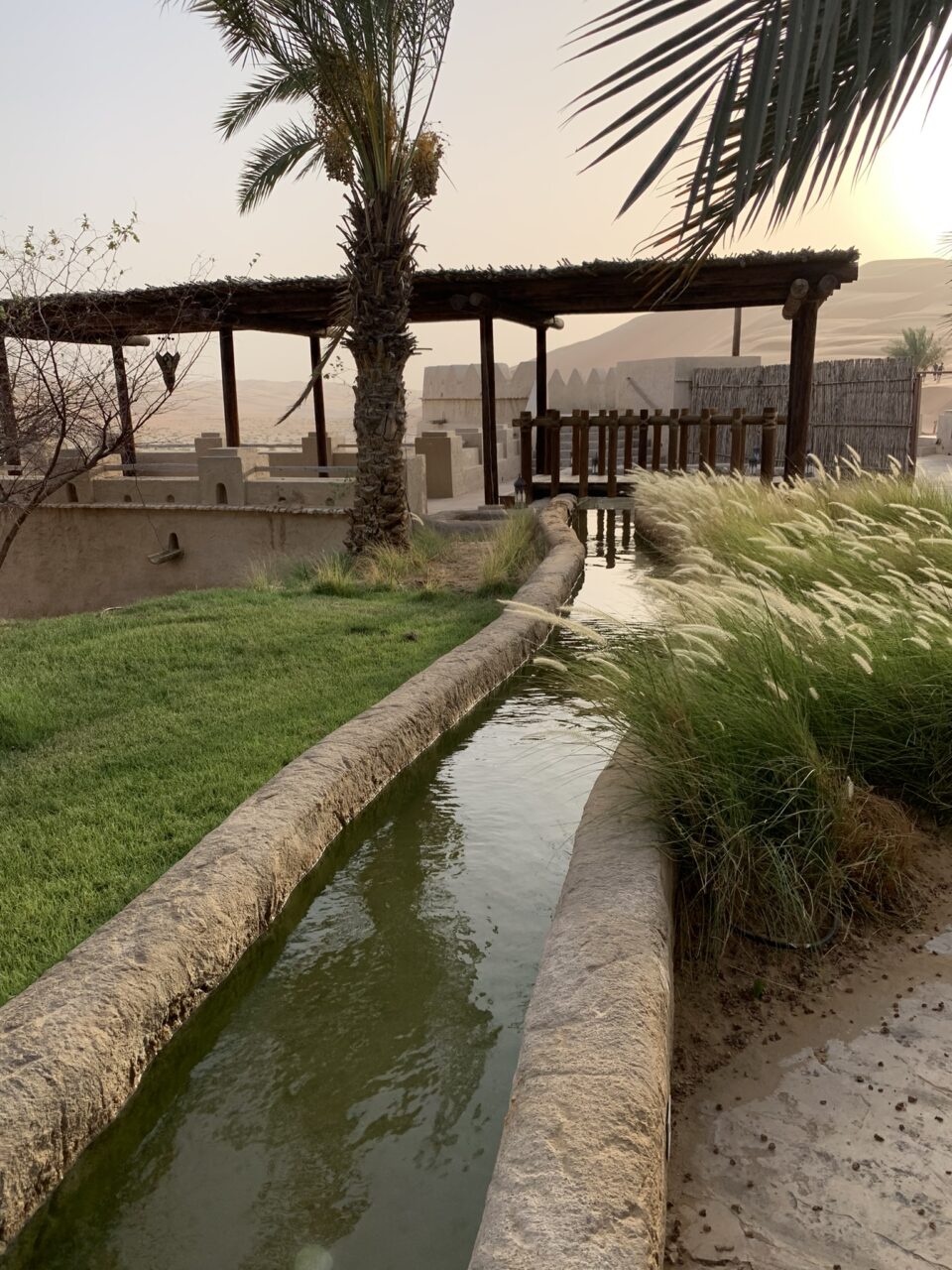 Food
Food, as one would imagine in such a remote location, was reasonably expensive. There were four dining options during our stay (with one outlet being renovated) and they all had extensive menus. We were also offered the opportunity to have either a BBQ in our room or out in the desert, but at £200 and £300 per person respectively, we opted for a traditional restaurant setting.
As we were only staying two nights, we ate in the Mediterranean Ghadeer poolside restaurant. The food here was excellent and we thoroughly enjoyed the Watermelon, Mint and Feta Cheese salad appetisers and the Truffle Rissotto. We ate outside but the outdoor temperature was still 34 degrees and so was right on the limit.
Activities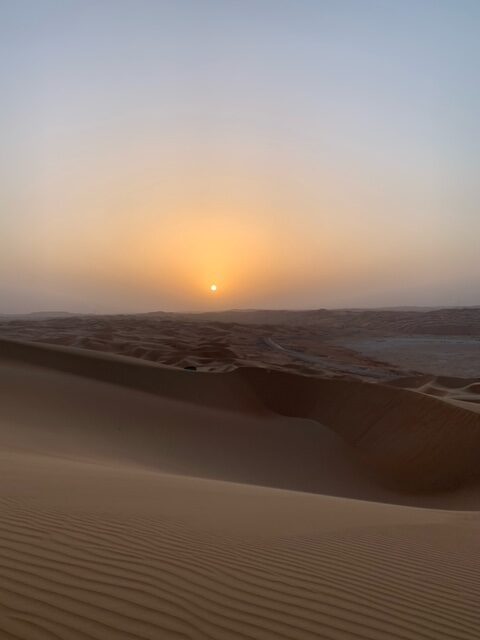 We stayed during low season so the activities were not as plentiful as in the peak seasons. We used some sand boards (which were free of charge and included wax to help you fly down the dunes) but didn't feel much more energetic for anything else. We could have met the resident Falcons, dune bashed in Range Rovers or ridden Camels. I understand there is also an Archery Range but this wasn't offered to us.
Conclusion
Staying in the desert really never appealed but this was an incredible experience. The views are out of this world and wandering into the desert when the heat dropped was a hugely unique experience.
The rooms are all exceptional and our Pool Villa was remarkable. This is a top-quality hotel in the most unique setting.
The green grass, huge pools and fountains are not designed to be in the middle of the desert, so the building of this hotel is an engineering feat in itself (water is channelled and desalinated from 200km away from Abu Dhabi!).
If you fancy something a little different, I wouldn't hesitate. Two or three nights were enough from our experience but longer would be fine.
You can check prices and details here or TLFL have a special offer through out partners GTC. Rooms range from a garden room to a 3 bedroom family villa with pool.
You receive:
Upgrade on arrival subject to availability
Free breakfast
$100 credit
48 hour cancellation
There is a 3 for 2 offer also available