The following flight was paid for by Finnair as part of a recent press trip. The airline has not received copy approval for this article, and the first time they see it is the same time you are.
I recently flew in business class on Finnair's A350-900 from Heathrow to Helsinki to spend a few days exploring the Finnish countryside. Finnair flies from Heathrow to Helsinki four times a day with the option to fly from Manchester, Edinburgh and Dublin. With the average Finnair return business class ticket costing over three times more than economy, is flying business class with Finnair worth it? I definitely think it is! Here's my experience.
Check-In
The flight was scheduled to leave from Terminal 3 at 10:20 am. The check-in was one of the best I have ever experienced. There was hardly a queue at all for economy or business class check-in. Everything was done in a few minutes. I had already checked in online, and this saved even more time.
This may have had something to do with it being 8:00 am, but I have been faced with very long queues on previous early flights! The staff even printed off my boarding pass, meaning I did not have to worry about getting my phone out for boarding pass checks.
Security
We did not actually use fast track security because the queues were very reasonable at the general security, we were through very quickly with no issues.
The Lounge
We used the Cathay Pacific Lounge in Terminal 3. I will be doing a full review of our experience soon! To give a brief overview, the lounge was one of the best I have been in, with a wide variety of food and drink options, comfy seating and an excellent work area – not to mention the views! If you are flying in business class with Finnair, the lounge you can use will be on your ticket, along with what gate it's near.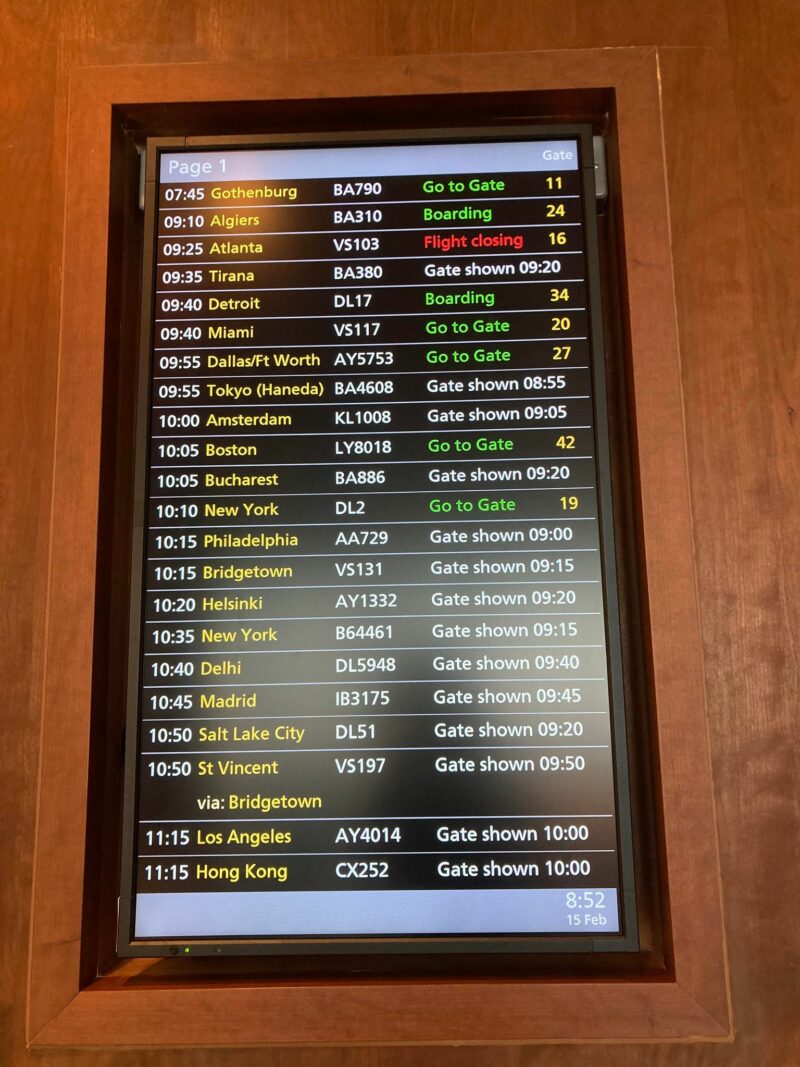 Boarding
Once the gate was called, there was quite a large queue to get into the boarding area. There were no separate lanes for business and economy. Once in the boarding area, there were plenty of seats, including some special lie-back seats with runway views! I could see our plane from the window, which was a good sign everything would be on schedule.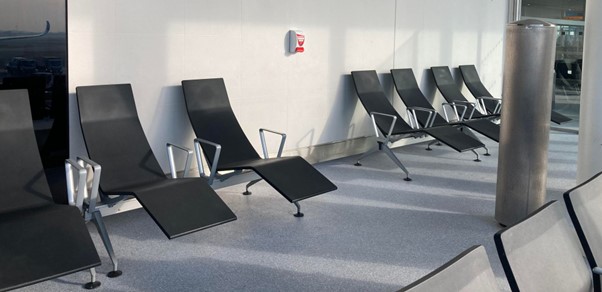 We waited about 15 minutes in the boarding area. Passengers needing special assistance boarded first, followed by group 1 (business class) than economy passengers.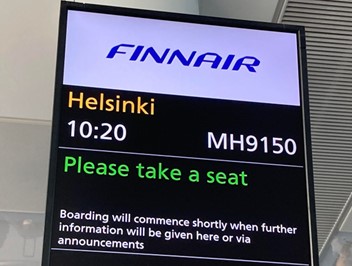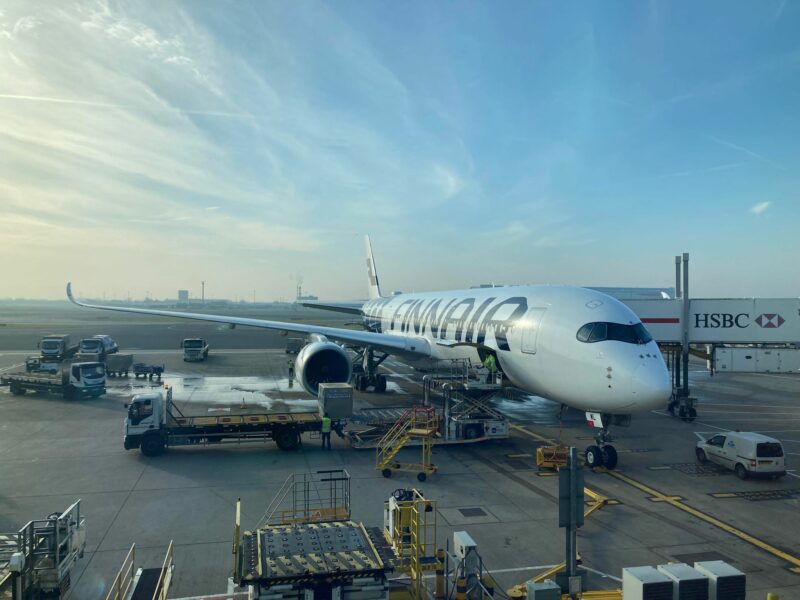 Onboard
The aircraft had the older seating style rather than the newer non reclining seat. I chose seat 4A, a single seat on the left-hand side of the plane. The flight was slightly delayed in boarding, so there wasn't much time between boarding and takeoff. I loved the layout of the Finnair Business Class.
There's plenty of legroom, including somewhere to put your shoes or to stow bags once the plane has taken off.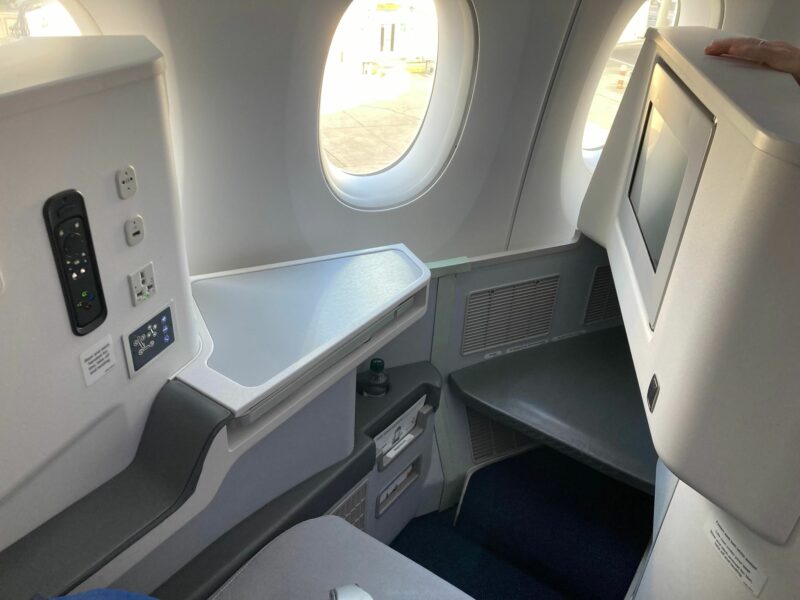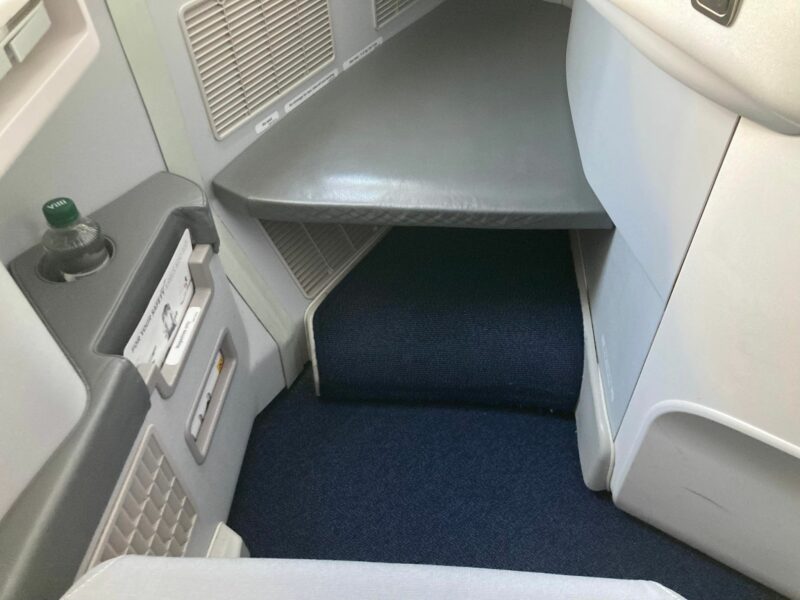 A great feature of Finnair business class is the water bottle cooler inside the bottle slot!

Another of my favourite features was the seatbelt. It was extra comfy and weighted, which I am sure would aid a good nights sleep.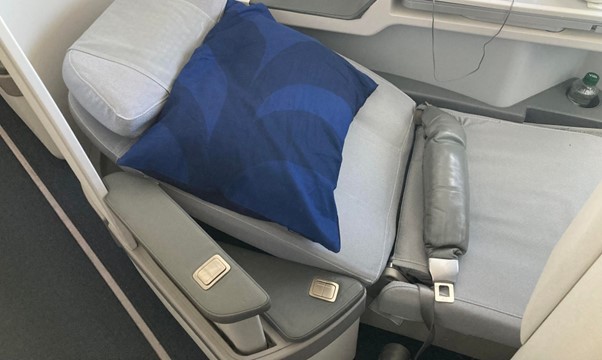 Middle Seats
The Business Class section of the plane is set out in a 1-2-1 configuration with a window seat on each side and a group of 2 seats down the middle aisle. The middle seats would be good if you were going to travel with a friend or as a couple.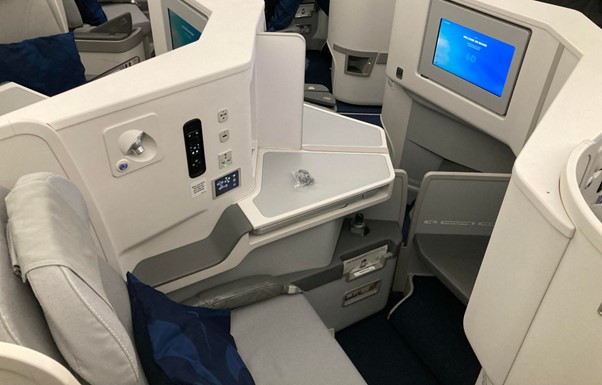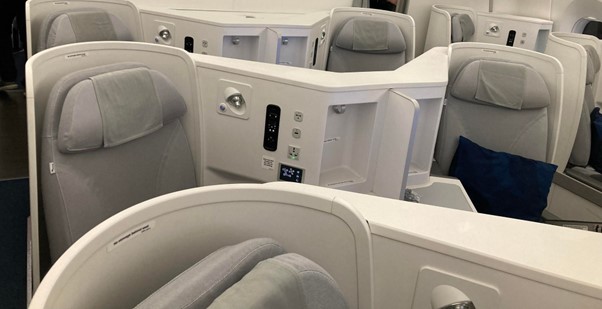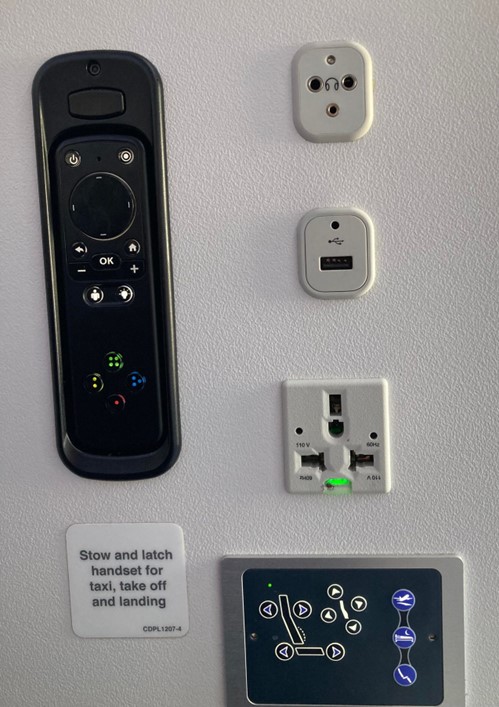 There were many controls available, including a handy plug which could accepvariousof plug types, an earphone slot not attached to the screen and great seat controls so you could make the seat go in almost any position.
I loved the quick controls whereby you could quickly sit up for takeoff and landing or quickly descend into a sleeping position.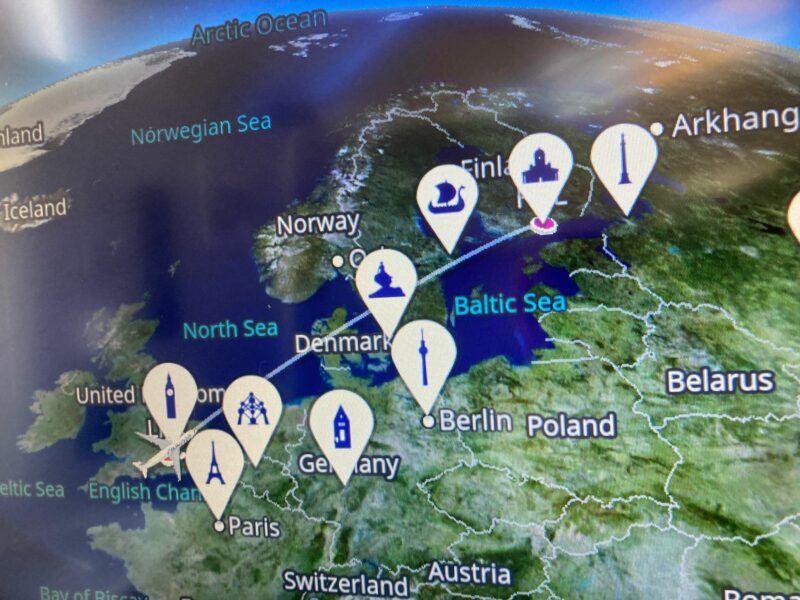 I always love looking at the map feature. Finnair had made a mini travel guide to all the major cities near Helsinki! There was also an excellent camera to view over and under the plane during the flight.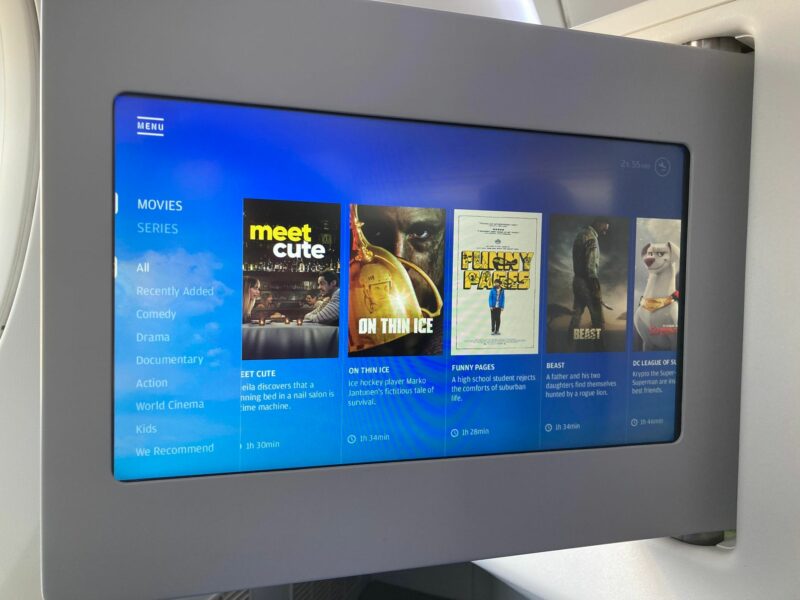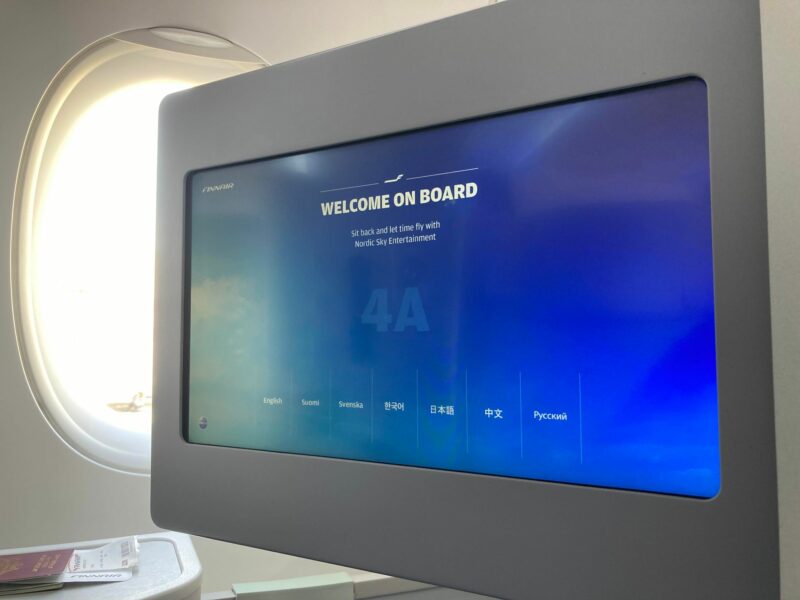 I was impressed with the size of the screens. The screen came out at a 90-degree angle with the press of a button. A variety of films and a good selection of music you could listen to during landing were available! The inflight entertainment system has recently won the Red Dot Award for Design in the Brand and Communication Design category.
The staff did not try to sell things to me onboard the flight (like with EasyJet and other airlines). Instead, you could look at the products available via the screen.
Food and Drink
I was impressed with the food on board. Special meals could be selected before departure, and one meal was served during the 2-hour, 55-minute flight as well as 1 drink round. The drinks round came first, and I chose to try Finnair's signature Blueberry juice, which is also served as a complimentary drink in economy.
The meal was tortellini pasta filled with mushroom with tomato sauce, a chocolate cookie and wrapped beef. I didn't try the beef because I am a vegetarian. I remember asking for a vegetarian meal online, but I don't know if the form was saved! The cabin crew came around, offering more drinks and an extra bread roll. The bread roll was warm and better than other ones I have tried.
Midway through the meal, the cabin crew offered coffee and tea.
The service was excellent throughout the flight.

WI-FI
Finnair does have WIFI on board via the Nordic Sky Portal. Business class passengers and Finnair plus gold and Plus Platinum members benefit from 30 minutes of free WIFI. In economy, any use of WIFI is payable.
Flying for Less
To get a range of benefits flying with Finnair, you will need to join the Finnair Plus loyalty program. When flying with Finnair or any OneWorld partners, you can earn award points and Tier points.
Award points can be used to upgrade to business class, pay for hotels or car rentals or buy vouchers.
Tier points help you climb the Finnair award tiers and are valid for 1 year.
Everyone starts at Finnair Basic.
If you earn enough points, you can earn Finnair Plus lifetime, meaning you will never be downgraded!
Here are the different Finnair Plus tiers along with equivalent OneWorld tier status: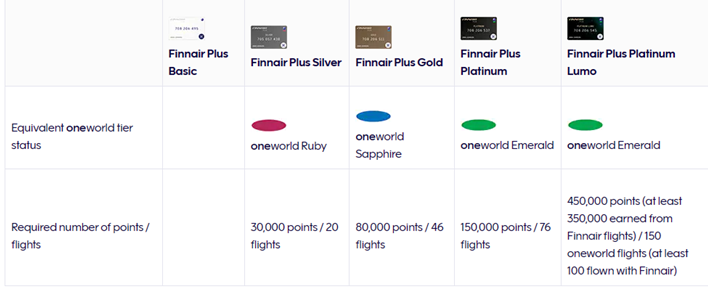 Membership Benefits: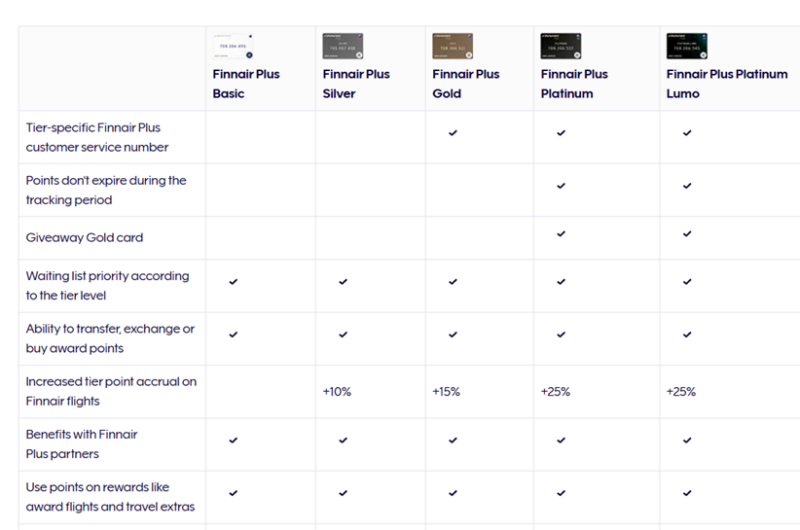 Finnair Plus Baggage Benefits: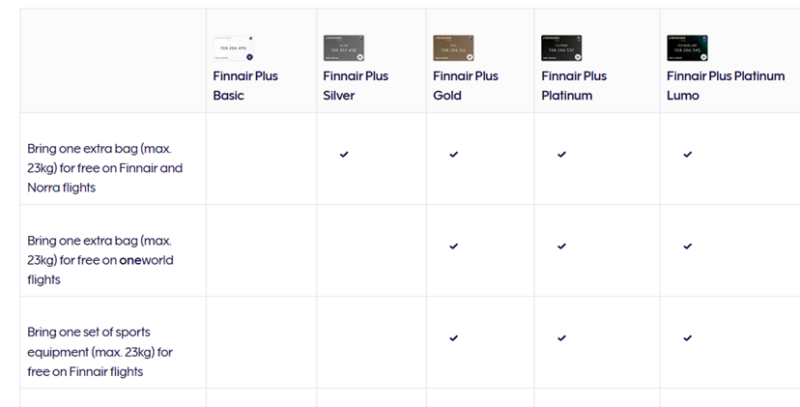 Finnair Plus Airport Services Benefits: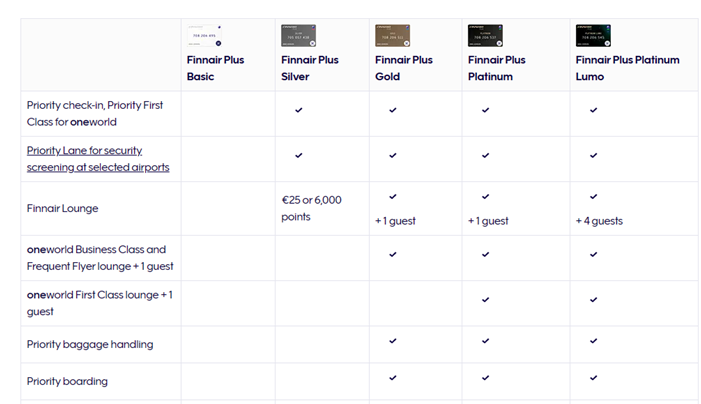 Onboard Benefits: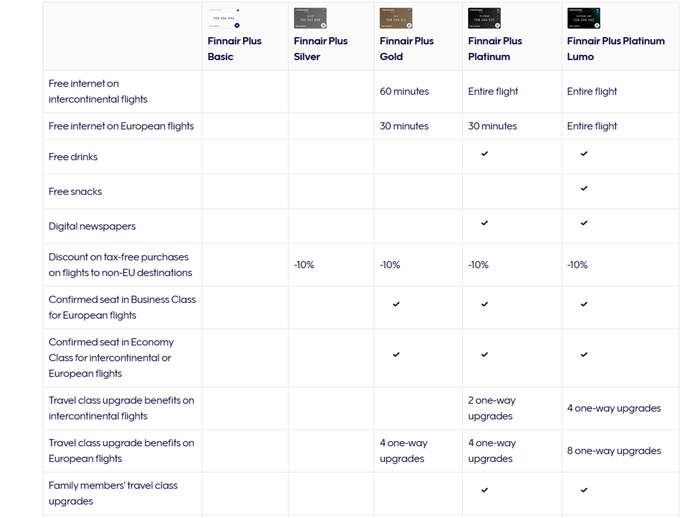 You can upgrade your travel class by logging into the Finnair app to view the available options. You can also upgrade to business class at the airport, but you will only get the class and not the benefits at the airport, like lounge access. However, if you want to upgrade from premium economy to business, you will need to phone customer service.
Landing and Arrival
We made up time in the air and landed at Helsinki just slightly delayed. The bags came out very fast, and the queue for passport control was short. It took a while at passport control. The Finnish border force always asks lots of questions. We left the airport in good time and met our transfer easily.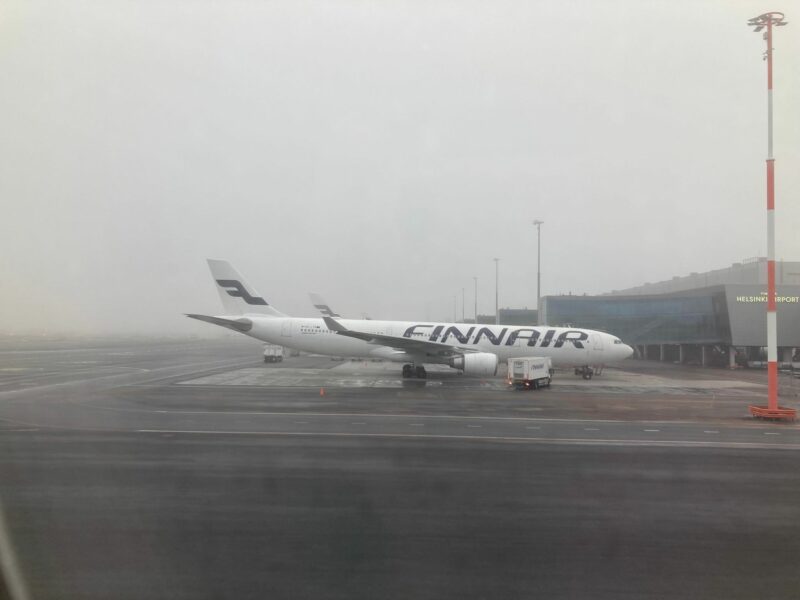 Conclusion
I would definitely recommend choosing Finnair for both short-haul and long-haul flights. A return flight from London Heathrow to Helsinki starts at £167 in Economy Class and £547 in Business Class, including all taxes and charges.