The following flight was paid for by Finnair as part of a recent press trip. The airline has not received copy approval for this article, and the first time they see it is the same time you are.
This is the return journey of flying business class with Finnair from Helsinki to Heathrow after spending some time enjoying the Finnish countryside and visiting Nuuksio National Park.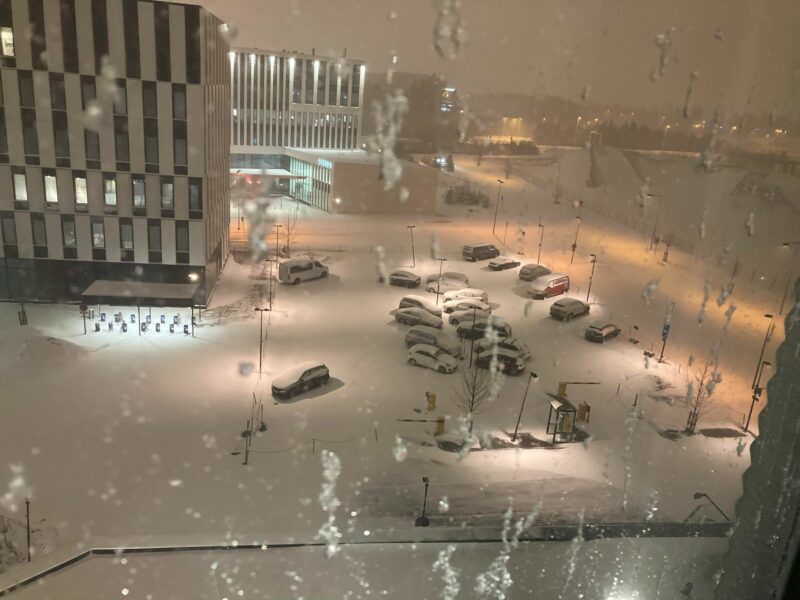 Check-In
The queue was longer than I encountered checking in to my flight to Helsinki with Finnair. There are automatic check-in machines at Helsinki airport, and you have another queue to hand your case over. This was all done very efficiently, and the process was the same for economy and business passengers. I imagine the automatic check-in is because Finnair is based at Helsinki airport.
Security
This time we used fast-track security. Make sure you walk right to the end; otherwise, you will end up in the standard queue and have to go under the barrier as we did. There was a huge queue at the standard security, but we did not even have to queue for fast-track. The new security measures in Helsinki mean you don't have to remove electronics from your bag which speeds up the process.
The Finnair Business Lounge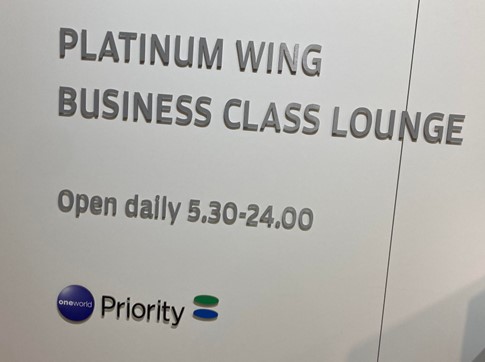 Helsinki Airport is home to the Finnair Business lounge and platinum wing. Both lounges are located near gate 52 past passport control in the non-Schengen area.

You can use the business lounge if you hold status with the following:
Finnair Plus Platinum Lumo (up to 4 guests)
Finnair Plus Platinum (1 guest)
Gold Finnair Plus (1 guest)
oneworld Emerald (1 guest)
oneworld Sapphire (1 guest)
You must also be travelling on an airline operated or marketed by oneworld.
If you're a Finnair Plus Silver member, you'll have discounted access to the Finnair Lounge. Alternatively, you could also use your points to get a Finnair lounge pass.
My Experience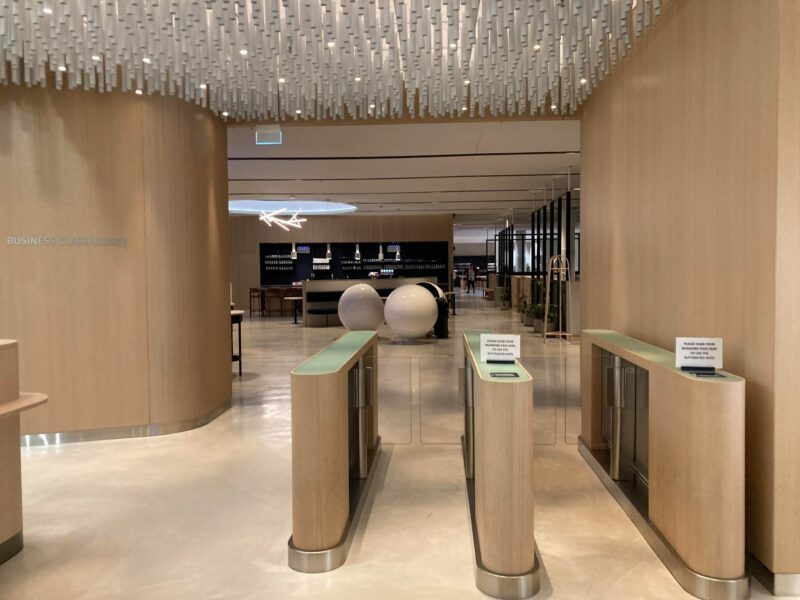 The lounge was very quiet. We were there before 7:30 am. There was ambient music playing which reminded me of being at a spa. Being empty, there were lots of options for places to sit.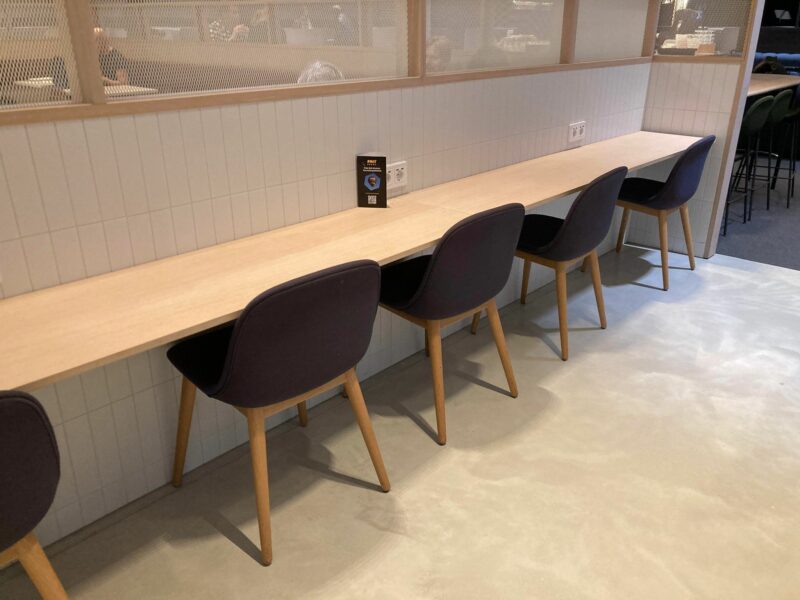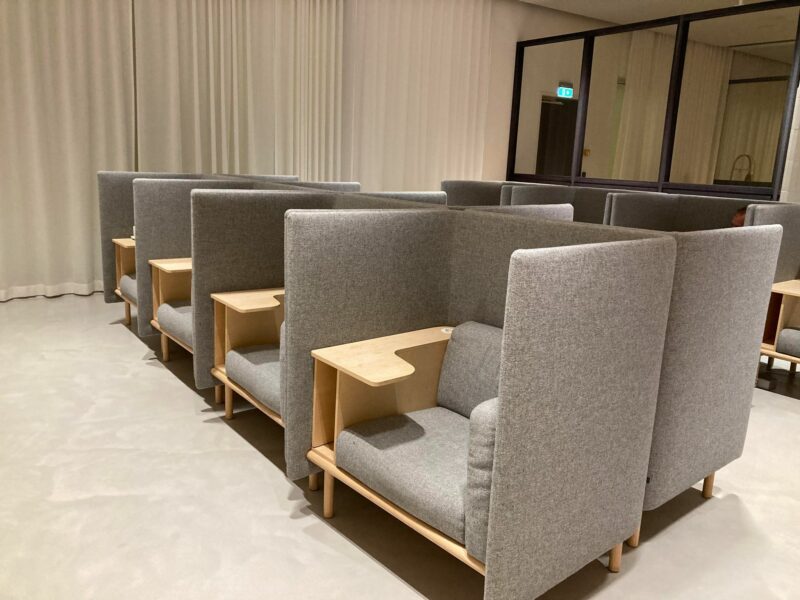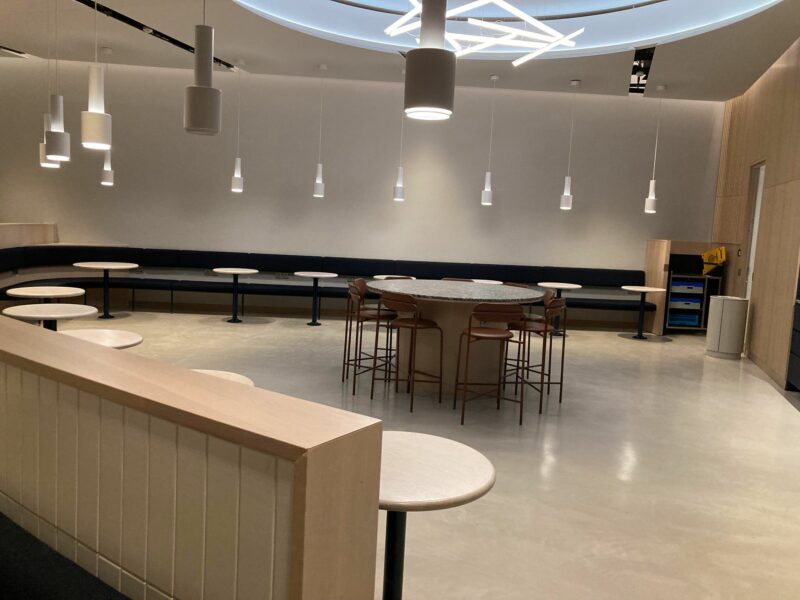 A buffet was available with lots of cold options and the Finnish version of a cooked breakfast. No staff were working at the bar, but a selection of wines and beers was available to pour and on tap. The soft drinks machine was also turned on, and the famous Finnair blueberry juice was also available.
The lounge also had showers which would be perfect if you had a connecting flight in Helsinki.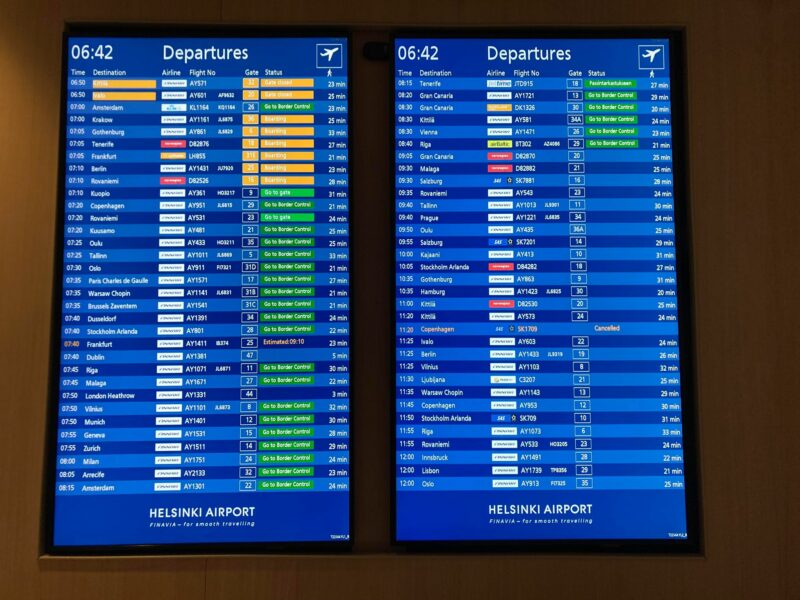 The Finnair Platinum Wing
If you hold Finnair Platinum or Platinum Lumo Status, you can access Finnair's Platinum wing. If your flight is departing from a non-Schengen area, you can also use the lounge if you are a oneworld Emerald member.
The platinum wing is open from 11:00 a.m. to 5:30 p.m. Unfortunately, I didn't get to try it this time.
You can view more in-depth Finnair lounge reviews here.
Boarding
Once you get to the boarding gate, there's a separate queue for business and economy. Once through, it is a separate waiting area which I have not seen before at an airport. This streamlined the boarding process.
The Cabin
Upon boarding, I was greeted by the cabin crew and then given another enthusiastic greeting by the business class cabin crew.
Once on the plane, we had a bit longer to wait, but that's no problem when travelling in business class! If there was anywhere near as much snow in the UK I am sure all airports would be shut! There was a huge snowstorm and it was early morning, so the plane needed to be de-iced. This delayed the flight by around 30 minutes, but the de-icing was very efficient.
I chose to sit in a single window seat (6L) on the opposite side of the plane than on the journey to Helsinki. This gave me a different perspective. It is a personal preference, but I did prefer sitting on the other side of the plane in seat 4A.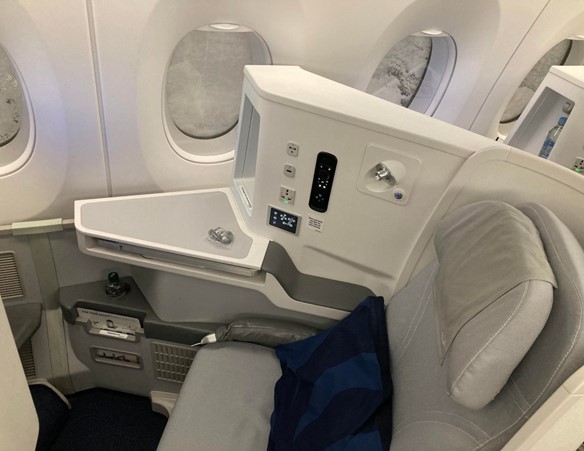 There were lots of storage options available. There was a small box where you could stow a few things for takeoff and landing as the small shelf you can see by the window where I kept my phone while it was charging.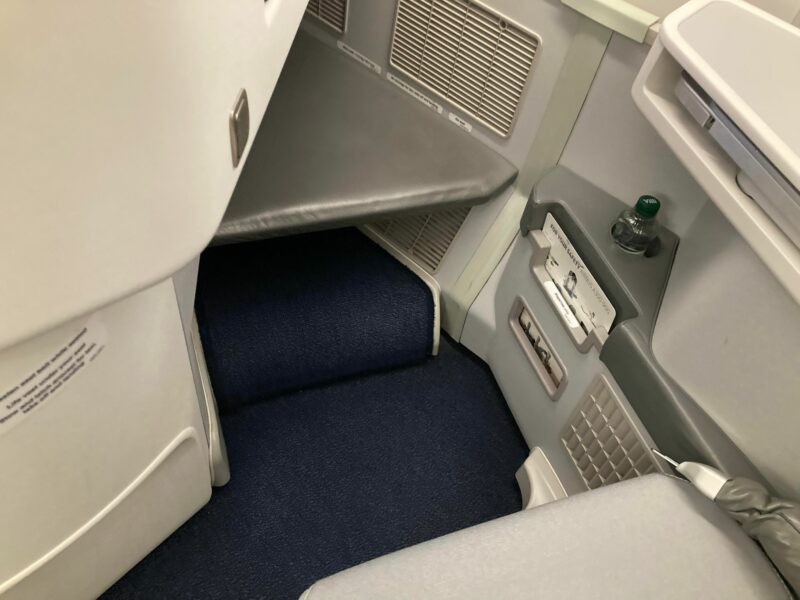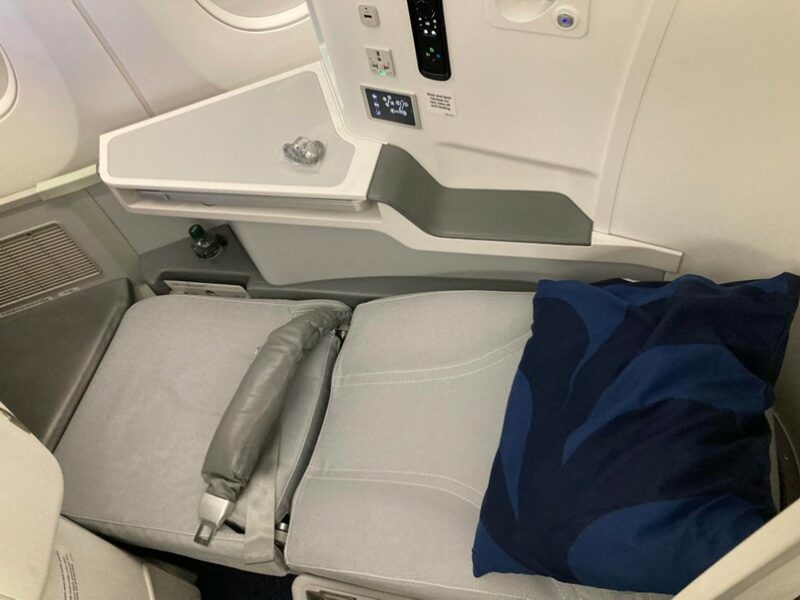 Once lying down, it reminded me of the Night Riviera sleeper I travel on often from Cornwall. However, this was better because I would not nearly fall out every time I turned over.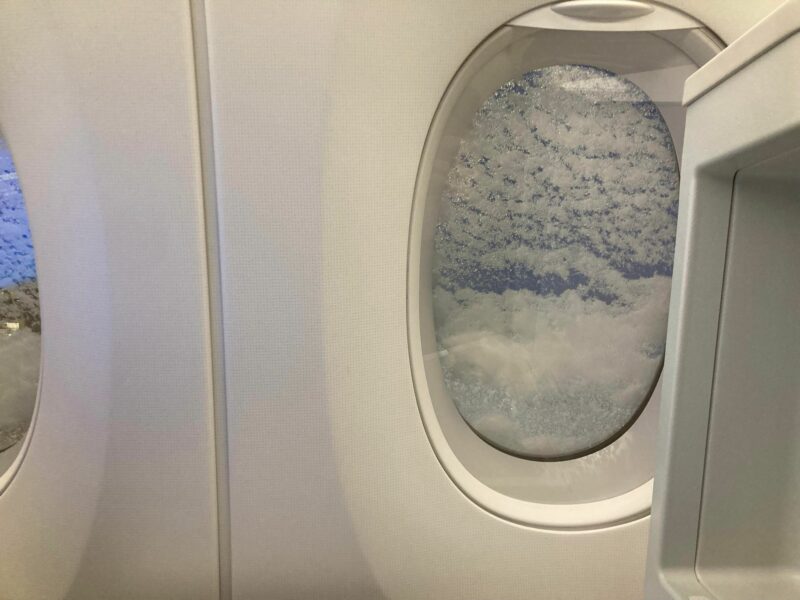 Entertainment
Some disposable earphones were provided. are These plugged in nearby the seat, giving more flexibility to move around rather than being plugged into the screen. Despite the weather, there were excellent views from the forward and downward cameras on the flight.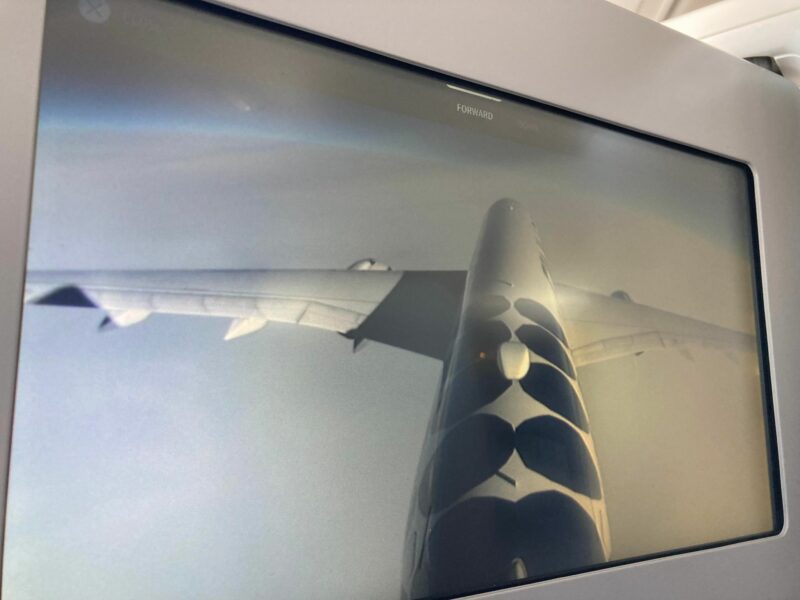 Skincare products and Finnish gifts were available to purchase on-board. You can browse all the details using the screen:
Food and Drink
The flight was due to depart at 7:50 am, so it was breakfast service. This was a welcome treat because we had grabbed a few things to go to the hotel earlier in the day. Breakfast consisted of a Finnish yoghurt topped with muesli, a bread roll with orange marmalade and a selection of pineapple and melon.
A cooked breakfast was served with hashbrowns, spinach, scrambled egg, tomato and a lovely tomato sauce. I chose apple juice to drink. Coffee was also given at the same time as breakfast. There wasn't the chance to get an extra bread roll like on the flight into Helsinki.
Because this was a breakfast service, the food was served earlier in the flight before the drinks round. Extra drinks came after, and I chose coke.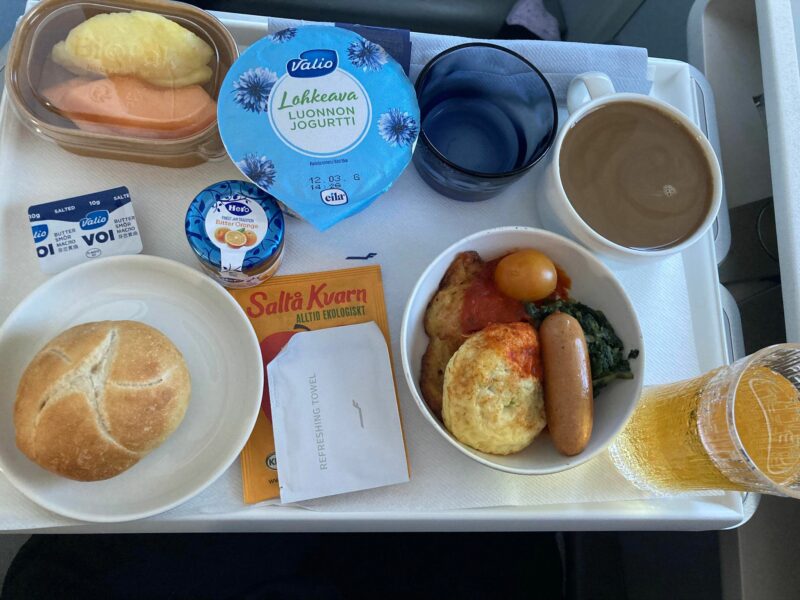 Arrival into Heathrow
Due to the snowstorm in Helsinki, we arrived around 30 minutes late into Heathrow. The captain kept us well-informed throughout the flight. Once we neared Terminal 3, it was announced that we had missed our landing slot, so we circled the outskirts of London for a while.
Once we landed, nobody connected the walkway to the plane. When we got off the plane, however, the luggage came out quickly, and we were on our way to the Heathrow Express very fast. I'm glad I booked the 11:45 train back home. I would have missed the previous one.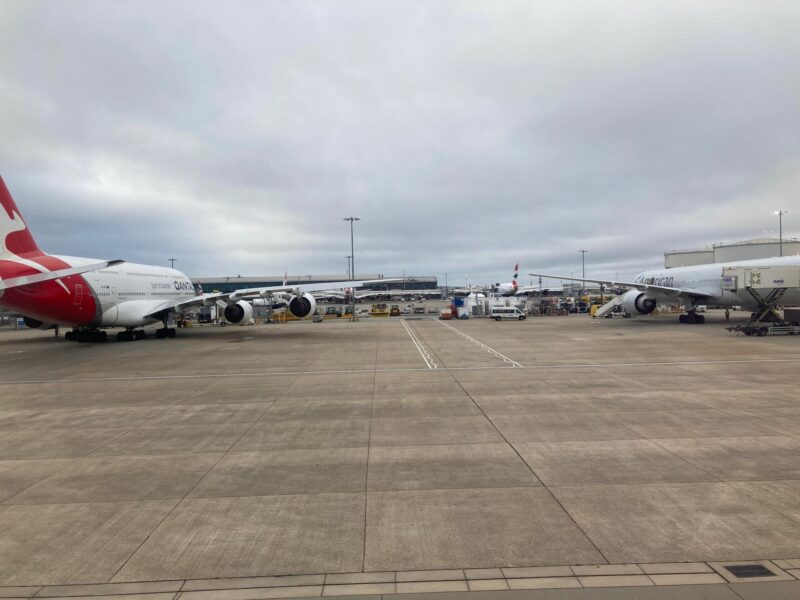 Finniars NEW Long-Haul Business Class
If you are thinking of flying with Finnair long-haul, it's been a year since the rollout of the new business class and improved premium economy seating. The new business class seats have more space, and shell lounge space enables many sitting and sleeping positions. You can read our review of the new business class seats here.
The new cabin has won numerous awards, including the 'Cabin Concept of the Year' winner by Onboard Hospitality and the Best Cabin (First & Business Class)' at the Yacht and Aviation Awards.
The long-haul economy class has also been improved, with larger Inflight Entertainment screens for the A330 aircraft and three A350s. You can view a more in-depth review of Finnair's economy here.
Conclusion
I had a great experience returning to Heathrow, just like I did on the way to Helsinki. Finnair's business class keeps a high standard, and although there were some weather delays, I didn't mind because there was plenty to do on board.