On our recent Emirates First class flight back from Cape Town we decided to stay over in Abu Dhabi so that we could visit the new Abu Dhabi Louvre. I can say it's worth a visit even if you are not a huge art fan, just for the stunning building itself! You may not be familiar with Rosewood hotels as they are an emerging new luxury chain with hotels in Asia, Europe, the Middle East and the Americas.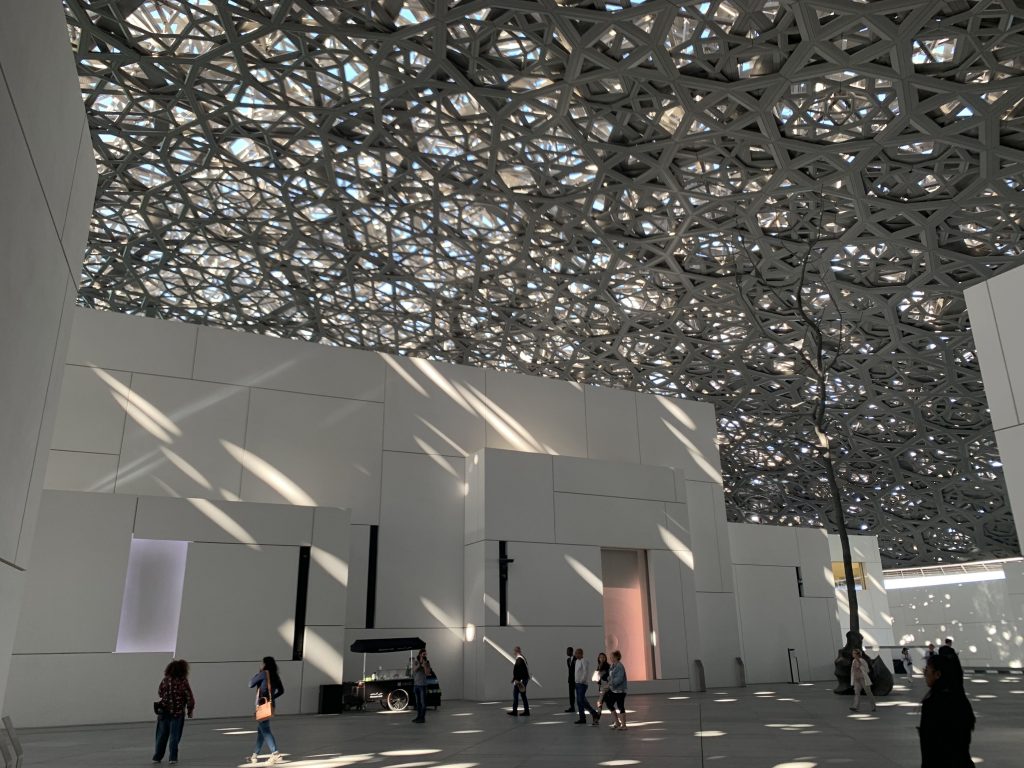 Booking and price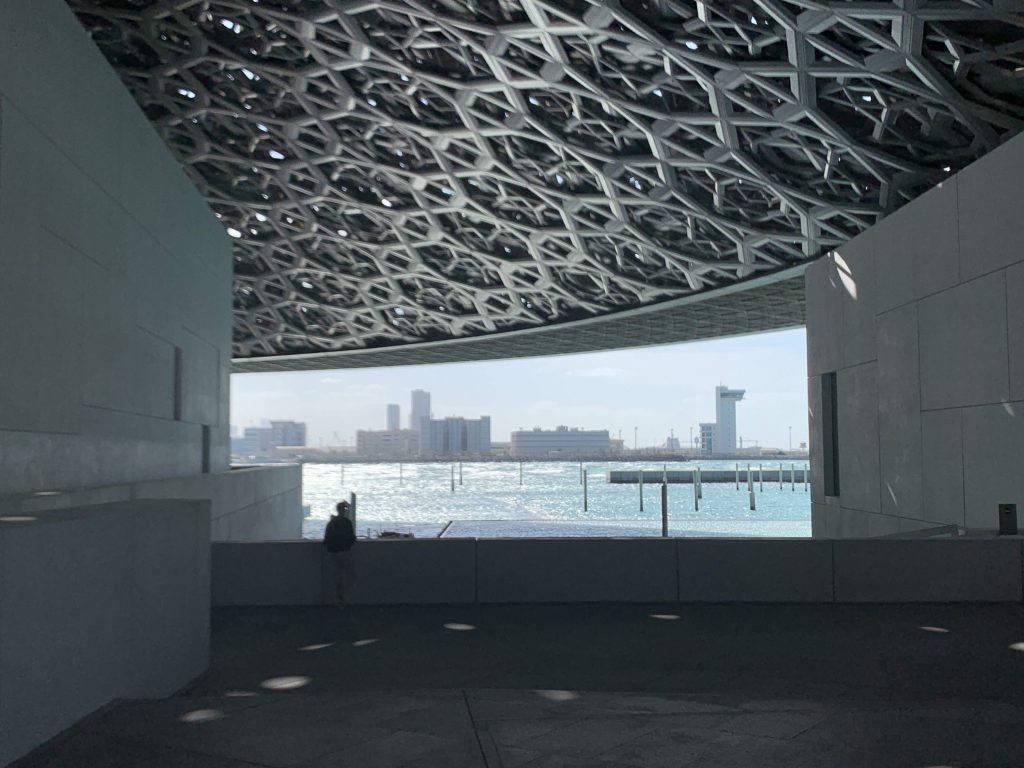 There was a great deal on through booking.com for a Club Deluxe room with access to their Executive lounge included. If you find a good deal on booking.com don't forget if you use this special link, then you will receive £15 to your registered booking.com credit card once you have booked and stayed at the accommodation.
Roving Reporter booked the suite with lounge access deal for £217 whereas I booked the smaller Manor Club King Deluxe room with lounge access.
Location
The hotel is located on the waterfront next to the Four Seasons and by The Galleria shopping mall. It was also a short Uber ride to the new Louvre.
Check-in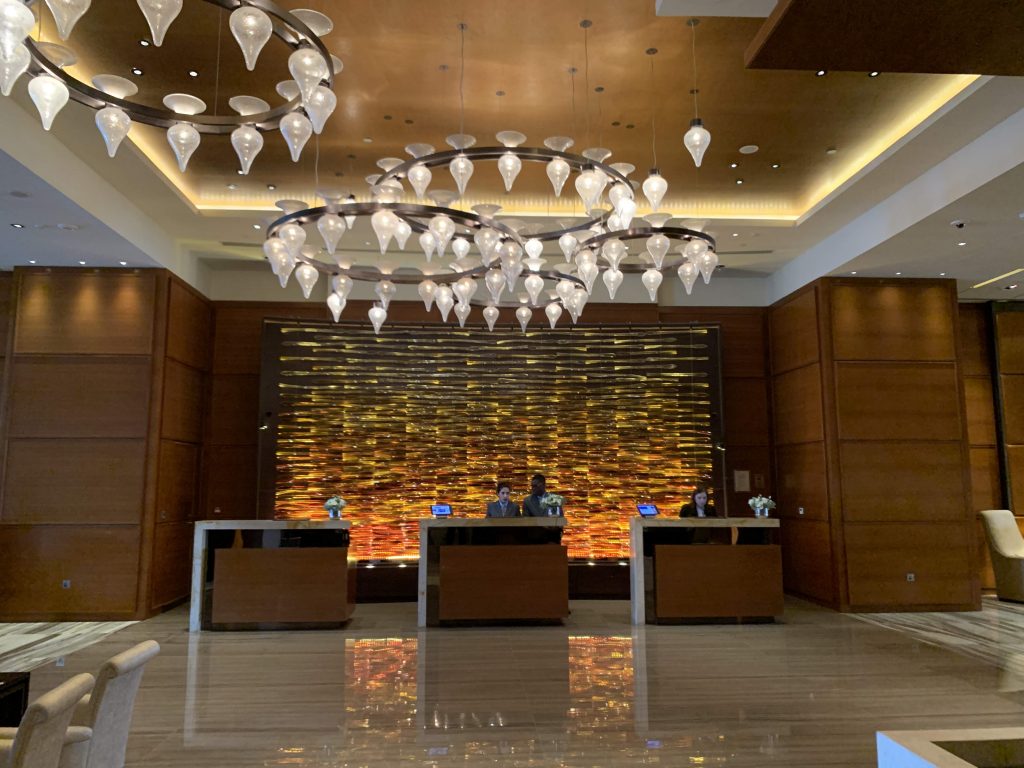 Despite arriving very early in the morning, I was still able to access my room which was fantastic. I had pre-alerted the hotel to this which probably helped. Roving Reporter was on a later flight and was also able to check in early. The receptionist was very professional but friendly too.
He explained about the Manor Club lounge benefits and various features of the hotel. The only complaint was that the process was relatively slow. Other than that they were accommodating during our stay and remembered us whenever we returned to reception.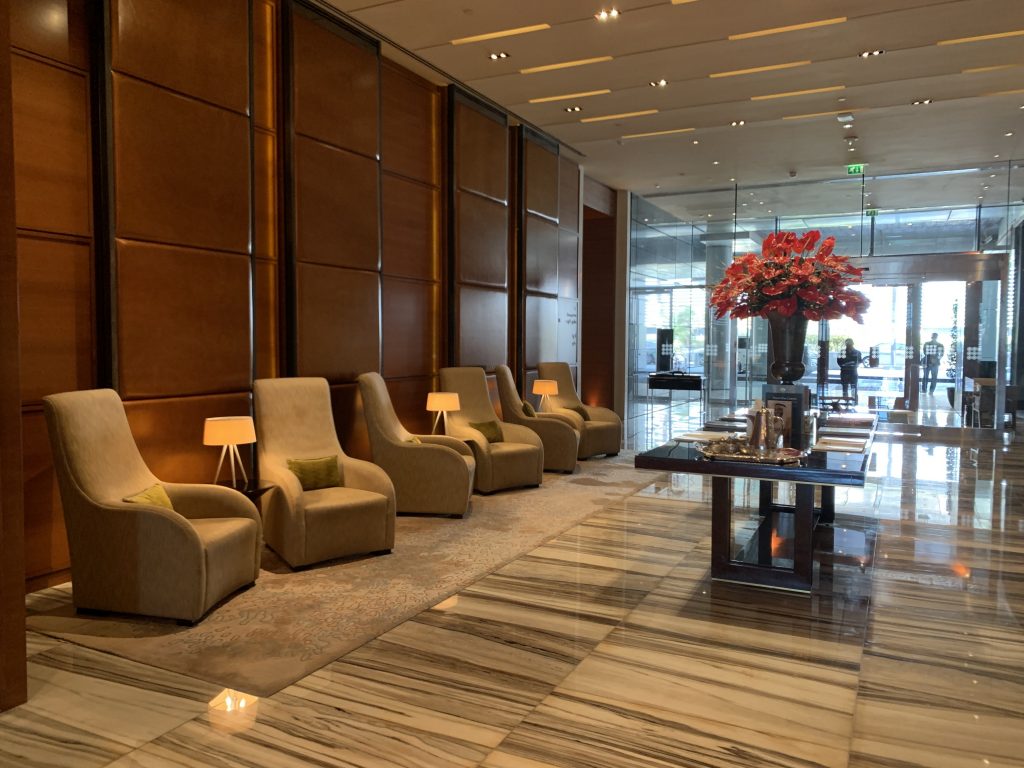 The rooms
My Room – Club Deluxe King
In both our rooms we had a welcome card along with a plate of Arabic cakes like baklava which I thought was a nice touch for new guests who had booked indirect as well. I had been given a room with a lovely waterfront view, and it definitely gave it the wow factor.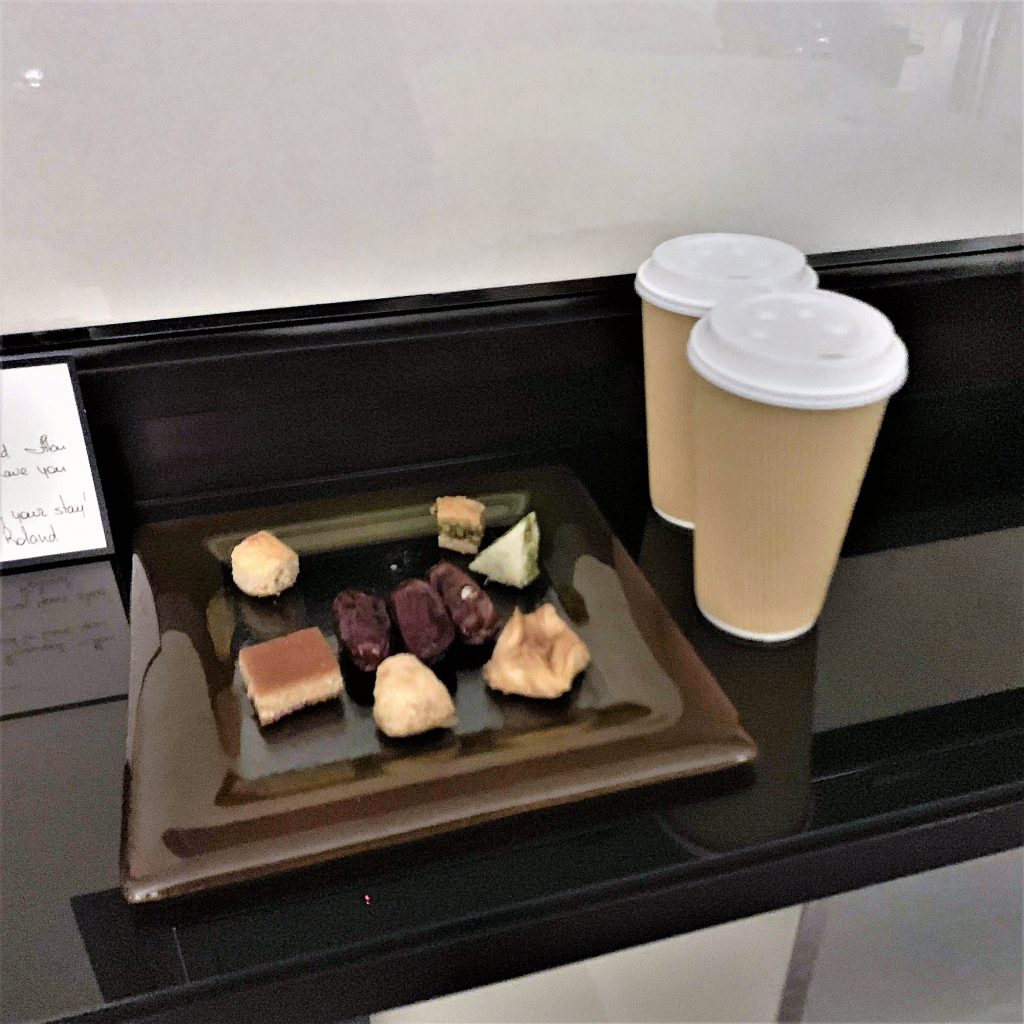 The decor was sophisticated and elegant in a neutral palette with dark wood. It felt that the room was well thought out compared to so many hotels. The basics, like having somewhere to do your hair with a socket and a mirror, seems to get often get forgotten.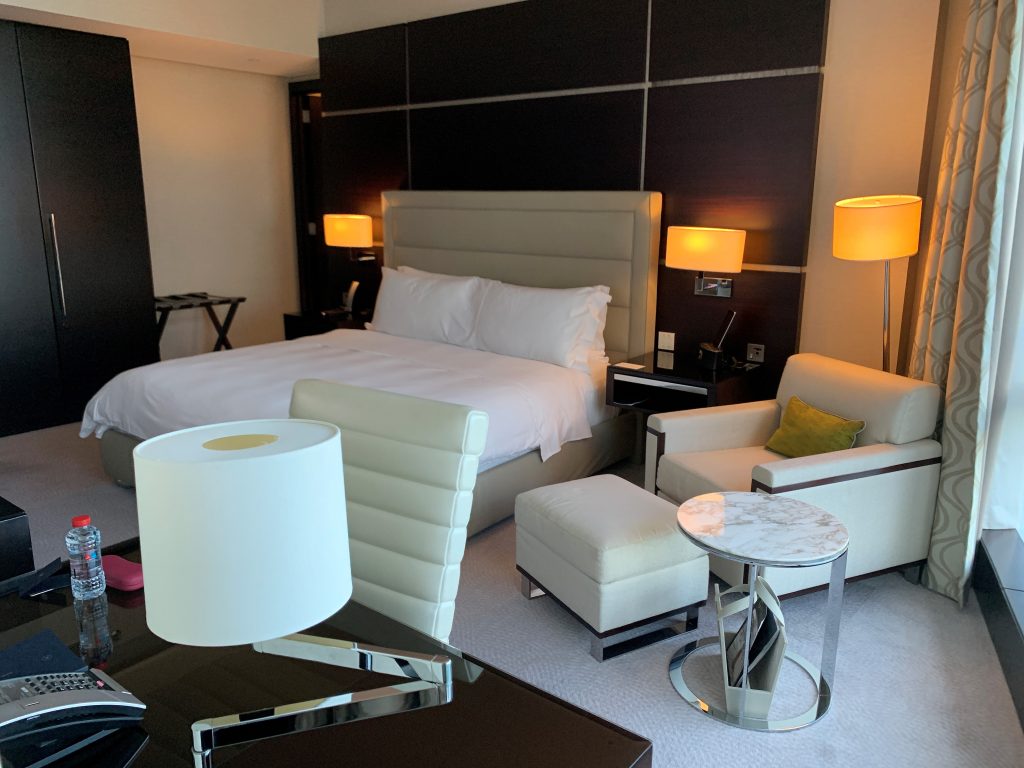 The room had a large bed which was extremely comfortable with high thread count soft sheets. Sitting space was limited if there were two of you as there was one solo armchair with a footstool or there was a work desk with a chair. I particularly liked the dedicated vanity area with a large lit mirror and two sockets.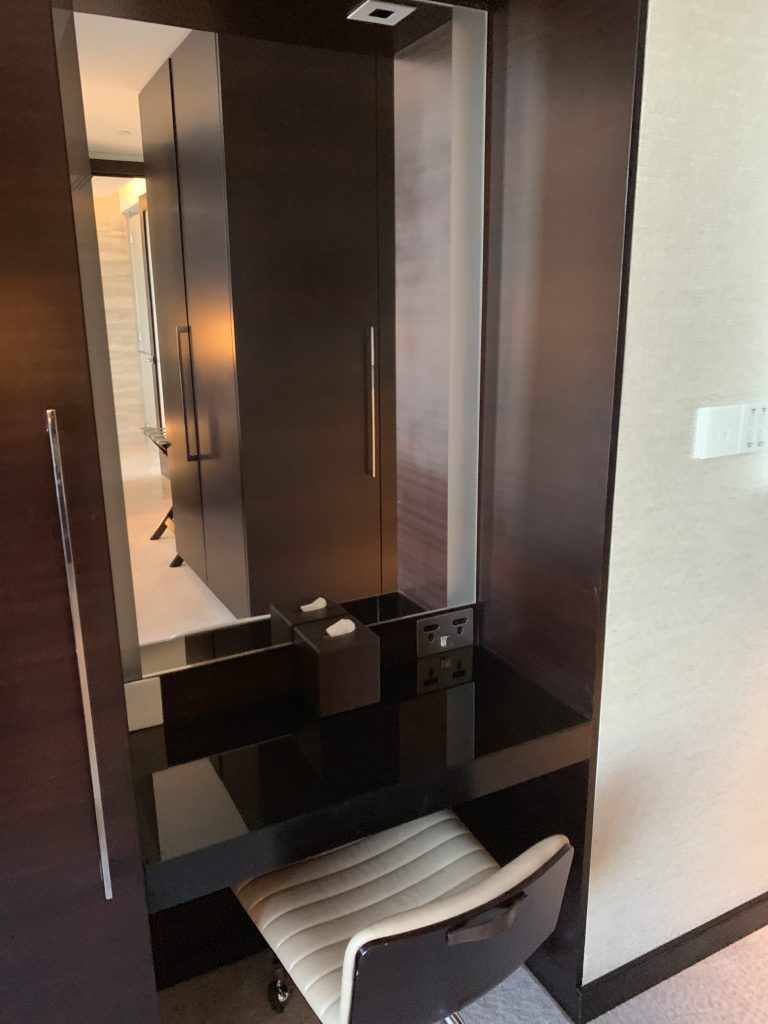 The controls in the room were very sophisticated as they were all electronic, though I felt some could have been slightly better situated for convenience. All the blinds were controlled electronically as well as the lights. There was a bit of a gap down the side of the blind which would have let in a bit of light in the morning which may bother some people. Fortunately, I was up so early it didn't matter!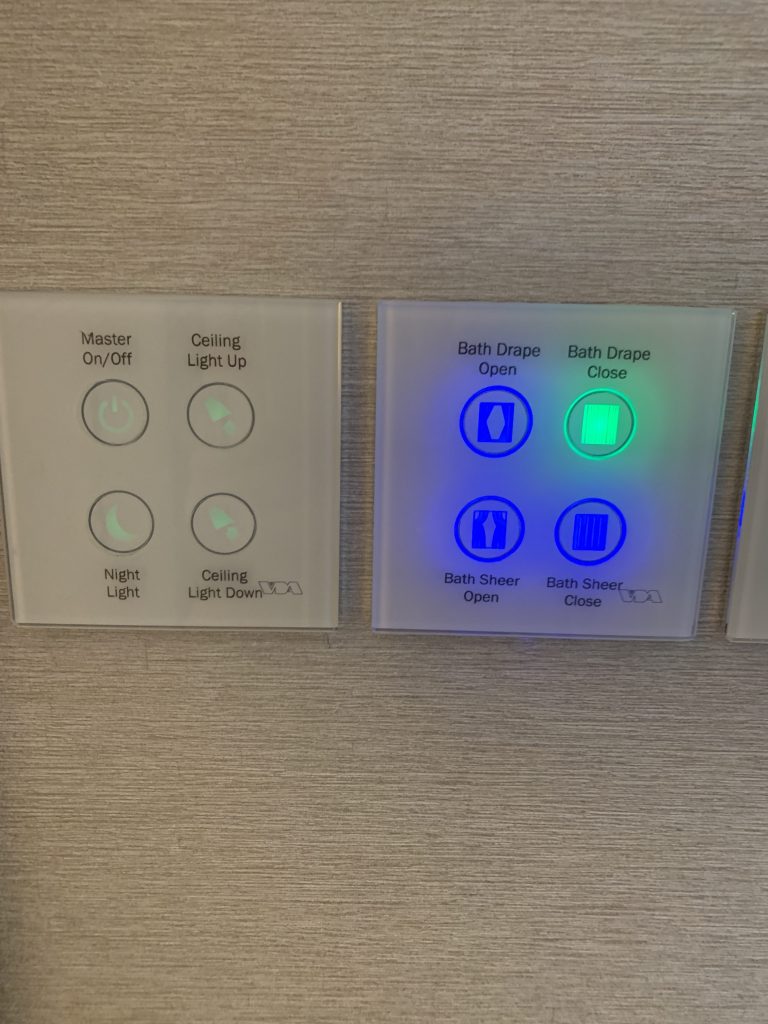 A Nespresso machine and bottled water were also provided along with the usual bathrobes, slippers and iron etc.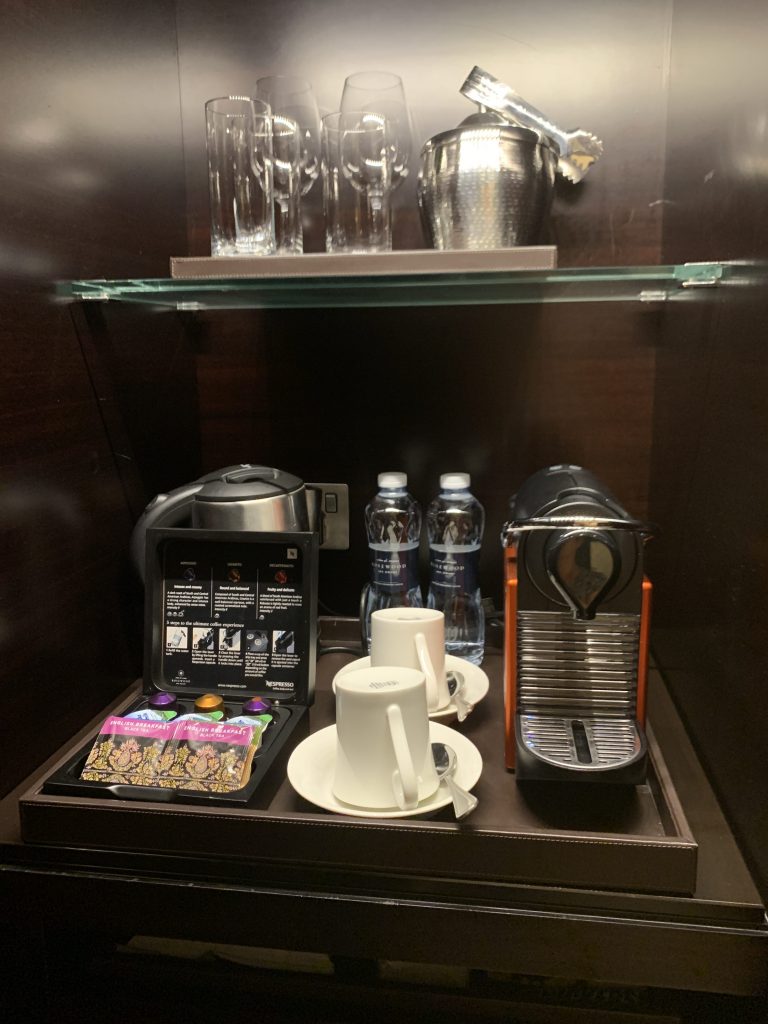 Bathroom
This was the highlight of the room for me, and I thought it was actually nicer than the suite's bathroom. It had an enormous bathtub with a beautiful view of the water. It was such a shame that I had decided to have a bath just before bed as we had a very early departure the next day. Sadly, the hottest water I could get was barely lukewarm, so it wasn't conducive to having a long soak. However, the bath was incredibly comfortable unlike many that are too long or too short.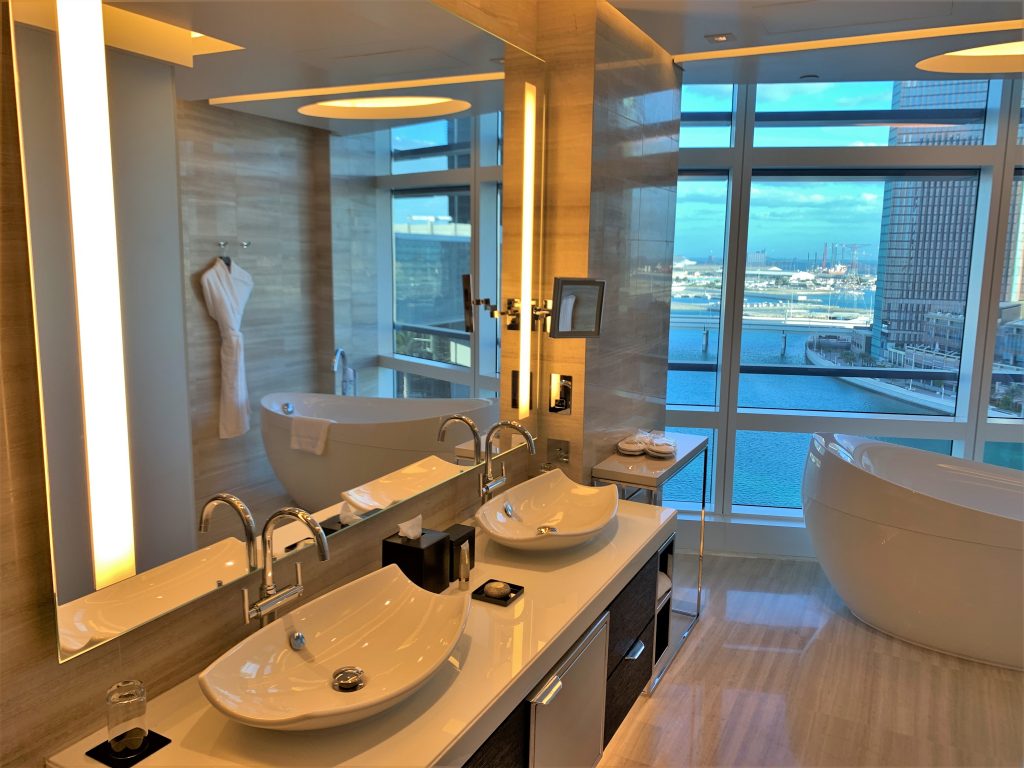 The toiletries were a large size and by Roberto Cavalli. As you would expect there was a good range of extras such as shaving and nail kits provided. With twin sinks and loads of storage space, this was probably the perfect bathroom for me. It felt like some serious money had been spent on the bathroom fittings with some beautiful marble walls and floors. There was a large side lit mirror by the sinks as well as a magnifying mirror.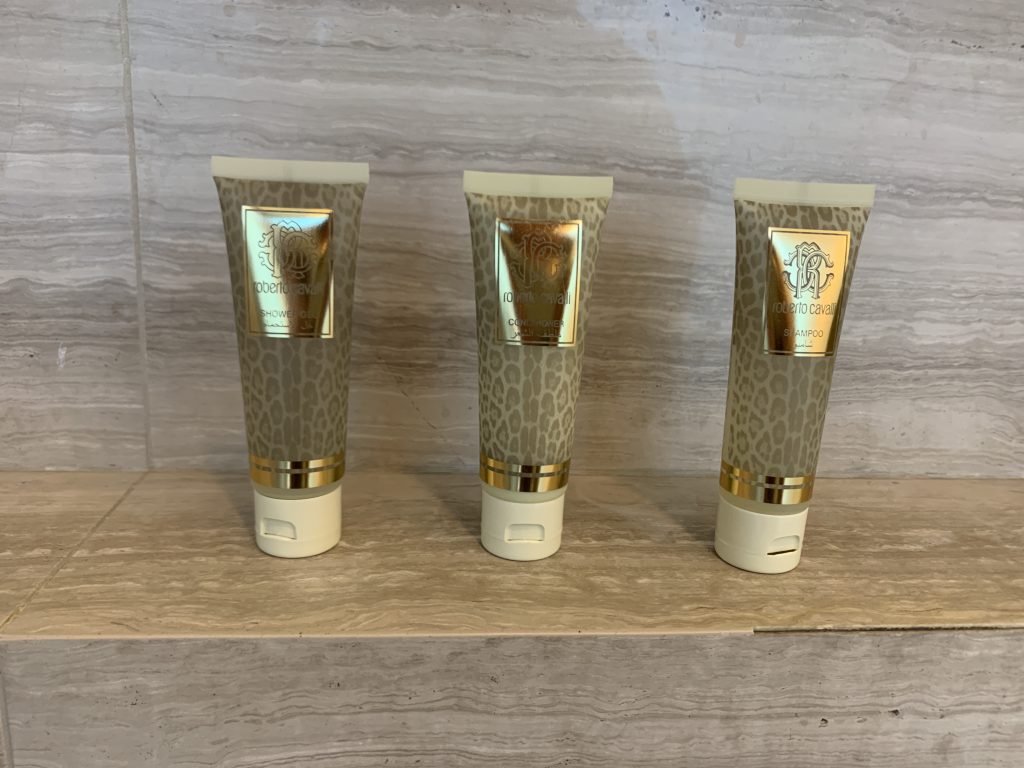 The walk-in rain head shower was enormous – you could have got four people in there quite easily, and there was even a stone seat in case you got a bit tired mid shower I guess!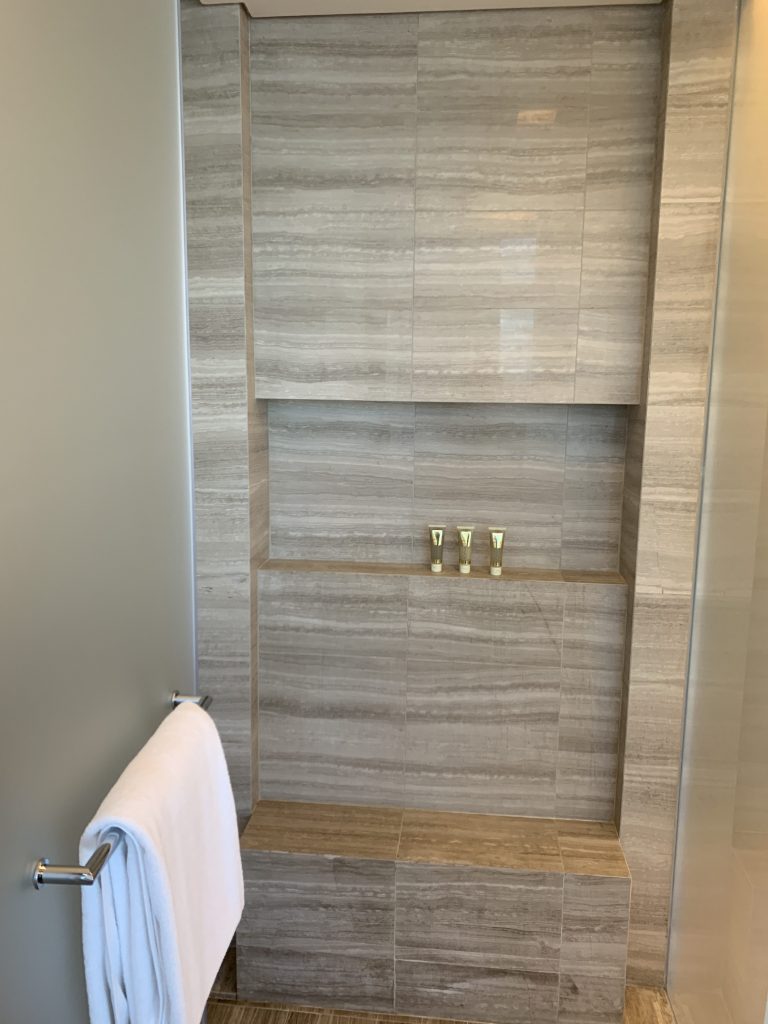 There was also a bidet as well as a toilet behind a door.
Suite
RR's room had two separate rooms. The living area was a slightly odd shape and layout as it was quite long and narrow. This contained a desk facing away from the window with a chaise longue oddly situated behind it. There was also a sofa and a TV too. As there was a small window at one end it did make it slightly dark.
The bedroom had another chaise longue by the window and glass doors into the bathroom that could be slid open to enjoy the view from the bath. Unlike my vanity area, RR's was much bigger but it didn't have a lit mirror or easily accessible sockets or even a chair.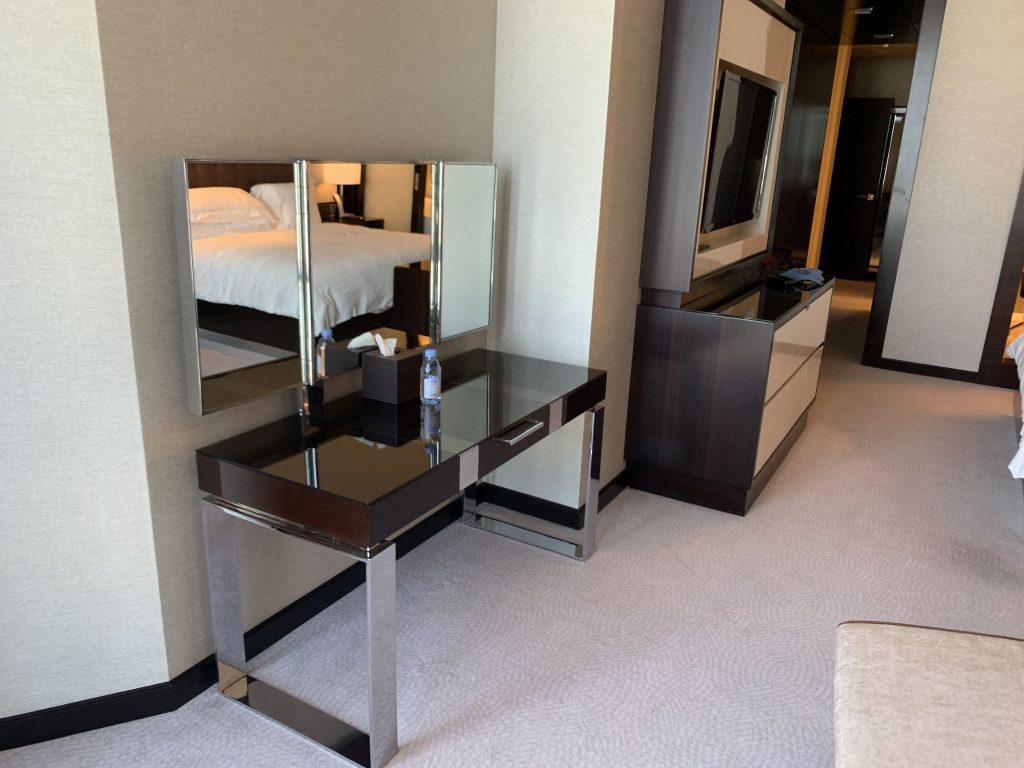 The bathroom was also smaller although it did still have a beautiful bath and had very similar facilities to my room category.
The Manor Club lounge
The lounge at the hotel was very impressive, and it felt like it would be worth the extra money given the price of drinks in the UAE. The decor in the lounge was quite different from the fairly corporate feel of the hotel and had quite an eclectic feel with the bright colours and different types of furniture. There were lots of squishy sofas to sink into as well as areas more suited to working.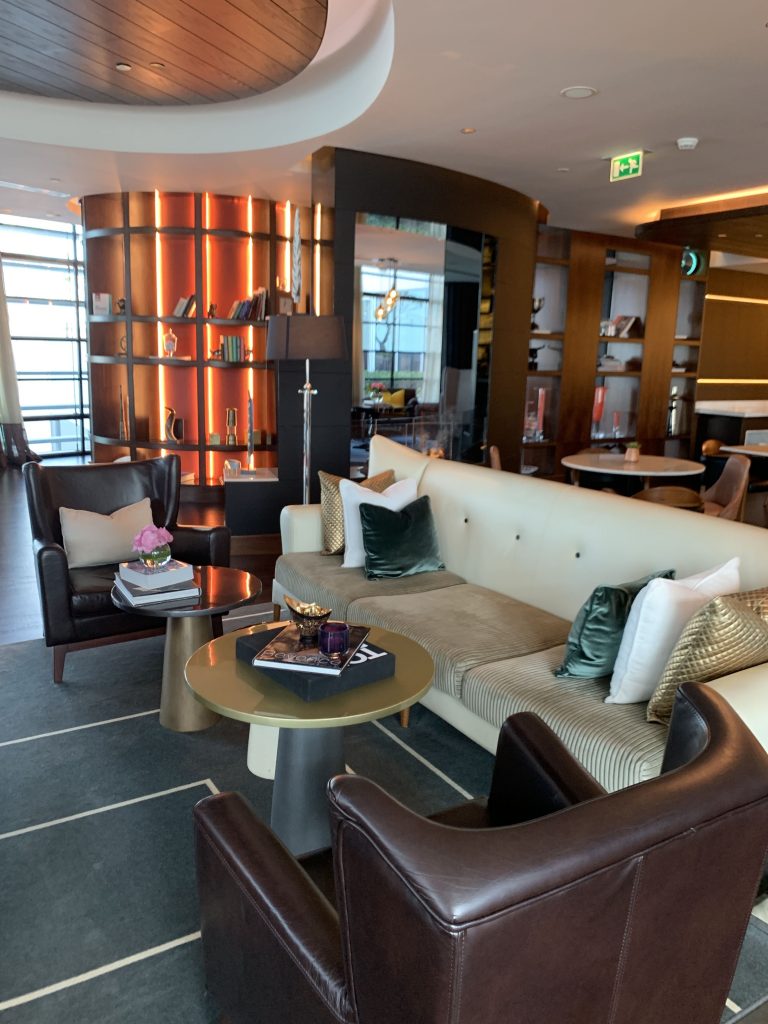 I loved the beautiful flowers on the table too. It felt more like a private club than a hotel lounge. The staff here were excellent, and they really couldn't do enough for you. They even arranged for paper coffee cups to be placed in our rooms so we could take a coffee with us the next morning for our journey!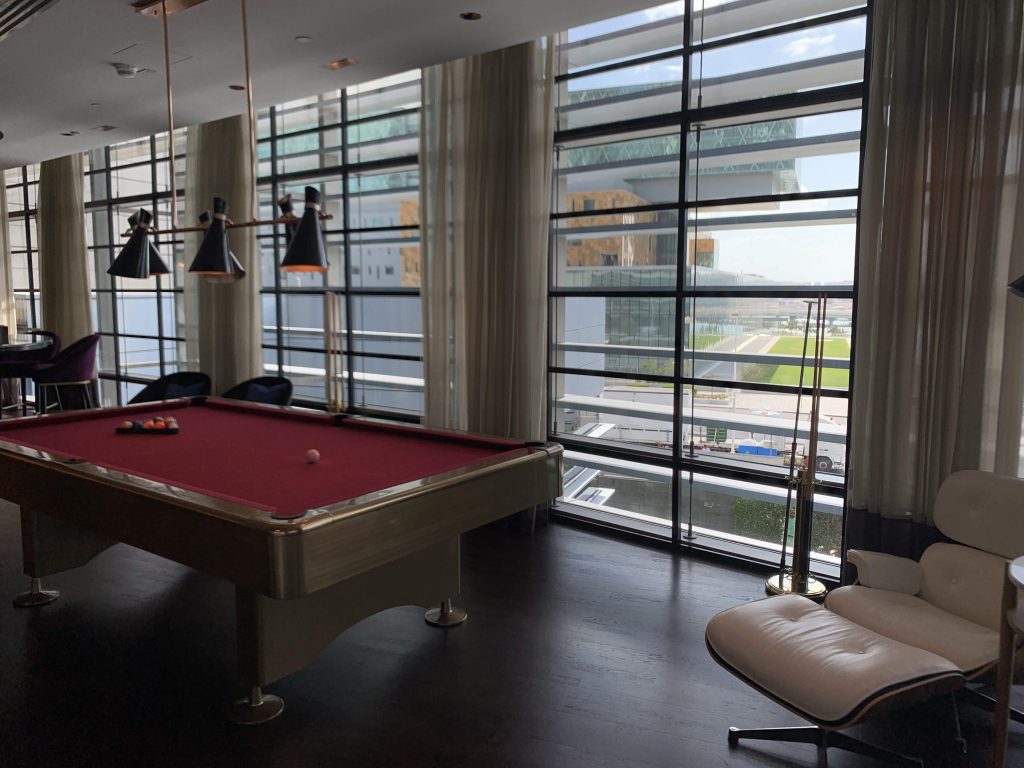 We arrived in time for lunch and were able to order from several a la carte options on the menu. We thought that this was very impressive and not something I have seen in a lounge before. We decided to share the Greek salad and a Club sandwich. The portions were enormous, and the food was very tasty. Only soft drinks are served during the day.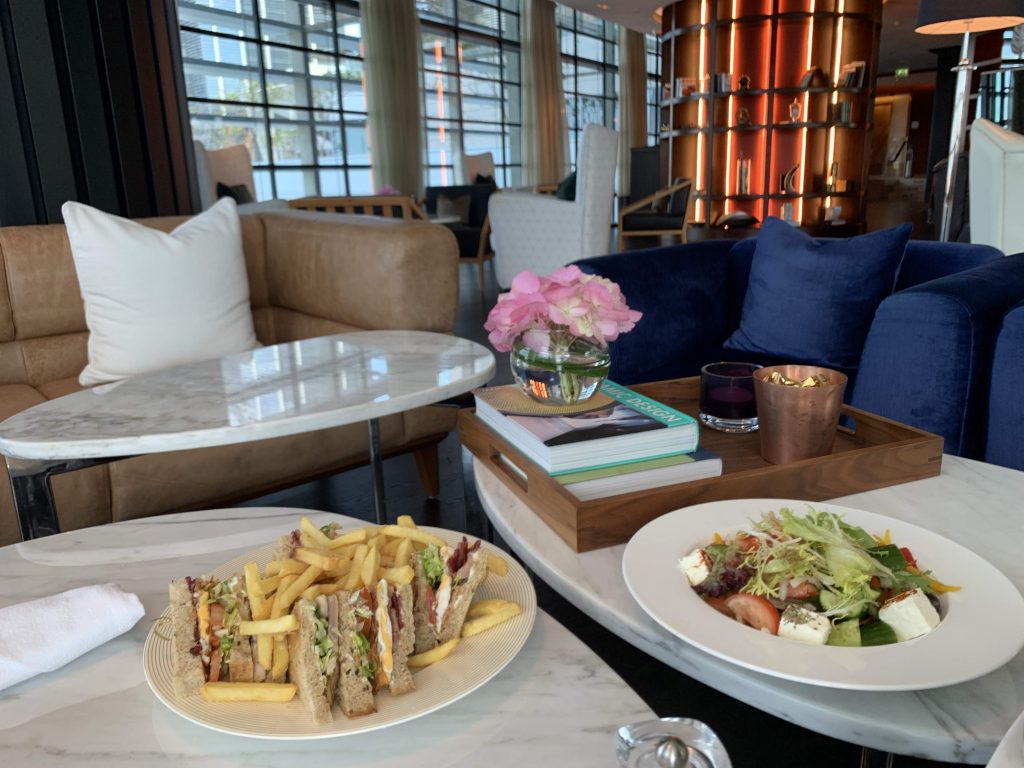 In the evening alcoholic drinks were available for a couple of hours along with a very impressive spread of food. It was certainly enough for dinner! For drinks, there was a small range of cocktails made by the bartender as well as wine to help yourself to.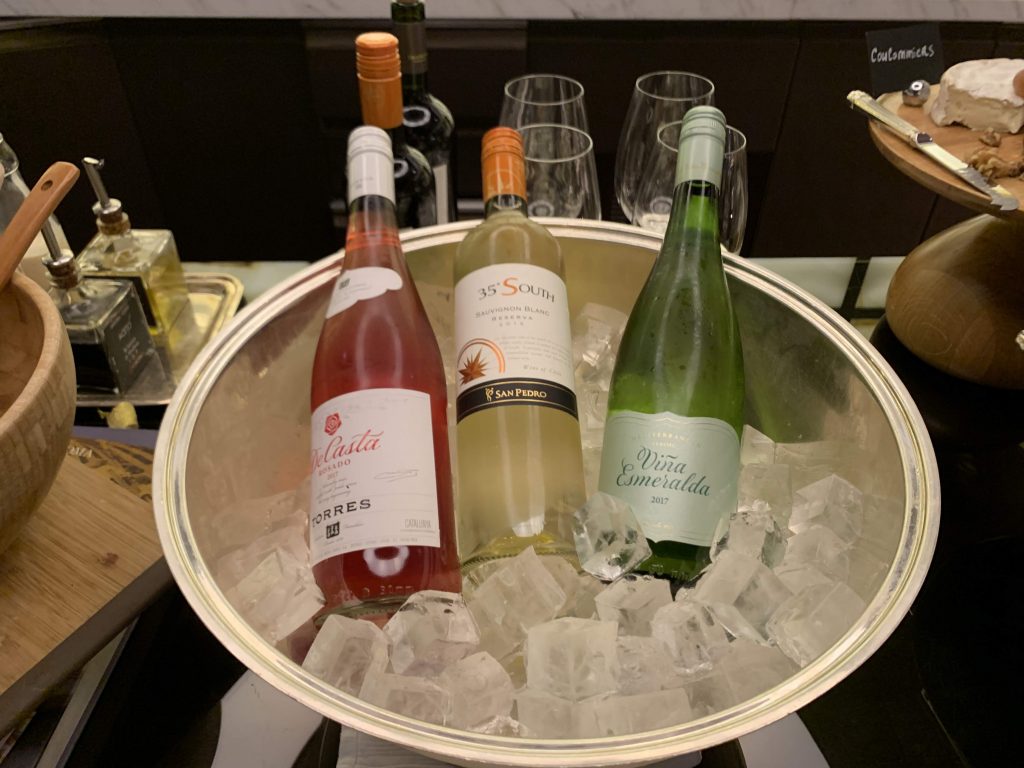 Standard spirits and mixers were also available from the bar. We tried a Dirty Martini and some Aperol Spritzs as well as a couple of the wines. The wines were fairly cheap but well chosen. For white, there was a Chilean Sauvignon blanc, a Spanish Vina Esmerelda and a Torres Rosé as well.
The food had cold canapes, seared tuna, shrimp cocktail, chilled desserts and fruit salad. Additionally, there was a salad bar with the components of a Caesar salad as well as a wide range of salad items.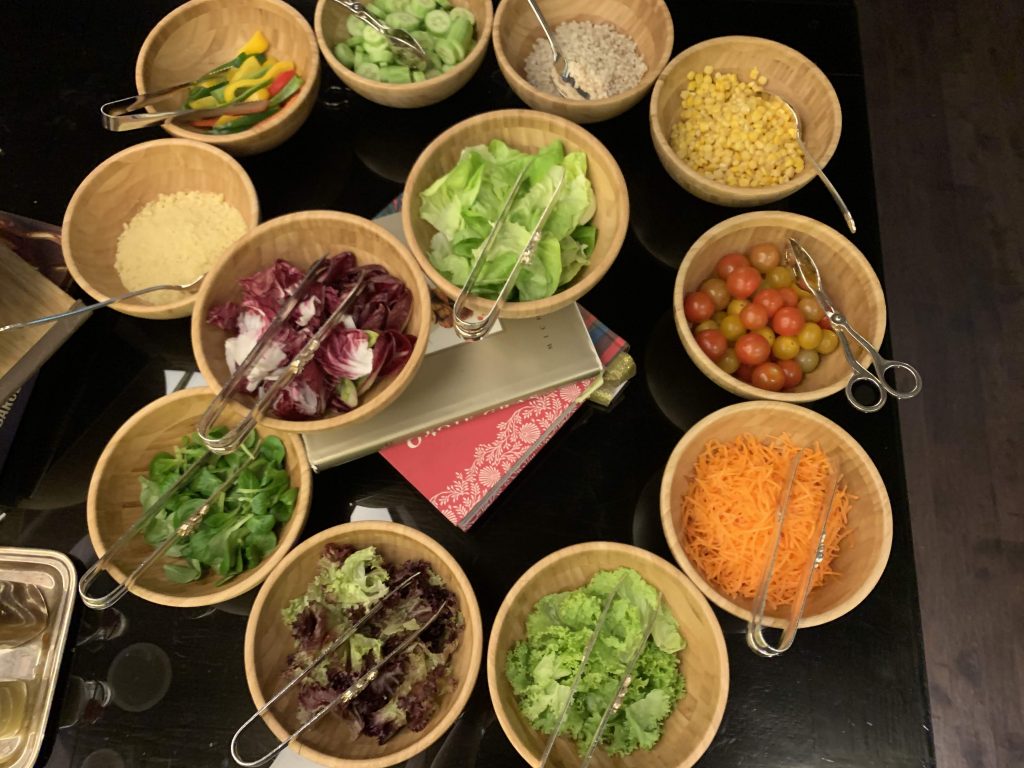 The hot items were of high quality and fairly substantial. The wagyu burgers were supposed to be mini burgers but pretty filling.
The mix was quite eclectic as there were also Spanish patatas bravas and Arabic mezze. On top of this, there were fish skewers, mini mix grills and tandoori chicken skewers. Finally, there was an impressive selection of French cheeses, many of which I had never heard of and cold meats with a meat slicer to cut them fresh.
Lounge access includes:
Artisan Breakfast
Refreshments and snacks offered throughout the day
Afternoon tea, evening tapas and cocktails
Manor Club Boardroom (one hour per stay, subject to availability)
Early check-in and late check-out (all subject to availability)
20% discount at Sense, A Rosewood Spa
Complimentary pressing of up to 2 items per stay
Complimentary Fitness Consultation with Personal Trainer
Breakfast
Sunday to Thursdays from 6:30 to 10:30 a.m.
Friday, Saturday and Public Holidays from 6:30 a.m. to 12:00 noon
Dish of the Day
Daily from 12:30 to 2:00 p.m.
Afternoon Tea
Daily from 3:00 to 5:00 p.m.
Evening Cocktail
Daily from 6:30 to 8:00 p.m.
Dining and drinking options
There are plenty of options for dining in the hotel, but as the food in the lounge was so plentiful, we didn't actually visit any of them. We did visit the bar however and had a fantastic time. Despite the fact that it was unseasonably chilly we sat outside with the aide of some heaters and blankets. The manager serving us was quite delightful and chatty. He explained that they specialised in gins (who doesn't nowadays?) and I was pleased to see they even had one of my favourites 50 Pound gin from the UK. We tried a couple of different specialities gins which we enjoyed, but it was definitely pricey at over £50 for four drinks.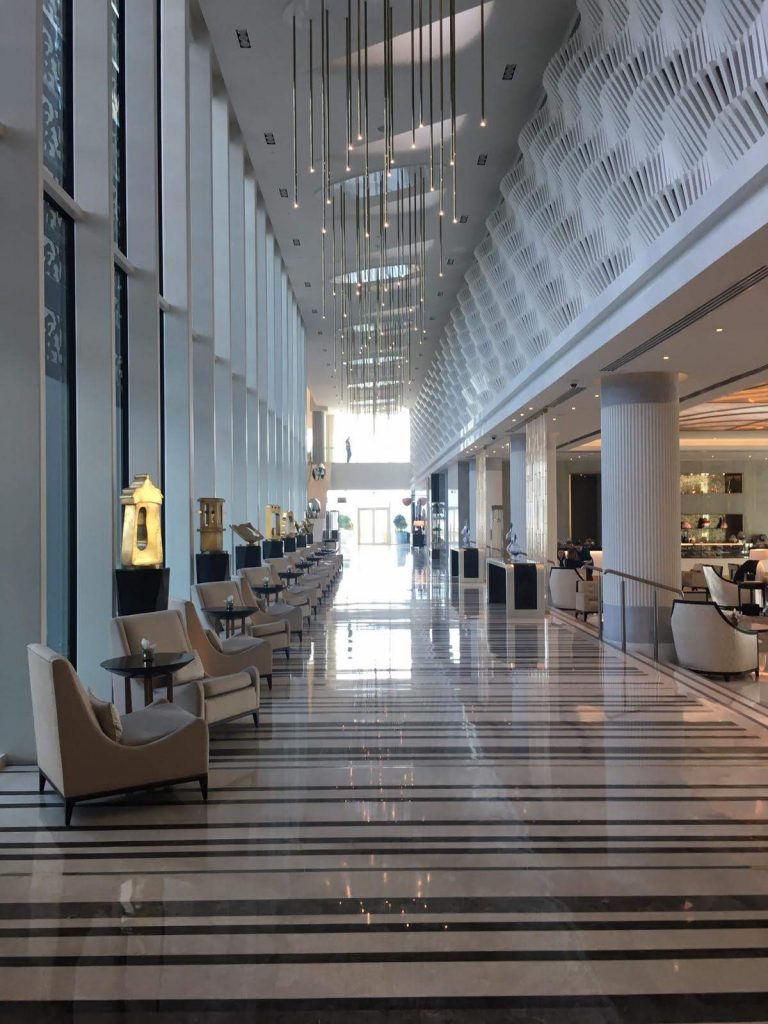 Pool and facilities
The outdoor pool was too cold for us to use as it was extremely windy when we were there. We took a walk around it though and liked the structures that reminded us of the "trees" in Singapore. Despite the inclement weather, full pool service was ongoing, and we were approached by the pool attendant to set up chairs as soon as we arrived.
The loungers were thickly padded and looked very comfortable to enjoy the views across the water from the poolside.
The spa is quite small with a few facilities that you can use even if you are not having a treatment. There was a jacuzzi plus a sauna and steam room. It was blissfully quiet when I was there, so I almost had the place to myself.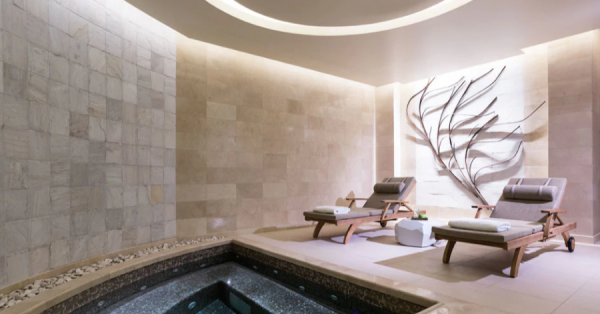 There is also a Health and Fitness Club which contains state-of-the-art equipment for a range of cardiovascular and strength training workouts. If you want to develop your own personal training program, a team of fitness professionals are on hand to help. Full amenities are provided, including robes, bottled water and toiletries.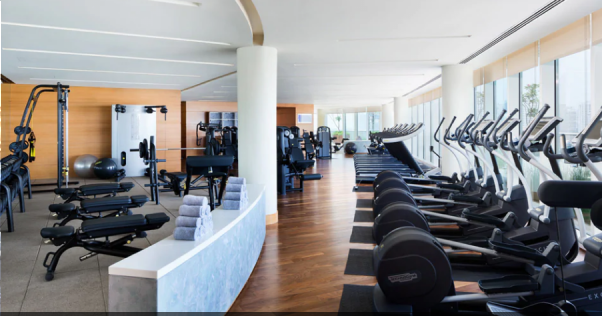 Conclusion
Although the hotel itself feels like it is aimed more at business travellers, it is also very well suited to leisure travellers unless you need a beach on site. The whole hotel has been beautifully designed. There was a quiet elegance to it and it felt a very luxurious experience with the attentive staff and well-equipped rooms. My bathroom was probably up in there in my top 5 hotel bathrooms ever though I have no idea what was happening with the hot water. The lounge was one of the better ones I have visited and it felt well worth the extra money if you were planning on using it for meals and drinks.
I would definitely recommend it. You can find more information and the latest prices here.