It is well known to every frequent Star Alliance traveller that one of the best lounges at Terminal 2 at Heathrow Airport is the Silver Kris lounge from Singapore Airlines. I recently tried it out for the first time – so what did I think?
Location and Hours of Operation
The lounge is located in Terminal T2B, near the gate B36, which is a long walk from where you come through security. It will take you about 20 minutes to walk there at a reasonable pace. If you are not flying Singapore Airlines, I suggest you allow at least 50 minutes to get there and back to your gate.
The lounge is open daily between 05:30 and 20:00, aligned with Singapore Airlines' flight schedules.
Access
I spent over 20 minutes getting to the lounge as I got lost on the way – typical! The receptionists were very friendly and even chatted to me for a few minutes as I presented my boarding pass to them to get in.
For access to the lounge, the following rules apply:
Singapore Airlines passengers
Singapore Airlines first and business class passengers are entitled to bring a guest.
For other passengers flying any Star Alliance airline, the following rules apply:
International First Class – You are entitled to take a guest who is travelling on any Star Alliance flight departing from the same airport and on the same day as you.
International Business Class – You can access but no guests allowed
Star Alliance Gold Customers Flying in Any Class
You are entitled to take a guest who is travelling on any Star Alliance flight departing from the same airport and on the same day as you.
The lounge
Right after the reception, on the right, there is a space with armchairs and coffee tables, ideal for those who want a bit more privacy. When I was in the lounge, there was no one in this area and I imagine it's because there are no windows.  In this section, there was also a small selection of snacks, coffee machine, two small refrigerators with soft drinks, tonic water and beers. In addition, there was a bottle of sparkling wine.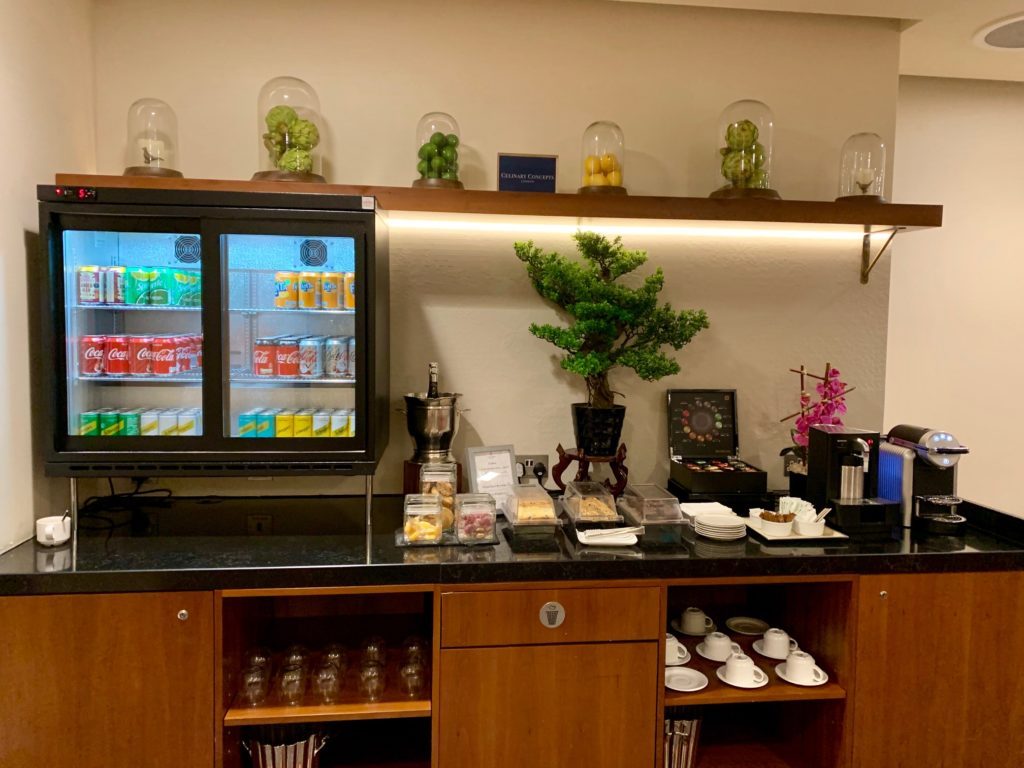 The layout in the rest of the lounge is kind of weird as the room is very long and a little narrow. This leaves a large corridor that runs from one part to the other. However, they have managed to make good use of the space in the design of the lounge and you hardly notice it.
Right after the reception, if you turn left you will be in a long corridor. If you follow the corridor, after what I imagine to be the kitchen, you first arrive in the dining area where the buffet is situated. Further along, comes the bar and at the end of the corridor, to the right, are the bathrooms. These looked spotless when I passed by.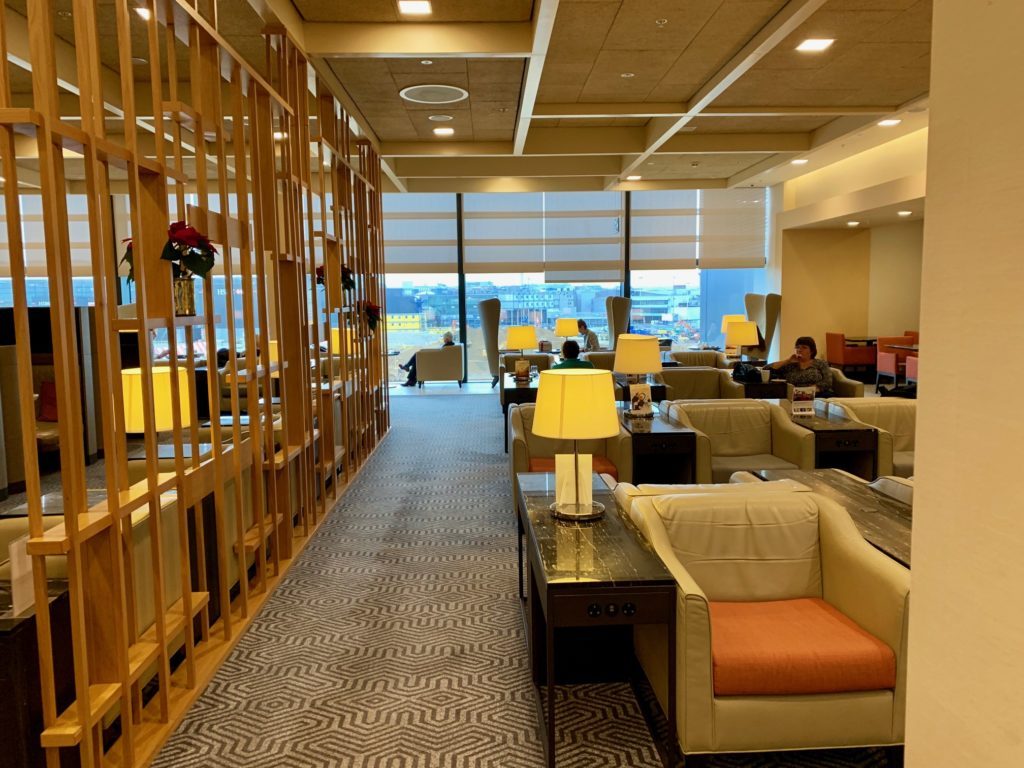 Just after the bar is the main living space with armchairs, tables and chairs.  For the aviation geeks amongst us, there are floor to ceiling glass windows that overlook the airfield. When I was there I couldn't see much as they were renovating the apron in that area and so there were no planes parked at the boarding gates.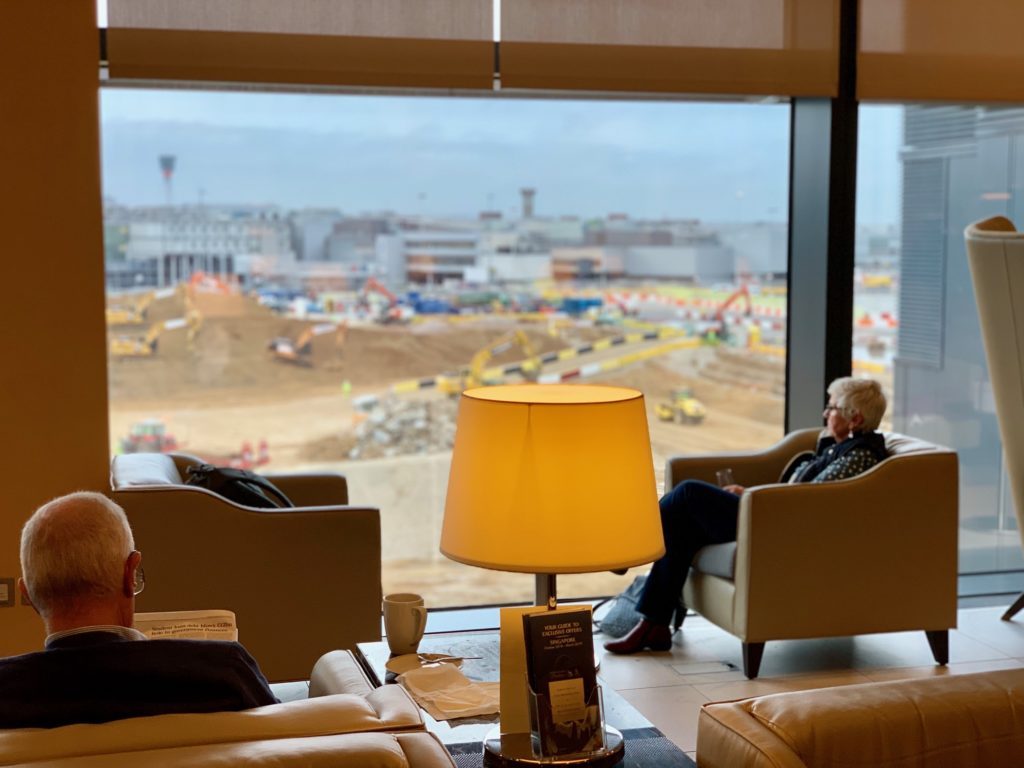 All the tables on the side of the chairs had plugs to recharge your phone or computer. As you can see in the photo below, the access is super easy as they are at the front of the tables in easy reach without having to grovel on the floor like some lounges!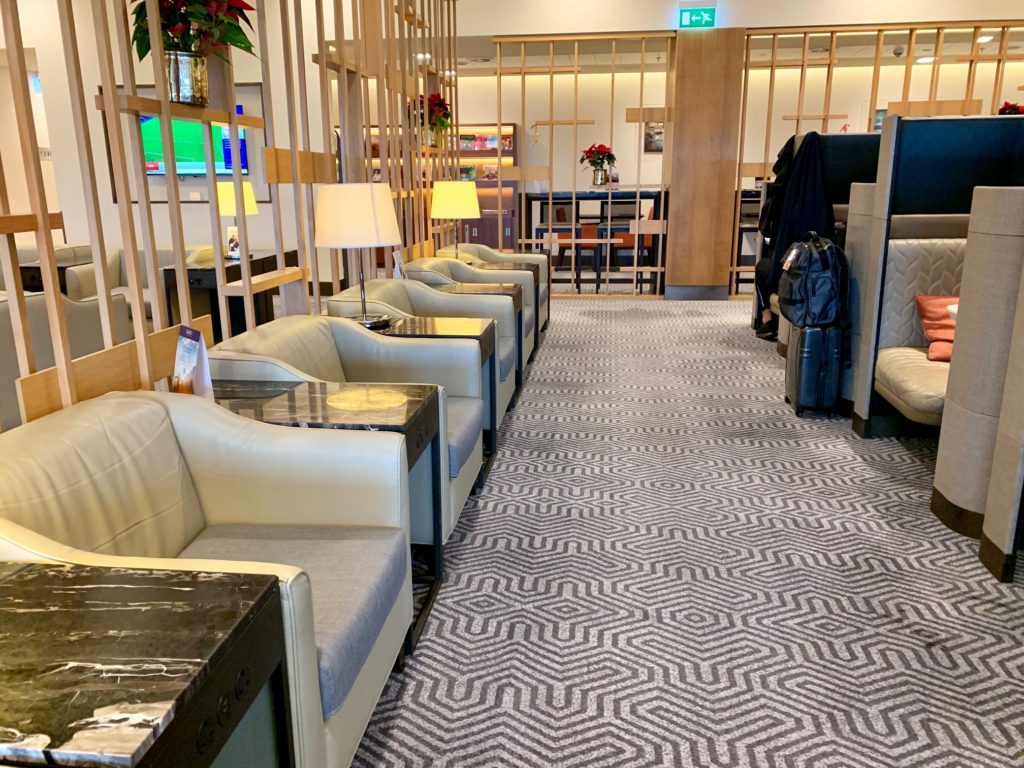 Drinks
In the main lounge area, there is a bar with a good variety of drinks. There was even a bartender who offered to make me a cocktail if I wanted one. The available options were:
Singapore Sling
Ginger Mojito
Fly High
Rusty Nail
Stabilizer
Summer Spin
Pina Colada
Apple & Kiwi Cooler
Prosecco
Some of the cocktail names were quite strange and not ones that I had heard of.  I have no idea what the drinks actually were! In the end, I went for my usual choice of some fizz with a prosecco! The other drinks available at the bar were:
Soft drinks
Water
Bottled Beer
Draft Tiger beer
Wines – red and white (two choices of each)
Whiskey
I found it interesting that there was a notice by the bar that they reserve the right to not serve alcoholic drinks to people. I imagine this is to stop people who have had one too many!
Food
This is the high point of the lounge in my opinion.  Singapore offers both hot meals and a variety of cold dishes, desserts and salads. Starting with the hot meals there was:
Chicken with noodles
Baked with Vegetables
Basmati rice
Meat stew
Gratin potatoes
Chicken Karahi
Just for the sake of the review (!),  I tasted a little of each and they were all great. Some were spicier than others though!
The salads and cold dishes were:
Salads of green leaves
Cherry tomato
Cold pasta salad
Ham
Two types of cheese
Sandwiches
Wraps
Finally, there was a small selection of breads, two types of cakes, a creamy mousse and rather oddly croissants that were probably left over from breakfast!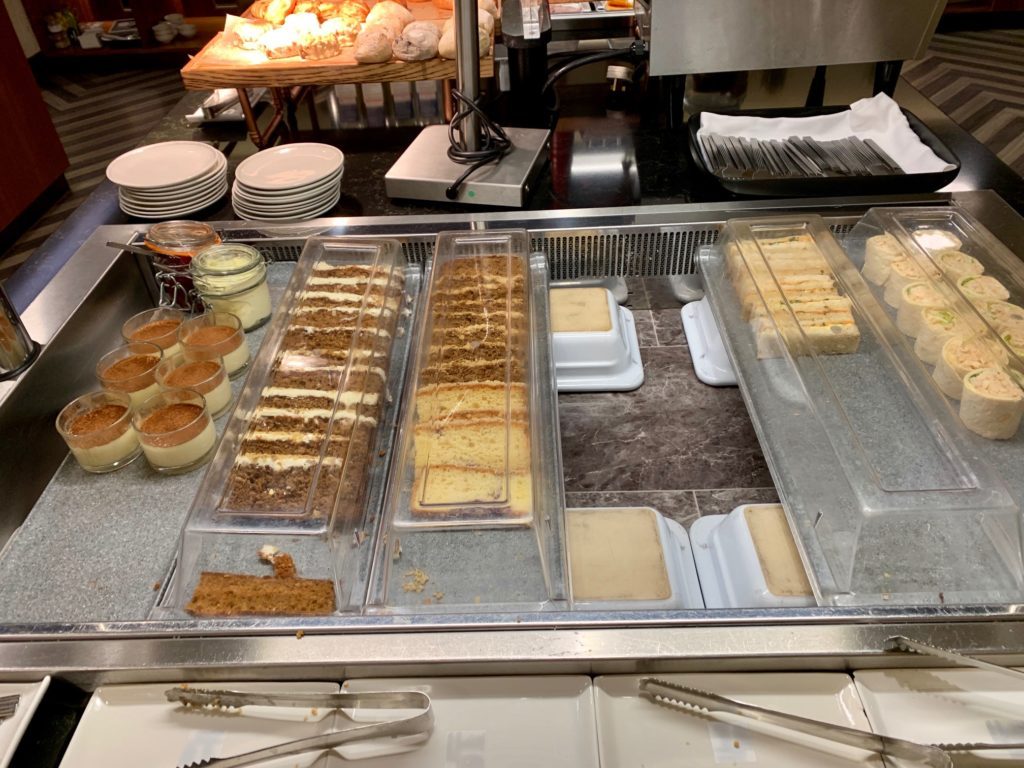 Newspapers and magazines
The lounge had a good selection of newspapers and magazines. As you might expect, the vast majority of publications were in English.
I think over time newspapers and magazine may well disappear from airline lounges. Many airlines are already exploring using apps where passengers can download what they want for their tablets, smartphones or computers. I find the idea of this very interesting! It does not mean you need to carry anything extra with you to read them and it is better for the environment too.
Conclusion
It was worth the walk! The lounge offers everything you would need before a flight, with a good range of drinks and great dining options. Just remember that most of the dishes will be Asian so if that's not your thing you may be better with one of the other lounges. There is a wide range of drinks with wine and sparkling wine (though a bit champagne wouldn't go amiss!!).
When I was in the lounge it was a little past midday and it was very quiet. There was almost no one there, but as the bartender told me, the space gets very crowded late in the afternoon near the Singapore Airlines departure times.
If you have a Star Alliance flight departing from Terminal 2 at Heathrow Airport, I would recommend visiting the Singapore Airlines lounge. I thought it was much better than the Lufthansa lounge that I reviewed here.