I have often dined at the Aria whilst in Vegas but never actually stayed there. I normally avoid most of the casino hotels as I prefer somewhere a bit quieter without a long trek through a casino to get to my room. However, whenever I have visited the Aria it has always seemed very civilised. On my latest visit, I booked a corner suite to try it out.
Check-in and location

The Aria hotel is set back from the strip between the Waldorf Astoria and the Crystals Mall. There is a tram inside that can take you to the Bellagio which is very useful and the hotel is only a couple of minutes walk to a fairly central part of the strip. This is my favourite area of the strip as there are so many hotels in walking or tram distance, with the Excalibur tram running down to Mandalay Bay as well.
I had actually booked a corner suite, one of Aria's Tower Suites, using my MLife discount which I will talk about later. It may have been more beneficial to book with a luxury agent such as Debonair to get the $100 credit and free breakfast (see below). The Tower Suites entitle you to use and check-in at the separate Tower Suites Lounge. The lounge has complimentary freshly made coffees from a state-of-the-art LAMILL Coffee Machine as well as other soft drinks, pastries and snacks. These suites also come with extra privileges such as enhanced turndown or priority line access for taxi service.
When I arrived at the Tower Suites lounge to check-in, I was informed I had been upgraded to a Sky Suite, which is a fantastic upgrade. The desk agent was very helpful and even walked me over to the Sky Suites check-in as it was on the other side of the Casino.
ARIA Sky Suites has both AAA Five Diamonds and a Forbes Five Star Award amongst only 46 resorts in the world with both of these service ratings. So would it live up to the hype?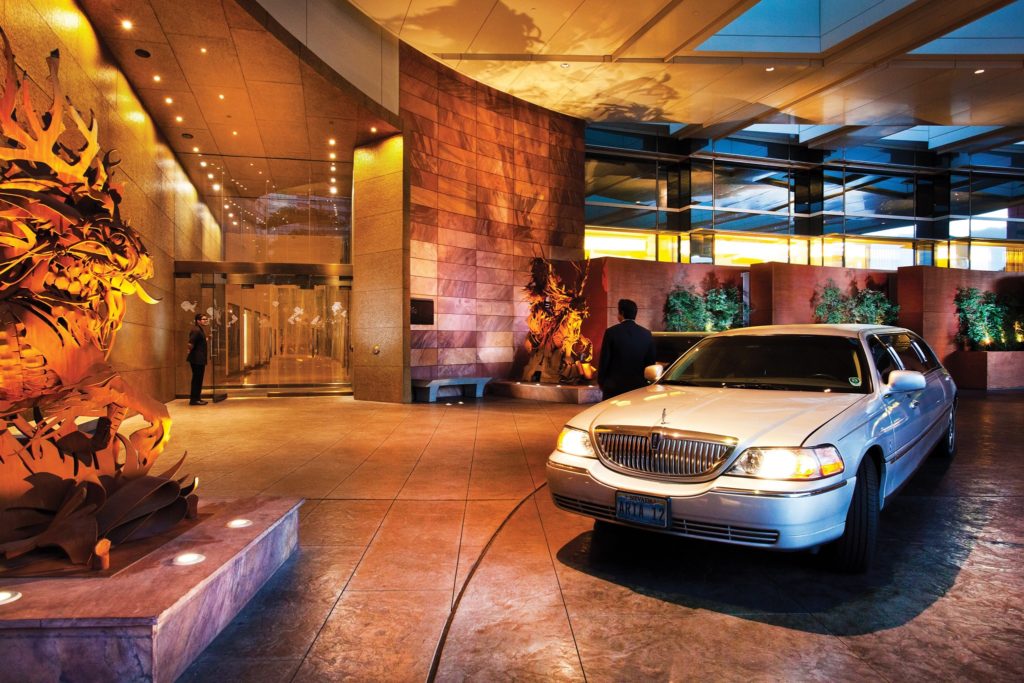 If I had booked a Sky Suite I would have had complimentary chauffeur-driven transfers from the airport which pull into a separate Sky Suites entrance. If you are arriving from elsewhere in your own transport you can use the North Valet which is just by it.
Sky Suites has its own lounge where you check-in and the staff there will also act as Concierge for any bookings or enquiries. Again, the service was great – warm, friendly and efficient. She explained all the features of the Sky Suites and helped to change my booking for Lemongrass restaurant later that evening. I was also given a line pass for the buffet for the duration of my stay.
The lounge also serves complimentary coffee, tea, juice and soft drinks along with pastries and snacks. There was enough for a light breakfast in the morning which was handy. In the evening they have a wine and cheese pairing. The snacks were nice but I found the wines pretty bad and the service was a bit slow as you had to ask for the wine.
Room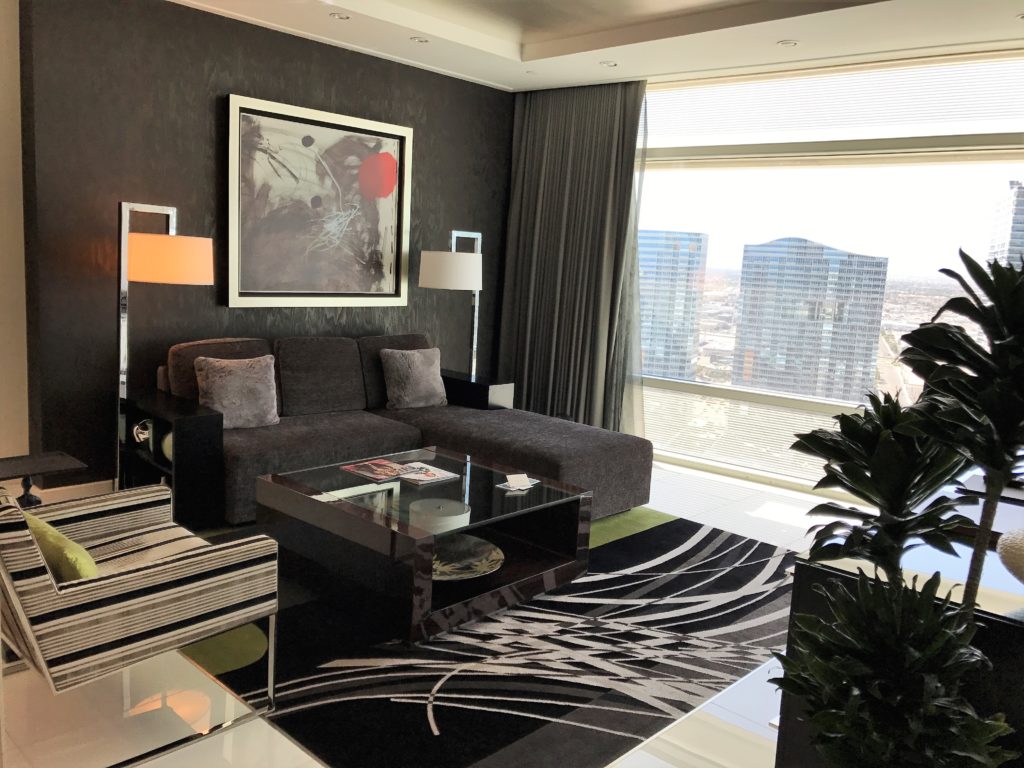 Rooms are situated on the top floors of the hotel and are accessed by private lifts. I was on the 33rd floor. When I first walked into the room, it definitely had the wow factor. As I entered the room it had all the curtains drawn but when I opened the door they started to draw back and reveal the view whilst the TVs came on and played music. That is what you call making an entrance!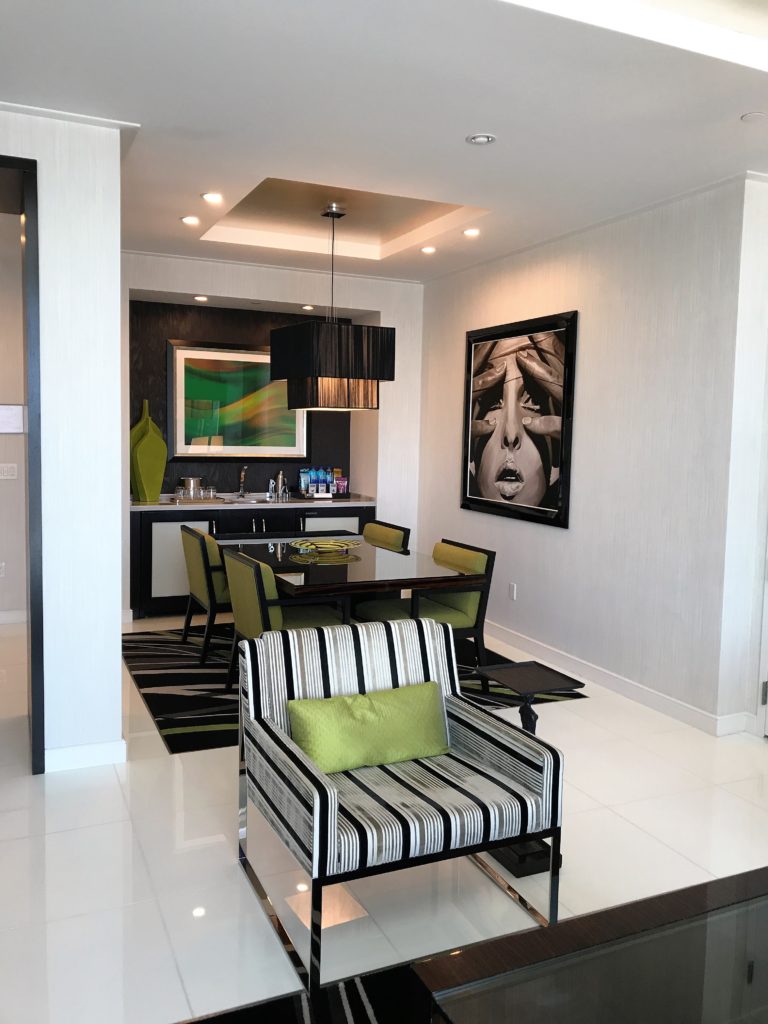 The room was enormous at over 1000sqft and had a lounge/dining area with wet bar, powder room, work space, bedroom and a very large bathroom. The decor wasn't to my personal style as I found it a bit too stark for me but it was nicely done and plenty of attention to detail. I liked that there was a separate fridge for storing your own items as well as the mini bar. However, as per usual for Vegas, there was no coffee machine. This is one of the things that really annoys me in Vegas as the theory is the hotels want you out of your room in the casino or spending money in the hotel. Coffee is ridiculously expensive in Vegas – $6 for a Starbucks small latte! I think if you are in a premium hotel they should provide a coffee machine as well.
The bed was comfortable but not as good as the Four Seasons one which is my favourite Vegas hotel. I found the duvet very heavy which you don't really need somewhere like Vegas when it is hot. I loved the turndown service and this is the best one I have had in Vegas. As well as proper mineral water instead of the purified water you usually get, there were 2 boxes of chocolates and a hand cream and relaxing balm too. The usual slippers and relaxing music were also provided with the turndown. The room was very quiet as it was at the end of the corridor, which is always a bonus after all the noise of Vegas.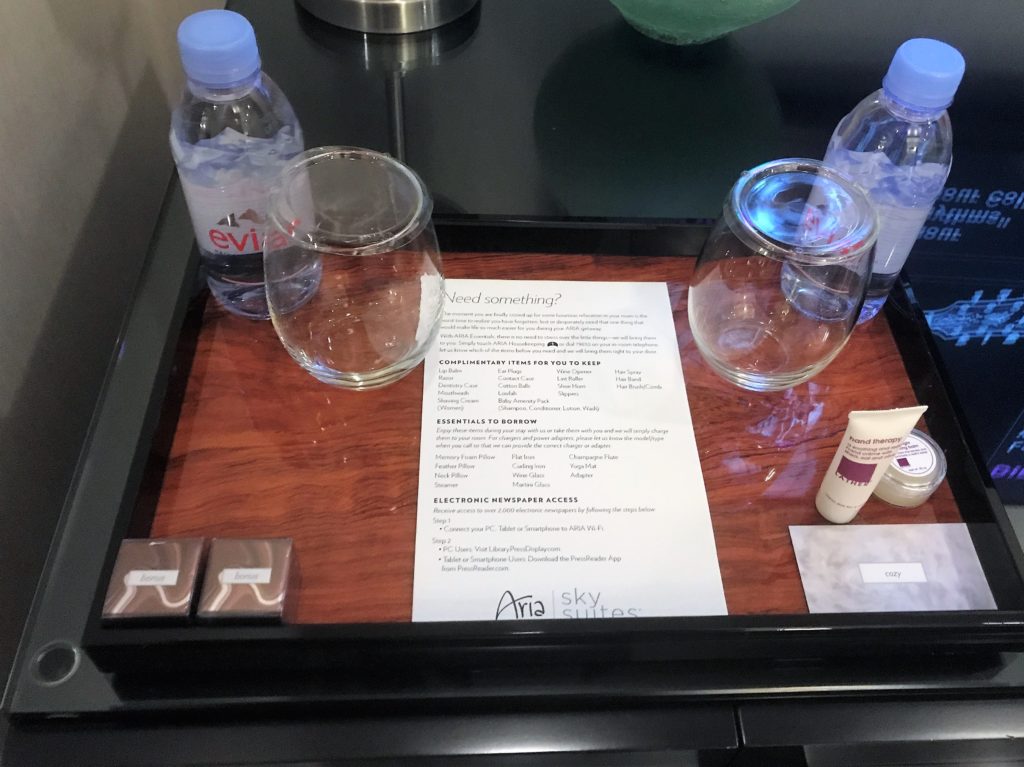 Bathroom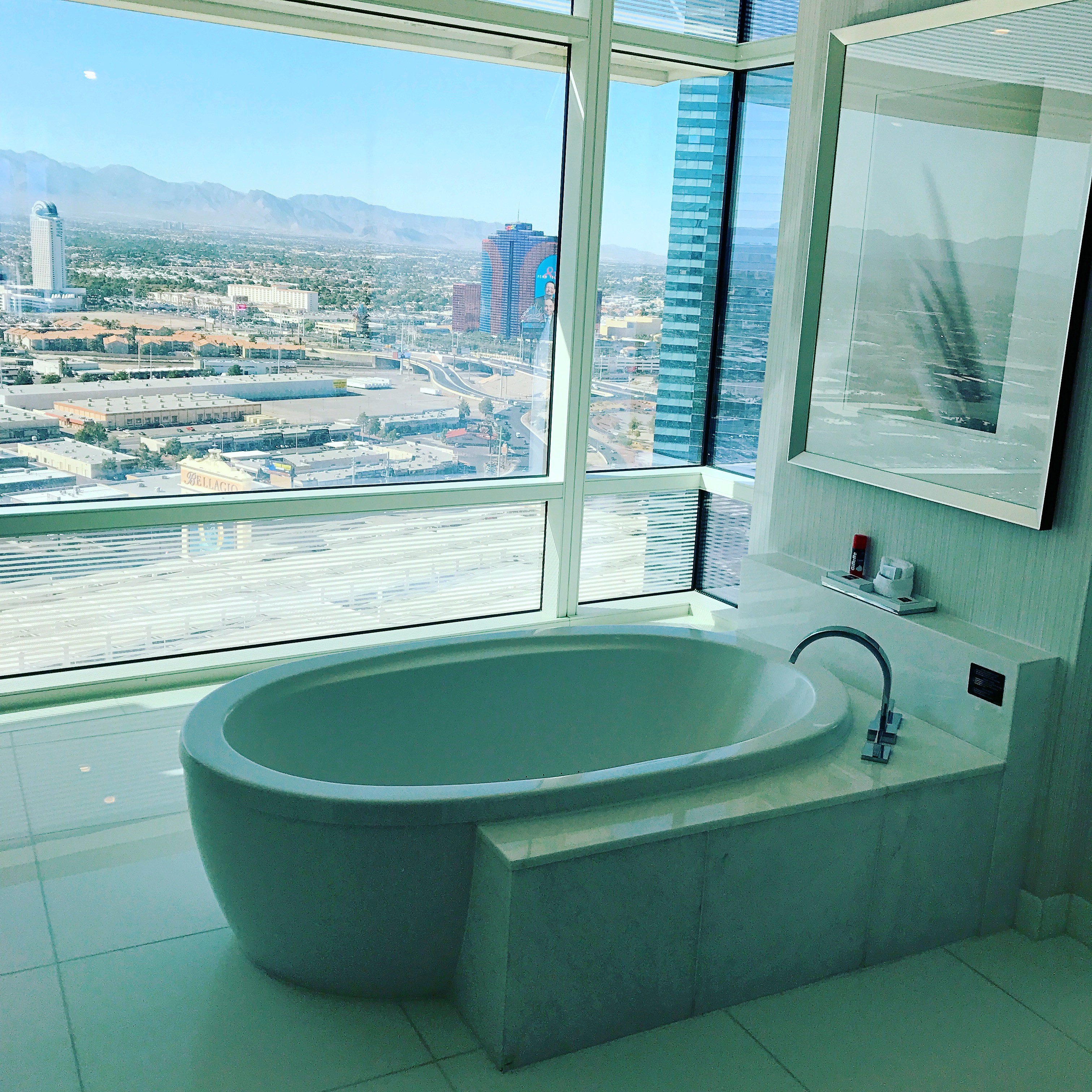 The bathroom was one of the highlights for me and possibly the biggest hotel bathroom I have had. I loved the large jacuzzi bath which was just the right size and had a great view (hopefully nobody could see in as I left the curtains open!). Bath salts were also provided which was a nice touch.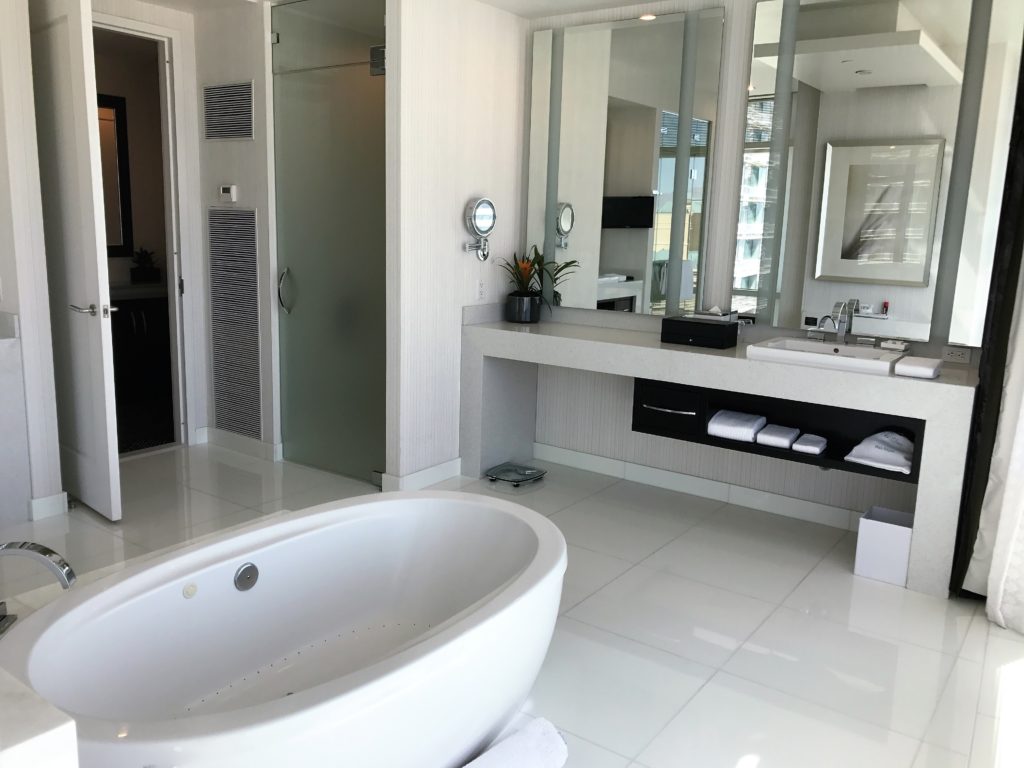 The bathroom had two sinks with vanity areas, Lather Bamboo Creme products rather than the usual MGM generic toiletries, a lit magnifying mirror, and a set of scales which was the last thing I needed after a week in the US! I loved the vanity chest which had a great selection of products including shaving foam, mouthwash and even toothbrushes and razors.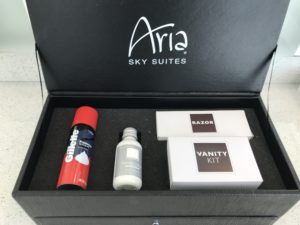 The shower was also enormous and had a bench for sitting on. You could have easily had a shower party in there with 3 other people if you were so inclined!
Pool
One of the reasons I love the Four Seasons in Vegas so much is because of its great pool service and lovely quiet pool area. I have to say that the Aria Sky Suites pool comes a very close second. I checked in at the pool reception and was given a quick briefing of the facilities. I was then led to a very comfortable lounger and it was made up for me. Bottled water and sunscreen are also provided along with treats every 90 minutes. Unfortunately, my visits never coincided with those so I can't comment.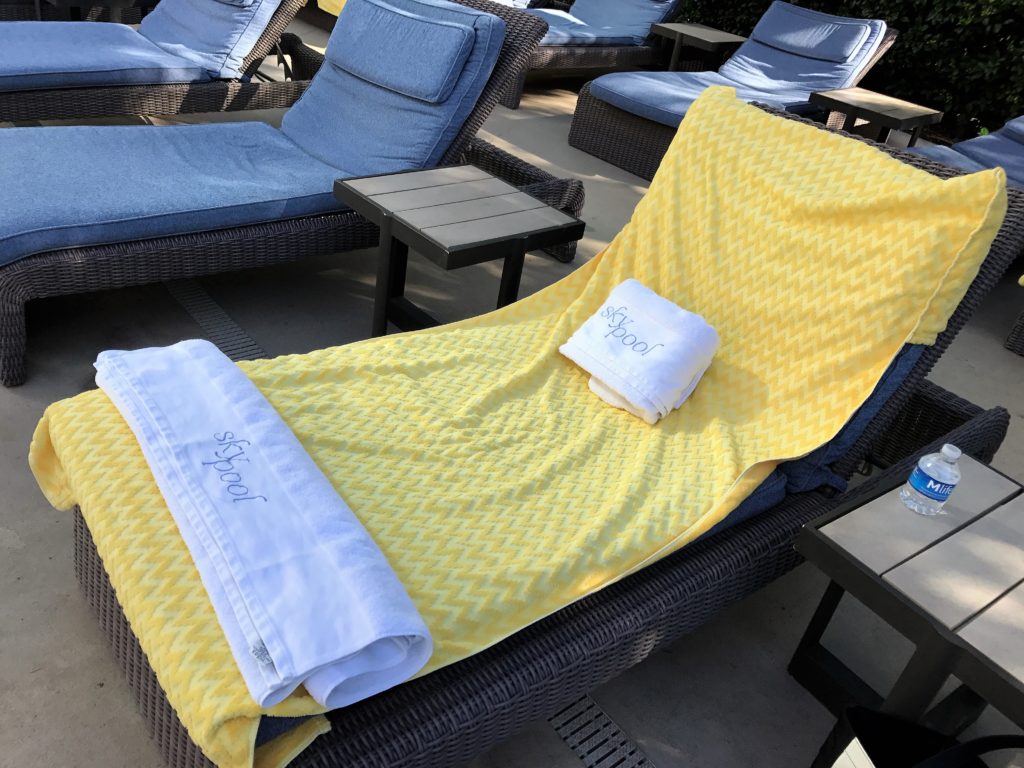 The Sky Pool was a lovely temperature unlike many of the pools in Vegas that can feel a little chilly, although how they manage this when it's 30c I don't know! Perhaps they chill them? The pool was as quiet as the Four Seasons with no loud music and the waitress service was also good. There is no jacuzzi in the Sky Pool area but there are several just a few steps from the area which never seemed overly busy or noisy.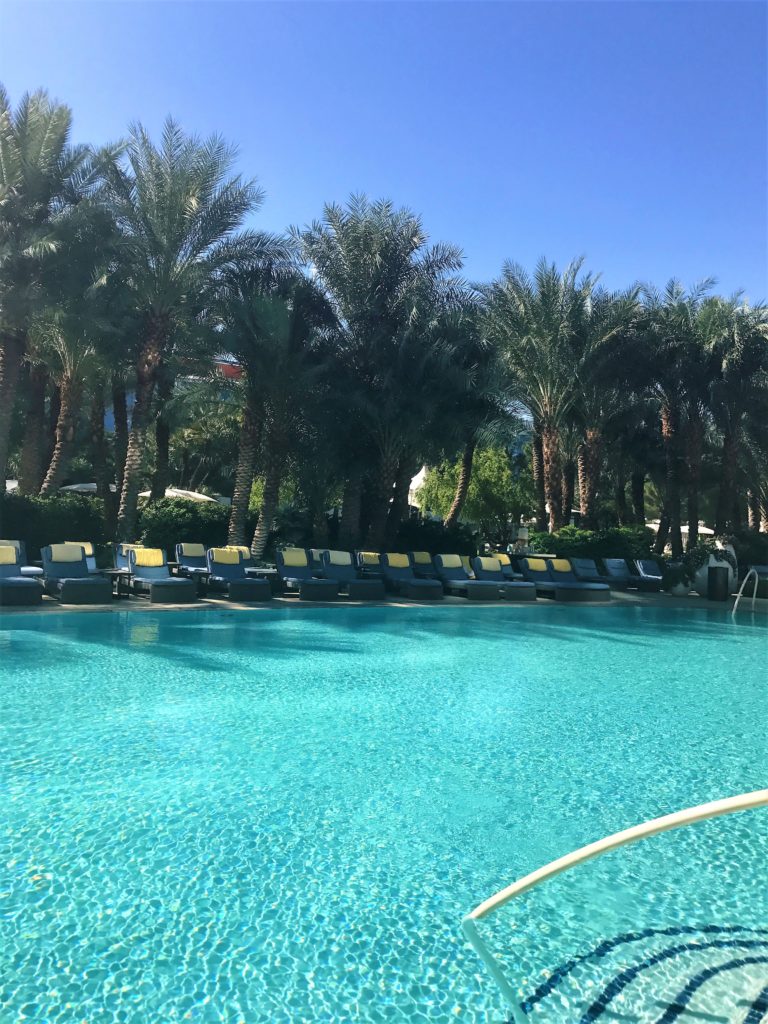 Spa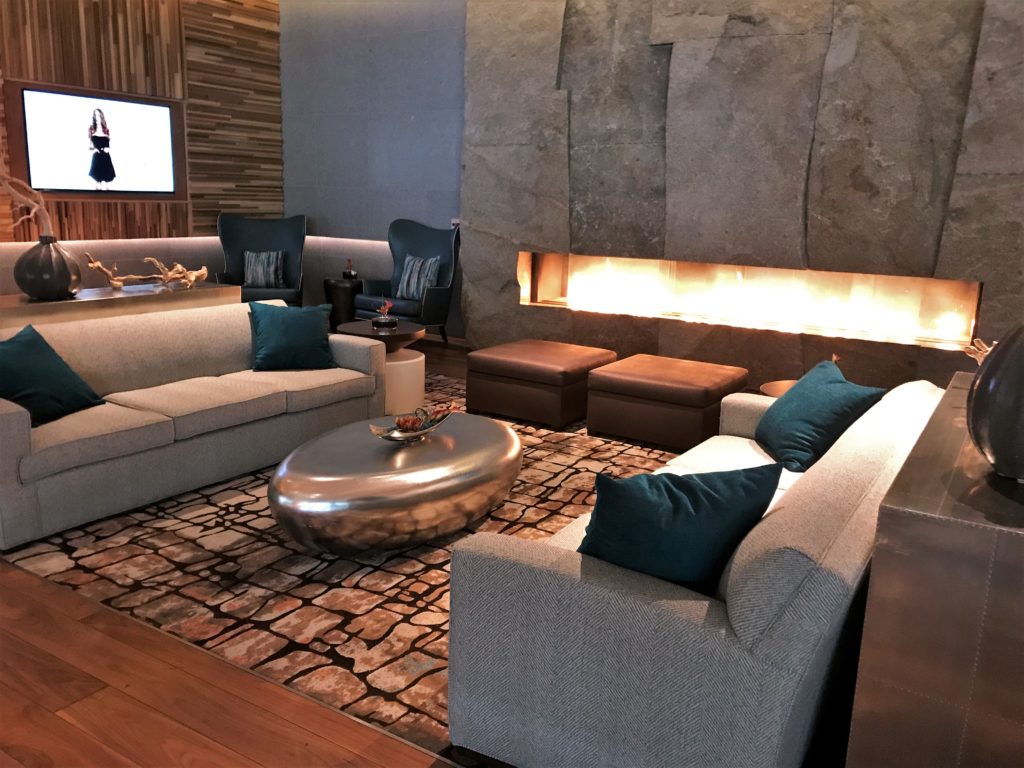 I have tried the majority of the spas on the strip and the Aria Spa has moved into my top 3 after this visit. My other favourites are the Waldorf Astoria and the Qua Spa at Caesars. The great thing about the Aria spa is that it has quite a few unisex areas, unlike most spas. This means if you are with a partner or friend of the opposite sex you can actually enjoy more of your spa experience together. The separate men's and women's sides have the usual spa pools, sauna and steam rooms along with a great dressing area with all the toiletries you could need.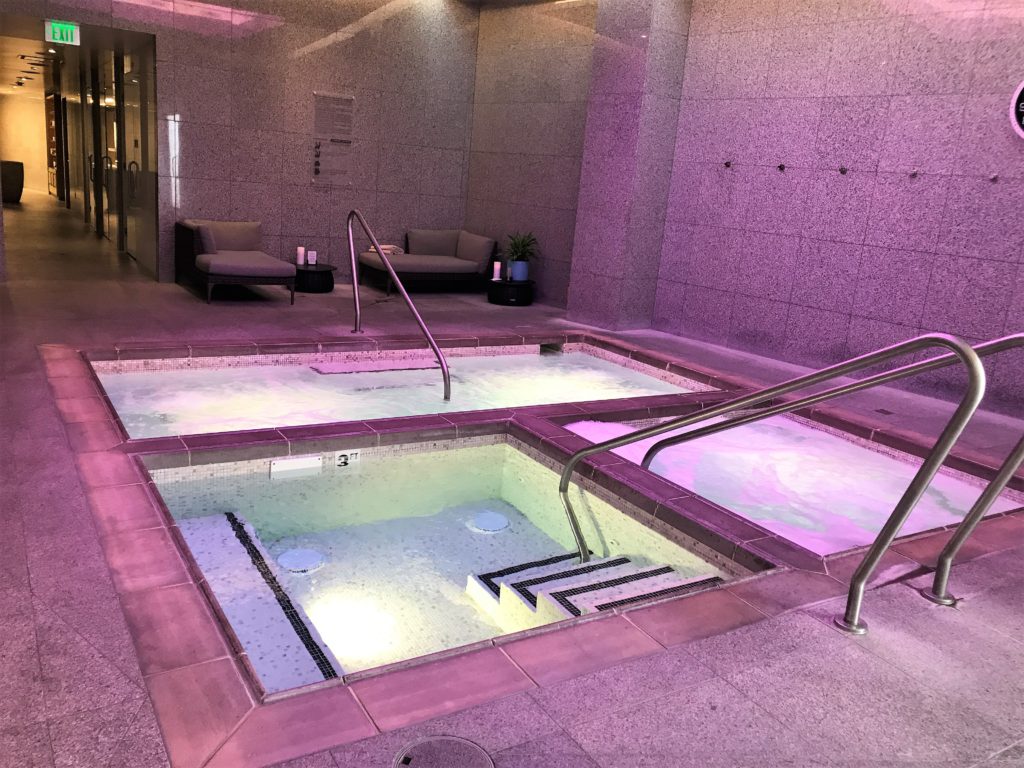 In the communal areas, there is a salt room, Ganbanyoku heated stone beds (which are flat Japanese style and take some getting used to) and the fantastic outdoor spa pool. Unbelievably when I was in the pool there were 2 people making calls on their phone and one texting. Is it just me or is this just ridiculous? Surely you go to a spa to switch off, never mind the disturbance to other people trying to relax. Fortunately, they left after a while and I got some peace and quiet!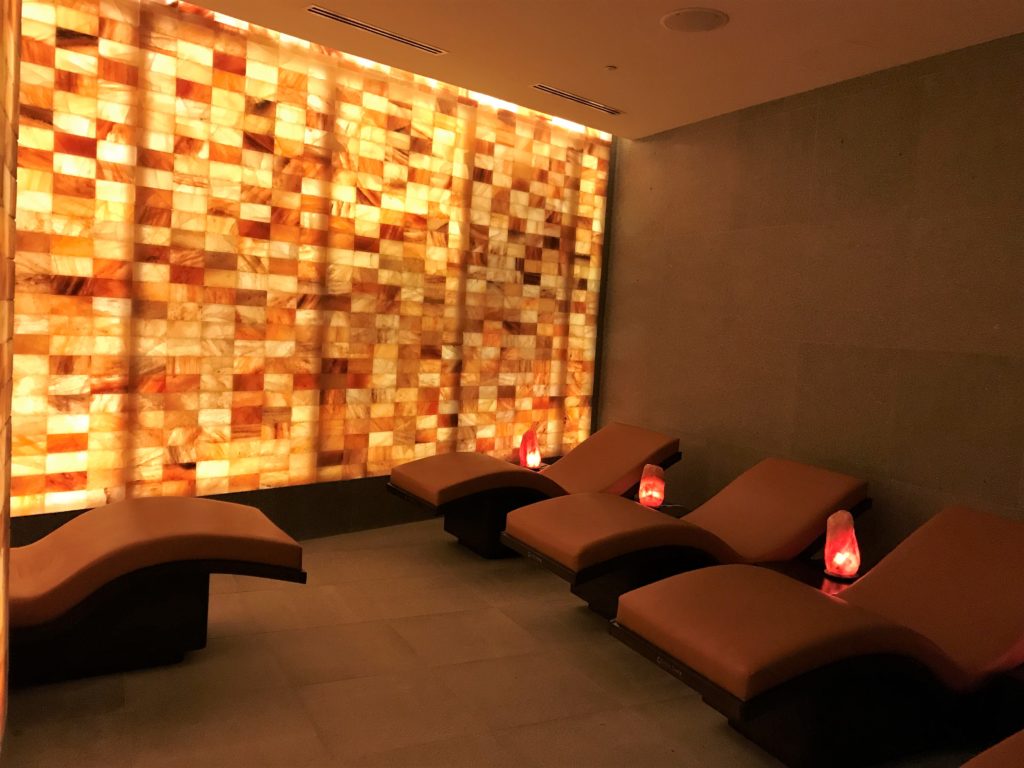 I had the reflexology-inspired foot, scalp and hand treatment which is combined with hot stones. This was a great treatment and involved a neck and shoulders massage too. The price was pretty much the same as everywhere on the strip, $170 – expensive! However, you do get full use of the facilities which makes it worth it. Otherwise, I would not pay that price just for the treatment. You can use the spa all day until close if you purchase a treatment. You can also buy a day pass for $50 as an Aria guest or $100 as a non-guest (not available at weekends).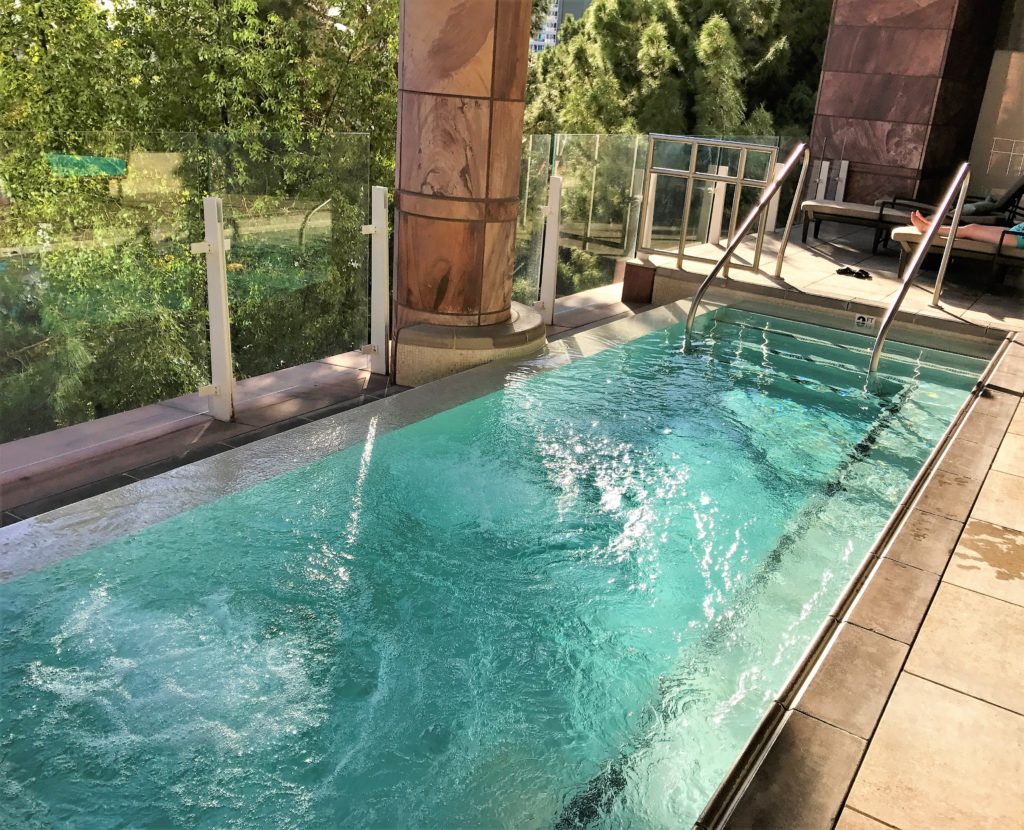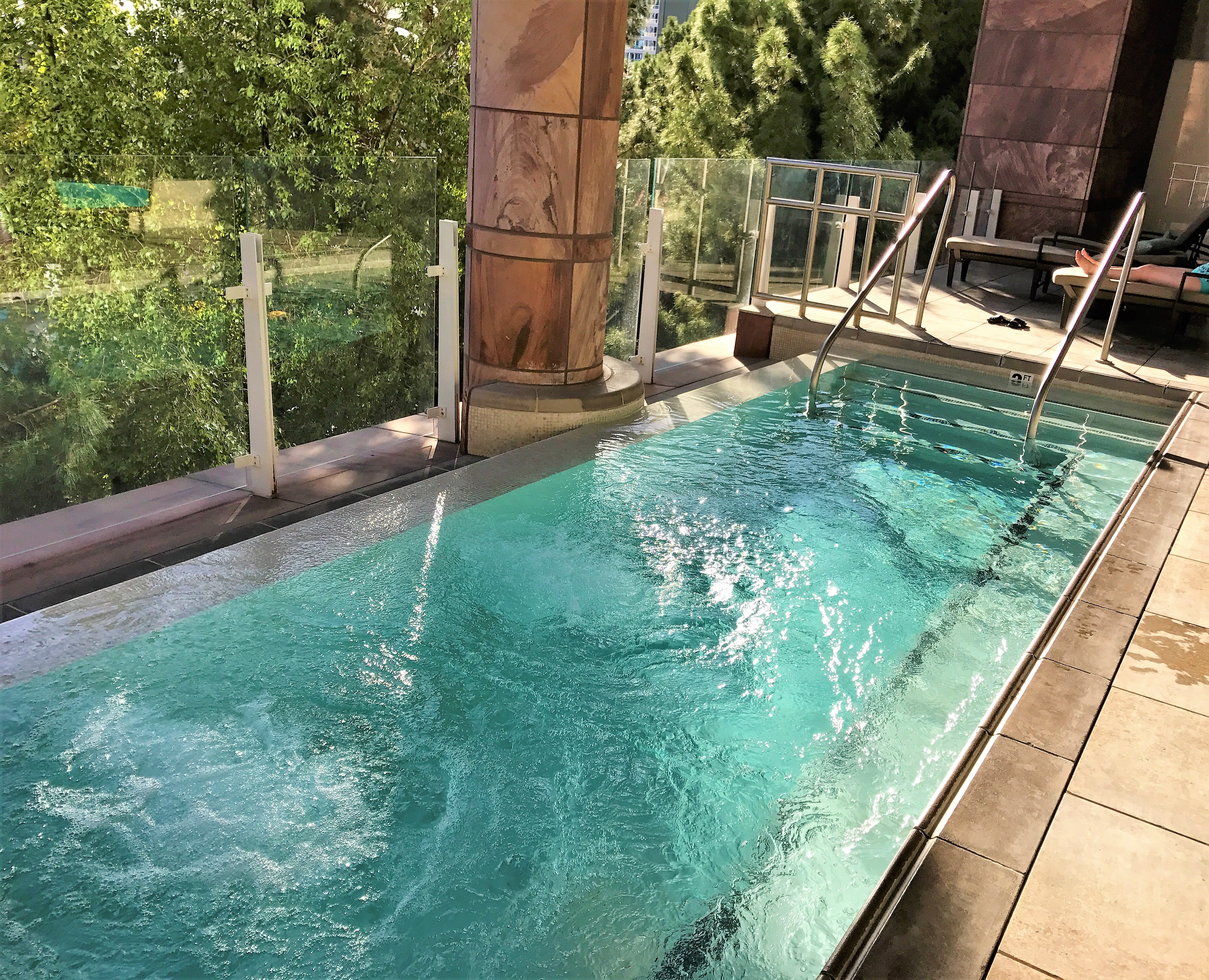 Dining
There are a large number of dining options at Aria but I can personally recommend 3 of them. If you fancy trying a Vegas buffet but don't want to wait and like trying different cuisines, I would recommend the Aria buffet. It is not in such fancy surroundings as the Bellagio or Wynn but it has a wide range of cuisines and high-quality food. The buffet has everything from Chinese dim sum to Indian curries and breads made in their own Tandoor oven. There are also all the usual suspects such as prime rib and crab legs. Aria do a great value package for unlimited wine, beer and selected cocktails which is usually priced around $15 per person depending on any offers.
If you would like something more upscale I can recommend the tapas restaurant, Julian Serrano. It features the traditional Spanish tapas you would expect along with a few surprises and a great range of wines, sherry with a special sangria.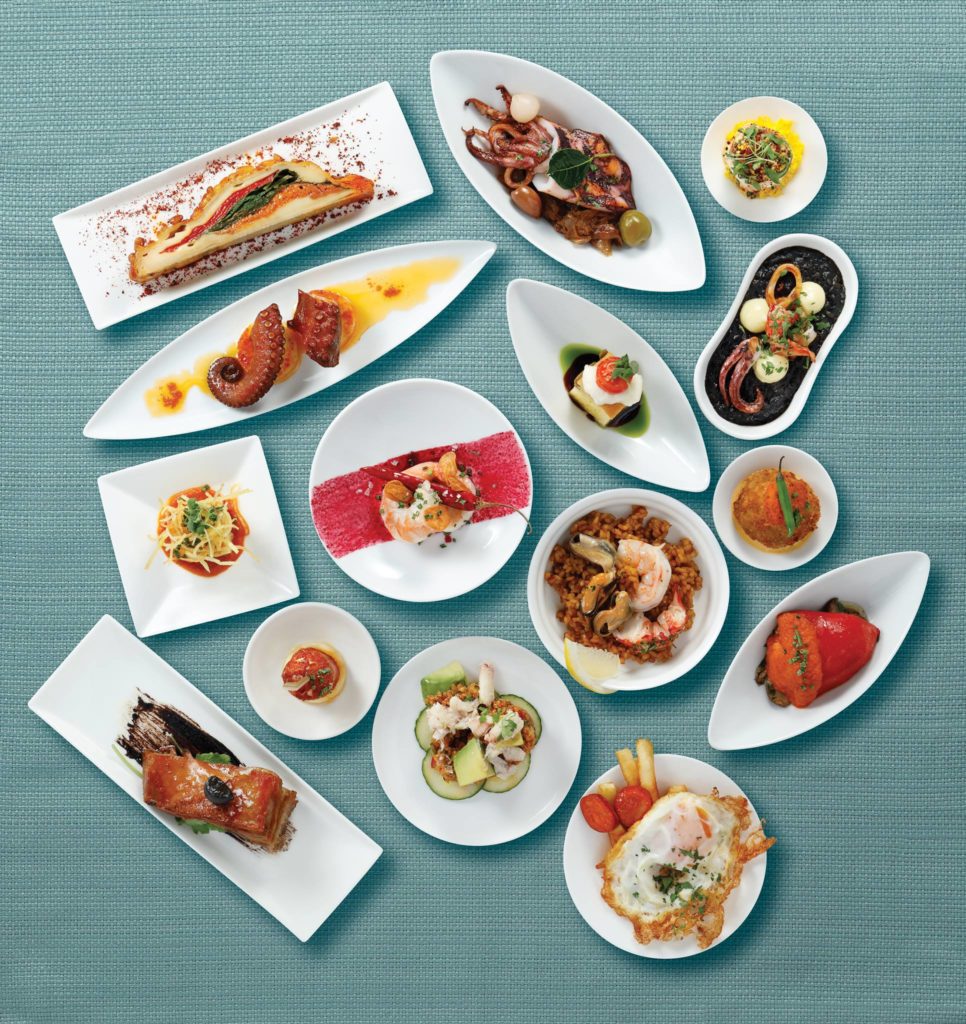 Finally, if you are in the mood for something spicy then head to Lemongrass for Chinese, Malaysian and Thai cuisine. To match your meal they specialise in Riesling wines with a wine flight of 3 different style Rieslings available. If you like your Thai food spicy then be bold in your choice of spice level as they are pretty conservative with it. I asked for spice level 7 and did not find it overly hot. Apparently, 3 is classed as medium!
Conclusion and how to get it cheaper or with free upgrades
I was pleasantly surprised by my stay at Aria, although it may have been helped by a fantastic upgrade. I didn't find it an issue walking through the casino as it isn't overly big or crowded. The Aria's location on the strip is also ideal for walking to many places.
If you are heading to Vegas, I suggest a read of my Guide to Las Vegas in Luxury for less. This covers a number of ways to get your hotel room for less.
There are 2 specific recommendations for the Aria to get a good deal. Firstly you could do what I did and book direct after joining MLife and logging into your account. This gives discounts of up to 25% as well as room categories that can't be booked on other sites such as rooms with a view. You also would then get points on your room that you can spend in the hotel instantly once you have paid your bill.
You could look at booking through an online agent such as Expedia and using Topcashback to get the usual 8-12% off.
The other suggestion is to book it through a Virtuoso or Select agent such as our partners at Debonair who I booked my next Aria stay with.
You would get the following benefits:
$100 USD Food & Beverage credit; Credit is eligible to be used at over 120 MGM Resorts of Las Vegas restaurants, bars and lounges (Exclusions apply)
$30 USD breakfast credits per room, per day (Credit is eligible at select restaurants; Gratuity not included)
Property will offer early check-in and late checkout upon availability
Property will offer upgrade at time of check-in – subject to availability
High-Speed/Enhanced Wi-Fi