St Pancras Renaissance Hotel London
I have always fancied staying at the St Pancras Renaissance since it opened as the building itself always looked so beautiful. I am rarely in this part of London so it wasn't particularly convenient until recently. I am Marriott Gold through my linked SPG Gold status but I don't often stay in Marriotts. I often find them a bit overpriced and my Hilton Diamond benefits usually get me a suite upgrade around 70-80% of the time. So this also was my first chance to use my Marriott Gold benefits and see what they actually got me in practice. SPG Gold is available by having an Amex Platinum charge card or a cheaper option that also offers it is the SPG Amex card. Marriott Gold give you executive lounge access, an upgrade subject to availability, late check-out and free breakfast amongst other things.
Location and history
Obviously, the St Pancras hotel is by St Pancras station so ideal if you are arriving or departing on from there, perhaps on Eurostar. I was actually departing from Paddington to go to Heathrow the next day which took around 15 minutes by taxi to the station.
The historic hotel was originally designed by architect George Gilbert Scott and first opened in 1873 as the Midland Grand Hotel. It was seen as ahead of its time and the epitome of luxury. By 1935 it had closed after falling behind the competition by not offering ensuite bathrooms due to its unique concrete floor which did allow for new plumbing to be installed. It was used by British Rail as offices and then nearly demolished in the 1960s until saved by John Betjemin who helped it gain Grade I listing status. Before being redeveloped as the current hotel it had a career as a film and TV backdrop in the 90s with appearances in scenes from Batman, Shirley Valentine, Bridget Jones' Diary and Harry Potter and the Chamber of Secrets. It was also the backdrop to the video for the Spice Girls' Wannabe. It took around 9 years to transform the building into the current hotel which opened in 2011.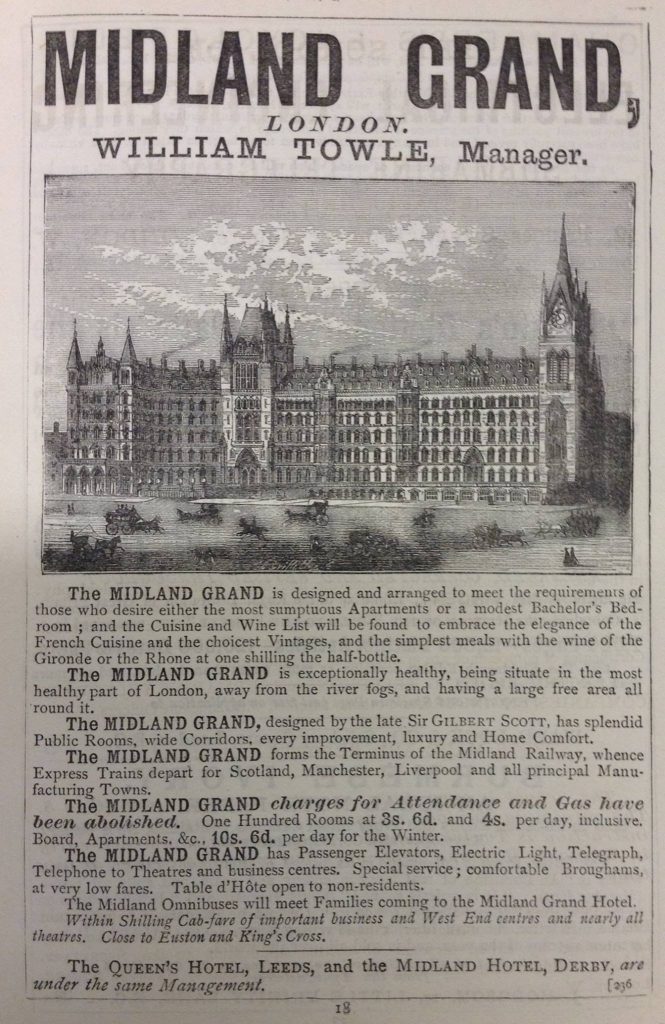 Check-in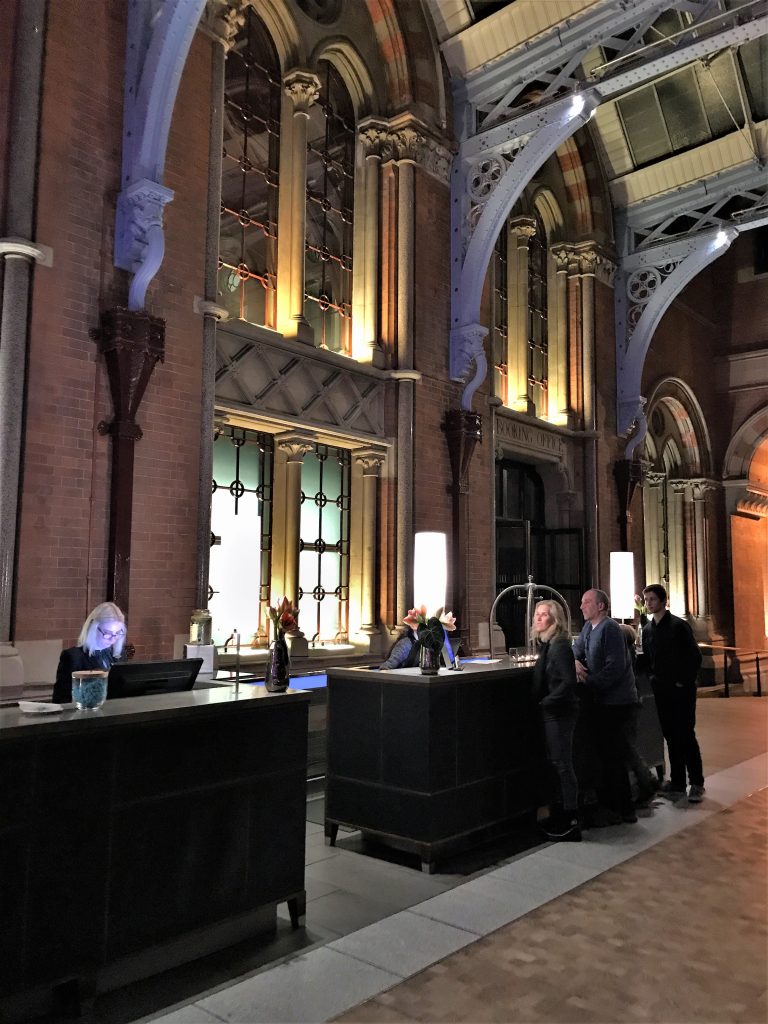 The check-in experience was excellent. As I approached the building it was as impressive in real life as the pictures I have seen. As soon as I arrived a doorman opened the car door and took my bag out and delivered it to check-in for me. The check-in girl was a star. So friendly and helpful, it really made a great first impression along with the stunning reception area. I received an upgrade from the entry-level Deluxe King room to a Superior King room. Shame it wasn't one of the historic Chambers suites! The receptionist gave me a letter that explained all my Marriott Gold benefits. I always prefer this to someone just talking through them as there is no way I can remember the times of everything in my head! She also talked through some of it and gave me plenty of information about the hotel and spa. Finally, she walked me towards the lifts for the room. The lifts were down a long ornately tiled hallway. I loved the sympathetic way the hotel has been preserved and kept so many original features.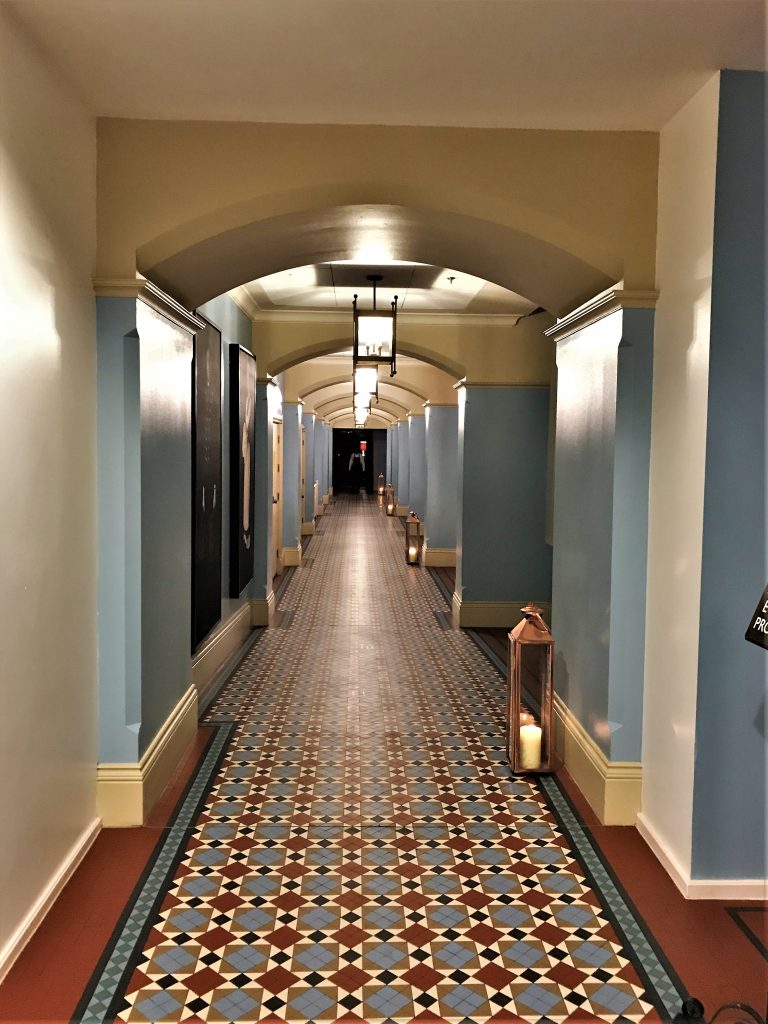 Room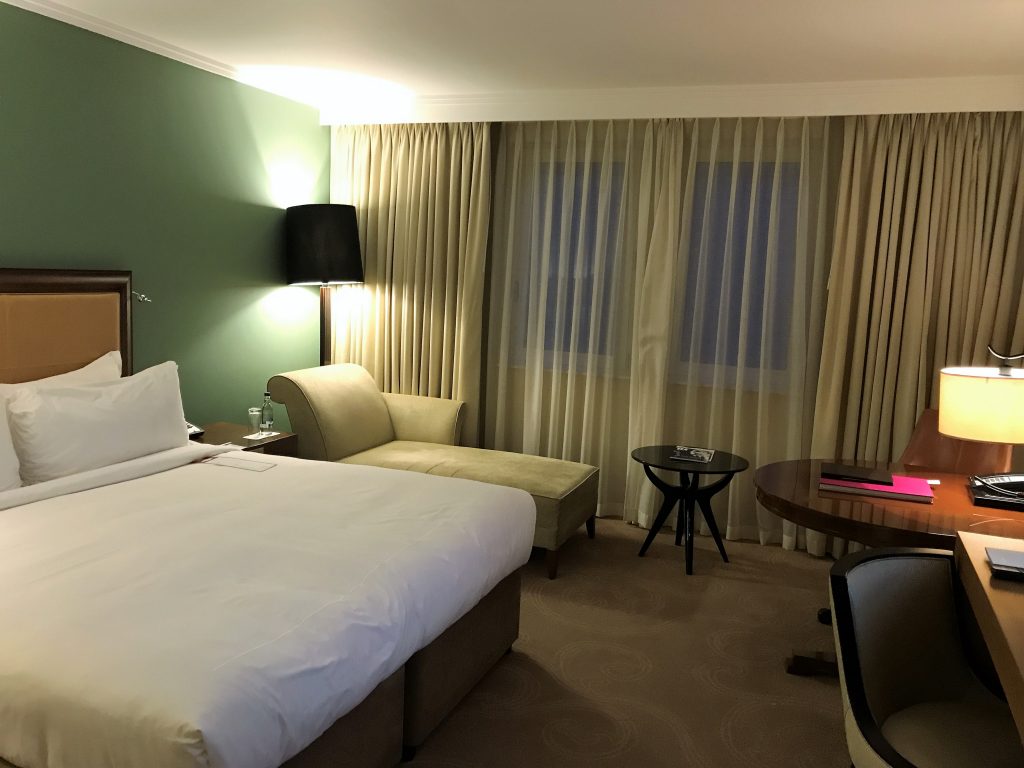 The room was a little disappointing after the grandeur of the building and reception area. There was absolutely nothing wrong with it – it was just very like any other hotel in the world which was a shame. The room had everything you would expect: a Nespresso machine and kettle, bathrobes, slippers and turndown service with mineral water. There was a nice booklet about the history of the hotel which was interesting. My room looked out over the top of the station so it wasn't very scenic but the main thing was that it was very quiet. The bed had a pillow top mattress and was very comfortable. It was good to have serveral reas to sit and relax such as the chaise longue as well as a table and a desk for eating or working.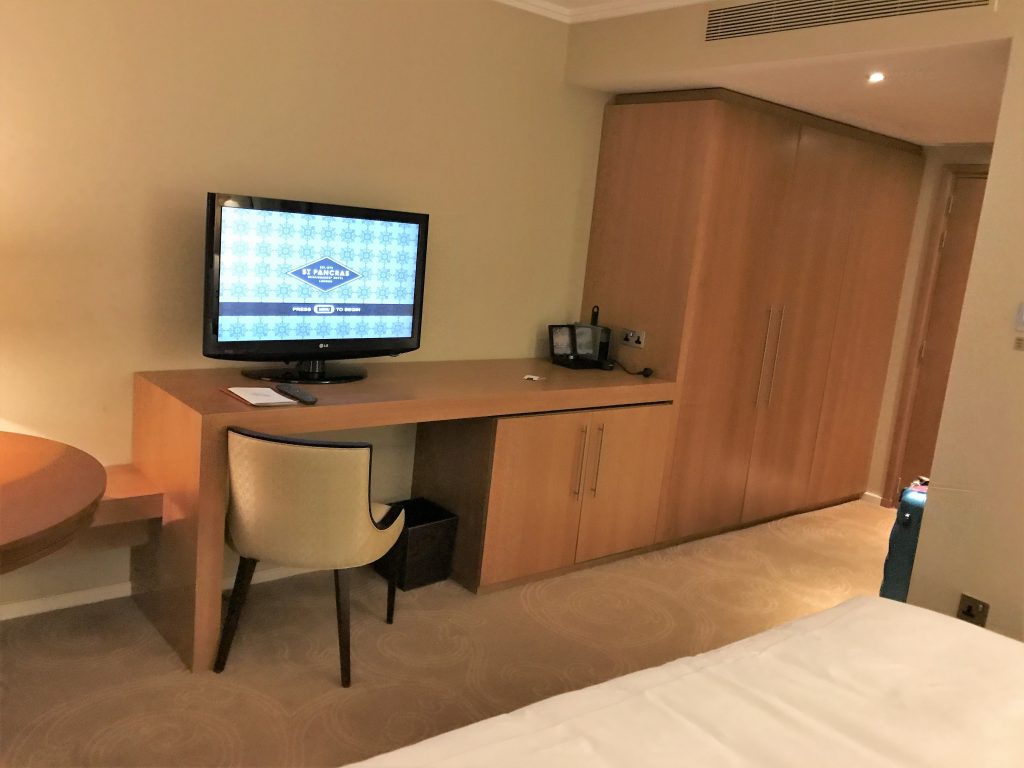 The bathroom was modern but only had a shower over the bath as I had requested a bath. You can also request a walk-in shower instead. The toiletries were a brand that I had never heard of – TokyoMilk. Whilst the labels looked pretty, the plastic bottles looked rather cheap. I quite liked the products though.
Food and drink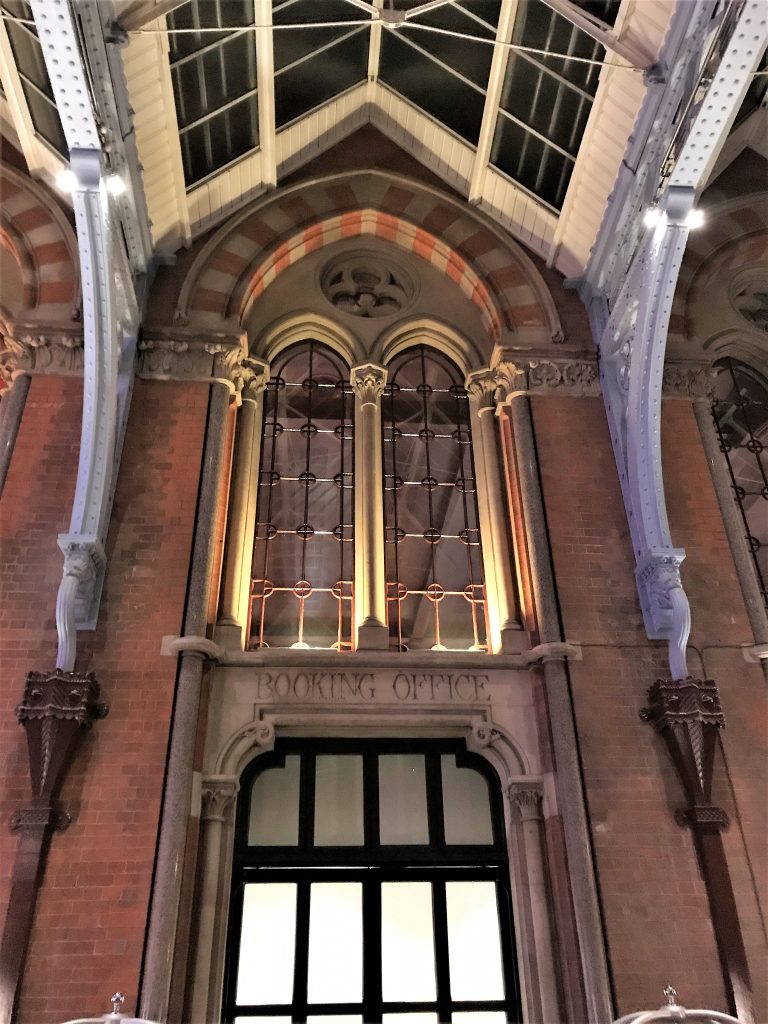 It had all been going so well at this point but alas it wasn't to last. One of the gold benefits was a rather complicated offer of a free drink and bar snack at either the Booking Office from 5-7pm or the lobby Hansom Lounge after 7pm. I decided I would to have my free bar snack and drink at the Booking Office as it looked lovely and the reception area was pretty chilly since it was only about 4°c outside. It was also only 6pm at this point. I planned to stay a while for a few drinks and some food to make a dinner of it and get the full experience for my review. I walked into the bar and restaurant and saw plenty of free tables around and a long communal table with seats with quite a few free ones. However, as I approached each one I could see reserved on them. I then realised why people were standing several people deep at the bar.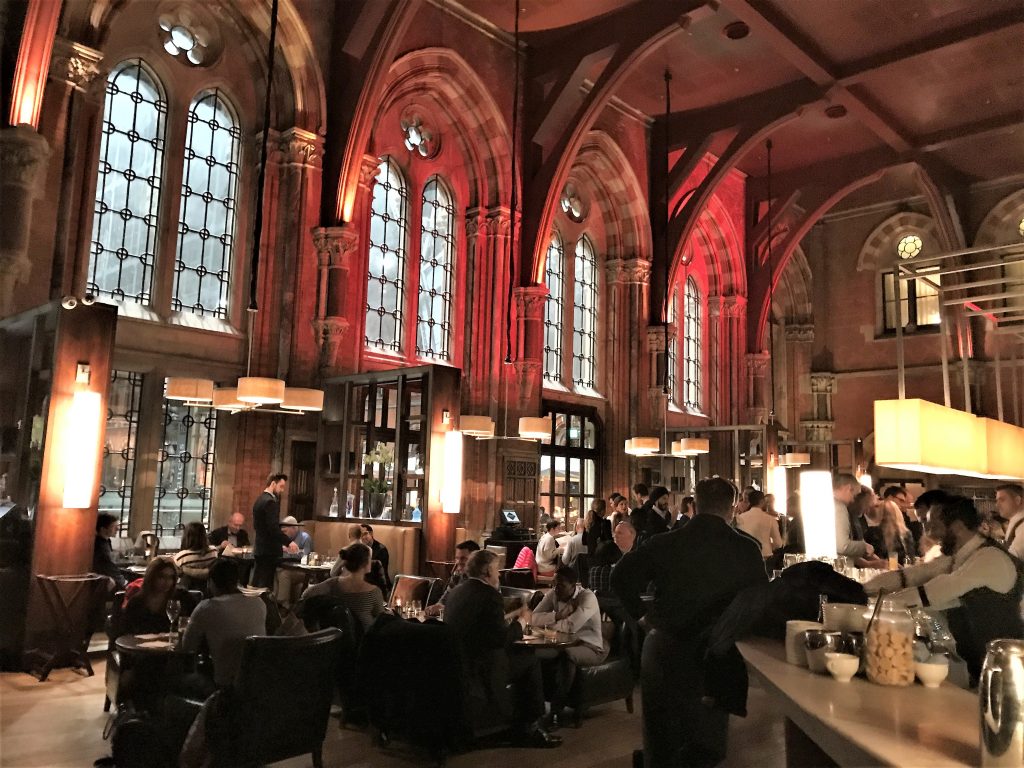 I went to speak to the Booking Office reception to see if they were all about to be occupied imminently as I was quite happy to agree to vacate by 7pm. The receptionist was not what I would call friendly or helpful and just said they had a big group coming in so they had reserved some tables for them but I could sit outside – and she meant outside in the station! There were heaters but really…..it was about 0°c outside by now! I was beginning to lose my sense of humour as there appeared to be nowhere in a 5-star hotel where you could actually sit and have a drink at 6pm as the lobby bar had also been full when I walked past it. I did find out later there is also a bar at the Marcus Wareing restaurant which is on site but not very obvious to see and no use for my free drink.
Reluctant to totally give up and resigned to being cold I hung around furtively in the lobby area waiting for someone to leave. When eventually someone did, I approached the receptionist who told me they full until I pointed out someone had left. The table was still dirty so she told me to head down there and someone would come to clear it. So I sat and waited and waited……. It took 10 minutes for someone to clear the table but they did not offer to take an order. Eventually, nearly 20 minutes from when I sat down someone took my order. I am still not entirely sure if things suddenly got better at this point because they pulled their act together or the fact that they had noticed me taking notes and photos!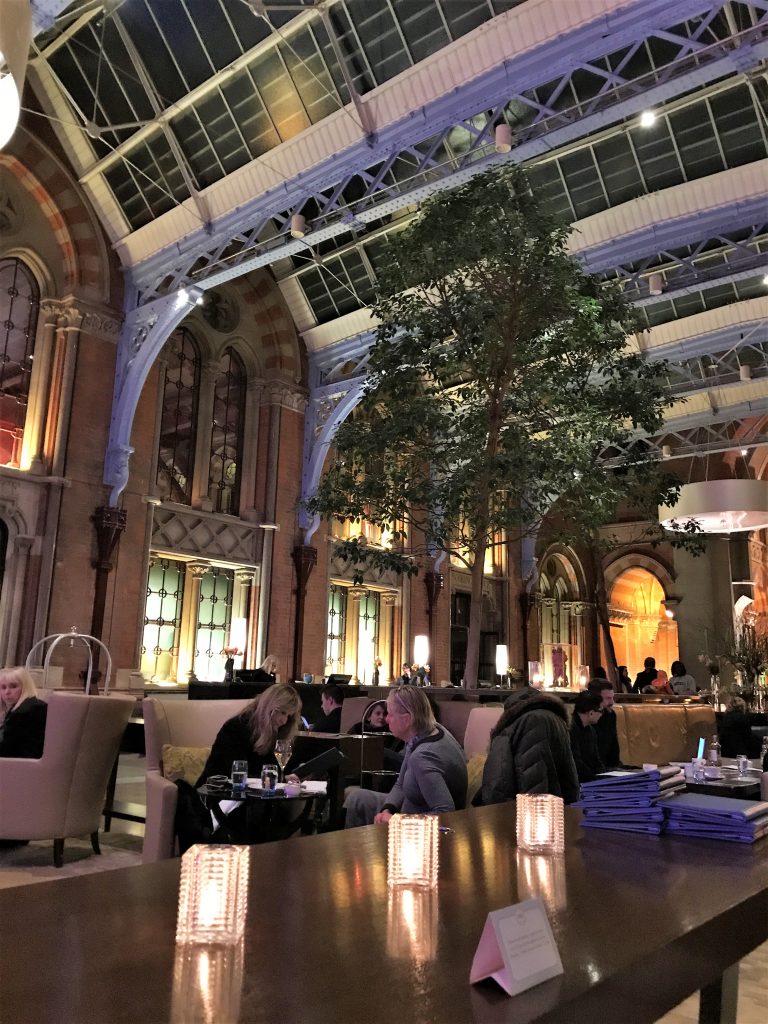 The menu was interesting with some unusual cocktails and a nice choice of modern bar food. At least once I had ordered the drink arrived fairly quickly. I went for a Purple Heart which was a lychee based drink. It arrived with a lavender stick which was actually on fire and continued to smoulder. The last time I had a drink on fire was a flaming Sambuca!
Here are the cocktail ingredients: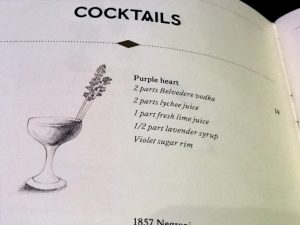 I enjoyed my cocktail as it was not too sweet or sickly and I love anything lychee flavoured. I also ordered the prawn toast which was a lot more sophisticated than your average takeaway version and had much more complex flavours. It was almost souffle like inside but crisp on the outside. This was included as part of the Marriott benefits. For my next drink, I had one of the free ones which was basically house wine or beer. The house red wine I had was perfectly acceptable if a little dull.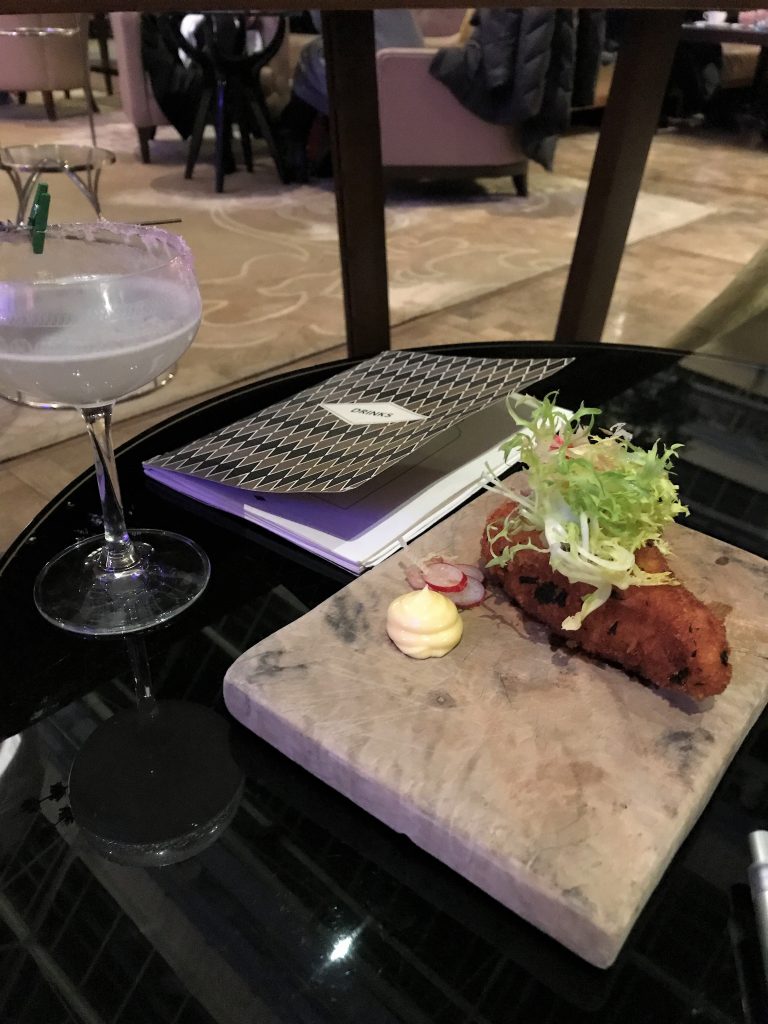 There are other eating options in the hotel including the Marcus Wareing Gilbert Scott restaurant which showcases British seasonal produce in a grand dining experience. The Chef's Table in the old engine room sounds like an interesting option here.
Breakfast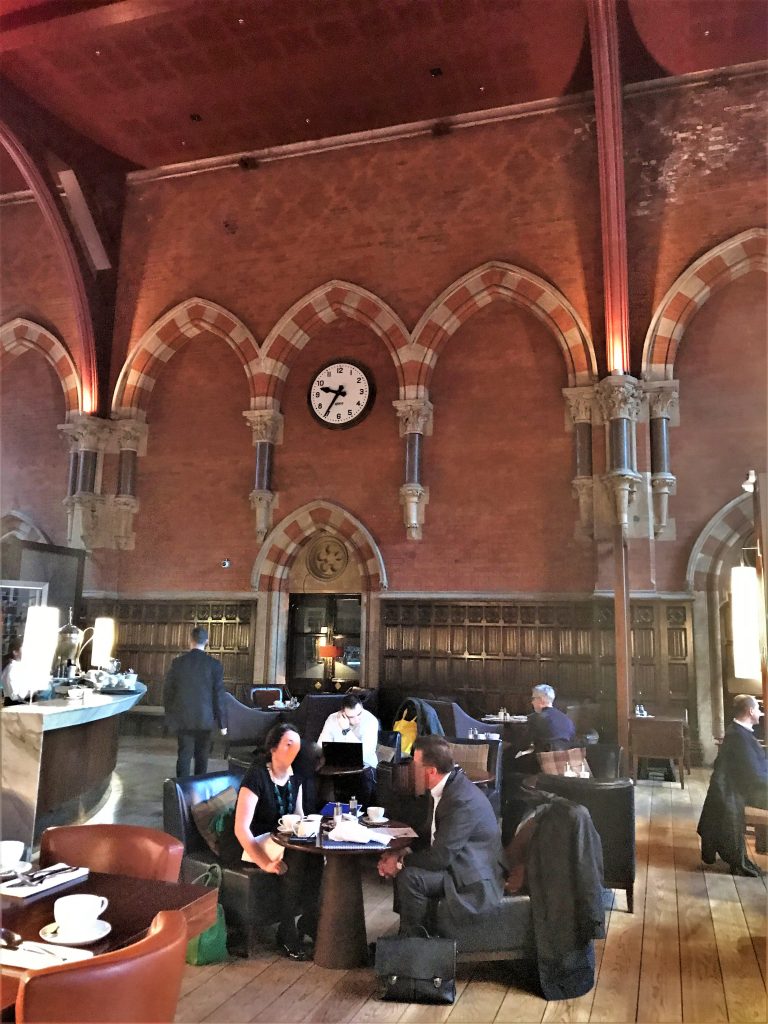 Breakfast the next day was free for me as a Marriott Gold and served in the Booking Office. The service was much improved at breakfast with my name used and an order for drinks taken promptly. It was tricky to get a second coffee though. I was very impressed with the selection of food available which included different types of salmon, lots of hot choices including mini quiches and waffles, and a nice selection of juices and waters. The only thing I could criticize was that the fresh fruit was a little basic.
Spa and facilities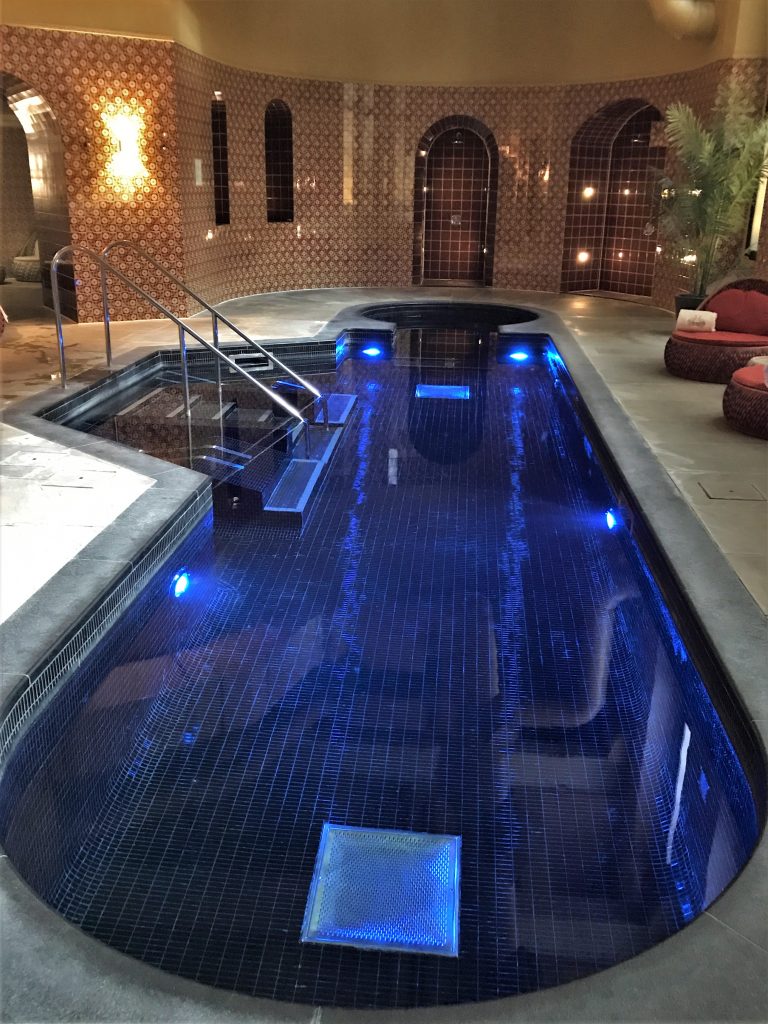 Although the hotel appears to have a pool it is only a spa "relaxation" pool, although you could just about swim in it if no one else was using it. It is pretty warm at 33-34° and has various hydrotherapy areas around the pool. There were also steam and sauna rooms around the pool as well as plenty of sitting areas. They offer a range of treatments with Aromatherapy Associates products, one of my personal favourites. There is also a fitness centre.
Conclusion and pricing
I booked through Marriott.com as it is usually cheaper than online booking sites and then I always use either cashback sites which do Marriott cashback of around 4-8% on and off or the Avios e-store to get around 5 Avios per £1 spent. Rates start at around £230 per night without any discounts.
The building is really stunning and the hotel had everything you would want in a 5 star hotel apart from a proper pool. The food and drink was high quality but the service was pretty hit and miss the first night. So would I return? I would definitely go back to try the Marcus Wareing restaurant and try the Booking Office when it was quieter. I don't know if there is enough to draw me back for a second visit unless I needed to be in the area. I may be tempted to go back and try one of the higher category rooms which have a more historic feel to them. However, I would say it is worth staying to appreciate the magnificent building, especially in the evening when it is beautifully lit with subtle highlights and candles.
You can find more information about the St Pancras Renaissance hotel here.