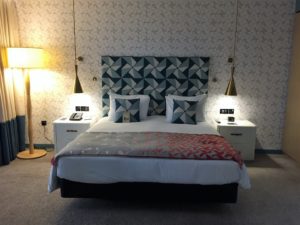 Yesterday I looked at status matching with airlines, today I will look at hotels. Bear in mind that most companies will only do a status match as a one time only offer so use it wisely!
Status matching is often a good way to leverage a hotel status you may have received free with a credit card or BAEC status which is not of much use, into something of far more benefit that suits your travel patterns. Once you have a mid to top tier in one scheme make sure you status match it whilst you still have the card!
This has proved particularly lucrative for me over the last year. I took advantage of the Hilton status match about a year ago which gave me Diamond membership to HHonors. I status matched my Accor Platinum status which I had been given as part of my American Express Platinum charge card package. This status match was of far more use than the original Accor status as I rarely stayed in Accors apart from the Sofitel at Heathrow. The Diamond status gives me a room upgrade, free executive lounge access and breakfast amongst other benefits including at Conrad Hotels. All of these benefits are extremely valuable to me and combined with the miles and points of the HHonors scheme, makes it a great deal. I have been upgraded twice to a suite from the basic room type which can't be bad!
I have also linked my SPG Starwood account and Marriott which has given me Marriott Gold status. This was part of the merger of Starwood and Marriott rather than a standard status match but again it shows the value. With SPG, the Gold status was generally next to useless. On my last stay I was given one of the worst rooms in my room category and denied late checkout. Marriott Gold, however, gives you free lounge access or breakfast and late checkout plus an upgrade.
Hilton
Hilton often do specific promotions like the one I status matched in. Currently they have a challenge for m

atching which you can find at https://hiltonhhonors.hiltonapps.com/ You will get 90 days of status match initially and then if you complete the challenge it will be extended to 31 March 2018. If you're matched to Gold status, you'll need to complete 4 stays. If you're matched to Diamond, you'll need 8 stays.
You will need to attach your proof of current status as well as proof of a stay with that program (so you can't just keep status matching without actually staying.)
SPG – Starwood
You will need to apply by email to [email protected] with proof of your status. It is likely to result in a challenge but they may allow you to include recent stays.
IHG and Intercontinental Hotels
They previously offered status matches but are currently reviewing the status match program and so have not been offering any matches recently.
Langham
Langham don't do status matching but there are benefits if you are a BA Executive Club Gold member:
membership to 1865 elite tier, Voyager, exclusively for Executive Club Gold Members.
just present your BAEC Gold membership card when you check in at a Langham or Eaton hotel
You will then be invited to join 1865 as a Voyager member.
Marriott
If you currently have status in SPG as a result of a credit card offer or your stays, make sure you link this with a Marriott Rewards. You can the page to do this here. The Marriott Rewards benefits are generally better than SPG. You can receive upgrades, lounge access and guaranteed late check out amongst other benefits at Marriott Gold level.
Alternatively if you don't have SPG status and want to match to another hotel scheme you will need to call Marriott Rewards to request a status match. You are likely to be given a challenge such as 3 stays in 3 months and they may only match you to one tier higher than you currently are in Marriott Rewards.
Hyatt
Hyatt only do status matching during specific promotions rather than ad hoc. They do not appear to be doing any currently.
Club Carlson – Radisson and Park Plaza
You need to email [email protected] to request a status match. They will generally match like for like with no conditions.