I have visited Edition hotels before as they usually have a great bar or too, but I have never actually got round to staying there. New York is a tricky place to find a good hotel as they are generally very expensive with small rooms and mediocre service. You can read all my New York hotel reviews here.
Location
The location of the hotel is very central and right by Times Square and Broadway theatres. It is walkable to Central Park, the Empire State Building and Macy's so it is perfect for sightseeing. However, Tines Square itself is very busy touristy and a bit seedy in parts.
Check-in

The bell staff at the door were very helpful and offered to help with our bags as soon as well arrived. The entrance is quite stark but well designed in a modern minimalist sense. I liked the huge bauble at the end. You walk down a corridor to the lifts to the reception. The staff in this area were always very attentive offering to help with transport or bags. There was a bench to sit on if you were waiting for an Uber.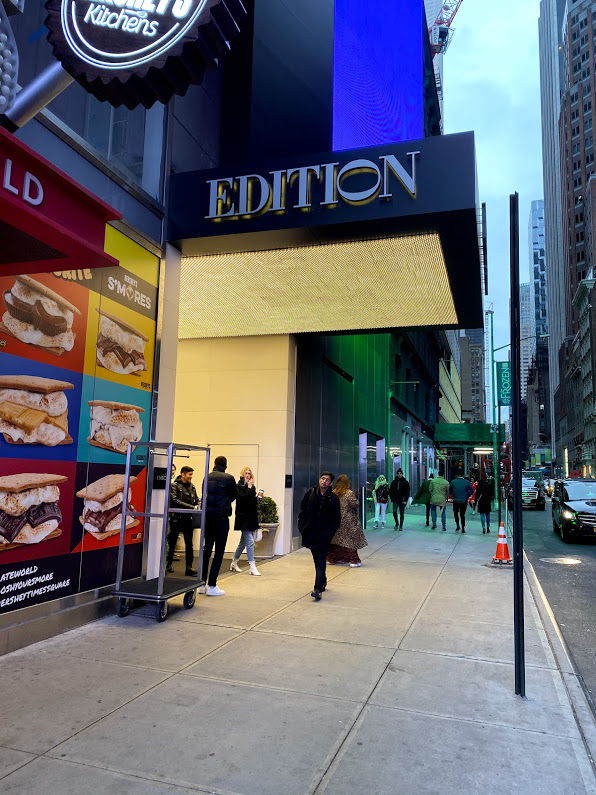 The main reception is quite small, but again beautifully designed. The receptionist was friendly and helpful. As I was Marriott Gold, she explained the perks that I was entitled too.
The Edition does annoy me though as it has a hefty resort fee of $35 per night. You tend to only see resort fees in the US and in my opinion, it should be illegal to charge and included in the hotel bill. It offers you a load of stuff that usually you don't want or would be included in any other normal hotel. The Edition offered:
1 Soulcycle class,
$50 laundry/dry cleaning credit
Phone calls
We didn't actually need any laundry doing, but rather than waste is we got a couple of things done to use the credit.
The room

I had booked a Premier Times Square, 1 King Guest room, Times Square view, High floor room. We were not disappointed with the view of Times Square which, to be honest was one of the few things that I liked about the room. The typical Edition minimalist luxury look continued with the very white room with a fur bedspread. This was a nice looking touch but completely pointless. The room was absolutely tiny and so there was nowhere to really put the rather bulky fur throw when you wanted to gt to bed.
It was a struggle to find room to put two full-size cases in the room as the floor space was minimal. There was a nice armchair by the window to enjoy the view and then less comfortable wooden chair for working at the built-in desk. The built-in desk/shelf was very useful for storage though.
The sleep quality was good though, the bedding was high quality, the bed comfortable and the room reasonably quiet for New York.
What you are paying for here are the extras in the room such as the Nespresso coffee machine although they only provided paper cups which is a pet hate of mine. I would much rather have a proper cup/mug plus it is wasteful to have a cup to throw away. Instead of an iron, there was a steamer which I thought was a clever choice in a space-restricted room. How effective it would be with a shirt that needed ironing properly I don't know, but if you had time you at least have the laundry credit for pressing.
If you wanted to listen to music there was also a high-quality Beowulf A1 speaker with instructions. The TV was large with an HD screen.
We were given two cartons of water that were in plant-based bottles which I was pleased to see. Too many hotels are still using single-use plastic bottles.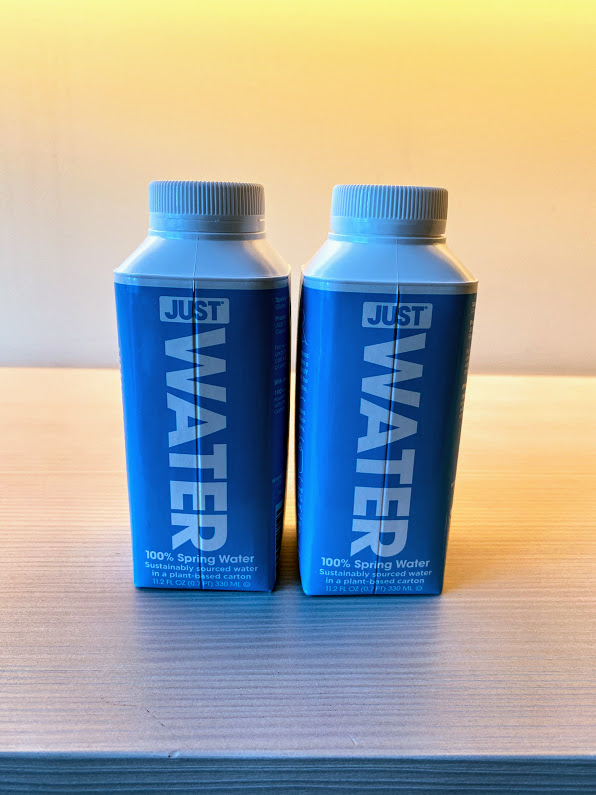 The bathroom was completely open which I really don't like, although the shower and toilet had a frosted glass door, but it really felt like they were in the middle of the room. There was also a curtain you can draw across but to me, that is not the same as a separate room.
It came with Le Labo toiletries which are high quality and have a pleasant light fragrance.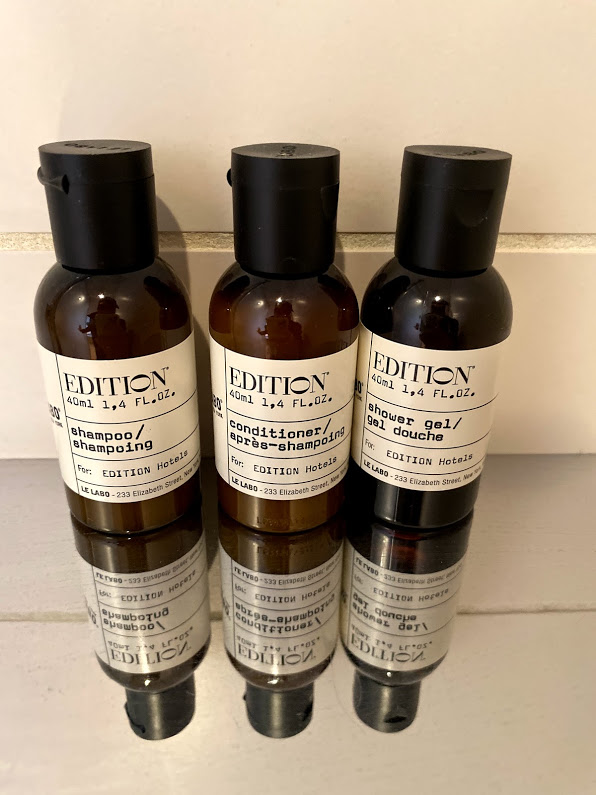 There was only a single sink but it did have a decent amount of room for your own toiletries on the vanity unit. The magnifying mirror was not lit and you had to bend over and look into it because of the height which was a little annoying.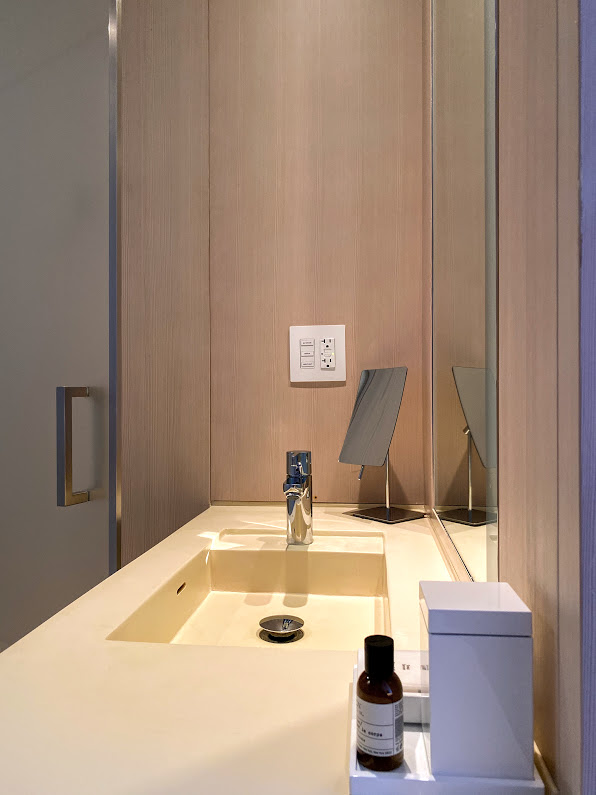 I liked the shower which was a good size and had a proper rainhead shower as well as a more powerful handheld type.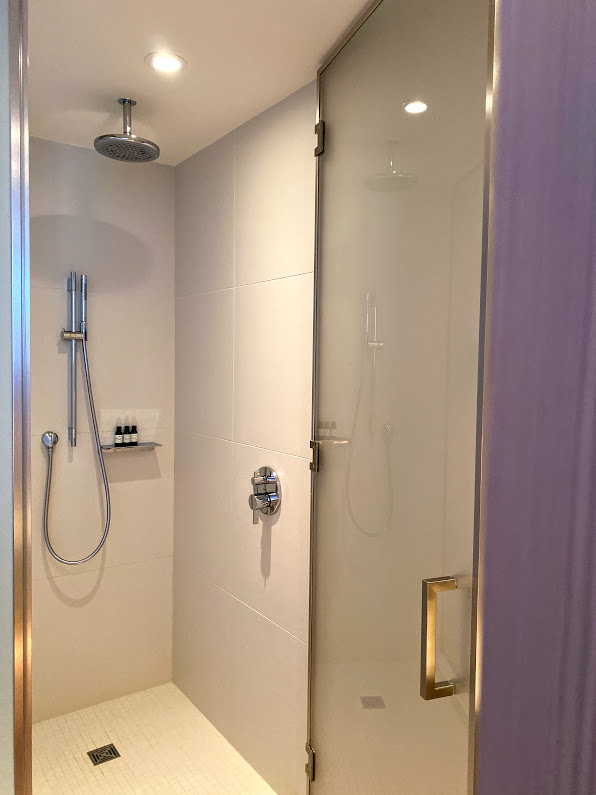 Restaurants and bars
This is where Edition hotels come into their own. The hotel had a relaxed casual lobby bar by reception,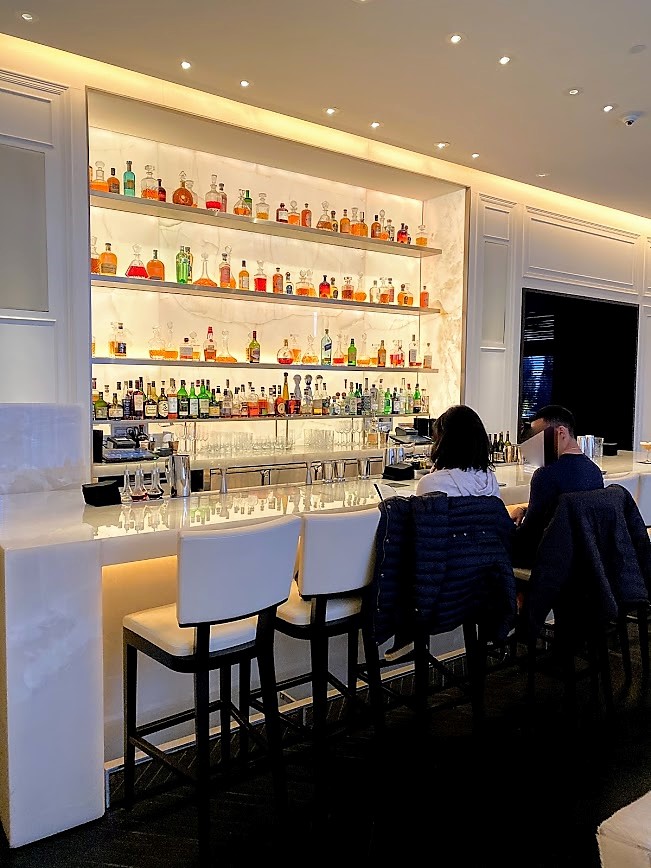 plus:
701West
Recently awarded three stars by The New York Times, 701West is The Times Square EDITION's fine dining experience, featuring a three-course prix-fixe and an a la carte menu.
The Terrace and Outdoor Gardens

This is their all-day dining restaurant and is a wonderful space. It also has a more formal bar next to the dining area.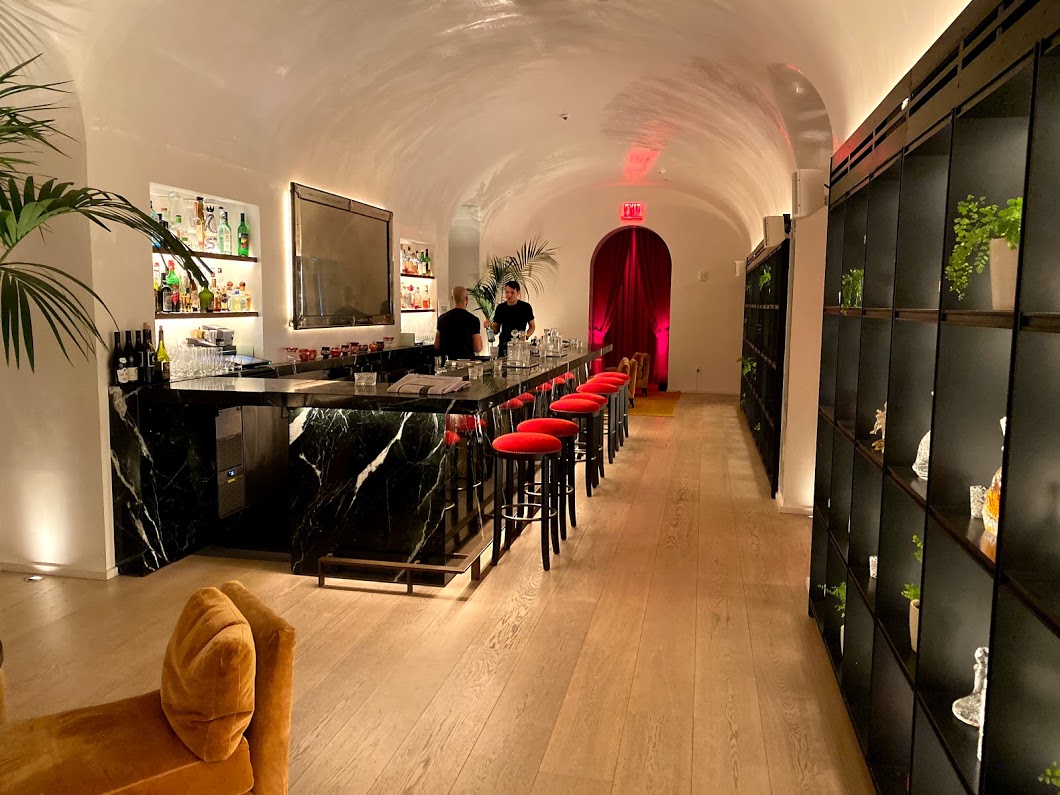 Paradise Club
This is open for dinner only and features food from Michelin-starred chef John Fraser with a multi-course feast of unique dishes including caviar, drunken tuna, pork ribs, cauliflower, duck, and more.
Breakfast
We had breakfast in The Terrace. It was an attractive space and the backroom was really quite beautiful. I liked the breakfast menu and I was torn by the make your own benedict but in the end, I went for the croissant which was tasty. The salad was a slightly odd breakfast edition though. The service was very friendly but it was very slow and haphazard – we were sure they had forgotten things or it was just very, very slow!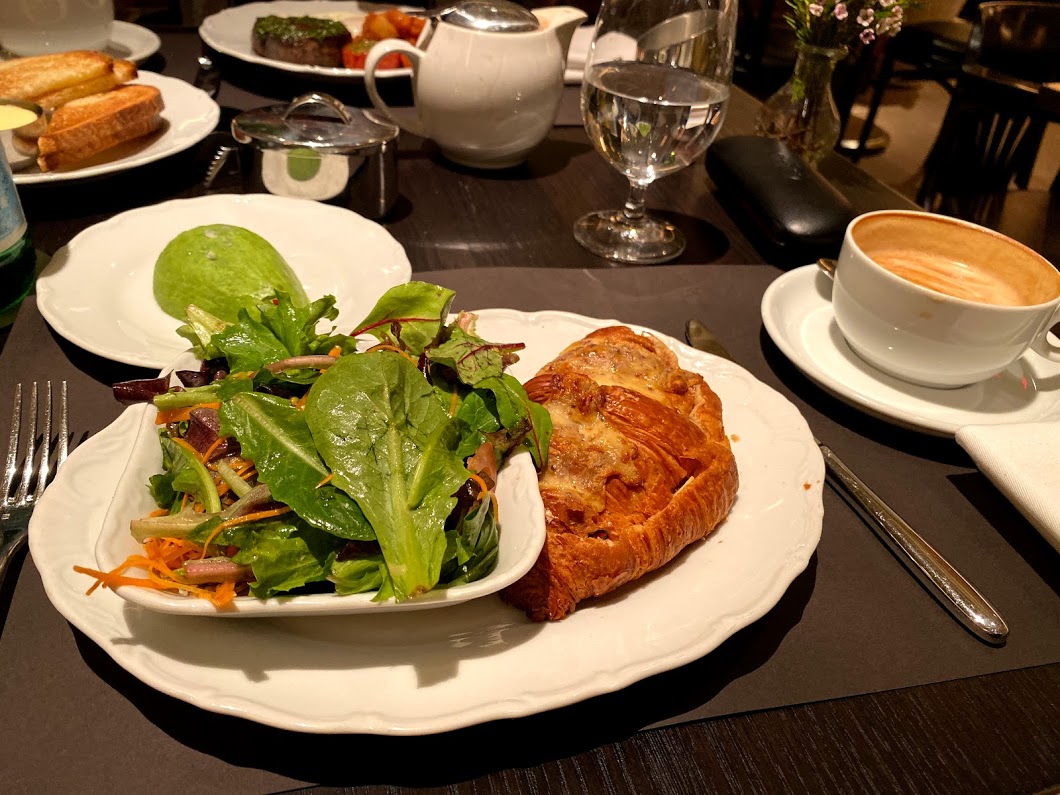 Facilities

Other than the restaurant and bars the only real facility is the gym which is large and well equipped.
Conclusion
The location is very handy for sightseeing and it had fantastic views from the room. The majority of staff were very good – attentive and friendly – but the breakfast service was not great. Whilst from a design point of view the room looks luxurious, it was just too small to justify the money.
Yes, it was well equipped but they are things I don't really care that much about given the difference in price. The rooms I have had at the two reasonably priced hotels I sometimes stay at in New York, Renaissance World Trade Centre and Fairfield Inn Central Park are pretty much the same size, but around £150 a night cheaper at a minimum. This room at the Edition cost a crazy £425 for a tiny room! Even as a redemption I think there are much better value properties!
If I wanted to spend this sort of money I would go for either of the two Conrads. I found the staff better at The Edition, but I would rather have a larger room than great service personally.
You can find the latest prices and more information on The Edition Times Square here.