I stay in London a lot so I try to check out as many hotels as I can. Although I do treat myself to my three favourites, The Hilton Bankside, The Corinthia and The Langham when I can fit them in too. On this trip, I decided to stay one night at The Mandrake having seen it on Secret Escapes before moving to The Corinthia. (you can find all my hotel reviews here). The hotel looked visually appealing and had a good location a couple of minutes walk from Oxford Street.
Location
The hotel is at the slightly tatty end of Oxford Street about 6 minutes walk from Tottenham Court Road Tube. However, there are plenty of shops for supplies nearby as well as upmarket restaurants and bars within walking distance. Overall it was a good location.
Arrival and check-in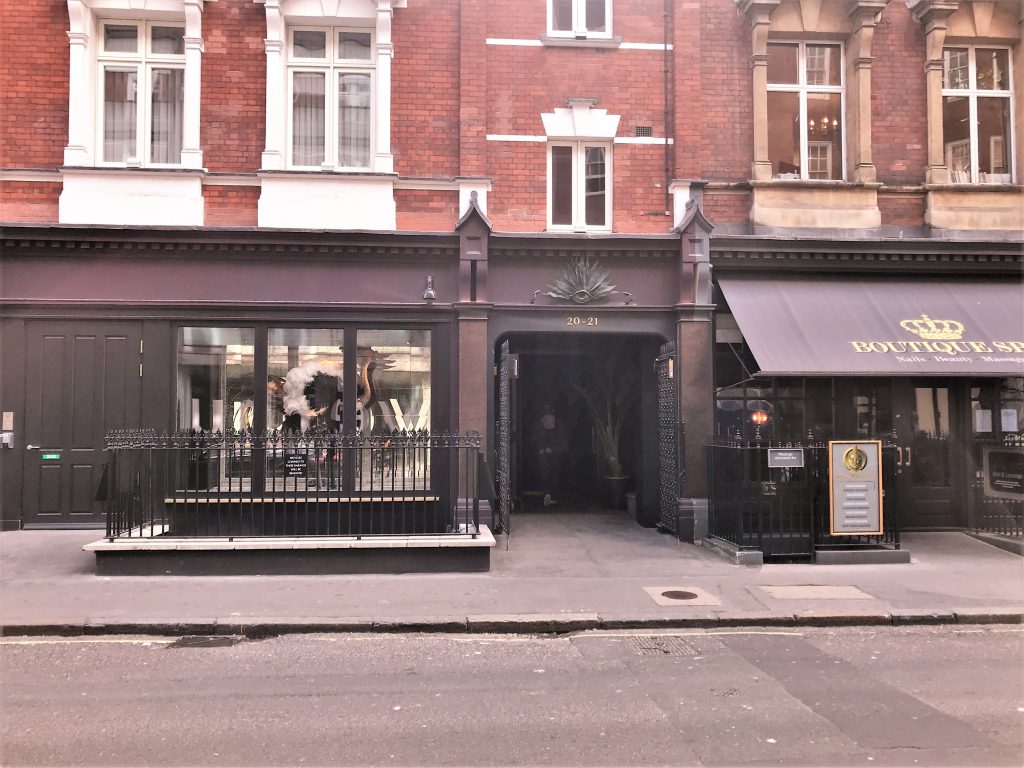 The first thing to know about The Mandrake is that there is no sign outside. Is it just me or is this just a bit pretentious? Fortunately, I was aware of this so I had looked it up on street view to make sure I knew what I was looking for. Though I did double-check with the doorman just in case when I arrived! The doorman was a) very hip, b) more like a host at a trendy bar than your typical doorman but c) very friendly and professional as were most of the staff. He walked me to the front desk and stored my bag for me since it was too early to check-in. The entrance to the hotel is down a dark dramatic walkway.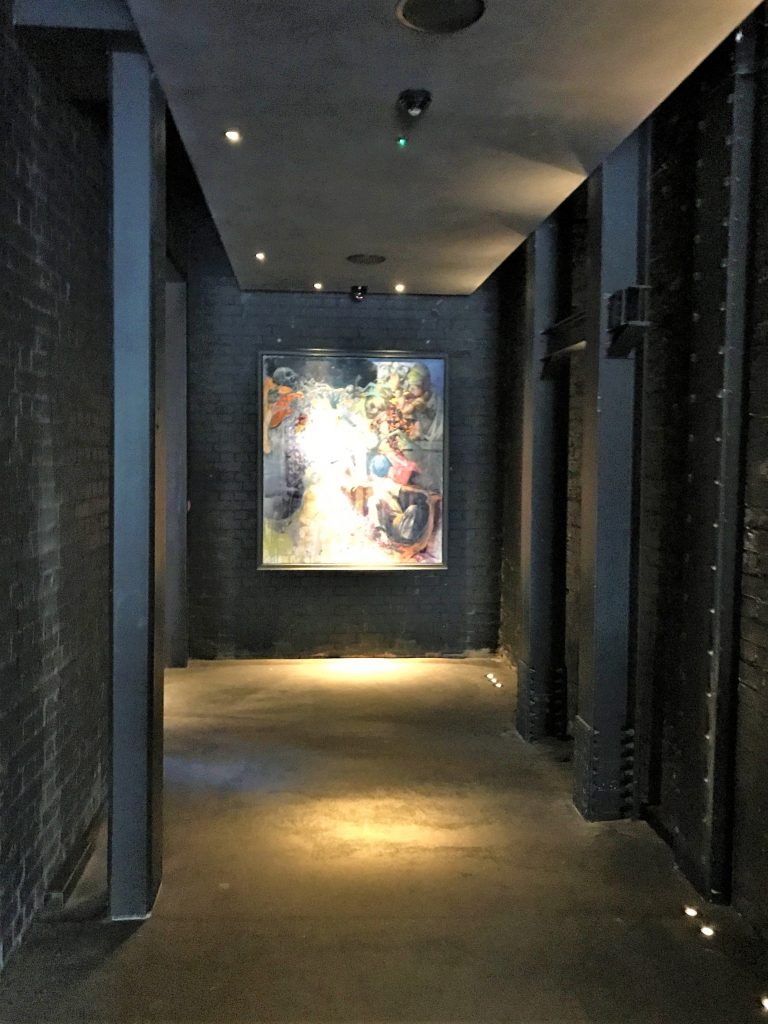 The lobby is small, as is most of the hotel, and decorated in a very modern, slightly bohemian, luxury style.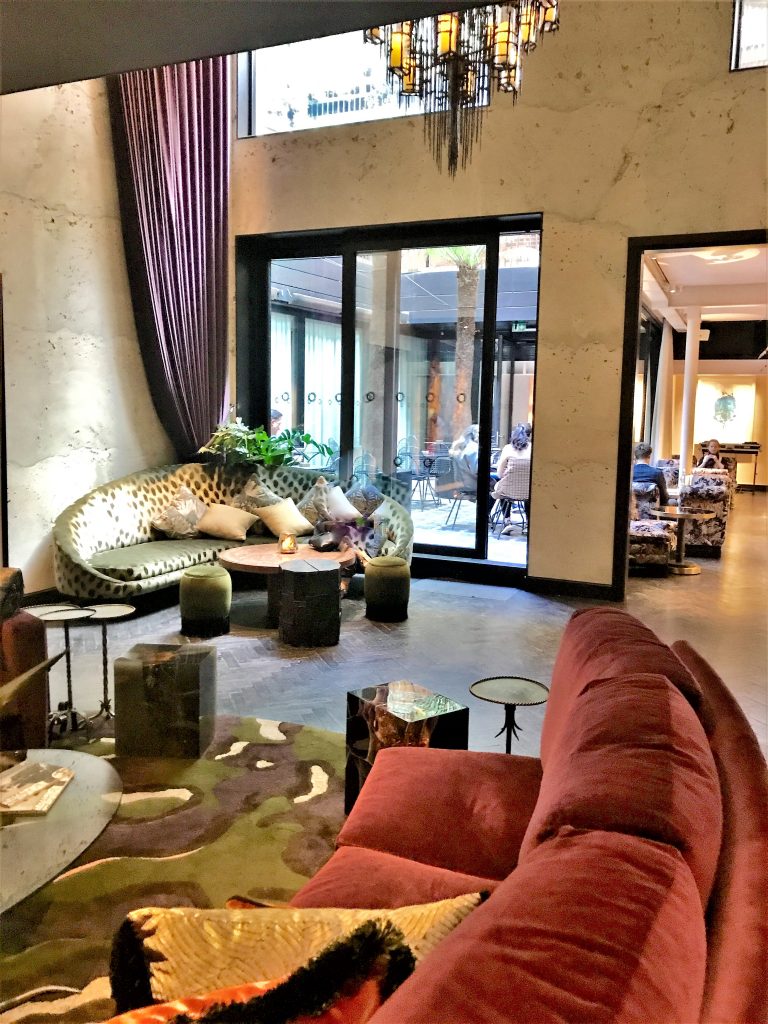 I returned later to check in and this time was served by the wonderful Henry who was excellent and embodied the staff here – dressed individually, looking very hip but friendly and ultra professional with it. The keys that they give you are an electronic fob with a rather large tassle attached which is slightly cumbersome but you can leave them at reception if you wish.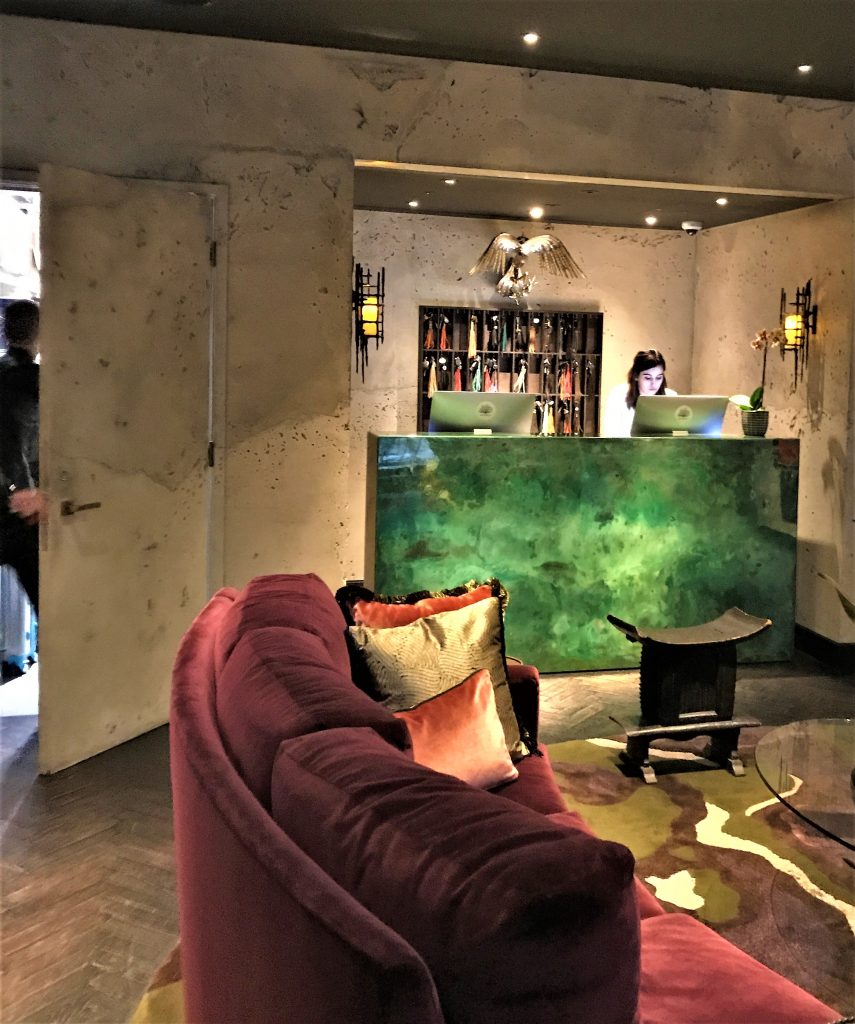 To get to my room I had to go through the bar which was fine during the day but having to negotiate the bouncers in the evening was a bit tiresome. There was then a lift in a rather barren looking area which felt like the service entrance! (I'm sure to someone more on trend than me, it is what is called urban!) The lift was secure as you had to use your key fob to access the floors.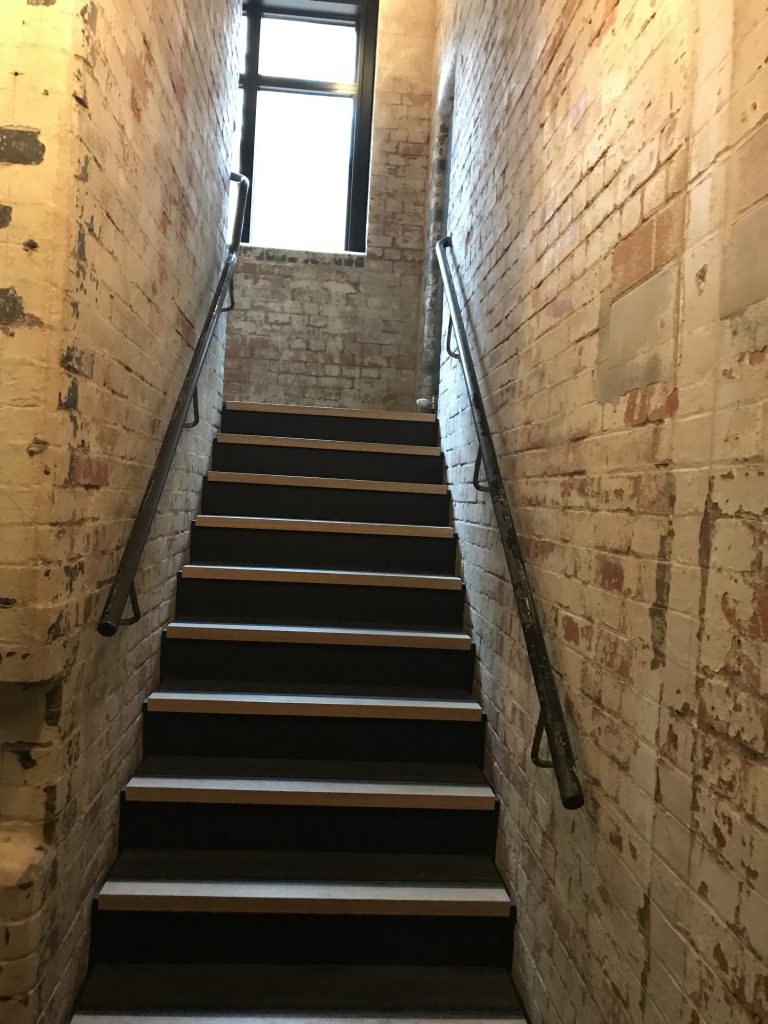 Henry accompanied me to the room and gave me a rundown of how everything in the hotel and room worked. My luggage was already in the room waiting for me which was good.
The room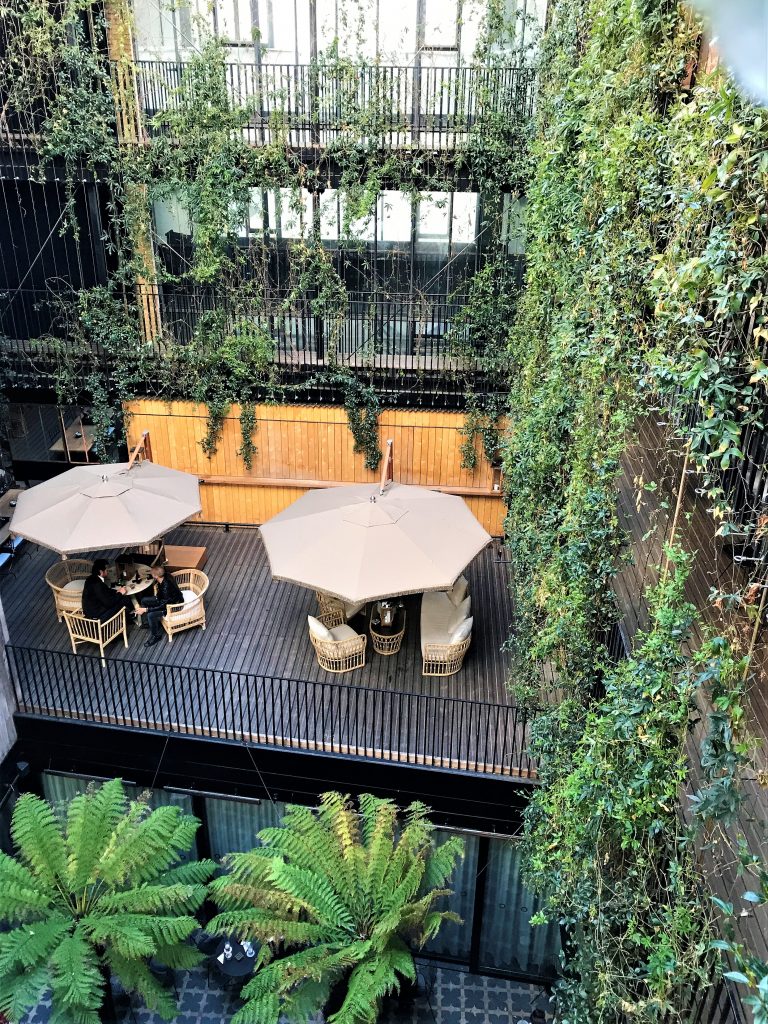 The rooms are all clustered around a central courtyard. This sounds great in theory and like all the hotel, the design was very pleasing on the eye. However, the practicalities were another matter! My room was very small but presumably, to make it seem lighter it had floor to ceiling windows and doors along the length of it onto the courtyard. This meant that there were staff walking past right outside my room. I felt that I had to have the curtains closed most of the time making it a rather dismal room.
Post from RICOH THETA. #theta360 #theta360uk – Spherical Image – RICOH THETA
Outside the room was a table and chairs but it was on a communal walkway so not the most private or relaxing place to sit. The real problems with the courtyard surfaced later….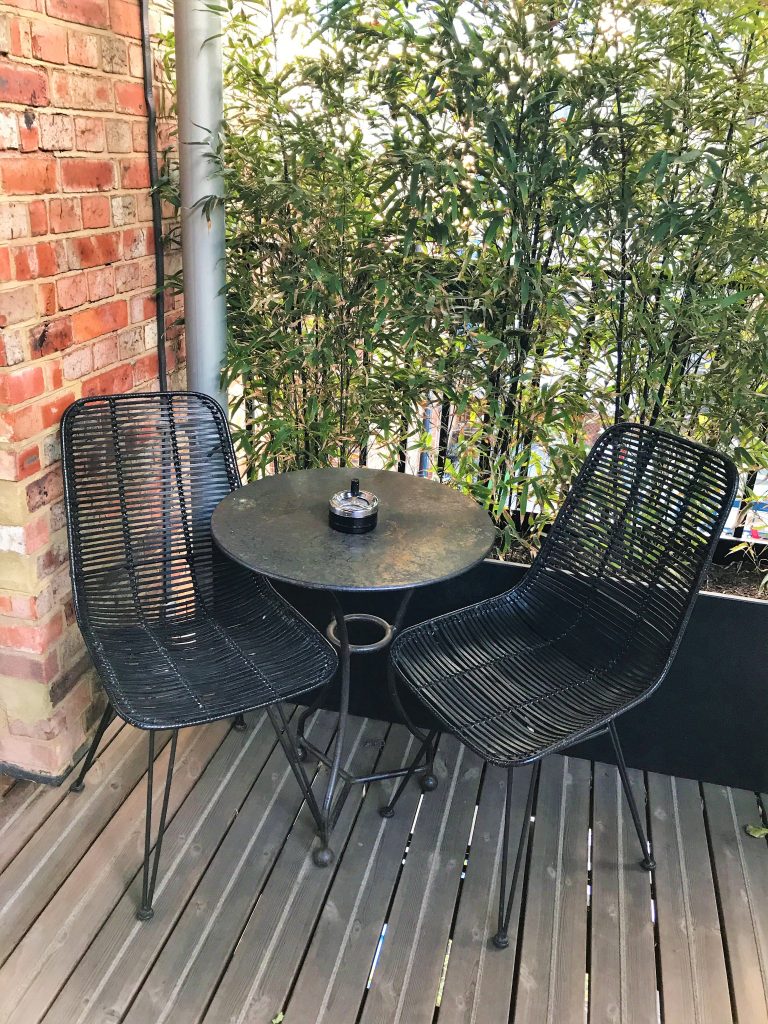 The room itself felt very, very small considering that the average price for the hotel is around £300 a night. As well as the bed you can see below, there was a large flat screen TV on the wall and a narrow hallway which had a small closet, desk and mini bar area.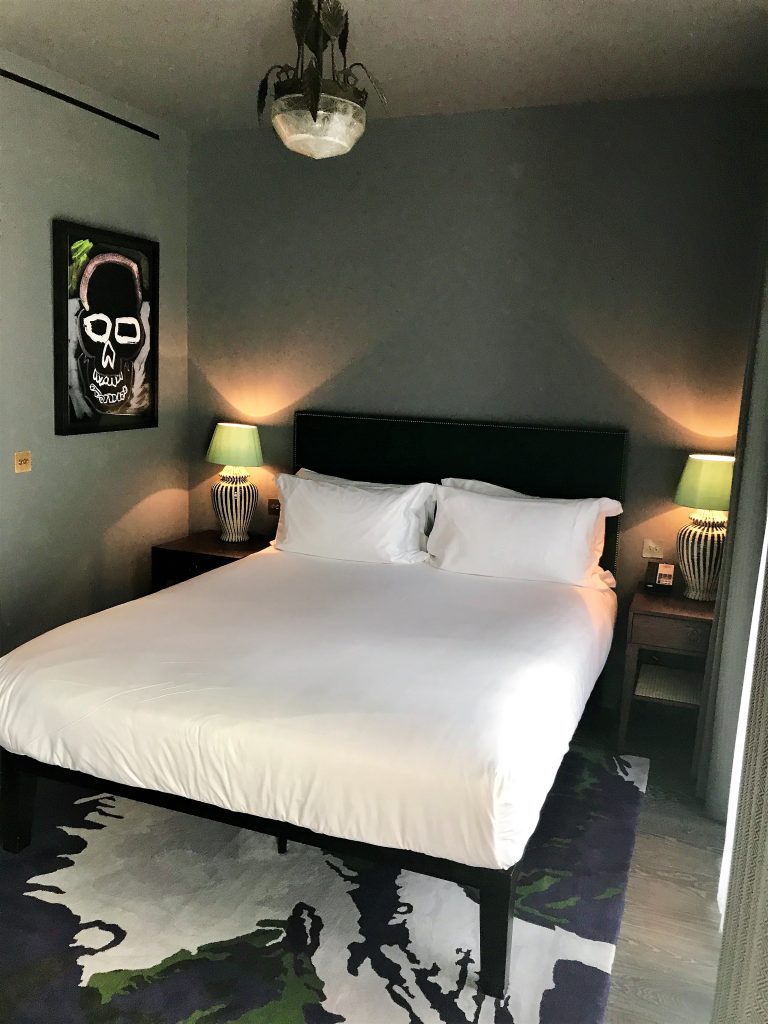 The desk wasn't exactly comfortable for working with only a stool to sit on.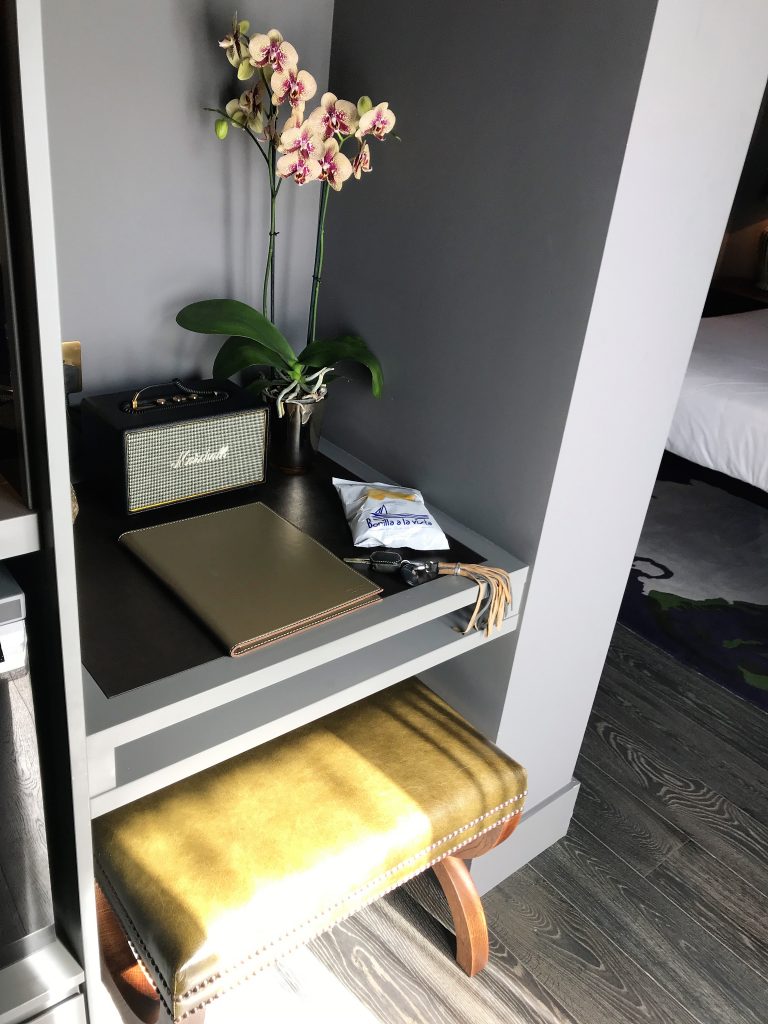 The desk kind of summed up the entire room for me. You can tell they have spent some serious money on the hotel and designed it to within an inch of its life but they haven't really given a huge amount of thought to comfort and practicality. I realise it is not aimed at business travellers, but most people want to use a laptop at some point during a stay and having a decent desk or table area is a must for me.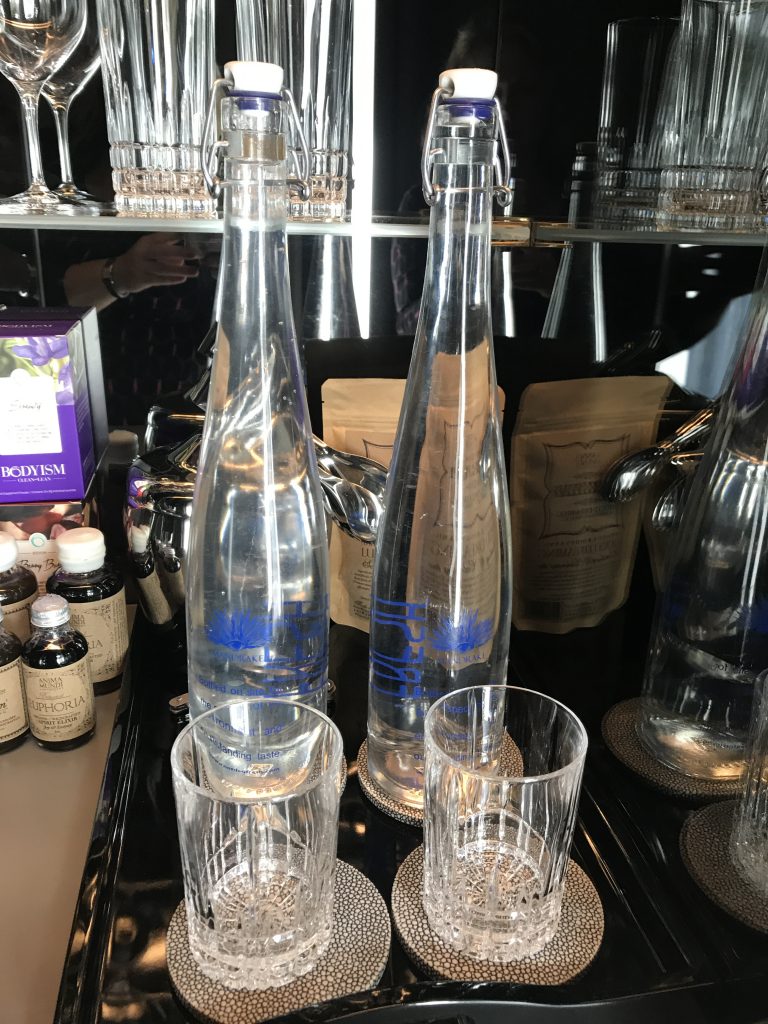 I liked the fact that there was a large bottle each of free still and sparkling water and the heavyweight cut glasses with them. Unfortunately, there was not a Nespresso machine or even a kettle which I would expect at this level. It's probably because they couldn't squeeze it in but if they removed the plethora of trendy bits and pieces to buy they could provide what I see as a basic requirement for a 5* hotel. When I enquired though, they did bring me a kettle with a tea tray with loose leaf tea and milk. There was no mention of this in anything I had read.
The TV had Apple Airplay on it but unfortunately, it wasn't working despite an engineer trying to fix it.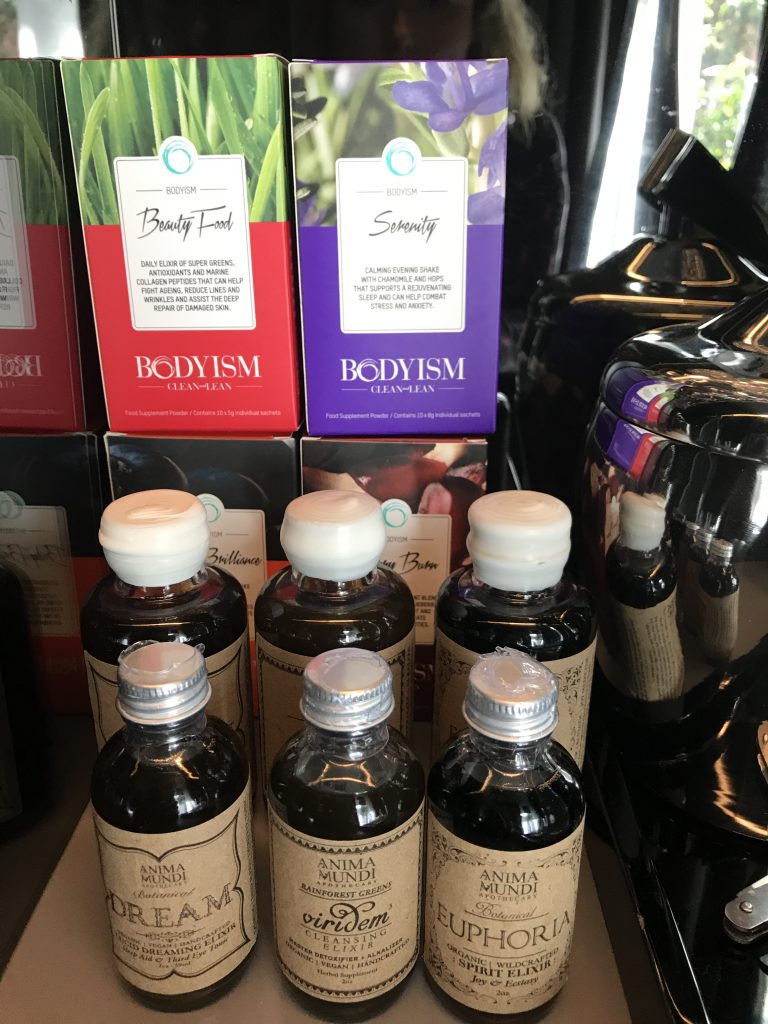 The main issue with the room was noise. There did not appear to be any soundproofing although with so much glass it would have cost a fortune. As it was a sunny day there appeared to be a permanent party in the courtyard area and there was constant noise. This was irritating during the day when I was trying to work but far worse at night when I attempted to sleep. Even with earplugs in I could still hear the noise and felt like I was trying to sleep in the middle of a party rather than a luxury hotel. I eventually fell asleep only to be woken at 1am by the noise still going on.
I also found the bed too hard for my liking so had a very bad night's sleep overall. For me, this hotel failed on the two most important basics for a room – quiet and comfortable.
The Bathroom
Like the room, the bathroom was pretty small in size but the shower was large and had a nice rainfall head. The toiletries were a good size and excellent quality with a light slightly fruity scent by Grown Alchemist.
Post from RICOH THETA. #theta360 #theta360uk – Spherical Image – RICOH THETA
I liked the bathroom as it felt luxurious with its marble floor and walls and I loved the underfloor heating and fresh flowers. The only thing I didn't like was the bathrobe that appeared to be made for a small child. It was possibly the shortest bathrobe I have ever seen in a 5* and barely covered the essentials!
Food and drink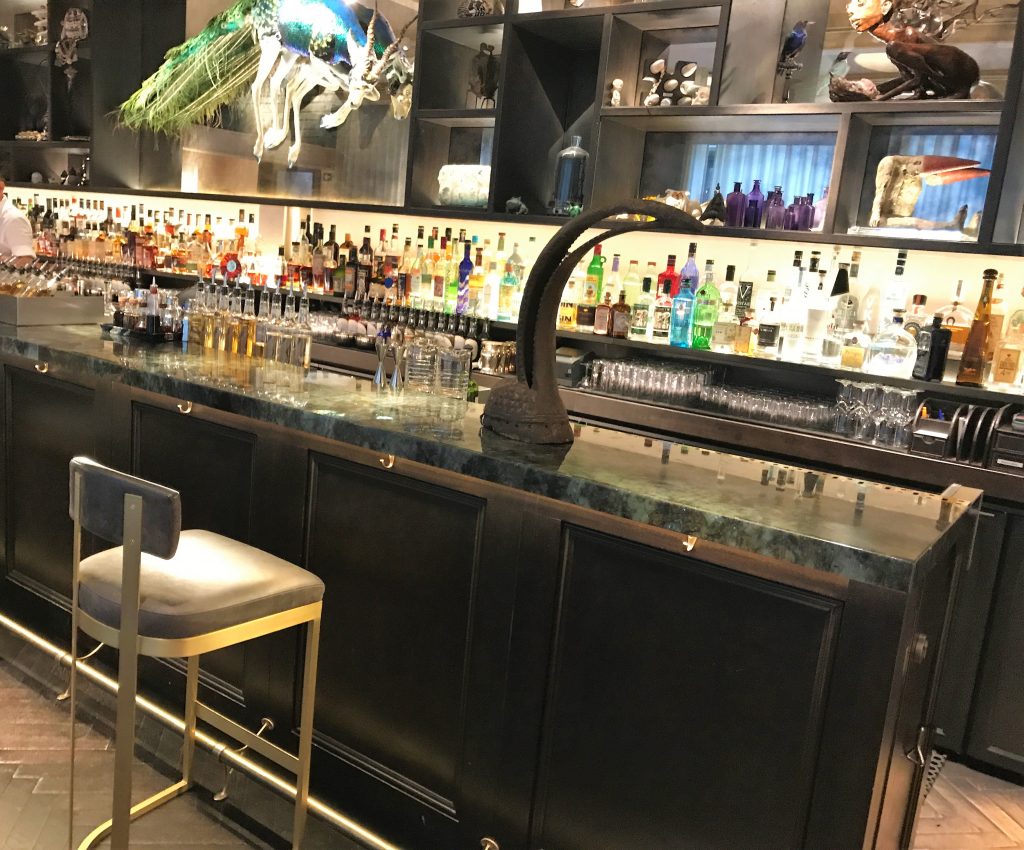 I felt like I didn't need to visit the bar as I could enjoy its atmosphere from the comfort of my own room! I would actually come back to visit the Waeska bar here though. As mentioned, there was an outdoor terrace for warm nights and inside there were lots of cosy areas as well as the main bar which had a DJ playing chillout music. The bar focuses on botanical-based house cocktails created by the expert team of mixologists with lesser known brands and ingredients.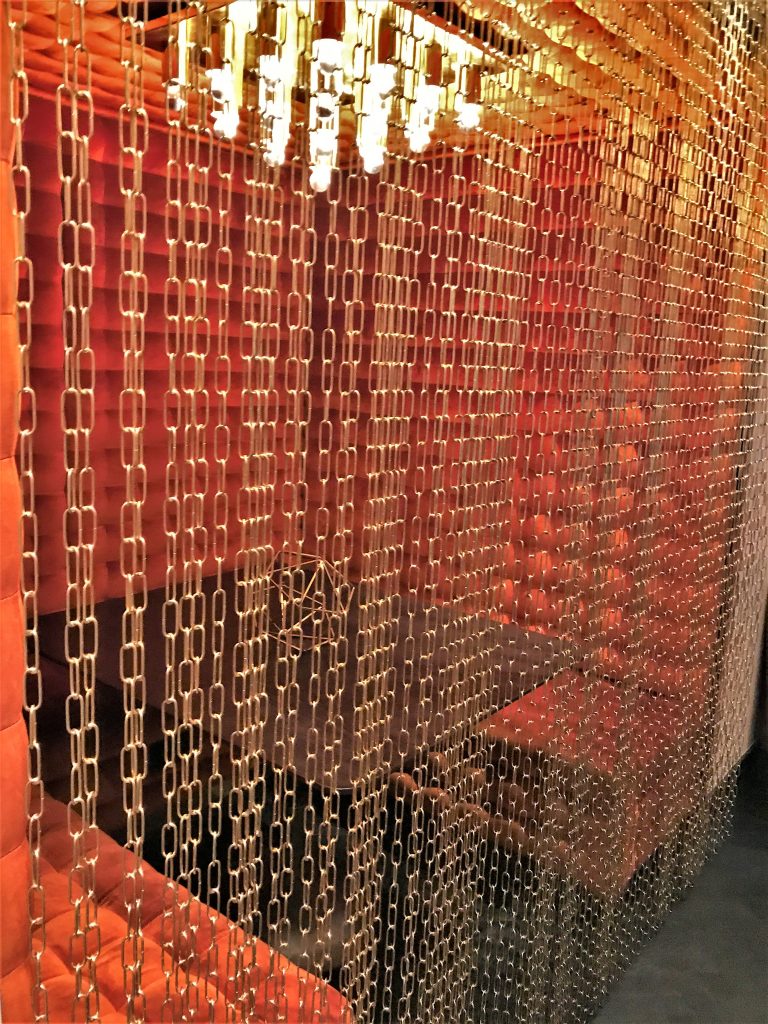 Guests have a couple of seating areas themselves – the outdoor area seen in the terrace photo above, where you can get drinks and another enclosed space like a conservatory.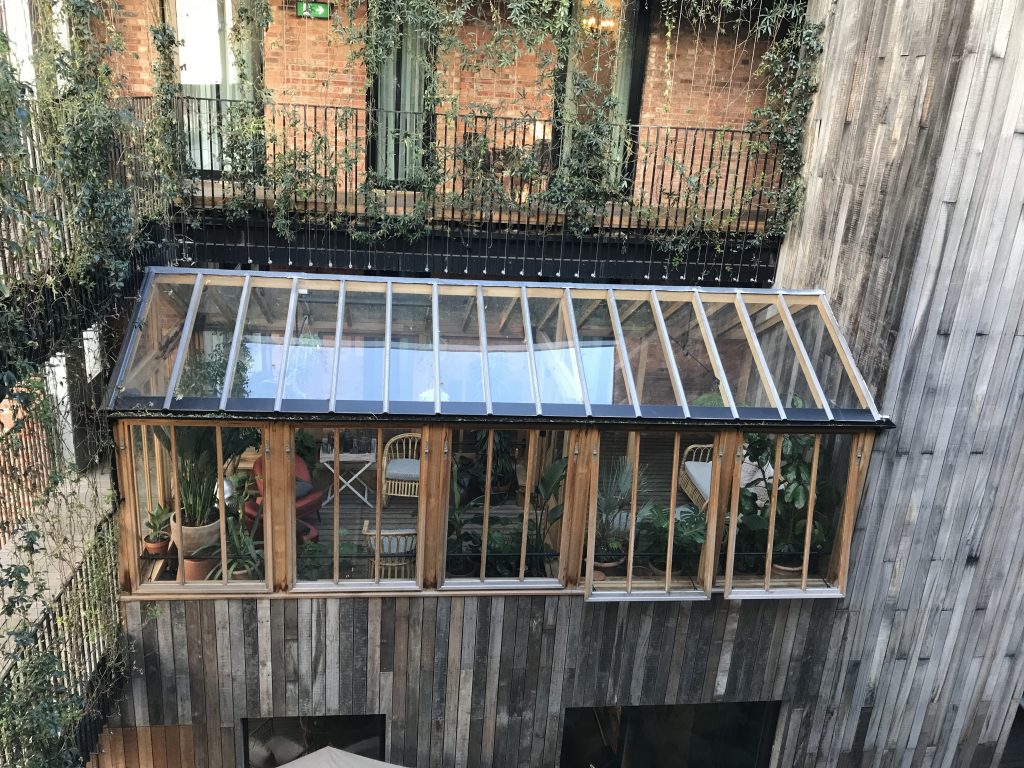 Breakfast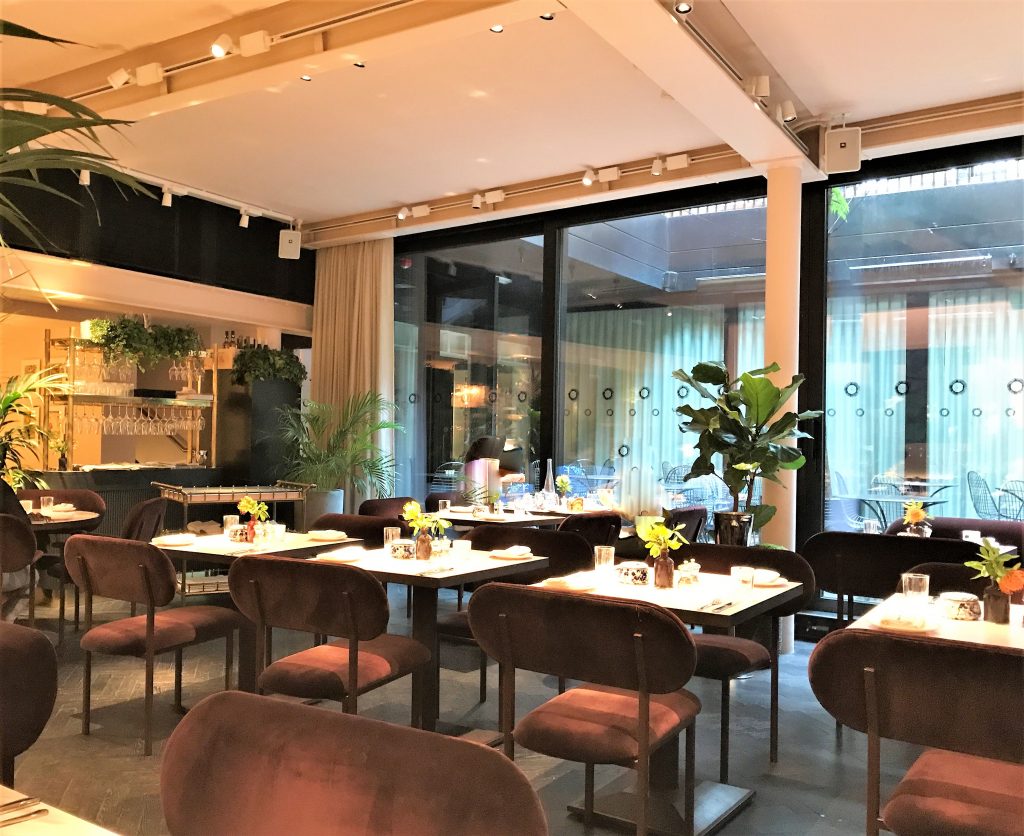 Full English breakfast was included in my room rate but the menu wasn't very clear in what you could order on the inclusive rate. I was later told that it was a main course, juice and hot drink. In fact, I didn't get charged for any of my breakfast which was good. I thought the menu had a great selection of dishes to choose from: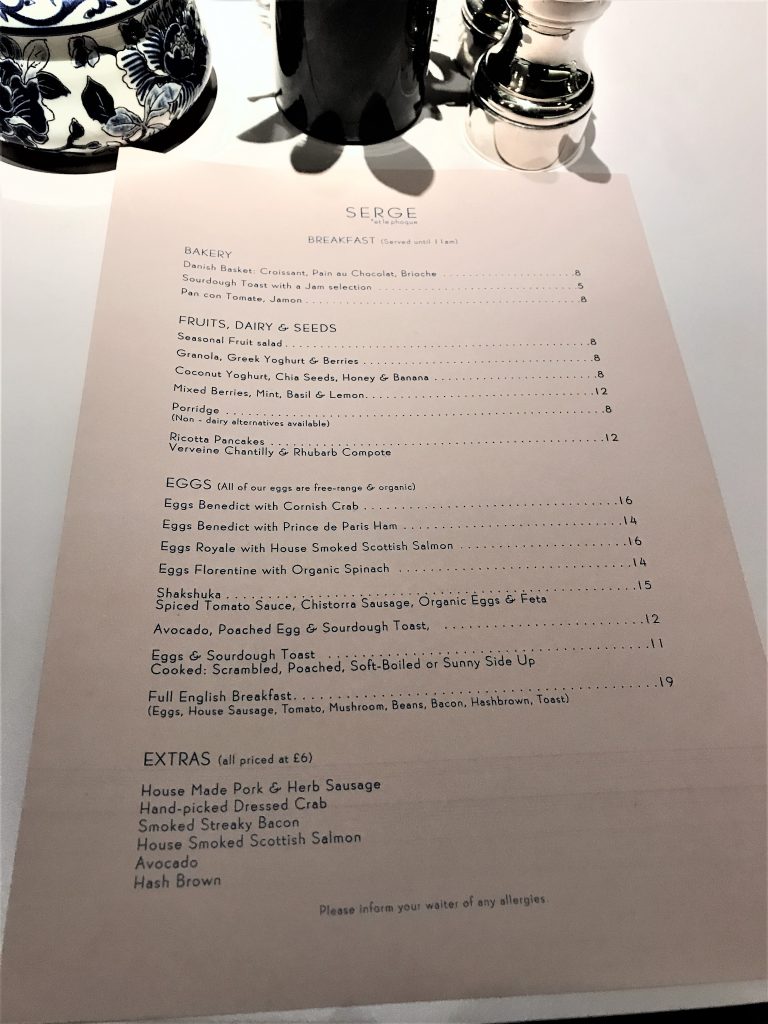 I ordered the fruit to start which came with Greek yoghurt too.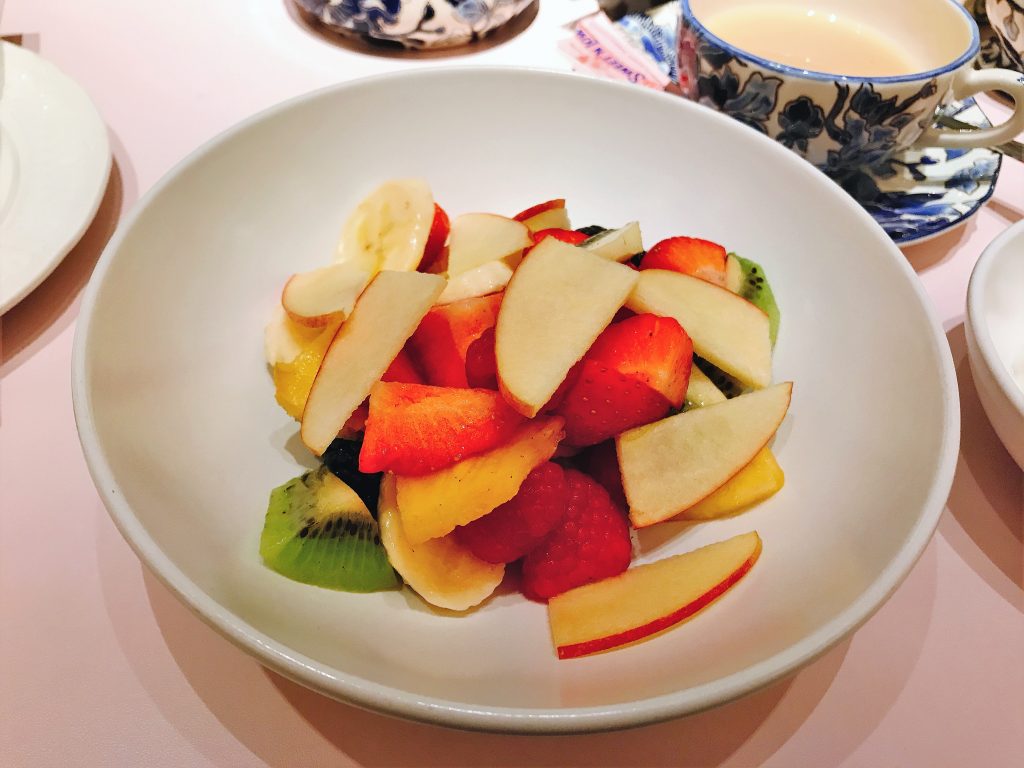 Next, I had my staple avocado toast with poached eggs which was great – mashed and sliced avocado on chunky crusty toast with plenty of seasoning.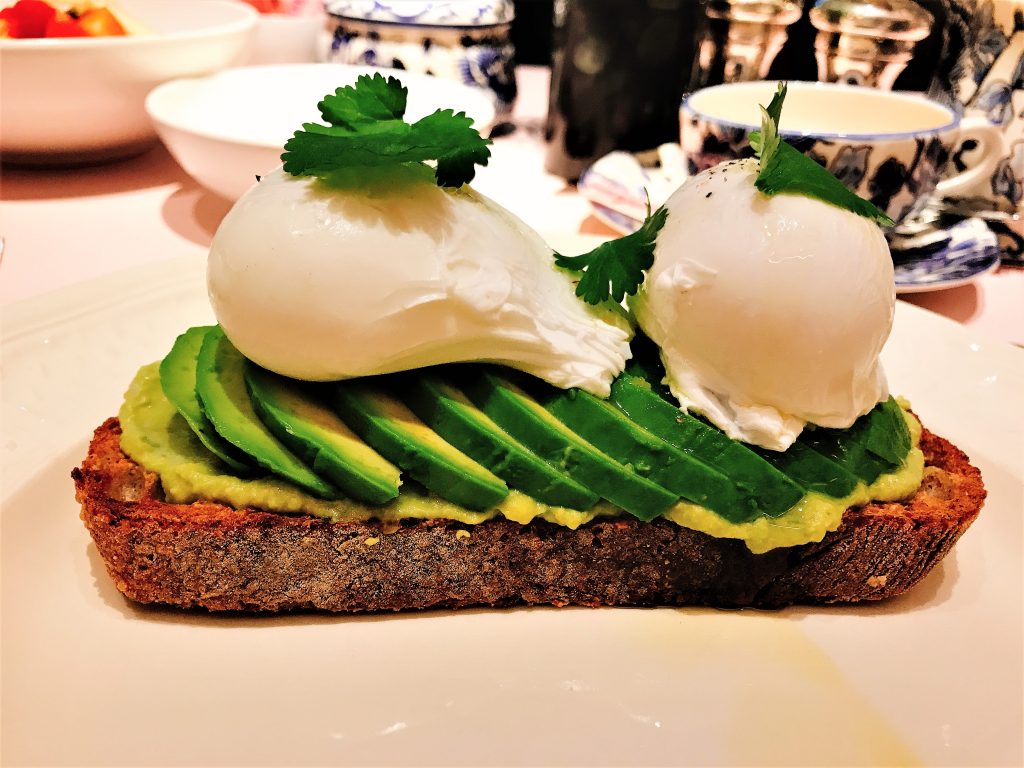 Everything about breakfast was high quality from the fresh flowers and great service to the food itself. I liked the tea service too with proper loose leaf tea.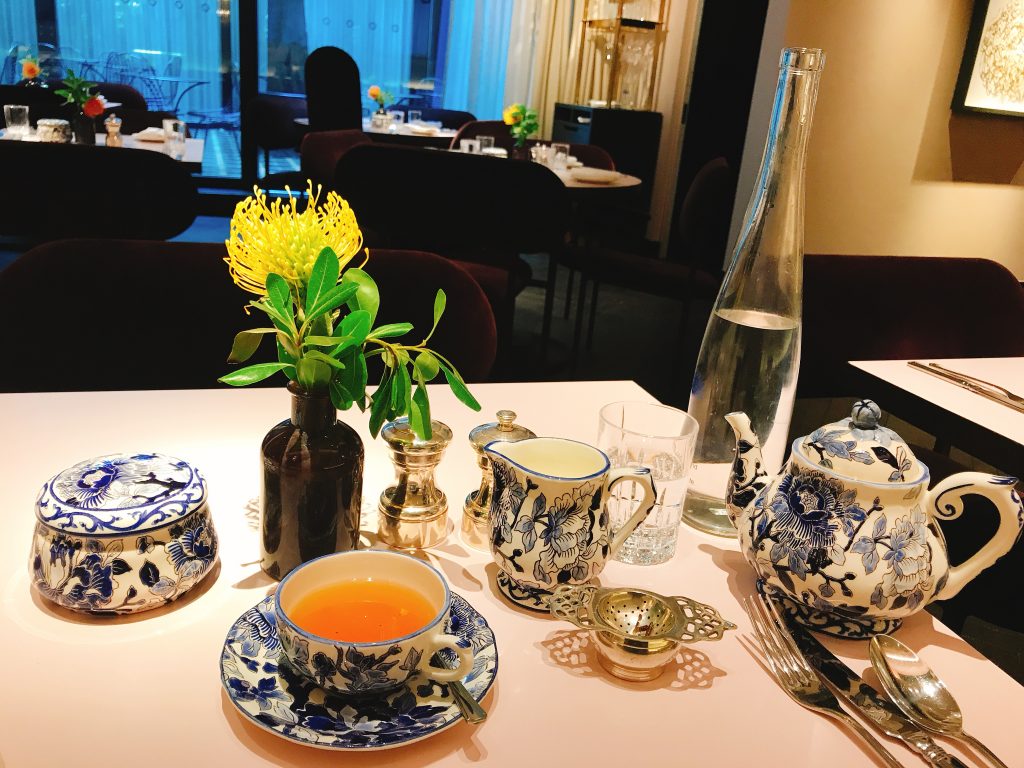 I would return to try the Serge et le Phoque French restaurant for dinner based on my breakfast. The restaurant comes from the original Michelin-starred Hong Kong restaurant Serge et le Phoque.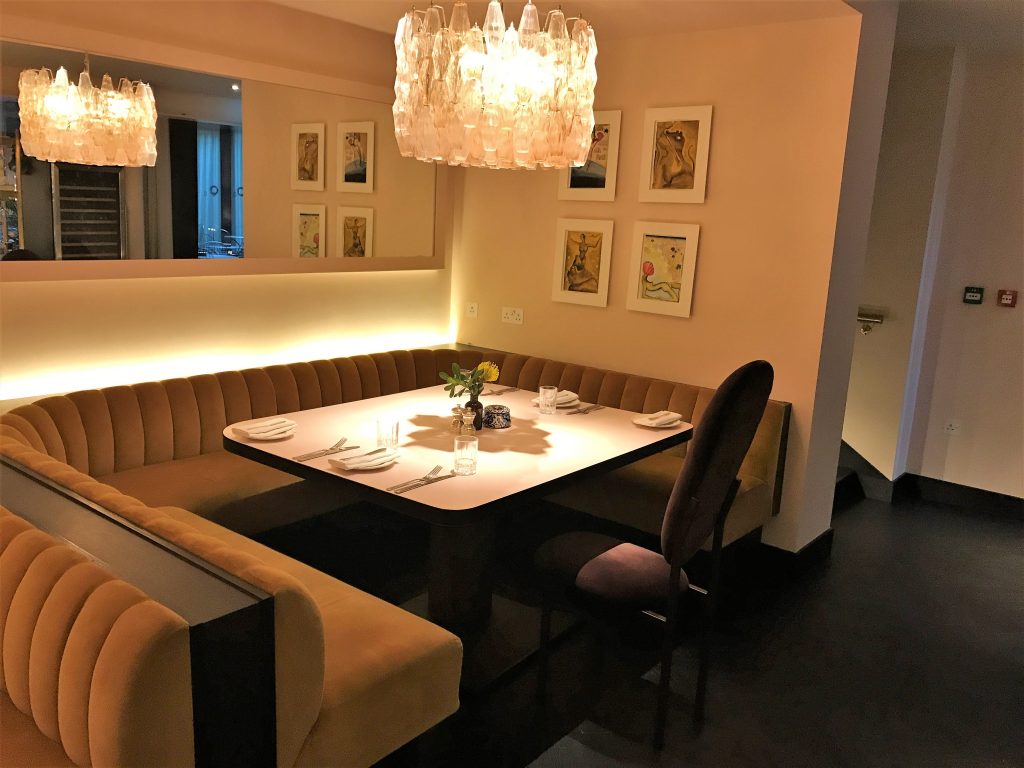 Facilities and services
In a simple answer, there aren't really any. There is no gym, pool or spa. They do have a therapist available who does all the latest new age treatments which you can book. These include Lomi Lomi massages and reiki. They also have group wellness sessions such as the weekly gong baths with Tibetan singing bowls if that is your thing. They don't have a concierge as such but the front desk staff were very helpful for this.
Conclusion
I paid £289 via Secret Escapes including their £10 booking fee. This hotel was not for me and I suspect that I am not their target clientele. However, judging from the amount of times I have seen it on Secret Escapes perhaps they need to rethink their market! Virtually all the guests I saw were my age or older.
The hotel was beautifully designed and the vast majority of the staff were excellent, particularly Henry and the two doormen. I liked my bathroom but that was about all I can say in a positive way about the room. I would come back here to eat or have a drink though. However, if you are young or likely to be out most of the night (or in the hotels' bar) and don't mind a firm bed then this could be for you if you can find a reasonable rate such as on Secret Escapes. All I can say is that it was with some relief I retired to The Corinthia and its wondrously comfortable bed and peace and quiet for the next night!
You can find more details and book The Mandrake here.