The Marylebone Hotel London is part of the Doyle Collection of luxury hotels and had been on my list for quite some time. The Doyle Collection has several well-known luxury hotels including the Westbury in Dublin and the Bloomsbury in London which is home to the famous Dalloway Terrace that I have mentioned before.
The Marylebone has a great bar and outdoor seating area which I had visited that had piqued my interest. So when I needed to stay near that area and there was an American Express money-off offer it seemed the perfect time to stay.
Location
Location, location, location would sum up The Marylebone. Marylebone is one of my favourite areas of London. Despite its central location it still manages to retain a village feel and is packed with independent shops, bars, and restaurants with pavement seating. It is also only minutes from Mayfair and the shops on Oxford Street. The nearest tube is Bond Street which is 6 minutes walk away or Baker Street is 13 minutes away.
Check-in at The Marylebone Hotel
The entrance to the hotel is small but quite glitzy with its flags and Hollywood-style light strewn canopy. The reception area is smart but a little underwhelming compared to bigger hotels, but that's probably the least important thing for me in a hotel. It has an art deco feel in the lobby which blends with the Cocktail bar's decor.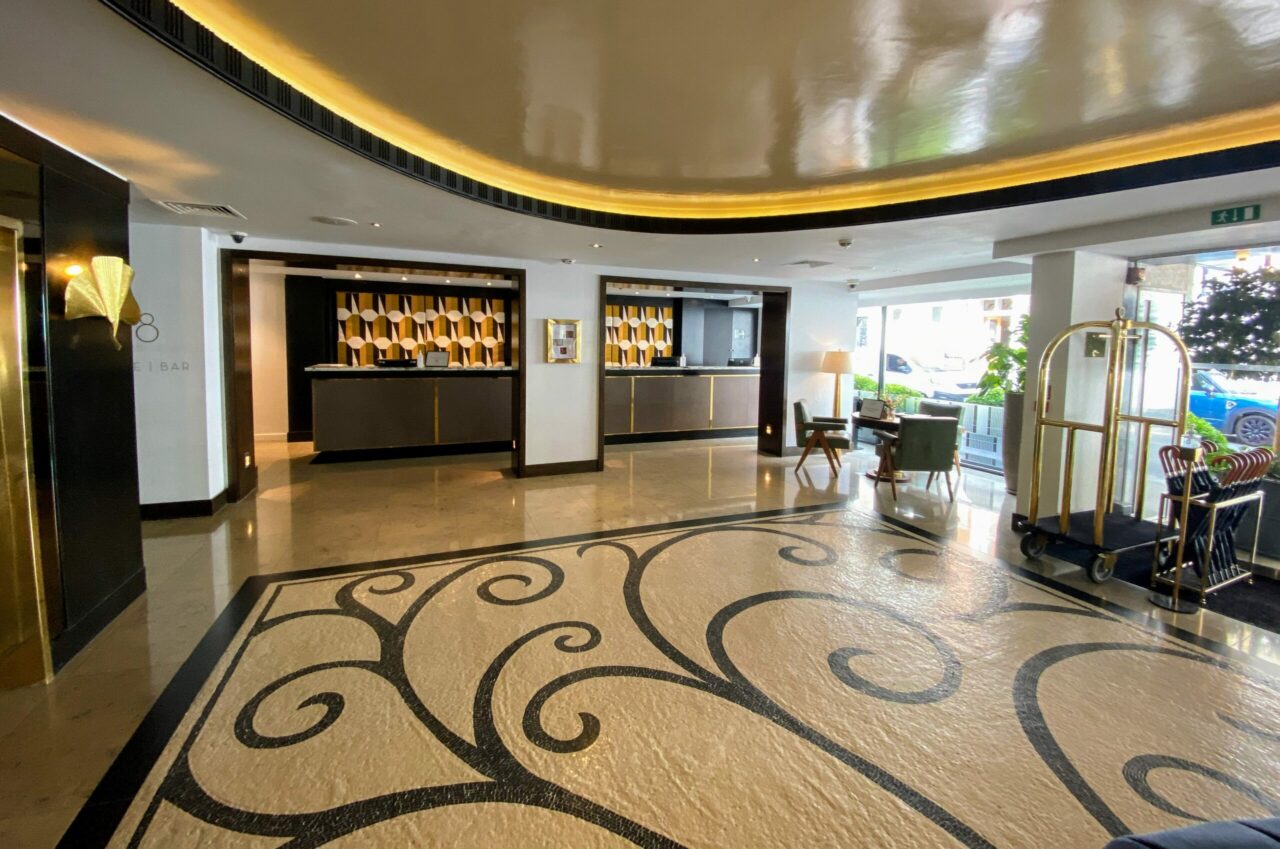 The check-in staff were always friendly during my stay and gave all the information you would need to make your stay comfortable. Prior to my visit, I was sent a preference form asking for things like any special services I wanted such as early check-in and if I had any dietary requirements.
The Marylebone Hotel Room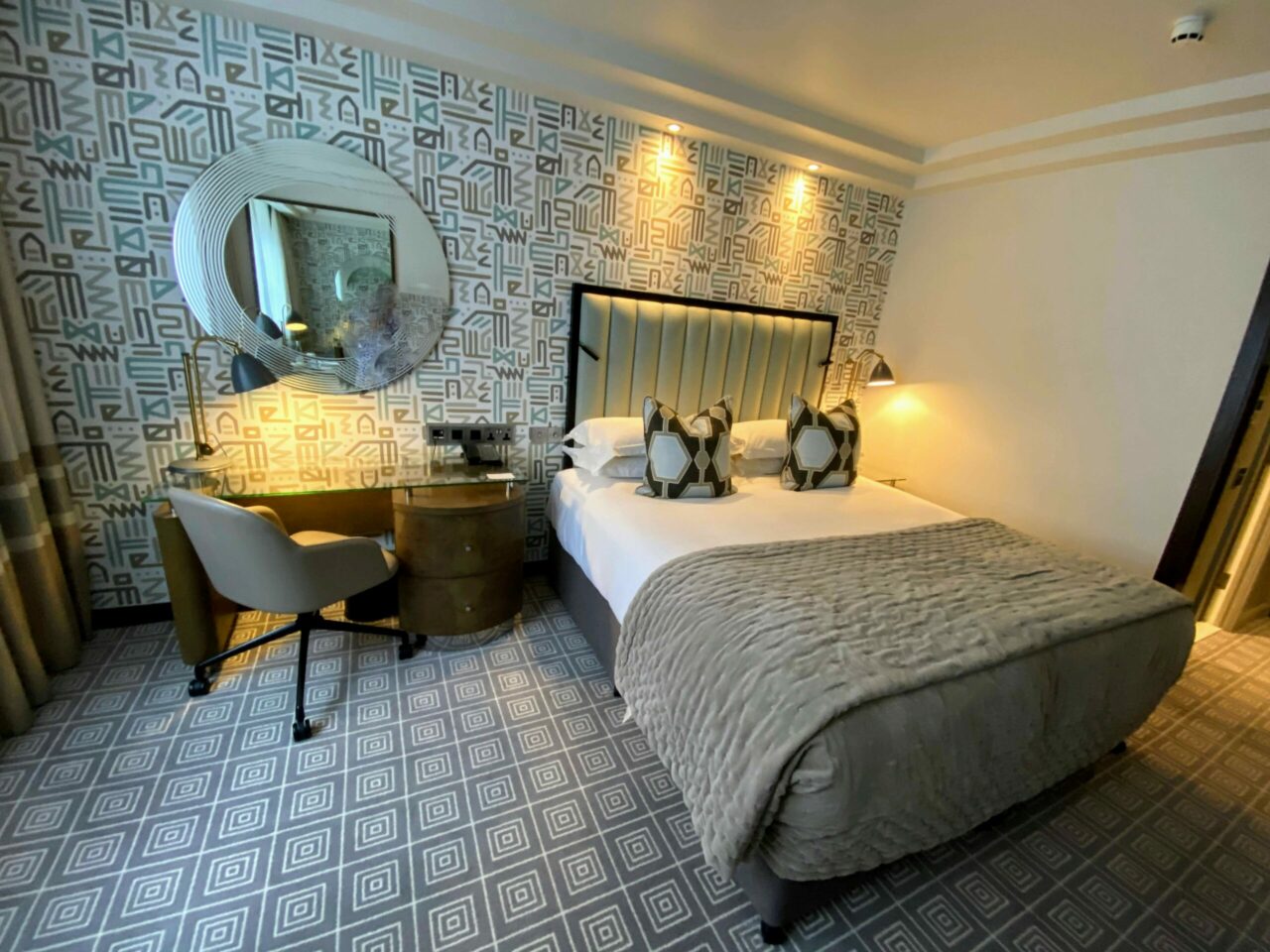 I had booked a Deluxe 1 King bed room. My first thought when I entered was that I liked the decor but the bathroom was very small. This is often the case in London and to be honest when I am travelling on my own it's not an issue. If I had been in a couple I would have probably have thought about upgrading. Fortunately, fate interned later in my stay and I had to move to a larger room. But let's look at the Deluxe room first.
Deluxe King Room
The Deluxe King is the highest category of room before you get into a junior suite. At 24sqm the room itself isn't small but the bathroom definitely felt a bit cramped. The room itself felt spacious enough and I loved the decor. It managed to convey a feeling of luxury but also of being cosy and welcoming which is a difficult balance to strike.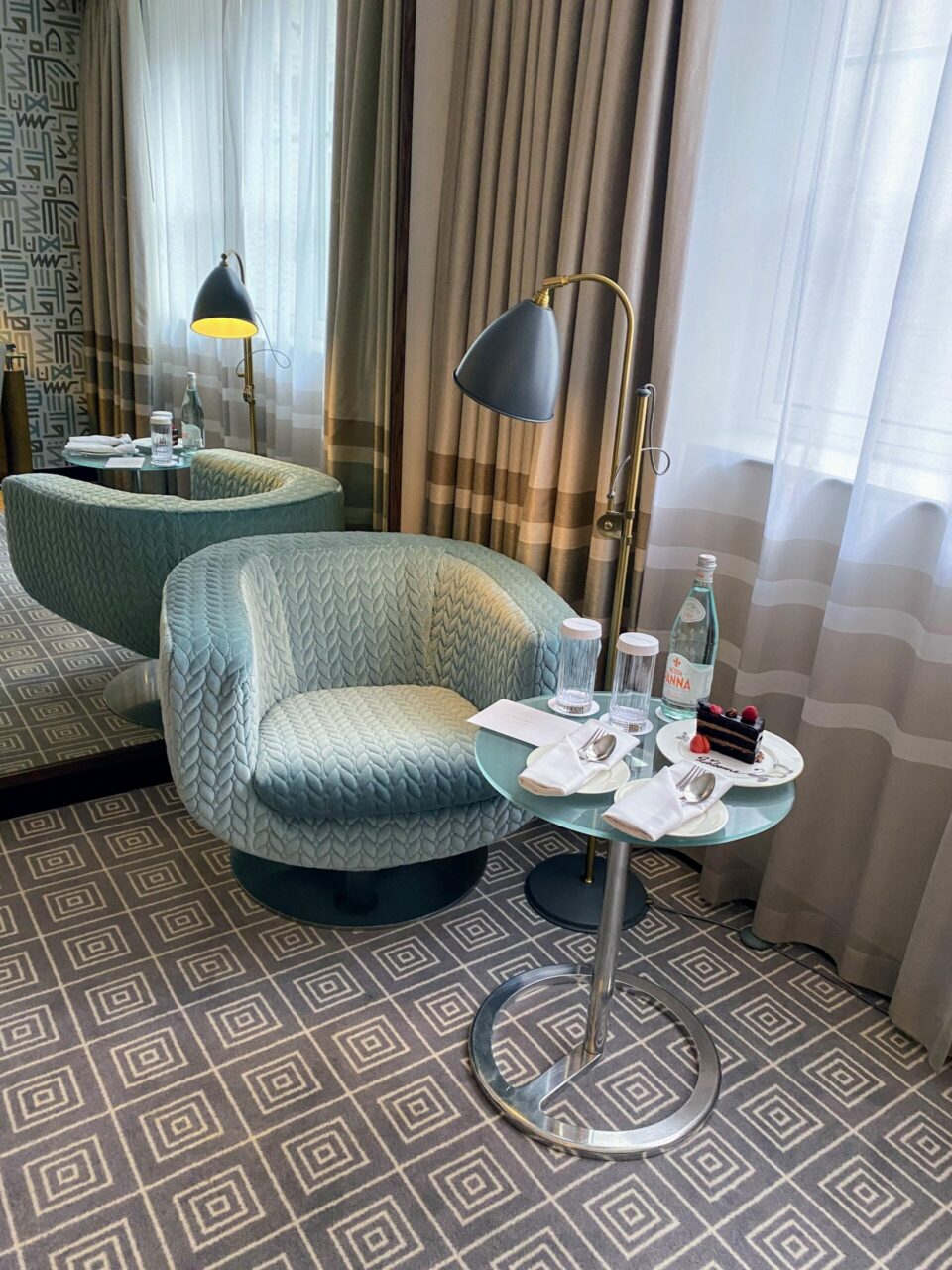 With its pastel color scheme, it felt light and airy but modern as well. I particularly liked the gorgeous cable knit look armchair in a lovely pastel turquoise. I was staying for my birthday and the hotel had sent a cake to the room which was a nice gesture. Water was provided in the room along with an empty fridge, kettle, and a Nespresso coffee machine. I liked the pull-out table beneath the coffee area to give you a bit more room to prepare your drinks.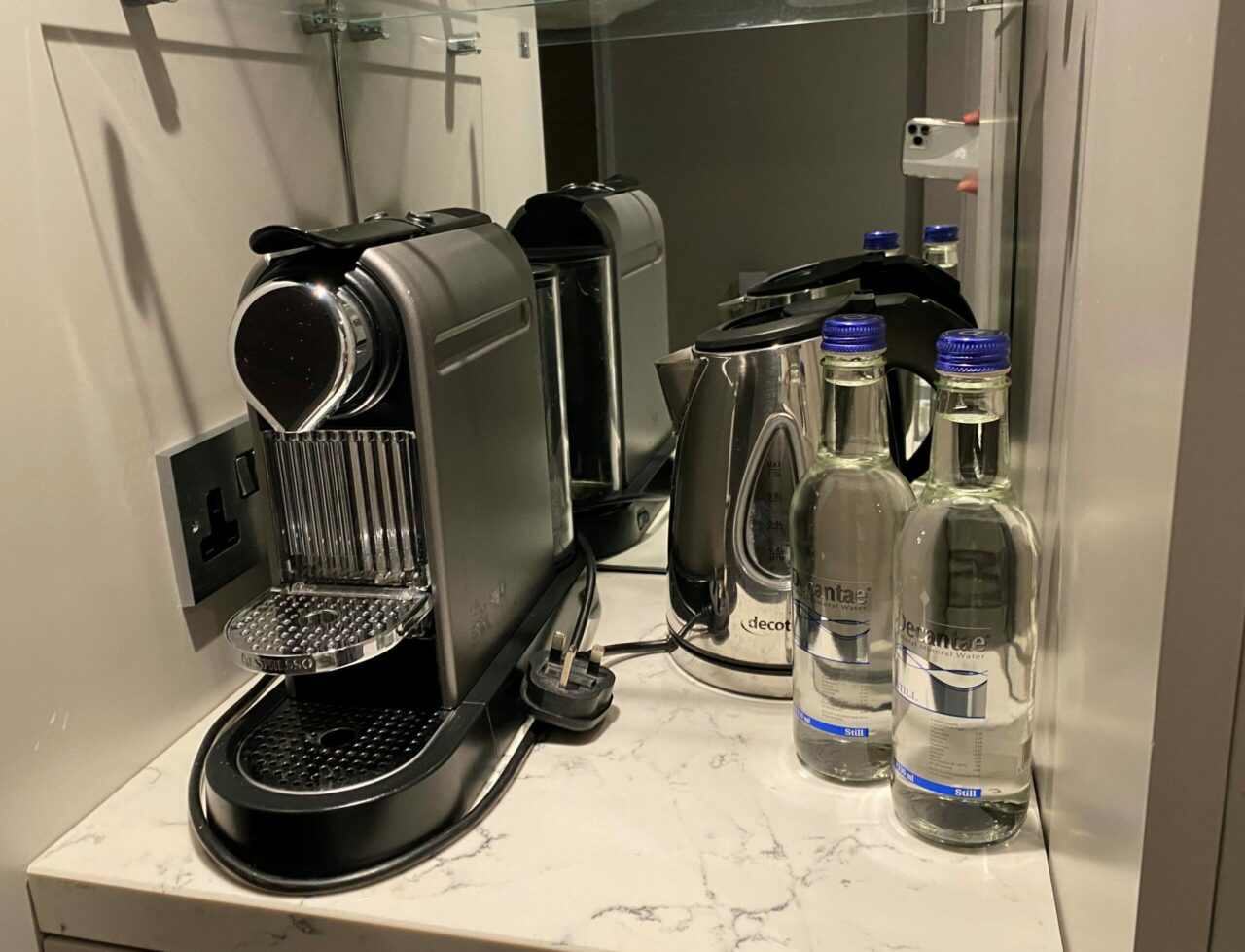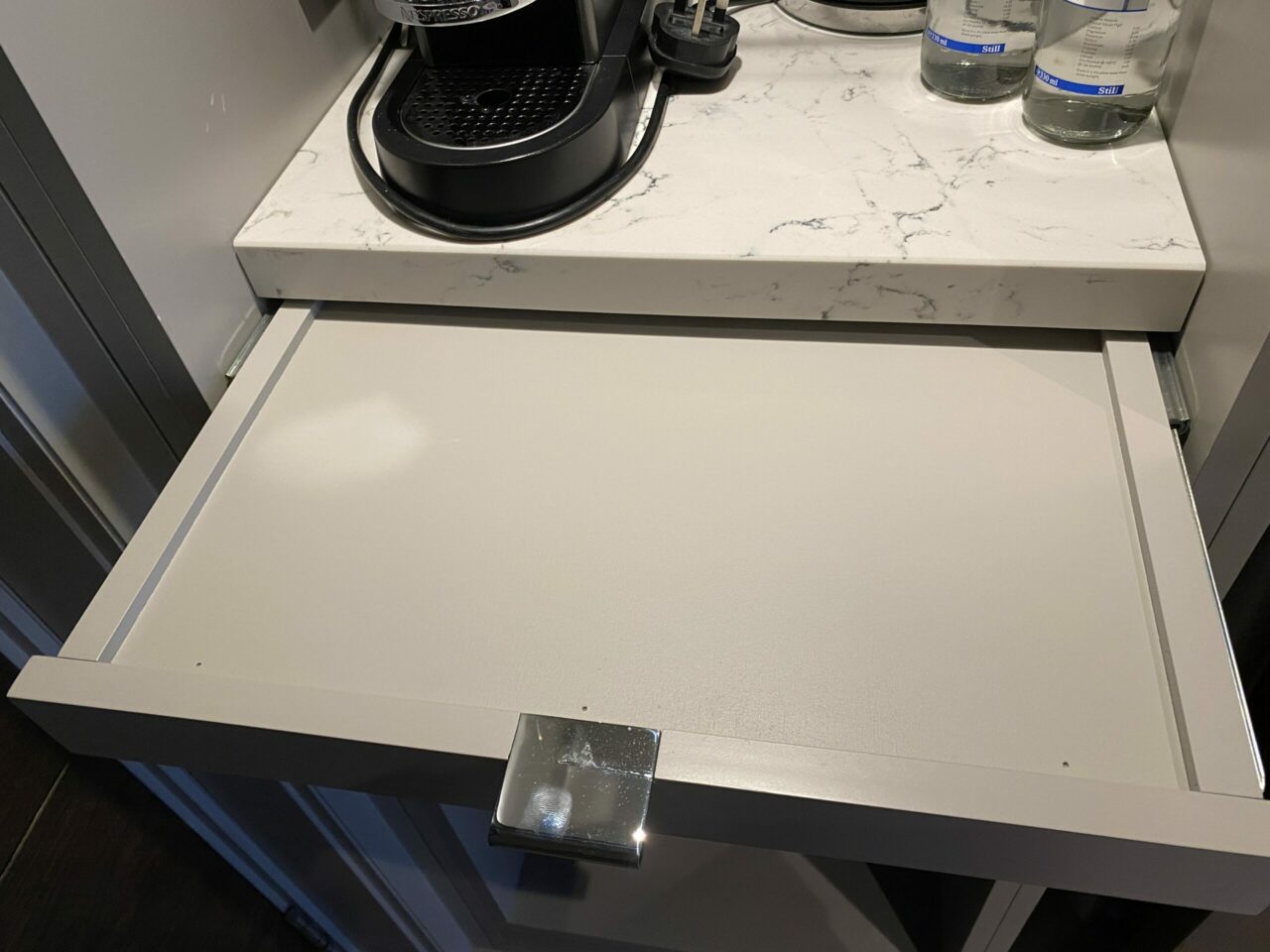 The room came with a modern 55″ TV with Chromecast which I love having in hotels so I can stream a little Netflix for my bedtime winddown routine. (though perhaps not Squid Games!). I liked having the chest of drawers underneath as it was useful for unpacking a small suitcase and the drawers were handy. In the hallway, there was also a completely mirrored wardrobe with the usual 5* amenities such as slippers and a safe.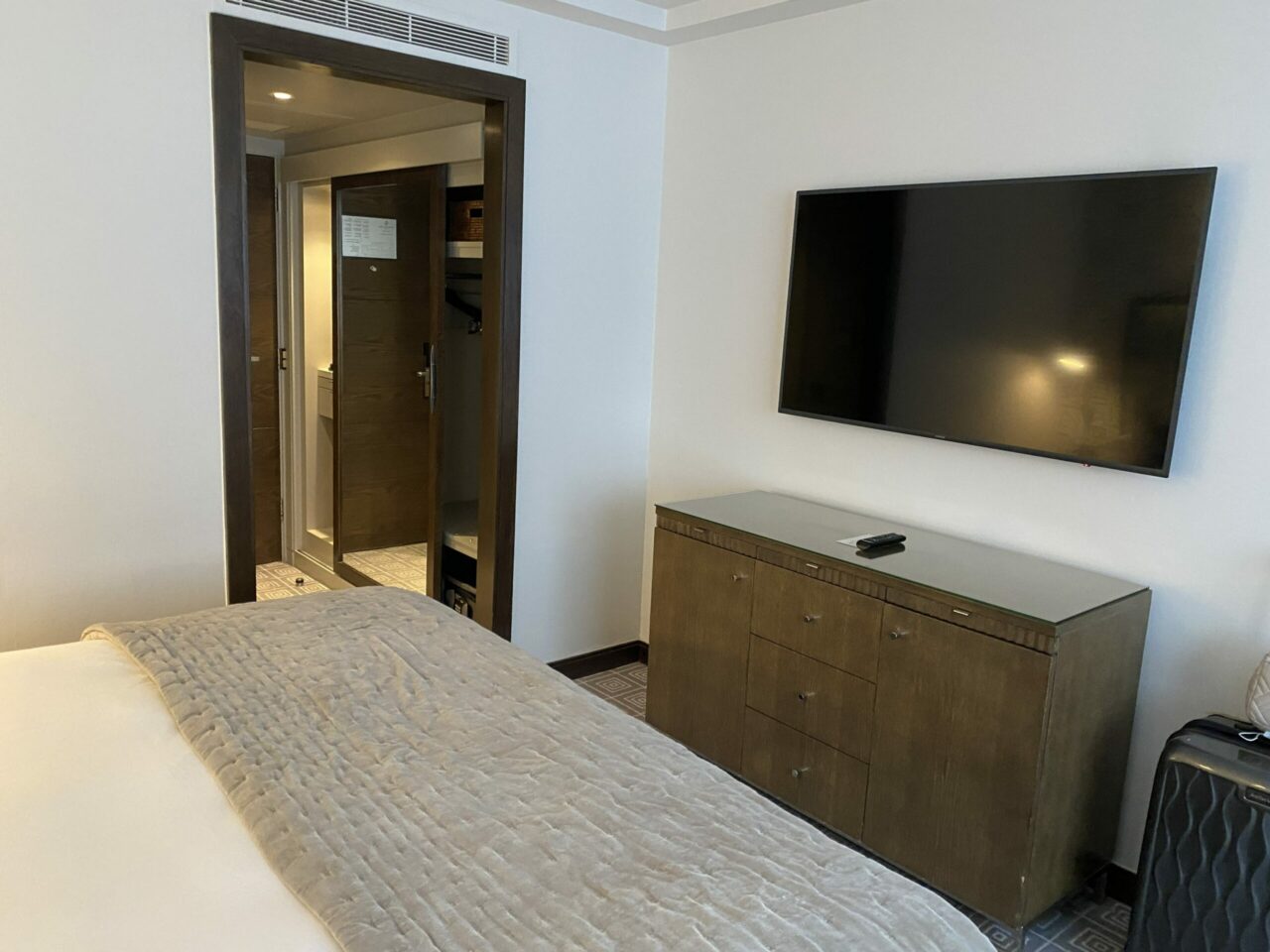 The bed felt on the firmer side but was comfortable and most importantly the room was quiet with little outside noise. There was a handy desk and mirror for working or doing your hair which also served as a bedside table on one side. This allowed you to use the bank of power points to charge your devices and still reach them from the bed. The air conditioning was pretty fierce so it would easily cope with summer heat.
The Marylebone Hotel Bathroom
The bathroom was the only real issue as you had to squeeze round the door once you were in, in order to shut it. It was opulently decorated in Italian marble and came with one of my favorite toiletry brands Malin and Goetz. Being fond of a drink or two, I absolutely adore the rum scented shower gel that came with the room. If you haven't tried it, it's available here. Don't worry it doesn't make you smell like an alcoholic! There was also the Vitamin D body cream, Cilantro conditioner, and mint shampoo.
The shower over the bath came with a built-in shelf to store your toiletries which was handy. The vanity unit around the sink was also spacious enough to allow you to have all your essentials close by. Another of my favourite things in hotel bathrooms was also a feature – a heated floor. It wasn't quite so much an issue in September when I visited but there's nothing like a heated floor on your bare feet in the winter!
Big fluffy white towels and robes completed the luxury feel of the bathroom. It had everything you need, it just felt that everything was squashed in.
The Marylebone Hotel Studio Suite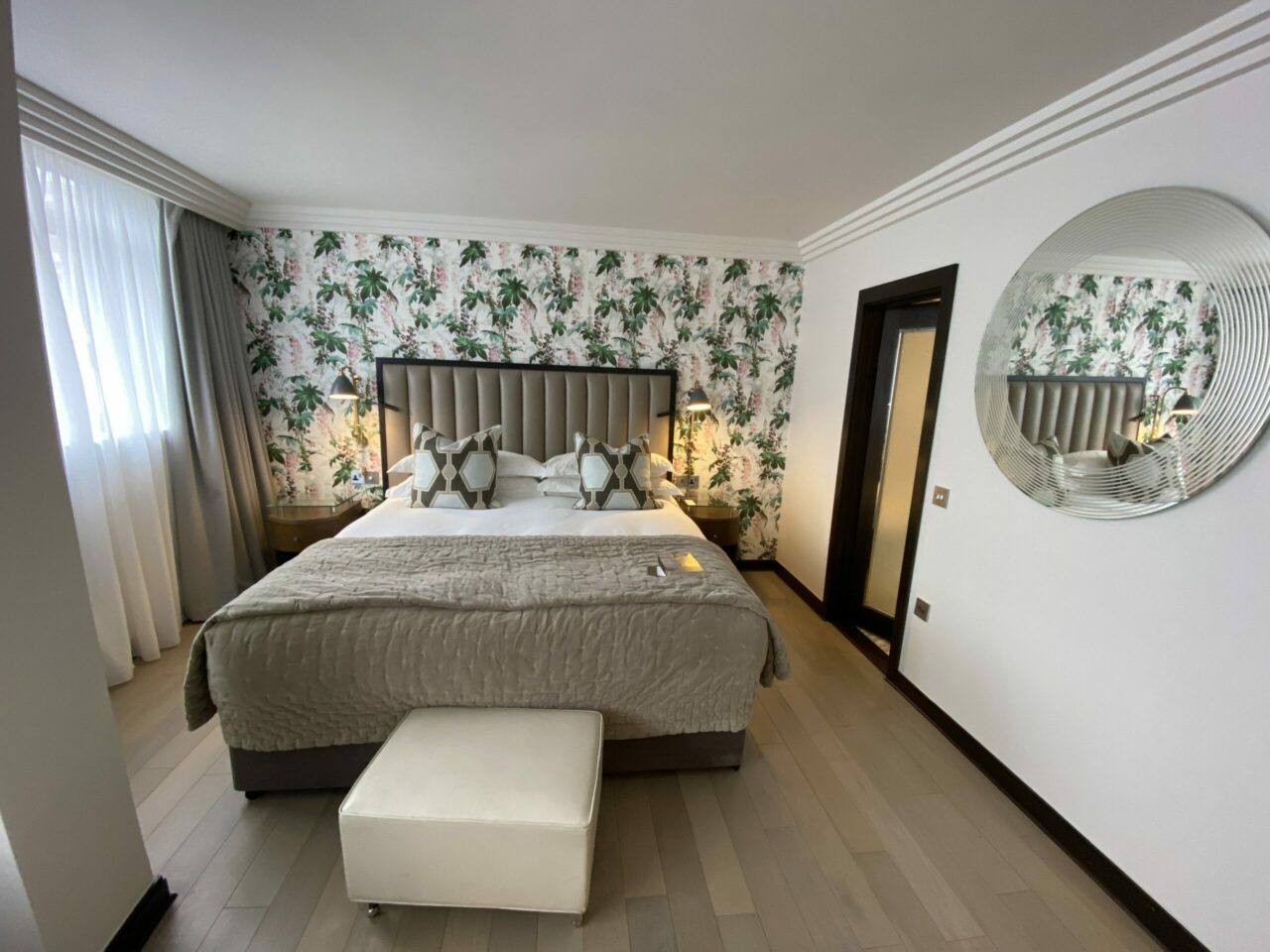 The next morning I was informed by reception that they were having some issue with the plumbing on my floor and would I mind moving to a Studio Suite? Well, that took a nanosecond to decide the answer!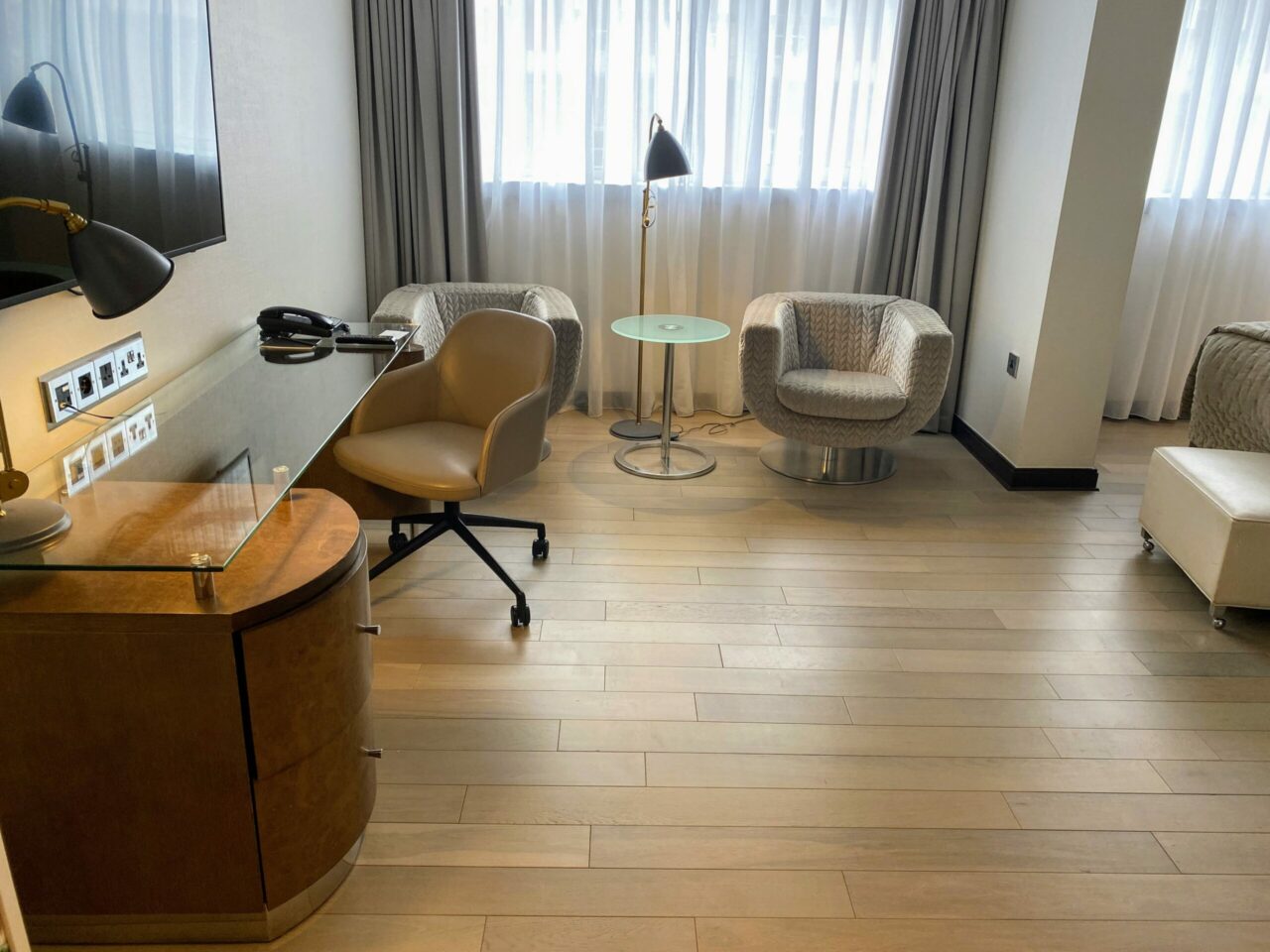 The next room was definitely large at 30 sqm and unless you want a proper suite for some reason, this would be my room of choice. It had a very similar layout but was larger and had a seating area by the window with the same knitted chairs. The decor was similar – very English in feel but luxurious and homely.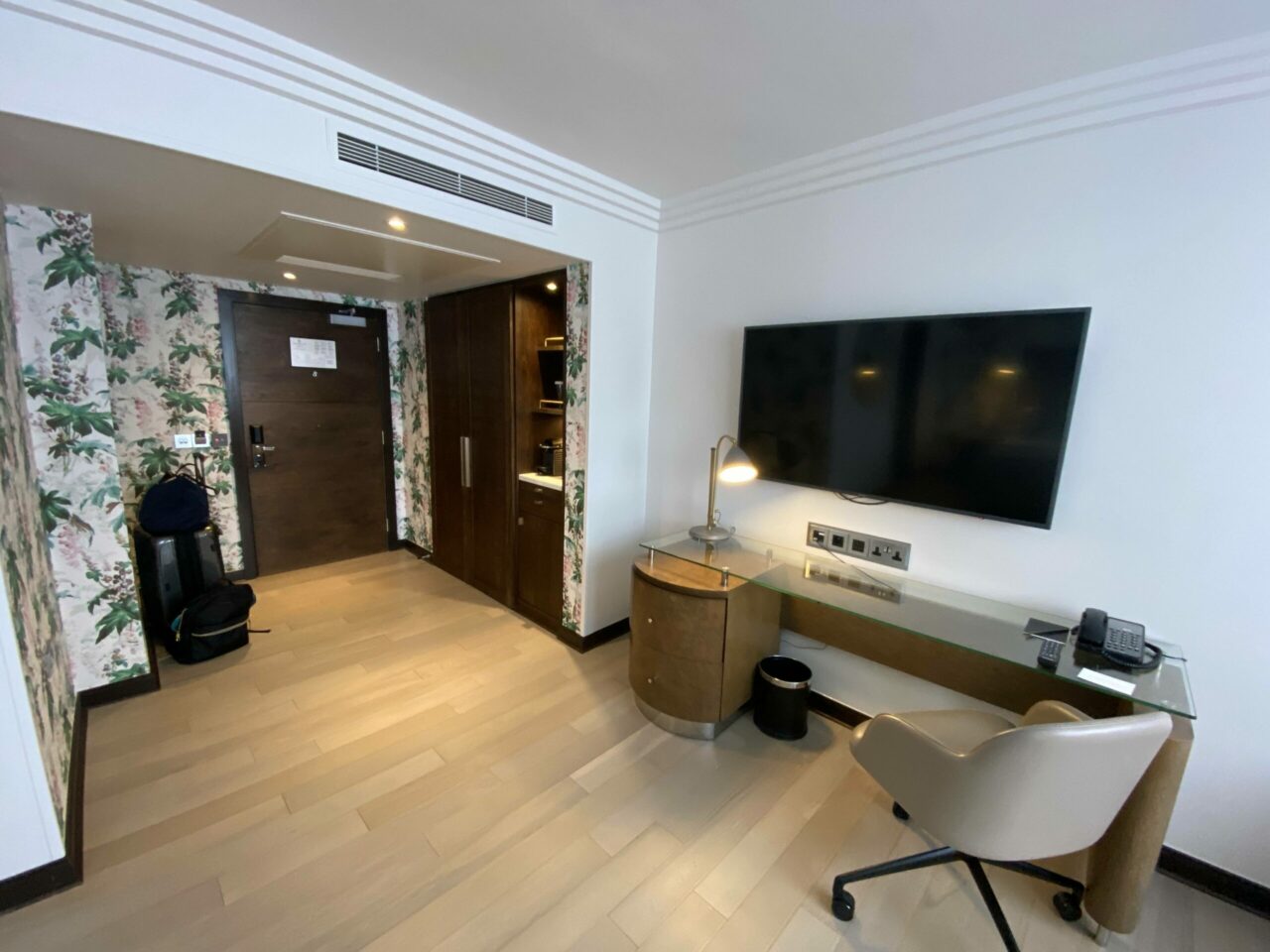 The desk was slightly different in that it was under the TV but that was the only main difference in the layout. You get VIP turn down and fresh fruit with suites. The only complaint I had was that the bed and ottoman by the end were both on wheels and I ended up chasing after them as they slipped away from me sometimes!
Bathroom

The bathroom was the major difference as it was probably about double the size of the last one with a separate bath and a rain shower. This is definitely my idea of a luxury hotel bathroom. Even better – there were two sets of the Malin and Goetz toiletries! The shower pressure was great and the bath was big enough for a proper soak. Having the drawers underneath the main sink and vanity was very useful if you like to keep things tidied away. Again it had lovely heated floors and there was also a lit magnifying mirror which is another of my expectations for a luxury hotel.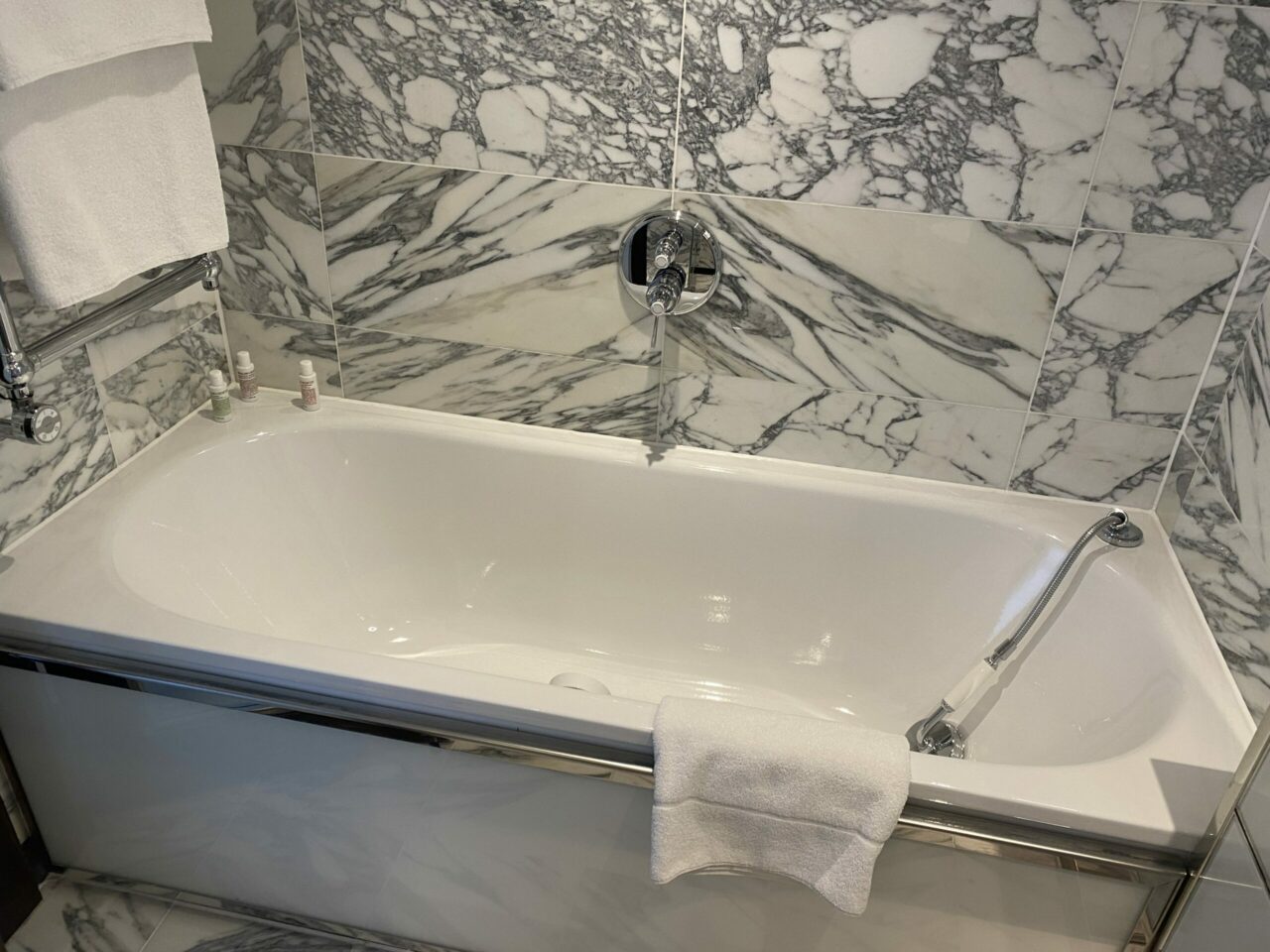 The Marylebone Hotel Terrace Suite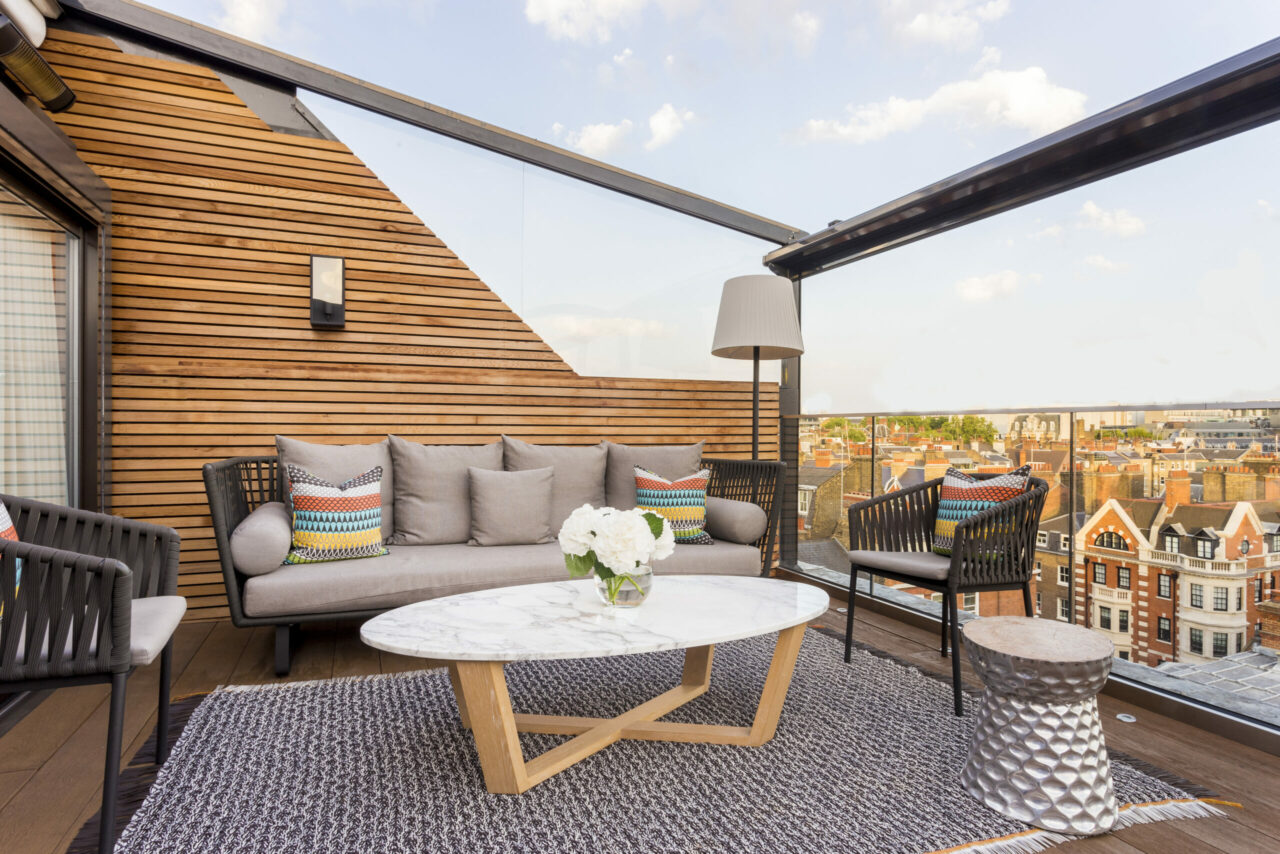 If you really want to splash out the room to have is the Terrace suite with its amazing covered terrace that has a fireplace and TV built into the wall, comfy armchairs, and a slate and cedar wood décor.
The Marylebone Hotel Food and drink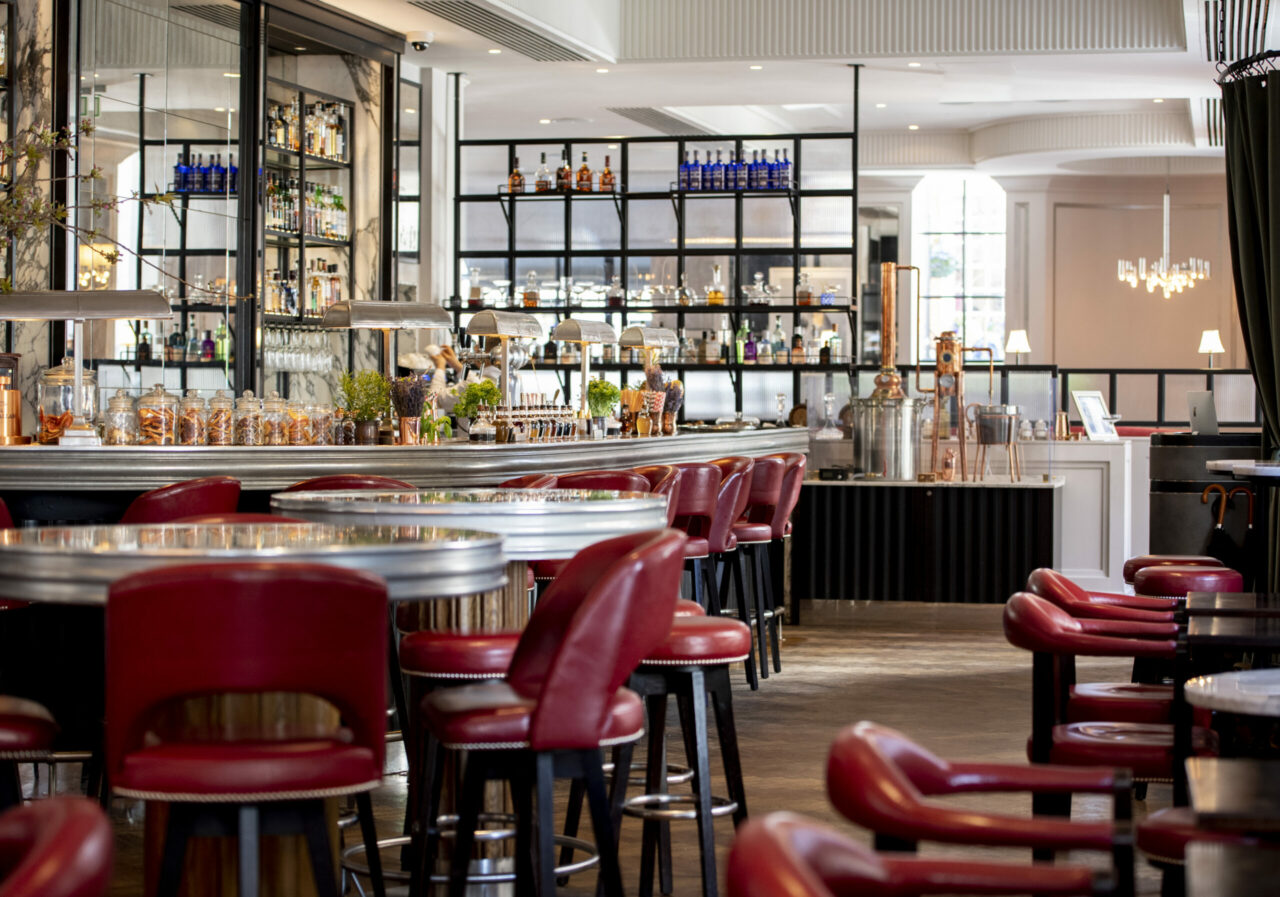 The hotel also has a lot to offer in terms of food and drink. As I mentioned before, it's worth a visit for a cocktail or drink even if you aren't staying as I have often done. It's particularly lovely in good weather when you can sit outside and in a quiet pedestrianised area with a bit of people watching. Though I remember one time in December Paul and I ended up freezing our butts off outside for the sake of having one of their cocktails. Brrrrr!

108 Brasserie

The main attraction is the restaurant – 108 Brasserie which is set on the cobbles of Marylebone lane and can be accessed from outside the hotel as well as through the main entrance. This is where you have breakfast. There are two main parts of the 108 area – the bar and the restaurant. They have an all-day menu after breakfast but at weekends they do brunch which looks great with everything from Turkish eggs or fluffy pancakes to crab linguine or steak tartare.
This year they are even doing a Thanksgiving dinner on Thursday 25 November. The feast will have all the traditional favorites like turkey, sweet potato mash, and pumpkin pie and costs a very reasonable £45.
The Marylebone Hotel Breakfast
There's a small buffet of high-quality pastries, cereals, fruit, and yogurts but the main event is via the a la carte menu.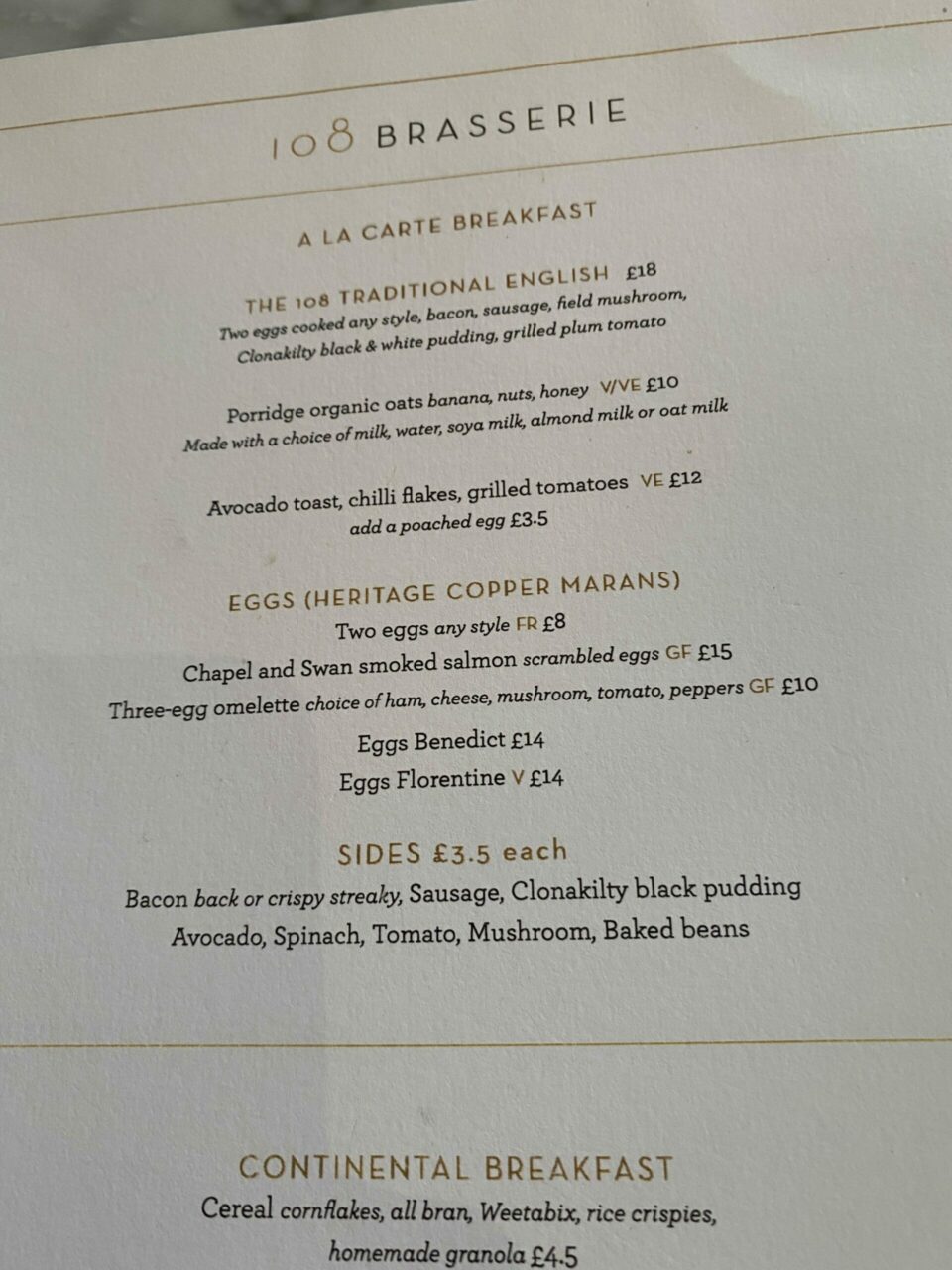 There was a decent choice with some of my favourites like eggs benedict and avocado toast. Of course, there was also a full English or if you wanted something a bit healthier there was also a porridge option with a choice of milk including soya. Staff were attentive as well as friendly and the coffee was great. Toast was also brought to your table.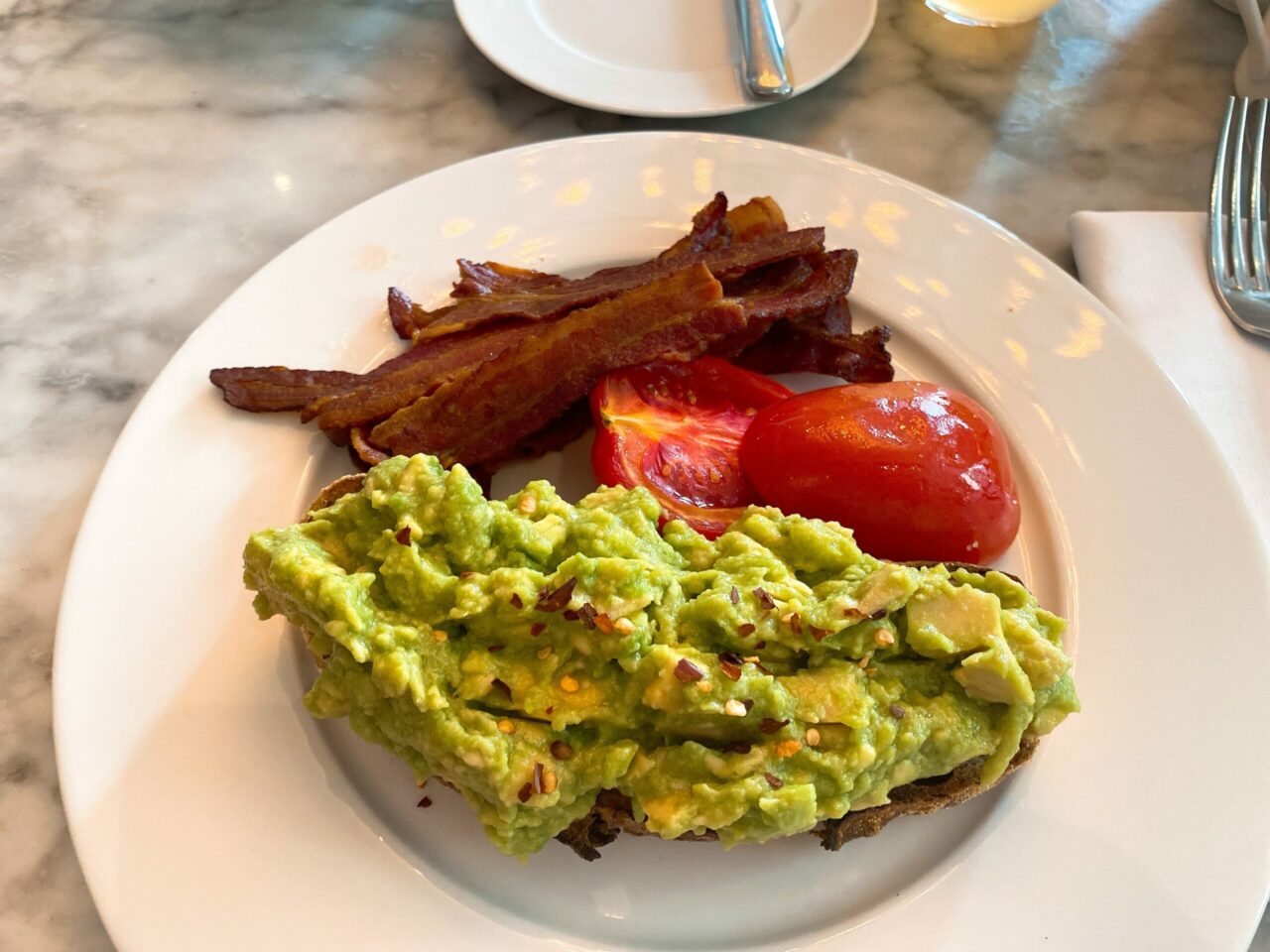 I, of course, had the avocado toast which I really enjoyed. The texture of the avocado was just right as sometimes it can be too mushed up and the addition of the chilli flakes saved it from being bland. I also really enjoyed a side of crispy bacon and grilled tomatoes that came with it. It felt like there was a lot of attention to detail to make everything perfectly.
The other days I just had the continental as I was eating out a lot and didn't need much.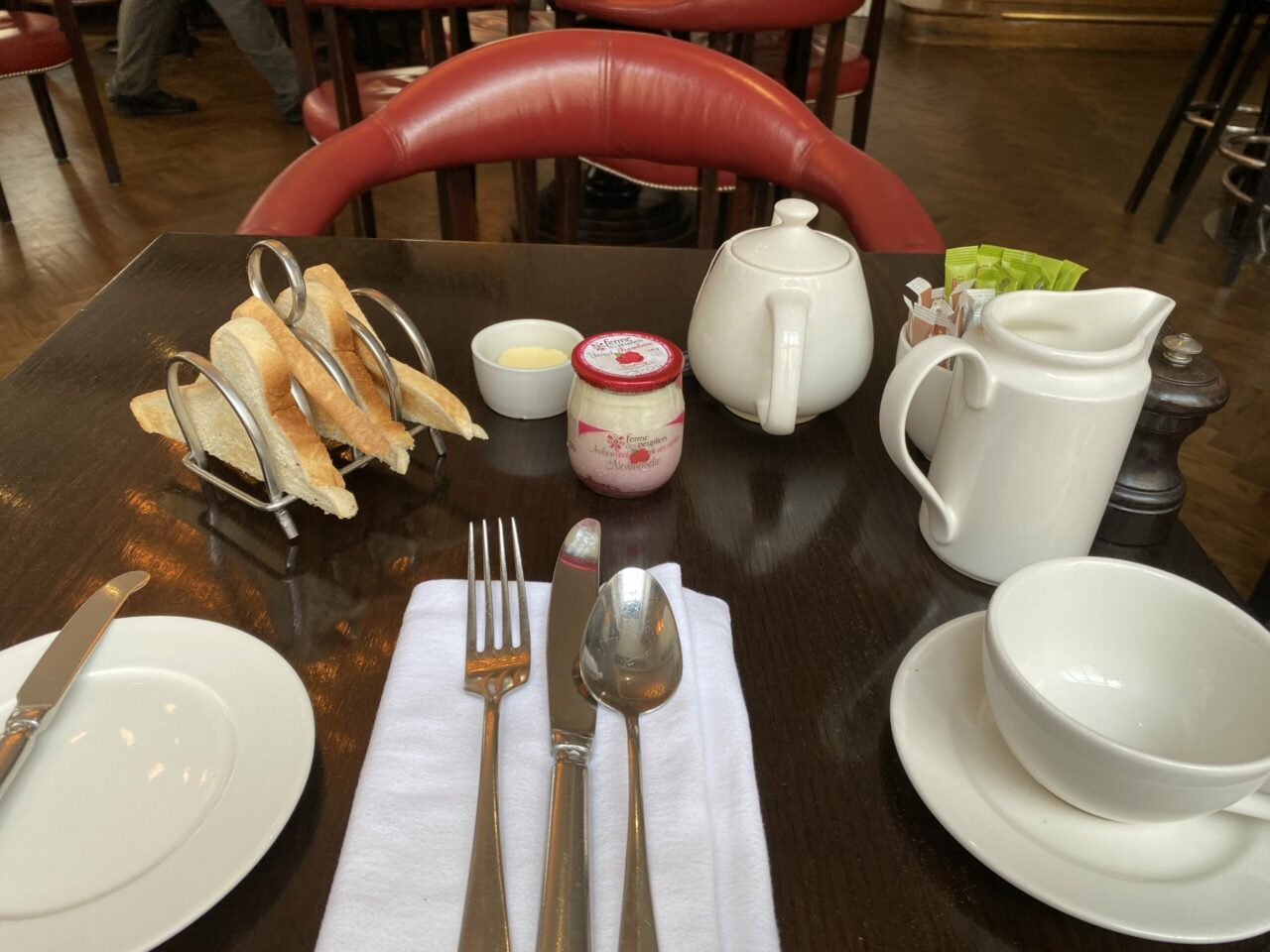 The Marylebone Hotel Cocktail Bar

The bar can only be accessed through the main hotel but would be a great place for a more intimate sophisticated, elegant vibe compared to the lively brasserie. The area felt like it had a bit of a 1920s glamour feel to me and apparently it's inspired by New Yorks's classic cocktail bars.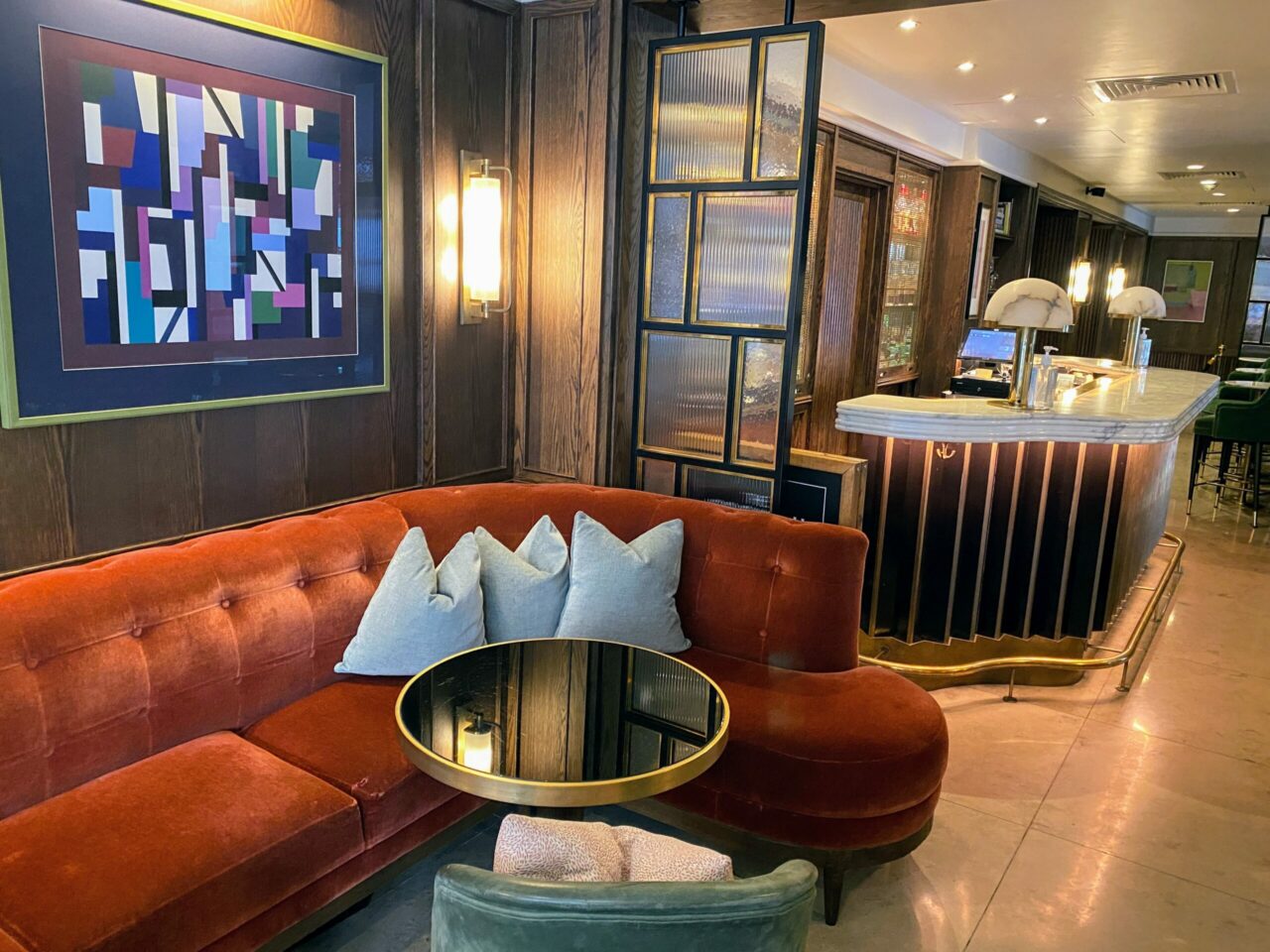 They serve all sorts of cocktails from the modern to the classic. Their specialty which you don't see often is barrel-aged cocktails. The Marylebone uses bespoke aging barrels, carefully chosen to enhance and develop the flavour of the cocktails. An example would be the Doyle which has a closely guarded recipe for this fruity but complex cocktail.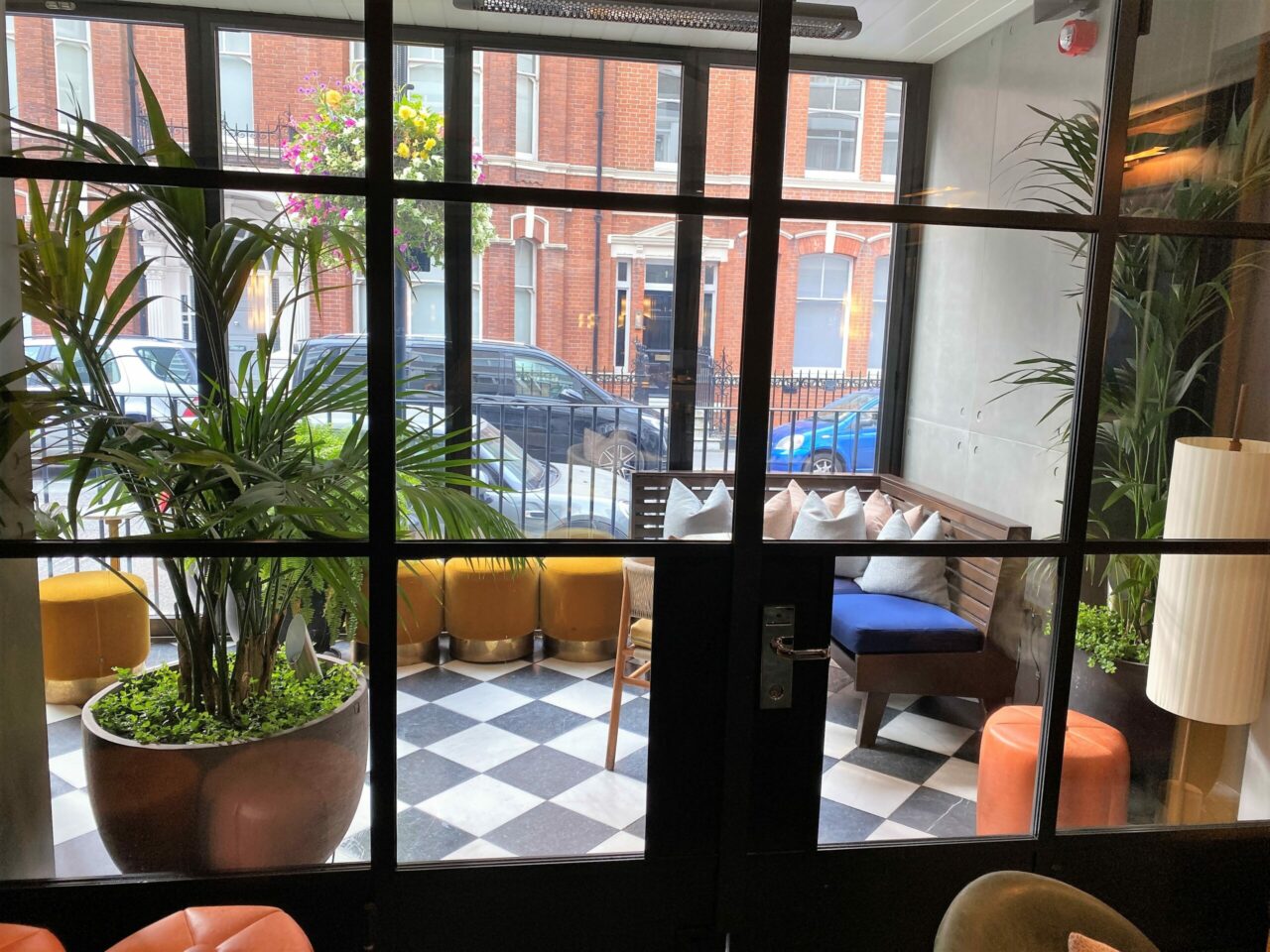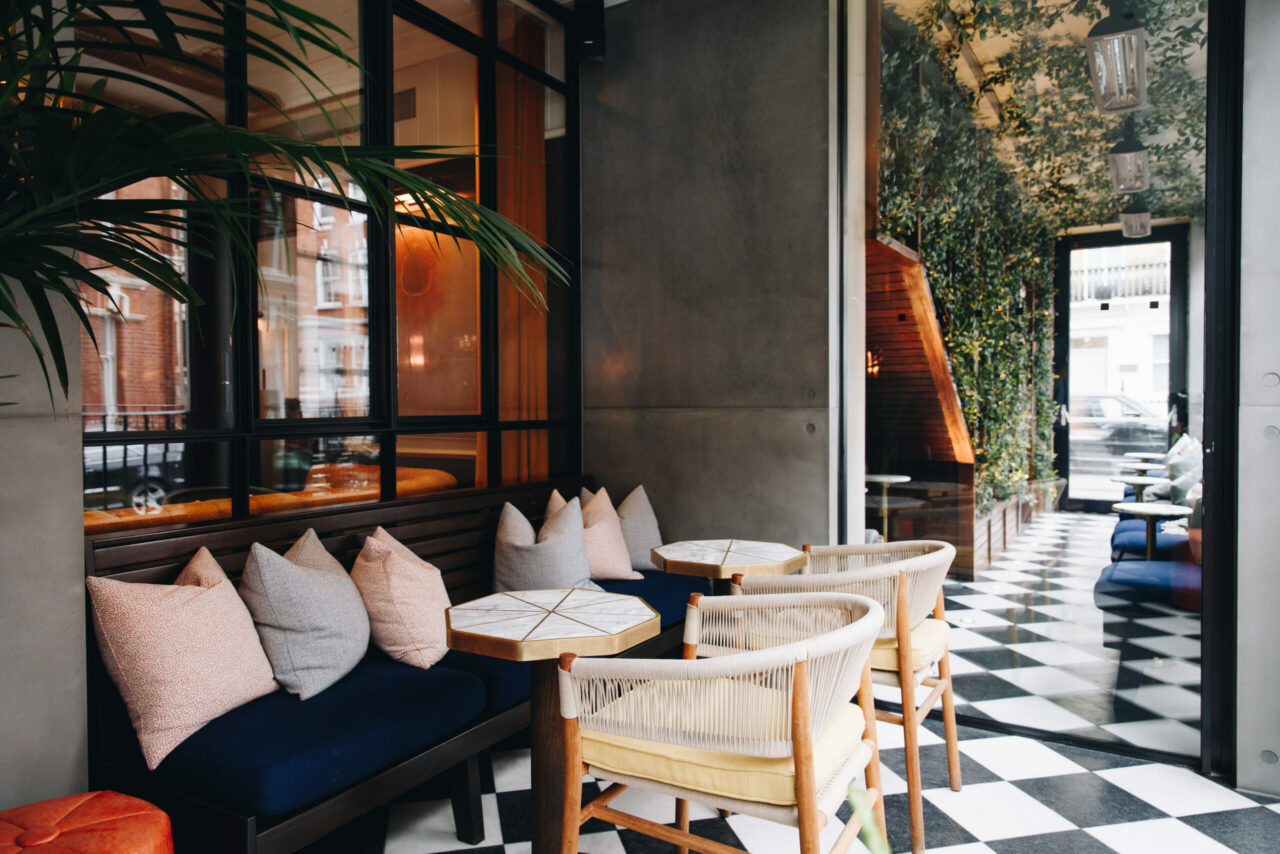 The Marylebone Hotel Facilities

Another draw of the hotel for me was the large pool and gym complex which you don't often see in boutique hotels. You can access the gym and pool from the hotel, although when I stayed the lift was out of action so you had to walk around the corner. The fitness facilities are comprehensive and it feels like a proper gym rather than a hotel one, as in fact, it is a gym in its own right. It was originally a Virgin Active gym but was then taken over by Third Space and a partnership formed with the hotel.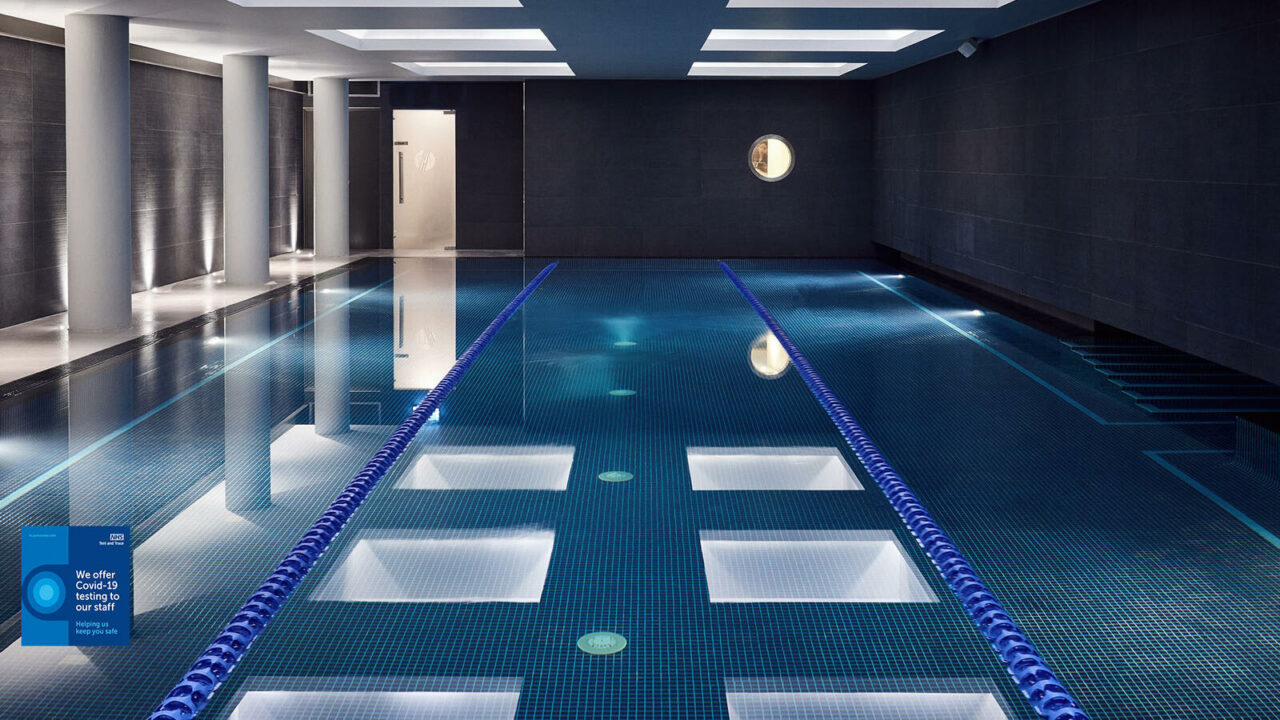 Set over three floors, it features Technogym cardio equipment and free weights, a "retro gym" with ropes and beams, spinning and Power Plate zones, a studio offering a range of classes, an 18-metre swimming pool, and sauna and steam rooms. Hotel guests are welcome to join complimentary fitness classes which range from cardio to combat, conditioning, cycling, dance, Pilates, and Yoga. The gym and pool have long opening hours until 11pm on weekdays and 8pm at weekends.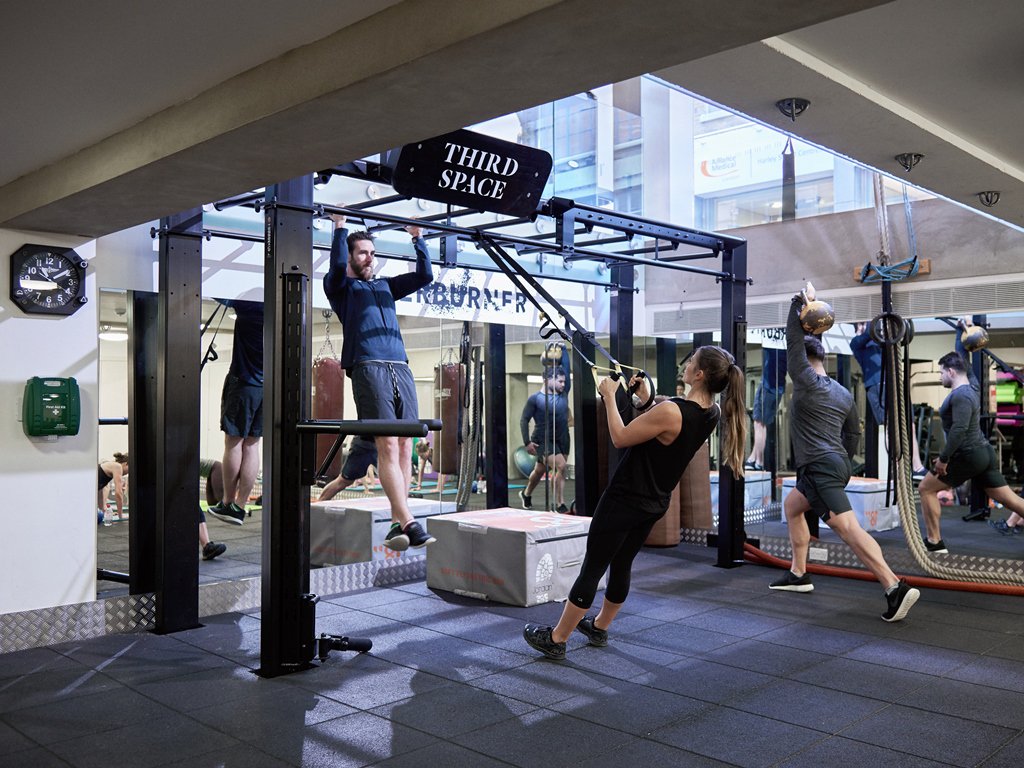 Conclusion

I really enjoyed my stay at The Marylebone. Not being too big a hotel made it feel more intimate and personal with their helpful staff on hand. The room had everything I needed as well as some lovely toiletries. With a good breakfast and a lovely big pool for swimming it has everything I would need for a luxury London stay. Its handy location made it great to just stroll straight out of the hotel to have a mooch around the shops or try one of the many eateries nearby including Ottolenghi just by the hotel.
Booking and Offers
I booked through our partners Debonair as you get the following perks:
Breakfast
Upgrade on arrival
£75 hotel credit
In fact, in the end, I was given a media rate so paid only £175 a night but without the upgrade or credit. However, there are some good offers at the moment and prices start from around £245. London prices have returned to pre-pandemic levels, in fact, some are even higher.
20% off the best flexible rate and full breakfast each morning

May be cancelled without charge up to 4pm on the day prior to arrival
Bookable until 21 November for stays before 30 November 2021

£75 food and beverage credit

A la carte breakfast each morning
Upgrade subject to availability on arrival
Early check-in and late check out until 3.00pm
Valid Monday to Sunday
May be cancelled without charge up to 4pm on the day prior to arrival
Available until 31 December 2021

Up to 30% off longer stays

Stay 3 nights – Save 20%
Stay 4 nights – Save 25%
Stay 5 nights – Save 30%
Offer may be booked up to 14 days before arrival
Reservations will be fully charged at time of booking and are non cancelable or refundable
One date change is permitted up to 72 hours to arrival
Valid until 31 December 2021
You can find out more about the hotel here or contact Debonair to see what deals they can get for you.
Like our The Marylebone Hotel review? You can read more hotel reviews here.