I ran this article some months ago, but now that the rules have changed and those fully vaccinated can use a day 2 lateral flow test, I thought it was worth an update with some new prices.
There are now hundreds of companies offering Covid tests and trying to find the cheapest and best options can be quite bewildering. In this article, we will look at some of the cheapest tests with reliable companies and how to find testing near you or by post.
Using a comparison site
Just like car insurance, there is now a website that will help you find the cheapest tests sorted by cost, recommended, home or postal testing. It covers pretty much every approved testing company in the UK, so you should find something nearby as it searches by postcode for local tests.
Covid Testing Network is the one I have been using rather than trying to find out which ones are government-approved as the government list is impossible to sort through.
First, you chose what the test is for, if it's for day 2 lateral flow or day 2 and 8 PCR for thoseunvaccinated it will only show approved providers for those tests.
All providers added to the listings have met the government's minimum standards for providers of Day 2 & 8 Testing, Day 2 Testing, Test to Release for international travel, or General Covid-19 testing.
Here are the results for a green list trip I'm hoping to do this week. I've selected at-home testing for a day 2 test but you can also choose in-clinic which may be more important for an outbound test that is time-sensitive.
It's not immediately obvious but you can change how they are sorted (default is by price) or filter by verified providers by clicking on "Providers".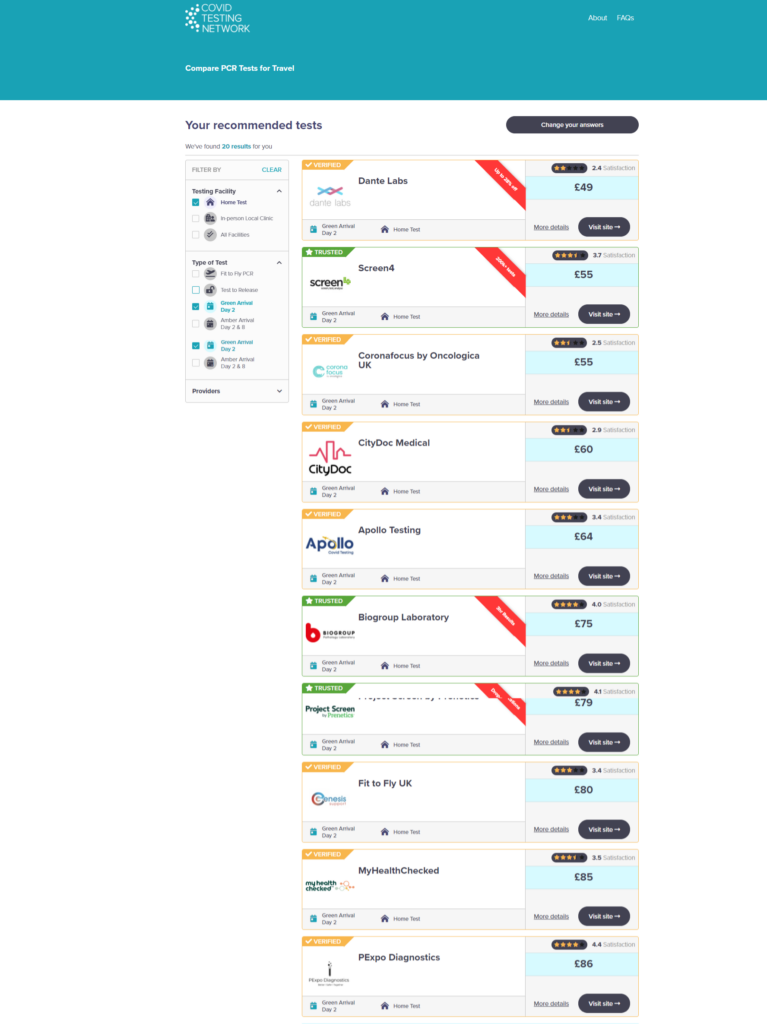 You will notice that some providers say they are "Trusted" and some are "Verified".
Trusted providers
Covid Testing Network displays customer satisfaction scores for trusted test providers. While for day 2 and 8 tests the timing of results doesn't really matter, when you need your results back for a flight, I would be checking the company's review scores very closely. Providers who are marked as 'Trusted' indicate that they are the best in class provider of Covid-19 testing as evidenced by the customer satisfaction scores which have to be above a minimum level.
Verified providers
Providers with a Verified stamp on their listing have confirmed that their listing information is accurate, and regularly update CTN to incorporate any changes to pricing or specifics.
I recommend checking reviews on Trustpilot for extra peace of mind.
USA departure tests
Be very careful when buying tests for the US. If you decide to go for the cheaper antigen (lateral flow test) then it must be supervised by video if you do a self-test. Some companies are still selling tests that are not supervised by video saying they are OK for the US.
Companies that do supervised video lateral flow tests are:
You can see the full rules for entering the US and testing here.
Using airlines discount codes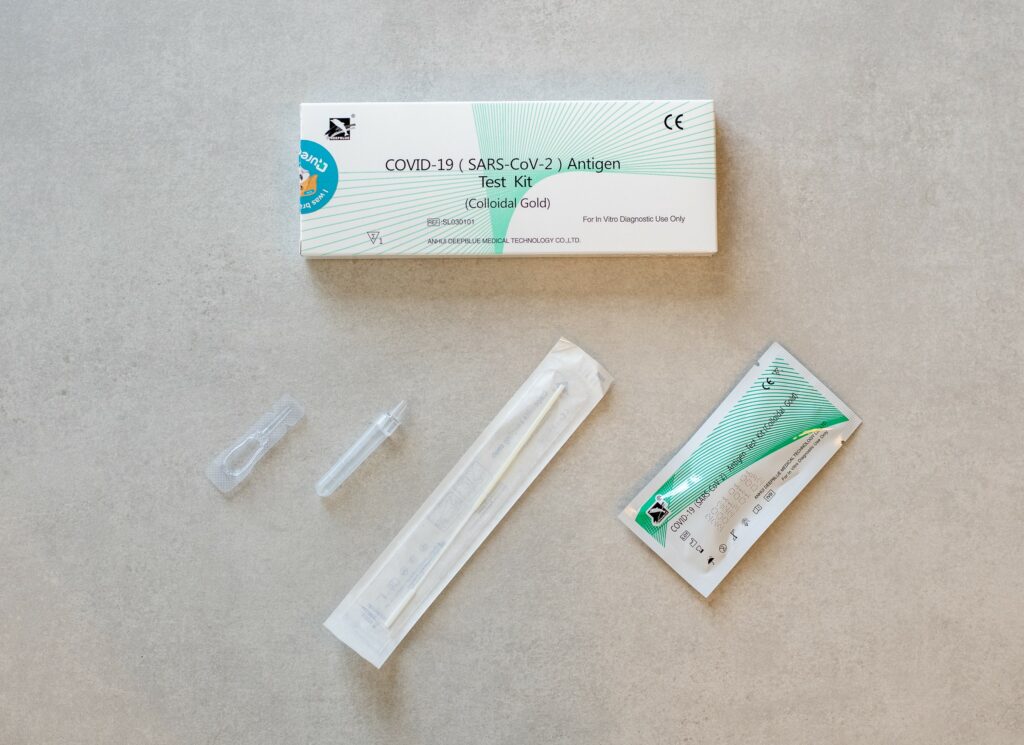 It's also worth then looking to see if there is a discount code available via one of the airlines. Mostof them don't require you to be flying with them to use the codes. However, the choices are quite limited, particularly for in-person pre-departure testing outside the major cities.
British Airways
!
Here is the full list of the discounted prices BA offer:
Suppliers
PCR tests
Lateral flow tests
UK arrivals: day 2
UK arrivals: day 2 & 8
Test to Release
Availability
Use discount code
Breathe Assured
–
£33
–
–
–
Home tests
– supervised online
Discount automatically applied
Chronomics
–
£17.09
£17.09
£122.78
–
Home tests
Discount automatically applied
CityDoc
£75
£25
–
£104.99
–
Home tests and London clinics
BA35
Collinson
£55.20
£23
£23
£110.40
£76
(LAMP)
At airport tests
BA20OFF
Eurofins
£40.41
£31.06
–
£93.96
£40.41
Home tests and national test centres
BA2021
Excalibur
£55.50
£19.50
£19.50
£111
£59.50
Home tests
Discount automatically applied. Multi-buy discount available
ExpressTest
£57
£33.60
£24
£124
£66
At airport and national test centres
BA21
Halo
£74.76
–
–
£133.56
£74.76
Home tests
HALOBA16

Medicspot
£63.75
£24.65
£24.65
£127.50
£75.65
Home tests
BA
Qured
£58.65
£18.70
£18.70
£117.30
–
Home tests
BATRAVEL15
Randox
£43
£21.50
£21.50
£86
£43
Home tests and in clinic (inc. airports)
BritishAirways
Screen4
£45
£20
–
£90
£45
Home tests and in clinic
Home tests:
BAHT
In clinic:
BACT
Wren Healthcare
£89
–
–
£155
£89
In clinic and home visits
Discount automatically applied
Chronomics are the cheapest with a BA discount for a day 2 test and reports so far are that they are reliable. I will be using them on my next trip so I will do a full report then.
You can find the testing homepage here.
Virgin Atlantic

Virgin seemed to have stopped giving as many discounts as before.
ExpressTest offer Rapid Antigen tests at London Heathrow Results within 30 mins. The price is £34 with promo code VIRGIN21. ExpressTest also offer a Day 2 test that can be taken when you arrive at the airport from a green list country.
Collinson offer Rapid Antigen and Antibody tests at Manchester airport for £40 with results within 60 mins. Rapid PCR tests are also now available for £82.50 with results within 3hrs.
Project Screen

Lateral Flow Antigen Fit to Fly Test Kit £22 self-collection
Departure testing PCR Fit to Fly Test Kit £55. Results within 24 hours after receipt at the laboratory.
Pre-departure test: Observed PCR Fit to Fly Test £60
Day 2 Lateral Flow Antigen Test £19.50
You can find the testing homepage here.
Easyjet
Collinson – 20% off using this special order page.
Available at London Gatwick, Heathrow, Stansted, London City, London Luton, Manchester, East Midlands Airport as well as St Pancras and the O2 in Greenwich. Collinson also offer departure and arrival self-test kits to take from the comfort of your own home
Prices without the discount:
PCR test fit to fly – £69
Rapid PCR fit to fly – results in 3 hours costs from £95
Lateral Flow fit to fly (Antigen) £40
Accepted for USA, Italy, Germany, Croatia, and several other countries
Results within 45 to 60 mins
Day 2 lateral flow £28.75
Randox – Discount code: easyjet2021
Day 2 test

Home delivery from £21.50 with discount code
From £18.95 for click-and-collect
The Easyjet Covid testing offer page is here.
Cathay Pacific
Collinson Heathrow T2 – 20% off your test, enter discount code 'CATHAY20'
Corona Test Centre Receive 10% off your test, enter discount code 'CATHAYPACIFIC'.
Express Test
For a 3-hour pre-departure PCR test: Use code CATHAY21 at checkout to receive your 3-hour PCR test and Fit to Fly certificate from £115.
For a standard pre-departure test: Use code CATHAY21 at checkout to receive your next day PCR test and Fit to Fly certificate from £57.
HALO
Home Testing for pre-departure, day 2, day 8 and day 5 test to release.
Receive 15% off your test, simply enter discount code 'CATHAYHALO' when booking your test.
Randox – Use code 'CATHAY' to receive a discount on the day 2 lateral flow test which is then reduced to £21.50 for home delivery or from £18.95 for click-and-collect