There are a plethora of Hilton hotels in London, not all of them in what I would call the "luxury" category or in a central enough location for leisure travellers. So it is good to see another luxury hotel in central London added to the Hilton portfolio.
I was invited to try out the Westminster London Hotel shortly after it opened. Hilton supplied a free room for one night as well as dinner and I paid for a second night myself.
I must admit I had never visited the Doubletree Westminster which was its former iteration. My usual go-to in London is the Hilton Bankside, the Conrad or the LXR.
Booking The Westminster London
Rates start from around £140 on a Hilton Honors advance purchase or 51,000 points. The rates are similar to the Hilton Bankside but much less than the Conrad which usually starts at over £200 a night.
You can look at prices and book here.
The Westminster London Location
One of the things that I have always liked about the Hilton Bankside is the fact that it feels like a luxury hotel, but it is usually keenly priced. The Westminster is definitely in the same category with the added bonus that it is in a more central location. The only downside is that it is a bit of a walk to the tube at around 15 minutes to St James Park tube or half a mile to Pimlico. However, there is a bus stop nearby. There are plenty of key attractions nearby too. It's less than half a mile from Tate Britain. Buckingham Palace, Big Ben, and Westminster Abbey are all within a mile.
Check-in at The Westminster London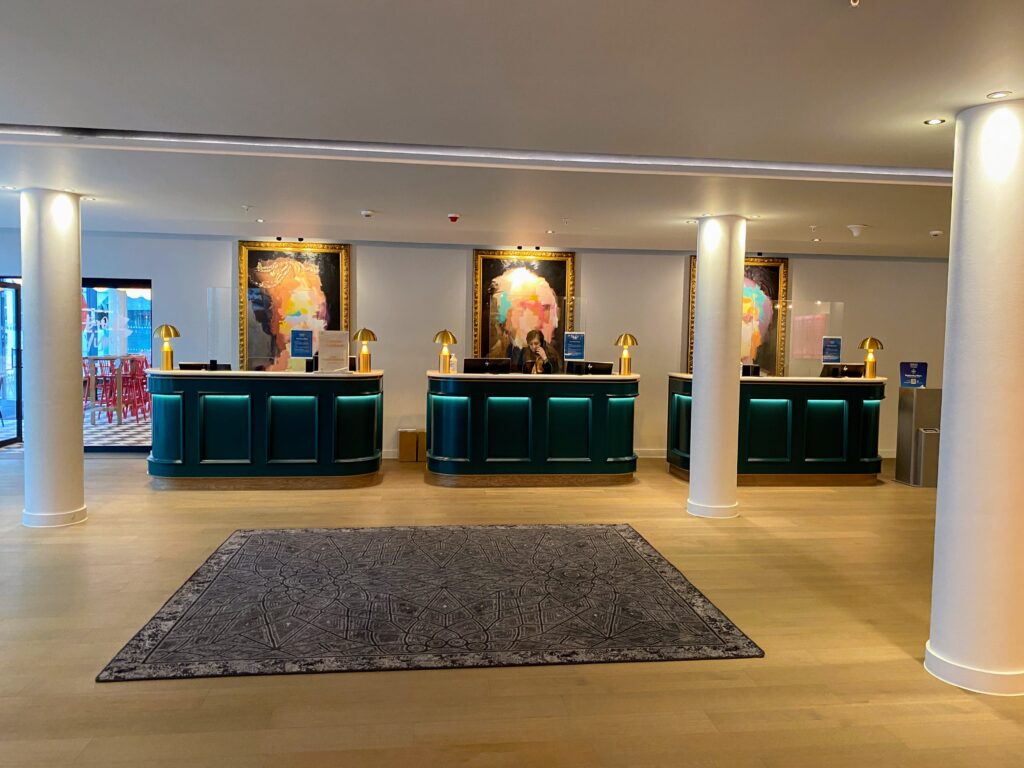 As you walk into the hotel it feels very much like a luxury boutique hotel. I was greeted instantly and offered help with my luggage. The colour scheme is primarily a gorgeous petrol blue which also reflects the Hilton brand. It feels modern but elegant with a little touch of quirkiness.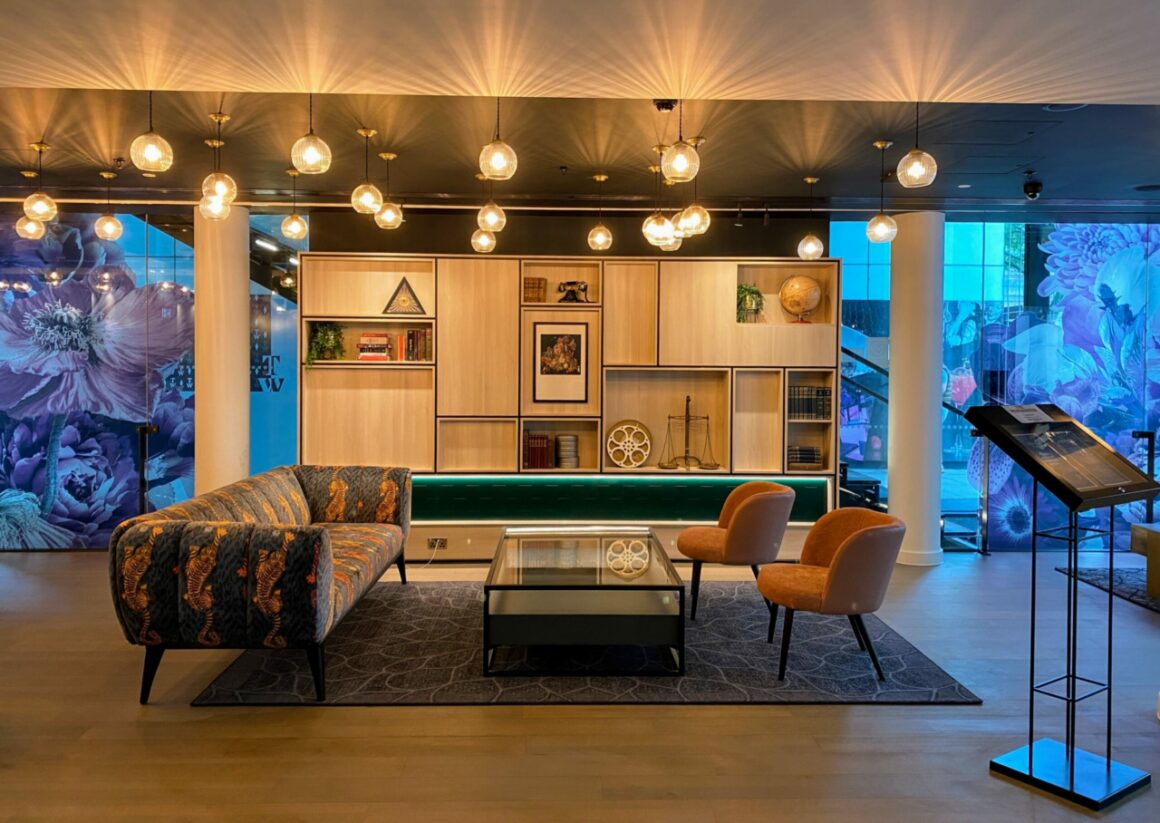 The receptionist seemed very on the ball throughout my stay, and they were always friendly as I passed by. I really felt that they couldn't do enough for you. As I checked in they explained what hours the STK restaurant was open for breakfast and in the evening. Throughout my stay I felt that customer service was spot on and not just going through the motions like some hotels.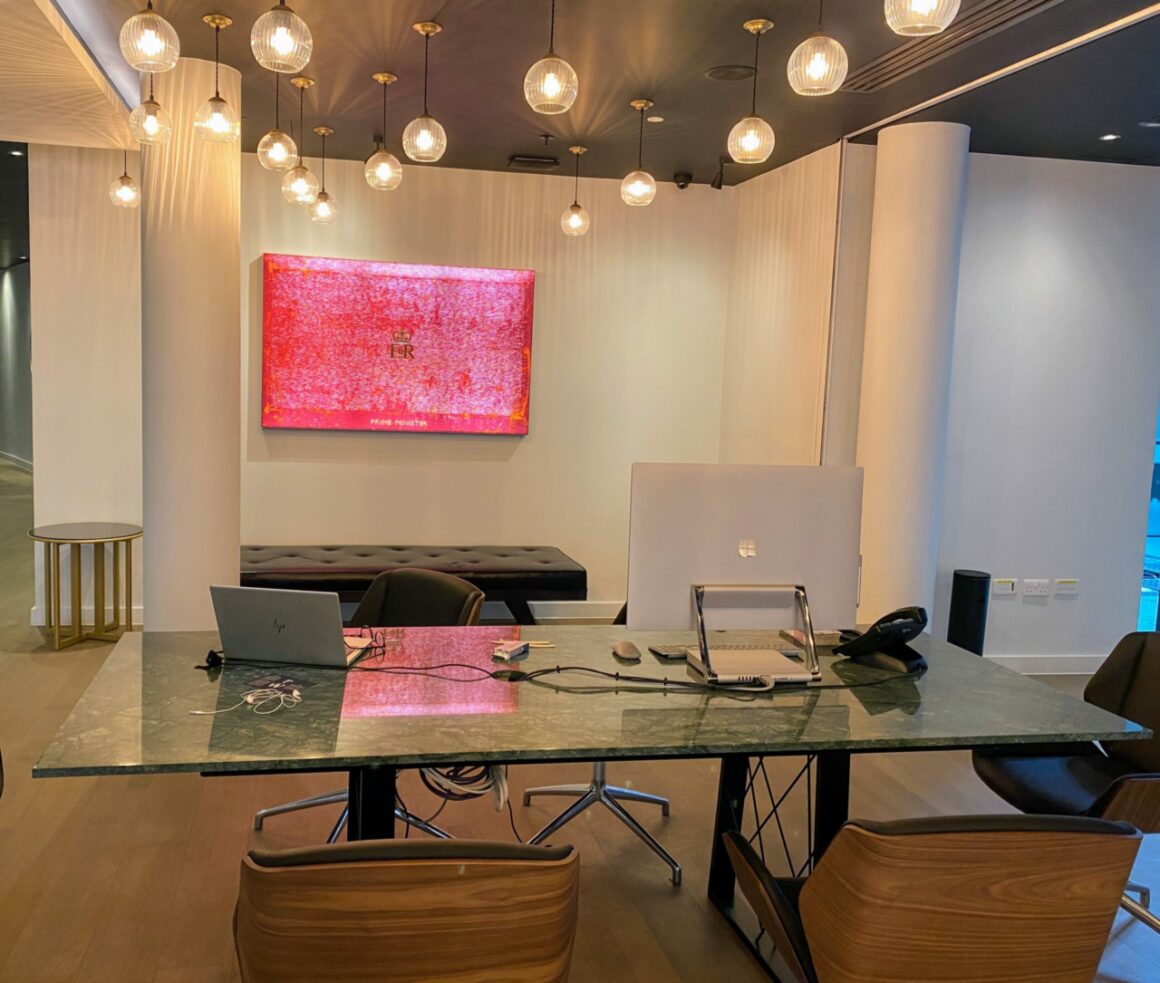 Also in the reception area are a few comfortable seating areas and a communal workspace with a Mac computer.
The hotel is full of quirky artwork like this bowler hat installation.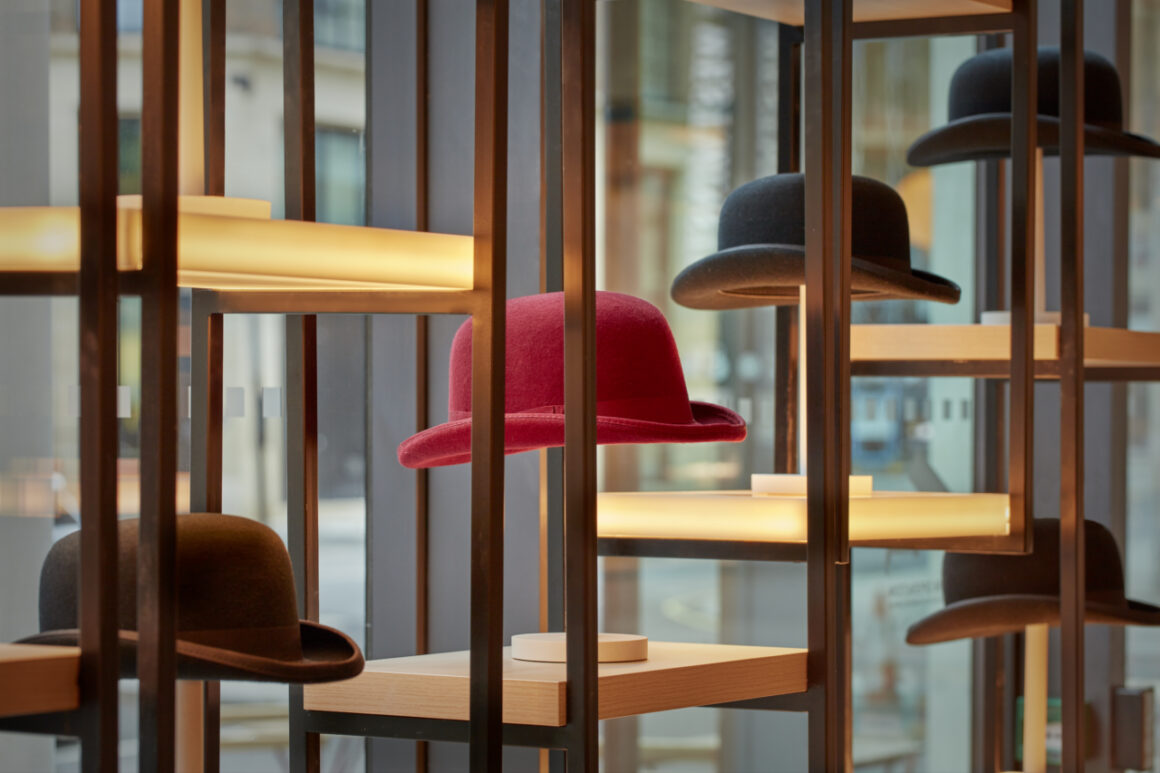 The Westminster London Rooms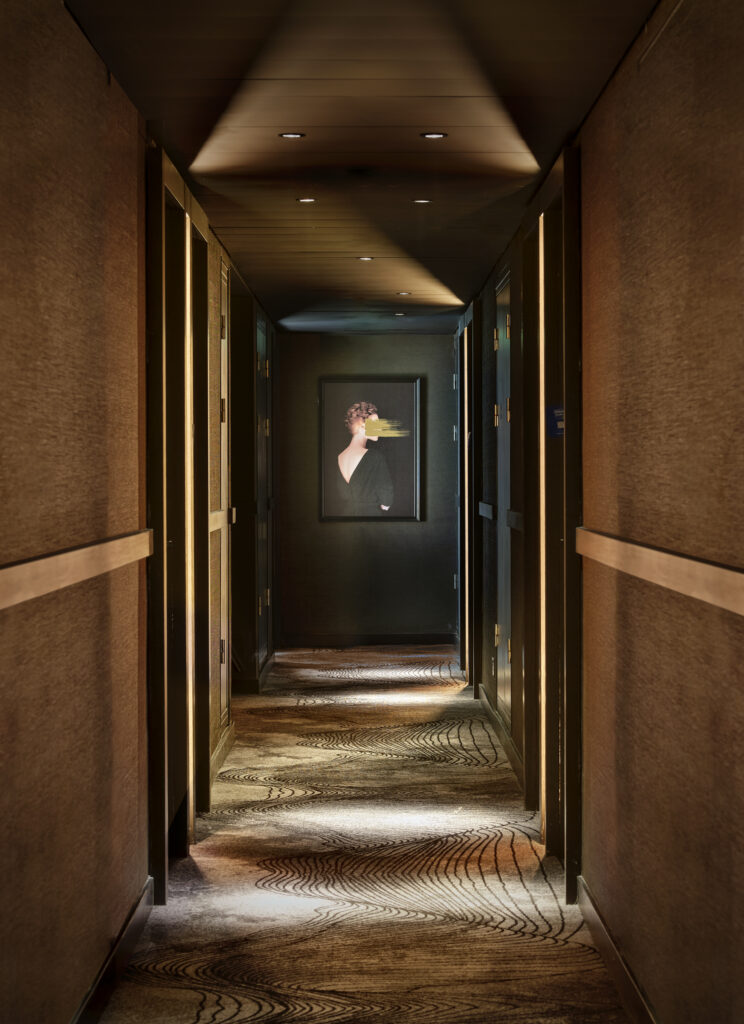 The corridors themselves are atmospheric with dark decor and unusual paintings at the end of them.
The base room is a Queen guest room, with the Premium Queen being those on higher floors with a view of the Thames and a Nespresso machine. I had the category above that which is a Queen Premium Corner Room.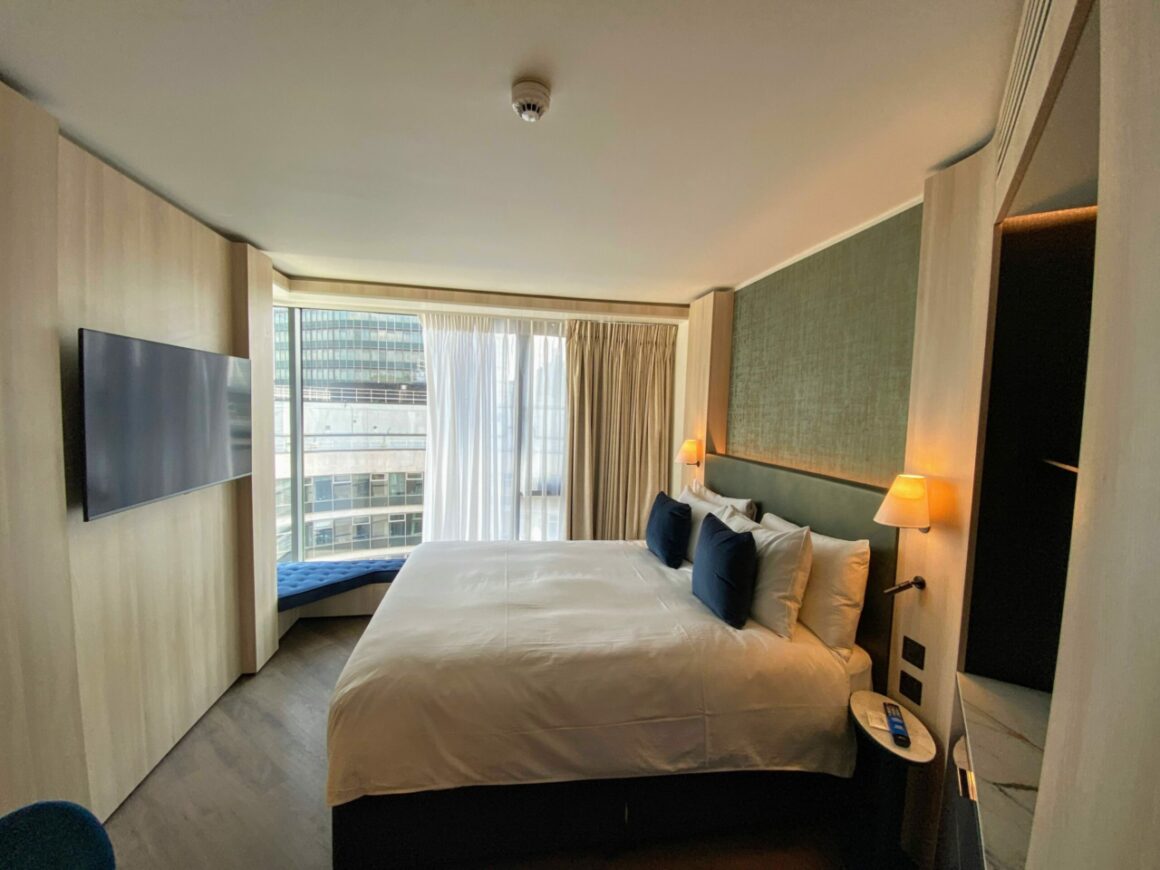 This is pretty much the same as the others in terms of layout, but it does have a corner view with the window seat.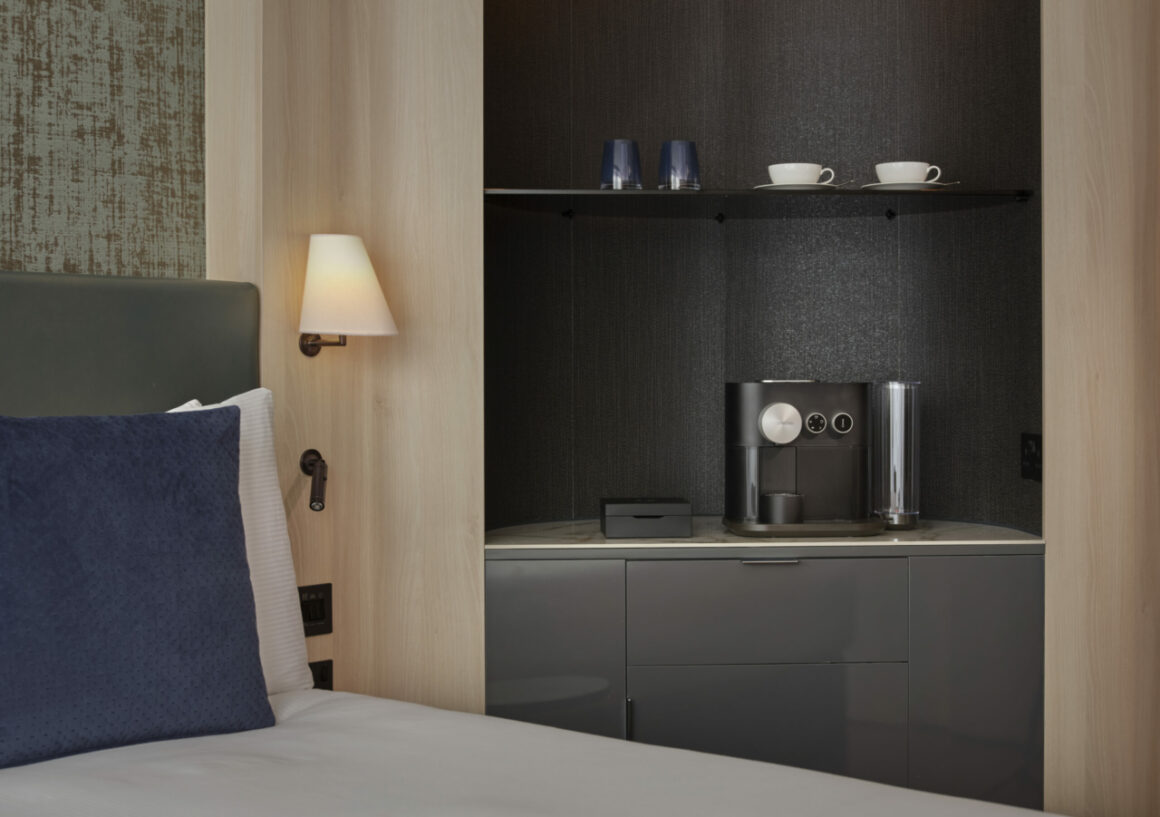 There are also several suites which were not quite finished when I was there. The most luxurious is the Westminster suite which has a separate living area including a dining table.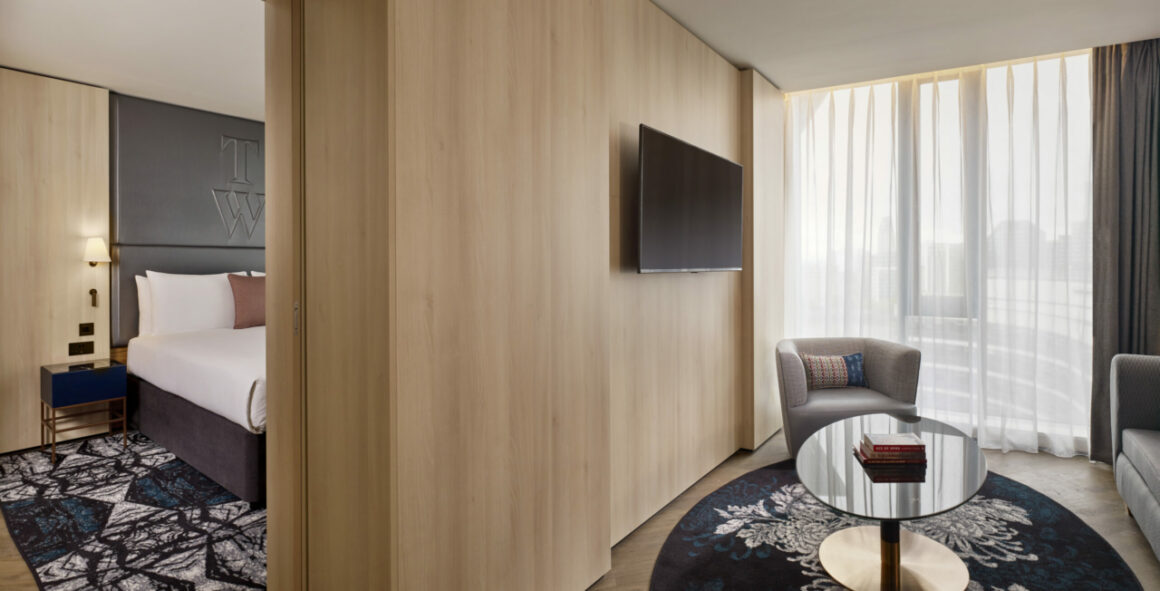 The rooms have quite an unusual layout as you walk straight into a bathroom/dressing area.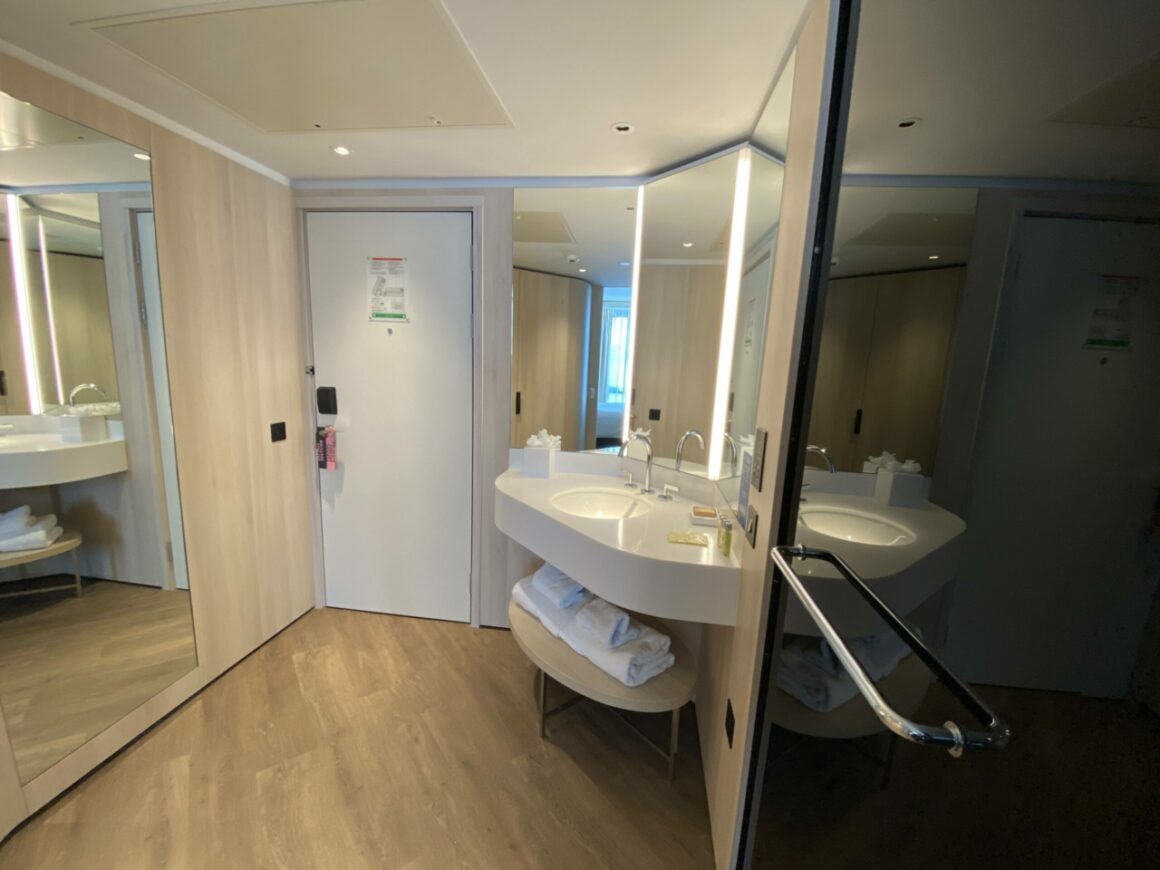 Here there is a large sink unit, separate huge black marble rain head shower and another cubicle with a toilet.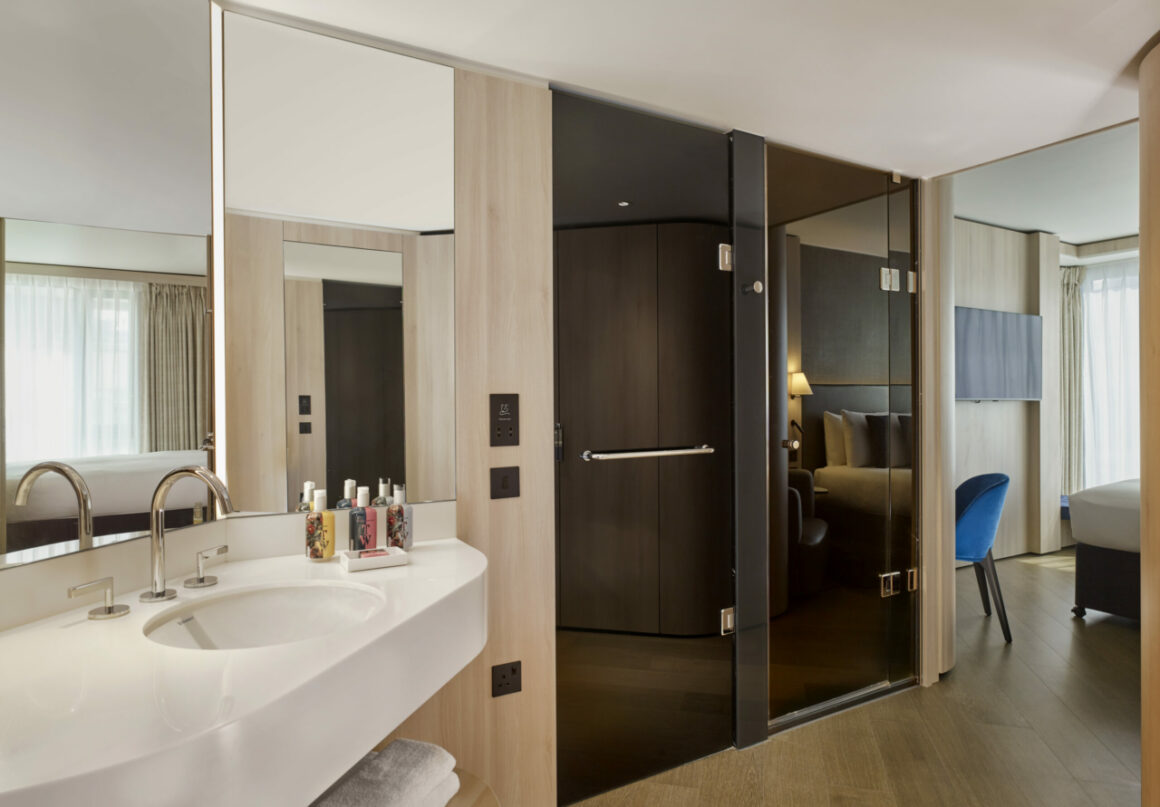 There is also a walk-in closet with the safe and ironing equipment. I liked the fact that it was big enough to put your suitcase in out of the way. The clever built-in luggage rack was also clever as you could just leave your suitcase open if you were there for one night and didn't want to unpack.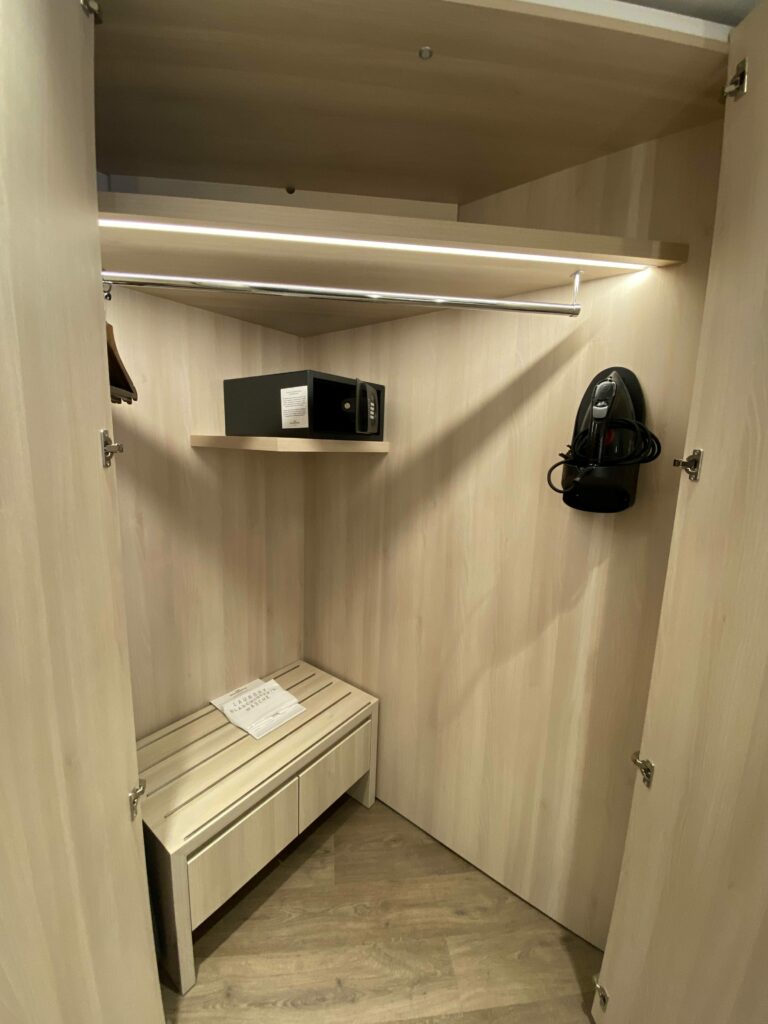 For those that like to make sure you look good from every angle, you would be well covered here! With the triple mirrors by the sink and the huge wall mirror behind, you will definitely not miss anything! (Not sure I was a fan of seeing every angle of myself – I'd rather live in blissful ignorance!). There is also a portable lit magnifying mirror on the table in the bedroom. This is perfect for drying your hair thanks to the socket nearby.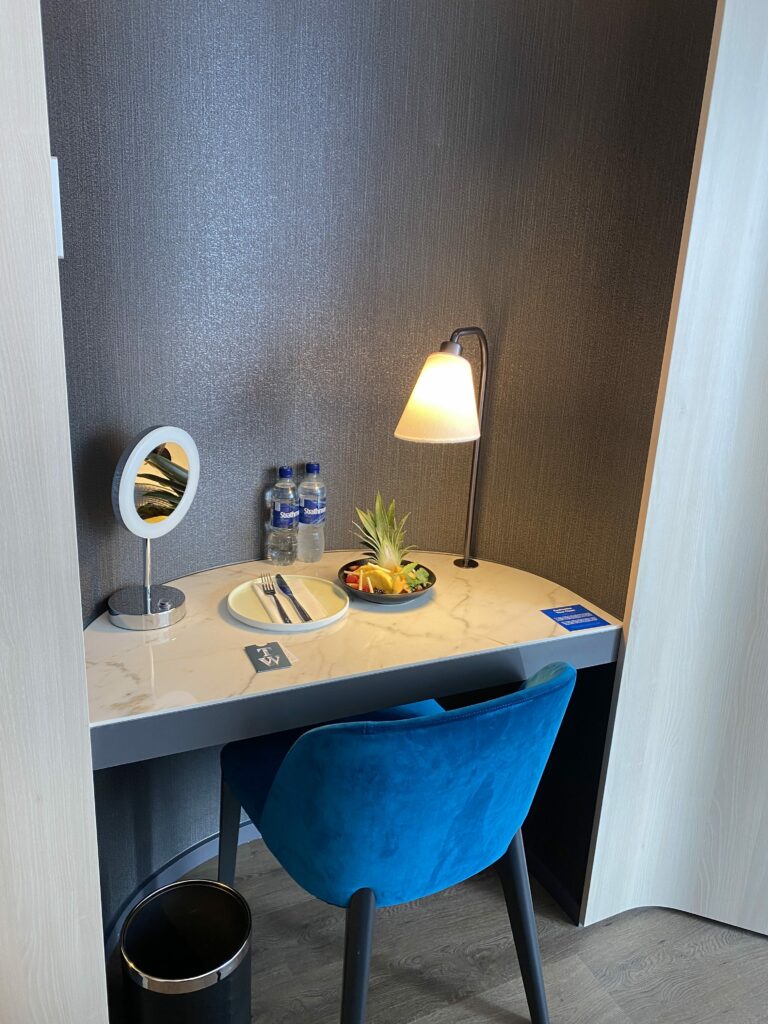 I really liked the shower as it had a huge raindrop head and was very powerful. Combine that with a supersized large fluffy white towel and I'm in shower heaven! There's also a handheld shower too.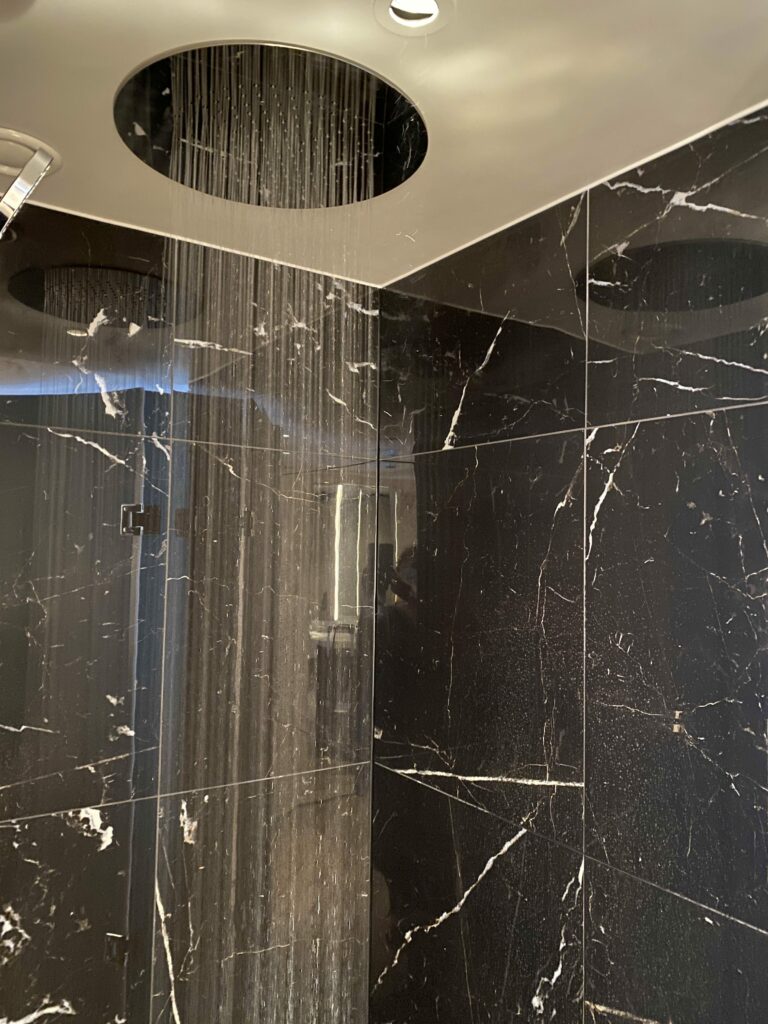 Unfortunately, they did not yet have their own toiletry brand ready yet but these are launching in large pump dispensers made especially for the hotel.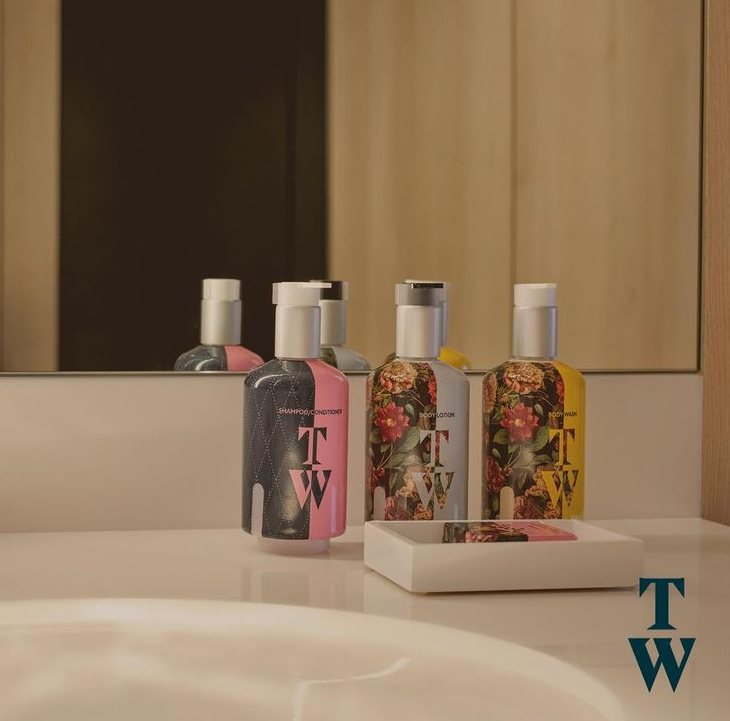 The room had an empty fridge as well as a Nespresso machine. The desk area was a little slippery for my mouse due to the marble surface but other than that it was a comfortable place to work.
The room had digital individual climate control which needed to be kept to a low temperature on a sunny day due to all the glass in the corner room.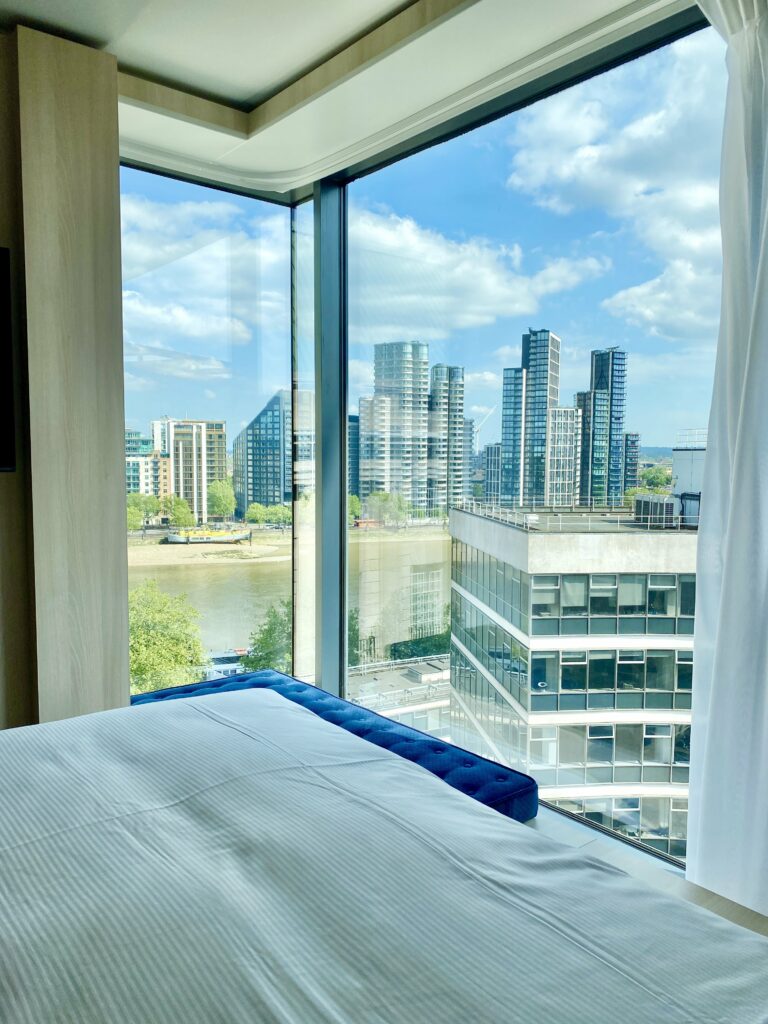 I sometimes find Hilton group hotel beds a bit too firm for me but this was incredibly comfortable and had a thick mattress topper. It was lovely to wake up in the morning to a view of the Thames and relax in bed with a great espresso and enjoy watching the activity on the river from my bed! As the rooms are set back from the corridor, you don't hear noise from people walking past.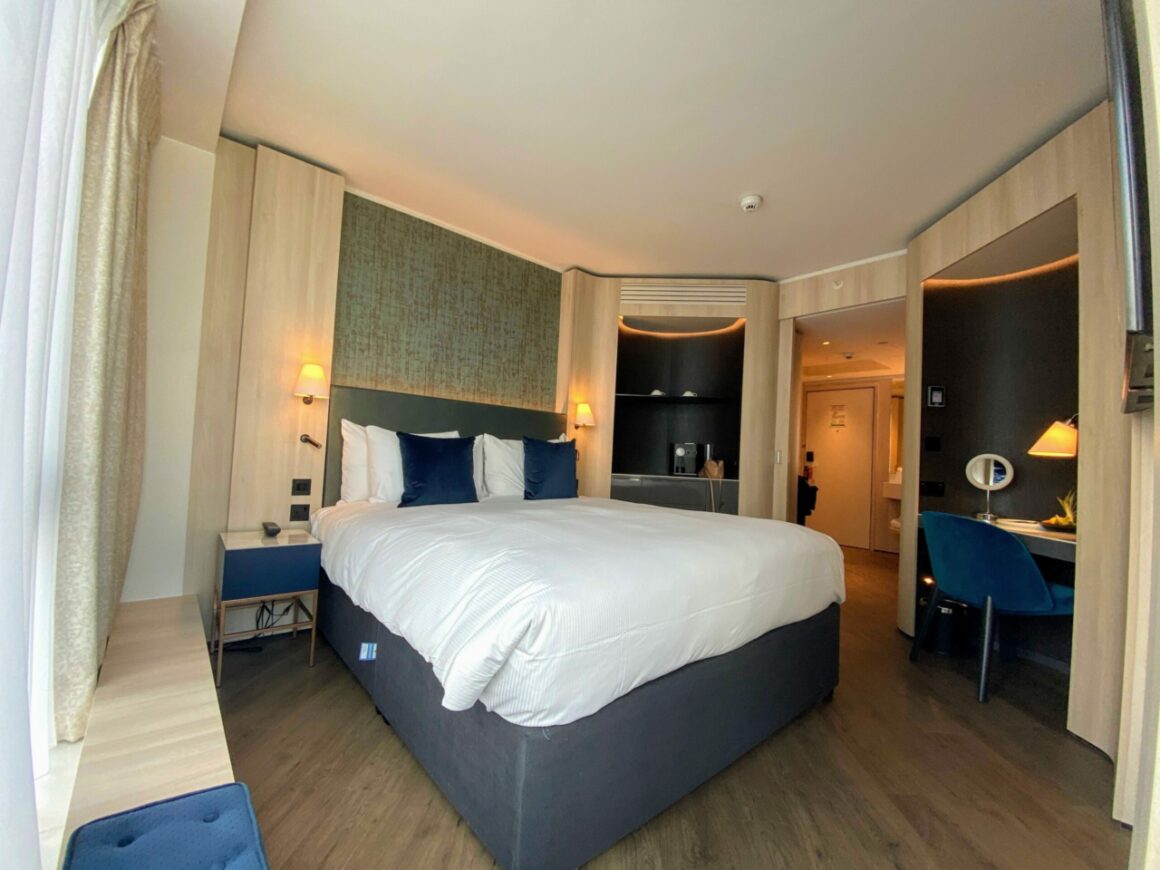 As you would expect there were plenty of sockets by the bed and desk area including a USB point. The switches for the lights were simple to use and clearly laid out next to the bed.
The Westminster London Food and drink
The hotel has two restaurants – the main STK restaurant which is an American steak chain and Bao Yum which serves Chinese Bao buns.
Breakfast
While I was there the hotel was relatively quiet so during the week there was a small cold buffet and then hot food was served to order. There was a choice of porridge, full English breakfast, the usual egg choices and a vegetarian breakfast. The choice was a little sparse but with low guest numbers and a soft opening, I expect it will expand in time.
Here is the buffet:
The staff in STK were so friendly and helpful – you may think that's because they knew who I was – but I overheard them being exactly the same with every guest.
Here is the full English below – that was quite a plateful! A friend said to me you can always tell the quality of a breakfast from the sausages and that's very true. The sausages were Lincolnshire ones and full of flavour and not too much fat.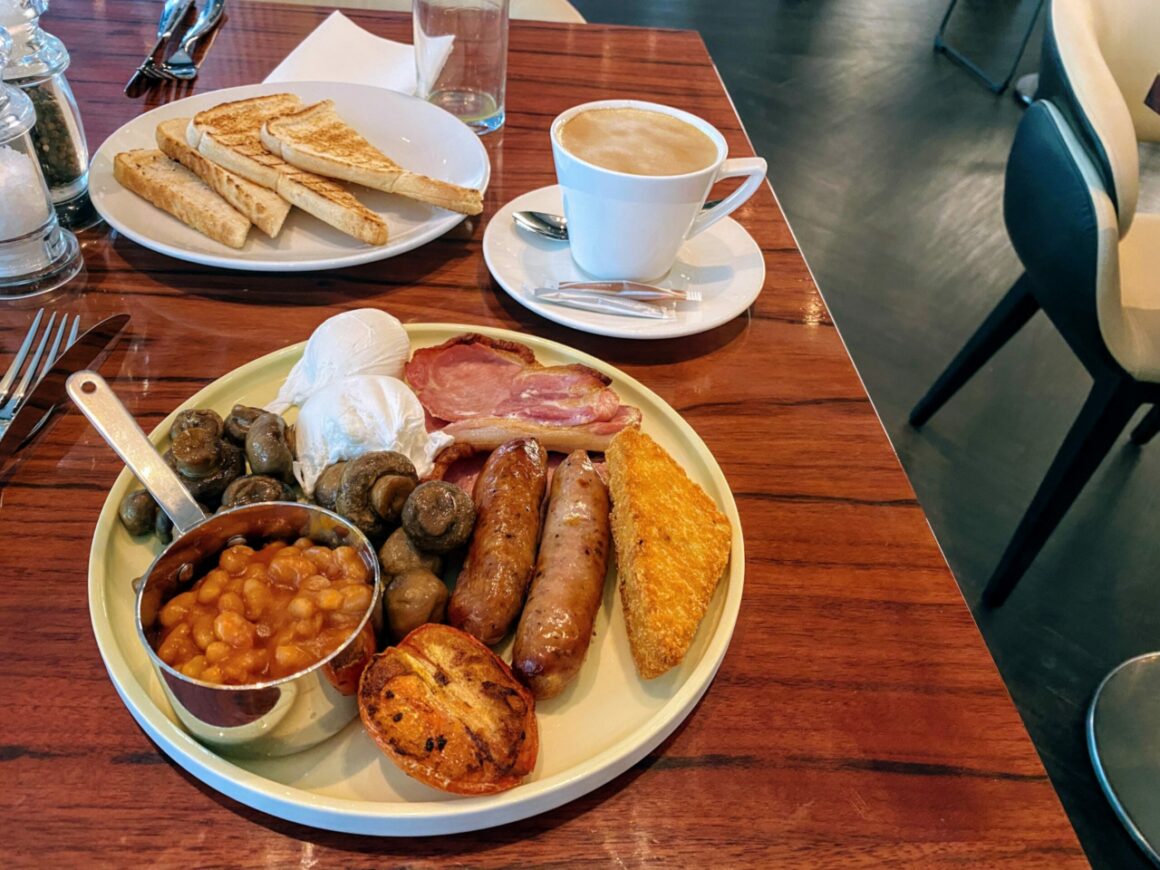 There is a specific area of STK for hotel guests which felt high end and a rather lovely place for breakfast compared to many hotel breakfast rooms.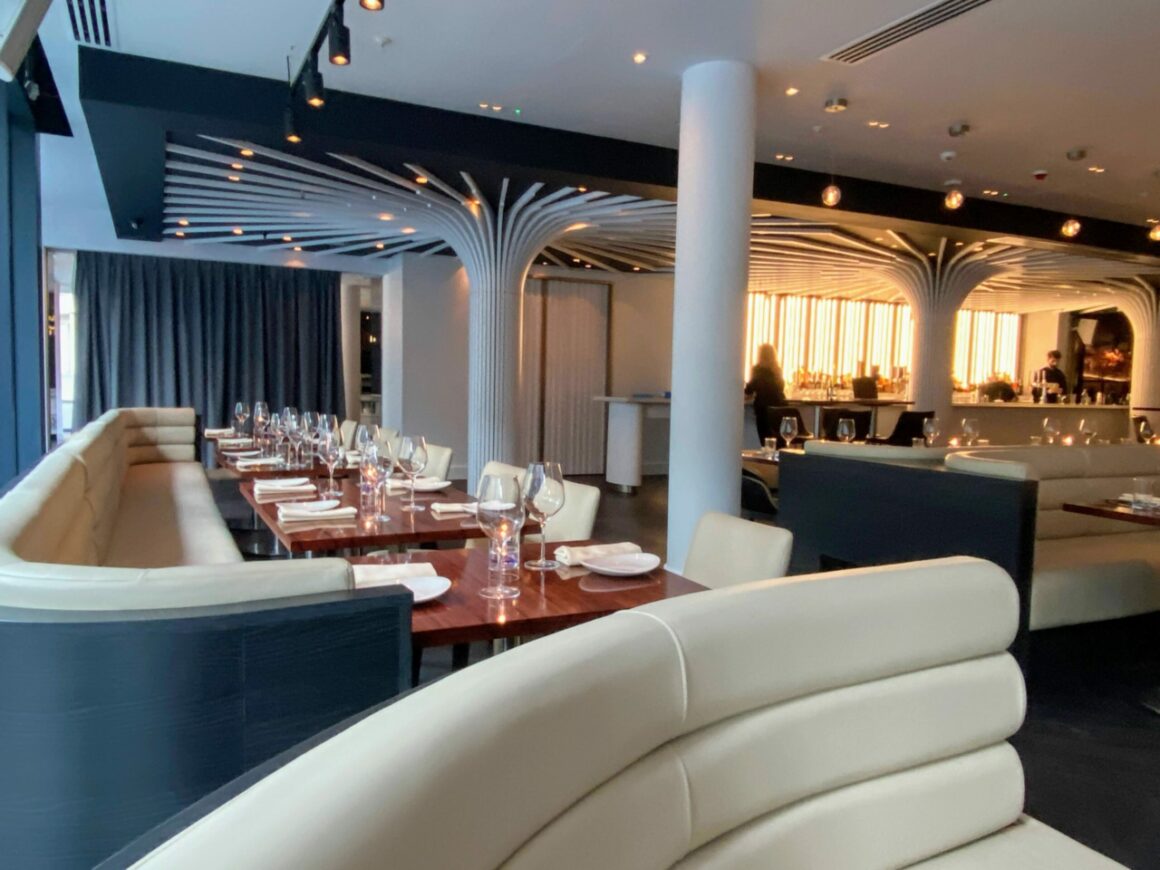 STK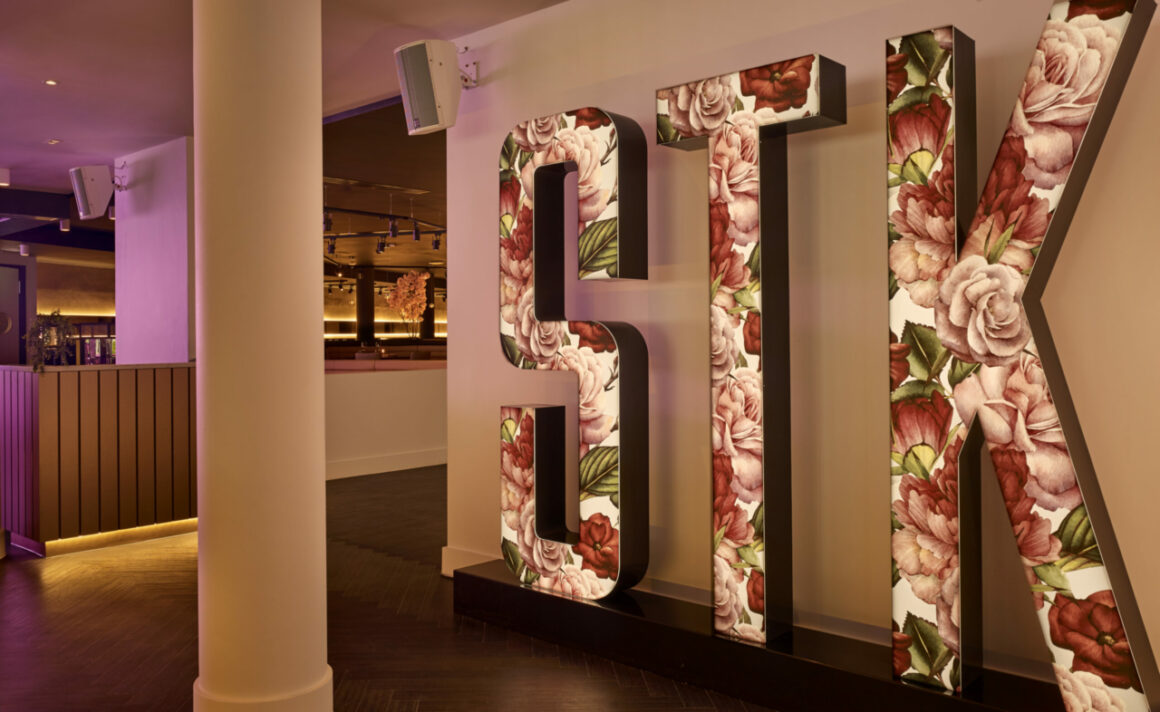 I originally popped into STK on my first night at the hotel and sat in the bar to sample a cocktail or two. (It's a tough job but I felt it essential I check them out for my readers! I really loved the decor of the restaurant and bar.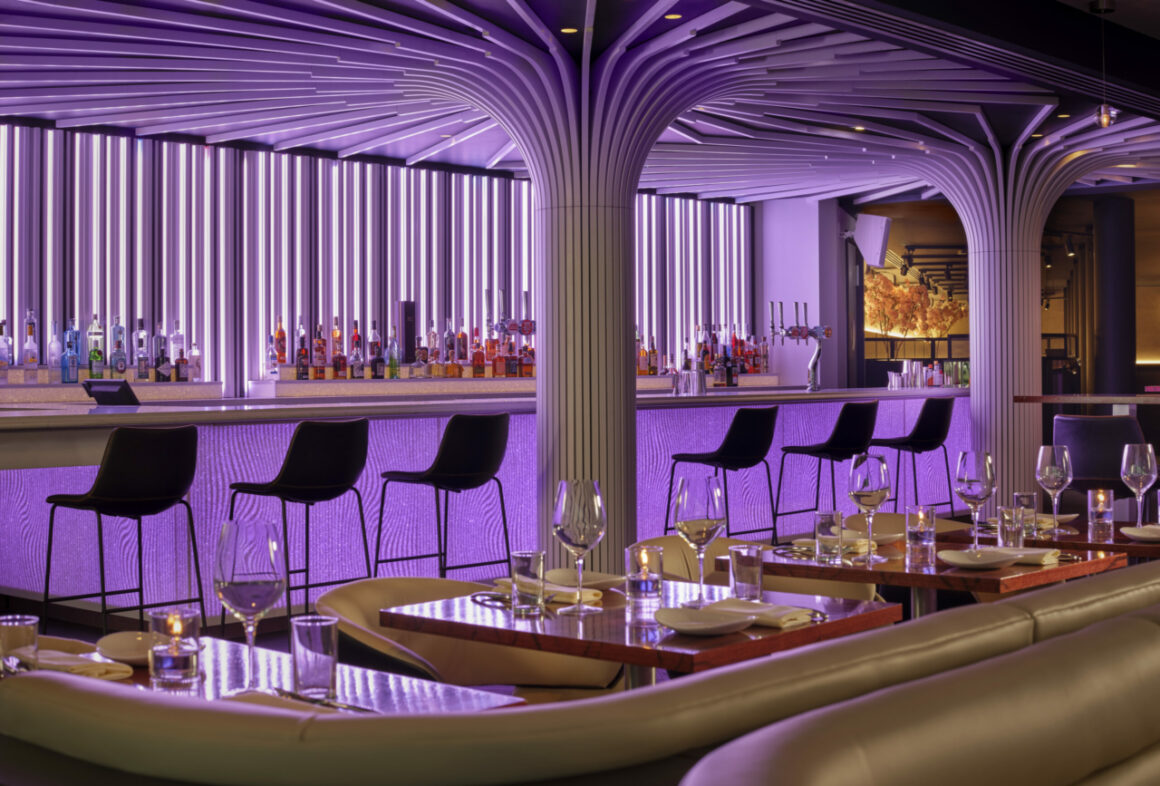 It felt very glamourous which definitely matched the clientele the following time I visited (It felt like an influencer convention – I wasn't sure if they had deliberately invited a lot of good-looking 20-somethings or they just turned up!).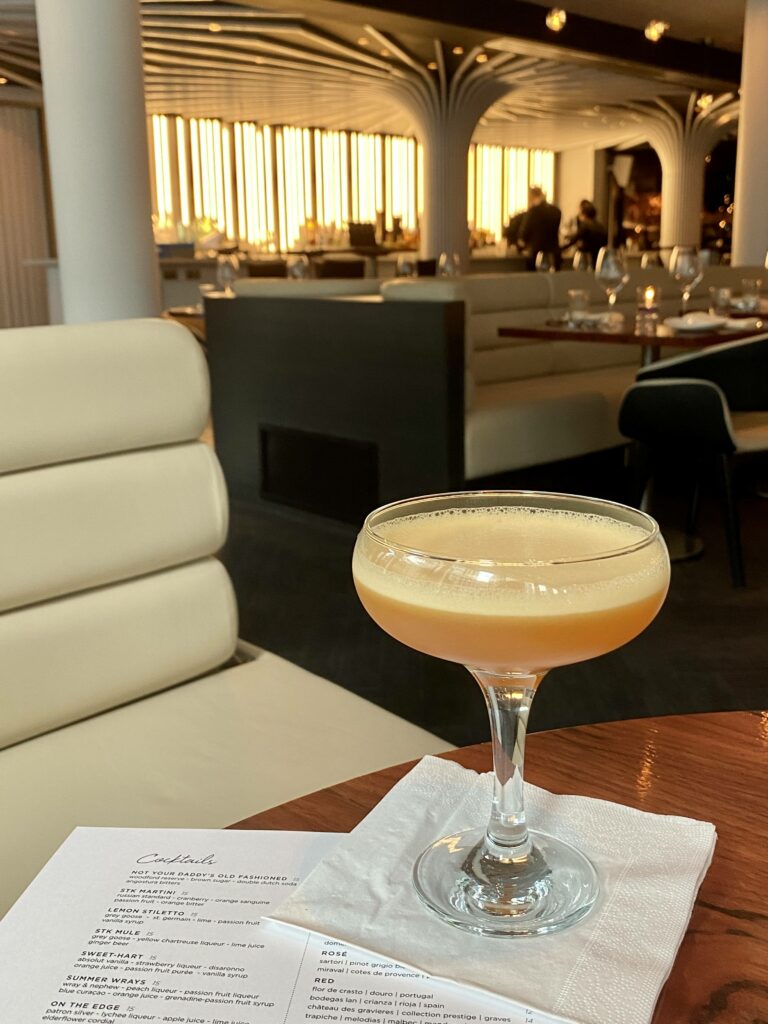 First I tried the STK martini which was not as strong as a straight martini. The combination of blood orange, cranberry, and passion fruit with a dash of bitters made it fruity but refreshing and not too sweet. The perfect kick-off to an evening.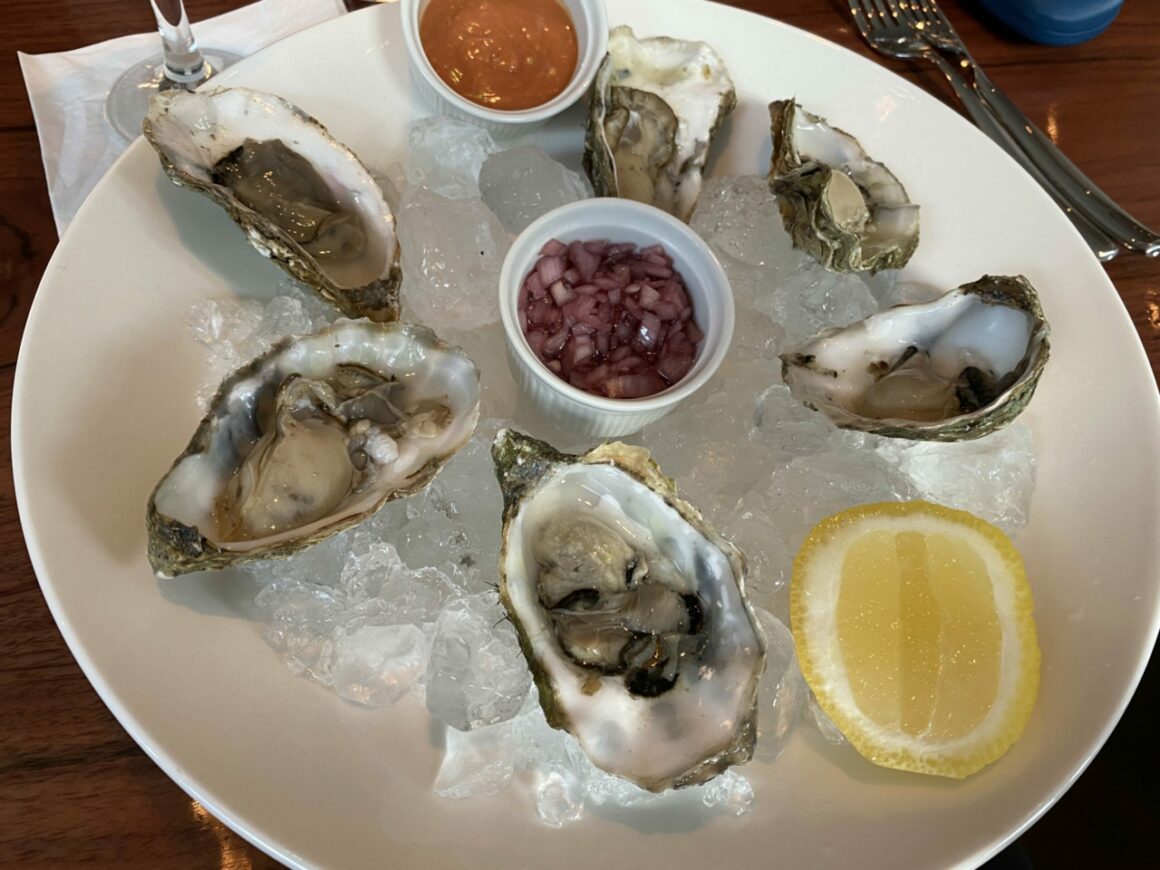 I sampled some oysters with it which were high quality. I have not had oysters with American-style seafood sauce before but it worked pretty well as an alternative to Tabasco. (US seafood sauce is like a spicy tomato and horseradish sauce rather than creamy like ours).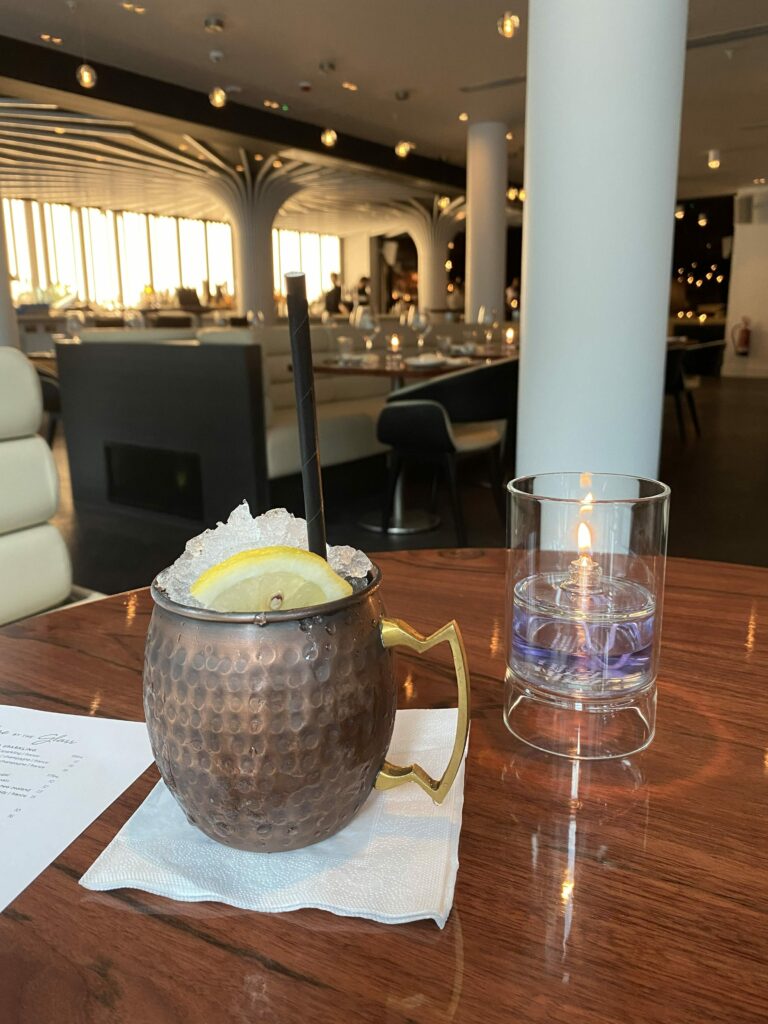 I finished up with a STK mule which included yellow chartreuse as well as the traditional ingredients. It tasted like ginger beer with a twist but I am sure it wasn't as innocent as it seemed!
Here is the full restaurant menu: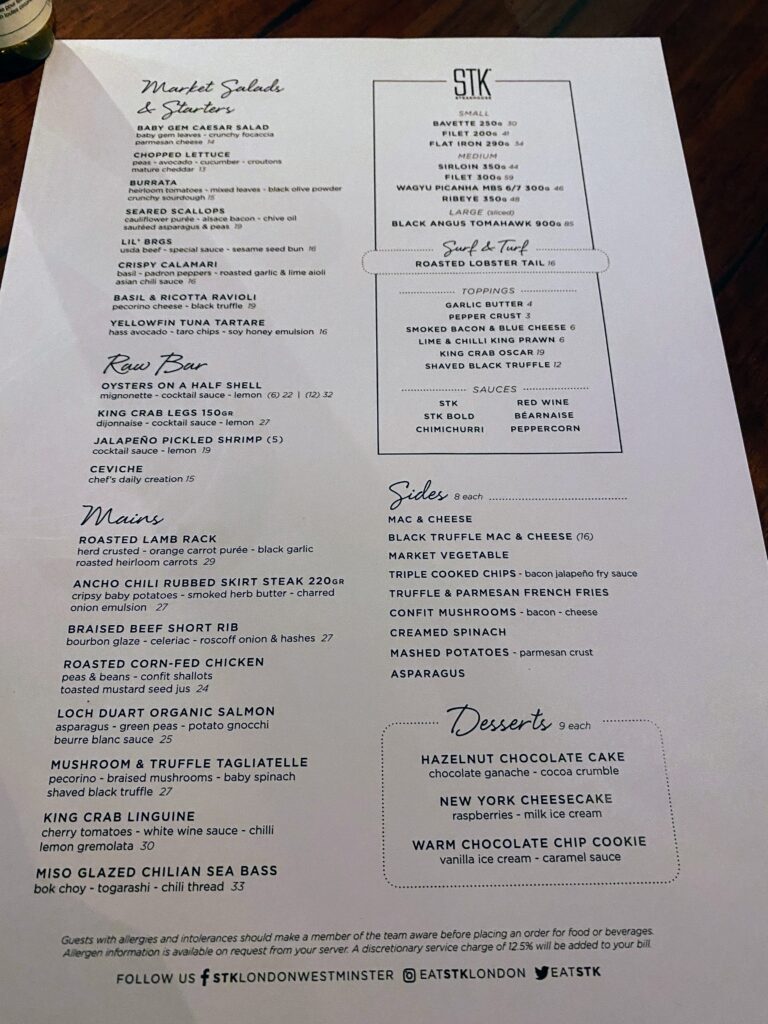 I then returned a couple of weeks later when the restaurant had fully opened with my friend Jersey Girl aka Katie in London.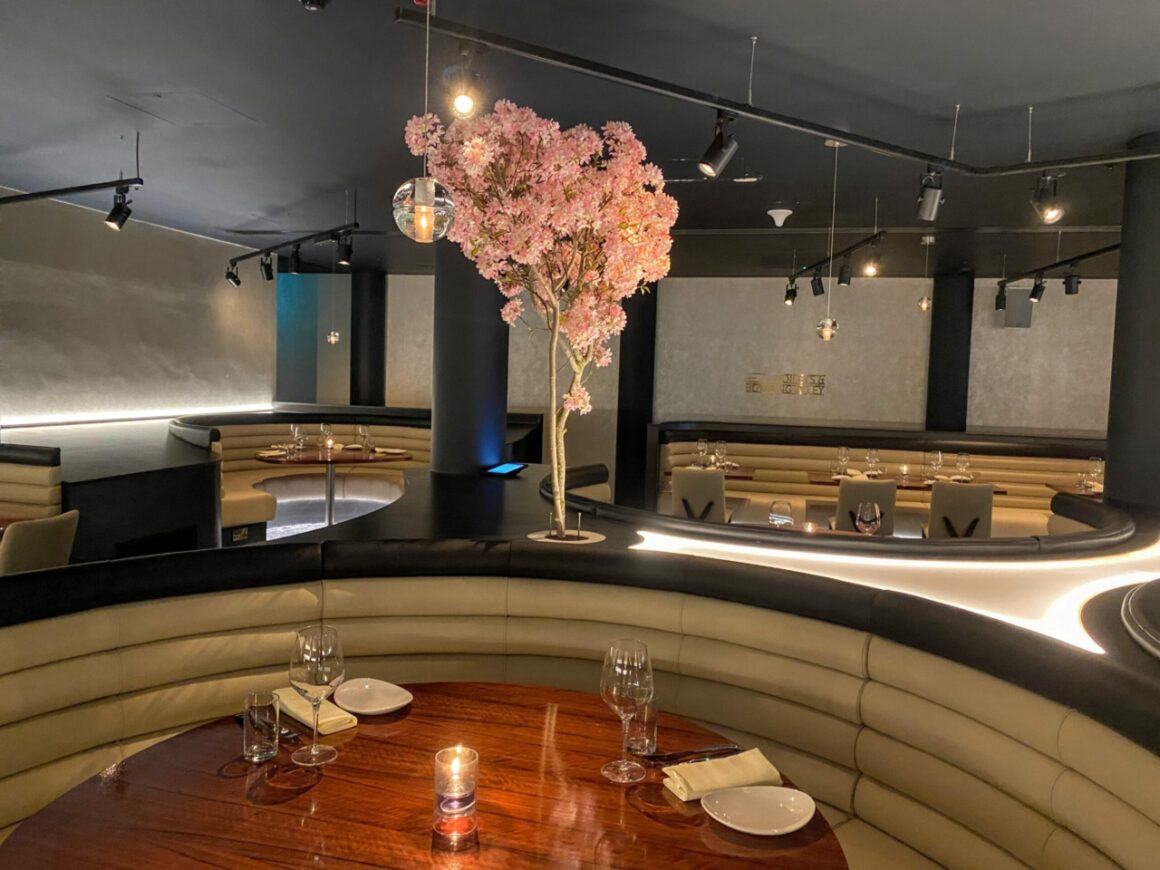 I really liked the decor of the dining area which felt quite romantic with the blossom trees but still very modern. We both loved the chilled house music as they have a DJ in the evening, but it did get a little loud towards the end of the evening.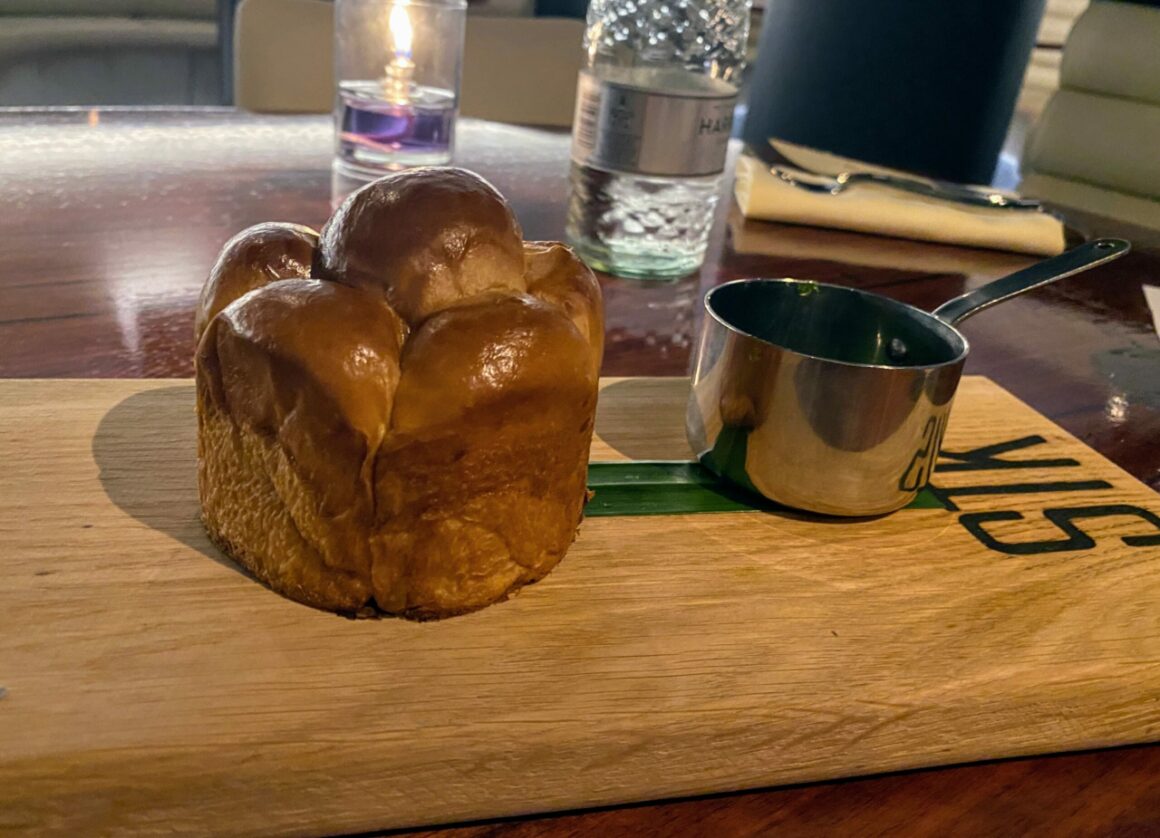 We started off with the complimentary warm brioche bread which is topped with a subtle blue cheese butter and served with a chive dipping oil. The balance of the sweet bread with the salty cheese and onion tang of the chives was the perfect match. Needless to say, it did not last very long at all!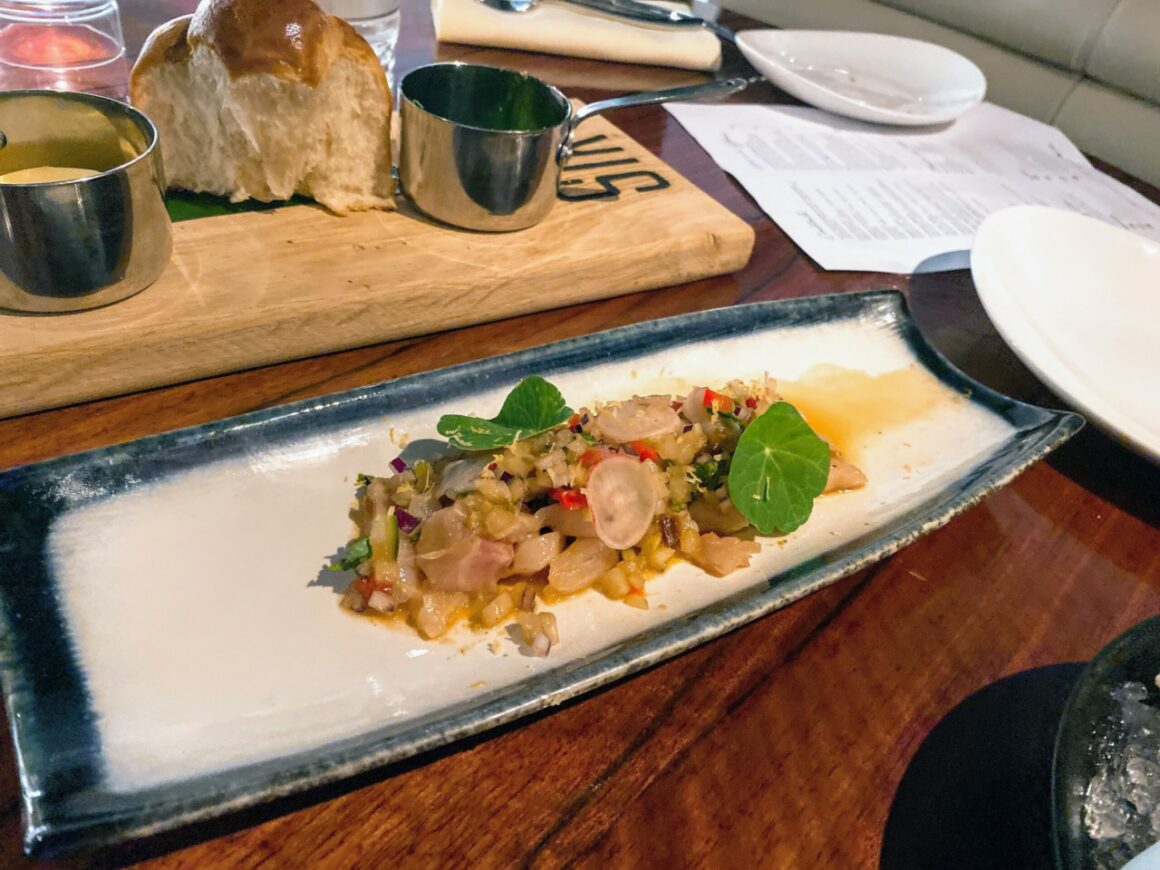 We decided to share the starters so that we got a taste of both. STK is not cheap by any means but you definitely get a lot for your money with the main dishes. First up was the seabream ceviche – the actual type of ceviche changes daily. This was perfectly cured in citrus to a slight opacity and the chilli kick livened it up without destroying the more delicate flavours.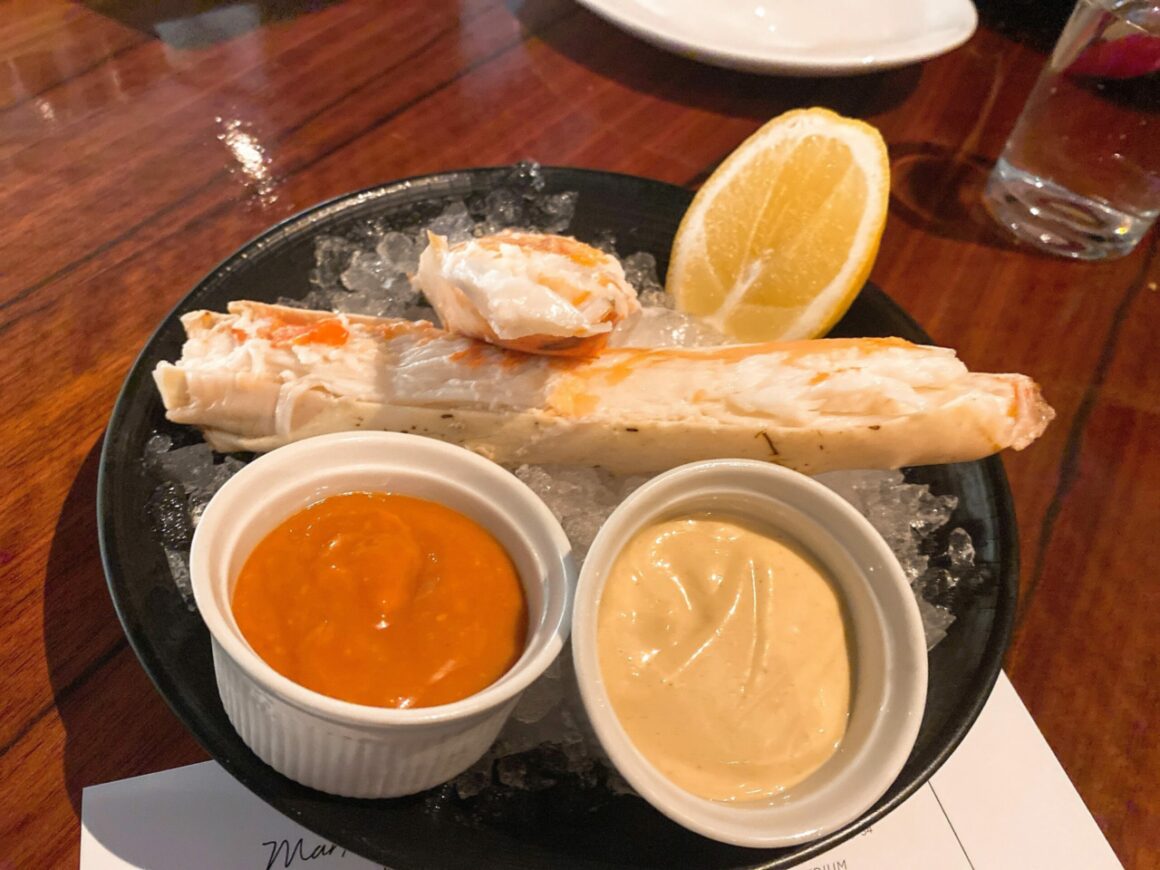 Next were some crab legs which were probably the biggest I have ever seen! This was served with dijonnaisse and American style cocktail sauce. They were beautifully sweet but meaty.
For the main course, we had to have steak of course! As well as the main menu they have various special cuts so we decided to try the Porterhouse which was around 900g. We also had the chimichurri and peppercorn sauces which are included in the price. I tried the spicy version of American steak sauce too but I can't say I'm a convert. It's a bit like a spicy version of A1 sauce which I've never really "got".
Wow is all I can say about the steak! I am very fussy when it comes to steak and this was pretty much perfect. A lovely charred crust on the outside, cooked perfectly medium-rare. The inside was tender and full of flavour. Our only real gripe with the meal was the price of the sides. The truffle parmesan fries were delicious, but I struggle to justify £8 for a side dish as the portions were on the small side for two.
We were both totally stuffed but we were persuaded to try the cheesecake. It was described as New York-style but it felt more like a traditional cheesecake to us. It wasn't too sweet and the milk ice cream helped temper the richness.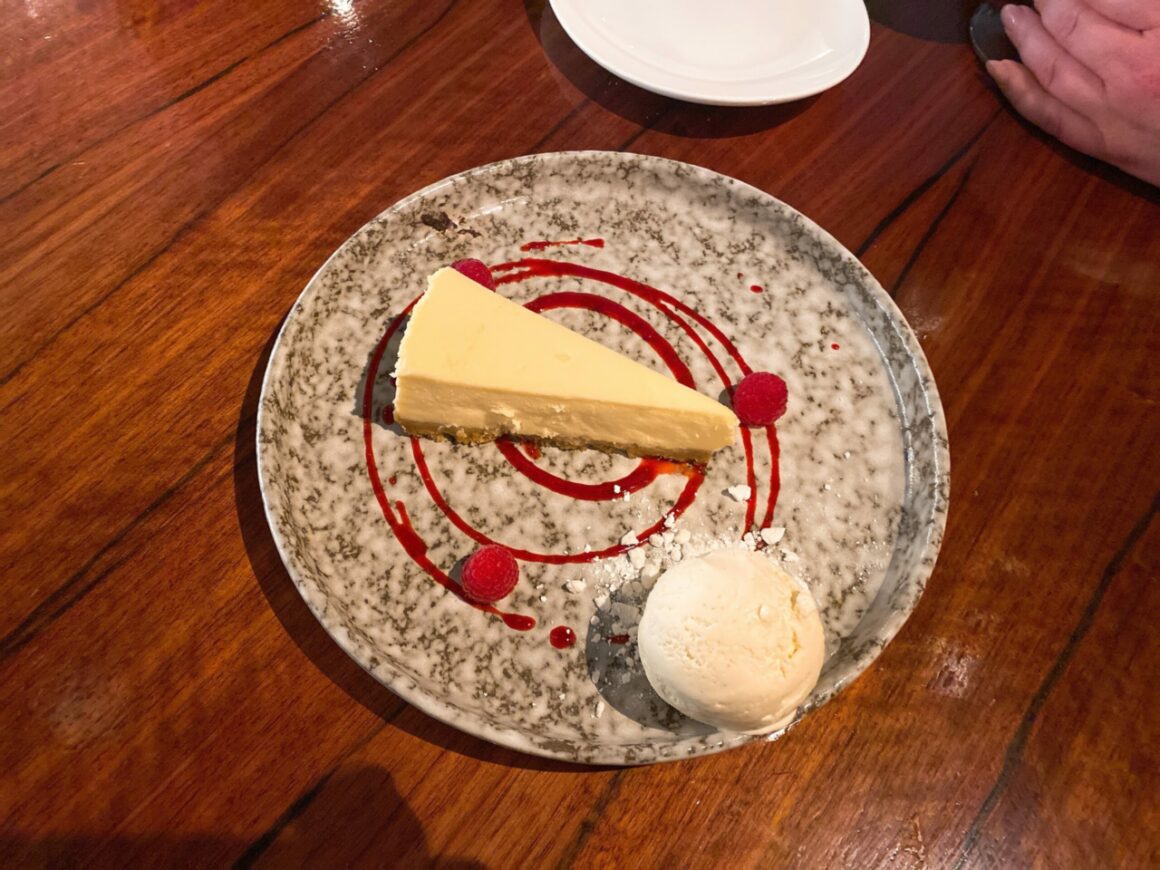 Yum Bao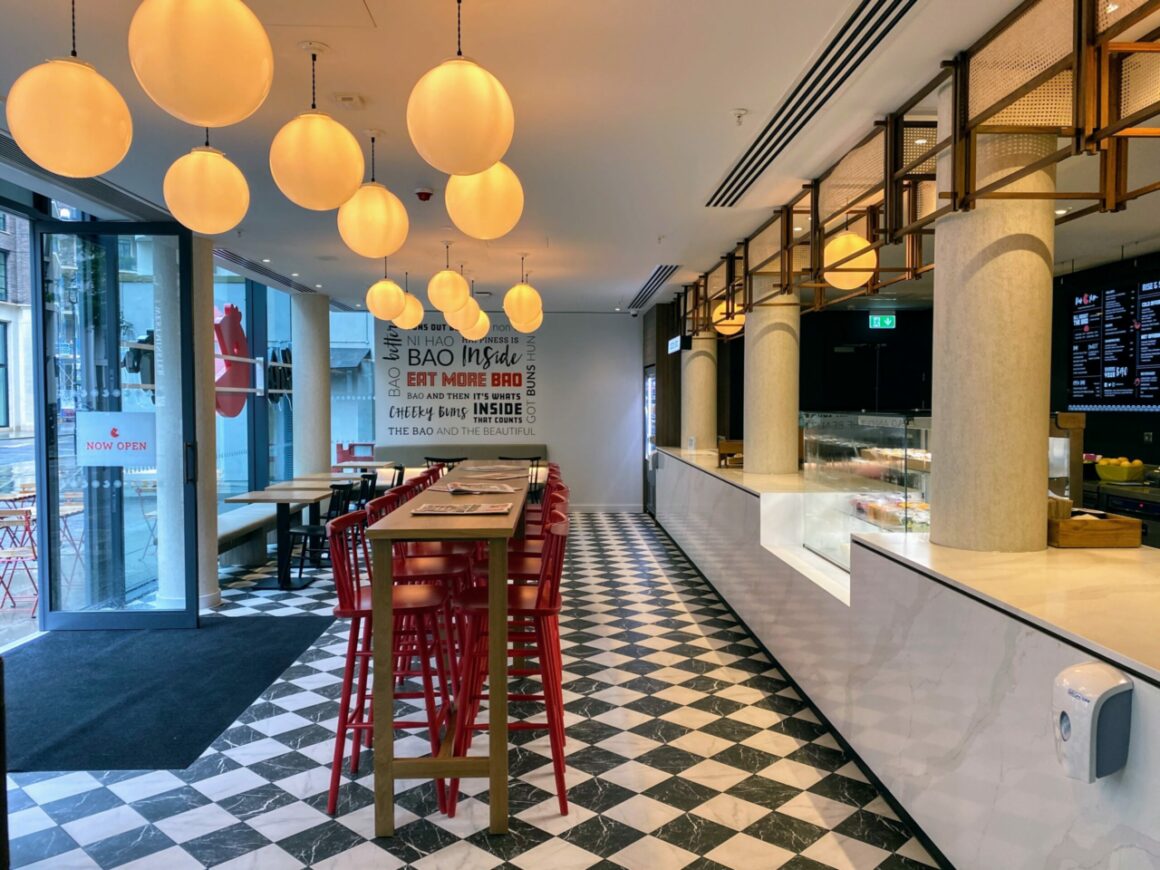 This casual eatery serves a twist on traditional bao buns with cheeseburgers baos and even breakfast baos as well as dessert versions.
Facilities

The hotel has a gym as you would expect but also a rather unexpected feature – a bowling alley! It's available to book for events and would make a great place for a party if you are into bowling.
Conclusion
As I stated earlier I normally tend to stick to the Bankside or occasionally the LXR if I am feeling flush for my Hilton stays. I would now definitely add The Westminster into my rotation. So why did I like The Westminster London? I like the fact that it has a better location for much of London than the Bankside and the rooms felt a lot brighter too. If you want a spa and pool then the Bankside is your best bet. However, a lot of the time I am not actually going to have time to use those sort of facilities, so why pay for them?
The things I liked about the hotel were the super comfortable beds and well-designed room. Customer service was spot on and I appreciated that there were two restaurants on-site that I would actually visit even if I wasn't staying there. Prices are very reasonable for the quality of hotel versus the other options, so I am sure I will be back.
You can find more information and prices here.
Like our The Westminster London review? You can read more hotel reviews here.