Hong Kong banning UK flights from Thursday 1st July
Hong Kong has announced it has banned all flights from the UK as of July 1st, as it attempts to limit the spread of the 'Delta' COVID-19 variant onto the island.
Hong Kong has classified the UK as an 'extremely high-risk' country, which is currently the highest possible rating Hong Kong has regarding COVID travel.
The decision means that anyone who has recently spent more than two hours in Britain would be refused entry onto any flights to Hong Kong, from any airport.
Hong Kong authorities specified that the decision was made based on the recent resurgence of the virus in the UK, in particular the now widely spread 'Delta' variant that has countries across the globe voicing concern.
Currently, around eight daily flights are scheduled between the UK and Hong Kong, all of which are non-stop and fly out of London.
Flights from Hong Kong to the UK are currently not affected. The country recorded it's first locally-acquired 'Delta' variant case last week, which brought to an end the 16-day streak of zero local cases.
Swiss unveil new Premium Economy

SWISS have just revealed their new Premium Economy Class, which is designed to supplement the existing cabin options from the fourth quarter of 2021.
According to the airline, SWISS Premium Economy Class travellers will be able to relax in greater privacy and enhanced in-flight comfort. One of the key factors in this will be the newly developed fixed-backshell seat.
Other new features include a wider range of in-flight cuisine, along with double the regular Economy Class checked baggage allowance. Guests travelling in Premium Economy will also be given priority boarding.
The new offering is set to be installed on all of SWISS's long-haul Boeing 777-300ERs, and is now live and bookable. The airline aims to strengthen the 'premium positioning' in the growing leisure travel sector, a move which echoes several other airlines who are keen to offer customers more, post-pandemic.
The entire SWISS Boeing 777-300ER fleet will feature the new Premium Economy Class cabin by the start of the 2022 summer schedules. In line with general market pricing, the one-way fare for the new Premium Economy Class will be around CHF 250 to 350 higher than its Economy Class equivalent.
"We are delighted that, in introducing our new Premium Economy Class, we are meeting our customers' growing demand for more privacy, more comfort and more individuality, and by introducing our new class of travel, we are also further strengthening our premium positioning in the growing leisure travel segment" said SWISS CEO Dieter Vranckx.
More about the fancy new seats:
Each Premium Economy traveller will find themselves sitting in the latest-generation seat from seating manufacturer ZIM. The seats are integrated into a fixed backshell 'to ensure zero intrusion into the personal space of the passenger behind' – which is great, no more dreaded 'will they, won't they' moments while you're trying to eat your lunch.

The new seats are wider than regular Economy too – coming in at between 46 and 48 cm across, compared to the usual 43.4. The pitch has been extended from the 78.7 centimetres of Economy Class to 99 centimetres, which translates into substantially more legroom. There is also a fold-out leg rest for extra comfort.
Premium Economy travellers also receive a complimentary amenity kit, noise-reducing headphones and personal reading lamps. Charging ports are built into the seats, and guests can enjoy their entertainment on their 15.6 inch monitor.
SWISS Chief Commercial Officer Tamur Goudarzi Pour says the new seats are tops.
"Our new Premium Economy Class is tailor-made for our previous Economy Class customers who are looking to enhance their air travel experience and enjoy the benefits associated with higher travel classes. In international comparison terms, our SWISS Premium Economy Class is very clearly positioned as a top travel product."
As mentioned, the menu is also expanding for premium passengers. Complimentary elderberry welcome drinks are served, and hot meals will be served on china tableware. Dishes come from the award-winning 'SWISS Taste of Switzerland' culinary program.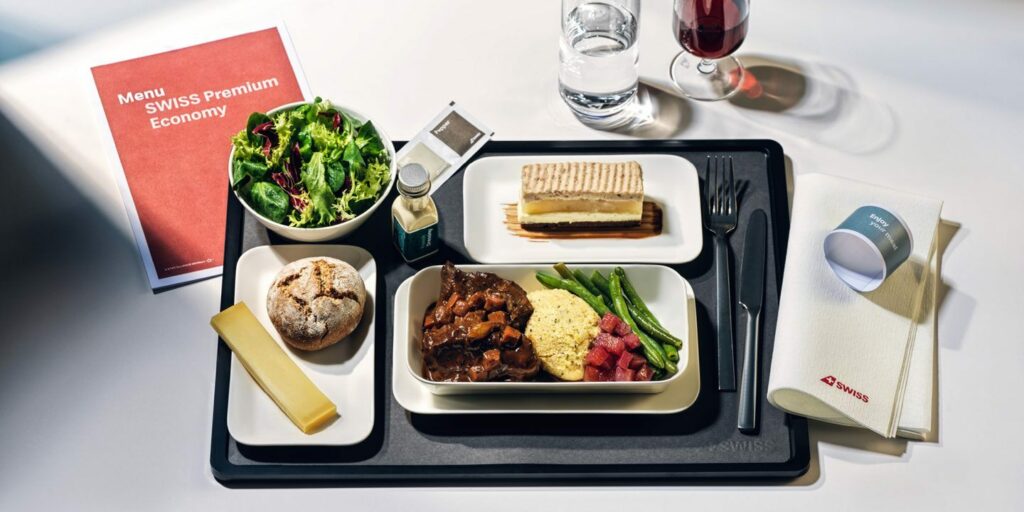 Up to two bags of 23kg each are allowed, and travellers can also enjoy reduced prices for the SWISS Business Lounges at Zurich and Geneva airports and the SWISS Arrival Lounge at Zurich Airport. As mentioned, priority boarding is also offered.
Anyone interested can book now to travel from April 2022 for destinations including Bangkok, Hong Kong, Los Angeles, Miami, San Francisco, São Paulo or Singapore (pending pandemic, of course).
If you want to check it out for yourself, you can 'sit' in the new Premium Economy via an augmented reality experience on the airlines website – head here.
India extends its ban on international flights until 31st July
The Directorate General of Civil Aviation (DGCA) has announced in its latest advisory the extension of the ban on scheduled international commercial passenger services to and from India until July 31, 2021.
According to an official notification:
"In partial modification of circular issued dated 26-06-2020, the competent authority has further extended the validity of circular issued on the above subject regarding scheduled international commercial passenger services to/from India until 2359 hours IST of July 31, 2021".
The notification went further to state, however, that international scheduled flights may be allowed on selected routes 'by the competent authority, on a case-to-case basis'.
— DGCA (@DGCAIndia) June 30, 2021
Currently, India is only carrying out international flight operations via the Vande Bharat Mission and air bubble agreements with around 27 countries including Afghanistan, Bahrain, Canada, France, Germany, Iraq, Japan, Maldives, Nigeria, Qatar, UAE, UK, and the US.