Over the next couple of months, I will be doing a series on places to go to get good value tier points as well as have an enjoyable short break. I am not someone who subscribes to the tier point runs where you literally get a few hours in the destination and then come back. Much as I enjoy flying, the destination is as important to me as the flying. Other destinations in the series will include Catania, Luxembourg and Bangkok. If any good bargains come up in the next sale I will endeavour to do similar articles for them. If you have any suggestions let me know.
I have started with Phoenix by special request for some of my former ATC colleagues who are headed out there very soon. Hope you have a great time!
The best time to visit is over our winter with temperatures in the low 20s and clear sunny skies. By April temperatures are high 20s to 30°c although when I was there it was 37c!
The deal and tier points

The current deal is for £1294 from Bucharest, Romania to Phoenix from the beginning of July until 22 August. To get the most tier points without killing yourself, an optimal routeing would be something like Bucharest-London-New York-Los Angeles-Phoenix and then back. If you booked the positioning flights in Club as well (these are very expensive when not in a sale) you would get 80 (positioning) -80-140-140-40 = 480 one way, 960 return. Silver requires 600 tier points and Gold 1500. Add on one Qatar business class trip to Bangkok from Helsinki in a sale for example and you would have Gold in 2 trips for around £2300.
You can't stop over for more than 24 hours until you reach Phoenix on the ex Bucharest ticket. I recommend breaking the journey overnight at JFK but be aware most of the hotels at the airport are pretty bad.
You can book the tickets on American Airlines.
Where to stay
Despite flying into Phoenix I always head straight for Scottsdale, a 20-minute drive from the airport. This upmarket area surrounded by desert and mountains is my favourite place to visit in the US besides Hawaii. Apart from the high summer temperatures, I could easily see myself living here.
Top-end
The Canyon Suites at The Phoenician – Luxury Collection by Starwood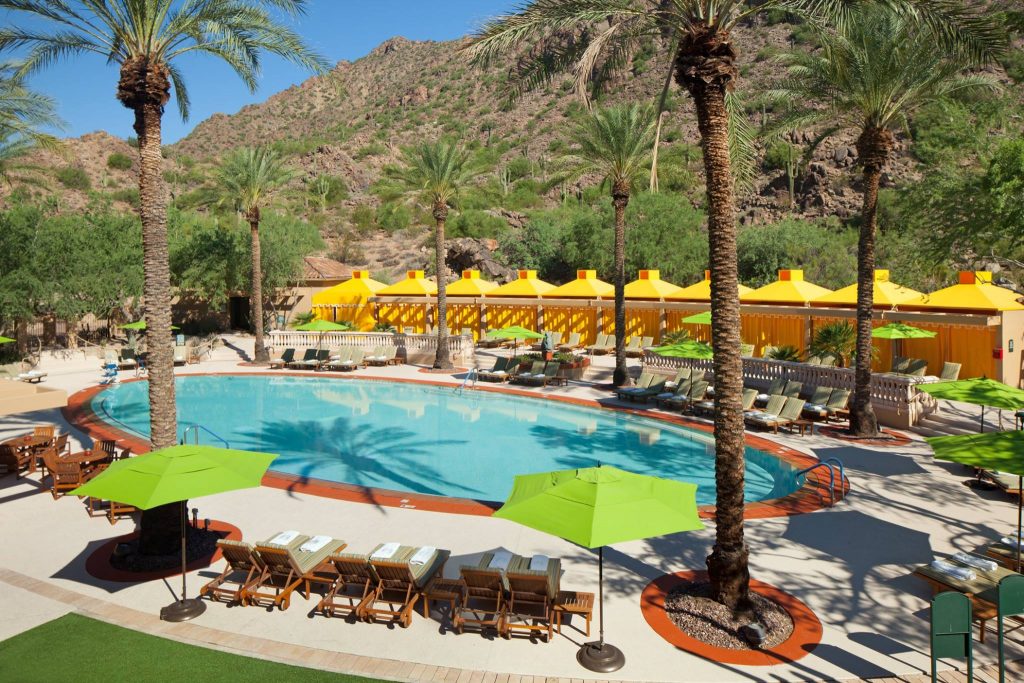 This is really a boutique hotel attached to the main Phoenician resort. The hotel only has a small number of rooms so has a much more exclusive feel to the large Phoenician resort but at a higher price. However, it is only a couple of minutes walk to the main resort which allows you to enjoy the peace and quiet at the Canyon suites but with all the main facilities and restaurants on your doorstep.
The rooms are larger here and you get added perks such as evening wine tasting with canapes which has much better wine than you would normally get in a free evening drinks offering. The hotel also has a car that will drive you anywhere within a certain radius for free. There are a few restaurants within walking distance and you are around 5-10 minutes by car from the centre of Scottsdale.
You can find more information on Canyon Suites here.
The Phoenician – Luxury Collection by Starwood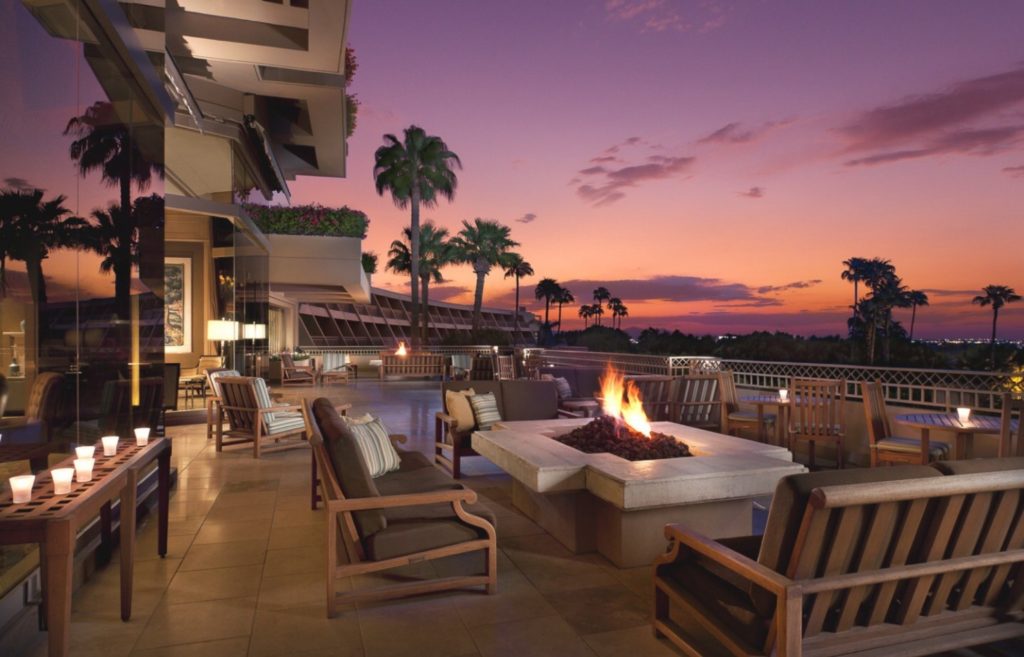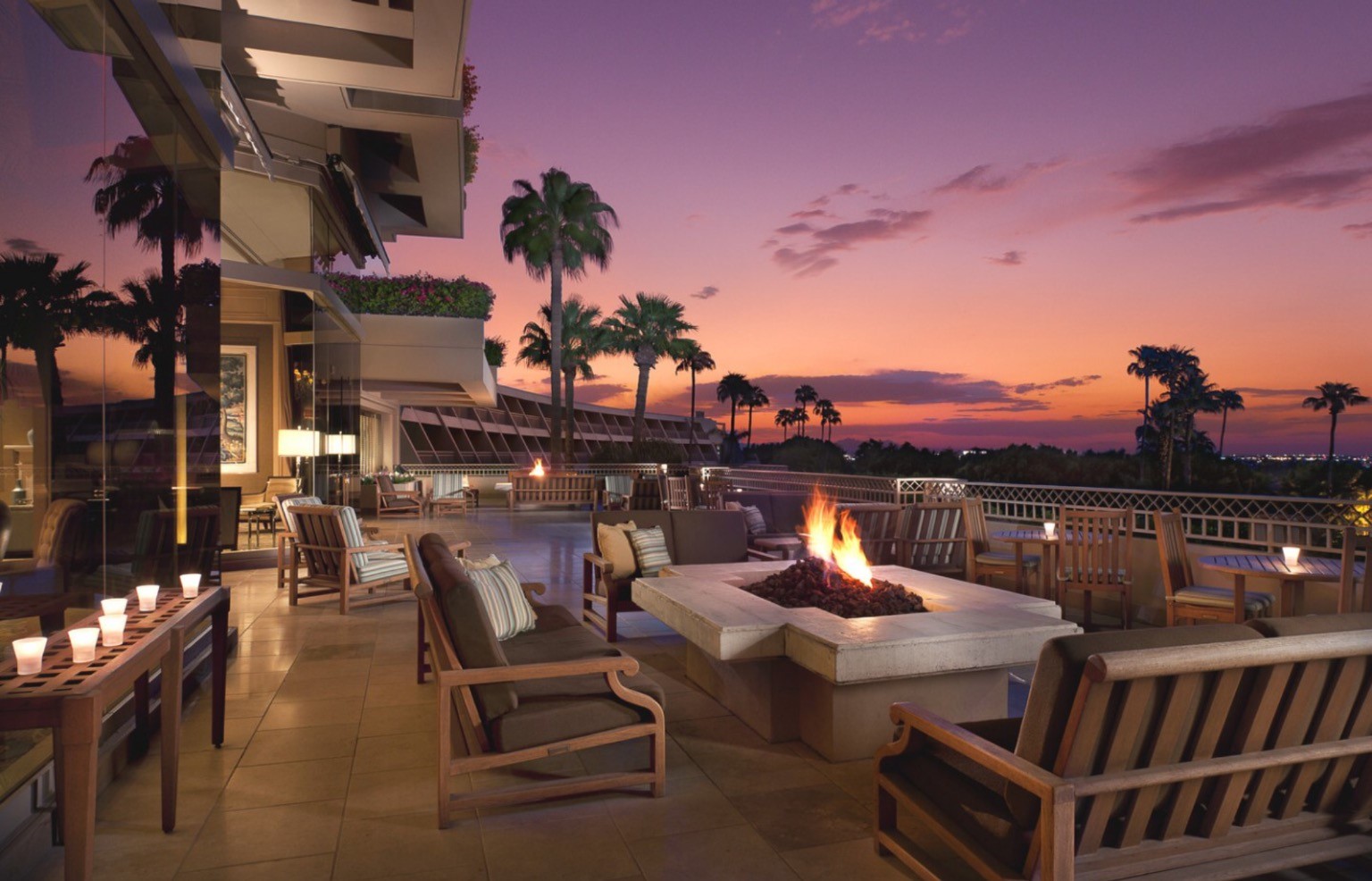 I have stayed at this hotel several times and plan to return again. I like the scenic grounds of the hotel and that there is so much on site yet you are also close to the centre of Scottsdale.
This hotel can be very expensive at peaks times but in the summer rates start from around $180 a night. This is a large resort with multiple pools, golf course, spa and several restaurants. The rooms have all been recently renovated along with a new restaurant and spa. At the rear of the property is a beautiful cactus garden and Camelback Mountain. The hotel is only about 5-10 minutes drive from the centre of Scottsdale.
One of the highlights for me is sunset drinks on the terrace around the firepits watching the sun sink behind the mountains. Breakfast on the patio is also good with the resident Falconer wandering around with their hawk. I will be visiting the hotel again this summer to do a full review after most of the renovations are complete. Note: Some of the restaurants will be closed during the summer whilst renovations take place. Contact the hotel for more details.
You can find more information on The Phoenician here.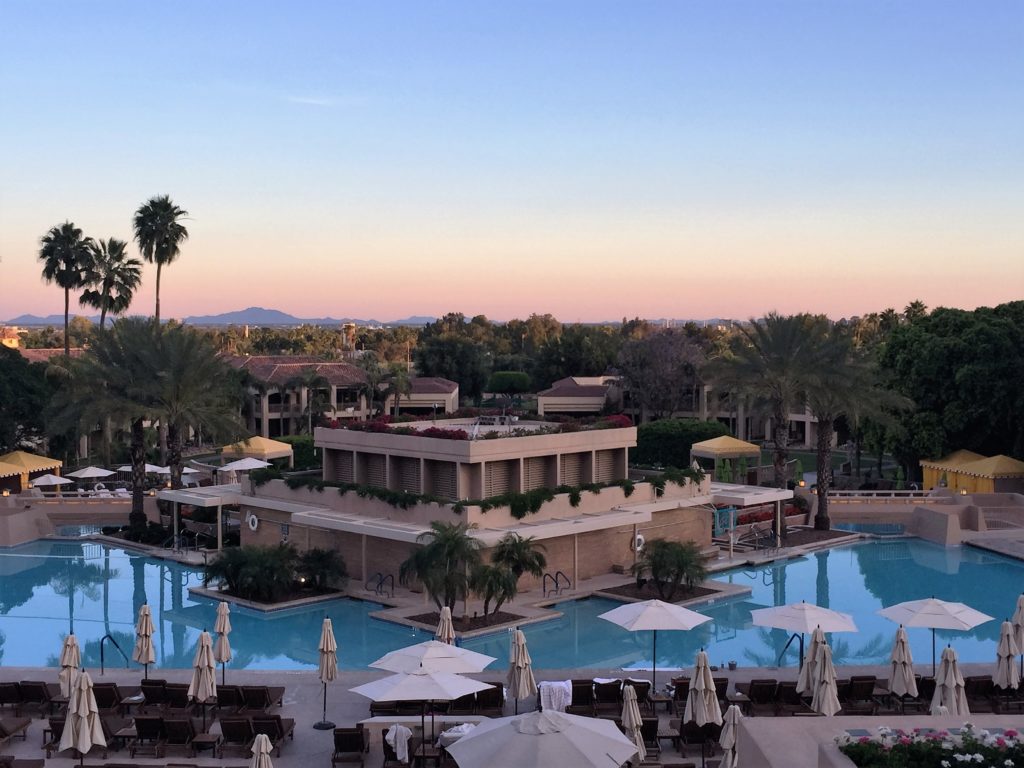 Mid-range
Some people may be surprised to know I have willingly stayed at a couple of 3* hotels in Scottsdale, given my penchant for luxury. Prices can be extortionate over the winter months in Scottsdale as many conferences are held there along with sports teams doing their winter training. However, with so much competition, even the lower category hotels have some gems amongst them.
Gainey Suites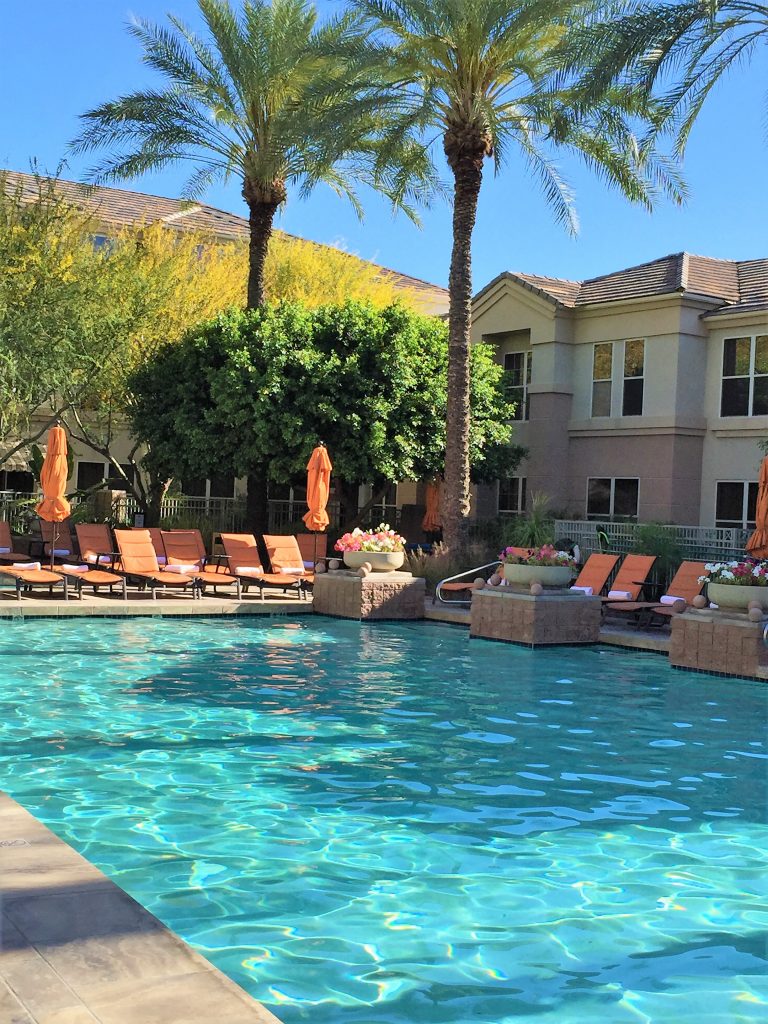 Gainey Suites is an American style boutique hotel. The rooms are all suites with kitchens and have plenty of room. Breakfast is included as is evening drinks (wine and beer) and food. The hotel rooms are set around a lovely courtyard pool and garden. There is no restaurant on site but you are next to The Shops at Gainey Village which have plenty of eating and drinking options plus a spa.
You can find more information here about Gainey Suites.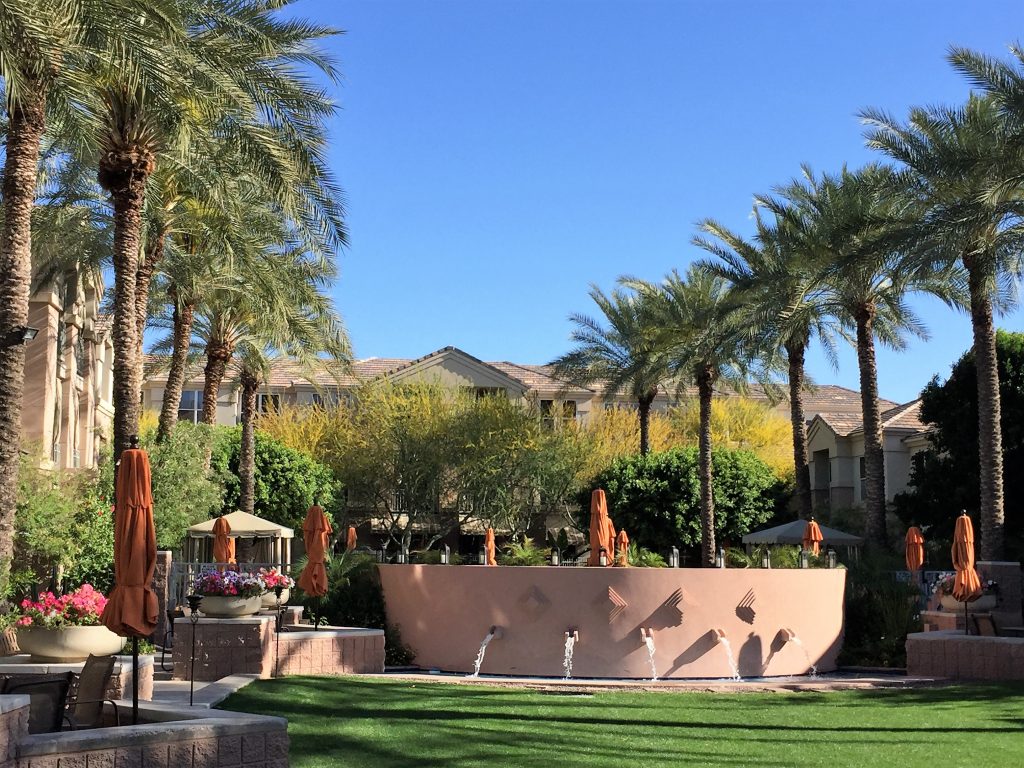 The McCormick by Millenium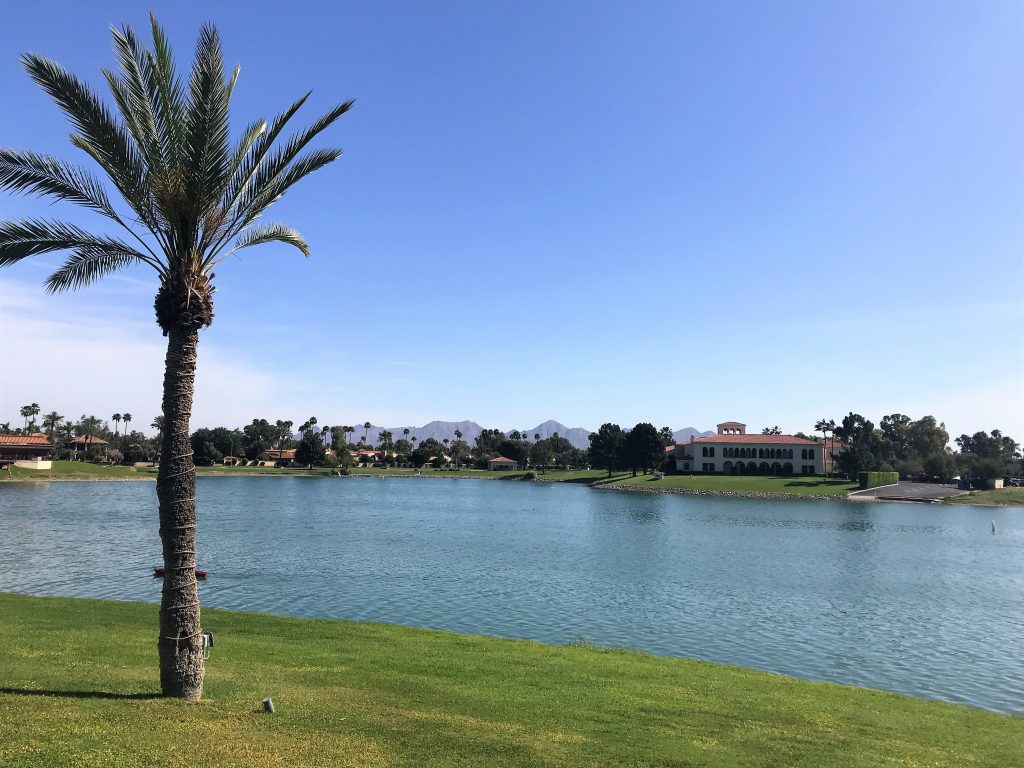 The McCormick has a scenic location next to a lake with rooms overlooking the lake and mountains in the distance. The rooms are very comfortable although the stand alone air conditioning units are a bit noisy as they switch on and off. The staff here are generally excellent especially the bellboys/valets and front desk. The hotel has a number of perks such as Manager's wine hour with drinks and snacks in the evening and a free shuttle service within a 5-mile radius. Activities are available on the lake such as kayaking. The hotel has a nice pool, gym and lakeside restaurant.
Here is the McCormick website.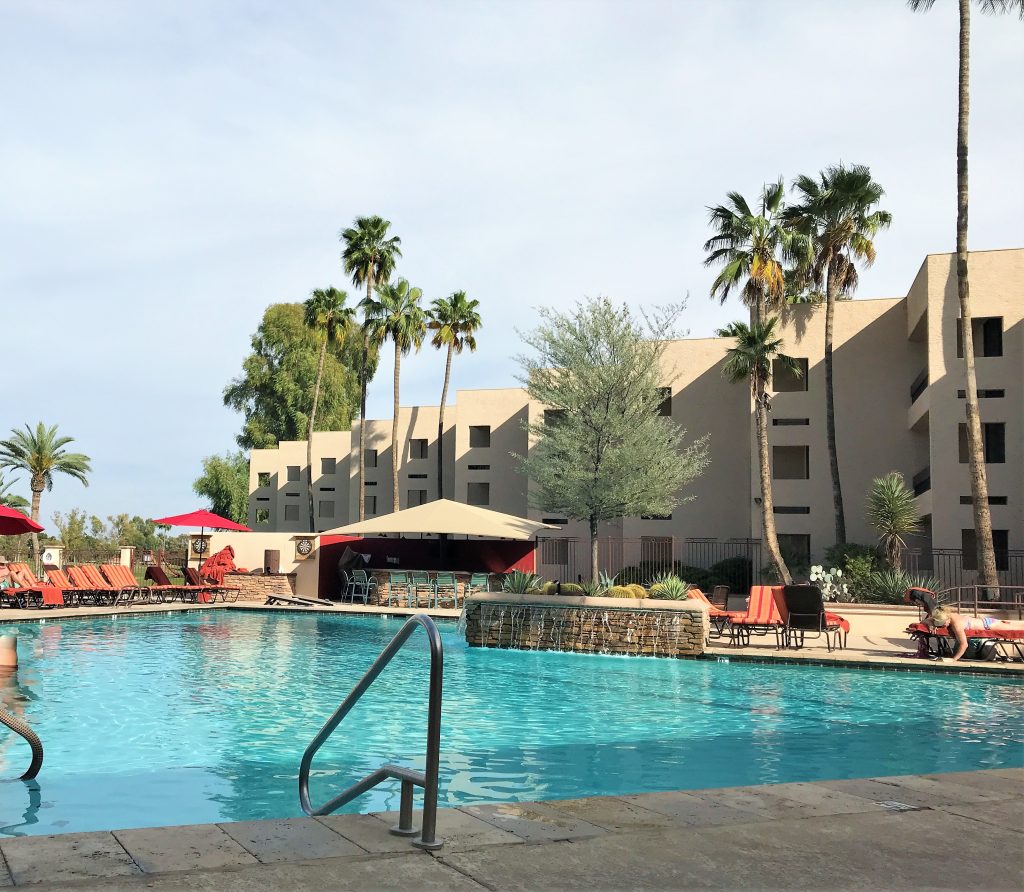 What to do
The Phoenix area is a golfer's paradise with plenty of courses to choose from such as the beautifully scenic Troon North with two 18 hole courses and great customer service.
The Scottsdale Old town and Arts District are worth a wander around and if you are into shopping the Fashion Square Mall is excellent. Scottsdale is big on spas too with all the main resorts hosting their own spas as well as a few stand-alone day spas.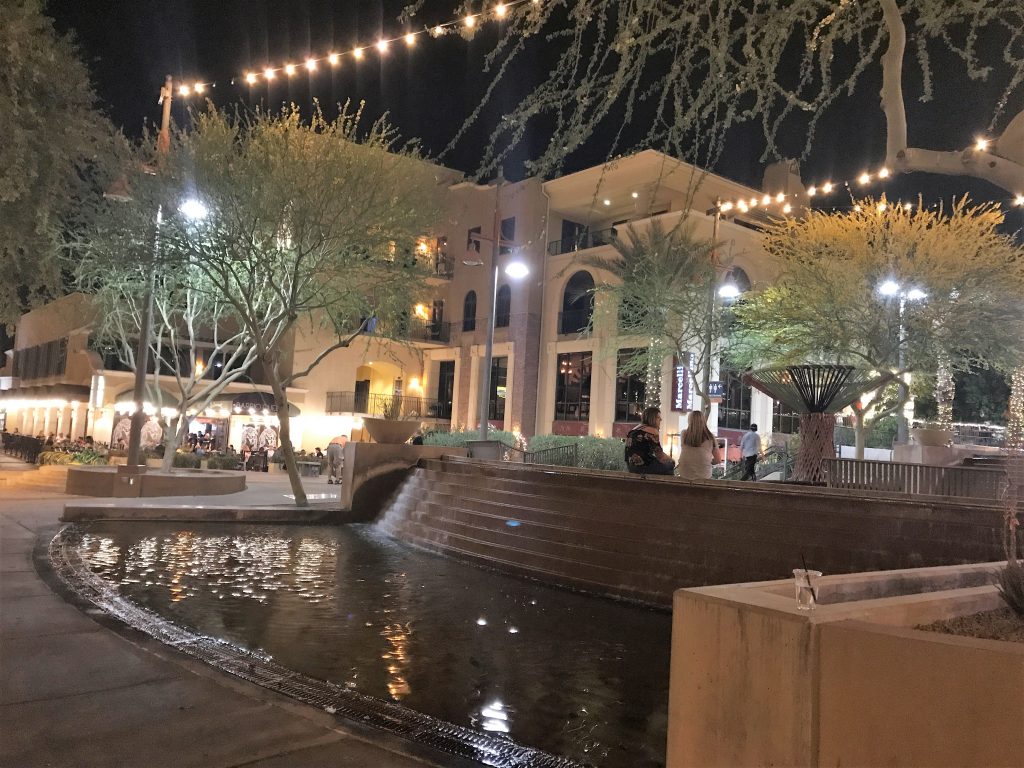 Further afield is the Apache trail which makes an interesting drive out into the desert. The first half is paved but the second half isn't so make sure you are covered by insurance for unpaved roads if you do the full 40-mile trail. You would need a 4 wheel drive really. It is a challenging drive with hair bends and twists and turns but well worth it for the stunning views through the Superstition mountains.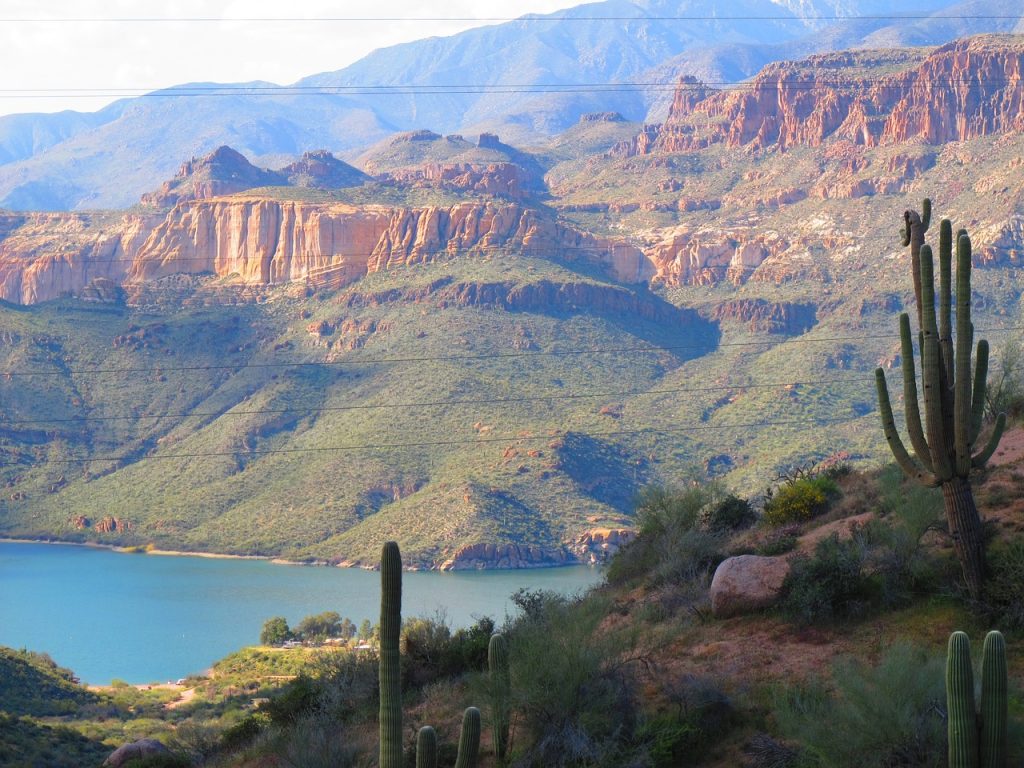 If you have plenty of time on your hands Sedona is a 2-hour drive from Scottsdale with beautiful scenery. It is usually a few degrees cooler than Phoenix so worth considering as an escape in the height of summer.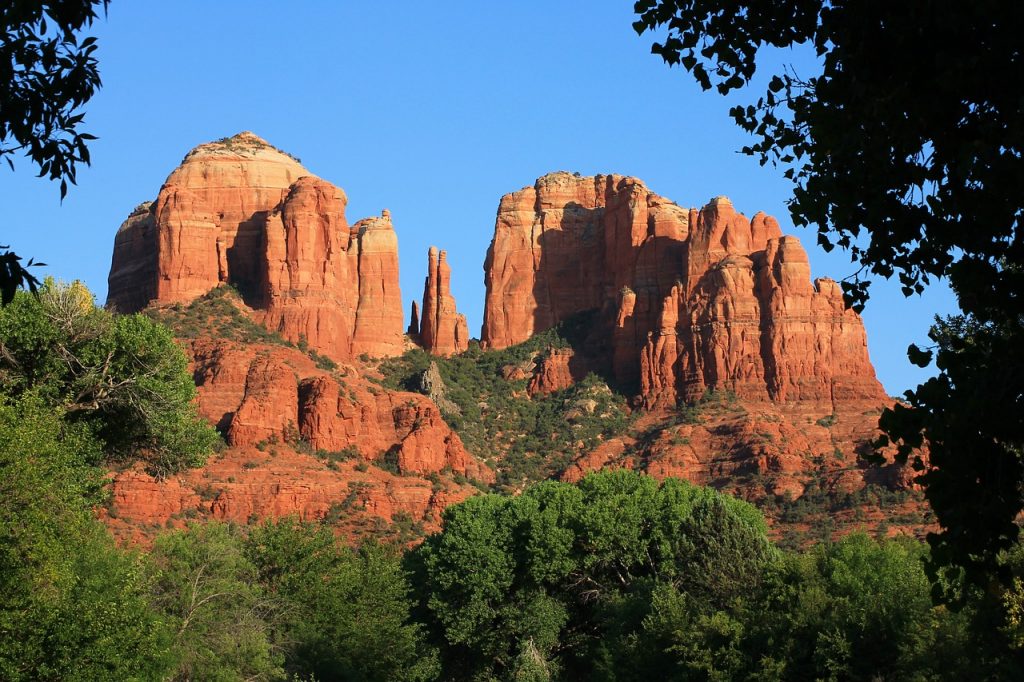 The Grand Canyon is doable from here too with a 3.5 hour drive each way. Other day trips such as Tombstone for a bit of the Wild West and Monument Valley by air are also worth considering. Phoenix itself has a zoo plus historic buildings and museums. Tempe is a trendy suburb where the university campus is based which is full of buzzing eateries and bars.
If you want to be more adventurous there is river rafting at Salt River, rock climbing and a kart track. Off-road Segway across the desert also looks fun.
Eating out
Scottsdale has a huge choice of eateries from chain restaurants to small independents and most have a patio area. The areas around Old Town and the Scottsdale waterfront are the best place for a night out. These are right next to Fashion Square mall which also has several restaurants and bars. For a boys night Yard House at Fashion Square has 118 different beers to work your way through.
If you want a more romantic evening Olive and Ivy is an Italian restaurant at the Scottsdale waterfront with a large fairylight lit waterside patio. There is also a lively bar area inside. The SOI 4 restaurant at the Village at Gainey is a great modern Thai restaurant.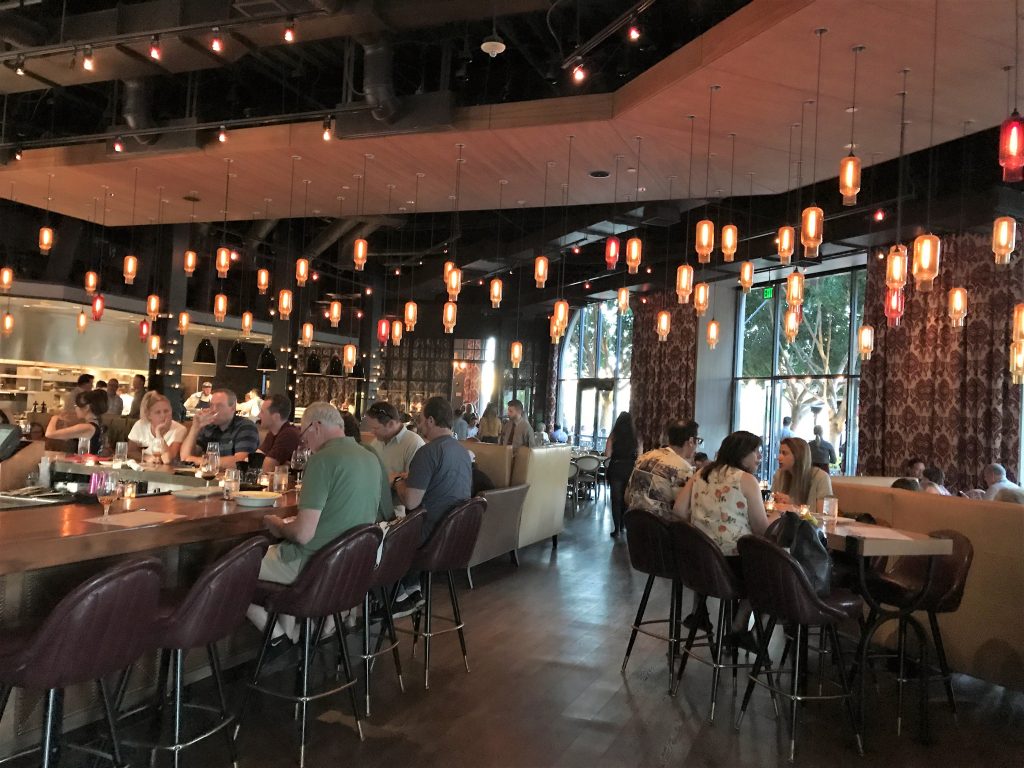 If you fancy visiting a few American upmarket favourites, the Kierland Commons area north of Scottsdale has Tommy Bahamas (Hawaiian), Maestro Ocean Club (steak and seafood) and The Cheesecake Factory.
Phoenix airport tips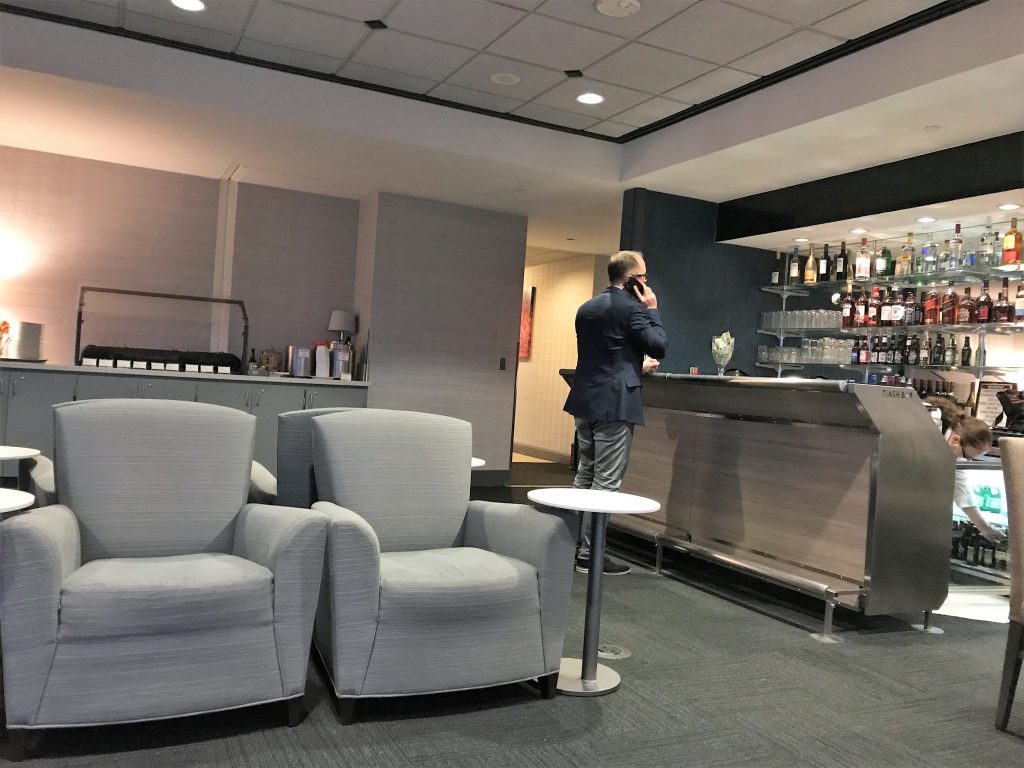 BA operate from Terminal 4 at Sky Harbour. Phoenix airport is currently undergoing some maintenance meaning that the main escalators are out of service. Be prepared for a long wait to get a lift to and from the departure area. There is a Premium security queue available too.
Ubers operate from the airport. All the information on requesting an Uber at Sky Harbour is here.
There is a 3rd party lounge for BA, The Club at Phoenix. This is not worth getting to the airport early for. There is a staffed bar where you get all the drinks from and a very small selection of sandwiches, soup and a few crudites. The spirits selection is reasonable with Tanqueray Gin, tequila amongst others and there is a good selection of beers too. The wines are pretty mediocre though. It does have a view of the airport but not a particularly great one since there is a flat roof in the way. There are plenty of eating options in the terminal if you want something more substantial. The gate area is too small for the amount of people and pretty hot too so I would avoid arriving too early. It is normally only a 2 minute walk from the lounge. They do call groups forward one by one but it starts off as a bit of rugby scrum due to the small area.