As a Hilton Diamond member, I am gradually working my way around all the London Hiltons. My current favourite is the Hilton Bankside which you can read about here. However, I had always fancied staying at the Hilton Park Lane since I had enjoyed visiting to go to the Windows bar at the top. Given that this was only slightly cheaper than the Intercontinental Park Lane would it match up?
Location
The Hilton has a great location near the start of Park Lane and is walking distance to many of Mayfair's hotels, restaurants and bars. It is also between Green and Hyde Parks. In terms of getting around, it is close to Hyde Park tube at around a five-minute walk and around 10 minutes to Green Park.
Check-in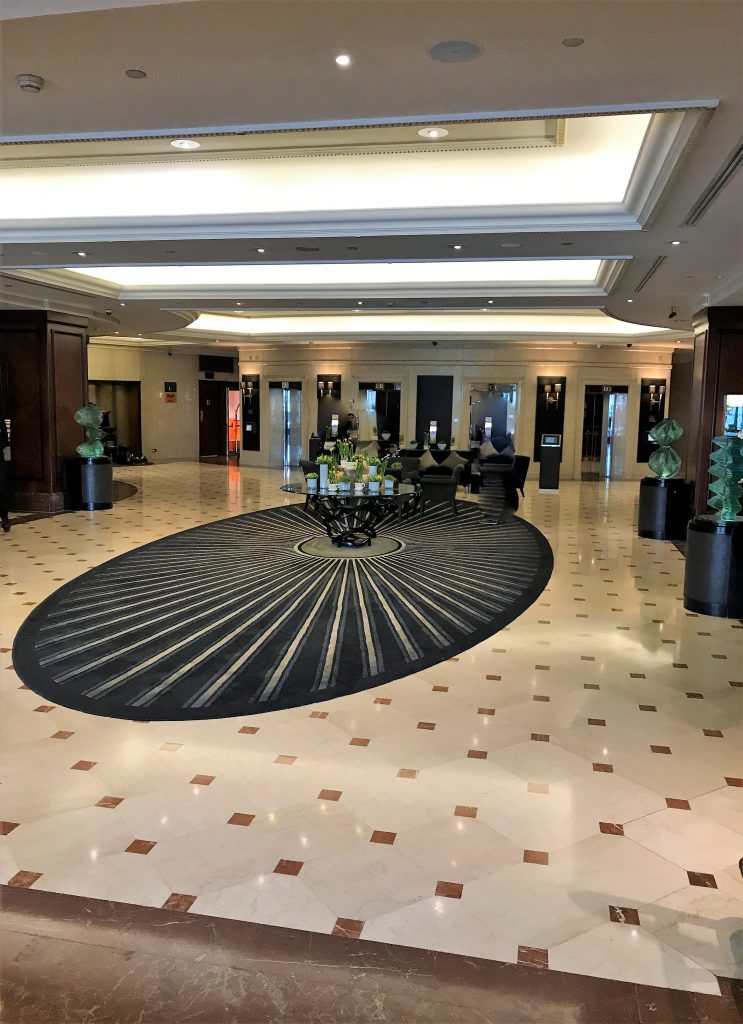 I found the lobby area rather underwhelming. The hotel was the first Hilton to open in the UK in 1963 and it is definitely rather dated now. Unbelievably I actually got accosted by hotel security for taking a picture of a chair in reception! " You can't take picture of people in the lobby" Me: " I am taking a picture of an empty chair?" Security: " You can't take pictures of people in the lobby" At this point I began to wonder if he could see imaginary people that I couldn't! I have taken photos of hundreds of hotels as you can imagine, most far fancier than the Hilton, and never once have I had security approach me!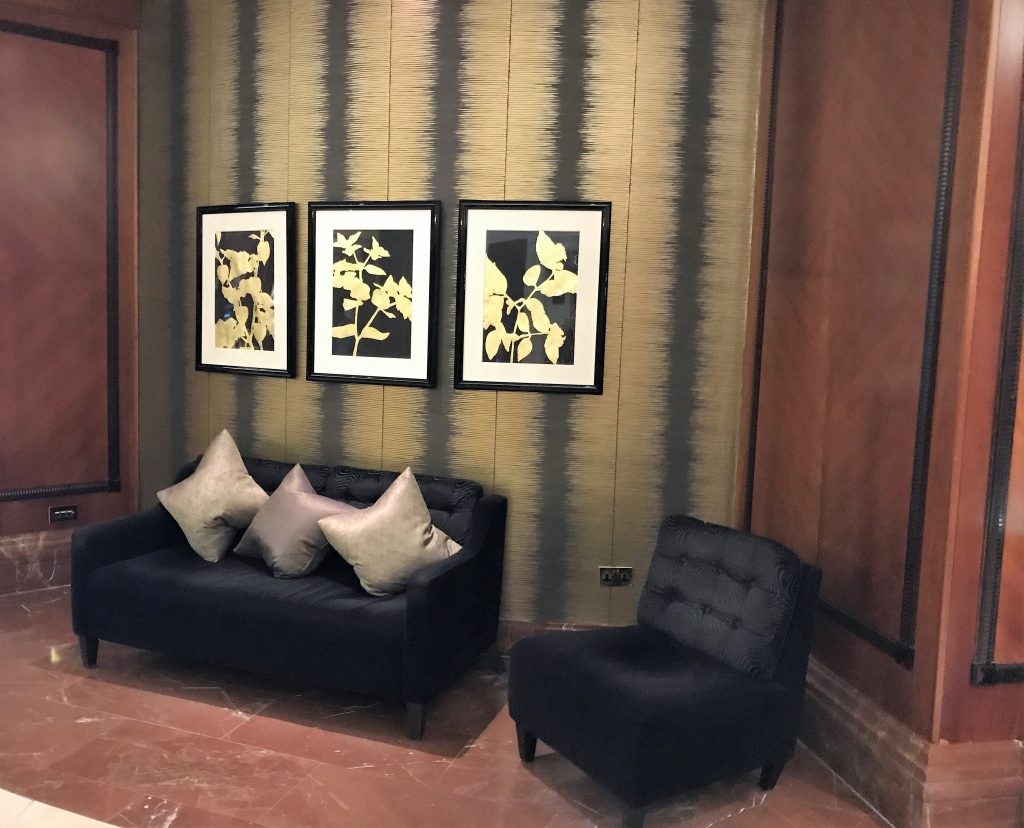 The check-in experience was fine. The receptionist was friendly enough and explained the Hilton Diamond benefits. I got upgraded to a Club room which at the risk of sounding ungrateful is usually pointless. Most of these rooms are normally the same as a basic room but with lounge access. Since I get lounge access anyway, it is not really an upgrade! However, at the Hilton Park Lane they are on the higher floors which it turns out is a good thing for noise reduction. So far the Bankside was winning hands down as I currently have a 100% record of suite upgrades there. I did like the fancy lifts they had where you typed in your floor number and it guided you to a specific lift that went to the floor automatically. It seemed to work well and I never had to wait for a lift for more than a few seconds.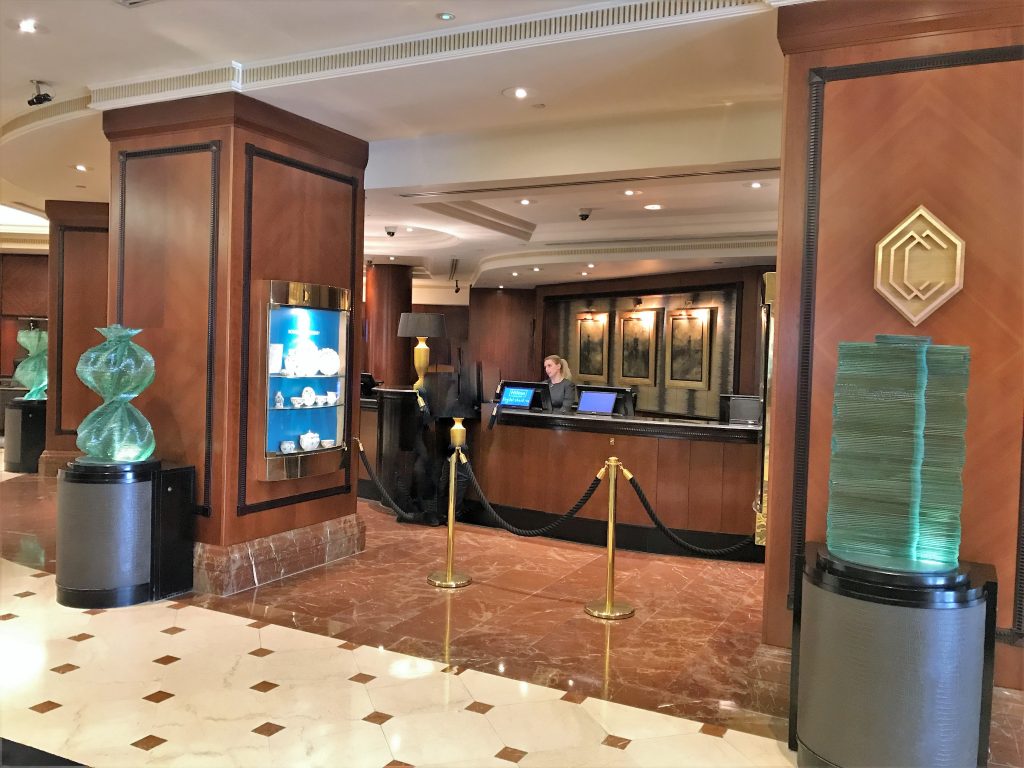 Room
Post from RICOH THETA. #theta360 #theta360uk – Spherical Image – RICOH THETA
The room was also slightly underwhelming. It looked unsurprisingly like Hiltons from a few years ago before some of the more modern ones started to pop up. Plain white self-stripe bed linen and pale wood furniture. There was nothing wrong with it per se but it didn't really feel very luxurious for a hotel on Park Lane with a Michelin star restaurant. It did have virtually everything you could need though with bathrobe and slippers, an umbrella, tea and coffee etc. Charging point access was OK at the bedside although they only had sockets on one side but at least they were at table level.
The room also had great views over London with a window seat for admiring the view.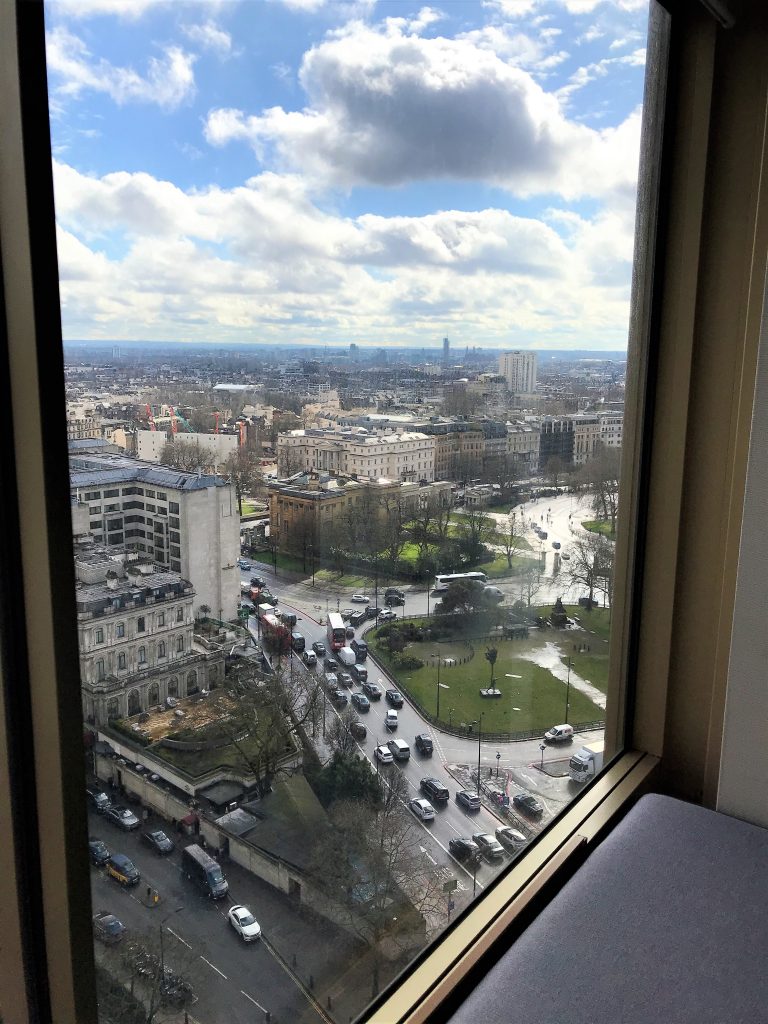 Unfortunately, there were also quite a few negatives. Firstly, the noise level in the room was much higher than the InterContinental just along the road which I am guessing is due to the windows. There also seemed to be quite a draft coming from around the windows. The bed was the main issue for me as it was rock hard. It was one of the older Hilton beds which I find about as comfortable as sleeping on an ironing board. Again, given the prices they are charging they should have the new Hilton Serenity beds by now which are far more comfortable. The pillows at least were OK.
Bathroom

The bathroom was again a standard Hilton design but I had no real quibbles with it. The bath was deep enough for a soak and they had the usual good quality Peter Thomas Roth toiletries (though I wish would change the horrible orange shower gel). I liked the large well-lit mirror with a separate lit magnifying one too. There was even a bidet, which let's face it, virtually no one uses. Though I did see a great use for it the other day when my friend N posted a picture of a hotel bidet filled with ice and bottles nicely chilling = the perfect ice bucket!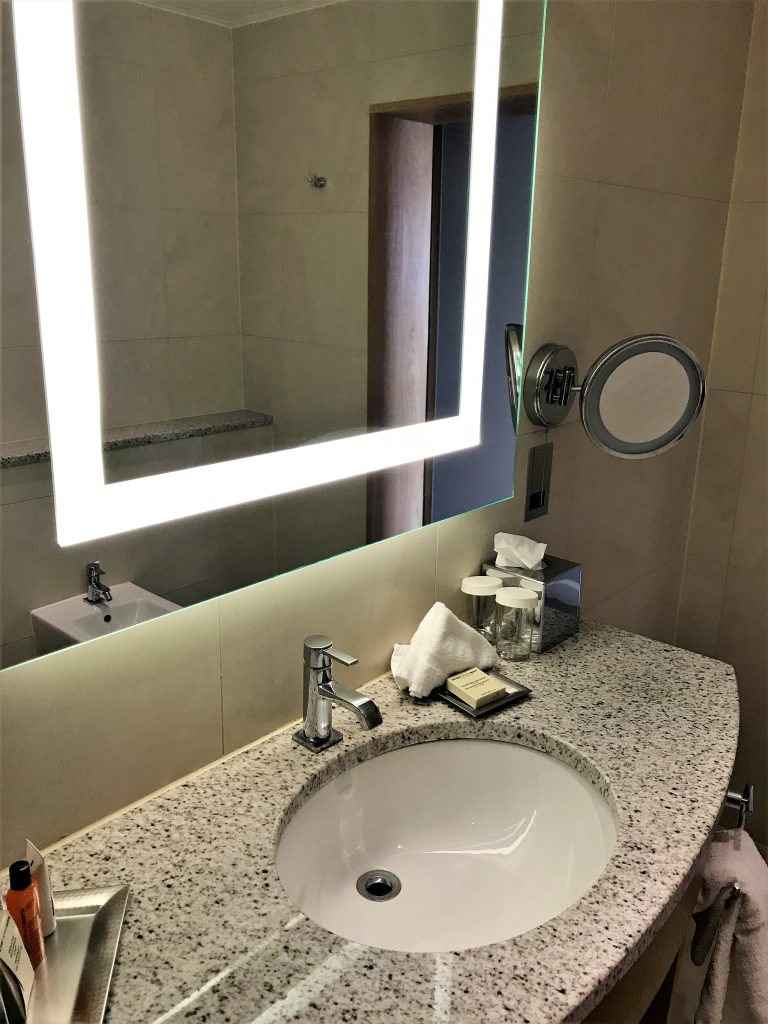 The only issue I had with the bathroom was the over bath towel rack that appeared to be sloping precariously with one screw half out of the wall (see above picture) and I had visions of being smothered with a load of towels as I sat in the bath!
Post from RICOH THETA. #theta360 #theta360uk – Spherical Image – RICOH THETA
Dining and bars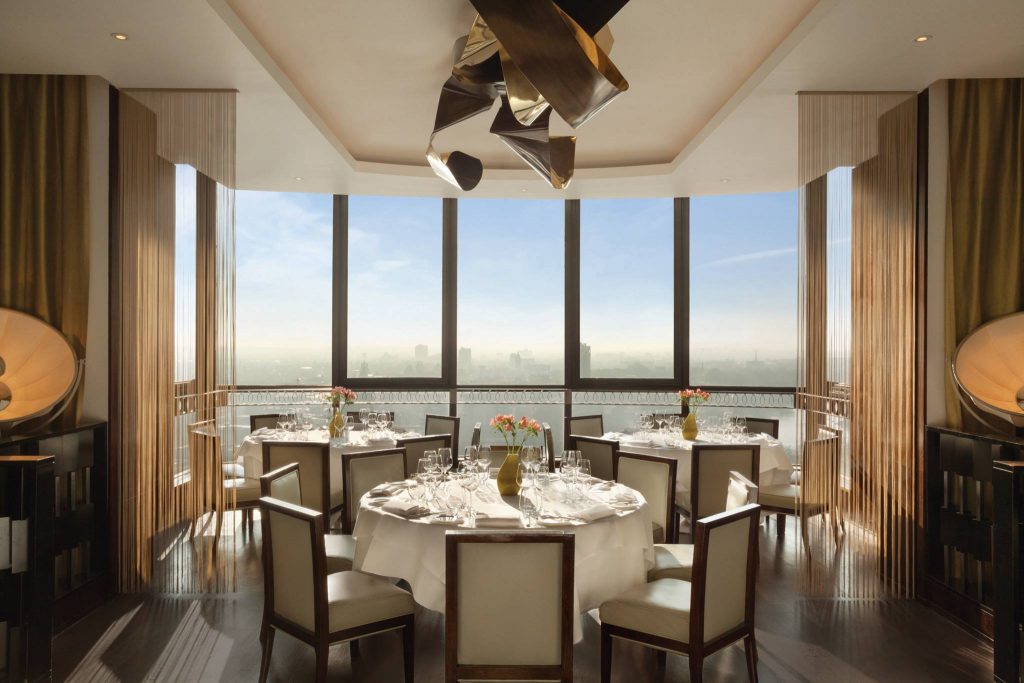 The Hilton offers some great dining options plus one of my favourite bars where I spent part of my hen night (no L plates and shots for me!). At the top of the hotel is the Michelin star Windows by Galvin alongside the aforementioned Windows bar. In the basement is the fantastically kitsch Trader Vics complete with a special offer of 55p signature cocktails at the moment to celebrate their 55th Anniversary until the end of April. There is also a set menu for 2 at £55 for both of you until the end of April 2018. The hotel is also home to the CC champagne bar, an all-day dining restaurant and a nightclub.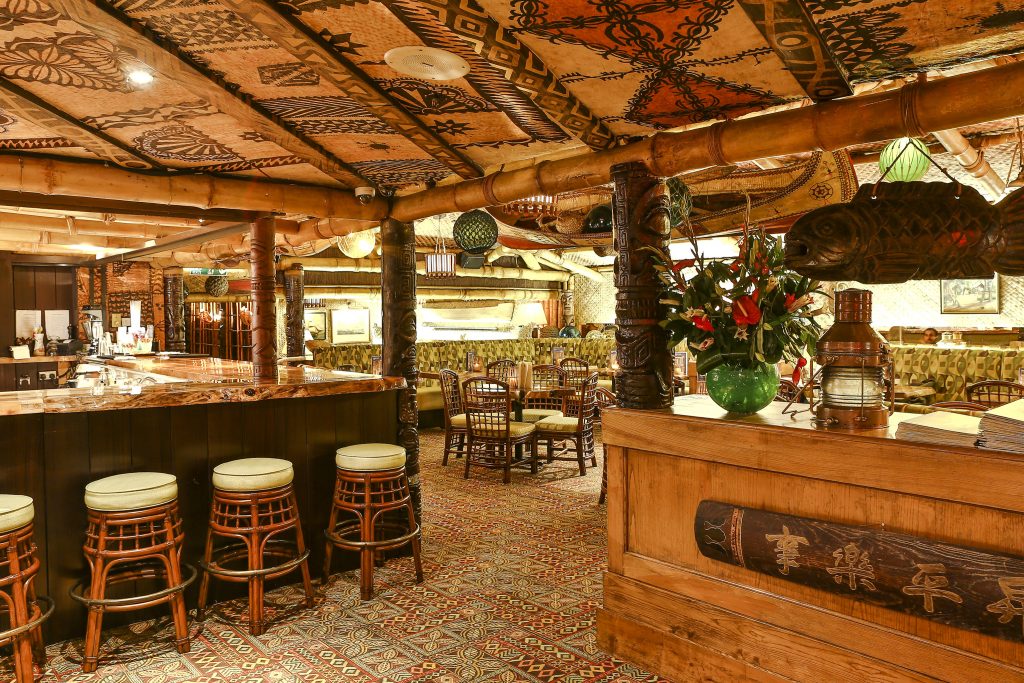 Executive lounge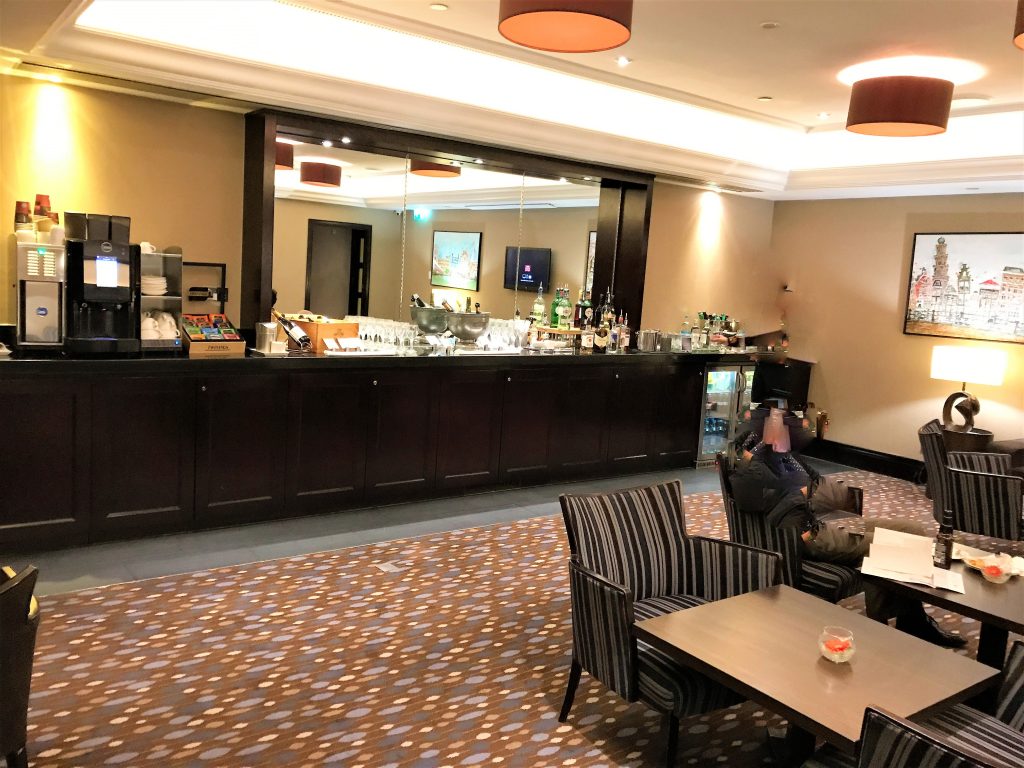 The Executive lounge is on a high floor and does have great views. However, I went in on the first evening for the drinks and found the lounge a bit dated and dull. The first evening the staff did not really interact with me at all but the next day at breakfast they were very helpful and friendly. Despite the decor, I was fairly impressed with the drinks and canapes. Everything was laid out with care and attention which was good to see. It felt upmarket. The wines were not top quality but there was a big choice and they were better than some of the cheap plonk you get in many Hilton lounges. There were 2 Italian sparkling wines including a very drinkable Prosecco, plus 3 red and 3 white choices. The spirits had a good range of middle of the road quality brands and I really liked the cocktail of the month idea.
The food also was much better than many Hilton lounges. There was a cauliflower soup which I tried which didn't really taste of a lot but was pleasant, antipasti, a good cheese selection, mini quiches, individual hot and cold canapes, crudites with a dip and a selection of salads. There was certainly enough to make a full meal of it if you wished.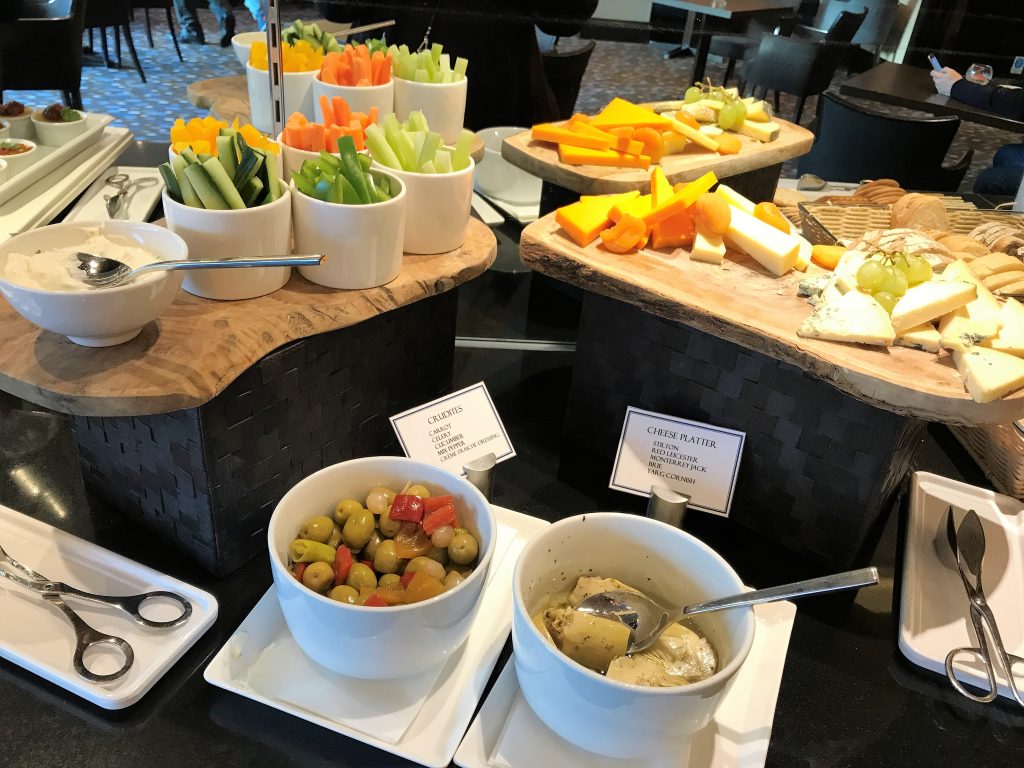 The following morning I decided to pop into the lounge to check out the breakfast before I decided where to eat. At first glance, it looked a bit sparse but actually, there was a pretty good selection certainly more than enough for me. Their gluten free selection was particularly impressive.
There was fruit (including lychees which was a nice change), hard boiled eggs, cheese, meats and smoked salmon in the cold section. There were normal and gluten-free cereals, pastries and bread. I liked the choice of topping including my favourite Marmite, Nutella, Philadelphia, jams and honey and good quality butter. For cooked food there was scrambled eggs, boiled egg making machine, bacon, mushrooms and tomatoes. The bean to cup coffee machine managed to produce a decent cappucino. The staff were chatty and asked if I needed anything so I secured a late checkout until 2pm.
Facilities
There is no pool at the Hilton but it does have a gym and spa, neither of which I had time to check out.
Conclusion
With prices starting at £183 for a basic room on Hilton Honors advance purchase or £230 for an Executive room like I had, it would be reasonable value at the lowest rates. However, unless you book a long time in advance for very quiet nights the average prices are closer to £250-300. The most important things for me in a room, comfortable bed plus peace and quiet, were not great here but if you like the traditional Hilton beds then you would be fine. The Executive lounge was very good apart from the slightly old-fashioned decor and the staff were friendly and helpful. If they changed the beds to the Hilton Serenity ones I would consider returning to a room with lounge access at the lower prices. Otherwise, in this location and price bracket, I would choose Intercontinental Park Lane instead.
You can find more information on the London Hilton on Park Lane here.