I visited the Turkish Airlines Business Lounge before flying from Istanbul to London Heathrow with Turkish Airlines on an evening flight. This was part of a press trip to try Turkish Airlines new menus. I loved spending time at the lounge; there are more facilities and things to do than any other lounge I have visited.
The lounge is a luxurious oasis of calm in the bustling airport, with a warm, welcoming atmosphere complemented by outstanding service. The food was delicious, and there was a wide variety of food and drink options.
How to Get to the Turkish Airlines Lounge
The Turkish Airlines Business Lounge is at Airside in the international terminal on the departure level near gate E1. After passing through business class check-in and security, walk to the right until you reach the central part of the airport (pictured). You will be able to see the lounge on the first floor overlooking the terminal.
Walk to the right and past the disabled entrance, and you will reach the escalators.
You must scan your boarding pass on the automatic scanners to enter the lounge. Staff are on hand to help if you meet other criteria to enter the lounge.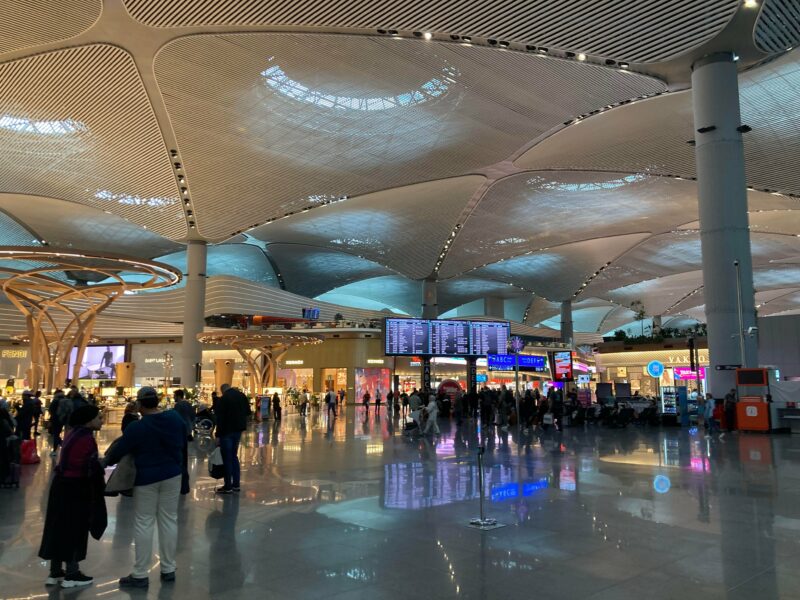 Who Can Use the Turkish Airlines International Lounge?
The lounge is not just for Turkish Airlines business class passengers. Here is how you can enter:
Turkish Airlines International Business Class Passengers
Star Alliance Gold Members + 1 Guest
Star Alliance Business Class Passengers
Turkish Airlines Corporate Club card holders + 1 Guest
Miles&Smiles Elite and Elite Plus members + 1 Guest or family, including all children under 25.
Opening Times
The lounge is open 24 hours!
My Experience
After a seamless check-in experience, I was impressed.
There was a self-playing piano in the eating area. After passing the entrance, it was clear that the lounge was huge, and there was a huge array of things to do. Many people were in the lounge, but it did not seem crowded. There were still plenty of places to sit.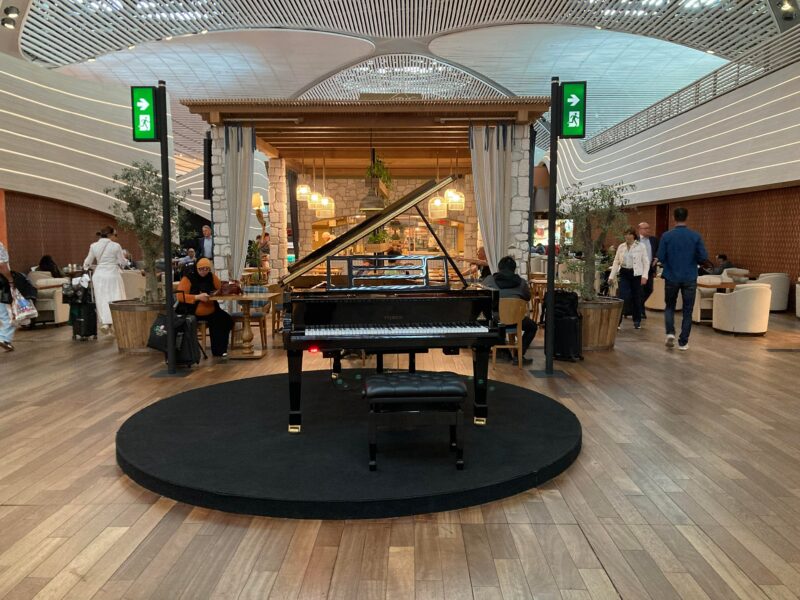 Seating
The sheer size of the lounge, which accommodates around 1000 people, means it did not feel crowded. The lounge is spacious and spread out, blending traditional Turkish motifs, creating a sense of place and a relaxed ambience.
With various seating options, from plush armchairs to private sleeping rooms, there was something for everyone in our group.
Food
A real standout feature is the lounge's exceptional dining offerings. There is a vast selection of food, ranging from fresh Turkish mezes and a variety of international dishes to delectable pastries and desserts. #
The open kitchen concept adds a dynamic element to the dining experience. There was a small selection of hot dishes. But there was a vast variety of lovely-looking cakes.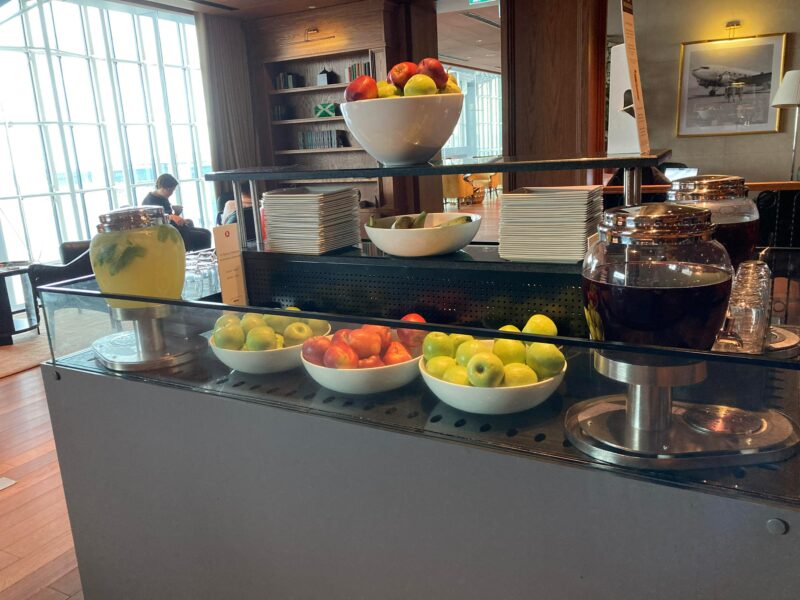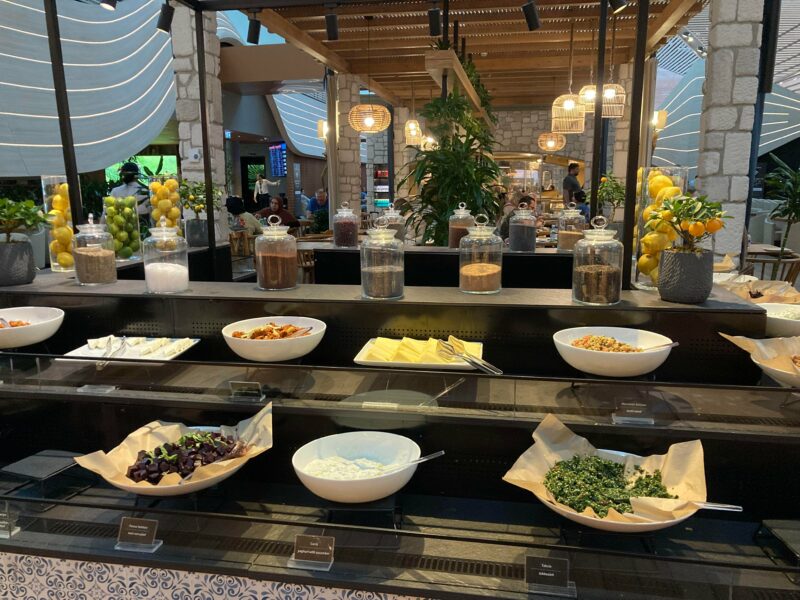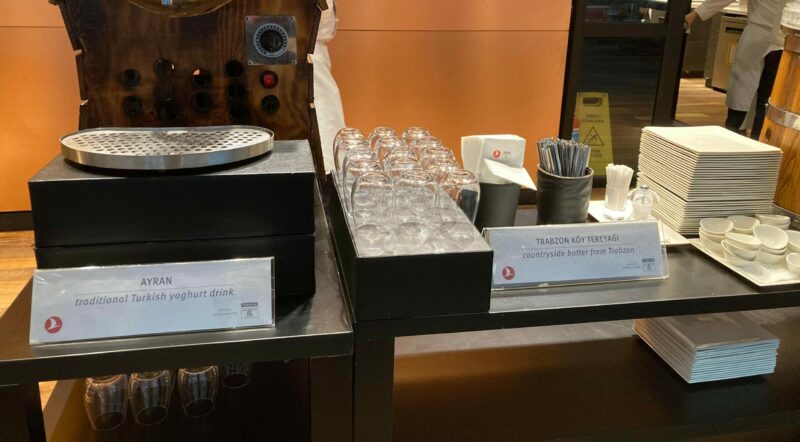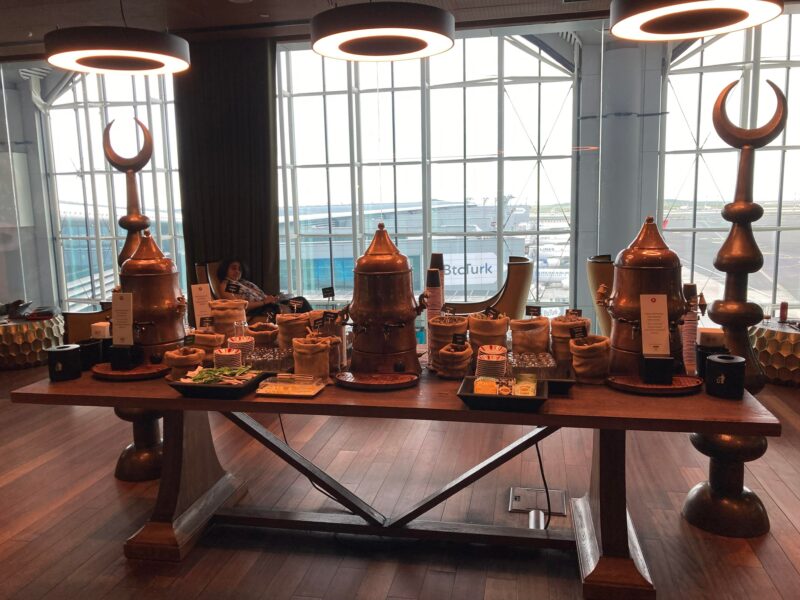 Lots of the things on offer are also available on the new Turkish Airlines menu. The selection is very recognisable from the menu launch.
Drinks
There was a huge array of soft and hot drinks on offer in different locations throughout the lounge. It does not look like they would run low on supplies any time soon!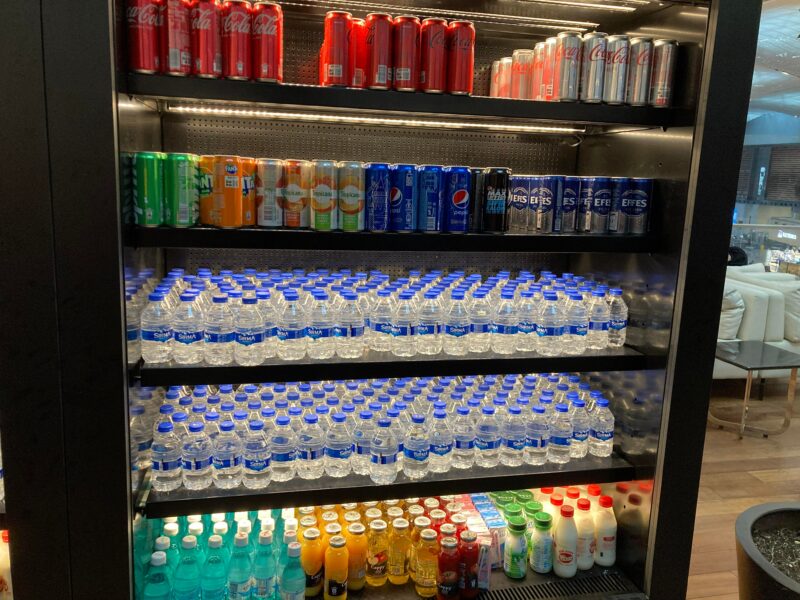 There was a small self-service alcohol section: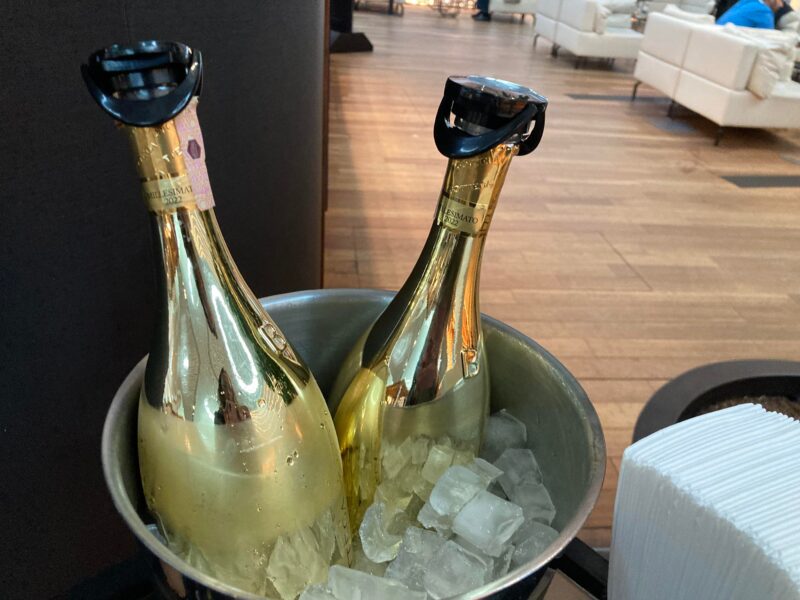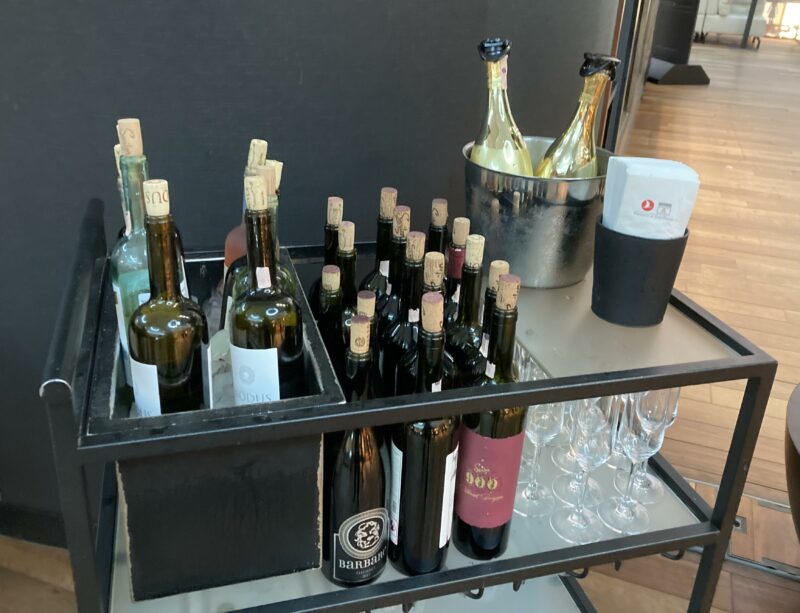 Toilets and Showers
The lounge also has shower facilities which you can view below. You can book a slot with the concierge, and you will be given a buzzer which will go off when you can enter.
The toilets were spacious, and there were lovely big mirrors. There seemed to be an attendant cleaning every time someone went out.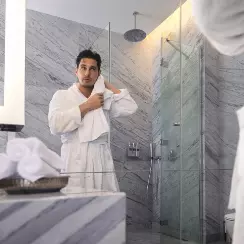 Other Facilities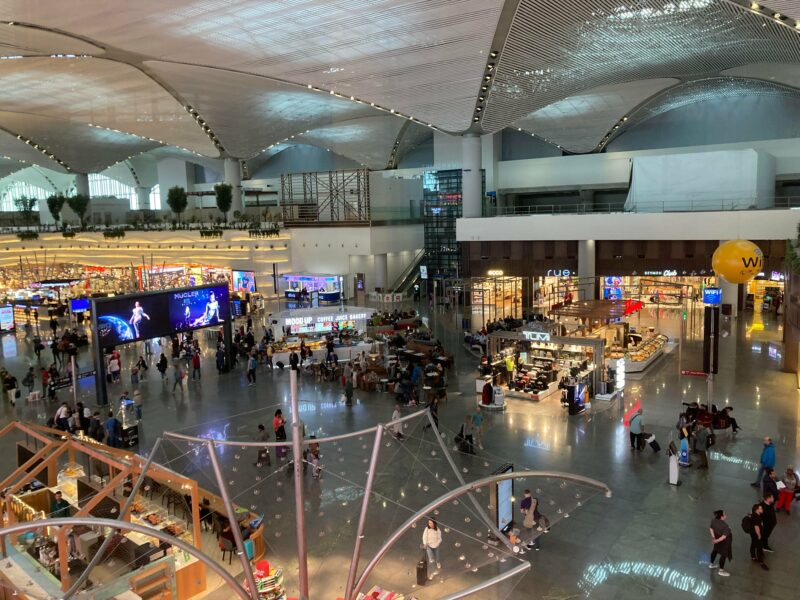 As well as the classic buffet, bar and seating options, this lounge offered a huge range of extras.
Nap Rooms
You can access a nap room if you have a layover of 4-9 hours as long as one of your flights is over 8 hours. You can book a room at the concierge desk.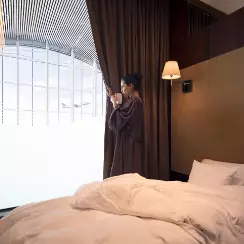 The Children's Area
This is the only children's area I have ever seen in a lounge. It was extensive, with resting places, little tables and chairs and even a popcorn machine! Some colouring on the tables may have been better, though!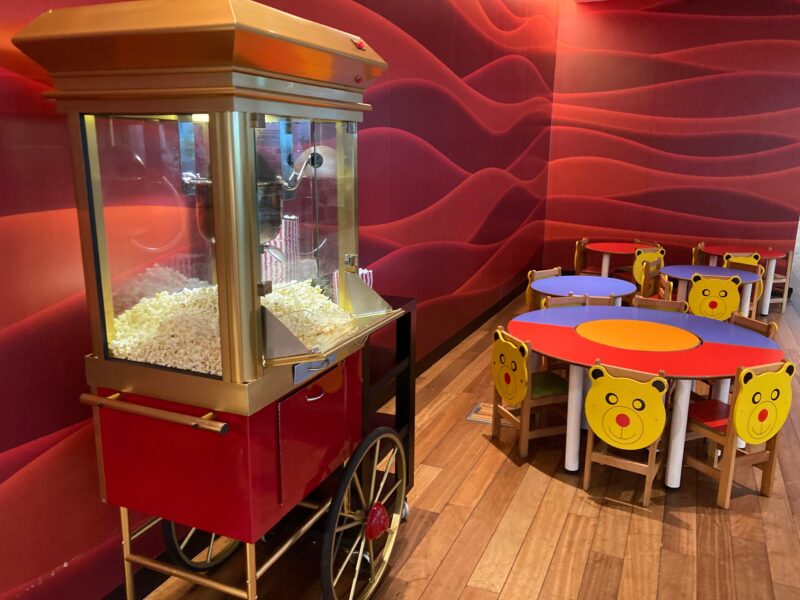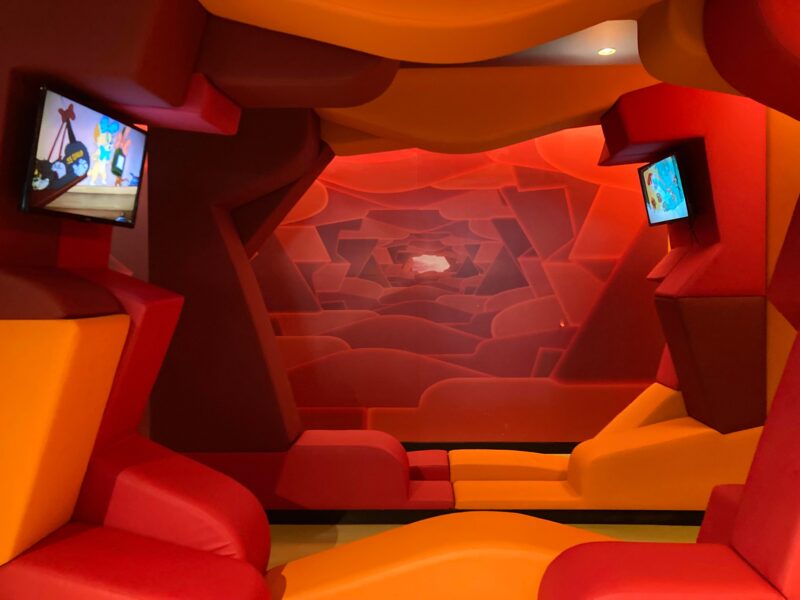 Champions League Museum
Plenty of other fun activities are in the lounge for older children and adults alike. Visit the Champions League area/museum, go on the miniature golf course or try the race car simulator.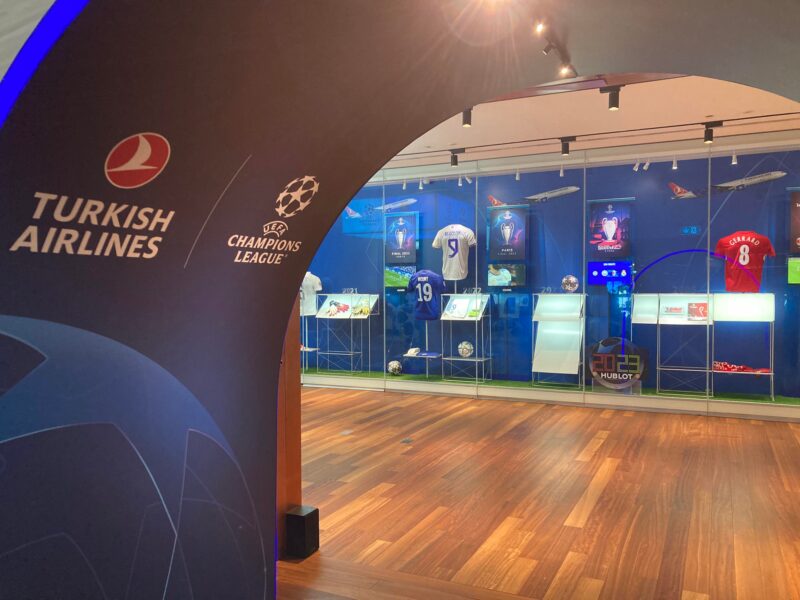 Meeting and Work Spaces
As well as having work booths, you could also use the lounge's state-of-the-art facilities located in a quiet area at the back of the lounge near the sleeping pods (see the door).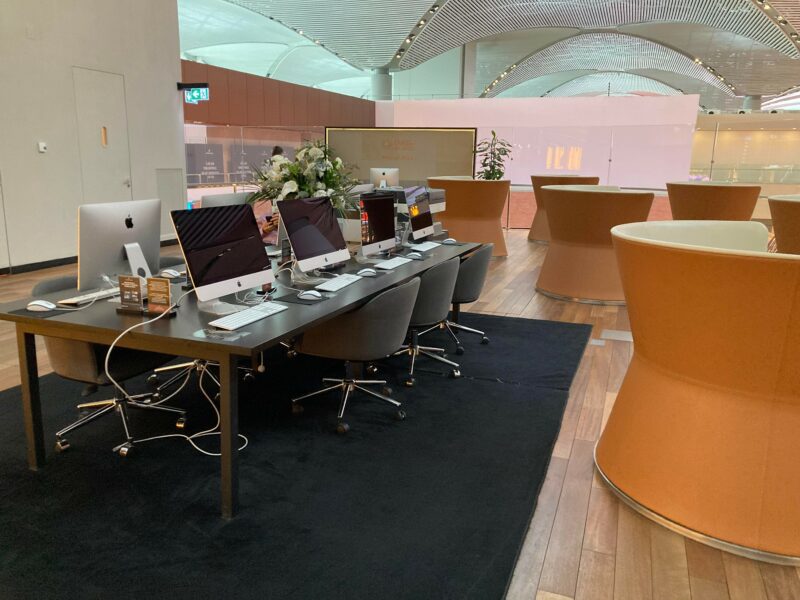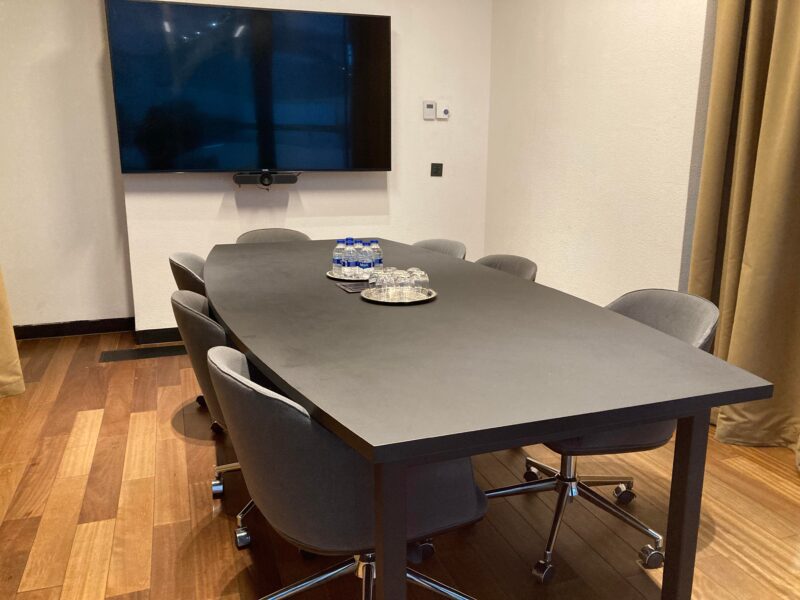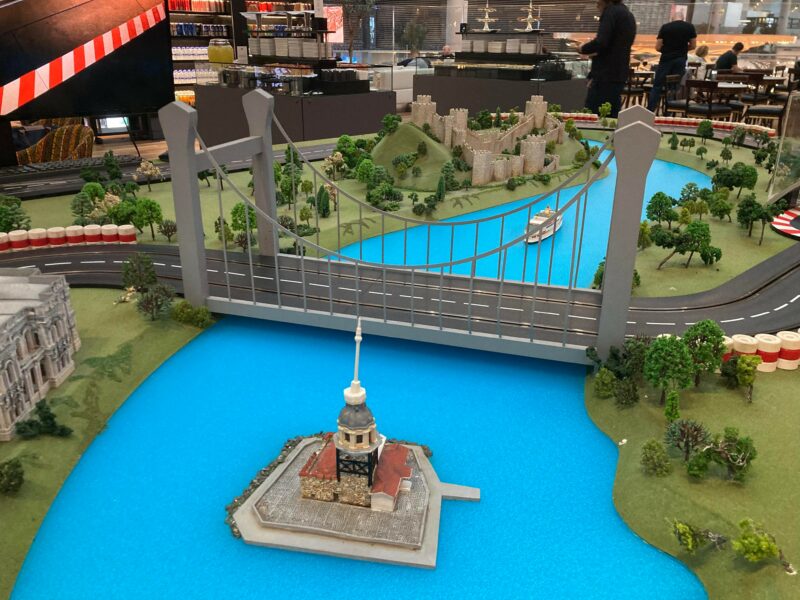 There were no worries about missing the flight. The large screens have all the information.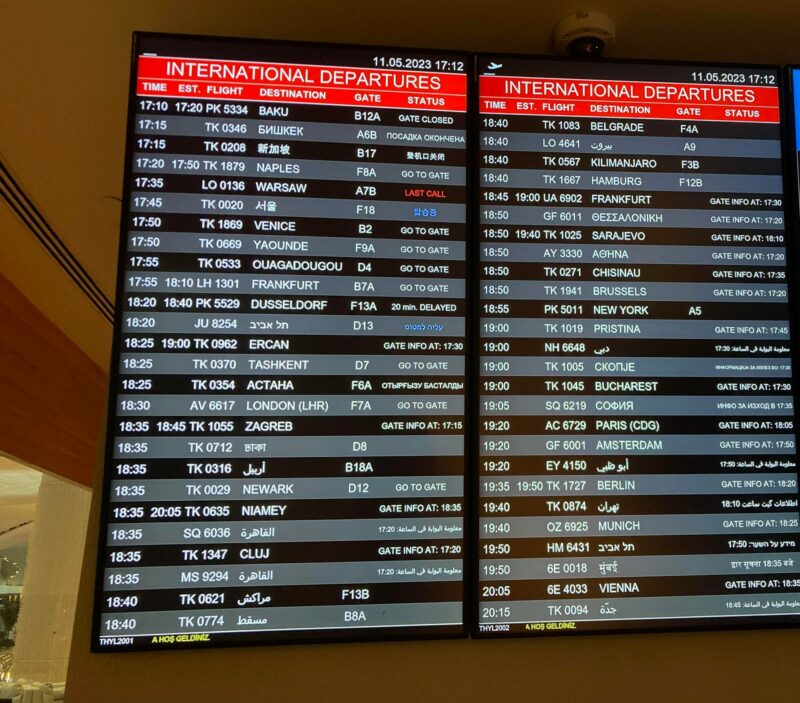 There was also a helpful screen about how long it would take to walk to each gate. I usually only see these guides on the journey to the gate! This was a good addition.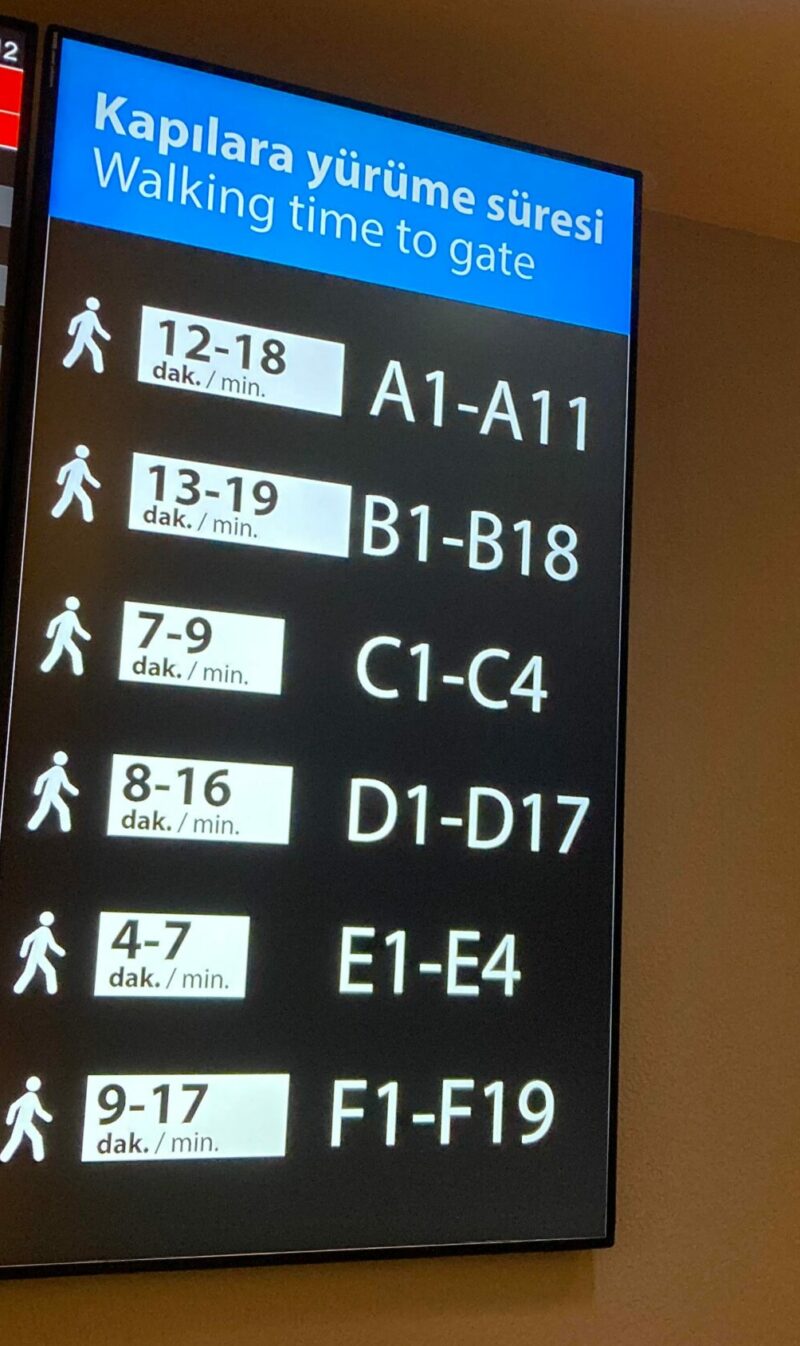 Finding the Gate and Departure
There was quite a long walk to the gate. We were not expecting this! On arrival, everything seemed to be going well until Heathrow Airport phoned to say we could not take off because we could not land.
The departure time we kept being pushed back 15 minutes, leading to everyone queuing unnecessarily. Knowing about this delay would have been nice so we could have spent more time in the lounge.
However, the time in the lounge had left me refreshed, so I wasn't as worried about this delay as people who had been waiting at the gate a long time.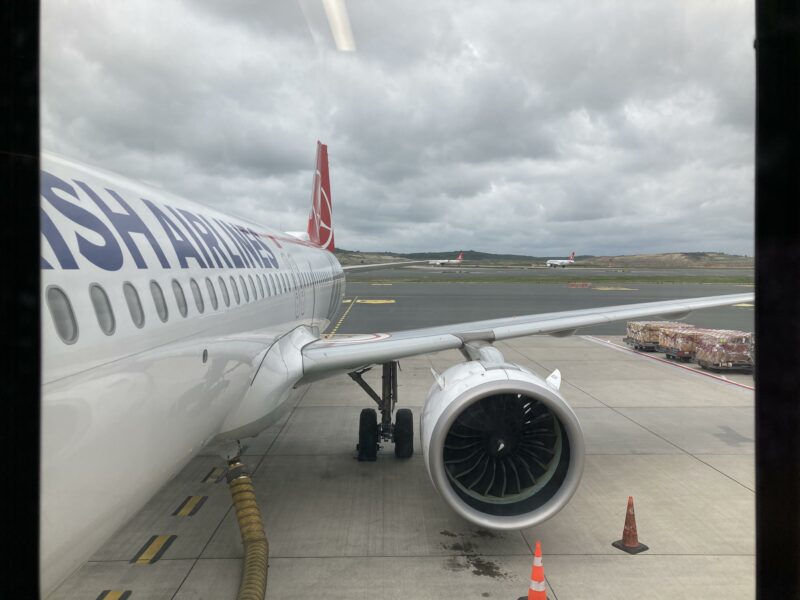 Other Lounges at IST Airport
If you're due to visit Istanbul Airport, there are a variety of other lounges available:
Domestic Lounges at Istanbul Airport
Turkish Airlines Domestic Lounge: This lounge is a smaller version of the business lounge in a separate part of the airport. The lounge has the same entry requirements as the business lounge, but you can also enter if you hold Miles&Smiles Classic Plus status. Similar facilities and services include hot dishes, drinks, workspaces, relaxation areas, rooms, and another children's area.
IGA Lounge: Anyone can purchase entry to the IGA lounge directly or with Priority Pass. The lounge features a buffet with a bar, a nap zone and a business corner. This is an excellent alternative if you do not meet the Turkish Airlines domestic lounge requirements.
International Lounges at Istanbul Airport
IGA Lounge: The IGA lounge in the international departure area has many additional facilities compared to the domestic space. There is also a free massage service on selected days and shower facilities! You can purchase entry direct with Priority Pass.
SkyTeam Exclusive Lounge: This extensive lounge can be accessed if you hold a first or business-class ticket for an international flight or an Elite Plus Frequent Flyer travelling with Air France, KLM, MEA, Korean Air, Saudia or Tarom. There is an extensive buffet with live cooking and a bar.
Turkish Airlines Lounges Around the World
Nairobi Jomo Kenyatta
Miami
Bangkok Suvarnabhumi
Washington Dulles
Moscow Vnukovo
Final Words
I loved visiting the Turkish Airlines business lounge. I will now be rethinking how I get to Asia on future trips. If you're looking for the best airport for a layover, I highly recommend Istanbul Airport.
If you are not travelling in business class, this is another reason to try reaching Star Alliance Gold Status.