If you have ever seen the film Forgetting Sarah Marshall, you will already be familiar with the Turtle Bay Resort. It has been on my bucket list ever since I saw the film (if you haven't seen it yet, watch it – great movie). You can see the trailer from the movie below, which featured Jason Segel, Russell Brand and Kristen Bell. The clip shows the beach cottages and ocean front where I stayed.
The hotel underwent a $52 million dollar renovation in 2015, so would it live up to my expectations, having seen the film?
Location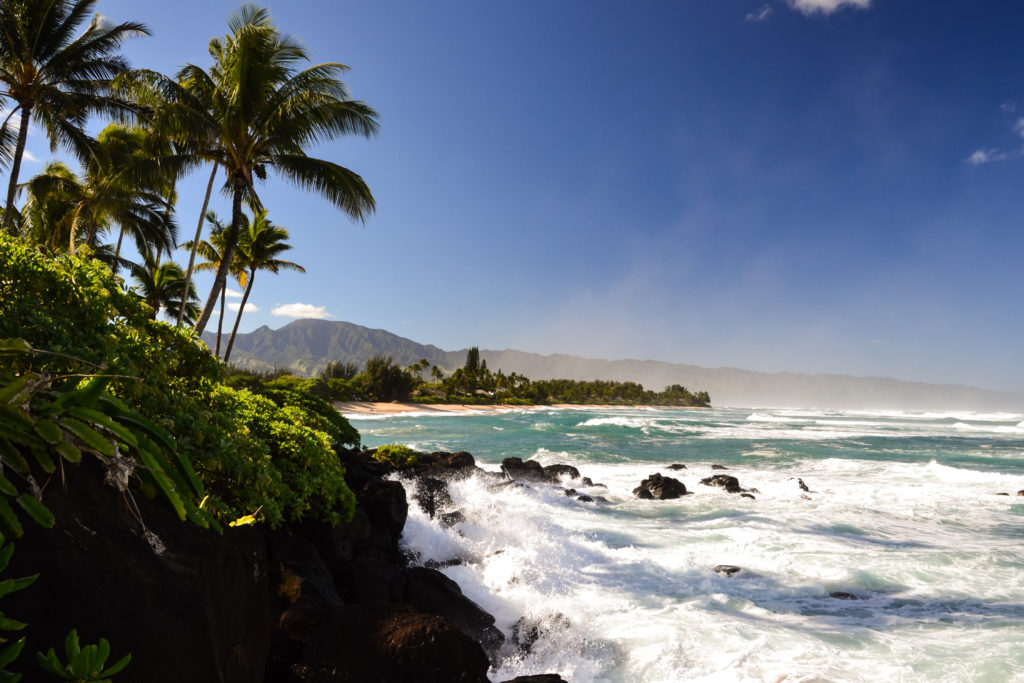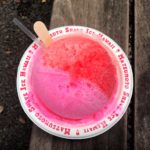 One of the things I like about the Turtle Bay is that it is one of only a small number of secluded hotels on Oahu. After a few days of craziness in Waikiki, I was looking forward to getting away from it on Oahu's North Shore. The Turtle Bay Resort is roughly due north of Waikiki and it should take around an hour and 10 minutes to reach the resort from Waikiki. However, the traffic on the North Shore is normally pretty bad so I would allow a minimum of an hour and a half.
The North Shore is much more rugged than the South. It has great beaches, some delicious shrimp trucks and world class surfing in the winter. If you head to the North Shore make sure to check out historic Haleiwa town and Matsumoto's famous shaved ice.
Check in and arrival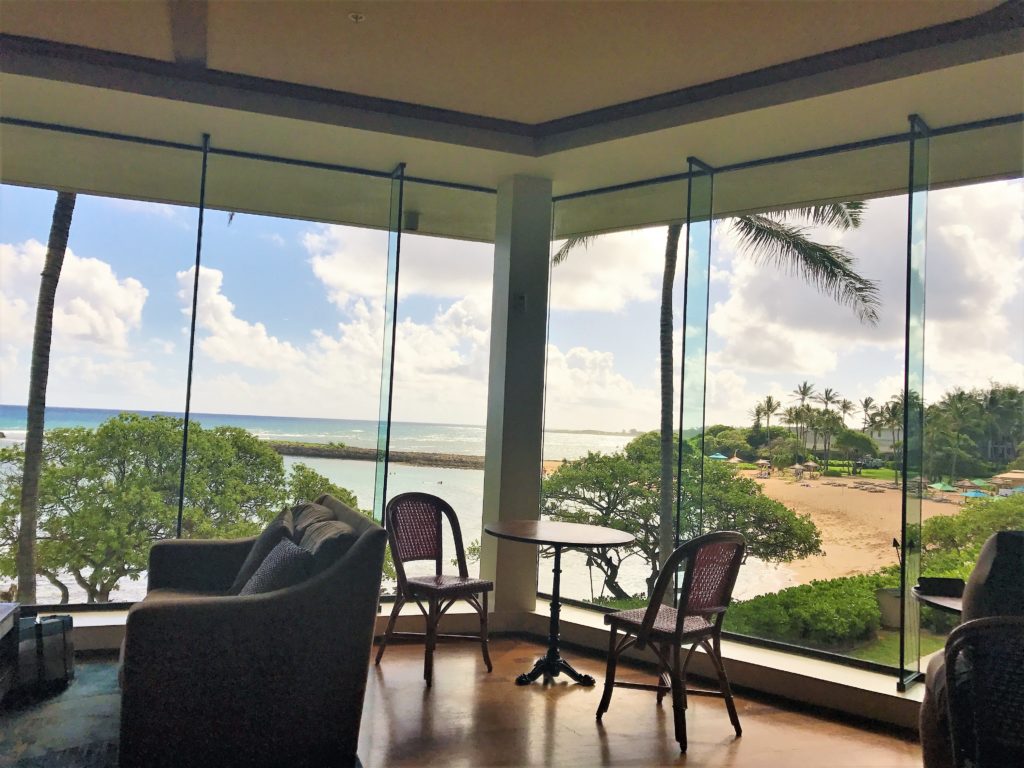 When I arrived I was looking for the check in with the amazing views that I saw in the film. That area is actually the Lobby lounge, whereas the reception and the main building, were, in general, more unassuming. There was a dedicated check in area for the Beach cottages and Vista rooms with chairs and a desk. It was a short wait before I was attended to. The receptionist checked me in swiftly and let me know how to drive around to my cottage. I was given a tag to hang in my car for the car park and my concierge called to tell them I was on the way to my cottage.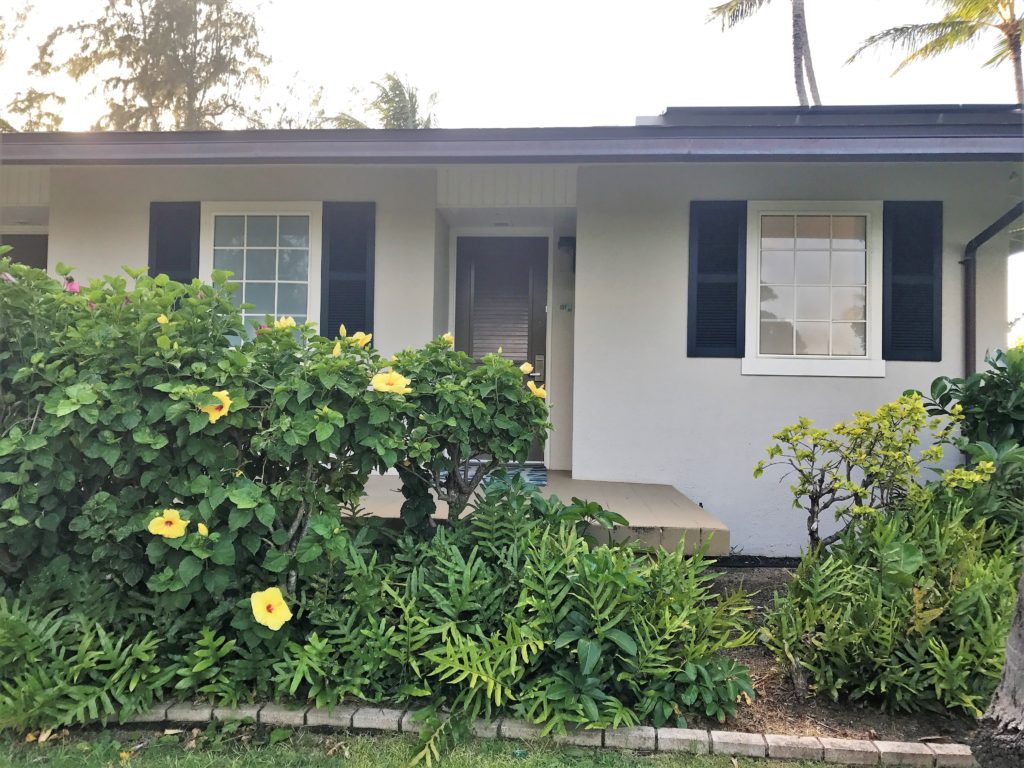 The outside of the cottages is fairly dull apart from the beautiful flora in front of them. It reminded me of a posh version of a Butlins chalet! My concierge Gregory was waiting for me and offered to help with the luggage. Gregory was one of the highlights of my stay at the Turtle Bay. He was incredibly welcoming and friendly. He literally could not do enough for me.
First I was presented with a Hawaiian lei and then he poured me a cool glass of tropical juice and offered a cold towel. He showed me around the cottage and explained that the bell men would come and pick me up by golf buggy to take me anywhere on the resort. I was given an arrival gift of some Honolulu cookie company cookies (which are delicious), coconut chips and there was a large bottle of water too.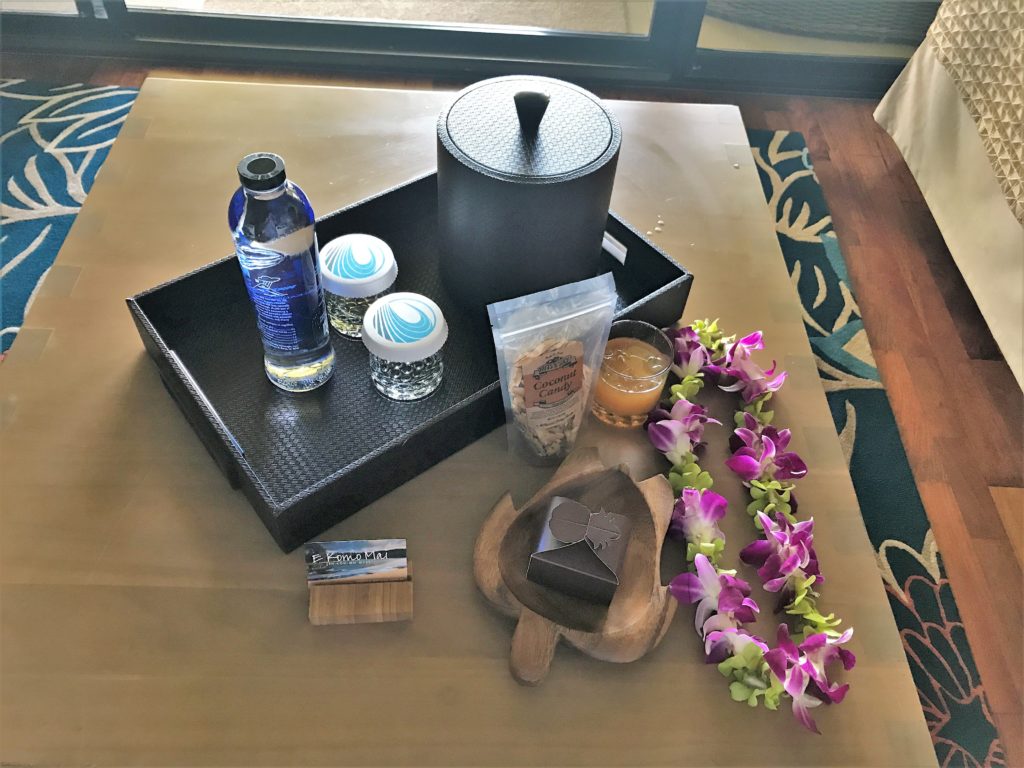 When Gregory found out that I had parked in one of the other cottage parking lots as I wasn't sure where mine was, he insisted on taking me back to the car in his golf cart and then drove back to a nearby parking spot with me following him. He definitely knew the meaning of personal service.
The cottage
In a way, it was good to have a dull exterior as it really added to the wow factor as you walked in and the view was revealed.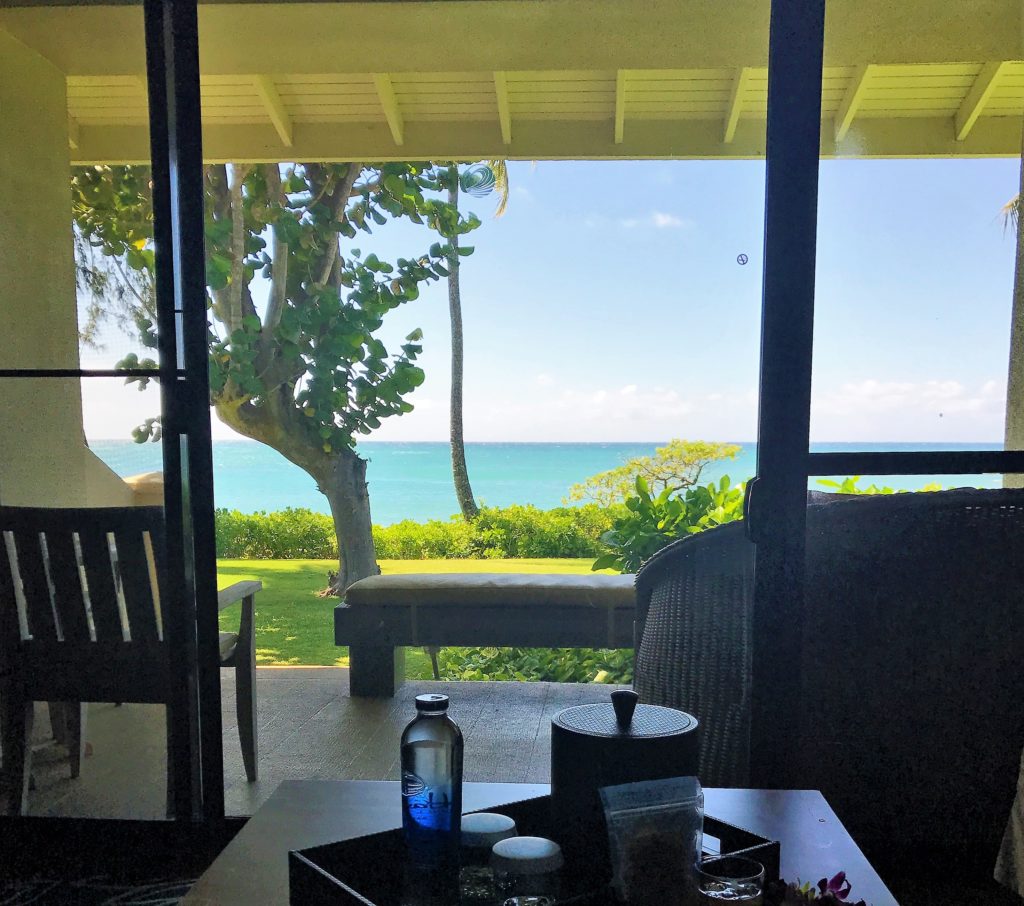 You definitely could not have got much closer to the ocean. There was a lanai (deck) which was very private unless anyone chose to walk past on the grass. The deck had a large day bed where I spent most of my time looking at the view, table and chairs and a long cushioned seat. On the grass there were also lots of hammocks for relaxing.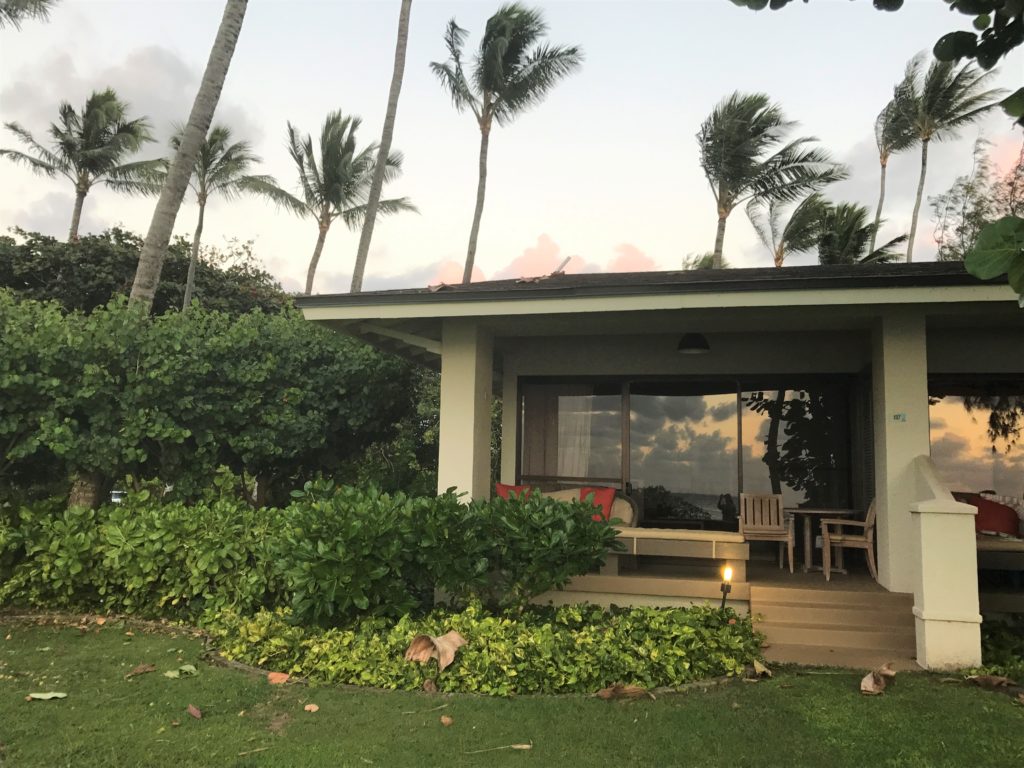 Inside had a tropical ocean feel to the décor. On the lower level was a small sitting area with a sofa, which could also be used as a sofa bed and 2 armchairs.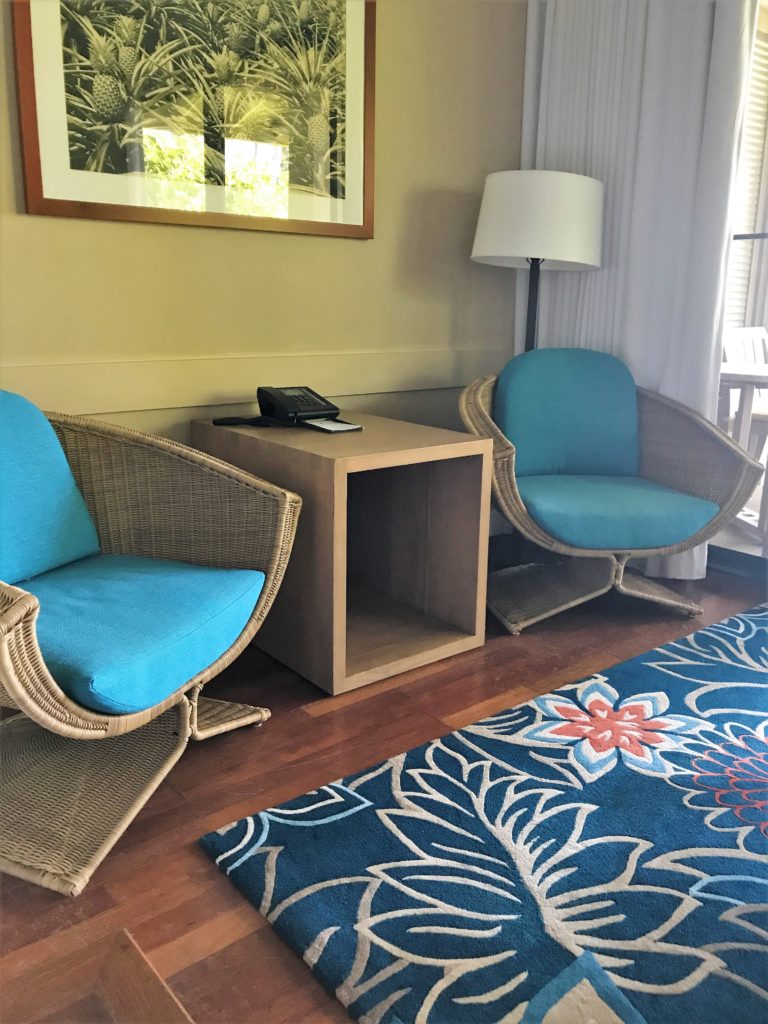 Up a few steps were an extremely comfortable bed, rocking chair and a desk. I was surprised to see that you were given a Beats portable speaker to listen to your music, which was a nice touch. If you are into technology you can also have a Go-Pro hire for free for 24 hours too.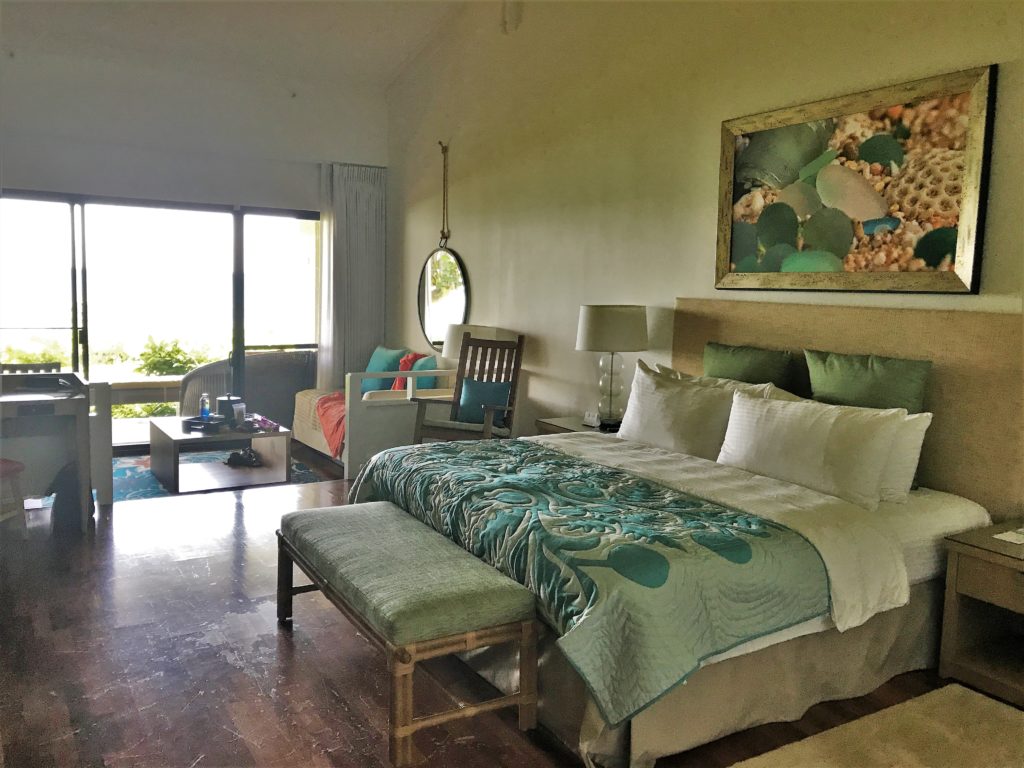 There were also all the usual things you would expect in a luxury hotel; bathrobe, slippers, a huge TV, a safe and a good Keurig coffee maker. If, like me, you were feeling the heat, it was good to see both a fan and some very efficient air conditioning. I slept very well here as there was no noise apart from the comforting sound of the waves lapping at the shore.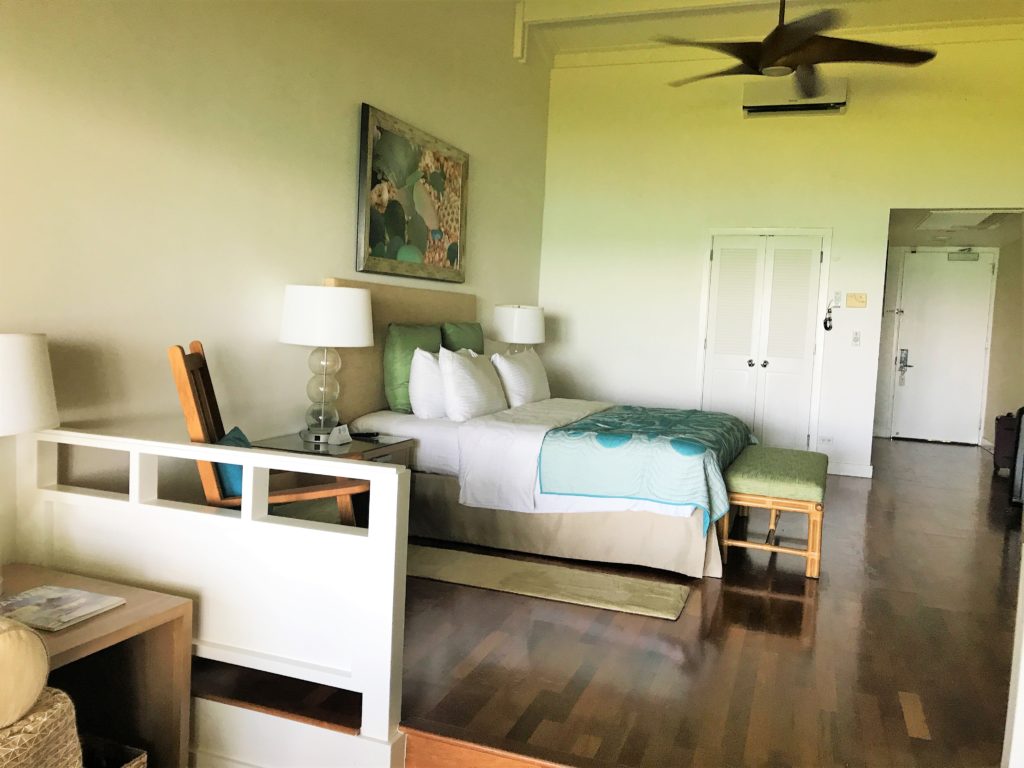 On the downside, as you can see from the first photo, the walnut floor was pretty worn but there is not much you can do with wooden floors in a hotel as these are only 2 years old. The wi-fi was shocking pretty much everywhere in the hotel, and even after reporting it I never really got a decent signal. However, even with being fairly remote I could get a good 3G signal on my 3 mobile which has free data and calls from your allowance when in the US. I also would have expected a turndown service in this price range, but it wasn't an issue.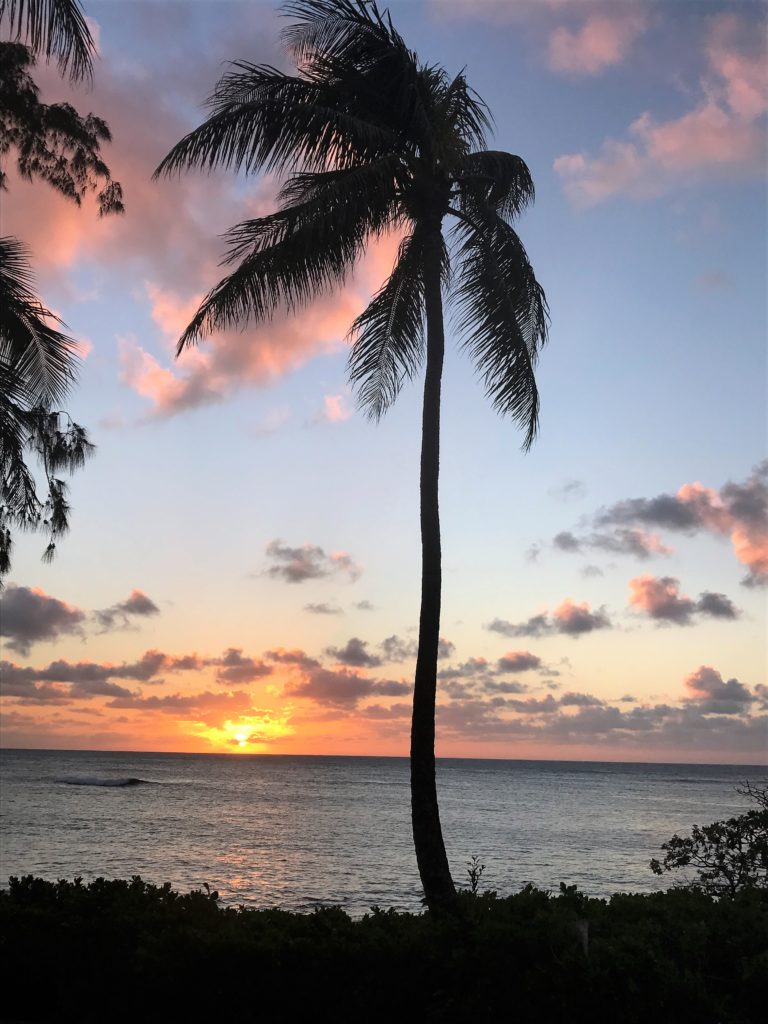 Bathroom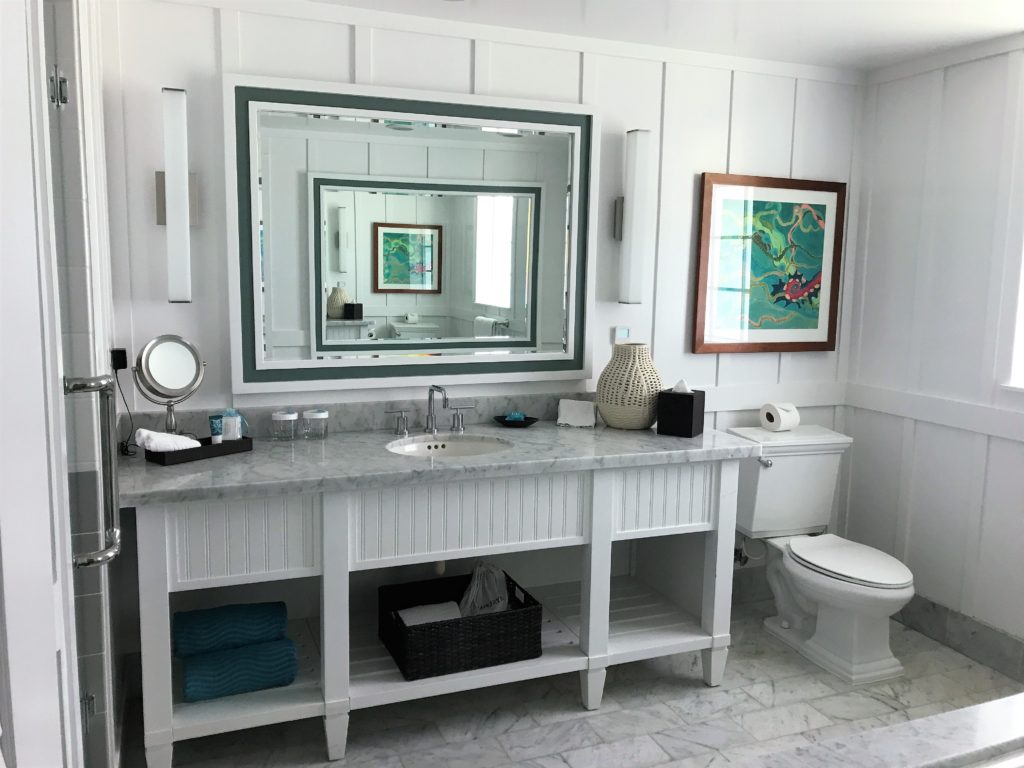 I loved with the bathroom with its beachy New England style. It was enormous, with a really great bath for relaxing in. If you didn't fancy a bath there was also a large walk in shower with room for several people, if you were so inclined!
There was only one sink but I would rather this with more counter space than having two sinks and nowhere left to put anything. There were plenty of towels, including beach towels for use in the immediate area. If you went to the main beach or pool, towels were also provided there. There were plenty of toiletries which were good quality, but I wasn't keen on the smell. It was good to see both a magnifying lit mirror and decent lighting by the large mirror. In some hotels with just overhead lighting, the mirrors make you look as if you have aged 10 years and are also in need a good night's sleep!
Food and drink
The hotel has 7 bars and restaurants on site.
Pa'akai – or "sea salt" in the Hawaiian language, is the more upscale restaurant and features ocean-to-table cuisine. Pa'akai's menu highlights "a fresh twist on locally sourced dining" with fresh local fish, farm-raised lobster, Kauai prawns, sea asparagus, seaweed and sea salt produced in Hawaii. Pa'akai also features a full bar with signature cocktails and an array of appetizers.
North Shore Kula Grille This is the casual restaurant where they serve breakfast and dinner.
I sampled the Lobby Lounge for a quick and reasonably priced breakfast. They had a range of breakfast sandwiches and wraps to eat in or take away. Had it not been the last day, it would have been a nice thing to take back to the cottage and eat it on the terrace. As well as coffees, they also do cocktails and snacks later in the day.
Roy's Beach House
I ate both lunch and dinner at Roy's and really loved the food and setting here. The restaurant is not actually part of the hotel, despite being on the property, but you can charge to your room. As well as the restaurant, they have a take away counter if you don't want to leave the beach for lunch.
The location right on the edge of the beach is lovely and it has a relaxed feel but with upscale food. You are always brought some edamame beans with a delicious spicy coating whilst you look at the menu. At lunch time they have a good range of lighter options such as the Herb Grilled Opah fish sandwich with Provolone and Garlic Aioli that I had. I also decided to try something that sounded a bit different, a lilikoi (passion fruit) cider. This was absolutely delicious and not too sweet. I wish I had bought some to take home now.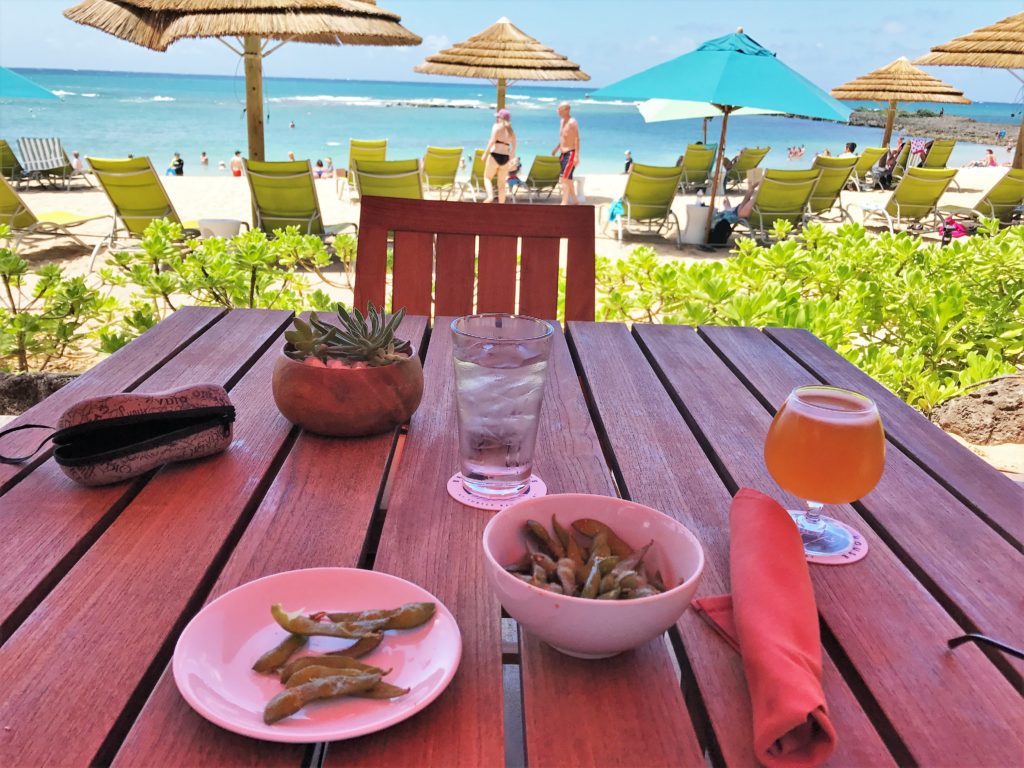 In the evening I returned for something more substantial. I was a bit annoyed that despite having booked, I was made to wait in a rather unpleasant location by the toilet entrance for 10 minutes before I was shown to my table. This was my only complaint about Roys, the food and table service were great, but the front of house was a bit of mess. Even at lunchtime when the restaurant was half empty I was told it would be 5 minutes and to wait in the bar!
I chose a rather unusual starter that may fill some of you with horror: Crispy Curried Brussels Sprouts with Cauliflower, Yogurt and Honey. These were actually delicious and well balanced between curry, cooling yoghurt and a touch of sweetness. Fortunately, the honey was very subtle. I shall be trying to recreate this at home.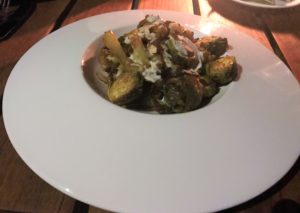 For my main course, I chose my favourite fish, butterfish, as it is really hard to find outside Asia and Hawaii. This was cooked to perfection and had a melt in the mouth texture. The miso glaze was also delicious and not too overpowering for the delicate fish.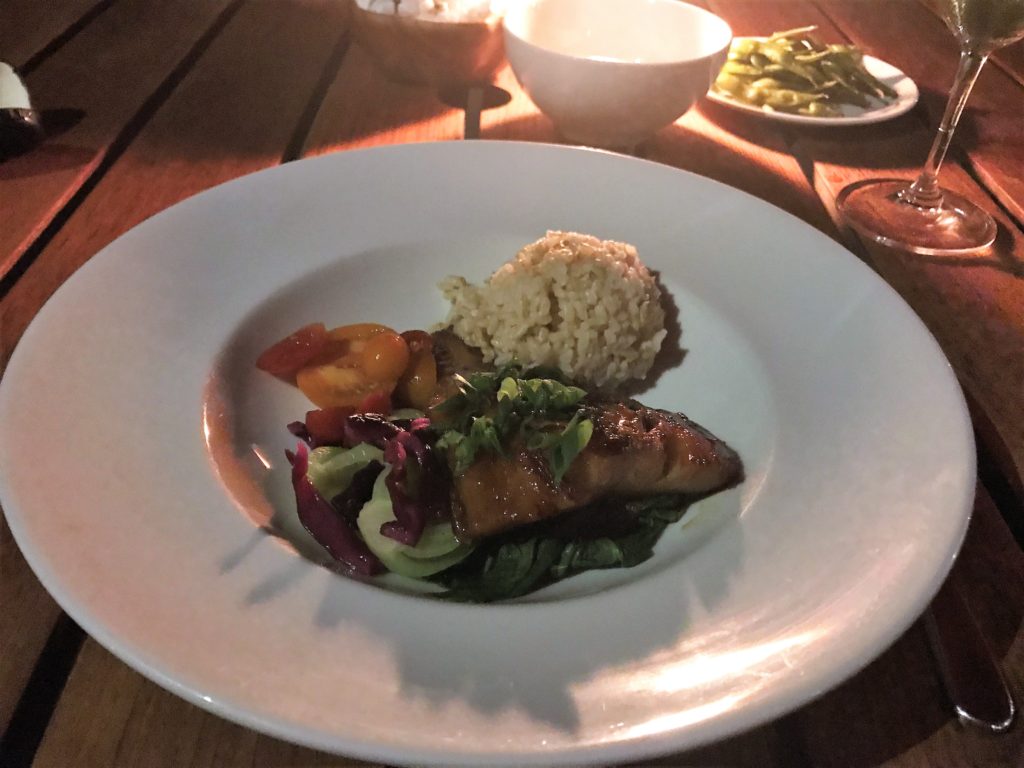 I did also sample room service as the beach cottage was so nice it seemed a shame to go out. The service was quick and friendly and they did a nice job of laying the table with orchids as well. As usual for America, the portions were huge but I struggled through it!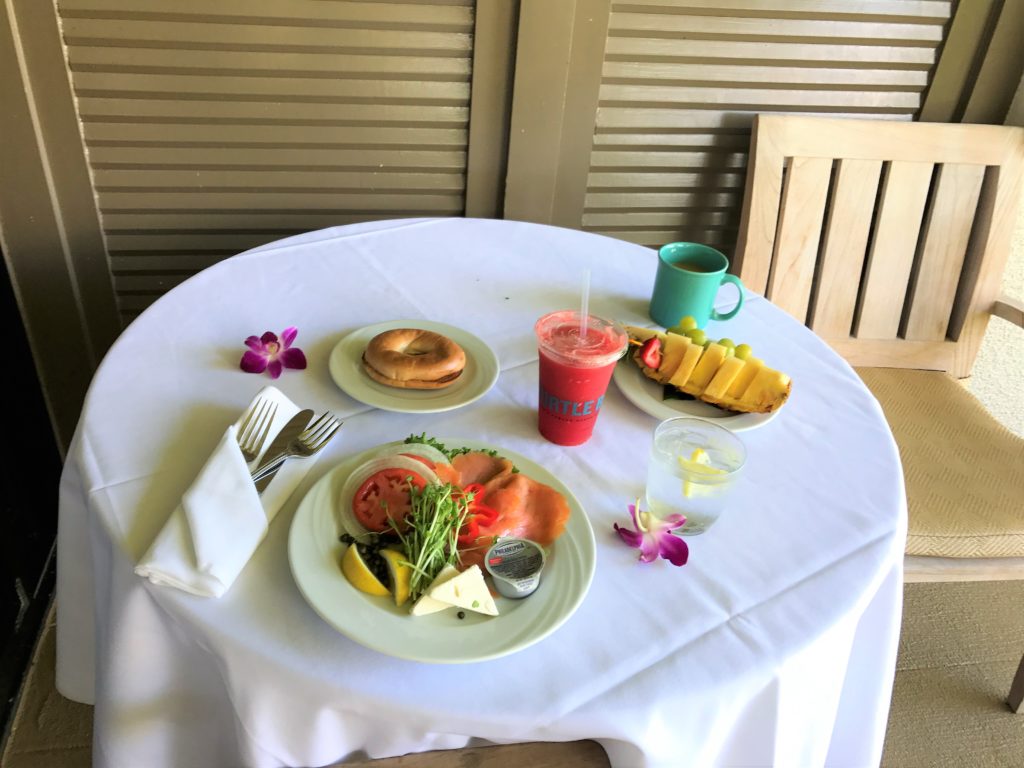 The Spa
I had pre-booked a spa appointment for a 50-minute massage at Nalu Kinetic Spa. The spa is well hidden away down a long corridor, into the gym and then up in a lift. The trek was worth it though. The treatment was excellent and the outdoor relaxation area was beautiful with its lovely views. Even the massage room had the same views with a clever mirrored window that you could see out of it but nobody could see in. I had the Aloha' Nui Loa Massage which included warmed Coconut and Kukui Nut oil, ginger essential oil drops and various mistings. It was a great relaxing treatment with fragrant local accents. Prices were fairly standard for US hotel spas at $160 for 50 minutes.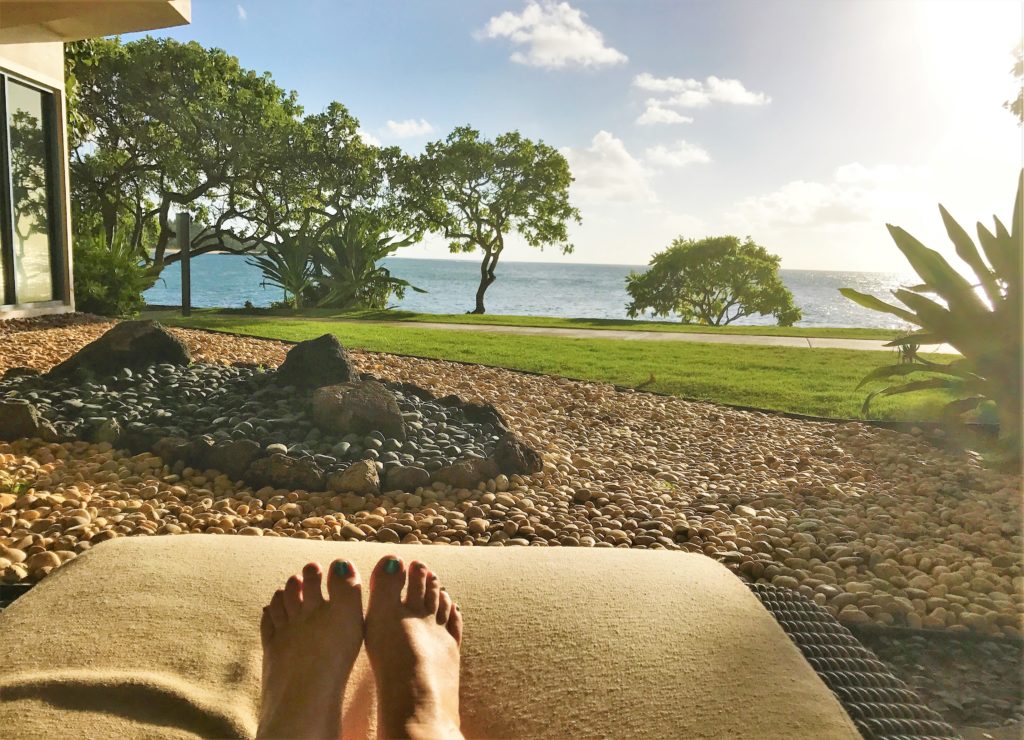 Facilities – pool, beach etc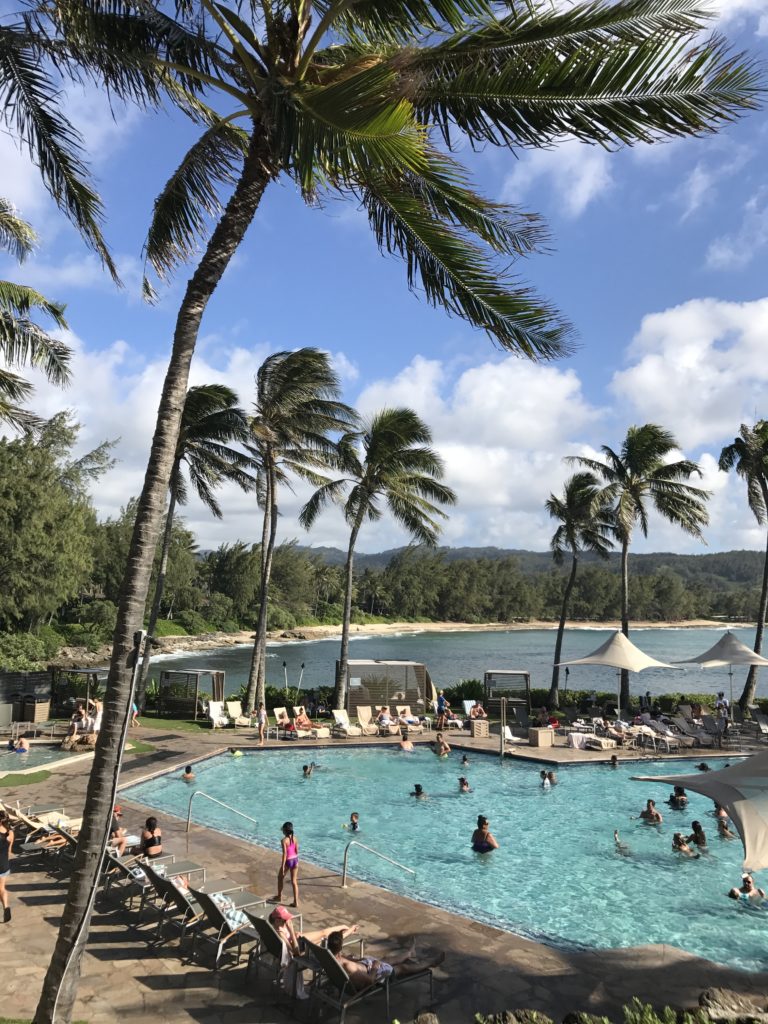 The main pool had plenty of comfortable loungers, a kids pool, hot tub and a waterslide. There was a poolside bar for snacks and drinks as well as chair side service which was generally OK. I had no trouble getting a lounger and they also provided chair covers which were useful as it was pretty windy. The pool was warm and I liked the fact they had several seating areas where you can relax looking at the magnificent views. By the swimming pool, there were also benches looking out to sea to watch all the surfers, which I enjoyed.
The beach was the other side of the hotel so I got one of the bell boys to run me down in a golf buggy. The beach is sandy although there are quite a few pebbles getting into the water. Turtle Bay is fairly sheltered so you don't get the big waves here. The hotel provides a small number of loungers and parasols which were all occupied by the time I got there. I, therefore, paid $25 to rent a daybed with shade for the afternoon. I also got free snorkel rental although you couldn't really see much as the visibility was quite bad, although there were a couple of small reefs with fish.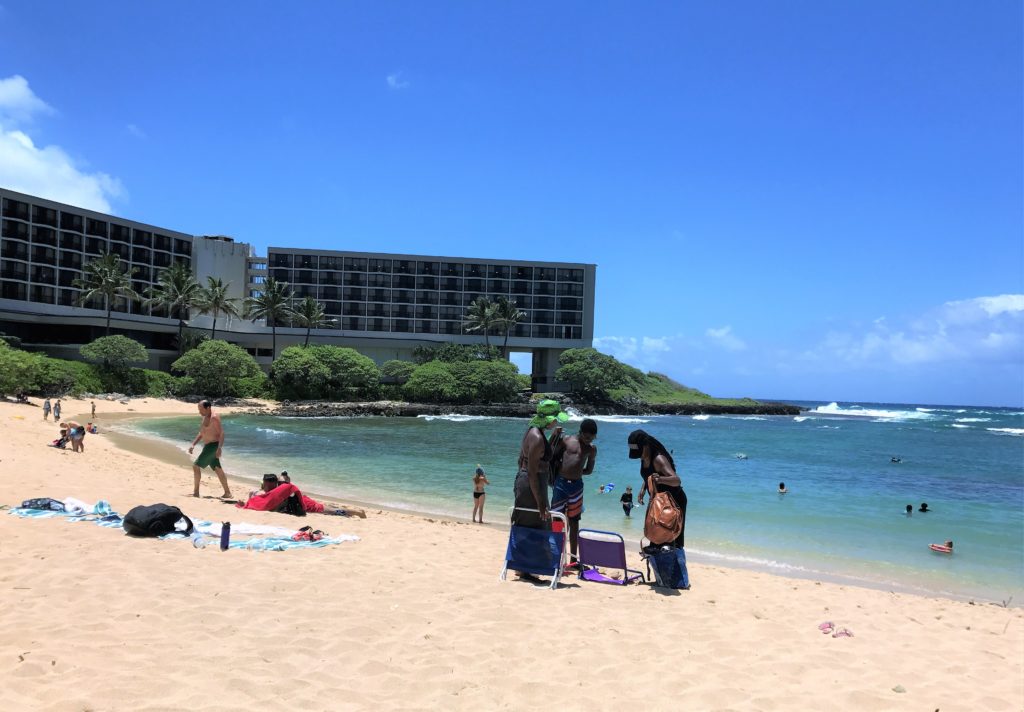 I did have one special experience on the beach as a Hawaiian monk seal joined me for a spot of sunbathing for a few hours. It was completely oblivious to all the people around and having a good snooze!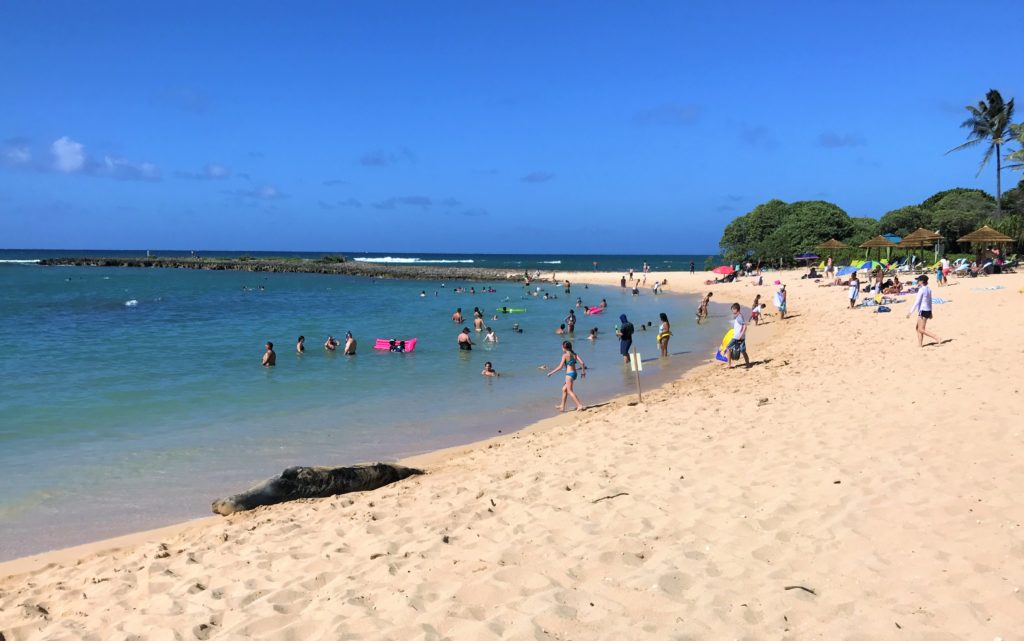 There is plenty to do at Turtle Bay if you have had enough of the beach or pool. They even have a helicopter operation based on site.
Fitness centre with classes
36 holes of championship golf
Surf school
Horseback riding and pony experience
Tennis courts
80-foot waterslide & children's pool
15 miles of hiking & biking trails
Stand Up Paddle (SUP) boarding
Helicopter tours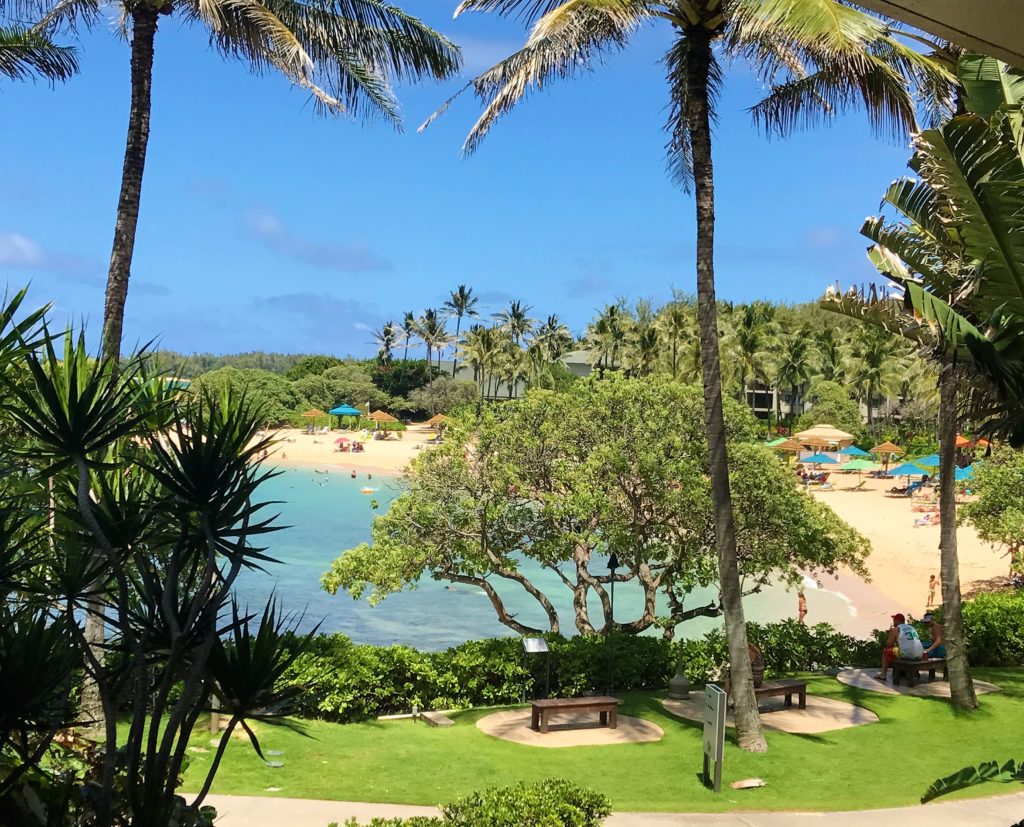 Getting it cheaper
I paid $550 a night through Booking.com with 4% cashback from Topcashback. If I had used Ebookers, I could have got it for very slightly less after cashback but with worse cancellation terms so I stuck with booking.com for my rather fluid plans. Normally I would cancel with booking.com when I was sure of my plans but on this occasion, the price had risen so I stuck with booking.com. The hotel also do special offers with current rates for September starting at $249 which is very reasonable for Hawaii. Hawaii may be a long way to go but it is a great way to get status with BA. I paid £1500 for my business class flights from Dublin and gained 860 tier points for the trip.
Conclusion
Although the main hotel is less glamorous than the film portrays, overall I loved my Turtle Bay Resort beach cottage and would definitely return if I was on Oahu. Gregory, my concierge, was excellent and I really enjoyed my meals at Roy's and my treatment at the spa. The location is stunning and really secluded which is rare on Oahu. On the downside, I would not expect to be able to use the wi-fi for anything urgent unless it improves. I would also hope that the wooden floors are re-varnished regularly as it slightly detracted from the décor.
You can see more about the beach cottages in this promotional video. The hotel website is here.
https://youtube.com/watch?v=k3H_9I8TifY