It has been a little while since I flew Virgin Atlantic Upper Class, just before starting this blog. However, I had such a great experience I thought it was worth writing about even though I don't have a huge amount of personal photos. Hopefully, the additional official photos will help give you a good idea of the product.
I flew from Dublin to San Francisco via Heathrow and then was ticketed back to Dublin from Los Angeles via Heathrow again. I got a really good deal which included a Virgin promotion for extra miles and Tier Points. This meant I got 30,000+ miles and Silver status from the one trip.
Check in/Transfer
As I flew in on Aer Lingus, I arrived at Heathrow's terminal 2. I had checked my luggage all the way through in Dublin with Aer Lingus. I rather naively decided I would try the airside transfer service as Terminals 2 & 3 are right by each other. How long could it take? Big mistake on my part. It took forever for the bus to arrive and then it seemed to go all around the airport before arriving next door at terminal 3. In future when coming back from Dublin, I will transfer landside.
Once I got to terminal 3 there was a Virgin transfer desk to complete all the formalities. The check in agent was extremely friendly and helpful. It seemed quite a contrast from the BA way which is usually polite but fairly unremarkable. Virgin staff are encouraged to bring their personality to work and it really showed throughout most of my journey. Almost from start to finish I felt like they actually valued my custom and were proud of their airline. The agent asked if I been to the lounge before, then gave me a brief run down of where to find it and what sort of things it had to offer. She gave me a tip to make sure I went straight to the spa to book my treatment.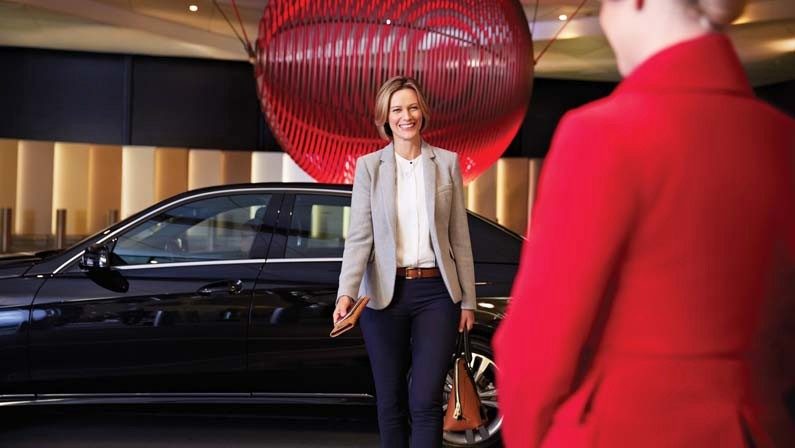 If you are departing directly from Heathrow you can use the Upper Class Wing drive though and their private security channel. Virgin claims you can go from your car to the Clubhouse within ten minutes. Even if you aren't eligible to get a free chauffeur on your fare, you can still use the Upper Class wing drive through. You just need to call ahead to pre-arrange your arrival. When you arrive Virgin staff will greet you, handle your baggage and give you your boarding pass.
Virgin Clubhouse London Heathrow Terminal 3

I have visited a lot of lounges in the world and the Virgin Clubhouse is pretty much my favourite lounge so far. Once I arrived at the lounge I was asked if I had visited before. When I said that I hadn't, the gentleman escorted me on a personal tour of the lounge to explain where everything was and how it worked. Now that is what I call a welcome!
Spa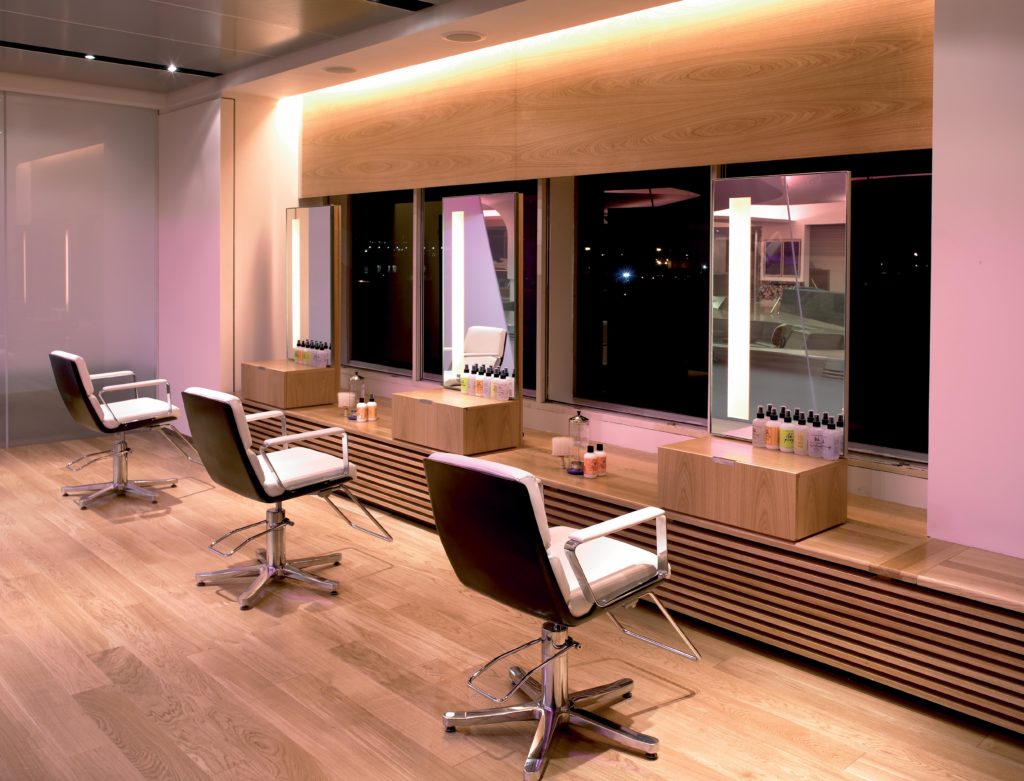 My first stop was the spa. In Upper Class you get one free 15-30 minute treatment but they also offer longer 30 minute treatments for an additional £35 payment. This is something I wish BA would do. Since I can rarely, if ever, get a spa appointment with BA, I wouldn't actually mind paying for a treatment. This would be providing that the paid treatments were better than the free ones BA offer. You can view the extensive range of Virgin treatments here.
I had already decided to go for the hair and scalp treatment as my free one and then pay the extra £35 for a 30 minute Hot stone foot and leg treatment. The spa receptionist was very helpful and I was soon booked in for my treatments back to back in about 90 minutes time. I liked the whole spa area and salons. There was a separate hairdressing salon along with a manicure area where I could see people sipping champagne whilst having their nails done. All very civilised I thought!
The scalp massage with conditioning treatment was relaxing and my stylist was very chatty and friendly. He did actually style my fringe for me too, even though they are only meant to give you a rough dry. You can opt to pay extra for a proper blow dry if you like. Then I had my foot massage in a proper treatment room although I am pretty sure it just had a curtain over the door area. Again this was a great professional standard treatment and the therapist was very pleasant.
When I visited the spa also had a jacuzzi, sauna and relaxation area but I didn"t get a chance to use them. There are also large shower suites if you need to refreshen up.
Food and drink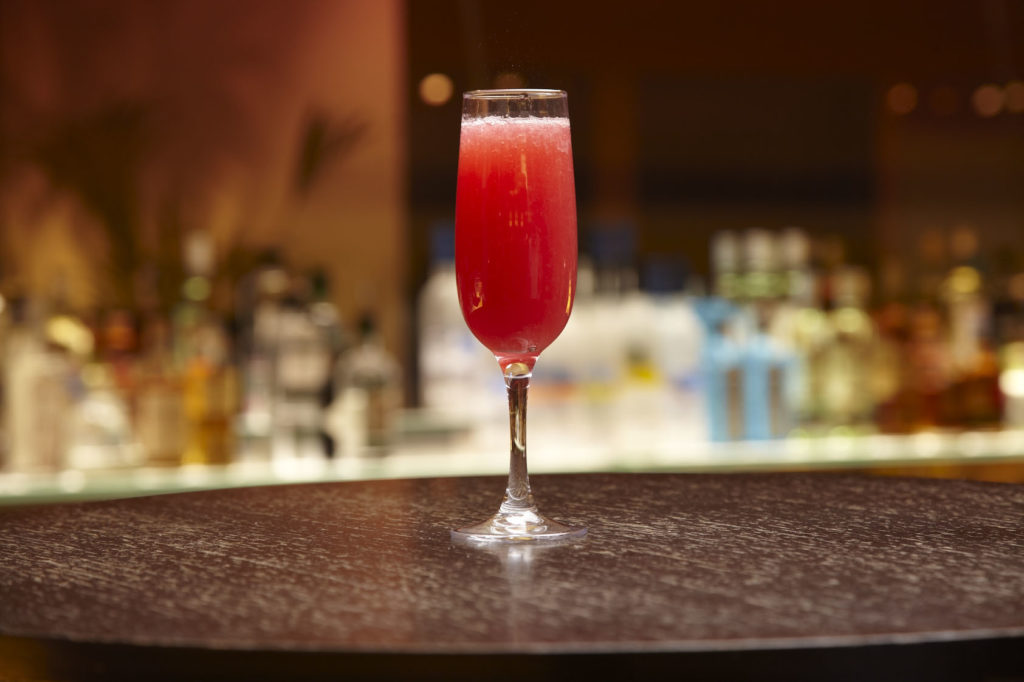 I also found Virgin very impressive in its choice and quality of food and drinks. The whole lounge is table service apart from the deli area. If you are in a hurry for a drink you can go up to the bar to order, otherwise, they will come to your table.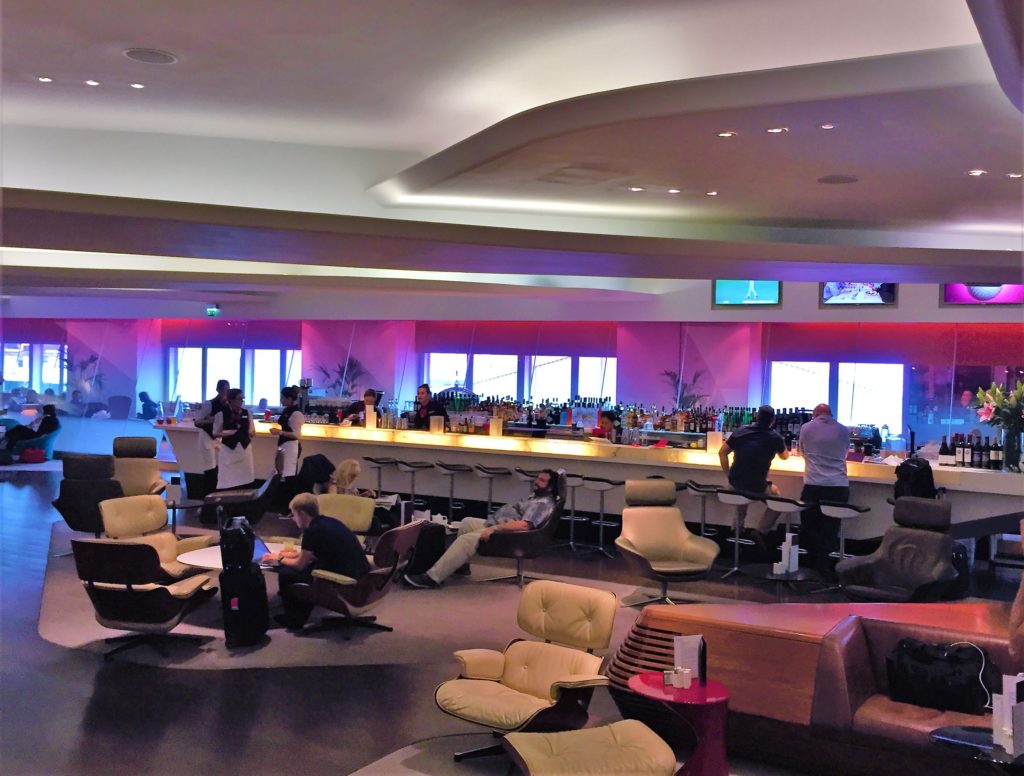 The cocktail list alone is huge and would rival any good cocktail bar in London. I managed to sample a few during my stay which were all delicious. Their signature cocktail is the Virgin Redhead which is fizz, fresh raspberries, Bombay sapphire and berry liqueurs. They also feature a range of cocktails in association with award winning bar, Dandelyan. I sampled one of those which had citrus and black pepper with tequila which was unusual but packed a punch of flavour. I loved the retro coupe cocktail glass it was served in. Service was generally swift and friendly.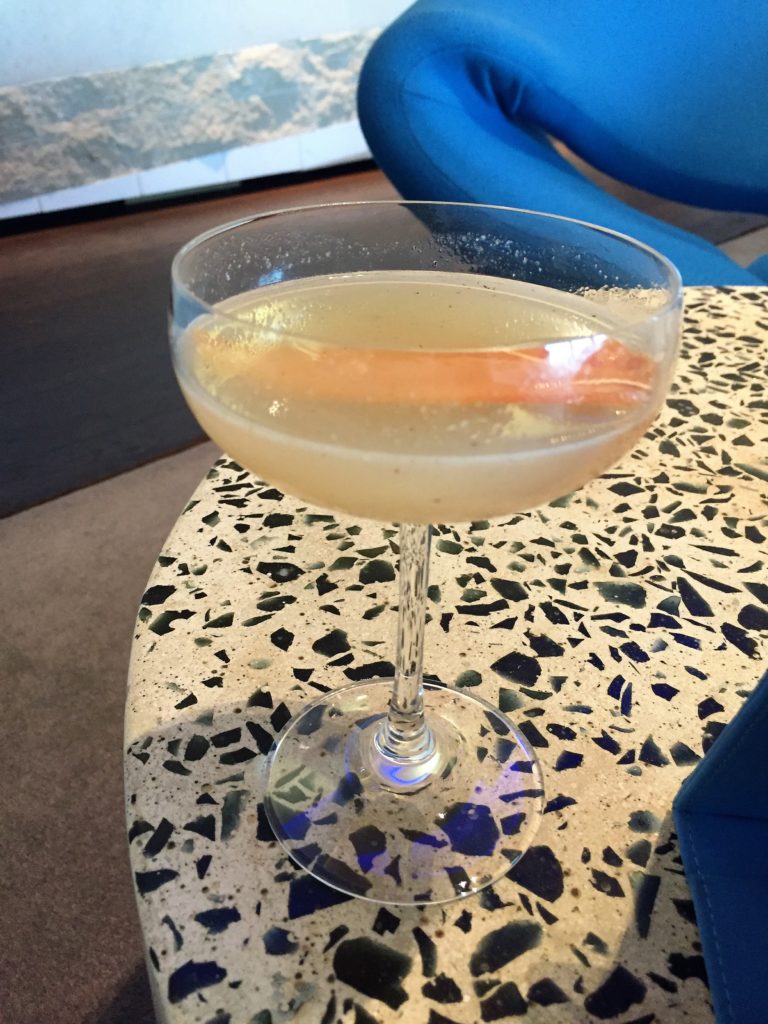 As well as cocktails they have a good range of wines to choose from. The wines aren't brilliant quality, I would say BA Galleries Club edges it in terms of quality wines. However, what Virgin does have is variety and a choice of fizz. Their premium fizz is Lanson Père et Fils Brut Champagne but they also have a Prosecco and an English Sparkling Wine, Jenkyn Place. I thought I would try the Jenkyn Place since it is not far from where I live. I enjoyed it but thought it was a little lacking in complexity and not as good as my favourite English fizz, Nyetimber. As well as the fizz they have 4 red wines, 4 white, a rose and a dessert wine as well.
The food choice was also impressive and I would strongly recommend arriving very hungry! There are 2 areas to choose from, the Deli and the main restaurant, The Brasserie. The Deli looks like a buffet with salads, breads, cheeses, meats and 3 different types of cured salmon. It is not self-service, however, the staff will serve you with whatever you want. Although it is more upmarket being served, I would have liked a help yourself area in the lounge for when you just want to try small amounts of a few things.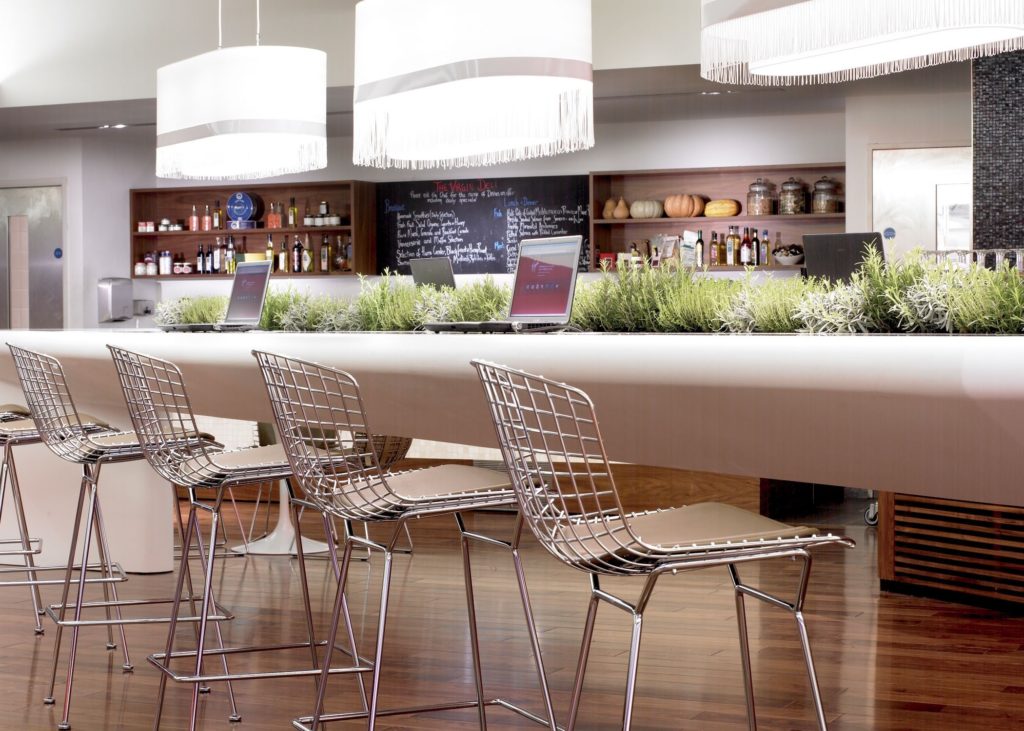 Since I had plenty of time I decided to go for the full-service brasserie area. The food menu also has lots of choices. You can view the full menu here. They serve breakfast until 12pm which has a great selection from eggs benedict to pancakes.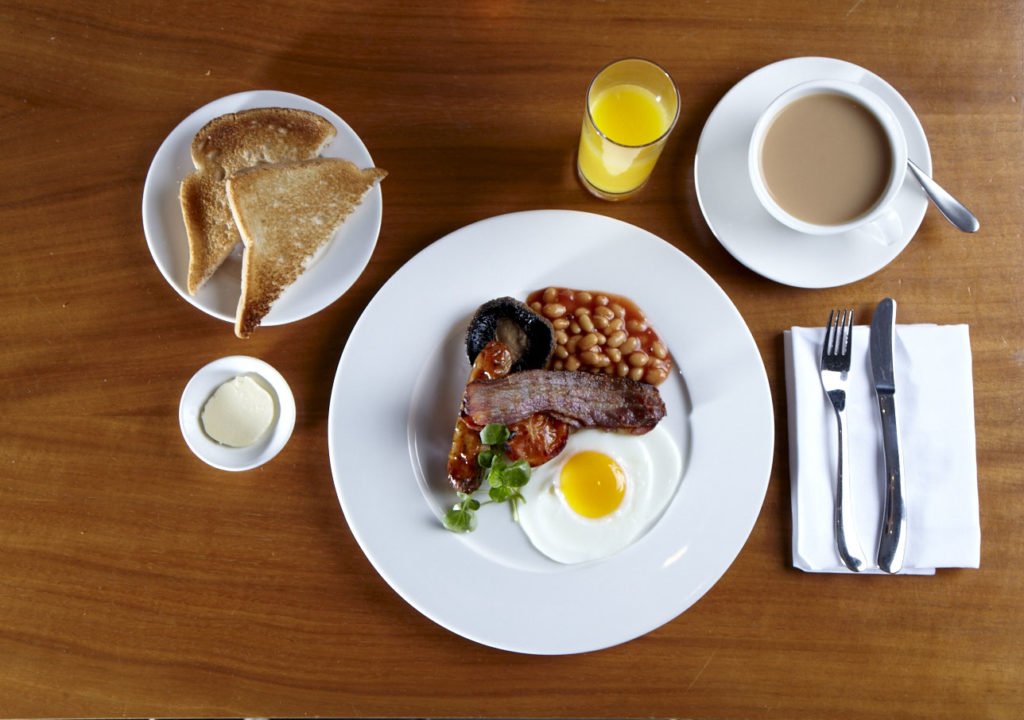 After breakfast, I liked that Virgin have small plate tapas if you just want a snack or you can go for the 3 full courses or even 4 if you had cheese! I had one tapas item, the Confit Asian duck bao bun with spring onion, cucumber and hoisin sauce pictured below and a main course item of vegetarian sweet and sour tempura. Both were very tasty and easily up to restaurant standard. The menu has lots of variety between British, Mediterranean and Asian cuisine. If you arrive in the afternoon you can even have a full afternoon with teas served from the Tregothnan Estate in Cornwall.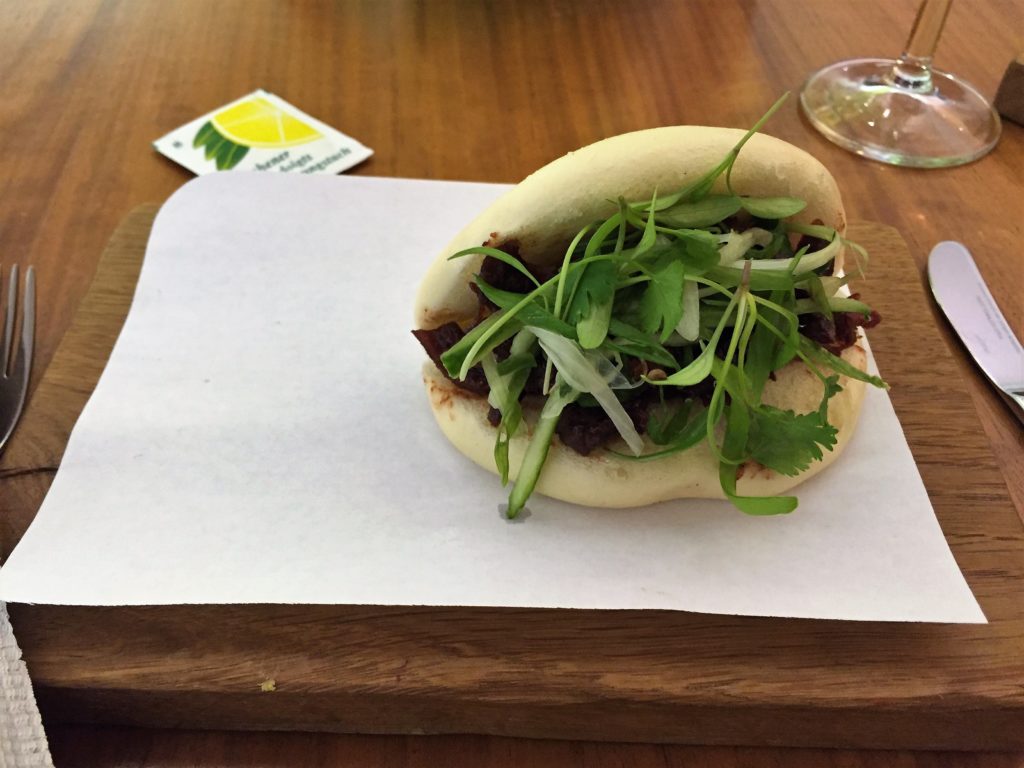 Unfortunately, the Brasserie was the only area where I had my one disappointing level of service. It started well as I was shown to a table by a friendly waitress, given a menu and offered water. Unfortunately, at this point, she then seemed to disappear on her break and no one seemed to take over. After a long time my order was taken by a rather surly individual and then I waited and waited….. I decided to ask again for my drink order after about 15 minutes as I could see that they had the wines in the restaurant. After a distinctly lacklustre response, I then waited another 15 minutes, until I eventually told someone else that I had already asked twice for a drink and was still waiting nearly 30 minutes later. At this point, I got an apology and the service improved. The food arrived quickly though.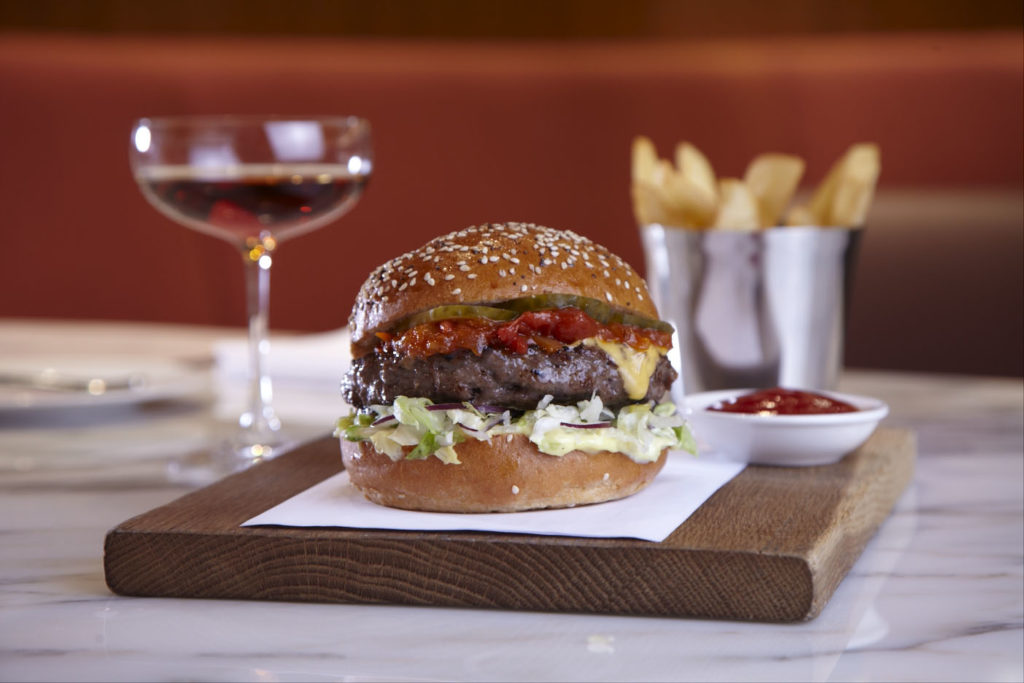 Luckily the food arrived quickly and I liked the way it was presented on a board and the sweet and sour in an Asian style black bowl. It was all good quality and very tasty. Next, it was time to explore.
Since my review, the brasserie area has now been refurbished as you can see in the picture below.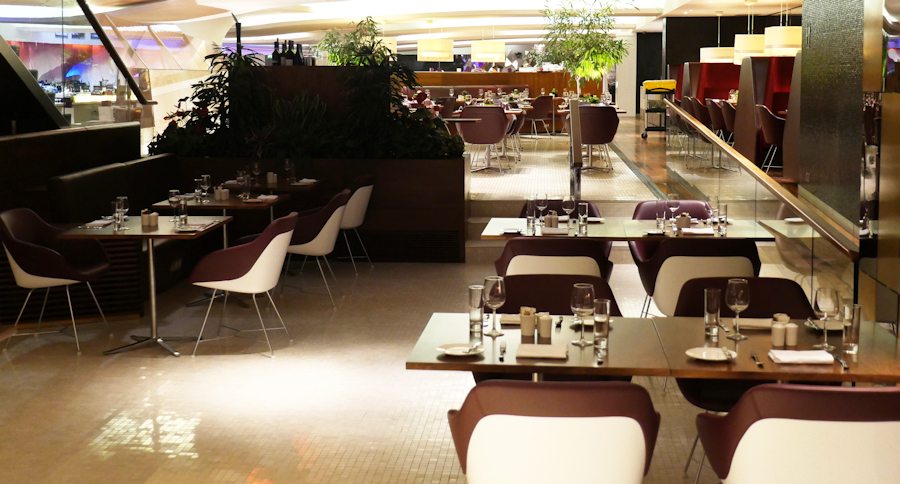 .
Facilities and areas
The whole lounge has a very modern, almost James Bond feel to it. There were even hanging plastic chairs in one area downstairs. The main area is very large but it is sub-divided into lots of smaller areas which makes it seem less overwhelming.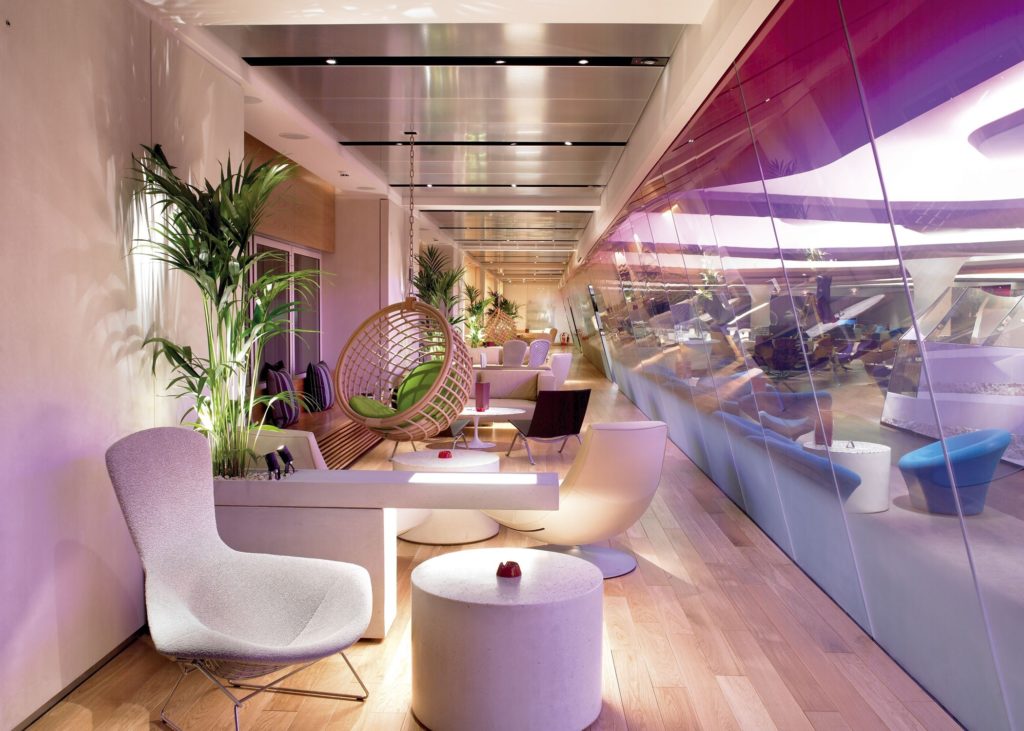 The Gallery area was my favourite, although it took a while to get a seat here as everyone else obviously thought the same.
If you want to work there are laptop points dotted around the Clubhouse and there is wi-fi available. Laptops with Internet access are also provided for those who just want to browse the internet.
The Lodge and Viewing Deck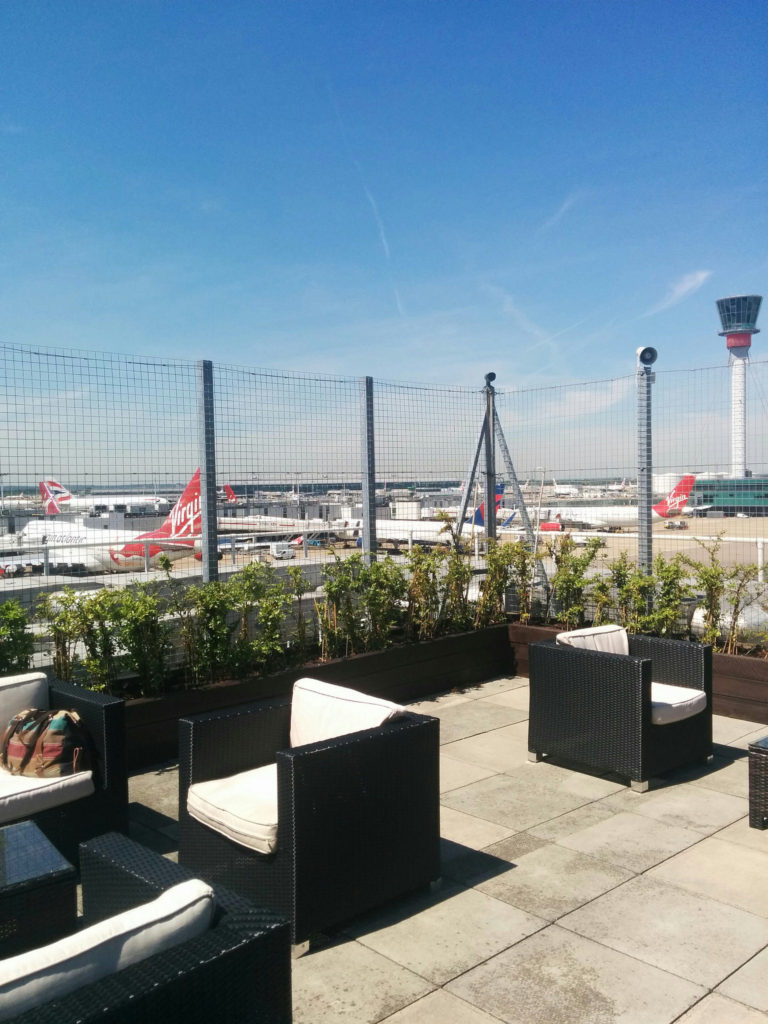 Upstairs is The Lodge with its après-ski feel. The Viewing Deck is on the roof and offers great views of the runway, with comfortable seats.
The Loft
Up a white marble stairway that leads through the 'clouds' of the ceiling is The Loft. You can watch planes takes off through full-width sloping windows underneath a skylight.
My 3 hours in the Clubhouse went far too quickly as it was now time to head to the gate for boarding. I will continue my review tomorrow with the B787 Upper Class flight review.
The Clubhouse at Heathrow T3 is open from 6.30am to 10.30pm or last departure. You can find out more on the Virgin website here.
In the next article I will look at on board the B787 flight from Heathrow to San Francisco in Upper Class.