This was part of my press trip with British Airways to review the new BA/AA lounges at T8 in JFK airport. I had stayed at the TWA airport prior to Covid, so I was keen to see what it was like now.
Location
The hotel is located adjacent to terminal 4 5 and can easily be reached by the air train that runs between terminals. Just follows the signs. Once you get off at terminal 5, (JetBlue), follow the signs to the elevator on the same level as the train platform. Take the elevator down to Level 1. Walk left off the elevator, go through the doors, turn left and cross the street toward the Yellow Parking Garage. Turn left on the sidewalk and follow the covered walkway to the TWA Hotel front door.
There is a short walk to the hotel outside that is well-lit and has 50s music playing in the flower beds. This confused me somewhat after a long flight, as I thought it was someone's car radio at first!
Check-in at TWA Hotel New York JFK airport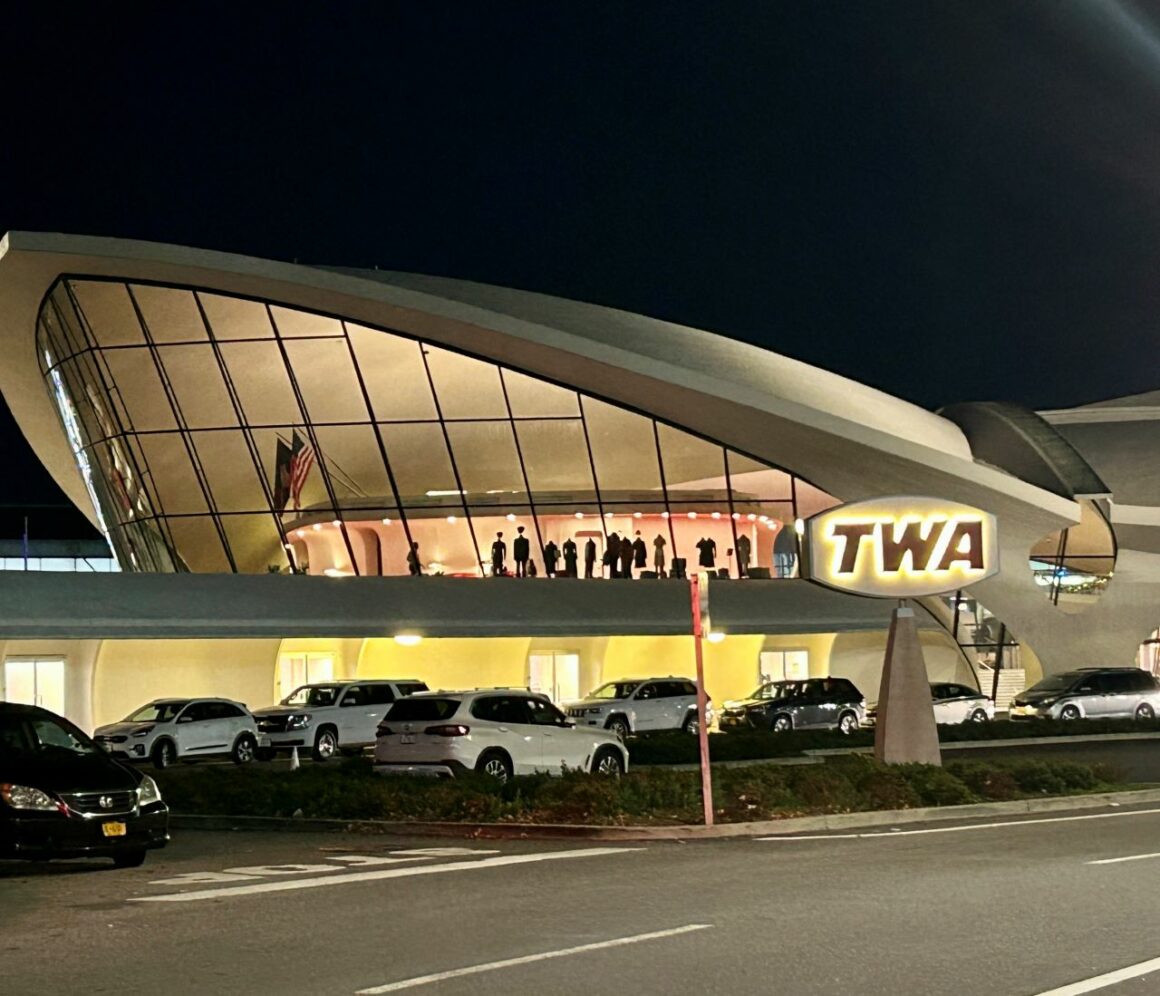 We were checked in by a friendly agent, but there is also self check-in available.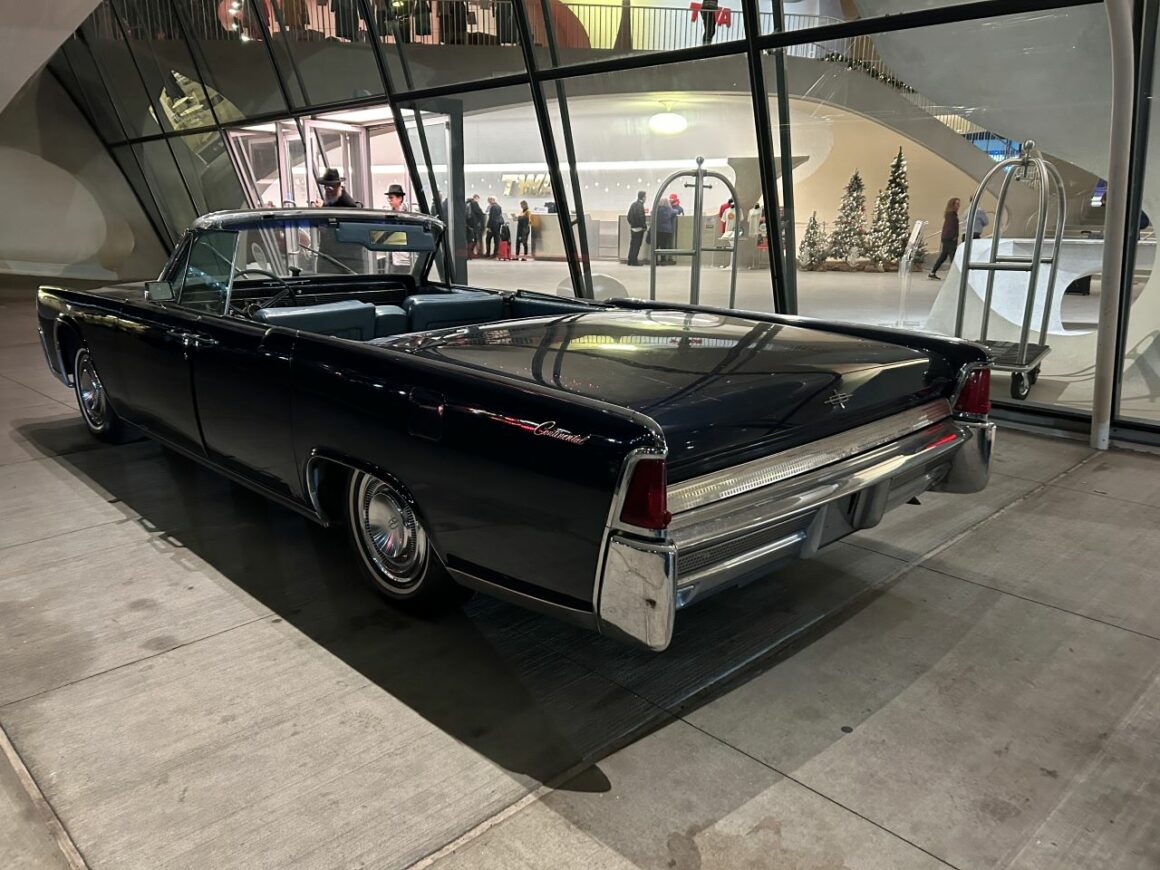 TWA Hotel New York JFK airport room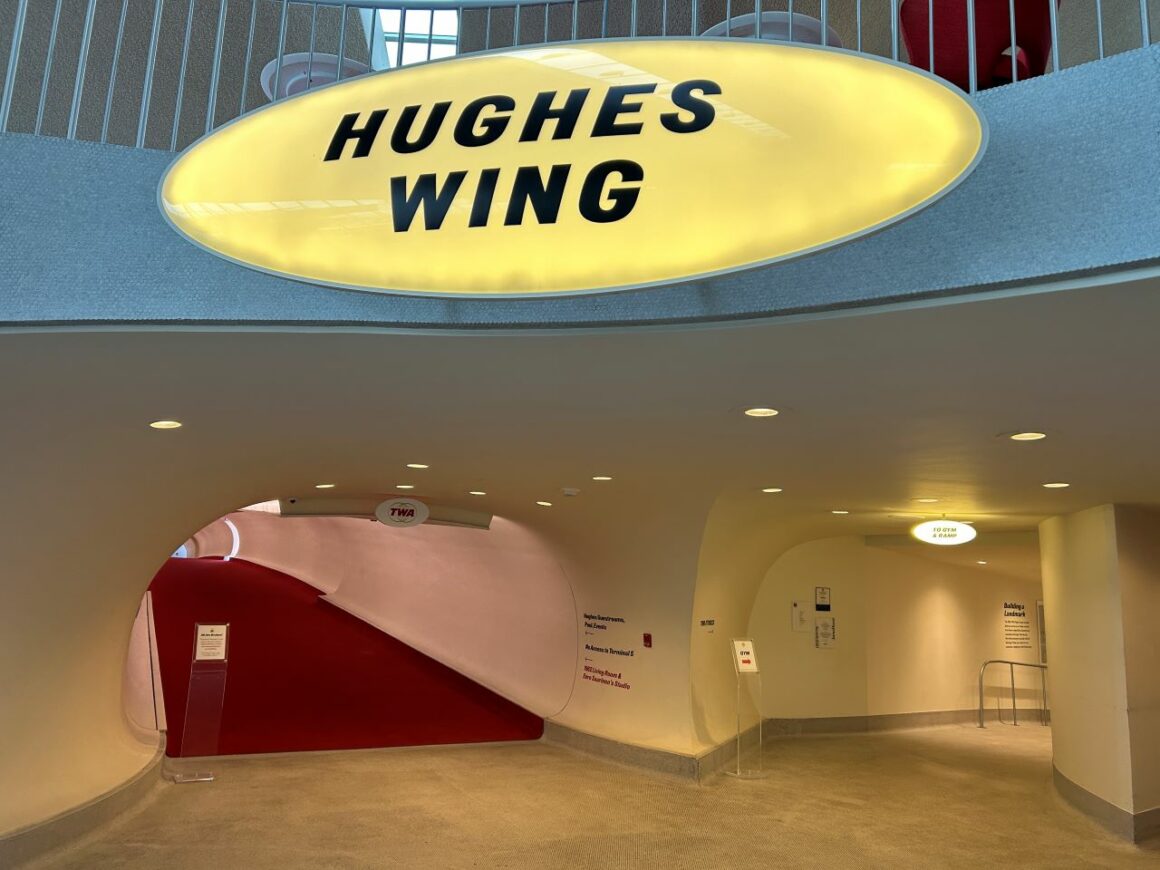 We were in the Hughes wing, which meant a walk up the iconic red carpeted tunnel, but it was a bit tricky dragging your case up it!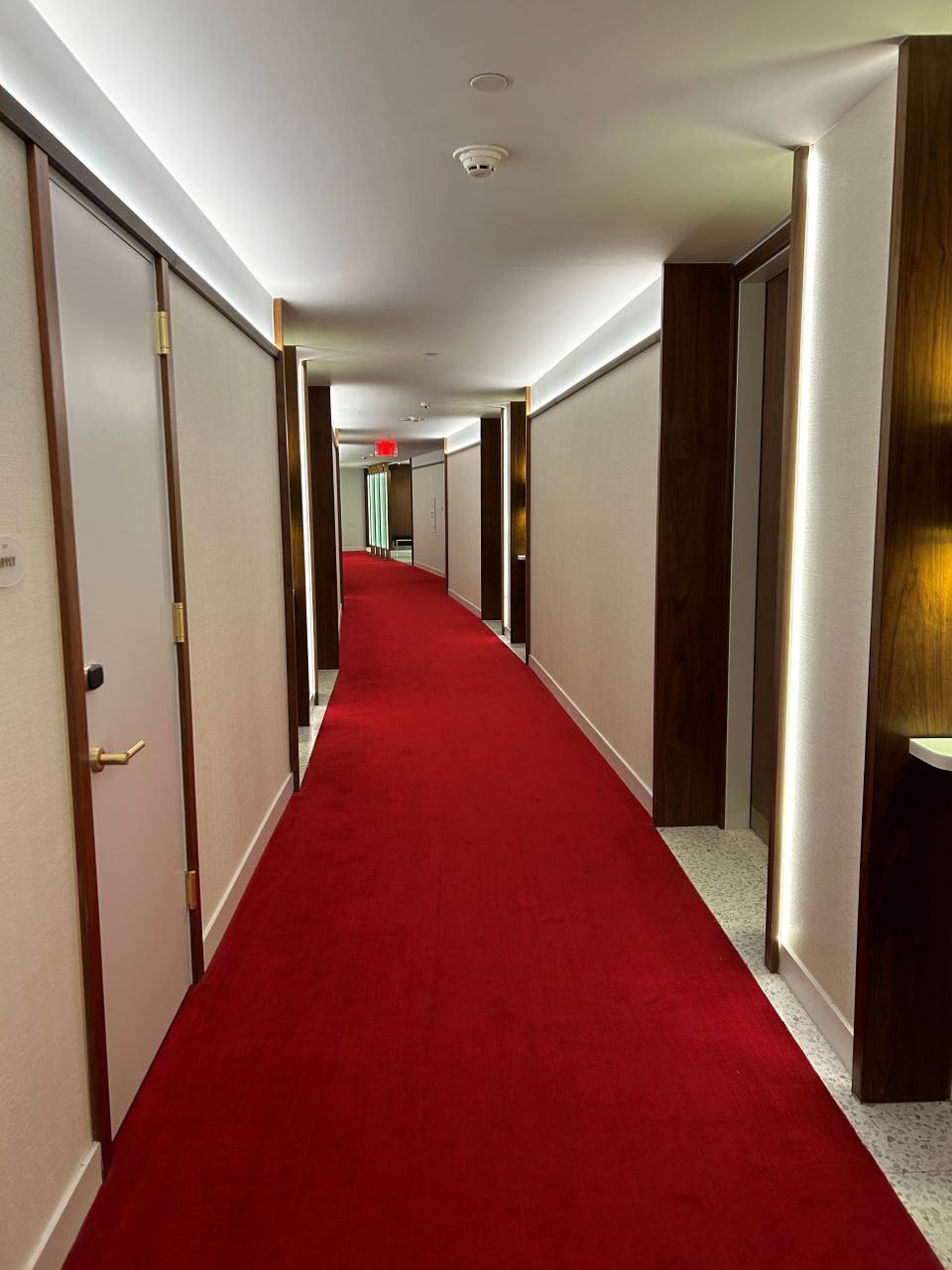 I had a Deluxe King with Historic TWA View. The basic room is pretty similar but there are suites available too that are more luxurious.

This is where the hotel could be improved in my opinion. When you compare the rooms to what they were like when I visited before, they are definitely very pared back. However, the size was reasonable both for the bedroom and the bathroom. I also like the style, which was in keeping with the theme with the old-fashioned phone and posters. Near the entrance was a small bench seat which was perfect for hand luggage.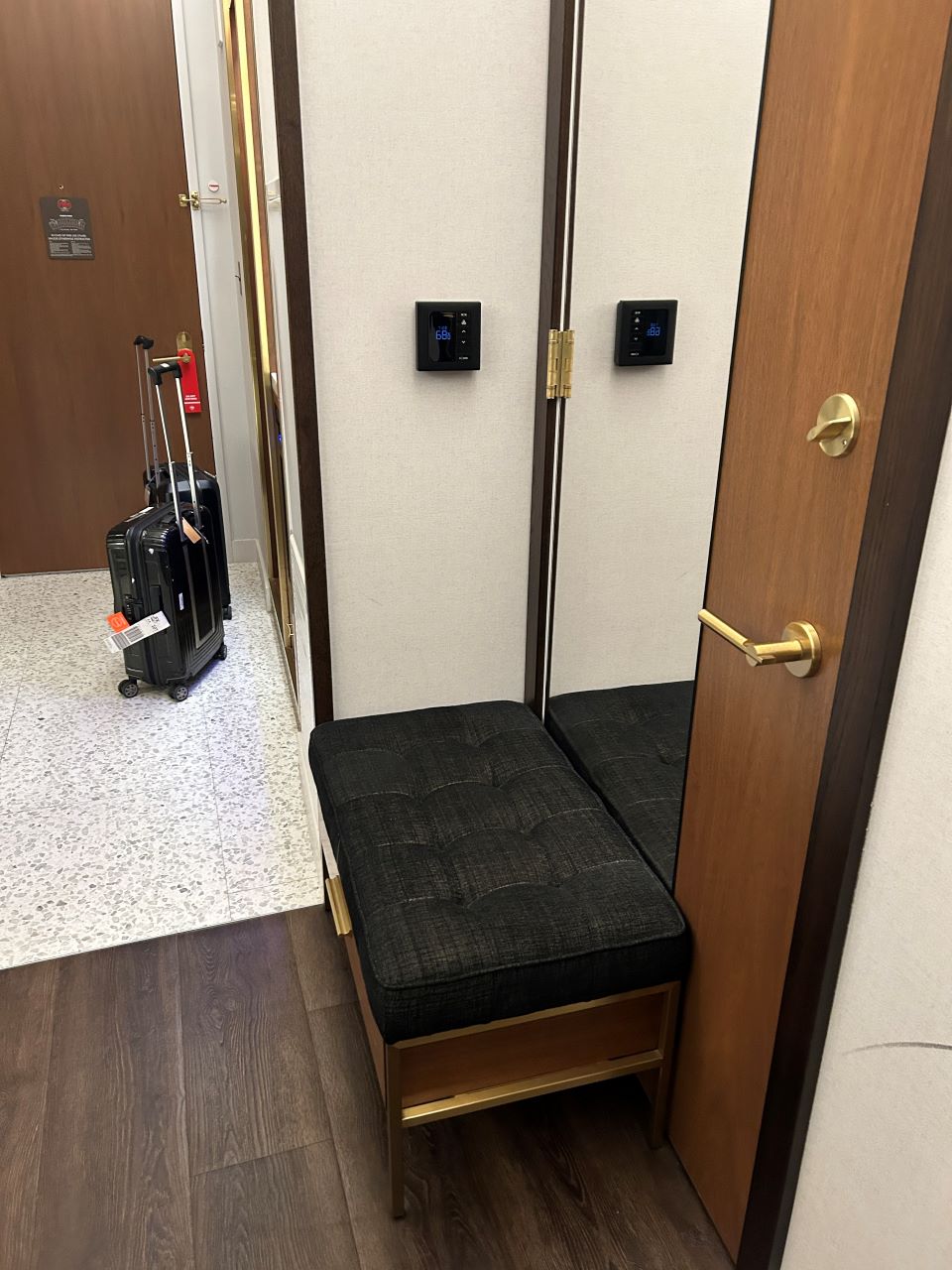 The bed was comfortable and felt like it had high-quality linens. I would have liked more room on the bedside tables, but I appreciate most people are only staying one night. I did like the wireless charging option by the bed which also had two USB ports. The Wifi was also fast and the TV was large with plenty of channels.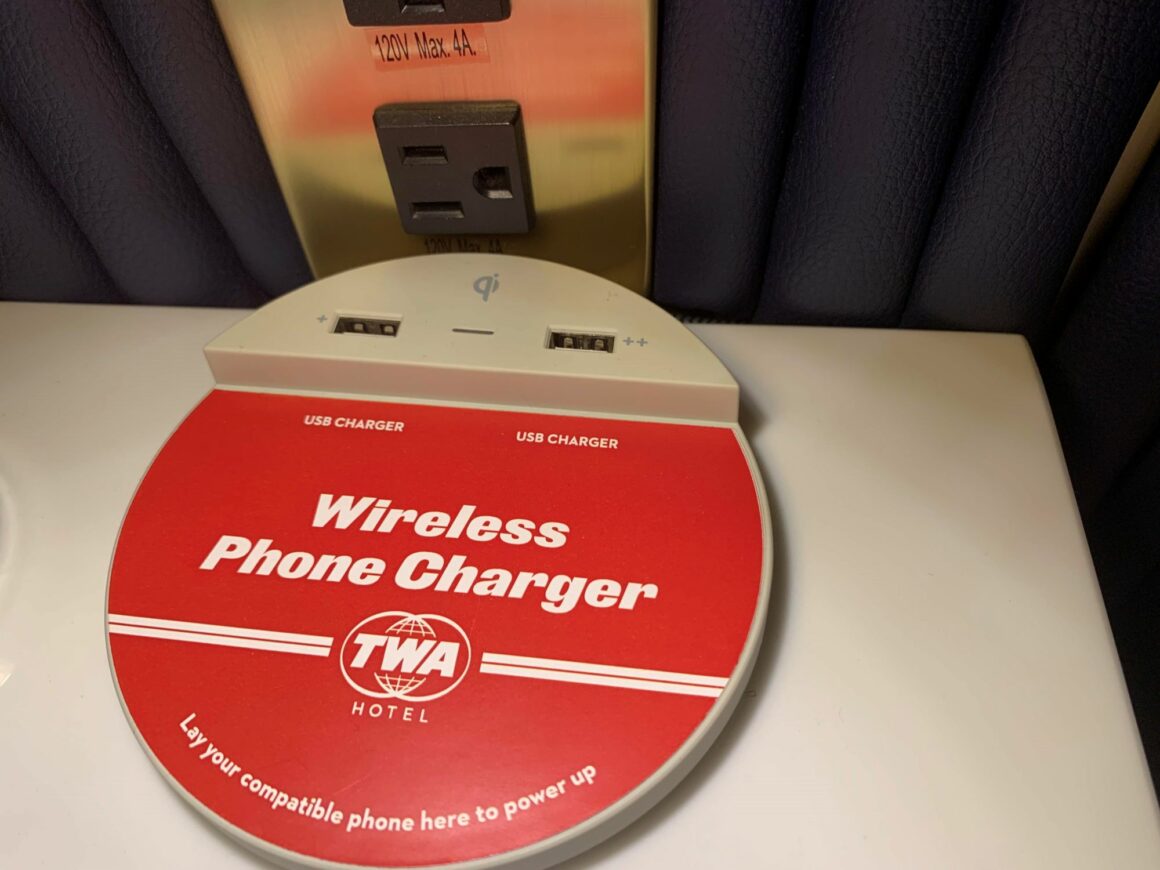 The room was quiet with no noise from the airport and black-out blinds which kept the room very dark. Just remember to be clothed when you open them in the morning though!
The rooms do not have rubbish bins. Instead, they have a mat divided into recycling and non-recycling, which I am not a fan of. But again, most people are only here one night and probably don't produce much rubbish.
There is no coffee machine, I had one solitary martini glass but no other glasses at all, even in the bathroom. Others did not have any glasses. There is no robe or slippers. Here is how it looked in 2019: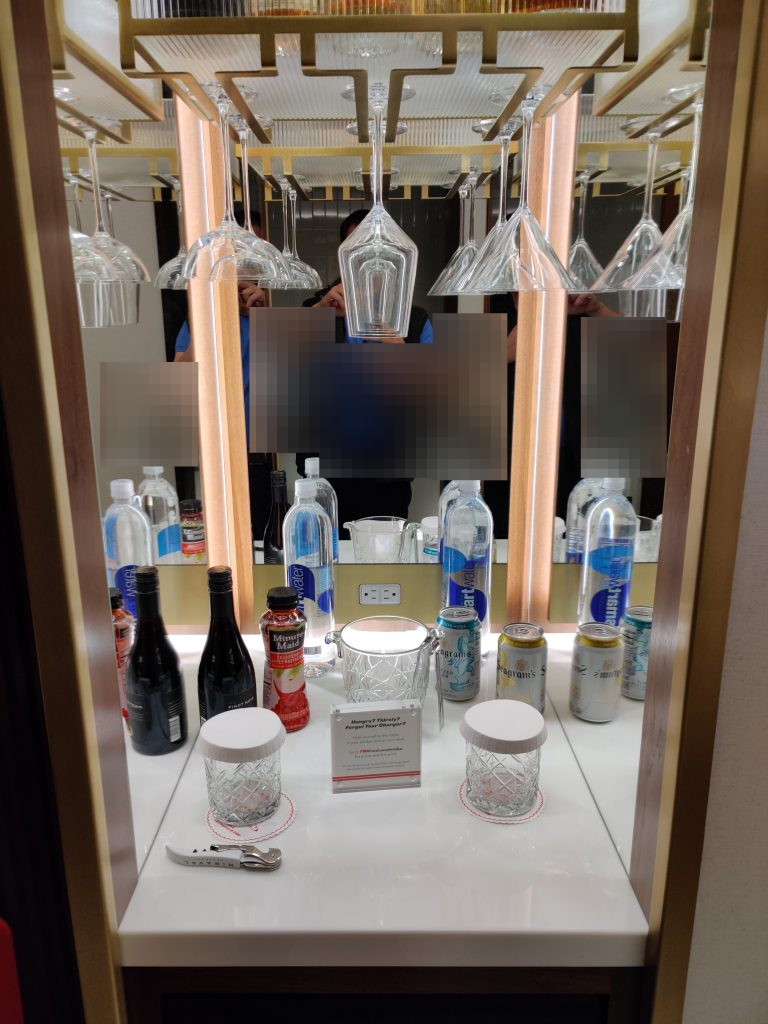 There was a fridge but it was empty.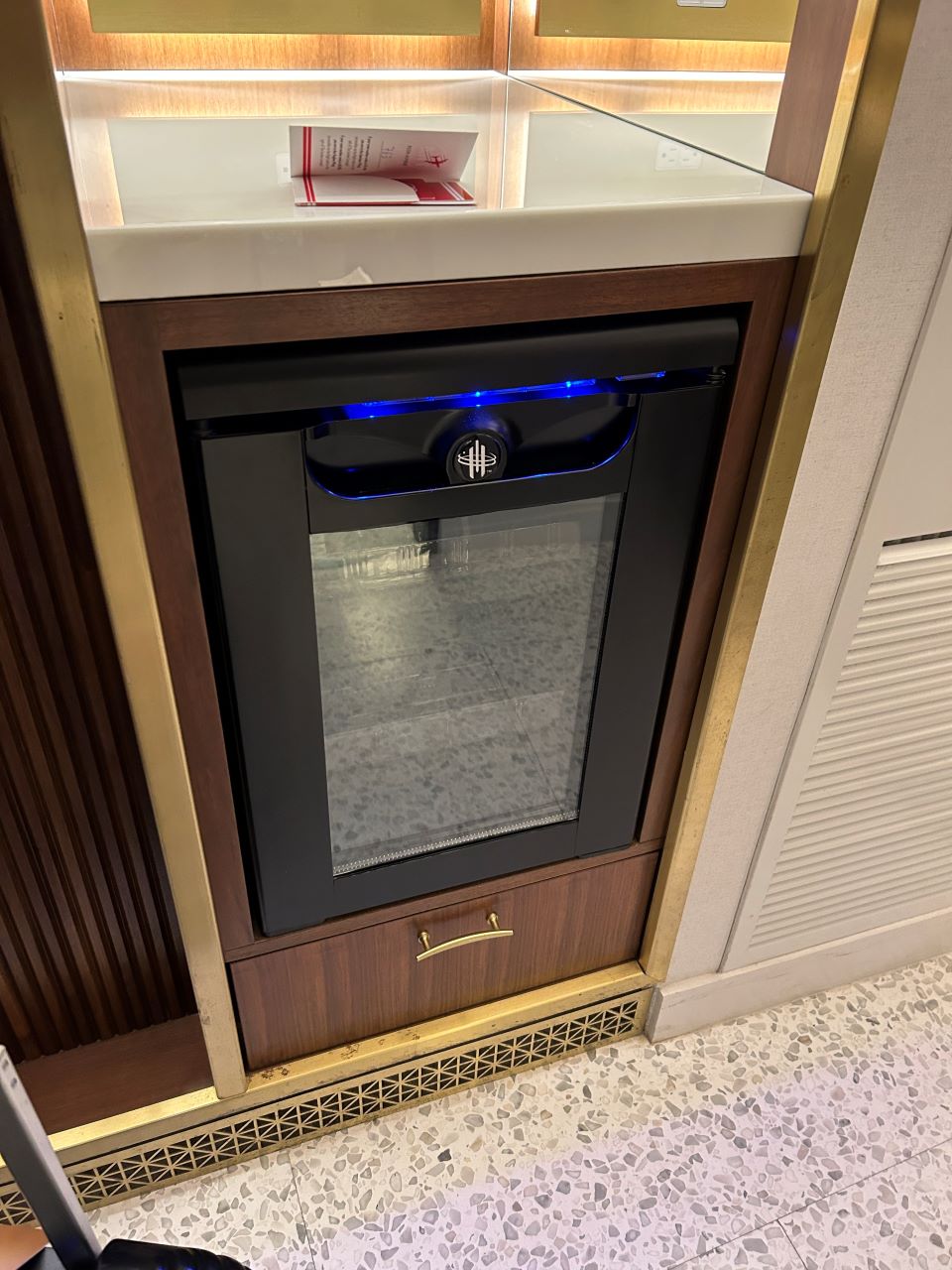 You do get a notepad and a pot of TWA pencils which are pretty cool.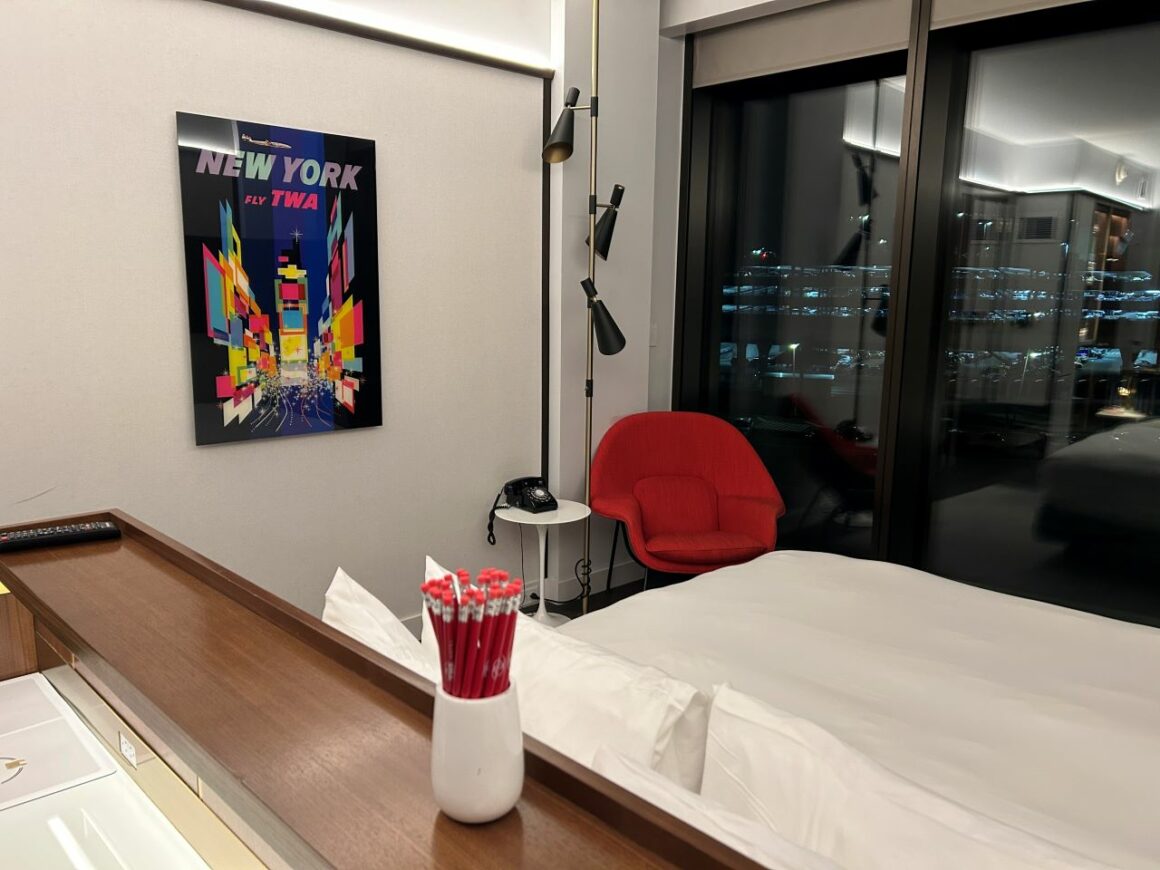 There is plenty of room to work at the walnut desk behind the bed, which I thought was a clever use of space and there is a chair if you want to do some people watching in the main TWA building as I had a great view.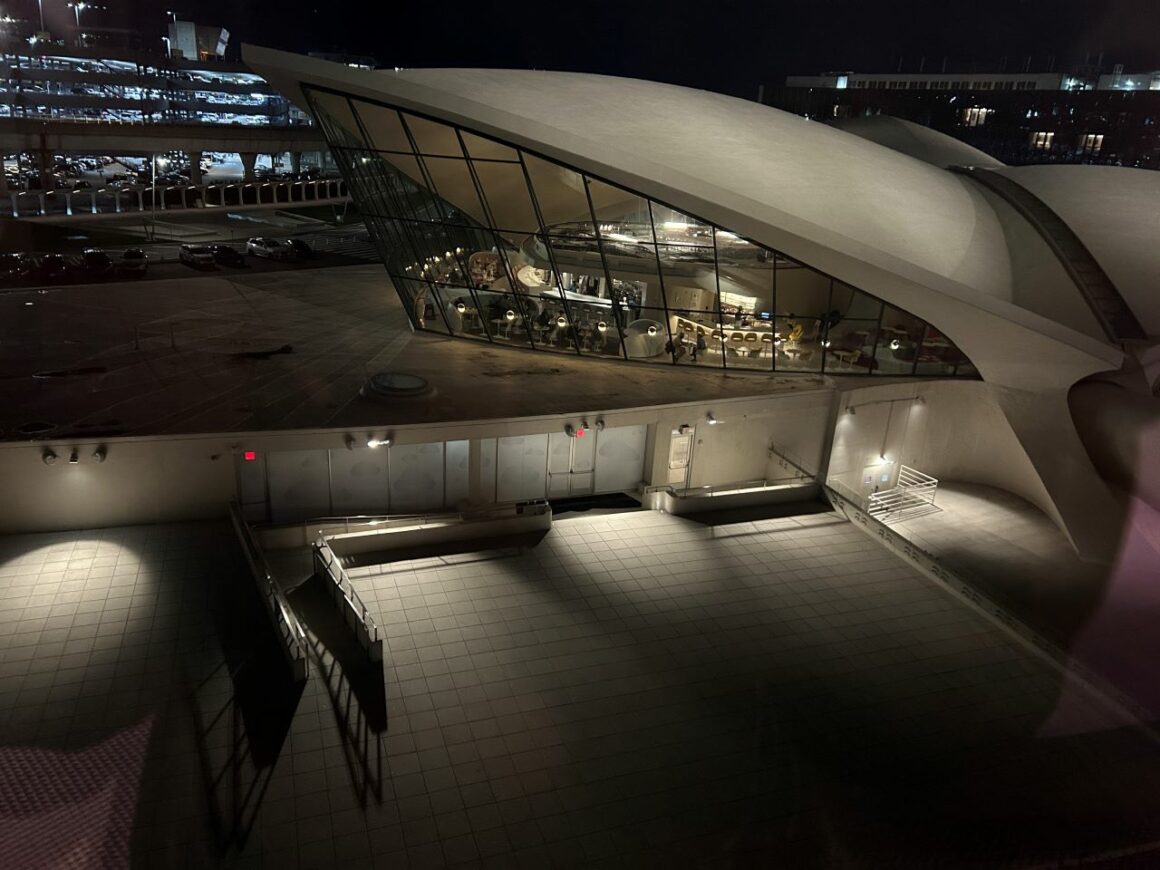 The bathroom was a good size and well-lit with the mirror lights but only had basic amenities. There was soap but no body lotion. There was lots of room for toiletries or wash bags which was handy if you did not want to unpack but leave a bag out.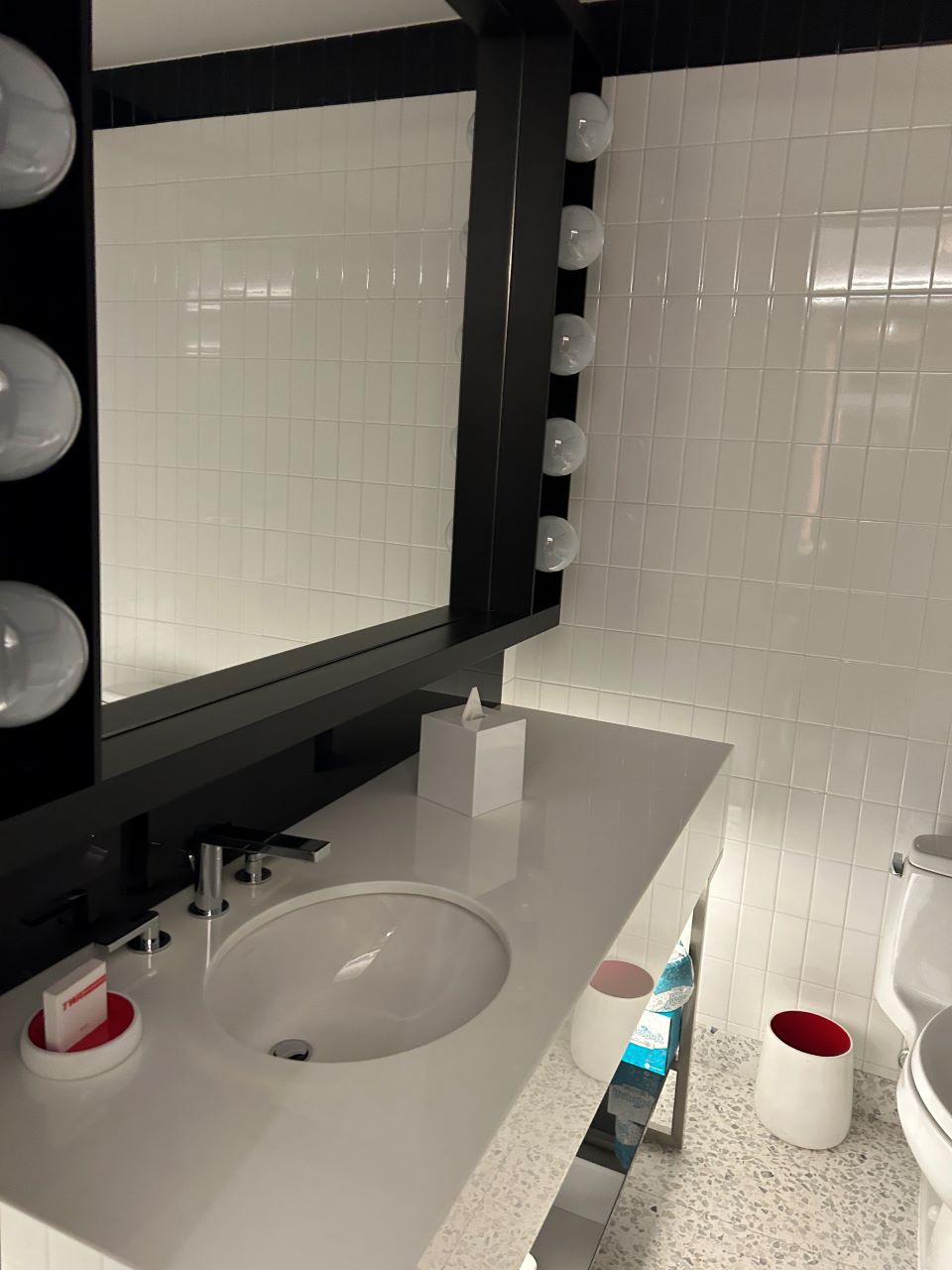 The shower had TWA-branded shampoo, conditioner, and body wash in large fixed bottles. The product itself was fine, but the pump gave out stingy amounts each time which was slightly annoying. The shower was a standard US-type shower with good water pressure.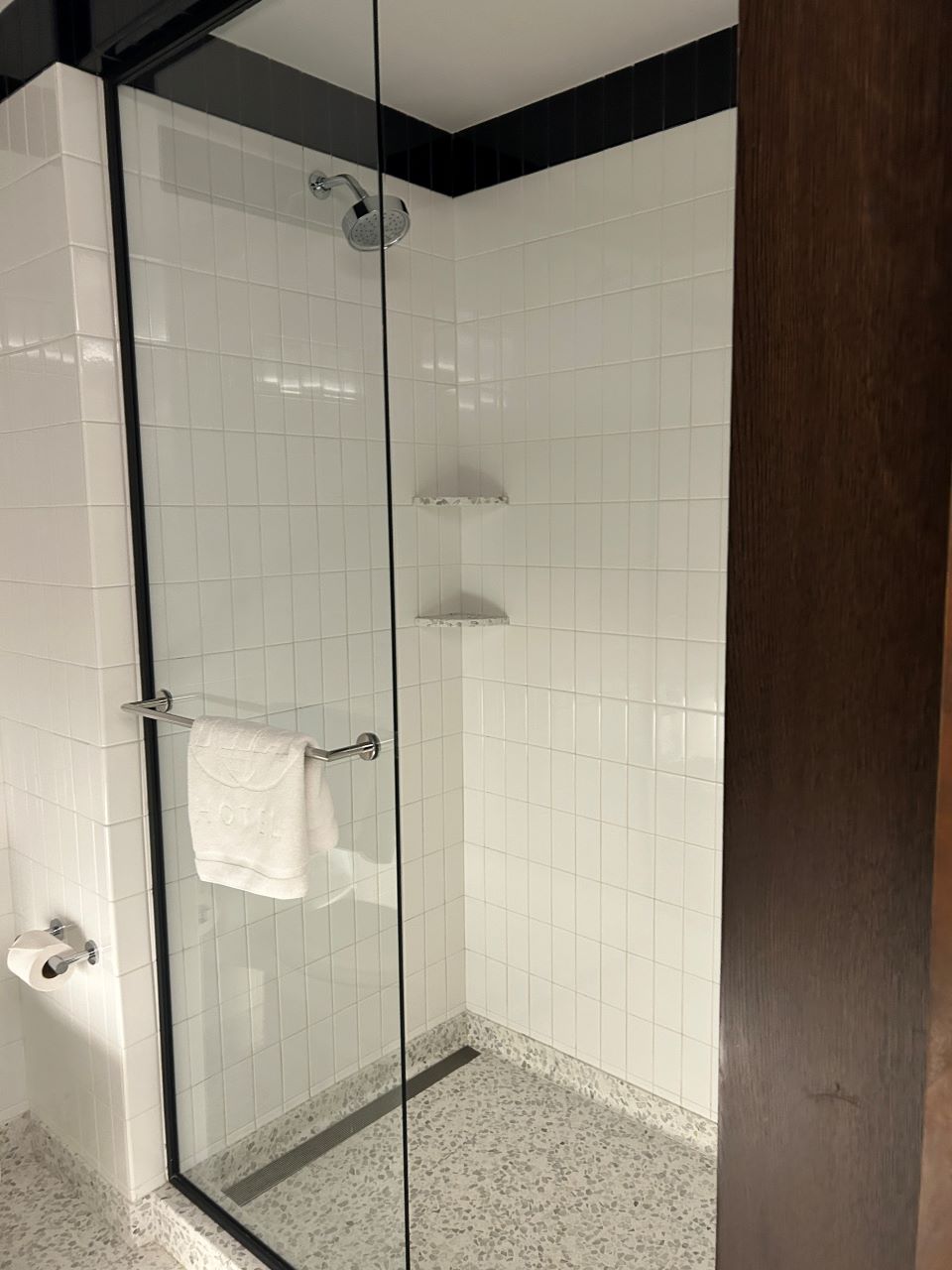 The experience
The TWA Hotel opened on May 15, 2019 in the TWA Flight Center airline terminal, designed in 1962 by the architect Eero Saarinen. The TWA Hotel project added two buildings on either side of the existing building.
I love the public areas with the old departure boards, 50s cars and huge spaces. As a fan of that era as well as an aviation fan, I can't help but be wowed by it every time I visit the hotel. There are several exhibits dotted about including a recreation of Howard Huges office. It really does feel like you have gone into a time machine and stepped back to the 50s and 60s as there is so much attention to detail everywhere.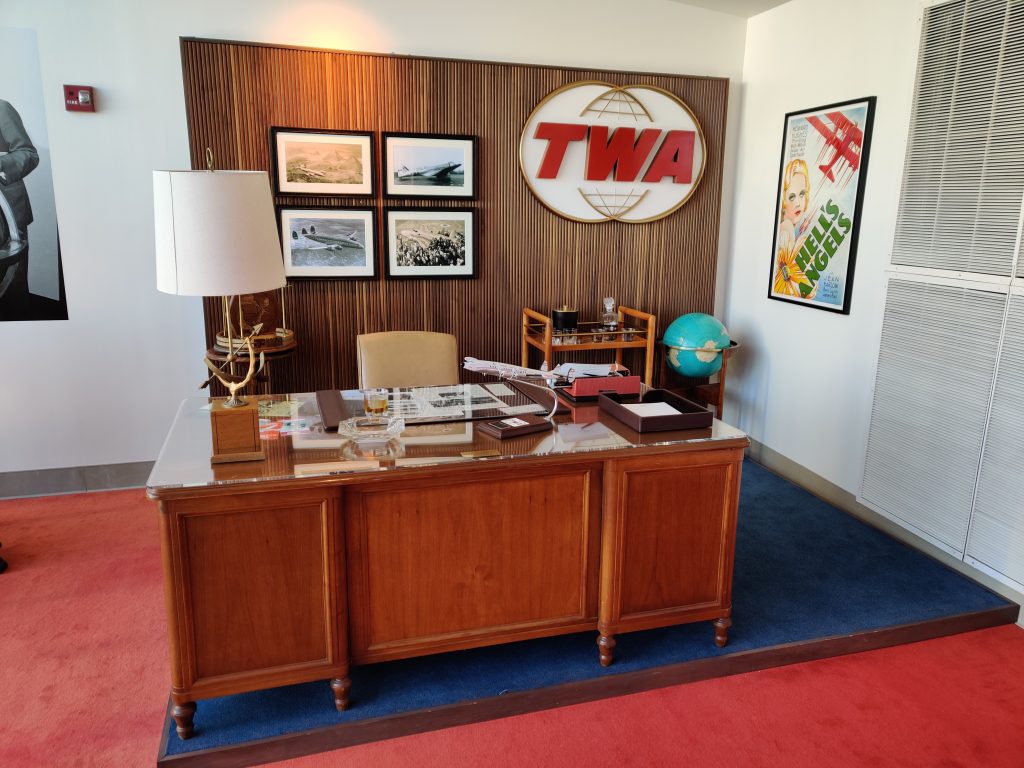 Food and drink at TWA Hotel New York JFK airport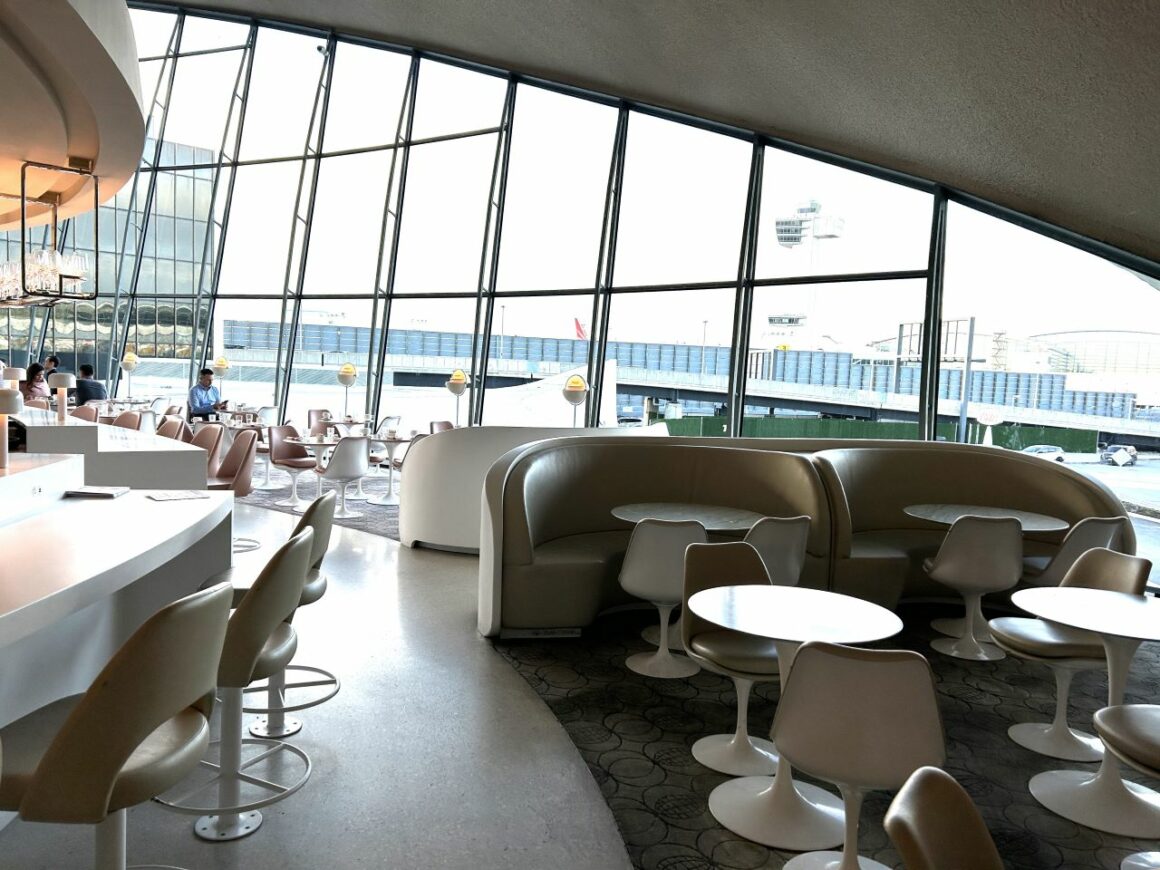 There is a food court-type area at the entrance, but for breakfast we tried the Paris Cafe by Jean Georges which is on the mezzanine level.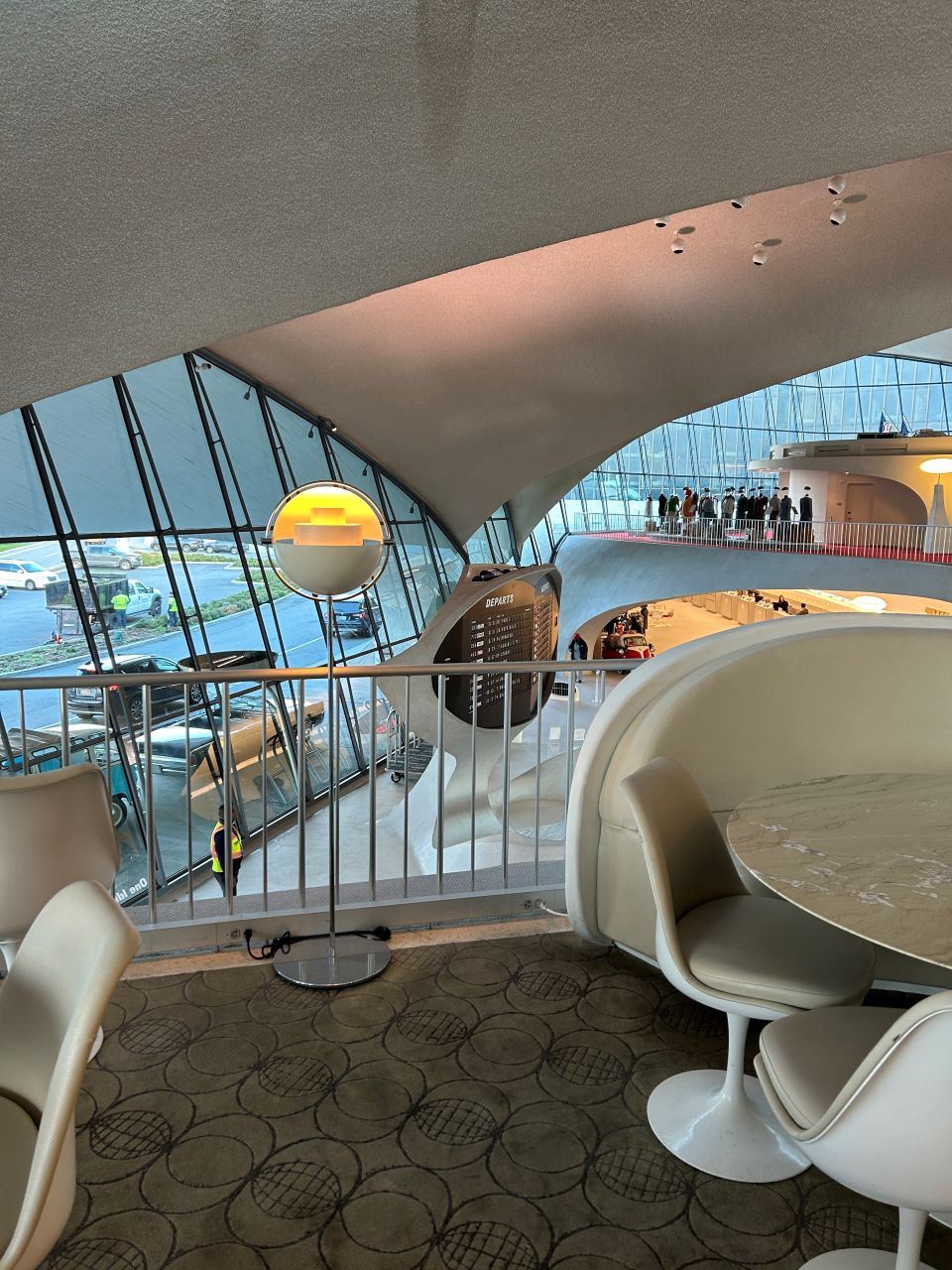 Here is the breakfast menu: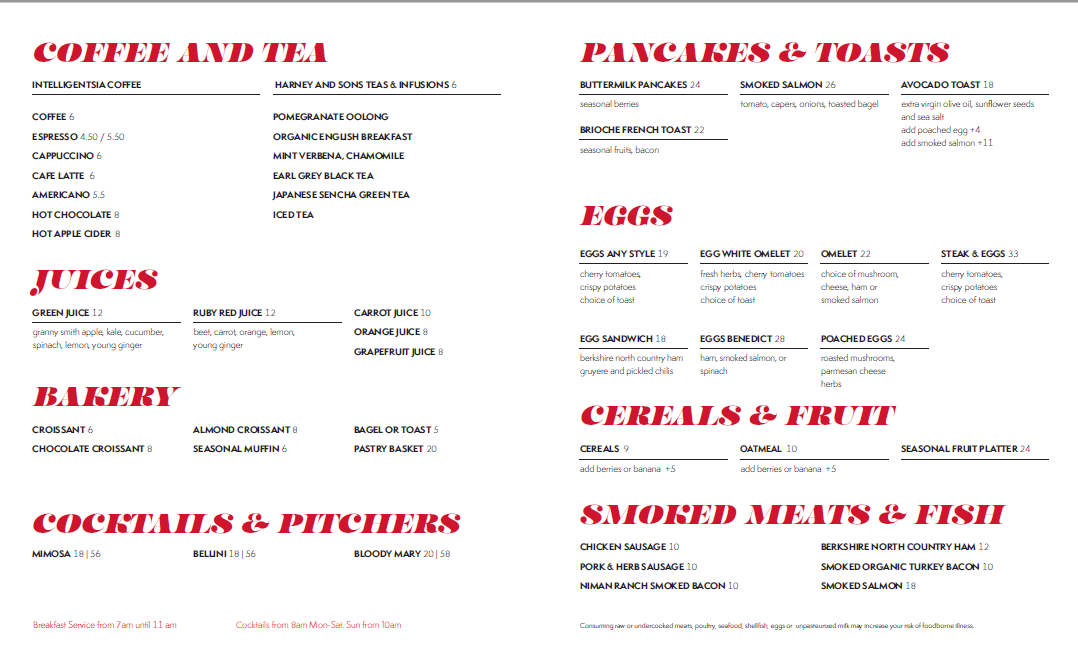 I tried the avocado toast, which was pretty good with the chilli flakes and sunflower seeds on top. The paper napkins did make it feel a bit cheap, though. I didn't think $18 was too bad for the toast.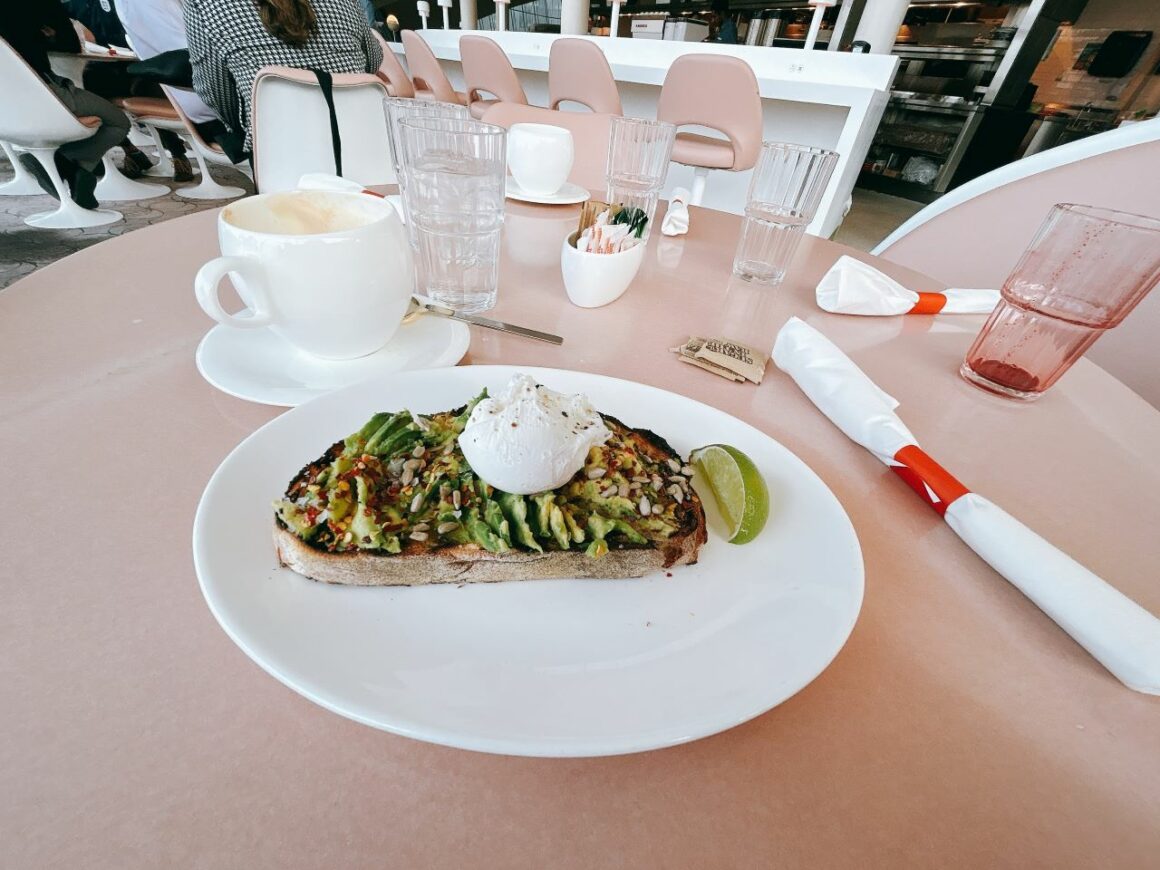 The Connie (Constellation) bar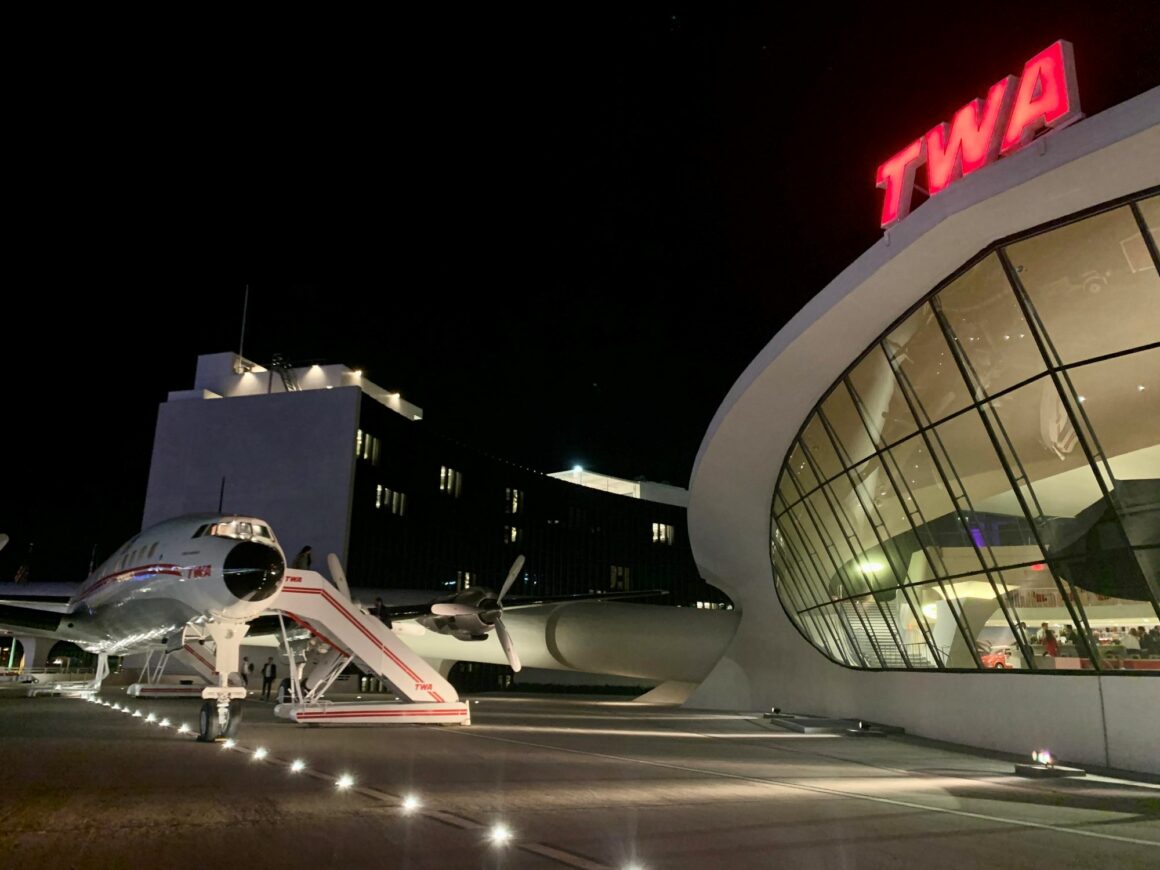 I think this is a must-do but we were too late to visit on this occasion. The Connie bar is on a restored 1958 Constellation and you enter via the steps.
If you want to visit the bar I strongly recommend going early as it is pretty small inside. You can no longer book. They serve drinks and snacks including their own cocktails.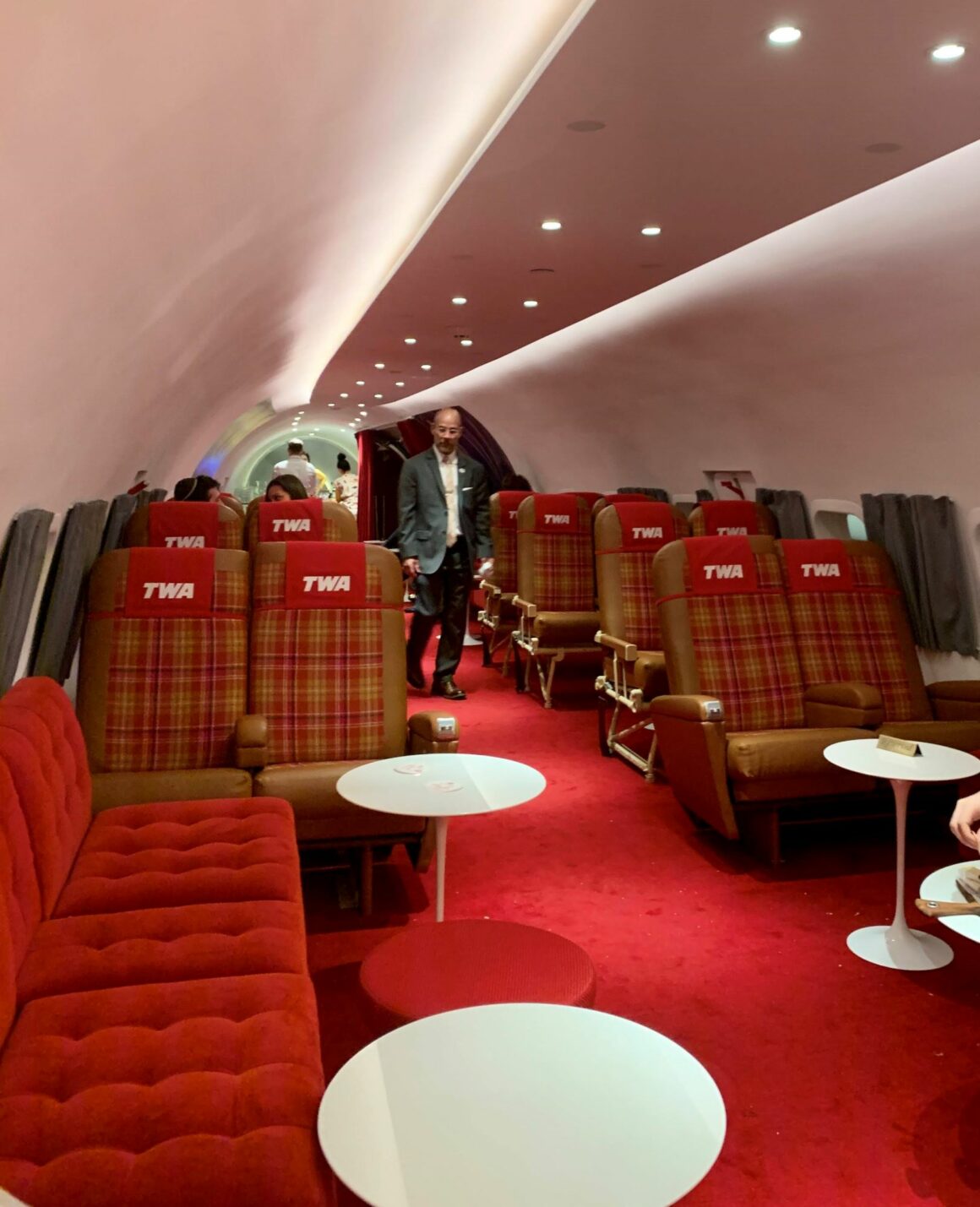 You can also visit the cockpit.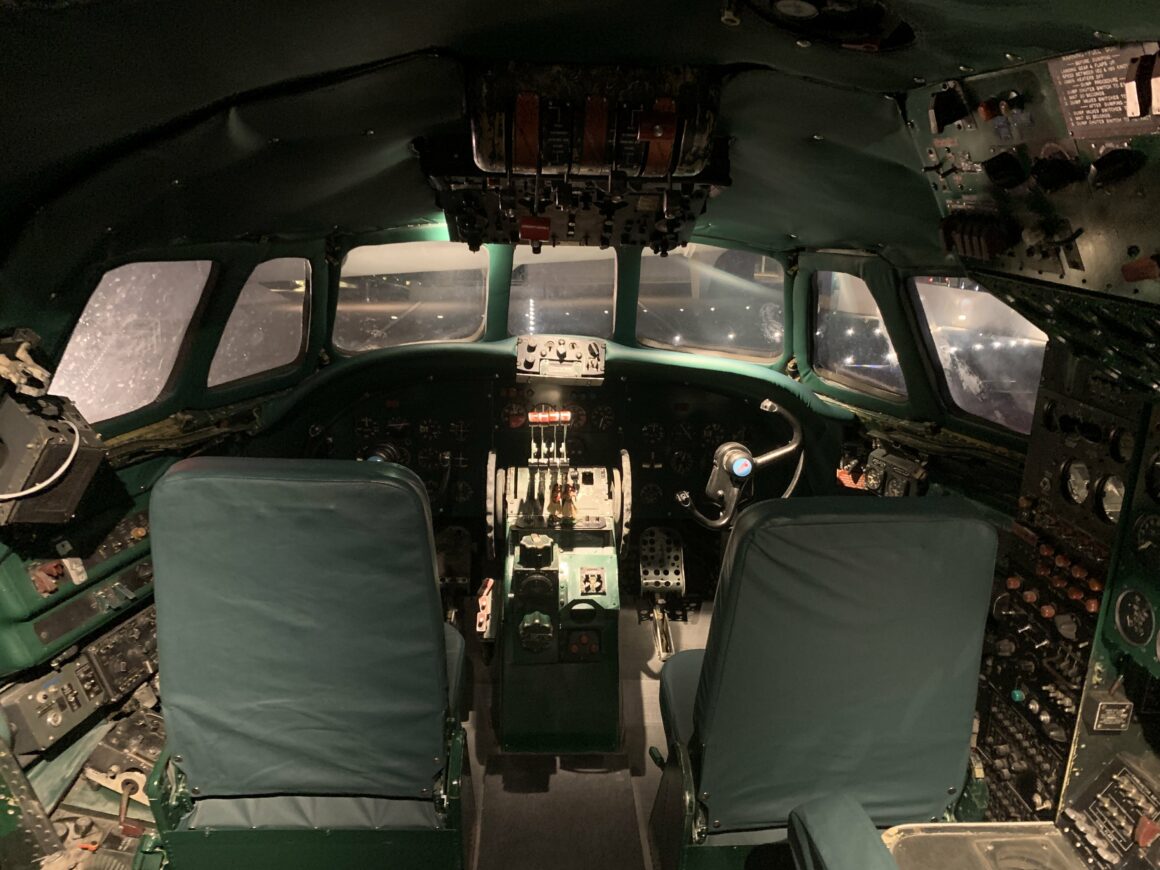 If the Connie bar is full there is also the Sunken lounge which open until 11pm or 12am at weekends.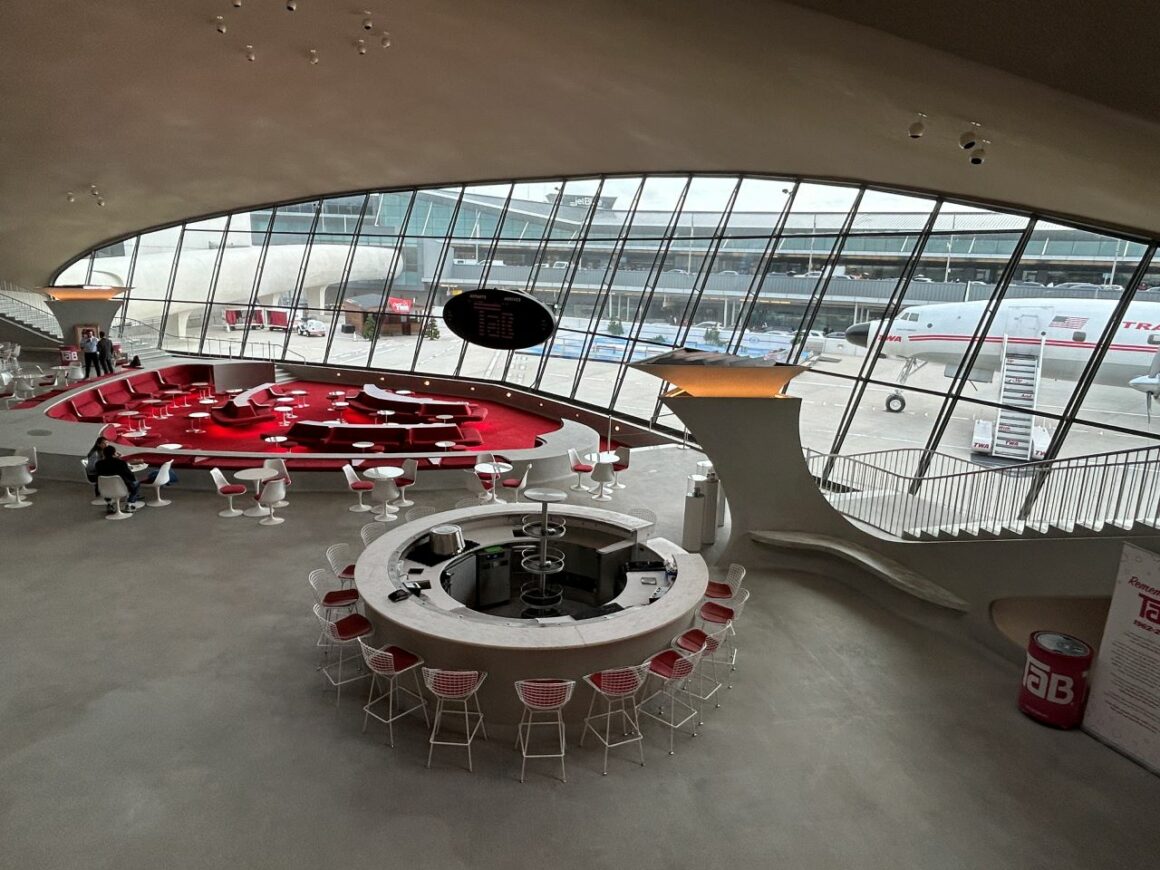 TWA Hotel New York JFK airport Facilities
The pool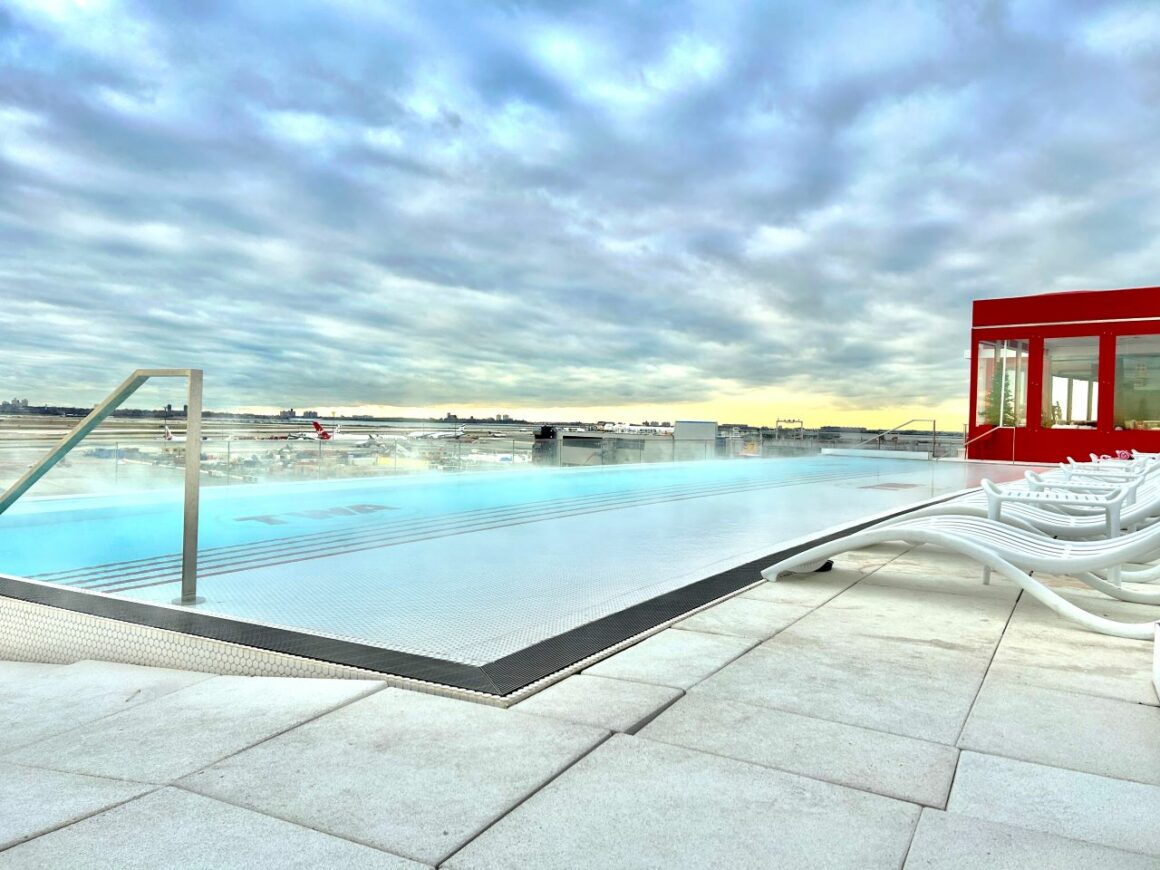 The best feature for me is the outdoor pool which is an aviation geek's paradise as it overlooks part of the apron and runways. When we arrived, it was pretty chilly at the end of November with what felt like an arctic gale-force wind gusting across the rooftop. However, I could see that the pool was warm enough from the steam rising from it!
There were towels provided, but there are no robes or slippers in the room, so it is not really ideal for visiting a pool in the winter. I wore my coat and shoes to the pool! One of the group managed to request a robe and slippers successfully, but I do think for the price point and luxury hotel positioning, they could provide robes in the rooms.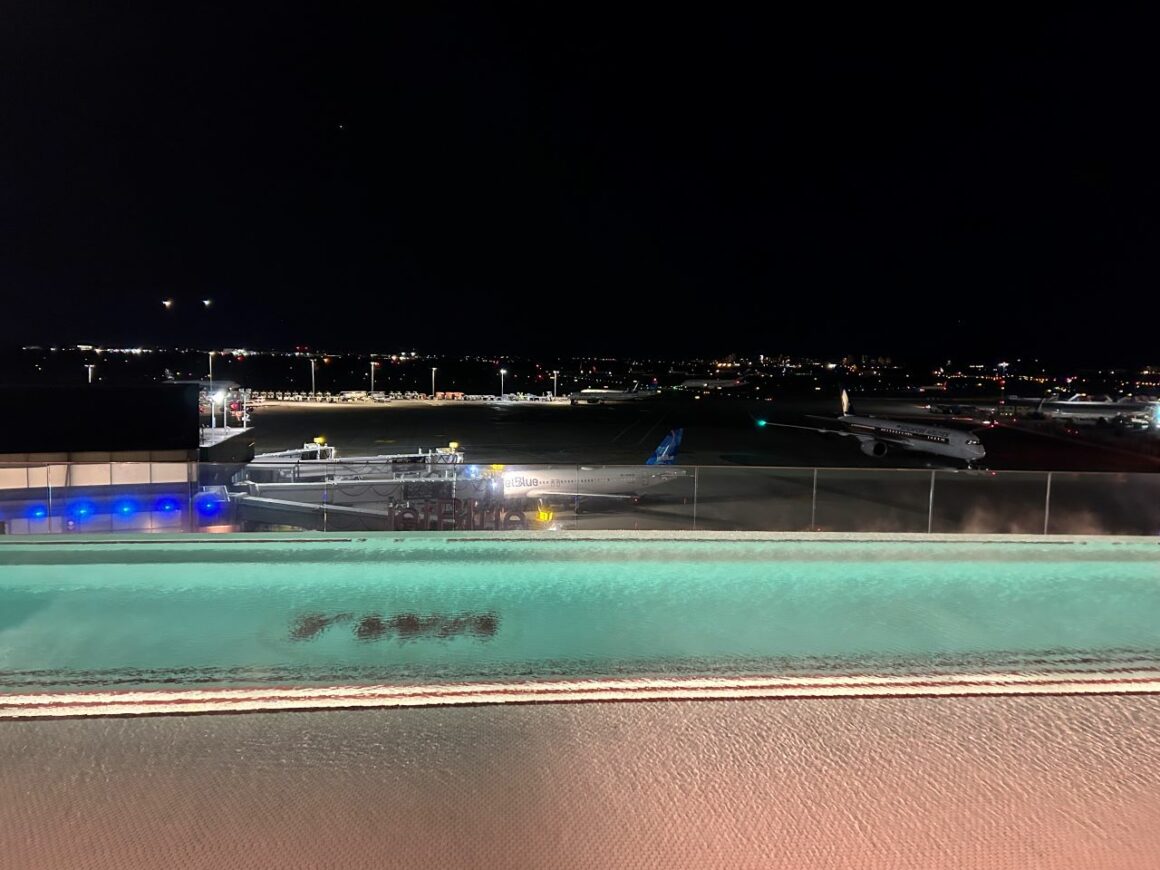 The pool was like a bath, and it was a lovely way to "chill" out after a long flight watching the aircraft. Apparently it is heated to 35c in the winter which is close to hot tub territory. There is also a bar by the pool which at that time of year was done out like an Alpine lodge.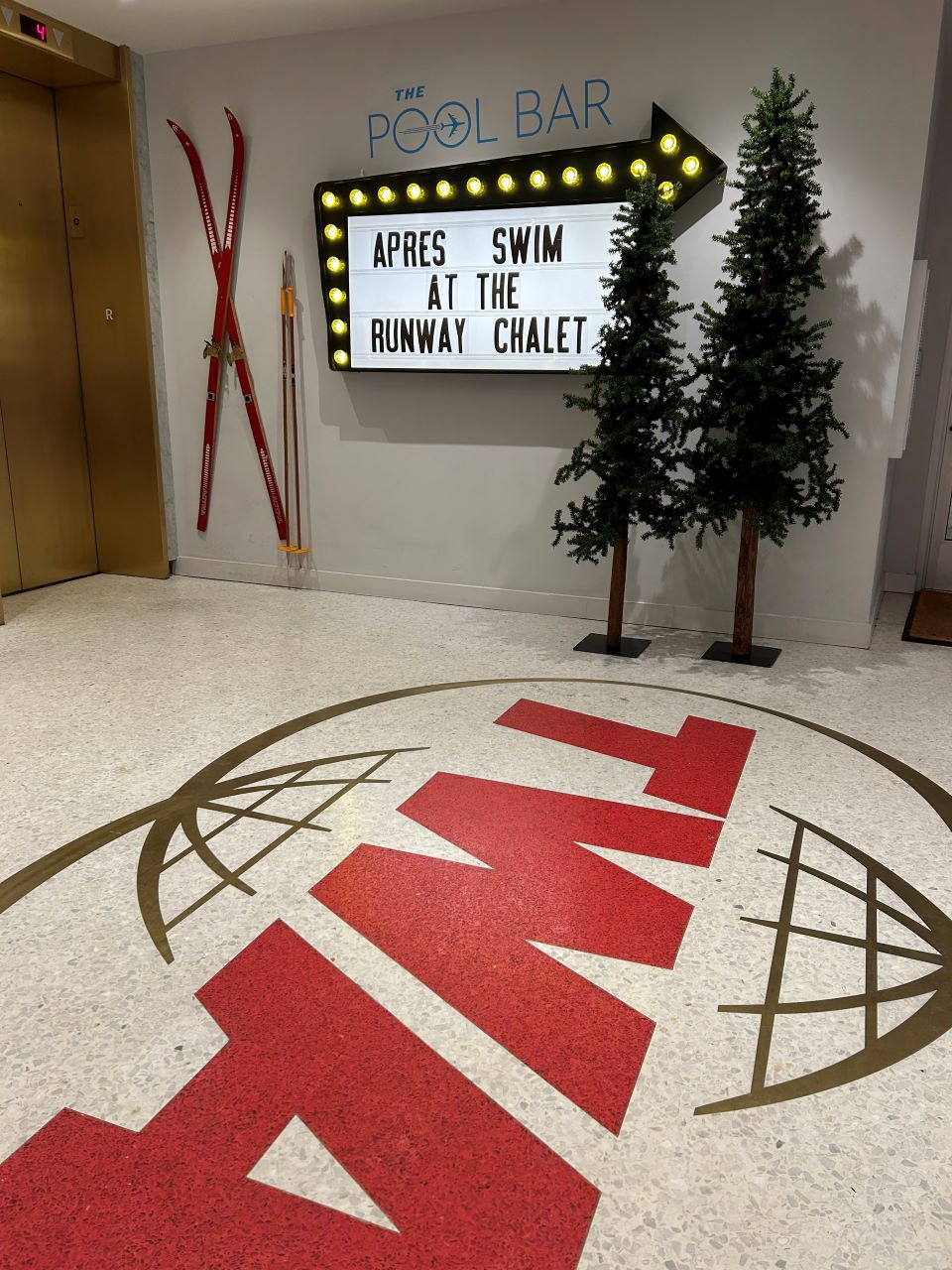 TWA Hotel New York JFK airport gym
There is a large and well-equipped gym that is available 24/7.
The curling rink
Every weekend on the tarmac near the Lockheed Constellation "Connie" L-1649A plane, there is a free curling rink on Saturdays and Sundays, weather permitting. Use of the curling rink is first come, first served; reservations are not available. All equipment is provided.
There is also a shop selling branded TWA items near the lobby.
Pricing and booking at TWA Hotel New York JFK airport
The TWA Hotel offers Daytripper℠ reservations for four hours or more from 6 AM to 8 PM. This starts from around $149. Daytripper℠ reservations are non-refundable and may not be moved or cancelled. You need to book them direct with TWA. They also offer early check-in or late check-out for a fee.
Prices start at $216 per room per night on advance purchase rates, which I don't think is bad at all. You have to make reservations direct with TWA. You can't book through online travel agents.
Conclusion
If you ignore the rooms lack of amenities, I love everything about the hotel. You do feel that you have gone back in time to an age when flying was still glamorous. The public areas are stunning, and I love the novelty factor of the Constellation bar. The rooms are fine in terms of design, style and comfort. However, they definitely are lacking in some fairly basic requirements such as a coffee machine and a proper glass!
It is very easy to get to from other terminals, so you are paying for convenience as well as the novelty factor of the hotel. I would definitely stay again if it was a decent price.
You can check prices and book here.
Like our TWA Hotel New York JFK airport review? You can read more airport hotel reviews here.