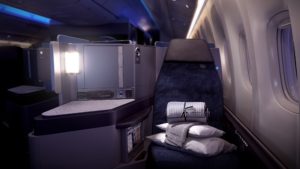 The new forward facing seat design is exclusive to United , and offers direct access to the aisle, 180-degree flat-bed recline and up to 6 foot 6 inches of bed space. One idea I really love is that each 'suite' will feature a "Do Not Disturb" sign!  There will also be mood lighting, several storage areas, plenty of surface space for a laptop or iPad whilst dining, a 16-inch high-definition  screen and, for seats in the centre of the cabin, electronic privacy dividers.
Other improvements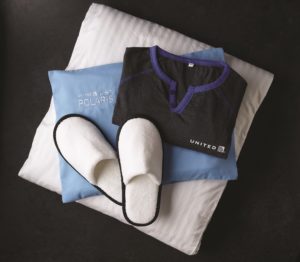 United has worked with the well-known US store Saks Fifth Avenue to design bedding.  The new bedding collection will feature  duvets, lightweight day-blankets and a large and small pillow for each customer.
A number of other sleep enhancing amenities will also be available on request including mattress cushions, gel-cooled pillows, slippers and pyjamas on flights longer than 12 hours. New amenity kits will feature ergonomically designed eye shades, lavender pillow mist and products from Cowshed Spa.
Dining
You will now be welcomed on board with a pre-departure drink of your choice and gourmet chocolate. I'm not sure I really want a chocolate with my drink, particularly if it is a glass of good champagne!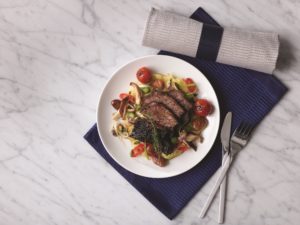 There have been several other enhancements to the United dining experience such as an upgraded wine selection, wine flight, made-to-order ice cream sundaes, a dessert cart with petit desserts and chocolate truffles. On certain flights hot snacks such as lobster macaroni and cheese will be available.
I have to say that this does look superior to what is on offer in the market currently on Transatlantic carriers. Traditionally most American airlines have had inferior wine and food reviews even though their seating has been improving over the last few years. These changes could well make United the most luxurious airline to fly across the pond with. Maybe it's time to dust off my Lufthansa Miles and More account?
Polaris Business Class Lounges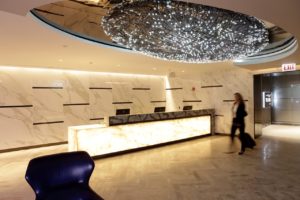 United will also open new Polaris business class lounges in nine locations. They will feature custom-designed chairs, private daybeds, spa-like showers and meals served in a boutique restaurant setting. Premium sparkling wines and spirits will also be offered. It doesnt's sound like they will be offering Champagne but give me a good quality sparkling wine over bad champagne any day!
The first lounge will open at Chicago on 1 December 2016. The other eight other locations including London will follow in 2017.
When will Polaris be on the London routes?
In terms of the seats, we don't know is the short answer. United yesterday rolled out the new inflight food & wine offering, bedding  and amenity kits. The Polaris new seat will be on their new B777-300ER out of Newark. This will operate domestically initially and then move to international flights next year but routes have not been confirmed. It will then roll out on their new  B787-10 and Airbus A350-1000 aircraft, as well as B767-300 and 777-200 retrofits.
You can see the new product in United's advert here.