You may remember a couple of months ago, Paul went on a press trip courtesy of Virgin Atlantic to try out their new A350 shortly after it went into service. He was somewhat disappointed by the product, although some of the issues he encountered were due to be fixed. I decided that I would try it as we often can have different opinions of products as everyone's needs can be different. I was hoping that the issues would be fixed as Virgin had initially said they were due to be fixed within 8 weeks, which would have been a week after I went. Sadly I never got an answer back from my enquiries to Virgin about whether it was fixed or not (after Paul's review I'm pretty sure we are off the Christmas card list!). I decided I wanted to try it anyway, so off I went.
As some background, much as we try to be objective, we all have things we like or loathe with airlines and our loyalties. If you cut Paul in the middle he would read oneworld and British Airways like a stick of rock. I am far less loyal, as up until a few weeks ago I had Gold in both Virgin and BA and silver with Emirates. I have always been a Virgin fan – I love the modern feel of the brand, the quirky fun touches and the staff who are generally excellent as well as fun.
Some people don't like the current seats but actually I don't mind them. If I had a choice between Virgin and a BA club seat where I had to be climbed over or climb over someone, I would probably go for Virgin. I always found their seats very comfortable as I could put my feet on the stool from before take-off and did not have to recline or move the seat to do it. The storage was a little lacking and flipping over the bed not ideal, but overall it was a solid product until they started to be superseded by the new suites. I flew back on the A330 on the old seat, so watch out for that review of a daytime flight back from New York.
Check-in
On my previous experiences with Virgin, I had either connected airside or used the Upper Class wing, so I hadn't actually been to Virgin check-in for many years at Heathrow. Virgin and Delta check-in are co-located and a very very purple area – very Virgin!
I was checked in by a lovely lady who asked if I knew where the lounge was and pointed me in the right direction. I hadn't realised that there was a separate security queue for Virgin/Delta business class which was a nice idea. This basically just feeds you into the Upper Class wing security. This was very empty, so I was through in a few minutes and on my way to the Virgin Clubhouse.
The lounge
The Virgin Clubhouse is one of my favourite lounges at Heathrow. The staff are generally welcoming, you can always get a treatment and there are great cocktails and food, all delivered to your table. I was welcomed to the lounge and asked if I had been before (if you haven't they will actually take you to show you where everything is).
As usual, once in the lounge, my first call was to drop off my luggage and coat before heading to the spa. The luggage attendant was very friendly and you can even get your shoes shined there too!
Virgin recently introduced some changes to their treatments and have partnered with Aveda. You get one free treatment and then you can buy as many others as you want. Treatments are reasonably priced with times from 10-40 minutes and you can pay with miles (although it's not great value for using miles.) Free treatments include an express facial, a file and buff, a dry hair styling or a wellness hand massage. I went for the hand massage as my free treatment and paid for the hairstyling and 10 minute seated back massage. The hand massage was relaxing and was done after the back massage. Little touches like a choice of inhalation scents added to the experience. The therapist was also very nice. You can find the full list of treatments here.
My hair appointment was less successful. They used to do a dry blow dry but now it has changed to Aveda, they have switched to using straighteners only. I find this a little odd given that Aveda is all about hair health. You could choose between straight or curled using the tongs. I didn't find the stylist very friendly, nor did I appreciate that I was kept waiting whilst she seemed to be chatting with colleagues for a while. However, my hair did look good afterwards, but I wish they would go back to doing the dry blow dry. You can see the hair services here.
I also had some breakfast in the dining area. The person serving was friendly and efficient initially.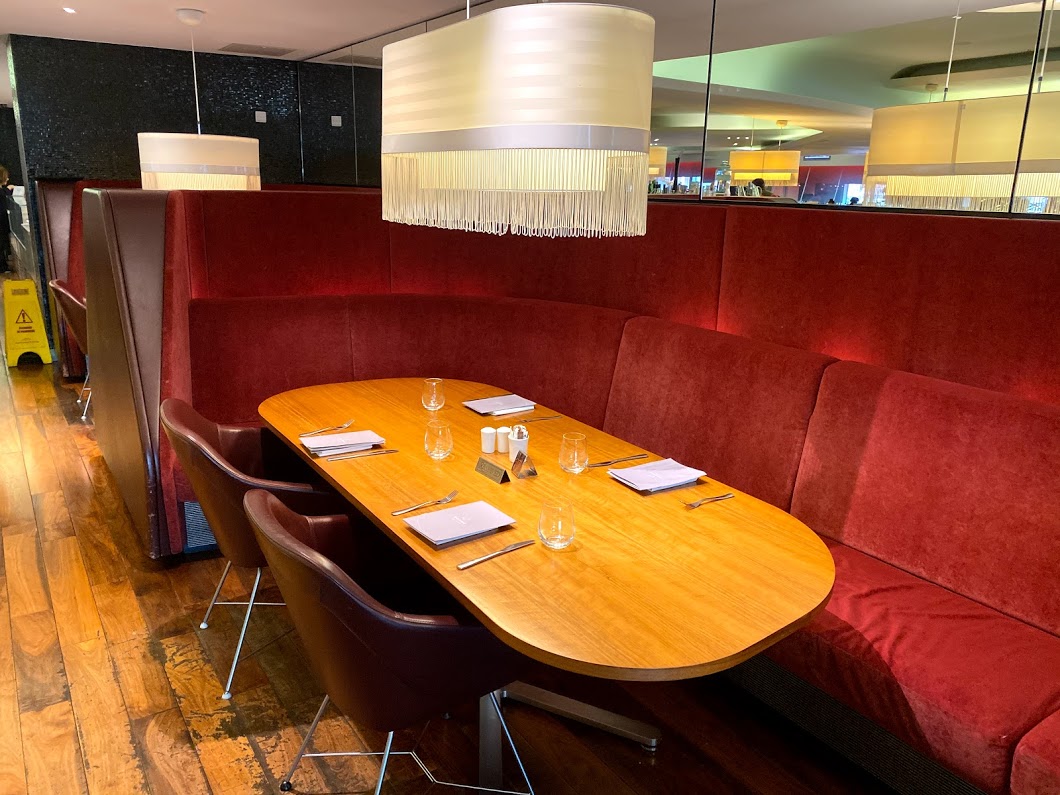 I ordered a bucks fizz, some fruit and the egg shakshuka. Here is the full menu:
This slideshow requires JavaScript.
The food was very good and I liked the depth of flavour of the shakskuka.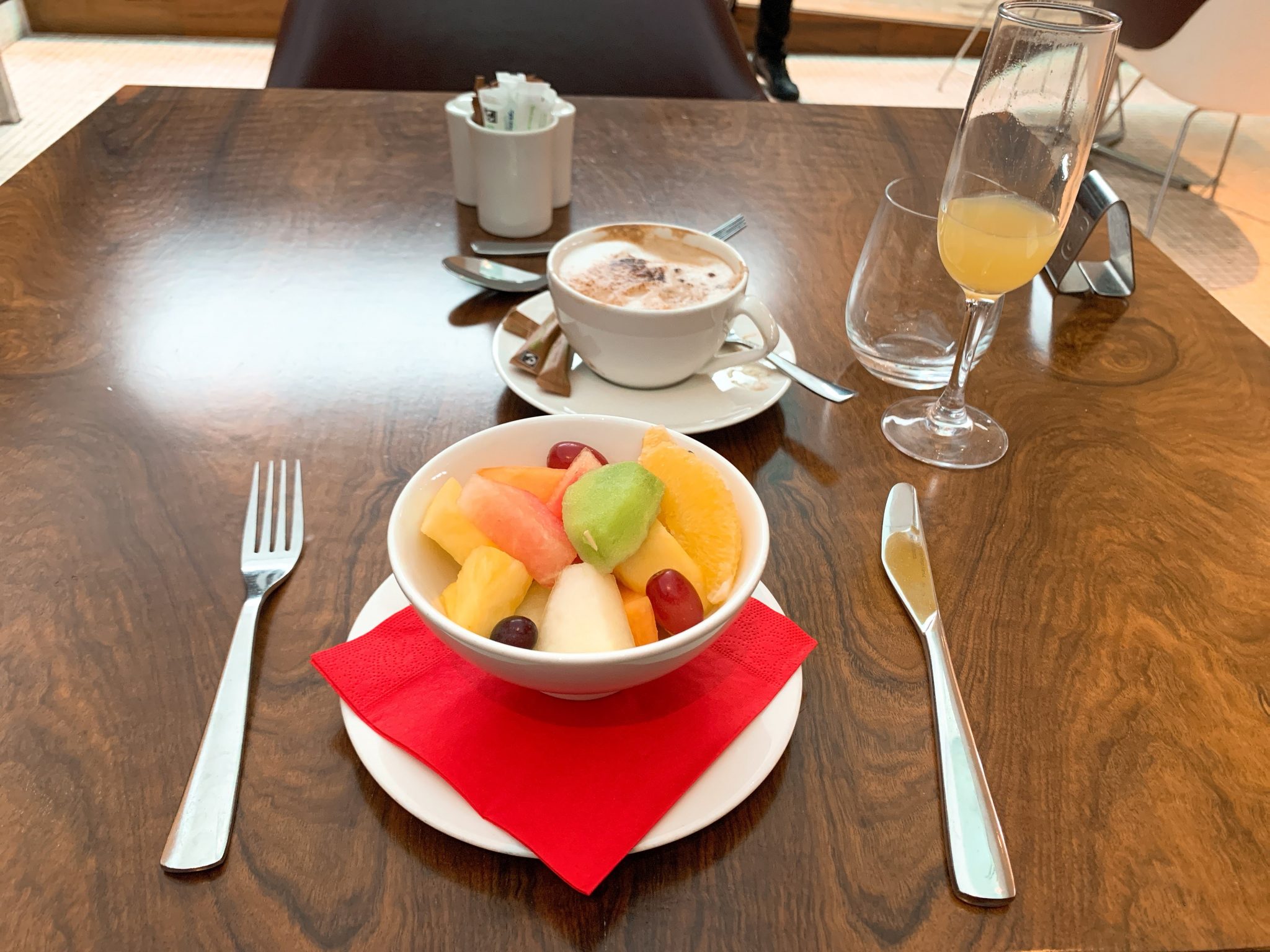 Sadly as has happened to me before, I think my server had disappeared on a break and the rest of the staff spent some time chatting amongst each other at the serving station and then also disappeared. I gave up on getting another coffee and wondered off to the main part of the lounge.
If you would rather pick up your own breakfast The Deli also had a tempting looking spread:
Boarding
I went to the gate quite early. Normally they call you from the lounge once at the start of boarding, and again prior to boarding closing if you like to stay in the lounge a bit further. Boarding is normally very orderly although the premium lane for boarding is not very premium. So basically the only people that can't use it are in economy who are on the cheaper tickets (unless they have status)! This seems to be pointless if you have so many people eligible to go through the premium line.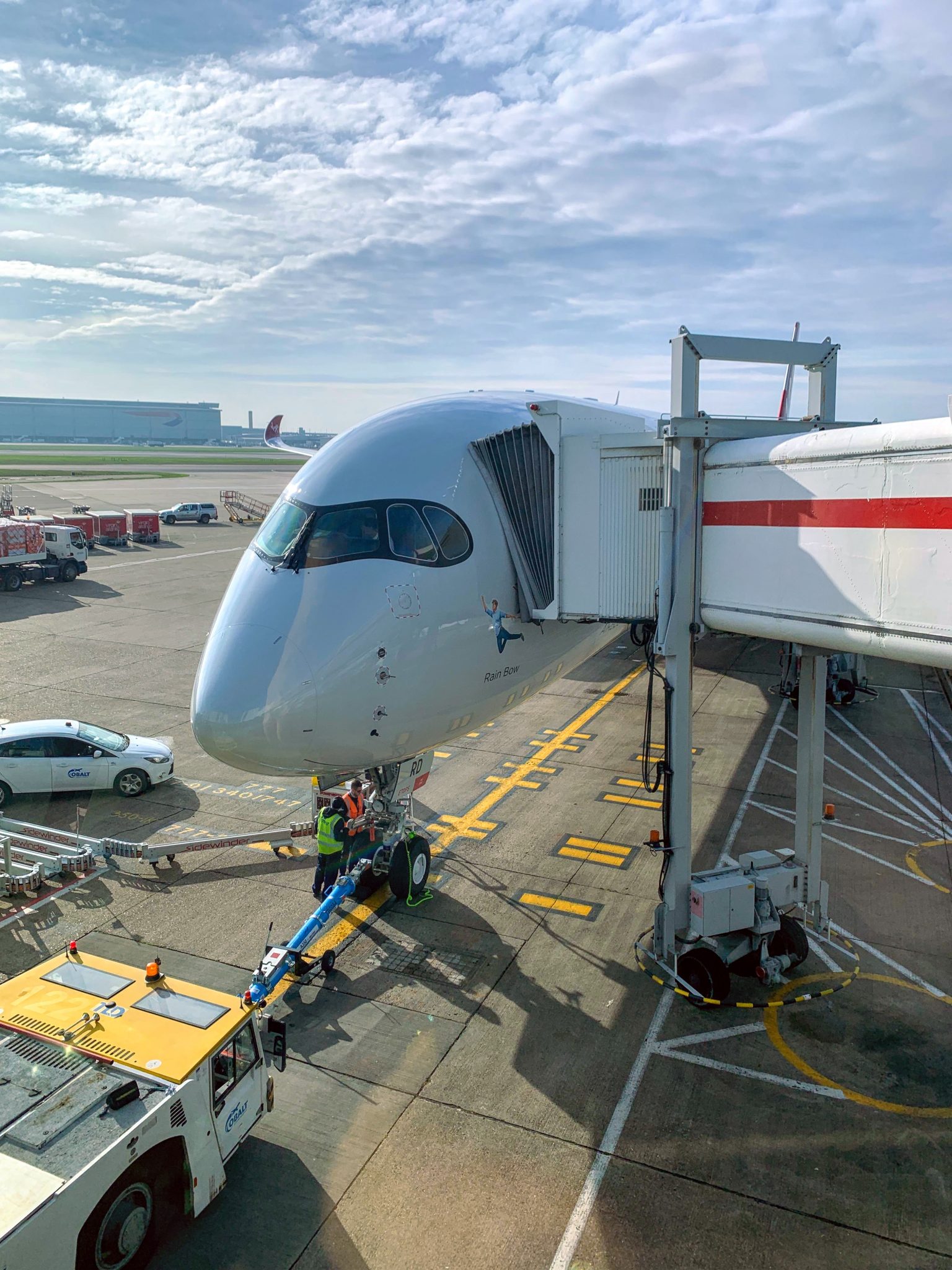 This time I actually got on first ahead of the pre-boards so I could take some pictures of the empty cabin. The ground staff were very helpful in delaying boarding for a minute or two for me to take a couple of shots.
At the seat was the new amenity bag. I know it is made from recycled kraft paper but I don't like the look of it. I think there are better ways to be sustainable like just offering the actual amenities without a bag at all perhaps? I actually used to like the BA shoe bags ones as I still use them all the time for travelling.
I did really like the contents though:
There was:
Snazzy socks
earplugs
Bambuu toothbrush and White Glo toothpaste
REN lip balm, hand cream and moisturiser
Pen
Eye mask
I think REN was a great choice as I really like their products plus they are a UK company with natural and sustainable skincare that delivers results. I also liked the socks with their funky pattern and they felt better quality than some airline socks. If you like the look of them – keep an eye out for our next giveaway as we will have an amenity kit and other Virgin goodies to give away.
I was offered a welcome drink and went for the champagne which is still the Canard Duchene which I don't mind. Menus were also at the seat, headphones and a bottle of water. Tops ups of champagne were offered before departure.
The cabin and seat
So the all-important bit – what did I think of the new seat? The cabin is large and the seats are laid out in a 1-2-1 configuration.
The seats in row 1 are the best seats in the house due to the larger footwell area and slightly more space in general.
The cabin was lit with the usual purple mood lighting so you will have to excuse the rather purple hue to all the photos!
I had chosen a seat a little bit back from the galley 3K, but still close to the front to make sure I got my choice of meal. The seats looked very smart with a good quality burgundy leather and gold accents. The cream surrounds and lighter peach material kept it from looking too dark.
The main issue for me was that they had not really solved the storage space issues. The only real storage was the small shelves which were enough for a pair of glasses or your phone but not much else. They looked smart and were well made with a real glass shelf. The crew were also super strict about absolutely anything being left on the shelves or the side table. I was not allowed my glasses out – never been told that on the many hundreds of flights I have done!
There is also a side table but again you can't use it for take off. I like to be able to store things away whilst in flight but other than the overhead lockers you could not do this. I often quite a few cables, plugs, camera, toiletries etc out and I don't want to have them strewn around the place on open surfaces as it is easy to lose stuff. I find it hard to believe when most other airlines are increasing storage with clever compartments built-in, that Virgin did not consider this.
In terms of sitting, you could adjust the seat with the controls quite easily and each part was independent. Unlike on Paul's flight, I did not have any phantom movements of the seat. In fact, I found the controls a bit unresponsive. I think there may have been a fault as the lights on the shelves went out and I could not turn them back on either.
Unlike Paul, I also did not find the seat that comfortable for sitting. I was too short at 5ft 6 to reach the footstool without being very reclined. So although I could raise the leg rest, my ankles and feet dangled over the edge.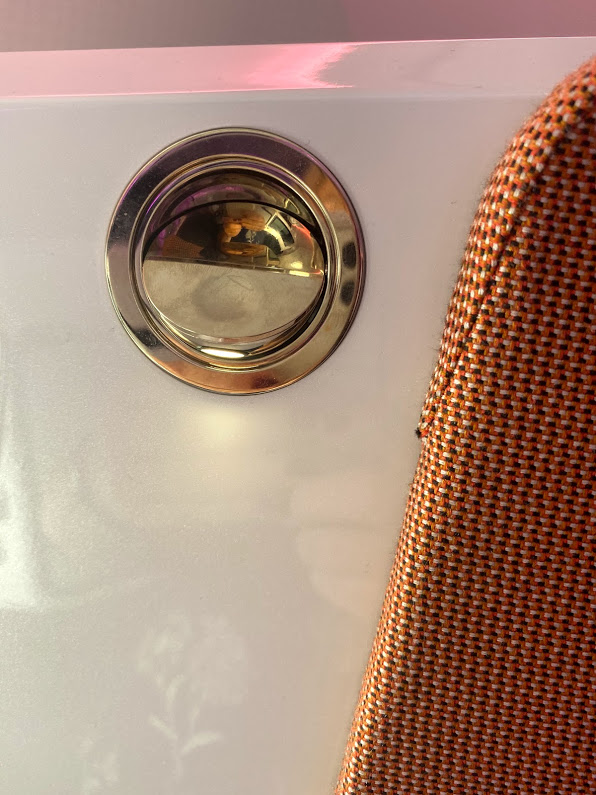 In terms of features, there was also a small reading light, overhead light and of course the lights on the shelves. Although even if it had been stuck on I don't think it would have disturbed me as I usually wear an eye mask and it wasn't super bright. There were individual air vents which I like. The only issue was if you are strapped in using the three point harness seat belt, you can't reach them to turn off if you get too cold. I don't really like the over the shoulder belts that many of the A350s have but at least you only need them for take-off and landing.
After I had eaten my meal I reclined the seat into bed mode and tried to have a nap. This was the highlight of the new seat for me. I found the bed very, very comfortable. Probably one of the most comfortable I have tried in terms of softness. I would have liked the footwell a little bigger but it didn't really concern me. It would certainly make me choose Virgin for a night flight. The bedding before was always pretty good, but this bedding was even better. There was a special fitted mattress topper to stop it moving around, a plump large pillow and a lovely duvet in a crisp white cover. I did notice though that pyjamas are no longer offered on day flights which is a shame. I think it's a bit measly as often people want to sleep during the day due to different time zones on long flights.
So finally, the "door" or privacy screen as Virgin are calling it. As Paul stated, this is pretty pointless and Virgin would have done better to spend the money elsewhere. The seats are very private anyway without it. Here is the view from my suite:
And here is the view with it:
The toilets were nicely done and had REN hand wash and hand lotion.
Food and drink
I will start by talking about THAT table – many reviews have mentioned it. Yes, I'm not exactly supermodel thin, but what percentage of the population are? The table is just huge which should be a good thing.
But only if you allow enough space between the table and the person. It was a tight squeeze and dug in a little. You can slide the table to one side which would work if you wanted to watch something on a laptop or just browse. But you definitely can't get out of the seat with the table deployed. On the plus side it is very sturdy for working – no bouncing laptops here. Virgin are due to be fixing the tables with what we were told is a table that folds in half. However, I don't see how that really fixes it as surely it will then be too small. We will reserve judgement and see when the final product is on board.
Normally the cabin crew would come and introduce themselves and ask if you understand the seat etc but this did not happen on the A350. The cabin crew serving me was OK but not the most enthusiastic or friendly one compared to other Virgin crew I am used to. The CSM was very friendly and chatty though.
The service started with drinks and popcorn. I opted to have the sparkling wine, Hambledon, which is extremely good and comes from very close to where I live! It seemed a strange choice of glass for champagne though.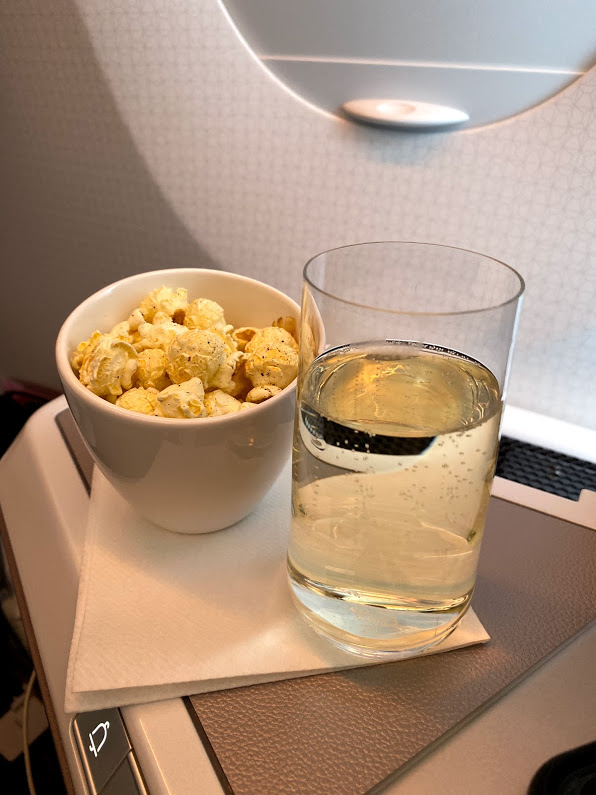 You can now order your food on Virgin in advance on selected flights which includes flights to Heathrow as well as outbound. Virgin will send you an email a few days before and you can order until 24 hours before. On this flight I wasn't sure what I wanted so I didn't bother to pre-order. Here is the menu and drinks list:
This slideshow requires JavaScript.
I thought the menu was great and I liked the fact that there was a snack option as well. I went for the prawns as a starter and they were simply delicious. Well up to restaurant standards in presentation too. It was fresh and zingy with a bit of a kick. With the starter I had wanted to try the Sauvignion blac but they did not have this so I went for the Burgundy which was fairly average. Top ups of wine after the initial pre-lunch drinks were not really forthcoming.
I had been torn by the main courses options but in the end, went for the chicken despite the slightly bizarre-sounding combination of ingredients.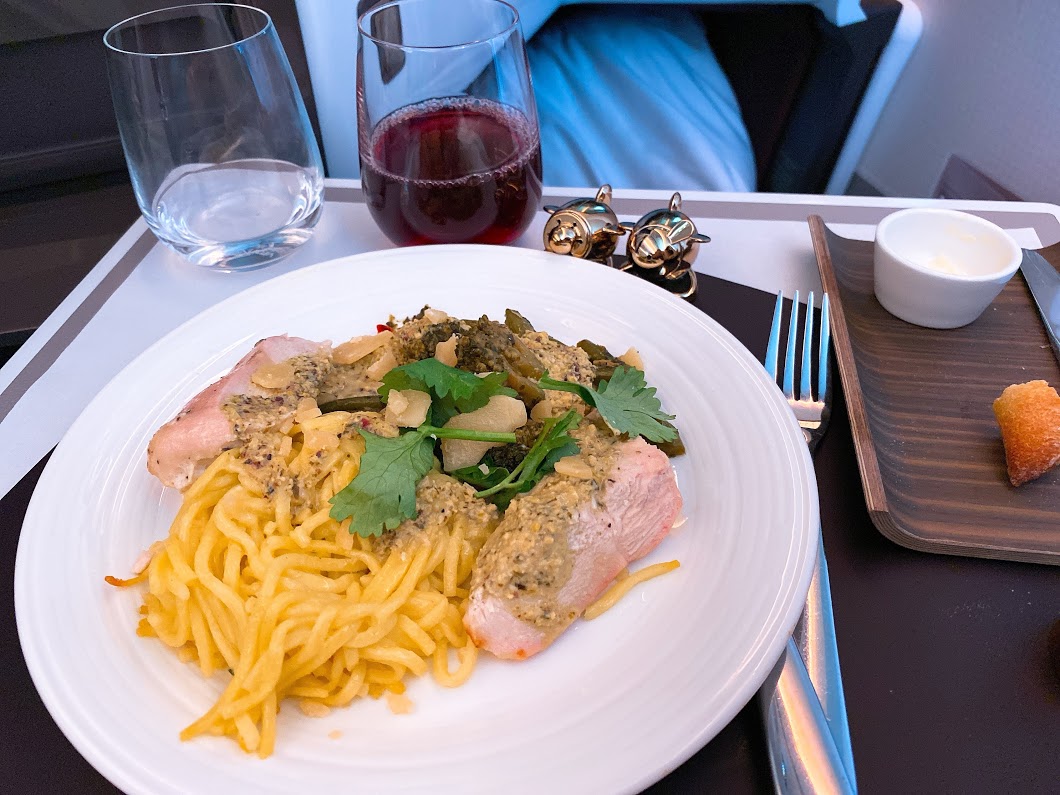 The presentation was a little haphazard but again it was yummy and packed full of flavour. I went for the Neudorf Pinot Noir with the chicken which was excellent with lovely ripe cherry flavours.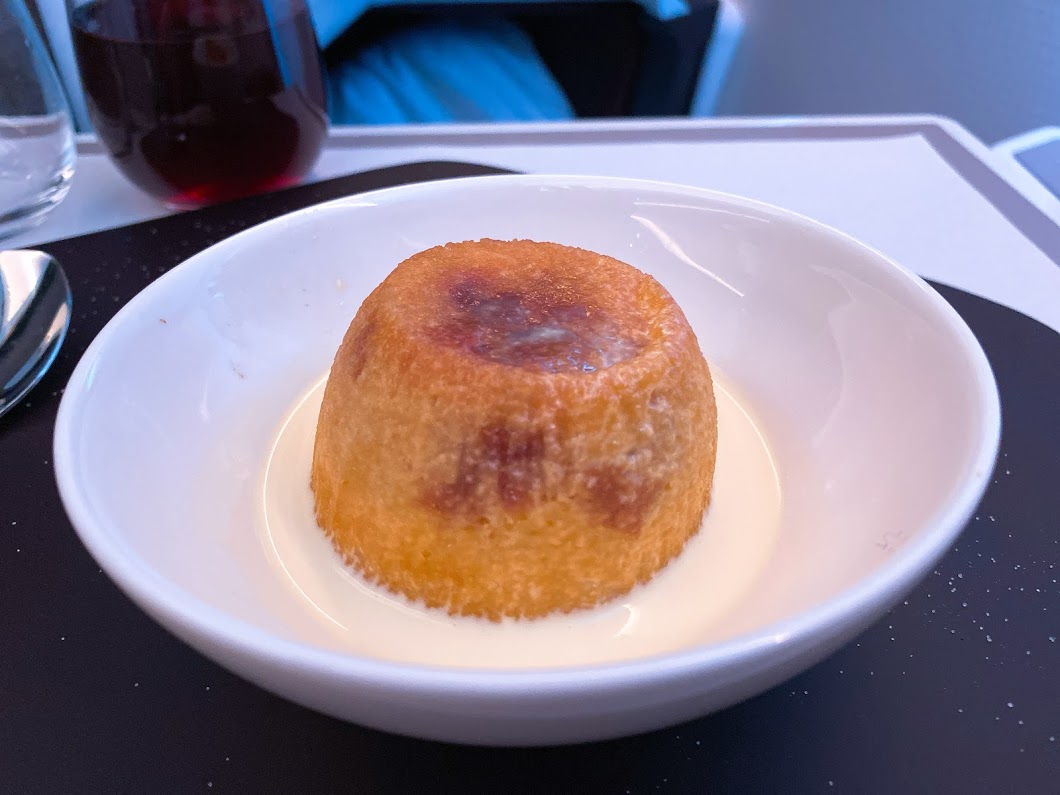 One of the highlights for me on Virgin is the hot desserts. This is something I pretty much only eat on Virgin aircraft, never on the ground. This was no exception and the raspberry flavour was fresh with a little tartness rather than being too jammy. The sponge was also moist, light and fluffy. Add some chilled cream and I'm in heaven!
Next came the cheese trolley but I was way too full and trying to save myself for the afternoon tea. One final word about the food service. It was very slow, I would expect with new aircraft this to be the case but hopefully, they will start picking up the pace as they get more familiar. It took around 1 hour 40 minutes after takeoff to get the starter and I was at the front. Strangely there were also no hot towels on the flight.
After lunch, I headed down t0 The Loft which is Virgin's new A350 lounge. I always rather liked the bar and I have to say I prefer the bars rather than this lounge. In the time that I sat in the Loft it was empty, although a few people popped by. This made it feel a bit soulless. I think you need an A380 aircraft to make a decent lounge due to the layout.
There is a big TV screen but it was just showing the flight status and the ability to pair headphones was not working. Some snacks were laid out in The Loft. There was also a socket on each side so you could carry on charging your devices.
About 90 minutes before landing snacks and afternoon tea were offered. I had been looking forward to trying pastry chef Eric Lanlard's afternoon so I went for that initially. There was a choice of savoury and sweet items and you could pick what you wanted or have it all. The roll with crisps looked a little unrefined, but if you had gone for more than one it would have been quite filling. The macaroon and eclair were fantastic though – loved the popping candy!
As I was not planning to eat in New York, I squeezed in a burger. This was very tasty considering it was heated on a plane.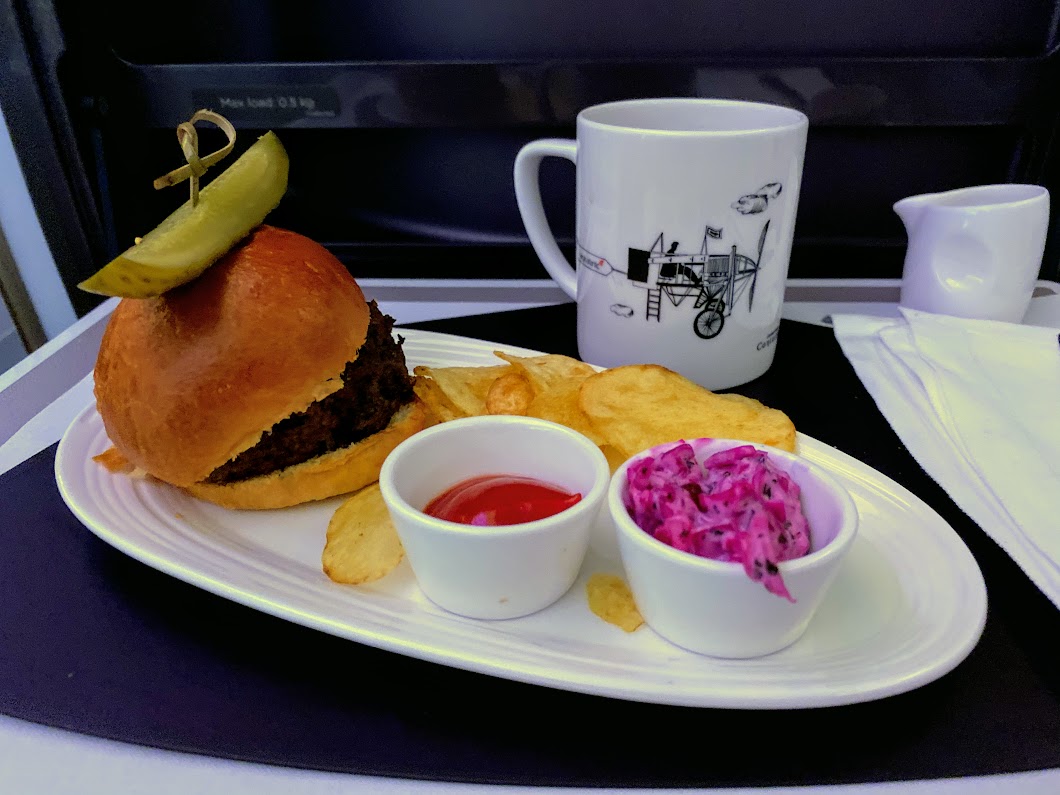 Entertainment and connectivity
The TV screen was a huge improvement on the old Virgin ones – large and clear. You could use it from boarding to landing as well. The screen is either controlled by touchscreen or you have to use your phone. There is no remote. Unlike Paul, I was able to pair my iPhone XS to the TV with no trouble. It brought up all the options on my phone. Then the trouble began as it would not control the actual TV unless I started it using the touchscreen and then I could stop and start the film with my phone. Lots of other people were having issues with the IFE s they decided to reset the system. Sadly when it came back up the Wi-Fi refused to work. They did have an engineer on board working on it but it never came back.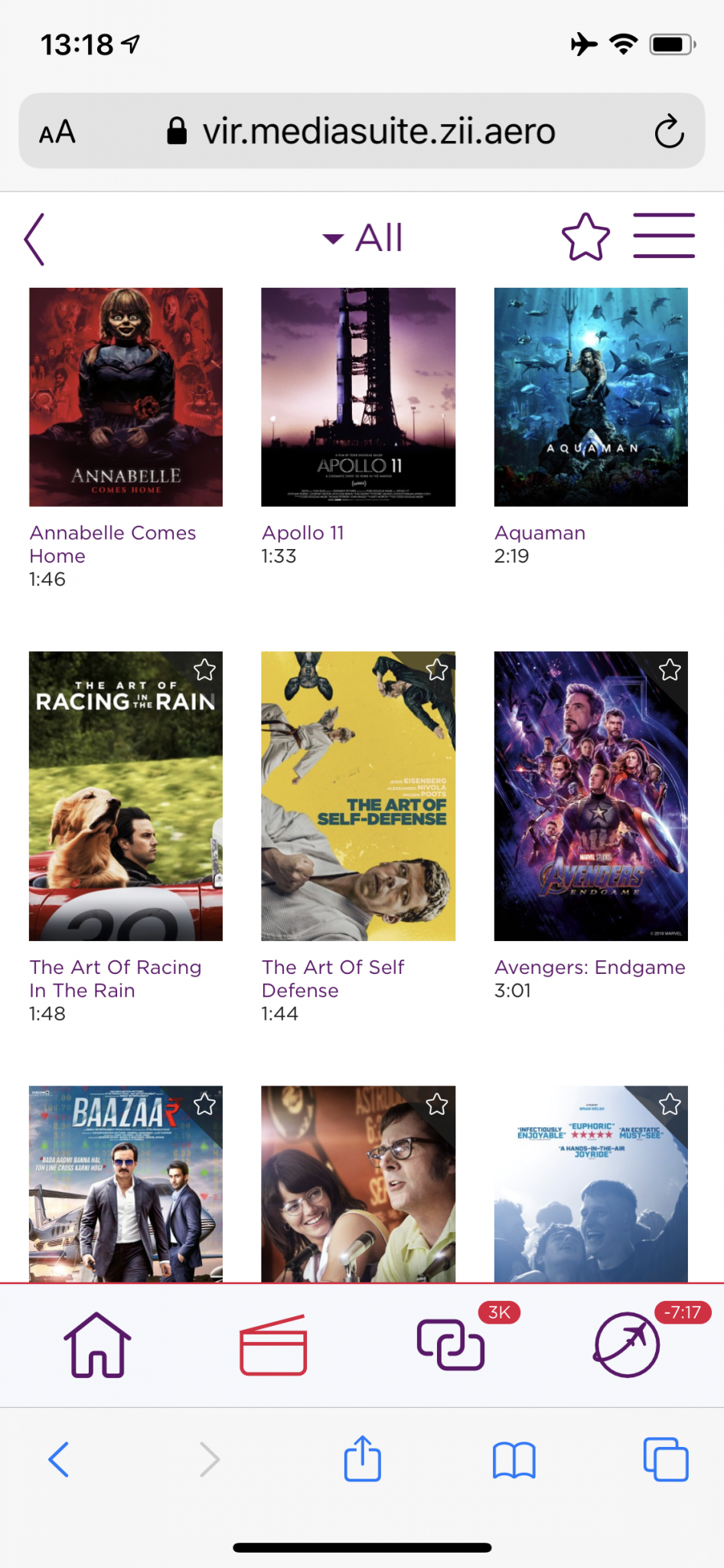 I thought this was handled badly. Like probably many people I had purchased a package for Wi-Fi. No updates were ever made about the Wi-Fi not working and it was only by asking the crew I found out what going on.
When they eventually admitted that it probably would not come back up, I asked about a refund. Obviously I don't expect them to do it there and then, but on BA they do have iPads and can complete the details for you. All I got was being told it was not Virgin as it's run by a separate company and to look in the leaflet! Nothing in the leaflet about refunds! The prices were reasonable and when it was working it was a decent speed but not super fast. I thought the prices were comparable with other airlines.
Of course, without the Wi-Fi I couldn't pair my handset to the TV either. There was a good selection of TV programs and films with recent and older choices. I thought the screen was great – lovely definition and the perfect size.
Noise-cancelling headphones were provided that you had to switch on. They worked quite well but they did get a little uncomfortable after a while.
If you wanted to charge your electronics there was a USB port and a multi-country socket.
Conclusion
Overall I enjoyed my flight, the food was fantastic and the entertainment a huge improvement. The seat, cabin and Loft looked smart and I liked the new contents of the amenity kit. I also found the new seat and bedding lovely and comfy for sleeping. Space and privacy-wise it is a big improvement on the current seat.
On the negative side, I couldn't really get comfortable on the new seat when sitting. If you were taller (I'm 5ft 6) it would not be so much of an issue. The table should never have been allowed to go into service as some people would not be able to use it at all. The Wi-fi and controlling the TV is a great idea when they work. There are obviously some teething troubles with the Wi-Fi which hopefully they manage to sort out. In the meantime, Virgin need to have a better service recovery procedure. There was also less storage than I would have liked although slightly better than the current seat.
So the million-dollar questions – would I fly it again and which is better BA or Virgin? Yes, I would fly the Virgin Upper Class Suite again. I would definitely consider Virgin's A350 for a night flight and I think for me the Suites are equally as comfortable, if not more so, than the BA Club Suite for sleeping. It would depend on price and which status/miles I wanted most. I would not rush to go back on a day flight until they sort the tables out, as I often want to work and it was not comfortable. Virgin definitely had better food than BA though – there was more of it and it was higher quality and more choice. Overall in terms of the hard product BA won the A350 seat battle, but in terms of the soft product, i.e. food, drink, bedding, amenities, lounge etc Virgin wins for me.