Readers have very kindly been sending in their stories of recent trips so we can all get a perspective of what travel is like at the moment.
Flying BA in Club to Corfu with Special Assistance
This review is by reader Sarah who thought it would be useful for those needing Special Assistance.
I set off to Corfu from GLA last weekend with my 11-year-old. We travelled via Heathrow with an overnight stay before the Corfu flight departure as the frequency of flights from GLA-LHR is much reduced at the moment. I use a cane to walk, I'm recovering from not one, not two, but three emergency spinal operations this year, my last flight was from Croatia to Glasgow on a Medical repatriation Cessna! I hope my next trip on a private jet won't involve being strapped to a trolley!
Glasgow Airport was QUIET, which was helpful as in a change from the usual protocol, passengers requiring wheelchair assistance had to contact the team either using the telephones in the car park or at the airline check-in desk. Usually, I would check-in online and then hobble to the Special Assistance desk so this came as a surprise. Had there been a queue at Check-In this could have been really difficult so it's worth bearing in mind that if you can't stand in a queue for long then definitely find a bench in the car park and use the dedicated phone. Our agent at GLA was full of fun, we passed through security in minutes.
The flight experience was flawless with excellent and prompt support from door to door. At T5 we opted for an Uber as the Hoppa was operating a reduced service as were the regular TFL buses. I could see that the Assistance team was under pressure so declined the offer of being taken to the Uber pick up point. We had to hike to the T5 Level 1 Short Stay Car Park Row R, then up to Level 5, nothing about it was easy and perhaps it wasn't even legal. We most certainly weren't alone, we saw multiple pick-ups from Level 5. By this point, I was in a great deal of pain, but then I did turn down the generous offer of assistance so more fool me! You can find how to book Heathrow Special Assistance here.
We were guests overnight at the Hyatt Place Heathrow, which proved a great choice.

When we arrived at T5 the following morning we asked the Uber driver to drop us as close to Zone G as possible, as this is where the Special Assistance desk is located. Like Glasgow, the T5 assistance area was closed and passengers should use the car park phones or check-in desks. Life is rather different at T5 and I'm grateful we were able to make our way to the First Wing to seek assistance as waiting in-line would have been impossible. The BA team member I approached for help directed us to the First Wing seating area, asked for our passports, and called a Special Assistance agent to take us through Security and into the lounge.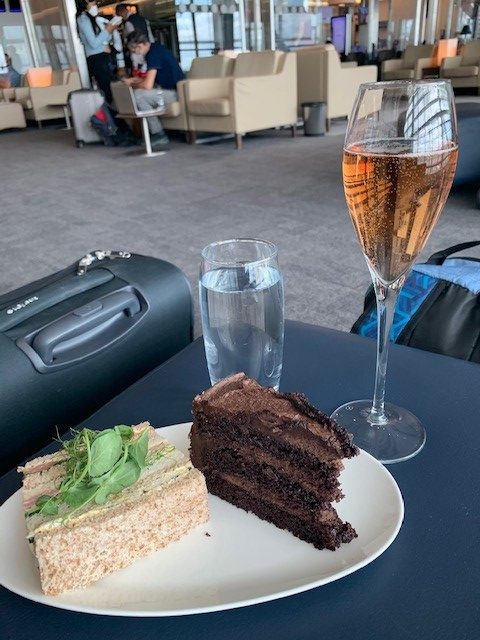 On arrival at Corfu I was met at the plane door and whisked through the Immigration process without delay.
After a week of sun, it was time to return to the (comparatively) frozen north. Back at the airport, we met the same Special Assistance agent, a lovely man who wanted to hear all about our holiday. Likewise, transfer from plane to lounge through the UK border was fantastic.
Unfortunately, I had a horrible experience with an argumentative man transporting us from the First lounge to plane for the LHR-GLA segment. He turned up 30 minutes early, smacked my feet off a door during our transfer and slammed my wheelchair brakes on with such force that I squealed in pain on arrival at the gate, I could really have done with a warm welcome!
I asked a crew member for a sip of water to take painkillers once onboard and was told 'This is a bottle, in case you think this is something to get used to' which is a peculiar comment perhaps referring to the fact he handed me a bottle rather than a plastic cup, who knows? Another passenger sitting in Economy asked if there was water available to buy onboard which caused more discussion than I expected. Perhaps some cabin crew are unsure of what rules they should follow after being on furlough? He didn't perk up during the flight though, so maybe just not in the mood at all.
In general, my experience of using Special Assistance for air travel has been very positive. Pre-COVID 19 I took around 2 international flights per week for business purposes, and before I developed mobility issues, far more. Travel requires extra planning for me these days as I need to build additional time into my schedule to allow for potential delays in being picked up from the plane, having to work out how to get to onwards travel locations etc. It's been quite an eye-opener to realise what I once took for granted, that's for sure! But it can be done, thanks to the (mostly) brilliant service provided by Special Assistance team members. I make a point of sending feedback tweets or emails to an employer when I meet those who are kind and considerate, working in customer service often feels like a thankless task and I hope (perhaps naively) that this might make a small difference.
Iberia business class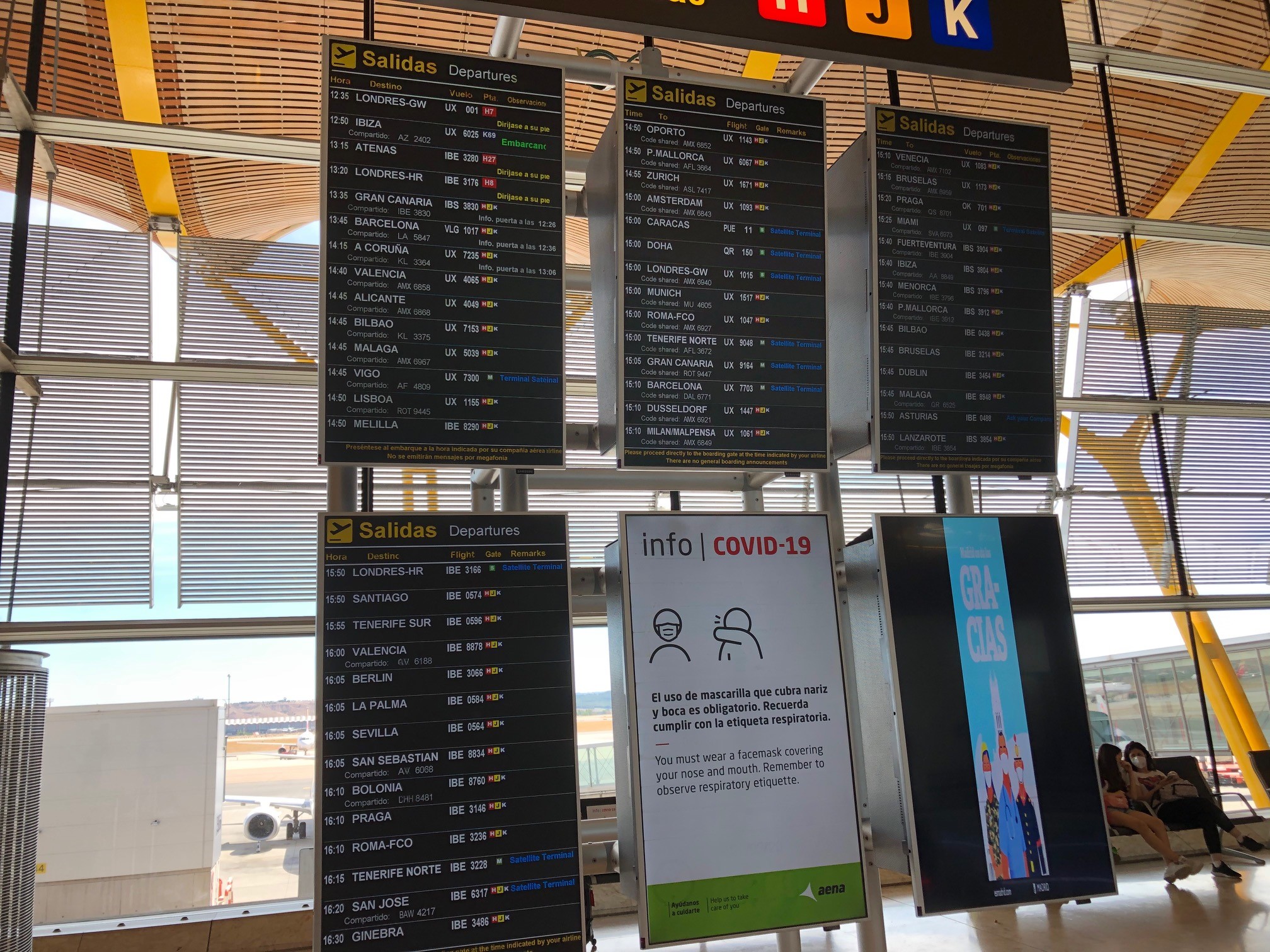 Beware if you have a choice between Iberia and BA, you may want to consider if a lounge is important to you. None of Iberia's lounges are open in Madrid currently, although from Heathrow you can use the BA lounges. Reader J, kindly shared his experience with me.
On board the food is not bad in business class: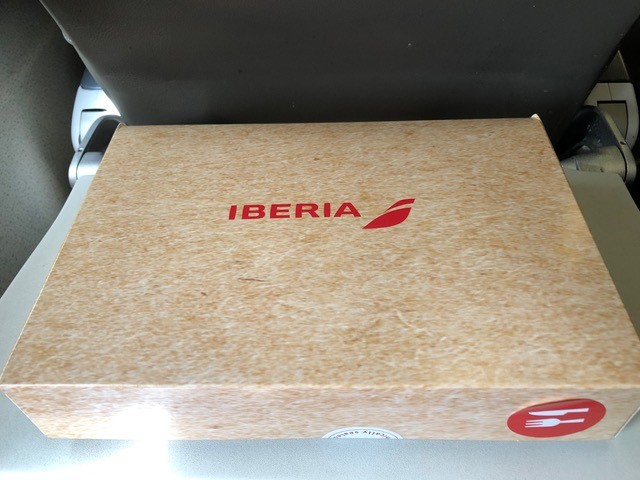 LIke BA it comes in a box but has a lot included. Bit carb heavy, but pretty substantial with soup, half a sandwich, roll, pasta salad, olives, banana and yoghurt. There was also a limited bar service. The example was for a 3 hour flight from Madrid to Berlin.