At the time of writing, I have not set foot in an airport for 5 months and 12 days…. Hopefully, should there be any countries remaining in Europe that the UK government has not taken off the corridor list, I will be flying in 2 weeks time. In the meantime, here is a review of my first hotel stay post COVID-19.
Booking and location
At the beginning of August, there was a huge heatwave with temperatures in London at 36c for several days. Despite the fact that I had a place to stay, the heat was getting to me. I wondered how much it would be to get a hotel stay for a night's respite using some of the many thousands of points I have had refunded.
My go-to London hotel is the Hilton Bankside. It's a newish 5* Hilton about 10 minutes walk from Waterloo and 5 minutes from Southwark station.
I originally had a look at the classic London luxury hotels such as the Corinthia, the Berkeley, The Dorchester etc, just in case there were any bargains. They weren't, and in fact most of them actually seemed more expensive than usual.
So, I had a look at my old favourite the Hilton Bankside and was very pleasantly surprised by the prices. Rooms on points stated at 35,000 and cash rooms could be had from £99. Despite the cheap price I decided to burn some points and booked the King Guest Room, which is the entry-level room.
Check-in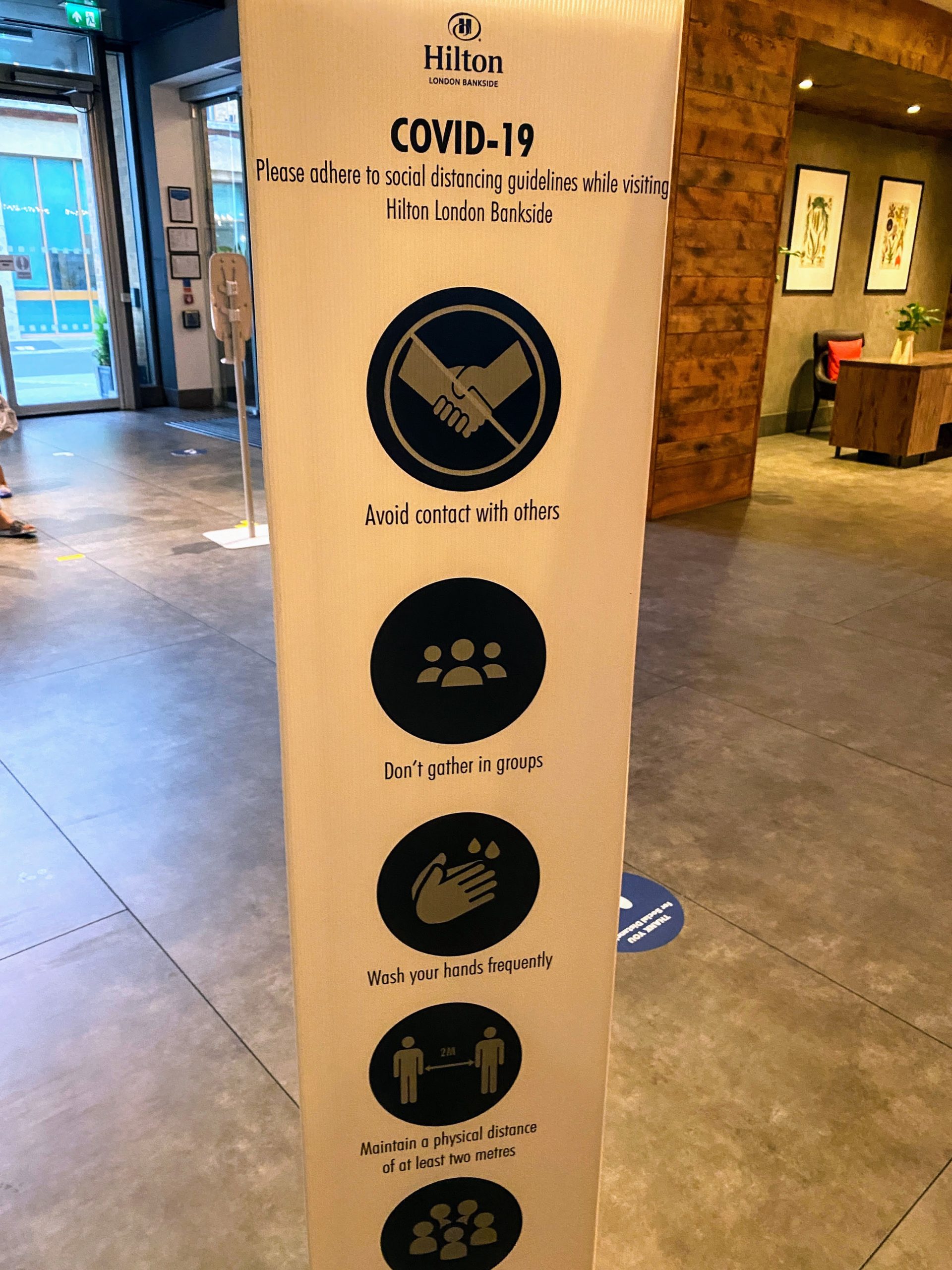 I arrived at the hotel and it was obvious they were taking all the right precautions.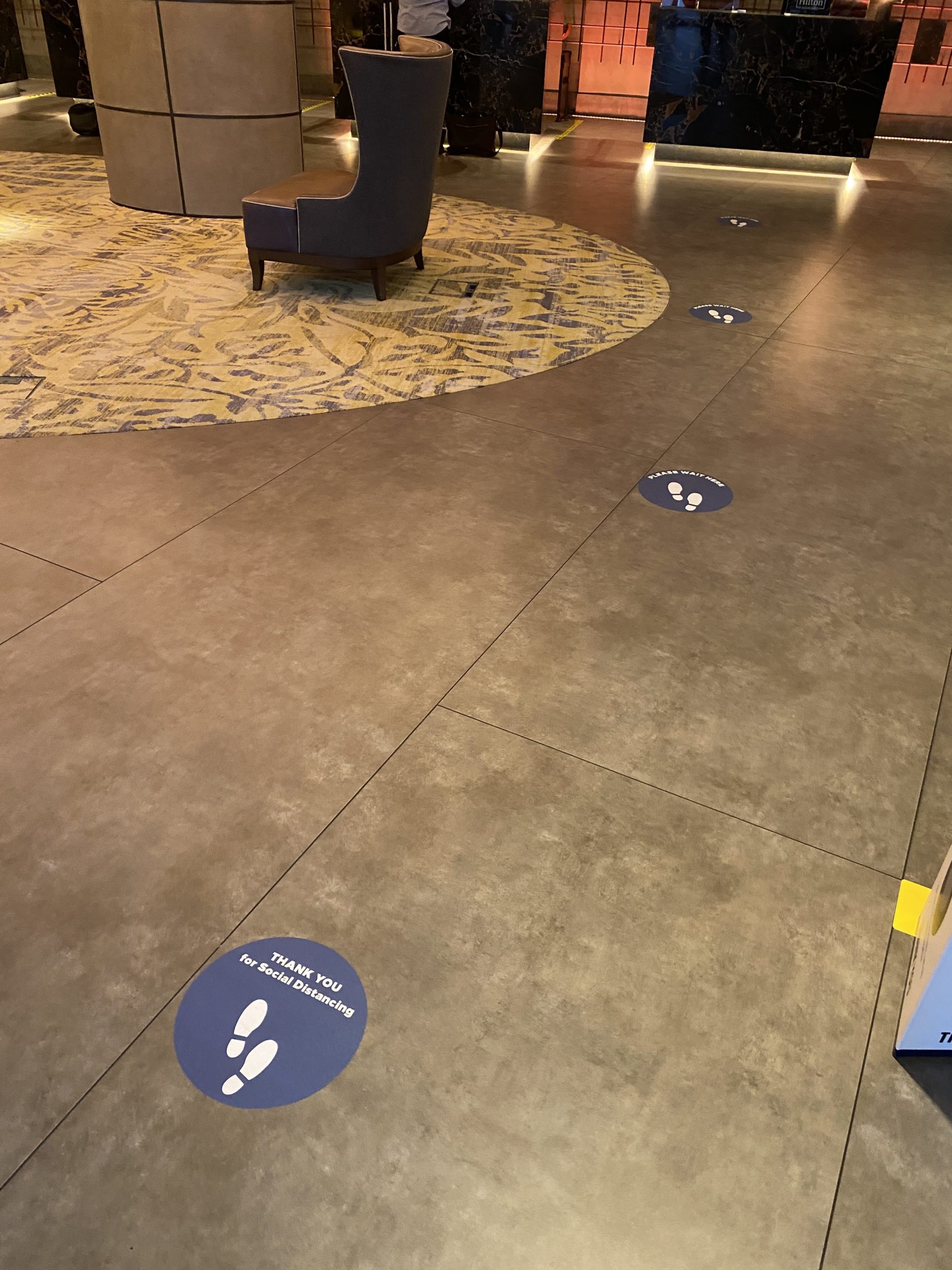 The waiting area for the reception had socially distanced places laid out, but there was no one waiting.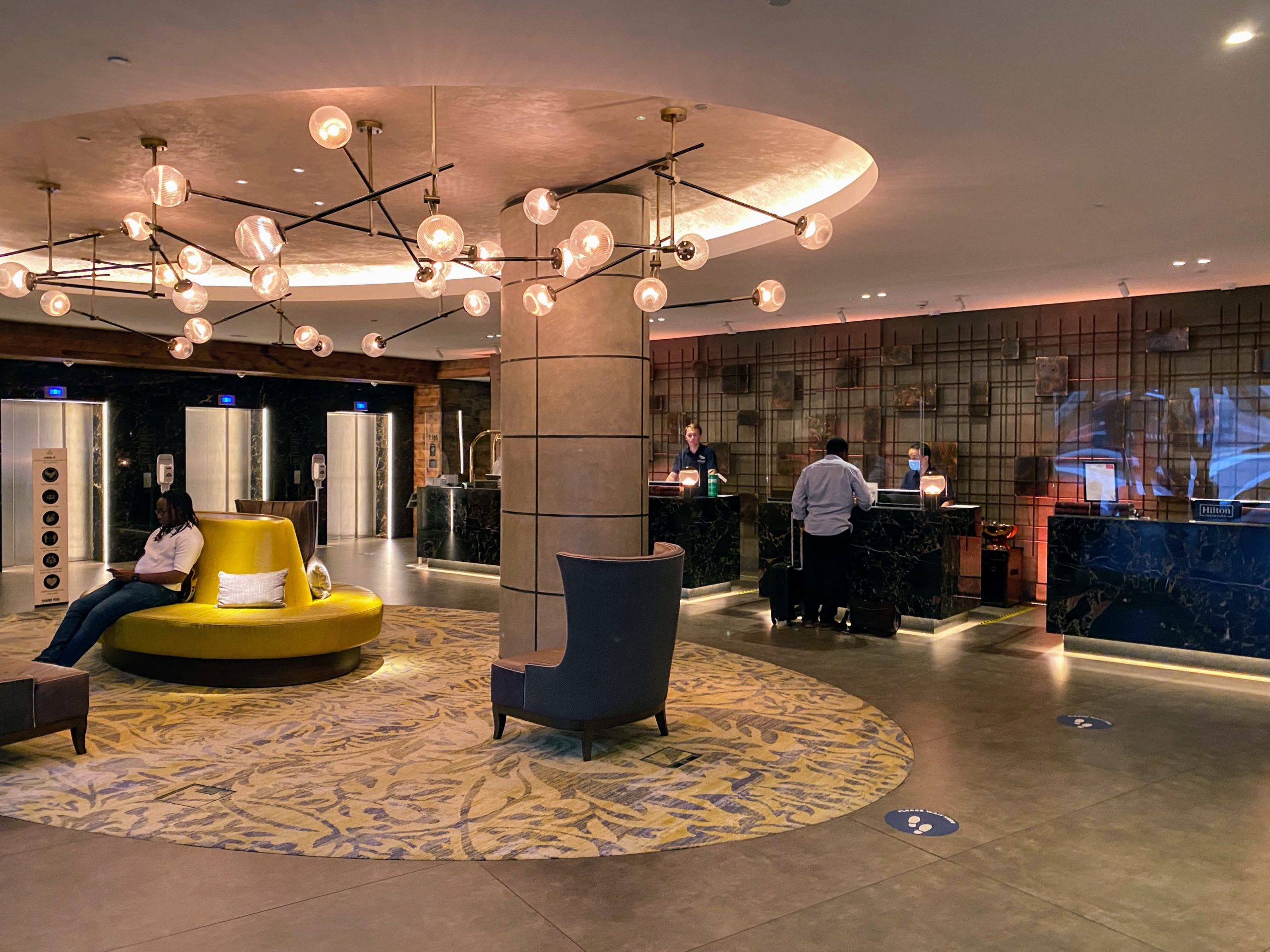 Each reception desk had a perspex screen in front of it.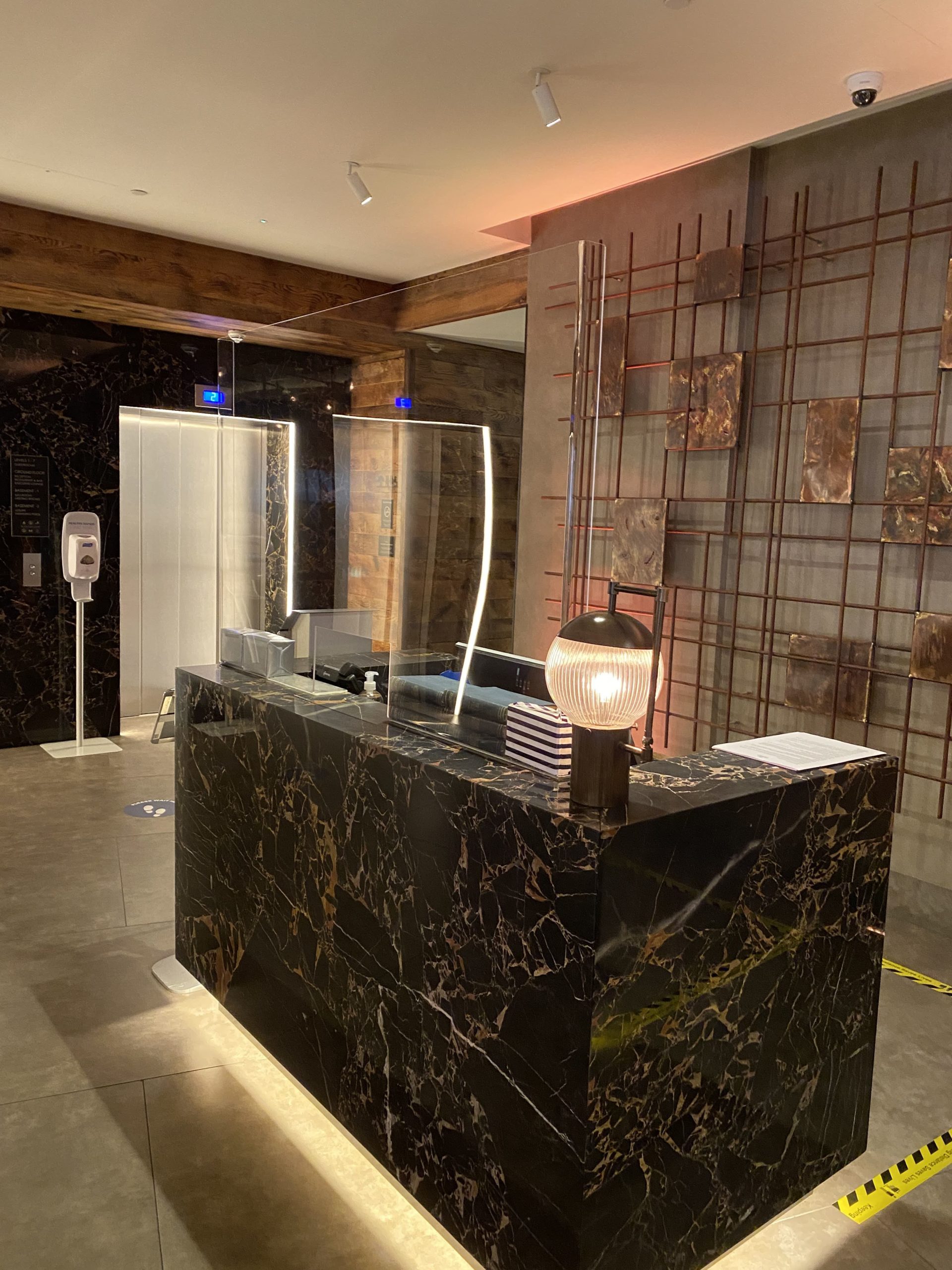 I was greeted by the friendly receptionist and offered a glass of chilled prosecco, which was a lovely start. The visit was the day before it became mandatory to wear face masks for guests in a hotel public area. The receptionist was not wearing a mask. I still find it odd that people working in public-facing jobs do not have to wear a mask when they are the ones most at risk.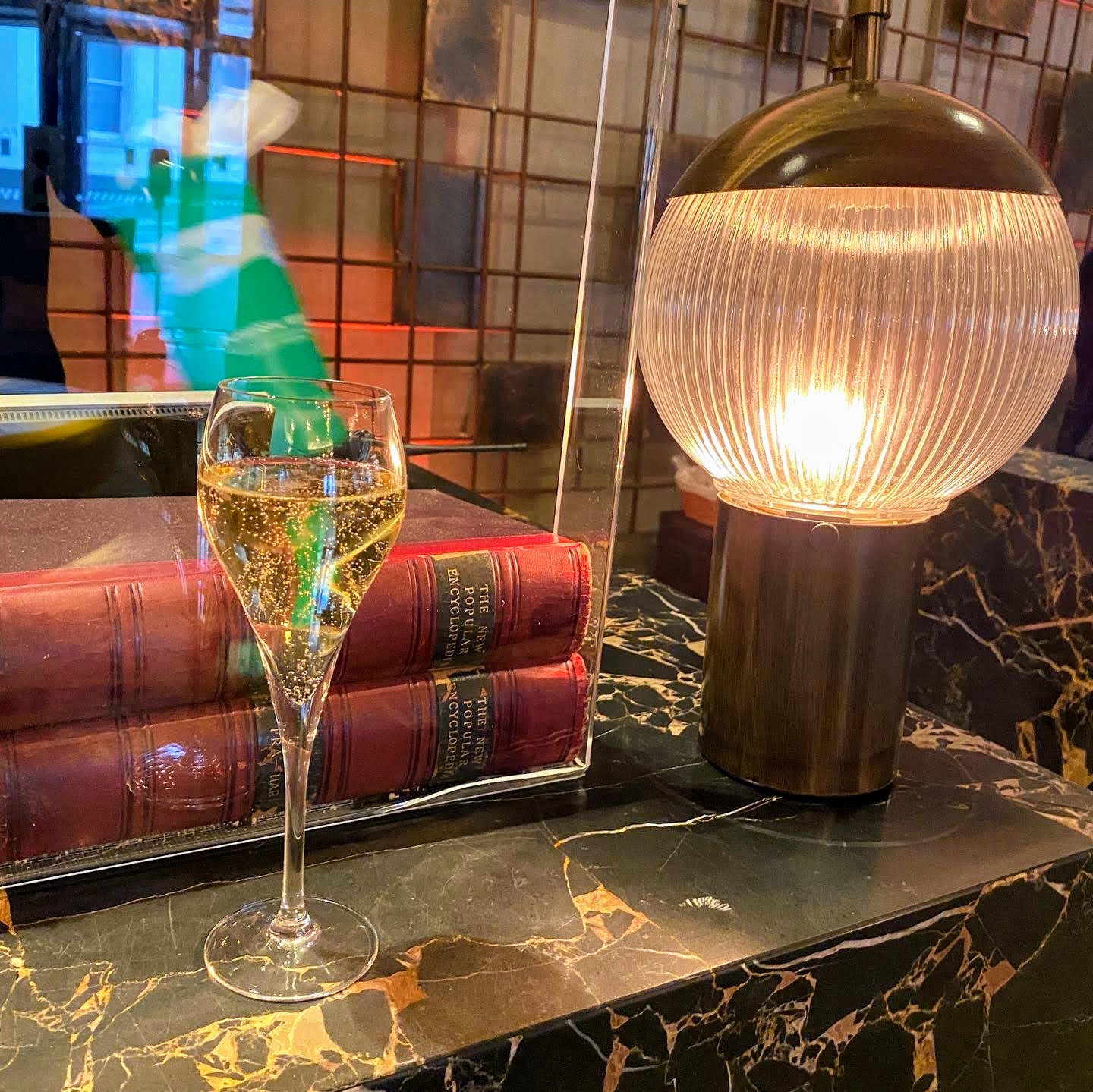 I was upgraded to a one bedroom suite as I wanted a room to work in (with a slight prompt from me as they usually do this anyway if they are not busy). I am a Diamond member and find that the Bankside treats Hilton Honors members very well usually.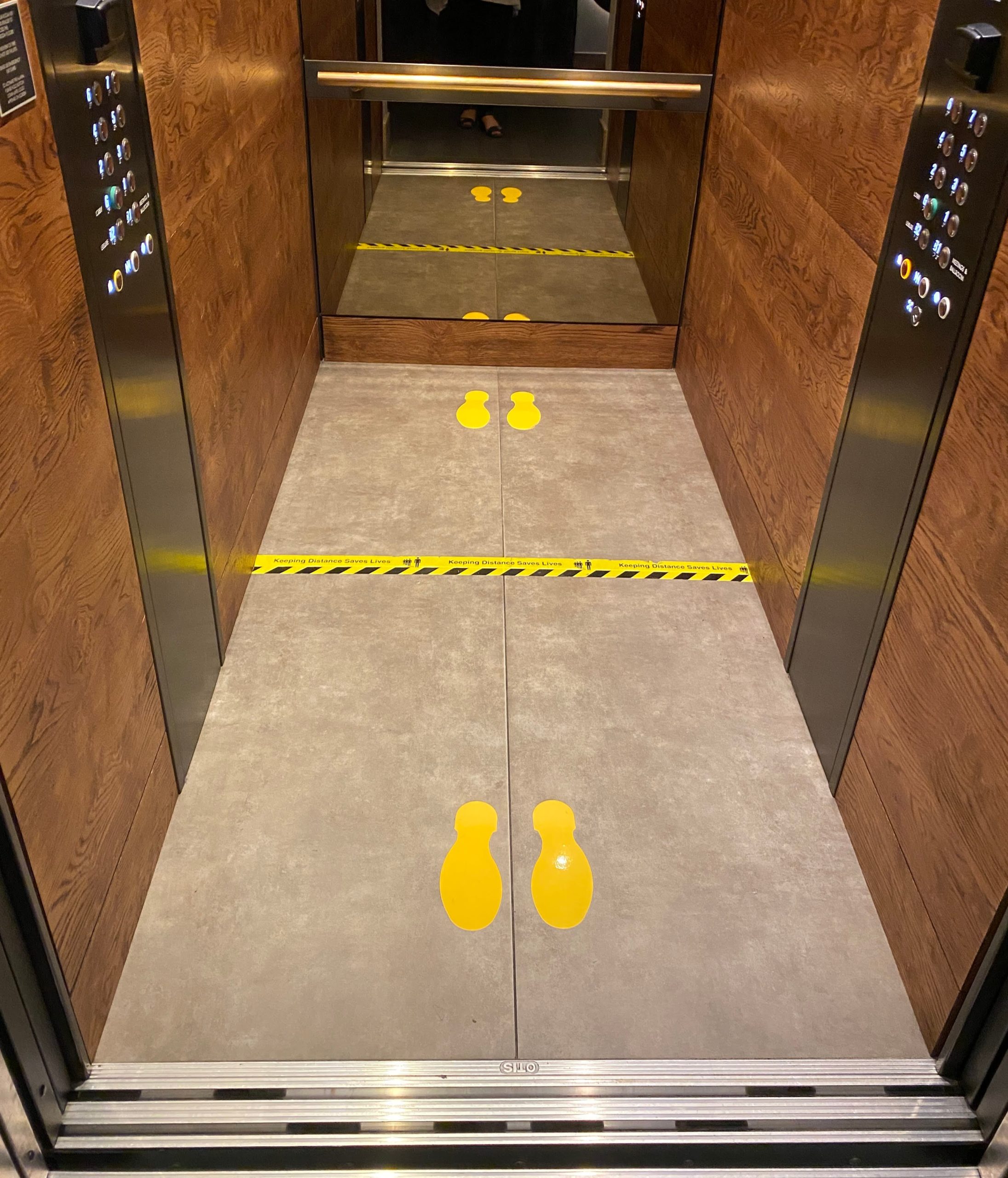 Key in hand ( I could have also used a digital key on my phone if I wanted), I headed towards the lifts. Again these were clearly laid out for two people (although obviously if you are household group it would not matter). People seemed to respect this and even when people were waiting, no one tried to get in if there were already two people there. This is fine when the hotel is quiet (I reckon it was around 30-50% full judging from breakfast). However, I could see there being long waits when the hotel was busier.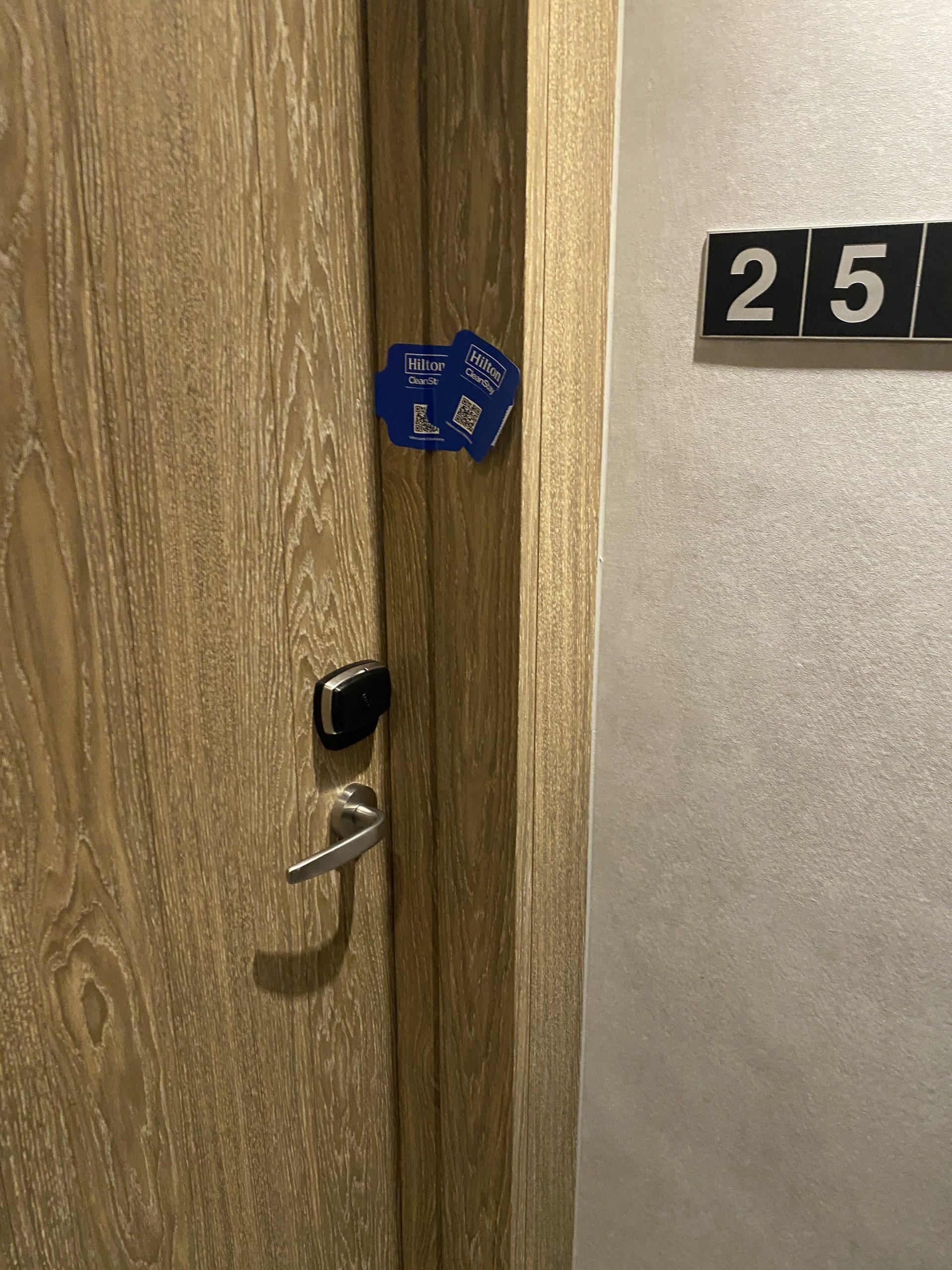 Usually there would be a sticker on the door to prove that the room has been cleaned to COVID safe standard but given that this was an upgrade there was no sticker. It appeared to be fully prepared anyway.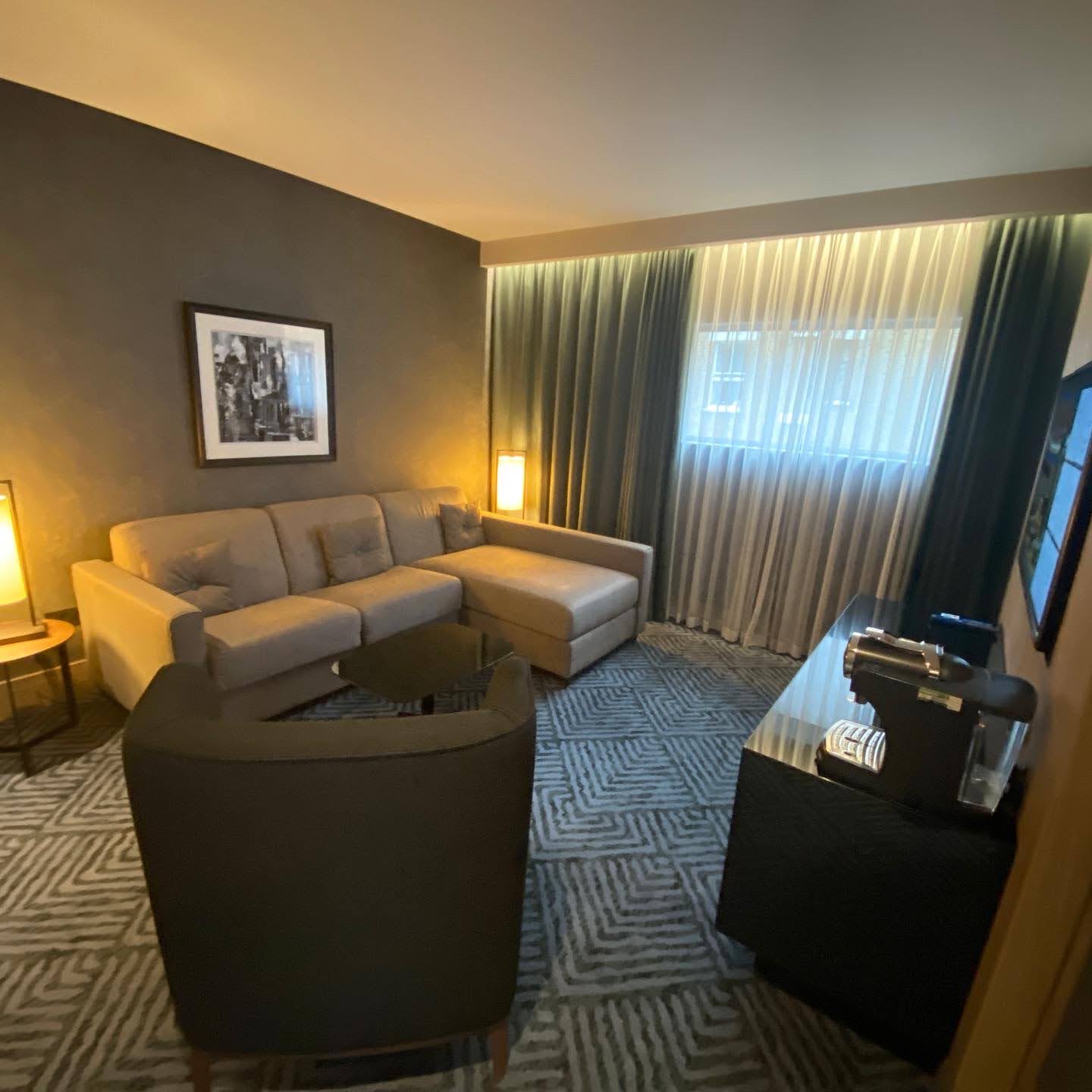 The room had a large living area with a free minibar (sadly only healthy snacks and drinks, no alcohol.) There was also a pod coffee maker. In this area there was a second guest bathroom. The one bedroom suites all vary and some of them also have a dining table and chairs in this area.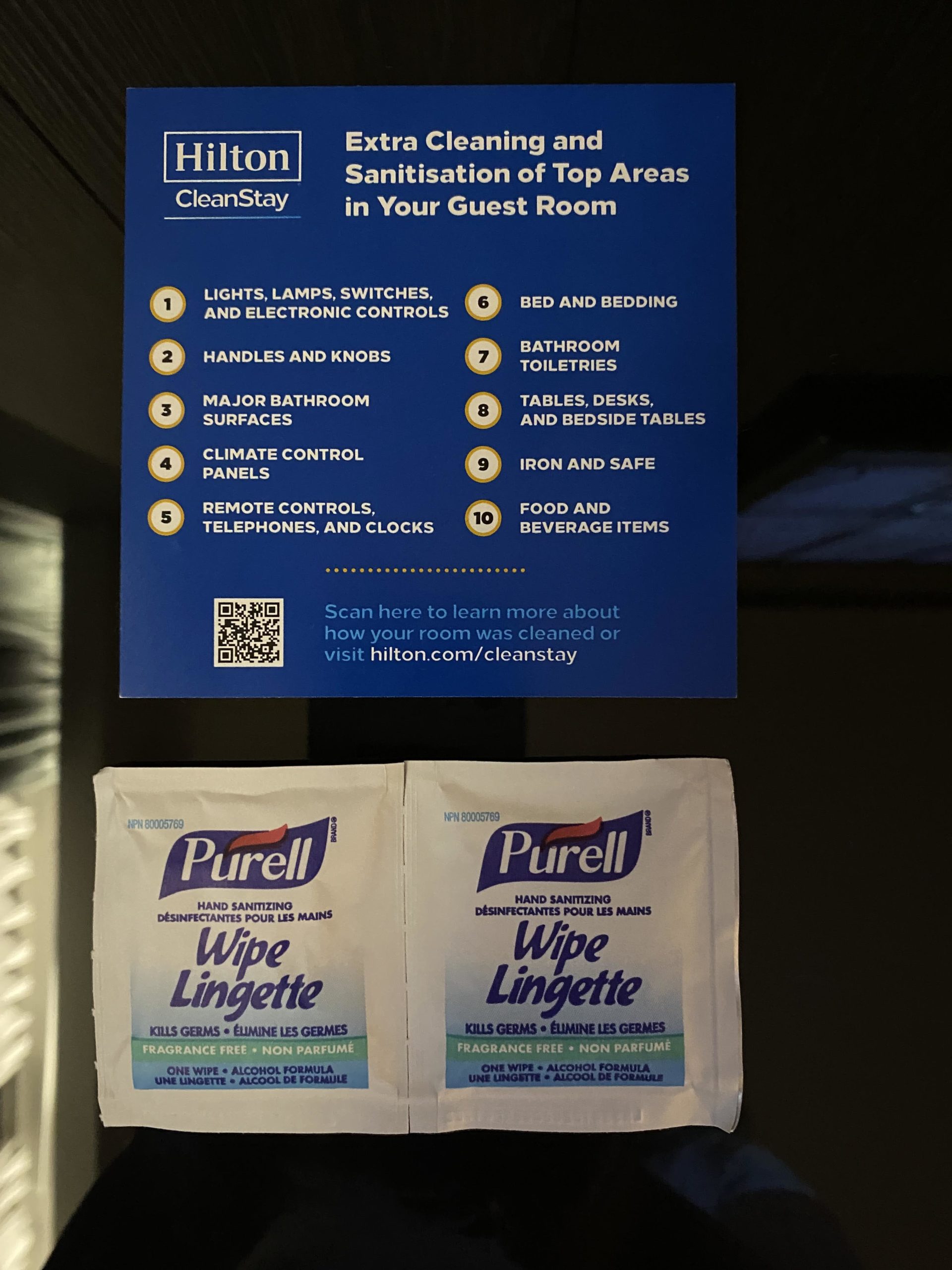 Some hand sanitiser wipes were provided in the room along with a reassuring list of what they had cleaned.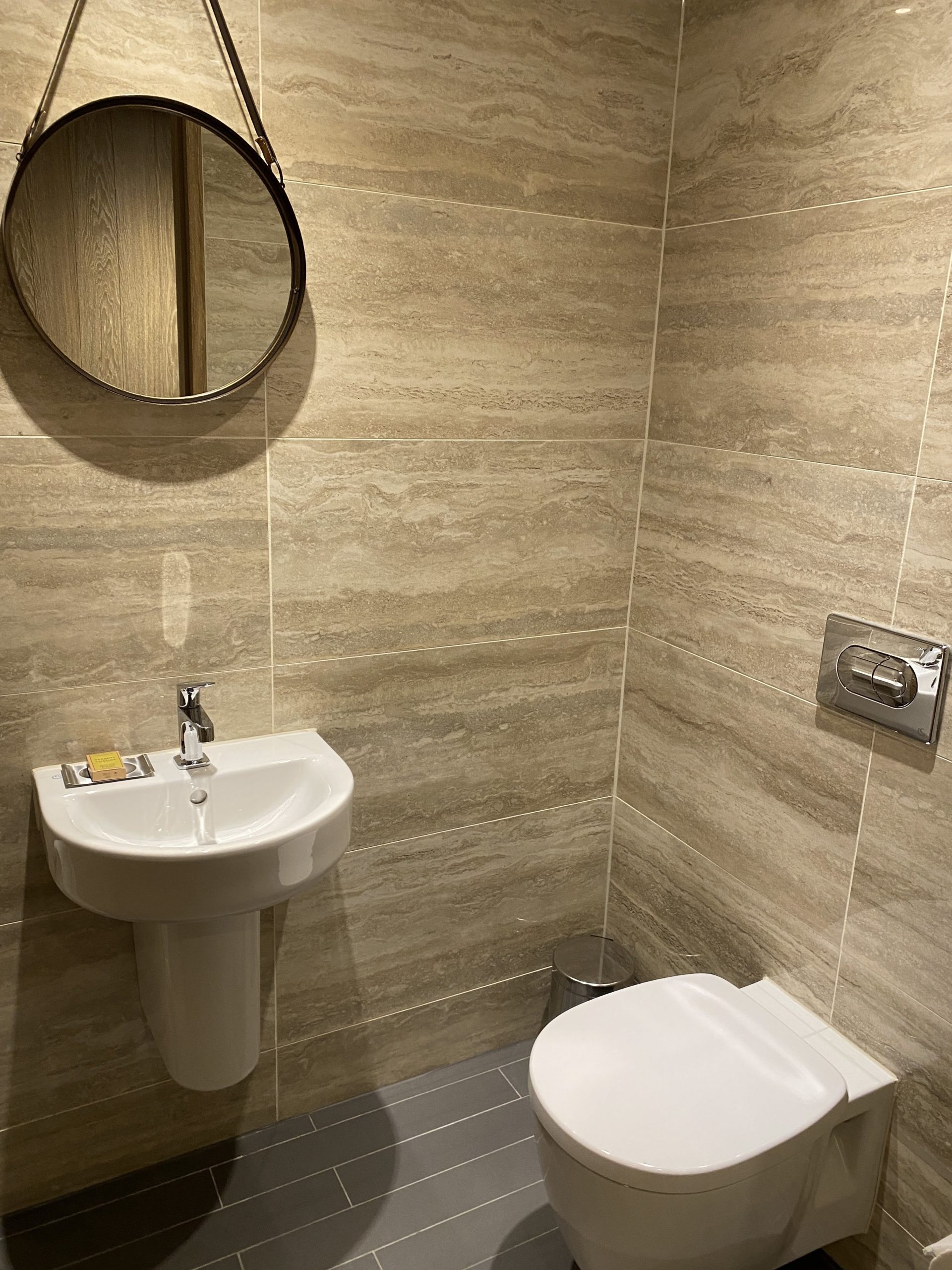 The bedroom was blissfully cold in the air conditioning and it certainly did not seem to struggle with the heat! The bedroom and lounge had separate temperature controls and were simple to use. It did not take long when you changed the temperature for the room to cool down or heat up.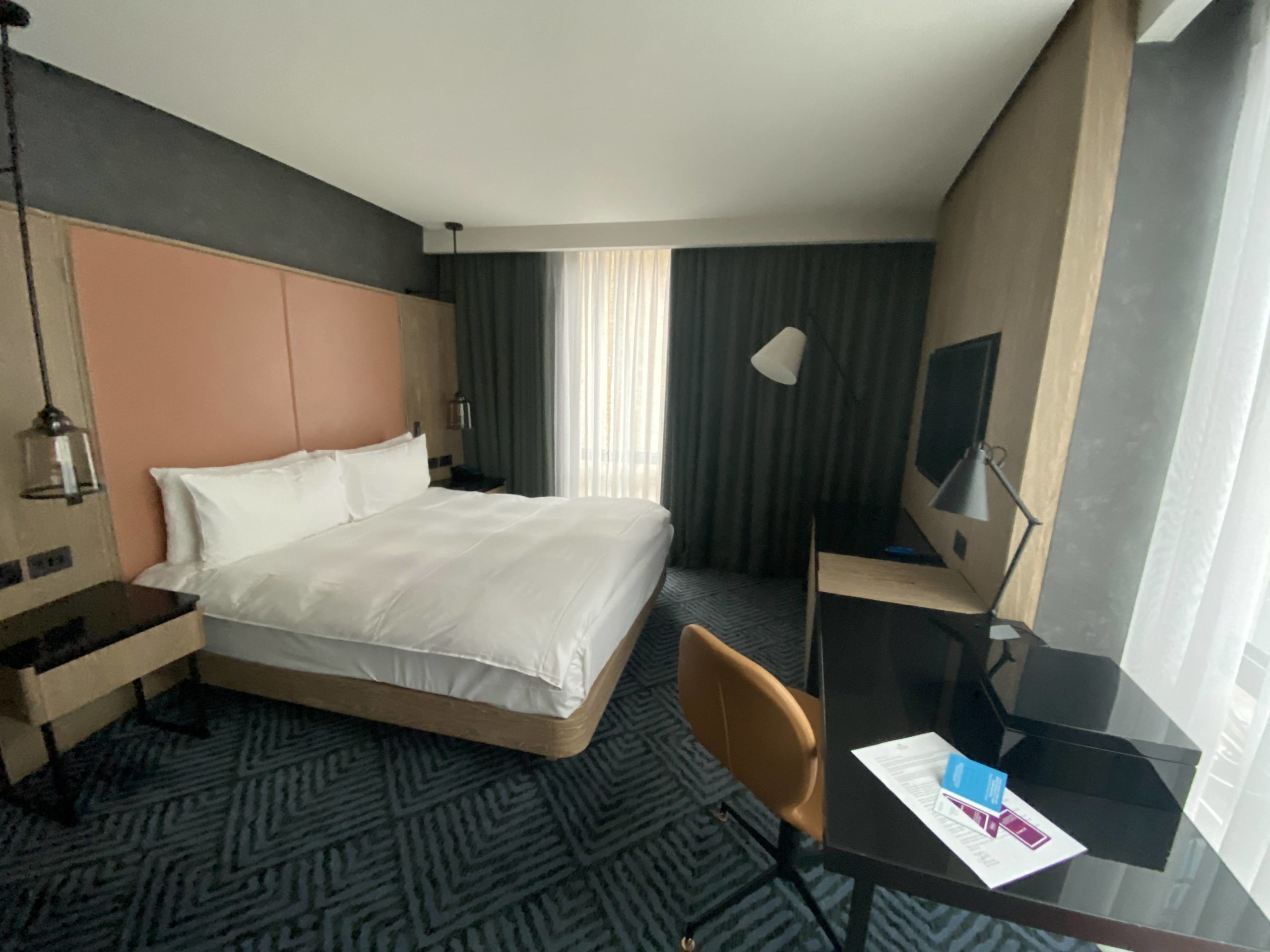 One of the minor things that does annoy me about the Bankside is the lack of mirror to dry your hair. The black box on the desk contains the hairdryer and it does contain a small mirror. Unless you are the exact right height though, you have to manoeuvre the chair backward and forwards to actually be able to see yourself since it can't be adjusted.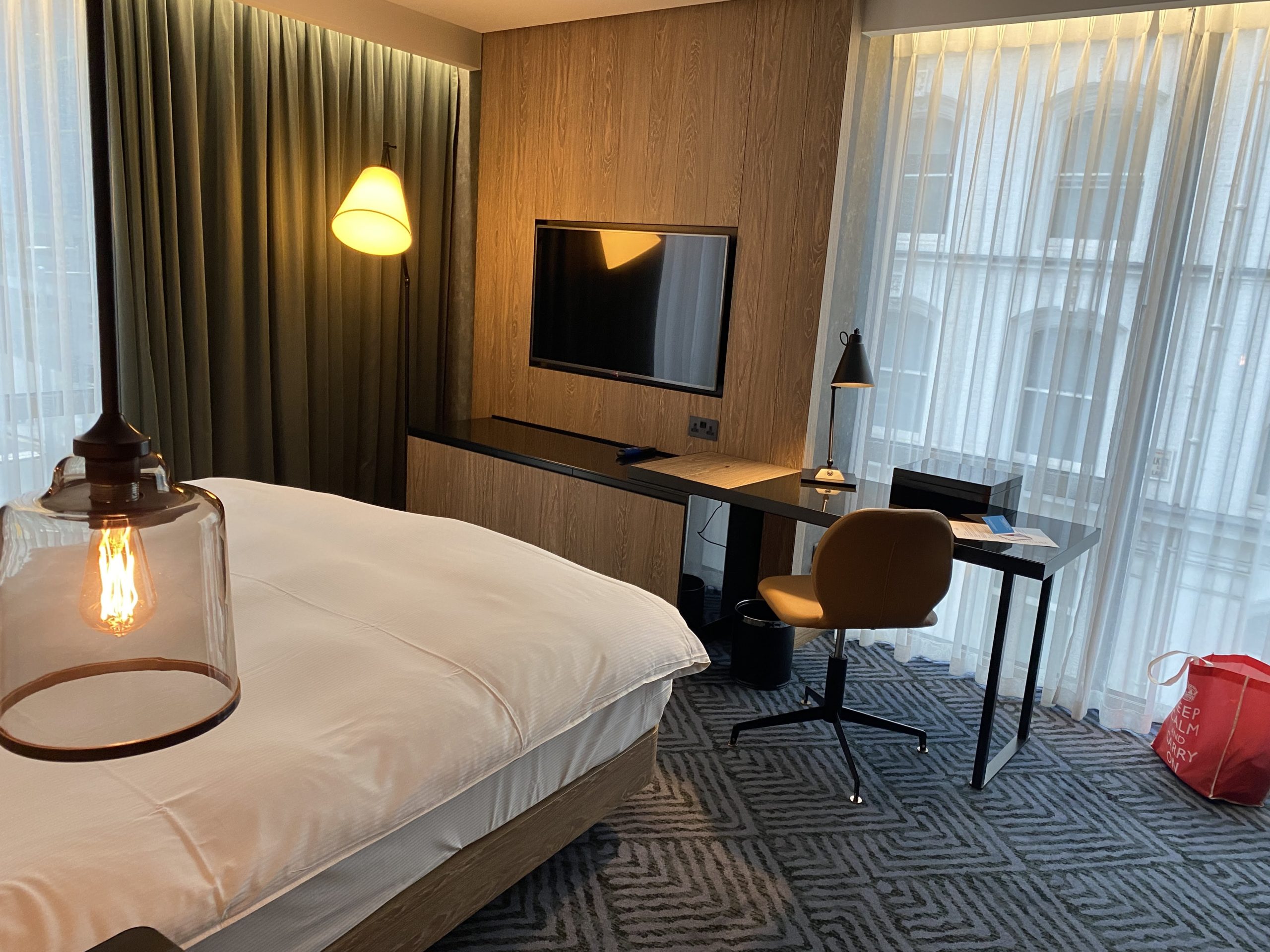 As usual, the bed was very comfortable and the room was quiet.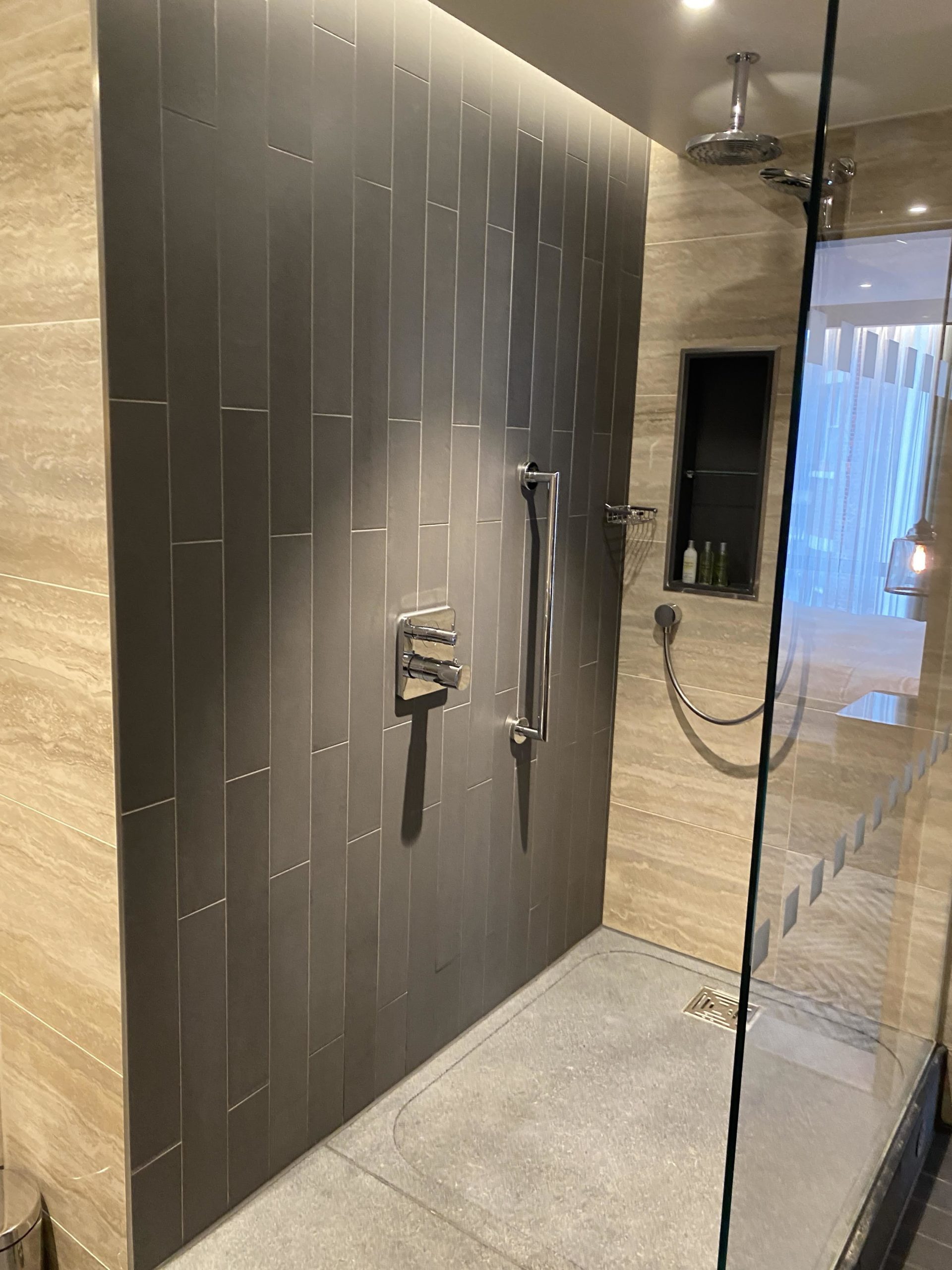 The bathroom was one with just a shower although some suites have a bath as well. The toiletries were the usual Hilton Crabtree and Evelyn ones.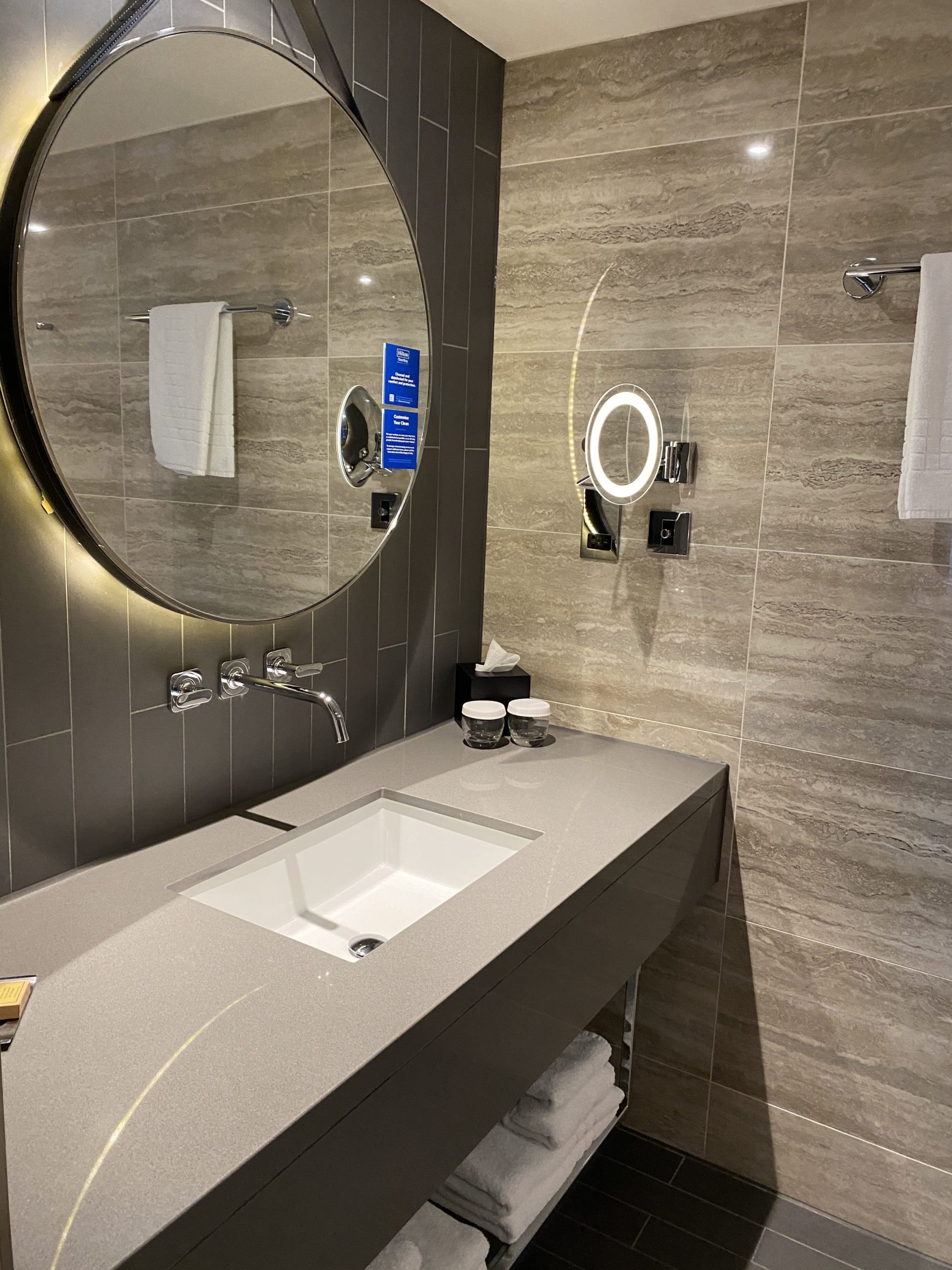 I love the large vanity areas around the basin and plenty of white fluffy towels. There were stickers on the mirror explaining that you needed to ask for housekeeping. I think that is fair enough. As long as it is an option, I think that's acceptable.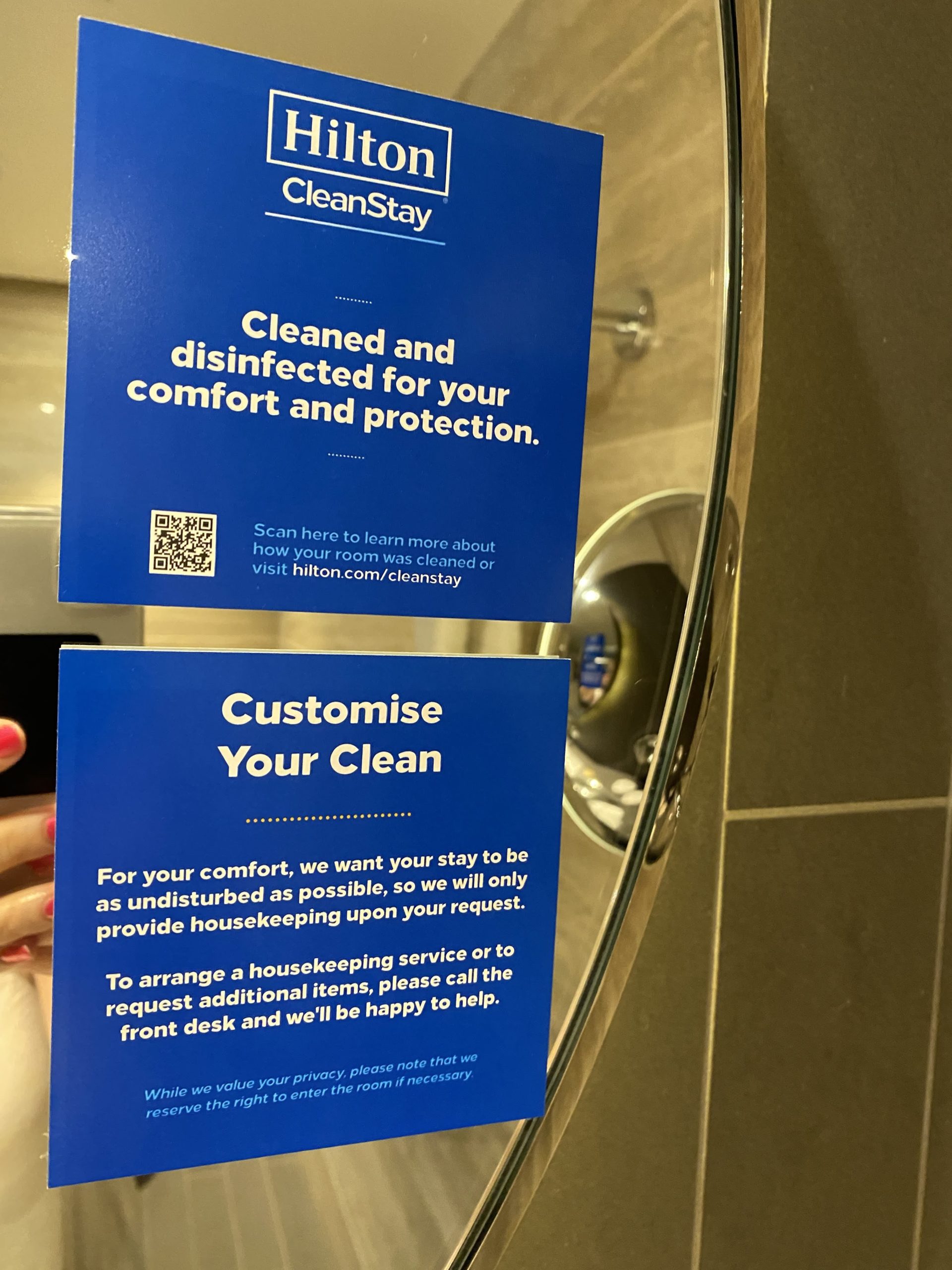 Lounge, Food and drink
Sadly the lovely Executive lounge was closed. We were given a voucher each for 2 drinks and a Bento box of canapes. These were available from the Distillery bar. We decided to sit outside since it was beginning to cool down. There is sanitiser available whichever entrance of the bar you use.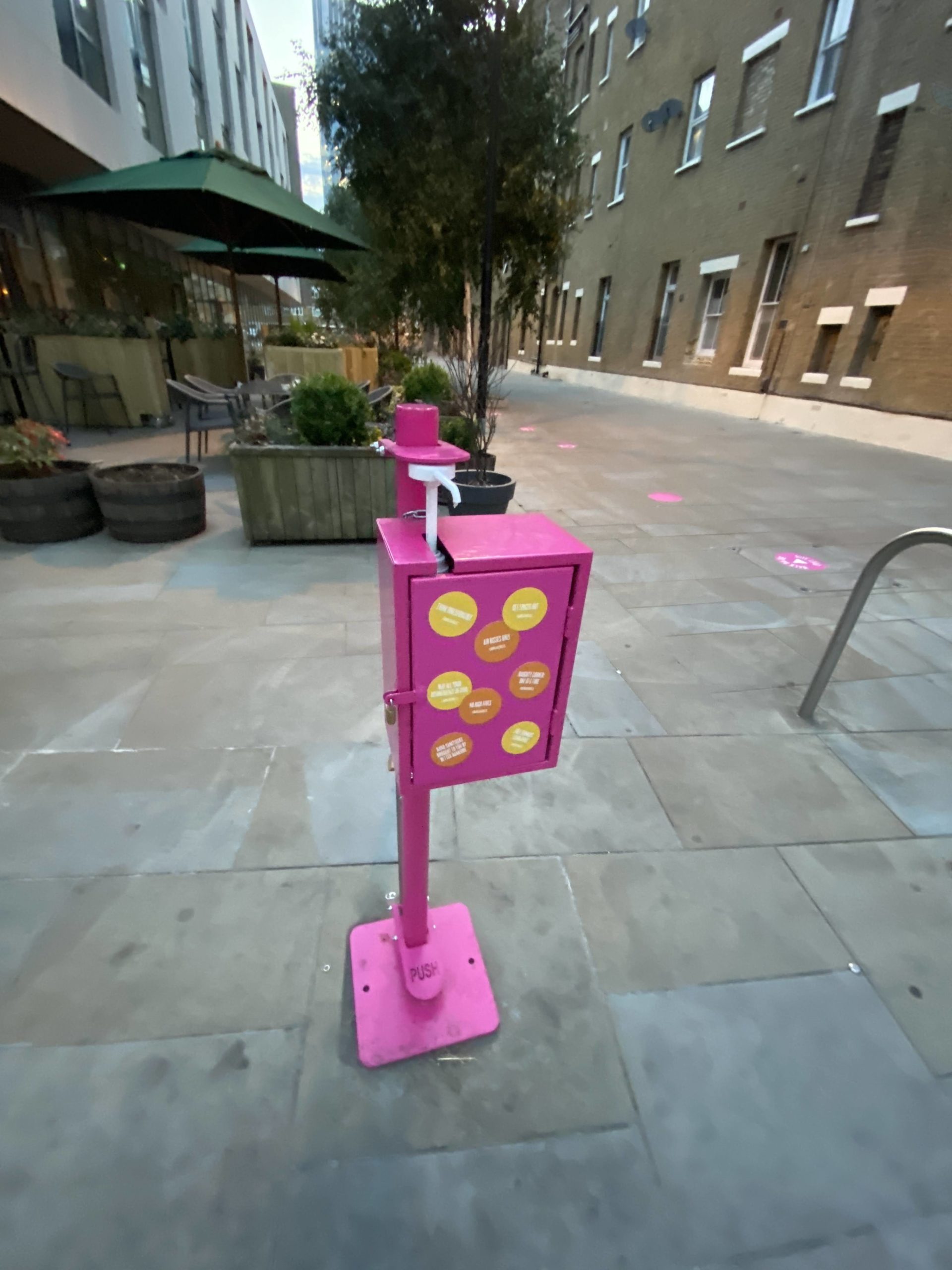 The Hilton has made a nice outdoor area on a quiet side street.
Inside the bar, it was covered by a plastic screen.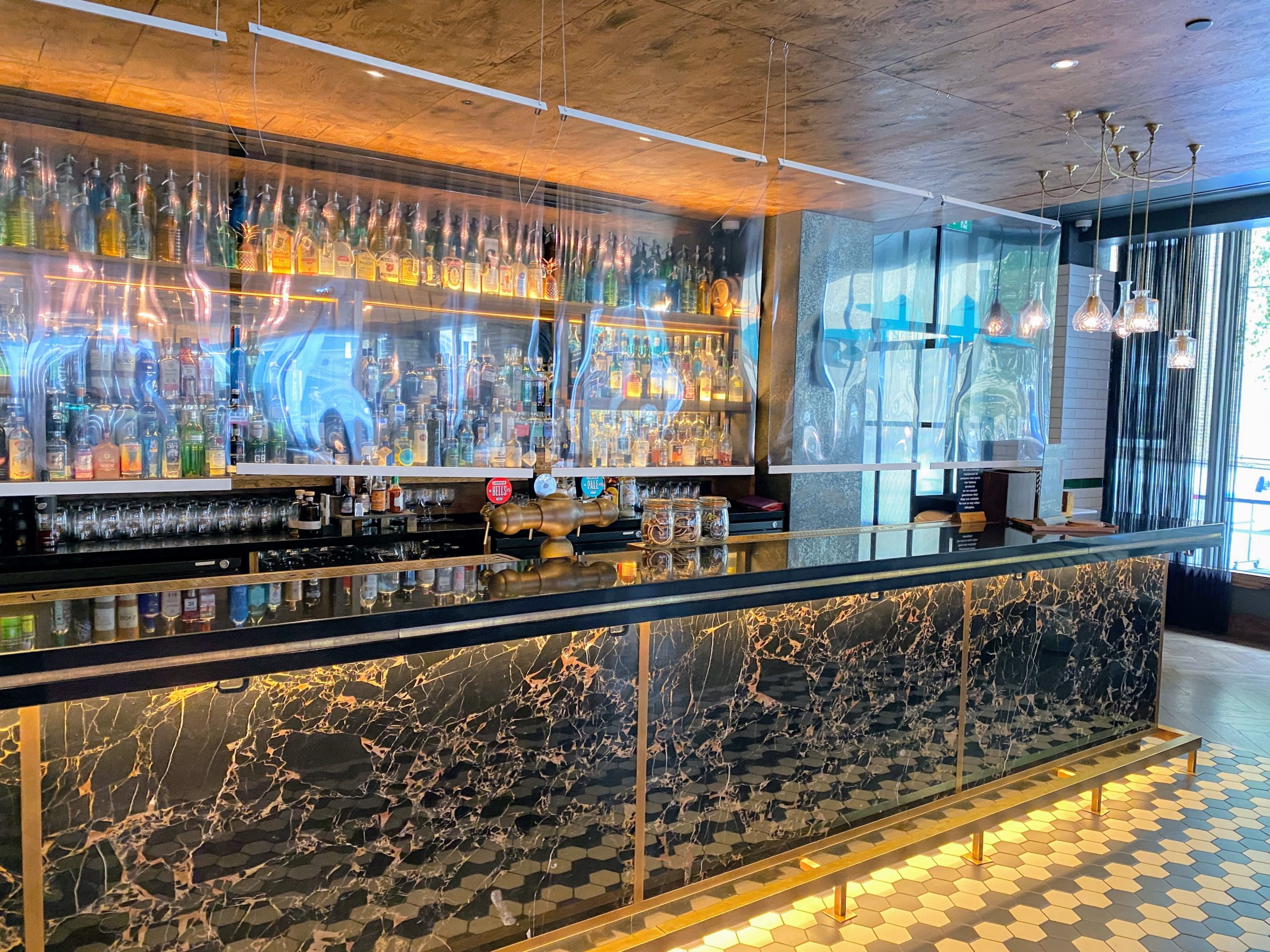 For the free drinks you could have wine, beer, spirits or prosecco which I thought was a decent choice. You had to order the Bento and drinks between 6-8pm in the bar. The service was good initially but then they seemed to disappear and I had to go to find someone.
The food in the Bento box came labelled with potential allergens which good, but did spoil the look of the box a bit.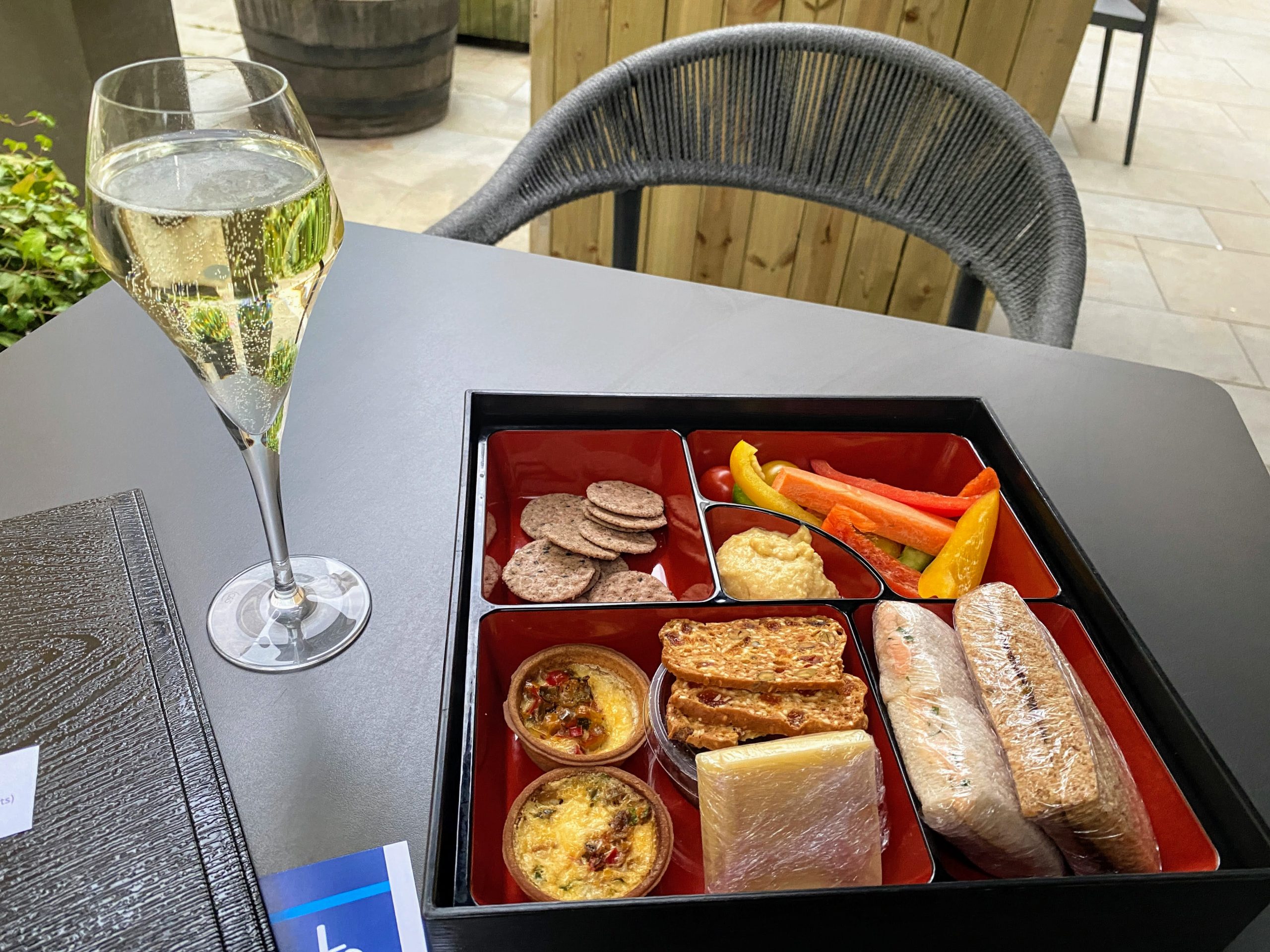 However, the food was a generous portion and it was all very tasty. I thought that this was an acceptable alternative to the lounge.
The restaurant is only open for breakfast, so if you wanted food you had to eat in the bar. Here is the menu: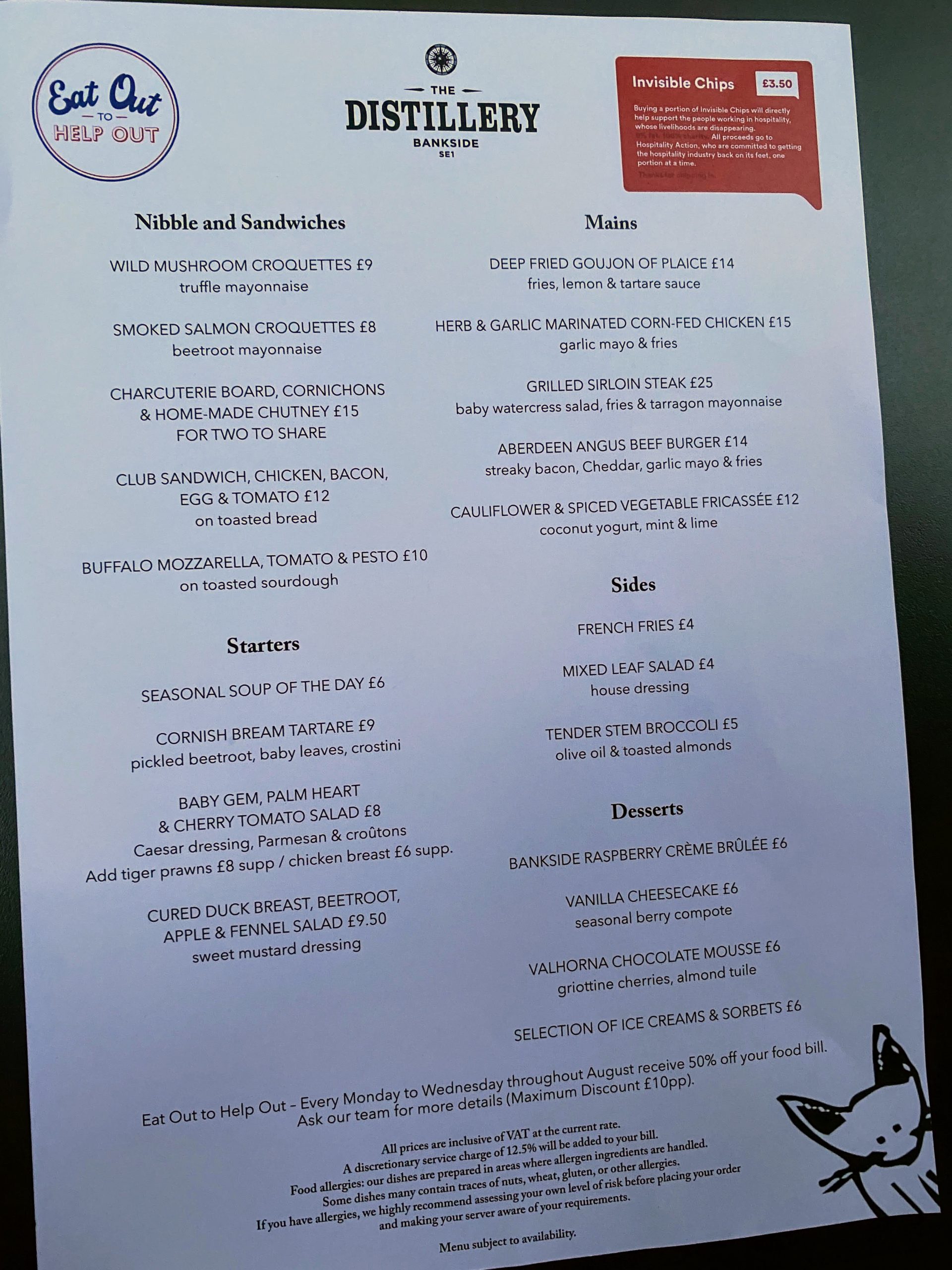 The only thing that really annoyed me on this trip was room service. For some unknown reason it finished at 6pm. We had been looking forward to retiring to the air-con and ordering some snacks and drinks. It seems odd since most people are more likely to order breakfast or dinner at 6pm seems very early to close. In the end, we resorted to Deliveroo!
If you have not been to London recently, there are a lot of restaurants open so we could have walked to a local restaurant for dinner if we wanted. There are plenty of restaurants nearby as well as a couple of convenience stores.
Breakfast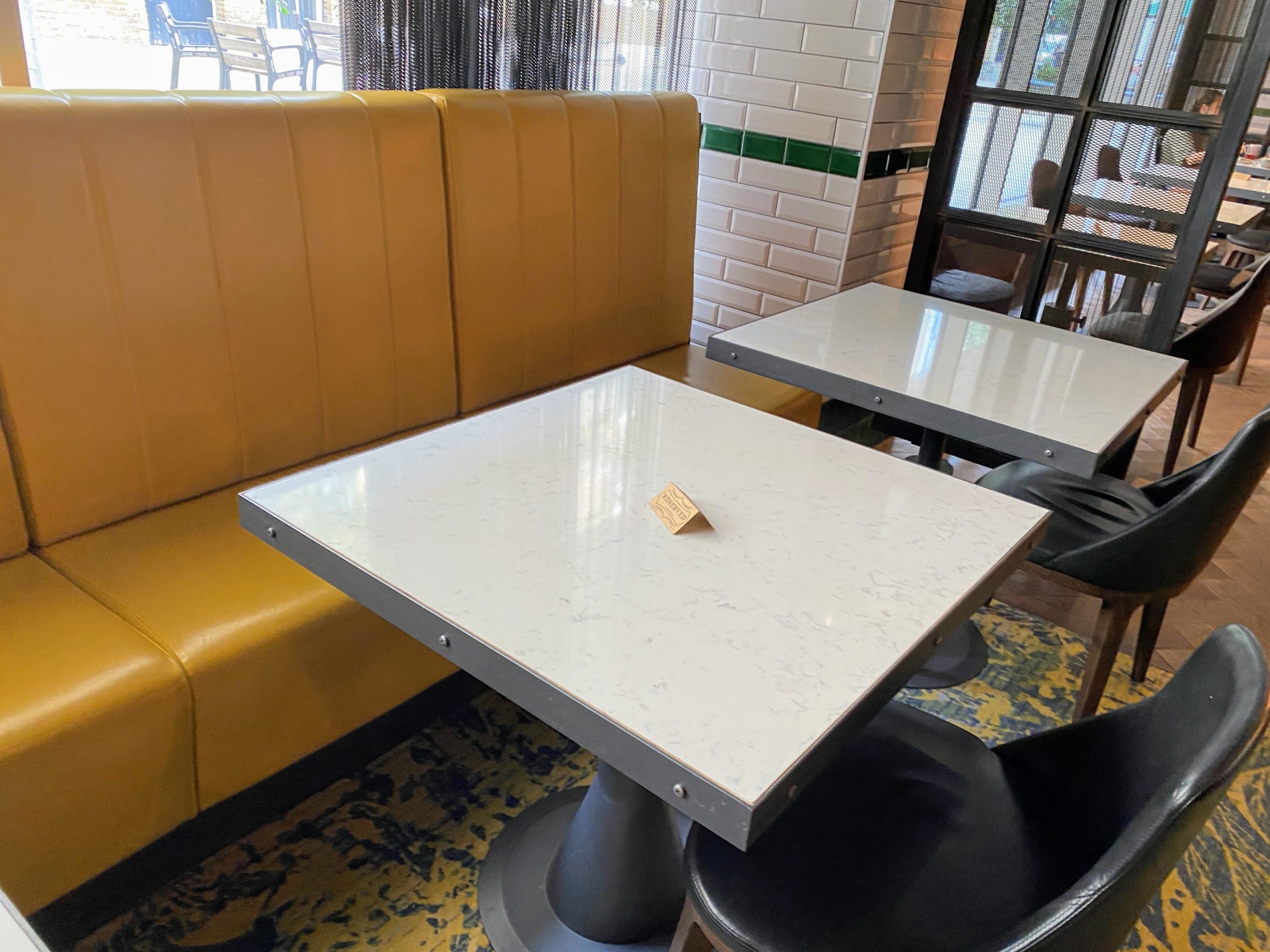 Breakfast is served in the normal restaurant. Tables were blocked off for social distancing.
There was no much difference in the usual offerings as it was still a buffet. The main difference was that everything was in individually wrapped portions. The hot food was behind plastic screens and the chef served you as well as cooking eggs to order.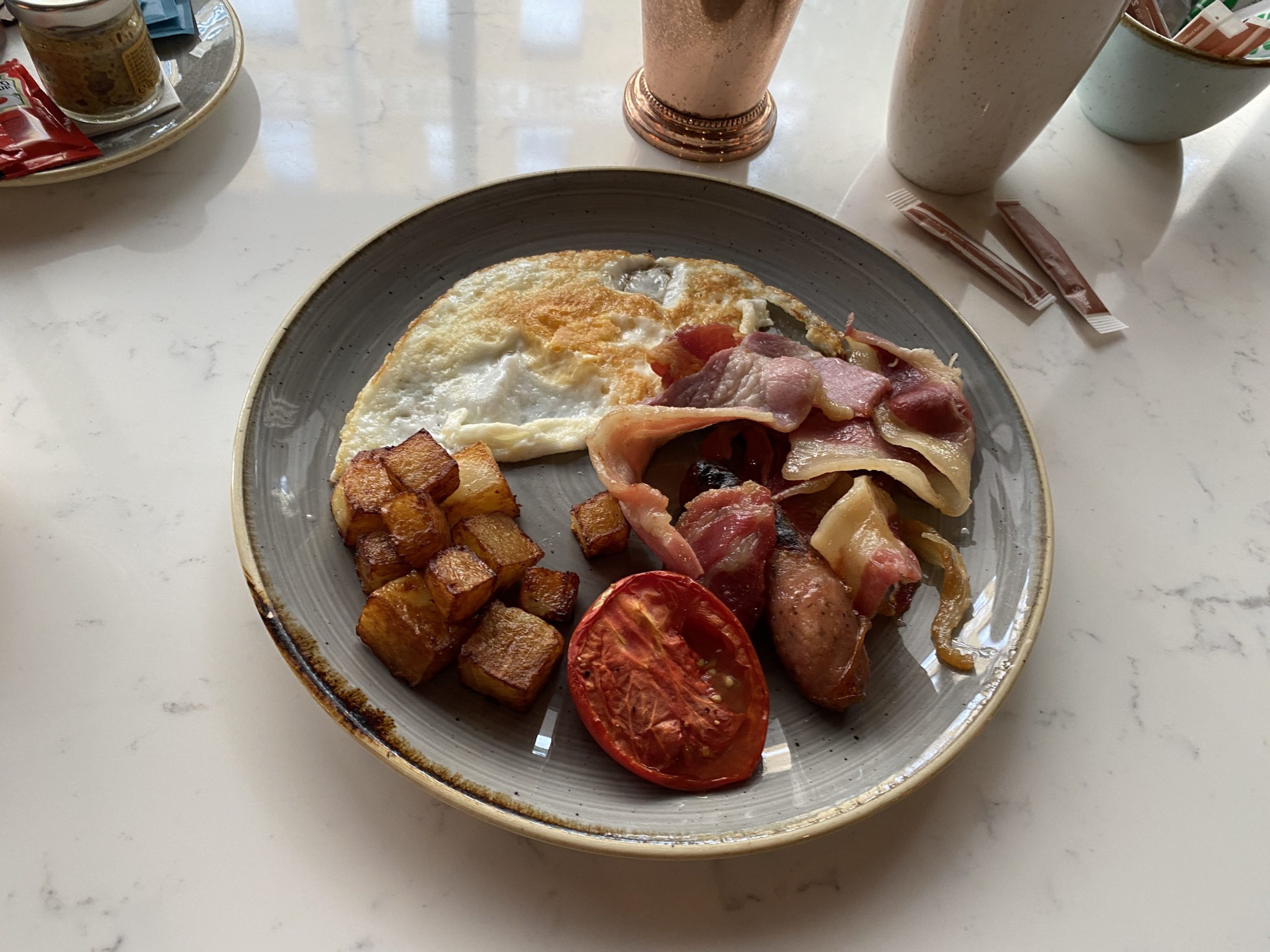 The bacon was a bit flaccid but other than that I enjoyed my cooked breakfast.
Facilities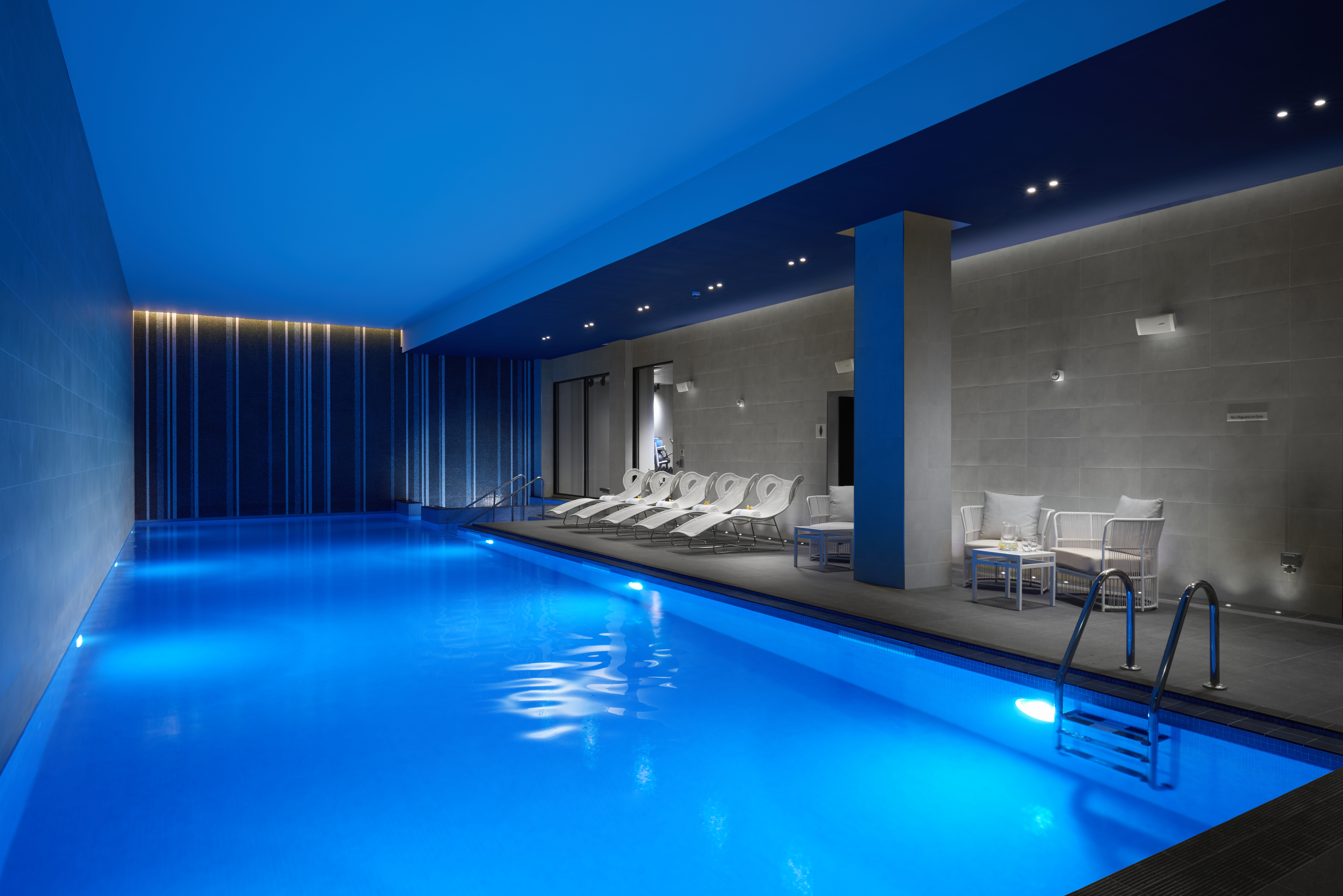 Both the gym and pool had just reopened when I was there.
Conclusion
This was my first foray into travel again and boy, was it good to be in a hotel again! Yes, there were a few changes, but very little really detracted from the experience. If they had kept room service open until a decent hour I am not sure I would fault anything. If you are wondering whether to treat yourself to a staycation, it's a great time to visit city centres as they are generally quiet but there are plenty of restaurants and bars open if you want to go out. Room rates are generally very low.
You can find more information about the Hilton Bankside here. If you fancy the Penthouse suite with its massive balcony, you can read Paul's review here.