Today's review is by reader David. If you would like to share your travel experience with TLFL readers, drop us an email at [email protected].
Back to Life, Back to Normality
To head home from Paris, we did our journey in reverse, after a couple of earlier changes to our flights a few weeks ago we finally had a settled itinerary of a duo starting with KL1230 from Charles de Gaulle to Schipol and KL1293 onwards to Edinburgh Airport. So, what would be different on these occasions?
Check-in and Air France Lounge Charles de Gaulle
The first major difference was on entering the terminal off the CDGVAL light rail at terminal 2 between halls C, D, E and F. We took the travellator along to 2F and had to show our boarding pass and ensure we were wearing the correct mask to enter the terminal section itself. From there, we took the few steps to the first security point solely for Sky Priority of which we were the only two people. I was able to have a few jokes with the staff as the baggage belt stopped leaving one of my bags on the other side all alone as the staff changed positions.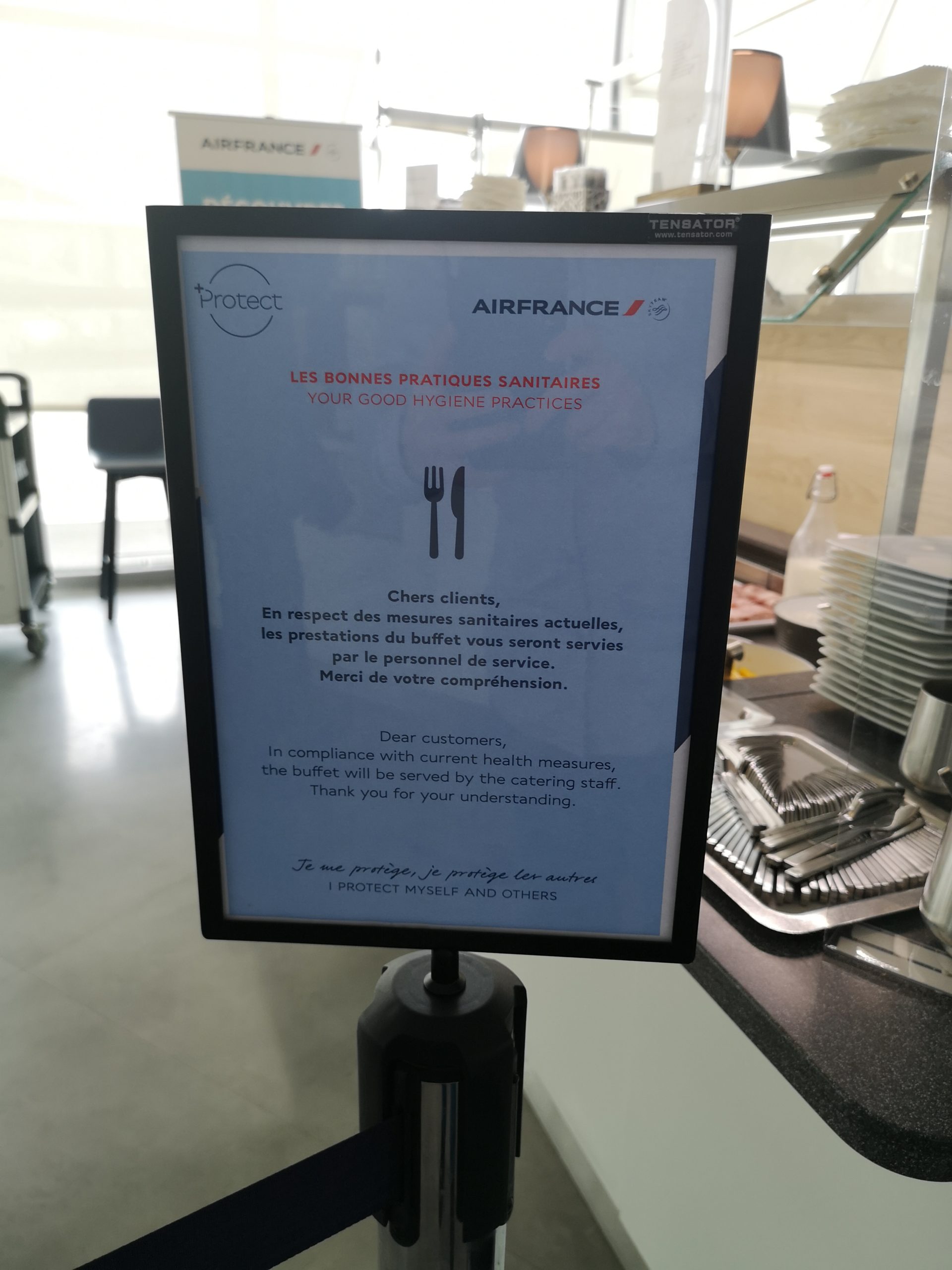 Within 2 minutes of arriving in 2F we were through and heading to the Air France lounge. However, we did stop off at Duty Free briefly for a quick look and decided to move on. There was one flight boarding which looked rather busy, however other than that the terminal was pretty deserted for 9am. We headed down to the lounge between gates 21 and 36 which had just re-opened with the other set of gates hosting the only lounge in 2F recently.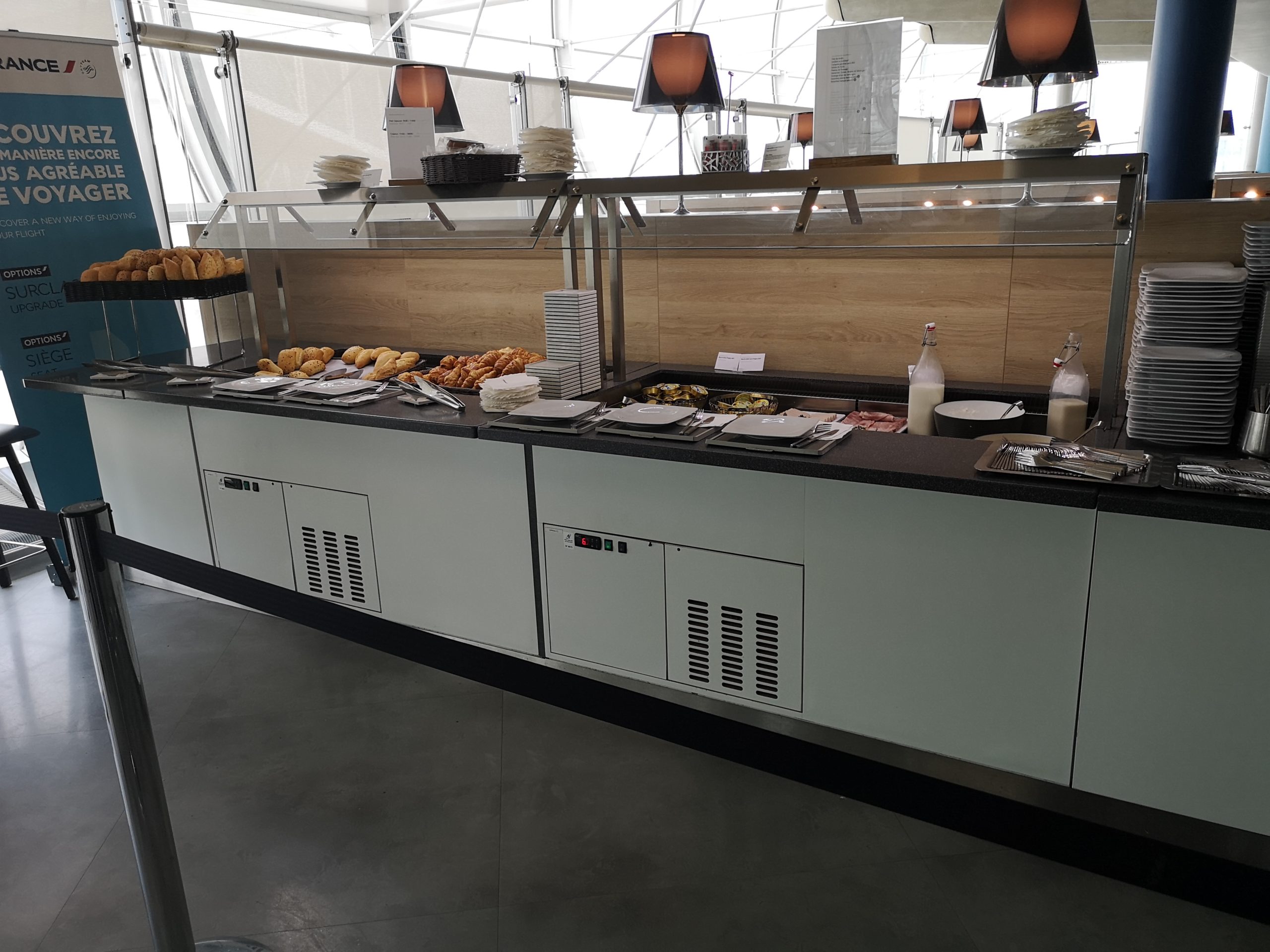 A one-way system was in place with an emergency door open for the exit and we were invited to use the electronic boarding pass scanners to walk in and find a seat. This was not overly difficult as many were available, not including those left empty by the signs stating these seats were not allowed to be used due to physical distancing. Once seated I popped back around the corner and joined the queue to be served by a member of staff.

I chose a couple of croissants and a pain au chocolat with some butter which was served on a tray with the cutlery and serviettes included. Whereas in Schipol, the staff were behind counters with plastic screening, in CDG it was tensile barriers doing the job. Jam and marmalade were available next to the coffee machine, where I selected a double espresso and added some hot milk. All of which tasted fine, and the croissant was especially flaky meaning a trip to wash my hands was required.

I had to wait to use the bathroom, simply because I needed to wait for the cleaners to give me some room to pass them in the corridor to enter, other than that the bathroom was clean and there was plenty of hand sanitiser and soap, though the towelling was still the old style roller towel which was not the most hygienic at the best of times.

On the way back I picked up a bottle of water and a mini can of Coke, and settled back to watch the news and people boarding from the gates above. Another wander around to get an extra bit of breakfast before the flight meant a small roll with some ham and butter before, a packet of crisps and time to head up to the gate.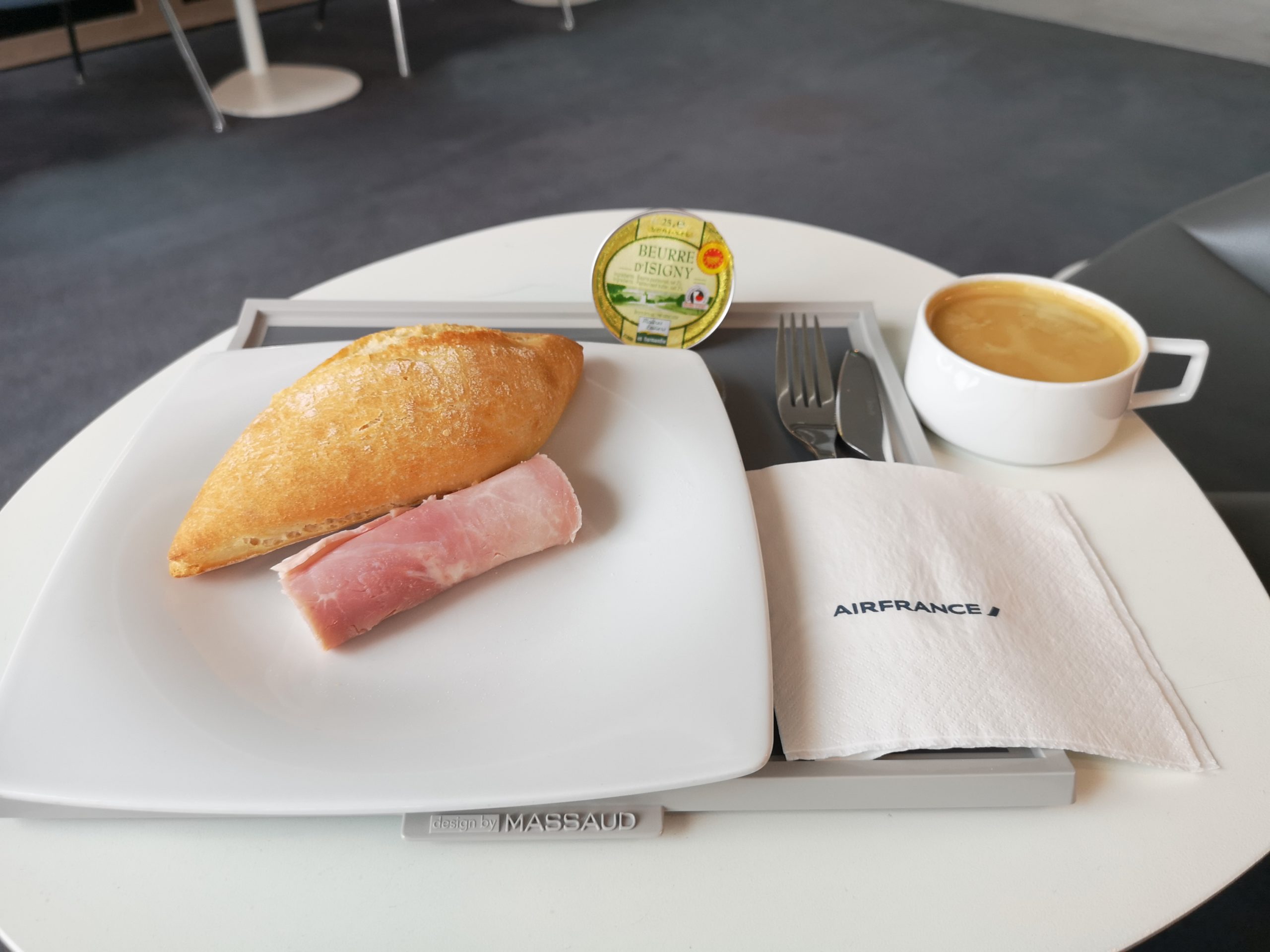 Boarding
At the top of the escalator and a left turn was gate F33, so no more than 5 metres walk. In normal times 15 minutes before the start of boarding the gate would be crowded. On this occasion it was practically empty as the two gate agents arrived. I received a text and spoke to the agents who checked where we were travelling to and then told me there was a grand total of 27 people on the flight (that is not missing a 1 at the front).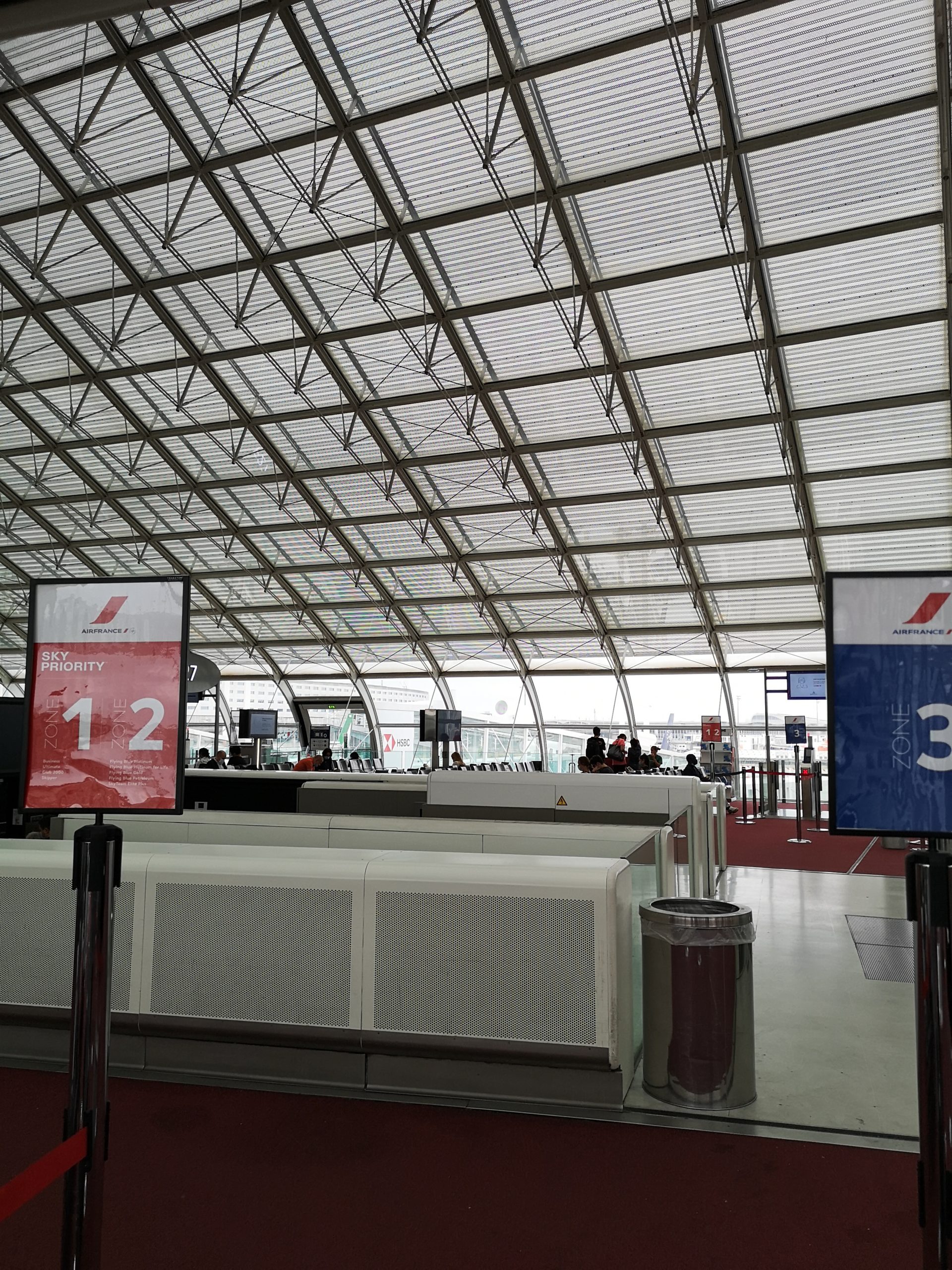 In fact, there ended up being no business class passengers and it was necessary to move people into the emergency exit rows from other seats after one of the shortest boarding procedures I have experienced on a Boeing 737-800 (PH-BXL), though not as quick as on an Embraer 195 last year when there were only 21 passenger fully boarded in 3 minutes in Dusseldorf.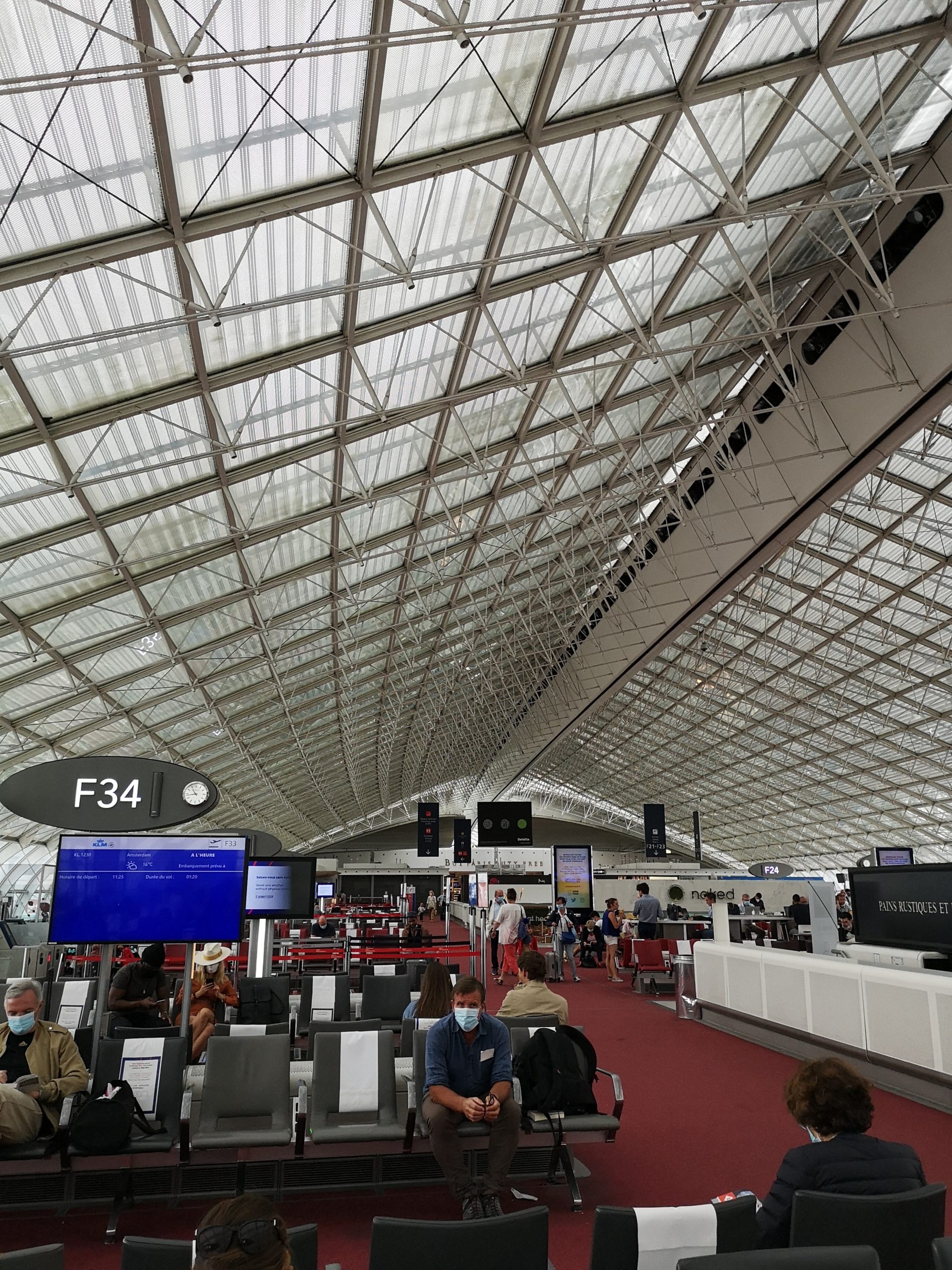 We had a joke with the purser saying we initially thought we were going to be asked to move in front of the curtain from row 5D and 5E, but this was not going to be possible for weight balancing reasons. However, I was allowed to move over to 5A, B or C once the seat belt signs went off.
Paris to Amsterdam flight

A long taxi out to the Northern runway pair at Charles de Gaulle meant we took off at 11.35am having passed Concorde on the way. It was a quick ascent followed by a couple of banked turns to the left and we were heading North-East to Amsterdam. The seat belt signs pinged and dimmed, and I moved over to the aisle seat in 5C.
The purser then came up and offered both my partner and I, plus the lady sat behind in row 6 the breakfast from business class as a thank you for our frequent flying. Having asked if alcohol was being served on board, it was announced that it was, much to my fellow passenger's delight. Of course, that meant me asking for a sparkling wine, though this was not stocked on this flight. Therefore a bubbling drink of Heineken had to suffice for me, with my partner accepting a miniature bottle of white wine to go with the cinnamon whirl and bottle of water.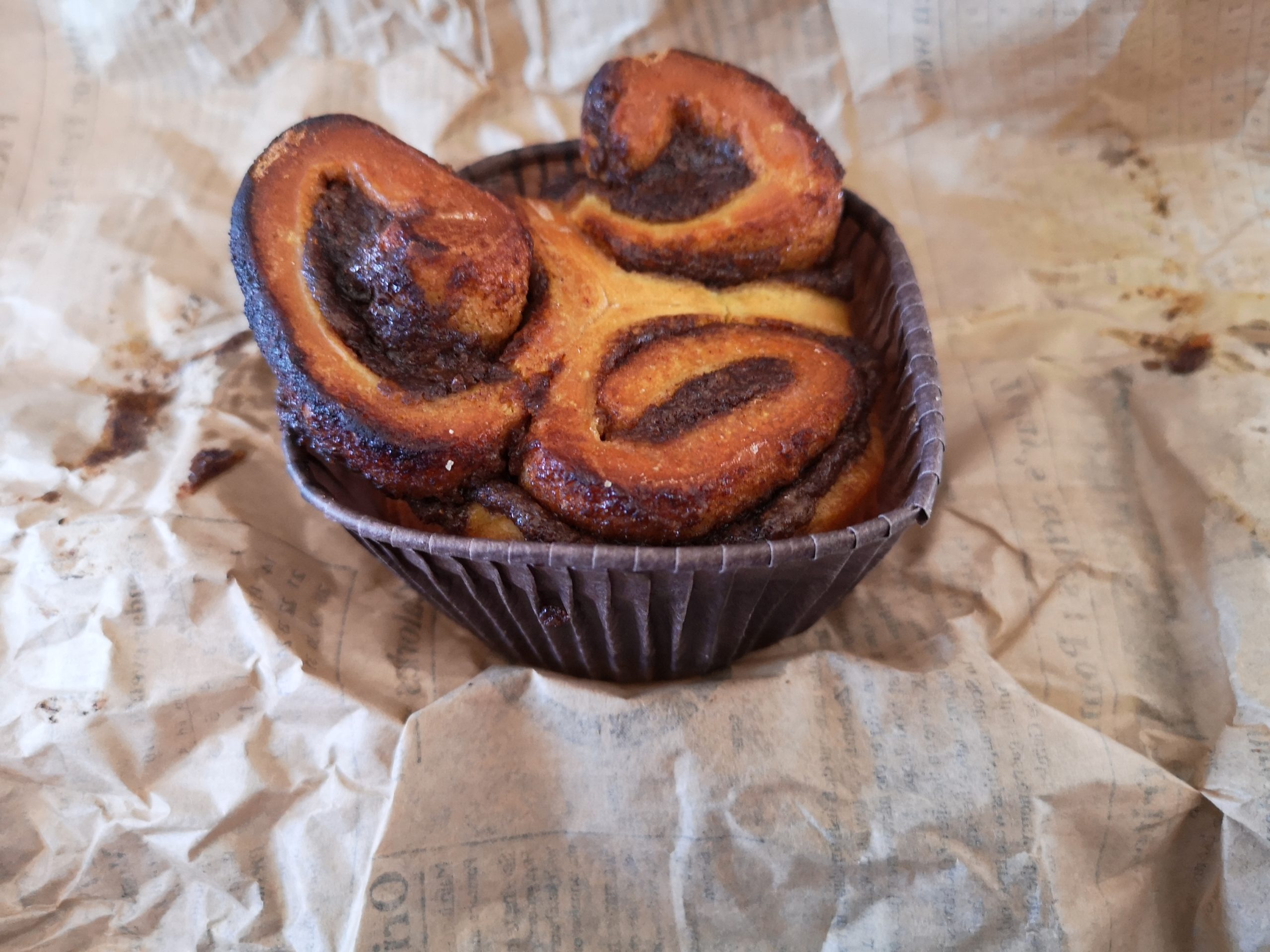 It was nice to have a real glass to drink out of again on a plane though and helped to make the flight feel more normal. At this point I have to say all the crew were fantastic and willing to help with everything as well as having fun on board with the extravagant way of performing the safety routine which meant it was always going to be an excellent flight.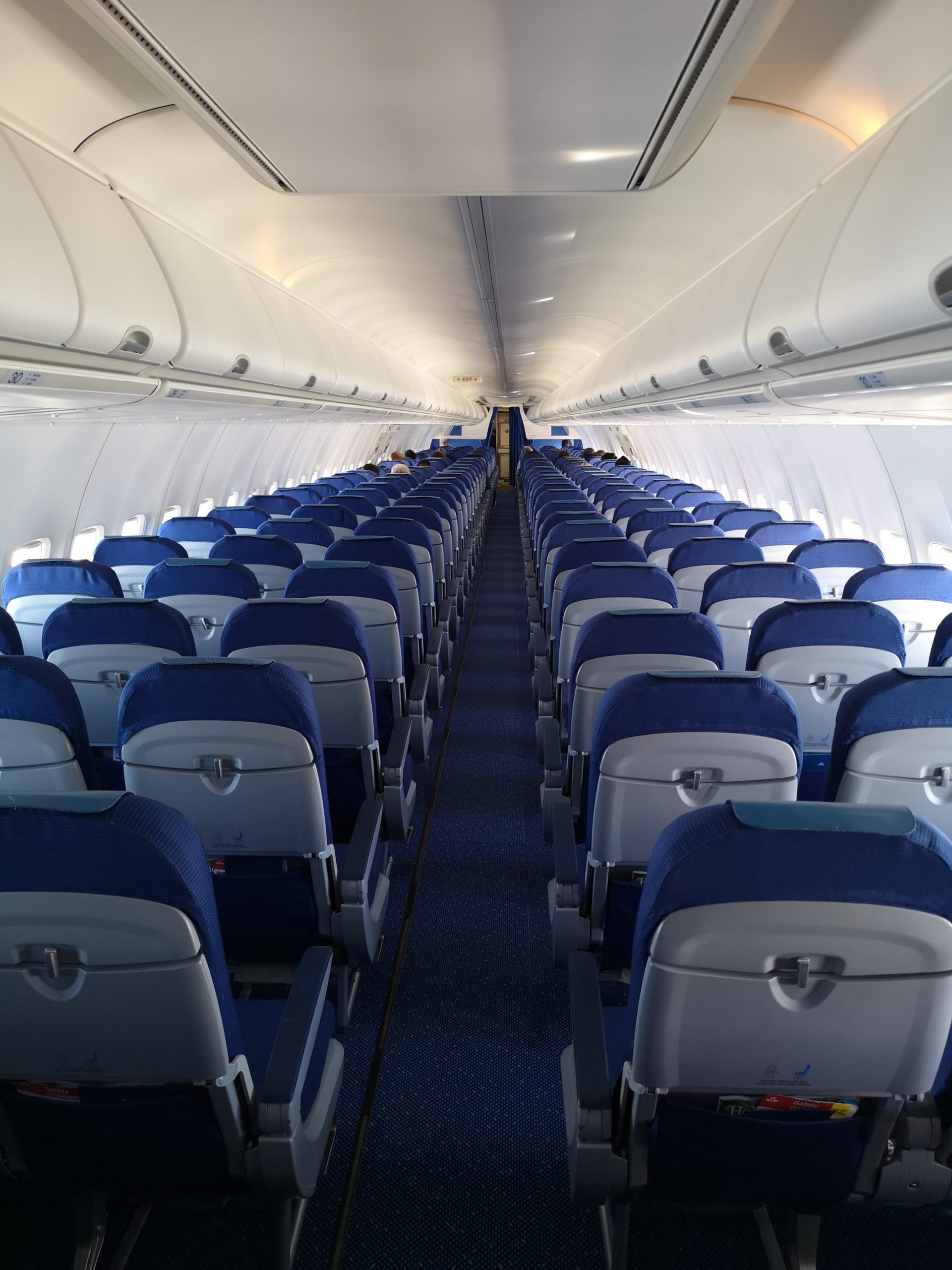 Going to the lavatory halfway through the short flight I noticed that one of the crew members had just cleaned it as I walked down to the rear of the plane, and with someone going to the other lavatory was cleaning this when I was walking back to the front. Having passed the couple of people in the rear two rows, I needed to take a picture to show how empty the flight was as this route is almost always full. Therefore, to see it operating at less than 20% of its full capacity on the Boeing 737-800 was astonishing.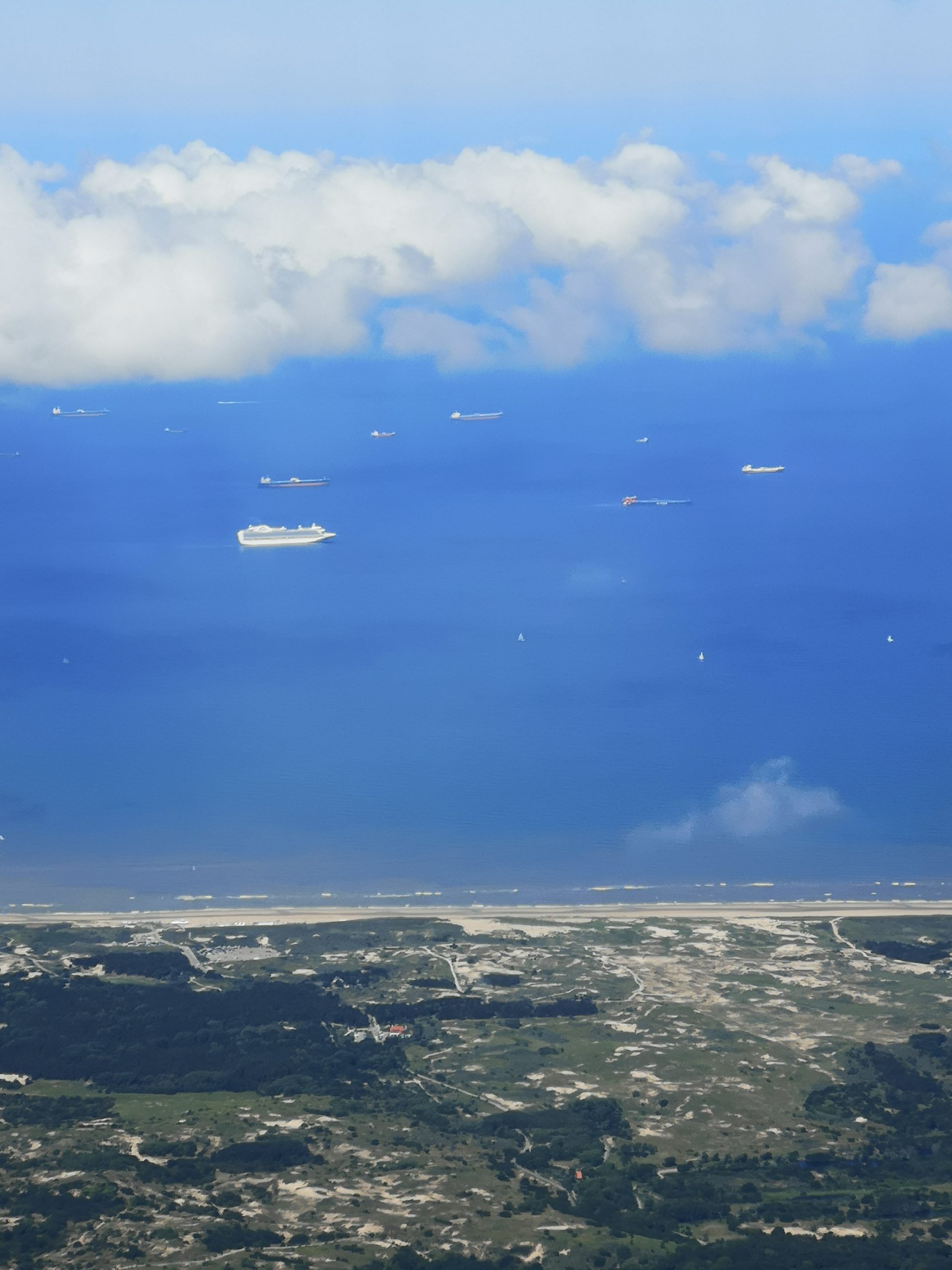 No sooner had I sat down we were close to Schipol and I took a few more pictures of the Southern Netherlands coastal areas and then we were on the ground with a short taxi into gate D87 arriving at 12.18pm 27 minutes ahead of schedule. We disembarked from the plane and we thanked the crew for a great service and they in turn thanked us for our custom and a pleasant onward journey. All in all, this was comfortably the best flight of the four taken over the weekend.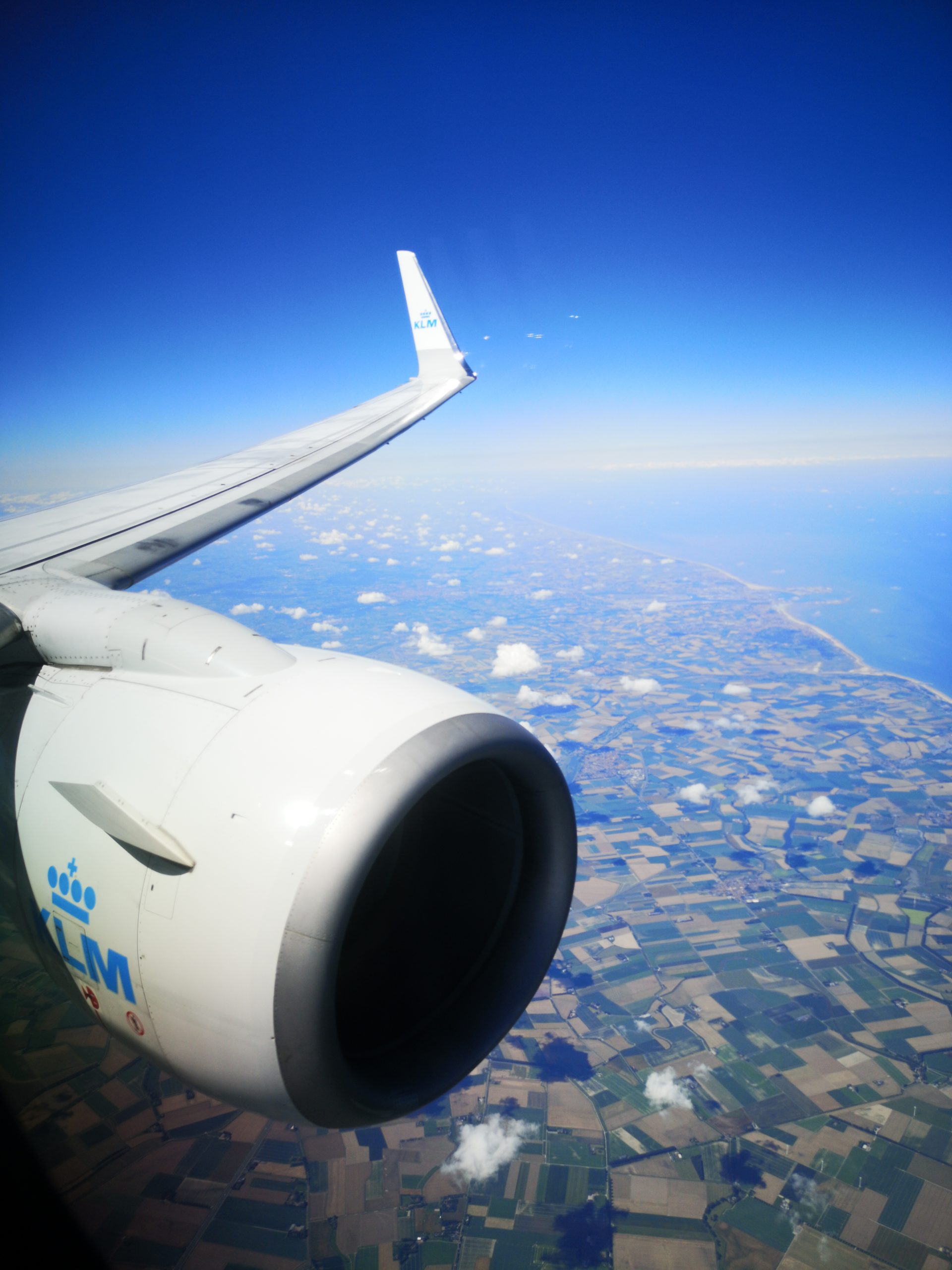 Amsterdam and KLM Crown Non-Schengen Lounge
We then had the long walk back to the life of the terminal and were behind quite a few people who had come off another flight at a closer gate to the main concourse area. We saw the KLM Crown Schengen Lounge was closed as it was after 12pm, but we were heading for passport control. The e-gates were closed, and we were required to head through the regular desks, though these were completely empty and within 30 seconds of entering the passageway we were through. I was able to walk straight out in the concourse, but my partner was selected for a random baggage search.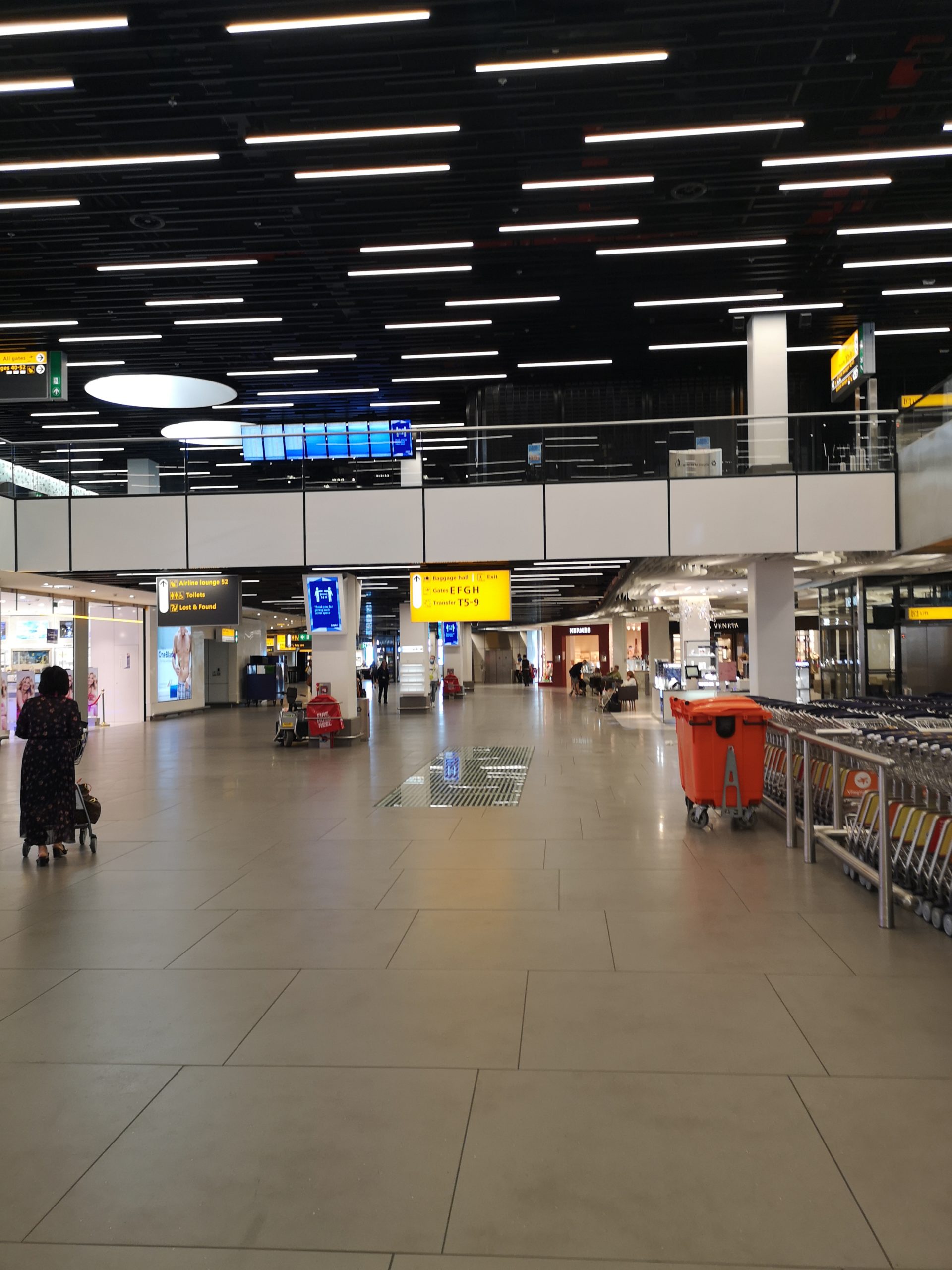 Some poor communication as to why meant it took a little longer than normal, but she was out in a couple of minutes. After this, we did a little bit of shopping and the terminal was practically empty with very few people around. It felt quieter than on Friday morning which was really quiet even then.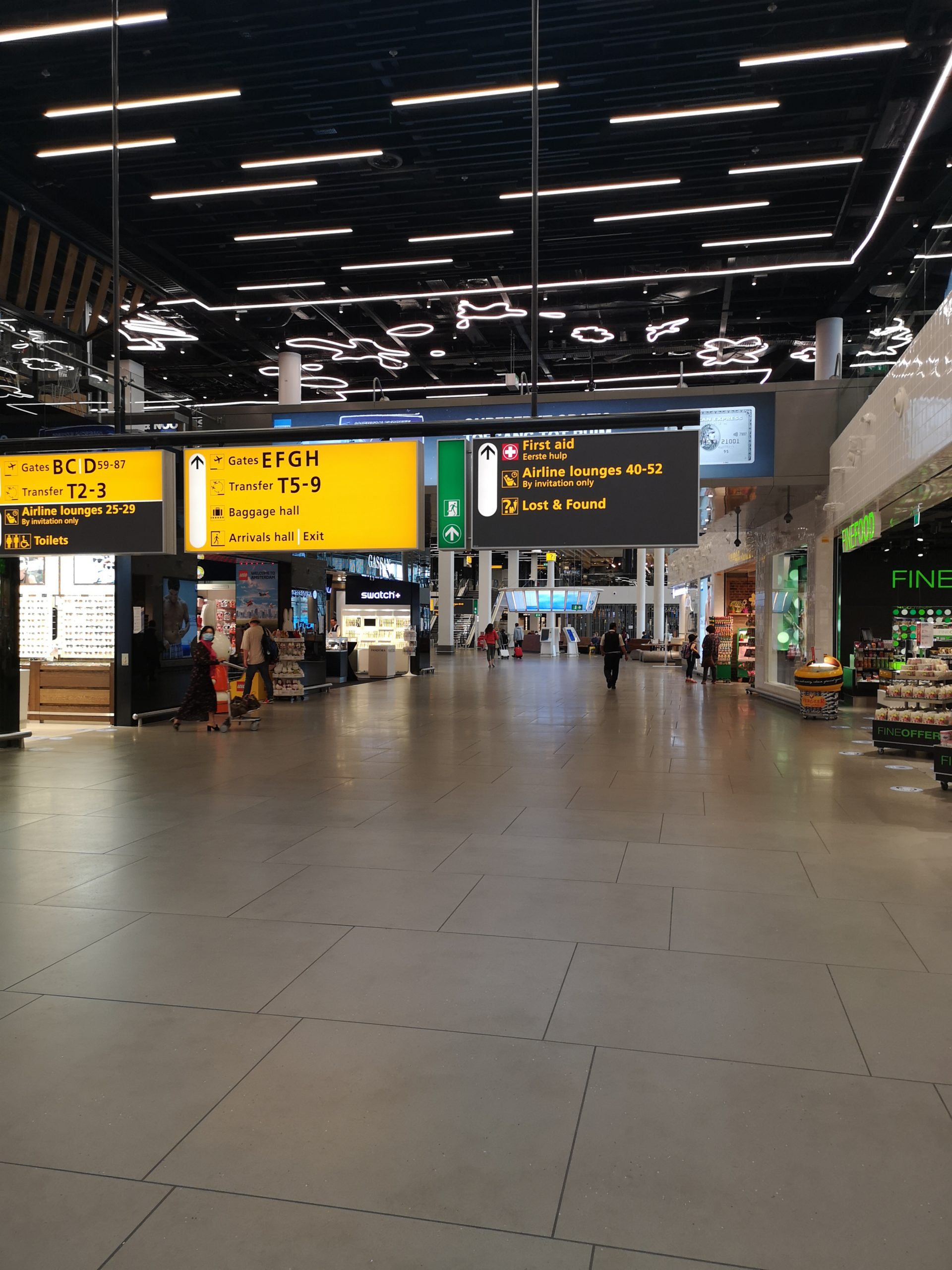 By the time all the shops were seen, we headed up into the KLM Crown Non-Schengen Lounge which is between the E and F gates. Heading up the escalator and passing all the KLM houses is always a delight at Schipol now the new lounge has fully opened. However, we did not quite know what was awaiting us. It did not take long.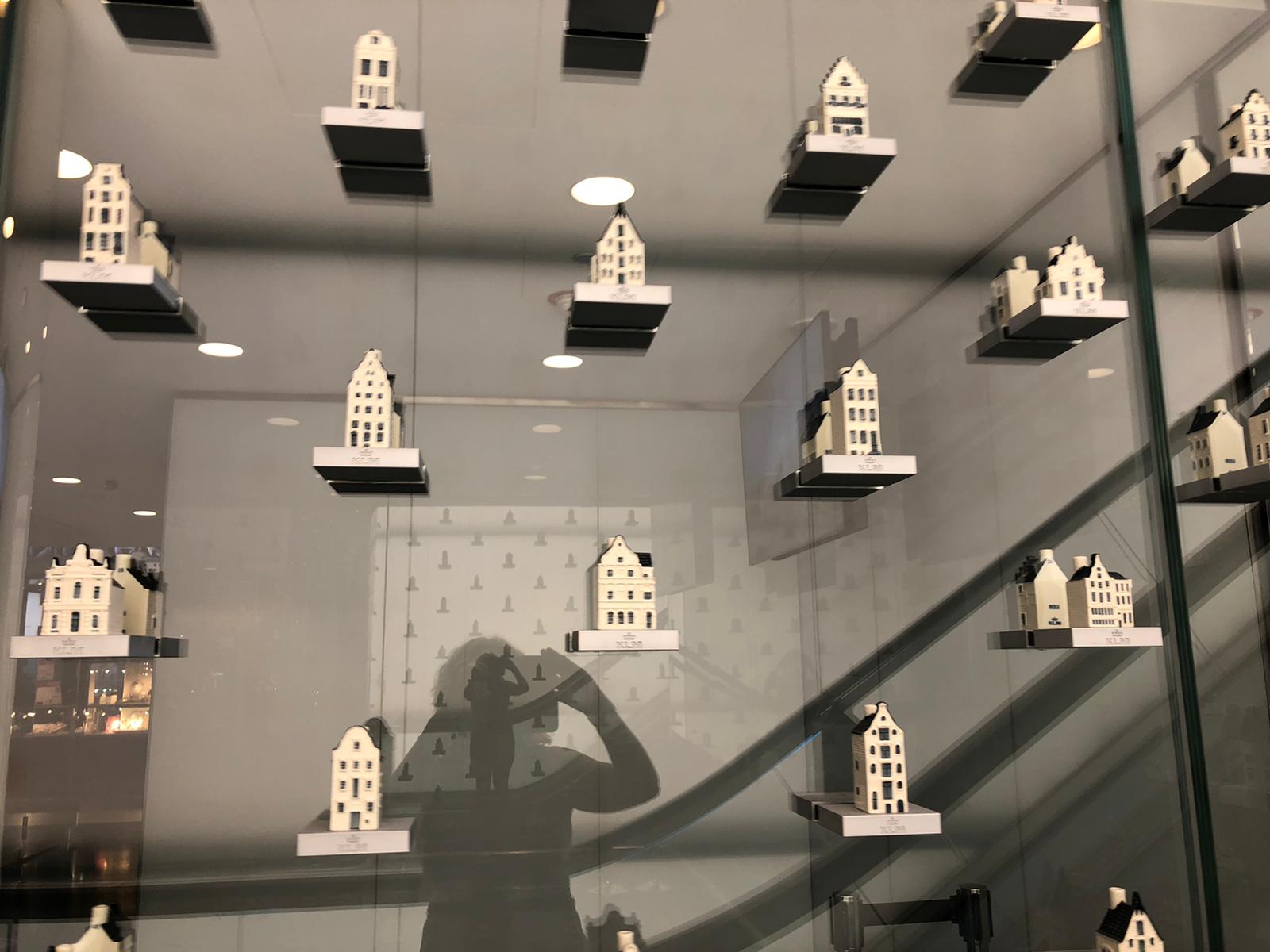 The right entrance was closed off and the boarding pass scanned at the left auto scanners in the floor which leads into the main area of seating.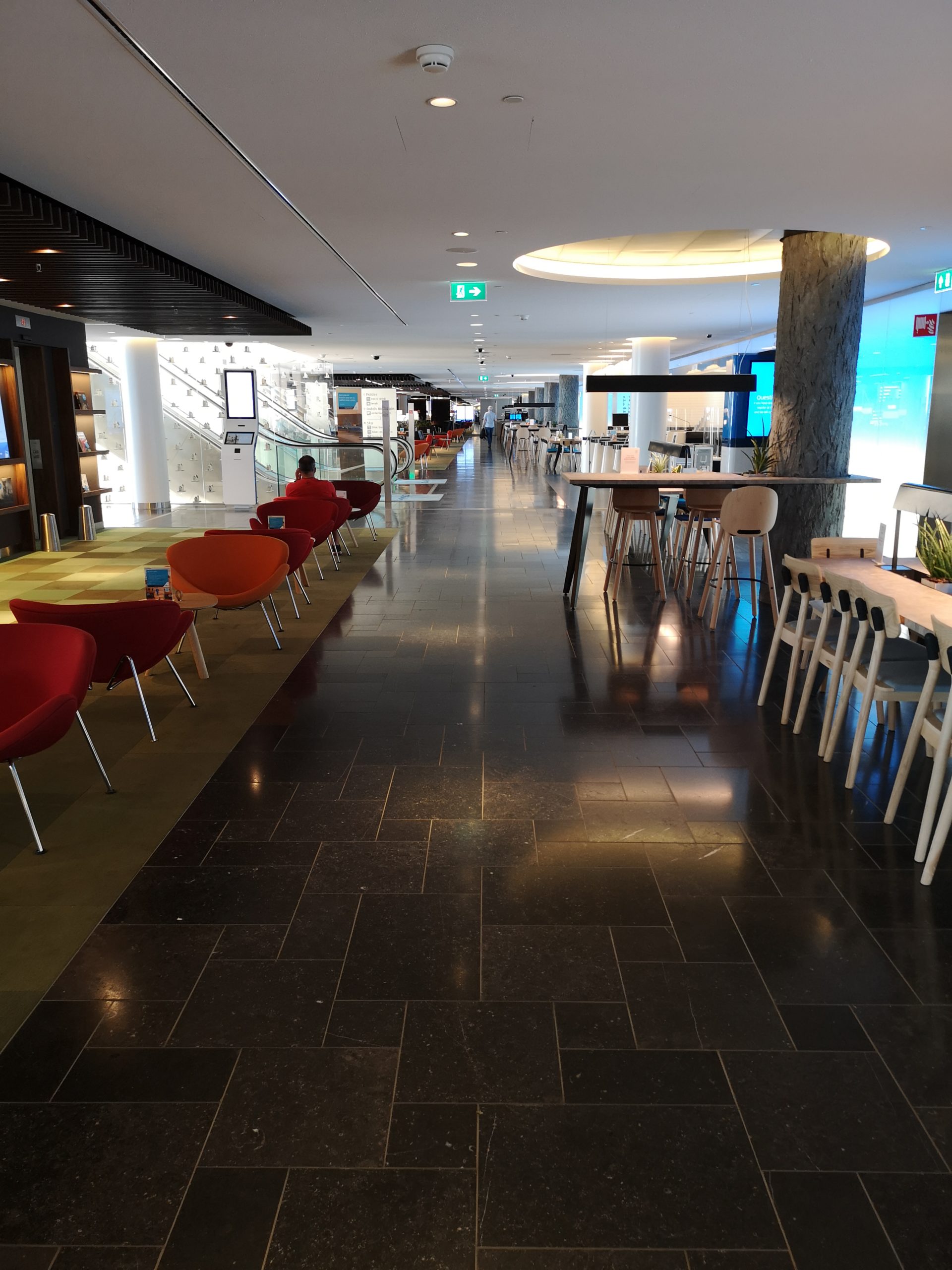 We walked up to the area where the bar is and sat at a booth, admittedly we could have sat almost anywhere in the lounge, however as it was lunchtime it allowed us to collect food and a drink or two.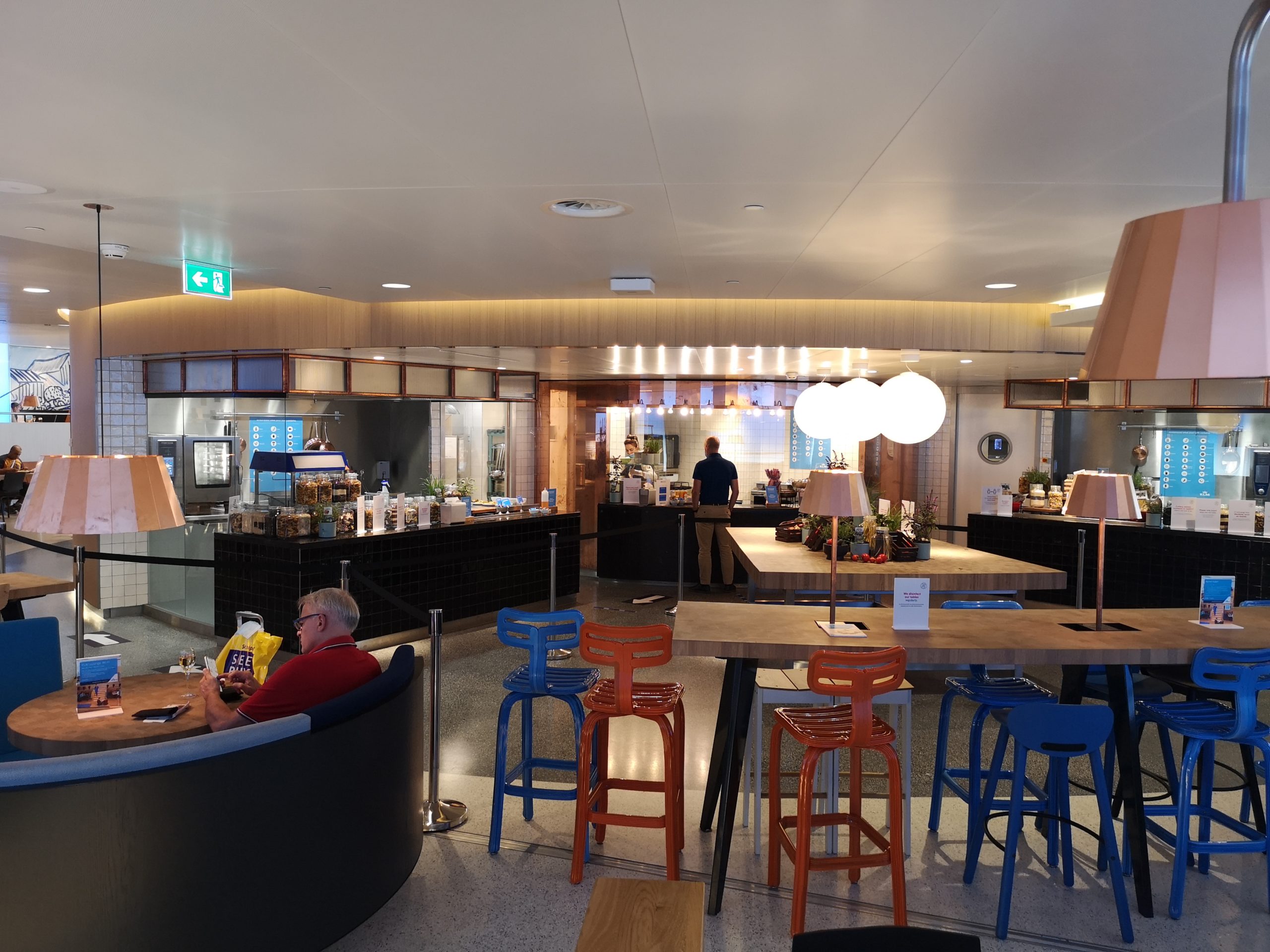 There is a one-way queueing system in this lounge too. On this day there was a selection of a ham, chicken or cheese sandwich, a stuffed pepper and rice dish or a bowl of soup. I asked for a chicken sandwich to be made up and picked up a hot plate with the stuffed pepper and rice. Both were really tasty, and went well with the Jaume Serra Cava.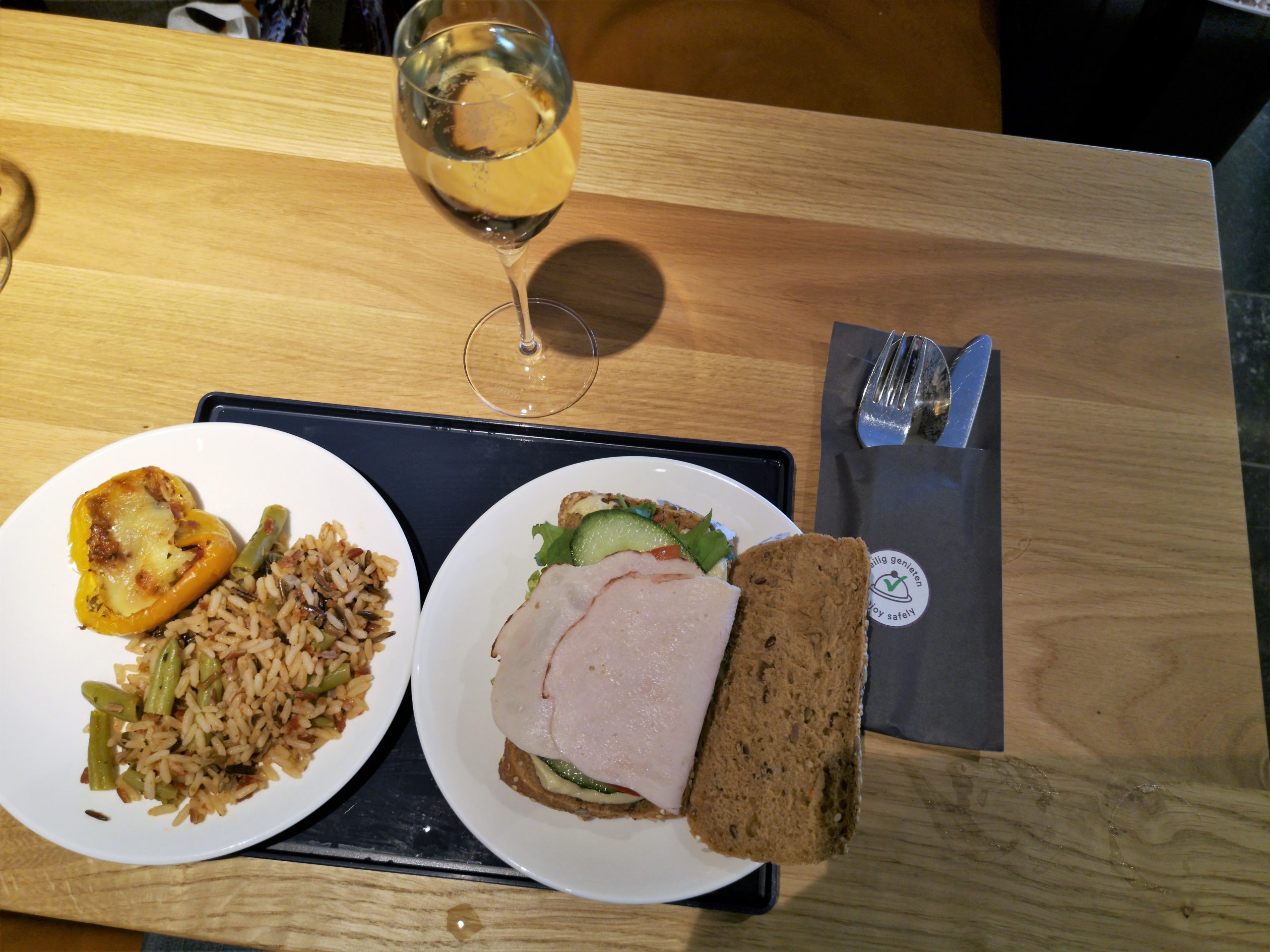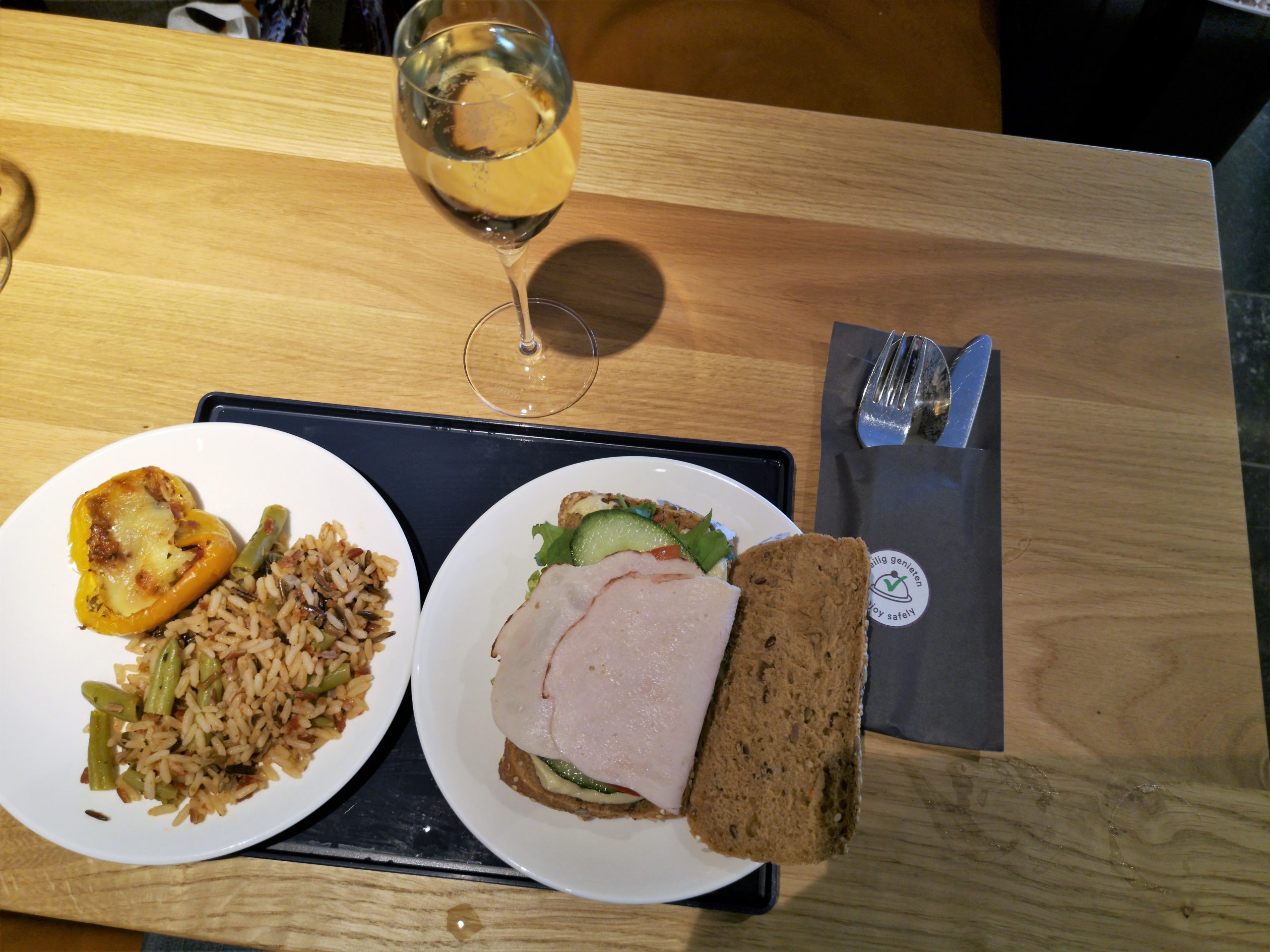 The same drink options as the KLM Crown Schengen Lounge were available with the added bonus of Heineken 0.0% on draught too.

After food, I decided to take a shower, so went up to the computer and booked a slot, walked all the way back to the front desk to collect the key and then back the same distance into the shower area. One thing to note is to hold the QR code a little away from the reader on the handle and wait until it flashes green to open. The red light initially means it is starting to read then the light will flash before turning green.

The showers are small, but have everything required including individual combs, shaving sets and a towel. If you need a sponge or flannel, you may be best using one of your own, but for a quick cool down or freshen up you should not really need to use one. The shower gel is from Rituals using the Amsterdam collection of Tulip and Yuzu, and there is a hand foam as well at the sink. The water pressure is very good and the hand shower has three different modes, plus the rain shower above too. Overall, these do the job and are a great way to freshen up after a long flight.

After handing the key back, we walked through to the quiet area, and lay on a couple of the day beds which were very comfortable.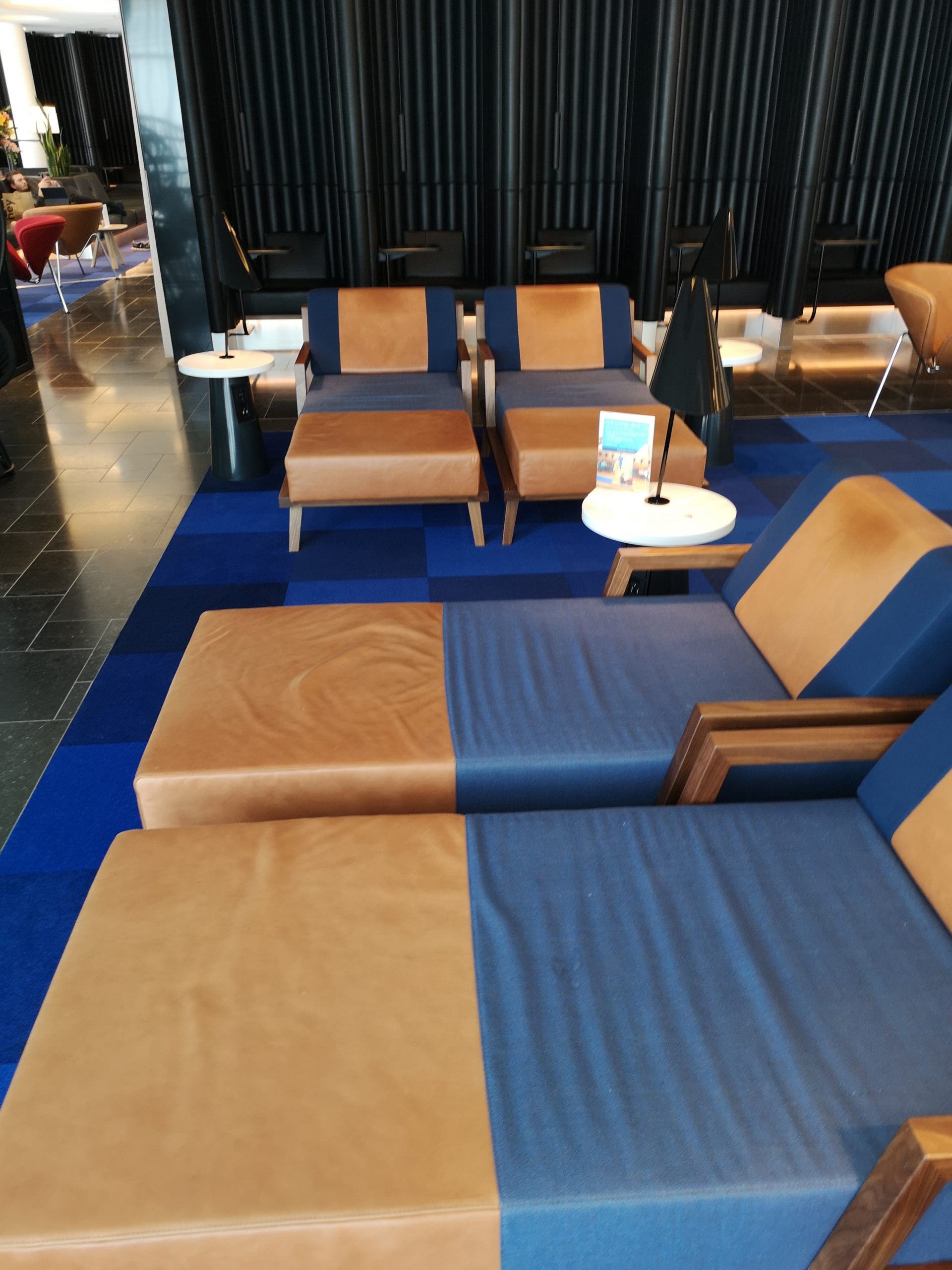 I then decided to take a little wander around and see what was happening around the lounge. The restaurant Blue upstairs and its associated bar were closed, however, the terrace was open with some runway and terminal views.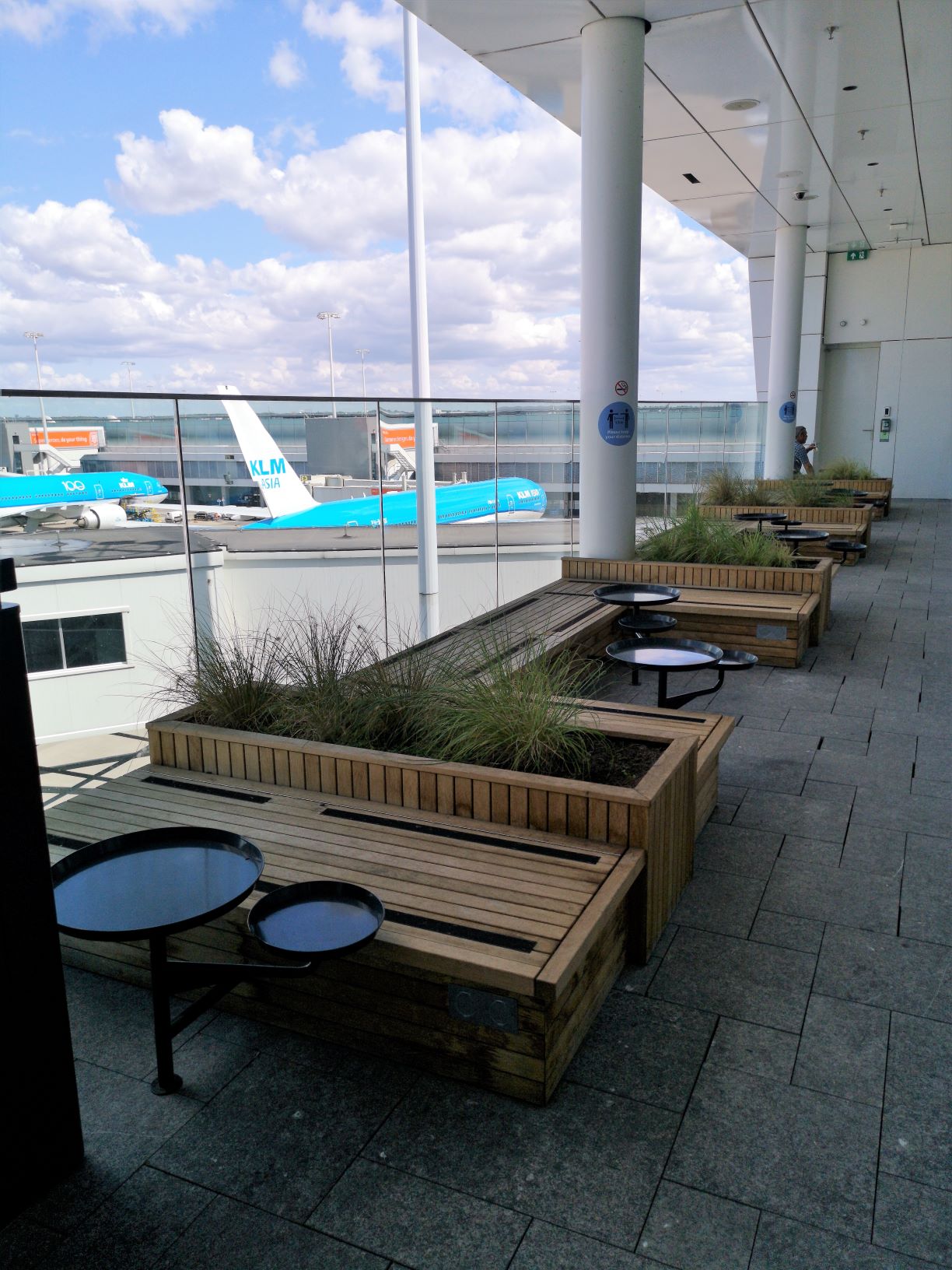 The art and design of the new lounge is far better than the old KLM Crown Non-Schengen Lounge and is a much more relaxing place to enjoy a couple of hours between flights, especially when it is as quiet as this.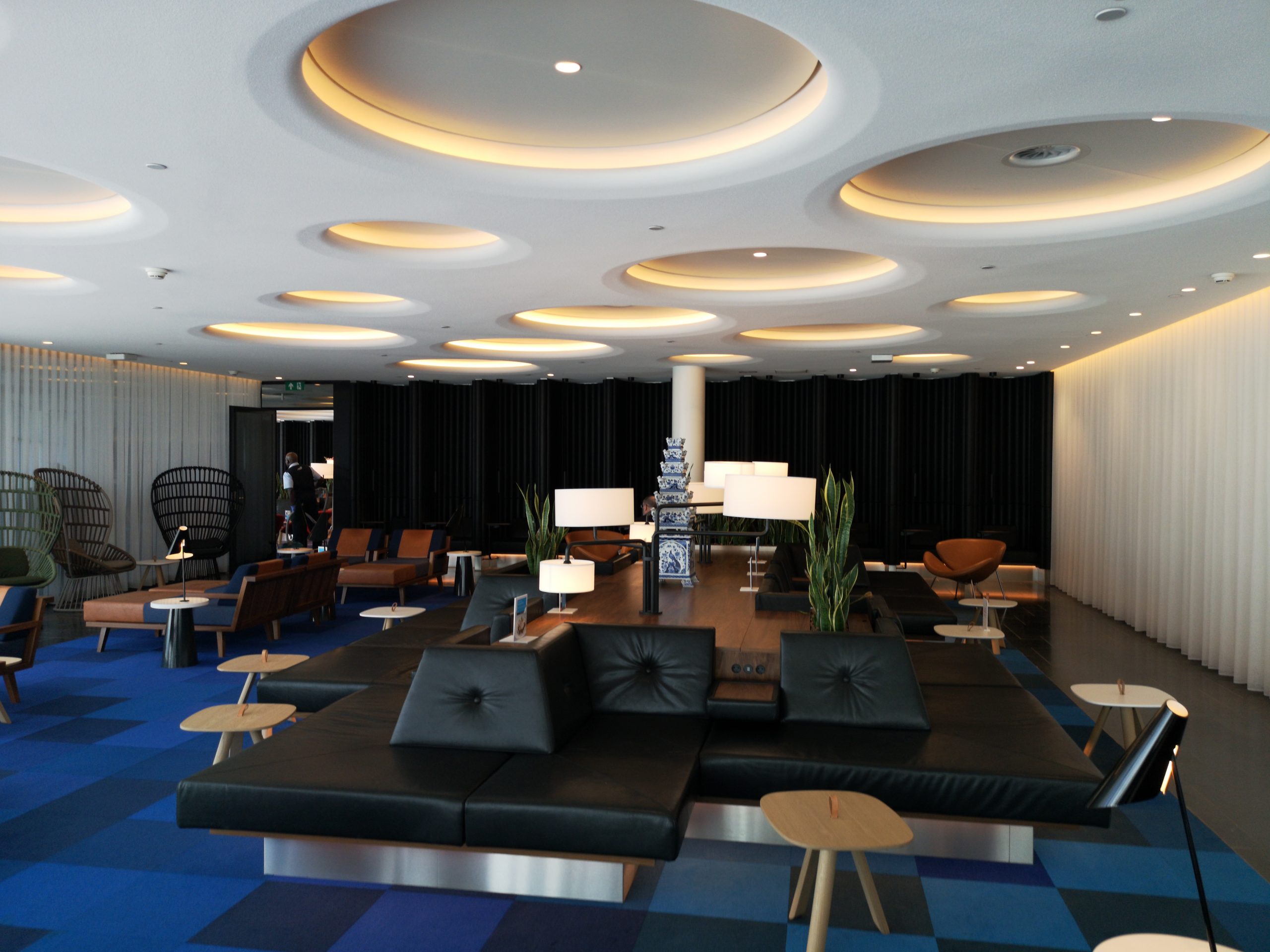 Boarding
Upon leaving, we knew it was time to head back to the D gates and D25 this time. A short wait ensued and we were at the front of the Sky Priority lane, this time people were physically distancing which was much more agreeable than Friday's flight to Paris. Though as only 90 or so people were on board this may have explained it. Boarding was completed quickly and we pushed back a couple of minutes early, though the dreaded taxi out to Rotterdam meant we took off at 5.59pm.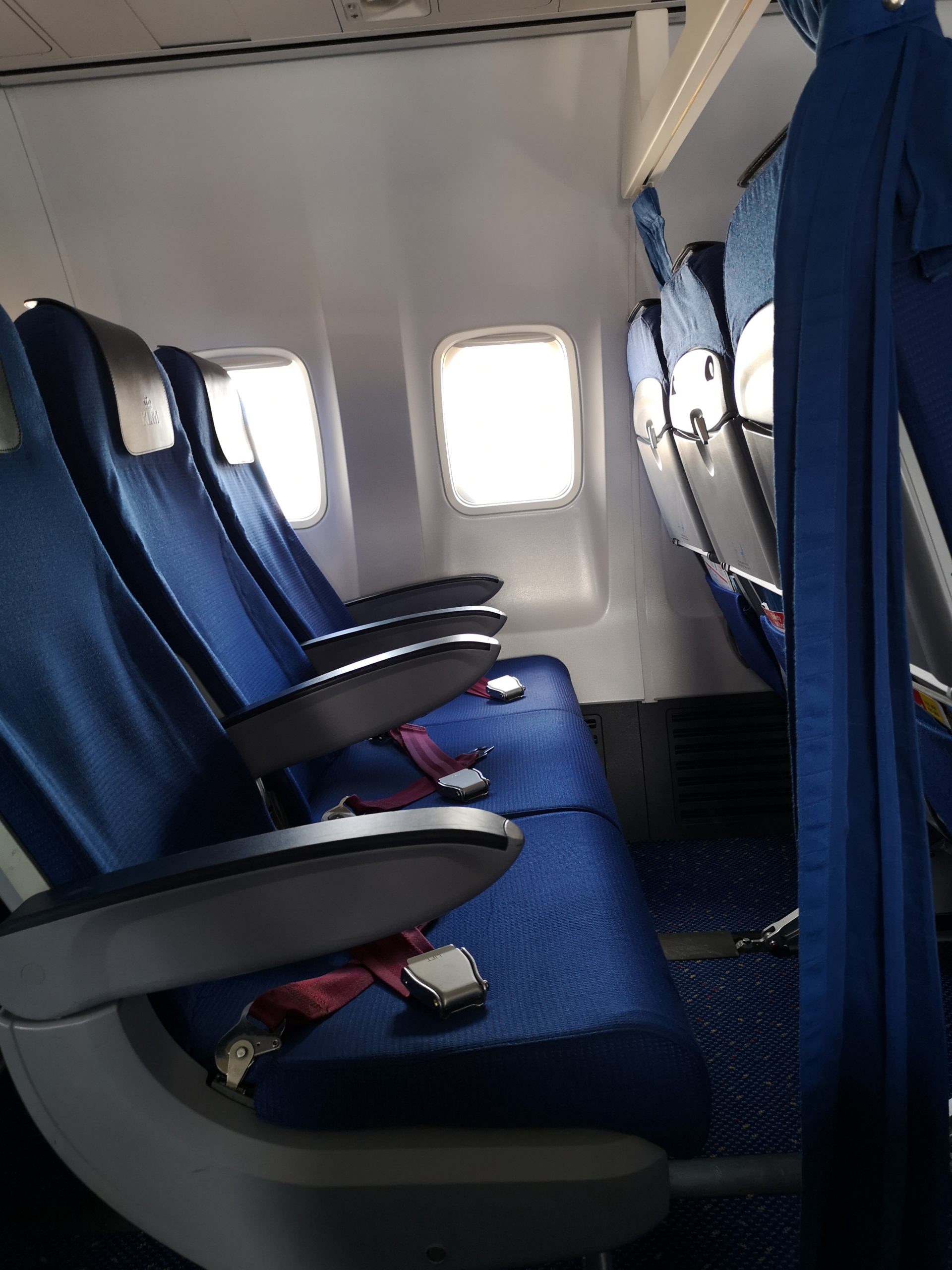 The flight was very comfortable and with no-one sitting next to my partner she decided to move to seat 5F. We were served pretty quickly again, and this crew were efficient rather than effervescent though a good crew all the same meaning it was another good flight. Food wise, the box contained a cheese sandwich and a mini stroopwaffle (I could eat these as my only sustenance for the rest of my life) plus a mini bottle of water.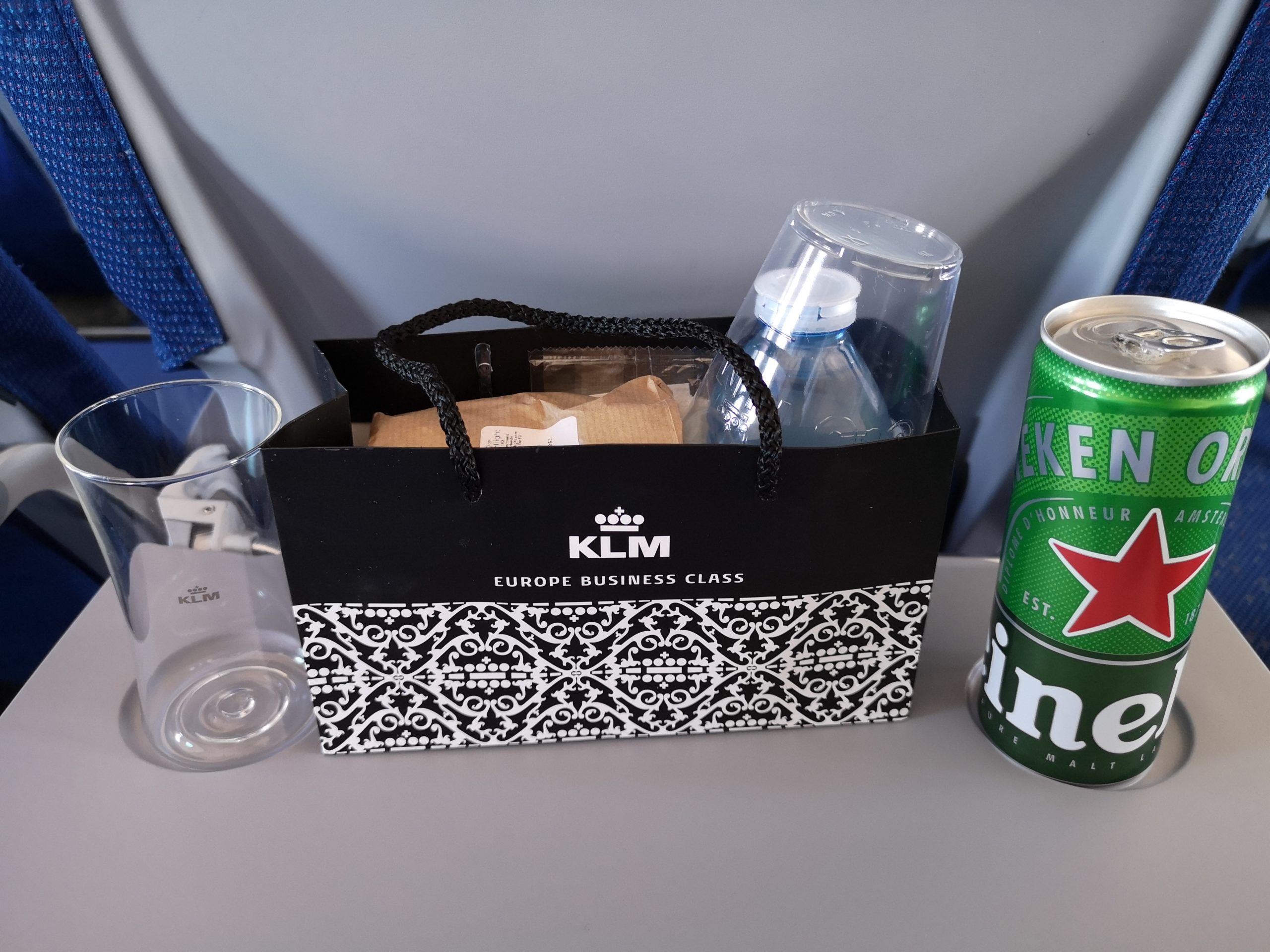 I again opted for a Heineken, with my partner electing for the white wine. Before we knew it and with another spotlessly clean plane relaxed upon with the extra legroom that economy comfort provided, we were descending and over the Firth of Forth ready to land at Edinburgh Airport.
Edinburgh Arrival
Now, this is where the trip was least enjoyable as the communication skills of the staff at UK Border Force, faced with a couple of people more than one failed to communicate what they were doing and why. They moved people into different queues, some to e-gates and some into the desk queues. But what failed to happen was an explanation as to why they left those who were not using a passport for e-gates using the e-gates without any assistance to go to a desk. People in this queue were understandably becoming visibly frustrated by the lack of communication and action. Furthermore, it was required for those in this queue to provide their UK health declaration on their smart device or printed off, which was unknown prior to reaching the desk. This could be done much better by UK Border Force with proper communication to the passengers and having desks manned across the area rather than two at one end and one at the opposite end leaving those in the middle stranded.
To conclude, flights are getting back to reality in economy for sure as we start getting back to a more normal life. However, at the moment, and on a limited scale of Edinburgh Airport at the time of flying there is little to enjoy when flying out of a regional airport at present. When these get back to life as well, then we will almost certainly start seeing flying as being back to some form of normality.