Today's review is by Reader S. If you would like to submit an article, please email [email protected] with your suggested topic.
Travel has always played a big part in my life, for both work and holidays. I love the excitement of planning, packing, and finally getting to the airport for a trip, no matter where. But this time – with the Coranavirus pandemic sweeping across the world – it all felt very different.
Booking the trip
At the end of July, I had to fly to New Zealand for family reasons and, even after the FCO's lifting of travel restrictions, just finding a flight was quite challenging. Qatar Airways had not resumed their flights to New Zealand; transits from the UK via Singapore were closed; transiting via Australia came with all sorts of restrictions, including how many hours you could spend in the terminal; not to talk about the more expensive air fares quoted by all airlines. Besides, all situations – entry requirements, frequency of flights, routing, availability of seats – kept changing daily, it felt as if there were hurdles at every stage, also bearing in mind that once you get to New Zealand you have to undergo a government-run 14-day managed isolation or quarantine in an arranged facility.
My choice soon fell on Emirates and I decided to book in business class even though I was aware all their lounges were closed, there was no online check-in, the service on board was different and they had barely just re-started their chauffeur service to Heathrow airport on 1st July. I felt the schedules were OK as well: a 20.40 departure from Heathrow with a relatively short flight to Dubai. Then a 3 hrs 30 min connecting time, which would give me time for the temperature checks etc. that the Dubai Airport website mentioned and a chance to stretch my legs before the next long Dubai-Auckland leg.
I was in touch with friends who were trying to get back to New Zealand after having been "stuck" in the UK during lockdown and their flights kept being re-scheduled, re-routed, cancelled and generally delayed almost on a daily basis. A few days after I'd booked my ticket, Emirates sent me an email with a reviewed schedule, which brought the departure time out of DXB forward – thus leaving me only 1 hr 10 min connecting time – and arriving later in AKL: this flight went via Bangkok, which meant the duration of the already long leg from DXB to AKL became an 18 hrs 55 min journey.
Emirates' website also changed daily with regard to transit requirements via Dubai and in the end, I bought my travel insurance from Trailfinders – as at the time I thought it had the most comprehensive cover for Covid-19 – and I had a Covid-19 PCR test from Citydoc in London 96 hours before departure as well as filling in a Health Declaration Form for Dubai. (The PCR test is £125.00 but they only send you an email with your result, you then need an official-looking Fit-to-Fly Certificate so the whole thing came to £150).
Check-in
I booked my chauffeur service with Emirates on the phone and two days before departure the company that runs the service sent me an email to confirm my details, pick up time etc.
On the day of departure, my chauffeur arrived two minutes early and we both had masks on to comply with TfL's current transport regulations. He was polite and chatty, which helped pass the time in the rush-hour traffic. When I got to Heathrow T2 you had to show your ticket and were let in only if you were within 3 hours of your departure time. Only passengers were allowed in, no accompanying friends and family.
At the terminal entrance, there were signs warning passengers about temperature check trials but nobody checked my temperature until I arrived in Auckland!
Check-in at the Emirates desk was chaotic for Economy class, with compulsory masks for all of us but no social distancing observed or monitored in spite of the signs. My Business class check-in was completed speedily and efficiently.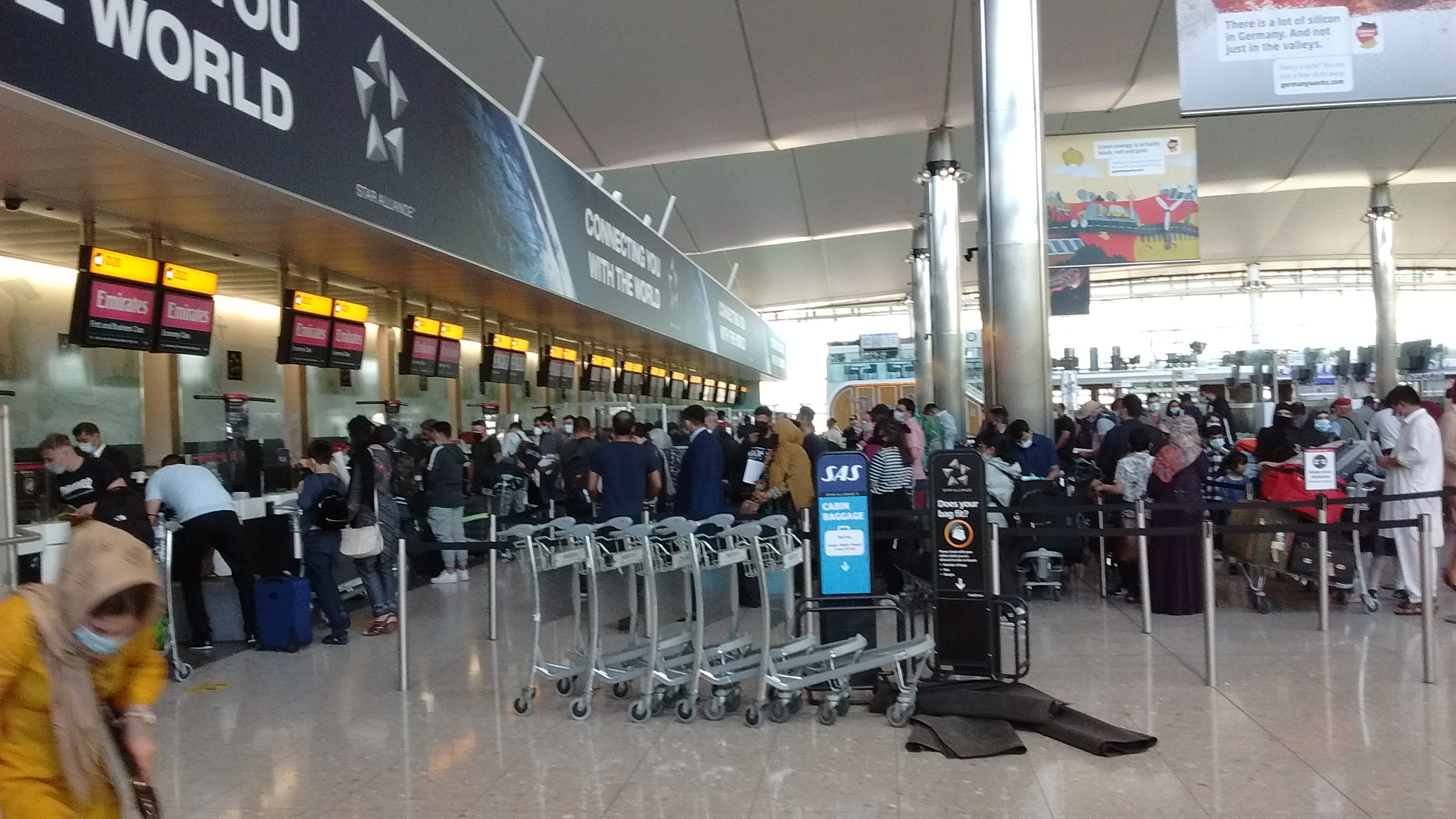 There wasn't much more going on in this part of the terminal and other check-in desks were empty, as was security – I don't think I've ever completed the security checks in about 5 minutes in my entire life.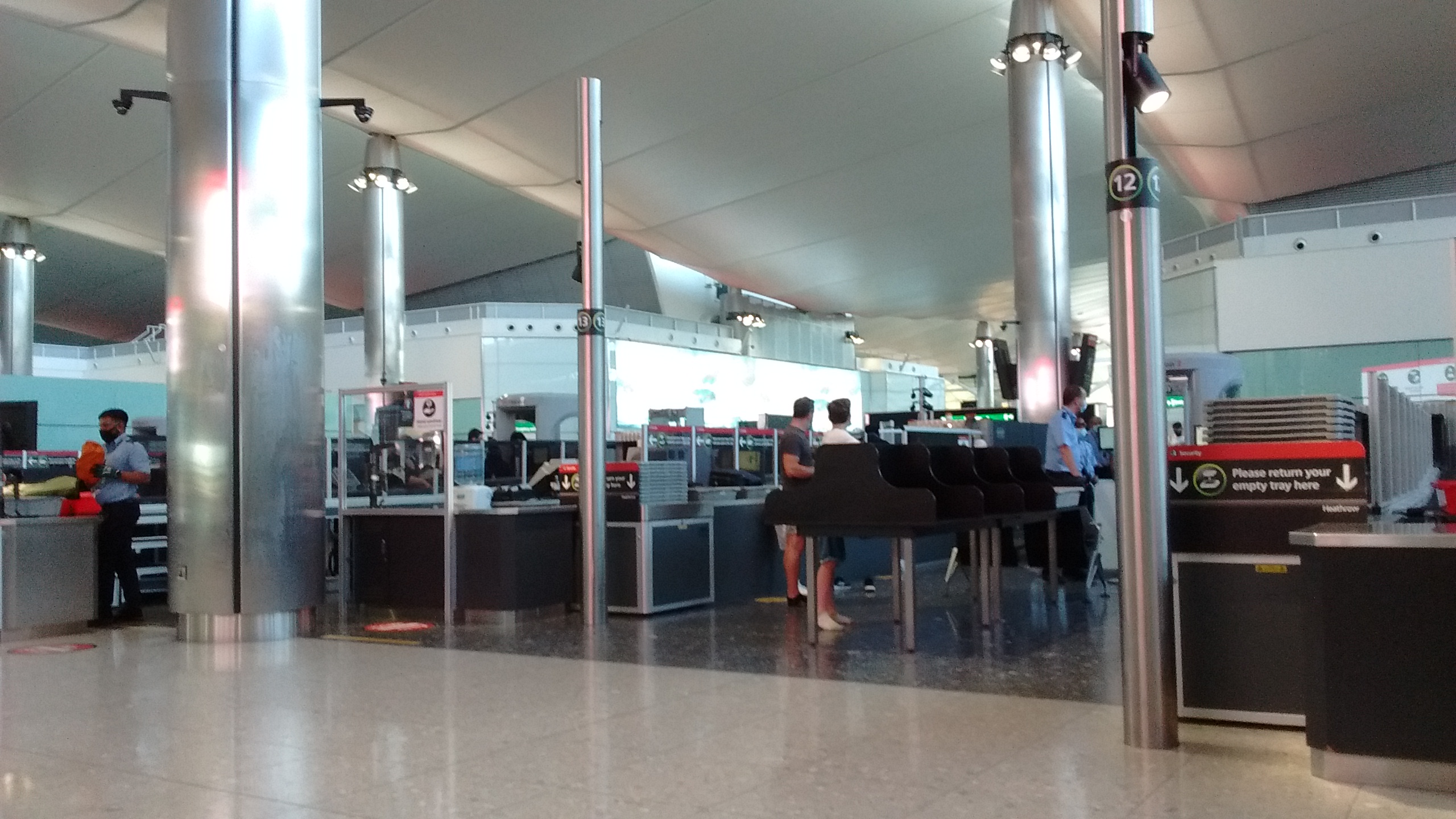 Airside there were gigantic signs on every other seat reminding us of social distancing and the terminal looked very different, with very few people sitting around and many shops still closed, including many catering outlets.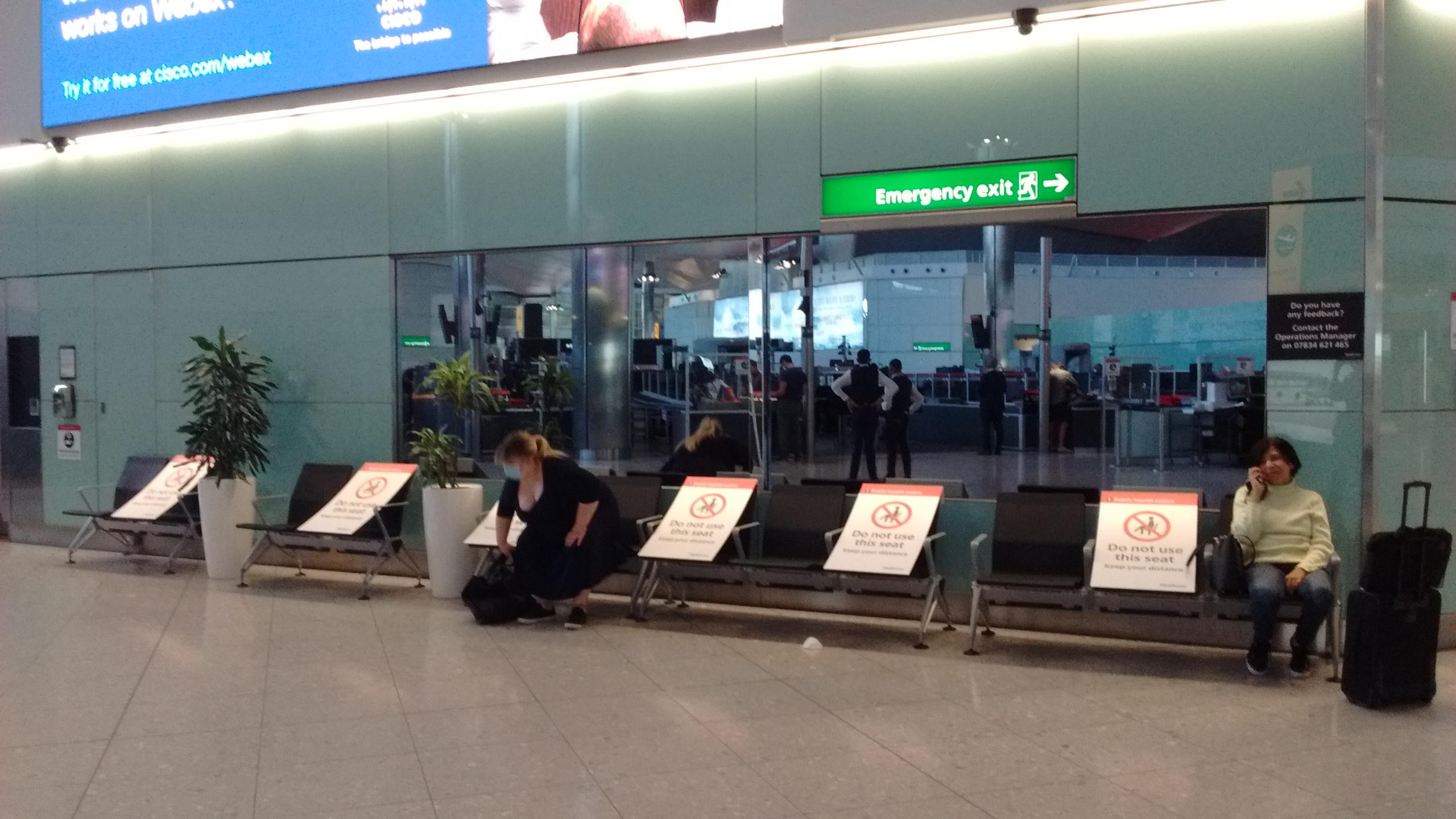 Apart from WHSmith, the few shops that were open appeared to be deserted.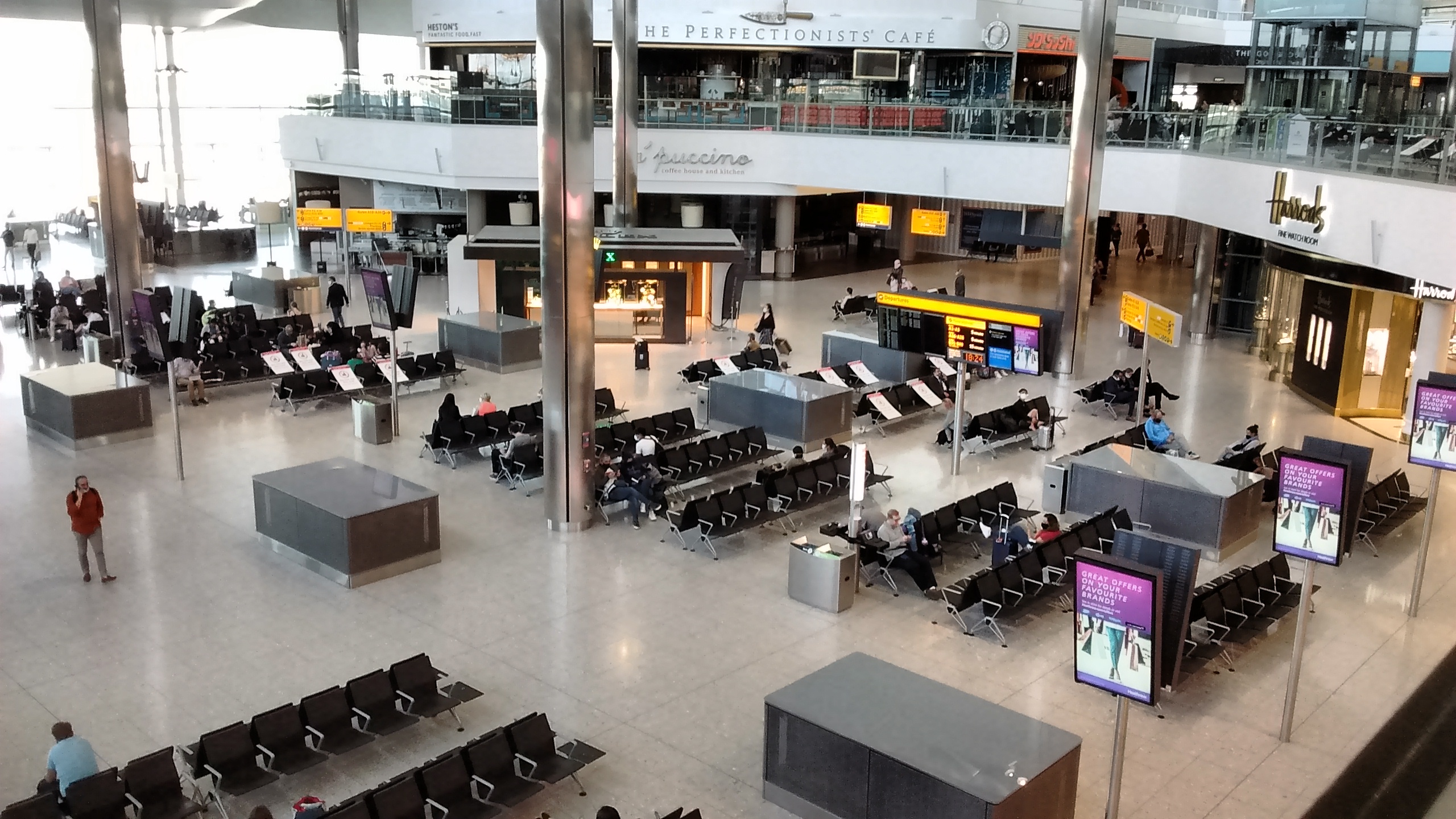 Boarding
When my gate number appeared on the board, I made my way to the aircraft and that was really almost spooky without the usual hustle and bustle we used to know, I practically had the whole expanse of the travelator to myself.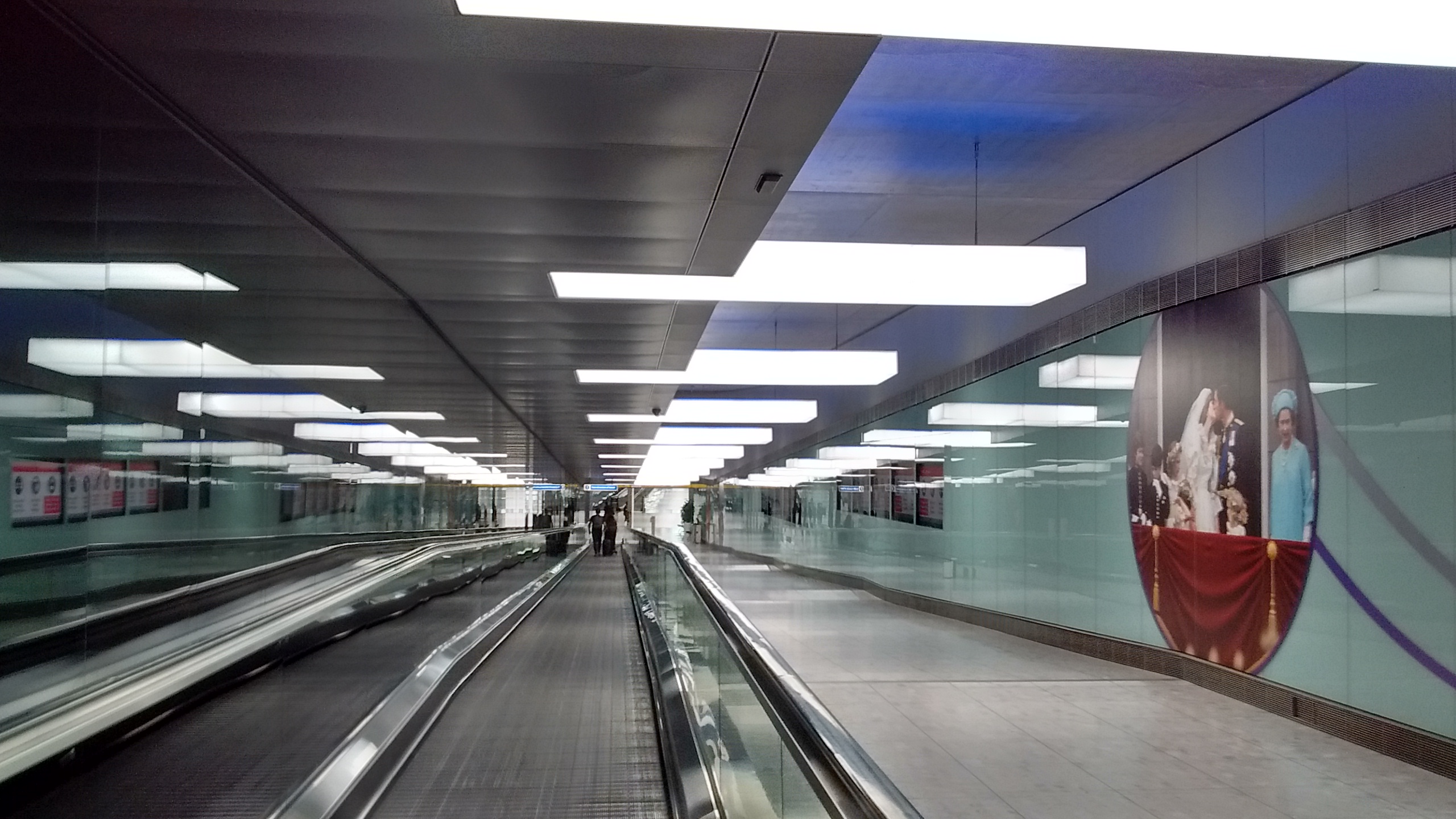 At the gate, in spite of the ground staff's effort to board from the back of the aircraft, boarding was a bit chaotic and again social distancing was not adhered to.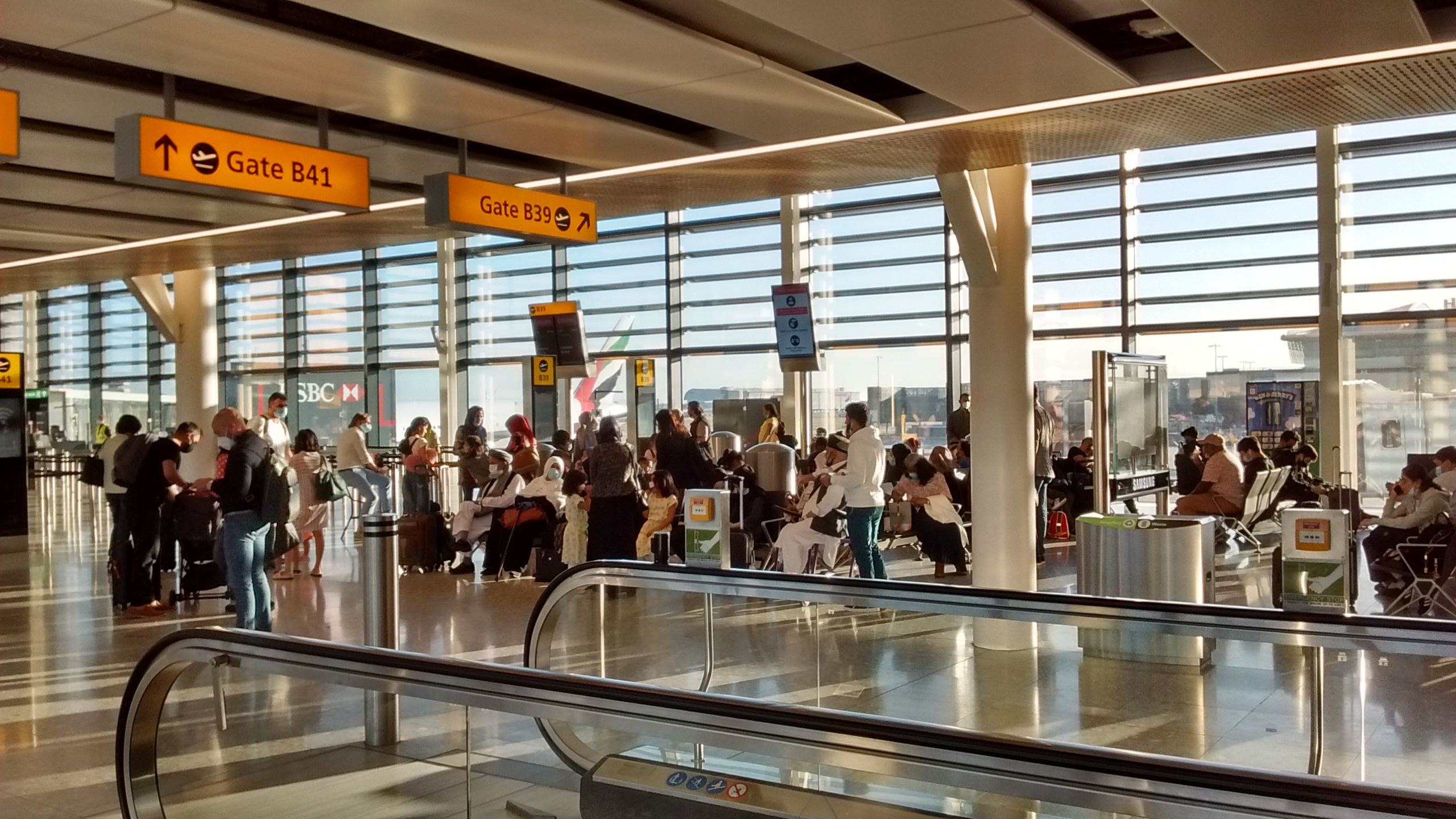 I know that seat allocation has partly to do with the aircraft balance sheet, so when I got to my seat in 7B on the 777-300ER – in the small section of the Business cabin situated between First Class and the Business galley – I was surprised to see that both 7A and 7D were occupied, in spite of the rest of the cabin being empty. So much for social distancing!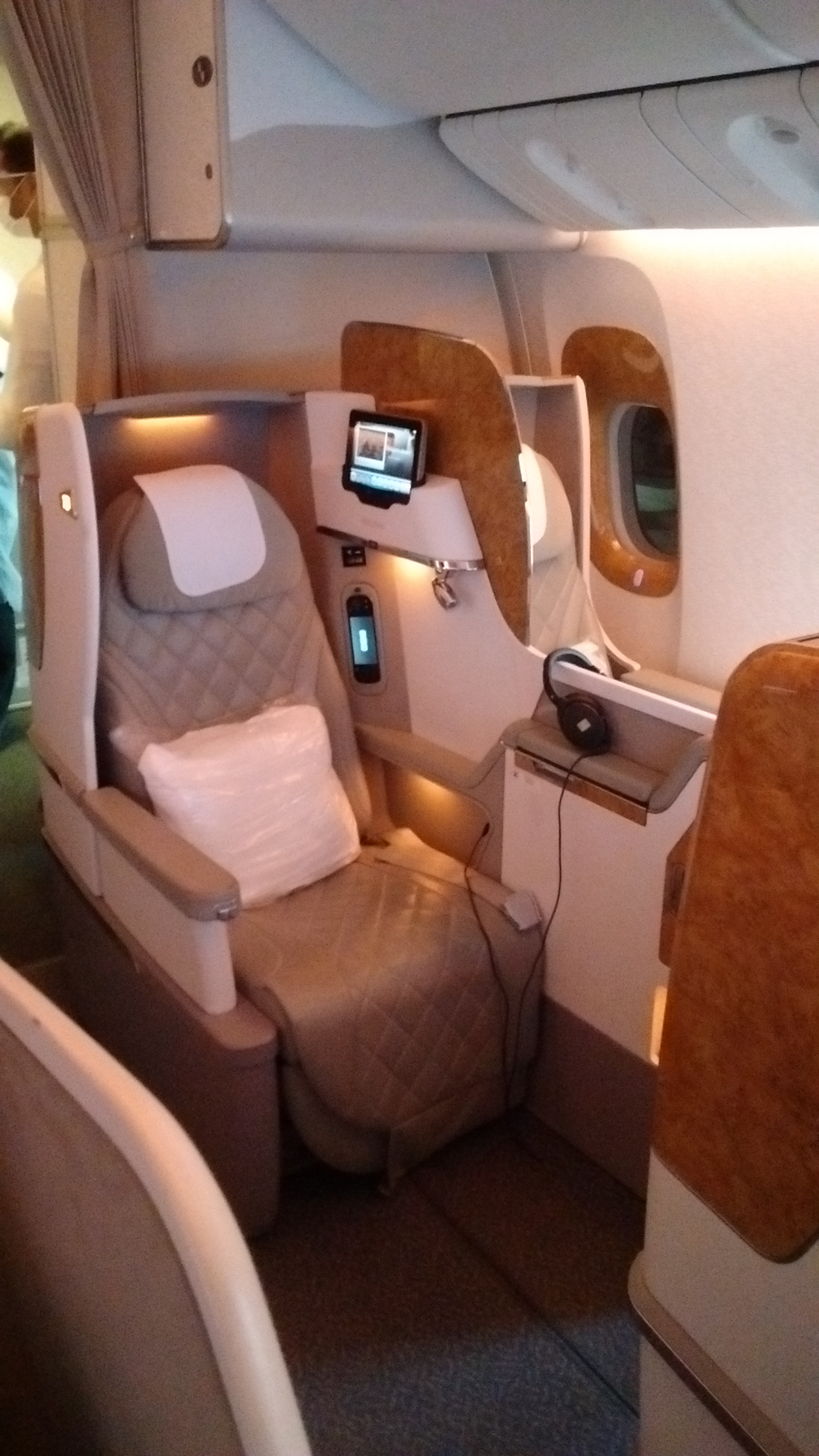 The cabin crew were in full PPE. Almost immediately we were handed out a Travel Hygiene Kit, containing a 4-ply face mask, two pairs of nitrile gloves, two individually wrapped hand sanitizing antibacterial wipes and three sachets of hand sanitizer gel (some friends travelling on the same Emirates flight about a week before me had said that both a face masks and gloves were compulsory in Dubai so I put both on while in transit but didn't see anyone wearing gloves).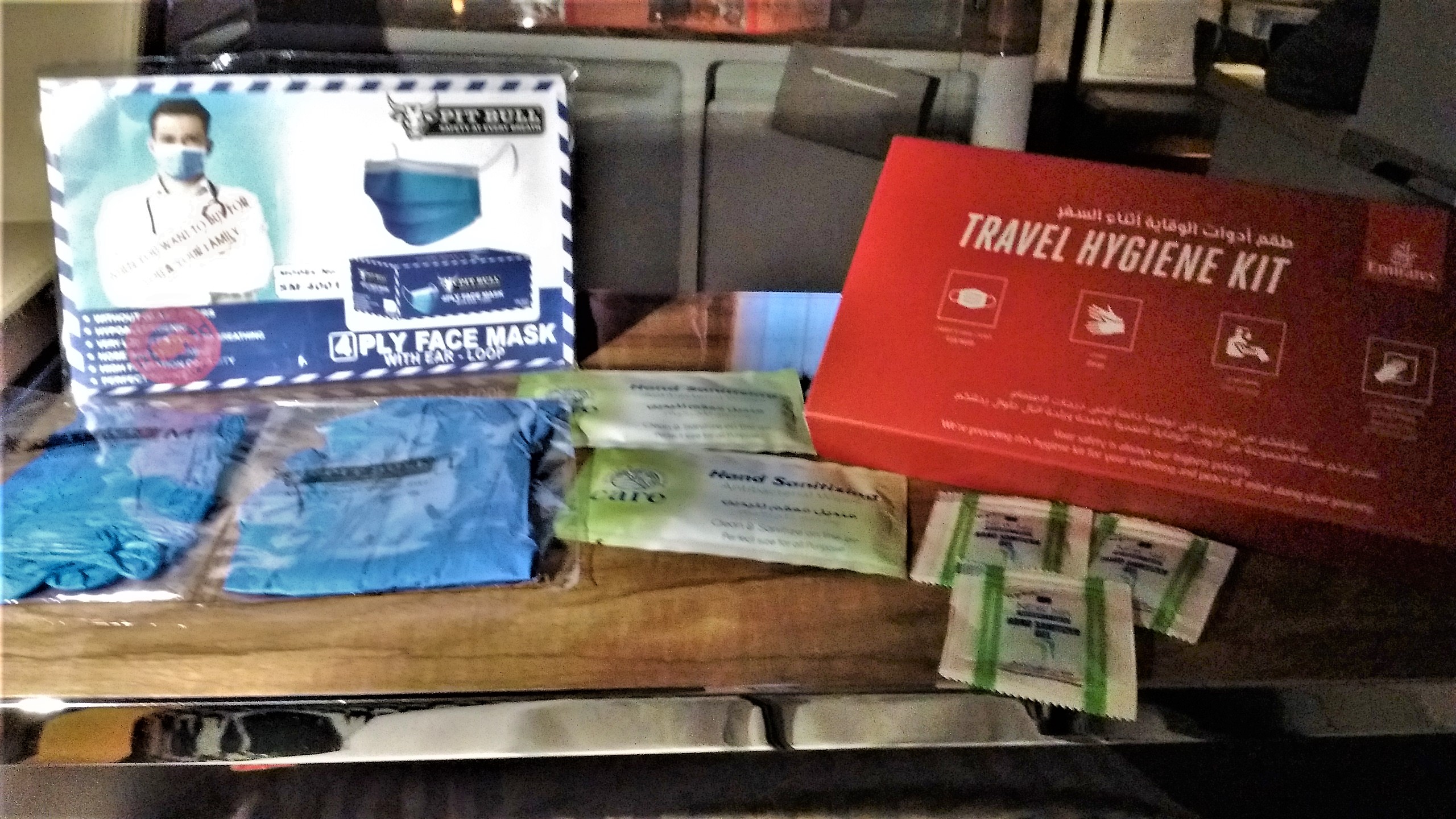 We were also given the customary very nice amenity bag – which contains many Bulgari products – and the menu.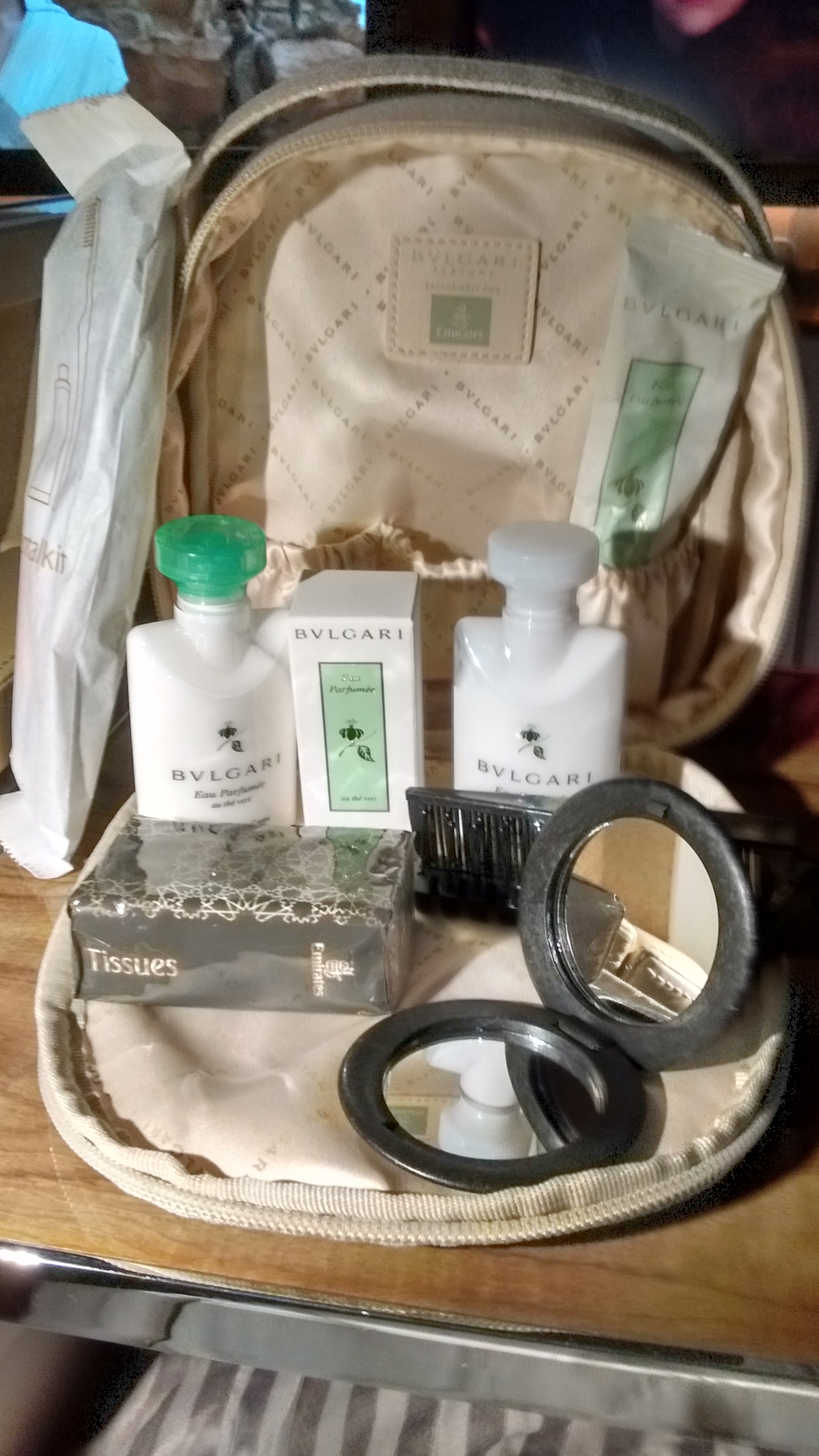 We were told that – to avoid too much contact – the tray would be served with starter, main course, and dessert altogether and we were asked if we wanted the plastic covers removed or left on the food. I opted for the covers to stay on and so did all the passengers I could see.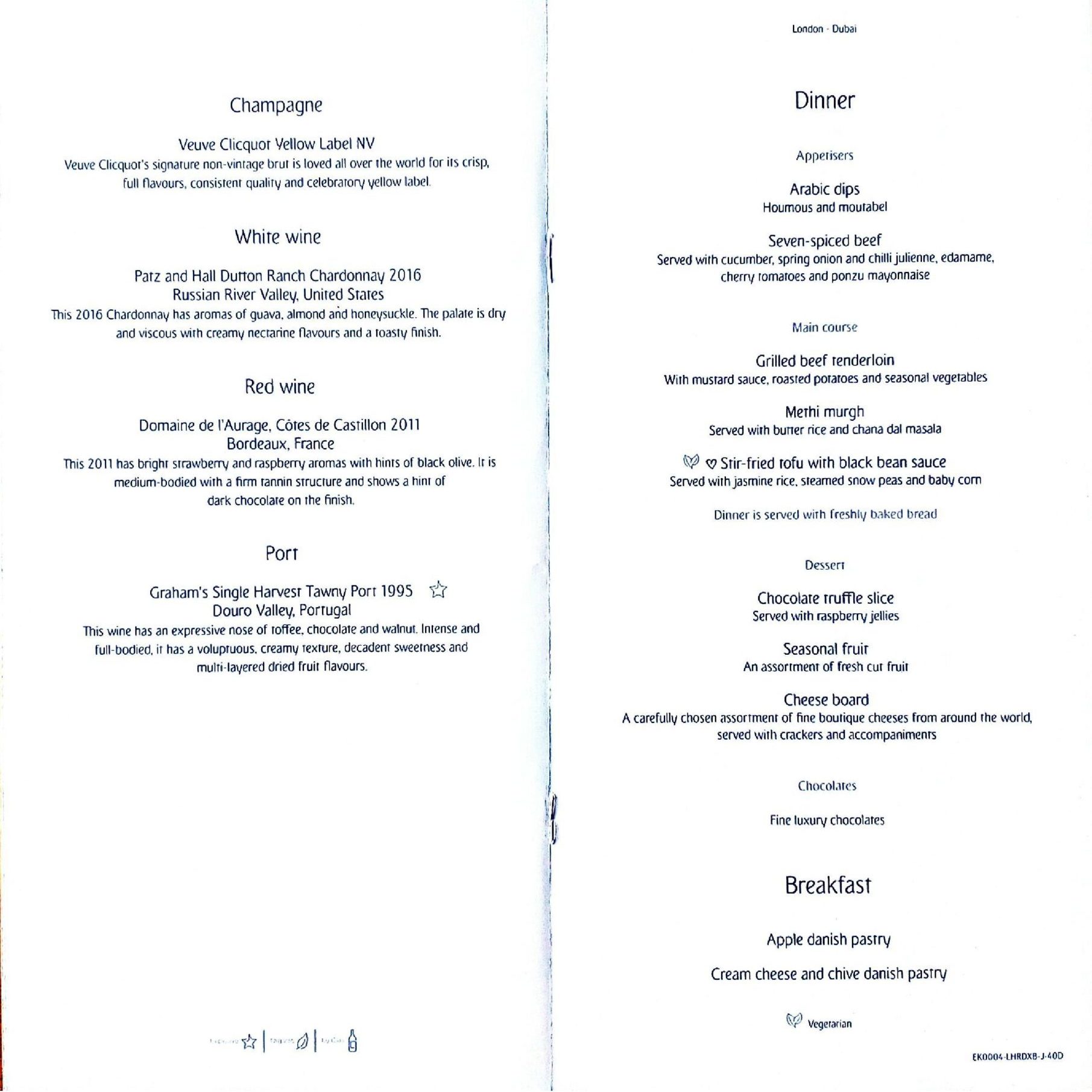 After take-off, I had a glass of Veuve Clicquot Yellow Label NV.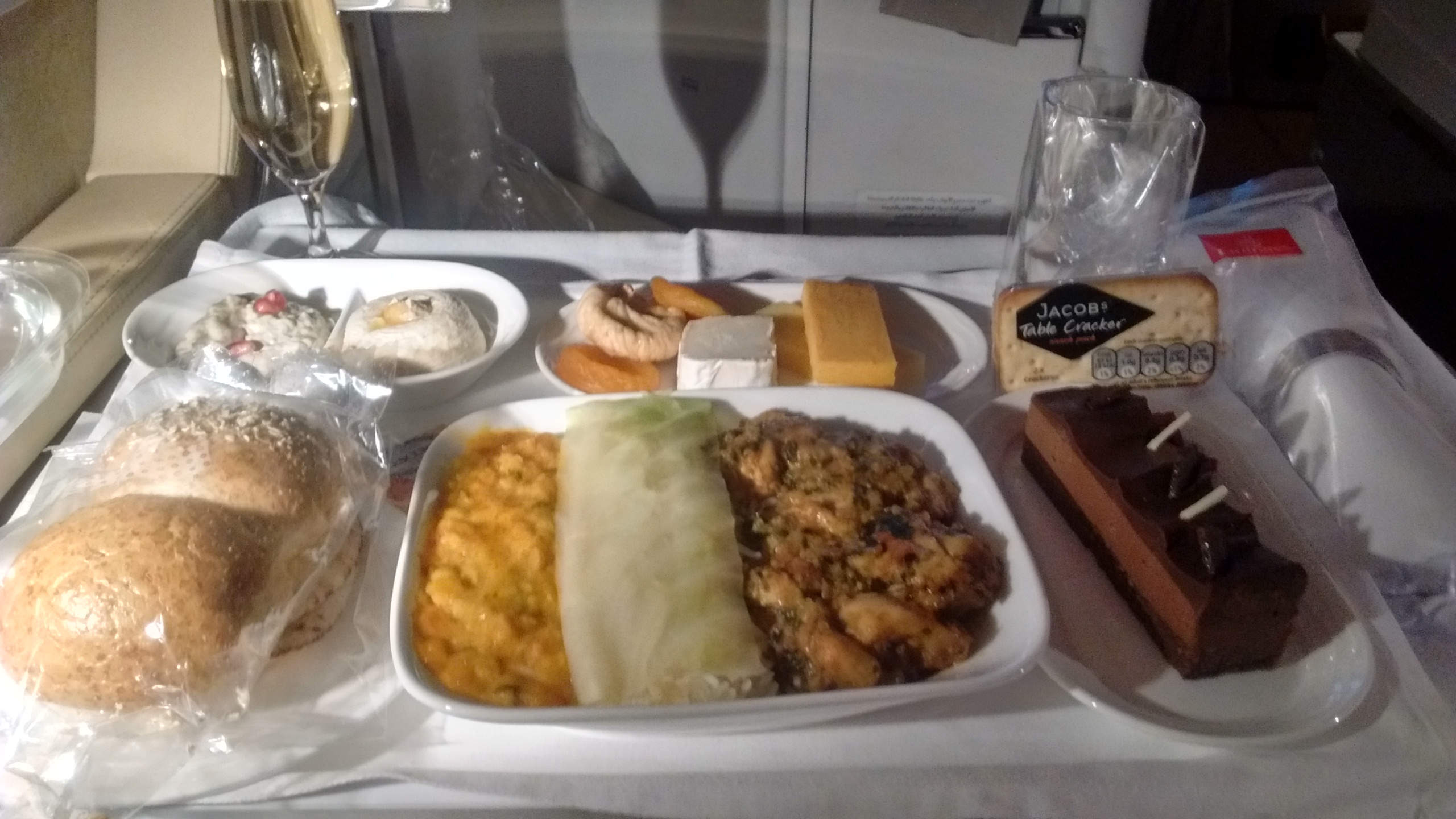 For dinner I opted for the arabic dips, methi murgh served with butter rice and chana dal masala and the chocolate truffle slice. I was also cheeky as I very much wanted to try their Graham's Single Harvest Tawny Port 1995 from the Douro Valley, so I asked if I could have the cheeseboard as well as the dessert, and they said yes! It was all absolutely beautiful.
The crew were attentive and very professional throughout the flight. They handed me a "mattress" for my seat and we all settled down for the short night flight.
Shortly before landing in Dubai, we were served a quick breakfast consisting of a Danish pastry and a cup of coffee.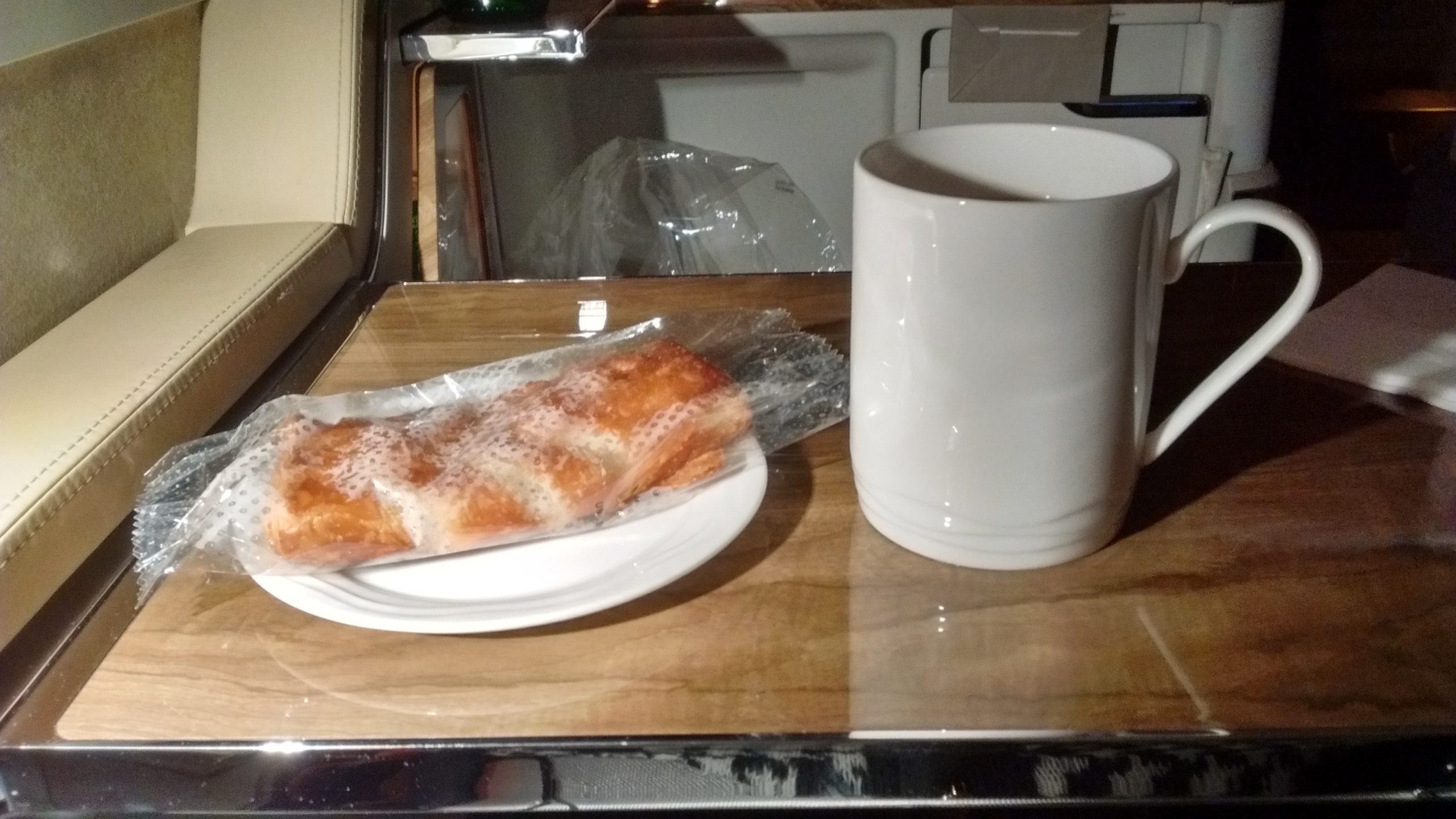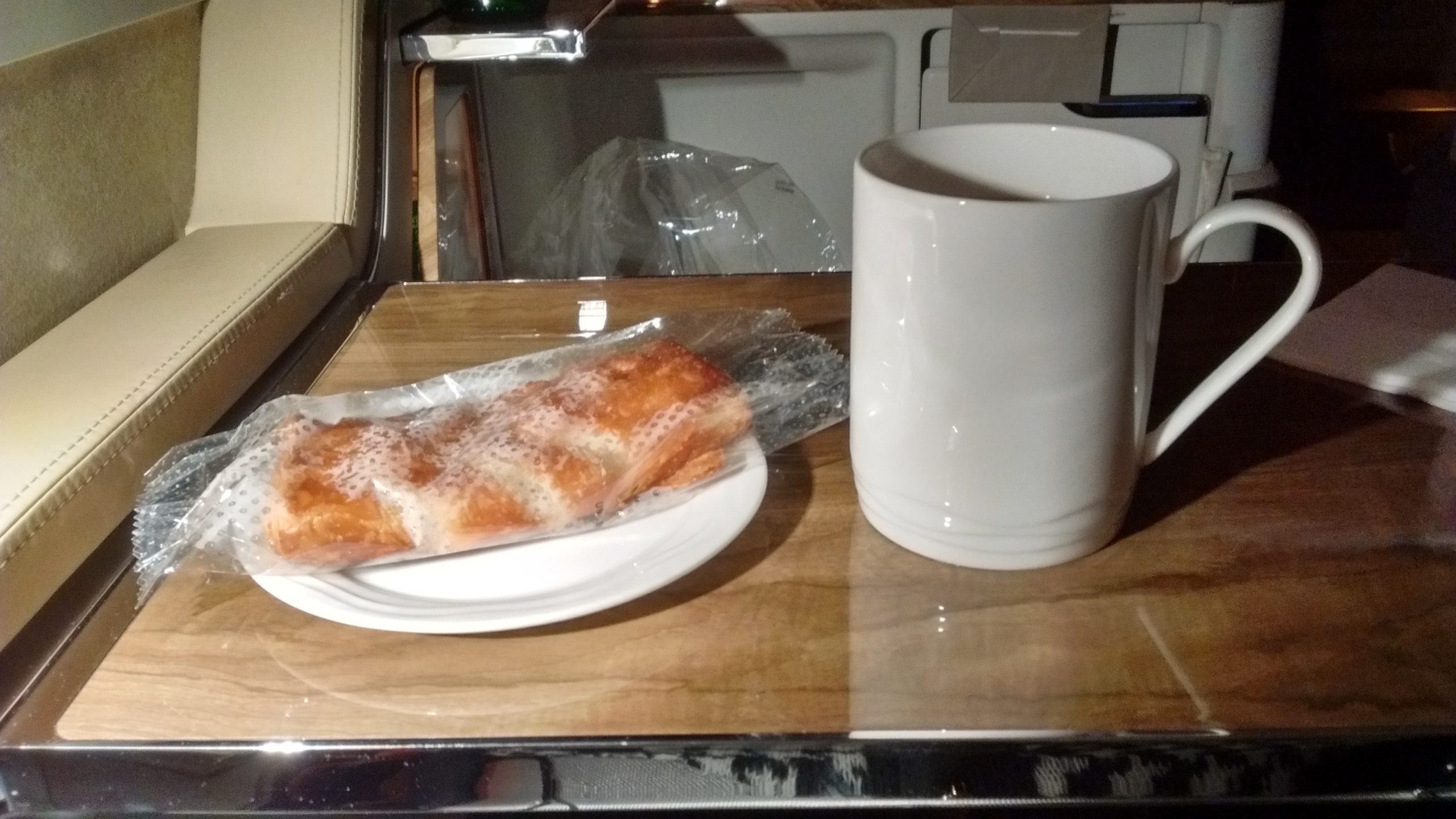 Connecting in Dubai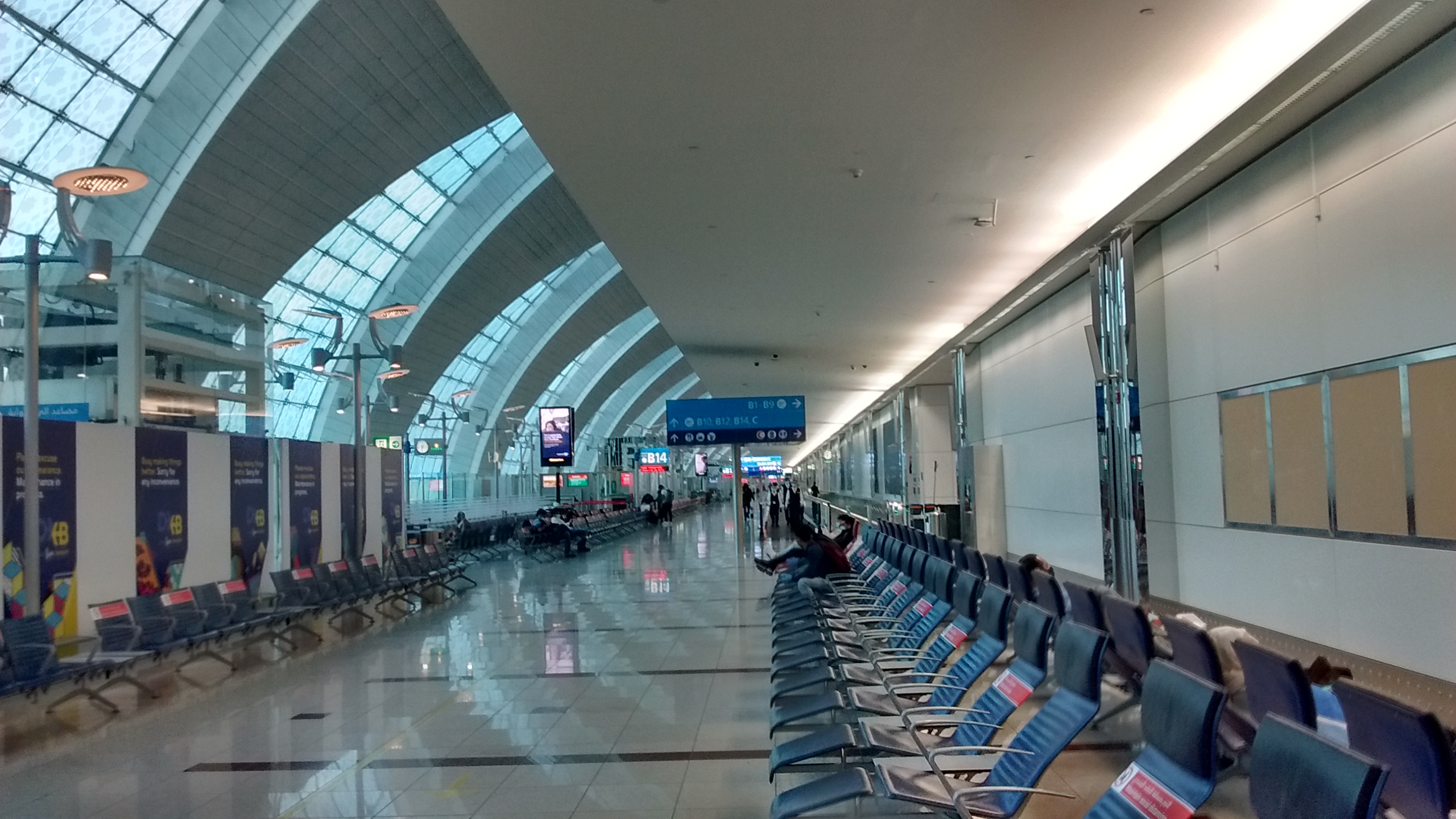 Connecting in Dubai was very quick and efficient and there were no temperature or other health checks. Once again the terminal was semi-deserted, with social distancing seating, passengers wearing masks, and ground staff in full PPE.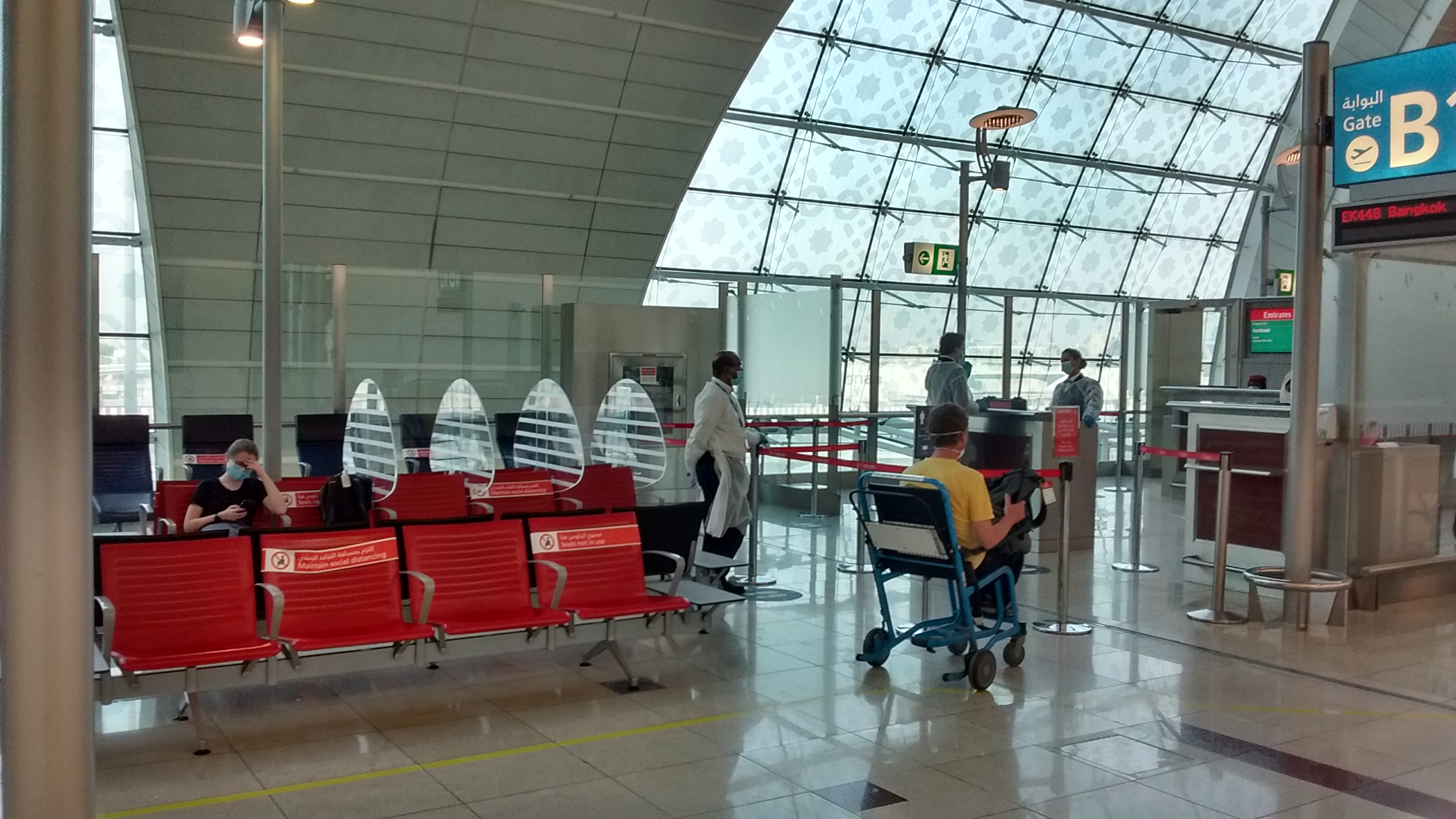 Dubai to Bangkok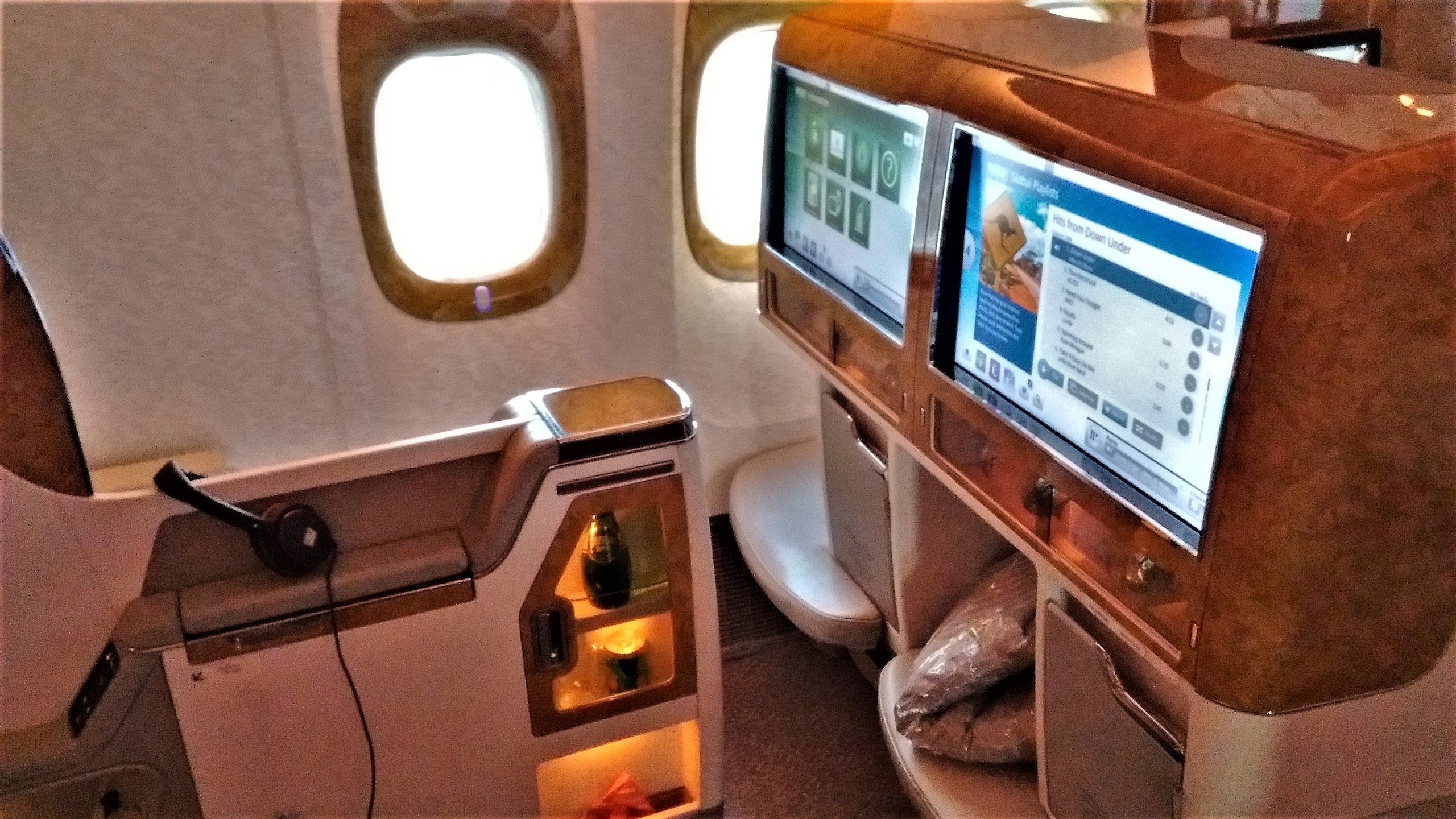 I was again in seat 7B on the 777-300ER and again there were only two other passengers in my cabin section but this time we were well spread out.
Breakfast was served soon after take-off from Dubai.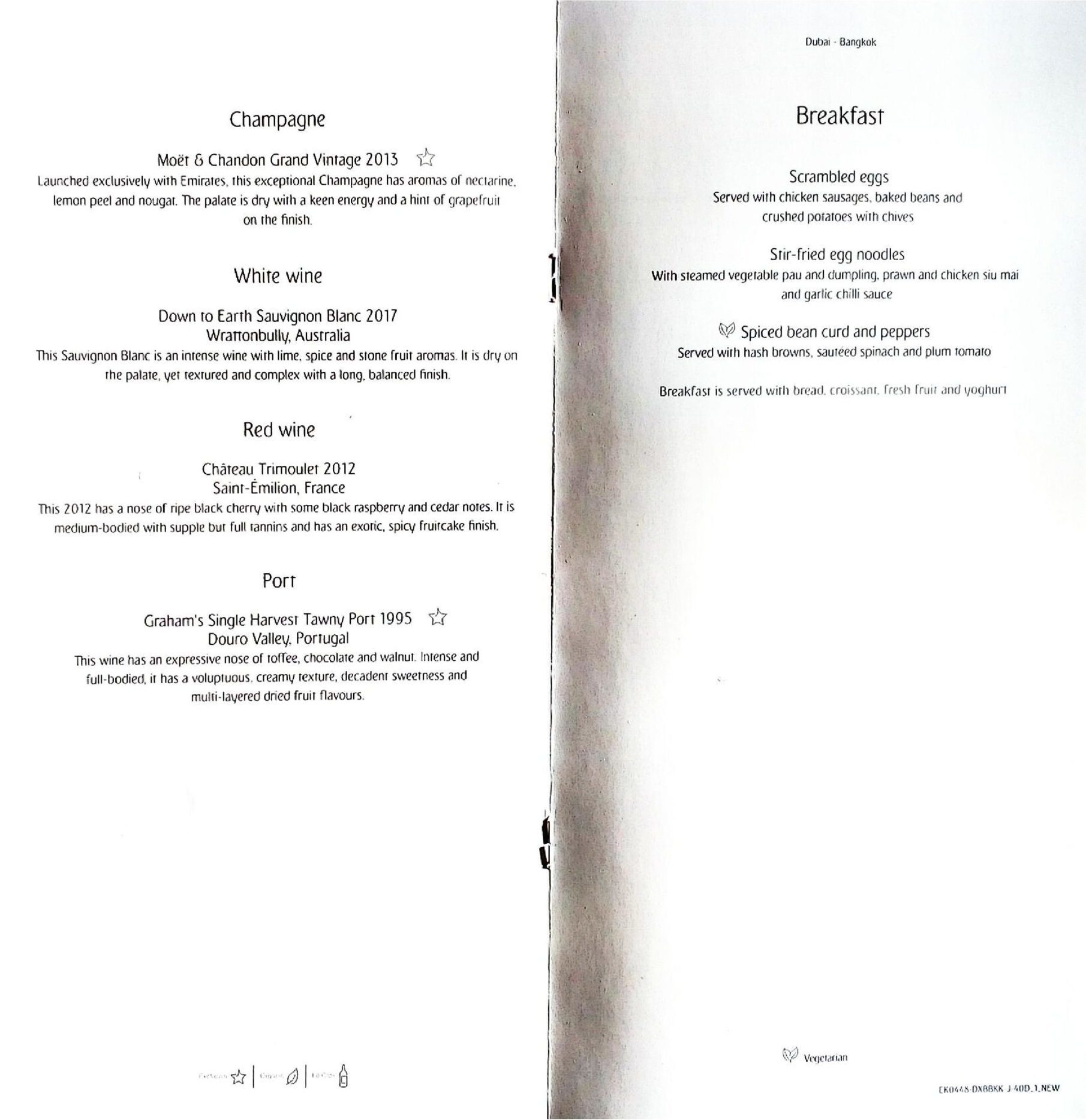 Once again, when our order was taken, we were given the choice to have the plastic covers left on all the food.
I opted for the stir-fried egg noodles with steamed vegetable pau and dumpling, prawn and chicken siu mai, and garlic chilli sauce. As before, the food arrived all together and the tray came with fruit and a croissant. Alcohol was offered but I chose water and an unusual watermelon juice which was really tasty, refreshing and not too sweet.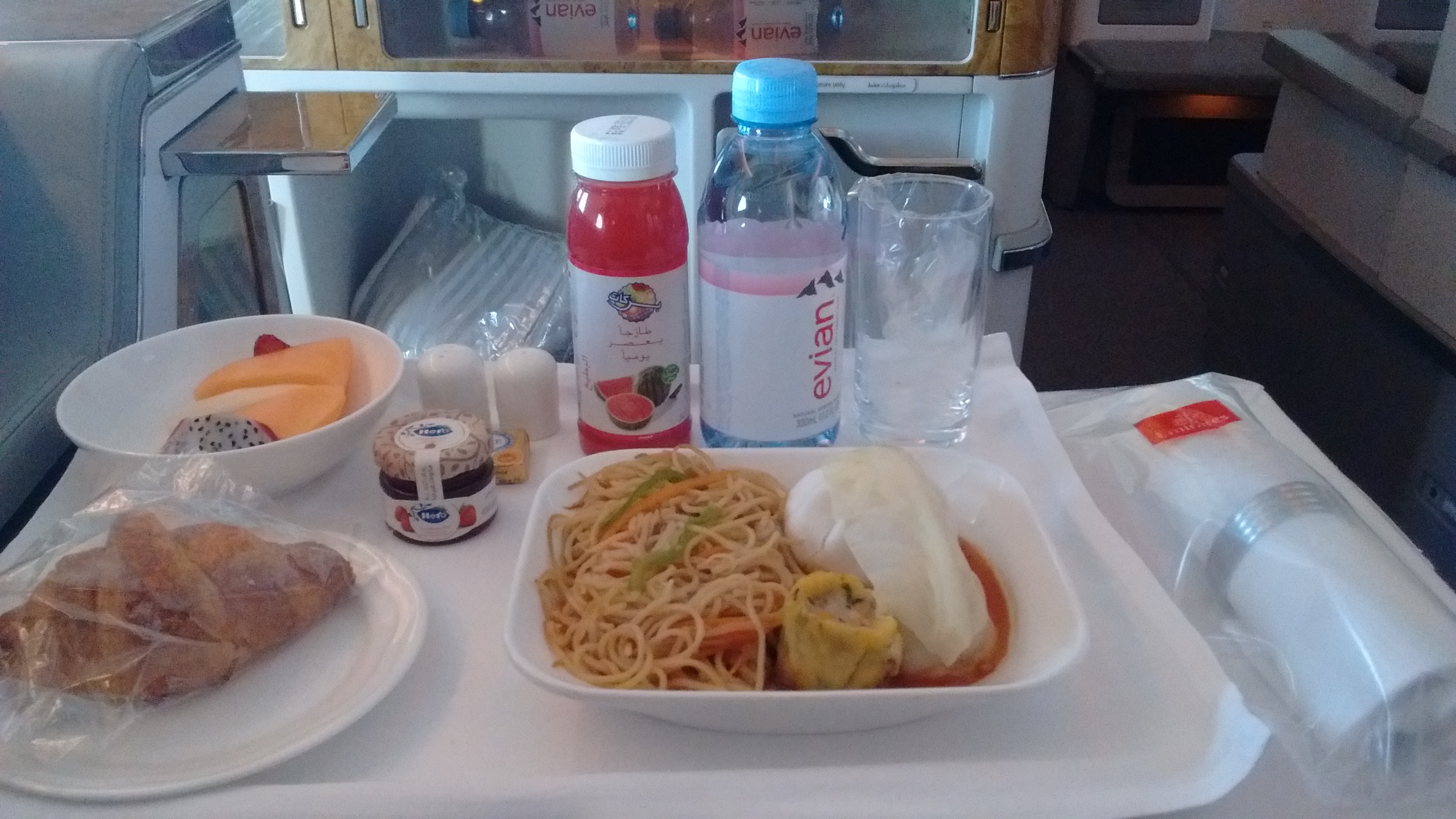 My cup of tea arrived with a slice of cake once the tray was cleared away.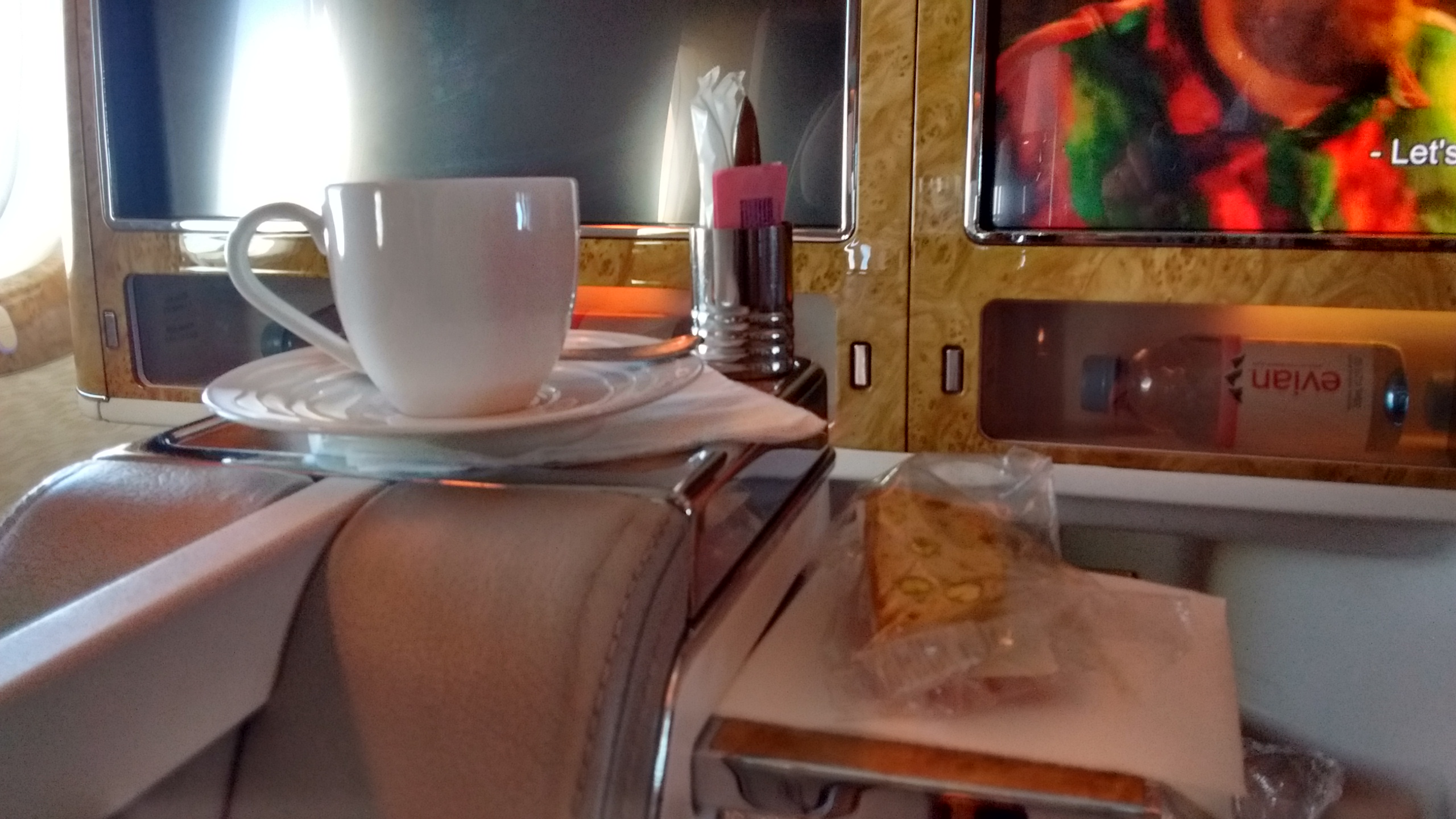 Bangkok to Auckland
During the short stop in Bangkok passengers were allowed to remain on board while the aircraft was refuelling.
Dinner and breakfast were served on this sector.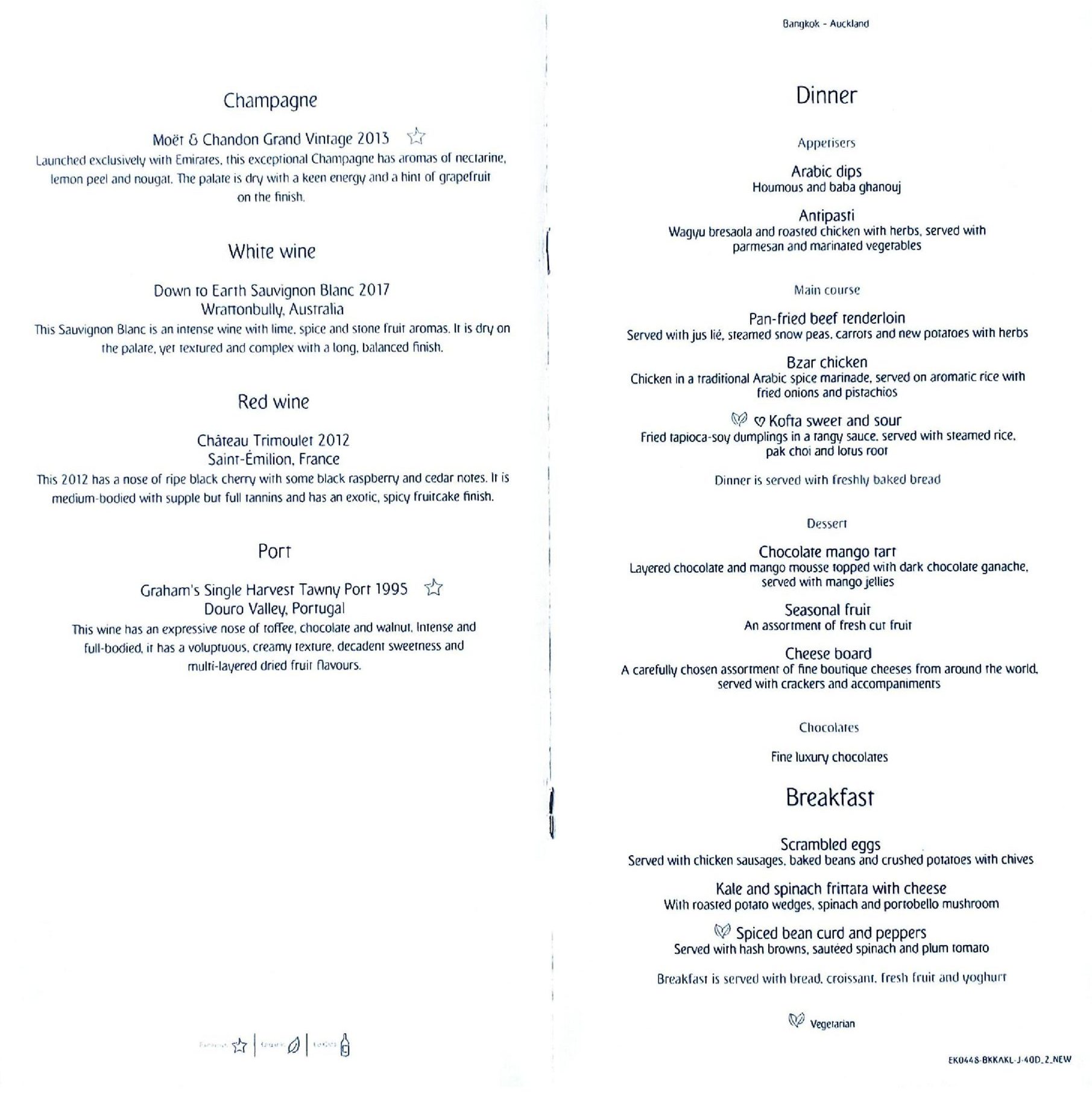 For dinner, I went for the Arabic dips again, the vegetarian sweet and sour kofta (fried tapioca-soy dumplings in a tangy sauce, served with steamed rice, pak choi and lotus root) and the cheeseboard. Everything was very tasty and really enjoyable.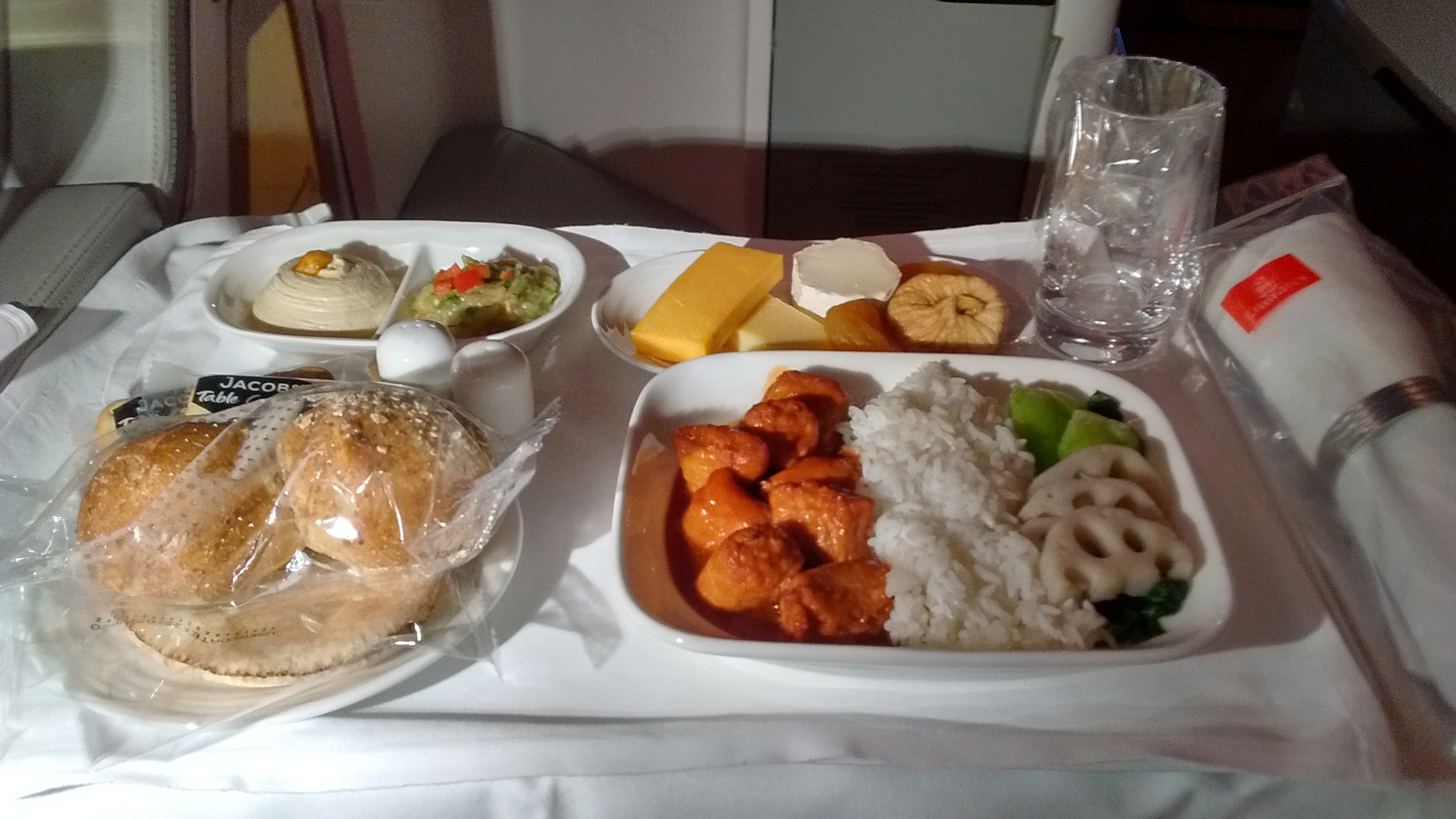 For breakfast I had the kale and spinach frittata with cheese, served with roasted potato wedges, spinach, portobello mushrooms and tomato. Once again the tray came with fresh fruit, a croissant and yogurt and I ordered a cappuccino.
Everything was very good but the watermelon juice proved to be very popular and when I asked for some they'd run out.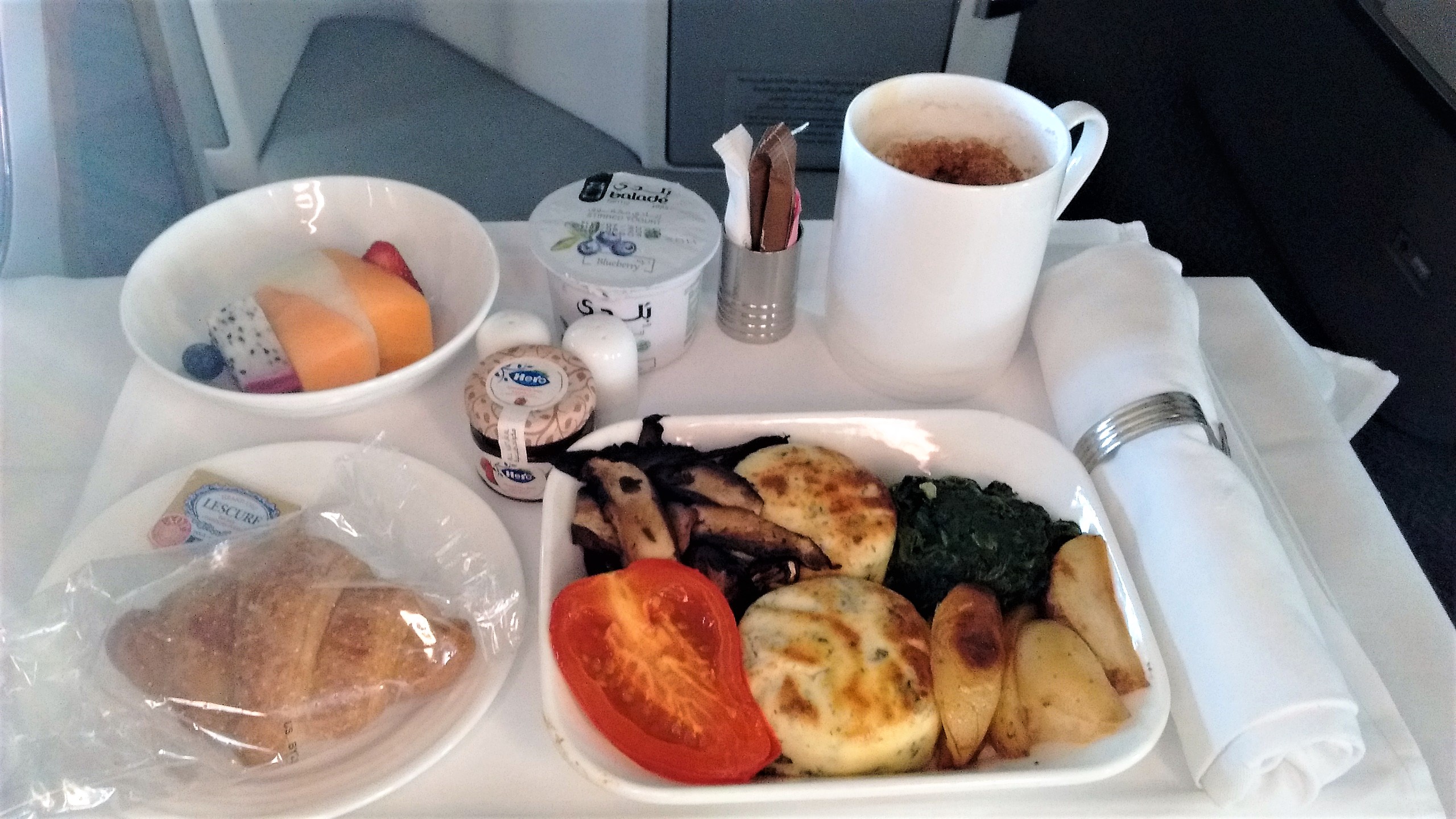 On the whole, I found this business seat quite uncomfortable. I'm only 5′ 10" and yet if I extended my legs while my seat was fully retracted in the take-off position, my feet touched the little console opposite, so when the seat was reclined I could not fully extend my legs. Besides, the little recess where your feet are supposed to rest is to one side and therefore you end up twisting your lower body towards the left.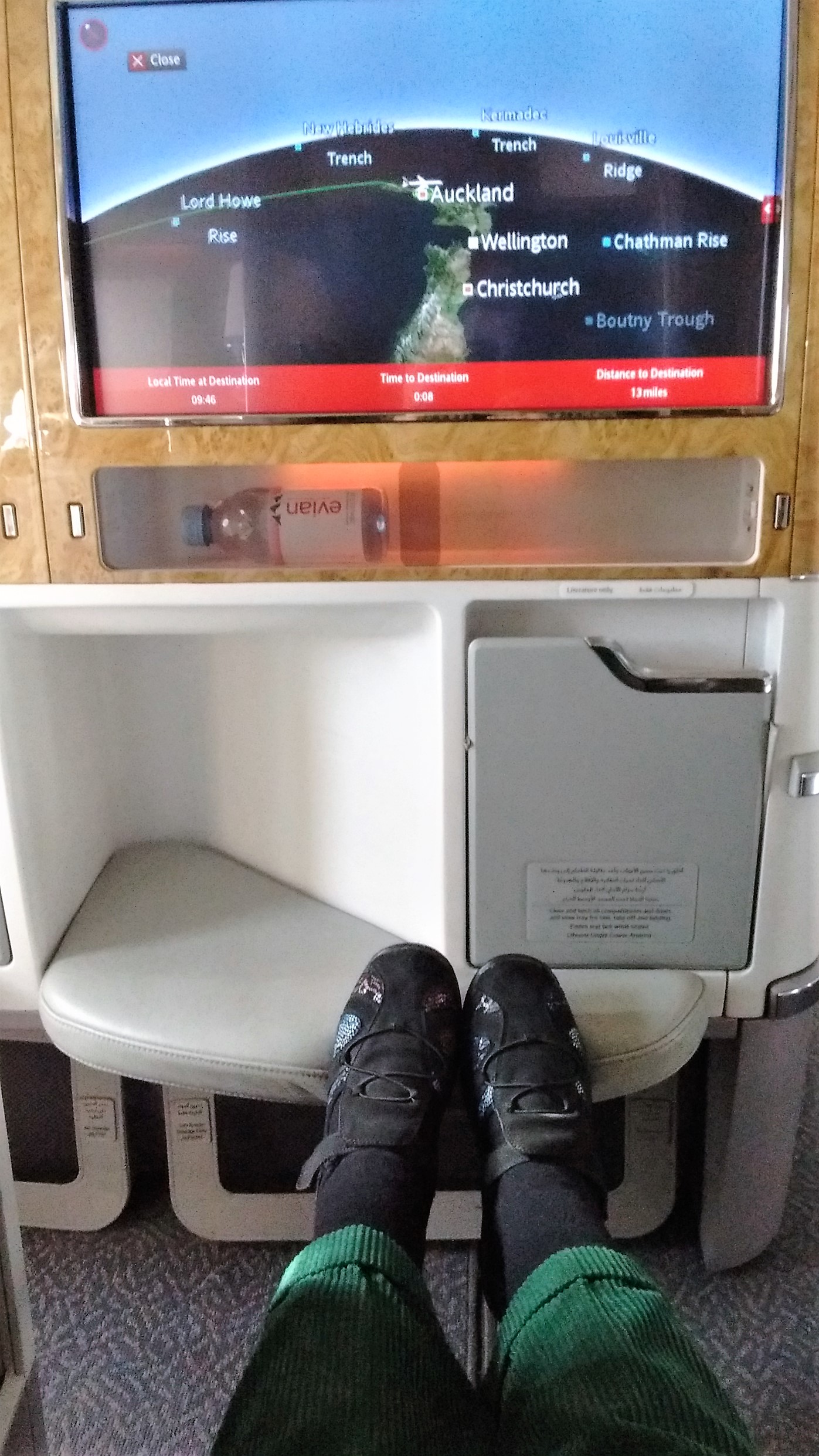 Arrival and quarantine in New Zealand
As soon as we cleared Customs and Immigration at Auckland airport – again, the quickest I've ever experienced as ours seemed to be the only flight arrival in the terminal – we were "registered" and provided with water and snacks to go on a 2-hour coach journey to our designated hotel and start our state-run 14-day managed isolation. The coach journey turned out to be 5 hours as we found a very serious road accident on the way.
The whole set up is very well organised: we were given a welcome pack – which explained the reasons for the managed isolation and what you can or can't do during the 14 days – and plenty of information on support for adult guests, teens and families with young children; wellbeing tips; mental health; useful links and apps.
The hotel was basic but comfortable and we were provided with three meals a day and free wi-fi. Every three days you tick your choice of meals and they get delivered in disposable containers with disposable cutlery at set times with a knock on your door.
Every morning a nurse – accompanied by a soldier – would knock on your door, measure your body temperature and monitor any changes in your health. On the third and eleventh day you get a Covid-19 test: you must have two negative results to be released into the community after 14 days. People who are symptomatic or test positive get moved to another dedicated quarantine hotel.
The hotel car park was the designated area for exercise and you could go down and stretch your legs as often as you liked but always wearing a mask and maintaining social distancing.
Fresh linen and towels were delivered in a plastic bag outside your door. Nobody is allowed into your room so cleaning kits and vacuum cleaners were provided to do our own cleaning.
The time passed incredibly quickly for me and I found it helped to have a routine, i.e. to keep yourself busy in-between meal times.
I also regard myself as very lucky to be given all this as since my experience the New Zealand government has passed legislation that will allow returnees to New Zealand to be charged NZ$3,100 (about £1,600) per adult in a single room from 11th August 2020 towards the cost of their managed isolation (https://www.stuff.co.nz/travel/news/122404103/coronavirus-managed-isolation-and-quarantine-fees-taking-effect-from-midnight).
While you are in the hotel, the Ministry of Health wants to know your onward travel arrangements so the challenge for me was to wait for my Covid-19 test results – although I felt fine – and then book a fare to my final destination in New Zealand, as Air New Zealand's domestic frequencies are not the same as they were before the pandemic and flights are full.
Those of us who needed to return to Auckland airport were once again ferried back by coach and we were let loose into the community without a mask after what felt like an eternity to me. Once again, the domestic terminal at Auckland airport was far less busy than I'd seen it before but – except for the size of the actual signs – the now-familiar social distancing stickers on seats were a home-from-home reminder.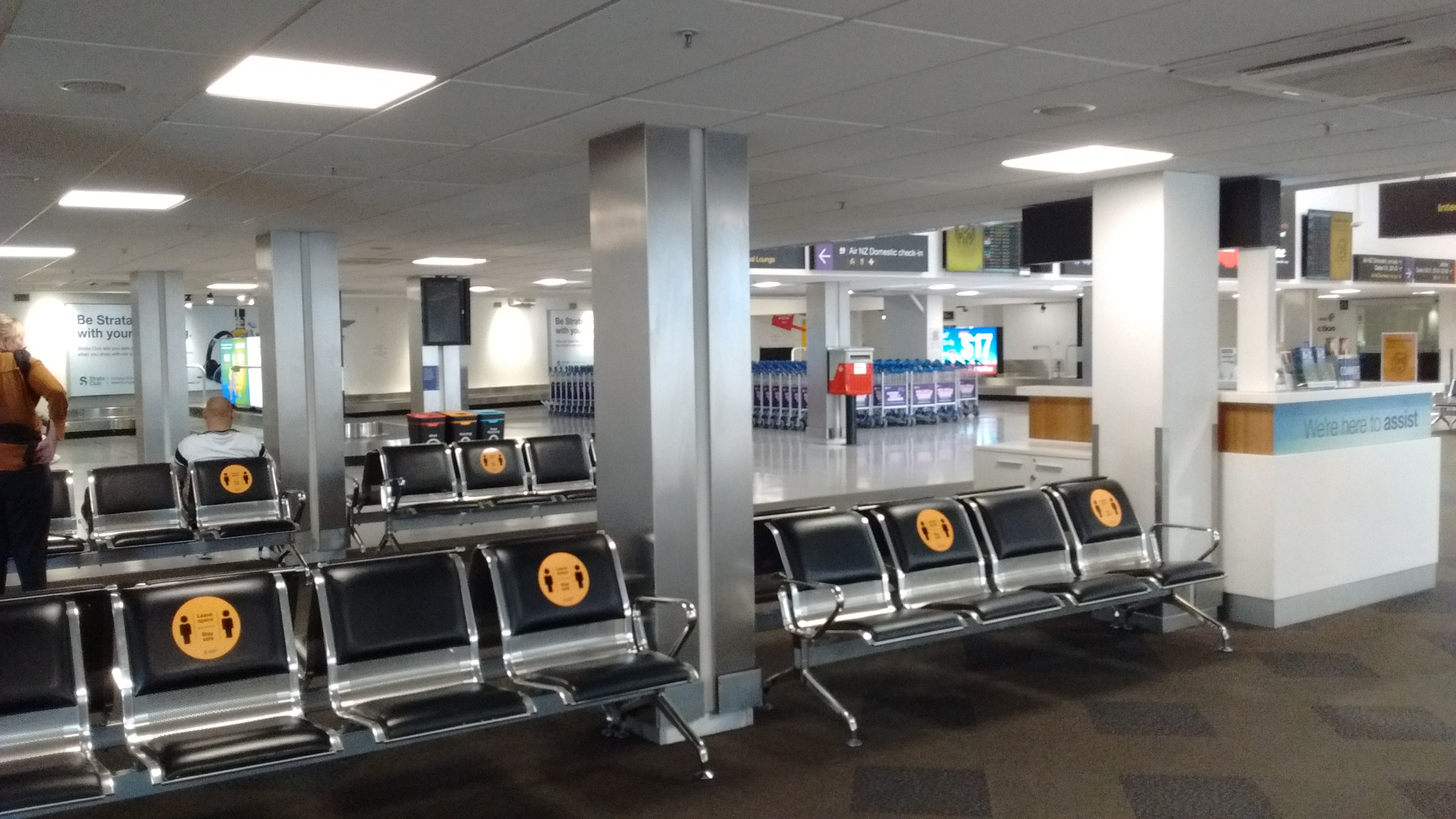 Having worn a mask to go on public transport and shops in England, throughout my journey from Heathrow to Auckland – except for when I was eating – and during managed isolation, I now felt almost "naked" and very vulnerable, in a country where – at the time I'd arrived – there was no more Covid-19, no more social distancing and people behaved as we once did: it was almost surreal.
It is unfortunate that – after 102 days completely free from the virus – there is now a small resurgence of Covid-19 cases in New Zealand.