Today's reader, BA B777 Club Suite and COMO Cocoa Island review is by Kathryn. I am rather jealous, as it looks amazing. The Maldives are usually very expensive but there are some amazing value hotel deals at the moment. With The Maldives being added to the UK travel corridor list, it's a great way to escape the UK at this gloomy time. Don't forget the British Airways Luxury sale which ends on 3 November if you are considering The Maldives.
Booking, entry requirements and testing
We had booked our family flights to the Maldives almost a year in advance and as the date of departure neared we could see there would be a few hurdles to jump to make the dream a reality.
We were watching and waiting to see if the Maldives would be taken off the UK quarantine list, but we could see it would still be in place on the day we were leaving and after lengthy deliberation, we decided to go ahead anyway. First we would all need to get a negative PCR test within the 72 hours before departure (now helpfully changed to 96 hours) which is a requirement for all arrivals to the Maldives. We had that done at the London Medical Laboratory and our results were emailed to us within 24 hours. Even though we all felt perfectly well, it was still a relief to see them as all clear of Covid.
Then we filled in the Maldives Traveller Health Declaration which you can access on this link https://imuga.immigration.gov.mv/ethd/create. That was fairly straightforward though you do have to attach a head and shoulders photo of each passenger (I just took a picture of each of our passport photos) and attach the PCR test certificate. You need one declaration form each and once the form is completed a QR code is displayed and I printed this out each time. You need to show this when you check in with your airline.
Our travel insurance would not cover the trip as it was still on the FCO "all but essential travel" list so that was mildly disconcerting.
Heathrow T5 and lounge
With so many flights being cancelled I couldn't believe we were actually going to fly until we were checked in with British Airways and sitting in the lounge. Heathrow was sadly quite quiet but therefore there were no queues at security and we were through in minutes. There are hand sanitiser stations everywhere which we found to be working. The lounge was actually very busy, almost full because of Covid-requirement empty seats, but we managed to find some space and celebrated getting this far with a glass of Jeeper Grand Rose Brut.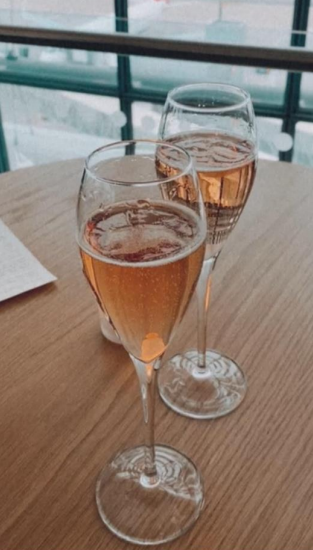 There was a slight delay with departure which they put down to having to disinfect the aircraft thoroughly but soon we were on board.
Heathrow to the Maldives
British Airways only have a schedule for flights to the Maldives from mid-October to mid-April (I think and hope they will change this as the weather in the Maldives is always lovely, even in their 'rainy season') and this was the first flight out for October 2020. We flew in an old configuration 777 and the cabin was fuller than I expected, but being the first flight, it was because we also had crew on board as passengers to fly the plane home. The cabin is HEPA air filtered, every key surface is disinfected after each flight, and masks are required to be worn at all times except when eating and drinking, a rule that is sensibly adhered to.
A man in my row decided after take-off that he didn't much like the mask rule, and after being asked and told politely first by a crew member, then by the cabin service director, and finally by the captain, he eventually relented. I'm not very keen on tricky customers at over 30,000 feet in the air, but you could tell that the crew were not putting up with any nonsense and they handled it brilliantly. I think I might have heard a suggestion to move him to an economy seat away from other passengers for the duration of the flight, which sounded promising, but then he acquiesced.
We were served the meal in a box for this journey, which was actually quite reasonable being a Japanese style main course with rice, teriyaki chicken and pickles and a nice focaccia sandwich on the side. Wine and champagne were served in miniature bottles.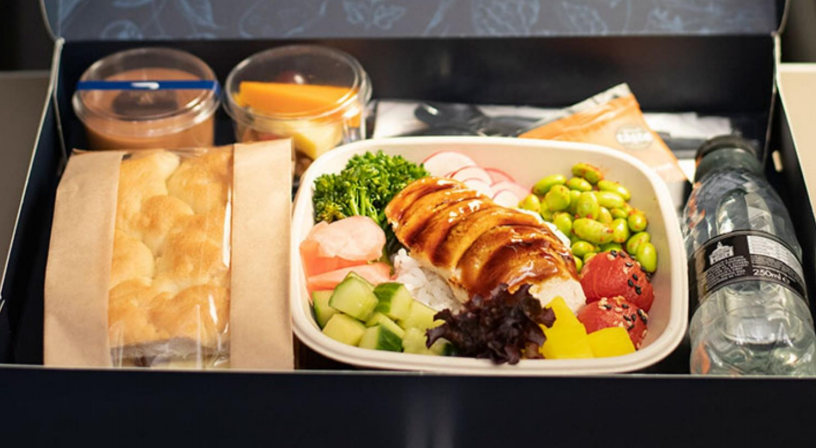 Breakfast consisted of a pastry, yogurt, and some fruit, but I didn't really notice because this was the view at that stage: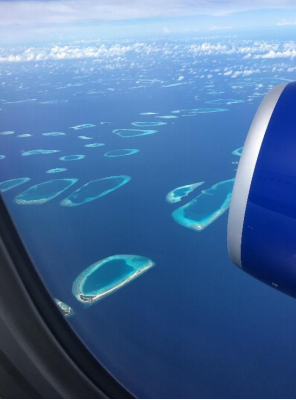 Arrival at Male
On arrival at Male Velana International airport, immigration is Covid prepared with easy walk-through temperature checks, perspex screens, hand sanitiser, masks, and gloves, as can be seen everywhere now.
On clearing immigration and having collected our luggage, the representative from the resort we were staying in was waiting for us. Within seconds we were standing at the quay-side looking at an impossibly beautiful sea and about to board our speedboat to COMO Cocoa Island.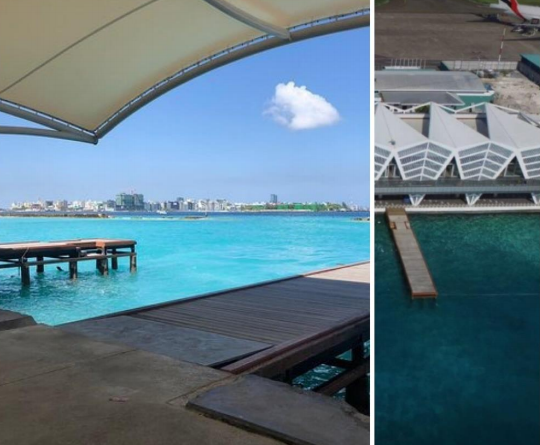 Gorgeously scented cold towels were offered to us all and some nicely chilled water. The journey is 30-40 mins and such a wonderful way to transfer after a long flight.
COMO Cocoa Island
The staff on the resorts do not travel between islands or even to the mainland capital Male, as decreed by the Maldivian Government, to make sure that Covid is kept at bay. Those that arrive to work on the resorts from other countries must quarantine for 14 days before any contact with colleagues or guests and also take a PCR test to be sure they are clear of the virus at the end of their quarantine. They wear masks and gloves to serve you, but guests can go mask free. The islands are required to have a doctor readily available for the guests should the need arise. An extra service for those who need it is that a PCR test can be arranged for departing guests if required by their next destination.
COMO Cocoa Island has recently been renovated and is looking very fresh with new mattresses, bedding, and soft furnishings, a brand new fully equipped gym, yoga pavilion (incidentally there are free yoga classes almost daily), pilates studio and luxurious spa treatment rooms. They also have a large hydrotherapy pool around the spa area and a pool by the restaurant and bar.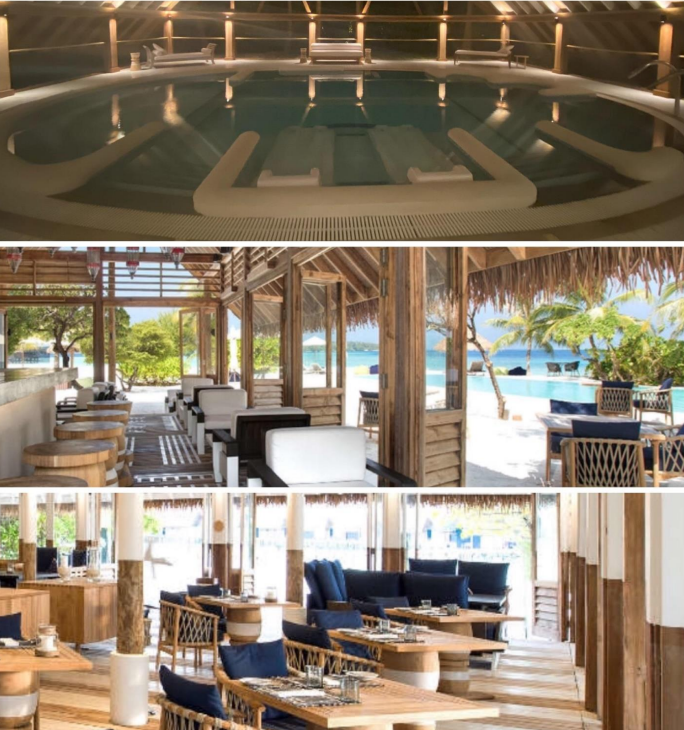 When we booked we were offered complimentary half board to include a starter, main, side and dessert, which was more than we could eat. The food is delicious, the best we've had compared with any of the other resorts we have visited in the Maldives and if they had the restaurant in London with that menu, we'd be eating there every week! There's a healthy menu too that tastes so good you don't feel like you've been cheated. You could take the half board for lunch or dinner.
The rooms are set over the water and have steps leading down into the sea right from the deck. I asked to see the various categories of rooms while we were there and they are all beautiful, from the Dhoni Suite to the COMO Sunrise and Sunset Two Bed Villas. Privacy has been thought about and each villa is screened from the next.
If you want total privacy, you can even arrive on your own jetty when staying in the COMO Sunset Villa and not have to see or be seen by any other guests, this villa also having a maid's room if required.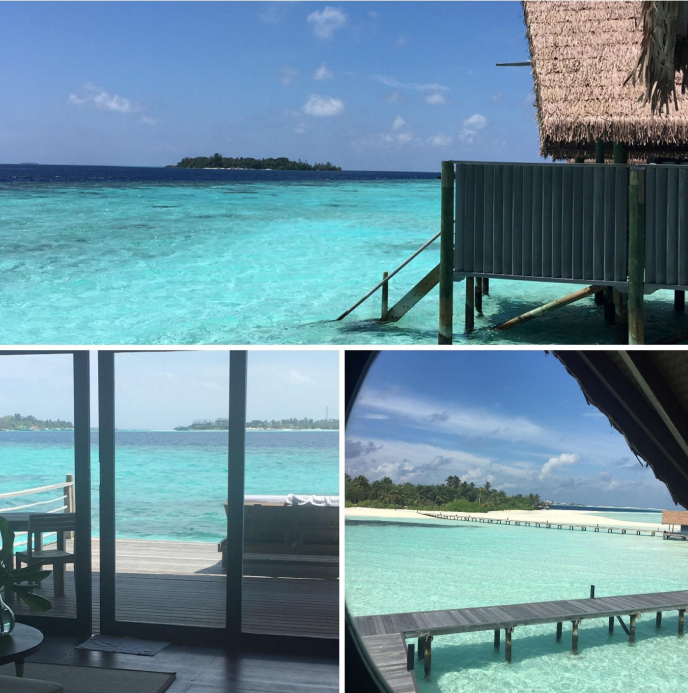 The snorkelling is great right from the back of the room and the dive centre has complimentary masks, fins, and snorkels to borrow. We swam with a beautiful turtle in the lagoon on our very first day, not to mention the swarms of delightfully colourful fish – and there are little baby blacktip sharks and baby stingrays which you can see from the boardwalk, but which swim away when you are in the water. Cocoa Island has quick access by boat to numerous amazing dive sites, suitable for all levels of experience (or inexperience – great attention is paid to safety, and all equipment is provided). Expect more (friendly) sharks, manta, sting and eagle rays, turtles as well as a myriad of reef fish (guide book in every room), and lots of smaller stuff around the lovely reefs.
The rooms have complimentary still and sparkling water and soft drinks as well as beer and snacks and fruit that are replaced daily.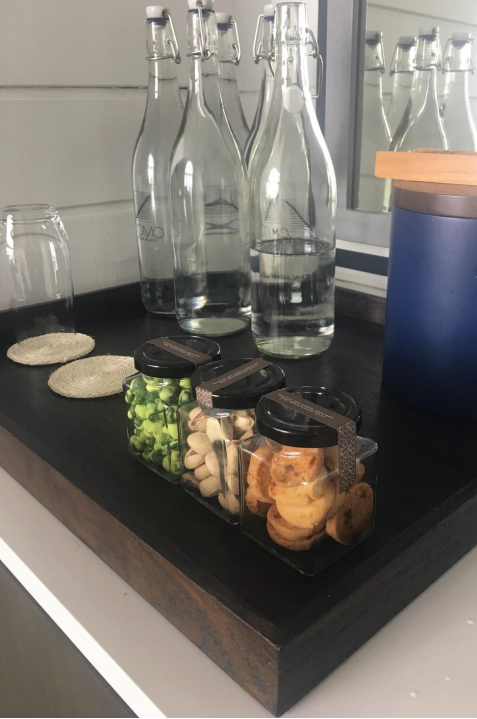 One of the things that sets COMO Cocoa Island apart from the competition is the consistently excellent staff. Many have been here for years and they have perfected flawless customer service. They have a "can do" attitude and go out of their way to be kind and helpful and will accommodate any special food requests whenever they can. Many guests come back time and time again, and in fact when we were there, we were all repeat guests, perhaps because with the nervousness about travel at the moment people feel reluctant to try the unknown. But if you're thinking of coming to the Maldives, try COMO Cocoa Island: wonderful food, wonderful service, wonderful snorkelling right from the rooms, unrivalled renowned COMO Shambala spa therapists, yoga, diving, "relaxation unavoidable"… it's one of those places that once you've been, you'll find it hard to better anywhere else.
Male to London Heathrow
I woke up on Friday 23rd October to lots of messages that the Maldives had been taken off the UK quarantine list and our flight was landing on Monday evening so we were off the hook! That was great news, and it also meant that the teenagers could go back to school on time, which they were actually quite pleased about – who'd have thought it.
Our journey home with British Airways was on a re-fitted new 777, in fact, the newest aircraft in the BA fleet. The seats in business were the ones with all aisle access and each had a privacy door which felt very private. I really liked the cabin. There is more storage and also power sockets that work. The only thing I found strange was that there were 72 seats in Club and only 3 toilets and 8 seats in First with 1 toilet. As it happened, only a quarter of the seats were taken, but I imagine this could cause an issue on full long haul flights. There is unused space after row 18 where there are two exit doors – maybe the bit in the middle could accommodate washrooms? Also, the galley in Club was quite small and I think the crew would have a difficult time trying to get food out to 72 seats. The captain did say that the aircraft was only two weeks old, and I wondered if they are going to do a bit more to the interior, i.e. add more toilets and make the galley larger.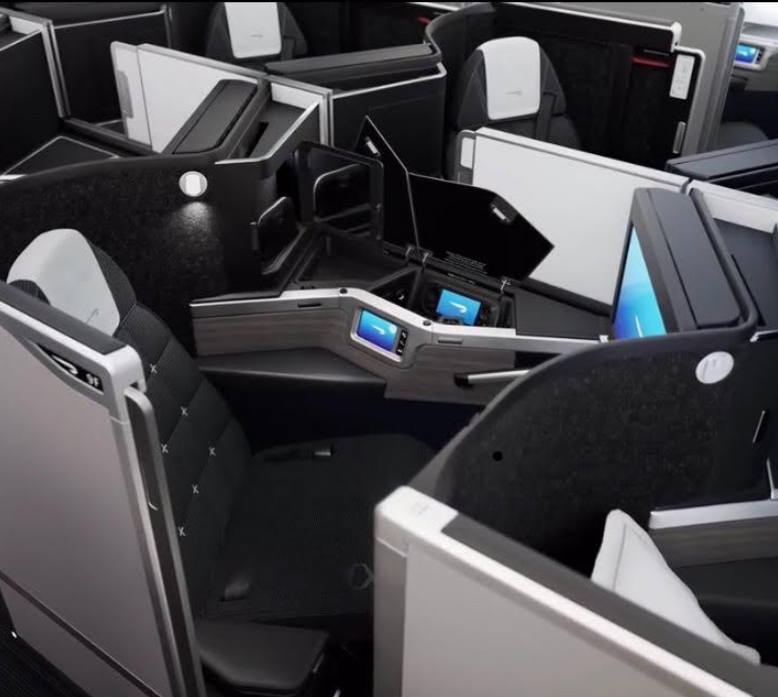 I'd heard about the change in food offering here on TLFL due to start on the 25th October. With our flight being on the 26th I was looking forward to seeing the new meal, and although it was a hot main dish, it reminded me of the food you would get in the "olden days" travelling in economy long haul. I think I actually preferred the meal in a box that we got on the way out. The main: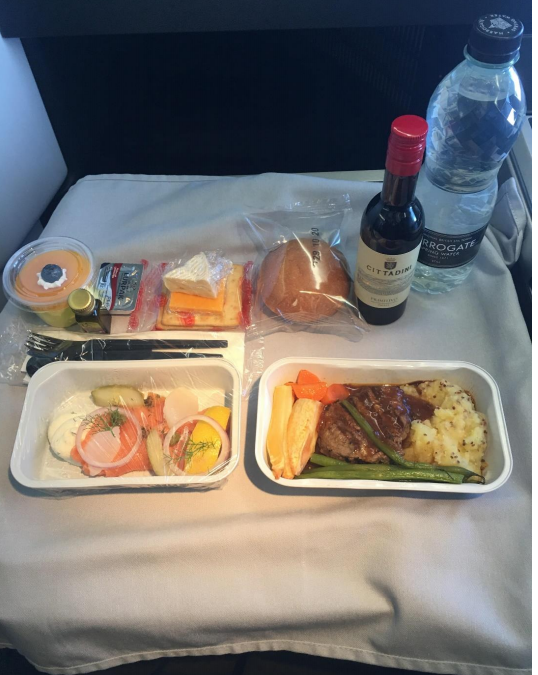 The snack at BA B777 Club Suite before landing was a bit odd with crackers that didn't have anything to go with them and the roll was very average. The crew though were brilliant and attentive and the flight was lovely and smooth.
With the virus having such an adverse effect on travel, the Maldives have been rigorous in their efforts to make it as safe as possible to holiday here, so well done to them. Time to give it a try!
Like our BA B777 Club Suite and COMO Cocoa Island review? You can read more flight reviews here and hotel reviews here.