Part 2: Central Italy
You're back! Thanks for checking out Part 1 of our 'Italy in Style' special. Now we're moving a little further down the country, into the central area, visiting the regions of Tuscany, Umbria and Liguria. Grab your vino, and lets go!
This region is very beautiful; full of rolling green hills, picturesque views and ancient towns packed full of history, stunning architecture, art, culture, fashion and food.
Probably the best way to visit central Italy is by flying directly to Florence, which is serviced regularly by British Airways and a range of low-cost carriers. Many choose to hire a car in this region and explore, and it's easy to get around on trains too.
Pack your stretchy pants, because this area especially is full of delicious food and wine (but as mentioned before, it's also quite hilly, so those calories basically burn themselves).
Florence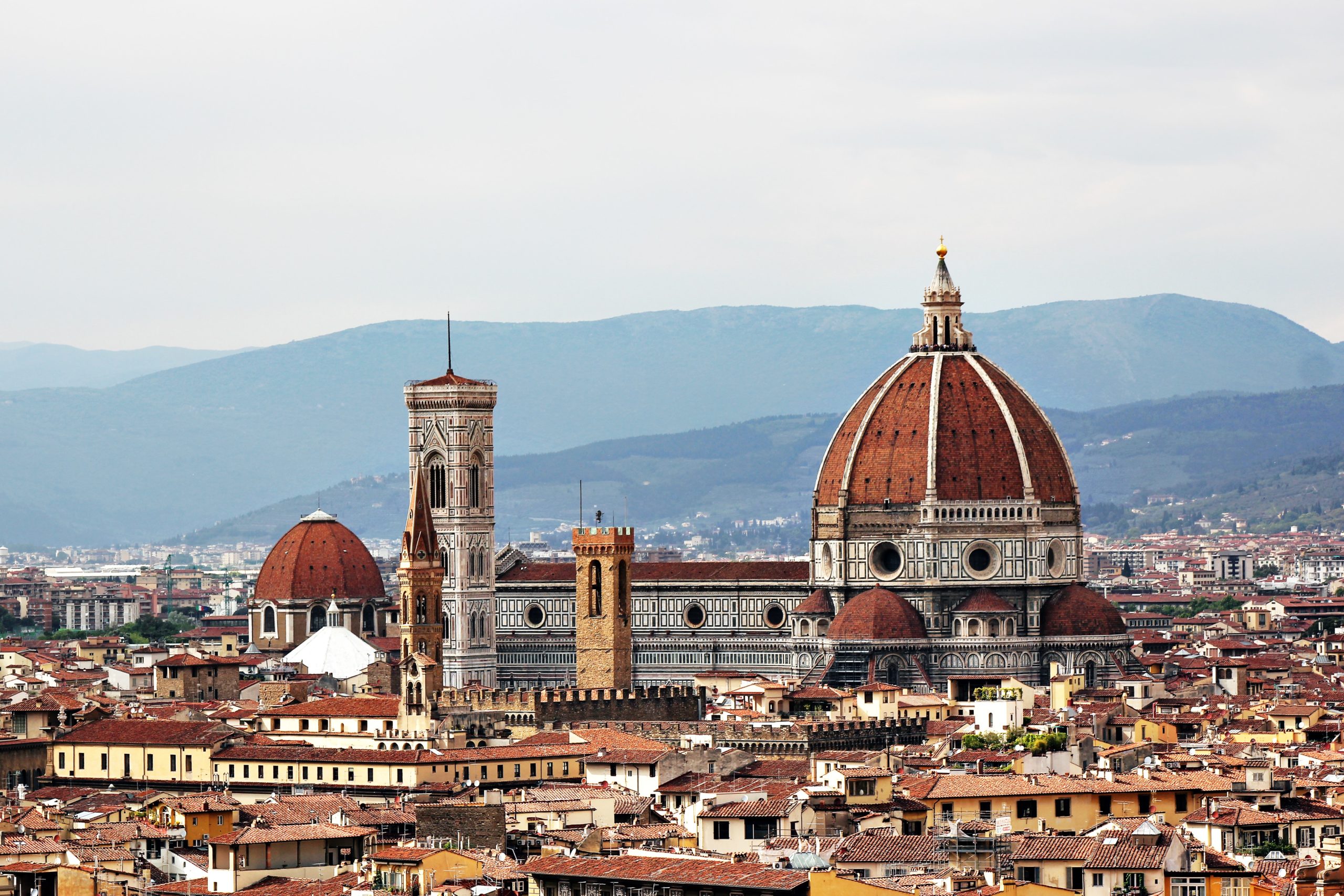 Florence is one of the most famous cities in Italy, and the most populous in the Tuscan region. Known by many as the 'birthplace of the Renaissance', the city is full of fascinating history, museums stuffed full of priceless artworks and incredible architecture at almost every turn.
Its lovely location in the region of Tuscany also means that the food and wine is some of the best in the country, and almost every restaurant you visit is going to provide a meal worth remembering.
For centuries, Florence was the heart of the empire, due in large part to the infamous 'Medici family'. Although often tyrannical and corrupt rulers, they did have a healthy appreciation for art and culture.
Consequently, Florence is now home to more museums, architectural gems, cathedrals and palaces than anyone can ever hope to visit. But, we will do our best.
To start, visit the stunning Duomo, otherwise known as Santa Maria del Fiore – you really can't miss it. Literally, it's the biggest dome in the world. The cathedral is breath-taking (though slightly reminiscent of a liquorice all sort), covered with frescoes and statuary, and the inside is worth a peek too – though try booking tickets early, as it can get very crowded.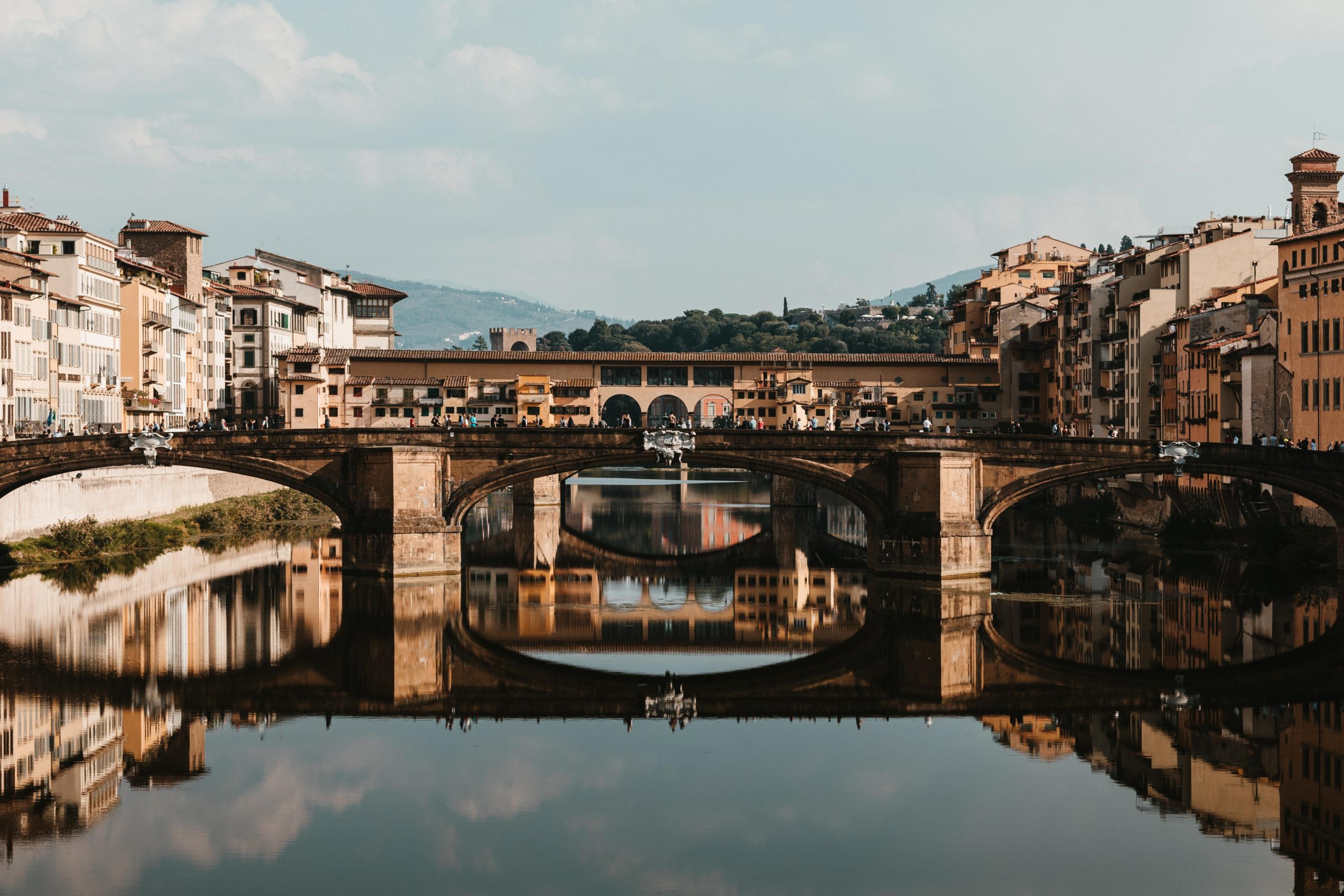 The Basilica of San Lorenzo is another huge cathedral in the city, and this one is particularly special because not only is it lovely, and full of priceless artwork – it also houses the remains of many a Medici.
If you only go to one museum, make sure it's the Uffizi. It has one of the best collections in the world, particularly of Italian sculpture and paintings. You can also visit a few recreations of the more famous statues outside the gallery, in the piazza.
The Uffizi Gallery takes up a corner of the Piazza della Signoria, a large open plaza which still houses the local government and is the unofficial 'beating heart' of the city. There are several fountains and unique buildings to check out here, as well as shops, restaurants and bars.
Florence, like Milan, is a very fashionable city, and houses all the major designers. Pay your respects by taking a look through the 'Gucci Garden', which is located on another corner of the Piazza, and fall down a very fashionable rabbit hole. Part museum, part art installation, visitors can see a range of classic Gucci pieces, fascinating and interactive artworks and a gorgeous, I-want-to-buy-everything concept store at the end.
If that doesn't give you your fashion fix, head over to the famous Mercato Nuovo – Florence is also known for it's leather goods. Wander the stalls, where you can mingle with locals and find plenty of handbags, shoes, local handicrafts and one very famous bronze piggy. Make sure you give him a pat.
And if you're still not satisfied, wander over to another infamous Florentine sight; the Ponte Vecchio. This beautiful covered bridge houses some of the oldest and most stunning jewellery stores in the city; indeed, the whole bridge seems to sparkle as you step foot upon it. Stock up on gems fit for a princess before heading across the bridge, fittingly, to the palace.
The Palazzo Pitti, or Pitti Palace, now houses priceless artworks, but was once the seat of power for rulers, kings and invaders. The enormous, imposing building is a beautiful example of Renaissance architecture, and is worth a visit just to wander the beautiful rooms.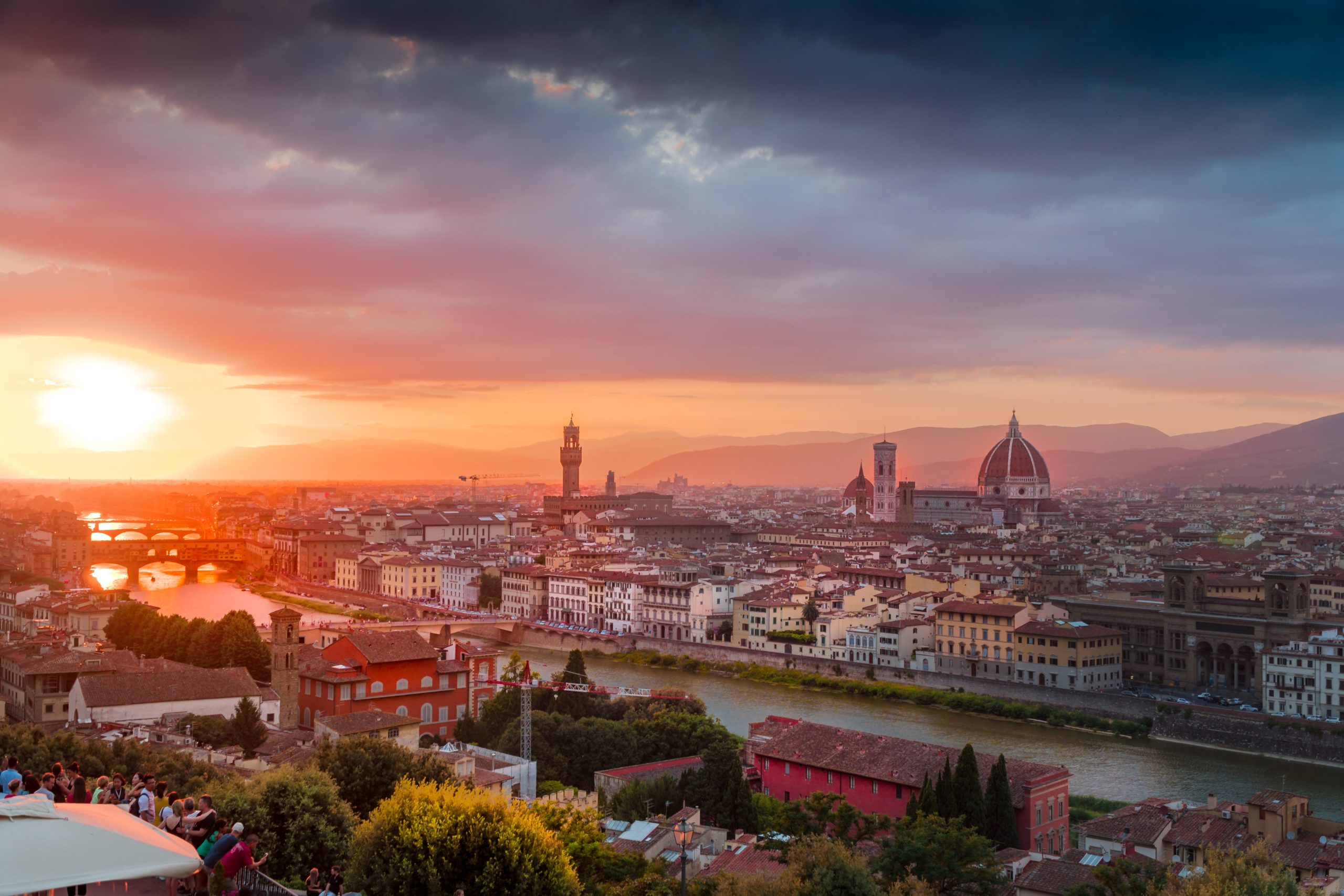 The Boboli Gardens sit directly behind the palace, which feature many different areas and outbuildings, including grottoes, fountains, statues and temples. Climbing to the top offers beautiful views of the city, and is a great way to work off all that gelato.
If views are what you're after, head off before sunset to the Piazzale Michelangelo. Featuring one of several statues of 'David' that can be found throughout the city, this little piazza is perfect for photos of the city skyline, as well as stunning sunset views.
Has all that culture has worked up an appetite? There are hundreds of amazing restaurants and bars within the city, offering amazing and fresh local produce. Keep an eye out for the 'wine windows' too, which are scattered throughout; ancient, tiny windows which were used during the plague (and, more recently, came in very handy during the Coronavirus pandemic) to keep businesses open and locals drunk.
If you want to escape the city for a few hours, head just outside of Florence into the beautiful hills – there are plenty of incredible wineries to discover, great restaurants and even olive groves, if you so fancy. A great day trip from Florence is winding through the hills and other small towns in the Tuscan region – not only is it gorgeous but delicious as well.
Florence is teeming with things to do and see – we have barely scraped the surface here, and would honestly recommend spending at least a week in this amazing city.
There are no many decent Hilton properties in the centre but if you wanted to splash some points on some serious luxury, The St Regis Florence has stunning views. There is also a Westin and 2 Autograph collections.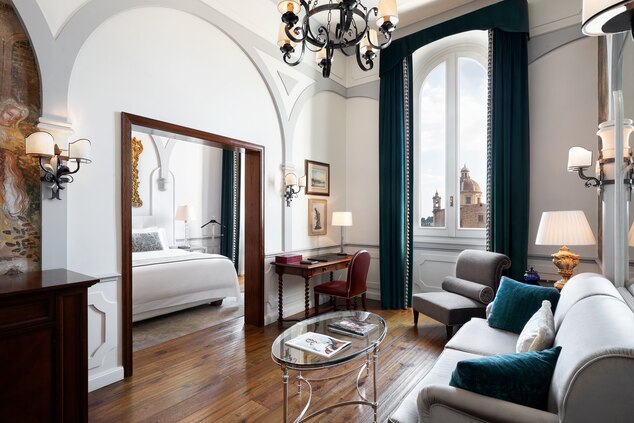 Pisa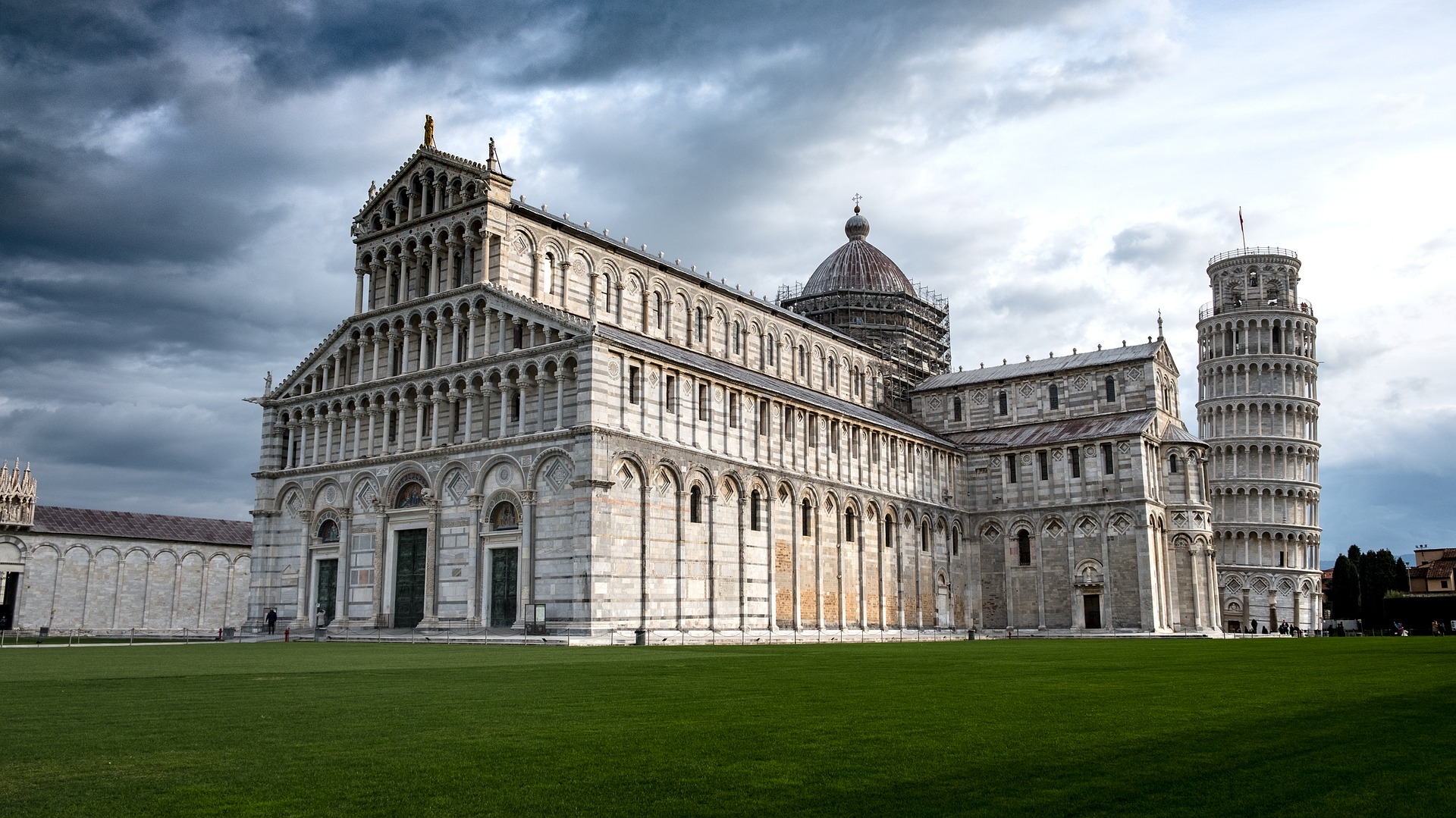 Ahh, Pisa. Purely known for it's infamous 'Leaning Tower', it's worth the quick trip from Florence (just under an hour) if you have the time.
Firstly – the tower. Yes, it's the town's main drawcard: the infamous Leaning Tower of Pisa, an architectural failure which began leaning before it was even finished. It was restored in the late 90's, so it didn't fall all the way over, though the local governments decided to keep it on a lean as it was such a popular tourist attraction (good call).
The tower is actually the bell tower for the nearby church, and sits on a beautiful piazza named 'the Square of Miracles'. Visitors are encouraged to check out the church, and you can even do tours up the tower (just make sure you have your vino after, as it can be quite difficult to balance).
The town itself is very picturesque, with beautiful coloured houses lining the medieval streets and the riverfront, making it worth a wander through. The Medici Palace, Palazzo Vecchio, is worth a sneaky peek too, and there are streets lined with galleries and boutiques to peruse at your leisure.
There are very few chain hotels in the centre of Pisa with Hilton having none and Marriott only have the AC Marriott Pisa which is very modern and a little bland. You can find other independent hotels here.
Cinque Terre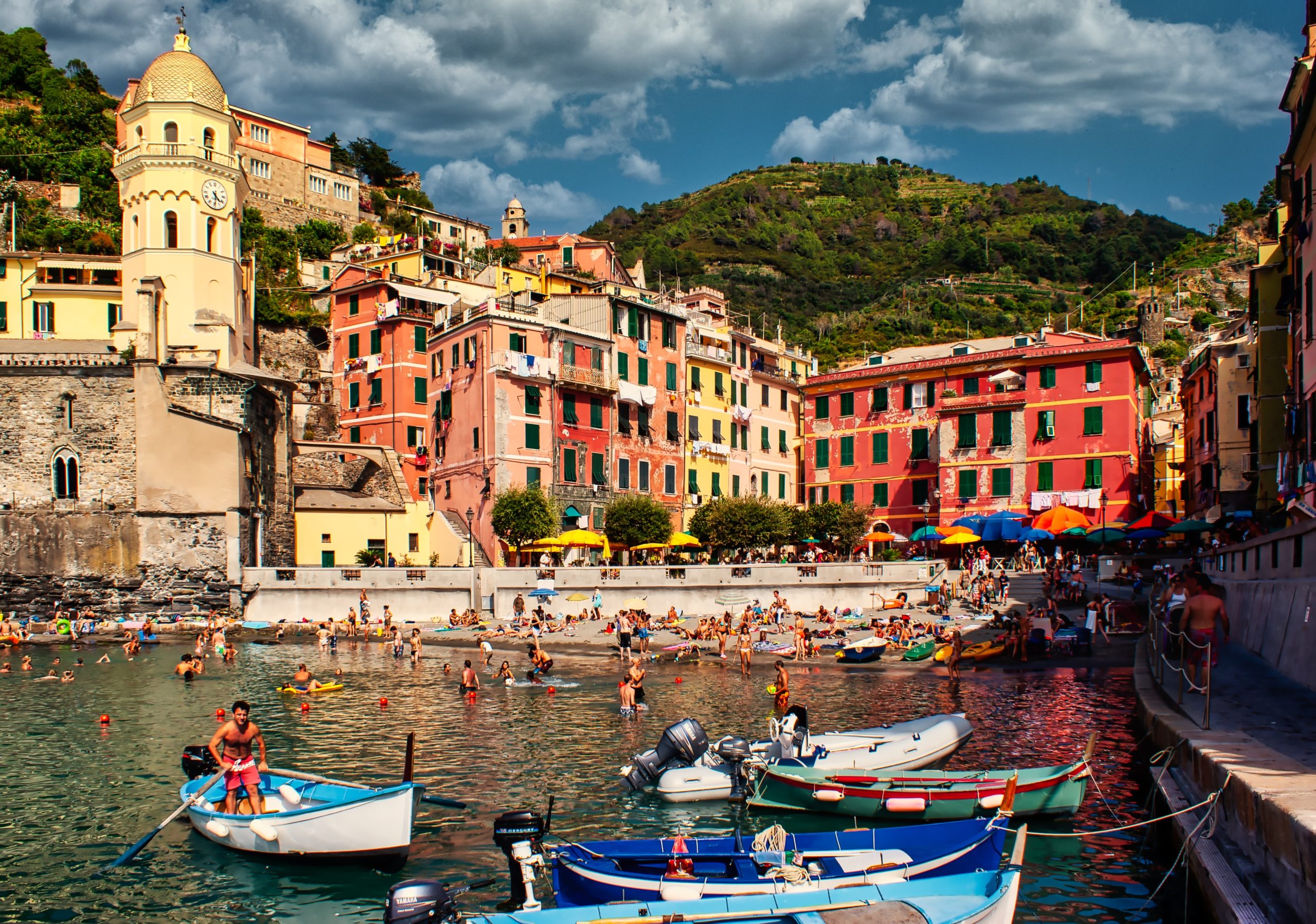 Cinque Terre has become very popular with tourists over the last few decades, particularly with the introduction of social media – it's just such a 'grammable destination.
Cinque Terre translates to five lands, or five villages, which is exactly what you will find here – five villages (Monterosso al Mare, Vernazza, Corniglia, Manarola, and Riomaggiore) dotted along the stunning coastline.
The site, including all five villages, the coastline and the surrounding mountains, is recognised as a UNESCO World Heritage Site and is also a protected marine area.
The best way to properly explore this area is to choose a village as your base, and then trip along to the other villages whenever you fancy.
Each town is quite rustic, which is all part of its charm. You won't find big supermarkets or chains here, everything is local and all the better for it. You can find local art, handcrafts and produce at the stores, and this is a great spot to try some fresh seafood.
There is also lots of limoncello and other local delicacies, such as the scrumptious local focaccia. Hot tip – many small deli's and grocery stores offer free tastings, which is a great way to sample some amazing local produce for free (though we're sure you'll end up taking some with you). Be careful though, the limoncello is strong, and on those cobbled, steep streets you can very quickly find yourself stumbling (we speak from experience on this one).
It isn't an easy destination to get to by car, so your best bet to get there is the train, which runs along the coast and connects all five towns. Head from any major Italian City to La Spezia, and you can get on from there.
There is a very popular walking trail that also connects the five villages, which is a big drawcard for many tourists. Trekking through vineyards, olive groves and terraced gardens, hikers are rewarded with gorgeous views across the coast. You can do the whole thing, which takes almost a whole day, or you can just do parts between villages and then get the train back. Check before you start off – the area is known for landslides which can sometimes block sections of the trail.
One of our favourite ways to get around is by the ferry – they also connect all five villages, and you can get some amazing photos of the beautiful rainbow houses seemingly rising out of the sea. Plus, it beats walking, and you can take your wine with you.
Note: although it is by the coast, it isn't really an area known for its beaches. Though there are a few tucked along the coastline, most of the beaches here are tiny, rocky bays with quite rough seas, so if you're after a beach vacay, head to the Amalfi Coast instead.
You can view a list of hotels here.
Perugia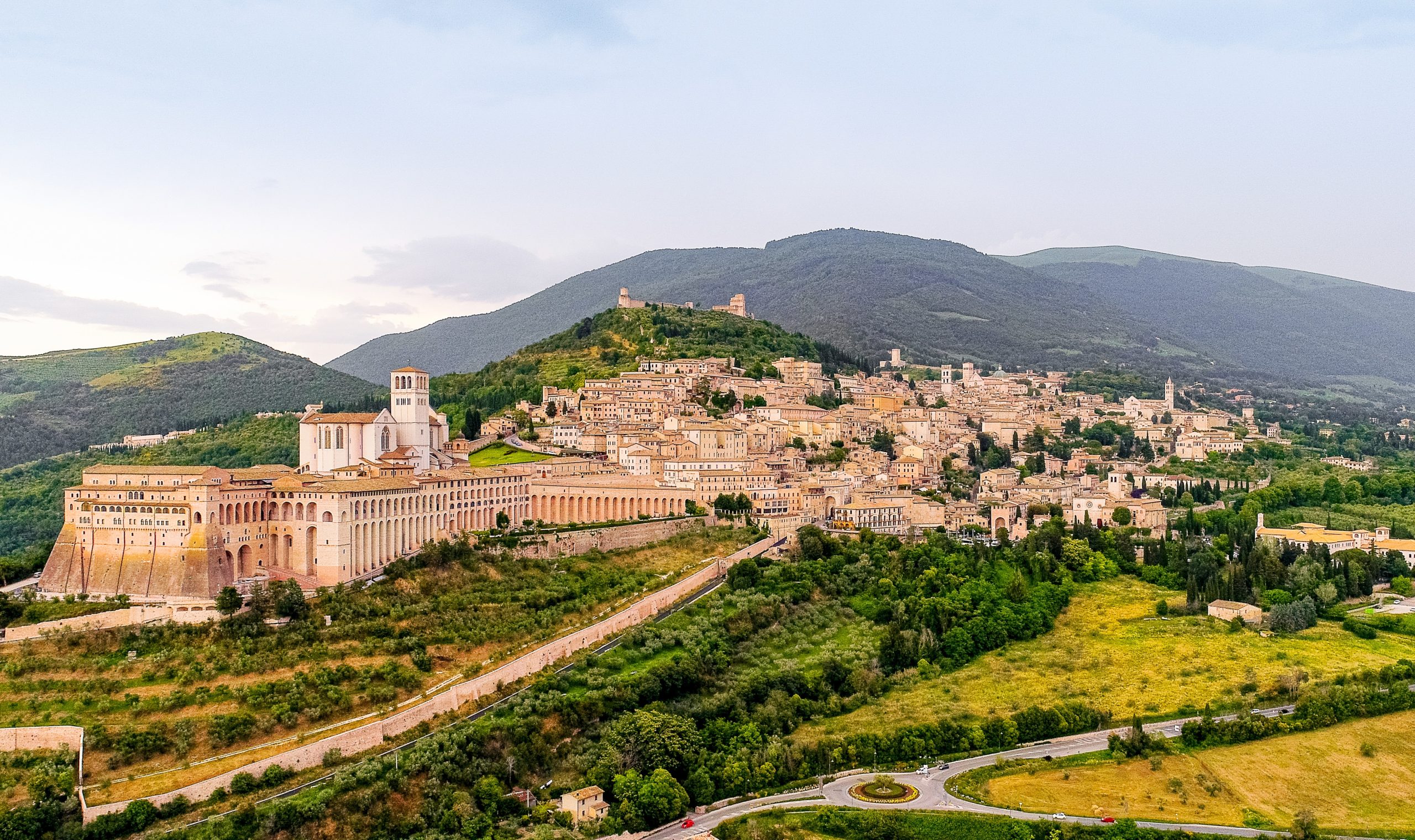 Perugia is literally smack-bang in the centre of Italy, and is the capital of the Umbria region. The town is famous for its beautifully preserved city walls, medieval architecture, beautiful views, and famous residents. Well worth stopping off on a day trip or to break up the trip between Florence and Rome.
Like the rest of Italy, this city is steeped in history, though it doesn't seem to attract the massive crowds that its more famous neighbours do. Quick note – most of the 'old town' is at the top of a hill, so just remember to wear flat shoes. There is a little cable car that will take you up and down the hill if you need though (phew!).
Lots of original architecture remains, including medieval aqueducts, a stunning Gothic cathedral, the town hall, the University (one of Italy's oldest) and ancient city gates. There is also plenty of amazing artwork – the famous Renaissance painter Raphael grew up in Perugia, as well as a host of other notable artists, architects and writers.
Of course, the food here is going to be amazing, but this town is famous for something a little different – chocolate. The Italian version of Hersheys Kisses, 'Baci', were created and are manufactured right here, and there is an annual chocolate festival in October (why aren't we there now!?).
Another difference with Perugia is the vibe – there is plenty of new and modern restaurants, bars and shops, possible due to the high number of University students, which creates a fascinating blend of old and new for visitors to enjoy.
The true charm of this town is simply by wandering through – walk atop the old city walls, through ancient gateways and aqueducts, on old cobbled streets and through fresh new neighbourhoods. Something a little different, mixed with plenty that we know and love.
Orvieto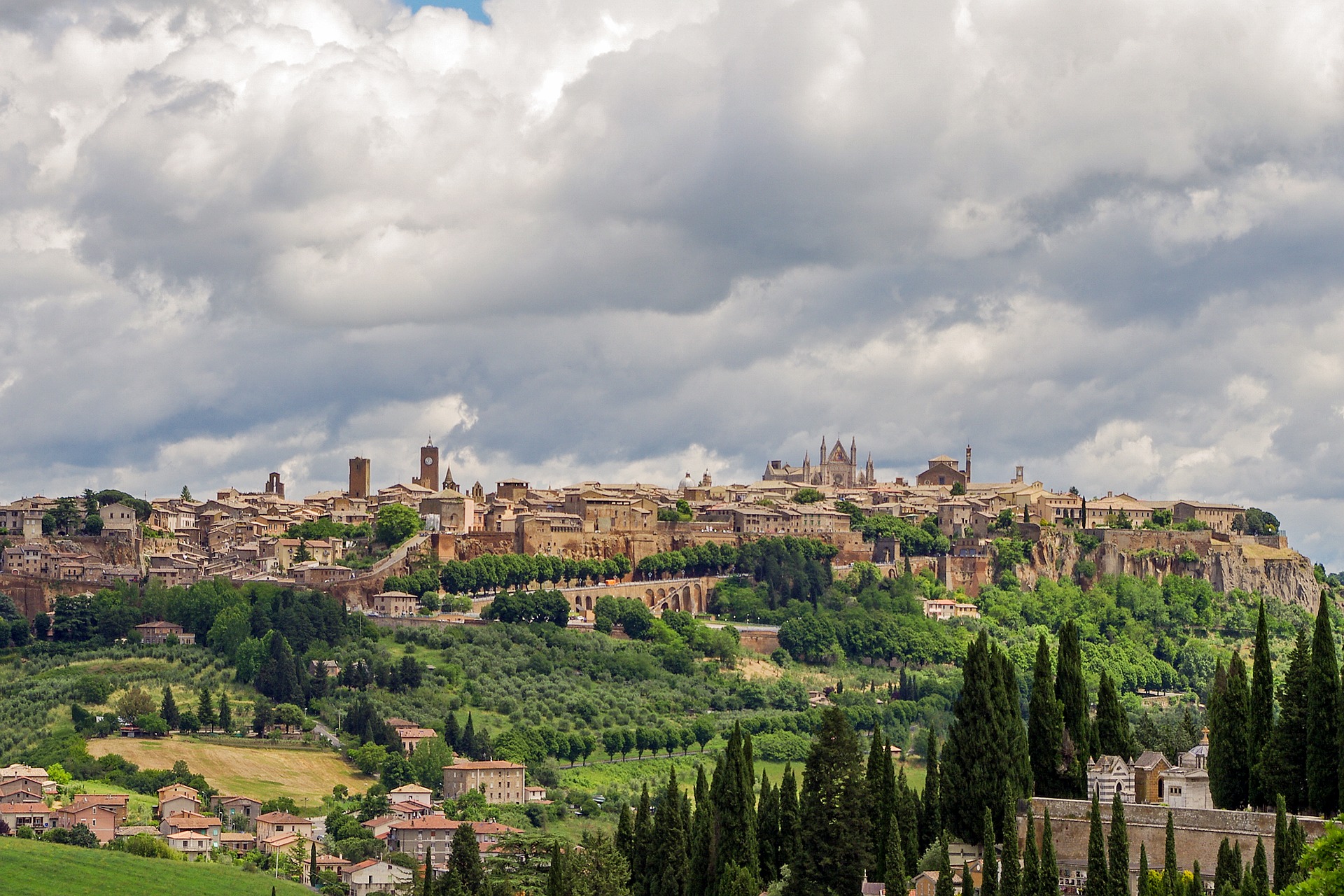 Orvieto, not far from Puglia and only ninety minutes from Rome, is a truly unique destination and well worth a visit. Sitting smack bang atop a huge rock, which is actually an extinct volcano, the town is naturally fortified by its location (though they did add walls too, just to be on the safe side).
Once known as the holiday home of the Pope, Orvieto now hosts three papal palaces and the cathedral is something to behold (we know, you've already seen lots of churches in Italy, but this one is worth it). The gothic-style structure is decorated with hundreds of beautiful mosaic frescoes, making it one of the more colourful and entertaining examples of churches you will see on your travels.
The palaces also feature a range of artwork and statuary that is worth having a look at. St Patricks Well, which was dug by a Pope (well, we're sure he had some help) during a 16th-century raid to ensure he had a lasting water supply is also great to visit, with its beautiful double-helix spiral staircases. Note – it is 496 steps down, which means its 496 back up. Up to you.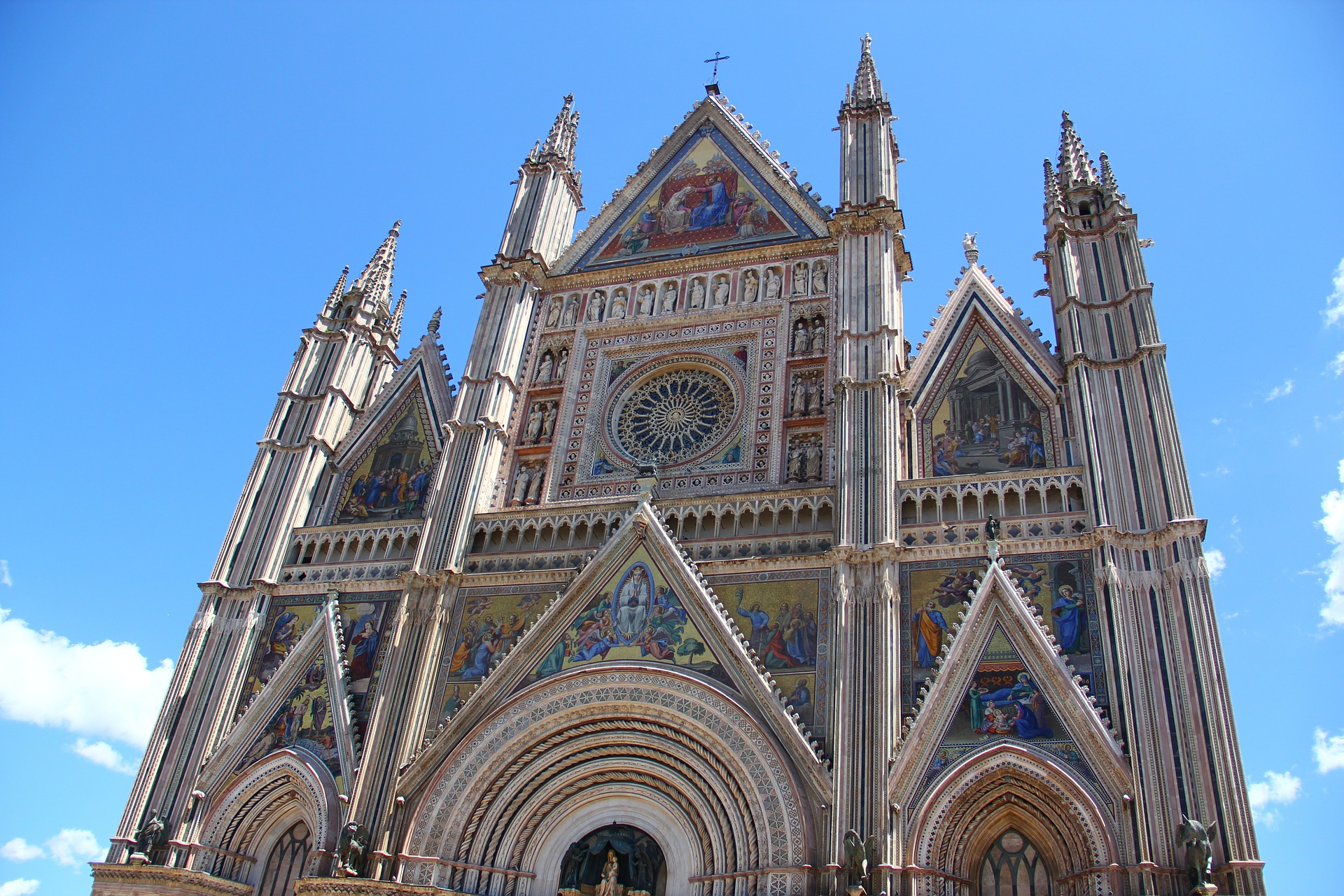 As mentioned, the city sits on a great slab of volcanic rock, which is perfect for tunnelling. Visitors can wander a complex network of caves and tunnels, some created by the Etruscans themselves, and view cave art and amazing ancient artefacts.
You know another great thing about volcanoes? The volcanic soil is great for growing delicious grapes. And then, delicious grapes can be turned into delicious wine! There are lots of wineries surrounding the city who create the 'Classico' wines the region is famous for which you can visit, or you can sample the vino and purchase bottles within the city.
To get to the city, you can park at the bottom of the hill and walk up, or grab the funicular (our choice) which only costs a few euros and drops you up and down regularly. Once at the top, have a wander through the city streets, as there are lots of quaint shops and restaurants to try too.
Again, Italy is full of incredible towns and cities, and we simply can't list them all. Let us know your favourites, or any that we have forgotten, in the comments.
And stay tuned for Part 3: the South, coming soon! We finally get to Rome, and explore all the gorgeous spots Southern Italy has to offer.