I often spend time looking through prices of business class flights on Google flights and sometimes there are some incredibly cheap prices available. However, I am a firm believer in value for money versus cheap. So which of the airlines that offer cheap fares would I consider?
Hainan Airlines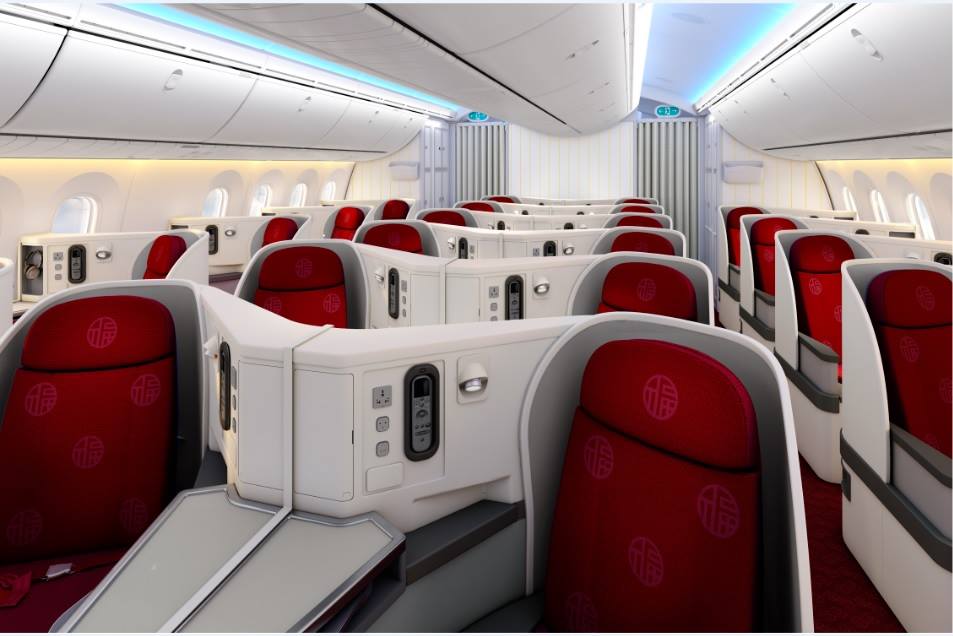 Hainan Airlines are based in China and have a 5* Skytrax rating. They don't yet fly direct from London, only Manchester but the better deals are often from outside the UK. Last year we saw business class fares under £1000 to Shanghai from Prague.
Hainan have 3 types of long-haul business class seats, all of which are fully flat. The B787-800 and A330-200 seats are similar to Qatar's B777 seats. They are configured in a 2-2-2 layout. The new seats on the B787-900 are the typical reverse herringbone seats found on many airlines such as Qatar. This means a 1-2-1 layout with direct aisle access for every seat.  Finally, the A330-300 has a 1-2-1 layout with forward facing seats. Every window seat alternates between a large armrest by the window or by the aisle. If you are travelling alone you would want the armrest by the aisle as this gives you more privacy.
However, there have been rumours of money issues for Hainan Airlines so this you may want to consider this in your decision. If you book with an ATOL licensed travel agent (including online ones such as Expedia) and include accommodation it should give you protection under the ATOL license. Also booking on your credit card can give you a chance to get your money back should the worst happen.
Conclusion
Hainan are a solid choice service-wise but I would be wary of the rumours of financial issues.
Ethiopian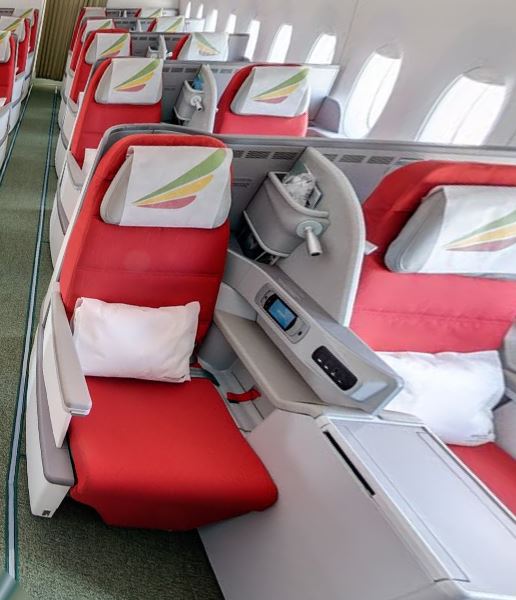 Ethiopian are currently offering some great deals to Cape Town from Dublin for around £1250 but is it really a bargain?
Ethiopian Airlines have a very modern fleet with the B787, B777-300ER, B777-200LR and the A350XWB with an average fleet age of five years. As well as flying out of Dublin, to Addis Abada, they also fly direct to Los Angeles from Dublin.  You can chose to fly via London on the offer price too whoch has the A350XWB to Addis Adaba. You can see a virtual tour of the A350 business class here.
Ethiopian have their own frequent flyer scheme and are also a member of Star Alliance. This would also allow you to use the miles on Virgin if you joined Singapore's KrisFlyer and credited the miles there.
Ethiopian usually use a B787 from Dublin with fully flat seats. Although the B787 were initially delivered with angled lie flat seat, Ethiopian have been refitting them with fully flat seats. The seat are configured in a 2-2-2 layout. This means that the window seats do not have direct aisle access. The A350 also has a 2-2-2 configuration.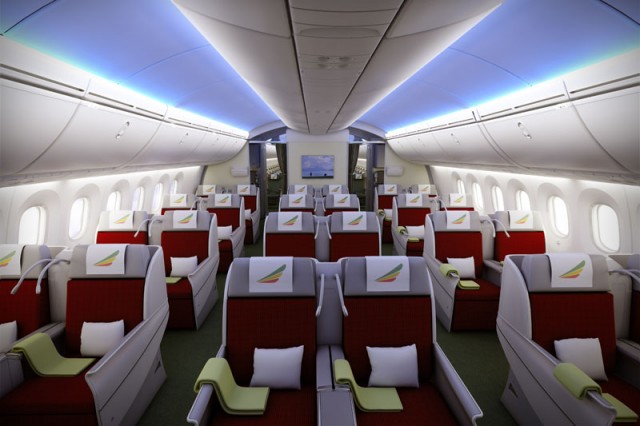 Ethiopian's Cloud Nine Business Class is equipped with personal 15.4 inch IFE screens with 85 channels. They do have some recent films, but not as greater a choice as the Middle East airlines.  Ethiopian provides amenity bags for business class which include: tooth brush with cover, tooth paste, lip balm, moisturiser, socks, eye shade, ear plug, shaving kit, shoe horn, comb and perfume. Reviews for food, service and drinks onboard are generally positive.
Looking at Skytrax, they are rated 3 out 5 stars. Other airlines in this rating group are American Airlines, EasyJet and Iberia.
The journey takes around 17 hours if you fly from Dublin to Addis Adaba, with a connection of 3 hours in Addis Adaba. The reviews of Addis Adaba airport are very poor, scoring an average of 3/10. You would obviously need to take this into account, when deciding if the deal is for you.
Conclusion
The onboard product is pretty good apart from the 2-2-2 layout but you will have to brave Addis Adaba airport on the connection which may not be everybody's idea of fun. You can find more information on Ethiopian here.
Air China
Air China has a good price from the UK to Tokyo which is often one of the hardest places to find a decent price to. The prices start at £1665 when booked by 7 January 2018.
Skytrax only award them 3 out of 5 for their business class compared with Qatar's score of 5. They are part of Star Alliance, however,  if you wanted to earn some miles or tier points.
They do have some decent flat seats but they are in a 2-2-2 configuration on the B777 which you can see in this video. The slight staggering of the B777 seats does make it slightly easier for aisle access as I found when I flew in these seats on AA transcontinental last year. The B777 is used on the London and Germany to Beijing routes.
Conclusion
Air China has reasonable seats and the onboard service is OK if not great but personally, I would look at Finnair first as they often do sale prices at not much more than this offer. It could be a useful routing if you wanted to do a twin-centre holiday especially with the changes to the transit visa which now allows 6 days in Beijing visa-free for UK citizens. You must arrive from outside China; stay no more than six days from midnight on the day of arrival, and depart to a different destination outside China.
Garuda Indonesia

Garuda are offering Bangkok from London for £1283 which is actually cheaper than on Black Friday! It means quite a long route as you have to fly past Bangkok to go back again but for this price is is worth it?
Garuda are rated 5* by SKYTRAX and have won World's best cabin crew for the past 3 years. Garuda fly from Heathrow Terminal 3 to Jakarta, 5 times weekly, every Sunday, Tuesday, Wednesday, Thursday and Saturday. They use a B777-300 ER aircraft from Heathrow. Wi-Fi is available on B777-300ERs and selected A330s.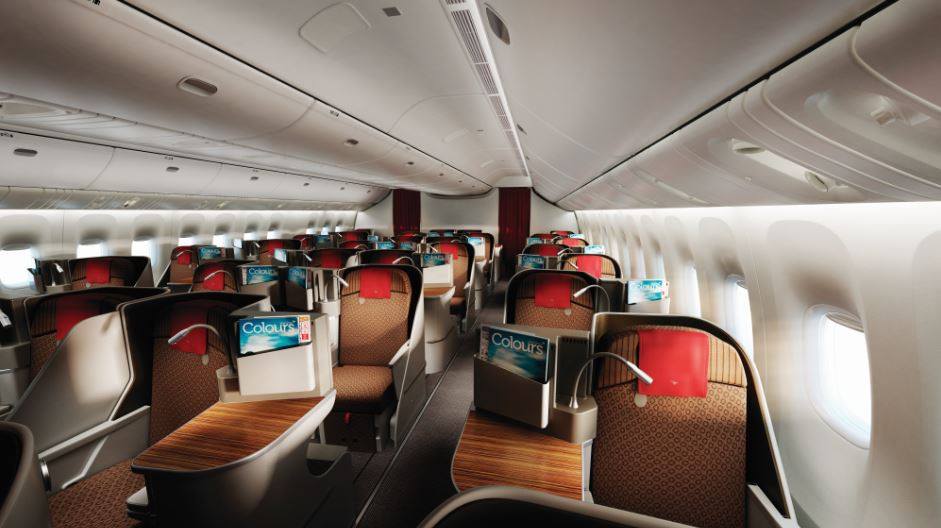 In business class you can expect:
38 staggered seats in a 1-2-1 configuration with direct aisle access
43″ pitch & 21.2″ width seat that reclines into a flat bed
Hypoallergenic pillow in cotton cover and a duvet
L'occitane amenity kit
Food prepared by a qualified chef from 5 star establishments
Garuda have their own scheme called Garuda Miles but they are also part of Skyteam. This means you may wish to join one of the other Skyteam schemes such as Air France or Delta and credit the miles earned on Garuda to that. For example, if you earned miles in Delta SkyMiles you could then use them on Virgin Atlantic. Alternatively, you can also redeem Garuda Miles on Etihad or join Etihad Guest and earn on Garuda.
Conclusion
Despite their slightly iffy reputation a few years ago, modern-day Garuda is now unrecognisable from the past airline. Service is consistently good and the seats are fairly private, comfortable and all have direct aisle access. The only disadvantage is the extra flying time. The deal appears to only be bookable through Expedia.
Turkish Airlines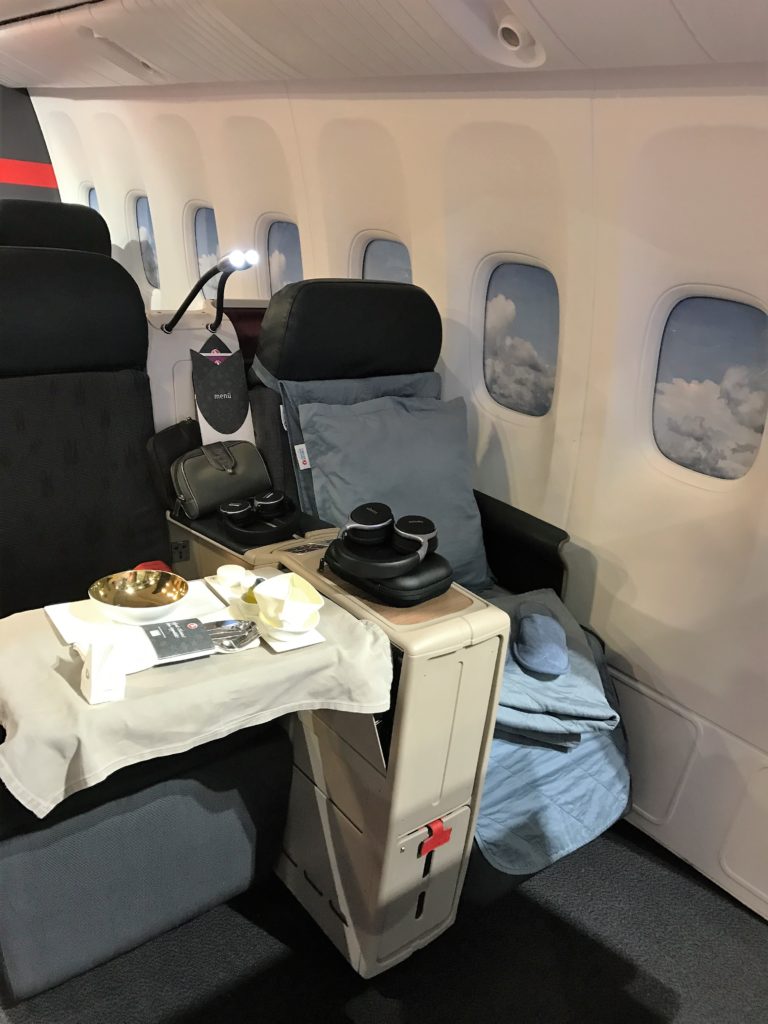 Turkish have been pricing flights from London very aggressively in recent months, probably due to the political situation in Turkey and surrounding countries. For example, they have recently had Bangkok return for £1394 from Gatwick in business class. It does, of course, have a good reputation as an airline with a 4* Skytrax rating but what can you actually expect?
The first thing to consider is that the first part of the flight from London to Istanbul will be either a short haul A321 (Gatwick and Heathrow) or B777 (Heathrow). This means you won't get flat beds on the A321 but more of a short-haul style business class seat. On the B777, unfortunately, the layout is 2-3-2 which is not great. If you were travelling alone this would not be a good option.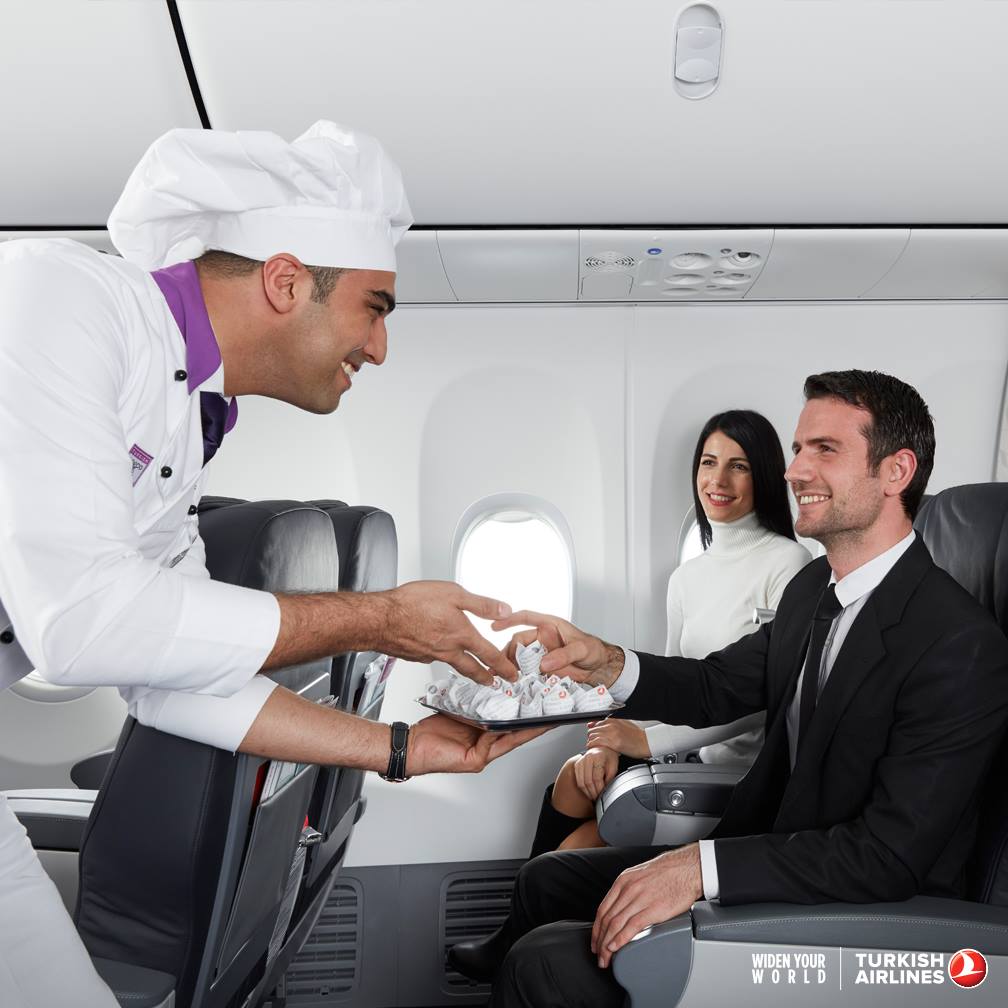 The food and drink service is more on par with what you would expect BA on a long category short-haul on the London-Istanbul flight. There are 3 courses with a choice of appetiser and main course. The food is predominantly Turkish influenced which you may need to bear in mind if this isn't your thing. There is an onboard chef but it doesn't appear to equal the chef on Etihad where they actually prepare things to order.
In Istanbul the lounge is pretty good and has a massage service, food that won the Skytrax Best Business Class Lounge Dining award, a cinema, video games, media screens, golf simulator, and children's playroom.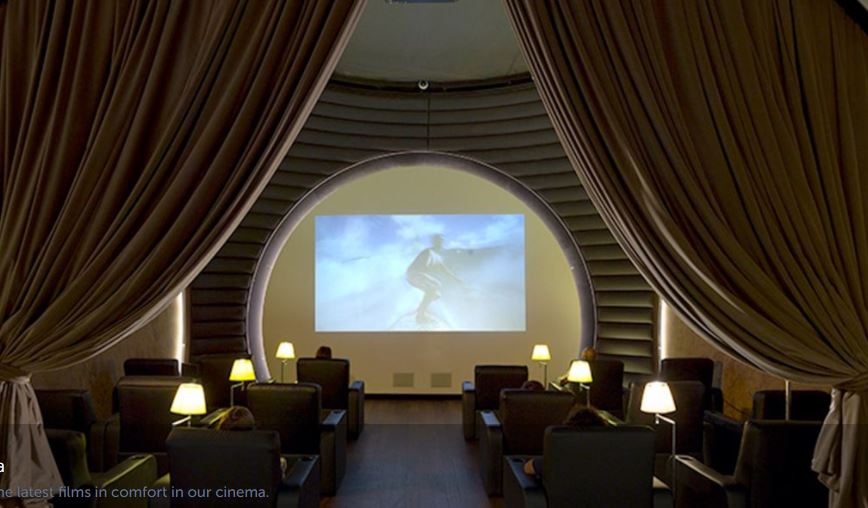 If you were flying to Bangkok it would be then on a A330 which has a more reasonable 2-2-2 layout with flatbeds.
Conclusion
A lot will depend on whether you are travelling solo or with other people. If you are travelling with other people, the B777 option is not a bad product and certainly better than the equivalent you would get on BA on the same route. The A330 business class has a more reasonable 2-2-2 layout. Again, I would be comparing to the Finnair prices as they have a A350 on their Bangkok route with a 1-2-1 layout and prices are comparable during a sale. EDIT: Evidence is that Turkish are poor when things go wrong and it is difficult to get any recourse from them.
You can find out more about Turkish Business class here.